Table Of Content:
Every homeowner and homebuyer wishes to have their house designed in a manner that reflects true luxury and a feeling of cosiness. They try to seek luxury within their budget to amp up the look and feel of their home, which is functional and comfortable at the same time. Desirable home designs are considered of high value, which you can quickly achieve within your budget. If you want to know more about house design ideas and how you can achieve them, continue reading this blog.
You must be wondering when there are tons of ideas available on Pinterest and Instagram for home decor, then what's the point of reading a blog? There is no denying the fact that both these social media platforms are excellent sources of inspiration. This blog content will help you to simplify the process of finding the perfect home design for your home. We have bifurcated the whole blog into exterior and interior home designs for you! To know more about the same, let's dive into the blog and explore the luxury your home awaits.
Also Read: Top Home Decor Trends To Make Your home look appealing in 2022
Exterior: 5 House Designing Tips to Have a Standout Appearance
We believe in the saying, "There is no place like home". The feeling that you experience once you return home from anywhere in the world cannot be described in words. The comfort you get and the aura you feel is something no five-star or seven-star hotel can ever provide. Your house's exterior is the first thing outsiders notice; every homeowner tends to create a swanky exterior, but all they lack is ideas. Oh, don't fret! We have some fantastic home decor ideas for the exterior property of your home that will help you to create a mind-blowing exterior.
1. Your Front Door Should Be Polished
Accept it or not, a dull and undefined exterior door can somehow snatch away the attraction of your home. You can do wonders for your exterior home design by doing a simple front door paint job. In order to uplift the overall appearance of your home, you need to settle on the right colour. You will be able to create a warm and welcoming look just by choosing bright and proper colours. This is a trick that no other house design can match! While choosing the colour scheme that works best with your style and neighbourhood, choose from the below-mentioned colour shade options. -
Shades of black

Shades of grey

Shades of red

Shades of blue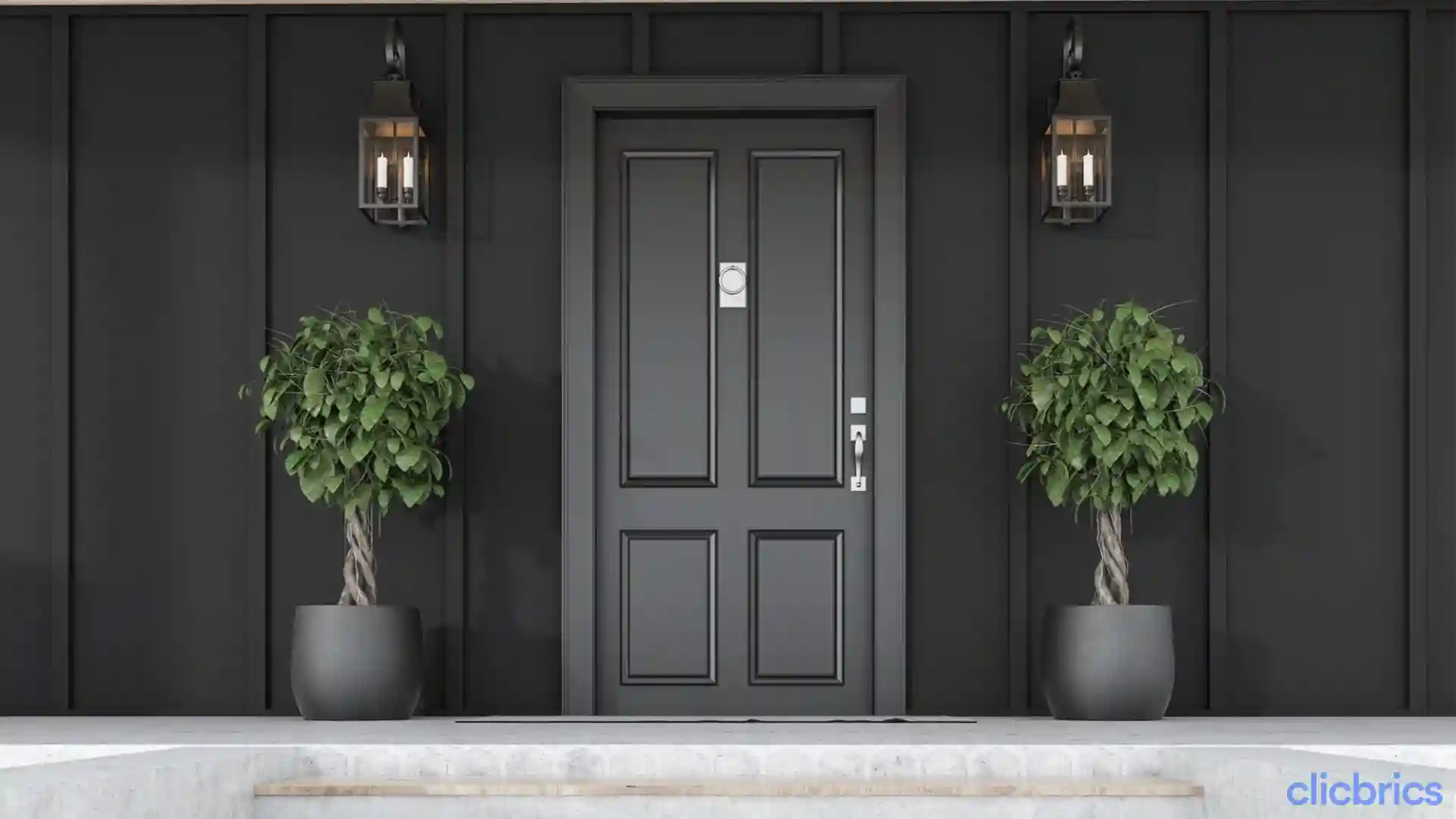 2. Prioritise Lights To Uplift Your Home Design Game

You must have come across various lighting options for your interiors, but do you know that proper lighting creates an impactful and stunning exterior? If you are craving some swanky home design for your exterior, installing some decorative lights in your garden or landscape would be a perfect option. There is a whole range of modern and traditional lighting options that, when added, will provide a classy touch to your exteriors. Below are some of the ideas listed for you:

Downlights

Recessed lights

Hurricane candles

Pendant lights

Tree pendants

Floodlights

Floor lamps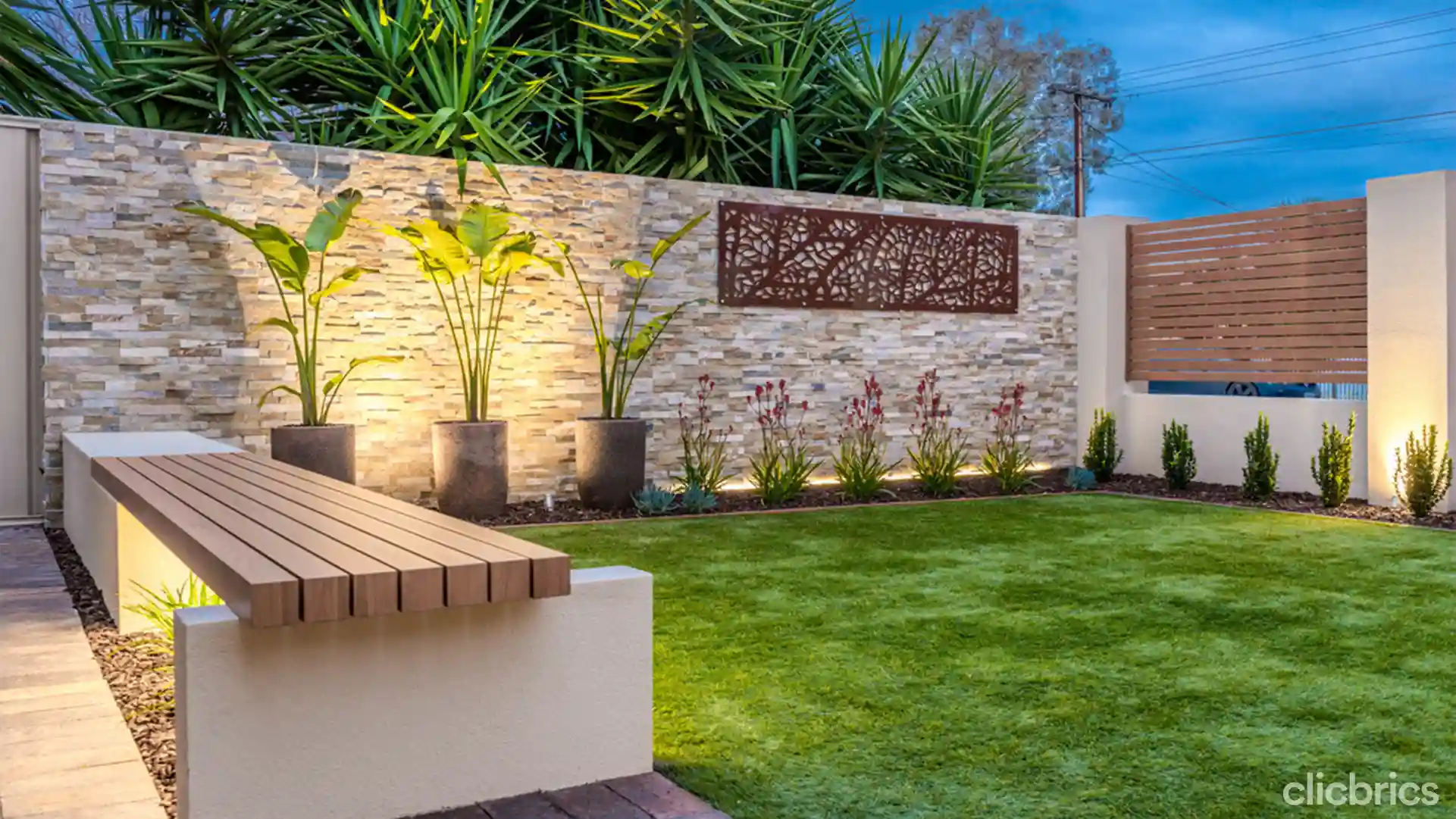 Also Read: Top 5 DIY Home decor ideas homeowners will love

3. How About Showing Your Love For Nature By Adding A Tree Bench?

Perhaps some of you might have a special connection with nature, and you like to stay peacefully. If you are someone of this taste, adding a tree bench will be an ideal option for you. If you have space available, utilise it by making a bench around the trees. It will be easy to maintain and give your exterior an aesthetic look.

To decorate your tree benches, you can use the below-mentioned ideas:
Install decorative lighting

You can add a barbeque to enjoy with friends and family on the weekend.

You can add a coffee table to enjoy a blissful evening with your loved ones.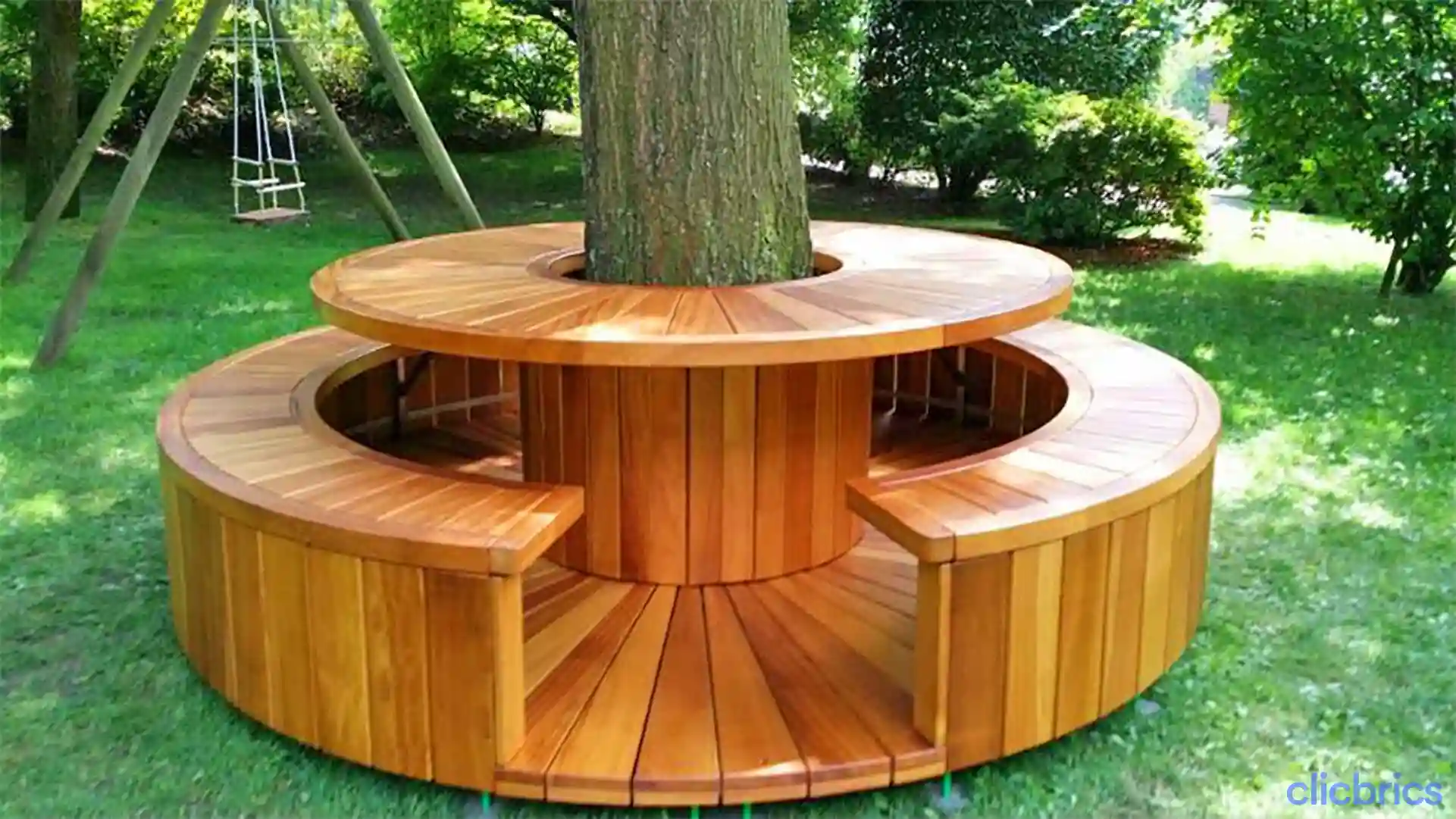 Also Read: 5 Common Room Layout Mistakes to Avoid in 2022

4. Don't Forget Your Driveway In Your House Design Journey
Well, as observed, driveways aren't actually known for their looks. It is because their purpose is just getting cars off the street; you might feel like there isn't much you can do to make them look pretty. But since they are mostly present at the front of your house, there is definitely something that you can do that can be both practical and beautiful. You can stabilise your driveway with driveway pavers, or when thinking of beautifying the space, you can add more decorative options like stamped concrete pavers or bricks. Their finishing will add a touch to your facade!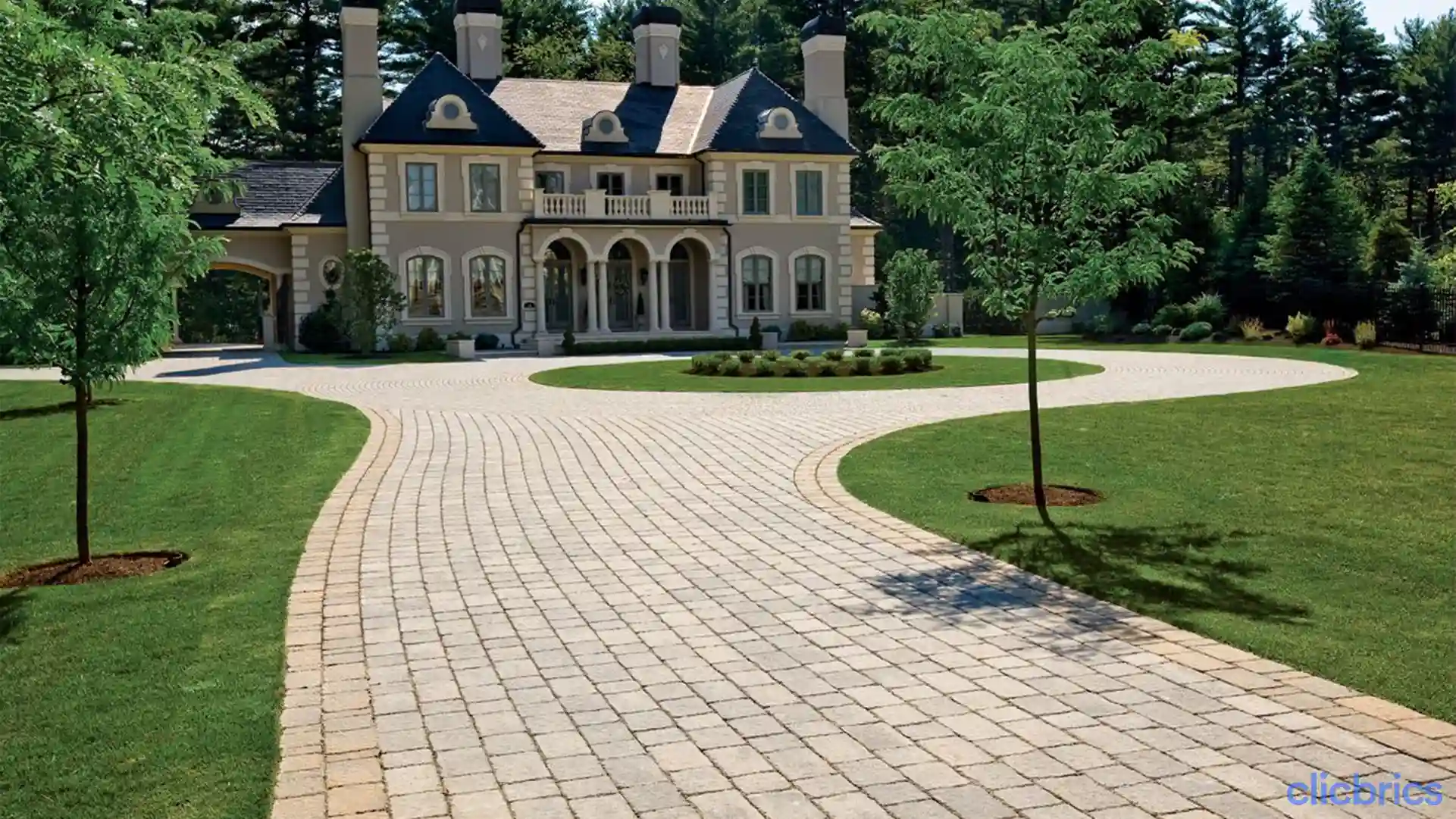 Also Read: 5+ Anime Themed Room Ideas To Get A Stunning Manga Room

5. Enhancing Your Walkway Can Change Your House Design Game

Not just a welcoming door, but a passage leading there should be welcoming and attractive like the rest of your home. It will be an intricate and detailed walkway or passageway to your home.
Try to widen your walkway and invest in some materials, like stamped concrete pavers rather than spending more on other materials.

To make your home design game more robust, you can add built-in seating areas to boost the versatility of your landscaping.

You can also add low lighting to the ground, so your walkway gets lit up without stealing the thunder from the moon's light.
So these are some of the fantastic home design tips for the exterior part of the home. They will surely make the outside of your home breathtakingly beautiful.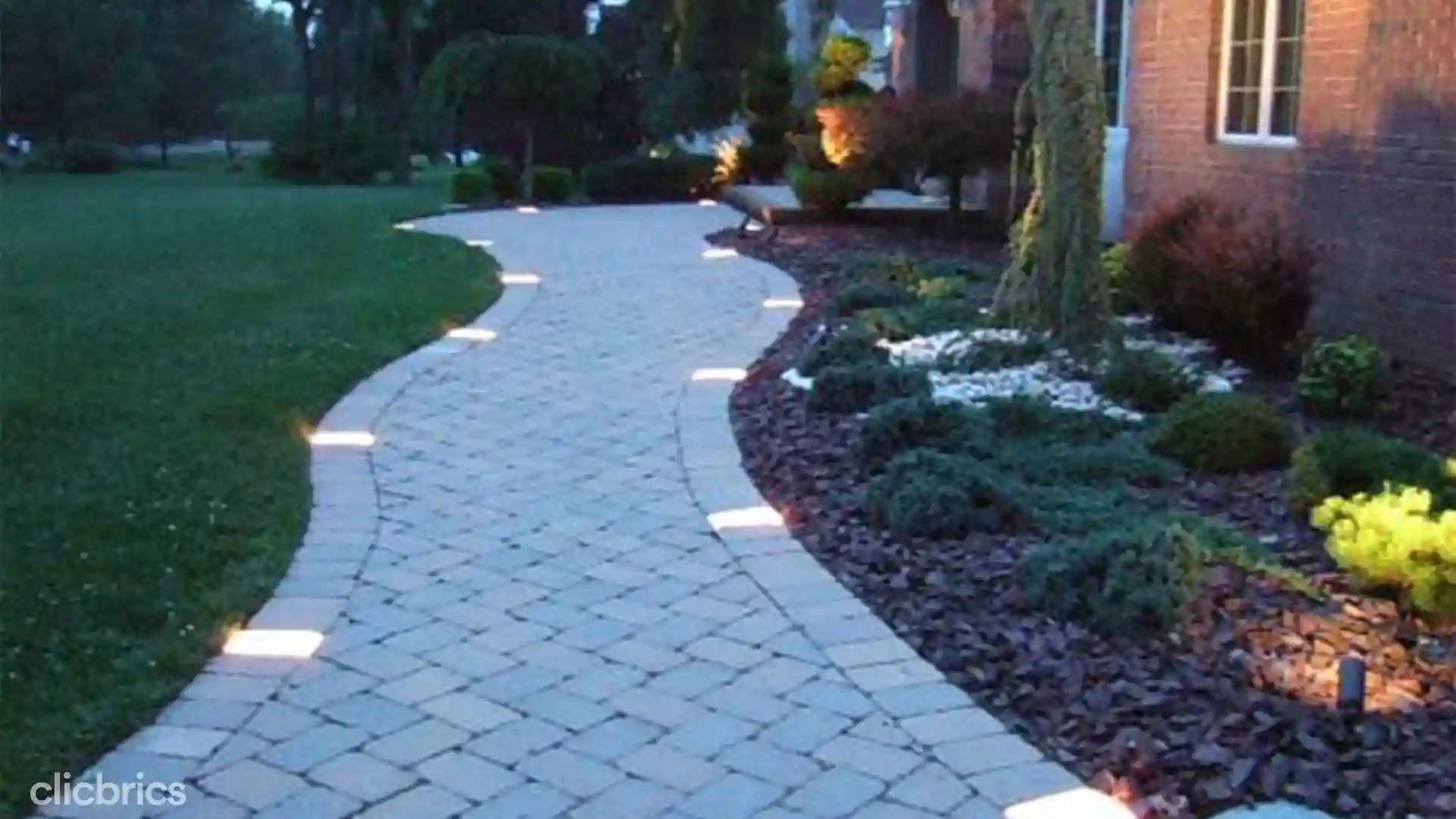 Also Read: Pre-pandemic home decor trends that we need to bring back

Interior: 5 House Design Tips to Have a Stunning Interior
Again, you must be wondering what if you turned to Pinterest for home design ideas? You might be correct, but there is one thing to admit: there is a shortage of interior design inspiration on the internet. The information available can seem to be overwhelming. The point where you will specifically be stuck is "where to start." And we understand this dilemma. It would be best if you had insight from which wall paint colours to easy home design to decorate the space, and for this, we are here to rescue you from all the stress when it comes to house design.
When you are on your house design journey, keep one mantra in mind: do not overload yourself with everything to be perfect in one go; instead, take one step at a time!
Help is here with excellent tips to glorify every corner of your house!
1. House Design Tips To Amplify Your Living Room
What do you think stands between a basic and a great living room? A basic living room might be perfectly serviceable, but it isn't as awesome as it could be.
Colours play an essential role in energising the space. It is also something that will affect how guests will feel in your living room. A serene scheme of soft blue and white will make quite a compelling warm welcome. It can also be a gracious setting for elegant gatherings.

For your walls, you can also go for wallcoverings or treatments that will personify the warmth and texture of the walls.

Your living room is a guest space, so for its floor, choose something vibrant like a wall-to-wall carpet that will build a foundation for a refined amalgamation of florals and stripes. If you are someone who prefers something subtle, then choose a solid neutral floor. It will help draw attention to furniture or art in your living room.

The furniture present in the living room is to promote conversation and interaction. Instead of aligning furniture with the walls, pull seating pieces away from the walls and bring them closer together. It will make two informal groups more comfortable.

If your living room is also your family room, incorporating a TV may be the room's primary use.

You can also build a bookcase nearby to bring out the best look of the television spot.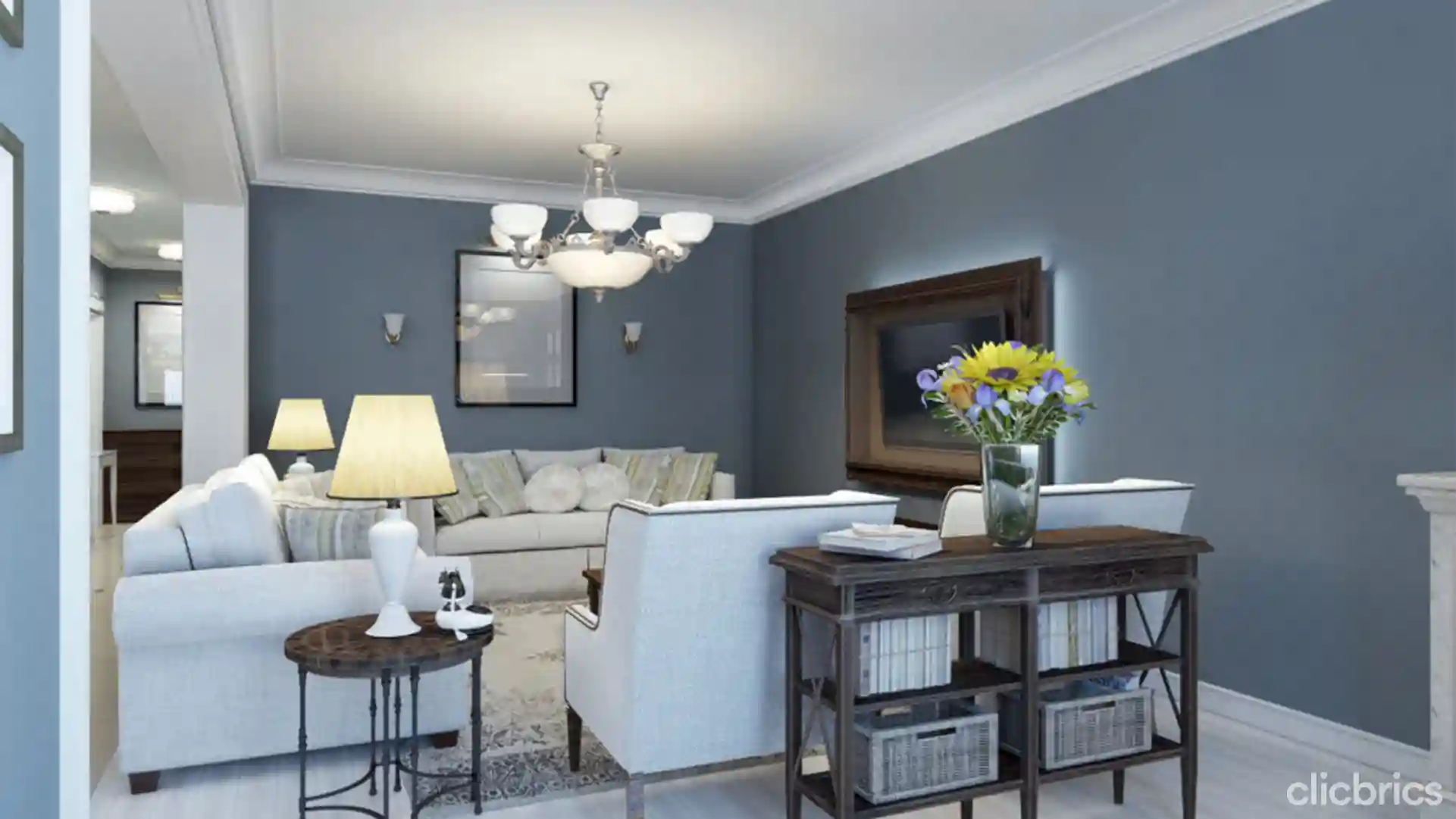 Also Read: 5 Tips When Decorating A Small Apartment

2. Savvy House Design Tips To Modernise Your Kitchen

Before you begin your home design journey, stand in front of your kitchen and see how you want other people to see it.
Take a tour of your kitchen, and find a spot where you can add a large piece of art. Choose to paint the focal wall in some bold shades rather than subtle.

You can also use textured wallpaper to make your kitchen look more appealing.

After you are done with the paint, you need to start adding layers.

Install open shelves, as it is trendy these days. It will not only brighten your kitchen's appearance but also showcase the visual space.

To reflect your style, culture, and heritage, you can incorporate your favourite objects into the walls of the kitchen.
To make this house design trick work in your kitchen, you can add the below-mentioned items.
Baskets

Vintage dishes

Mirrors

Framed fabric swatches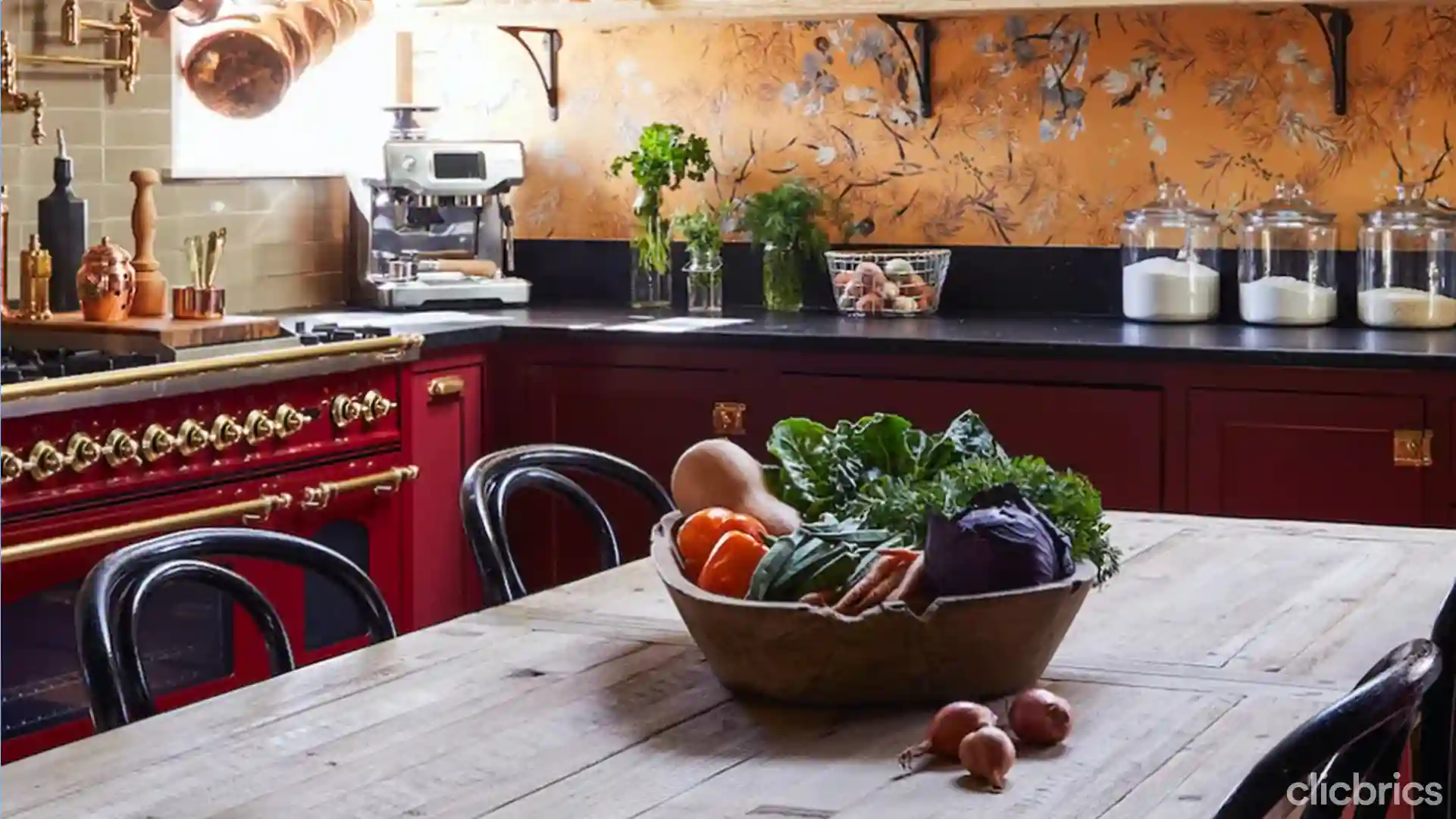 Also Read: Ideas to make the ultimate outdoor kitchen

3. Elevate the appearance of your bedroom
House design tips are nothing if the bedroom is not considered! Giving a makeover to your bedroom can be daunting, as it is all about cosiness and functionality. We bring you easy home design ideas for your bedroom that will completely change the look of your boring bedroom into a luxurious, functional, and comfortable one.

To achieve the most soothing vibes in your bedroom, try delicate colour schemes. Go for classic colours i.e. white/black or pastel colour palette, i.e., lavender/beige. It will not make your bedroom look boring, but if you feel so, you can add bold coloured pillows and bed sheets. Or you can also do some exciting painting or wallpaper on the ceiling.

Avoid overstuffing your bedroom with stuff. Making space to move around it will provide relaxing vibes.

If your room is smaller, focus on having relevant items rather than coffee tables, bookcases, etc.

When you are on your house designing mission, go with the flow, i.e. rather than relying on table lamps, add layer lighting to your bedroom. You can find plenty of sources that you can toggle on and off for high functionality.

Start with the floor plan when looking for furniture. Your bedroom furniture should fit the room, try not choosing a heavy, large bed and dresser. Add a chair and ottoman in a large bedroom to help cover the extra square footage.
Also Read: Functional Children's Rooms: Set Up Your Child's Dream Room
When you design your bedroom, you will discover some space. Add a footstool and a chair at the end of your bed or in the corner.

You can also build a window seat under the bedroom window to enjoy the natural sunlight.

If you have all kinds of luxury and comfort in your place, the last thing you can do to boost your home design is to keep all the gadgets, phones, laptops, and televisions out of your bedroom. It might sound hard, but it will create a special place to relax and renew.
Also Read: Small Balcony? Decor Ideas To Elevate Your Balcony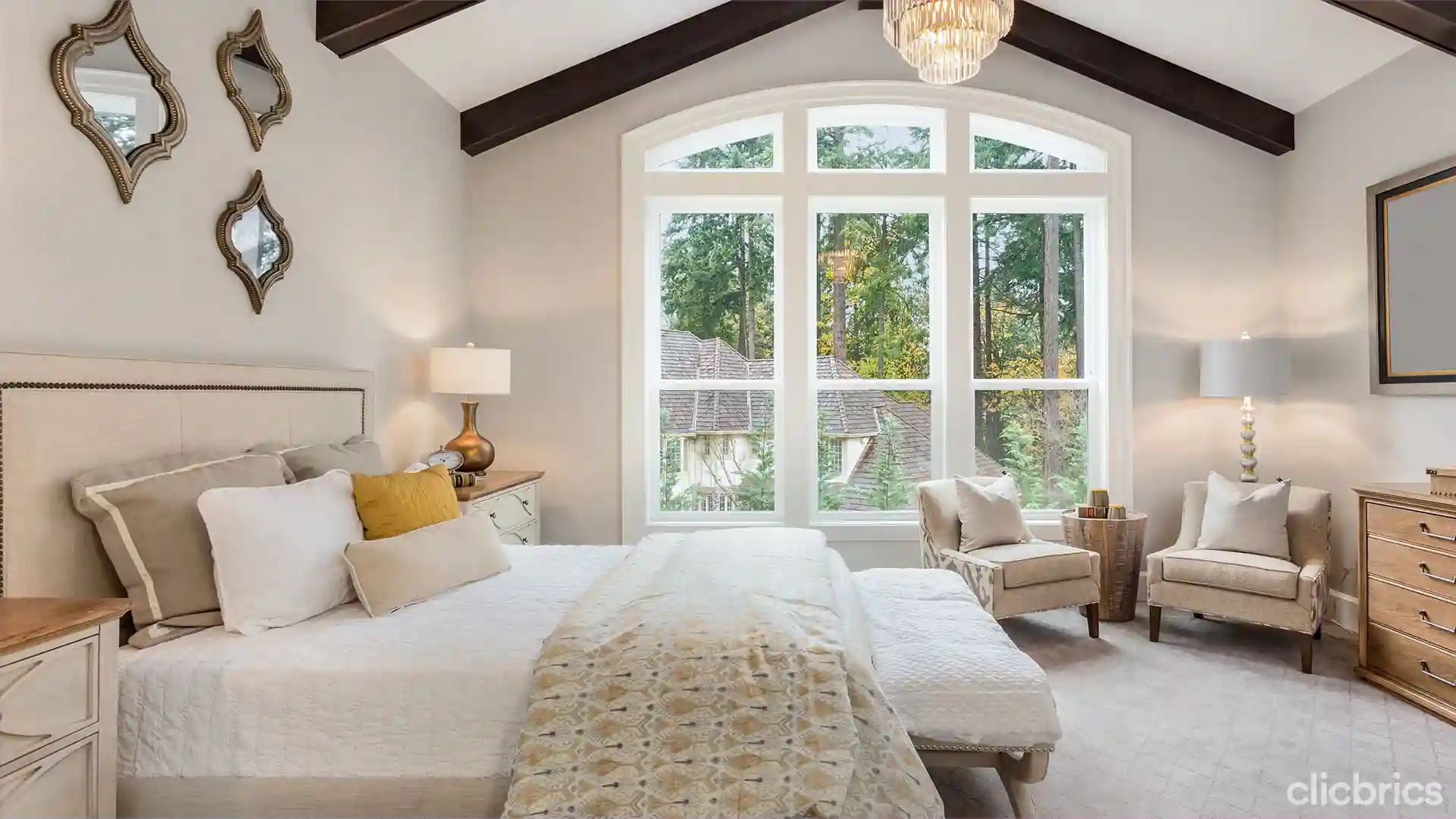 4. Budget-Friendly Bathroom Decorating Tips
Instead of completely renovating the bathroom, change the cabinet knobs, towel bars, sink faucets, and toilet flush handles.

A touch of new hardware can add a showroom-quality sparkle to your bathroom. While remodelling your bathroom, choose neutral fixtures and finishes.

When selecting white tiles for the floor, tub, or backsplash, you can save a lot.

Opt for affordable accents like bright towels, full of colour window shades, bold artwork, and a good wall paint.

Sometimes, the touch of a few houseplants or other greenery is a simple way to freshen up your space. A snake plant on the floor or a vase in your vanity can bring the quality of nature.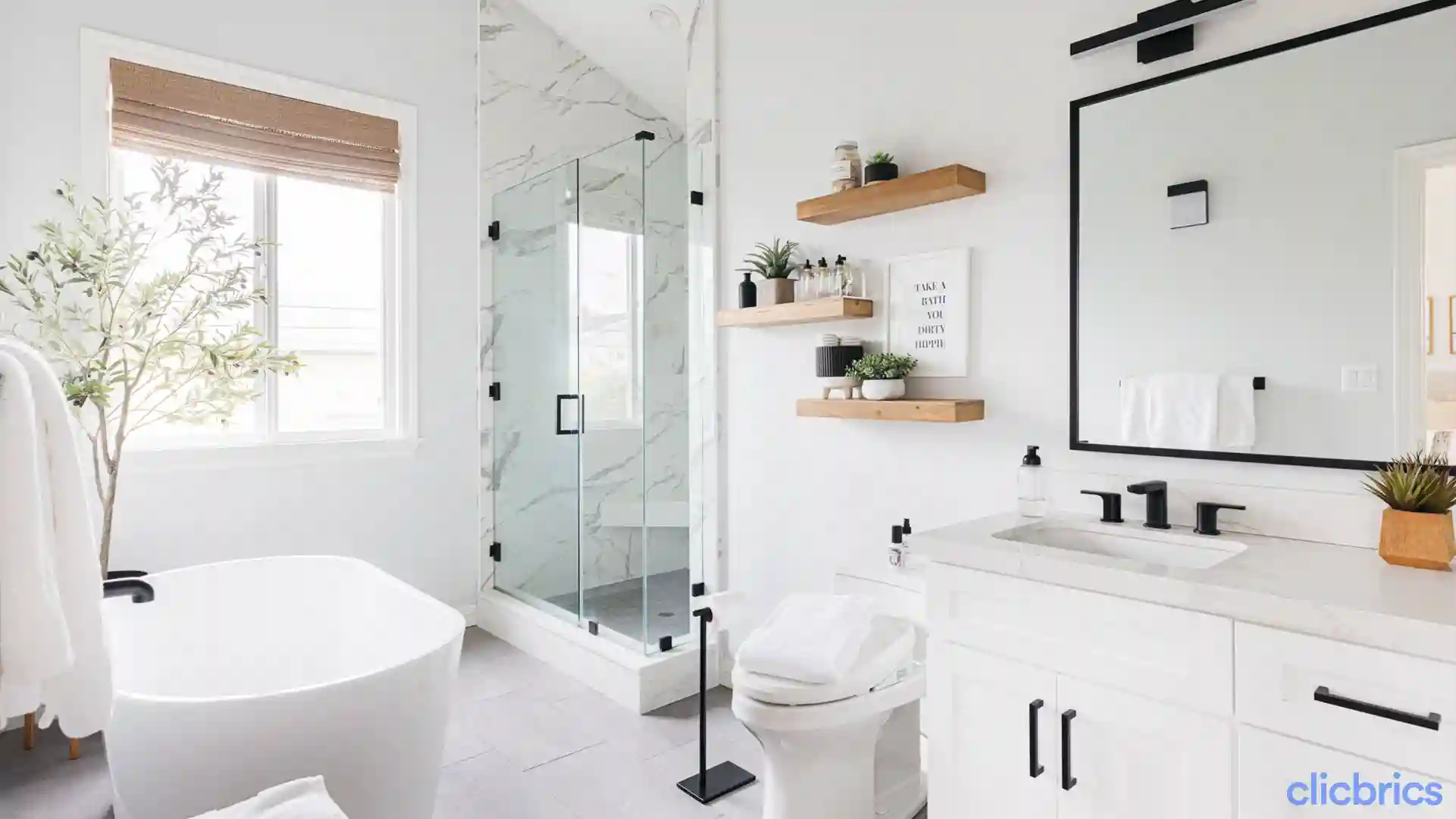 Also Read: Using Exposed Beams As Home Decor

5. Heighten Your 'Pooja Room' By Making Small Changes

The pooja room, or puja room, is the most sacred place in your home. No matter the size or layout of your pooja room, it will always radiate positive spiritual energy. The space can be simple or intricate. But surely, you can make specific changes that will help you create an inviting and serene space.
Give your pooja room a touch of subtle colours like orange, yellow, etc., to enhance the sense of serenity.

Prepare the entrance of the pooja ghar differently from the other doors of the house. Try wooden doors for the pooja room as they look aesthetically pleasing. Also, bells or filigree work will provide a traditional touch.

Lights play an essential role in creating an appropriate ambience and a positive setting in a pooja room. You can use strips of LED lights to highlight the entrance.

If you have a space in the pooja room, you can decorate the floor with handmade rangolis.

If you have a small pooja room, you can place a small rug and a decorative cushion with flowers on the sides to adorn the floor.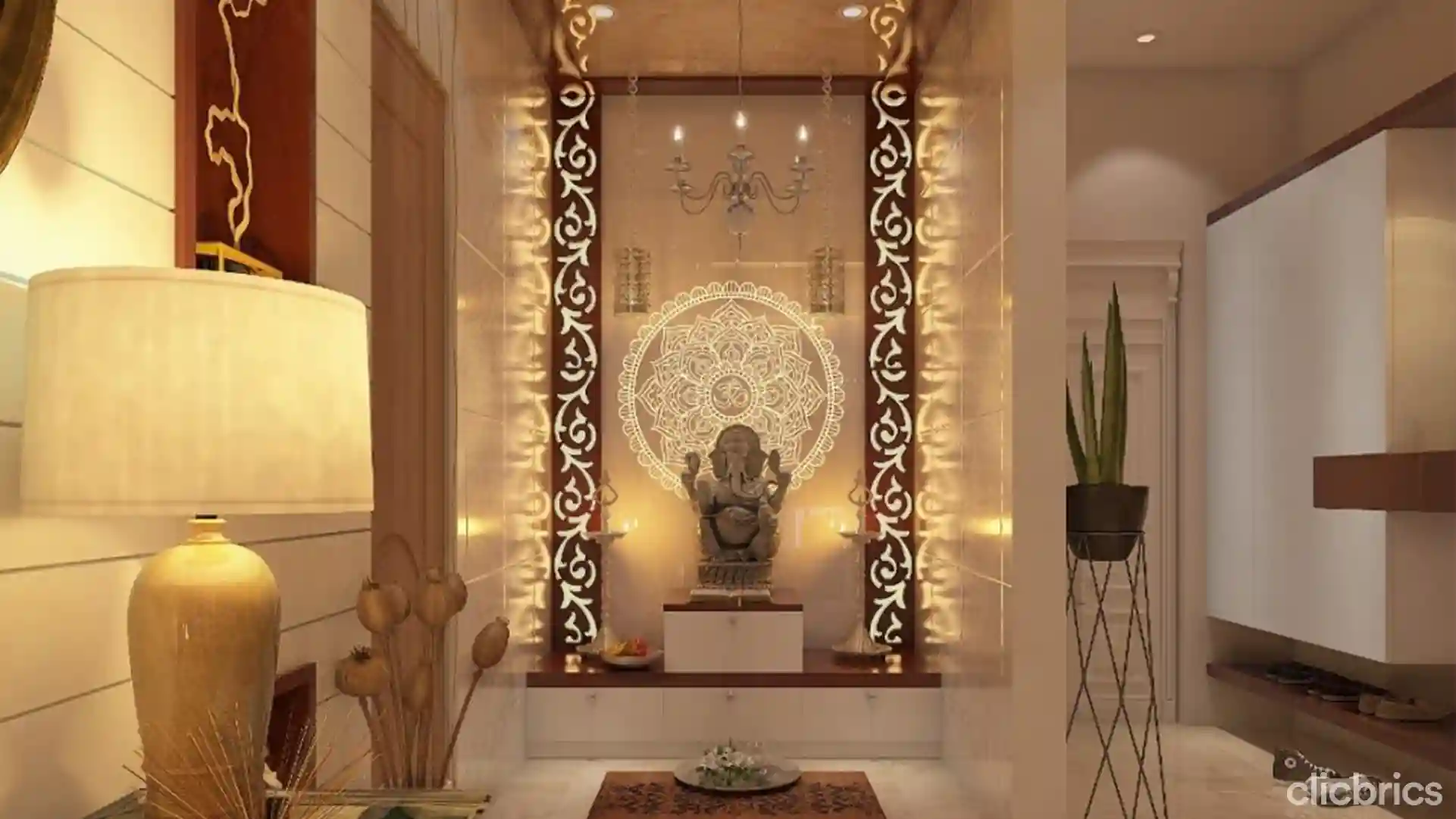 At some point in life, everyone believes that home design is necessary to live a  luxurious and comfortable life. We hope that these home design tips encourage you to amp up your home. When you begin the house design journey, you are not just improving the image of your home in your social circle but also making the lifestyle of the people living in it more comfortable.
Also Read: Top 7 Pooja Room Vastu Tips To Consider for a Blissful Home