From infancy to pre-adolescence, your children need to feel their bedroom as a haven in which they play, study and grow. Having a room that can grow as your child and their needs grow is crucial. This will help them feel the stability of not having to worry about moving, or compromising on their needs.
Here's how you can decide whether to hire a professional to set up your dream room or would you be able to set up the whole room yourself.
Check out these 14 ideas for children's bedrooms that they'll love:
1. Loft bed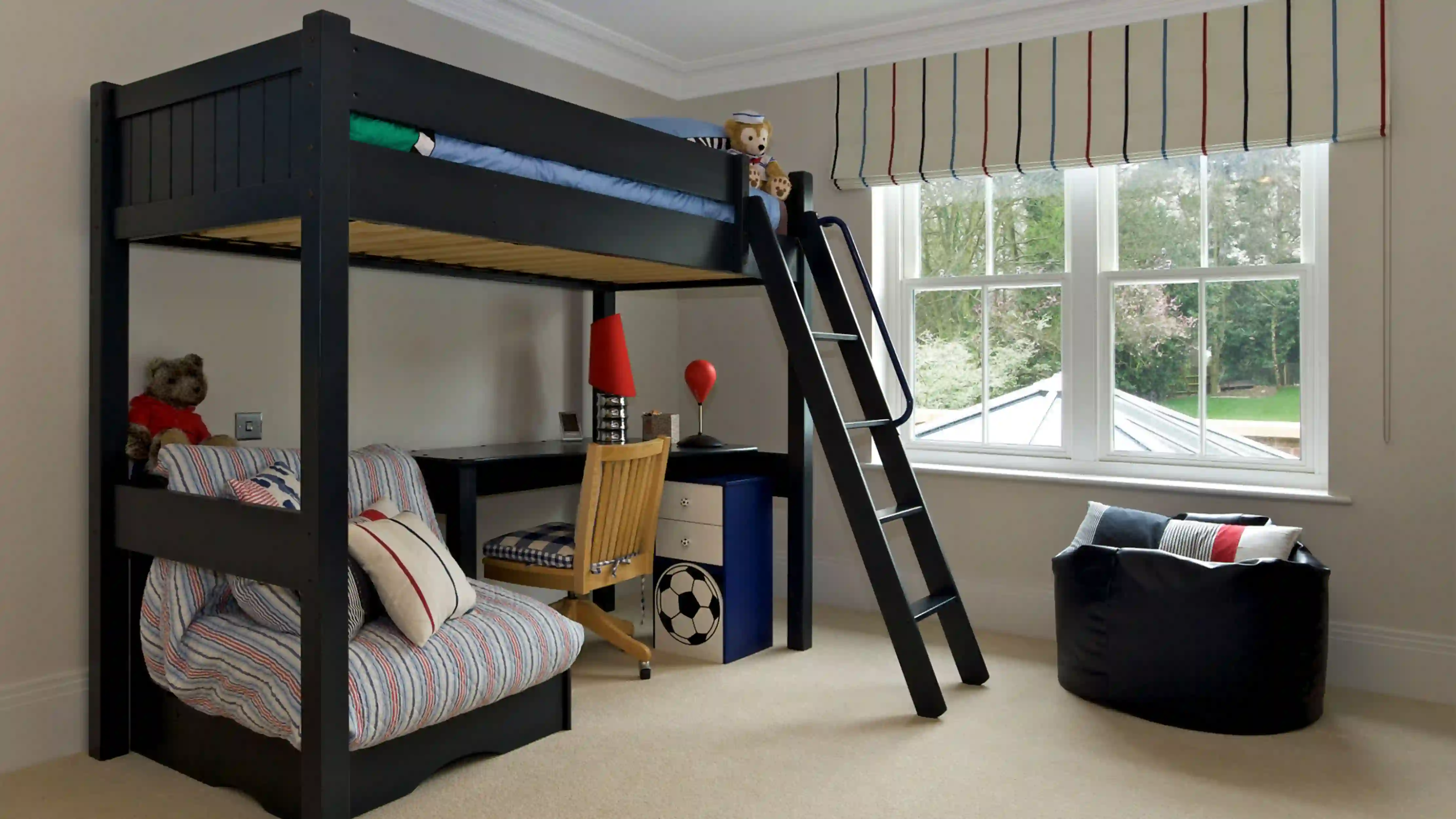 ​
It is common that the bedroom where your children sleep is also where they play. Why not give them everything in a loft bed? They'll get the most out of it by playing all the time. They'll have the perfect hideaway in their bedroom! And the best thing is that if you put a mattress or a mat, it will be a comfortable space to read, play or listen to music. At least it will be until pre-adolescence.   
2. Added Canopies on beds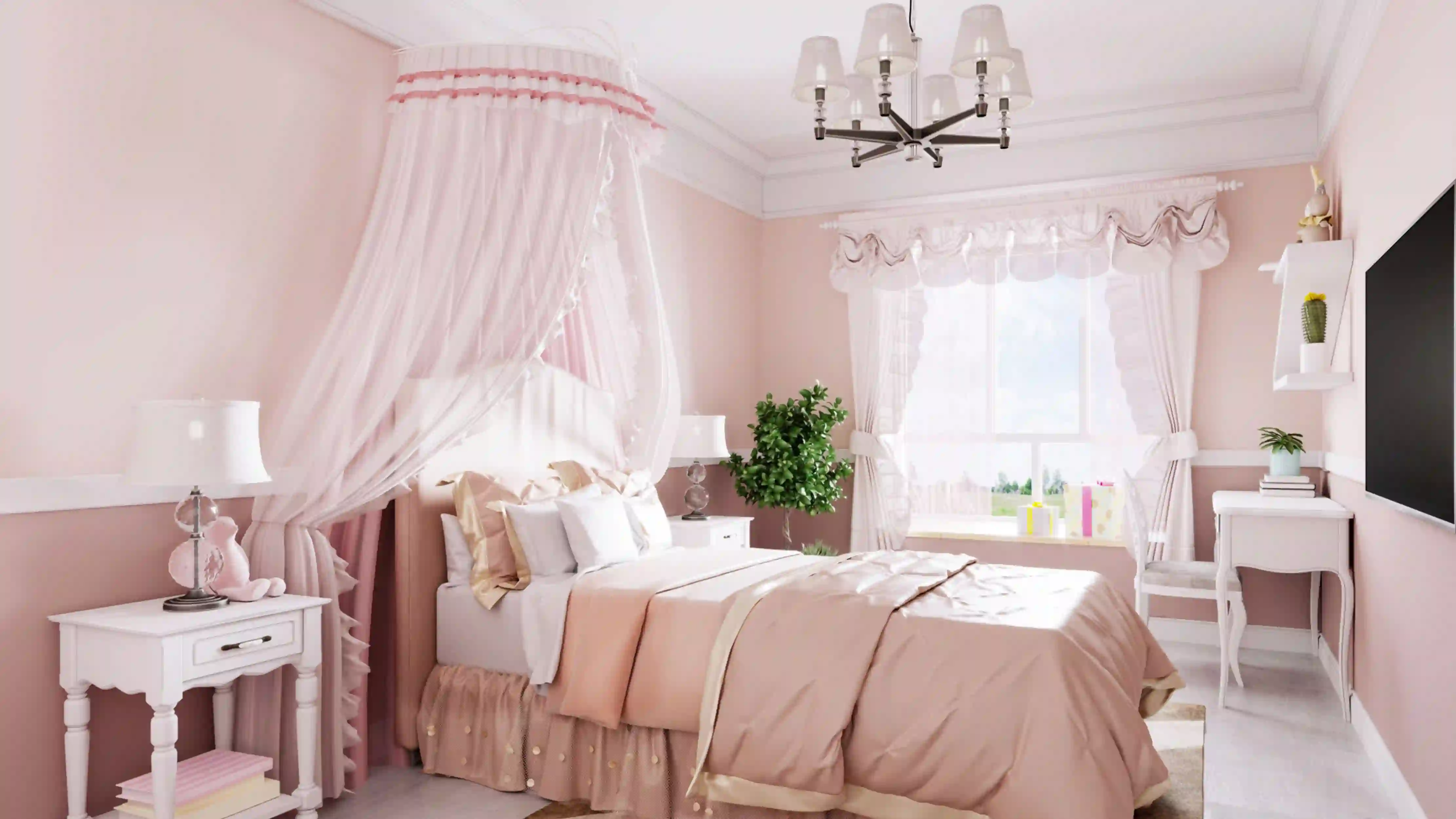 The key for your children's bedroom to adapt as the years go by is in the accessories. So, when they are younger, you can place a kind of canopy that houses the bed. It will make the room cosier. And, when they enter pre-adolescence, remove it so they can choose the decoration they like the most. 
3. A bed with an extra bed?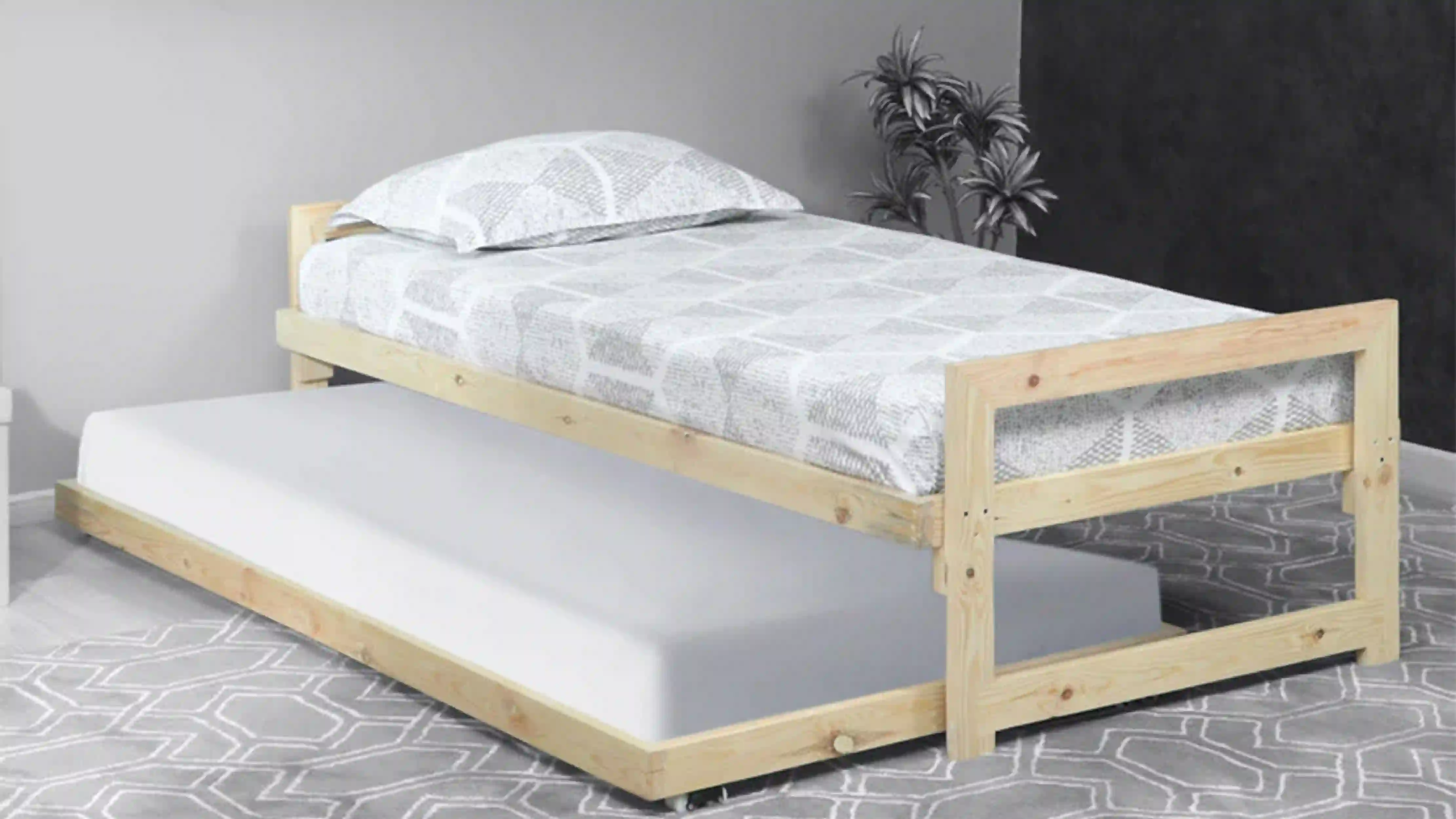 Although your children are growing, planning a different bedroom for each stage is costly. That is why, when they leave the crib and you have to buy a bed for them, it is best to choose one that can adapt to all their ages. A trundle bed is perfect. It has drawers at the bottom, but also an extra bed that's perfect for when a little friend sleeps over. 
4. Beds That Grow With Your Child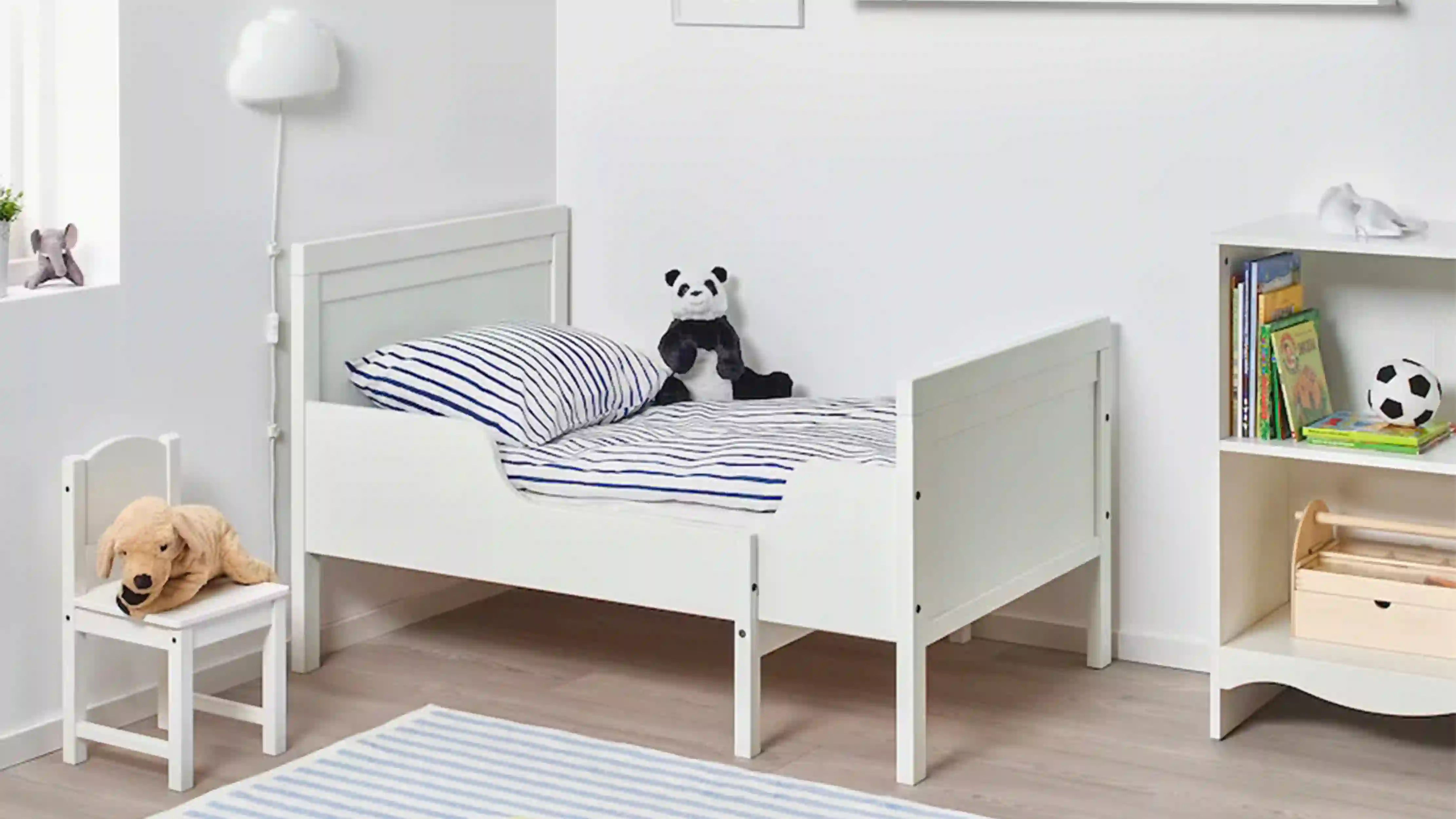 When you choose your child's first bed, don't forget extendable children's beds, whose size can be increased as they gain centimetres. 
5. Trundle beds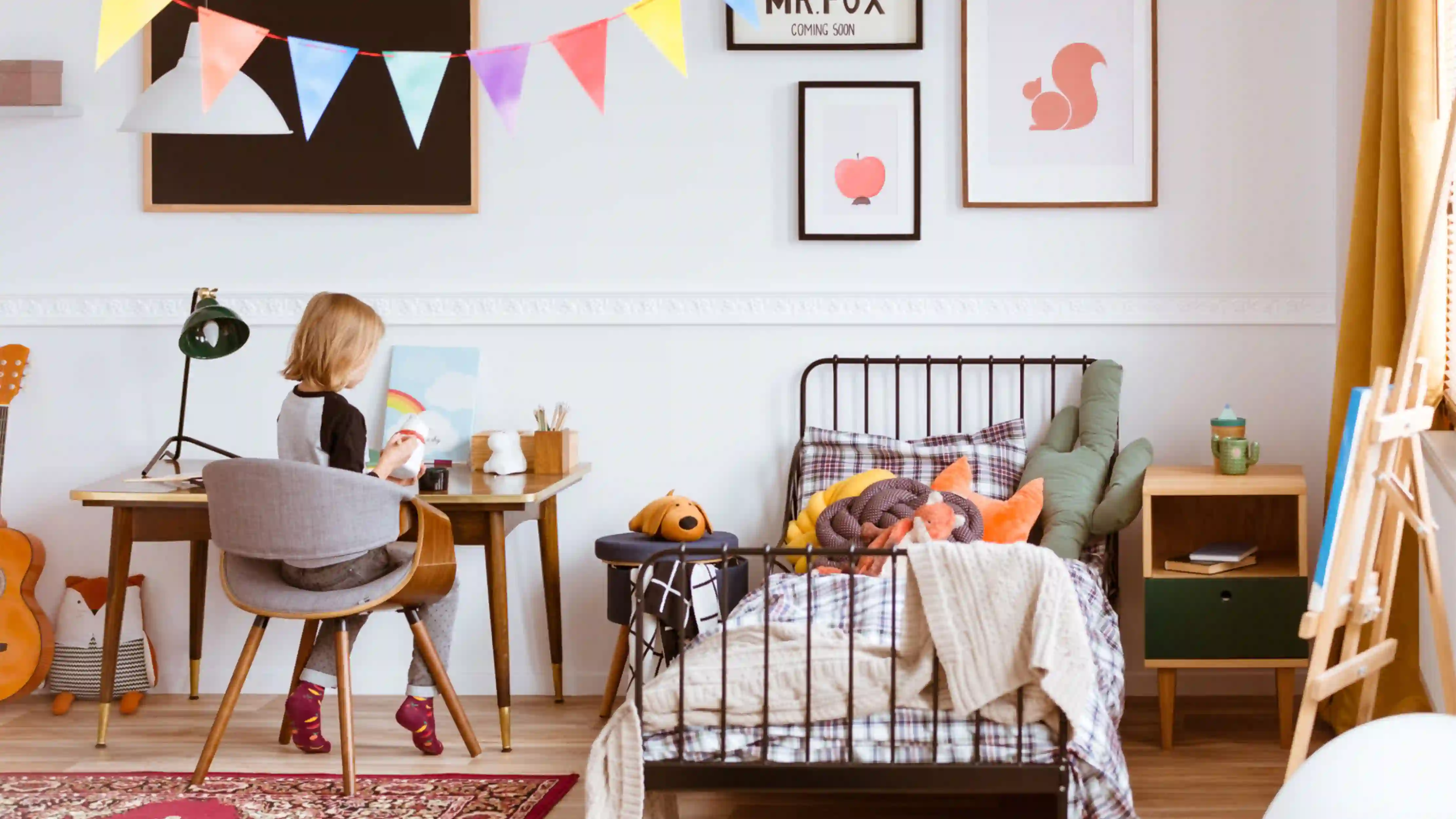 If you have an elegant heirloom trundle bed, don't throw it away. You can sand it down and give it a coat of varnish or paint, whichever you prefer. With the right choice of bedding, that trundle bed will become your child's favourite place. And, as they enter their pre-teen years, they'll love its divan look. They can also use it for purposes other than sleeping. They can read and listen to music comfortably on this piece of furniture. 
6. The addition of a workspace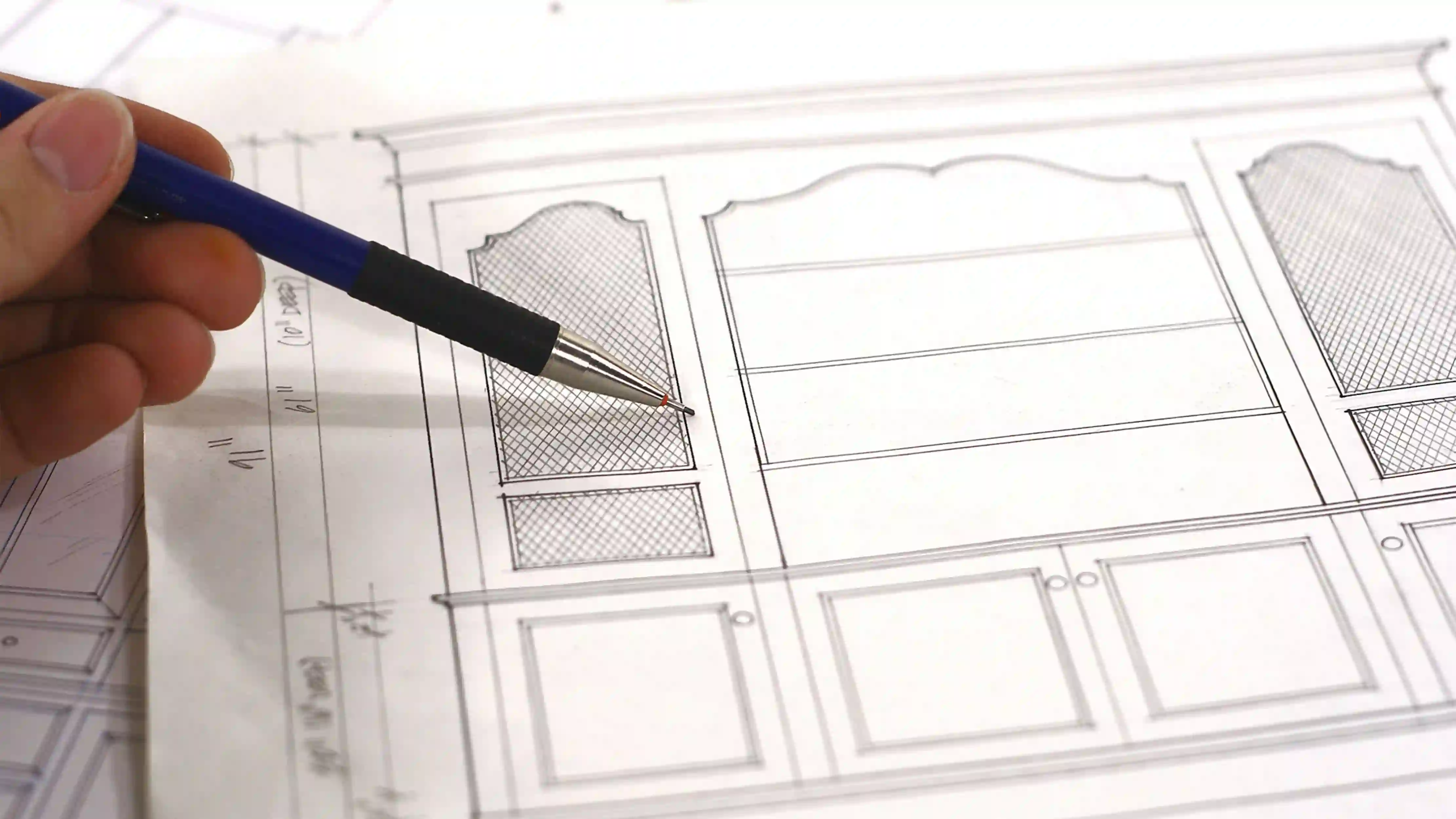 The transition to primary school is also the beginning of homework. Therefore, it is important to allocate a study area for them. And they will spend many hours there, so choose a durable table, with a comfortable chair and some drawers to instil order in their routines. 
7. Custom made furniture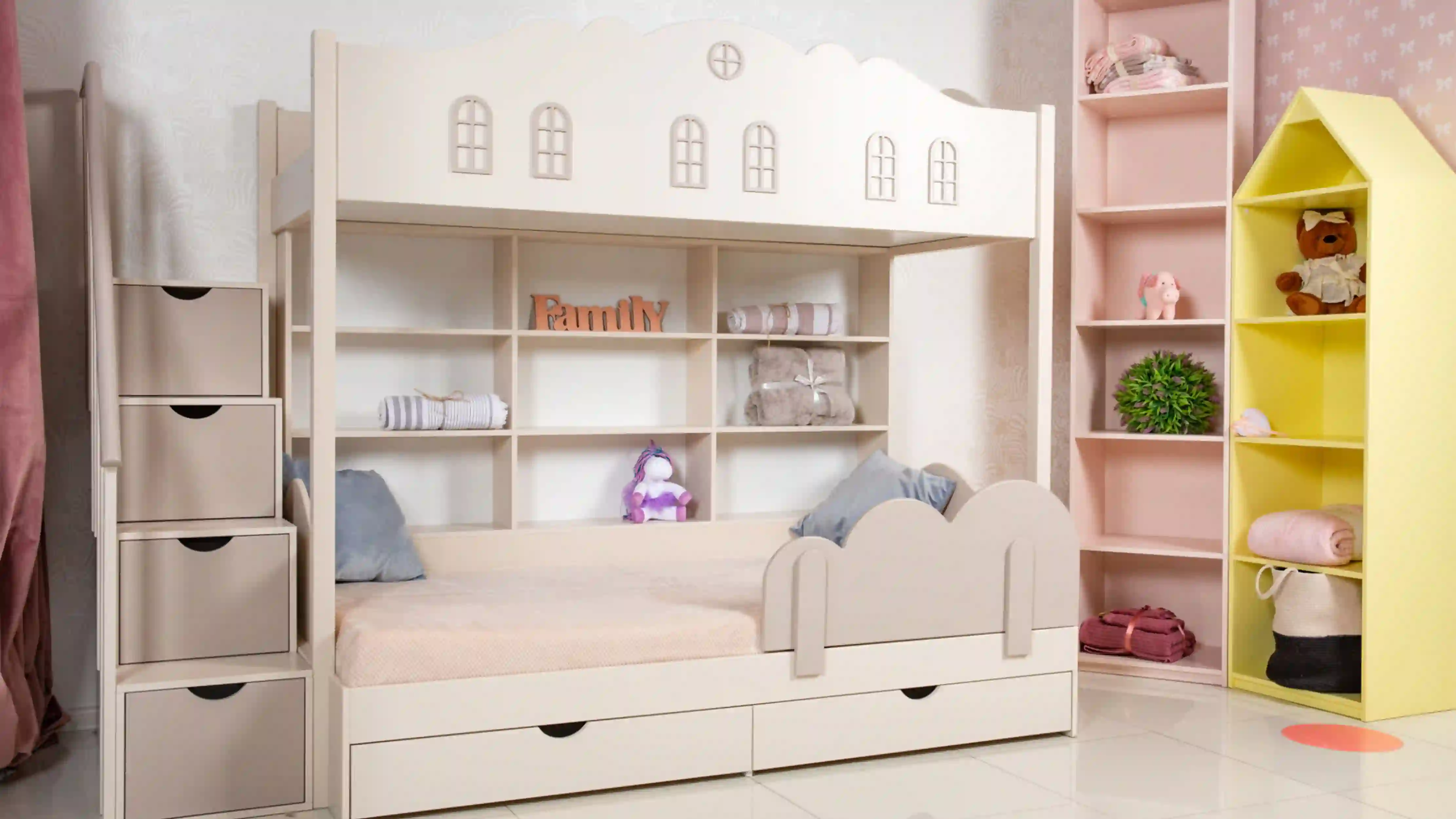 Homework, book collections, sports equipment and, of course, lots of clothes. There's nothing like being forward-thinking and planning a children's room ready for any age and taste. For that, custom-made furniture can be your greatest ally. Extra drawers for balls, soccer boots or gym balls; shelves for books and sleeves; a trundle bed for visitors? Make sure there's nothing missing! 
[Also Read: 5+ Anime Themed Room Ideas To Get Stunning Manga Room]
8. The solution to a small bedroom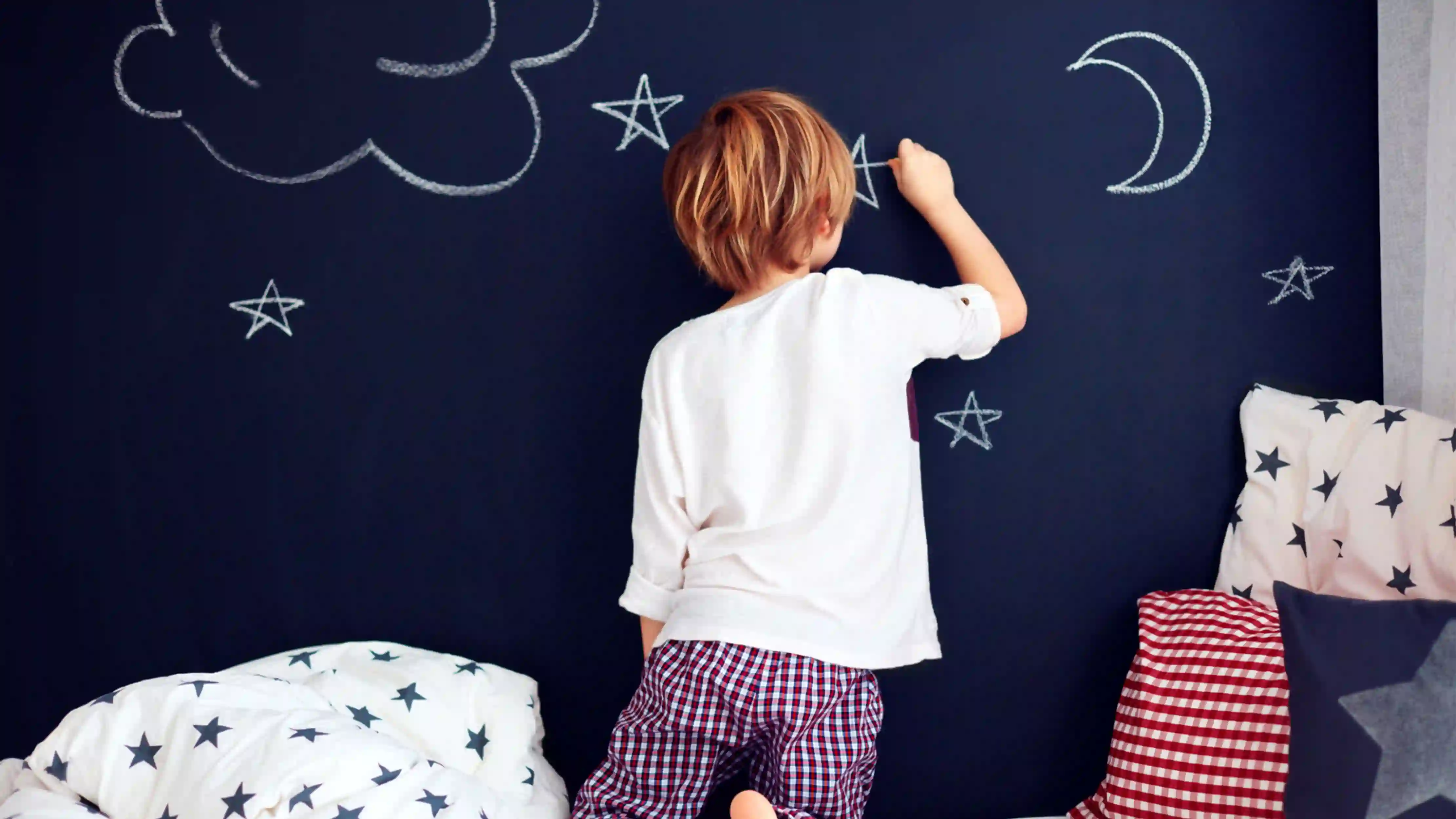 In small children's bedrooms the best option, especially when they are occupied by more than one kid, is to place a bunk bed. The important thing is that the older child stays on the upper bunk and that the bed has a stable ladder and a handrail at the top to prevent falls. 
9. Add art to the room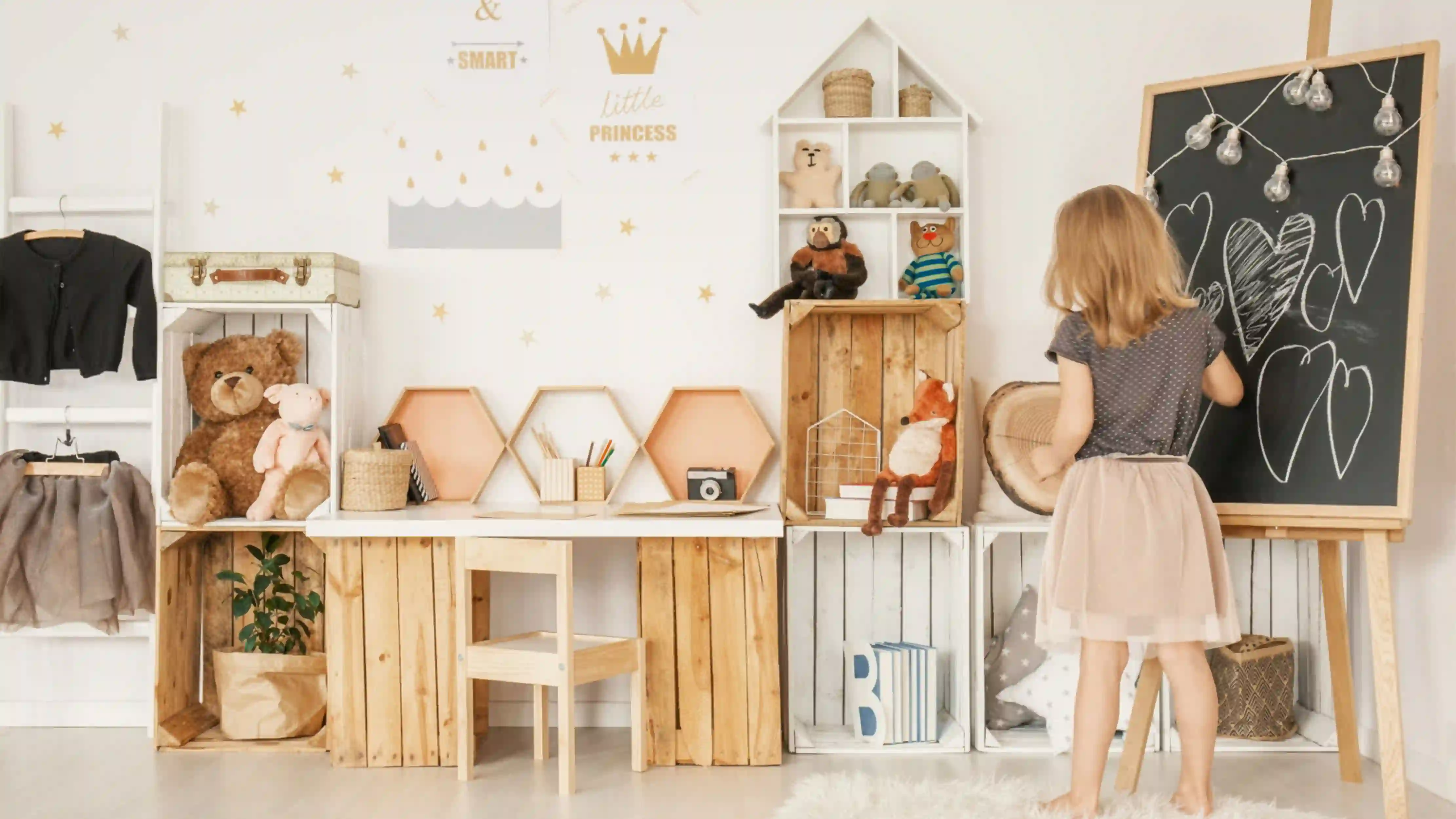 Murals are a perfect way to decorate the walls of a child's bedroom. Choose a motif that they like and involve them in the selection process. You can choose to place a vinyl mural or if you are good at painting (or can hire someone), you can paint your own mural. It will look great and add a personal touch to the room! 
10. Use toys as decor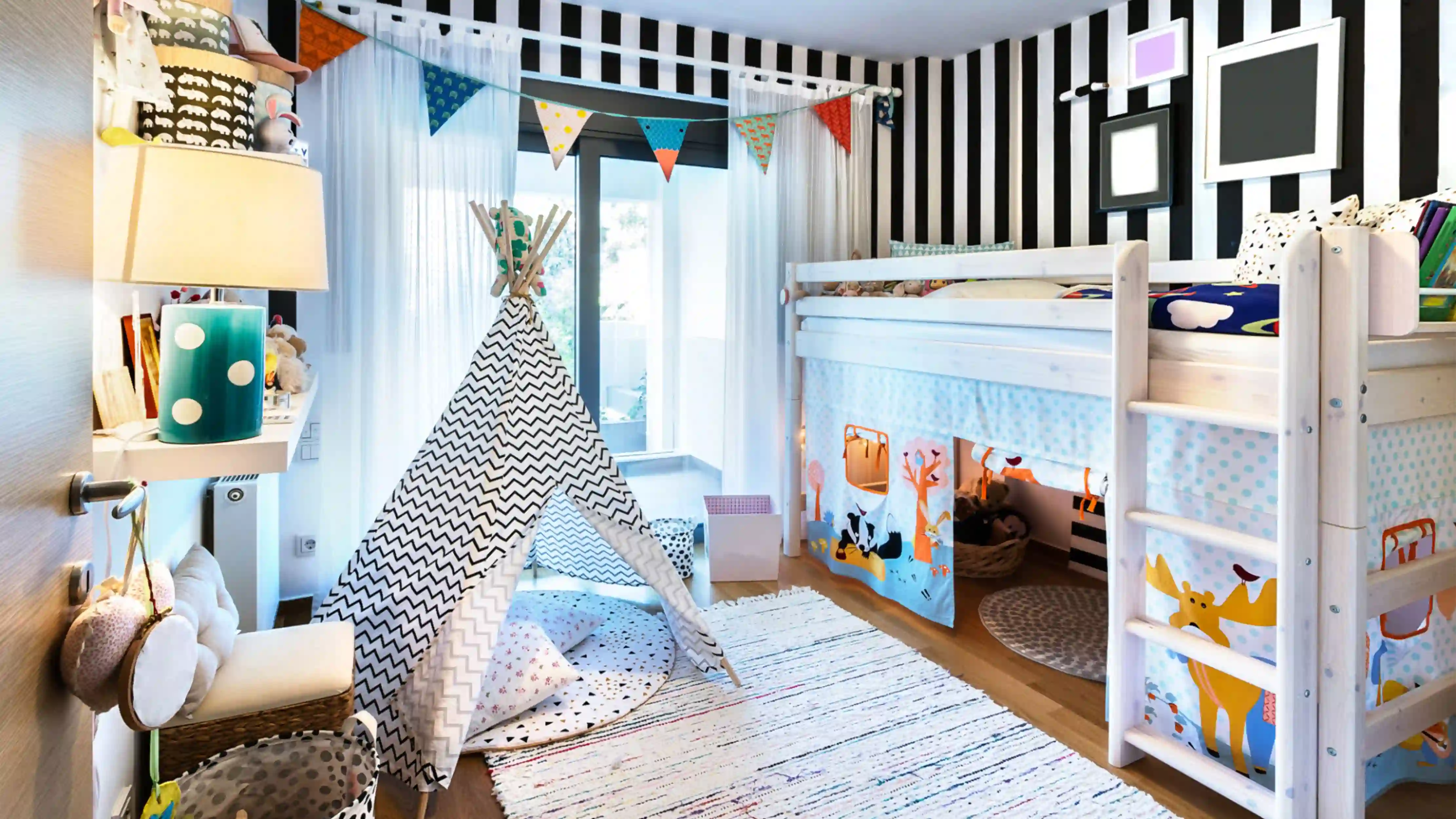 If your child loves animals you have to add multiple large soft toys to your children's bedroom. They will surely love them in their younger ages and into their pre-teen years. They will soon say, "I'm not a kid anymore!". But until then you'll be the coolest parent.
Once they get older, here are some crystals you can use as decor and bring good luck.
11. Privacy in a shared room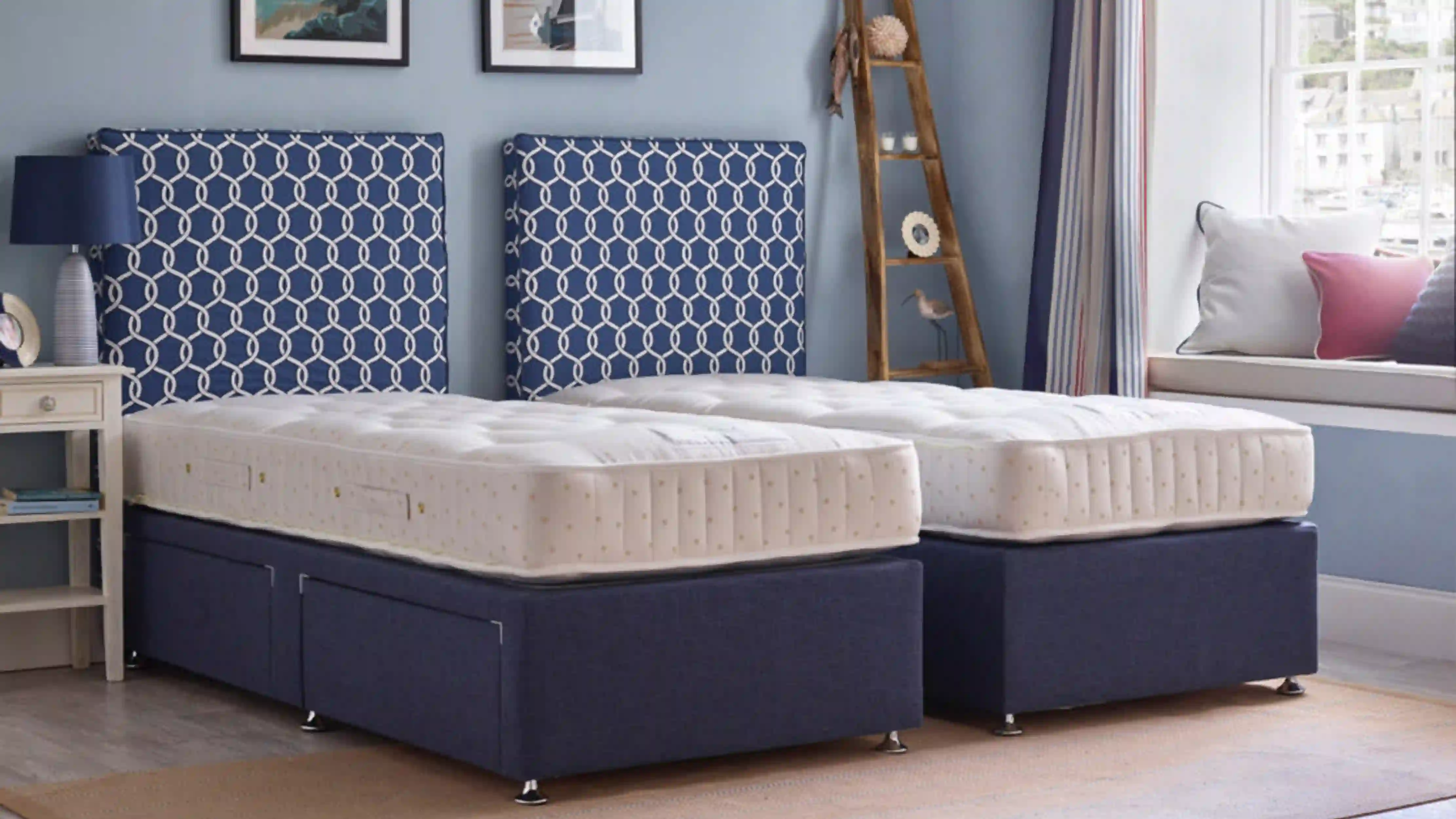 If your children share a room the idea is that although it is shared each one has their own space. Separate the beds so that they feel they have their territory and privacy. You can decorate the separated sections the same or each one according to their tastes.  
12. Give Them A Separate Play Area
If you are lucky enough to be able to allocate a large room to the children's room, try this idea. Separate the rest area from the play area with a semi-open partition that differentiates the two areas. When they are older, you can replace the toys with a desk and some bookcases. Perfect!
13. Divide A Double Bed Into Two
Of course, it all depends on the stage of childhood in which your kid is. Because maybe your little ones are in the phase where they can't do things without their siblings. In such a case they will surely love the idea in which each one has their own bed, but they are right next to each other. Besides, for this idea, you won't need a big investment. 
14. Transition Into A Teenager's Room
When your son or daughter reaches the age of 12, you will have to prepare his or her room for a new stage. As they are moving into their teen years now, you can place a headboard upholstered in false capitonné that elevates the decoration, but a study area will also be necessary. Placing the study desk under the window will ensure that it receives natural light, ideal for studying, but beware of distractions!
Also read: Here's How To Select The Best Interior Designer In 5 Steps