Table Of Content:
The most "lived-in" space in your home is the main hall, where you spend most of your time. Some people view their living room as a "multi-functional" space in the house since it accommodates a variety of activities, including reading, lounging on the sofa, and entertaining guests almost exclusively there. But if your main hall looks a bit lacklustre, you can install a perfect main hall fall ceiling design, whose beauty will help capture the attention of your guests the moment they enter.
Find Yourself The Perfect Main Hall Fall Ceiling Design
To assist you in finding the perfect main hall fall ceiling design for your living room, we have prepared a guide for you based on the most recent fall concepts and images for the hall.
1. Geometric Patterns - Fall Ceiling Design
You can incorporate traditional main hall fall ceiling design into the hall by adding smooth and consistent finishes. If you wish to keep the false ceiling design for the hall simple, then focus more on geometric patterns like squares, rectangles, and octagons. Now, you must be wondering why we are solely concentrating on patterns at this point. It is because, for your main hall fall ceiling design, you need something that is particularly beautiful yet signifies simplicity. In this form, you will be able to enhance the charm of your living space.
Also Read: Do you have a small balcony? Try these Decor Ideas To Elevate Your Balcony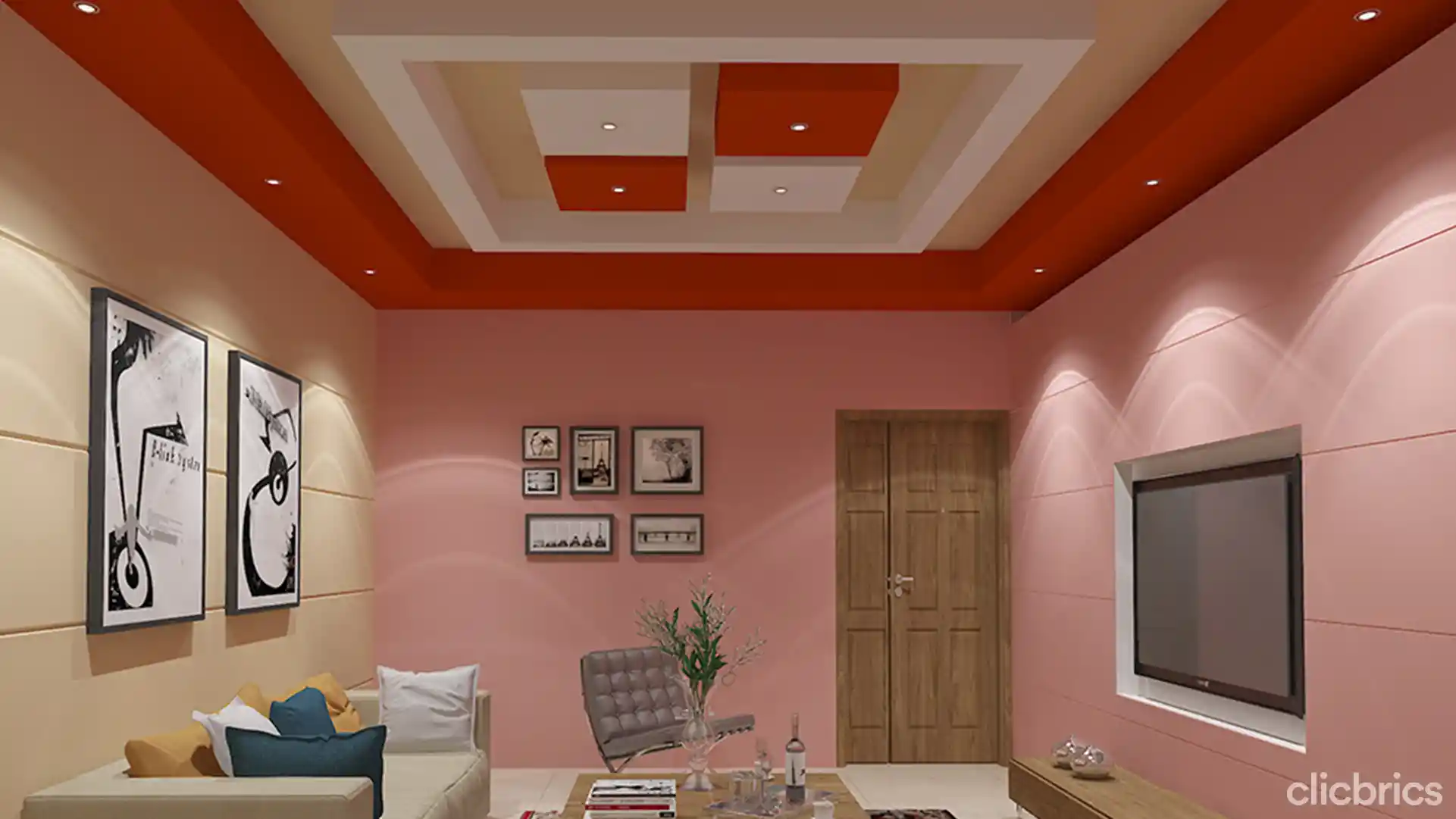 2. Hall Lighting Effect Idea
If you are looking for a modern main hall fall ceiling design that is elegant and modern and provides you with an atmosphere of luxury, then look no further! In your false ceiling, you can incorporate lighting effects with cove lights and chandeliers to create a modern outlook.
Also Read:5 Trending Main Door Grill Designs for Flats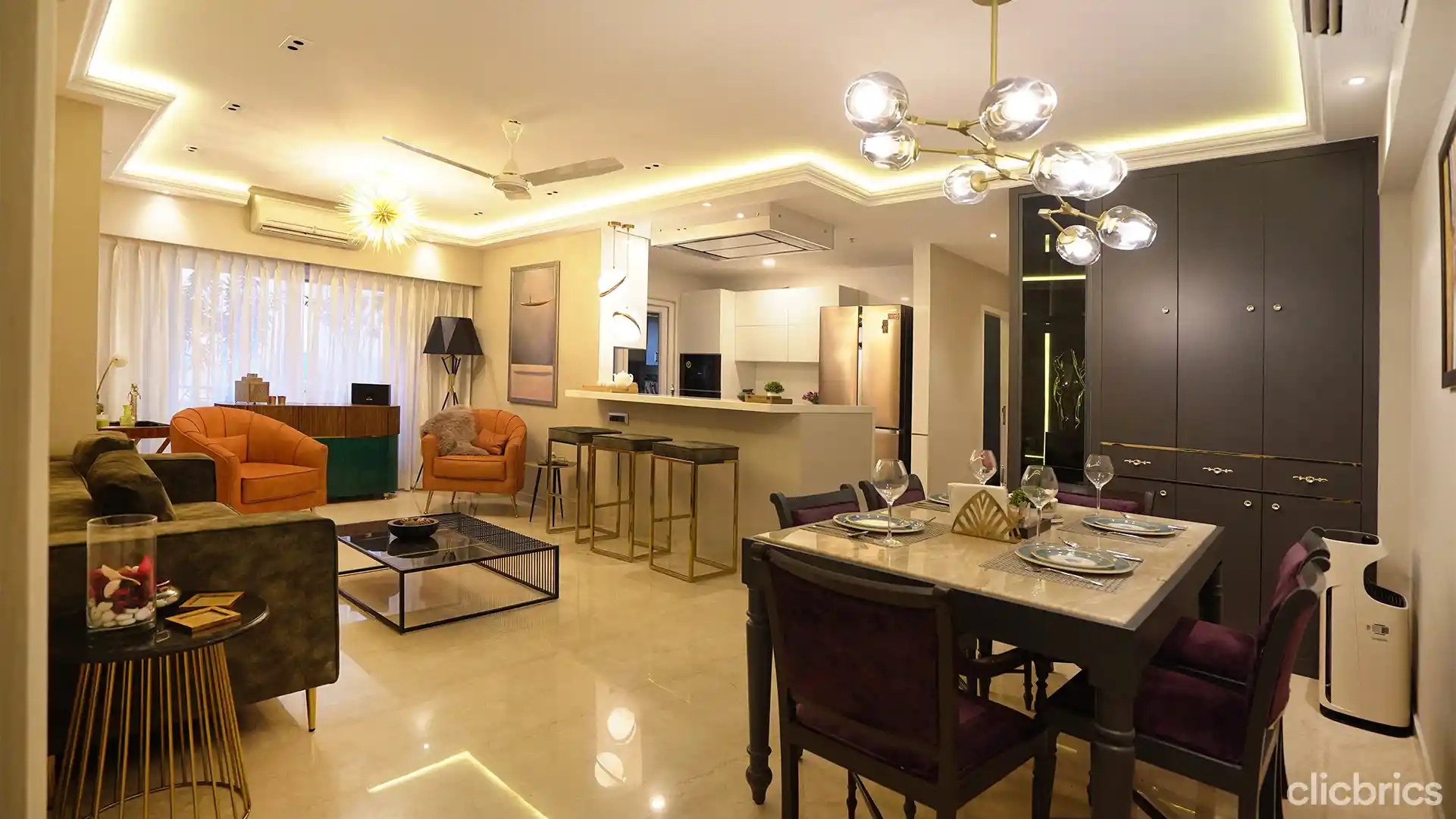 3. Focus on Right Colours for Living Room False Ceiling
The colours are everything when it comes to a simple main hall fall ceiling design. Therefore, pay special attention to the hall's walls and ceiling design to make sure that the colour and style are harmonious and that you are getting the decor you have always wanted.
Also Read:5 Magnificent Wardrobe With Dressing Table Design Ideas for 2022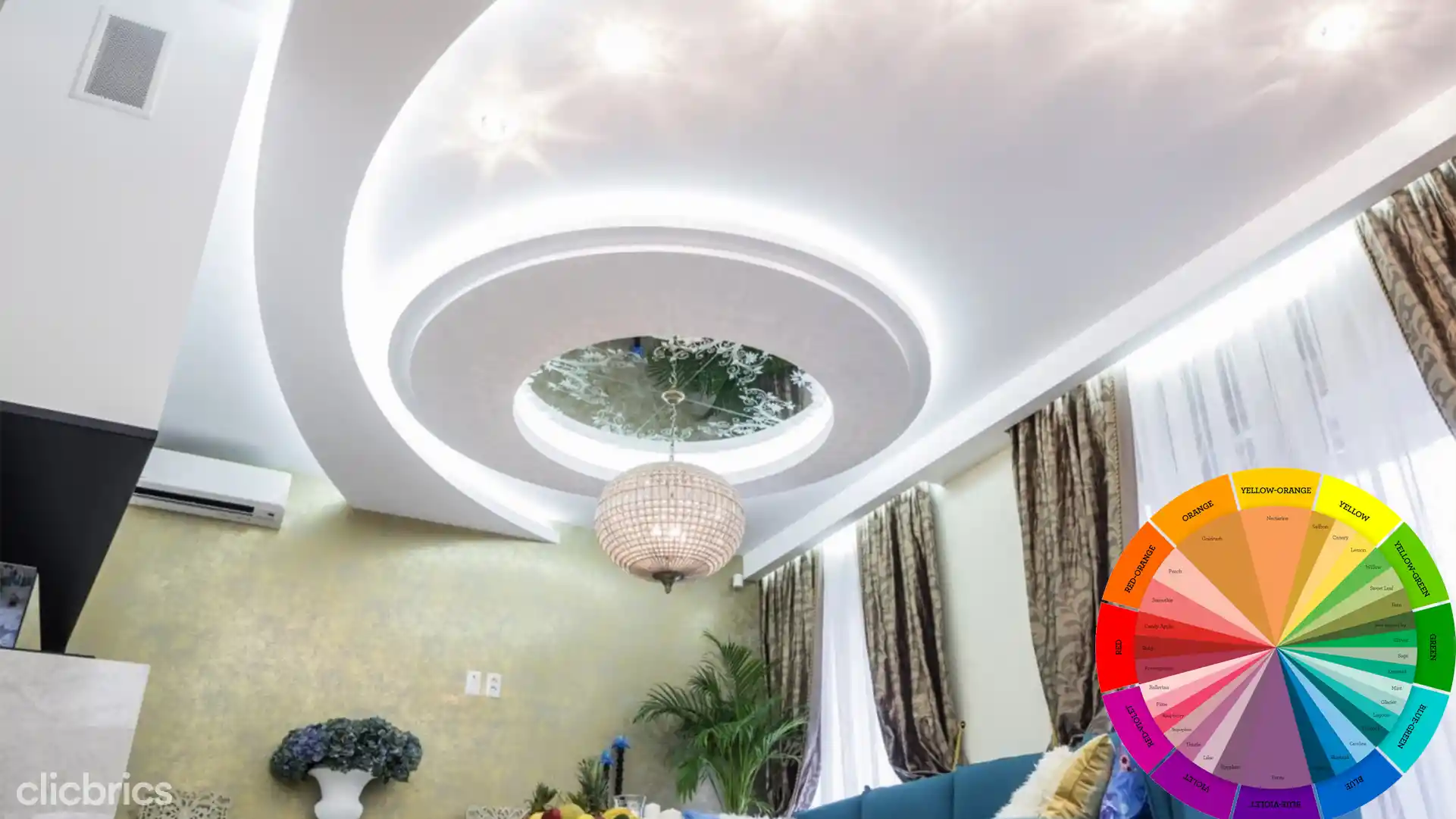 4. False Ceiling Design Idea with Two Fans
If you are seeking an idea for your false ceiling design for a hall with two fans, you can create two artificial ceilings, and each of these will allow the fan to be installed. If you wish to create a luxurious look, you can also place a chandelier in the middle of the living room. Moreover, you can incorporate a floral pattern into the false ceiling design for the hall with two fans.
Also Read: 7 Surprisingly Effective Feng Shui Tips to Boost Luck and Wealth at Home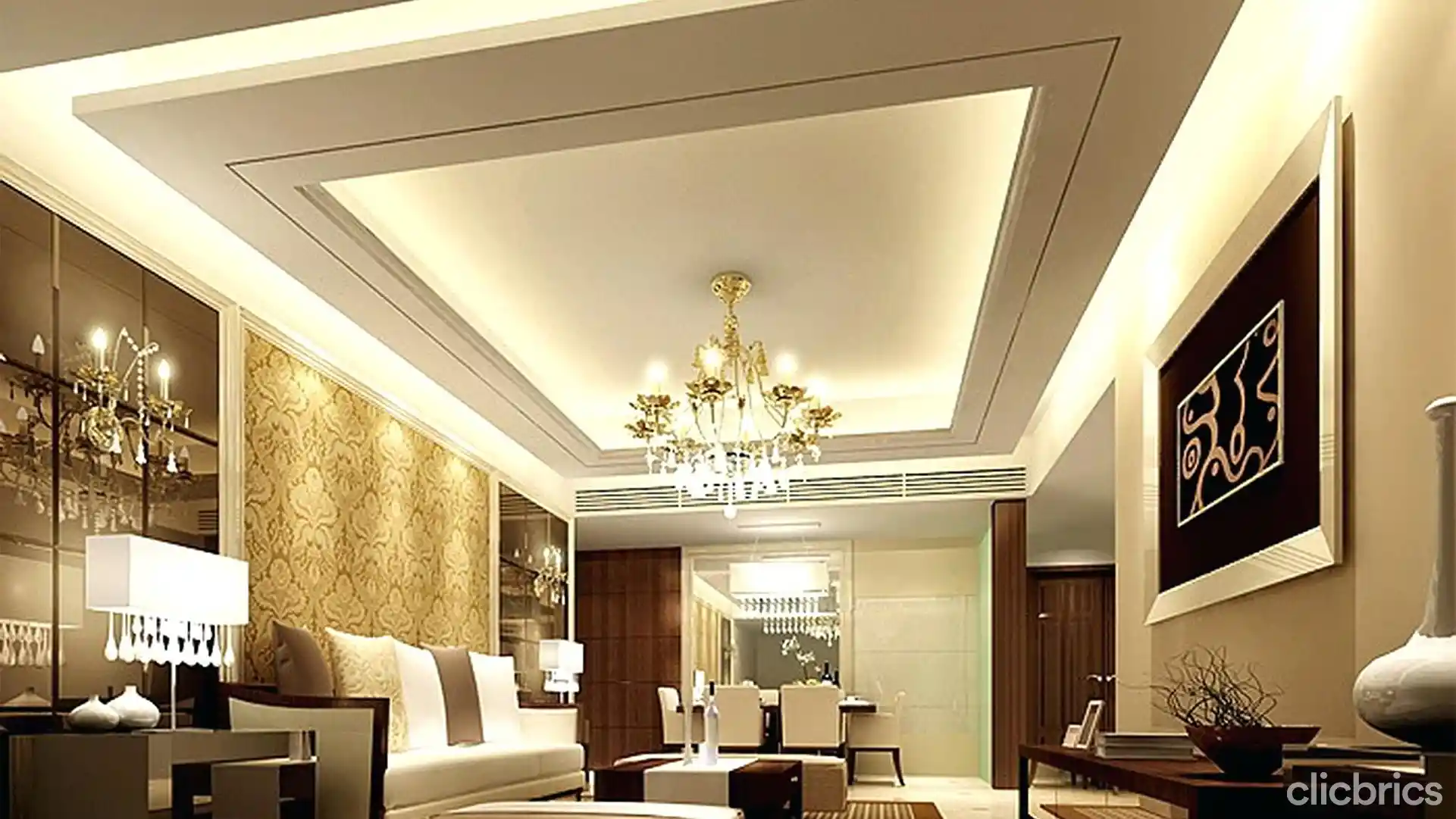 5. Coffered Modern False Ceiling Design
You can choose a coffered fall ceiling or a simple design for your living room to set a standard that no one can match. Having a coffered style living room main hall fall ceiling design will come in a variety of patterns and styles. However, it mostly comprises a partitioned ceiling design and might also feature a colour scheme that combines two colours.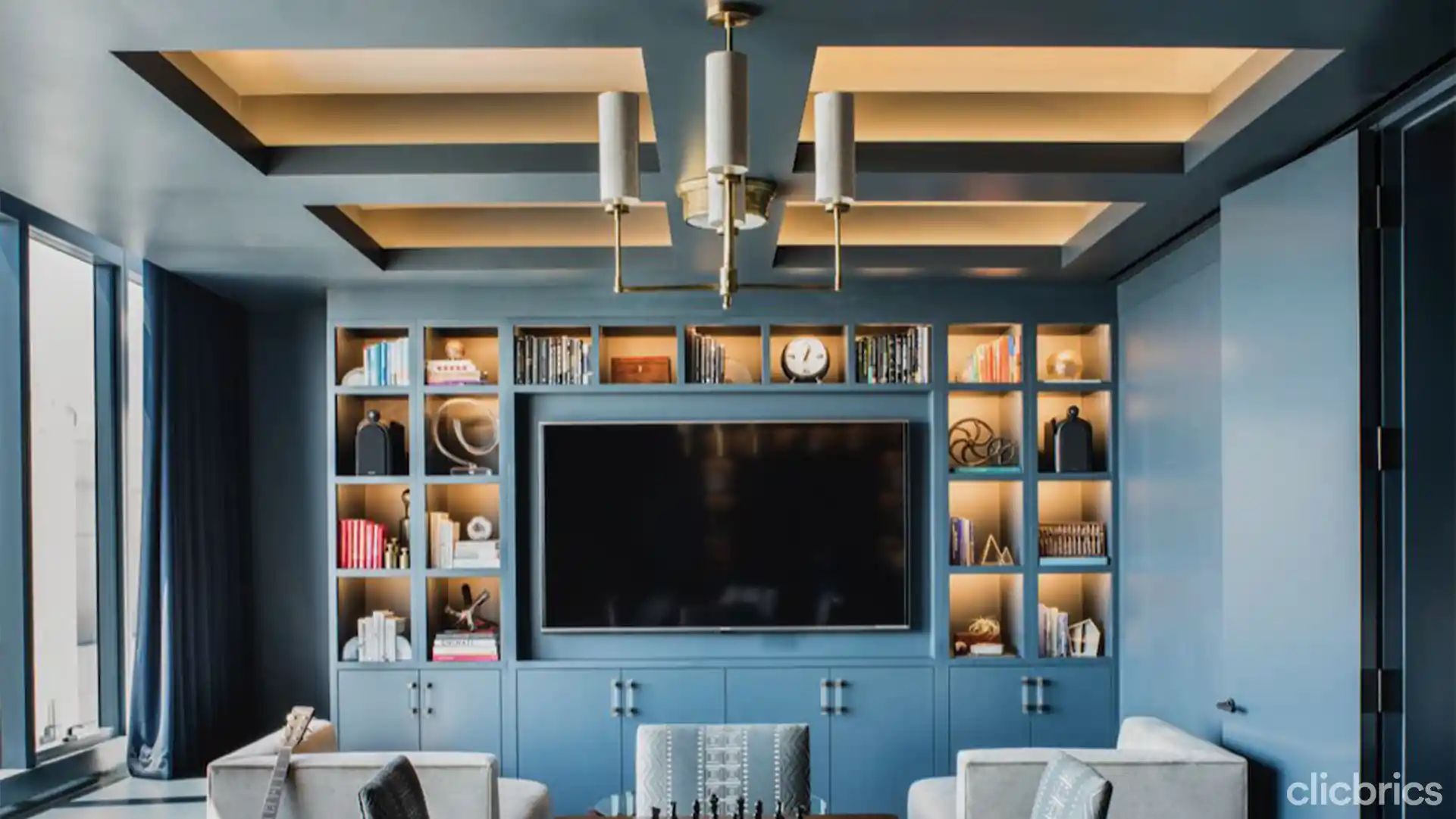 6. Panelled Fall Ceiling Design
The best false ceiling design for a hall can be achieved by stacking panels of various heights to create contrast. These panels will give your living area a dramatic appearance. Additionally, the dual-height false ceiling design for the living room enables the addition of suitable lighting and colour while highlighting the grandiosity of a room with vast space.
Who do you think will win in wallpaper vs paint? Click here to know!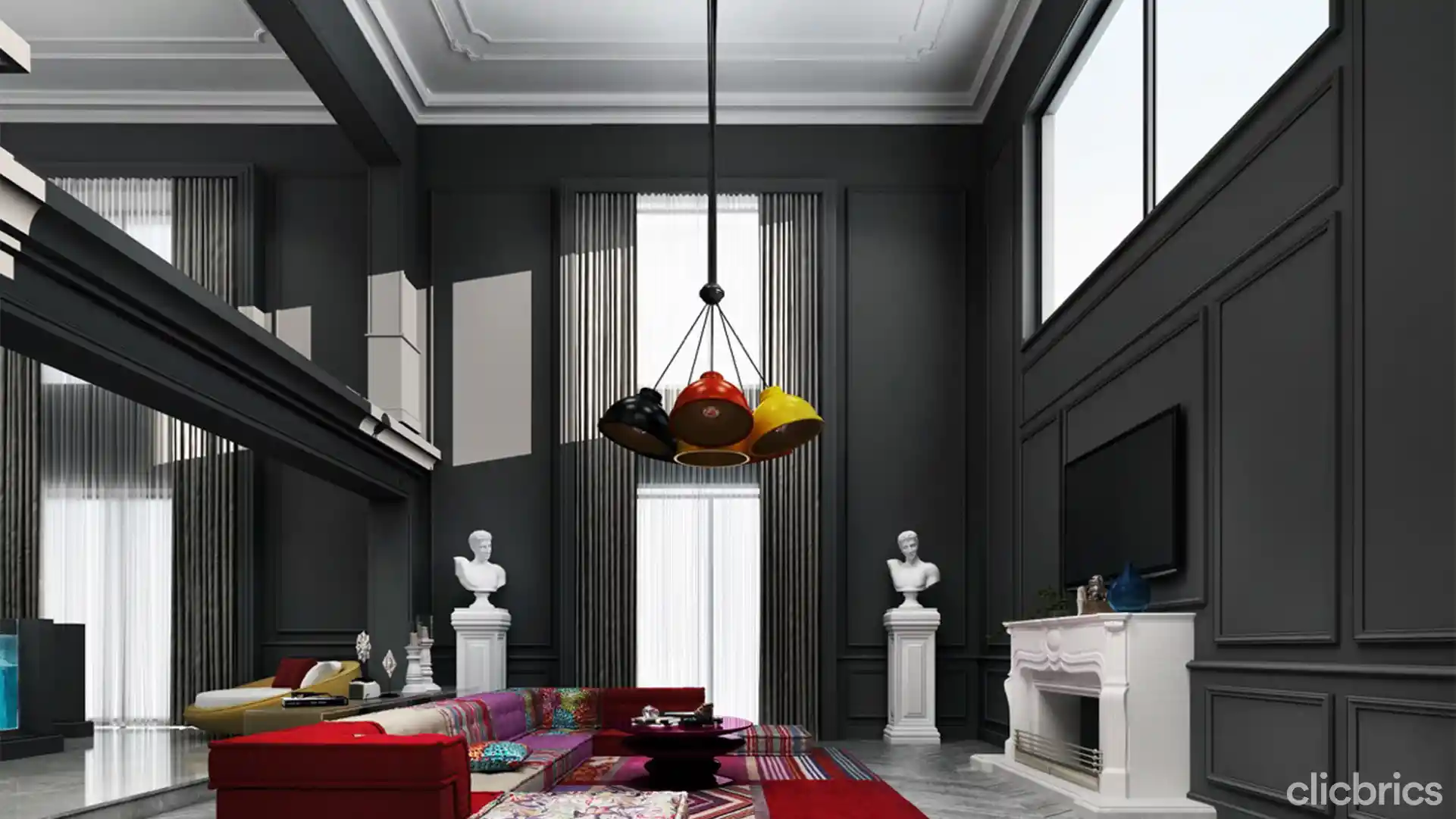 7. Contemporary Fall Ceiling Design
Another method to add more effects and raise the decor quotient for the simple ceiling design for the hall is to use a simple stacked tray ceiling design. Additionally, you can work on the walls to make them more contemporary by adding recessed lighting and other design elements. Also, try these 10 hacks to maintain the cleanliness of your home.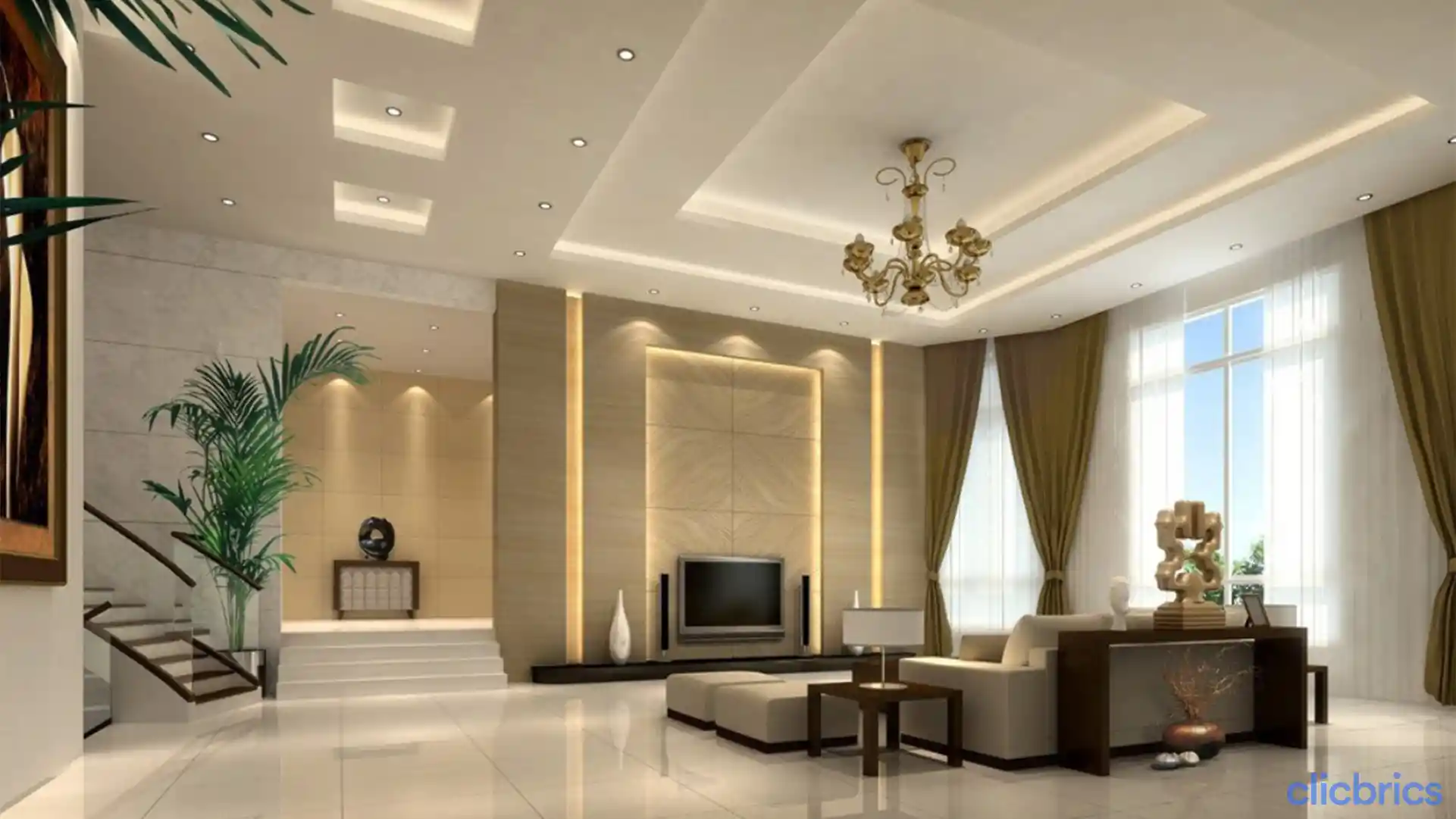 8. Woodwork Design - Main Hall Fall Ceiling
The calming patterns and texture of a false ceiling should be your main consideration when choosing a unique false ceiling design for the drawing room. So the best choice is to go with modern wood. A few LED lights added to woodwork can change the appearance and atmosphere of a drawing room. Without a doubt, this style will add a gentle yet noticeable glow to your living space.
Also Read:Functional Children's Rooms: Set Up Your Child's Dream Room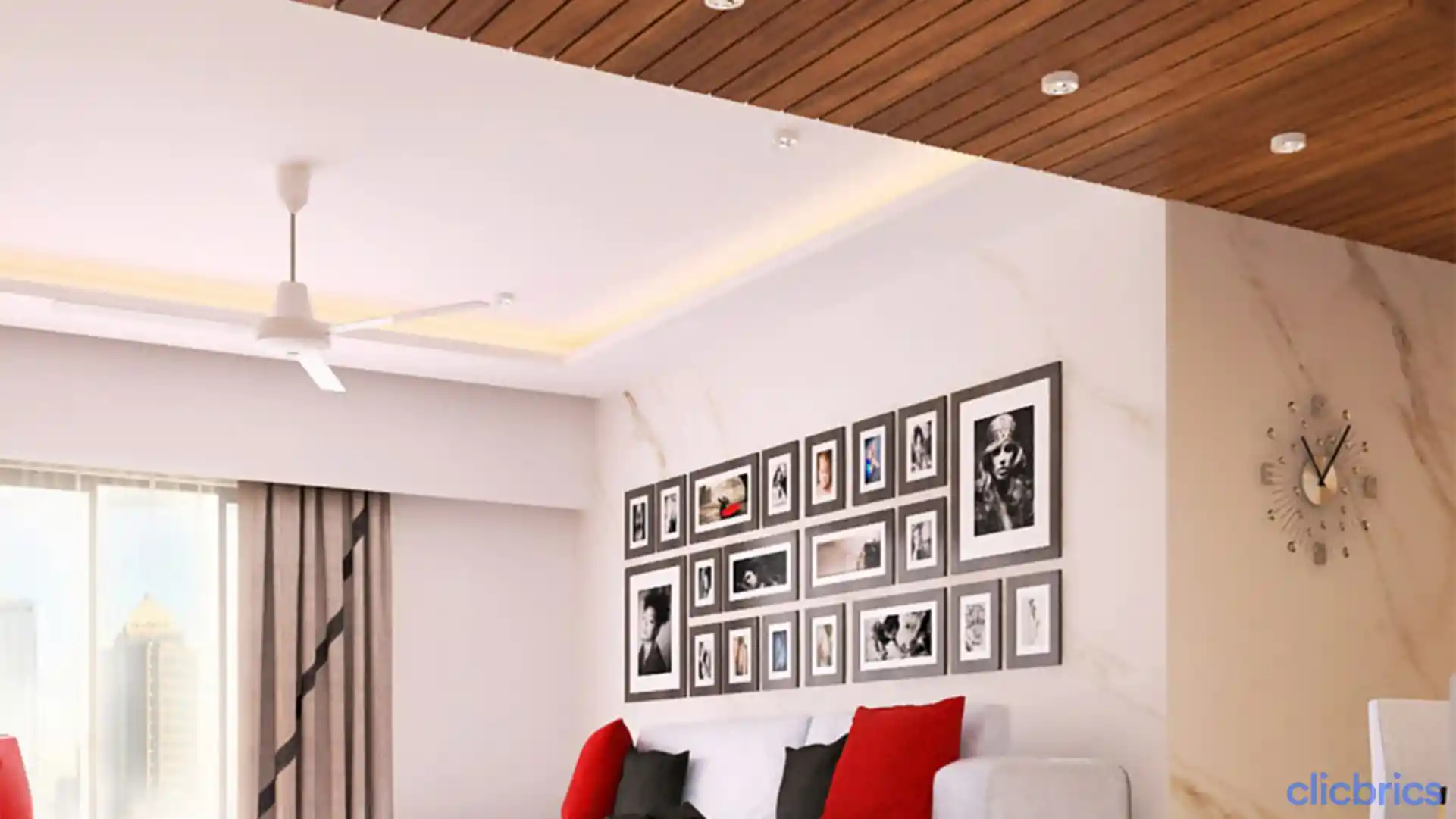 9. Honeycomb-Style Fall Ceiling Design
Installing a honeycomb-style false ceiling in your hall is the best option if you always favour a simple false ceiling design. This style of design keeps the room sumptuous while still giving the impression that it's edgy. You may use the same style in your dining room, bedroom, or any other open-concept space. Also, you've got to try these 8 best stone tiles for walls to Smarten-Up Your Home Exterior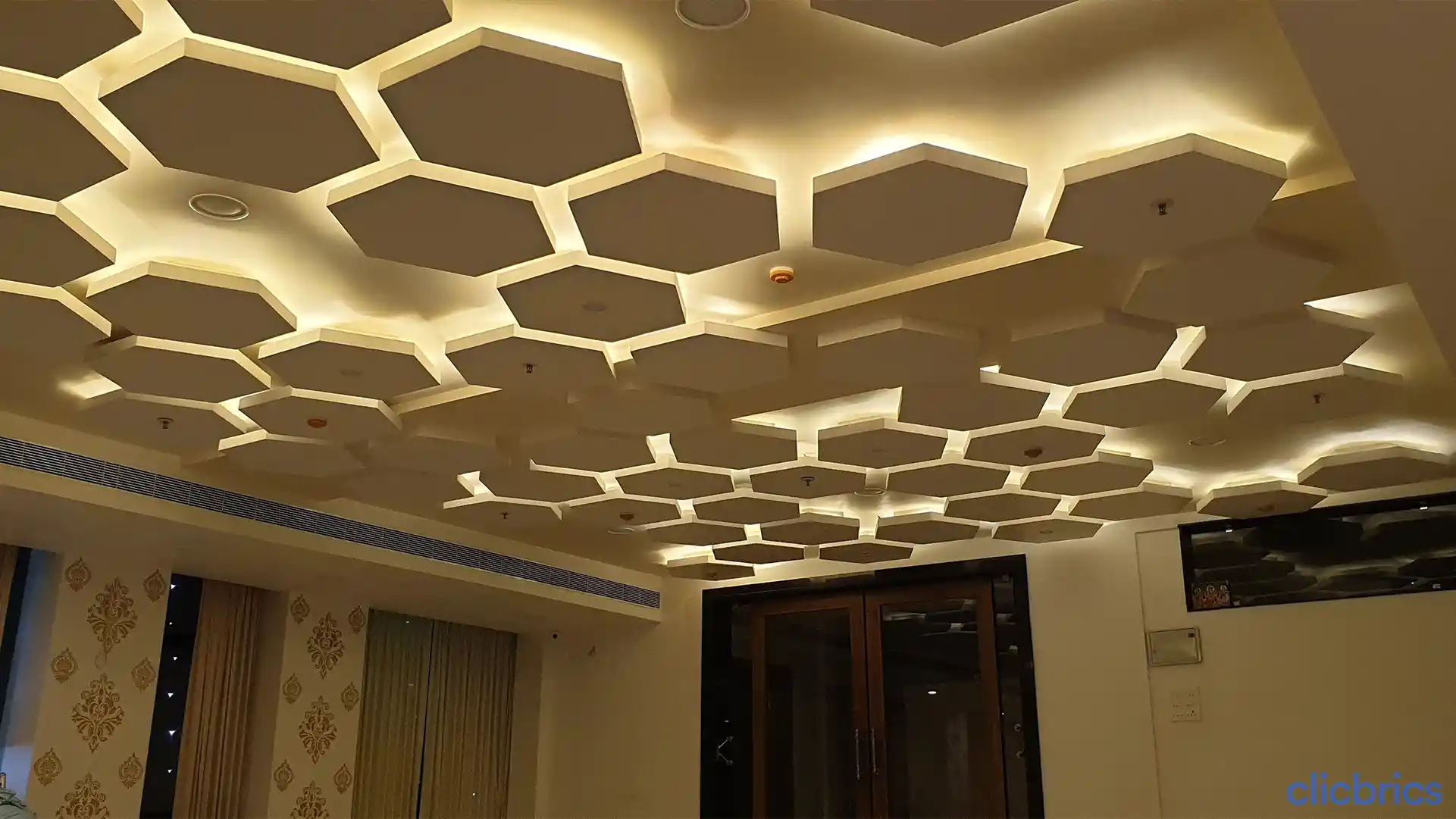 10. Glass Fall Ceiling Design
Do you have a small living room and are unsure whether adding a false ceiling will make the room even smaller? Well, it would look fantastic! So, use glass in small spaces and make sure they are as transparent as possible. So that they make your space more appealing.
Also Read:Top 5 DIY Home decor ideas homeowners will love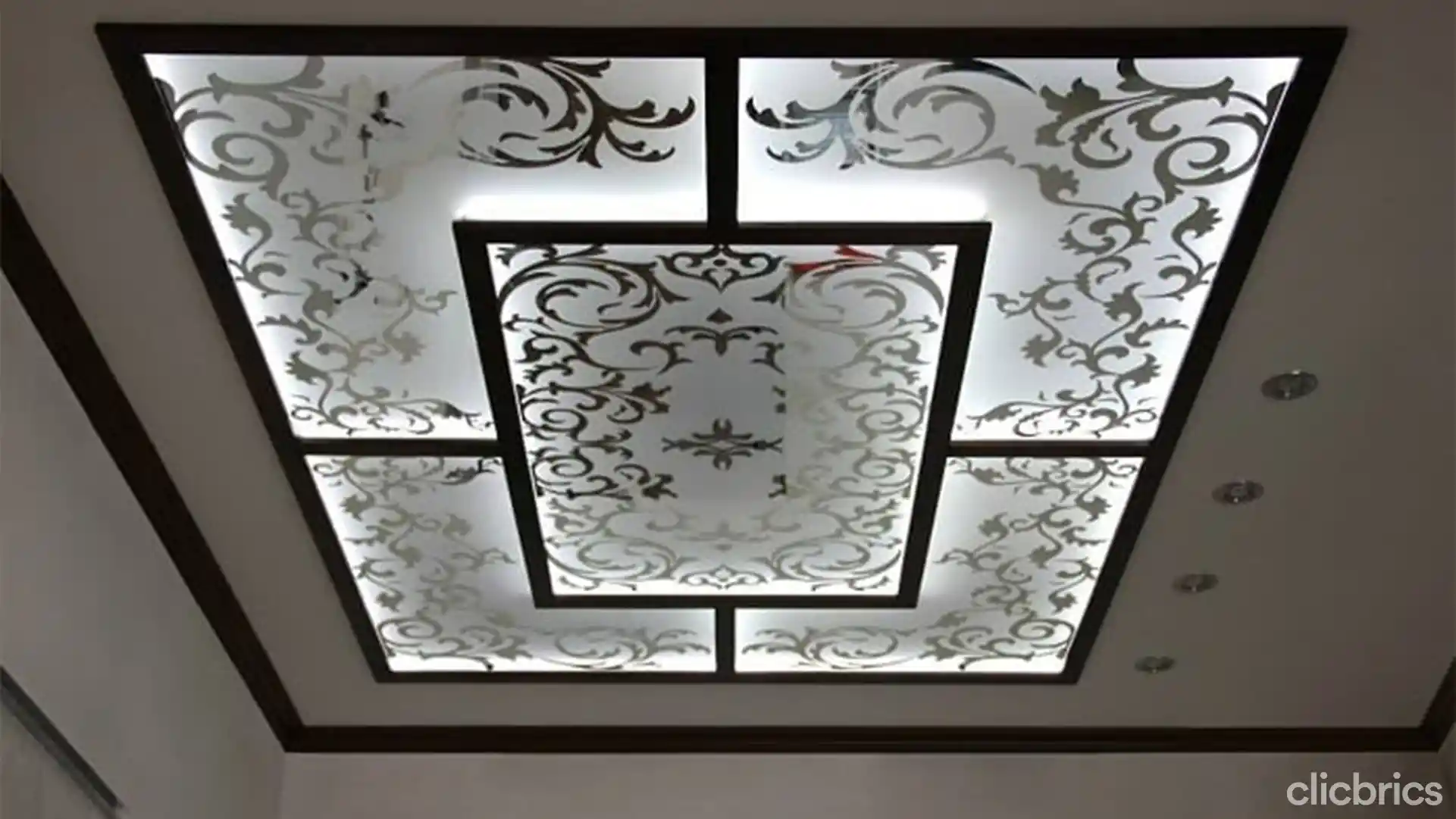 11. Iron Or Aluminium Fall Ceiling Design
Many people choose a false ceiling design for the hall, which is made up of aluminium and iron, as it provides strength and durability. There is no need to maintain these types of ceilings on a regular basis.  Also, don't forget to try these hacks to choose the right curtains for your home.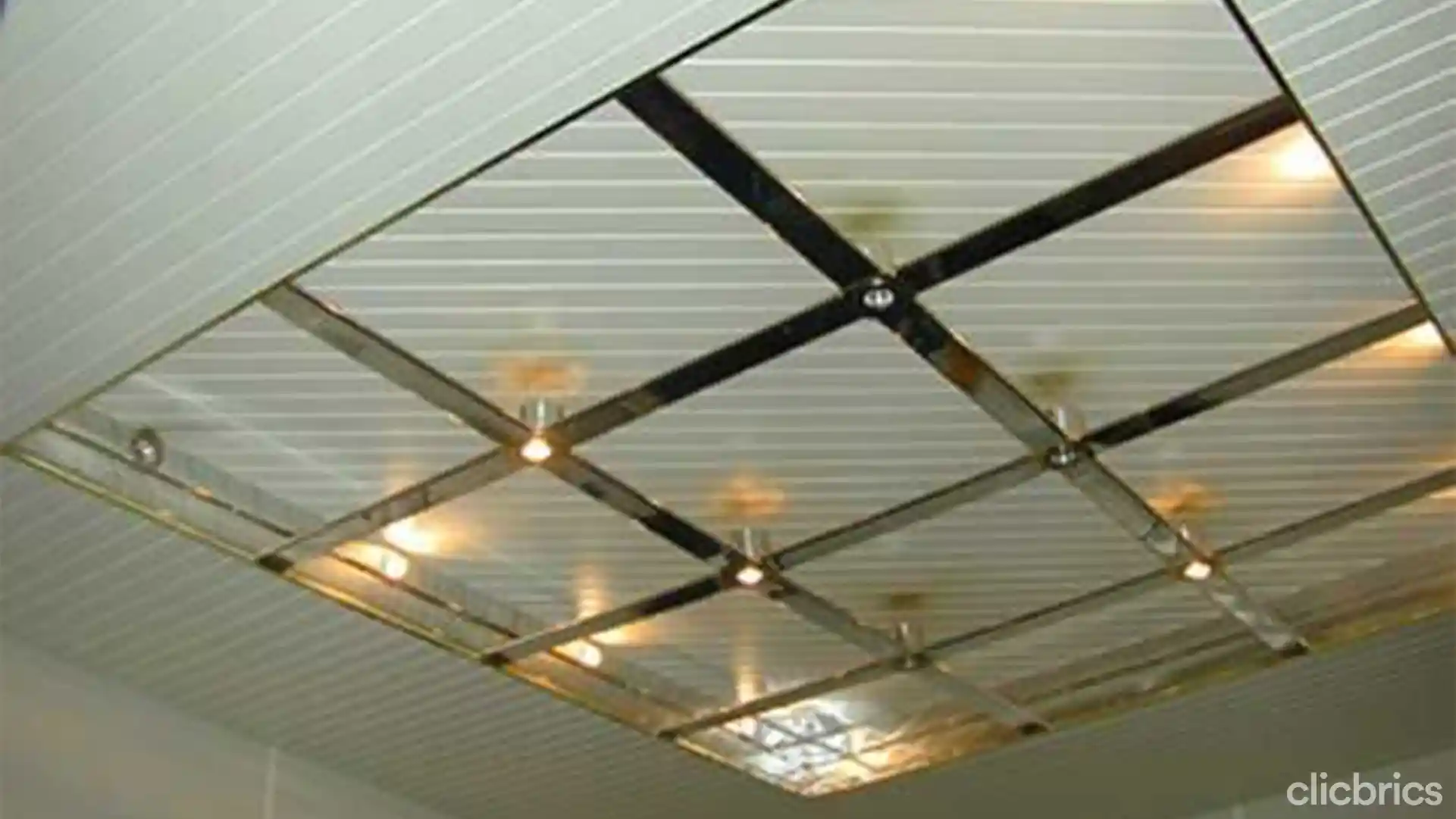 12. Rope Main Hall Fall Ceiling Design
Another modern main hall fall ceiling design is the use of rope false ceilings. Most interior designers have used POP as an underlayment and simply woven braid ropes together to fasten them close to the ceiling in this form of the ceiling. As soon as visitors enter your living room, they are drawn to this style of rope false ceiling.
Also Read: 10 Best Diwali Decoration Ideas to Make Your Home Festive Ready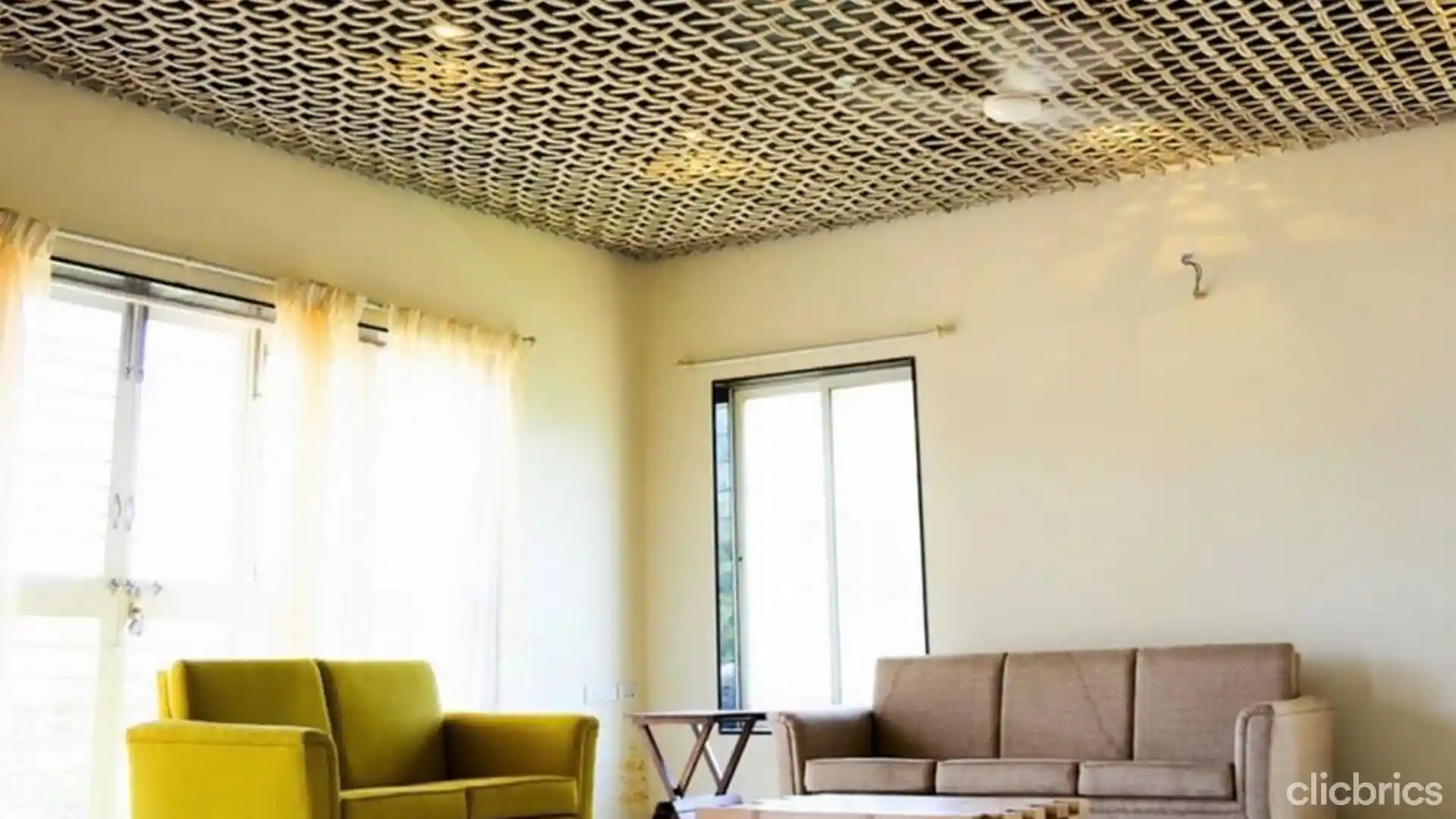 These modern main hall fall ceiling ideas can be readily incorporated into your home. Additionally, the materials must be of higher quality regardless of the design you select so that your home exudes comfort and sophistication.
Looking for ideas to transform your home? Well, look no more - Check Out 15 Effective False Ceiling Design Ideas That Will Transform Your Home Aesthetically.