Have exposed beams in your home and don't know how to integrate them into your home's design? Many interior designers would be more than eager to give you ideas and advice on how to enhance your exposed beams and use them as decor pieces.

For clients with a contemporary aesthetic, designers often do renovation and decoration work in relatively old buildings with exposed wooden beams or in more modern homes with metal beams.
Decorating them and highlighting them has become very trendy and totally modifies an interior. If we often associate wooden beams with a "country", "old" or "traditional" style of decoration.
Tips For Enhancing Exposed Wood Or Metal Beams
In many homes, beams are hidden during construction but we regularly find homes where they are visible. The beam, whether in wood or metal, becomes a charming decorative element and offers a lot of whimsy to an interior.
Generally associated with a more rustic style of interior design, you will see that exposed beams can become modern as well, and create soft and refined atmospheres.
It is the finishing touches and the layout that decorators and interior designers create around them that will determine the style of your decoration and integrate them perfectly into the interior of the house. They will also be able to play with the colours, the materials, the light or the function of the old wooden or metal beams in your room.
Playing with the colours and finishes of a wood or metal beam can immediately change the look and space. Lighten or enlarge a room, define or emphasise volumes, exposed beams play an important role! Here's how you can enhance them in a room:
1. Leave Your Metal And Wood Beams Raw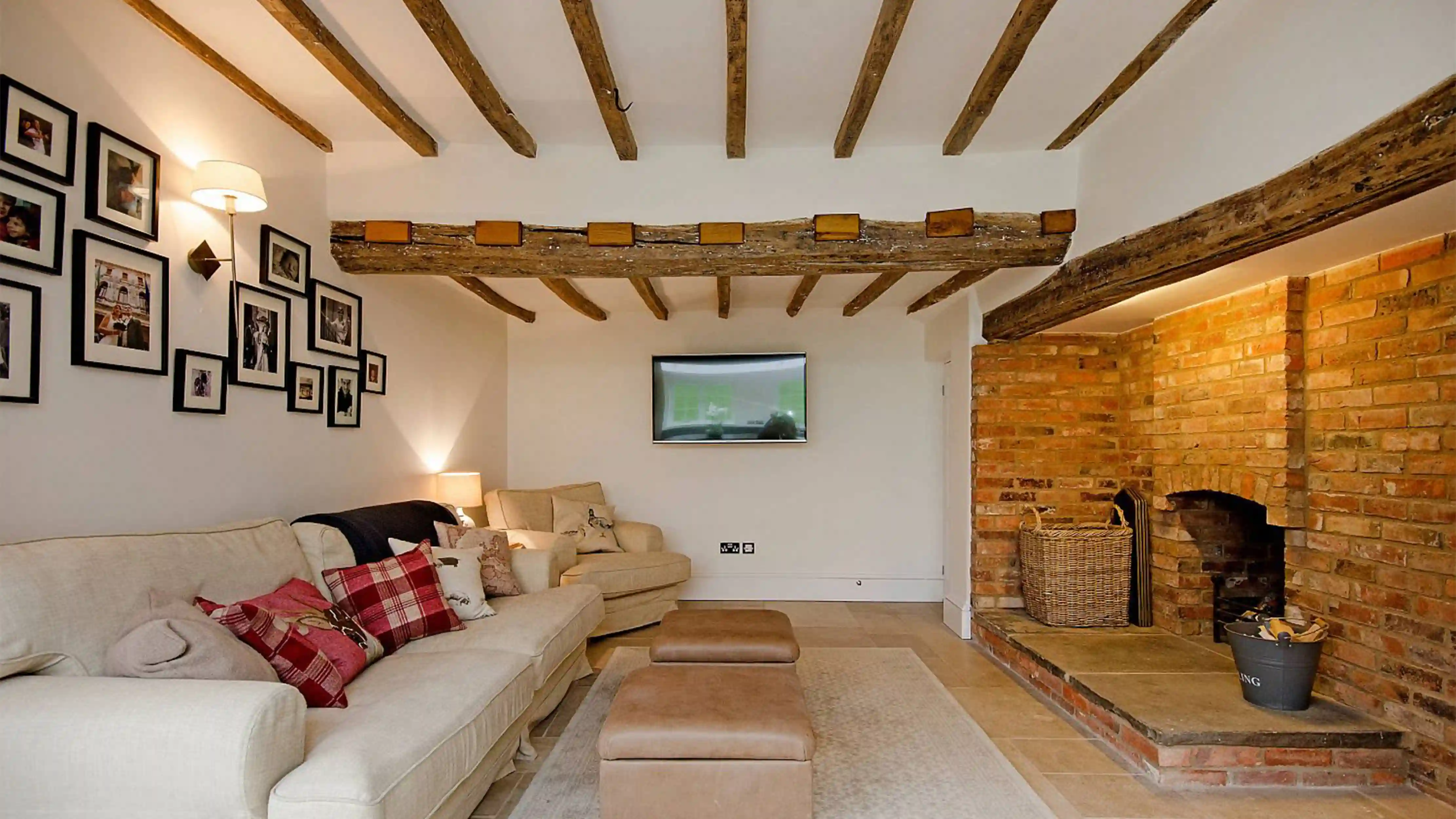 Not touching the colour and the aspect of the beams allows them to give them an authentic character and a natural touch. The raw wood makes the beams stand out, highlights the decorative elements and allows for different styling possibilities for your home.
Combining wood with country decor will accentuate the rustic feel and enhance the character of the room. As for the metal beam, it undeniably gives a modern style and makes the interior very contemporary. Some would even sometimes leave the metal raw with the welds still visible to accentuate this effect.
2. Varnish Your Beams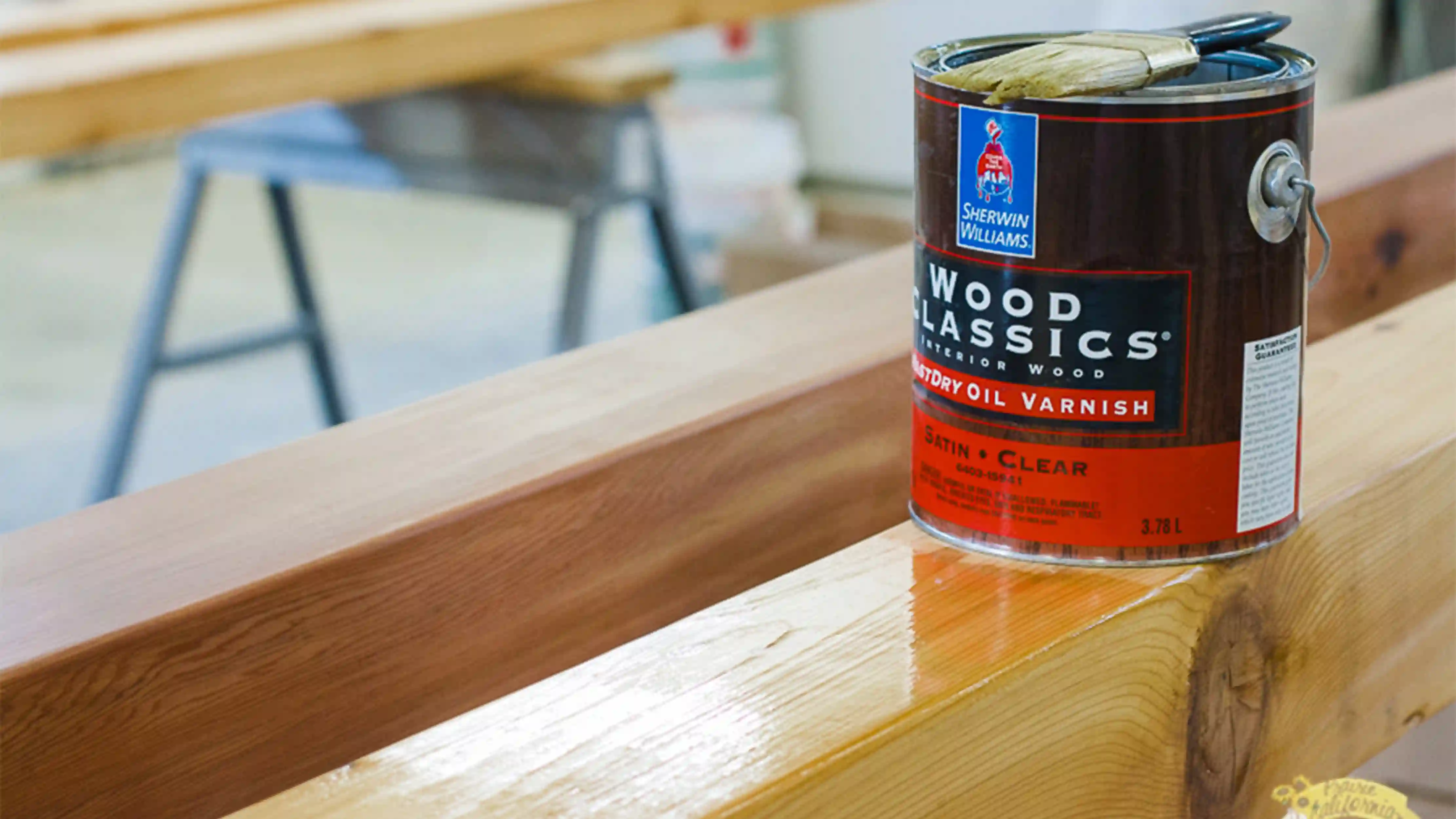 To remove the "rural" look without distorting the wood, we recommend varnishing the exposed beams. This will restore the frame and give your space a more chic, worked atmosphere.
3. Create An Effect With A Stained Patina
One can use wood stain because it is a good compromise between raw wood and painted and coloured wood. It will soften the place without losing the natural side of the wood.
Here again, you are free to choose the ambience you want to give to your room: modern with designer furniture, cosy with a soft and Scandinavian decoration, or keep the classic and country look since you did not denature the wood and play on the transparency.
If you'd rather tone down your beams and brighten up your room while keeping the beauty of their shape, we recommend painting your beams white or light grey. Wooden beams will blend in with the space, as white modernises and immediately makes the room feel brighter and cleaner.
We advise you to put an emphasis on designing furniture and decorating with the vision to create a Nordic style.
4. Paint The Beams With Colour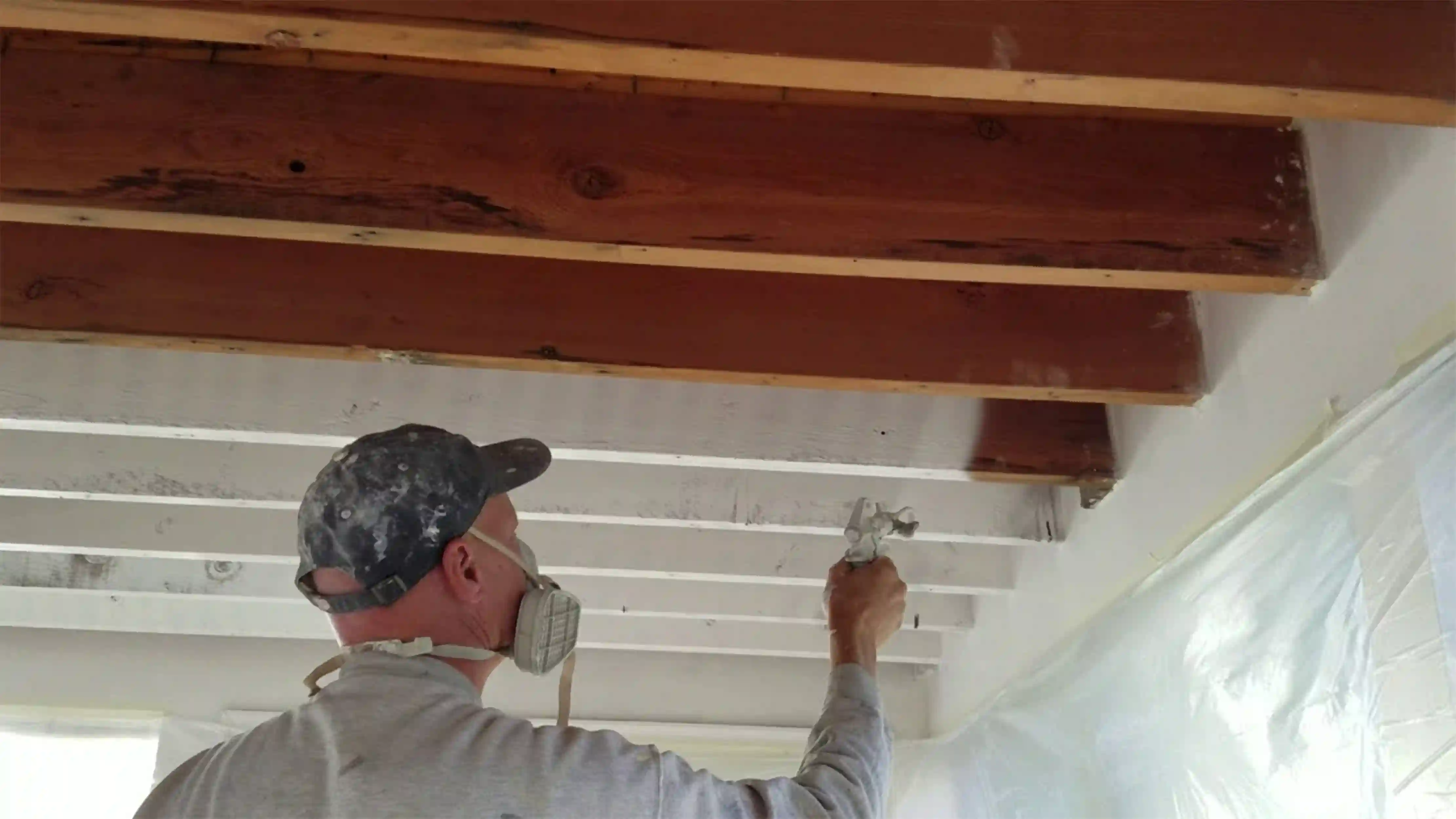 Painting beams with colours can be tricky but brings an original touch and a real youthful look to a room by highlighting the frame. You can either choose a soothing colour or go for that popping colour you want to add to your home decor.
5. Paint With A Dark Colour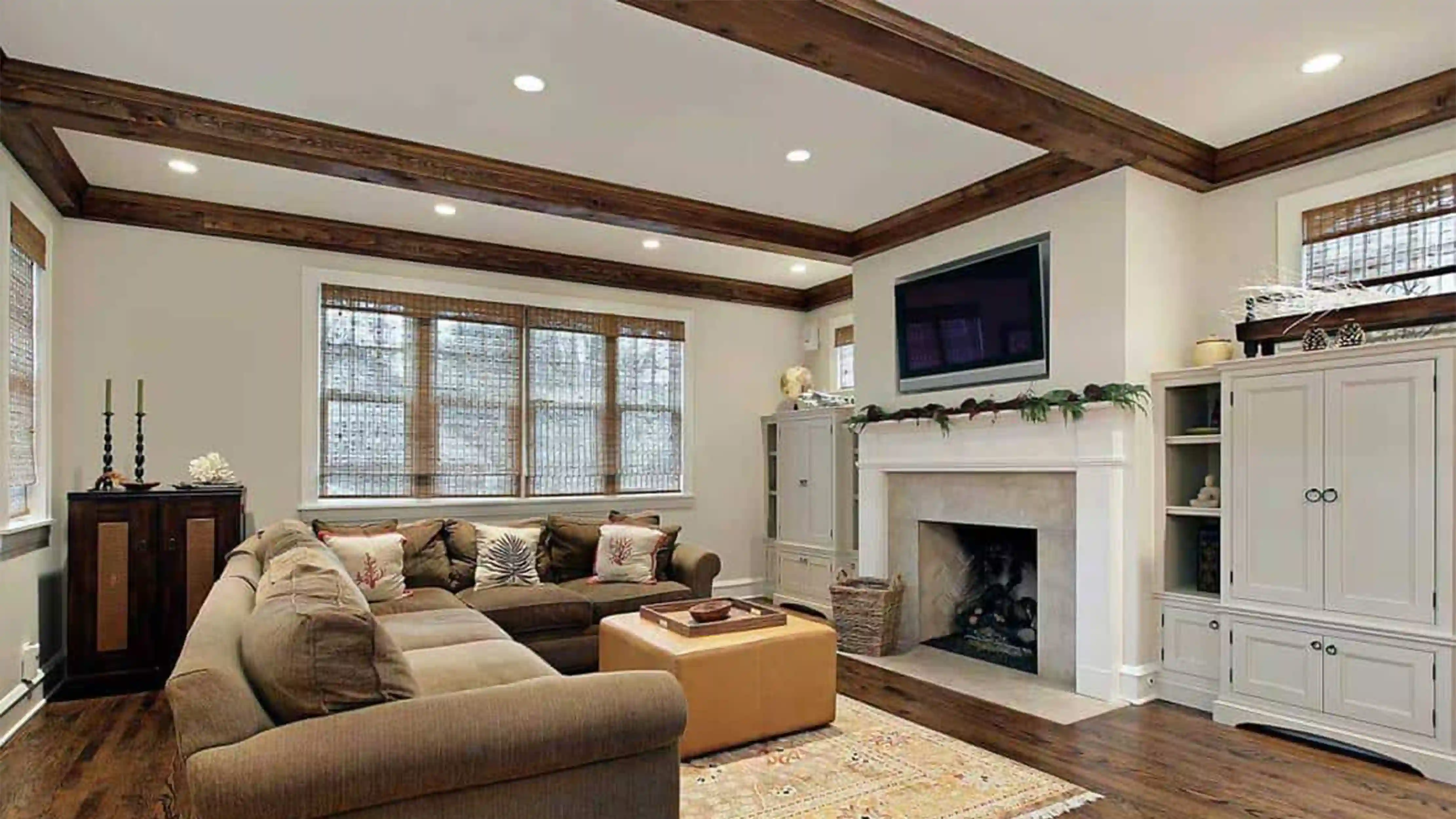 Finally, it is also possible to paint the beams with dark colours like black or grey to create a loft atmosphere. Dark colours will more clearly define the geometric shapes and perspectives of the room.
This is one of the best solutions if you want to create a more industrial environment with exposed beams since we will break the warmth of the raw wood covering by giving it a more metallic look.
6. Design Lights To Enhance The Exposed Beams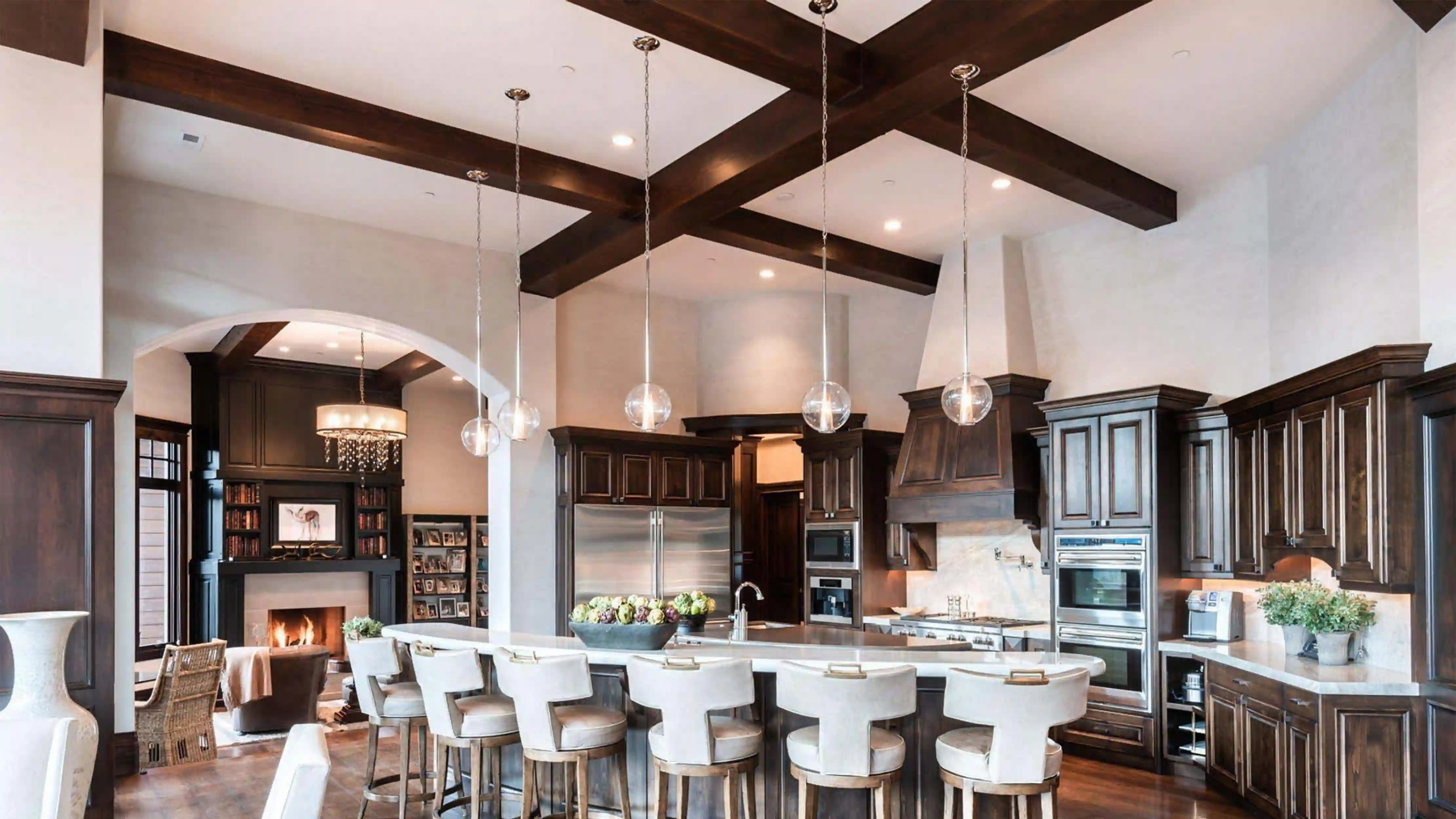 To emphasise the elegance and beauty of your beams, we usually suggest lighting them and placing them in strategic places to highlight them in your house or apartment.
Generally, beams are rather imposing and tend to darken a room, especially if they are kept as they are. To get around this problem, it may be necessary to install spotlights or LED lights that are not too small so that the light can spread around the beams and emphasise the volumes.
Spotlights can be fixed on the beam, on the sides or directly on the ceiling between them. It is also possible to attach a beautiful chandelier or light fixture to the exposed beams to add even more style to your room by highlighting the frame.
7. Using And Decorating Your Beams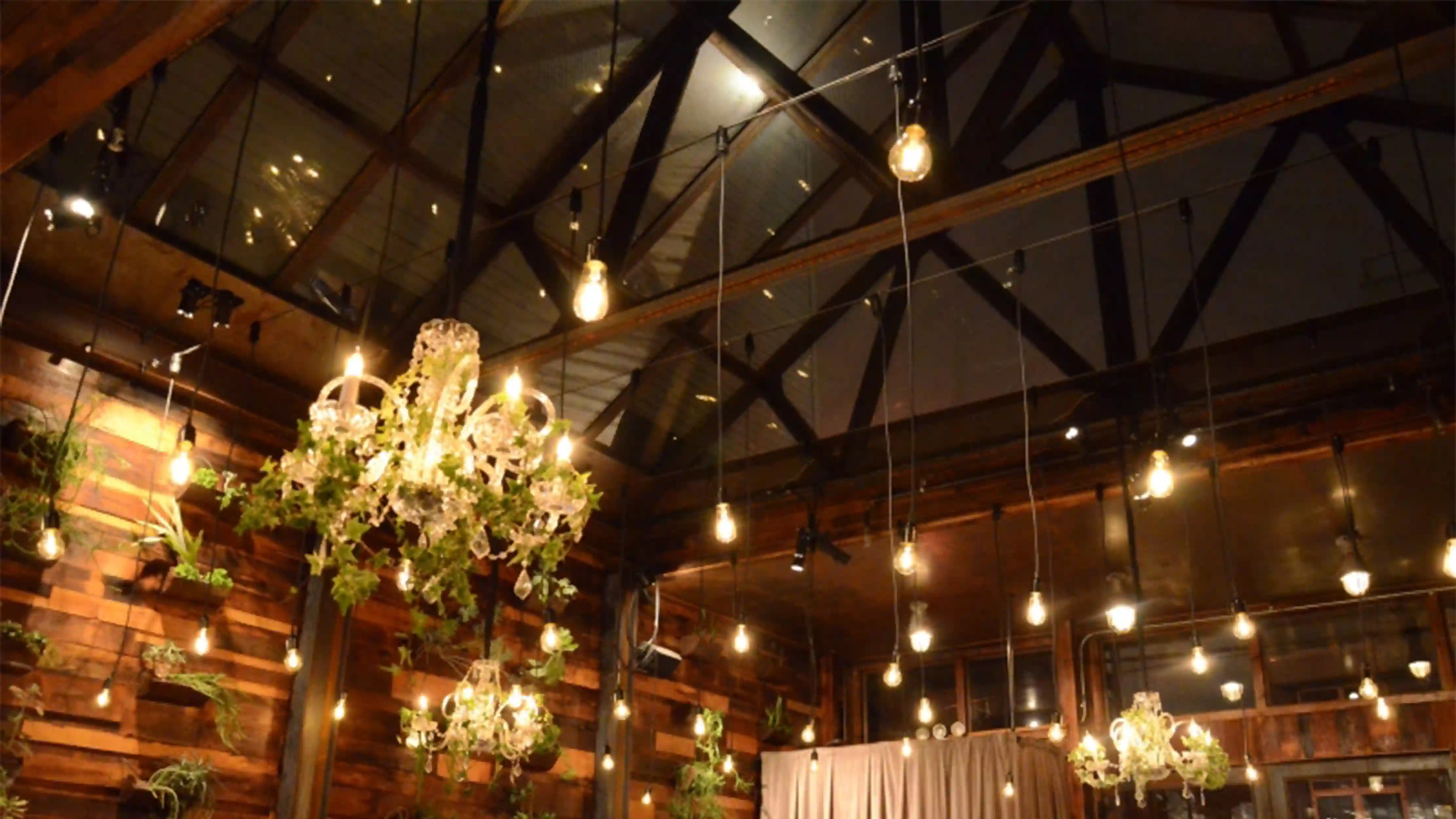 There are many other ways to enhance and decorate your beams to give a coquettish spirit to a room with an exposed frame. 
8. Use The Beams As Authentic And Original Support.
It is possible to take advantage of the presence of beams by transforming them into storage space to hang useful objects, a space to display your beauty products in a bathroom or utensils in the kitchen.
On the other hand, they can also be used to highlight decorative objects such as a vase, photo frames, and knick-knacks. You can use it as a support to hoist plants or decorative lights such as garlands for a natural and cocooning atmosphere.
Another charming tip is to "transform" your beams into furniture. It is, for example, possible to use the exposed beams as a frame for a canopy bed for a "cocoon" atmosphere, or by making a bookcase in the living room.
As you can see, exposed beams are a real asset in decorating and space planning with a little imagination. 
9. What You Should Know Before Renovating Exposed Wooden Beams
When you renovate exposed beams, especially those made of wood, it is essential to ensure that they are healthy and free of pests (no holes, noise in the wood, or the presence of small dead pests around the frame) before attacking the renovation work.
If there is any doubt, it is best to perform a light sanding to ensure that the frame is in good condition. If this is not the case, it is then necessary to treat the wood with a specific treatment for frames.
10. Installing "Fake" Beams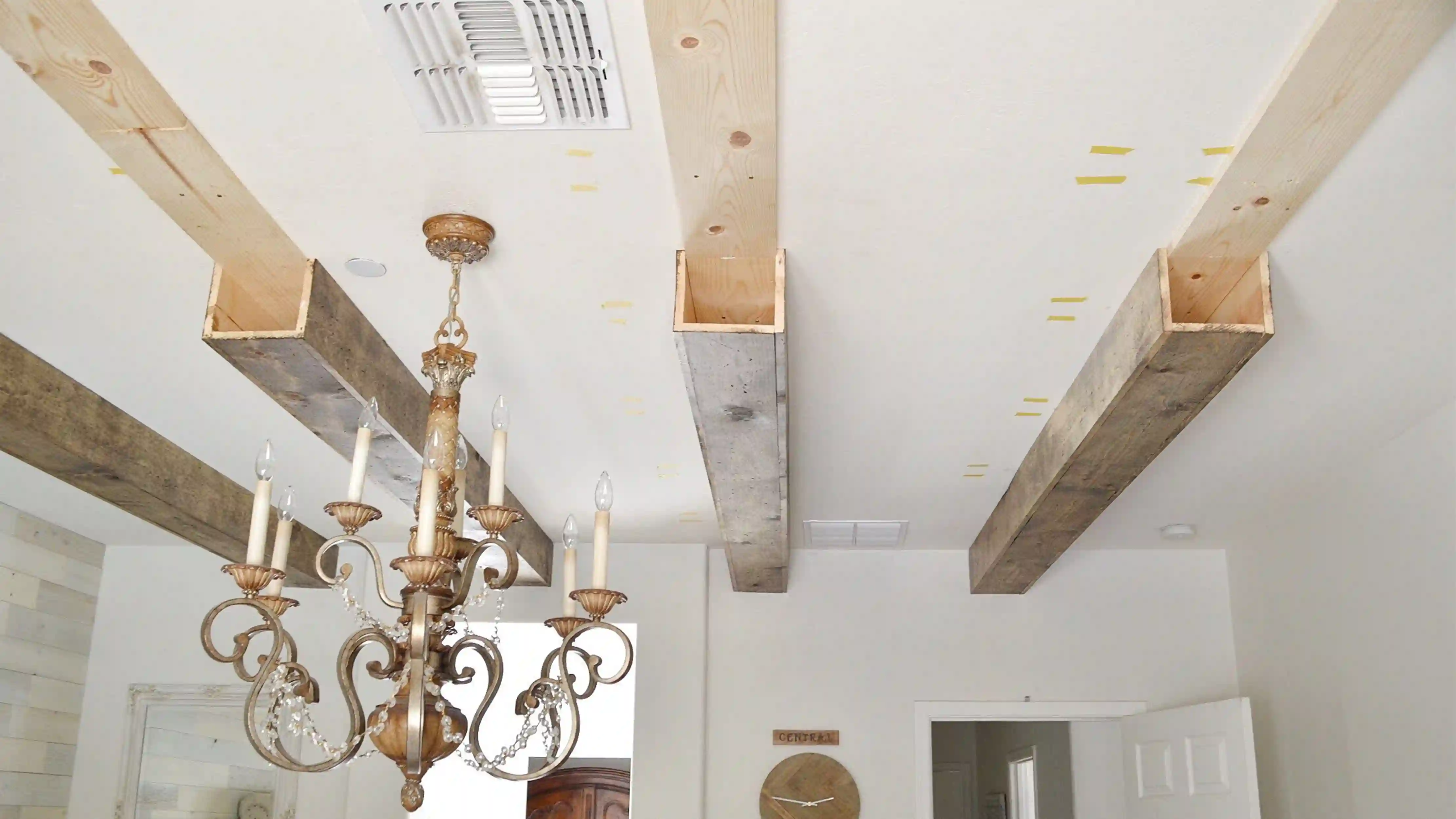 You dream of beautiful exposed beams in your home but it is too new and does not have any? Don't worry, there is a way to have them installed!
It is possible to create an exposed framework in a room by installing real wooden beams. We recommend spacing them far enough apart so as not to overpower the room and make it darker. You can install exposed beams if you want to accentuate the cosy and intimate effect of a place. It will dress the ceiling and structure the room.
You can also find, on the market, beams made of polyurethane or polystyrene, but we do not recommend that because they are not very durable and easily inflammable.
Also read: 5 Tips When Decorating A Small Apartment