Table of Contents
Having a balcony and not enjoying it as a cosy hideaway for lounging is like having a pizza without cheese. Naturally, we don't want that to happen, so if you're considering changing your balcony design to make it more tranquil, you've come to the perfect place. You only need a few tips and tactics to transform your plain balcony space into the spot of your dreams!
So, without waiting any further, let's start with some outstanding balcony designs that this article has stored for you. 
Balcony Design #1: Add a Rustic Charm
If you want to change the front balcony design while keeping a stable budget in mind, then adding a rustic charm is the best option. For that, arrange two chairs in the corner with a little adorable table between them. Add a cushion with a boho theme, and complete your rustic-looking balcony front design! The ideal option is to add rustic charm if you want to change the front balcony design while keeping your spending in check.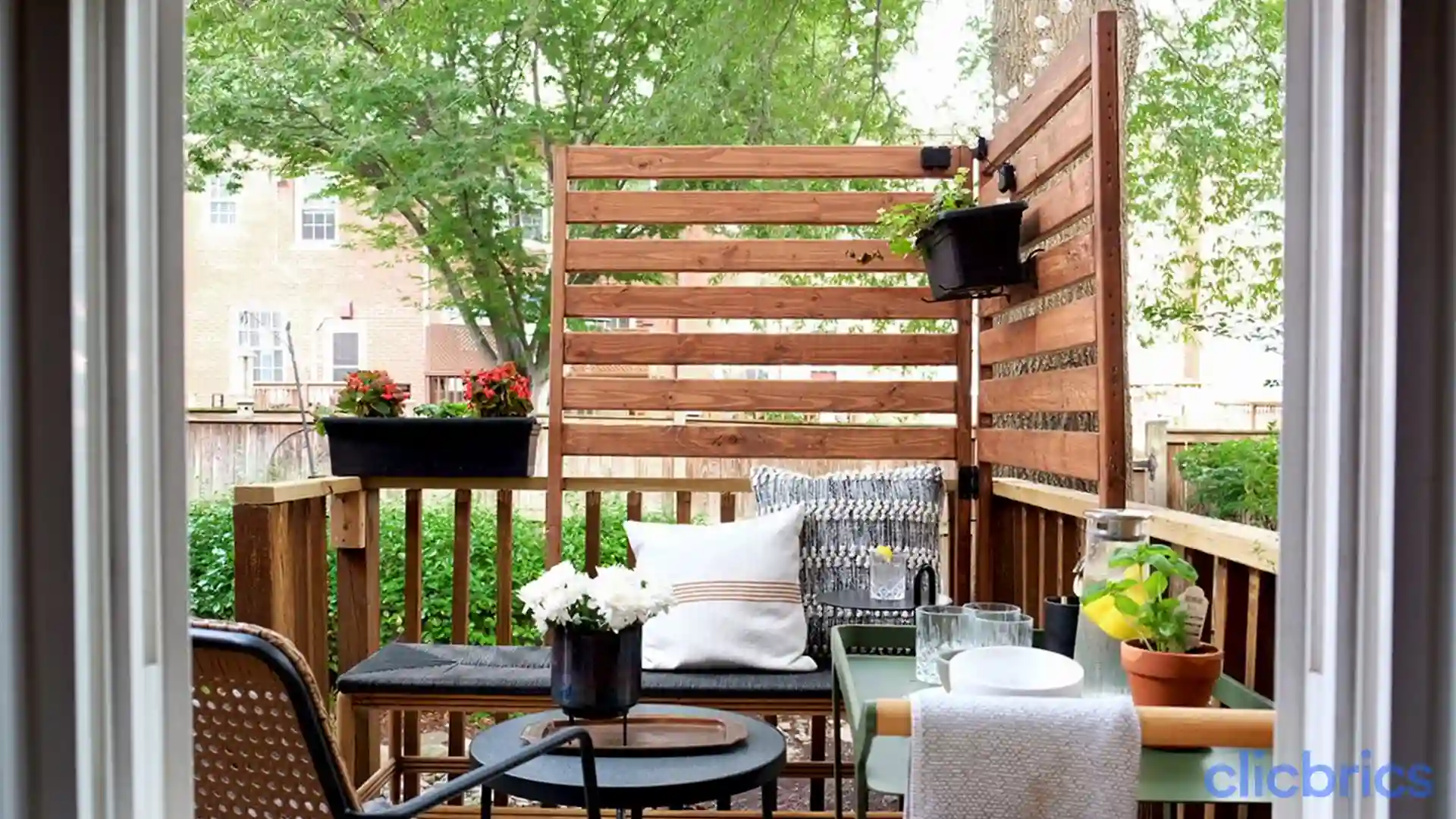 Balcony Design #2: Use Glass as a Barrier Between the Living Room and the Balcony
You are fortunate if your balcony doubles as an extra living space. Outside, you can design a balcony that will be the ideal spot for a morning cup of coffee with your loved ones. Add a coffee table, some candles, and a blanket to complete the outside balcony design for the evening atmosphere. The best thing you can do to make your home appear larger and more attractive is to install a balcony glass design, where the glass will serve as a barrier between the living area and the balcony décor.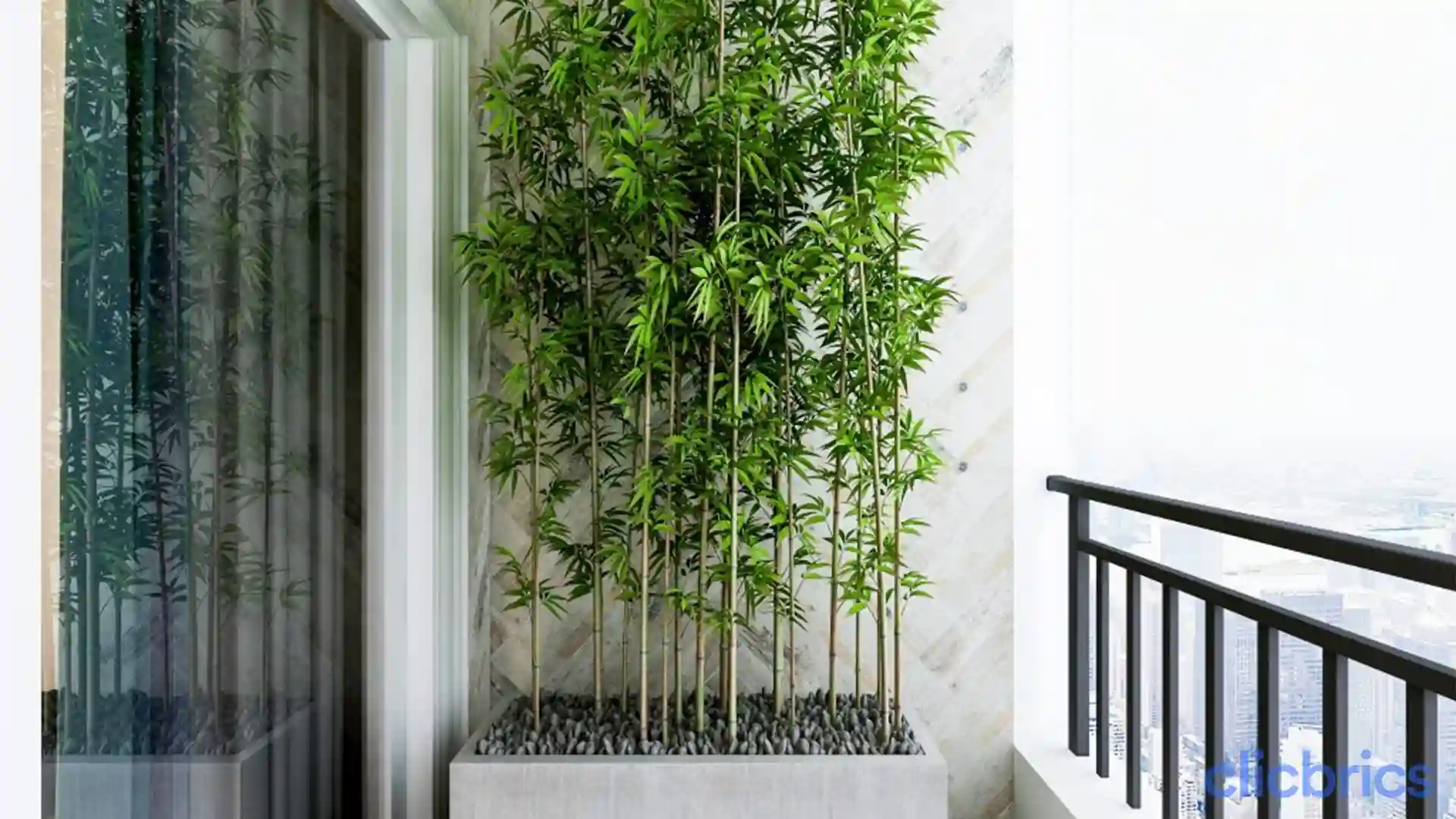 Also Read: Top Alternatives for Sliding Glass Doors
Balcony Design #3: Add Some Sleek Decor Items
Since a balcony is a small space, the adage "less is more" should be kept in mind when creating one. Yeah! Keep the balcony uncomplicated and avoid cluttering it up with everything you can; otherwise, you risk creating a location where you wouldn't want to spend time yourself. So, to make it sleek yet modern, all you need to finish off your minimalist balcony design is by adding some pillows, a vast carpet, and a well-chosen brass chandelier.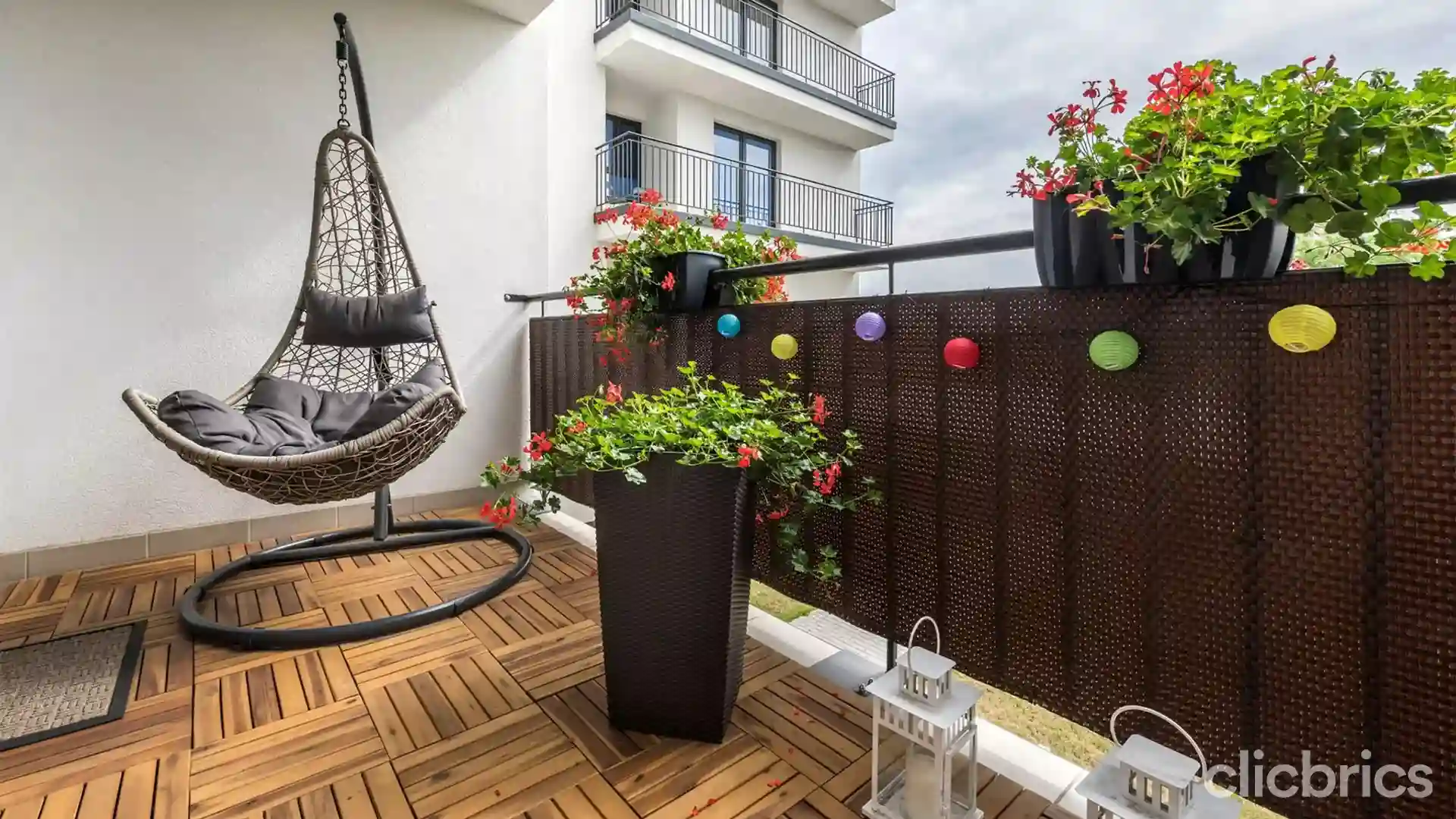 Also Read: Fantastic 11 Indian Home Mandir Design Ideas With Images  
Balcony Design #4: Use a Limited Colour Scheme
The balcony is that cosy place where you can come to experience freshness and freedom, so adding too much colour will absolutely make no sense. Instead, add a lot of greens to create a soothing effect. And if your balcony space is limited, a small vase would be sufficient enough to glorify your balcony. A simple, cost-effective balcony design is ready!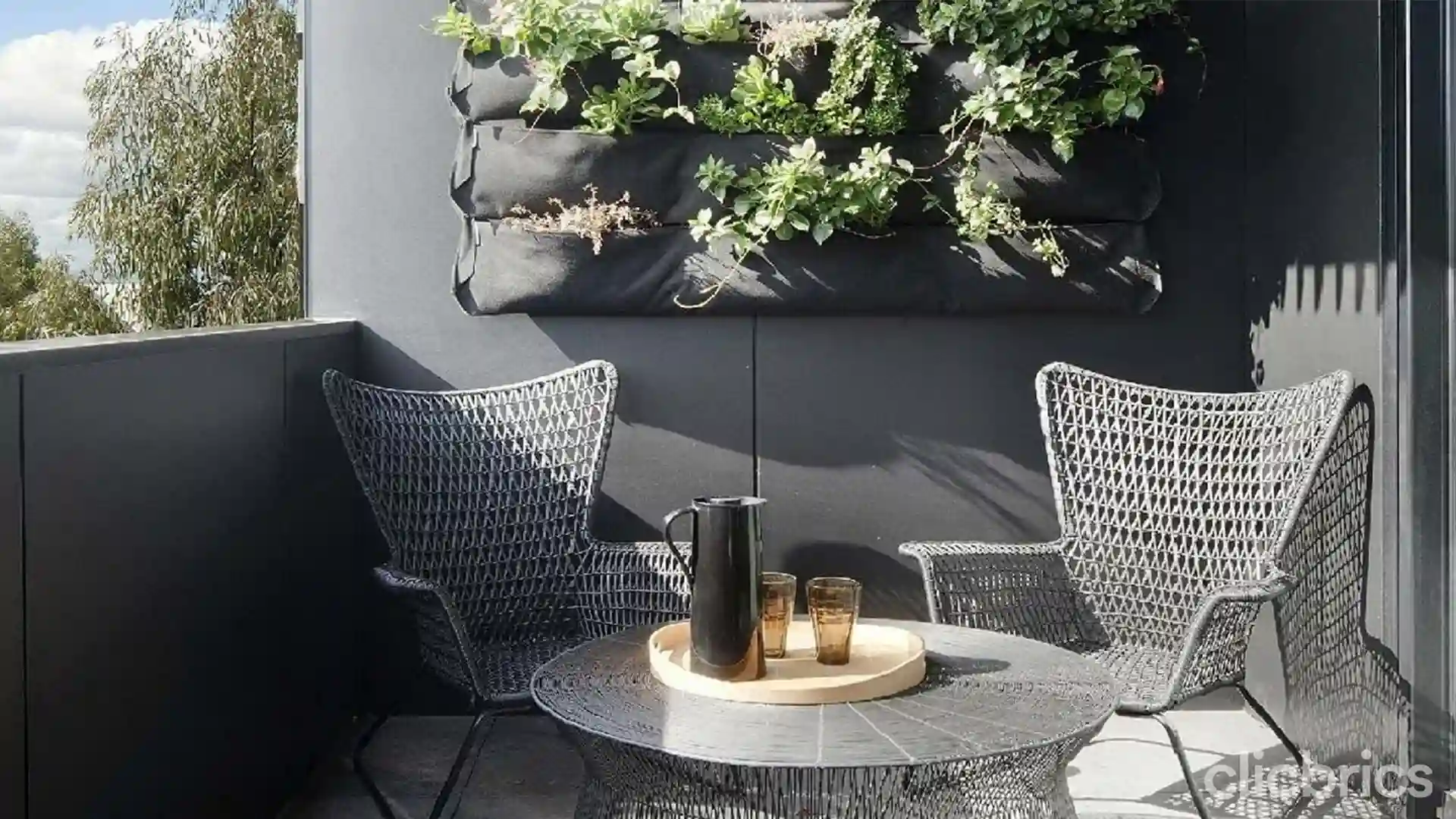 Also Read: 25 Home Design Inspirations for Your Interior.
Balcony Design #5: Make a Pet-Friendly Balcony Decoration 
If you have pets, you constantly fear leaving them unattended on your balcony. How about you cover your balcony while preserving the area's aesthetic to work on your small balcony design? Yes, it is undoubtedly feasible. You can cover your balcony and then add some toys like treasure hunters and climbing paths. This will make your balcony a perfect spot to have good times with your lovely dog or cat, and you can enrich your time together.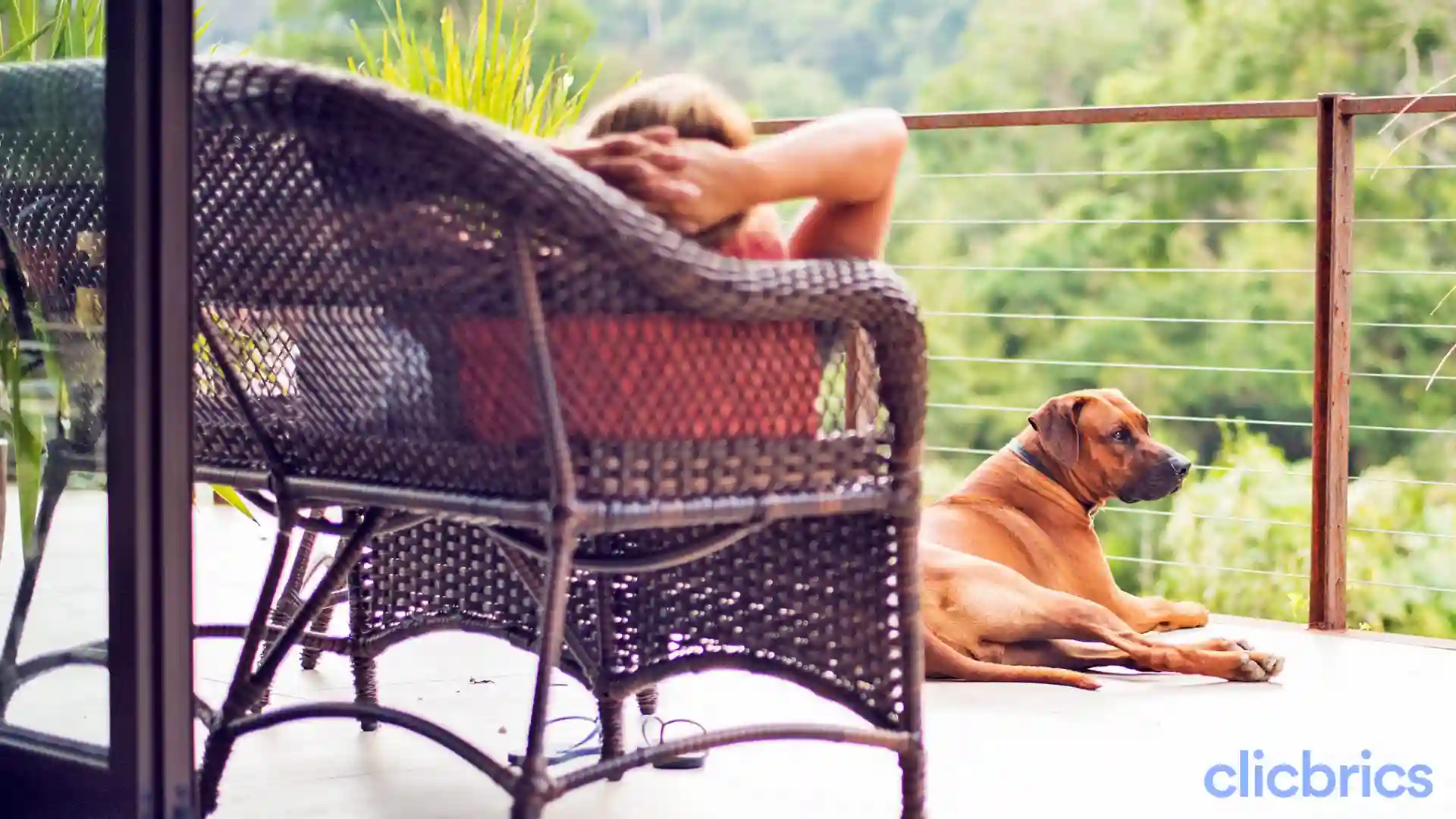 Also Read: How to Have a Pet-Friendly Home for 1st Time Home-Owners
Balcony Design #6: Make Use of Appropriate Lighting
The right lighting is very important to make your house balcony design stand out from the rest. You can install bright metallic pendant lights to spruce up your outside area. If you wish to add an extra charm to your balcony pop design, you can add some cost-effective illuminating lights like string lights without having to compromise your balcony floor space.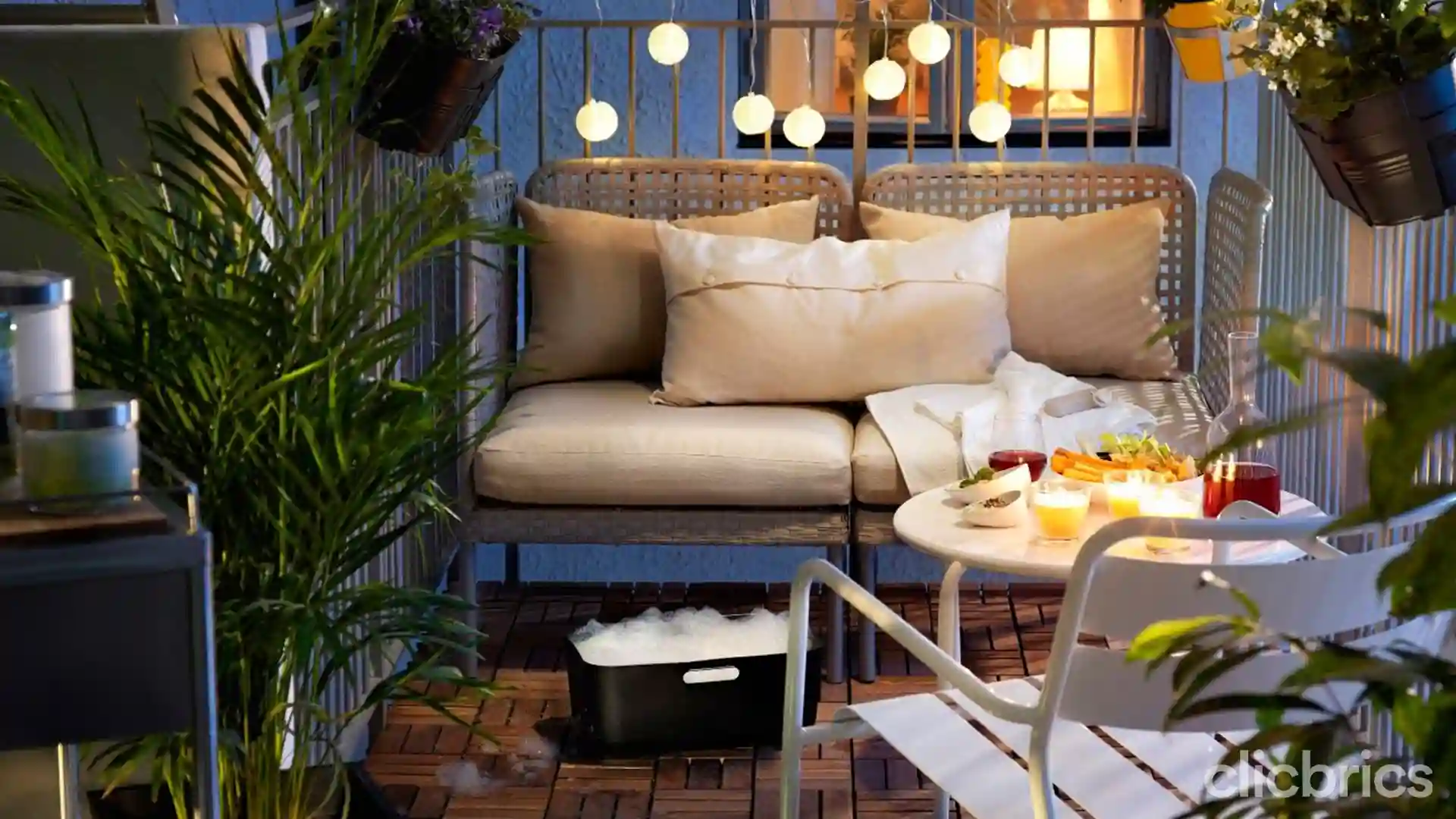 Also Read: 12 Trendy False Ceiling Designs for Your Bedroom
Balcony Design #7: Add a Swing 
Who doesn't enjoy swinging? "Everyone" is the obvious response. And who wouldn't want to add a swing to cheer up the balcony area? The answer, once more, is "everyone". To achieve the same place a swing on your balcony and decorate it with colourful cushions to make it more cheerful. Additionally, if you already have a swing and want to improve the appearance so that it gives off a new balcony design feel, you can do it by adding colourful flower pots close to the swings. This will give your balcony a fresh look with little work.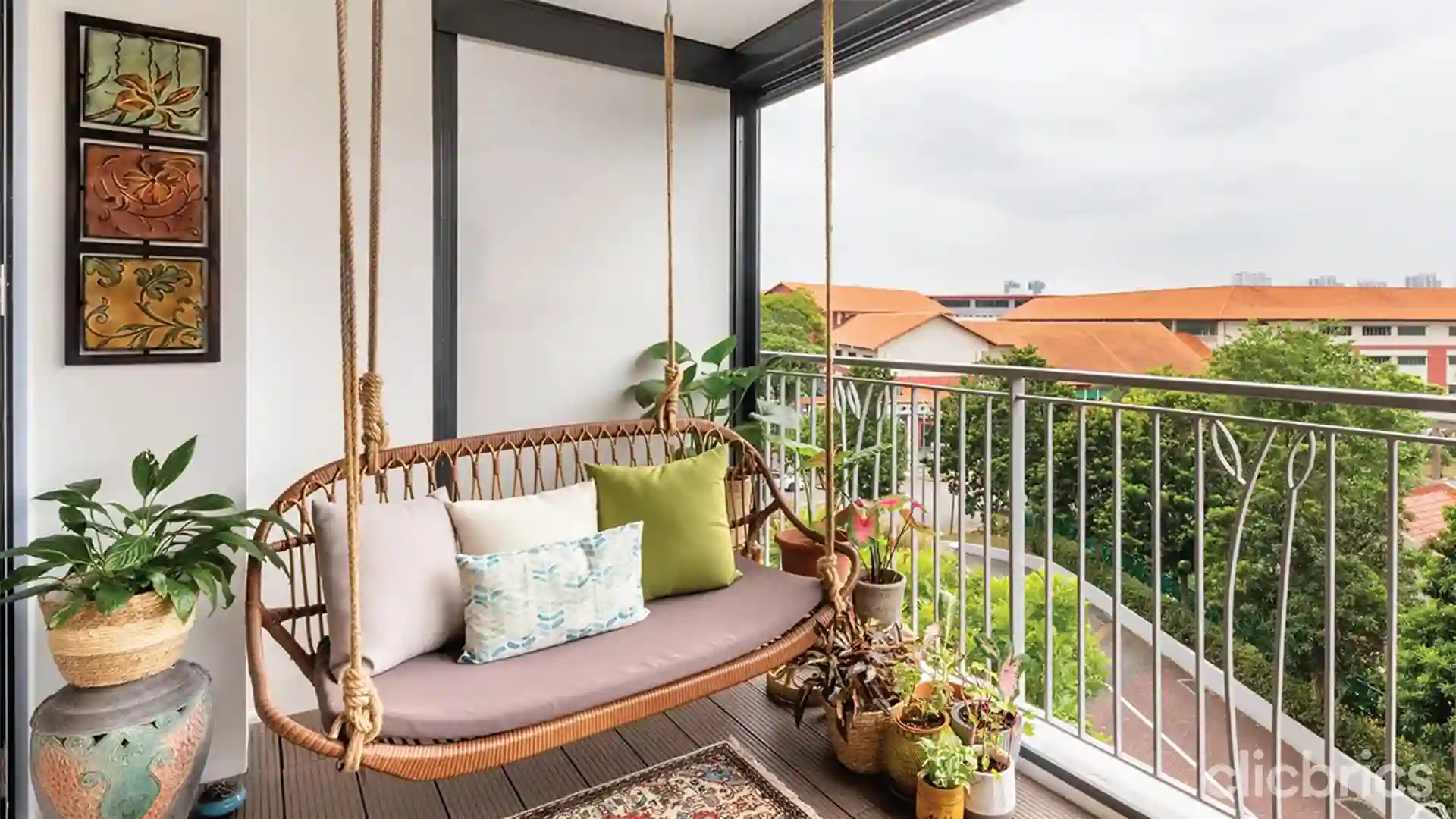 Also Read: Top 10 Cost Effective Simple Kitchen Design Ideas
Balcony Design #8: Add Hanging Plants 
Lush plants are a certain way to create a gorgeous backyard if you have a thing for greenery and want to bring that vibe inside to your balcony. You can add plants or flower pots to effectively utilise your balcony space. This will improve the appearance of your balcony, and you will have the cosiest place in your home. 
 Also Read: 7 best plants for home as per Vastu
Balcony Design #9: Use Floor Tiles 
People frequently alter their minds and decide only to spend time working on balcony designs because of bad weather conditions. But don't worry! A range of outdoor balcony tiles is available that go with your flooring, like porcelain tiles. You can opt for porcelain tiles to make your balcony secure from terrible weather conditions.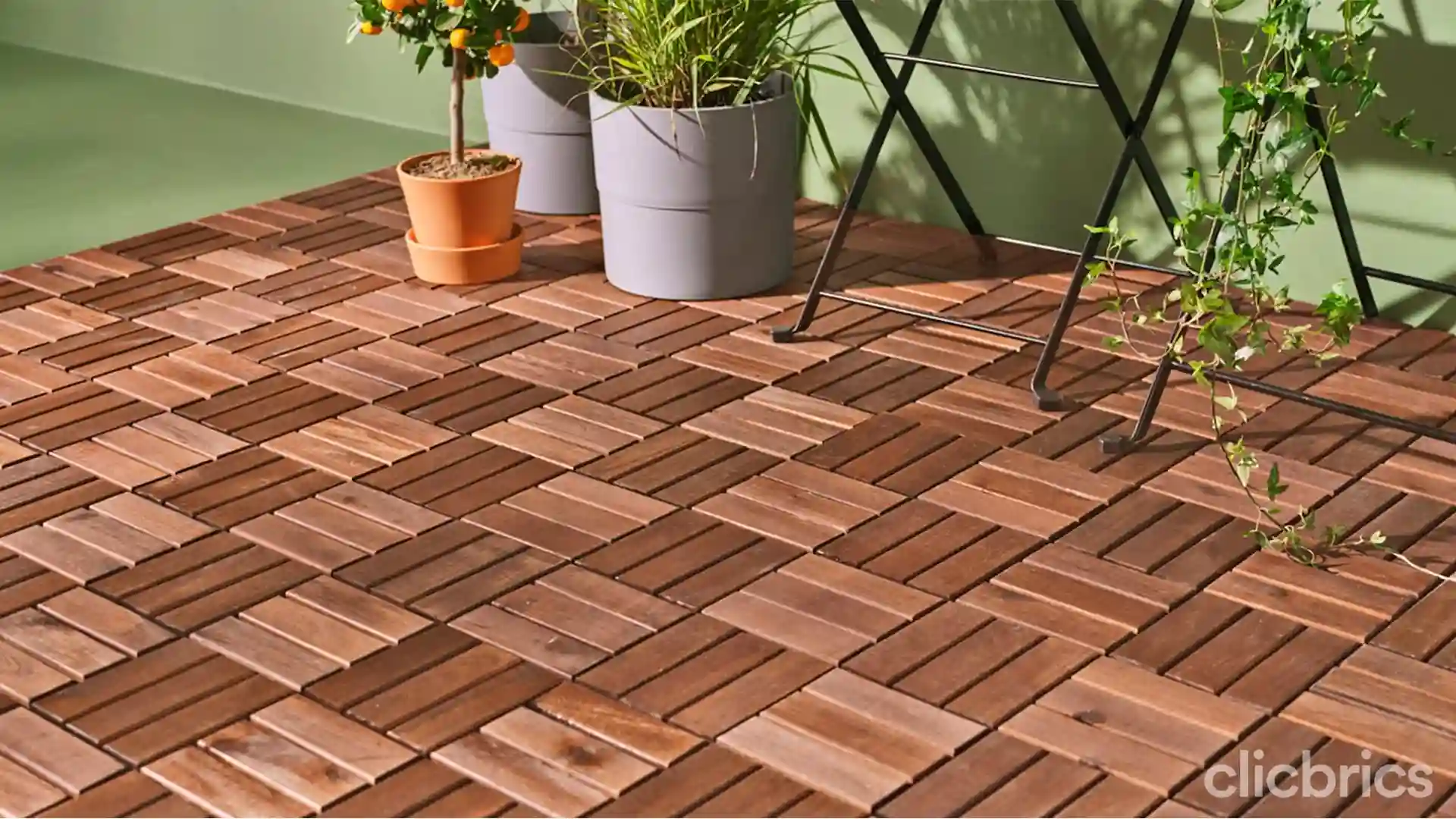 Also Read: 6 Best Stone Tiles for Wall to Smarten-Up Your Home Exterior
Balcony Design #10: Use Space to Create a Small Library
This one is intended for book lovers who want to use their balcony area to set up a small library. You can arrange a few books in a small stack next to your potted plants, but don't crowd the space because the books will be damaged by rain. Now that your home balcony design is complete, you may relax while drinking hot tea and enjoying good reads.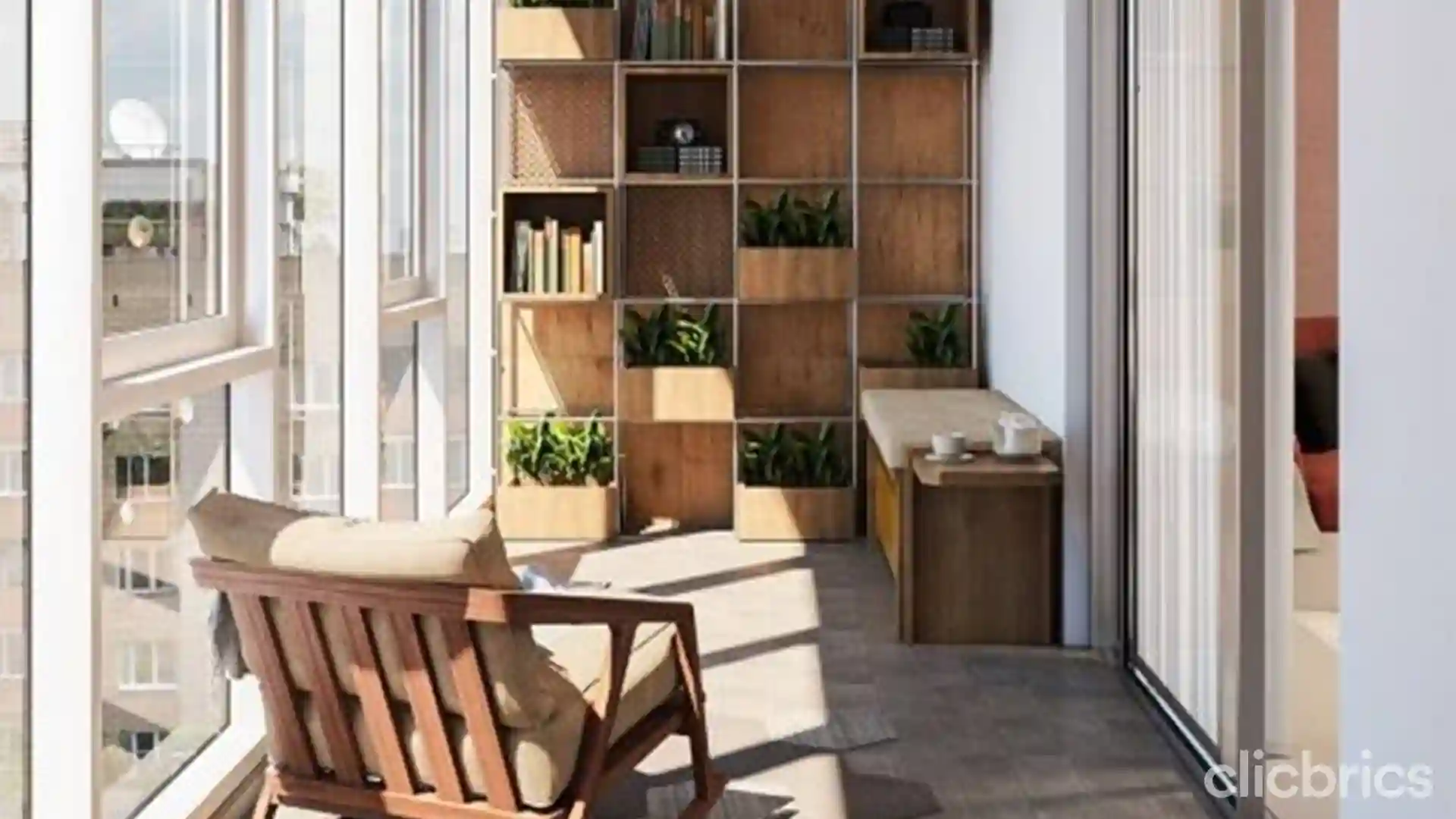 Balcony Design #11: Keep the Area Space
Installing vertical blinds will serve as a safety net, so do that if you want a concept for a balcony safety grill design. To make your balcony grill stand out, you can paint it in vivid colours. Grills on your balcony can instantly change its appearance and give it a more upscale appearance.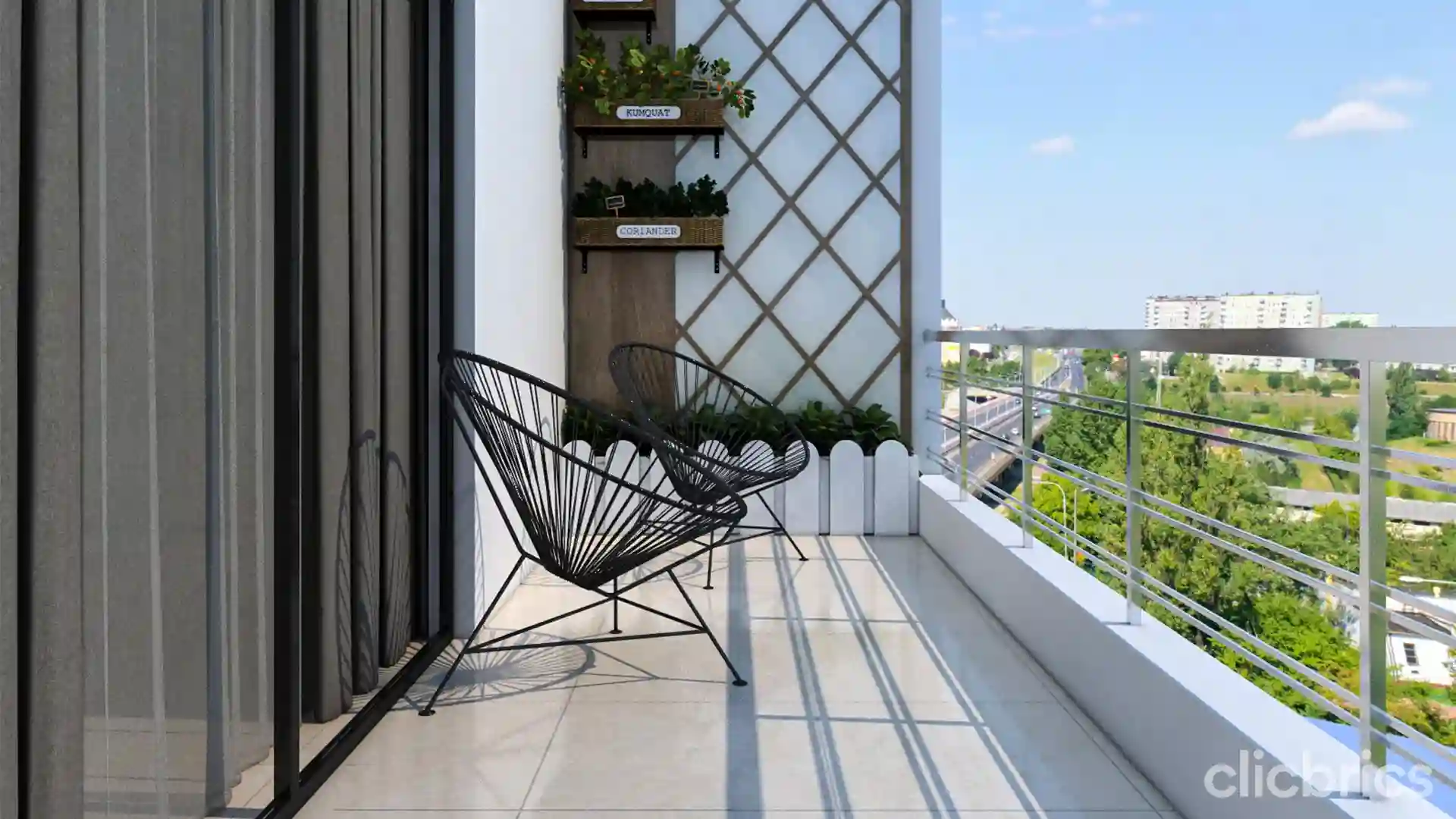 Also Read: 15 Modern Simple POP Design Ideas For Your Home- With Images 
Balcony Design #12: Use Space for Built-in Bar 
A balcony area is where you want to hang out with your friends. So why not designate a calm area where you can make calls to pals and have a few drinks on the weekends? You can build a modern balcony design with aesthetics and functionality to have a private mini-club experience with your pals.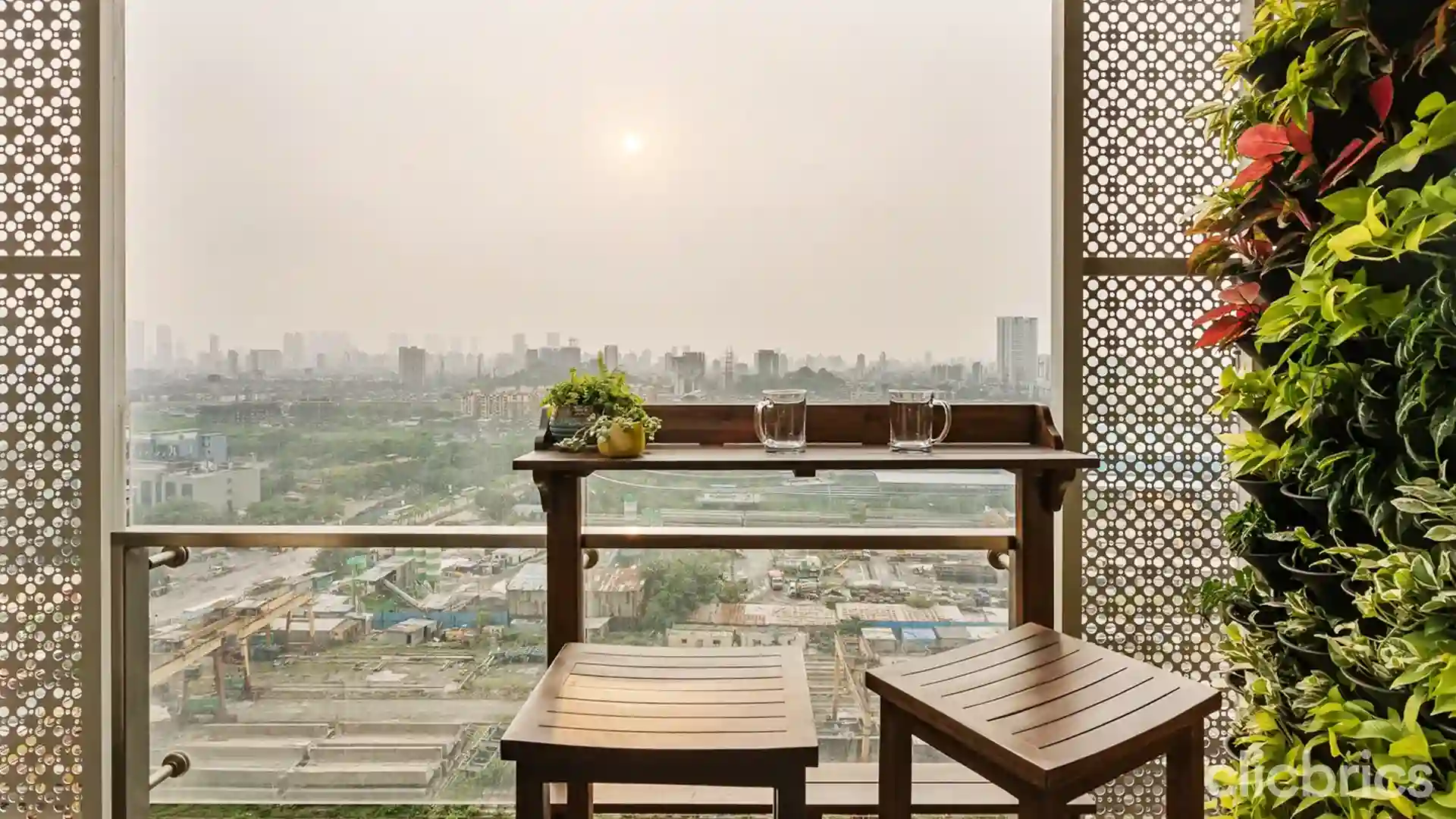 Also Read: 5 Magnificent Wardrobe With Dressing Table Design Ideas for 2022 
Balcony Design #13: Bohemian Style Balcony
It feels like a fantastic fantasy to have a boho-inspired place at home because boho-themed balcony designs are currently very popular. You can purchase good chairs, mirrors, and lamps with a bohemian influence that will give off a relaxed vibe. Trust us when we tell you that boho fashion has dominated the trendy list for years and will continue to do so in the years to come. Therefore, it is worthwhile to spend the money on buying lovely furnishings.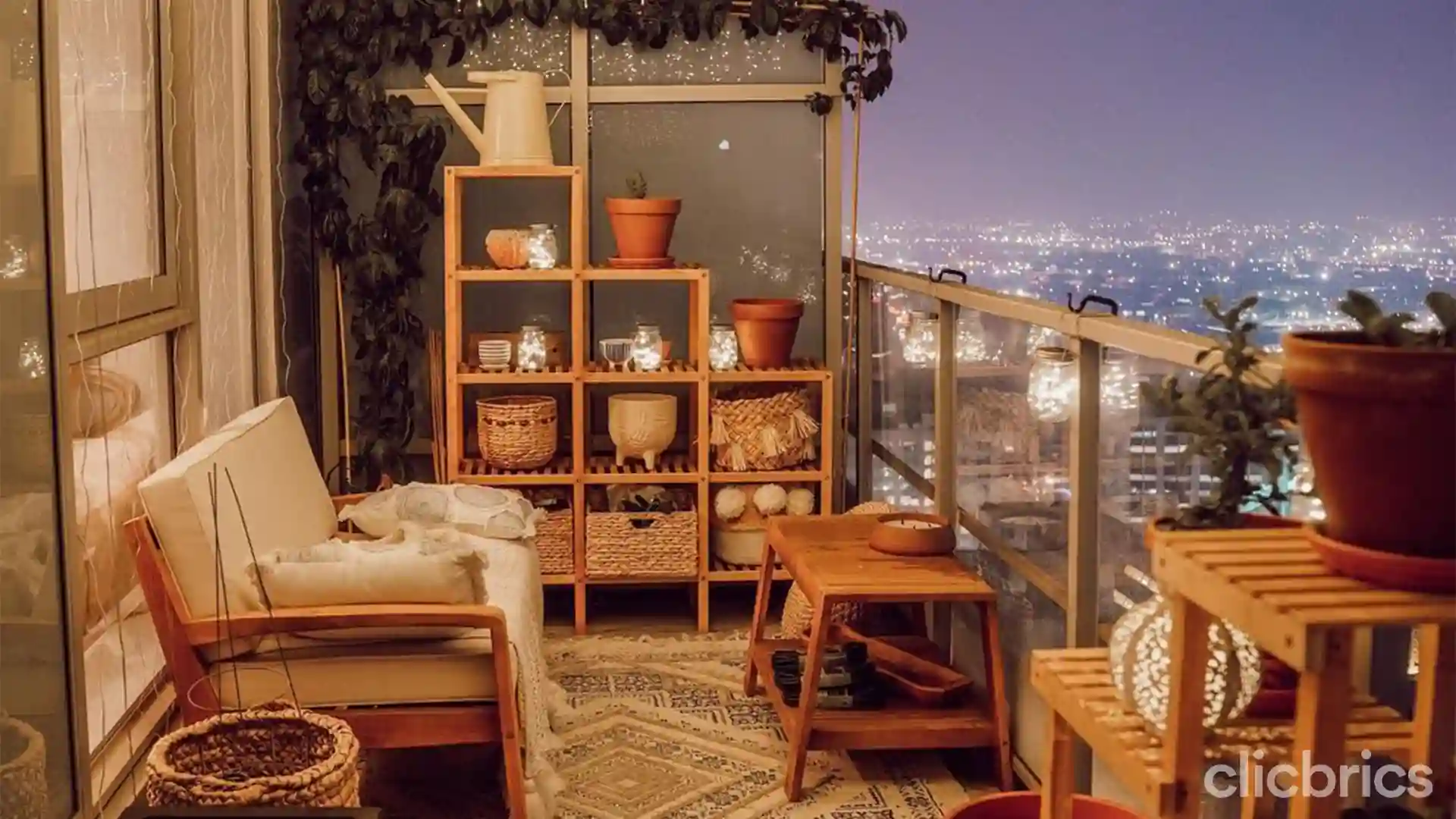 Also Read: Small Balcony? Decor Ideas To Elevate Your Balcony 
Balcony Design #14: Use Hammock to Save Space
Adding a hammock is the best option for a balcony decoration that saves space. Based on style and size, they are readily available and look lovely in outdoor backyards. The best time to spend on the balcony is in the afternoon when it is cool outside. So, get ready to enjoy the cool breeze while sitting on a hammock on your balcony.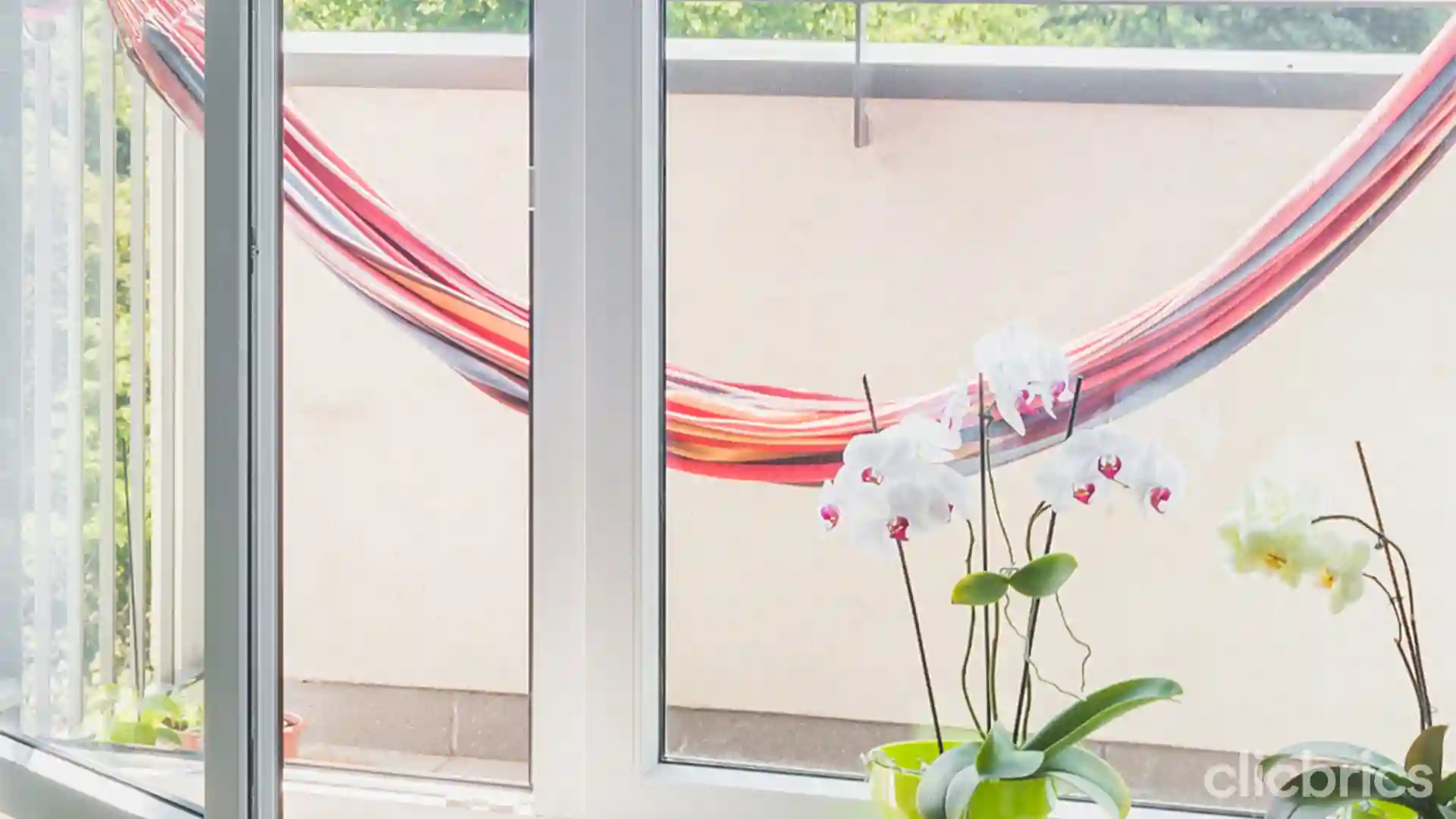 Also Read: 11 Colour Combinations For Your Room That'll Make Your Morning Completely Blissful!

Balcony Design #15: Build a Shelf Full of Plants
Your balcony is incomplete without potted plants. You can decorate your balcony by using vibrant flowers that will help your balcony explode with colour for the best appearance. It is an affordable method for balcony decoration. To create a visually appealing balcony, add a wooden shelf and set the potted plants on the rack to achieve the greatest balcony design.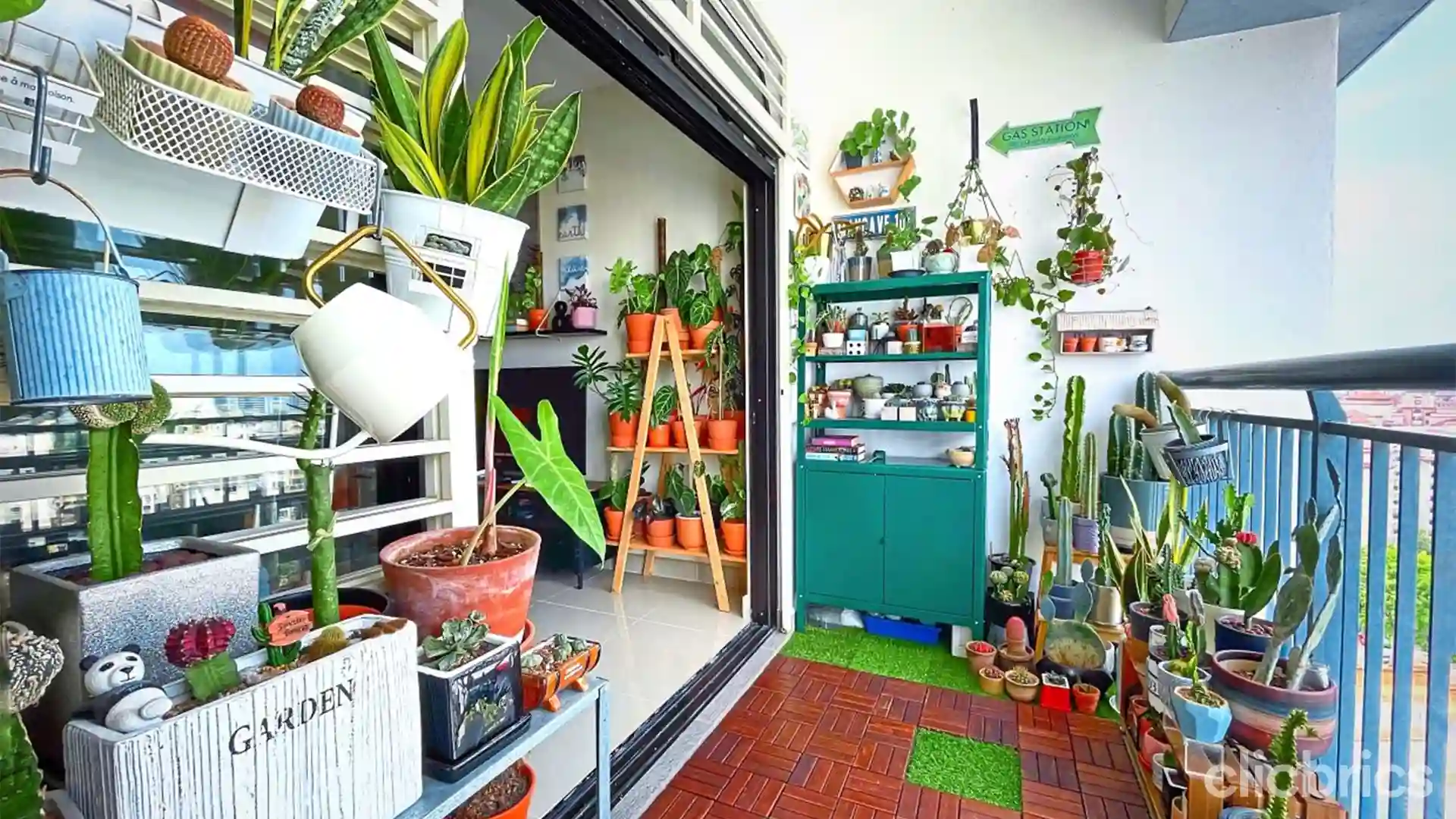 Also Read: Modern Decor for Your Balcony Sanctuary 
Decorating a balcony is a task where you can utilise your interior design skills. From plants and greenery to comfy seating and creative décor, there are plenty of ways to turn your balcony into a stylish and inviting space. So, whether you're looking for a cosy nook to enjoy your morning coffee or a place to entertain guests, take inspiration from these 15 balcony designs and choose the best one!
Have fun decorating your balcony!