Table of Content:
We all desire to design our homes' interiors in a way that inspires awe in our neighbours. If you have the same goal, you must currently be making many changes, such as getting additional paint, furniture, and home decor items. It is just an expensive affair, nothing more. Instead, we advise incorporating a modern, simple pop design into your house to give it a pristine appearance.
Why POP? Well, pop is that certain element that draws attention to your home. Adding modern, simple pop design to your residence is so much fun. We have created this unique blog for you in order to give you the easiest, low-cost, simple pop design ideas for your home. Without further ado, let's delve into this blog and discover what modern simple pop design has to offer as a whole.
Modern Simple POP Design Ideas For Living Room
1. Suspended Ceiling Modern Simple POP Design For Hall
The suspended ceiling is the best option if you're looking for the most well-liked, simple pop design for the hall. For this reason, a suspended ceiling successfully modernize your living space. You will feel light and airy while enjoying the joys of life in a living room. Also, choosing a suspended pop design for hall is a must if you want to expand the space in your living room. Do you know there are 10 easy and quick ways to improve the curb appeal of your home? Click here to learn more about it!
2. Carved Borders Modern Simple POP Design For Hall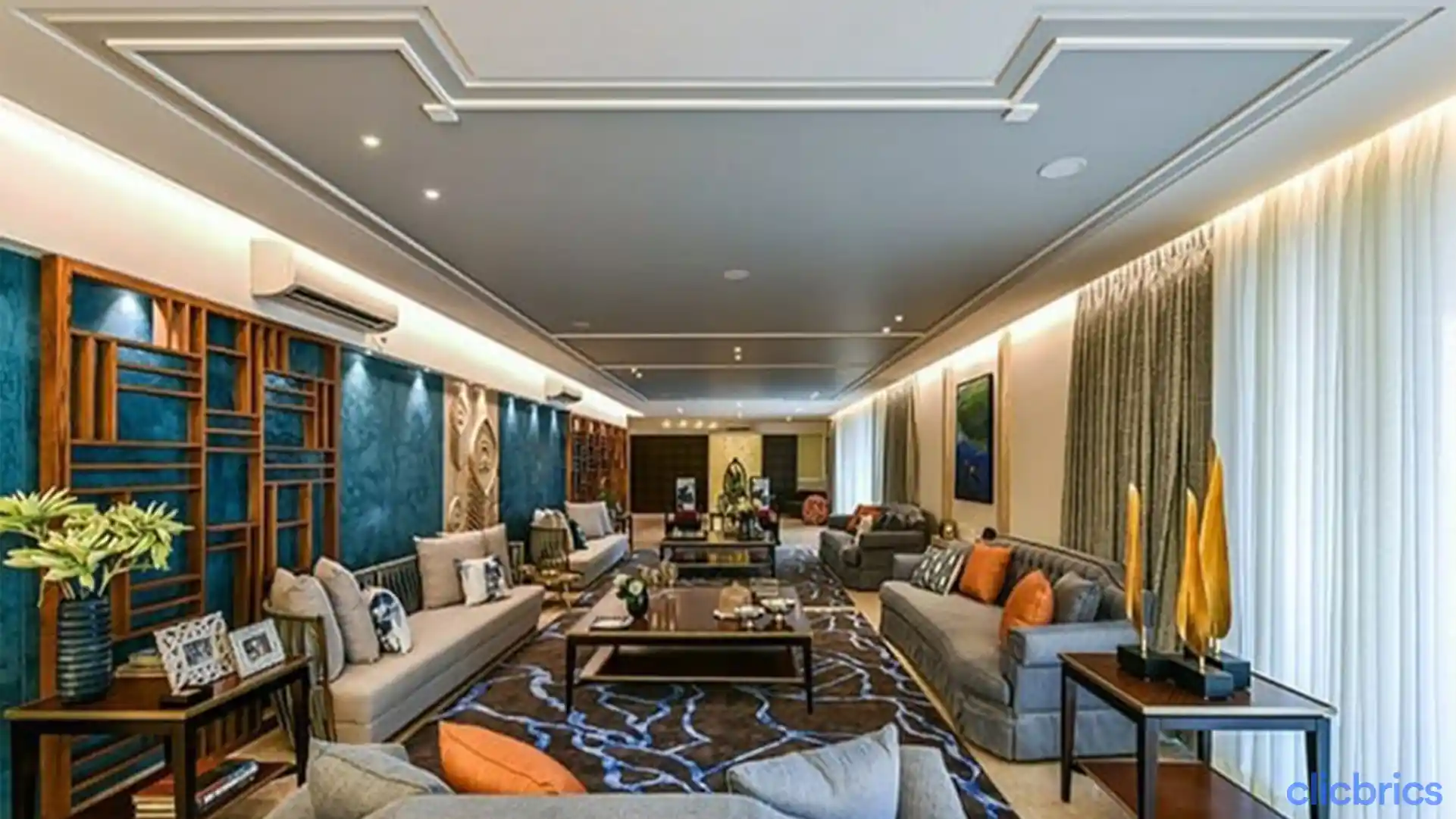 Carved borders are a brilliant way to achieve the appearance of depth in your drawing room. Carved borders serve as focus areas and are intended to create visual flair. Most people like matte black or white walls. However, a hint of grey is also fashionable these days.
Also Read: Top Home Decor Trends To Make Your home look appealing
3. Plus Minus Modern Simple POP Design for Hall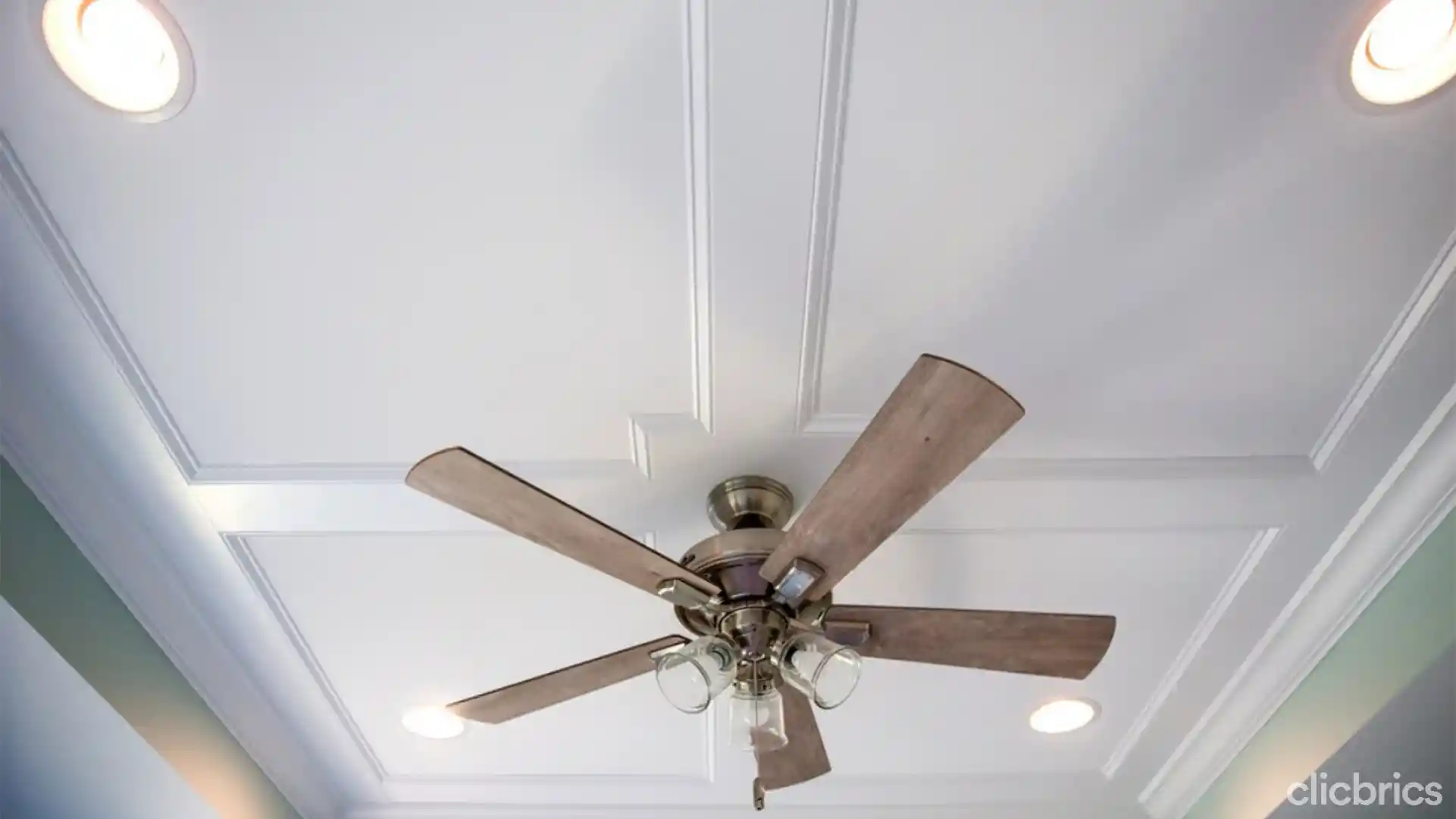 You must have found a ton of modern pop designs for hall concepts online, but nothing compares to the plus-minus POP hall ceiling design. The living room is the home area where you and your family spend the most time together. So ensure that you use a plus minus pop design for the hall to make it appear more enticing. All you have to do is use the pop paste to create a plus and minus pattern. To add a little flair, you can draw these patterns in the corners of your living room. Another option for bringing colour to your hallway is to use contrasting hues, and your simple POP design for the hall is ready to roll.
Also Read:
Trendy Plus Minus POP Designs For Your Home
4. Circular Modern Modern Simple POP Design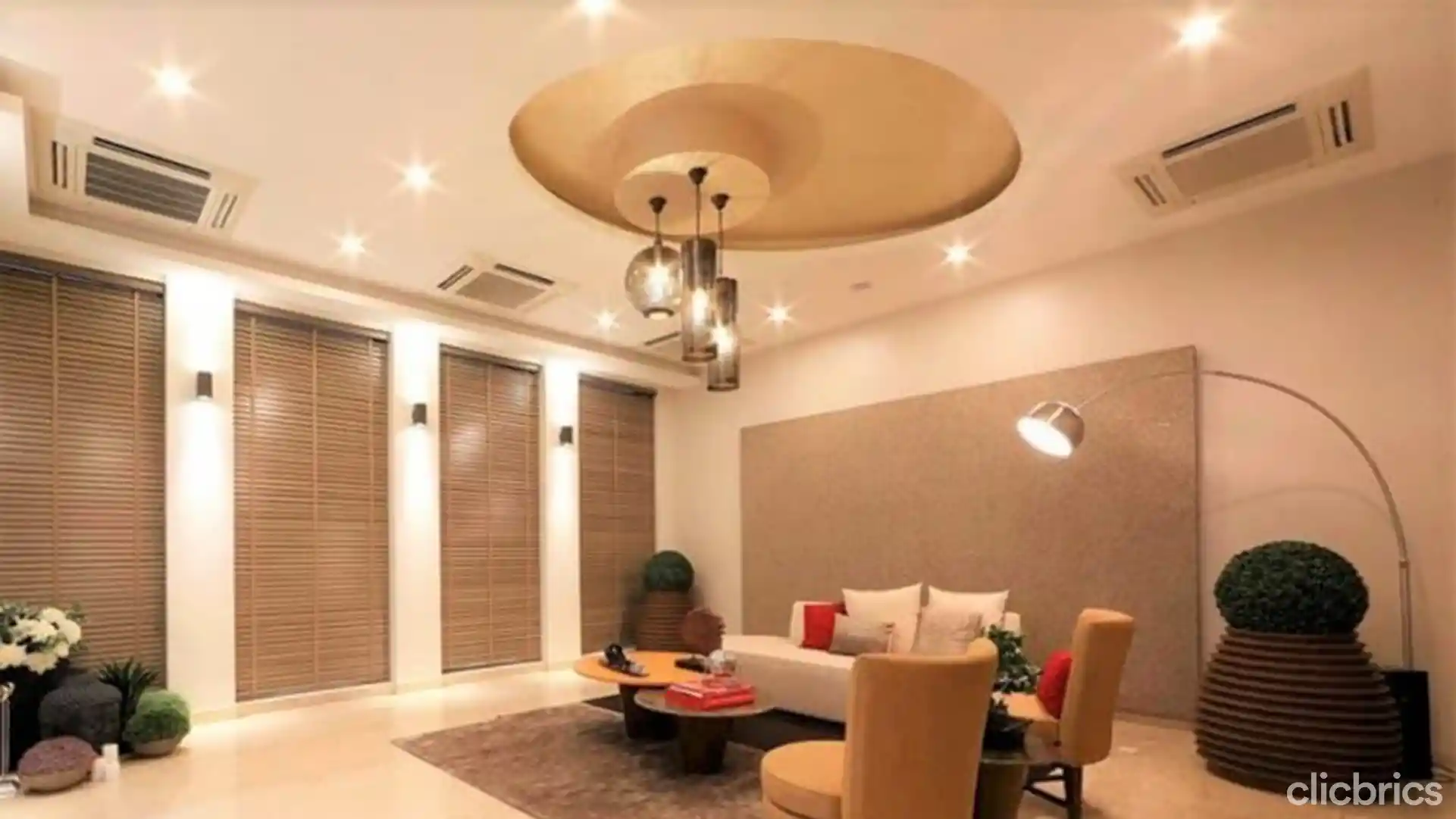 Since your living room doubles as a gathering space, it only makes perfect sense that you'd want to make it look as good as possible. Adding a centre fixture will help to improve the appearance ten times. All because pop art is currently popular. Anyone can succeed in creating a strong and fascinating atmosphere by using accurate colours and patterns.
You can create an opulent circular pop design for the hall. By doing so, you'll be able to use your living room's design, colour scheme, and texture to steal the show.


5. Coffered Modern Simple POP Design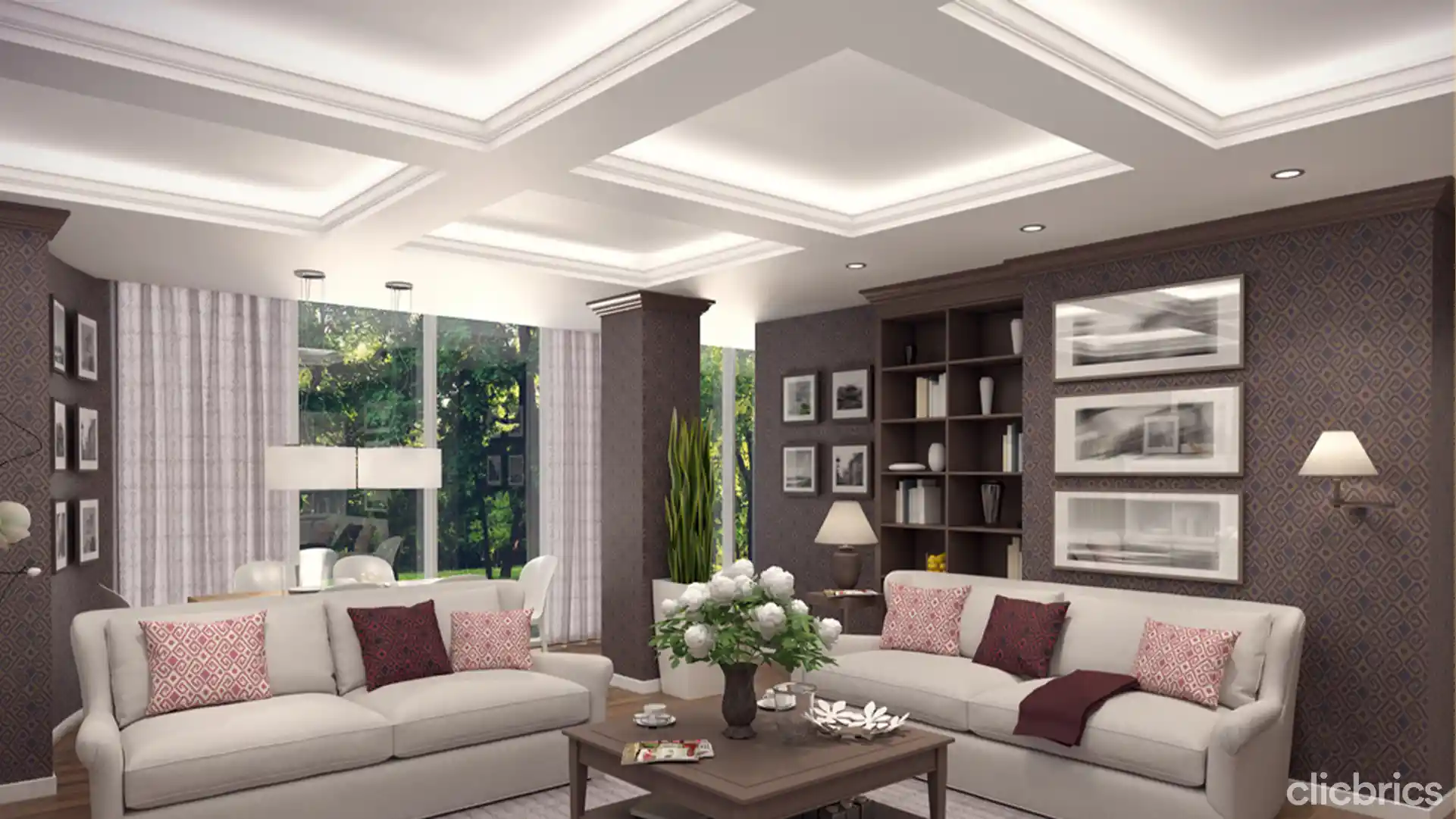 Any room can be enhanced by adding a decorative element like a coffered ceiling. If you like experimenting, you can select portions and install a pop design for the hall. You can divide the area into different zones in this fashion. Additionally, you can try this design with colourful two-tone schemes. But be sure to use high-quality pop design for the hall if you want a luxurious living space.
Also Read: Ideas for Ganpati Decoration at Home in 2022-|With Images|


Modern Simple POP Design Ideas for Bedroom
1. Tray-Type Modern Simple POP Design For The Bedroom.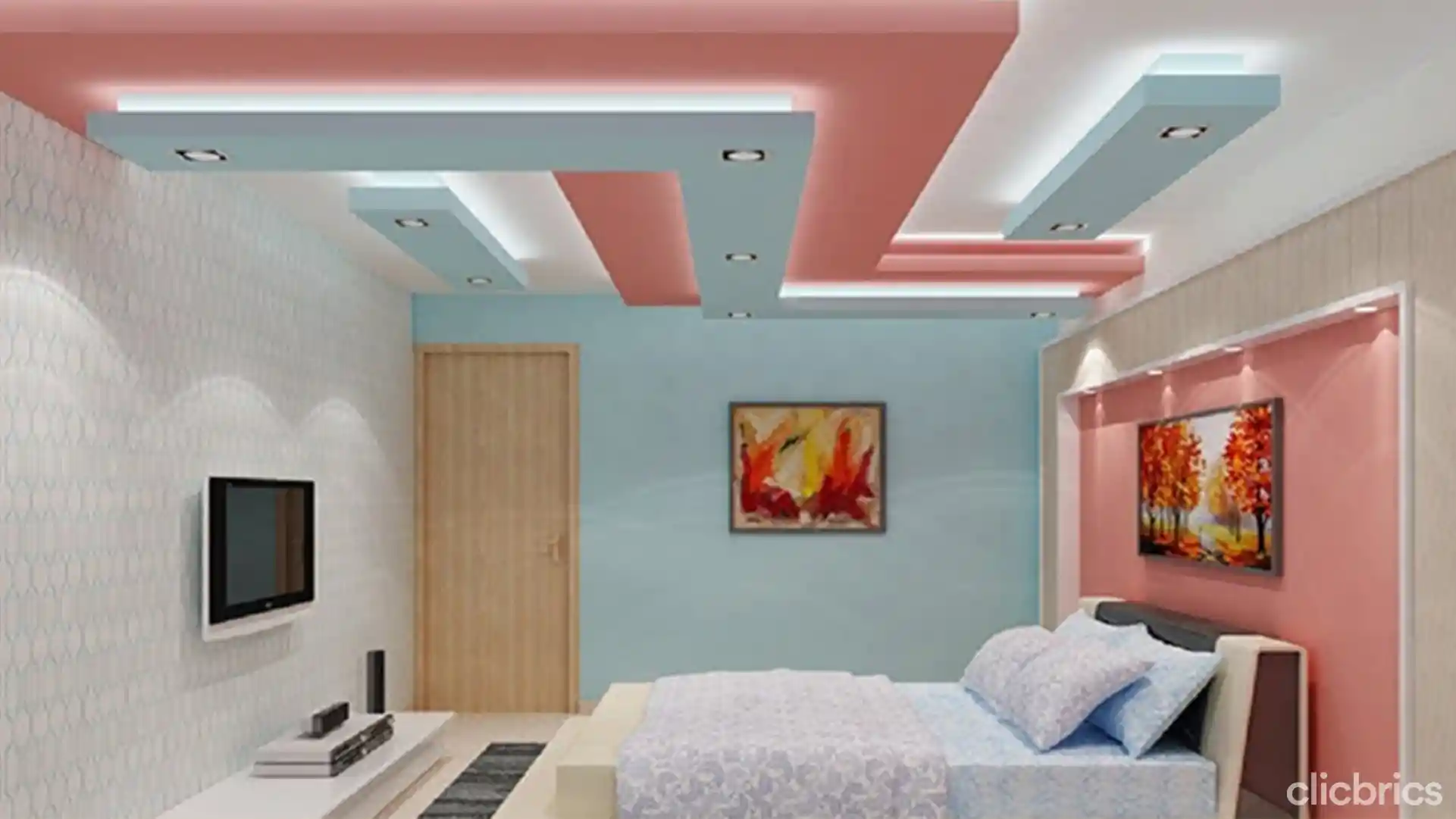 Give your bedroom a distinctive touch, such as a tray-style pop design ceiling, if you want to revamp its appearance fully. The borders of this sort of pop design for your room are lower than the centre. If you want to create a magnificent dramatic effect in your bedroom, you can paint the border in a different colour than the rest of the section, and you will have a simple pop design and a new style ready in no time.
Also Read:12 Trendy False Ceiling Designs for Your Bedroom

2. Geometric Shape Bedroom Simple POP Design For Room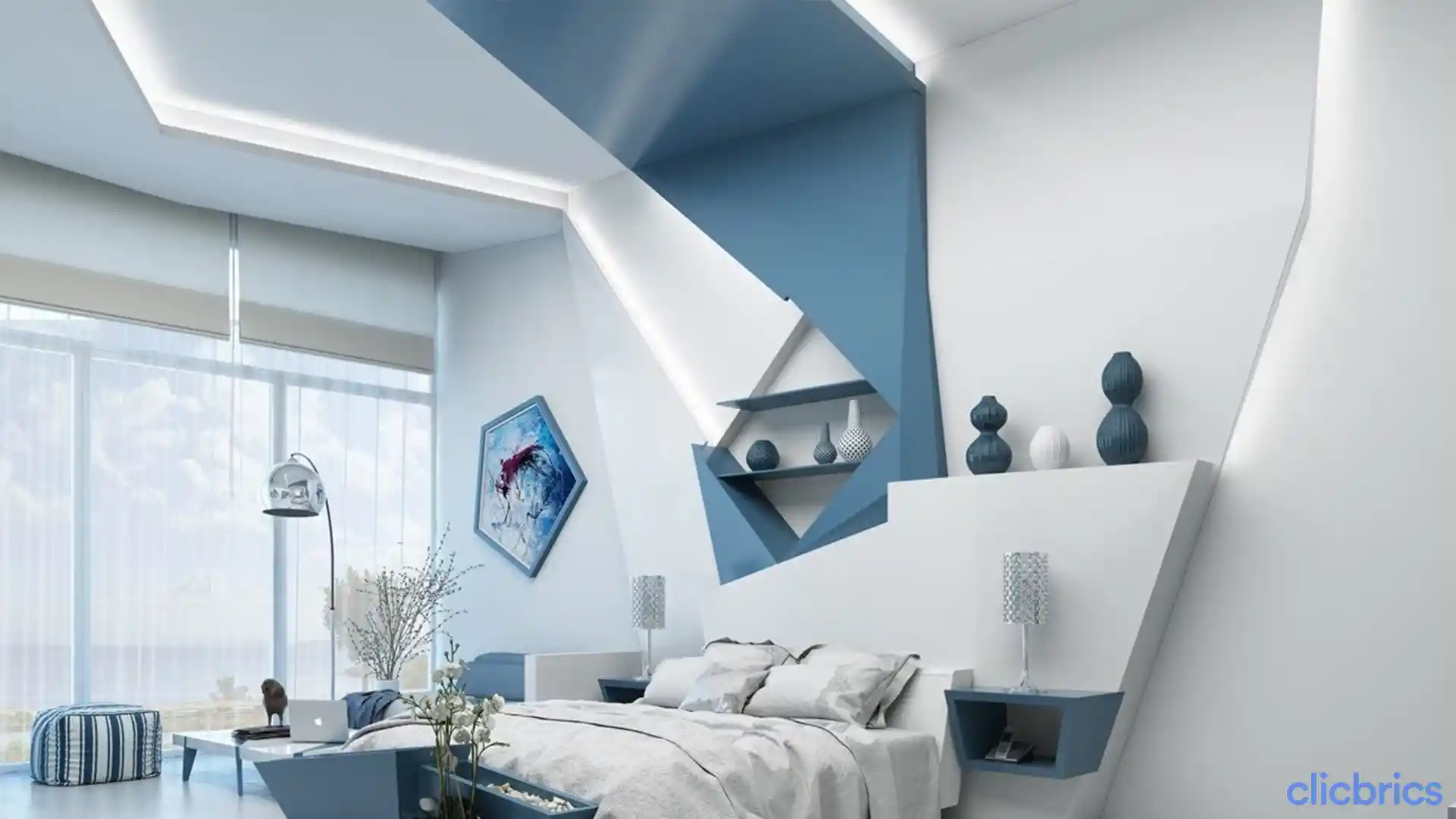 You must have seen people opting for a geometric-shaped ceiling for their bedrooms. It is one of the best bedroom modern simple pop designs. So if you choose the pop-into elegant geometric design that complements your bedroom decor, you will find yourself in a perfect place to be. These shapes can be in any form, like rectangle, square, circle, etc. If you wish to enhance the geometric shape of the false ceilings, you can incorporate criss-cross patterns too.
Also Read: Home Door Designs For Interior Doors
3. Modern Simple POP Design For Bedroom With Fan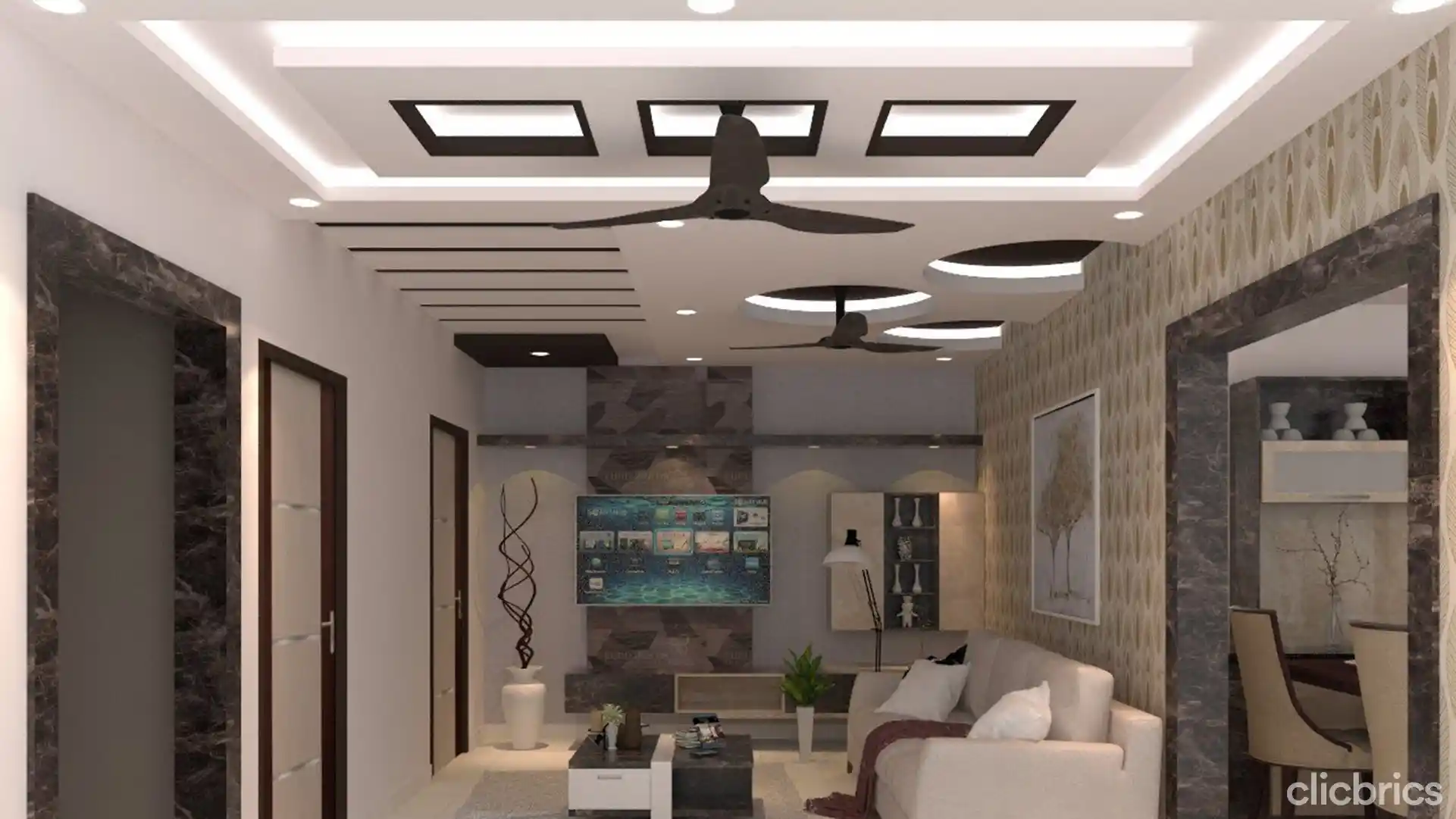 A modern pop design with a fan works well for a spacious master bedroom. You can have a lovely pop design for the room with two carved circles for fans to enhance the overall appearance of the bedroom. If your room has two fans, you can arrange pop around each to give it a distinctively staged appearance. If you have plenty of room, you may place chandeliers in the gap between the two fans.


4. White Modern Simple POP Design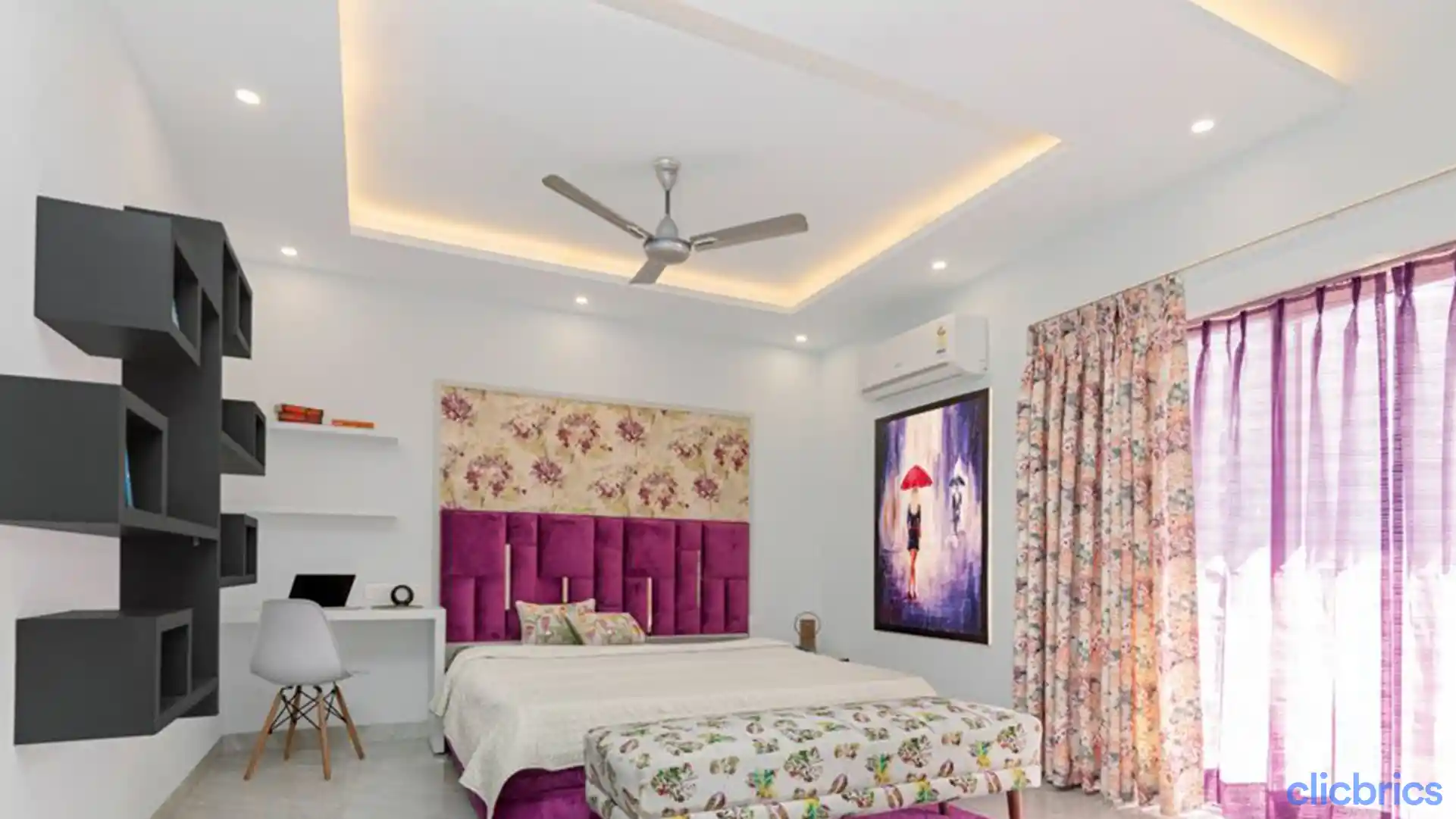 The white pop design throughout is the best modern, simple pop design. You did indeed read that, right! A white pop design for the room lends a delicate, vintage beauty. If you enjoy visiting museums and palaces, you can replicate the old-world beauty in your bedroom by installing an all-white pop design.
Also Read: These are a few irresistible colour combinations for your Bedroom Walls


5. Innovative Panels And Lighting For Modern Simple POP Design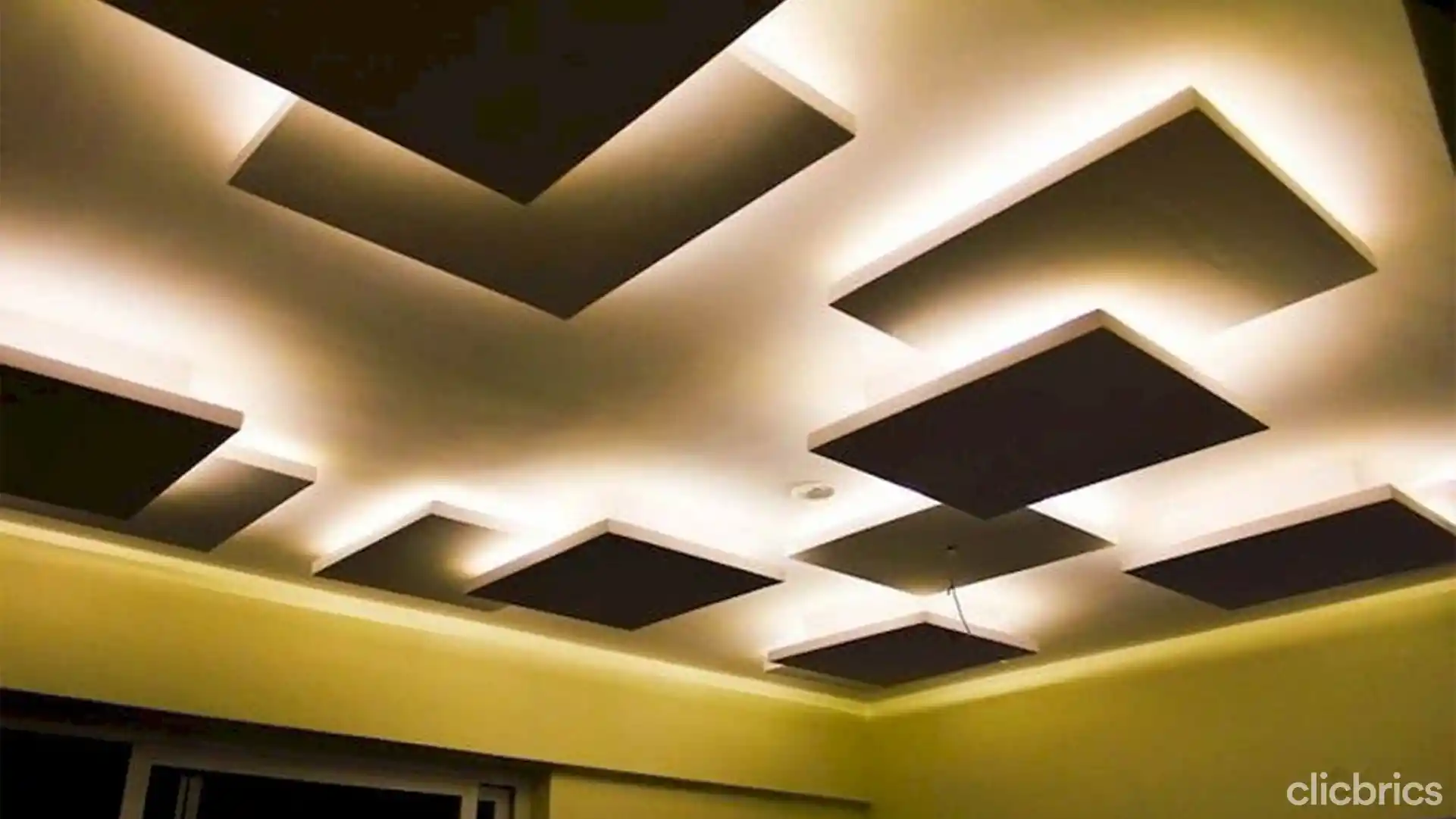 There's no need to construct the ceiling entirely out of plaster of Paris. Simply choose a coffered pop design for the room and use a beautiful pop mould to cover the remaining partitions. You can place lighting fixtures with more transparent bulbs in the remaining boxes. Your bedroom will have a pleasant glow thanks to these lights.
Also Read: 10 Best Diwali Decoration Ideas to Make Your Home Festive Ready
Modern Simple POP Design Ideas For Bathroom
1. Blue Simple POP Design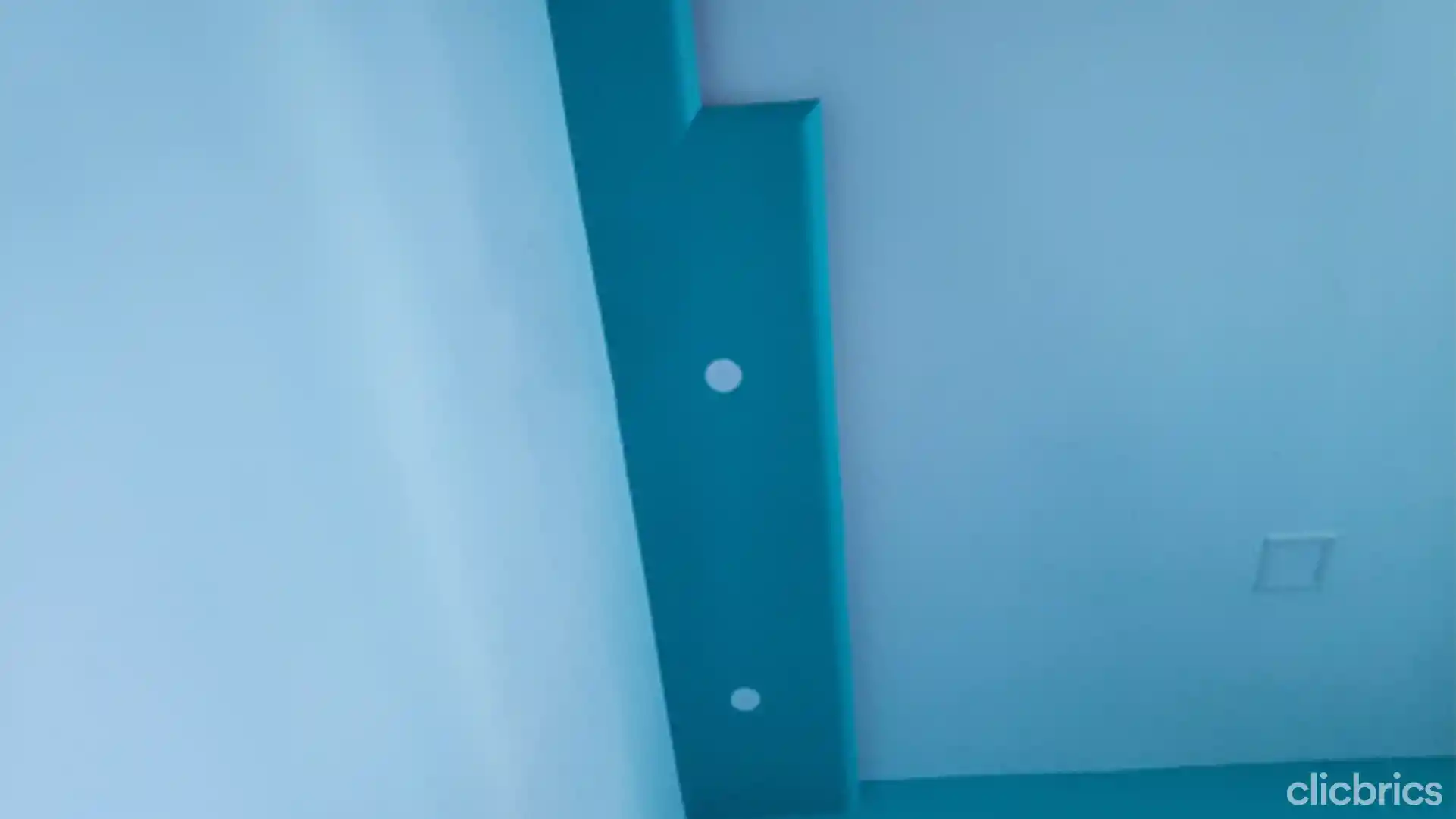 The majority of people in India have blue bathrooms. Install a simple pop design if you want an easy-to-clean and maintain bathroom. Your bathroom will look more subdued and basic if you also select a shade of blue.
Also Read: 25 Home Design Inspirations for Your Interior

2. Ceiling Window Modern Simple POP Design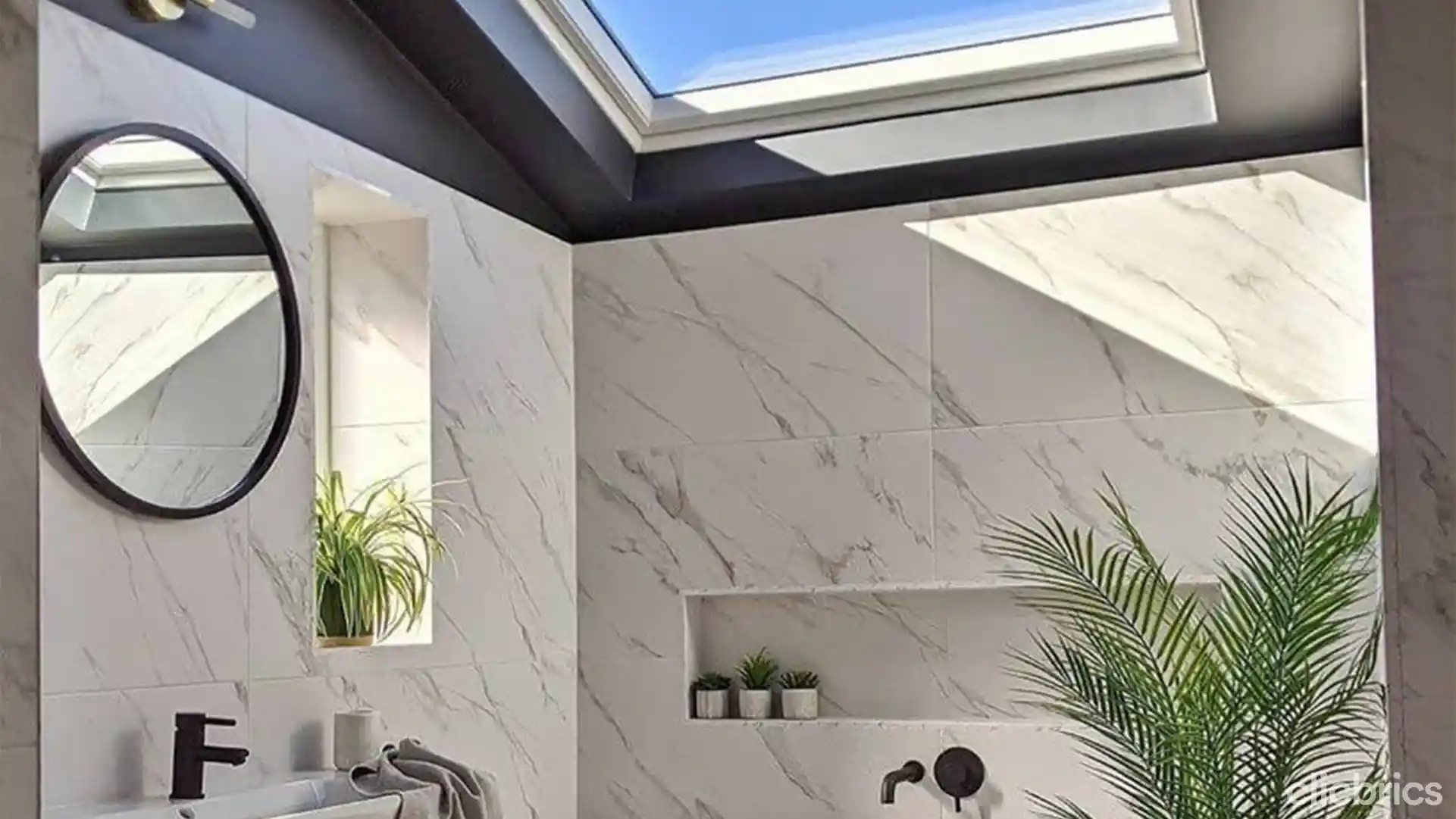 It would be wonderful to install a simple pop design with a window in a large, opulent bathroom. You can take in the sight of the lovely sky, and going to the bathroom will seem like driving a convertible car. 
Also Read: What are the worst renovations attempting to add value to homes? 
3. Art-deco Vibe: Modern, Simple POP Design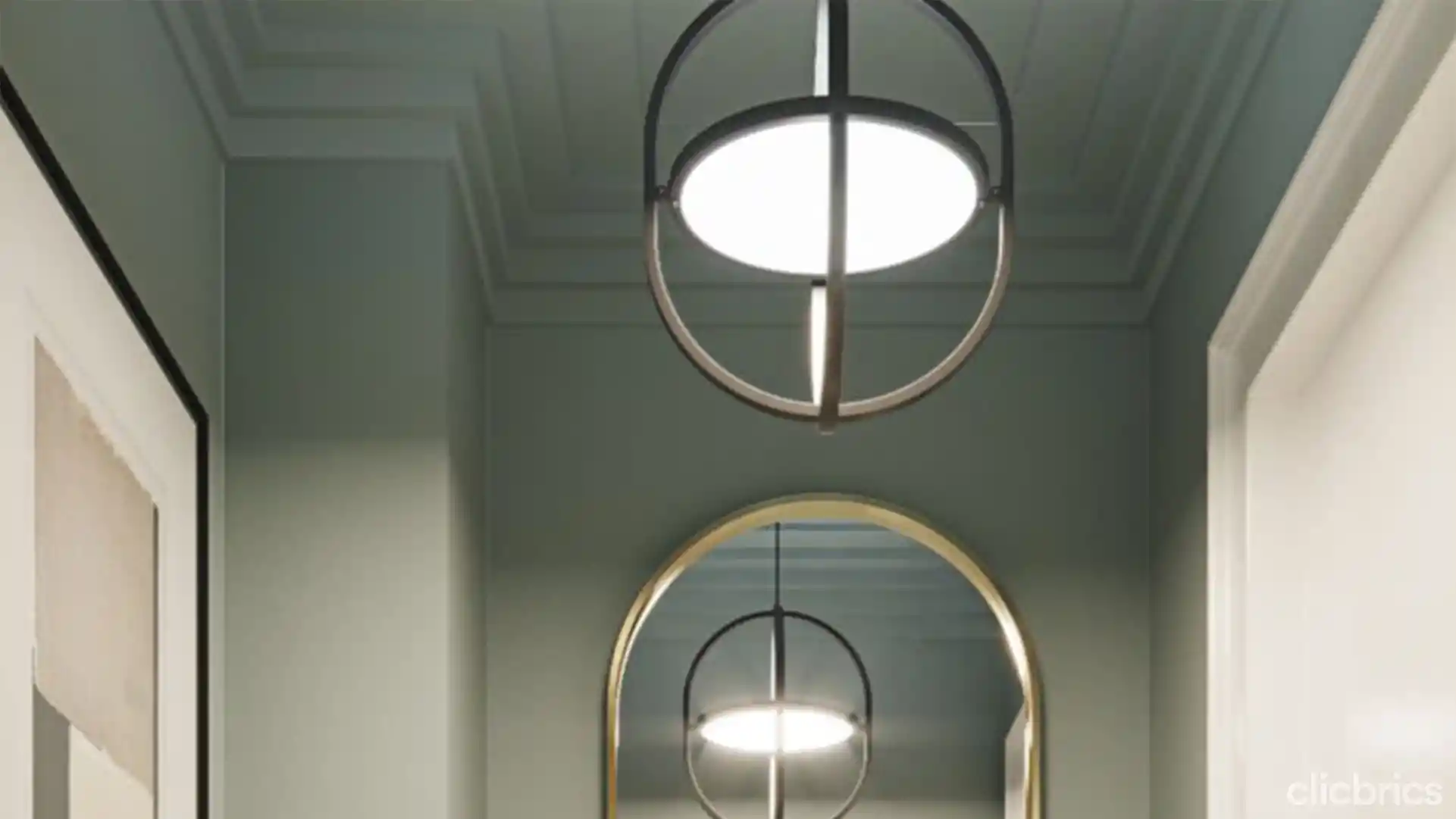 Using warm colour palettes, you may give your bathroom's walls and ceiling an art-deco mood. A POP colour in the ivory or cream range is also a good choice. Installing a crystal chandelier can further enhance the charm of your bathroom.
Also Read: 
7 Easiest Houseplants To Grow At Home
4. Parallel Lines Simple POP Design

Use a simple parallel line pop ceiling design for 2023 for your bathroom. If you're looking for a budget-friendly alternative, you can use a single shade of colour to decorate your bathroom's pop ceiling design. CLICK HERE, to know the steps to keep in mind when hiring an interior designer.
5. Crown Moulding, POP Design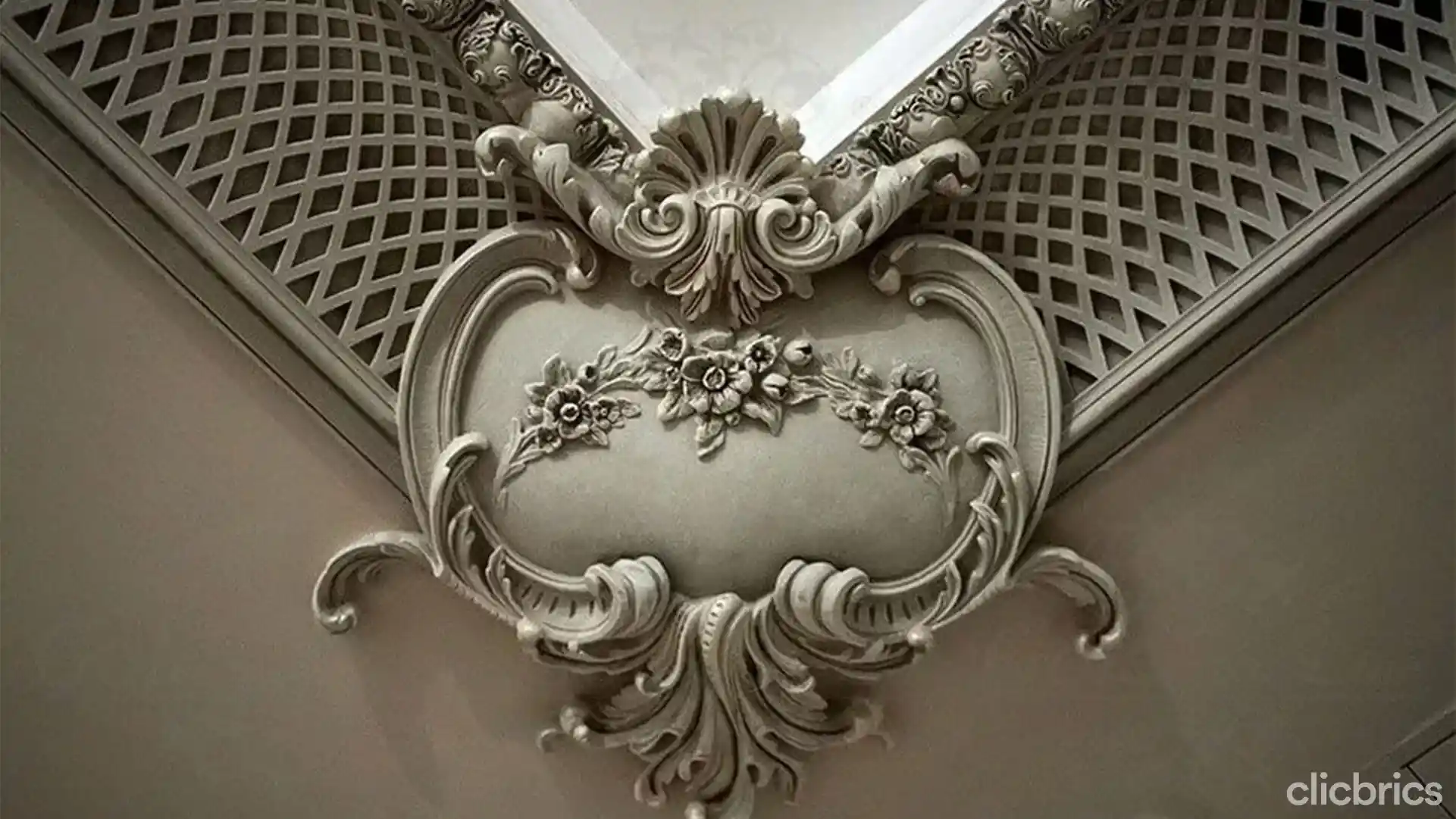 You can give your bathroom an antique feel in every area with little effort. Yes, that is true. To give a high level of sophistication to the carvings, you can include a pop reasonably priced crown moulding. If your walls are a darker colour, you can create white crown mouldings, which will unquestionably look amazing.

It takes a lot of effort to transform a house into a home. Every corner should be carefully organised to leave a memorable impact. Your home should represent your style and quality, from the front door to the bedroom. Having a modern, simple pop design in each room can help you achieve your attention-getting goal. Regarding contemporary interior designs, gorgeous ceilings are a wise decision. Your house is your unique space, so use all of your creativity to experiment with various colours, patterns, and styles to build the house of your dreams.
Also Read: 15 Effective False Ceiling Design Ideas That Will Transform Your Home Aesthetically