Table of Content:
Everyone strives to get the ideal colour combination for a room. Knowing the appropriate bedroom colour schemes will enable you to create a sophisticated space with a long-lasting visual impression. You only need to do a little planning, or you can take the easy route and simply read this article to learn the best bedroom colour schemes.
There is no shame in admitting that getting out of bed early in the morning and leaving a comfortable bed behind for work is not very tempting, but designing your bedroom in a way to make you feel energised and upbeat is essential to making your day much smoother. This is why we encourage our readers to opt for the best wall colour combination for the bedroom to make their lives simpler.
Also Read: Design Indoor Gardens Like The Pros Using 6 Strategies
Colour Combination For Room #1: Brown and Cream
If you want an elegant look for your bedroom, choose a brown colour that is beautifully paired with cream. Then, to add a touch of royalty, you can give your sleeping space a wooden makeover. The glimmer shade of this bedroom colour combination will highlight the aesthetic level of your room.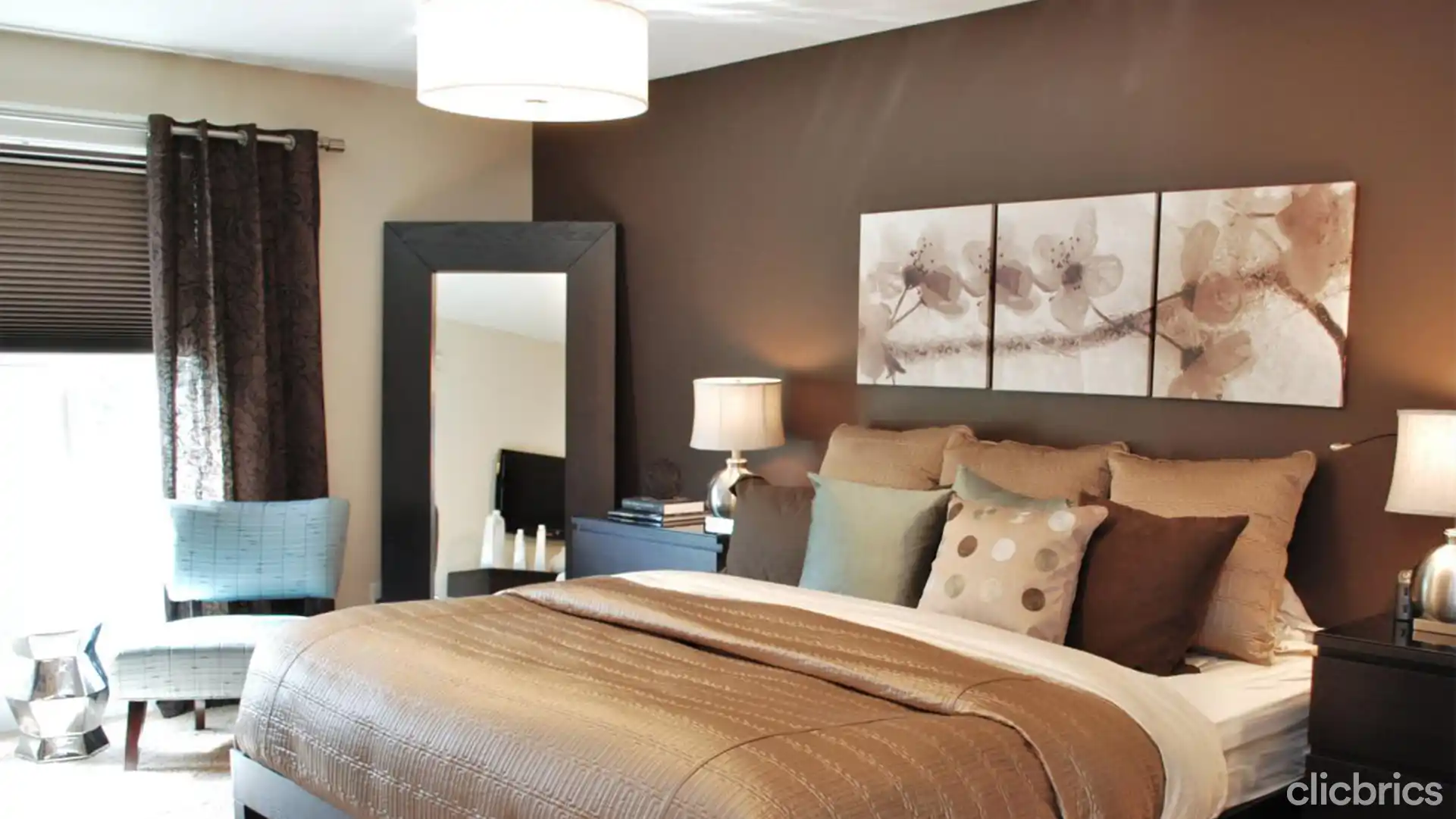 Colour Combination For Room #2: Red Lacquer and White
Your bedroom colour combination reveals a lot about your personality. So, if you wish to give your room a high-energy yet calming effect, you should opt for a timeless jaw-dropping colour, red lacquer. In addition, a flat white ceiling and a crimson wall with a high gloss finish will look warm and stylish. Choosing this room colour combination for the bedroom is ideal if you wish to have a beautiful space.
Also Read: Top 10 Cost Effective Simple Kitchen Design Ideas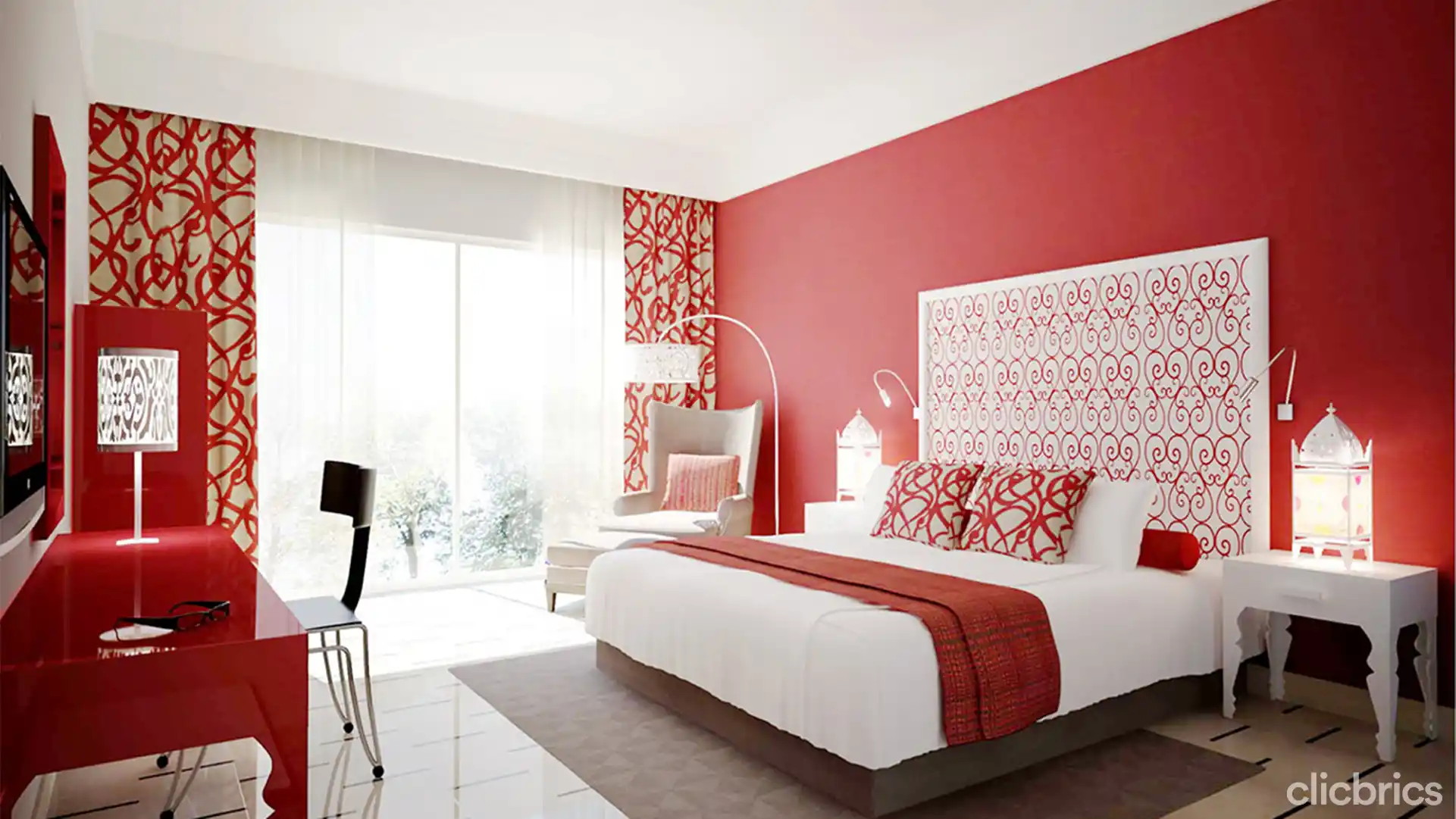 Colour Combination For Room #3: Lavender and Off-White
Everyone aspires to have a one-of-a-kind and personalised bedroom colour combination that sets it apart from the others in the space. You should choose the lavender and off-white master bedroom colour combination if you fall into this category and are seeking a solution to create a soothing and cosy atmosphere that aids in encouraging sleep.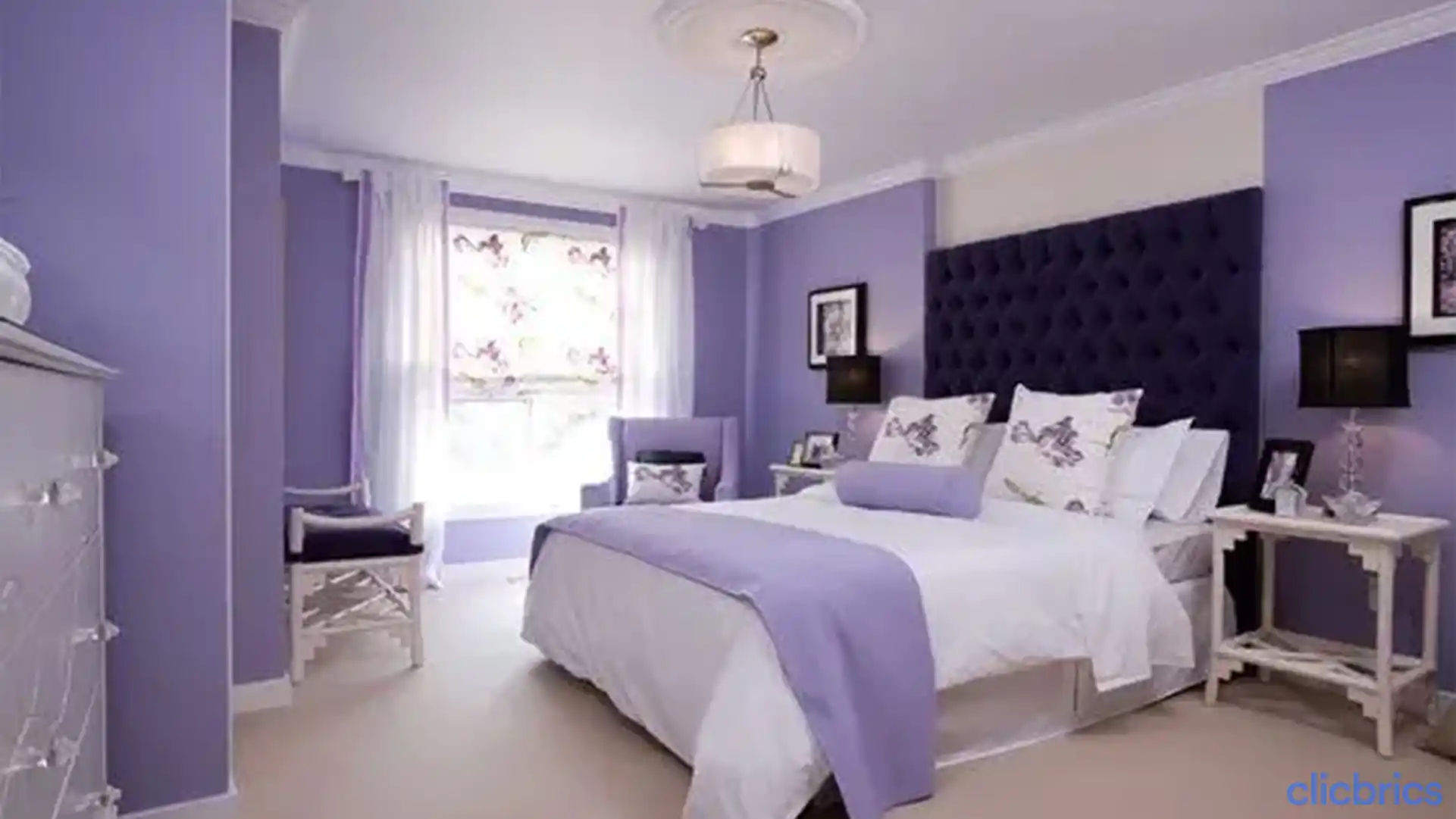 Colour Combination For Room #4: Coral and Grey
If you are looking for the best room colour combination, you should definitely try coral. The colour coral radiates joy. For your bedroom, pick a bright-toned colour while keeping the trimming in a darker grey. The amalgamation of these room wall colour combinations creates a cooler, neutral effect. Your room will appear brighter in the morning if you choose a coral shade.
Also Read:12 Trendy False Ceiling Designs for Your Bedroom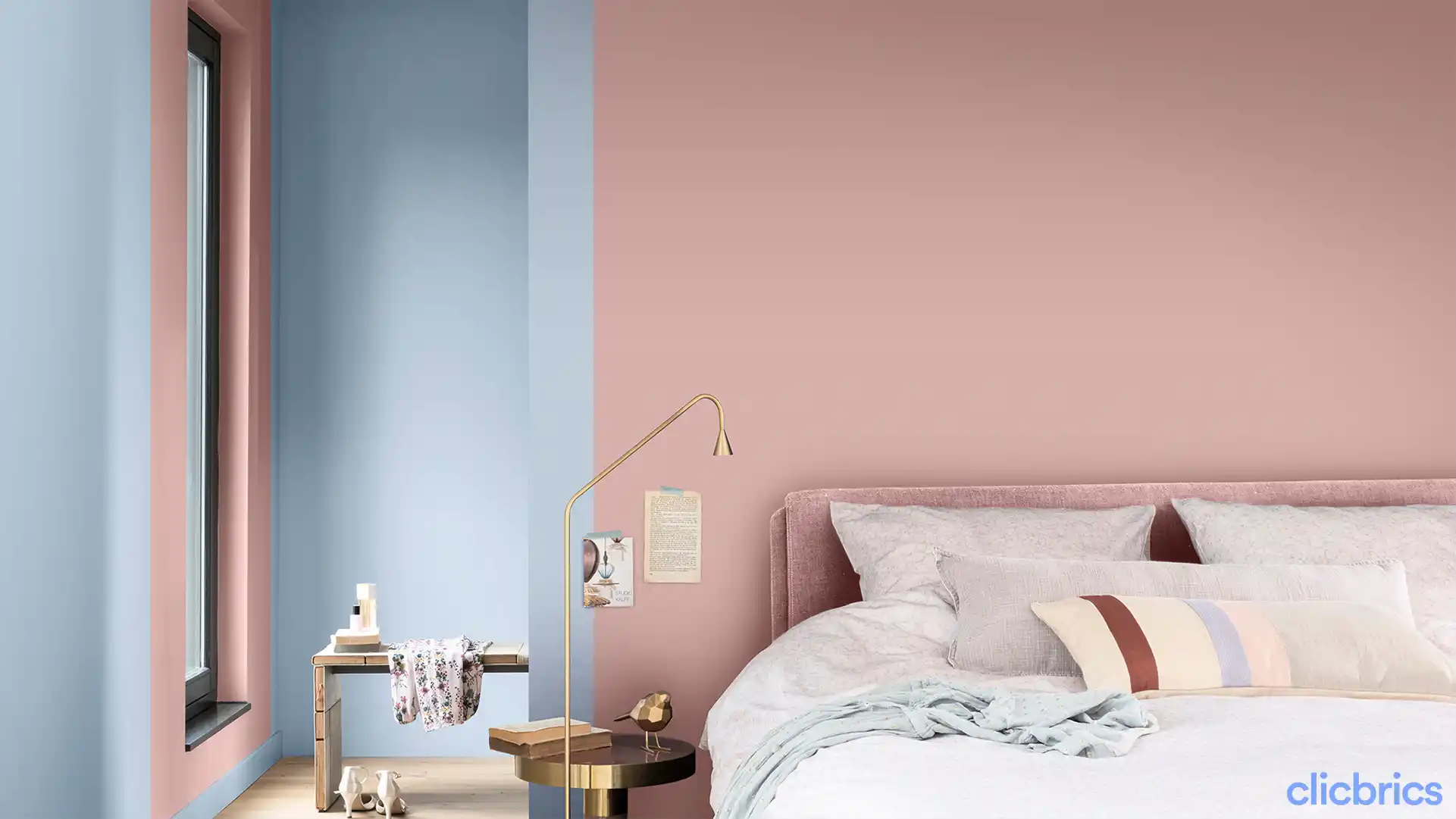 Colour Combination For Room #5: Beige and Cream
You want your space to have an adaptable, cosy, and subtle vibe, and there is no better choice than sticking with beige and cream to achieve this. Neutral tones are undoubtedly the best room colour combination that anyone can choose for their sleeping space. In addition, you can decorate your room with cheerful pop-up colours, like taupe-shade pillows or peach-shade lamps. Finally, people looking for a small room colour combination can also opt for beige and cream colour combinations.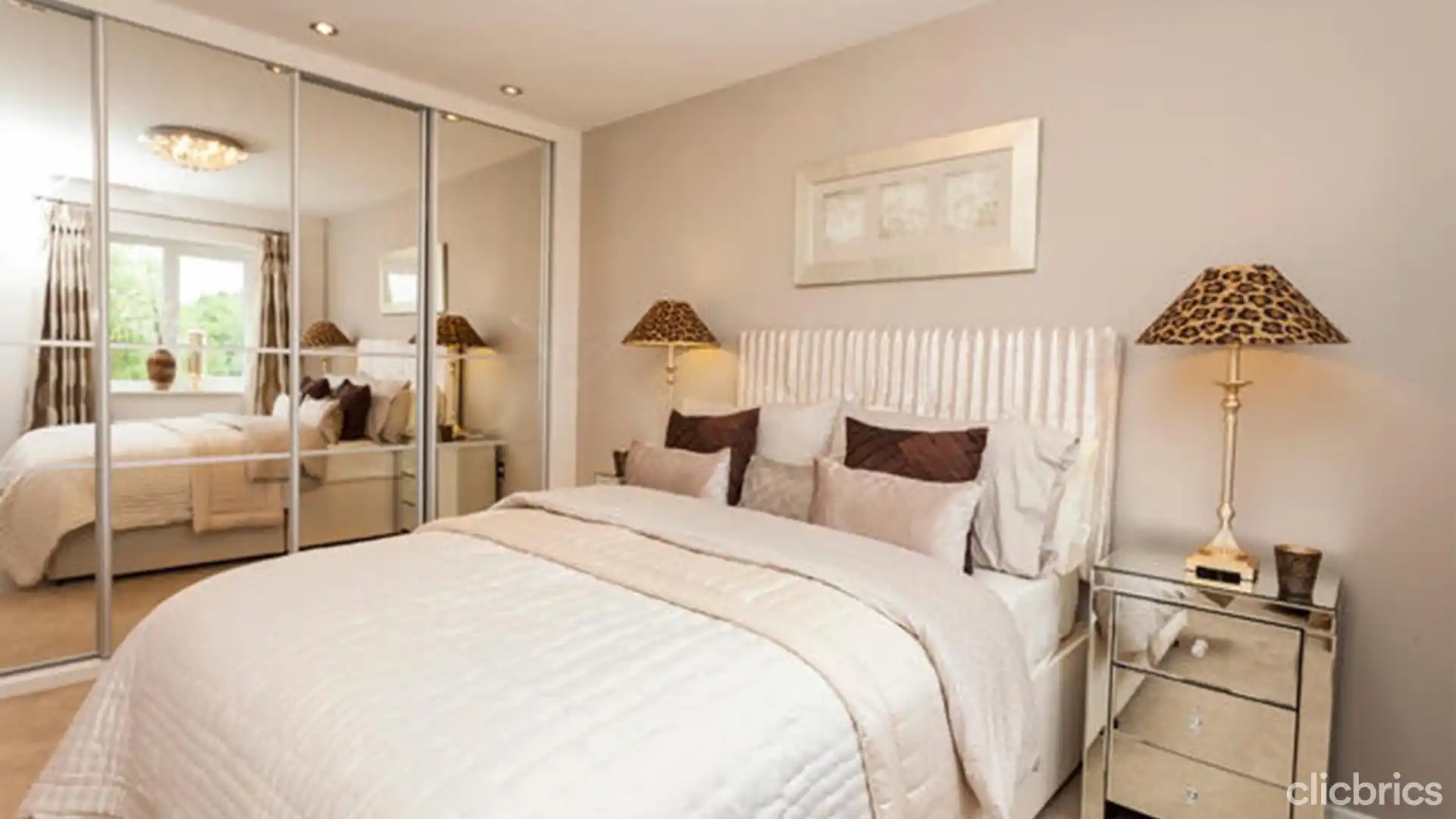 Colour Combination For Room #6: Blue and Pink
If you are searching for room colour combination ideas on the internet, then search no more! To keep your bedroom soothing and refreshing, pair mild tones of pink with one wall of a darker shade of blue. Keep the wall behind the headrest in a pink hue. To mix it up a little, you can also use circular patterns on the opposite walls while ensuring cohesive and striking finishing.
Also Read:15 Effective False Ceiling Design Ideas That Will Transform Your Home Aesthetically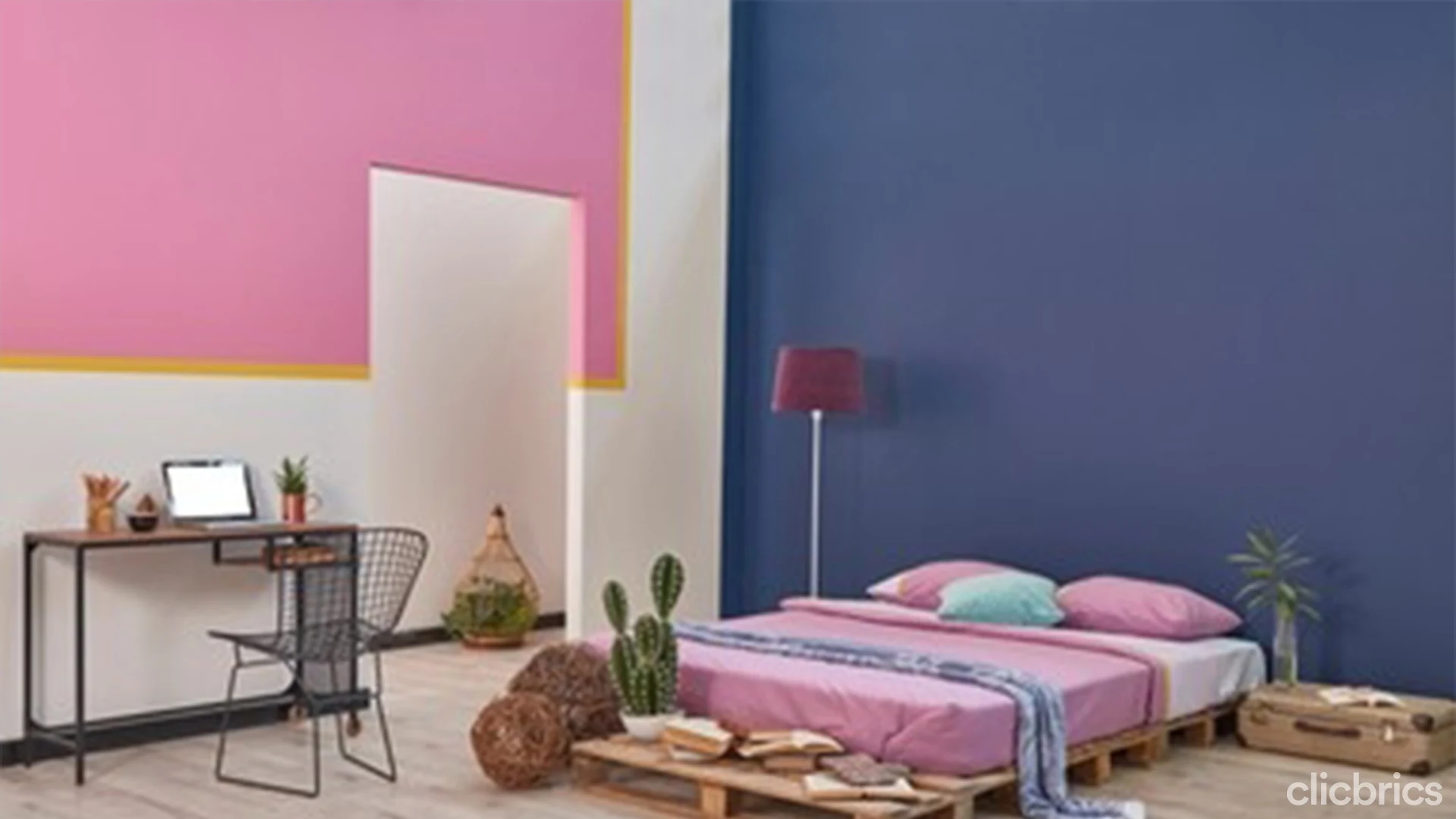 Colour Combination For Room #7: Orange and Charcoal
If you have a thing for bolder shades, then charcoal and burnt orange are the best interior colour combinations for the bedroom. Keep the colour orange for one of the walls and the textiles while using charcoal-coloured lamps, carpets, or any other form of decor item. Keep your bed, wardrobe and other furniture white to bring out the actual effects of the bedroom colour combination.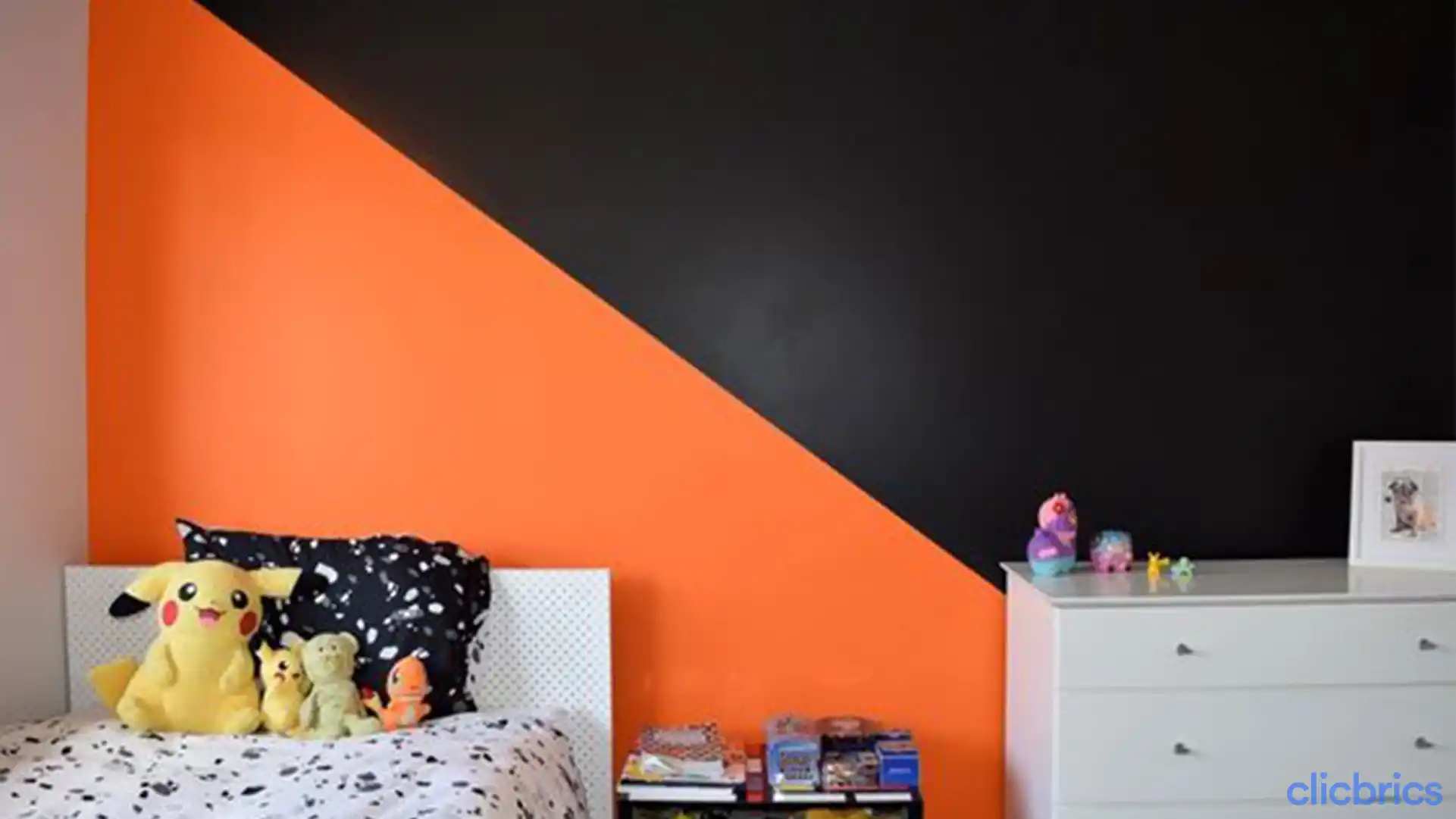 Colour Combination For Room #8: Terracotta and Beige
If you are seeking a guest bedroom colour combination, then opt for terracotta as it exudes warmth. Then, to create a big statement, choose a piece of art that helps break up this dark colour, like beige. Now, you might wonder why brown isn't the most expected colour for the guest's bedroom. Still, we assure you that the brown and beige combination is perfect for anyone who loves experimenting with playful pastel colours. Click here to know how in 5 simple ways, bamboo furniture will boost the charm of your place.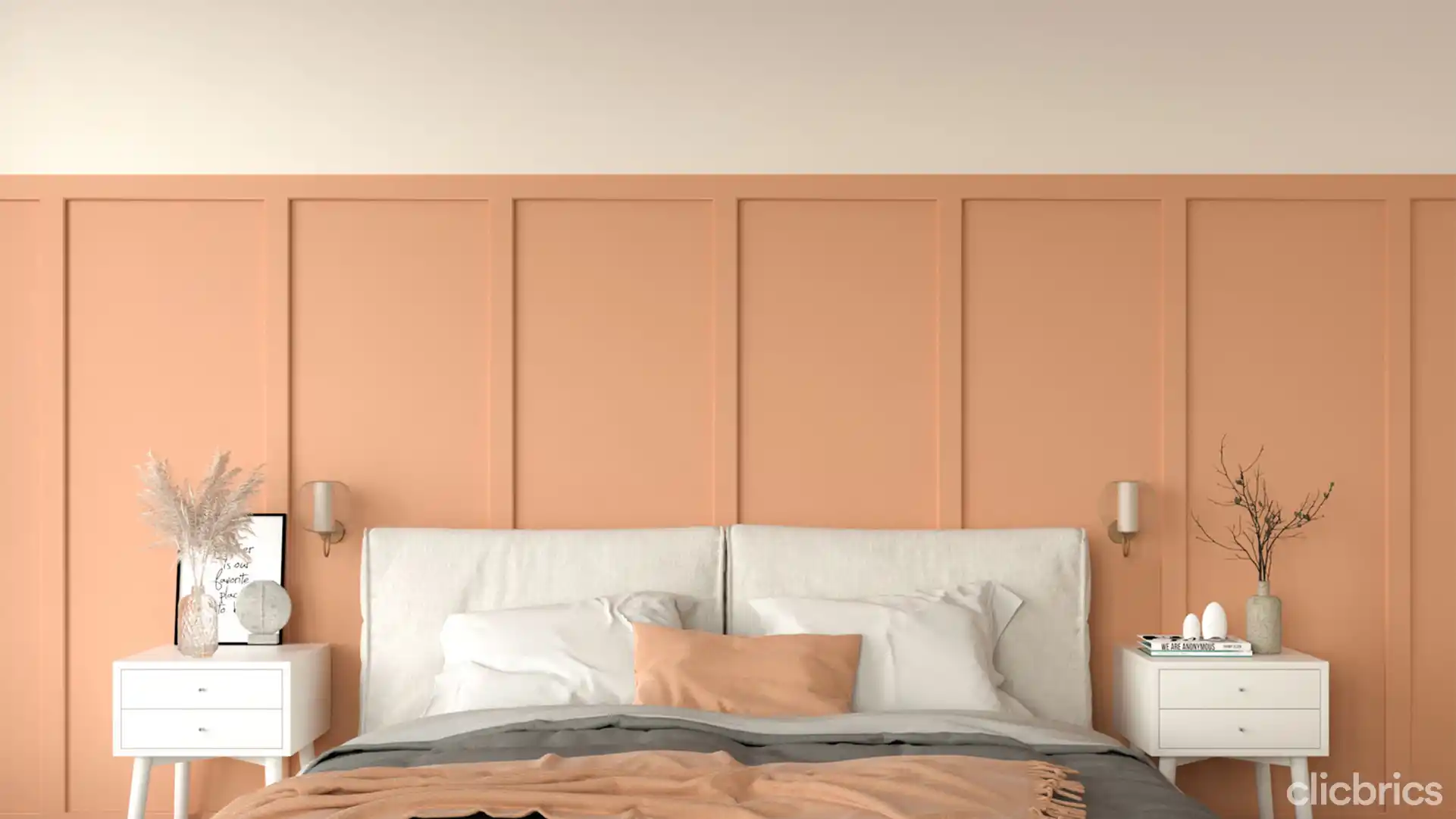 Colour Combination For Room #9: Marigold and Olive Green
The sunny shade, like marigold, works immensely well when you incorporate accent pieces with metallic finishes of olive green. If you are looking for a glamorous wall colour combination for the bedroom that provides an aesthetic finish, then marigold and olive green are the best choices.
Also Read: Steps to keep in mind when hiring an interior designer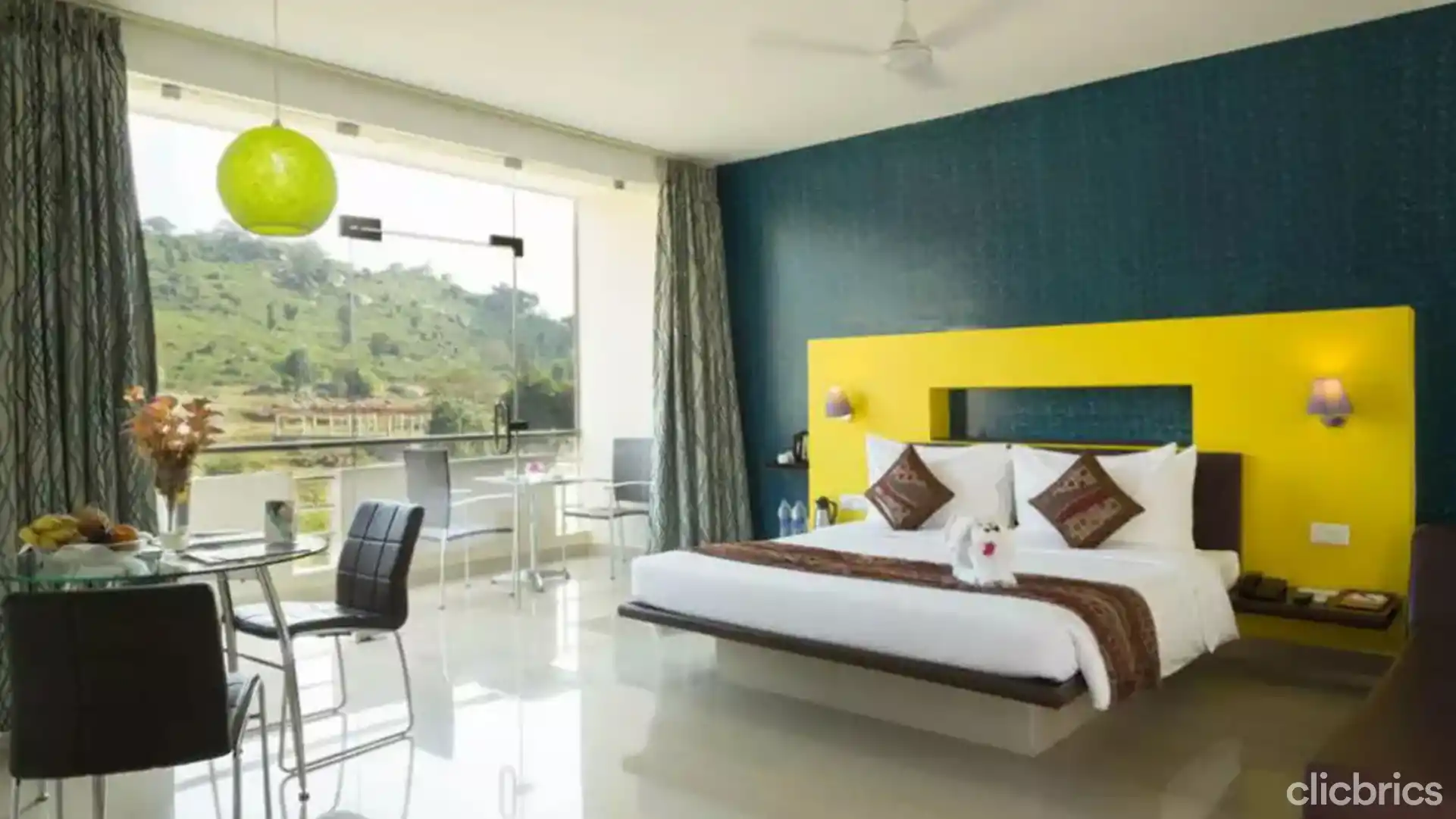 Colour Combination For Room #10: Peach and Warm White
Without a doubt, we will exclaim "Peach" if you ask which is the most preferred wall colour combination for the bedroom. This colour is simple to match with other colours and has a natural calming effect. If you want to keep your room decor simple, peach-coloured walls with warm white walls will look opulent. You may enhance the appearance by using accessories like lamps, picture frames, and lighting. CLICK HERE to know the 8 Vastu Dosh Remedies to welcome peace, wealth and health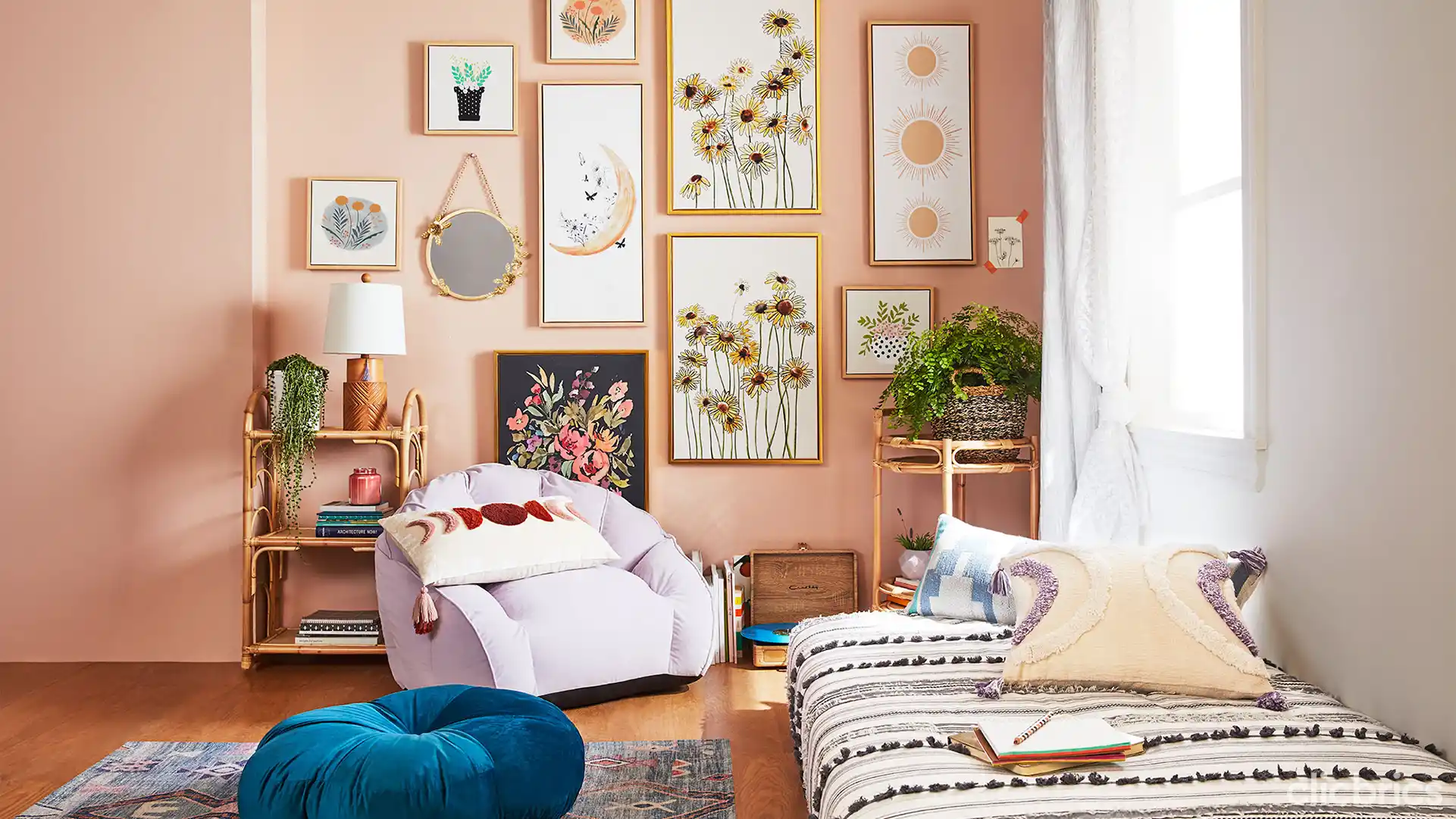 Colour Combination For Room #11: Grey and Pastel Yellow
How about enlivening your bedroom's decor with cheerful hues like grey and pastel yellow? That's a resounding "yes!" For example, you can paint the bottom two-thirds of the wall a grey colour and the top one-third a yellow colour to create the appearance of high ceilings in your bedroom. Or you can paint yellow geometric shapes on your grey walls. This modern bedroom colour combination looks fantastic for a small apartment bedroom.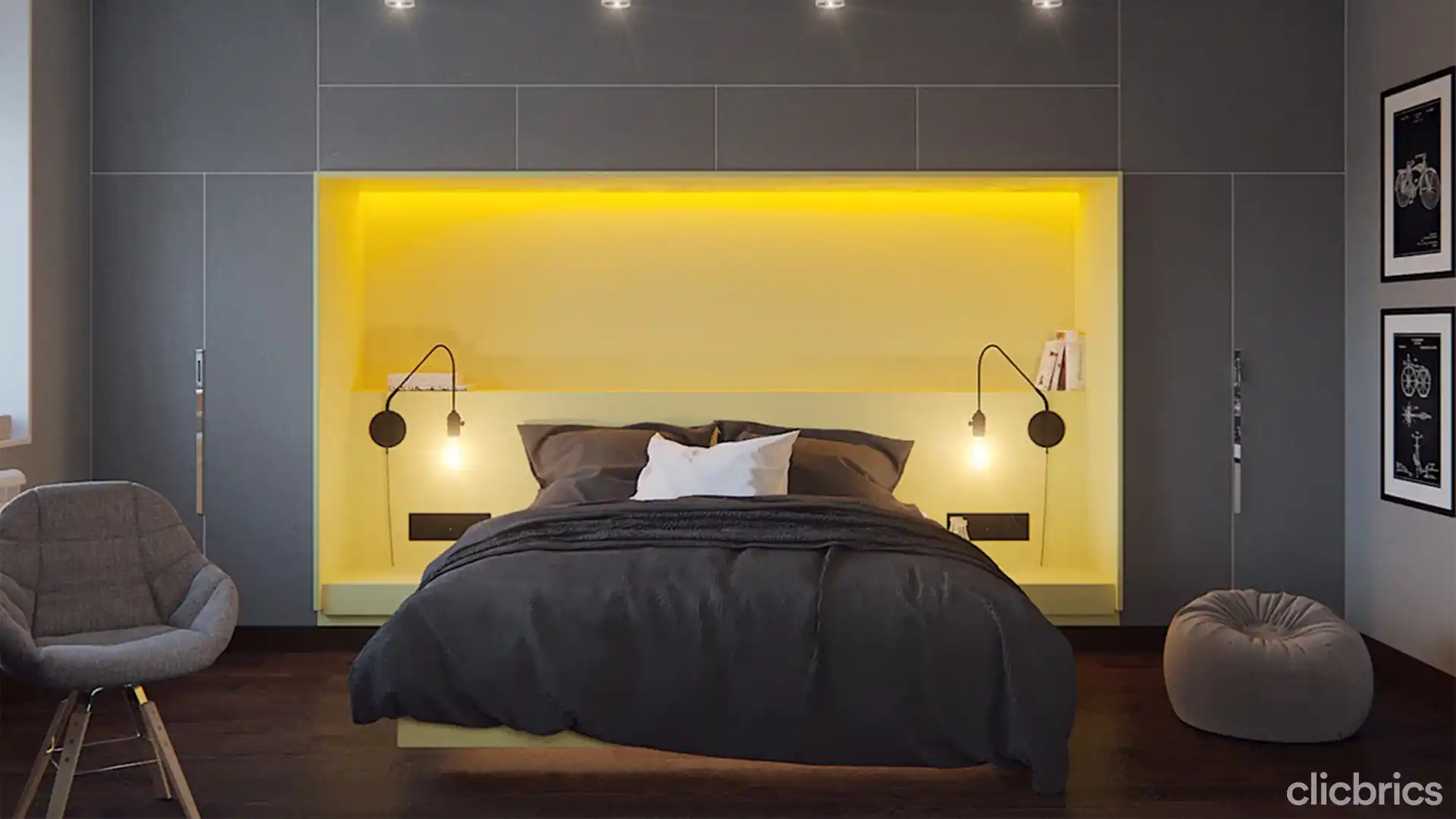 Colour Combination For Room #12: Burgundy and Beige
Choose a burgundy colour for your bedroom walls if you feel the time has come to make it more cheerful. Layer the room with beige tones to give the space an air of freshness. These two colours together will help the bold walls feel balanced. Burgundy and beige are the perfect colours if you want exquisite interiors and have a thing for art or bedrooms with Moroccan influences. These two colour combinations for bedrooms accentuate romance, drama, and luxury.
Also Read: Home Door Designs For Interior Doors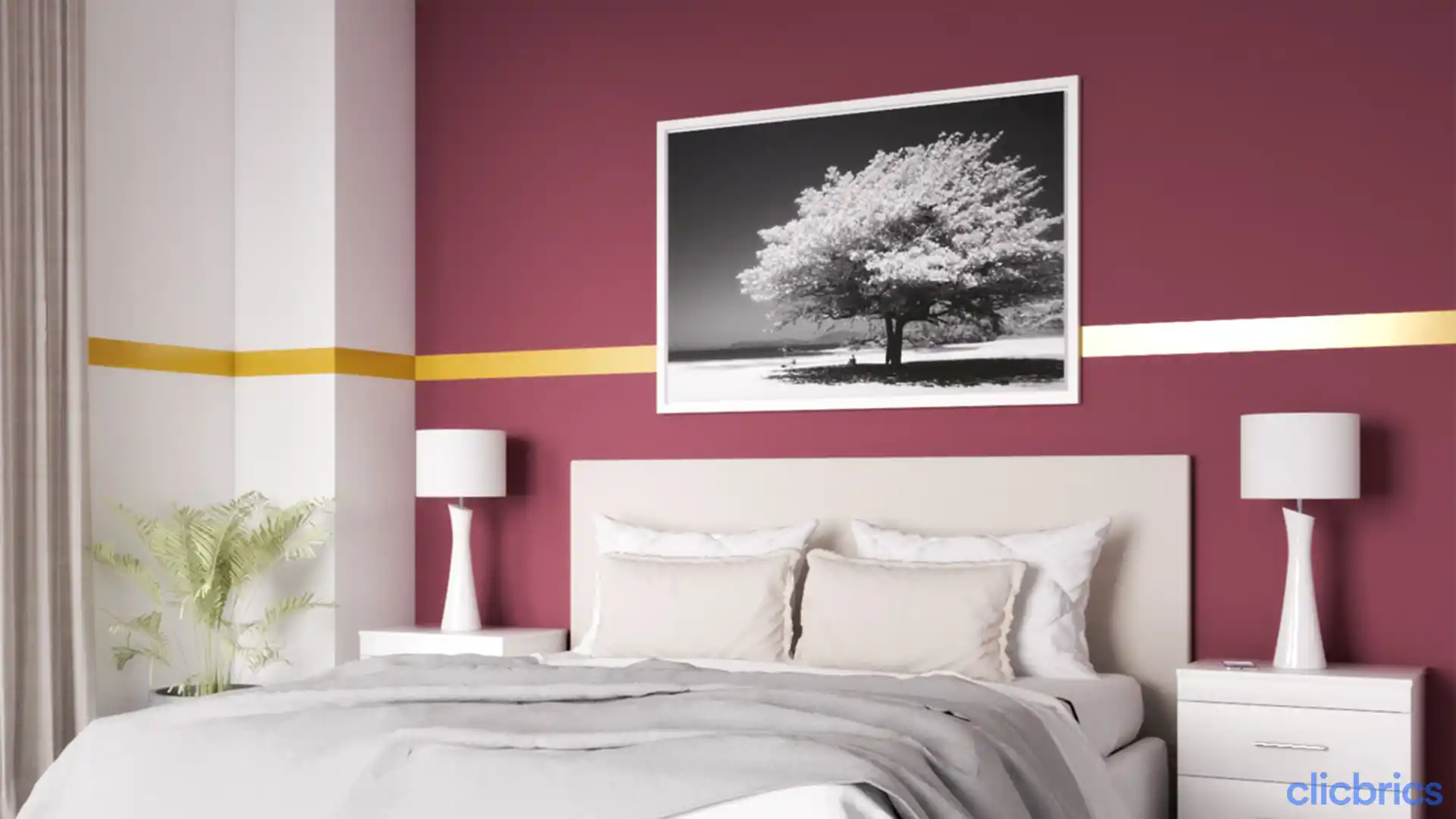 To Sum Up
The size of your area and your comfort should be considered as mantras when choosing the ideal two colours for your space so that their enchantment can prove elegance and visual contrast. We hope this article will help you select the bedroom wall colours that will create a calming atmosphere inside your home.