Table of Content:

If you want to make a favourable fashion statement, as most rich people do, opt for a double-door design for your home. A double door's capacity to maintain two single doors as one is what distinguishes it from other methods. You can customise the main hall double door design based on your choice. So, we've prepared this article exclusively for you so that you can choose the perfect front door modern double door (front door) design.
1. Simple Double-Door Design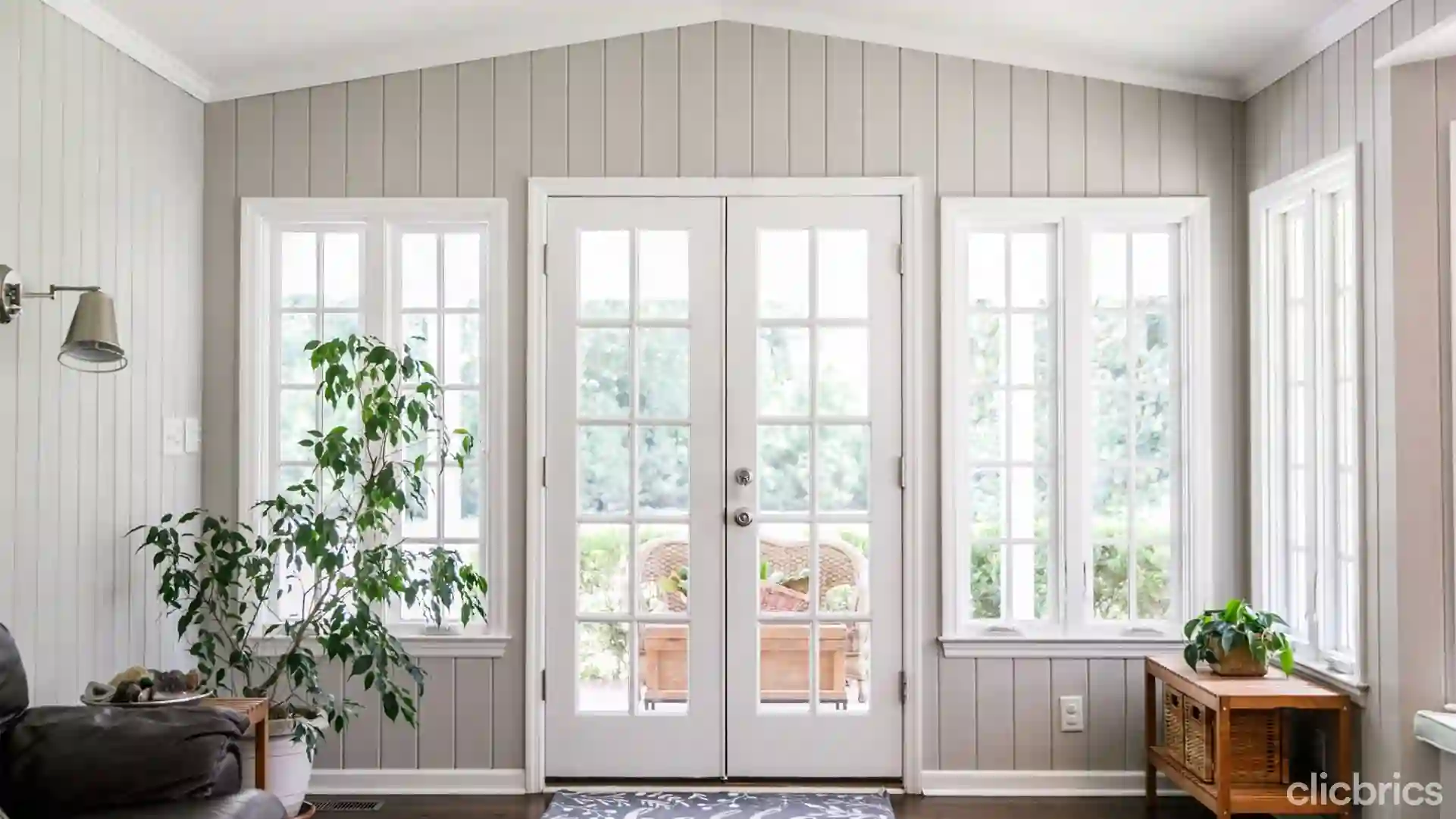 Choose a simple main double door gate design if you wish to make things as sophisticated as possible. It is an excellent alternative for cutting costs while maintaining the attractiveness of the house. Even if you choose a simple double door design for home, make sure it is veined and has a lot of texture. You can add dainty lamps on both sides to enhance the look of your house door.
Also Read: A Guide to Choose Modern Villa Entrance Doors 
2. Wooden Double Door Design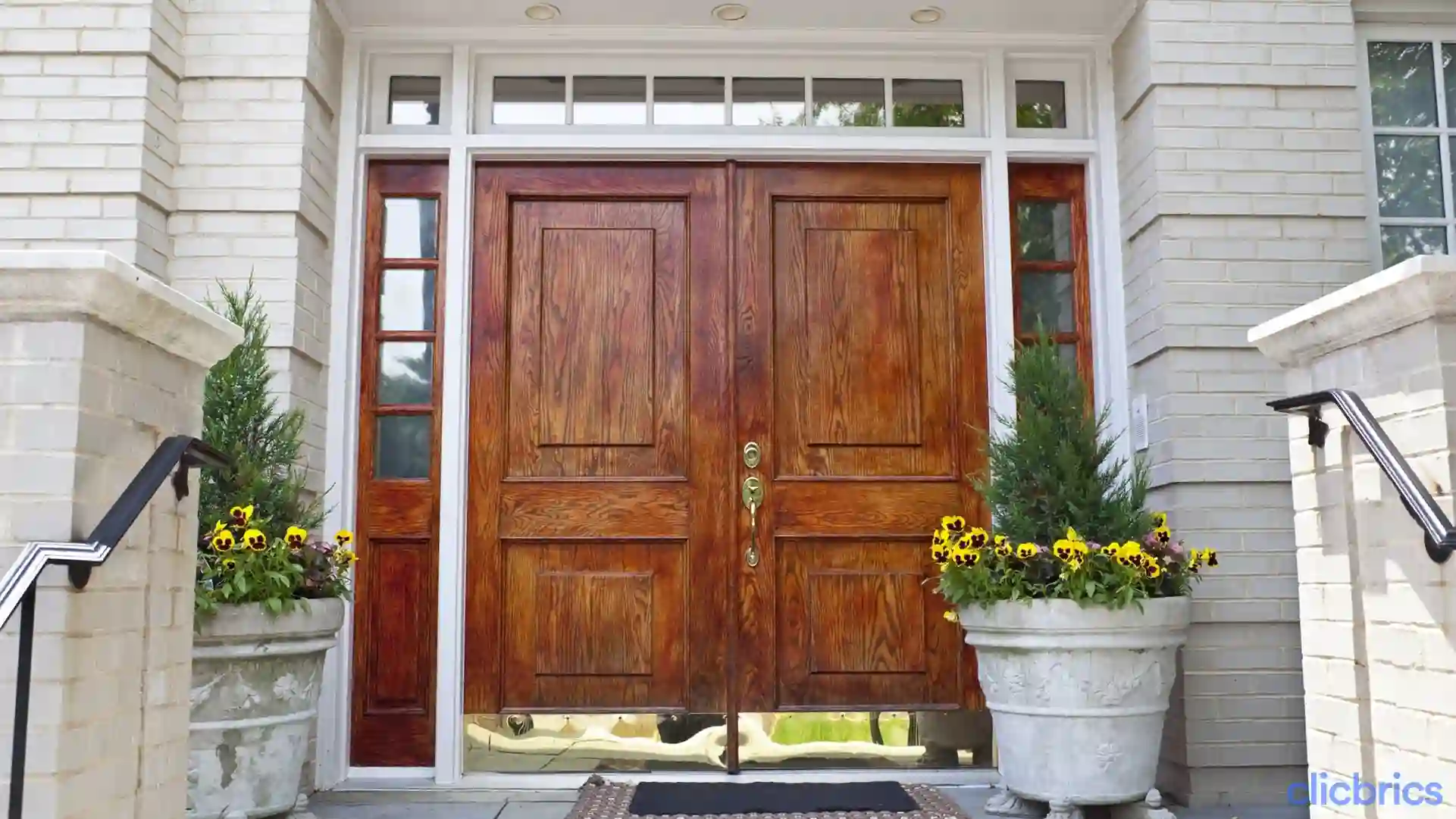 Your double door gate design is the first thing people see when they enter your house. In order to make the best first impression, you should choose a wooden double door design for your home's entrance.
Wood has been a component of door construction for a very long time. No other material comes close to the beauty and elegance that wood offers. The wooden front door, specifically the modern double door design, gives the room a delicate air while still keeping it fashionable.

3. Wooden Main Double Door Designs- Indian style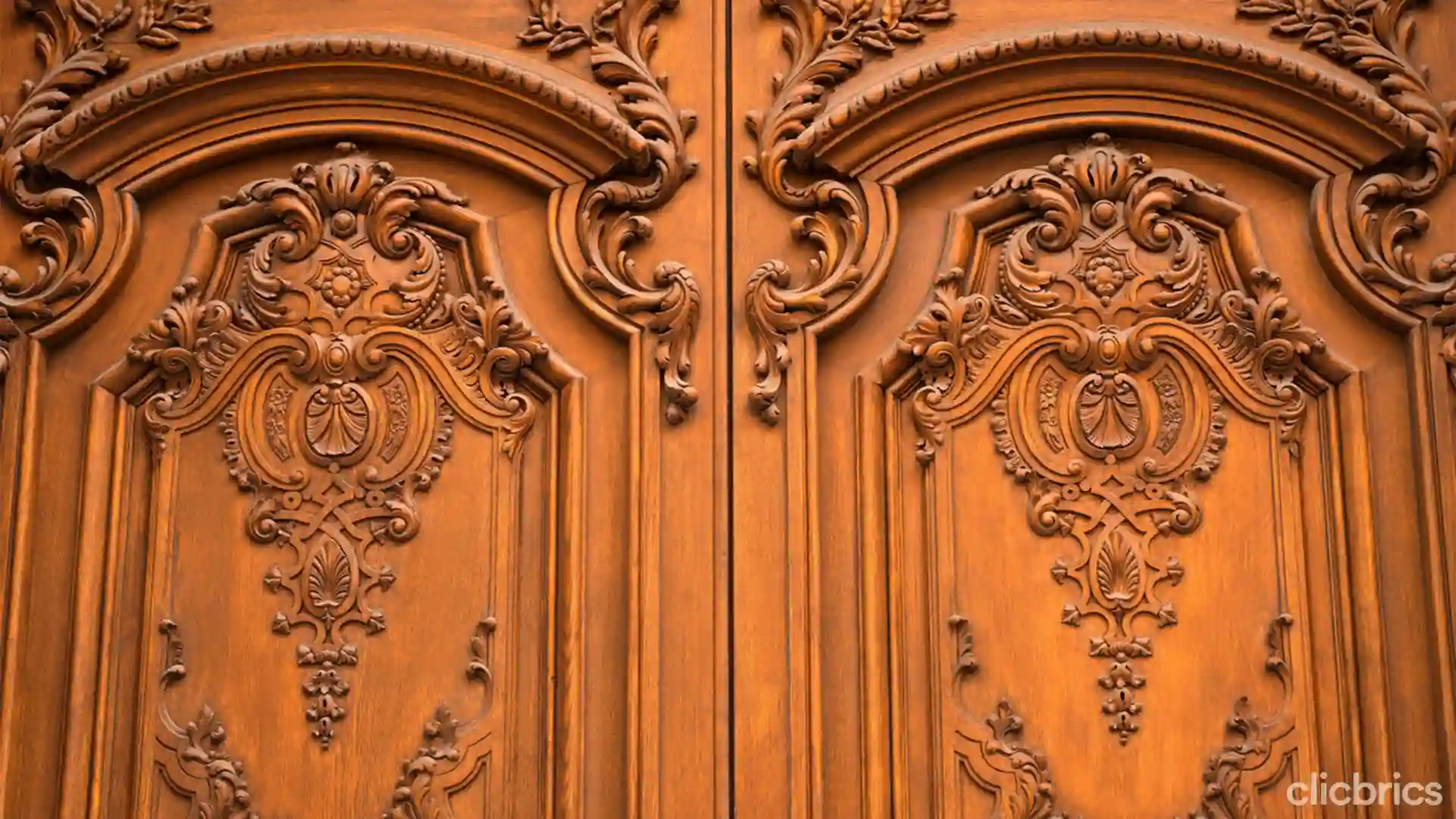 Nobody can compete with the beauty of hand-carved Indian art; that is beyond dispute. The warmth of the material and its personification give a royal appearance, which is why many favour wooden main double door designs in Indian style. You also must have seen how the architecture of Indian palaces truly inspires hotels' double door designs for the main entrance. You may use any wood and a rustic walnut panel pattern to create a stunning main hall double door design. You should also know in advance that the cost of such an opulent double-door design can be a little high.

Also Read: In 5 simple ways, bamboo furniture will boost the charm of your place.
4. Fibreglass Double Door Gate Design.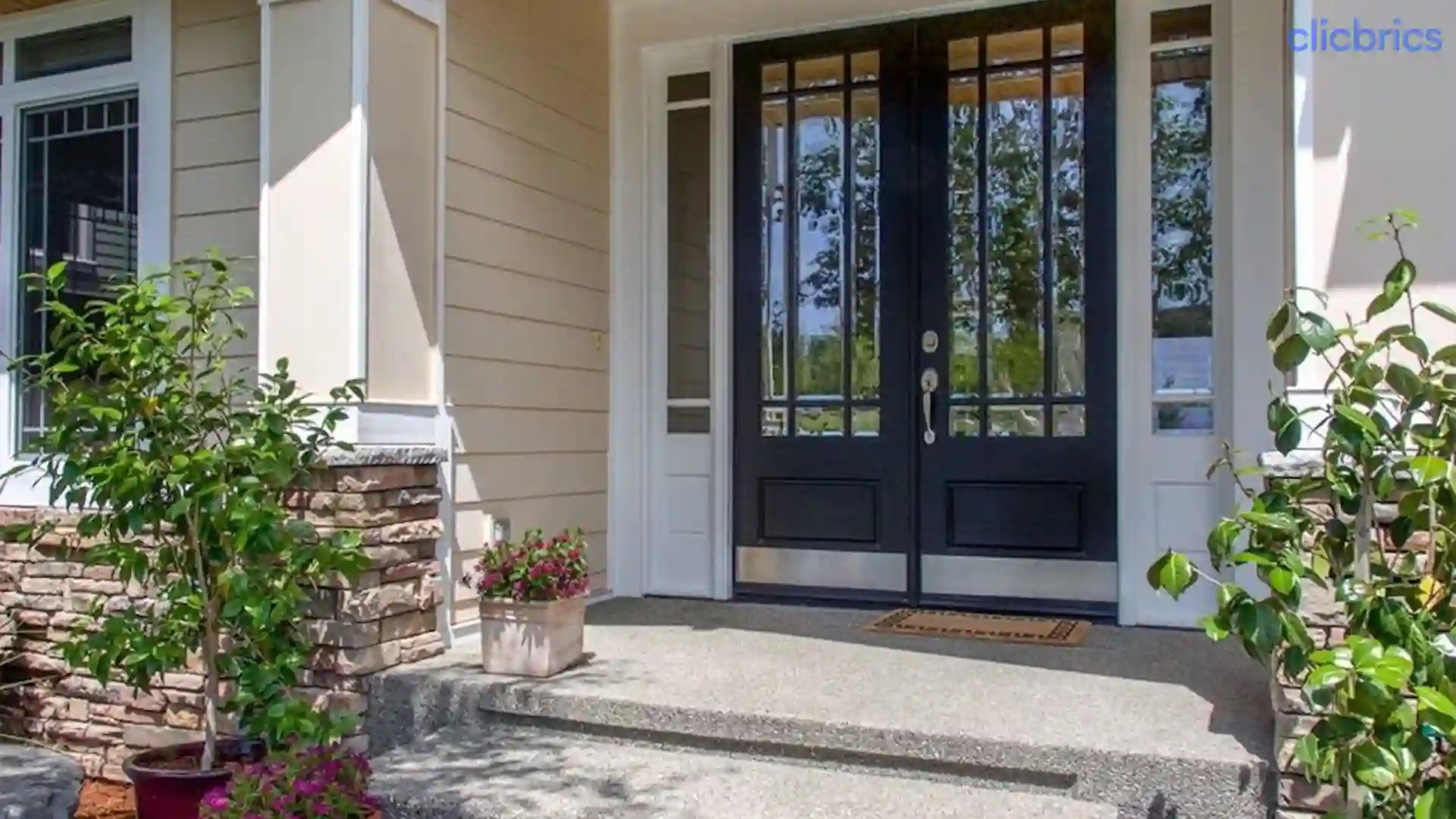 Fibreglass double door designs are the best option if you're one of the people looking for an affordable double door design for your entrance. It is simple to customise with wooden decor, and the end effect will be pleasing to the eye. If you don't like wooden furniture, you can paint the fibreglass in eye-catching hues. Fibreglass doesn't rust or fall victim to termite infestation like wood or iron. Decide on a double-door design made of fibreglass to give your property a spectacular entrance.
Also Read: Ideas to make an ultimate outdoor kitchen
5. Modern Double Door Design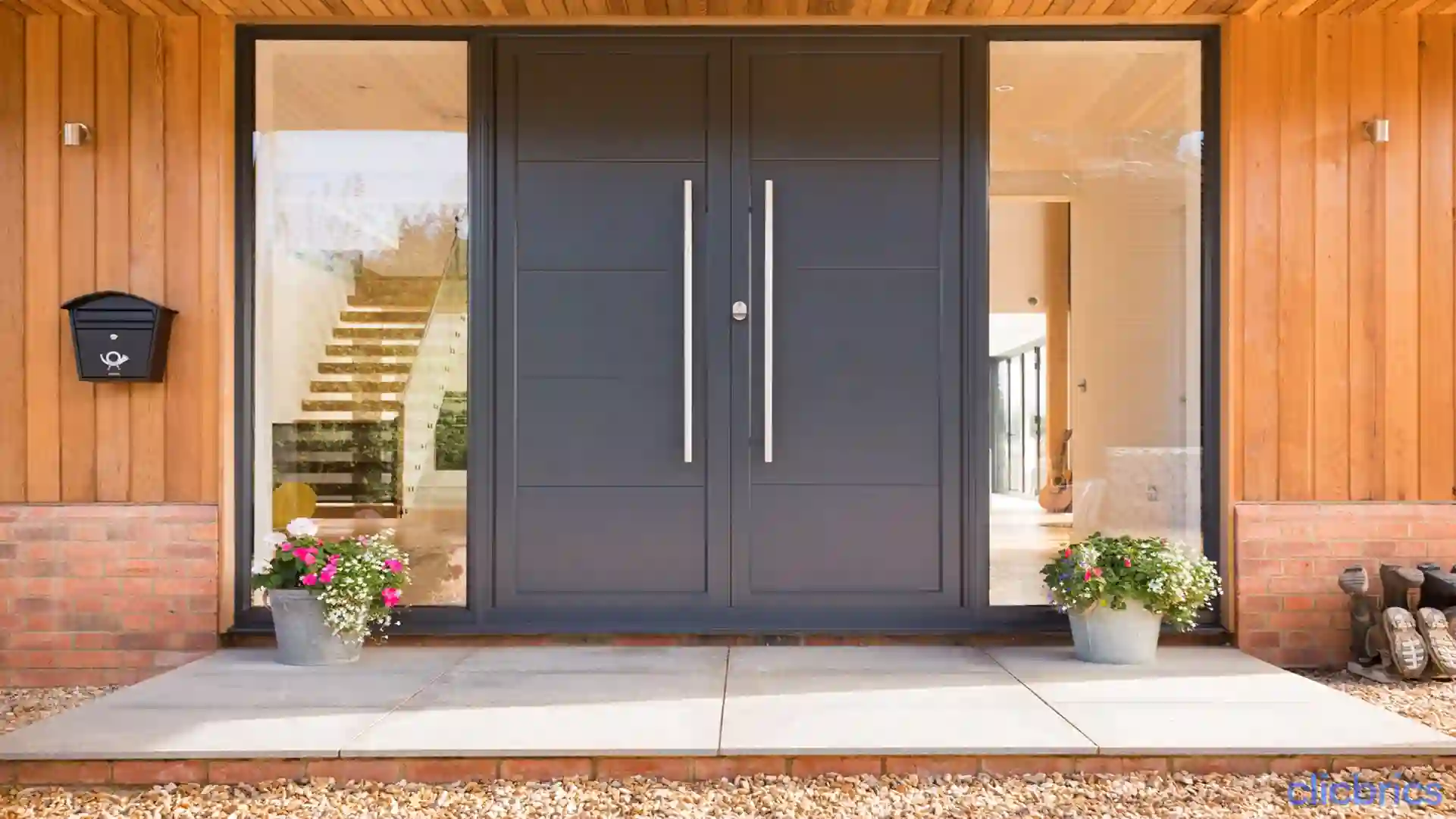 The ideal double door design is one that exudes style while also being incredibly protective in emergency situations. You are free to modify the contemporary main hall double door design for home based on your preferred colour, and you will end up with a chic double door style. Click Here to learn more about modern door ideas for your home.

6. Stainless Steel Double Door Design for Home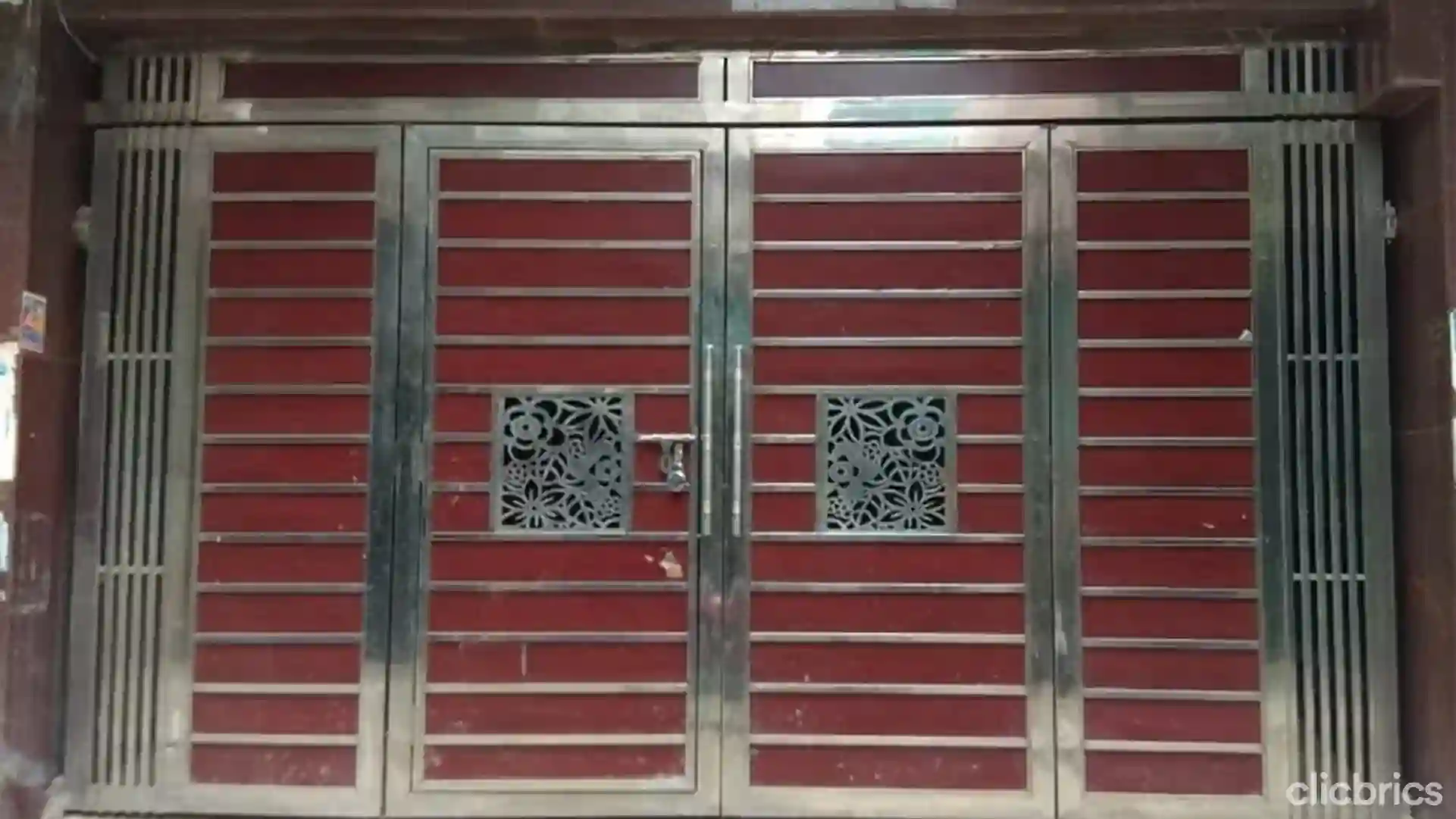 A home with a stainless steel double door design reflects sophistication while giving its occupants security. If you are particularly concerned about safety, another option is to replace the rear panel with solid steel. Stainless steel's greatest advantage is that it doesn't corrode or rot. Additionally, stainless steel double doors require very little upkeep. So, choose a double door design for your home made of stainless steel if you want to flaunt your refined taste. Click Here to learn more about the steel grill design for stairs.

7. Double-Door Iron Gate Design.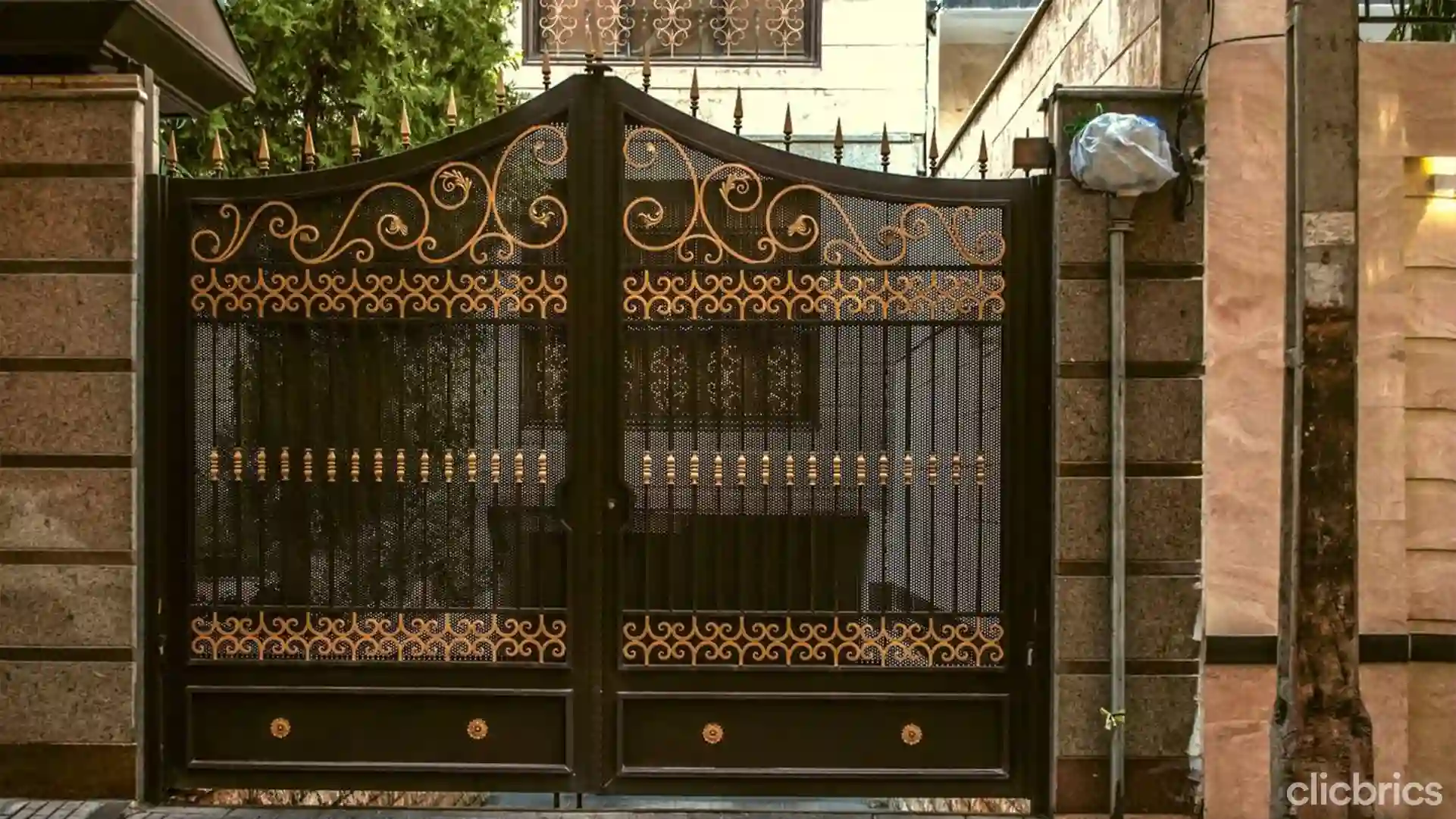 Another beauty on our list is the double door design constructed of composite iron, which will give your house an opulent aspect. You've probably heard a lot of chatter about how iron doors are becoming rusty and out of style, but that's not true! The elaborate glasswork and strong iron composition of the iron gate give it a sophisticated appearance similar to wood. So, what's with the wait? Get your hands on this incredibly durable iron gate - an excellent double door design for your home.
Also Read: Top Alternatives to Sliding Glass Doors for Homes
8. Double-door Grill Gate Design for The Main Door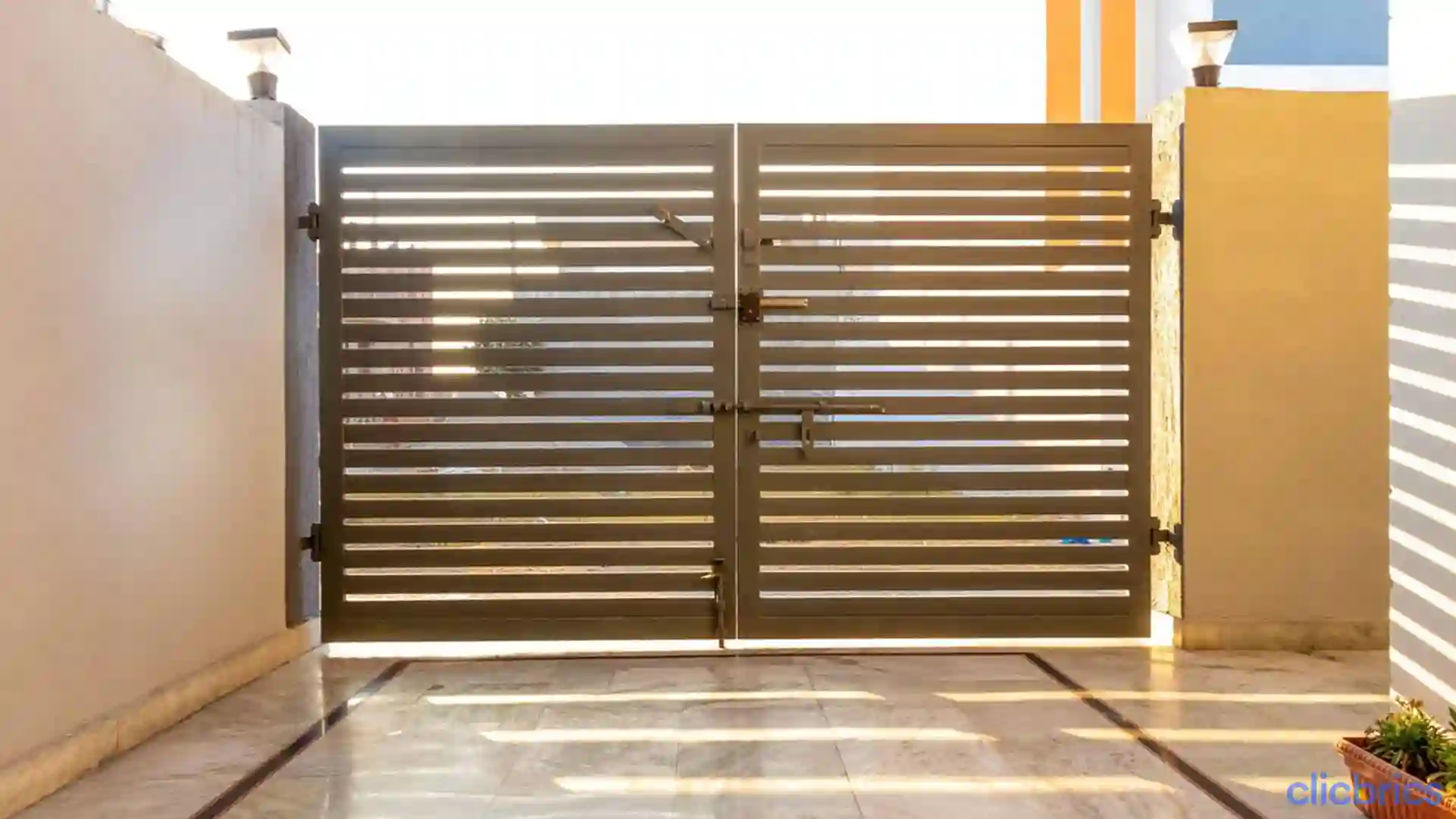 The grill gate double door design must have attracted your attention as you were searching the internet for the latest main double door designs. The double-door grill gate design for home is the perfect choice if you want to make a good first impression on everyone who enters your property. By placing flower pots by the grill gate, you can enhance your home's welcoming appeal and experience beauty every time you enter. Check out more about the 5 trending main door grill designs for flats. 

9. Teak Wood Main Gate Design.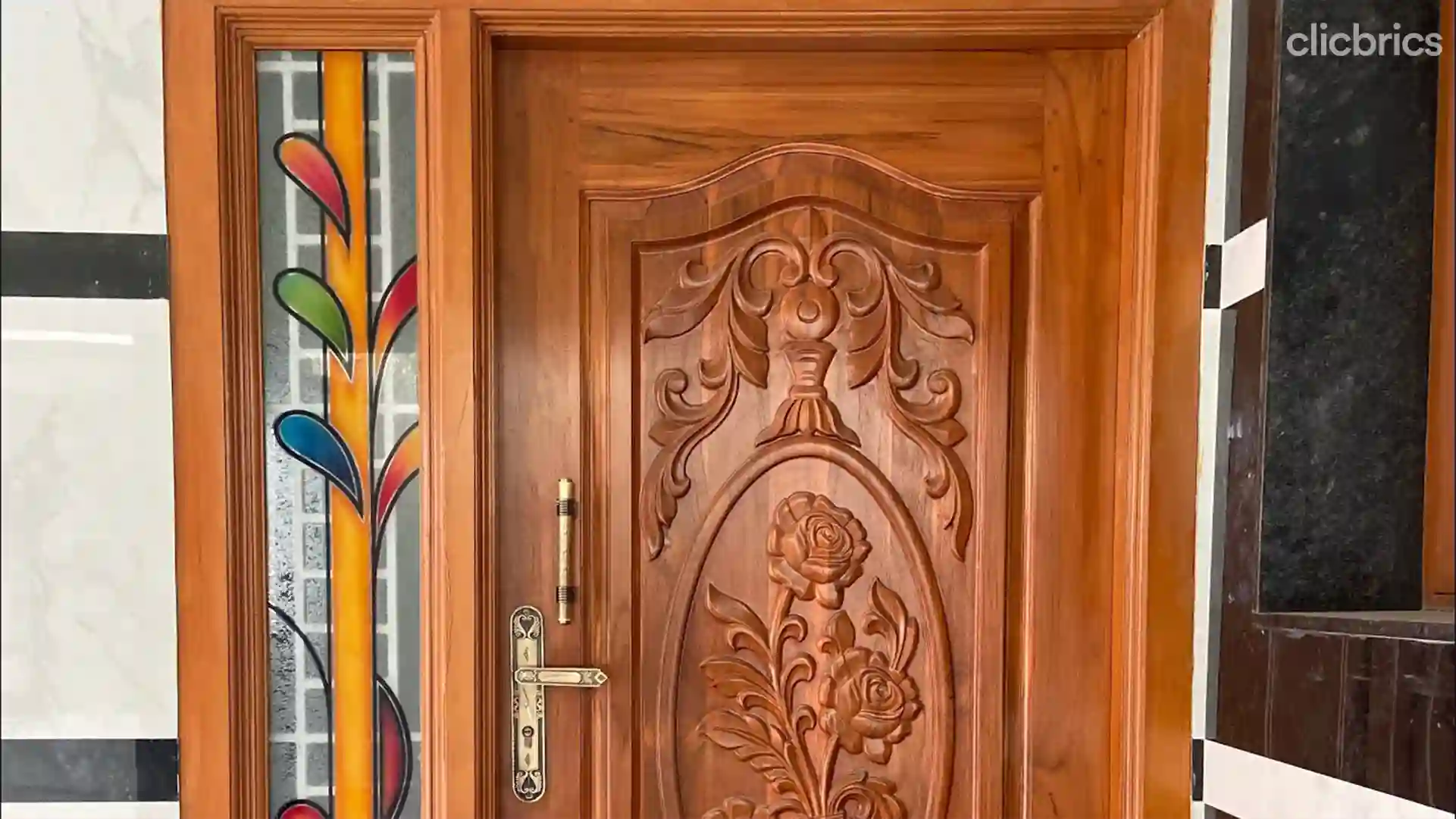 Taking an entrance with gates that spell out timeless and traditional design looks the best. Teak double doors are for those who value a classic aesthetic in their houses. However, you'll need a carpenter to work on this double door design to give it its true appearance. Of course, you are free to change the design to suit your preferences and fashion.
Also Read: Indoor plants to add extra greenery to your home.
10. Rope Double Door Design For Home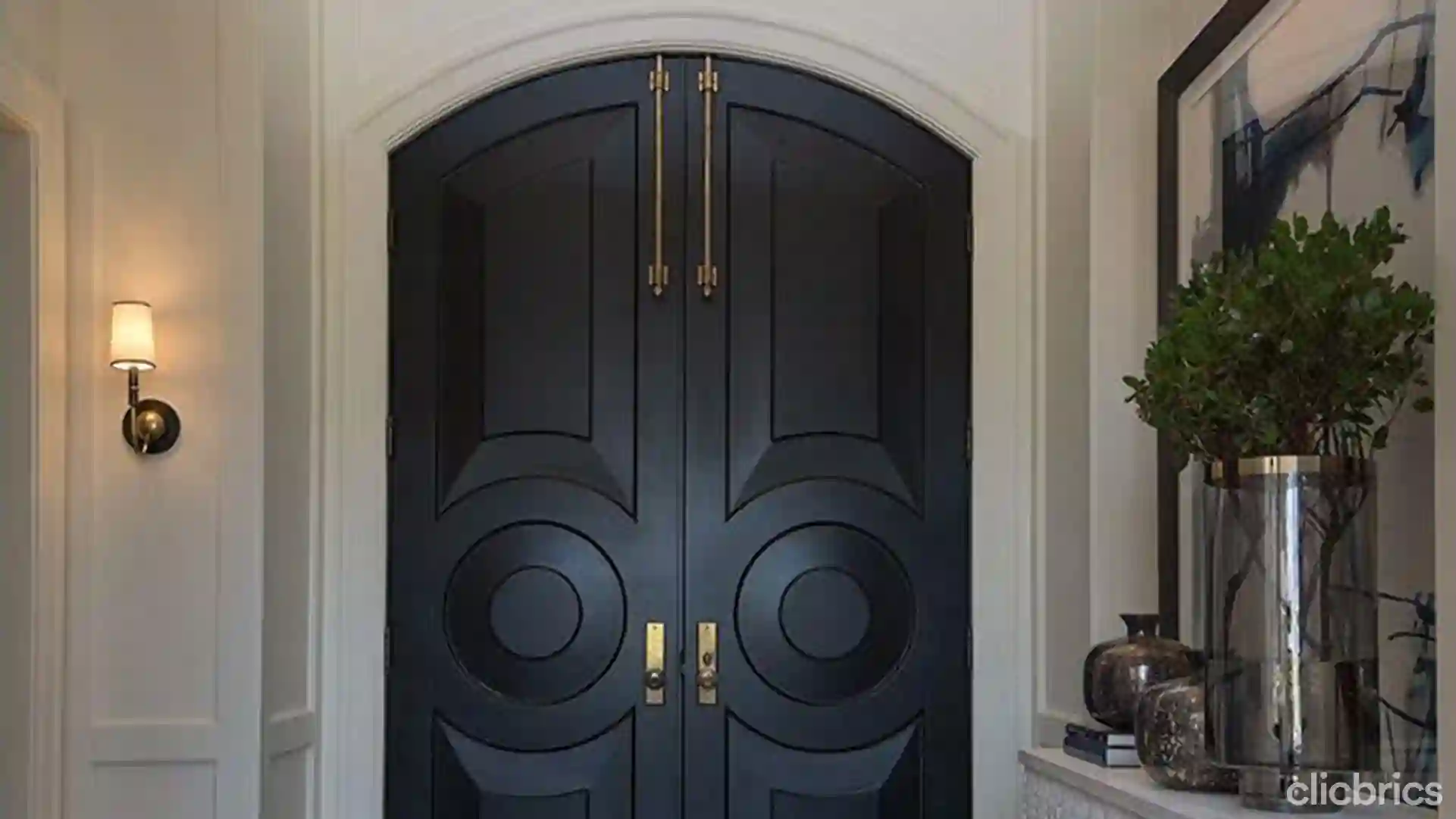 Modern front door designs are becoming more and more common in homes today. Choose the rope double door design if you want to try something different. You will require a wider door frame for this, and the entryway will be magnificent after the work is completed. If you want to use this rope double door design at home, teak wood will produce some incredible outcomes. The house front always creates the best first impression, so you must make sure that you choose the best double door design that will have a lasting impact. We are confident that by now you have an idea as to which double door design for your home you should choose. Check out our Clicbrics blog posts to learn more about creative home design ideas. We're available to help you at all times!
Also Read: Home Door Designs For Interior Doors