Table of Content:
Sometimes people tend to prefer doing haldi and mehndi decorations at home all by themselves, but it can be a daunting task. Nevertheless, there is nothing to fear! We bring you this blog post with the aim of providing the best ideas for simple haldi decoration at home. So without further ado, let's see what simple haldi decoration ideas at home you can incorporate easily.
1. Haldi Decoration Idea: Create a Welcome Board
As they say, "first impression is the last impression," so try an easy DIY for haldi decoration at home. Grab a piece of thick cardboard and wrap it in a white paper to complete the task. Add marigold flowers to the board and place the word "Welcome" in the middle. When finished, you can hang the sign near the entryway to greet guests as they arrive for the haldi celebrations. It is the best low-cost.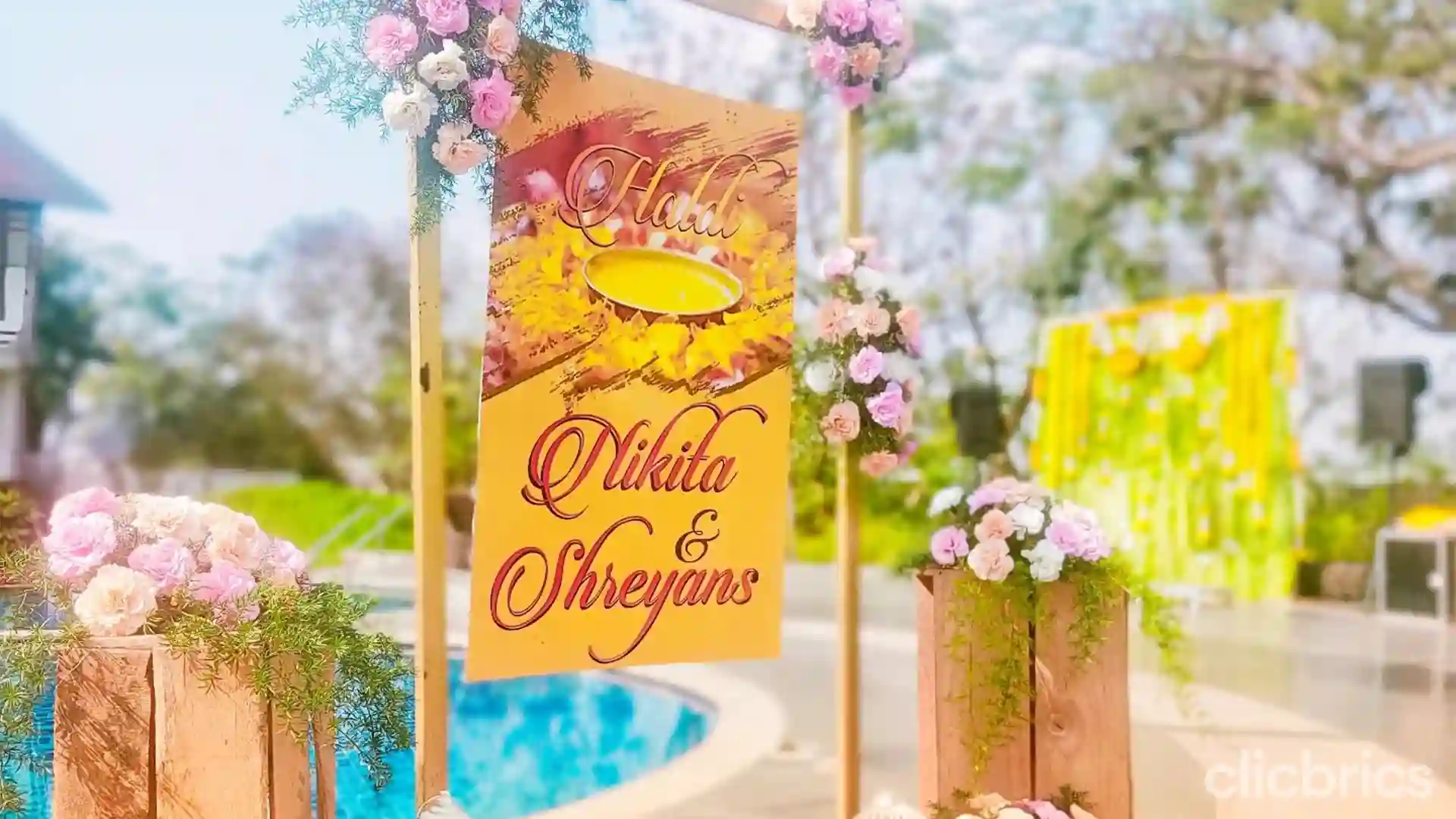 2. Haldi Decoration Idea: Make a Handcrafted Arrangement for the Floral Swing
There is nothing better than utilising 'the swing'. You can create a setup by placing the swing in the middle and decorating the background with colourful curtains. To make a simple handmade haldi decoration at home, decorate a swing with handmade flowers and turn it into a photo booth. You will have a fun and frolic haldi celebration at home with this form.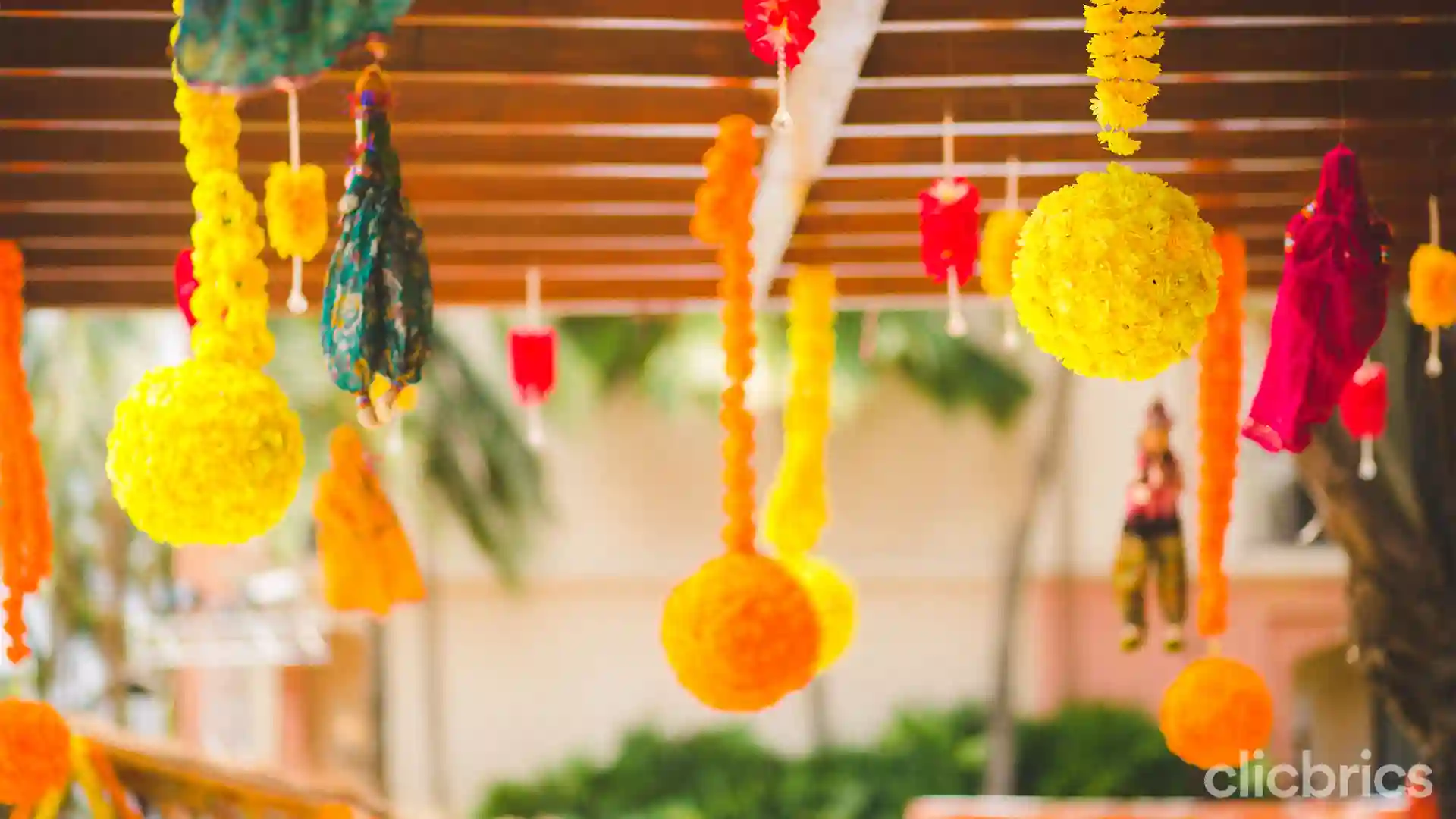 Suggested Read: 8 Birthday Decoration Ideas That Will Make Your Party- Just WOW!

3. Haldi Decoration Idea: Kites for Decoration at Home
Most people like to decorate their homes for haldi in an outside area since haldi is an Indian tradition based on water and turmeric. Use kites as a wall hanging or roof hanging to retain a basic, inexpensive haldi function decoration at home. Kites are often used as decorative items for no other reason than to indicate a celebration. If you've gone with a yellow motif for the entire decor, you may keep the kites in various colours to create a more eclectic appearance. So, get ready to incorporate kites if you want to have a photogenic haldi decoration at home.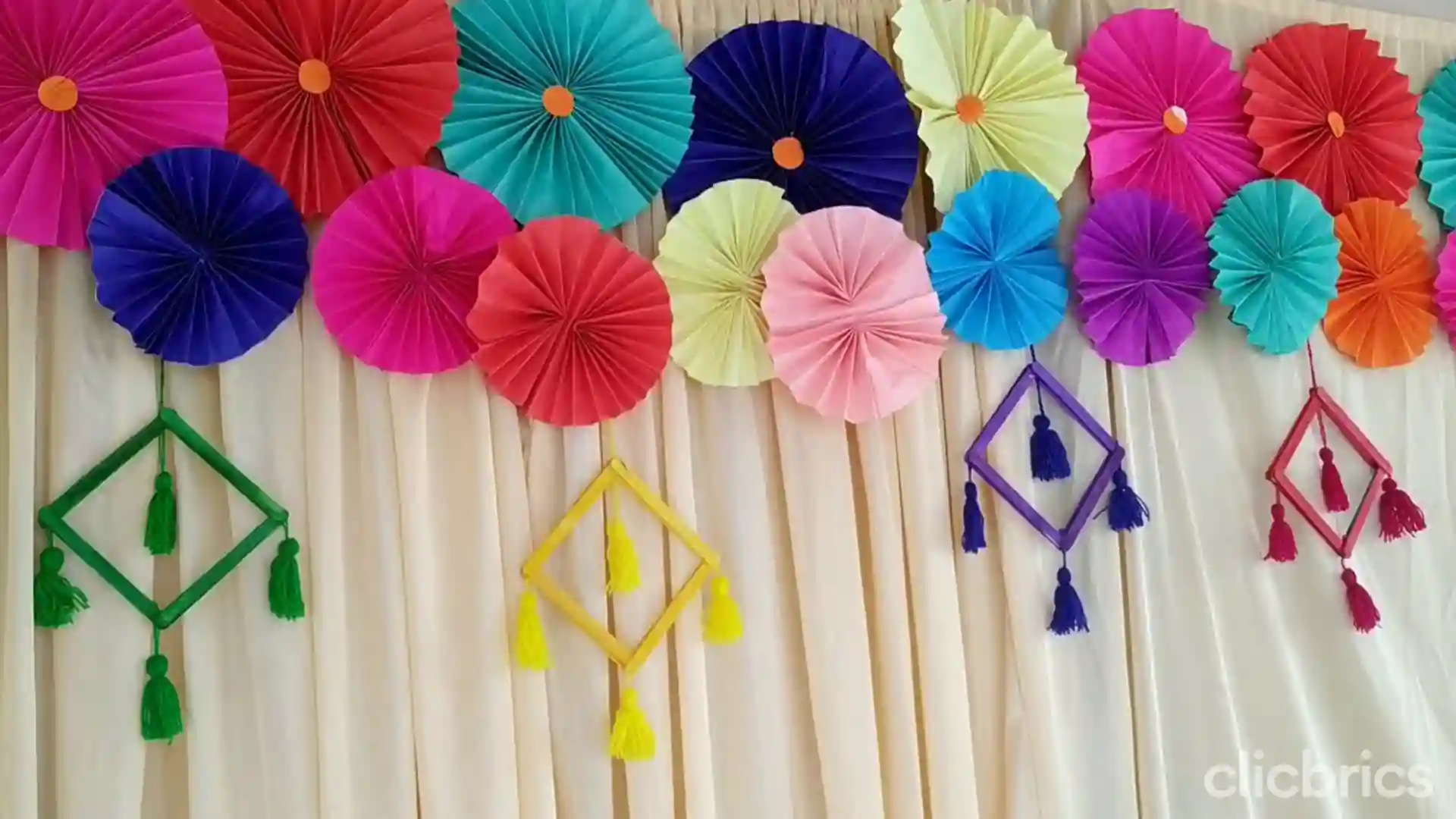 4. Haldi Decoration Idea: Floral Hanging For Decoration
If you are looking for a more low-cost, simple haldi decoration at home, you can try to organise the party with flowers. Floral arrangements are always a good choice for Indian decorating! You can host a pleasant haldi celebration at home by selecting vibrant flowers that match the colour scheme of the house and the decor as a whole.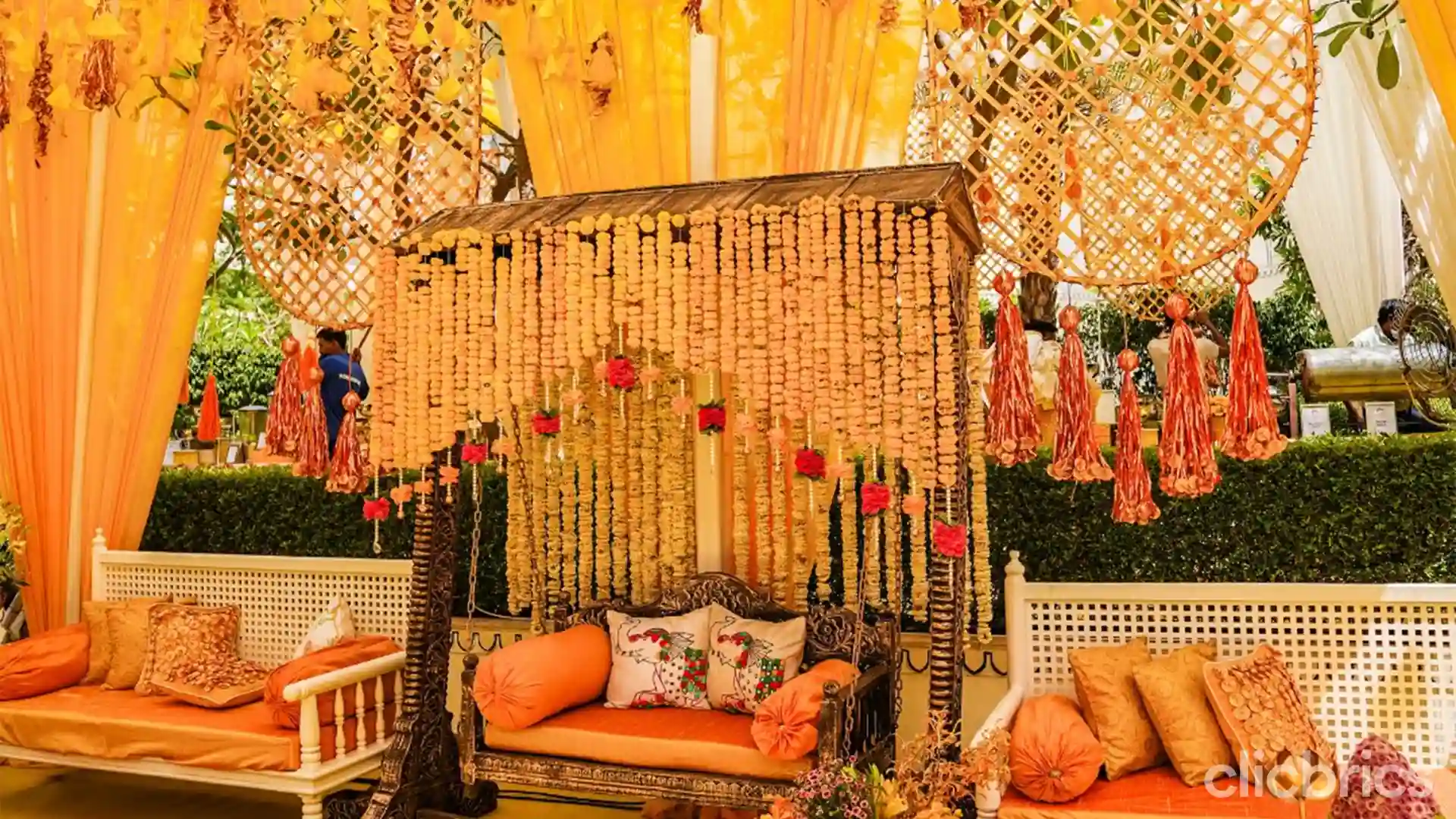 Suggested Read: Ideas for Ganpati Decoration at Home in 2022-|With Images|

5. Haldi Decoration Idea: Boho-Themed
If you simply enjoy anything boho-themed and are considering combining not only the boho attire but also the entire decoration, it is also doable. Pick a lovely backdrop with a cheerful colour scheme and add some flower decorations to make the haldi ceremony a dream come true. Choose a variety of flowers instead of solely marigolds in this situation. You can also place a hand-woven carpet in a variety of bright colours to provide a cheery décor. Your boho-themed haldi decoration at home will be the best ceremony.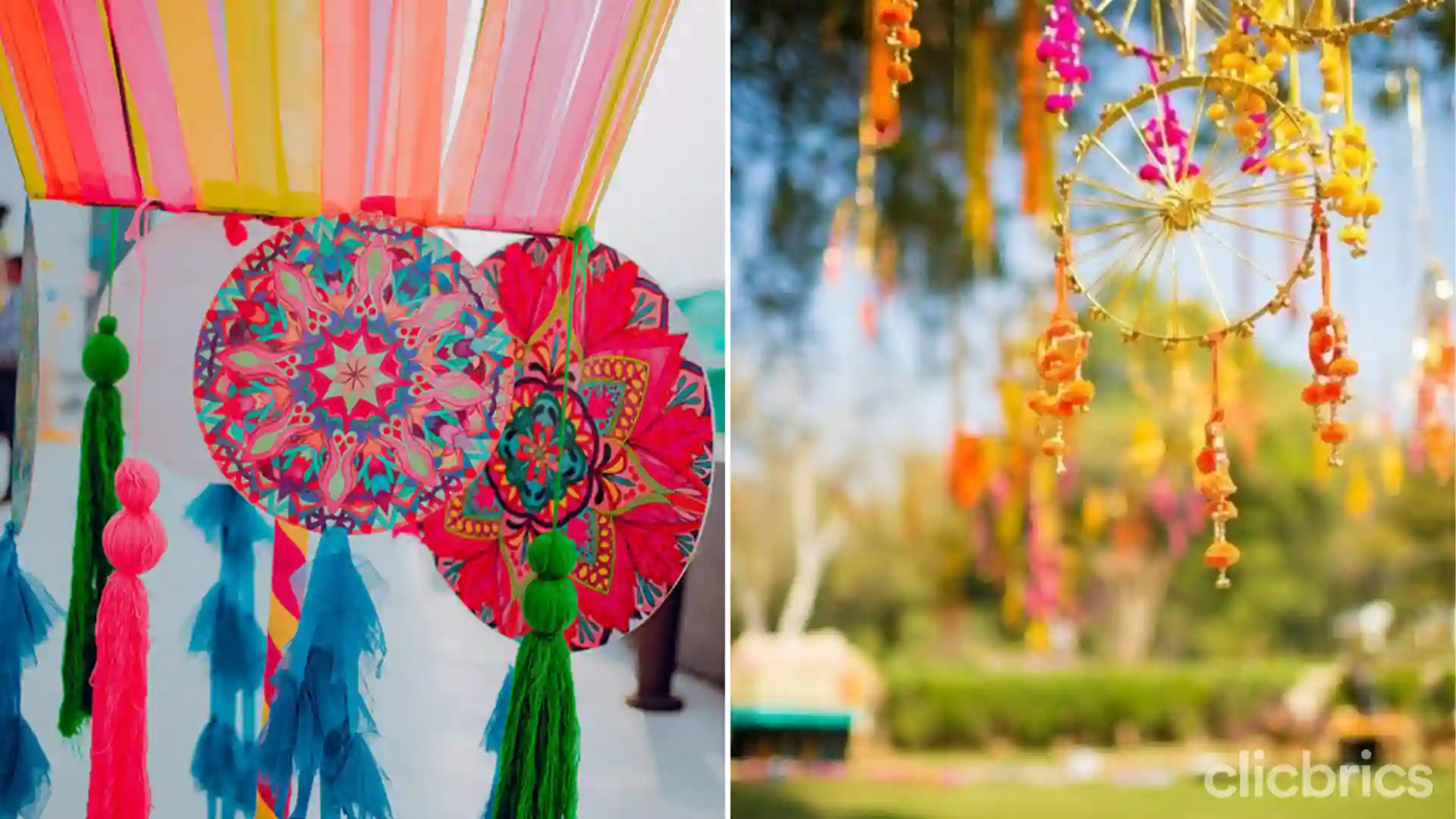 6. Haldi Decoration Idea: Prepare Rangoli With Lanterns
A rangoli is the most beautiful decoration you can create for a haldi ceremony. Place brass diyas next to some lanterns that have an antique appearance. You can make rangoli with flower petals or colours to complete the appearance. You can even place objects like earthen pots on them. Additionally, you may add some lovely floating candles to enhance the look of the haldi decoration at home.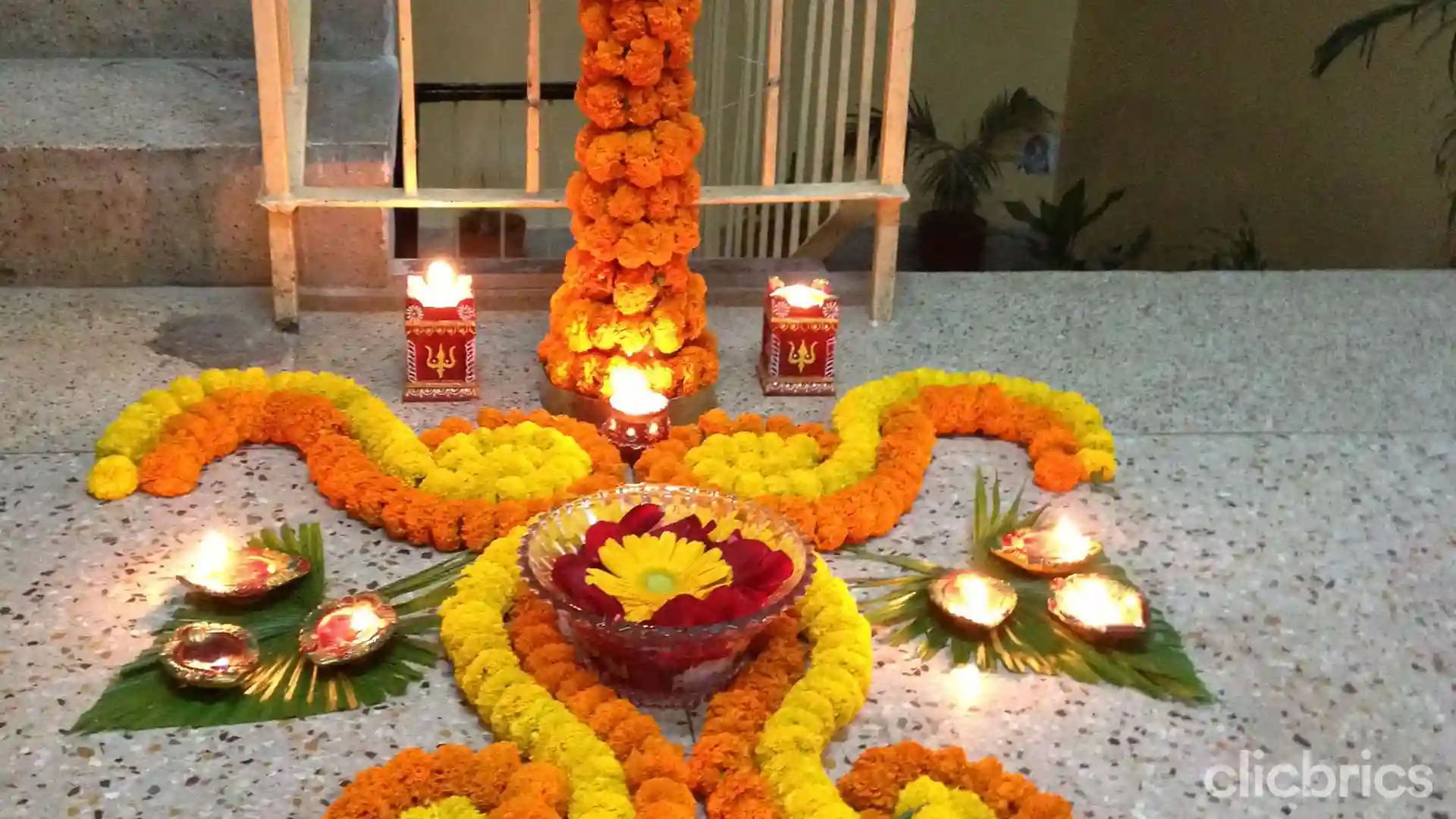 Suggested Read: 15 Effective False Ceiling Design Ideas That Will Transform Your Home Aesthetically

7. Haldi Decoration Idea: Desi Bicycle Design
When haldi decoration in a home keeps you occupied, there are chances that you will miss out on the fun ways to surprise the bride and groom. So how about adding a desi bicycle as a prop to keep the party "desi"? The bride and groom can begin their photo shoot together by posing on a desi bicycle. You can embellish the background by making paper flowers that resemble typical palm leaves.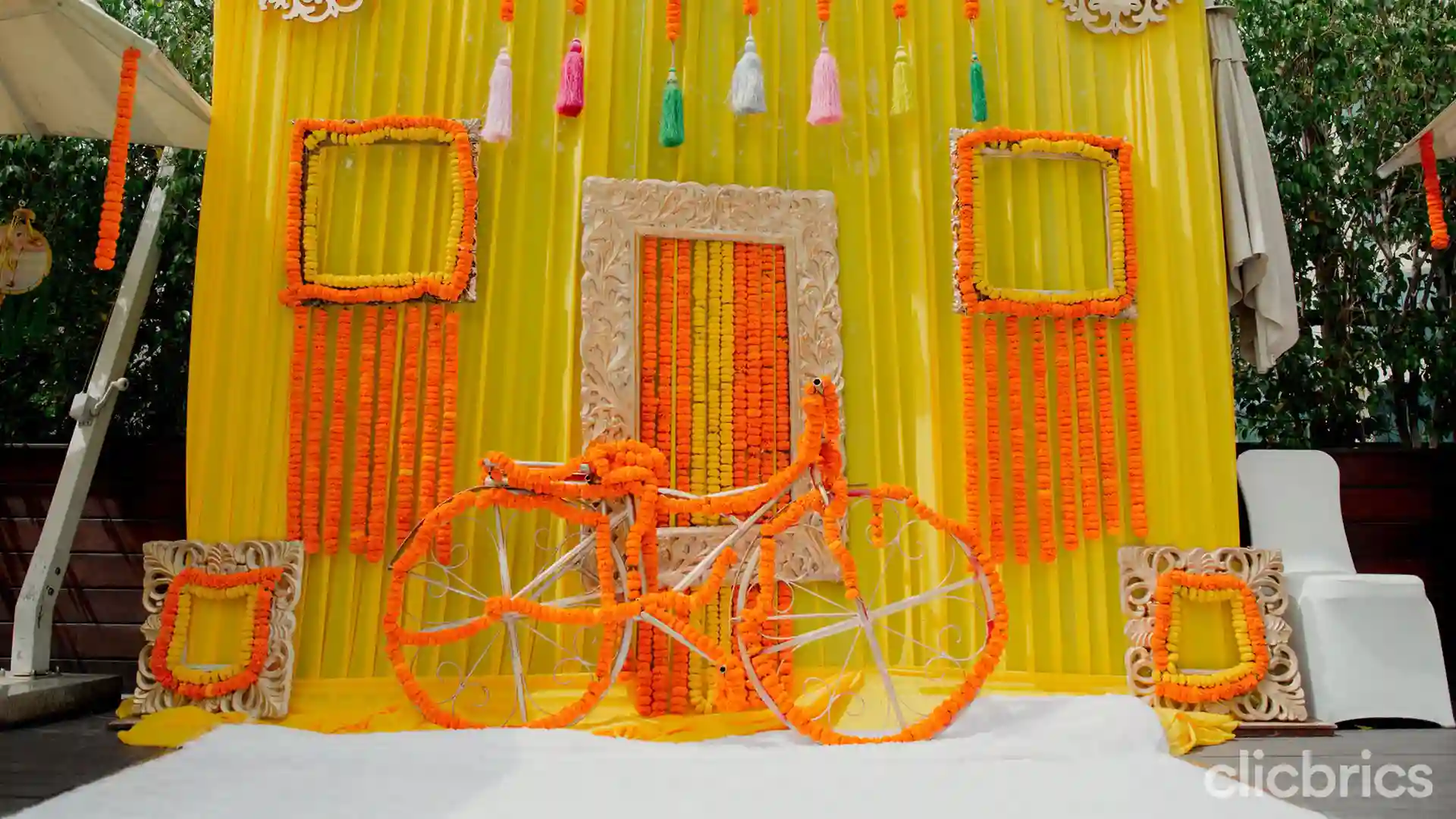 Suggested Read: You're Going To Love These 9 Navratri Decor Ideas!

8. Haldi Decoration Idea: Mandala Haldi
If you're looking for simple Haldi decoration ideas at home, Mandala painting can be the most straightforward choice. A posh backdrop can be made with some orange and yellow marigold strings. Yellow and white curtains can be hung over the head to create the atmosphere of a haldi function. For a cosy, nice-looking appearance, you may add a small ottoman and cushions in yellow and orange. You can hire fine craftsmen or gather friends who will help you create lovely mandalas as the event's backdrop.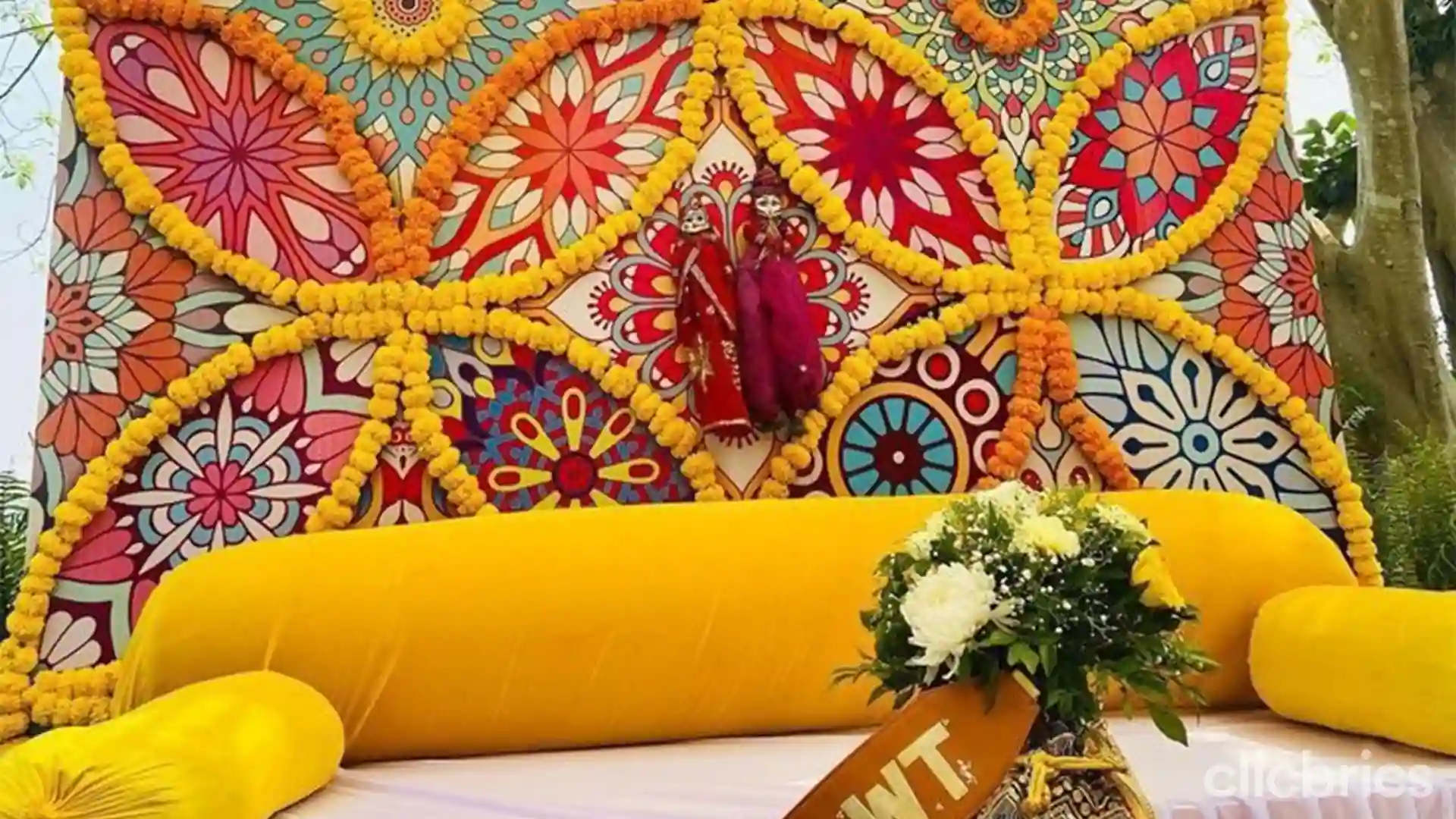 9. Use Zesty Lemons as Props For Haldi Decor
Wish to make your haldi decoration at a home standout? Then how about switching entirely to a zesty lemon arrangement rather than keeping it with floral decorations? Use this lovely and distinctive lemon arrangement for a summer wedding, which will undoubtedly create a regal atmosphere.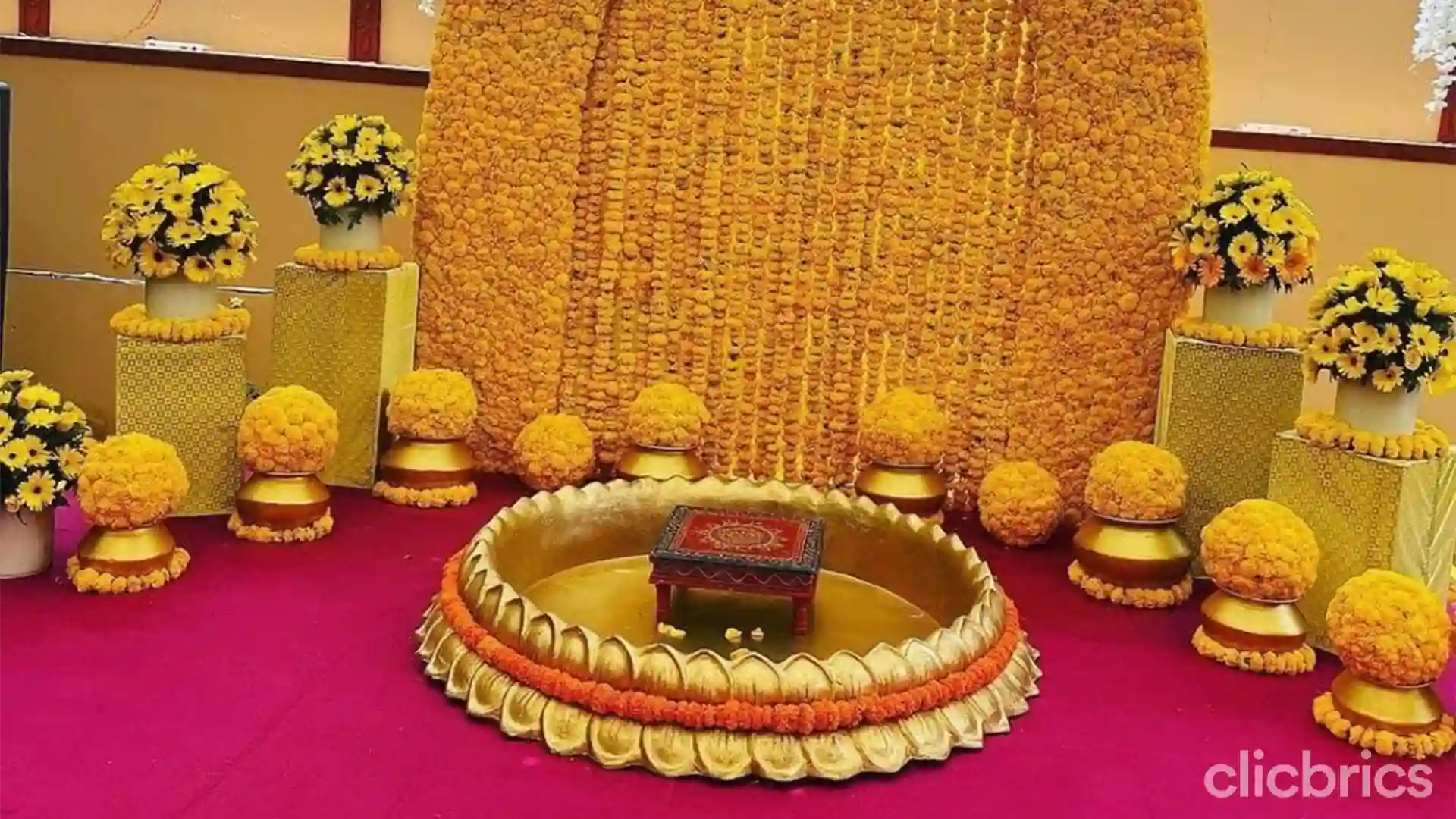 Suggested Read: 8 Warm Diwali Lighting Decoration Ideas You Just Can't Miss

10. Use Umbrellas for Haldi Decoration At Home
Although umbrellas serve a variety of practical purposes, you can also use them to adorn your home for special occasions. In this instance, you can use them to decorate for the haldi function. A dramatic impact can be achieved by hanging umbrellas from the ceiling in enormous numbers because of their eye-catching appearance. Use them in various colourful colours or designs if you prefer to use them as decorations for your haldi event.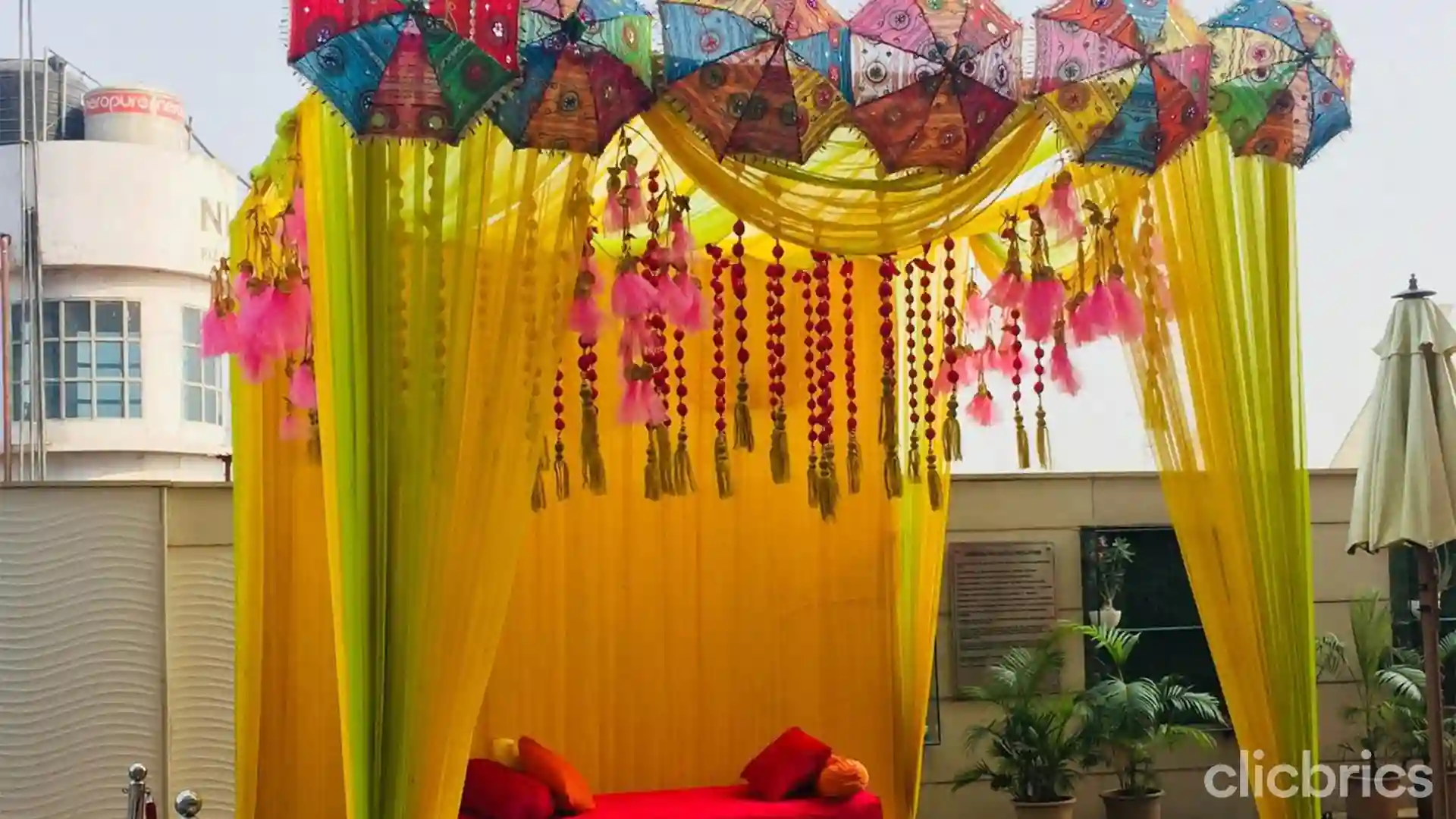 While there are a plethora of options available for a beautiful background for the haldi ceremony, choose the ideal one by checking whether the prop complements your home environment, event theme, budget, and style.
We wish you luck as you embark on your haldi decoration at home quest, and we sincerely hope that you will enjoy each moment to the fullest with the wealth of lovely images you will treasure for the rest of your life.
Suggested Read: 10 Best Diwali Decoration Ideas to Make Your Home Festive Ready