Table of Content:
Nearly everyone in India has a specific room designated as their pooja room. But in our day, both the time and the people are changing. Nowadays, some people prefer to live in nuclear families rather than joint families. In addition, the majority of the population currently resides in apartments. So, even if you live in an apartment and worry about how your mandir design will turn out, the solution and tactics are simple and can be found in this article. So let's begin with ideas for mandir design for your home without further ado.
Many people look for puja room designs online, so it makes sense that there are many possibilities available. What is puzzling is that there is a tonne of puja room designs available online, yet they are very difficult to apply. You require some simple temple designs for your home that are inexpensive to build and simple to install. We present these wonderful puja room designs to help you along your mandir design journey.
1. Mandir Design: Wooden Home Temple Design
A wooden mandir design enhances the charm of your house. However, if your home is compact, you can set up a mandir in your living room. You can also add a few little bells to them to create a tranquil and peaceful atmosphere. If you put some lights inside or jaali to the door, the wooden mandir design will look more traditional. The area will take up less space as a result, and you can utilise the lowest portion of the storage to put prayer books, incense, and other items.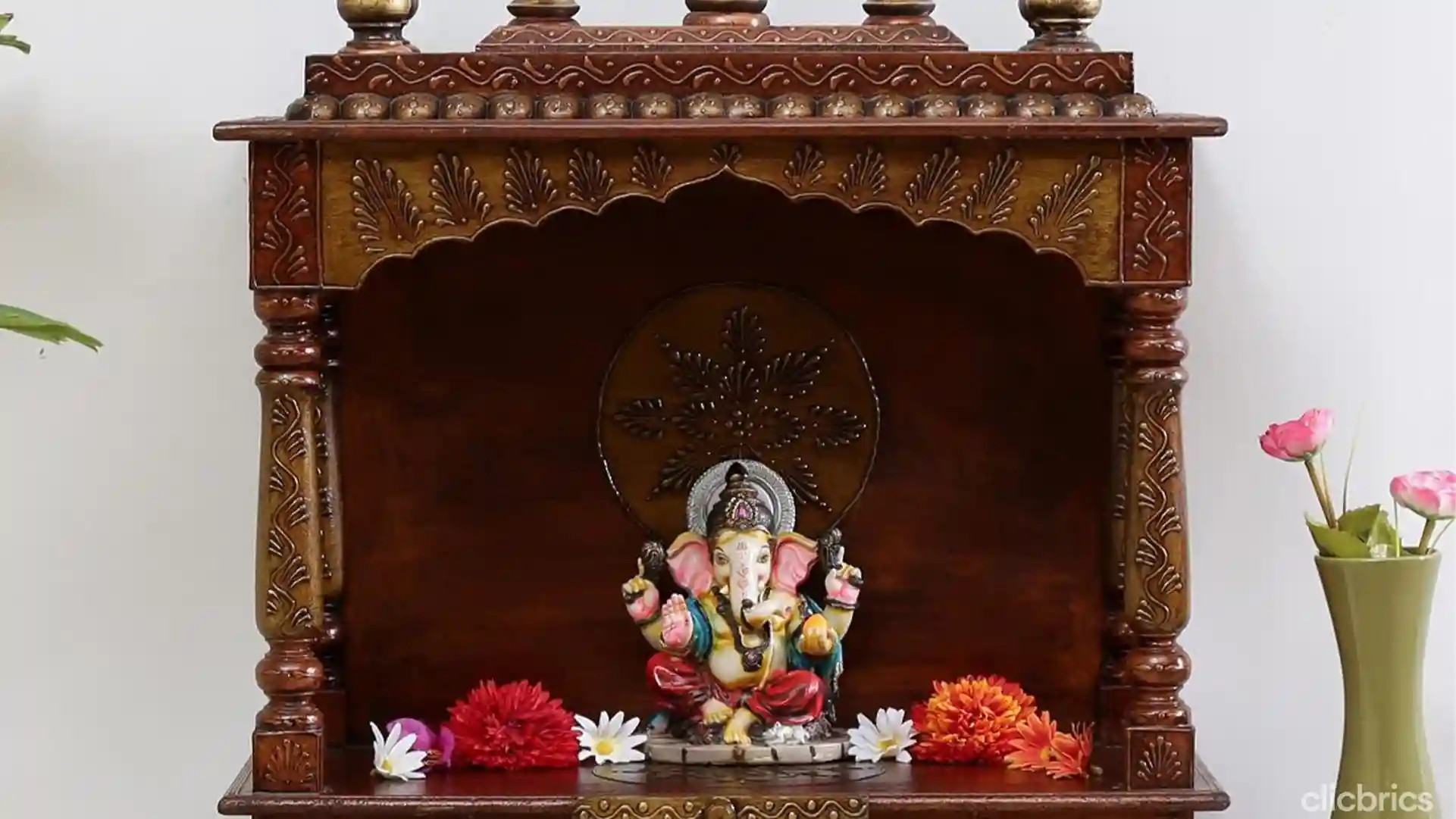 2. Mandir Design: Open Home Temple Design 
If you're looking for a mandir design for a hall, you should explore and concentrate more on architecture and interior design. It's because all of your guests arrive in your living room first. Therefore, adding an intricate jali design to your open mandir will significantly improve the area's appearance. Also if you love celebrating Navratri you surely are going to love these 9 navratri decor ideas!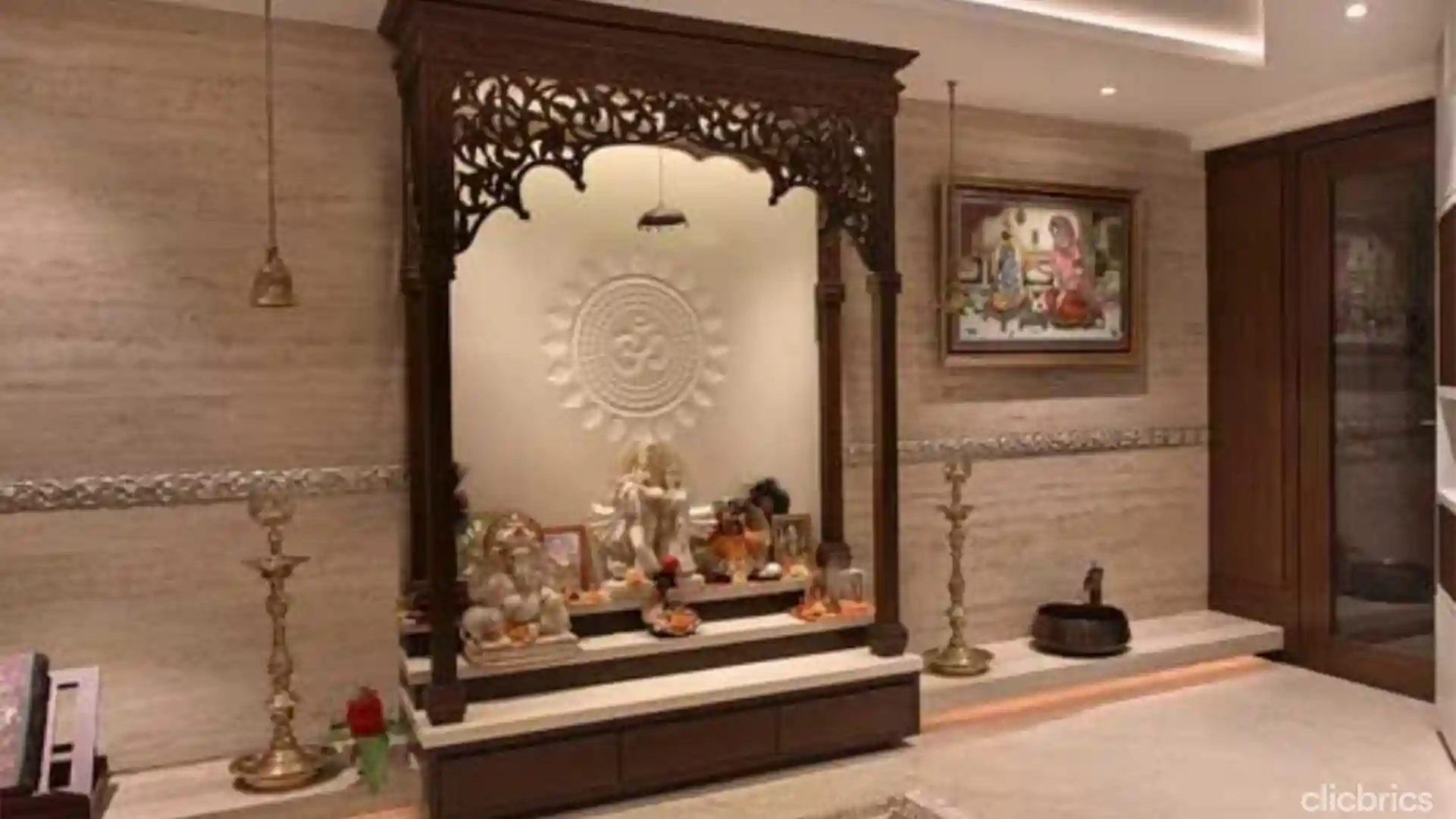 3. Mandir Design: Corner Modern Mandir Design
You can create a modest modern mandir design in your apartment by using a simple barrier to divide the space from the living room. Also, the corner mandir design on the wall is effective in India since neither children nor pets can alter the design because it is in a corner. Even the jali you place close to the corner mandir is simple to clean. As a result, the problem of cleaning the puja room daily is also solved.
Also Read: Pre-pandemic home decor trends that we need to bring back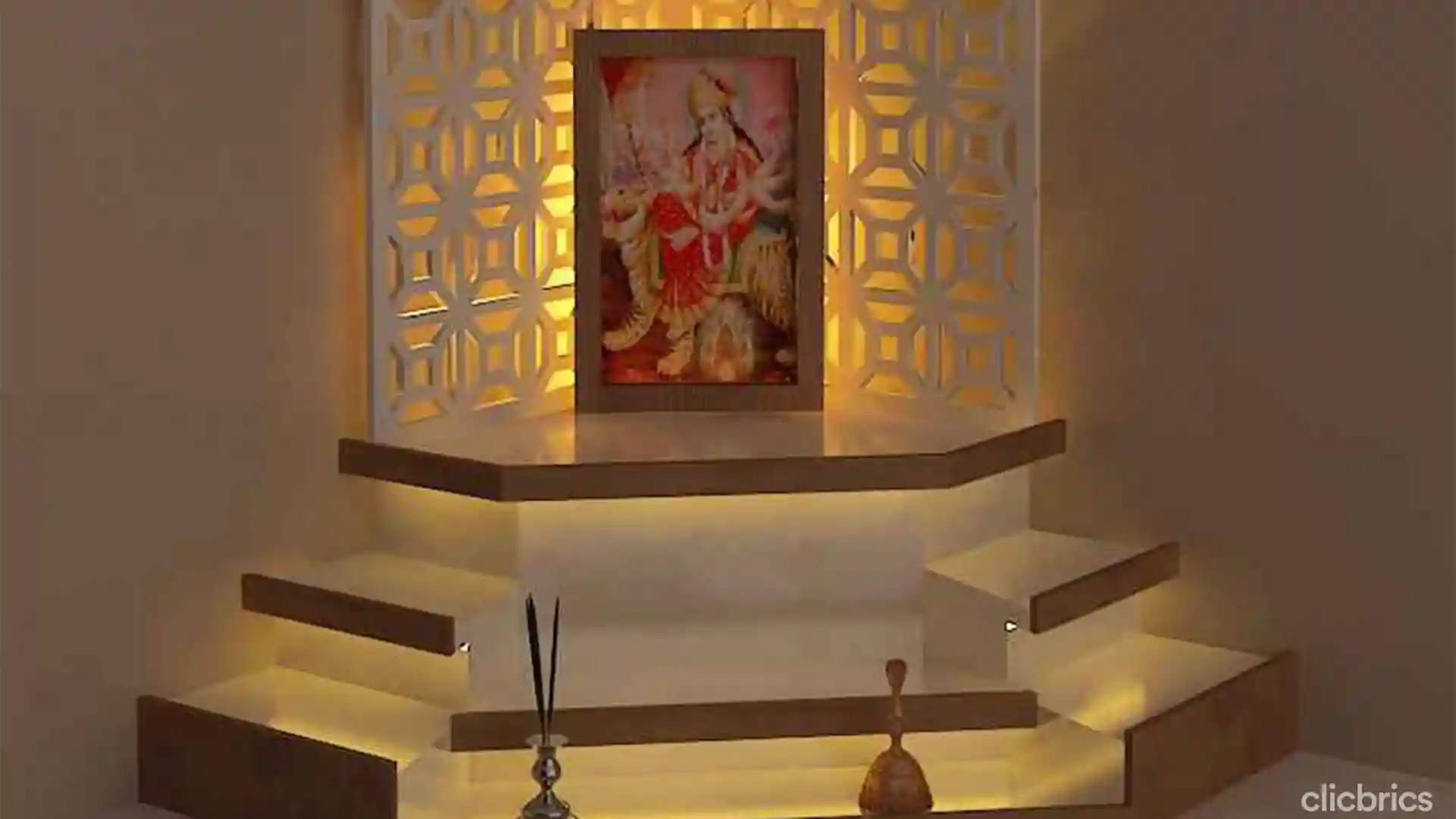 4. Mandir Design: Glass Cubicle Mandir Design
Glass cubicles are your best option if you don't have a problem with space and want to establish a temple that is beautiful, practical, and inspiring. Build the mandir in the entryway area to make the space shine and to give the atmosphere a pleasant feel thanks to the transparency of the glass. Include some gorgeous lighting to provide a classic backdrop. 
Also Read: Is north west facing house good according to Vastu?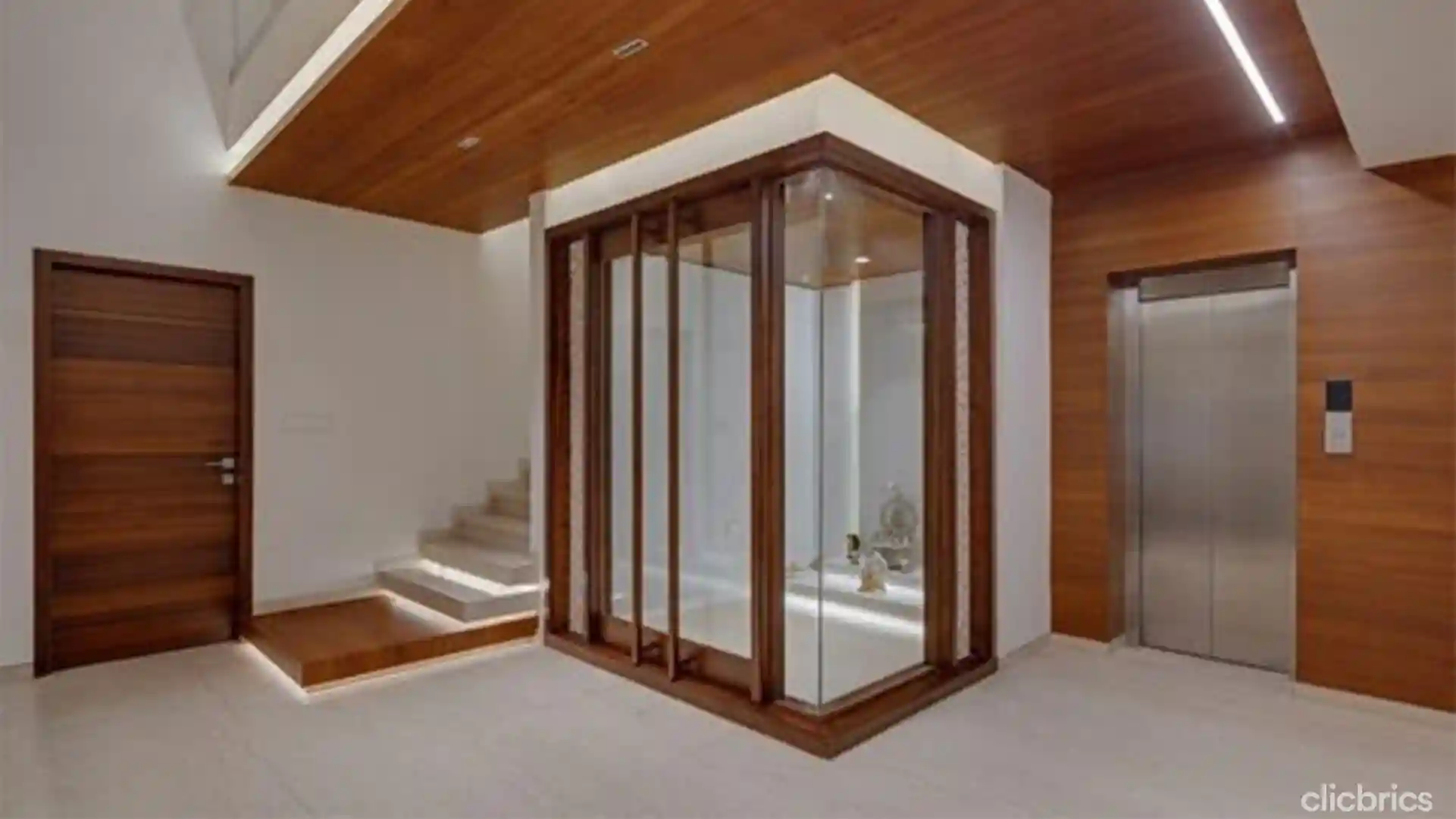 5. Mandir Design: Ornate Background House Mandir Design
Wooden panelling that extends from floor to ceiling can be used to create space for the pooja unit. The ornate background features floor chairs, a two-step wood and marble platform, hanging bells, and wooden panels. Have a Small Balcony? Check here the decor ideas to elevate your balcony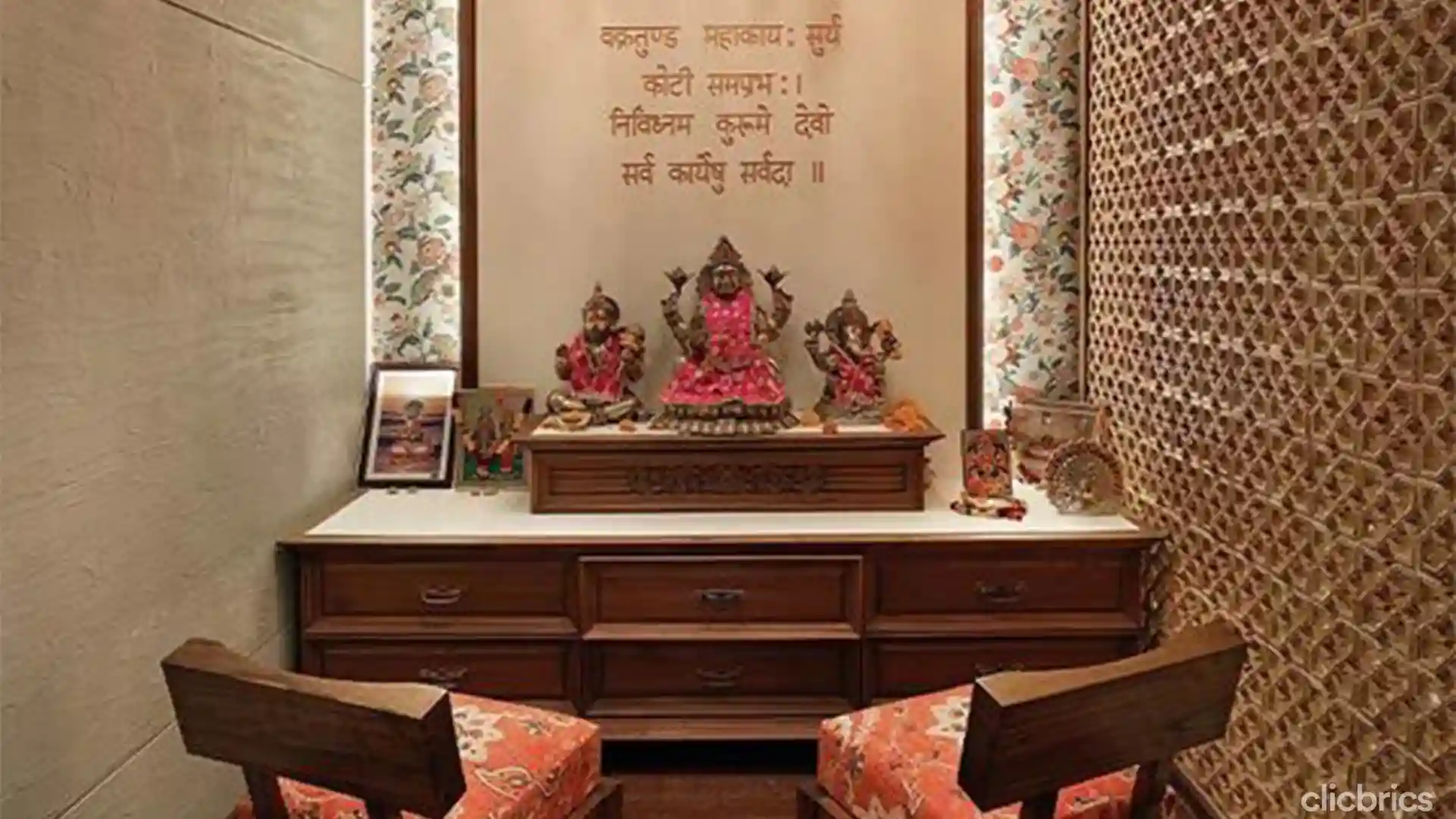 6. Mandir Design: Space

-Saving Puja Room 

Your mandir design can have multiple shelving units. You will get a classic appearance with a hint of modernity in this form. Also, it appears that many modern Indian households are embracing this space-saving mandir design.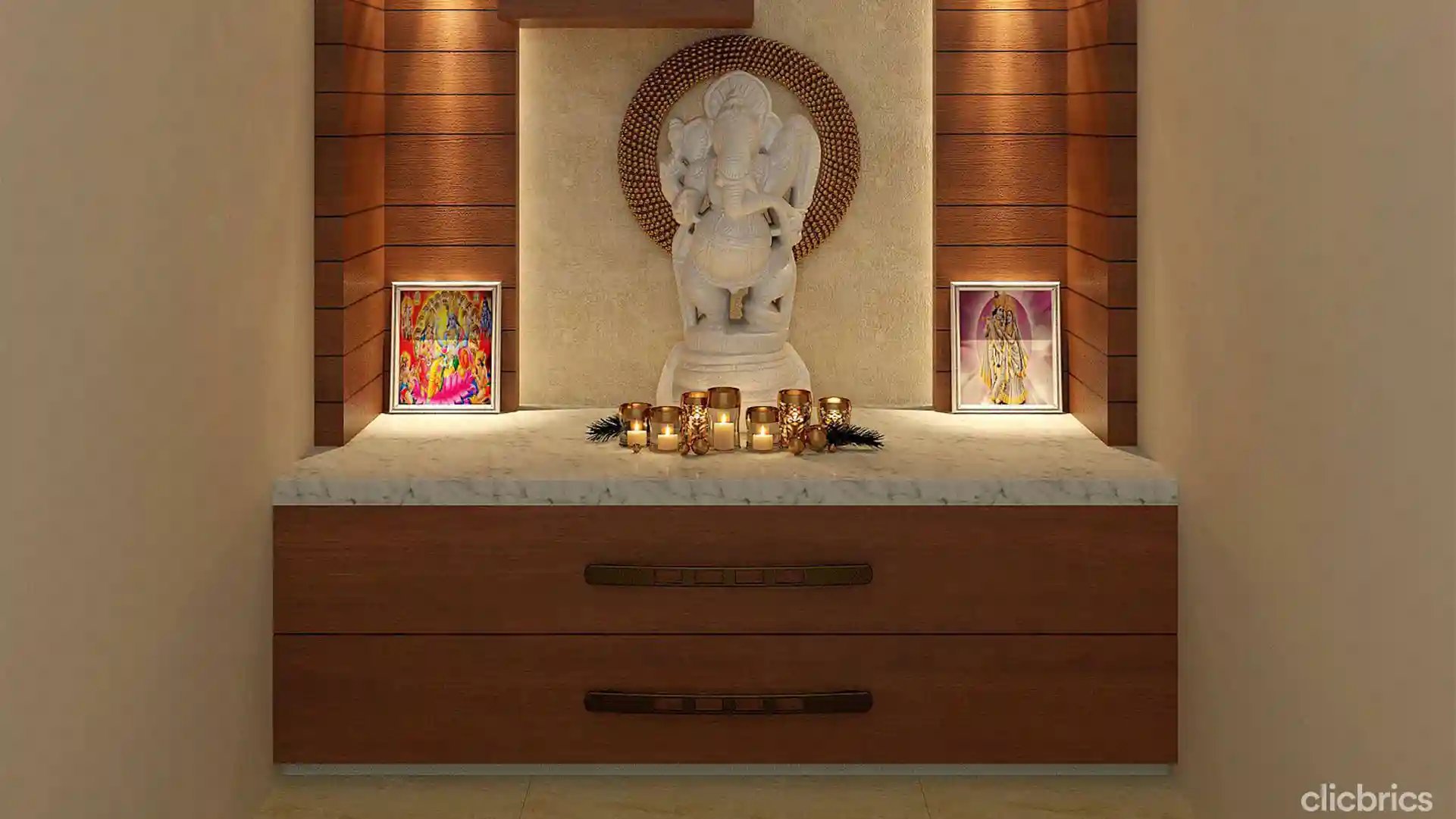 7. Mandir Design: Digitally Printed Designs and Foldable Doors 
If you already have a beautifully designed mandir in your home and are seeking a temple door design for your home to add a unique touch. Then look no further! You might want to think about panels that blend digitally produced glass with fine woodwork. On one hand, these panels will serve as a partition between the mandir and the rest of the room and, on the other hand, as foldable doors in the accordion style.
Also Read: Top 7 Pooja Room Vastu Tips To Consider for a Blissful Home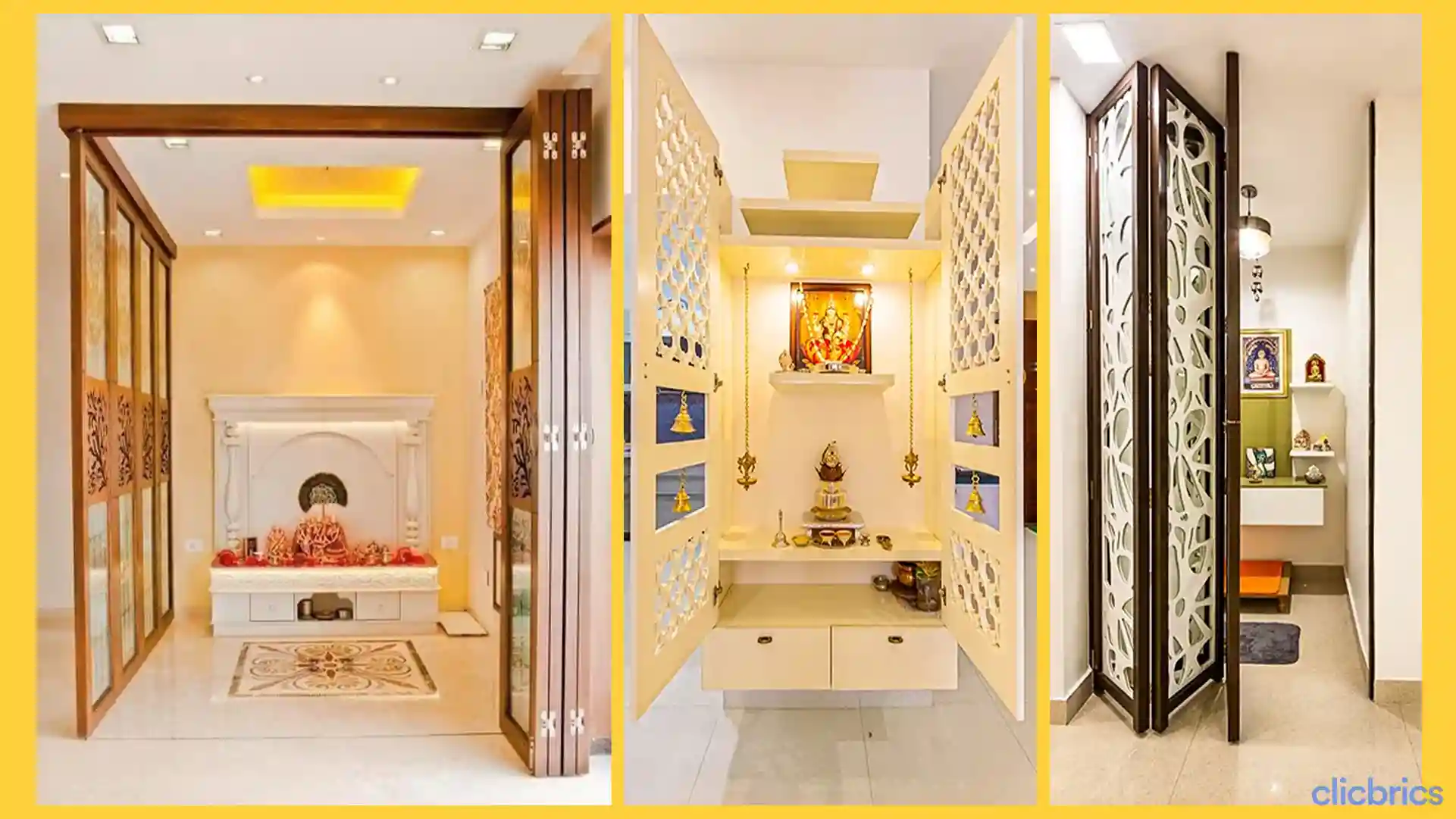 8. Mandir Design: New Mandir Design For Home With Textured Wall
Try to concentrate more on the walls and floors of the mandir rather than its central core. Today, many interior designers create a gorgeous textured appearance on the walls when working on a mandir design. Such a house mandir design gives your residence a sacred vibe. To give a special touch, you may also try some mantras inscribed on the wall. 
Also Read: Bhumi Poojan Muhurat 2022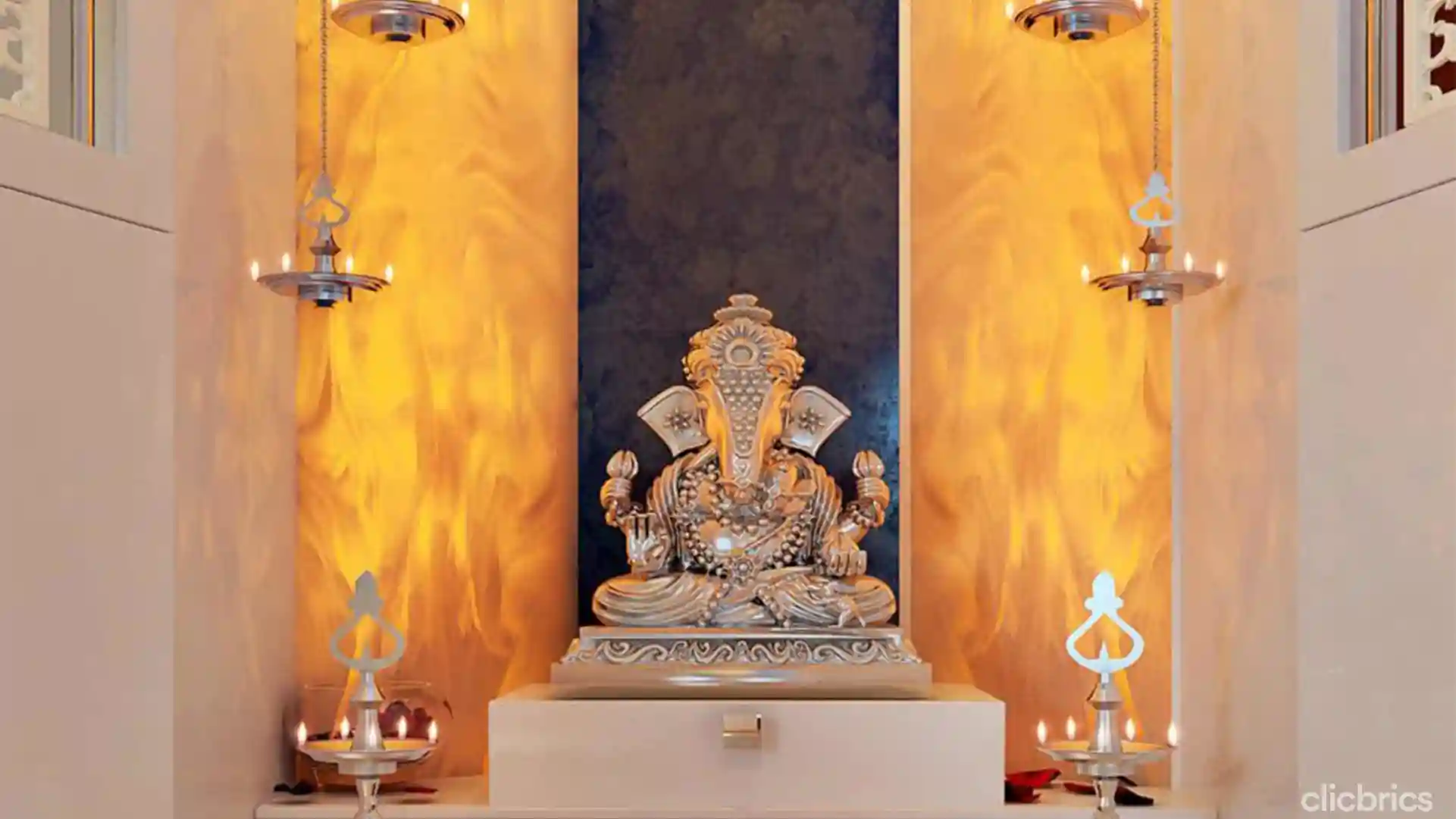 9. Mandir Design: Marble Mandir Design For Home 
You can use marble mandir design to give your house puja area a stylish and opulent appearance. Yes, it is what you read. You can use the concept to use marble to build your entire mandir, just like the image that is displayed on the screen. To make your space feel more earthy, try to match the colour of your seat to the marble's streaks. You can also add some wooden storage. To upgrade your room, you can also hang lights and light diyas. Looking for simple decluttering tips to maximise your home value? Look no more- Click Here!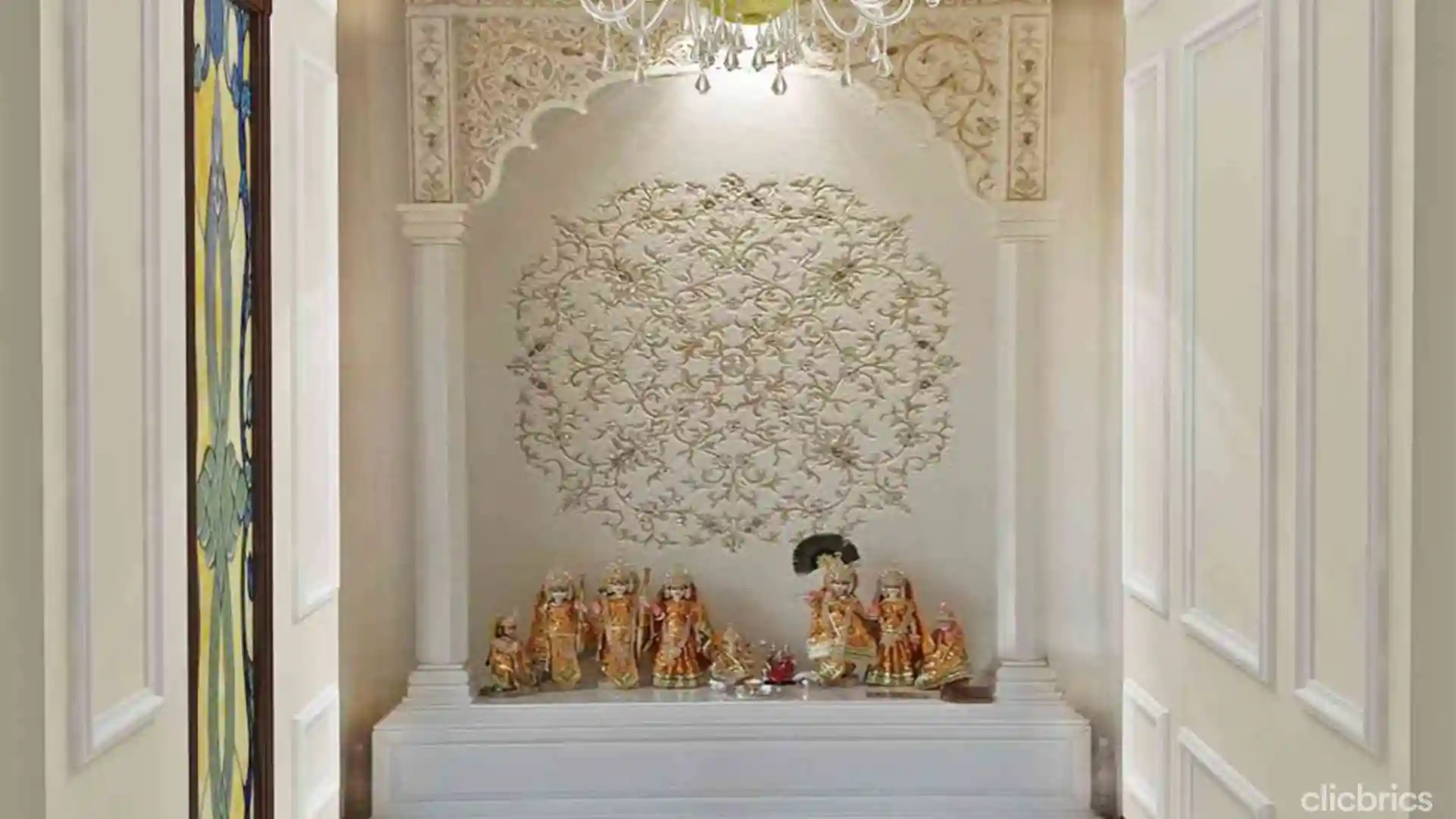 10. 
Mandir Design: Floral Background Home Temple Design 
If you want to make the current pooja room into a modern pooja room, you can choose a floral background. You can effortlessly carve complicated designs in wood or emboss glass. You can paint the walls and the floors based on your design work for the mandir. Pro tip: A glass backdrop works incredibly well with long walls.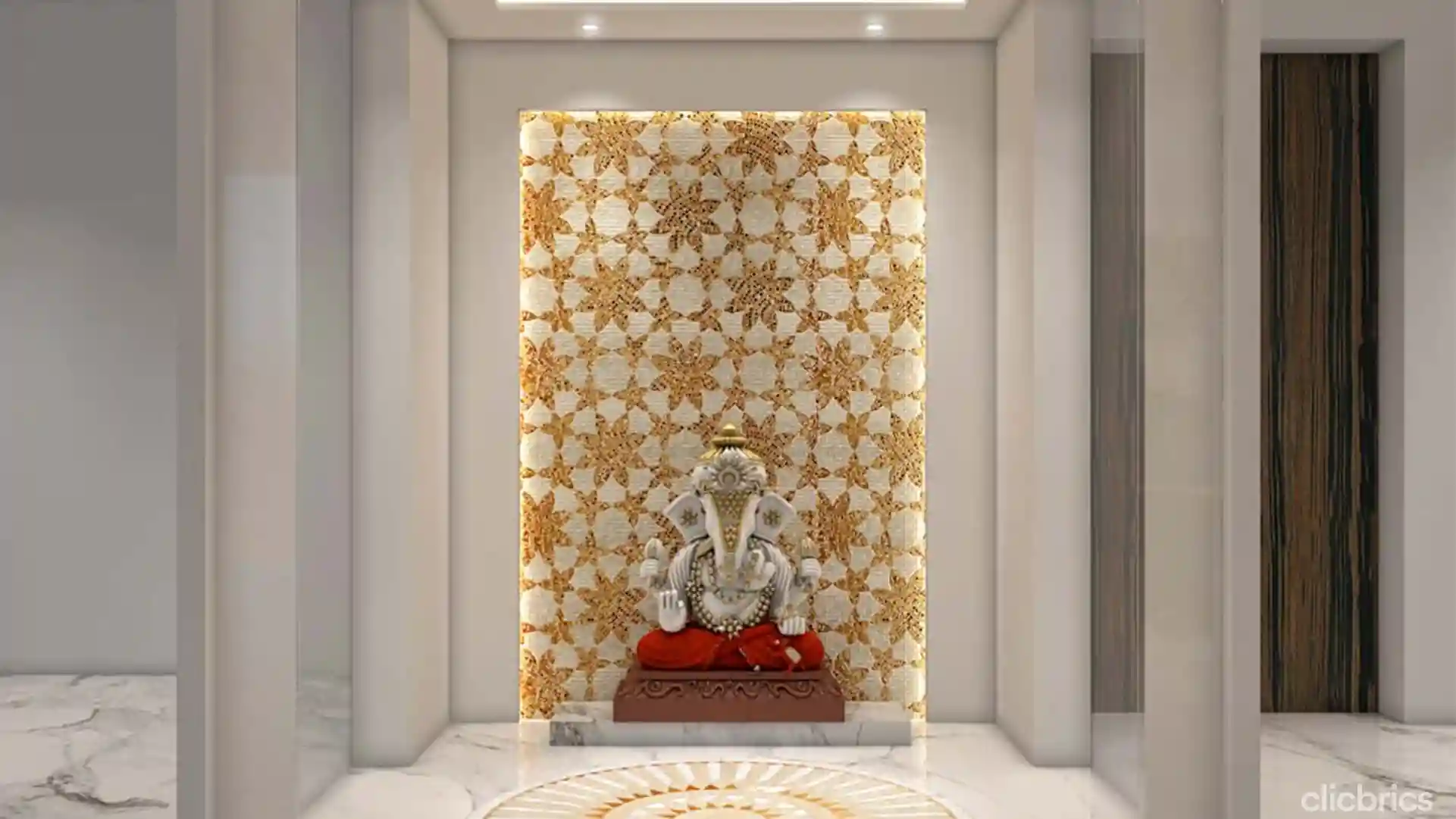 11. 
Background Lit Mandir Design
You can always count on lighting if you're seeking a simple mandir design for your house. LED lighting will be used to illuminate the shrine, with light emanating directly from the wall. It will also give off a heavenly vibe. Or you can just work with light in the centre, like illuminating the Om sign or Radha Krishan's temple. Focusing everything on mandir design and in the bedroom is not fair. Check out these amazing wallpaper ideas for modern bedrooms.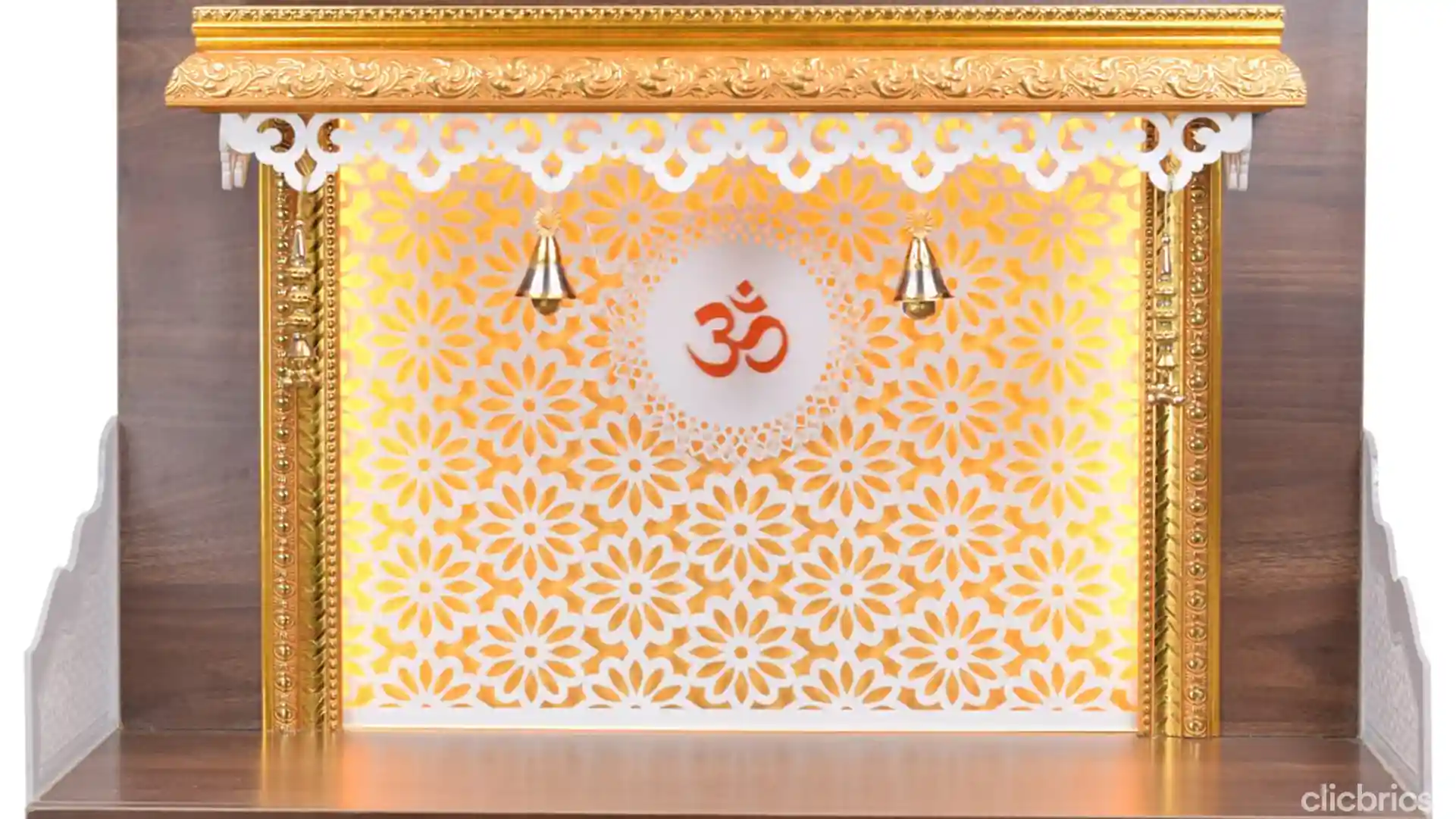 Idol Placement for Mandir Design 
Never position the idols towards the north or south; always face east or west.

Vastu Shastra advises keeping idols of multiple gods and goddesses but only one idol of each god.

Place idols on a hardwood platform for the design of an Indian mandir chamber. 

Keep the idols secure in the pooja room in accordance with Vastu ideals, and select colourful embossed chowiks for an attractive look.

Keep any pictures of the deceased away from the area.
Also Read: Ideas for Ganpati Decoration at Home in 2022-|With Images|