Doors are the calling card of our home. They are the first element that welcomes us after the façade and that is why their choice is so important. When we talk about modern door designs like the ones we are going to show you here, the key is in the diversity of models that you are going to find within the same style. 

Wooden, glass, aluminium or combined doors, the possibilities are endless and are left to the taste of whoever chooses. Whether you are building your home with a contemporary décor or you are looking to modernise your home, doors are an excellent way to achieve this. 
From the front door that should combine elegance with security, to interior doors and even wardrobe doors, let this element speak for you and go with the rest of the decoration of your space to give it the modern finish you are looking for. 
Types of doors for the home

Main entry doors
When it comes to finishing your home and choosing the finishes, along with the wall and floor coverings you will also need to choose the type of doors you will want and find models that coordinate with the style and colours of your home. 
The first type of door and one of the most fundamental choices is the entrance door, which should combine aesthetic beauty and security. There are options available in the market that come with automatic locking system that it locks into the frame without the need for you to give it a key. So if you happen to forget to lock the door, this model will do it for you.
If security is important to you, don't hesitate to invest in new technologies such as reinforcements or numerical keypads that make you feel more protected.
Interior Doors
Interior doors will be your second choice. Generally, these doors will be found in the same colour scheme or with the same material to give coherence to the decoration of the different rooms. Among the materials you have to choose from nowadays, you can choose between wood, aluminium, glass, PVC or a combination of any of them.
Wardrobe doors
Finally, you will also have to choose the doors for your wardrobes, a choice that doesn't have to be boring at all, because when it comes to modern doors you can experiment a lot with the design and have vibrant and different proposals. 
Advantages of modern doors at home
Security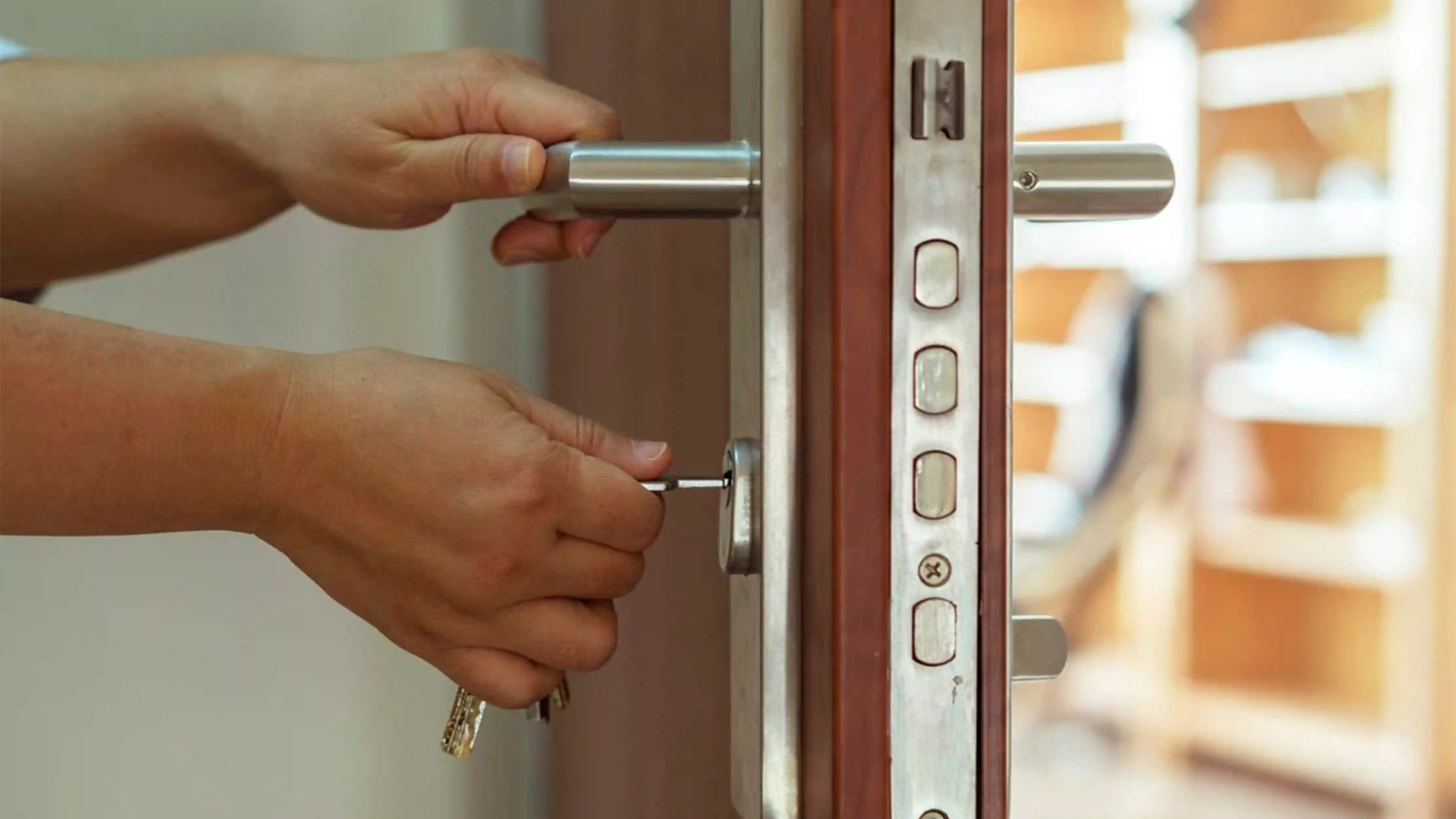 Security is one of the great pros of modern doors since both in terms of materials and technology, elements have emerged that did not exist before. 
Security is measured by levels and classes depending on the materials and construction of the doors, now you can have a very elegant door without it being armoured. 
These doors are built with special reinforcements in the leaf and the counter frame to further protect the faces and the lock. They are available in standard sizes or can be custom made.
Versatility 
Versatility is another great advantage of modern doors. You are no longer limited to classic wooden doors but can look for materials that go perfectly with the contemporary atmosphere of your home. This is the case, for example, with glass. 
Glass doors bring in a lot of light and are perfect in areas where you want to create a division between rooms without blocking the light. 
Originality 
On the other hand, the originality of modern doors allows us to express a personal style. 
As the materials themselves are so diverse, you can also experiment with colour by opting for doors in black, red, blue or yellow. 
Adding colour to a modern home always helps to add warmth to both interior and exterior environments. 
Tips for choosing the best door for your home: take your budget into account
Whether you're renovating the doors on your home or contemplating the expense as part of a brand new home, it's important to consider your budget. Knowing how much you want to spend in advance will allow you to make a better choice of materials. 
Consider all the doors you want to install, bearing in mind that there are certainly some doors, such as the entrance door, that will be more expensive than others due to their requirements. Note down the points that are important to you, regardless of whether you have always dreamed of a wooden door or whether you require security systems. You should prioritise and adjust your purchase according to these details that make a difference to you. 
Consider the size of your home
Doors should be suitable for the size of your home. You may have standard sized doors and you may also find yourself with smaller or larger spaces where you will need to think about a custom made door to fit the space. 
Especially if it's a small house, having doors in the same colour as your walls make the size of the wall look larger and the room look larger for the same reason. 
A futuristic touch
Modern architecture is no longer limited by limited materials, and with today's available coverings, the possibilities are endless. You can also go for a metal door in silver finish that will immediately brighten up your entrance. 
One that combines materials
Or you can combine materials: aluminium and PVC, wood and glass, but make sure that the same combination of materials is repeated throughout the house. That is to say, if you choose glass, for example, make sure that there are either other glass doors or a combination of wood with this material and furniture with the same lines to create a coherent decoration. 
Avant-garde designs for home interiors
You will find ready-made doors or you can be inspired by these avant-garde designs and order your own door with the finishes that you like. 
Transparent door designs
In addition to the common hinged doors that we all know about, you can also opt for transparent or tempered glass sliding doors that look super modern and are perfect for small places where you want to save the space of opening the door. 
Door vinyl
Another fun and original option is to use pieces of vinyl on doors, especially when it comes to large-format photographs that play with our sense of perspective. If you are not afraid of different proposals, it is sure that this door will make a great impression and will be memorable for whoever visits you. 
Play with the degree of transparency
Is it a door or a window? With modern doors, you are not limited to one or the other, you can play with transparency, especially if you are in a space where you want to maximise natural light and the dimensions of the room. 
Using glass
The glass itself can be your canvas where engravings and adhesive pieces of vinyl will help you to give more personality to your transparent doors. 
Putting some kind of design also reduces accidents, especially if you have small children at home who might not be able to see the glass. 
Colour is not a limitation either as a modern door accepts any shade. We love this proposal in yellow. 
Often modern environments are limited to neutral colours such as white, beige, grey and black, adding a splash of colour through the door will give your home more energy. 
Double doors
For larger spaces, a solution can be to install a double door that will give you the possibility to open one or two panels at the same time. 
Sliding doors
For large spaces you may also prefer a glass door with a metal frame that swivels on its own, giving not only light but also a surprise with its innovative design.
Also read: Home Decor Trends That We Need to Bring Back