Table of Content:
Religion and spirituality have always been highly valued in India. Regardless of whether someone is from the poor, medium, or upper classes, people have always set aside a place where they can worship in peace and seclusion. Since you have found this page, it is clear that you are looking for Indian-style pooja room designs that are within your price range. And we can assure you that you have come to the right place.
Why Choose the Ideal Puja Room Design?
The puja room is a sacred place where families get together and worship daily. Interior Indian-style pooja room designs differ from person to person depending on their faith. But according to Hindu tradition, the corner area of the house is assigned for meditation and worship. The idols of gods and goddesses should be placed facing the northeast corner to boost positivity in your home. Below are some amazing and pocket-friendly Indian-style pooja room designs that you can easily incorporate into your home.
Also Read: Bhumi Poojan Muhurat 2022
1. Pooja Shelf on the Wall
The most basic puja ghar design is created on a shelf mounted to the wall of your living area. It is not only a simple and elegant puja ghar design but also perfect for folks with space limitations in their homes. You can concentrate more on the lighting and use traditional trinkets to give it a personality similar to other Indian-style pooja room designs.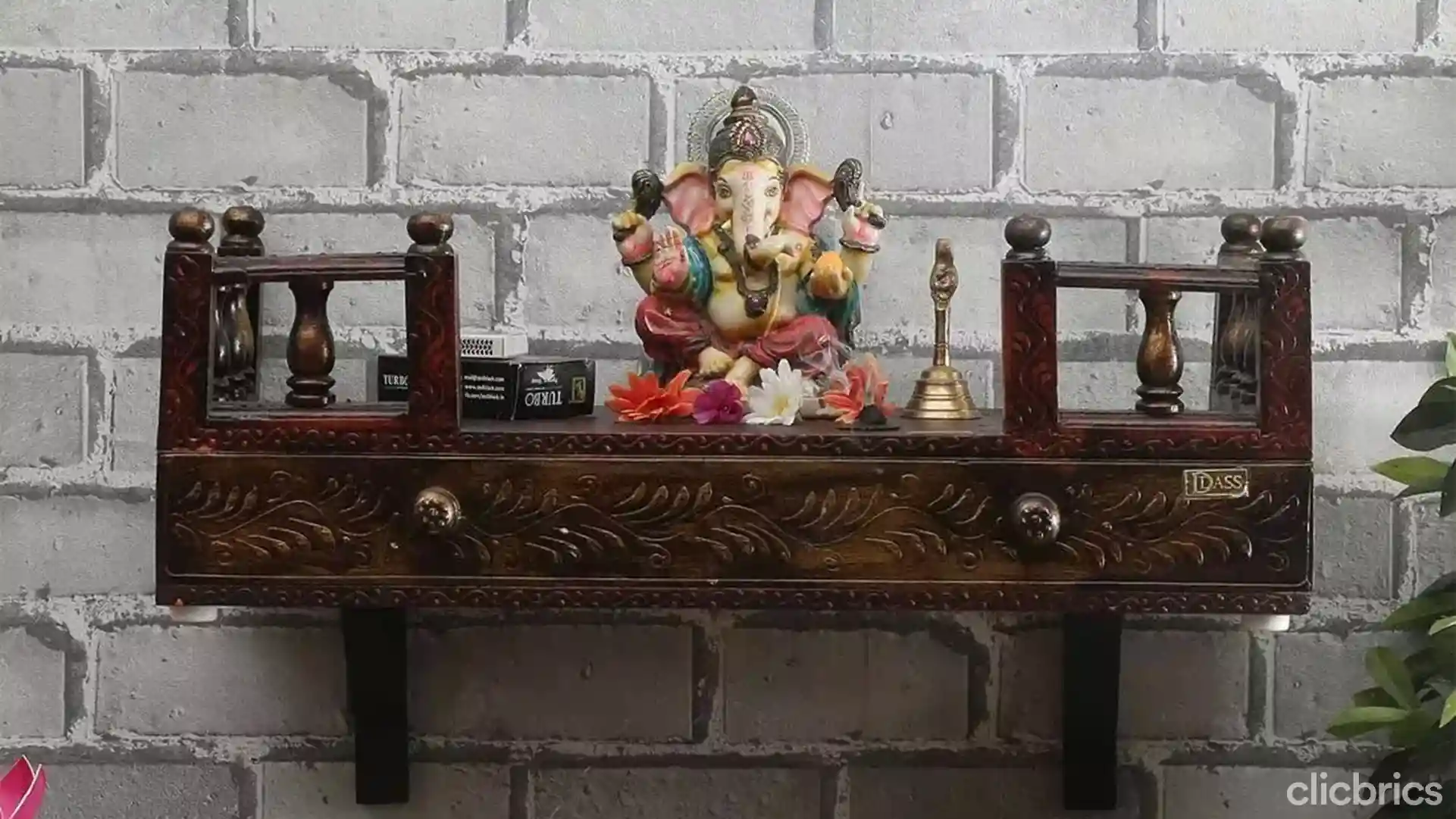 Also Read: You're Going To Love These 9 Navratri Decor Ideas!


2. Marble Steps, Pooja Ghar Design
If you are looking online for some Indian-style pooja room designs in the hope that you will find the ideal one which is affordable, practical, and fuss-free, then the marble step puja Ghar design is the ideal choice. To create this ideal small pooja room design for your home, all you have to build is a couple of marble steps in a room and place idols and photos of your gods on these steps. Moreover, you can place pooja room decoration items like diyas, flowers, and prasad, and it will give a very alluring look. The best part is that when you incorporate such Indian-style pooja room designs, it doesn't constrain your budget, and your space starts to look more beautiful than ever.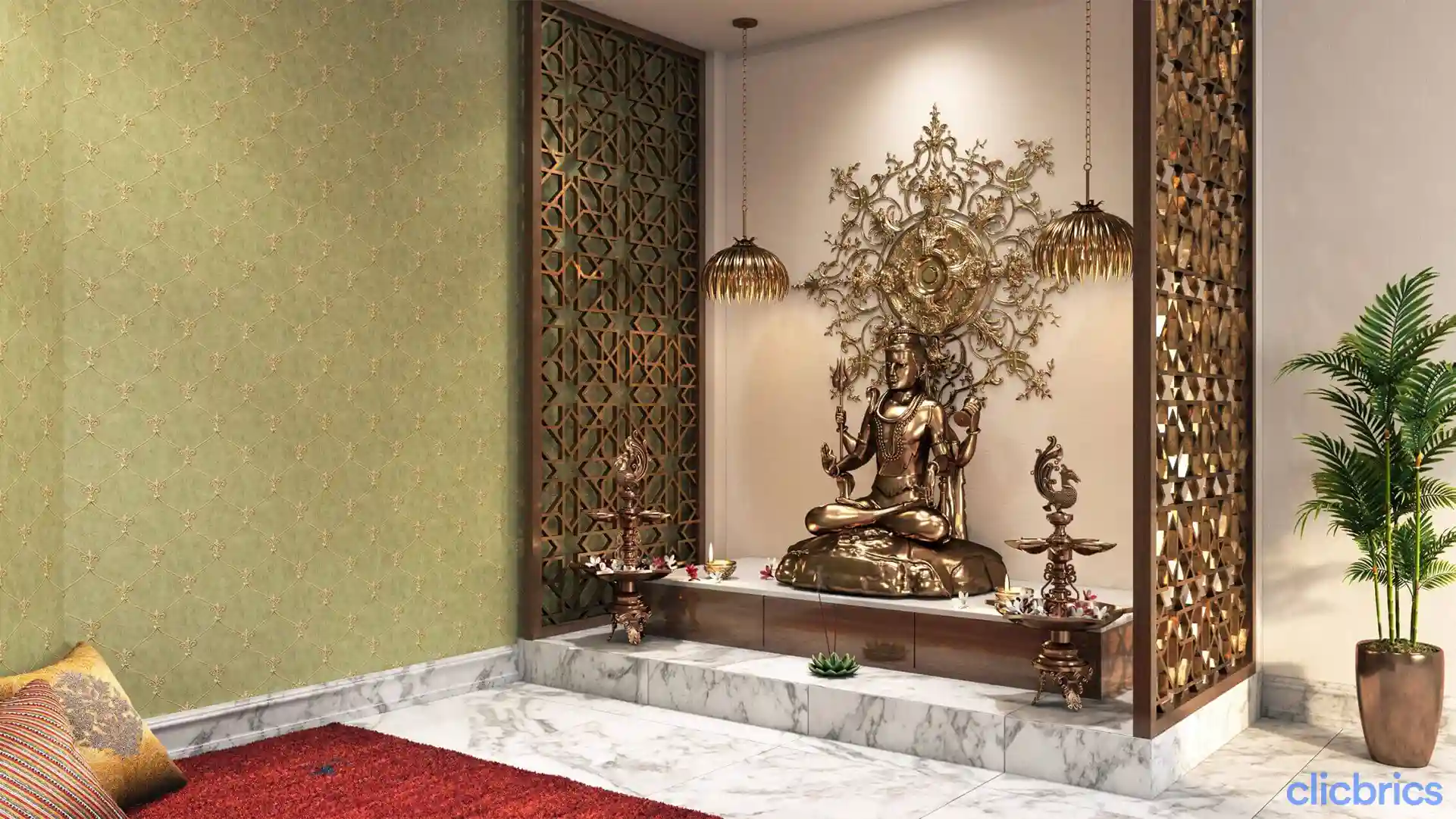 3. Cabinet Attached Puja Ghar Design
A small, compact cabinet pooja ghar design is a dream come true for people struggling with space and a tight budget. You can hang the cabinet on any wall in your room and place small idols of gods and goddesses inside. You will be able to save space and can also keep essential pooja room decoration items.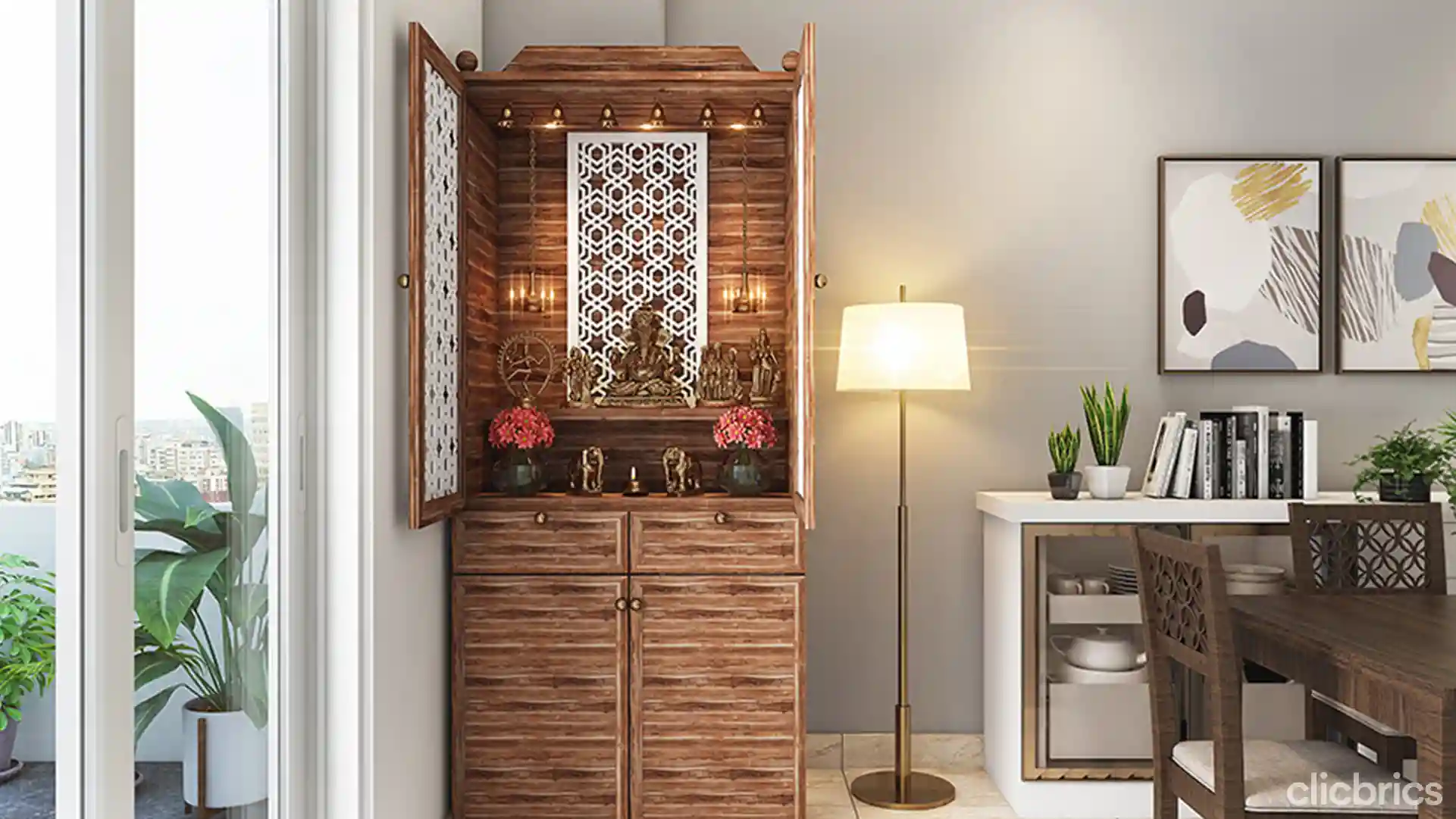 Also Read: Start Your Home Design Journey: Quick and Easy Tips |Exterior & Interior|


4. Separate Pooja Ghar Design
People with a tiny spare room not currently in use can turn it into a mandir room. The reason is that many individuals who look for small pooja room designs for Indian homes give up on the concept since they lack the creativity to create the space. You don't need to overdo anything affecting your budget in a small puja space. You can prepare a tiny hand-made rangoli and add some framed idols, deities, lamps, and diyas. The only thing you shouldn't do is go overboard because that would make it look cluttered and take away from the elegance of such Indian-style pooja room designs.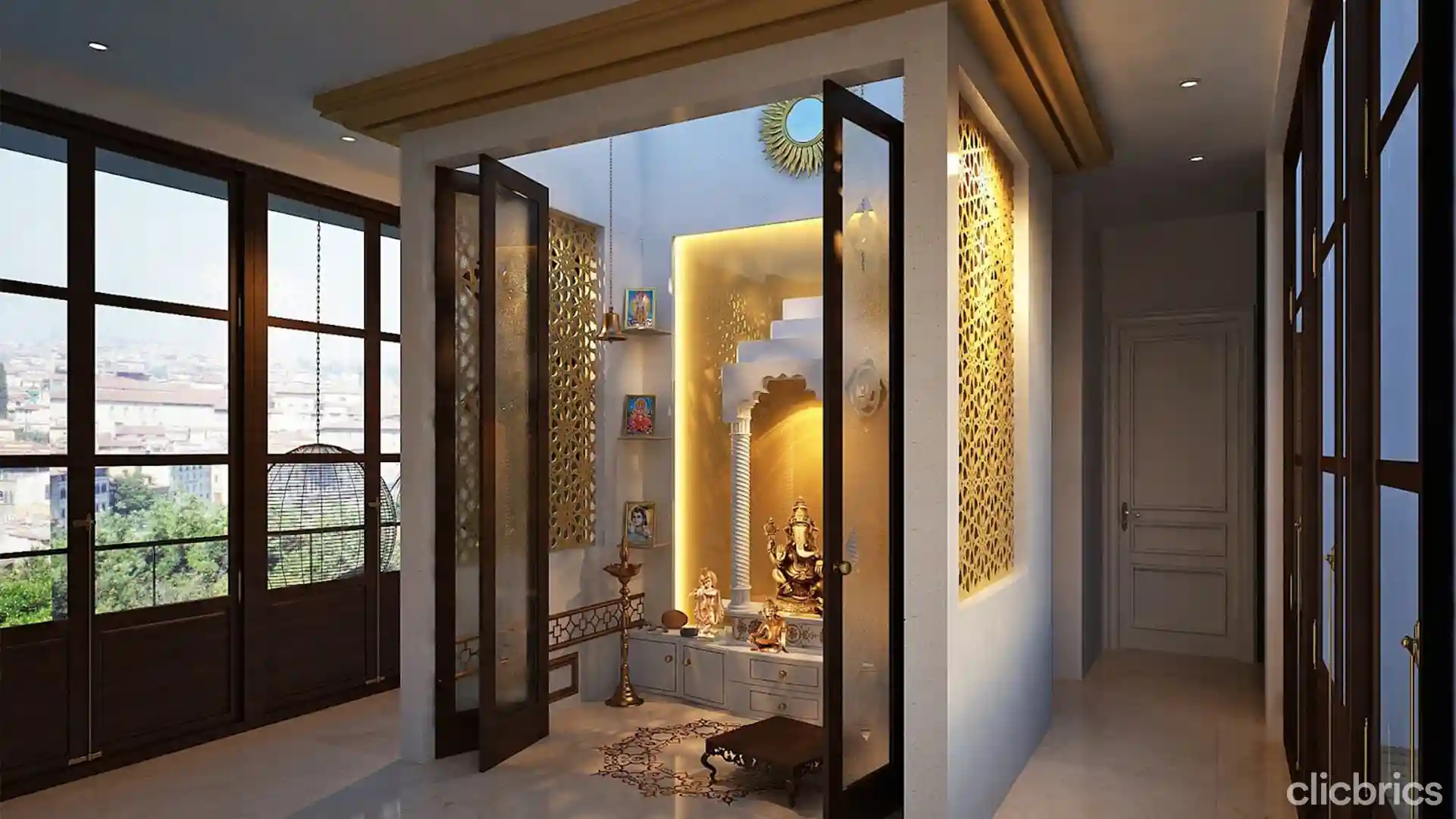 5. Wooden Puja Room Design
Are you looking for Indian-style pooja room designs that suit you since you live on rent or frequently switch places? You needn't search any further because we also discussed that choice. Use a portable wooden mandir unit that resembles a small cupboard. When it is time for prayer, you can open the doors and do pooja. You can place idols and photos inside and fill them with pooja decoration items. Since they are so light, there is no need to worry about them breaking when moving.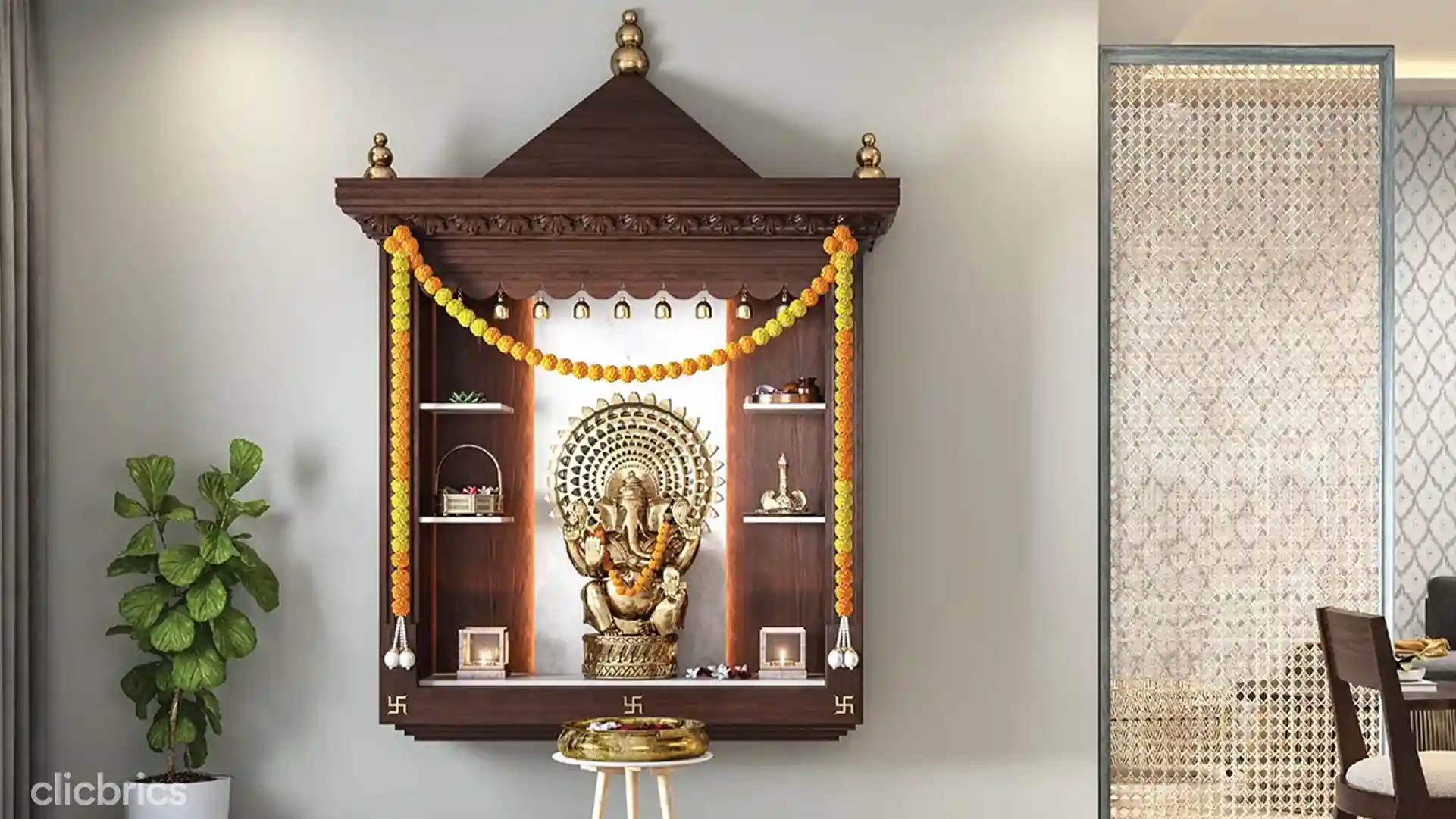 Also Read: In 5 simple ways, bamboo furniture will boost the charm of your place


6. Cubicle Puja Unit for Small Apartments
There may be many Indian-style pooja room designs, but the best one for your small apartment is to place a wooden cubicle in your living room. According to the Vastu Shastra, a separate living room corner can be kept for a puja unit. You can make the space more appealing by adding some lights and flowers.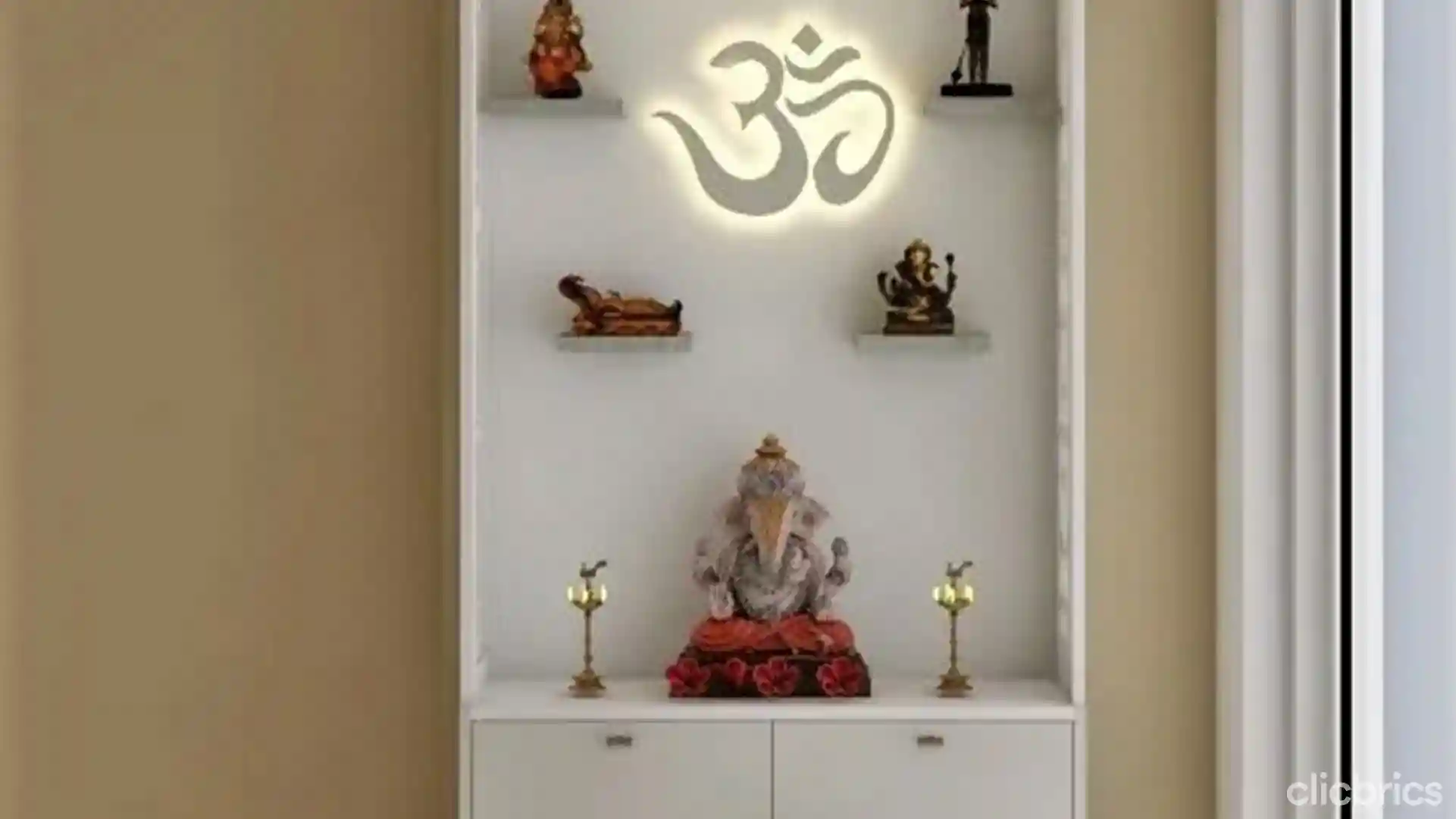 Also Read: Ideas for Ganpati Decoration at Home in 2022-|With Images|


7. Create a Puja Ghar Design in the Extended Area of the TV Unit

Many people have the aspiration of designing gorgeous puja ghars. People are constantly looking for Indian-style pooja room designs that appear opulent but are more affordable. But now is the time for you to act wisely. If you don't have the room or money to dedicate a full room to a mandir, you can still construct a pooja ghar at the extended TV unit. It's a pretty clever home design choice to turn a TV box into an area for worship. And if you want to create a luxurious look on a tight budget, including this notion is absolutely worthwhile.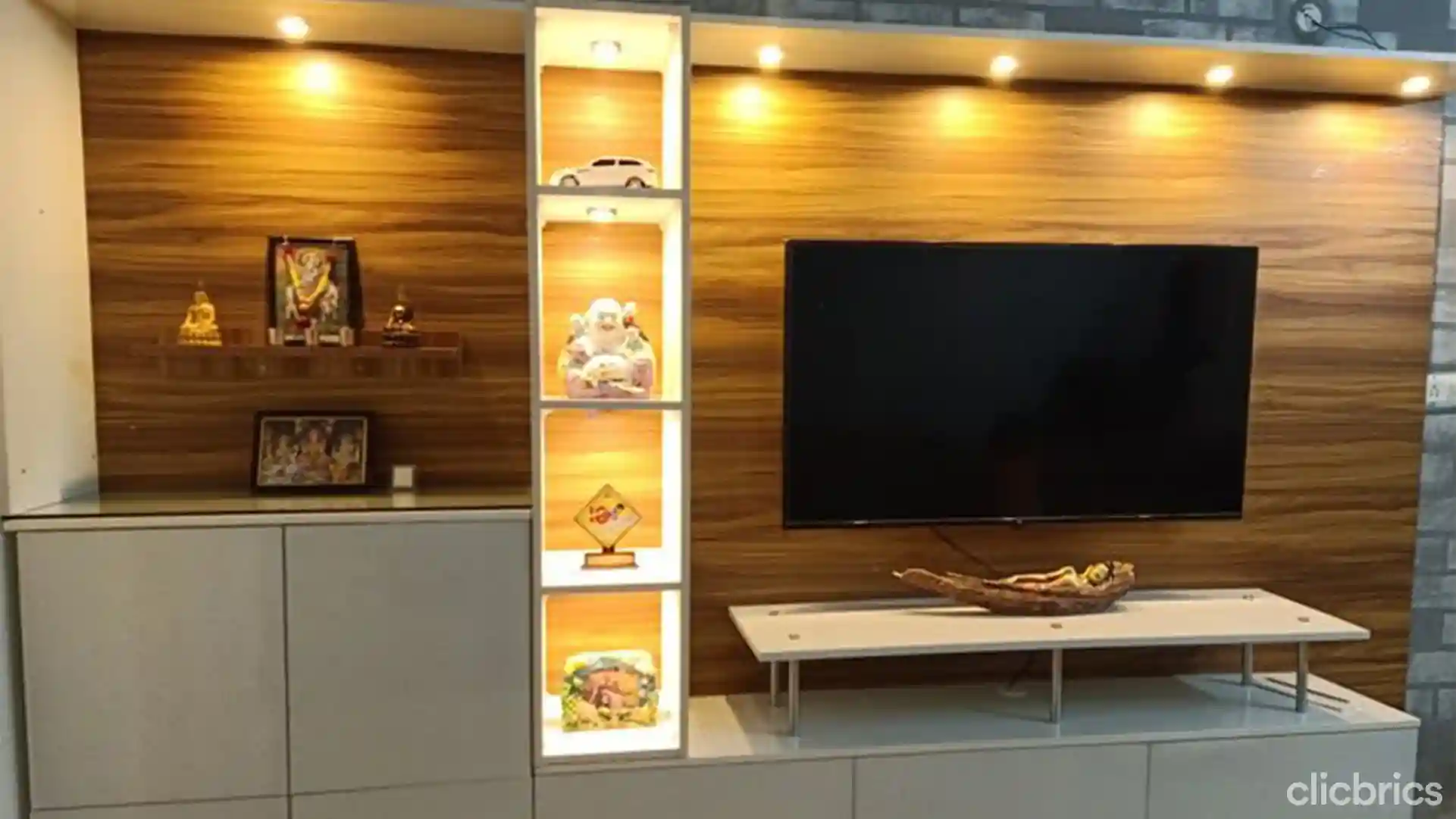 8. Jali Pooja Ghar Design
Are you looking for Indian-style pooja room designs on the internet to upgrade your existing mandir design? If so, get ready to add elegance to your pooja room with CNC patterns. Don't worry; CNC patterns are nothing but cutting designs or jali that are used to enhance the existing pooja unit. They boost your puja room design and make it look more luxurious. You can keep them as a background in your puja room, which will completely elevate the whole worship experience.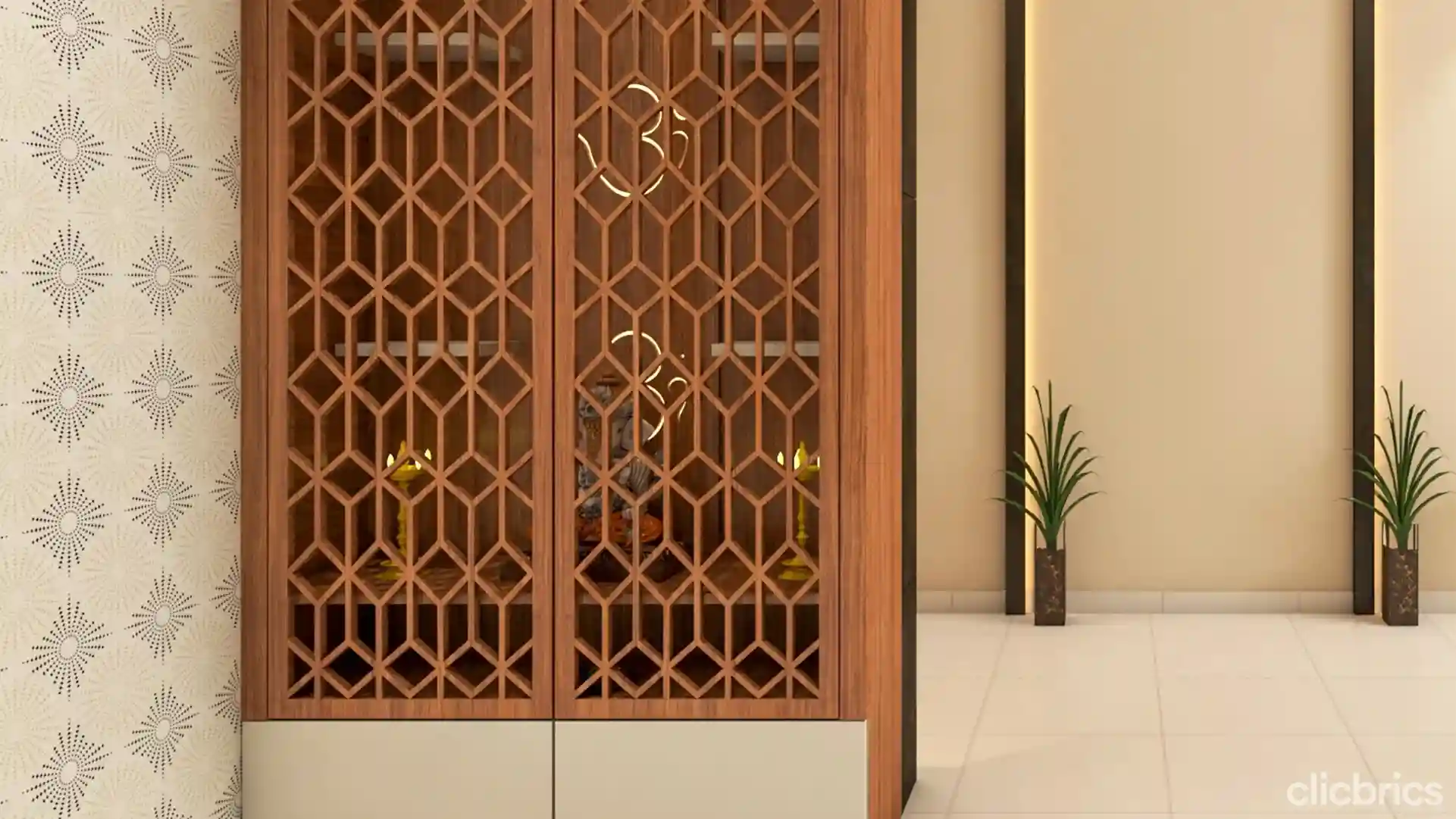 9. Tile Pooja Room Design
Most folks are at work or have important commitments that they just can't miss! You can use a pooja room design with tile accents in that situation. You don't need to worry about cleaning it daily because it requires zero care and is simple to maintain. You can add little focus lights to your pooja space to add a gentle touch and improve the praying mood.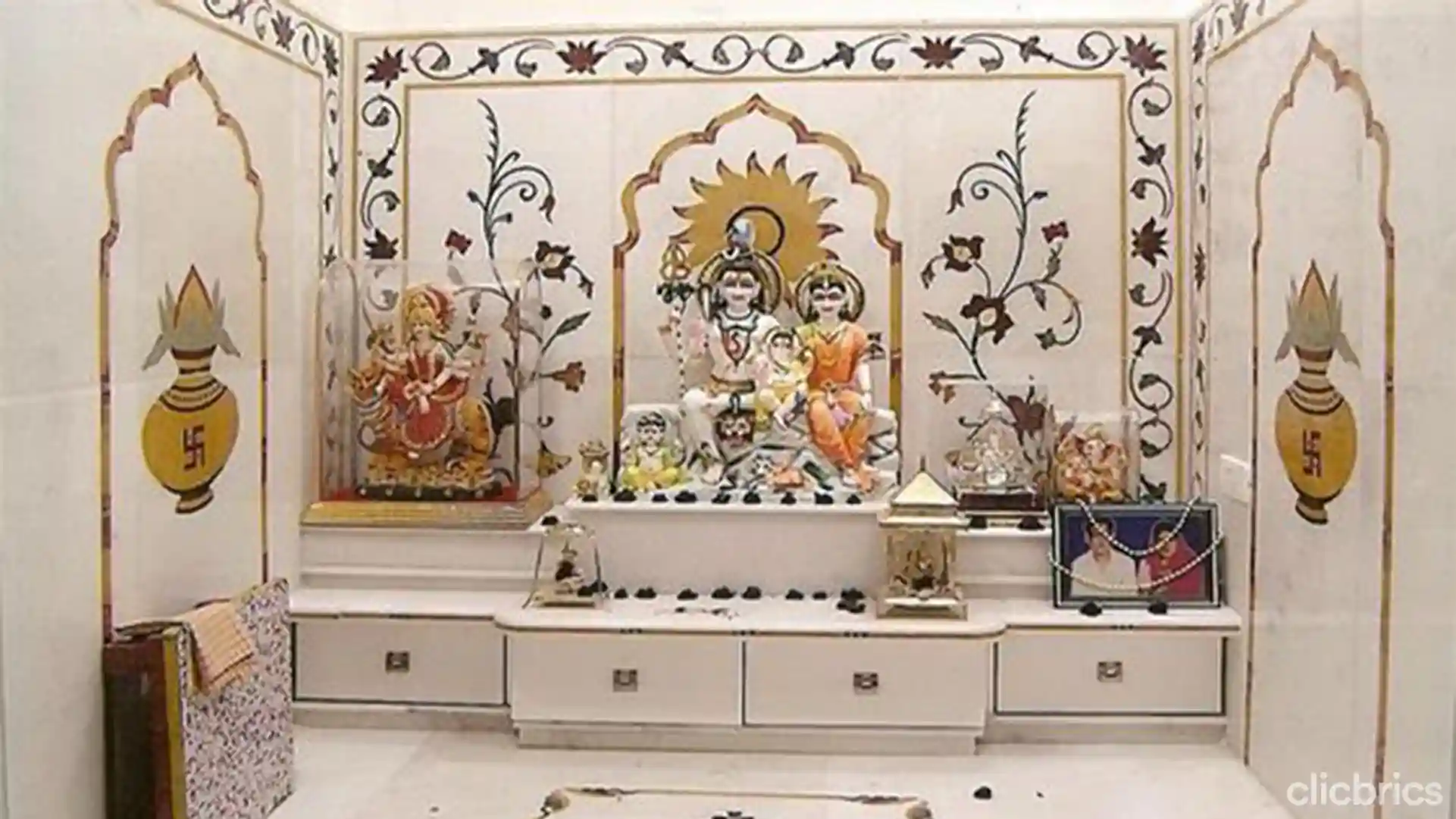 Also Read: 10 Best Diwali Decoration Ideas to Make Your Home Festive Ready


10. Use Wall Separators to Create a Pooja Room Design
Some people often look at Indian-style pooja room designs to understand where they can place frames. For many generations, these frames have been passed down. To allow people to perform pooja in peace, set the frames first, gently leaning them against the wall, and then add a wooden room separator. A kitchen, living room, or dining room are all suitable locations for creating a pooja room.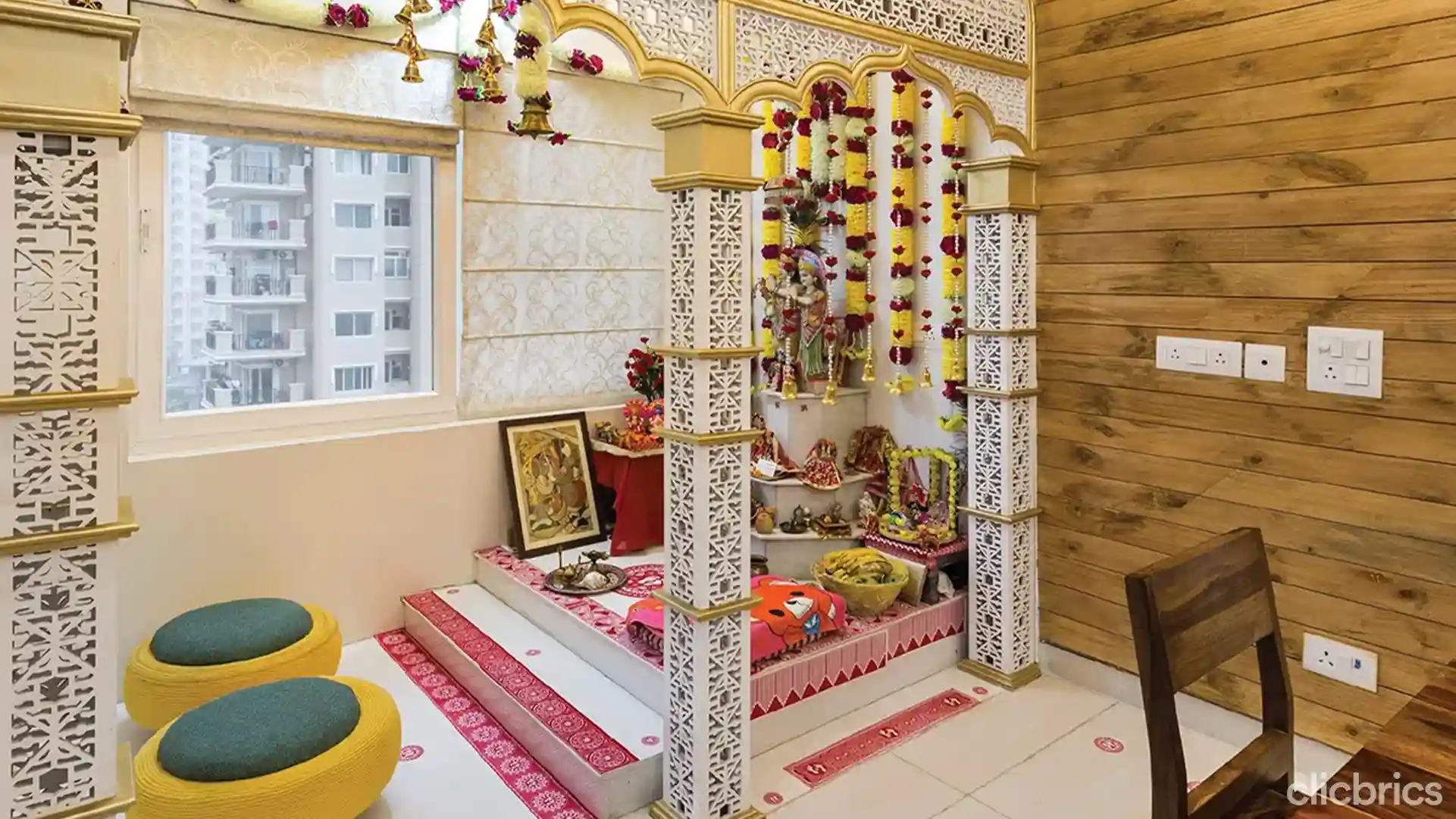 Conclusion
We hope that the ten Indian-style pooja room ideas discussed above will serve as inspiration, whether you're trying to add the best pooja room design to your house or even considering how to spruce up your current pooja room.
Also Read: Fantastic 11 Indian Home Mandir Design Ideas With Images