Do you want to give protection to your house while also displaying a classic look? If yes, then the front door grill design for flats is the best way to do that! Grills for the main door of your flat in India can be made out of steel, iron or aluminium in multiple appealing designs and colours. 
If we talk briefly about the materials, aluminium is a robust, durable and lightweight material that is highly resistant to outdoor weather conditions. However, aluminium door designs can get discoloured and corroded, making them less suitable for seaside areas. In contrast, iron gives an ornate look to the main doors and is extremely strong. However, iron is prone to rust. And, if you own a modern house and want to deliver a spectacular look while taking care of protection, then steel is a perfect material choice for you! Stainless steel will give a classy look with its shiny surface finish. 
Now, when you are done with choosing the right material for the main door of your flat, you are now responsible for opting for the best design as well. So, if you are interested in knowing the trending main door grill designs for flats, then here's a list of 5 trending designs that'll truly enhance your entrance. 
Top 5 Grill Design Ideas for Main Door of Your Flat
Listed below are the top 5 grill design ideas for the main gate of your flat:
Design 1: Geometric Door Grill Design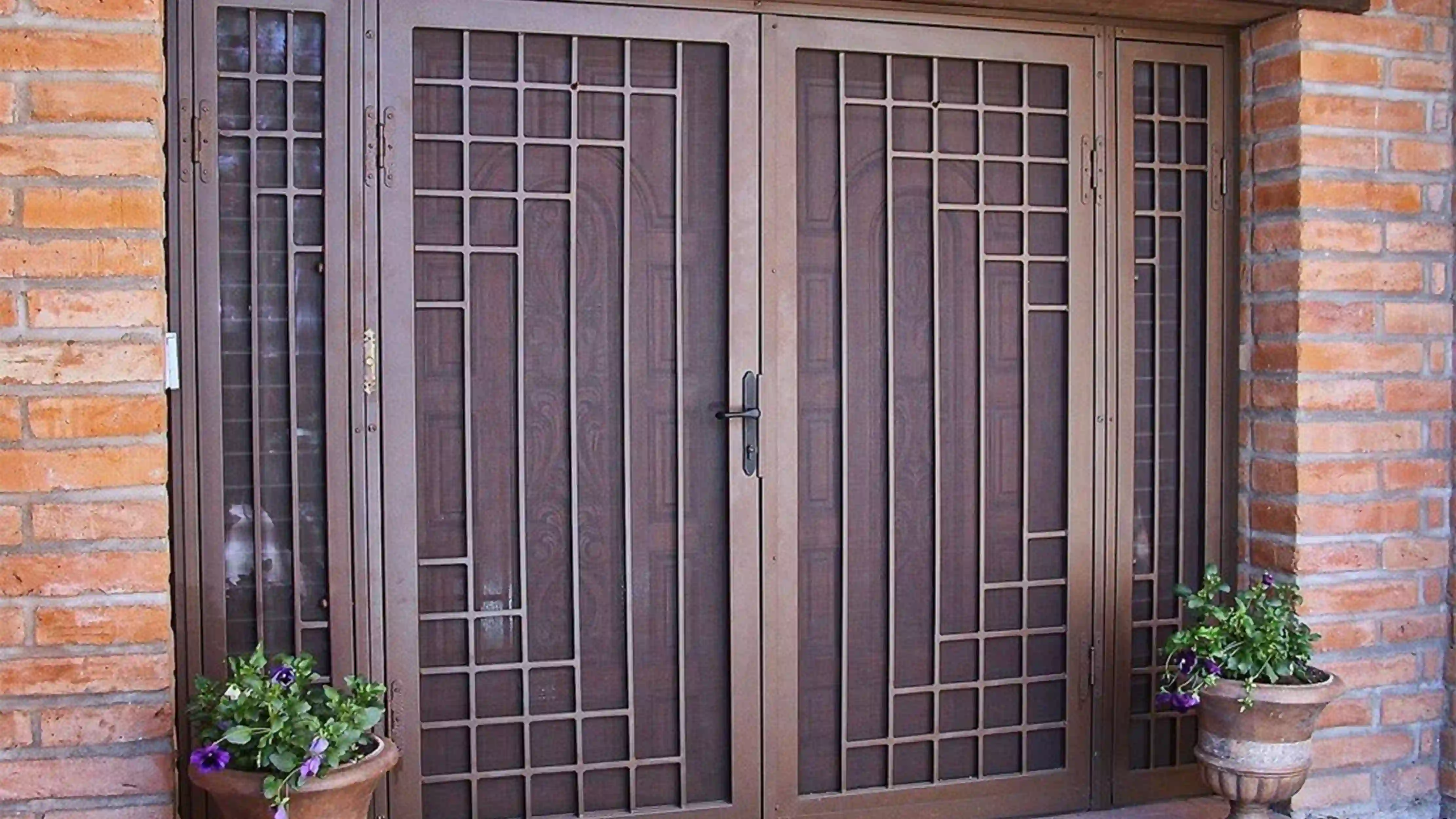 You might have heard the word geometry in school days, but have you ever thought that the same geometry can enhance the entrance of your flat? We know you might be confused here, but here's how geometric door grill design works! Geometric shapes like oval, square, triangle, rectangle or circle can be created in a grill for the main door, and criss-cross designs are even more popular and evergreen. 
In order to offer more spectacular aesthetic vibes, you can have a complete grill door in a criss-cross, diamond shape grill design. You can even extend the grill design to blend with the main door but make sure that the grill motifs are also done on the wood. 

Design 2: Plywood Safety Door Design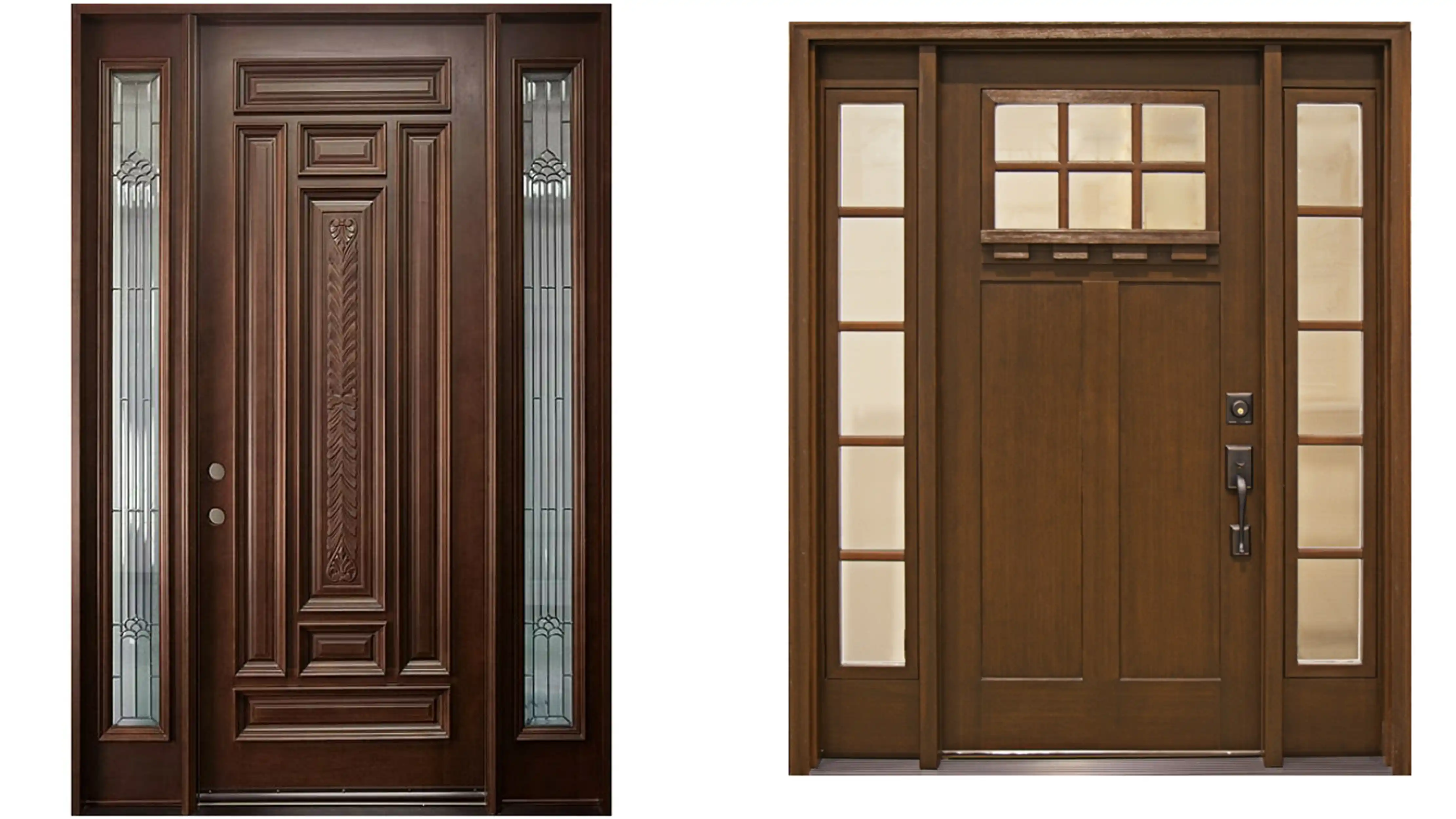 Are you afraid whether or not you will find a perfect front door grill design for a flat as you're on a small budget? If so, then the plywood safety door design is the perfect solution for you. Yes, this design idea is highly suitable for flat owners on a small budget. This sort of safety grill design for the main gate of your flat makes an eye-catching entryway.

This design boasts a narrow vent that is created in order to host the metallic bars. This not only creates an impressive design but also lends strength to the main door. You can also add a modern handle with an internal locking system to ensure comfort and privacy. 

Design 3: Wood and Grill Door Design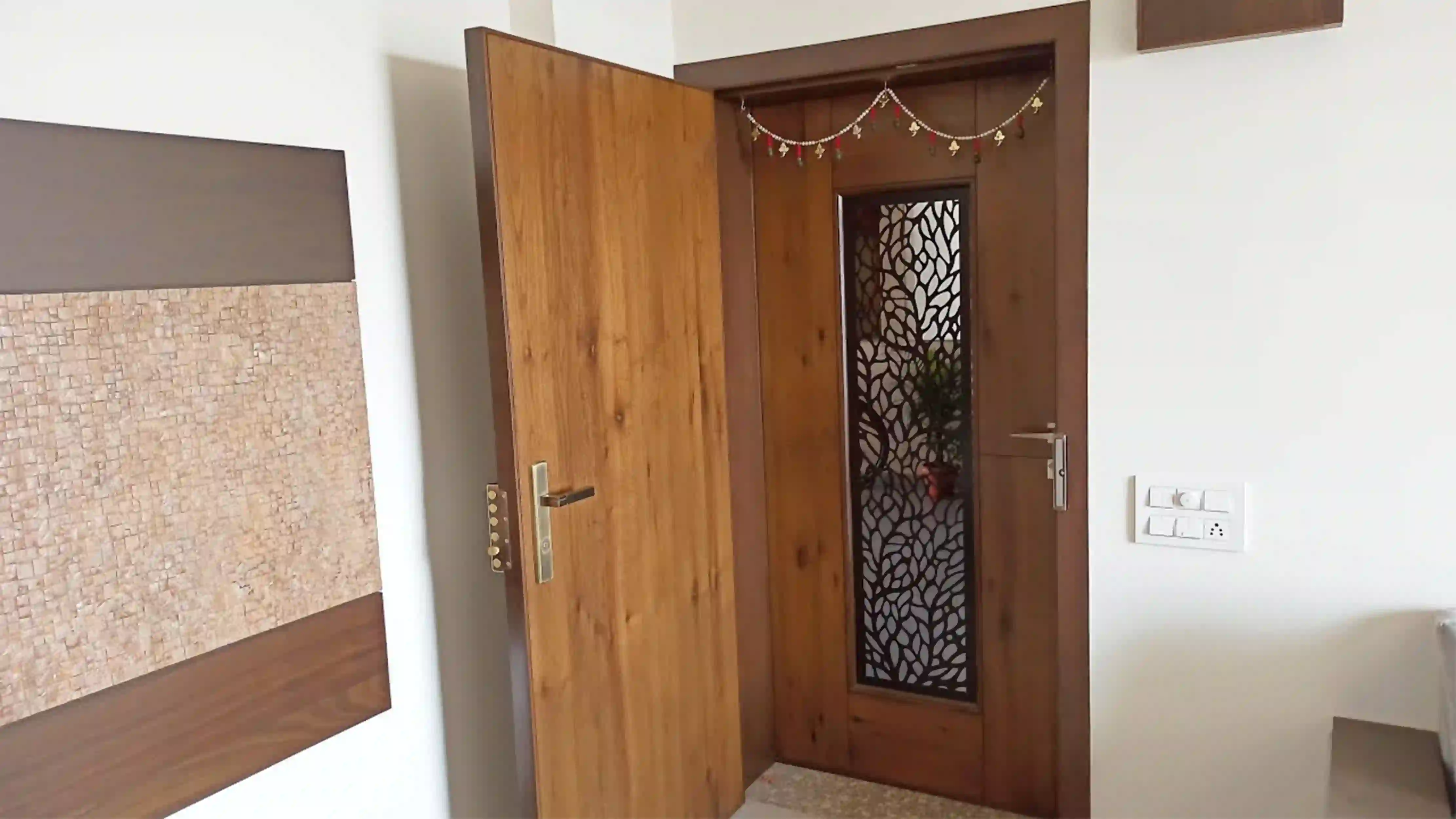 Do you find the idea of combining wood and grill impressive for your main door? If not, we would still recommend you shortlist this design, as it looks excellent when done! Wood and grill can be combined in multiple ways to design an elegant main door design. You can use laminates, plywood or wood with different grill patterns. Powder-blue or yellow paint adds a vibrant touch, and Spanish-style curlicues can add a lovely texture to the wooden framed door. 

Besides this, if you wish to create a grand entrance, you can go forward with customising the ceiling and the wall panels near the main gate to match the colours and patterns of the grill. In order to display a luxurious look, you might also opt for a wooden carving for the top and hang a wonderful lamp at the centre of the ceiling panel.  

Design 4: Double Door Grill Design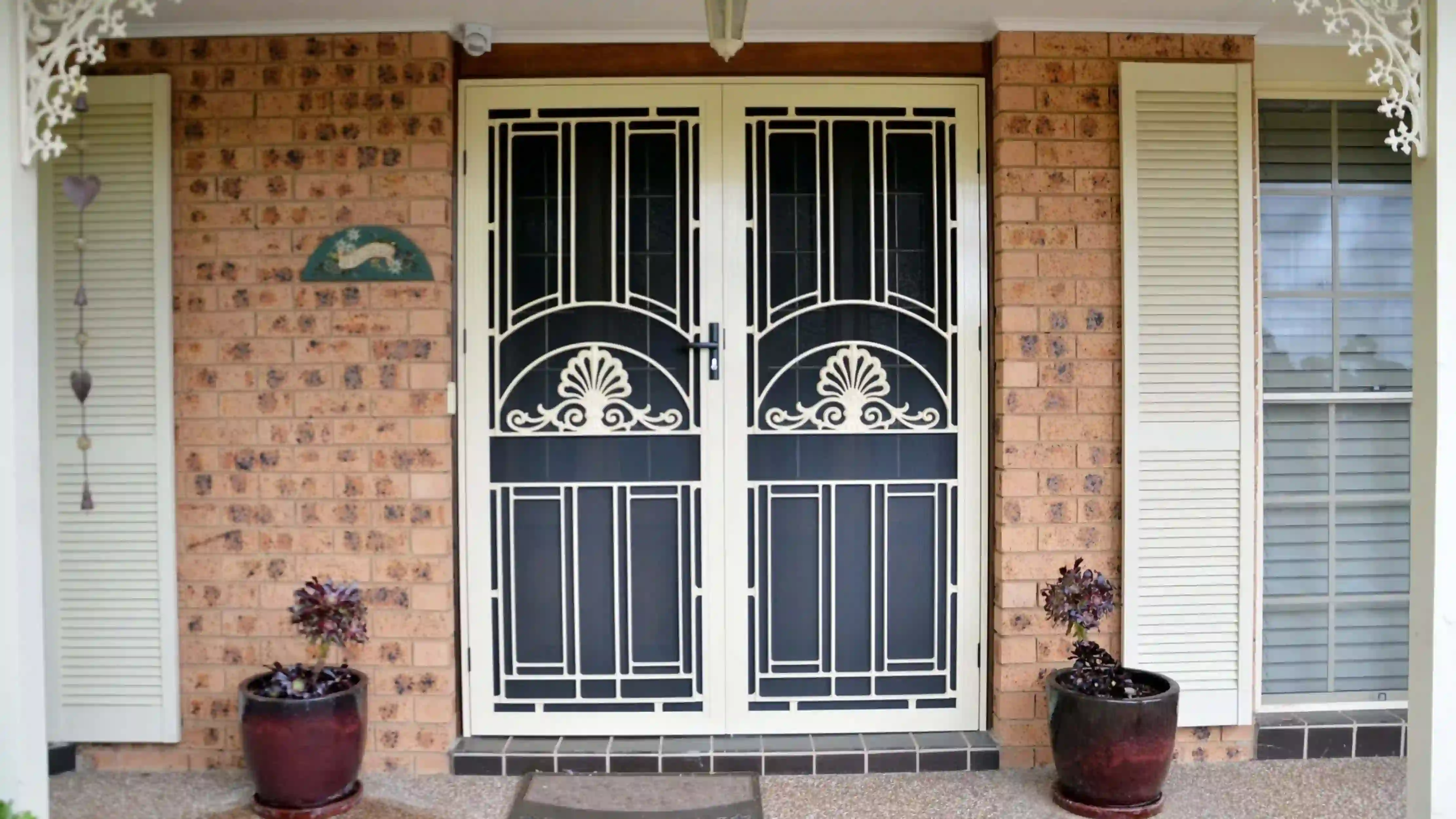 Does the idea of a single door grill design seem boring to you? If yes, then you can go for the double door grill design. Unlike a single door design, the double door grill design for your flat comes with two gates that can either have a sliding grill for the main door or a swinging option. An ornamental double door grill design can add magnificence to every home. You can select from multiple materials like aluminium, steel, iron or even wood for this design. And, if you want to have a vintage-inspired grill door design, then brass or silver finish grillwork can act as a focal element. 

Design 5: Sliding Door Grill Design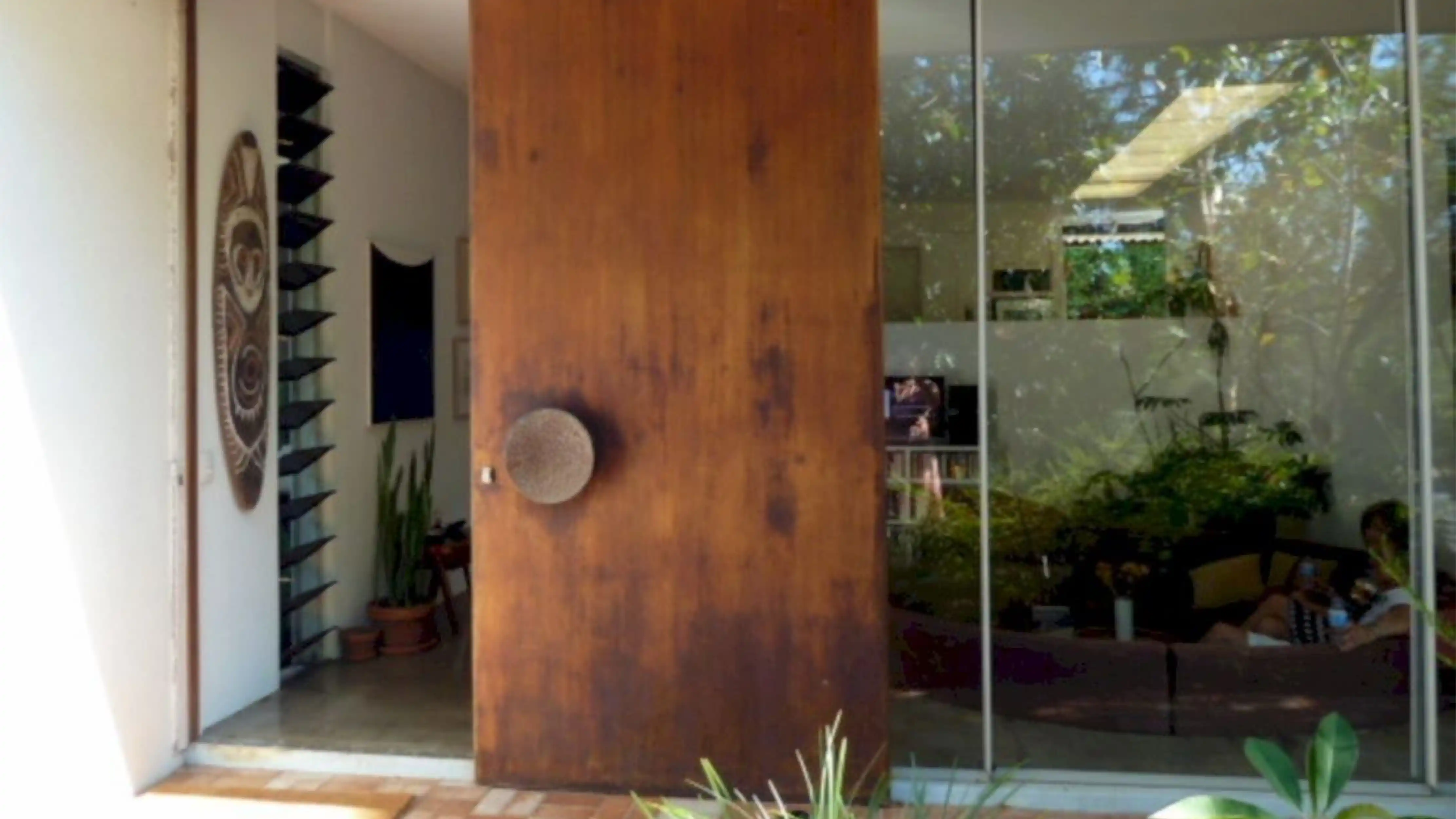 Do you wish to add more security to your flat in India even after having a wooden door? If yes, then you can simply fix a metal sliding grill for the main door that will offer more security than before. In case you think that an iron-painted shutter grill will not deliver a modern look to your house, then you can opt for French doors with glass panes that come with criss-cross diamond-shaped grill grids. Apart from this, full aluminium mesh grill sliding doors are also gaining popularity these days. 

Design 6: Half Door
Are there any toddlers or pets in your house? If yes, then a half-door design is the best option for you. Popularly known as a Dutch door, a half door is a door that is split in half and sliced horizontally. The best thing about this door is that the top and bottom halves can be opened separately, and both sides can also be locked in place in order to open a full door. You can keep the bottom half of the door closed to ensure the safety of toddlers and pets in your flat. 

Rather than having a full grill door, you can have a half-grill and half-wood door or a solid metal door in two shades. And, if you are willing to give an elegant yet classic appeal, combining the top door with a simple grill pattern and glass will work excellently. 

Also Read: Tips for moving in a new house with children

Frequently Asked Questions (FAQ)
1. How to maintain the front door grill design for flats?
 In order to maintain the main door grill design for flats, frequently dust the grill of the door, and if the design is intricate, use a soft brush to remove the dust. You can also use a mild detergent or vinegar added in water to clean a very dirty door. Also, make sure to paint the grills atleast once every year and lubricate the door hinges frequently. 

2. Which locks are perfect for grill main doors?
From a padlock to a simple key doorknob or digital lock, there are plenty of perfect lock options for the grill front door of your flat. You can even operate the modern front door lock through your smartphone with a thumb impression or password. 
3. Which safety grill door is best for my flat?
If your primary concern is safety, then a steel front door grill design for a flat is an excellent choice because of its resistance and durability. Also, if you wish to know more about keeping home safe, read a blog on "How to Keep Your Home Safe When You Are Not Around".