Does your flat in India don't have much space, and do you still want to have a wardrobe that can offer you maximum functionality? If this is what you really want, then a wardrobe with a dressing table is well-liked and is an interesting way of integrating functionality in a limited space.
Whether you have recently moved to a new house or residing in an old one, you might have a lot of stuff that you need to store in your wardrobe. And for this, a modern wardrobe with a dressing table has become an integral part of every contemporary home. A vanity unit built into your wardrobe makes it hassle-free for you to get ready every day. 
So, with this in mind, let's dive into the list of 5 magnificent wardrobes with dressing table design ideas that will shine in 2022! In the end, we have also got you covered with a few Clictips that will help you keep your wardrobe and dressing table organized. 
Top 5 Wardrobe With Dressing Table Design Ideas
Have a glance at the following combinations of dressing and storage space for your flat:
Design 1: Two Wardrobes Around A Dressing Table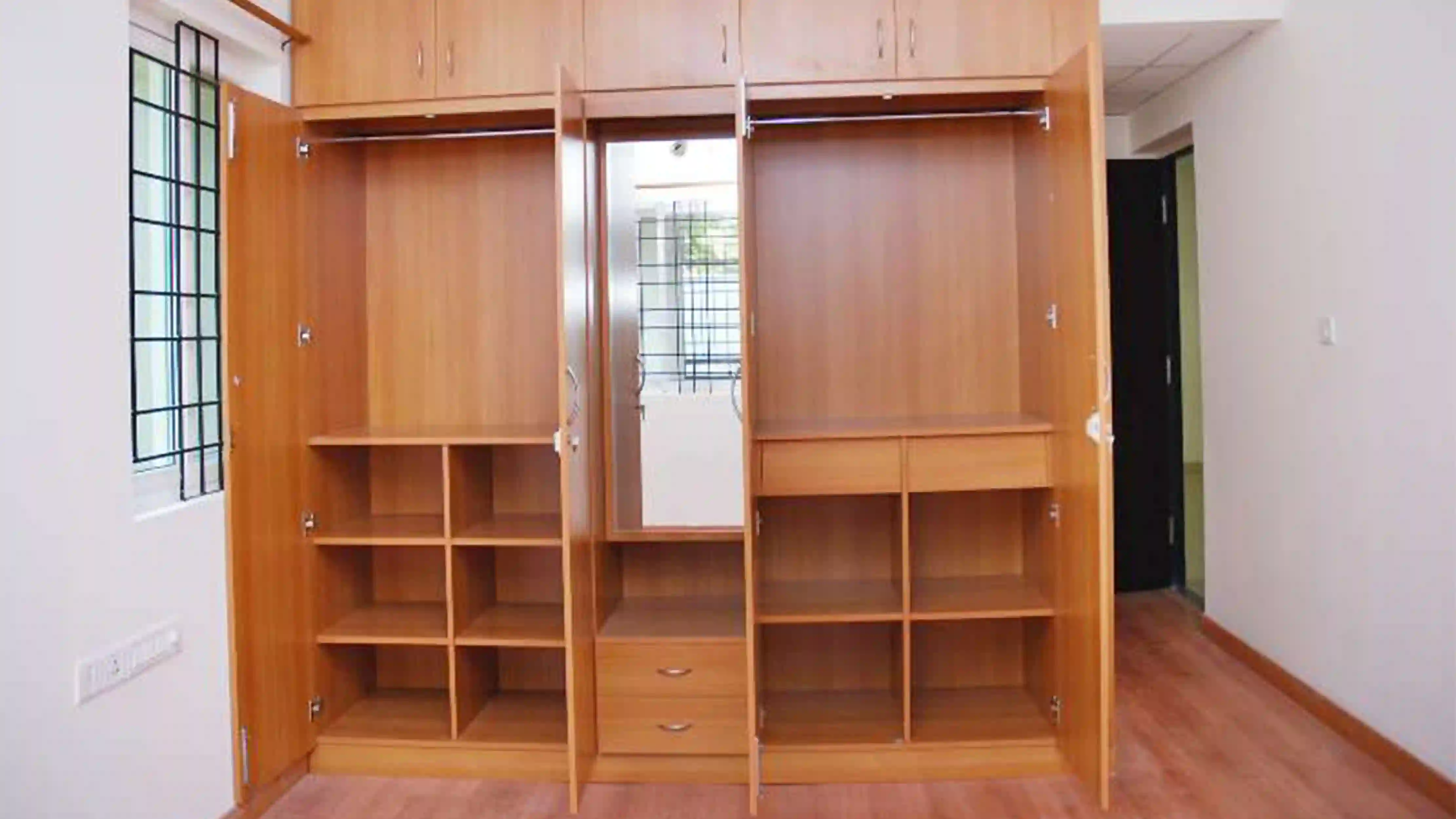 The name itself might have given you the complete picture of how exactly this wardrobe with dressing table design will look like, right? Well, two almirahs around a dressing table are a common idea that most homeowners opt for when using a compact space efficiently. The niche for the dresser is located in the center, and the almirahs are positioned on both sides of the vanity setup. This splendid design works as a multifunctional space in your flat and covers a single wall only. 
Design 2: Open Almirah With Classic Dressing Table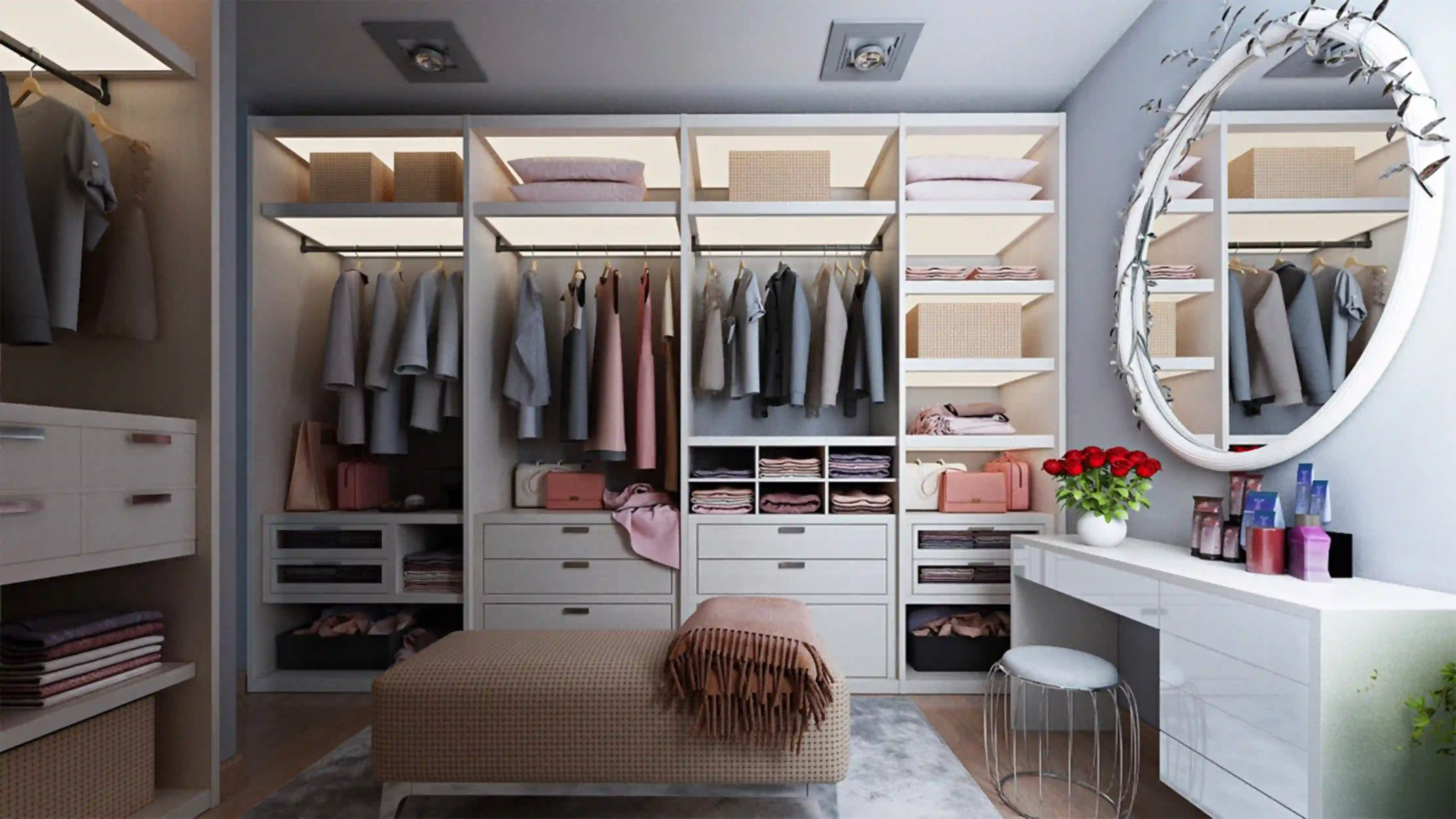 Do you have good organizing skills? If yes, an open wardrobe with a classic dressing table will work excellently for you! Actually, some people aren't good at organizing things, and for them, an open almirah won't work as it will look messy all the time and give the room a dull look. A gray combination of an open almirah combined with a gray dressing mirror beside it will deliver an amazing look. You can even add a white chair to complete the overall look. And, if you are a social media freak, then a mirror selfie with such a background will complement whatever you wear. 
Design 3: Sliding Wardrobe Design With Dressing Table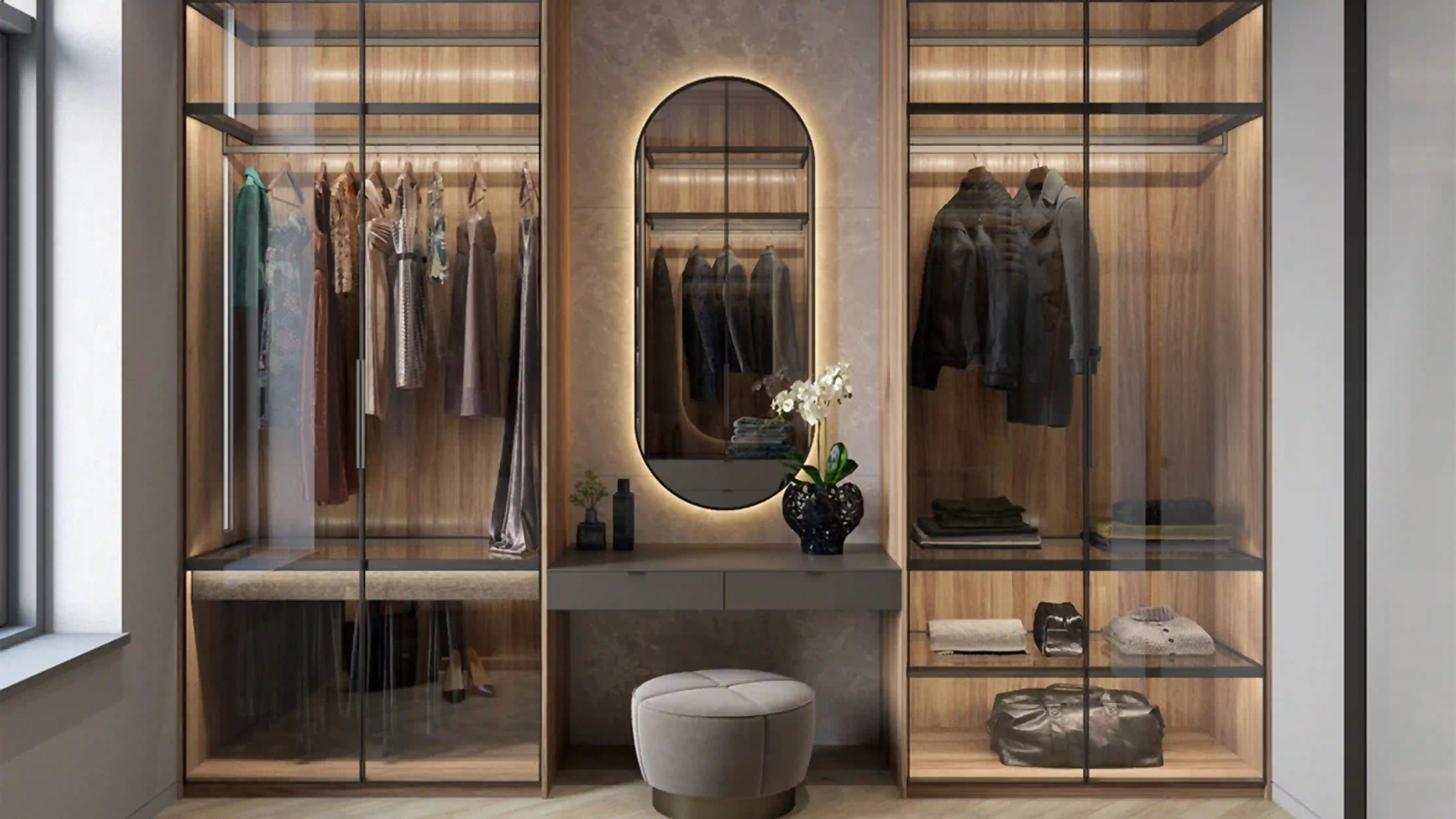 Want to spend less? If so, then trust us; a sliding wardrobe design with a dressing table is a great option for you. This design idea will allow you to have a dressing table with a cupboard without spending much. Sliding doors are trendy these days and are easy to implement. Not only this, but it will moreover give your dressing almirah a wonderful look that you and your family will surely love. 
Design 4: Monochrome Wardrobe Design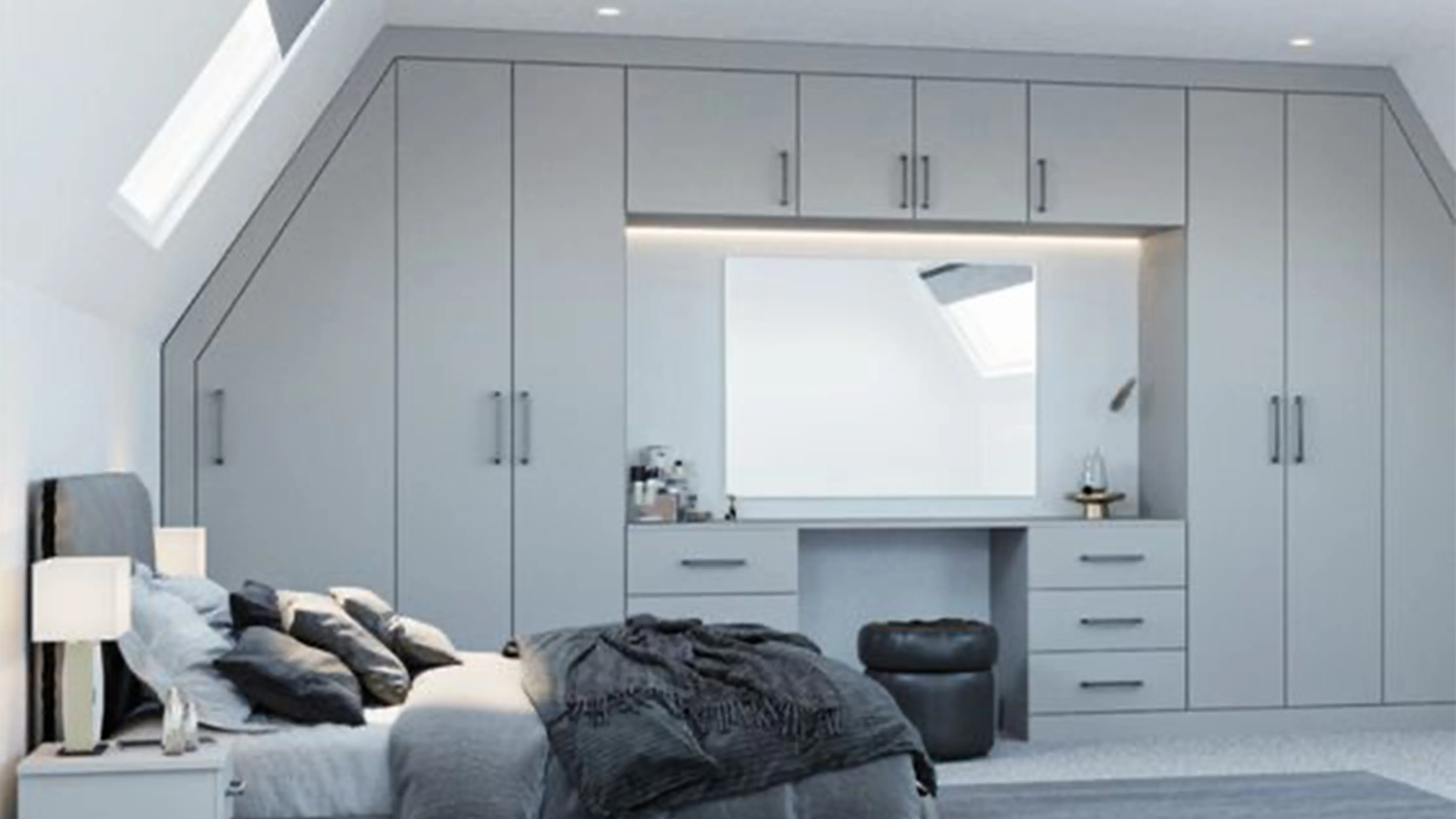 The mirror acts as a sleek addition to the dressing table in the Monochrome wardrobe design. In addition, this wardrobe with dressing table design is a way to make your bedroom look bigger than before and will definitely act as a great addition to your small bedroom. You can pair the monochrome wardrobe design with the bed and other furniture of the same color as that of the dressing table and almirah for a more enhanced look. 
Design 5: Dressing Table With-in the Walk-in Wardrobe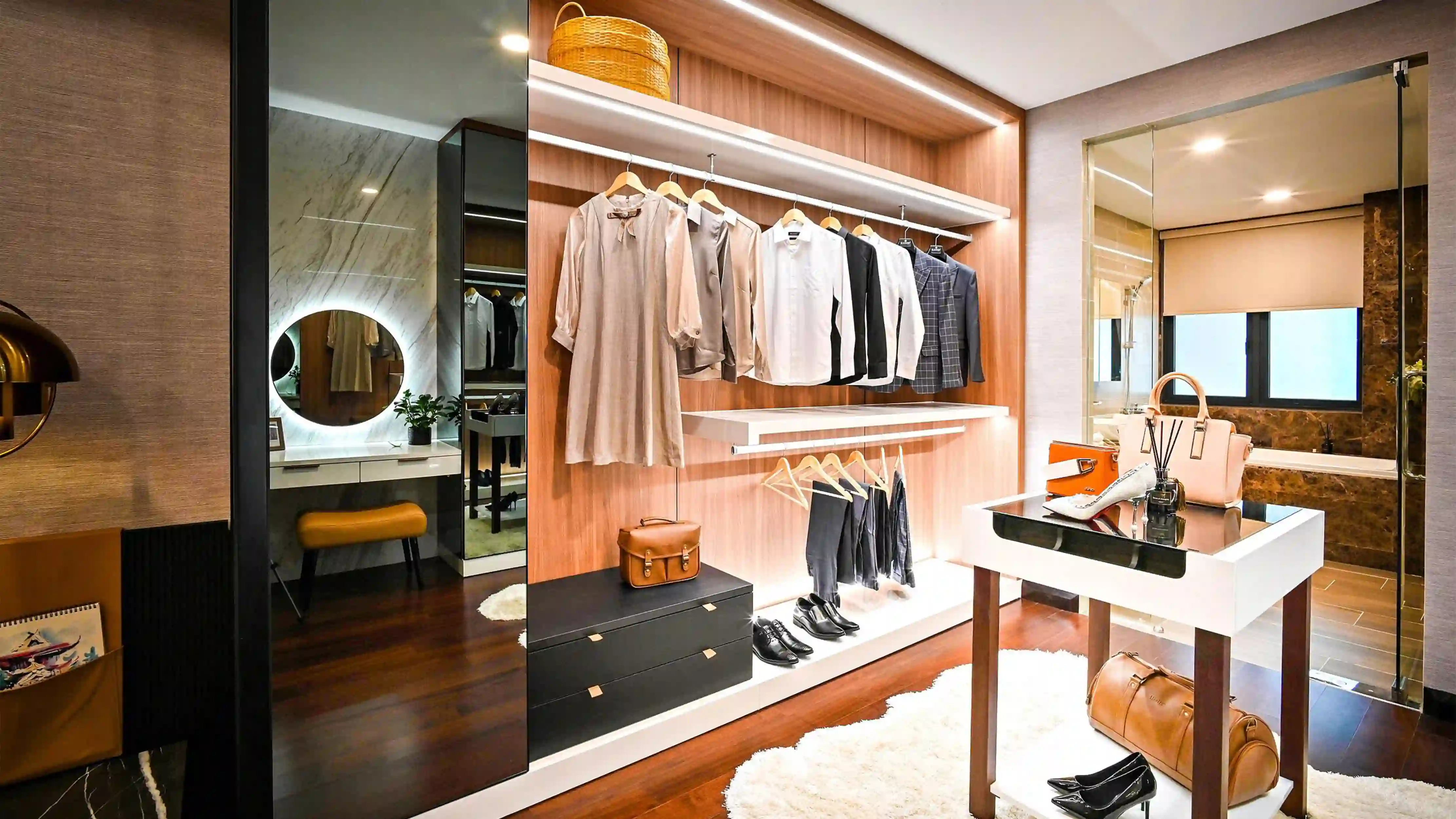 Last but not least, the final and the most spectacular design idea is the dressing table within the walk-in wardrobe. This wardrobe with a dressing table design idea is one of the most exclusive interiors that one can have in their flat. In the image, a white base almirah is designed with plenty of mirrors and a silver border.
Apart from that, a dressing table is positioned on the front wall with two showcasing side niches. So, if you are fond of excellent interiors and are not restricted on a budget, this is the best design for you. 
As you have got to know the top 5 wardrobes with dressing table design ideas for 2022, now it's important for you to know the basic tips as well that will help you keep your closet and dressing table maintained for a long time. 
Clictips: How to Organize Wardrobe With Dressing Table? 
For Wardrobe
1. Declutter and get rid of the things that you no longer use
2. Add some drawers to add more storage space
3. Invest in hanging organizer
4. Give smaller items their own space
5. Don't underestimate hooks
6. Let hangers work for you
For Dressing Table
1. Keep a separate box or compartment for the products that you use daily
2. Avoid keeping makeup products exposed on the table as direct sunlight or dust is not good for them
3. Always keep less stuff on the table top of the dressing
That's all! We hope this article will help you choose the right wardrobe with a dressing table for your home. Regardless of your budget, we have covered plenty of options that will perfectly fit your requirements well. 
We believe if you are fond of decorating your apartment you might be interested in knowing that there are 7 modern and luxurious bedroom wardrobe design ideas which you can do easily.
Also read: Wallpaper ideas for a modern bedroom