Table of Content:
Birthday party decoration is always a fun and frolicsome activity! And it goes without saying that if you've found your way to our page, it implies you're seeking some awesome birthday decoration ideas! If such is the case, we can confidently say that you have arrived at the right website. This article discusses some fantastic birthday decoration ideas at home that you can use without having to spend a lot of money or energy. Without further ado, let's get started with birthday decoration ideas that will help you have a blast!
To start a birthday decoration at home, you must first consider the person's age, gender, and likes and dislikes. Based on these factors, you can come up with a theme for birthday decoration ideas. Also, it would help to gather birthday decoration materials like balloons, pom-poms, lights, curtains, etc.
Birthday Decoration Ideas 
1. Home Birthday Decoration Ideas With A Banner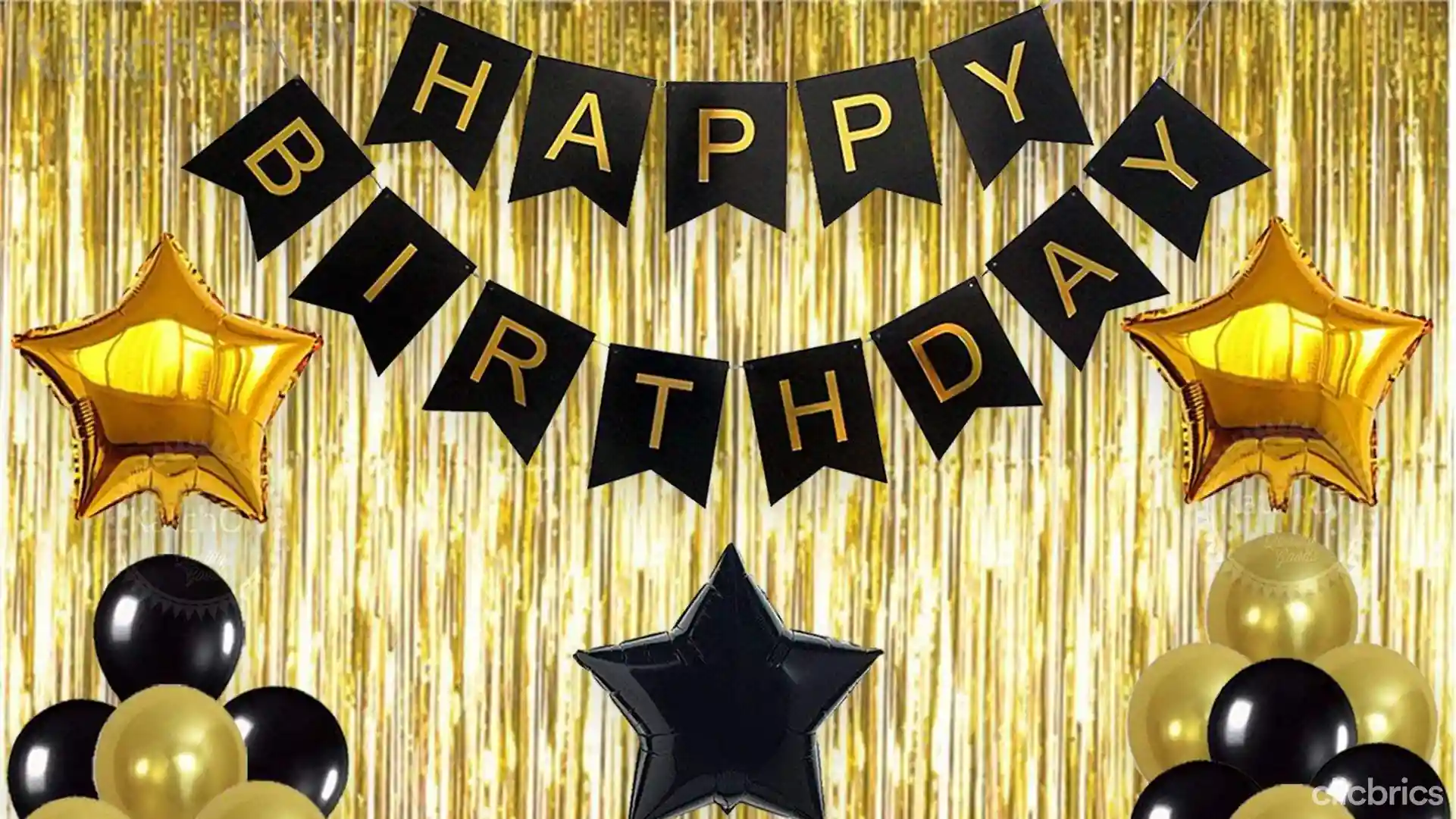 It doesn't matter for whom you are gathering birthday decoration ideas; what matters is the crucial elements and focal points that you are going to use for your party. And for that, you absolutely need banners for birthday decorations, which come in a variety of materials, including paper and fabric, as well as a wide range of forms and sizes. You can use their favourite cartoon characters when crafting a birthday banner for children. In contrast, if you want some simple birthday decoration ideas for adults, you can use a meme-base birthday banner. These birthday banners ought to be hung in the house hosting the party at the front door or on a wall. Try using exposed beams as home decor

2. Use Homemade Pom-Pom Birthday Decorations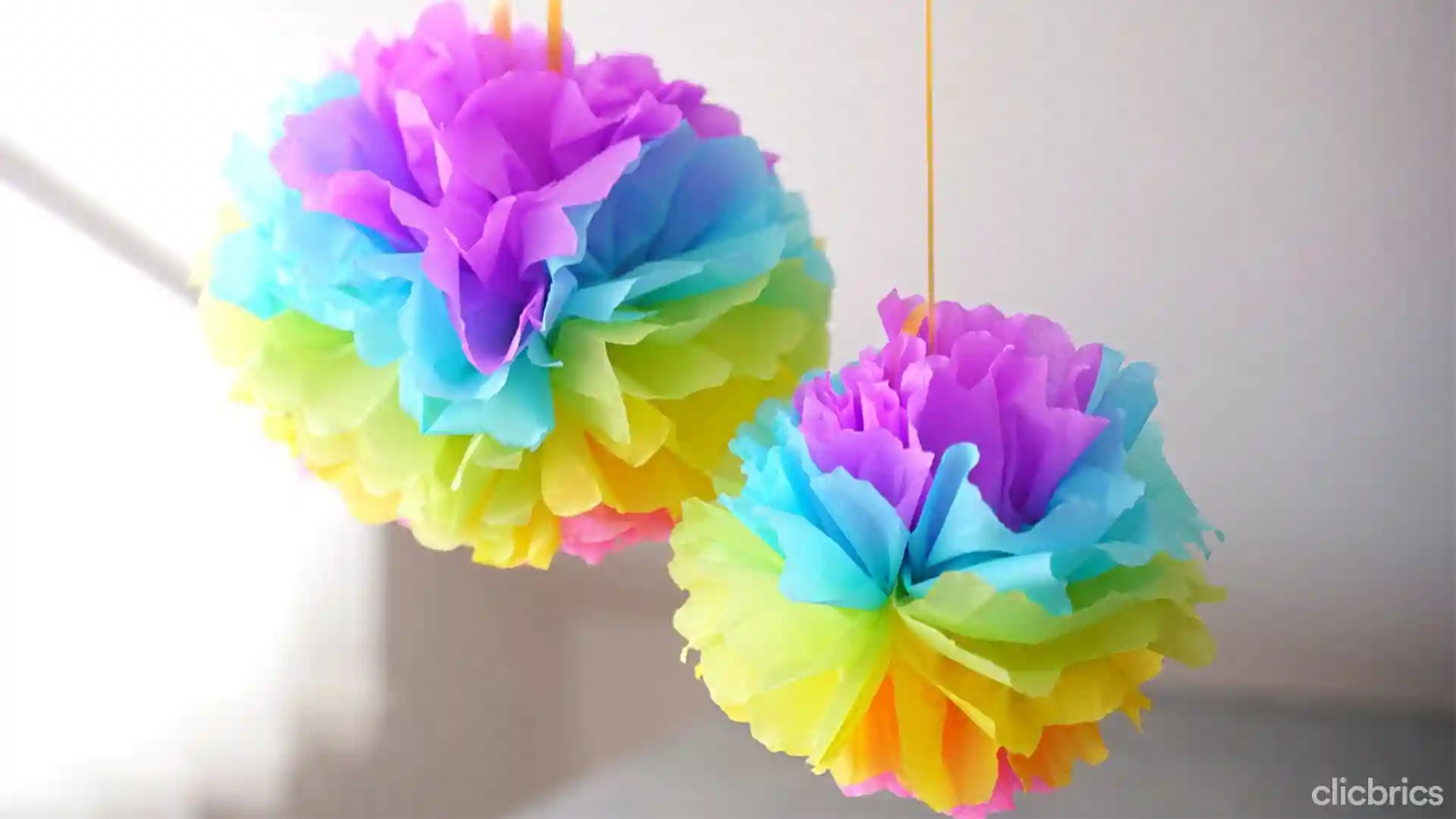 No doubt you are busy surfing for homemade simple birthday decoration ideas, but none of them can compare to the charm of a handmade tissue pom-pom. Just make use of table tissue to make a pom-pom out of it. 

Also Read: Design Indoor Gardens Like The Pros Using 6 Strategies
3. Birthday Decoration Ideas At Home With Balloons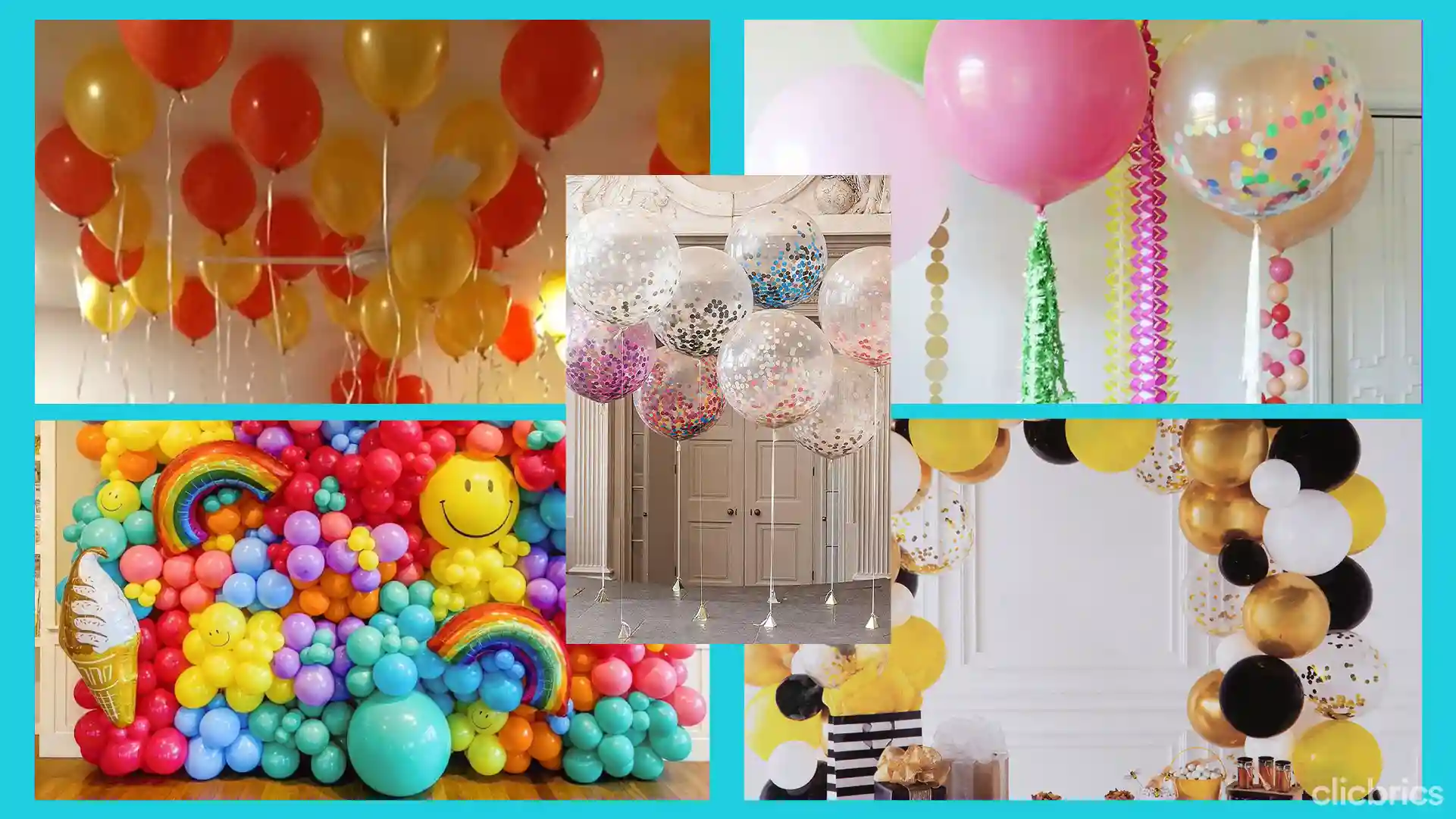 You may come across plenty of decoration ideas for a birthday party, but none of them can match the beauty of balloons. Today, birthday-themed balloons are available for doing a birthday decoration at home:
Helium Balloons: If you are looking for decoration ideas for a birthday party, opting for helium balloons can be a perfect choice. If you have a suitable space available, you can easily hang them up on the ceiling, and your birthday party is ready to roll. No need to buy anything else. Helium balloons are the best of the best. 

Tassel Balloons: If you have a limited budget and believe that helium balloons aren't sufficient and you might want to buy more birthday decoration items, surely you are mistaken. You can decorate helium balloons further by adding paper tassels to them. You can use different colours of crepe paper, and you will find yourself a unique birthday decoration idea. 

Balloon Wall: You've probably seen a party with a decorated photo booth; if you want your party to look the same, adorn your photo booth with a balloon wall. These simple birthday room decoration ideas are a terrific way to master balloon decorating for birthdays.

Balloon Arch: If you are looking for simple birthday decoration ideas at home where you want minimal effort and cost, then you should use a balloon arch for your party. These kinds of balloon decorations are suitable for both kids and adults. 

Confetti Balloons: Confetti balloons are a simple yet elegant option for doing a simple yet elegant birthday decoration at home. The helium balloons can be filled with them, or you can mix some glitter with the confetti.
4. Flowers Can Be Used To Make A Simple Birthday Room Decoration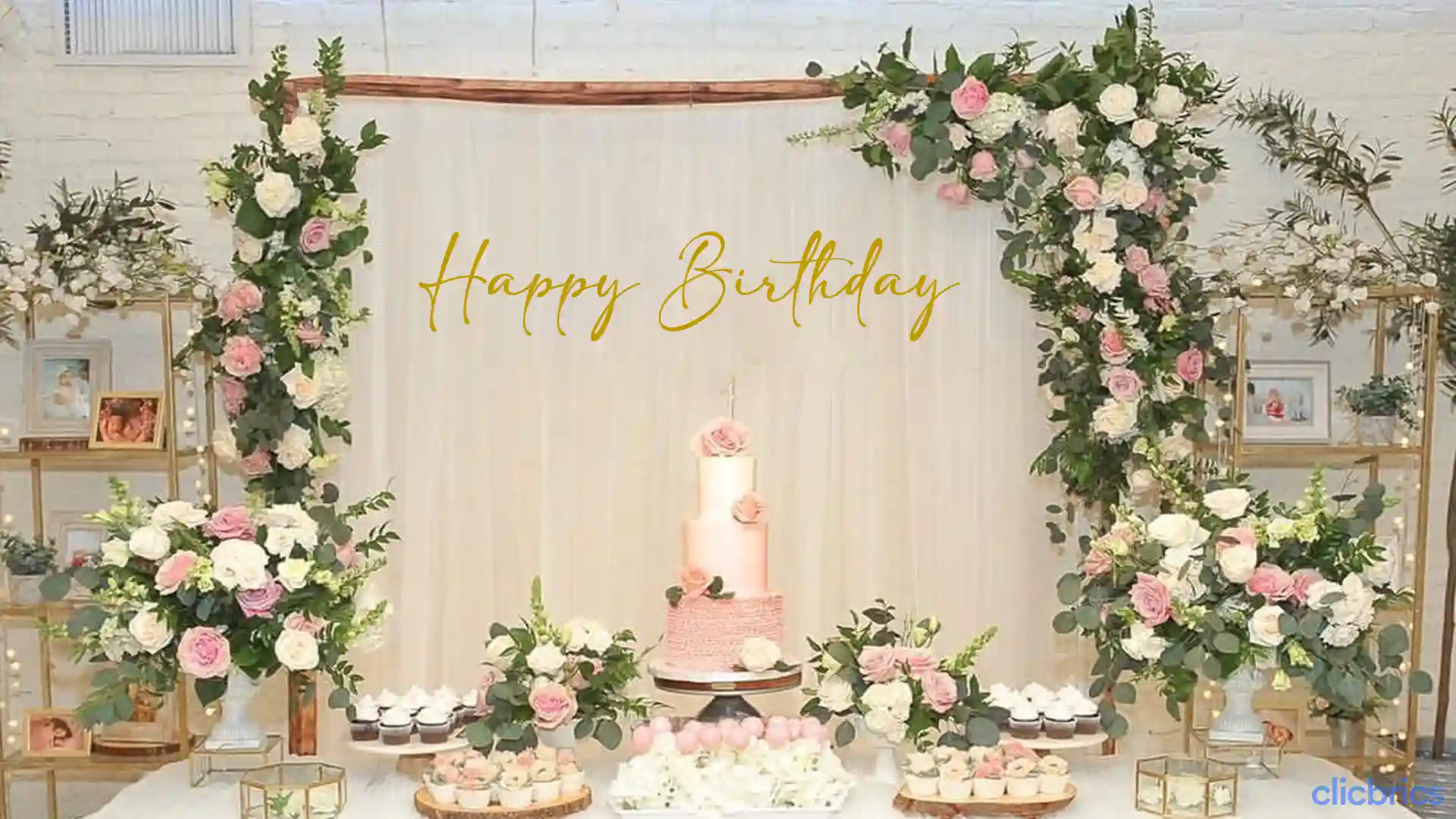 People who are fond doing simple birthday decorations frequently come to the conclusion that flowers are the most beautiful item. Use flowers for the birthday party decorations to keep it subtle. They can be used to lift the spirits of the guests because they are fresh. Flowers can be used as table centrepieces or as photo booth decor.
5. Birthday Wall Decoration for Your Home Party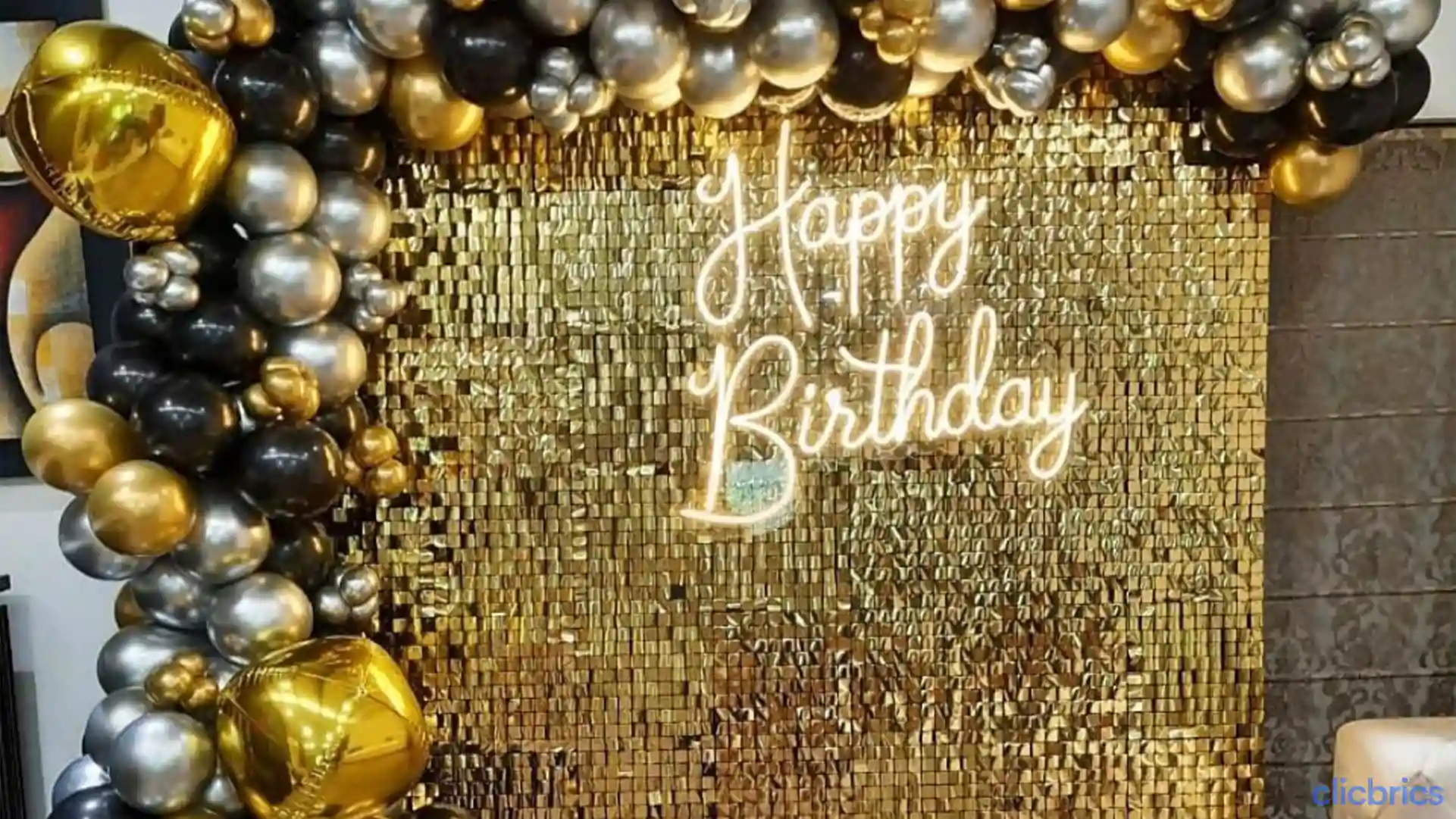 You can cover your walls with paper flowers, foil curtains, photo backdrops, LED fairy lights, balloons, and many other birthday decoration items instead of just banners. You can draw the guests' attention by improving the wall's appearance and making it more party-themed.

Also Read: 15 Effective False Ceiling Design Ideas That Will Transform Your Home Aesthetically
6. Complete The Birthday Decorations At Home With Perfect Lighting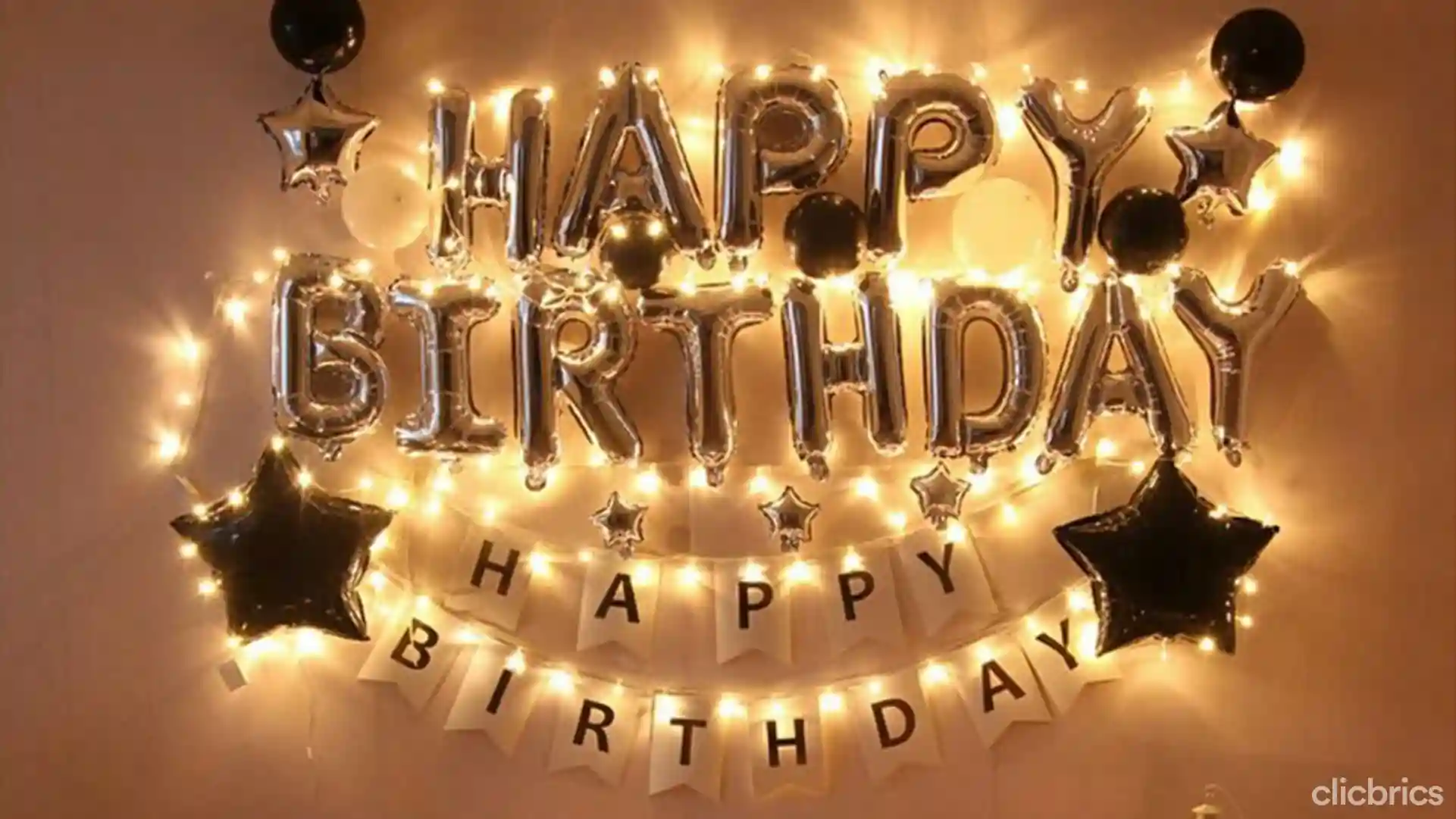 ​
It's not just birthday decoration ideas; no other decoration ideas could ever work as strongly as the lights. So, if you're seeking some birthday decoration ideas at home, lights are undoubtedly a necessity. To brighten up your birthday decoration at home, you can add lights in the form of lanterns, rice lights, fairy lights, and disco lights, or you can utilise them in a few different combinations. String lights should be strung around the drapes, and we strongly advise placing lanterns in the room's corners. A DJ can be added, and disco lights can be added all around the system. Click here to know how in 4 ways you can utilise your floor space.
7. Birthday Decoration Ideas For Boys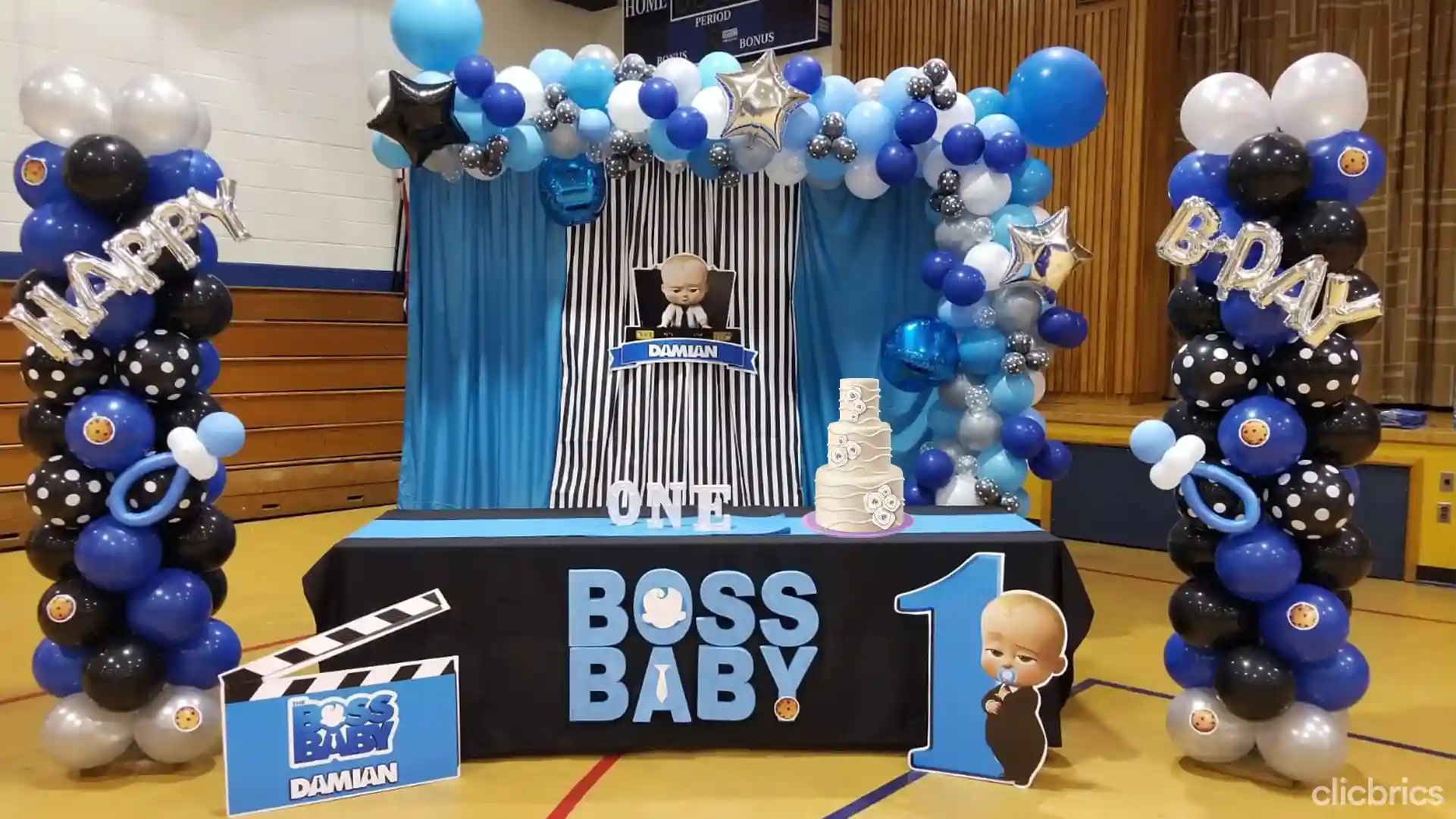 It would be best if you came up with birthday decoration ideas based on the boy's age. For example, if he is in his early teens, you could decorate the house with a cheerful birthday banner, letters, and paper lanterns filled with balloons. However, if he is in his older teens, try to avoid using a monochromatic colour scheme. Look for some YouTube home birthday decoration ideas, then create a background that fits the celebration's theme.
Also Read:
5+ Anime Themed Room Ideas To Get A Stunning Manga Room
8.Birthday Decoration Ideas For Girls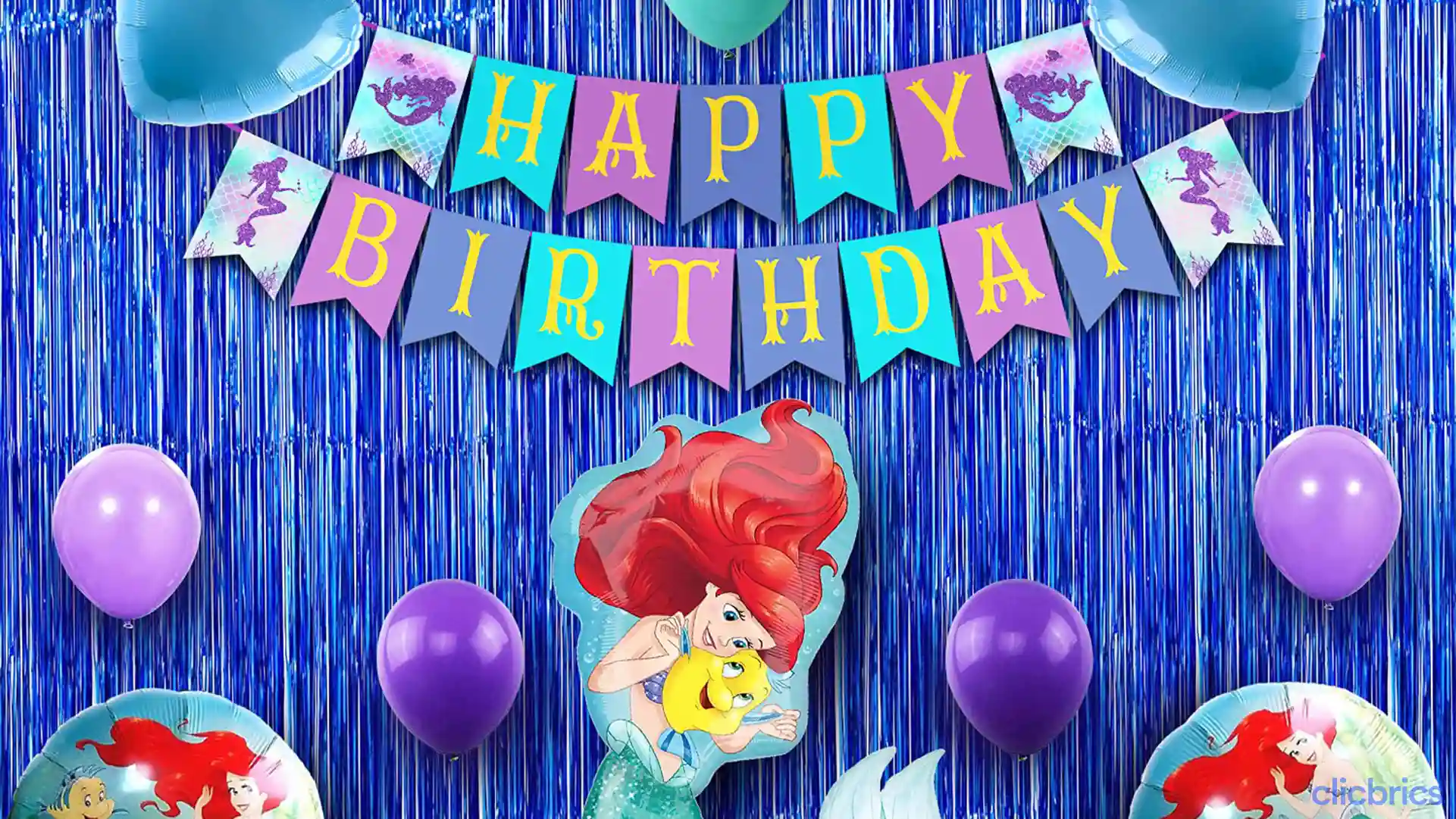 Don't merely install pink balloons if you're looking for birthday decoration ideas for girls at home. Focus on the birthday girl's preferred colours and styles. For example, if you are decorating for a teenage girl, you may choose a unicorn or mermaid motif. Decorate your home with glow-themed balloons, neon accents, or illuminating table arrangements for older adolescent girls. For adults, you can set up a space for dancing and karaoke and preserve the party's spa or Instagram theme. Tap here to know certain steps to keep in mind when hiring an interior designer. 

Don't simply concentrate on the decoration ideas for birthdays; food is also a crucial consideration. Keep the cuisine varied so guests of all ages, from little children to senior citizens, may enjoy it. The table where you will serve the food needs to look nice and well decorated. Start with the appetisers, followed by the main course, desserts, and so forth. 
We hope these home birthday decoration ideas will be sufficient for you to organise a fantastic event.
Enjoy!!!
Also Read: 6 Best Stone Tiles for Wall to Smarten-Up Your Home Exterior