Table of Content:
One of the most important Hindu holidays is Ganesh Chaturthi, which is celebrated all over the nation. To celebrate the advent of Lord Ganesha, many people begin by decorating their homes months before the festival. If you're planning to celebrate this significant occasion of Ganesh Chaturthi in 2023, we've included some brilliant ideas for Ganpati decoration at home in this article that are easy to implement.
Home Ganpati Decoration
At the time of our birthdays, we tend to decorate our homes in different ways. Like that, people across the country put on their creative hats for home Ganpati decorations. The spirit of the trending Ganpati decoration ideas 2023 is high in the hearts of all devotees! Thus, when the time arrives for the Ganpati decoration at home, each member is eager to start with the best possible decorations.
However, incorporating ganpati decoration ideas at home can become overwhelming, especially when there are tons of ideas available online! Which is why we present you today's article on Ganpati decoration ideas 2023 for home that will bring luck and welcome positive vibes all around your home. 
So, without any further ado, let's dive right into the article and explore some ganpati decoration ideas at home that will add a touch of enactment and grandeur to your celebrations. 
Also Read: Indoor plants to add extra greenery to your home
Ganpati Decoration Ideas With Flowers
When you are surfing the internet searching for ideas for Ganpati decoration, the one idea you will always come across is the flower idea. It is the most accessible and interesting Ganpati home decoration idea one can do, and it comes at an affordable price.
1. Ganpati Decoration At Home With Marigold Flowers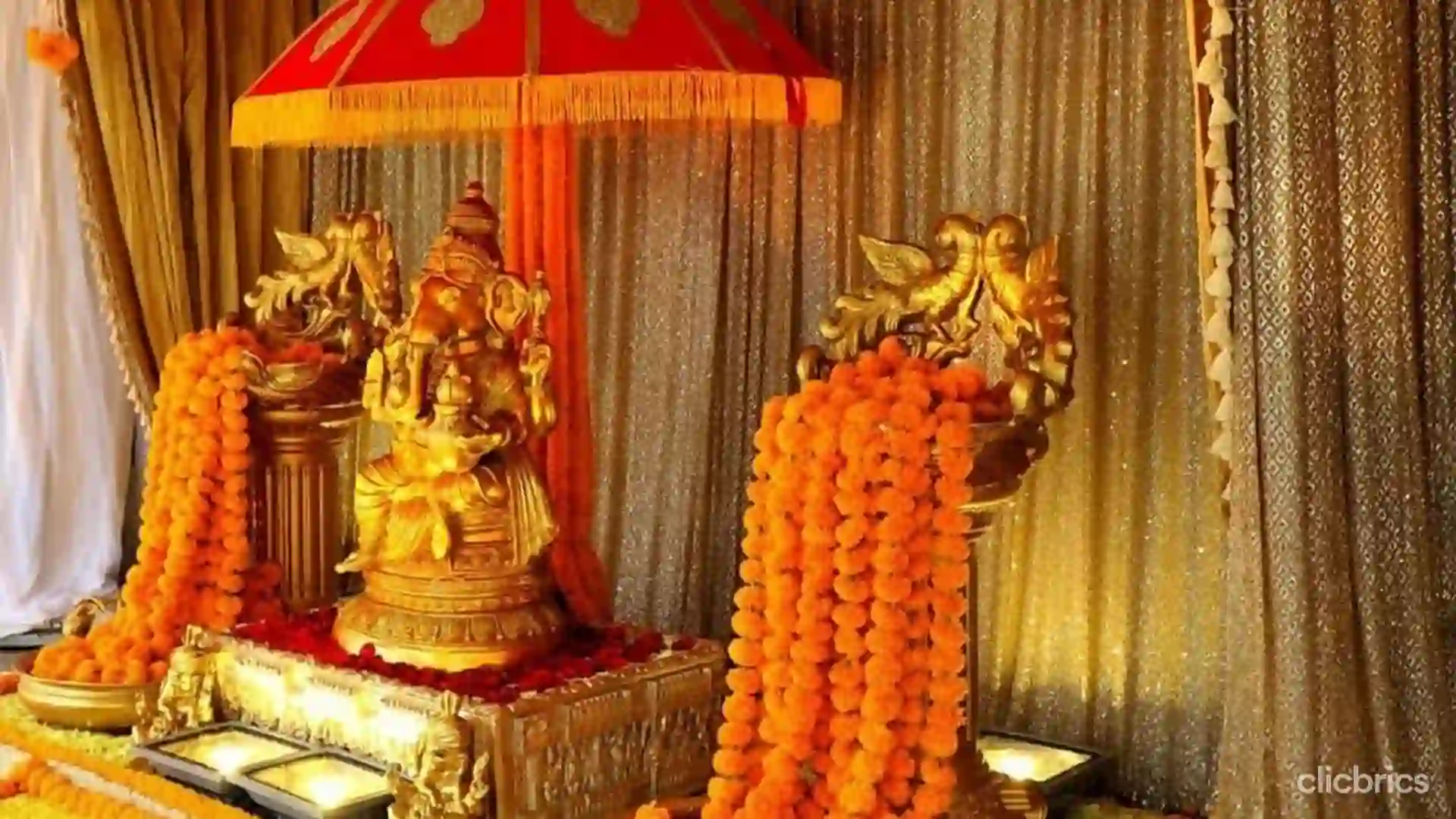 If you are someone who loves modest marigold flowers, then you are in luck! Not many people are aware of the fact that marigold flowers are associated with Lord Vishnu. Marigold flowers symbolise the sun and are also said to bring positivity and brightness. All you have to do is take a simple table and build a frame near its four sides. Cover the front side with orange-coloured marigold flowers and place the idol of Lord Ganesha. These flowers are not only the best home Ganpati decoration idea, but they are also super affordable and accessible too! You can easily buy them from your nearest temple. 
Also Read: 7 best plants for home as per Vastu
2. Ganpati Decoration At Home With Jasmine and Roses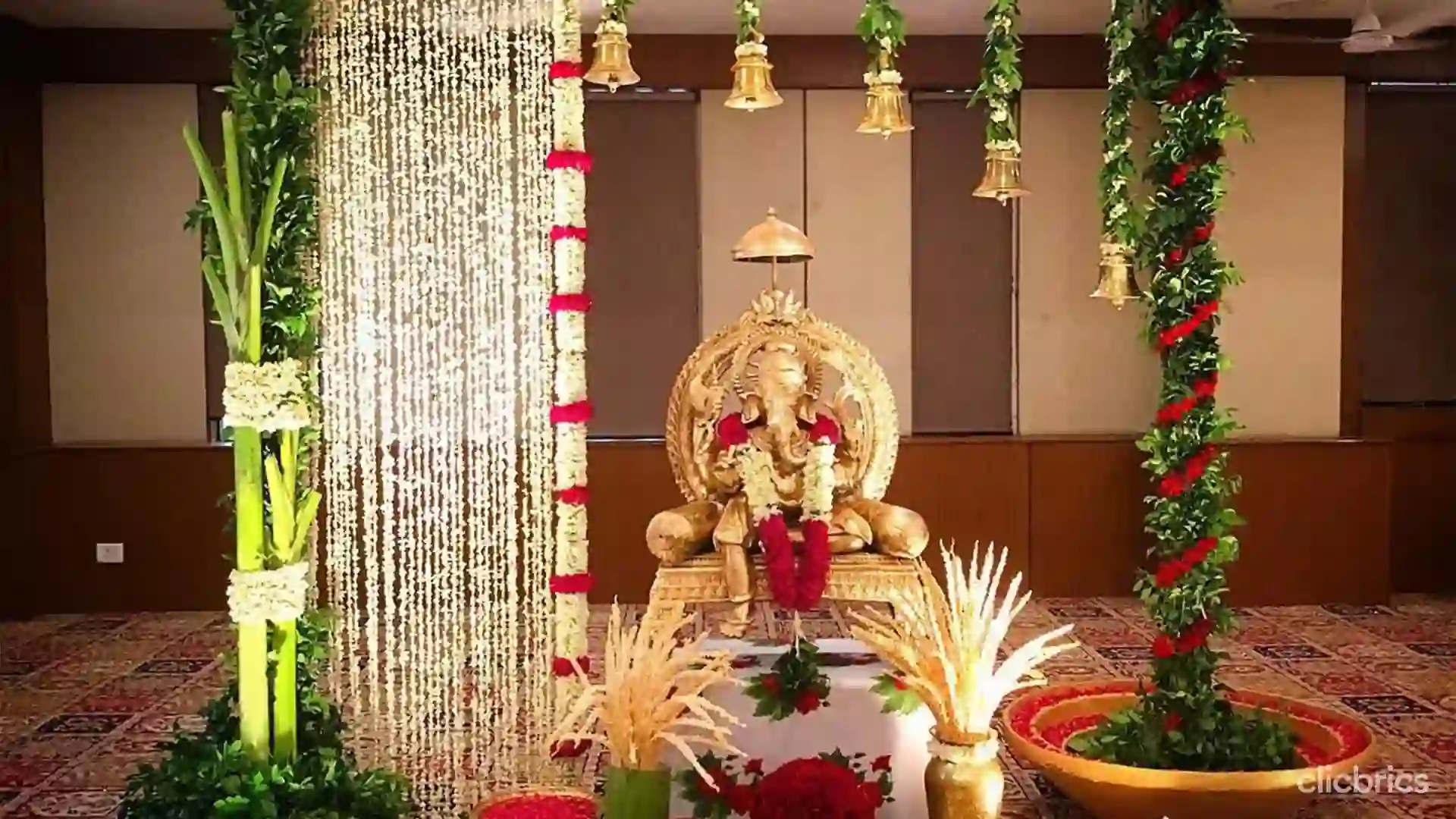 Apart from marigolds, you can use other flowers like orchids, jasmine, or roses to make a simple Ganpati decoration at home. These flowers will create a stunning visual impact and surround your space with a fresh aroma. Furthermore, for ganpati decoration ideas at home, people tend to rely on roses and jasmine, as they are the best approach to enhancing the overall beauty of the setup. 
3. Ganpati Decoration At Home With Hibiscus Flowers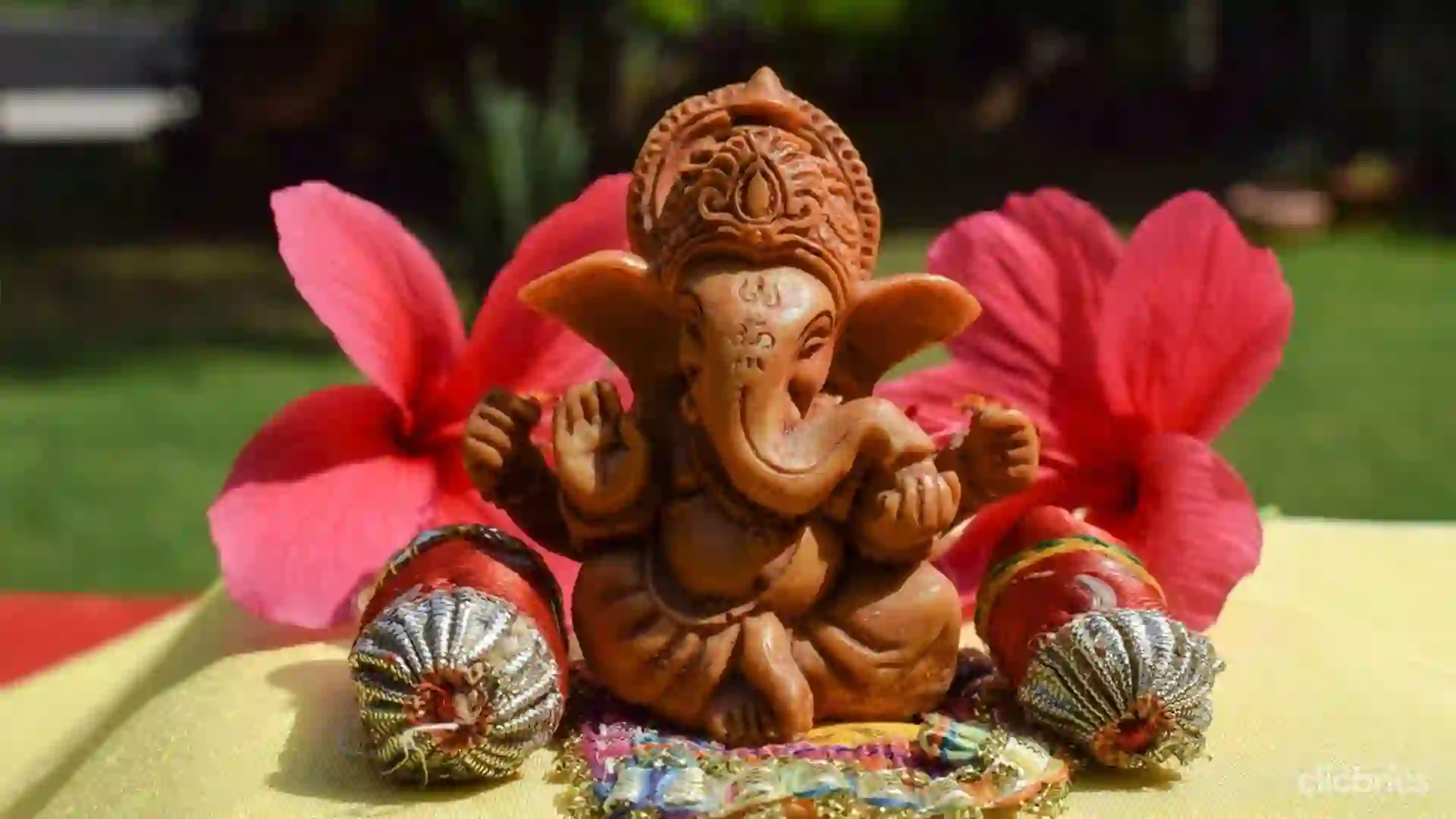 Ganpati decoration for the home is a fun activity, so there is no point in limiting yourself. You can also try hibiscus flowers, which Lord Ganesha is fond of. So you can use these flowers to decorate the background of the Ganesh idol and see how beautifully Ganpati decoration ideas at home in 2023 will look! 
4. Home Ganpati Decoration with Marigolds and Roses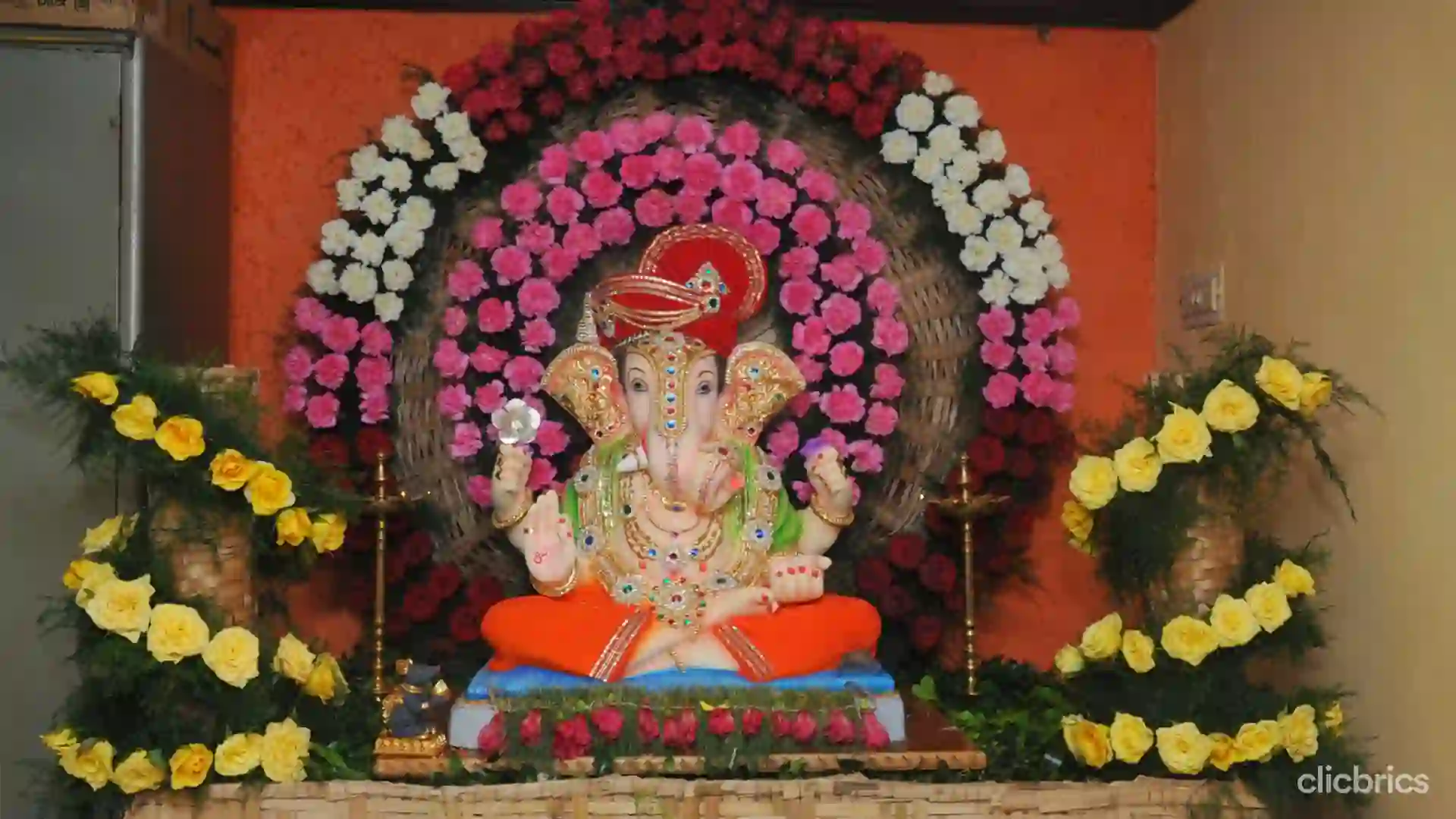 If you have fewer Ganpati decoration items, you can combine marigolds and roses to create a chic look. The combination of marigolds and roses not only promotes environmental consciousness but also reflects a deeper reverence for nature! 
Also Read: 8 Vastu Dosh Remedies to welcome peace, wealth and health
5. Ganpati Decoration Ideas with White Roses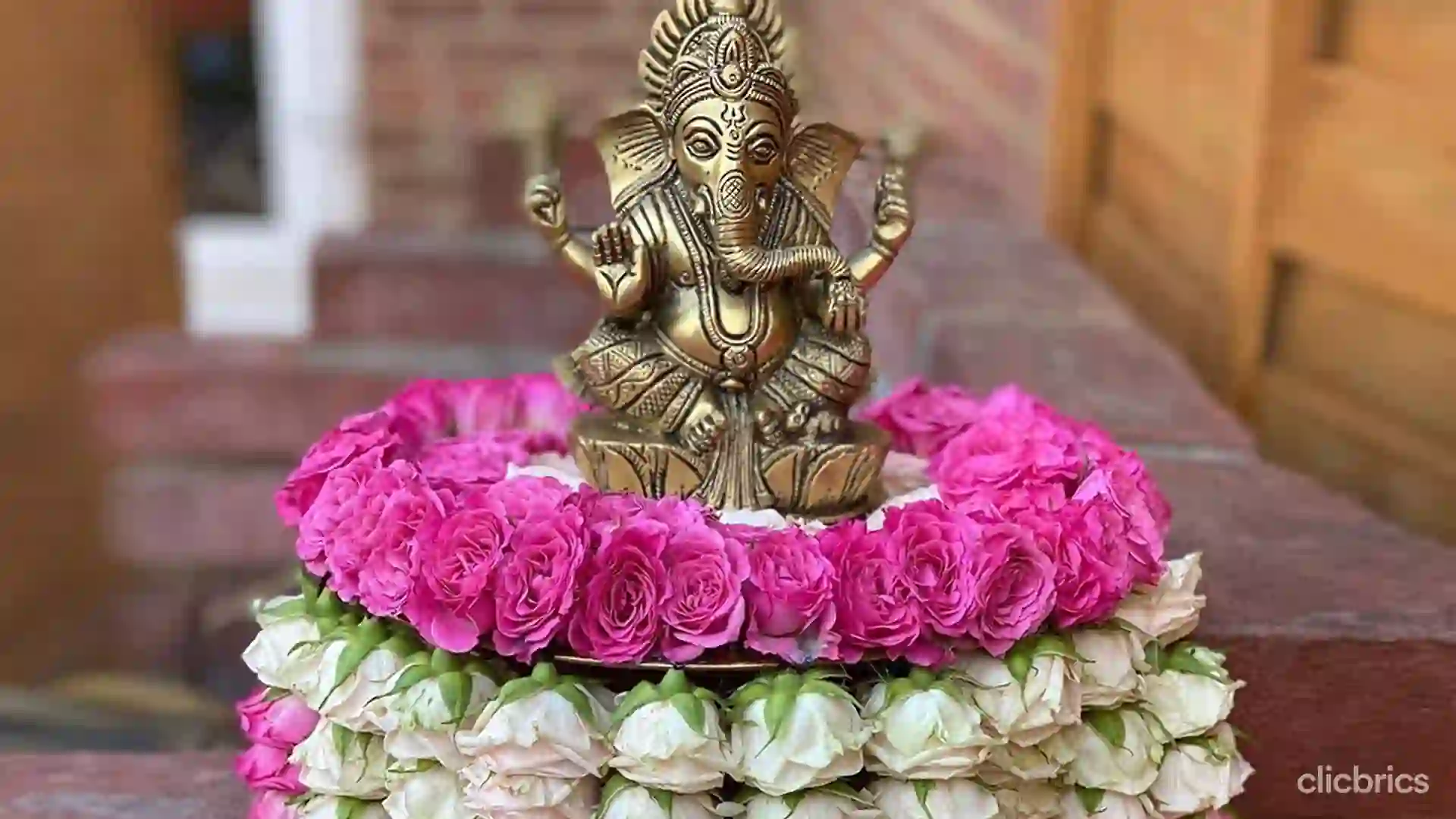 Another one of the amazing floral ganpati decoration ideas at home consists of using white roses. Wondering how?  Make a little frame and arrange lovely white roses inside it on your accent wall (or any other wall). You can add a small amount of green to improve its appearance. Put some quality LED lights on, and you'll have one of the best Ganpati decoration ideas at your disposal.
Using white roses is one of the best ideas for Ganpati decoration since they symbolise the value of fostering purity, innocence, and wealth. 
6. Use Diya for Ganpati Decoration at Home
While discussing Ganpati decoration in the home, the one thing where people feel stuck is the lack of space. Having less space does not mean all the ideas for Ganpati decoration will be of no use. You can opt for 'diya' as a decoration material for the occasion. Diyas work well with various flowers like jasmine, lilies, roses, and marigolds. You can also create a flower rangoli and put diyas within the rangoli. It will aesthetically look so appealing that your worries about having less space will fade away. So, don't forget to try this idea out of other ganpati decoration ideas at home 2023. 
Also Read: 7 Vastu Crystals to bring home in 2022
7. A Cardboard Temple for Ganpati Bappa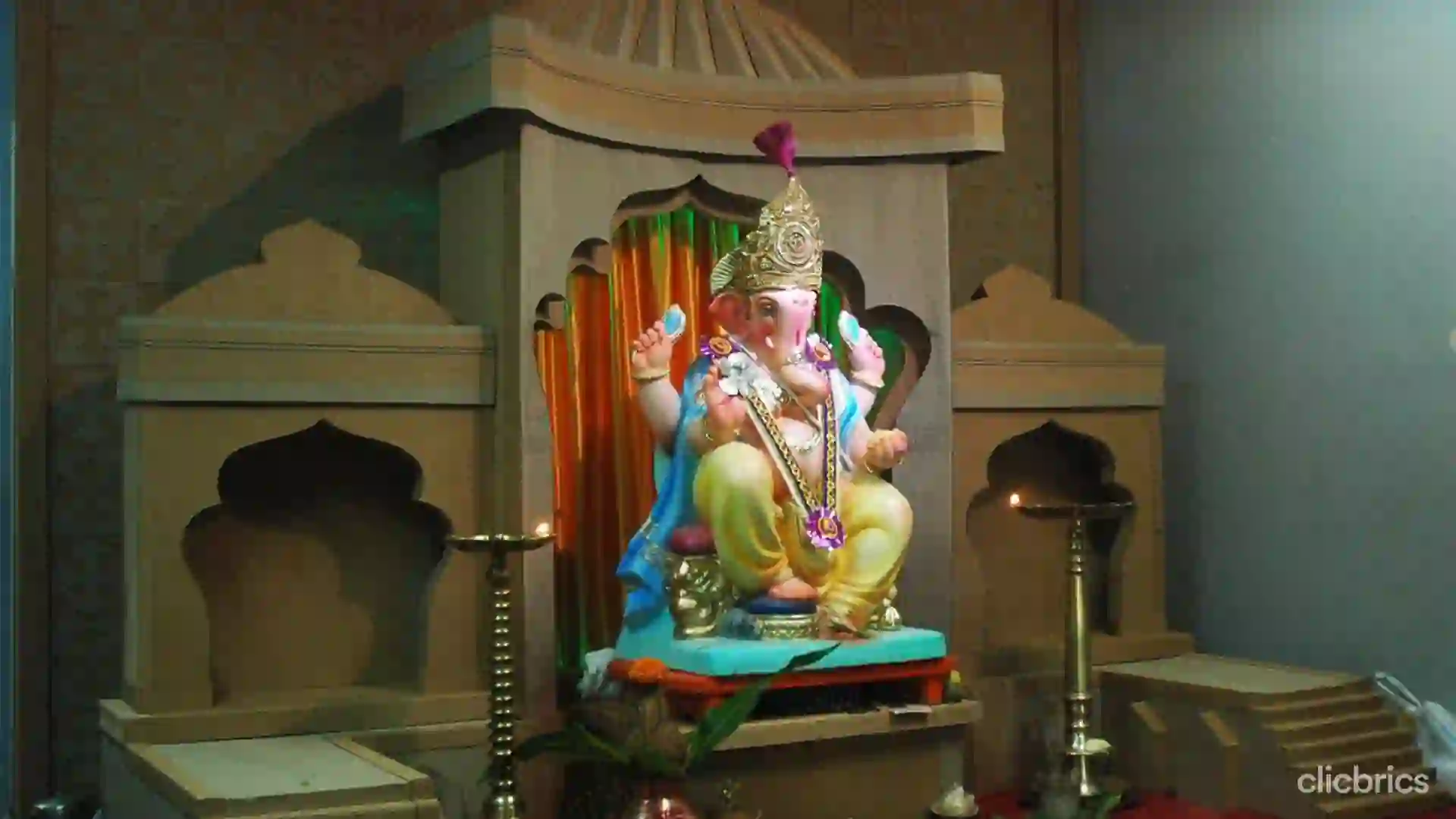 You can opt for an eco-friendly way to decorate Bappa. In recent years, there has been a growing awareness of environmental sustainability, and Ganesh Chaturthi provides the perfect opportunity to contribute to this cause.
All you have to do is prepare a cardboard temple with cartons (you can use the cardboard on which your groceries get delivered). Paint the cardboard based on your theme and add beads, toran, and paper crafts. You can ask your kids to accompany you, as the best part about festivals is family getting together and doing fun activities.  You can incorporate this eco friendly simple ganpati decoration idea! 
8. Home Ganpati Decoration with Shesha Backdrop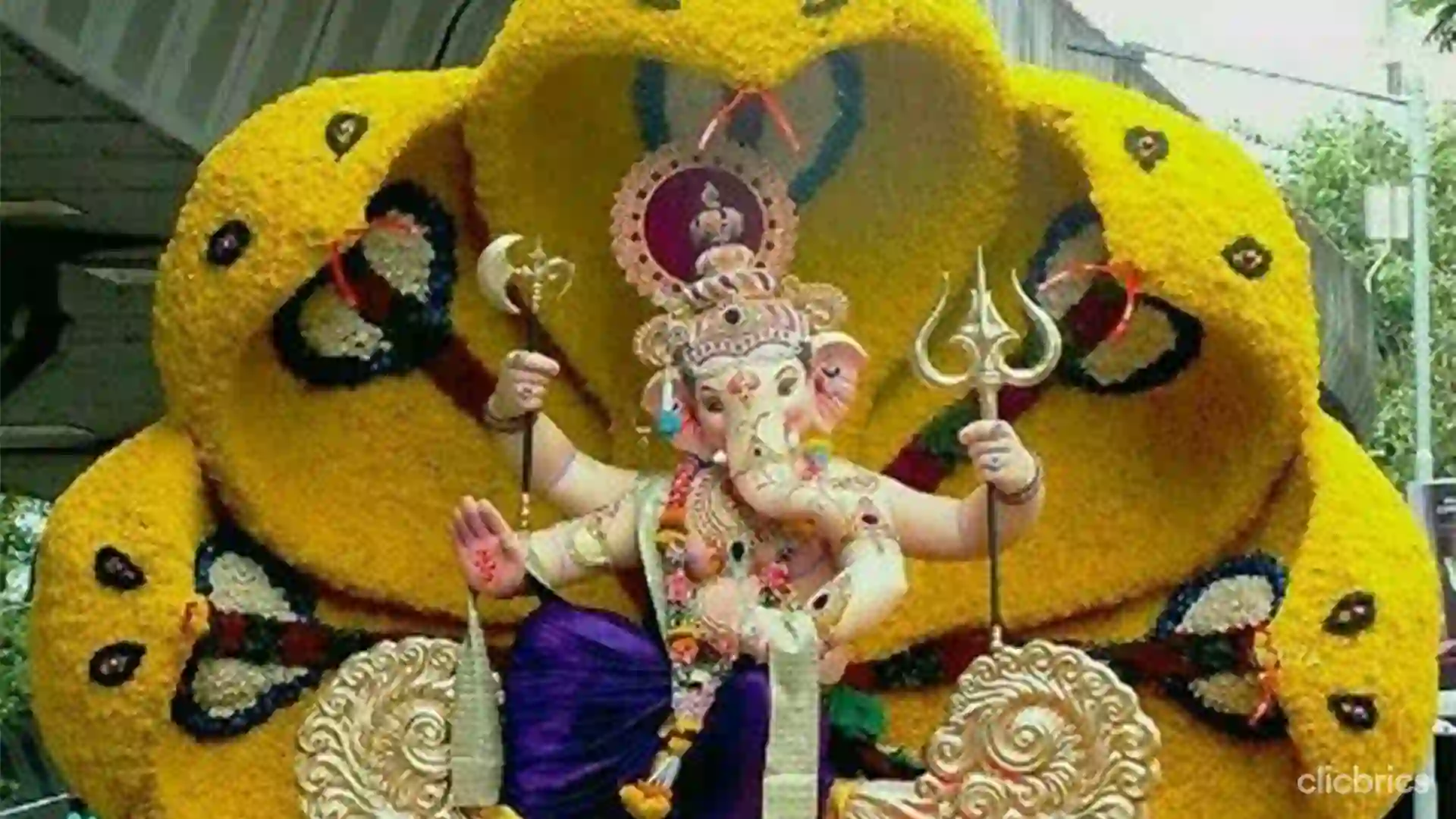 You can create something unique this year by using this simple ganpati decoration idea. You can make a 'Shesha' out of flowers. Shesha is the king of all snakes, and it is where Lord Shiva used to rest. You can make Shesha out of marigold flowers and place the idol of Lord Ganesha in between, and your Ganpati decoration 2023 is all ready! 
Also Read: Pre-pandemic home decor trends that we need to bring back
9. Ideas for Ganpati Decoration with Paper Flowers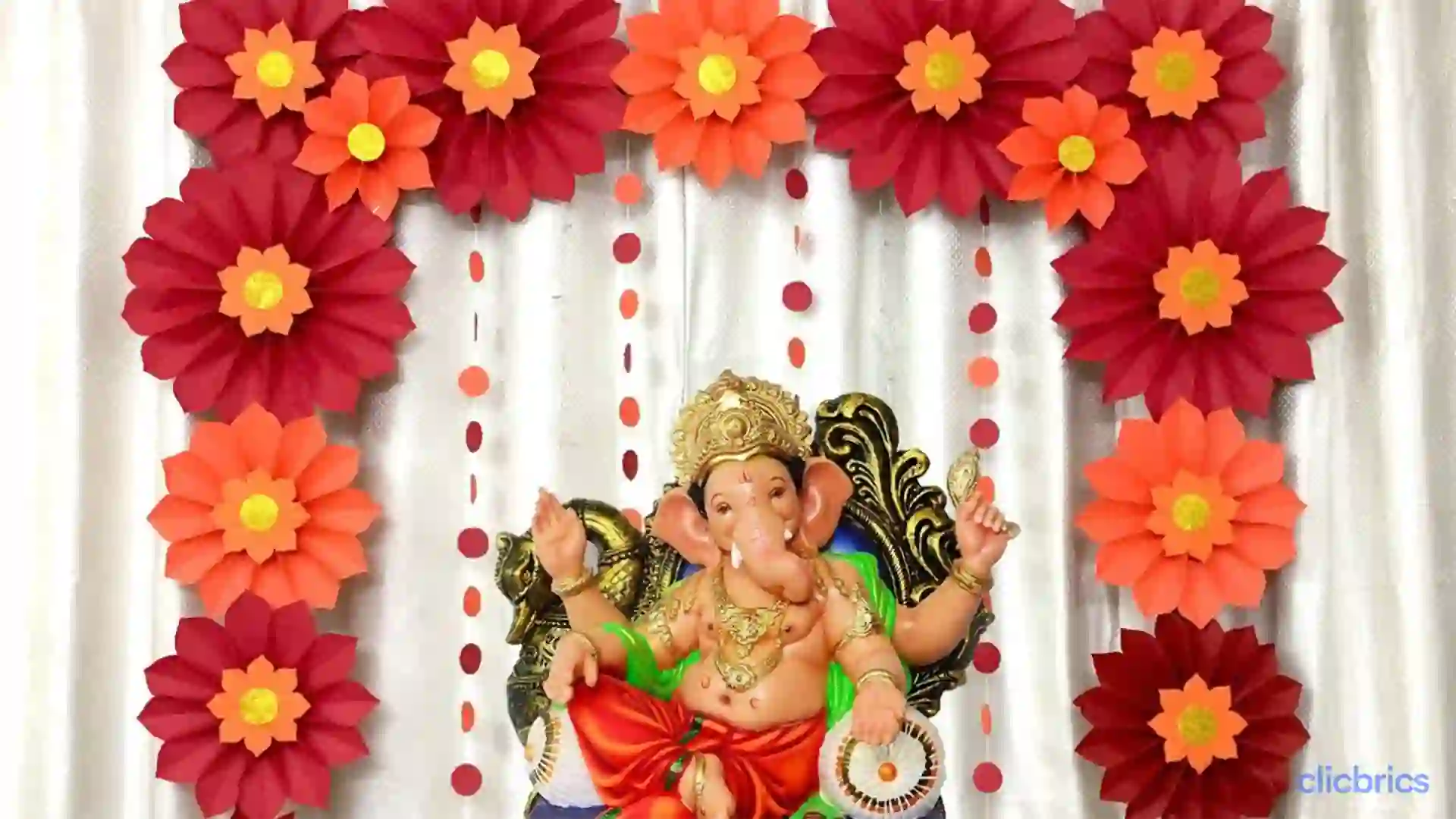 Suppose, for some reason, you couldn't arrange fresh flowers for the Ganpati Bappa decoration at home. In that case, you can opt for paper flowers using origami paper to decorate Ganpati Bappa at home. 
Paper flowers are readily available online or in markets. You can prepare paper flowers by watching tutorials on YouTube. This hack will help you prepare for the Ganpati decorations at home.  
10. Use Thermocol for Ganpati Decoration at Home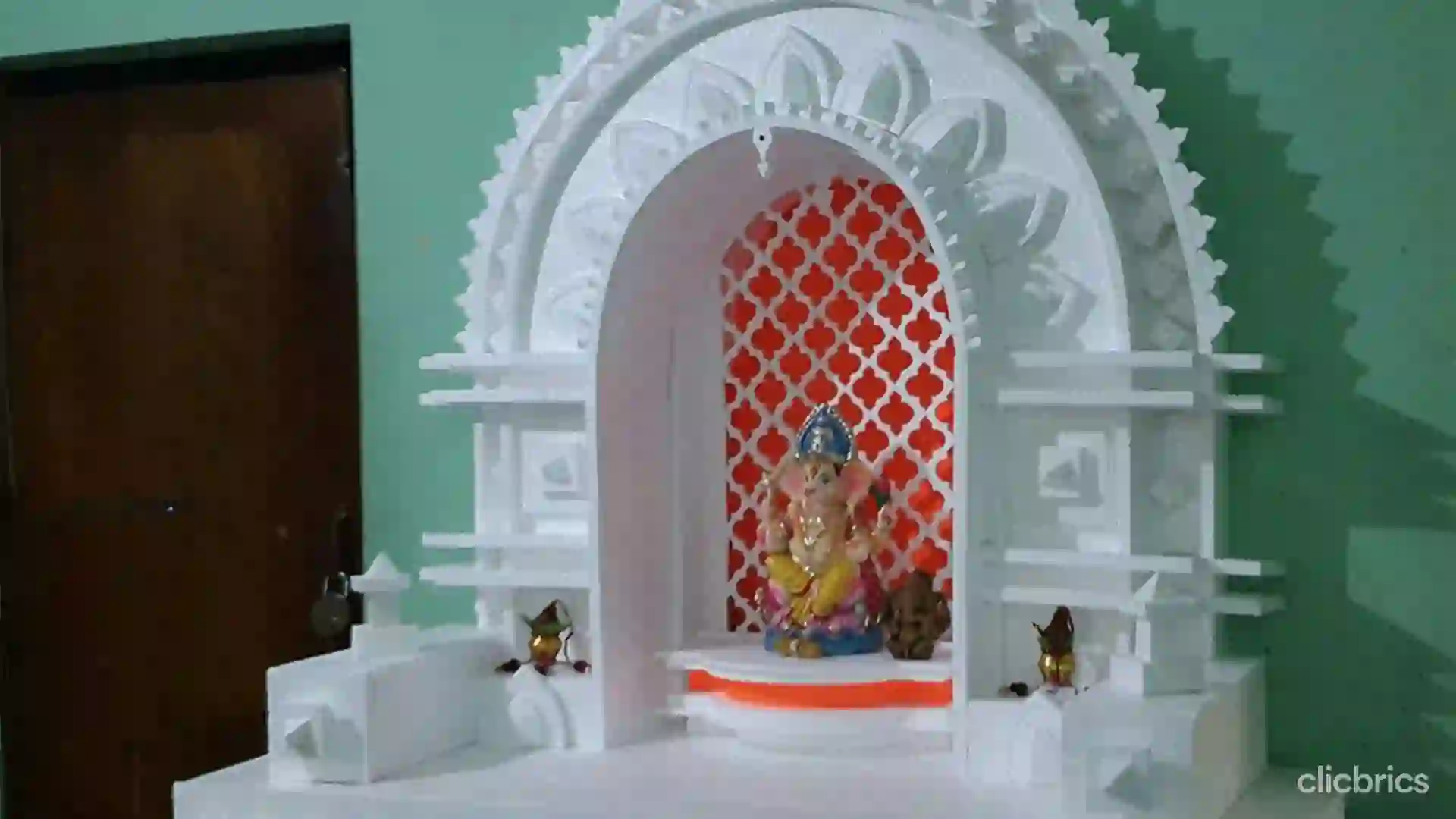 When it comes to something affordable and accessible, thermals top the list. Ergo, for the Ganpati decoration at home, you can use thermocol. It can easily be customised based on various shapes and sizes. You can prepare a mandap out of thermocol or decorate the background based on your favourite theme. Such a type of  ganpati decoration, 2023 adds a dash of colour and artistry to your celebrations! 
Also Read: 9 Navratri 2023 Colour: Meaning & Importance in India Homes
11. Ganpati Decoration at Home Using Lights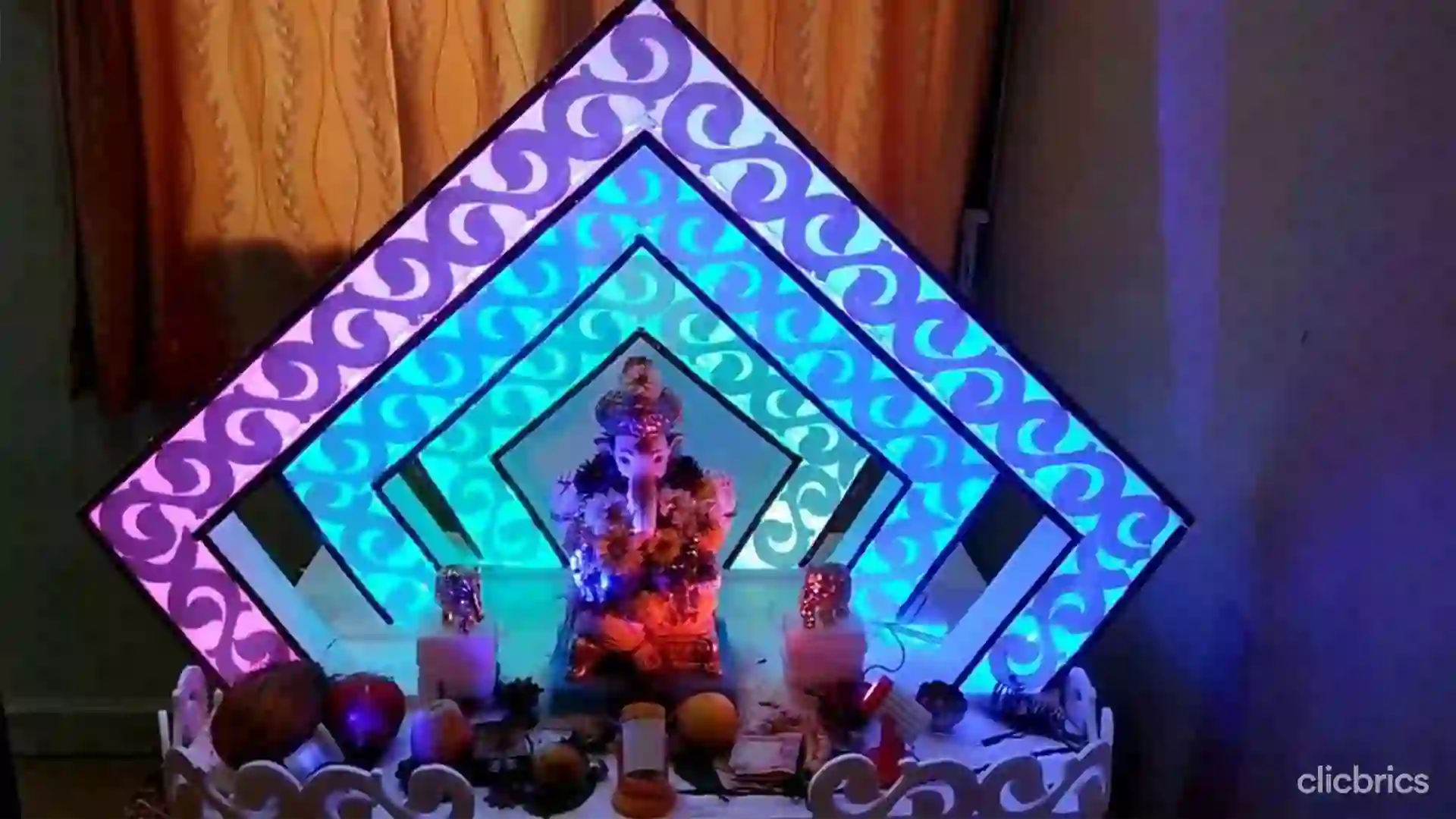 There are many ideas for Ganpati decoration, but nothing compares to the enchantment of lights. The Ganesha mandap can be lit with various lights, including fairy lights, LED paper strips, and even battery lights. In addition, you can try homemade ganpati decoration ideas, such as by creating paper lanterns and clay diyas. Once done, place them strategically around the idol to create a warm and inviting space. 
12. Use Peacock Feathers for Your Home's Ganpati Decoration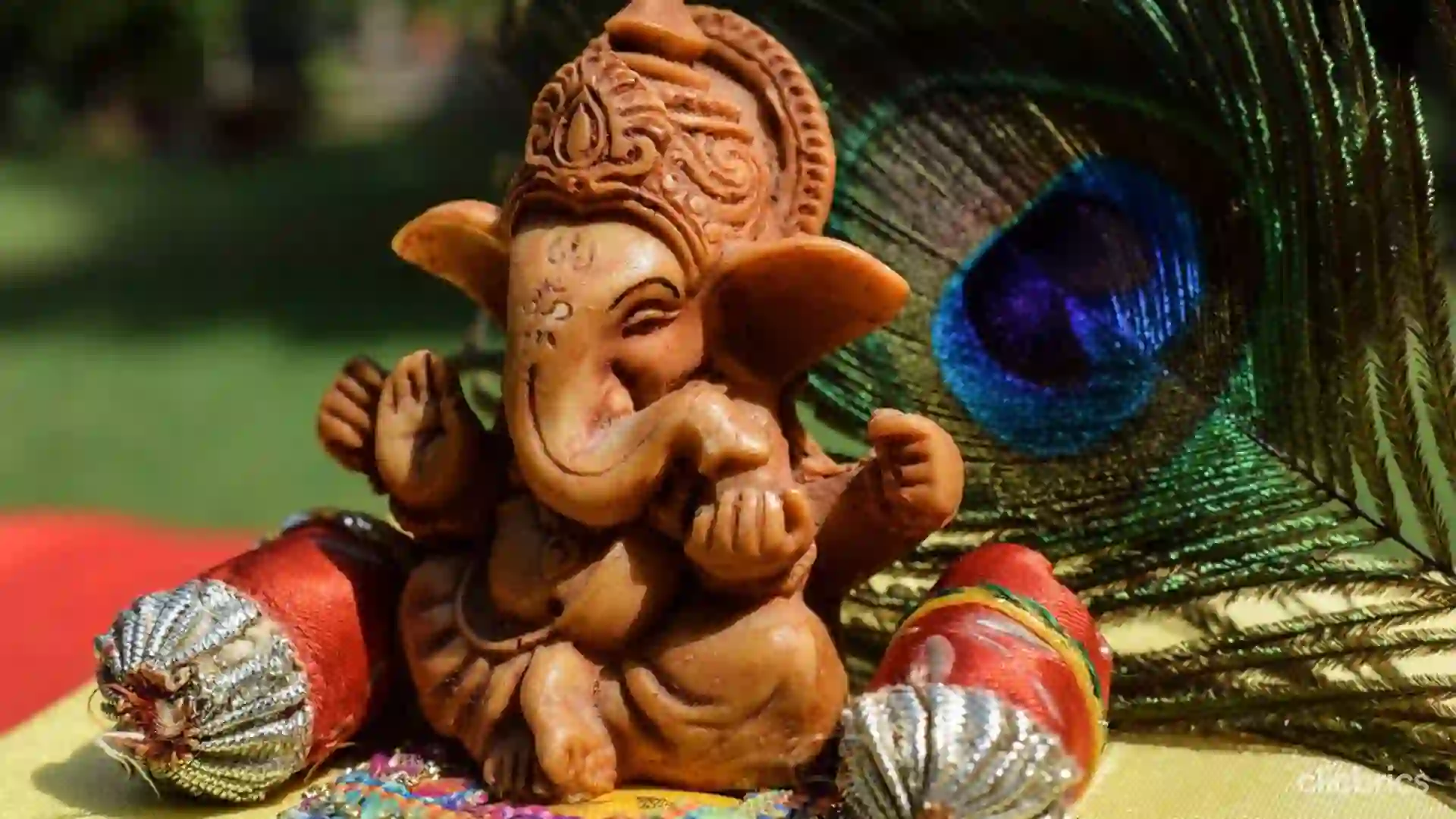 Now you must be wondering; when it comes to ideas for Ganpati decoration, they include flowers, not feathers. But who said that only marigolds could create charm? In the image mentioned, you can see how beautiful peacock feathers work as decoration items. The space can easily be covered with peacock feathers, rather than focusing on the empty wall space. Consider these types of homemade ganpati decoration ideas as a way of paying homage to India's diverse cultural heritage. 
13. Use Kites as a Decorative Item for Ganpati Decoration at Home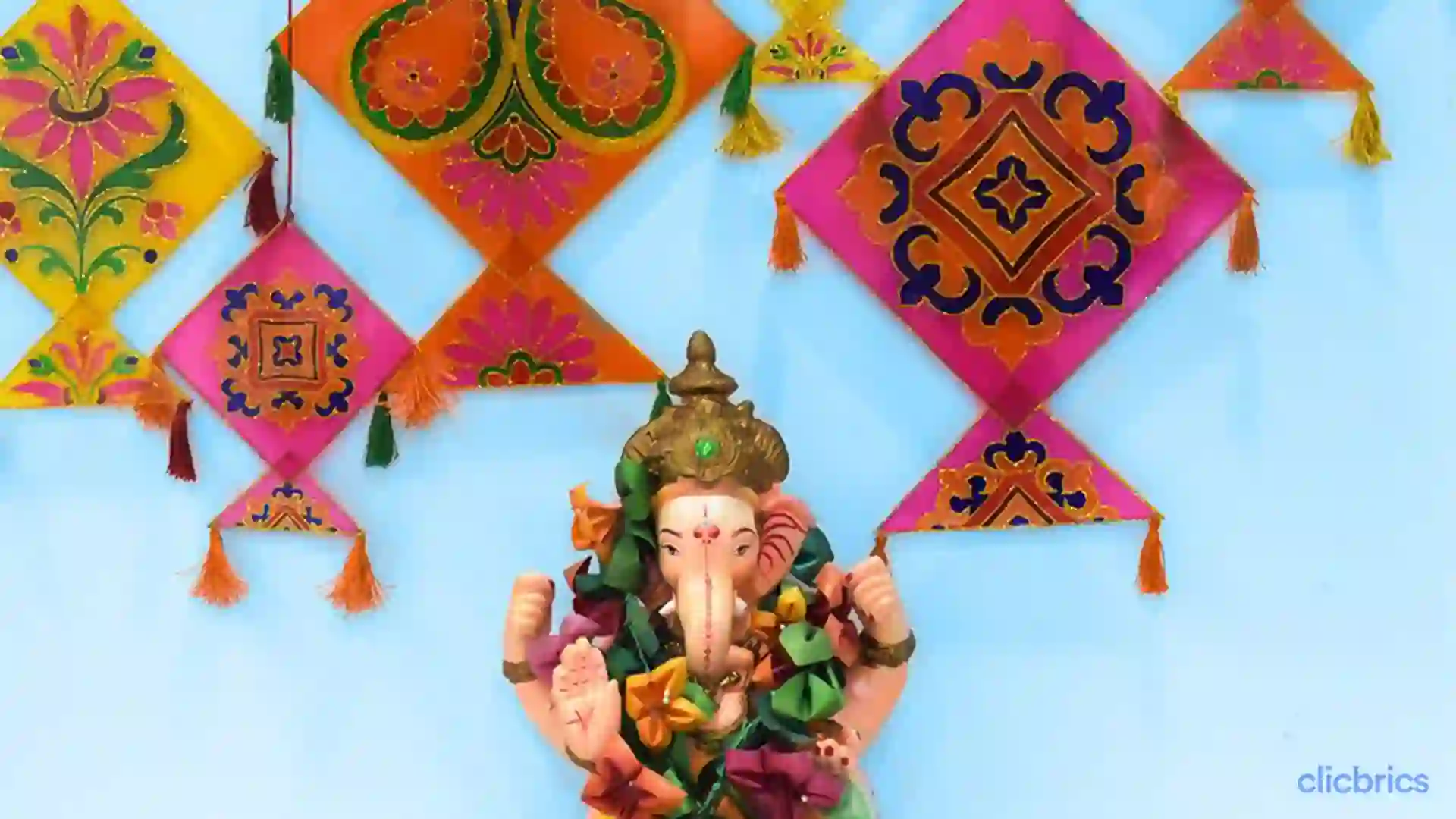 Kites can be used as the perfect decoration material for creating a stunning background. It is not only easy to set up, but it also gives a festive look. You can try DIY Ganpati decoration ideas   by making a spectrum of colourful kite decorations in the form of a ring or placing them on the walls. You can add LED lights along the borders to make it look more attractive. 
14. Use Glass Jar Lanterns for Ganpati Decorations at Home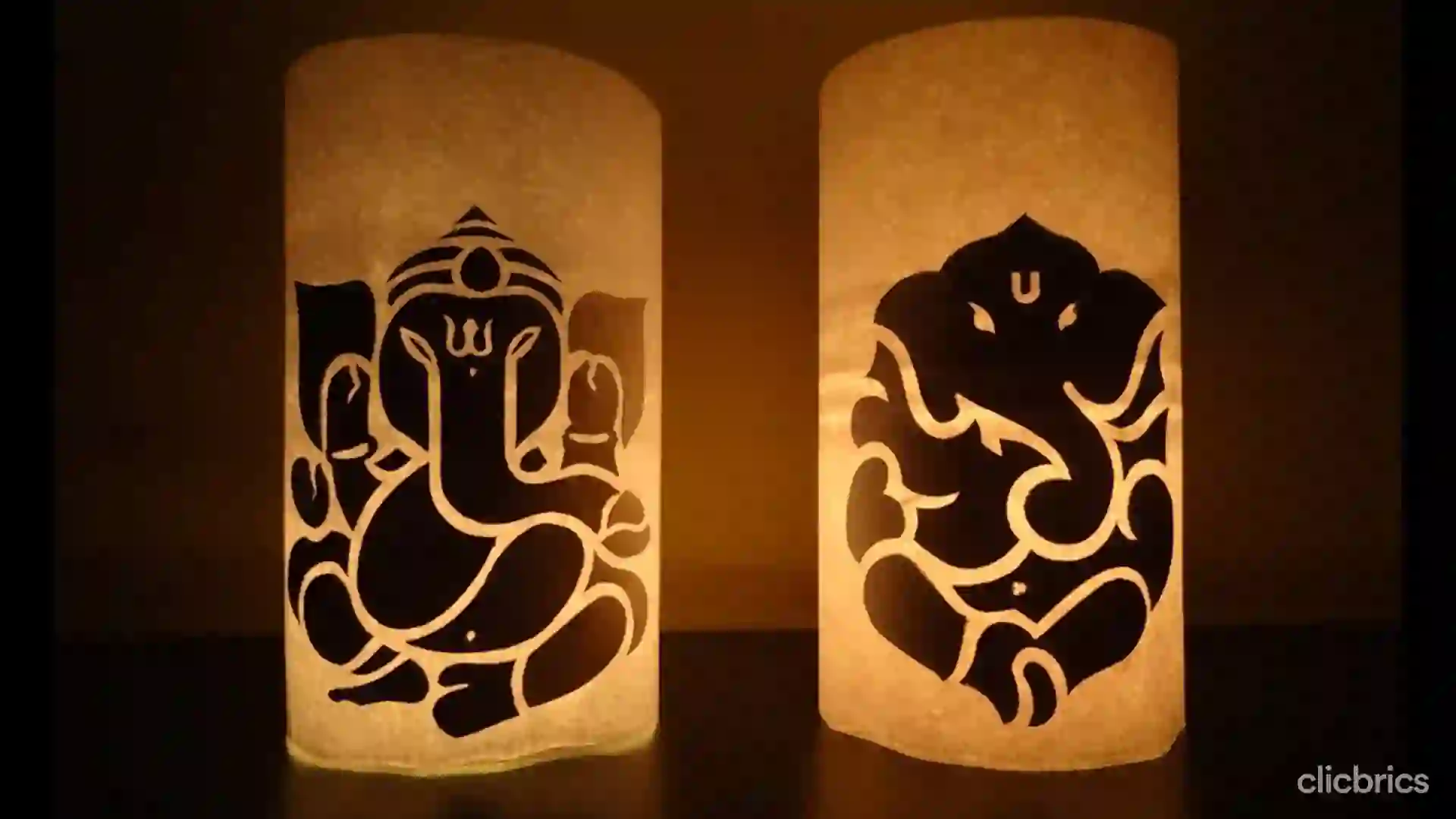 We all know how alluring candles are, but they don't last long. So, we should try something new. Use your unused jars and add small LED bulbs inside of them; they will glitter beautifully. You can use acrylic paint to decorate them from the outside. You will undoubtedly have an array of ideas for Ganpati decoration, but try to keep the decoration simple yet elegant instead of overdoing it. 
15. Bring Plants into Use for Ganpati Decoration at Home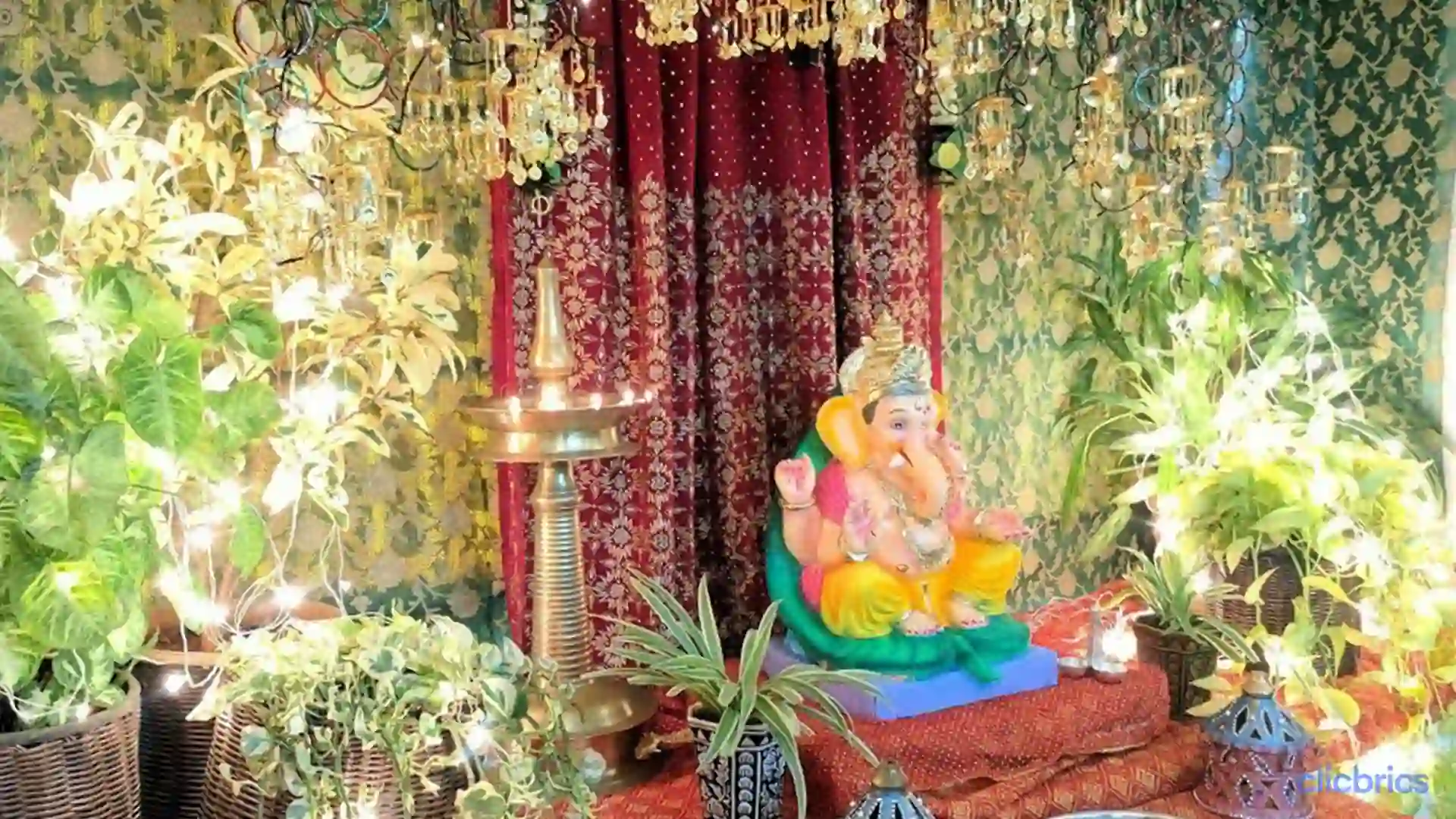 Why not go green if you have the opportunity to exercise your imagination while making beautiful Ganpati home decor? Go natural and utilise colourful fruits to decorate Ganpati, such as apples, grapes, pears, etc. Please make your own Ganesha idol out of eco-friendly materials and install it on a homemade chowki rather than purchasing a new one. Use your plants to surround the Ganesh Ji pandal as well. Using natural objects when decorating for Ganpati at home is the most calming thing you can do.
Also Read: Vastu shastra tips for pillars in house
Vastu Tips to Keep in Mind When Doing Ganpati Decoration at Home
You may have plenty of ideas for Ganpati decoration this 2023, but there are certainly a few points that you have to keep in mind when placing Lord Ganesha at home. 
Place the idol of Ganesh Ji in the west, northwest, or north direction of your house.

Keep the idol opposite your entrance door to keep all the negativity and evil away. 

Never place the Ganesha idol near staircases, garages, or storerooms. 

Avoid keeping more than one idol of Ganesha at home.

Don't keep the Ganesha idol in the south direction, as it will cause more harm than good.
Conclusion
Ganesh Chaturthi is not just a religious festival but also a celebration of creativity, art, and culture. These ideas for Ganpati decoration at home offer a delightful way to infuse your surroundings with positivity and devotion. 
Whether you prefer incorporating eco-friendly ganpati decoration ideas at home or a theme-based extravaganza, remember that the true essence of this festival lies in the love and devotion that go into creating these beautiful setups. So, unleash your imagination, get inspired by the above mentioned Ganpati decoration ideas 2023 and create a Ganpati decoration that will leave everyone in awe during this auspicious festival.
Happy Ganesh Chaturthi!
Also Read: Top 7 Pooja Room Vastu Tips To Consider for a Blissful Home