Table of Content:
Let us help you find a creative side table design idea for your sleeping space that will provide a suitable stage to display your favorite bedside table decoration items. 
1. Hexagonal Side Table Design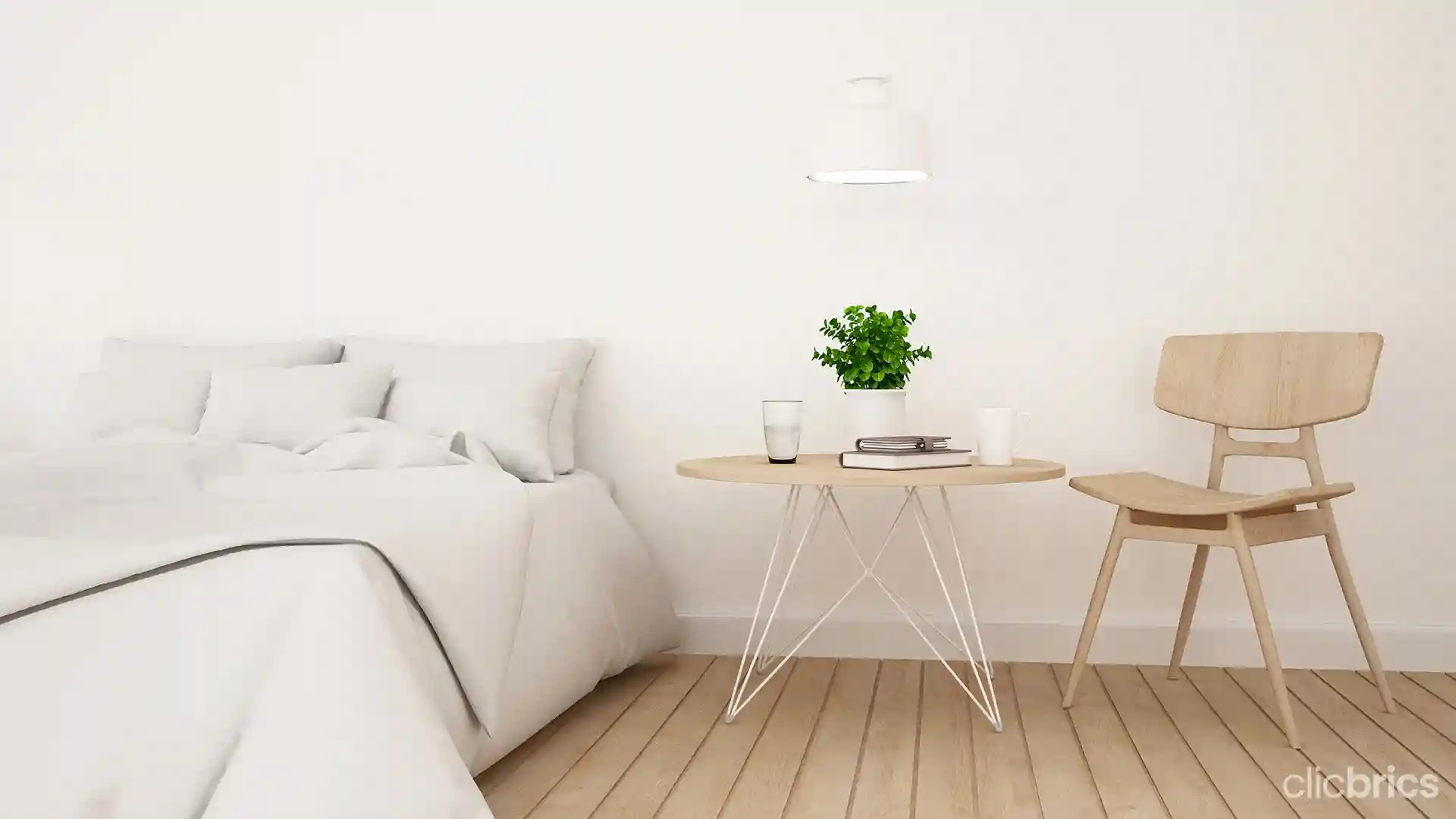 A small hexagonal side table beside your bed will give your room a modern touch. It is also perfect for adding an asset to the rustic bedroom space. Hexagonal bedside table decoration can be done by placing a gorgeous lamp and a writing pad.
2. Traditional Bedroom Side Table Designs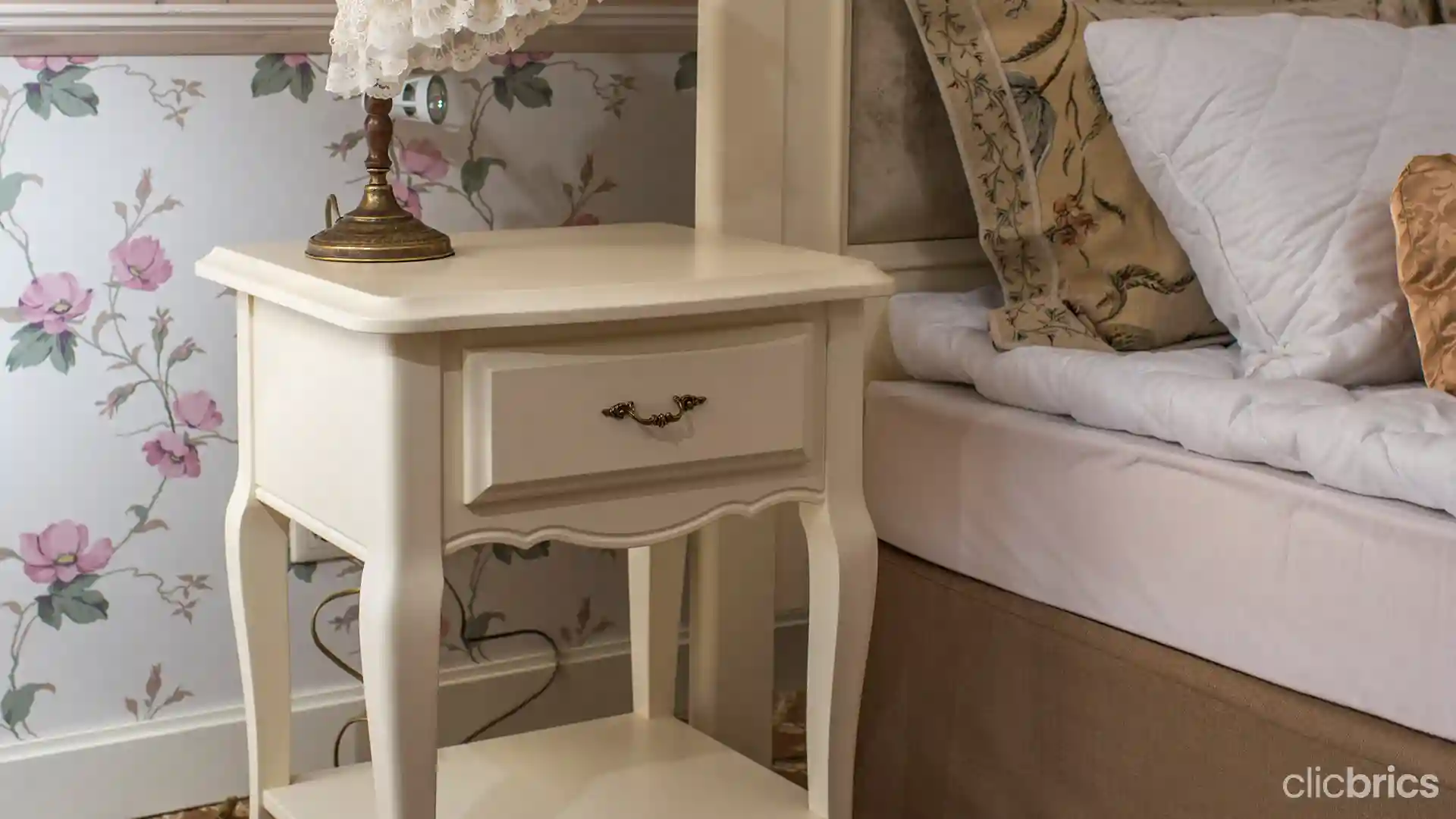 The vintage bedside table design ideas include vintage tables that can enchant the sleeping space. The benefit of using such a traditional bedroom side table design is that it improves functionality and provides enough storage space. 
Also Read: 6 Center Table Décor Ideas You Need to See 
3. Geometric Bedroom Side Table Designs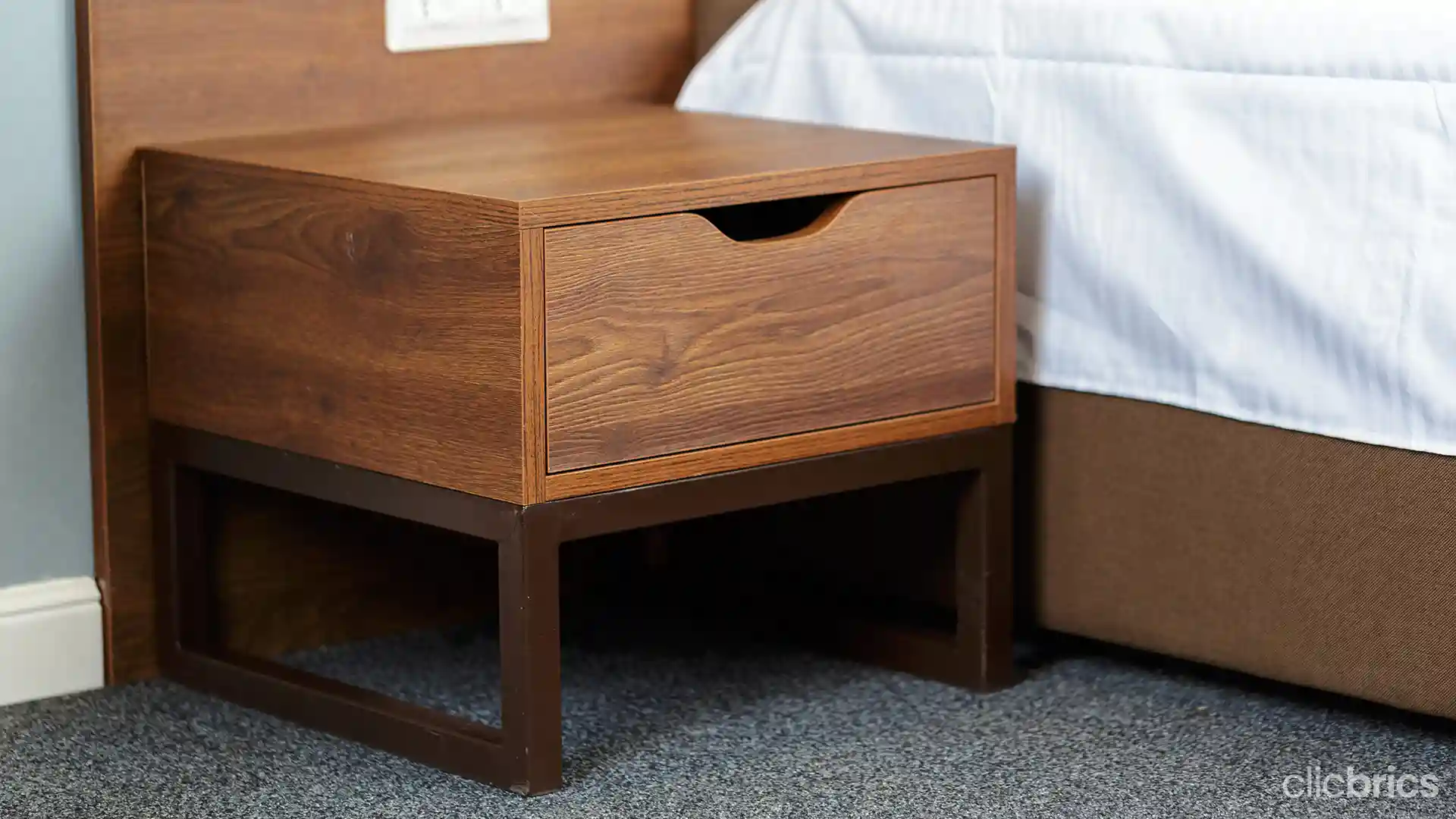 Looking for a way to add space and symmetry to your sleeping space? We have got a way out! Look for side table ideas for bedrooms that are geometrically patterned. It is a functional and aesthetically pleasing design that will uplift the look of your room.
4. White Nightstand With Storage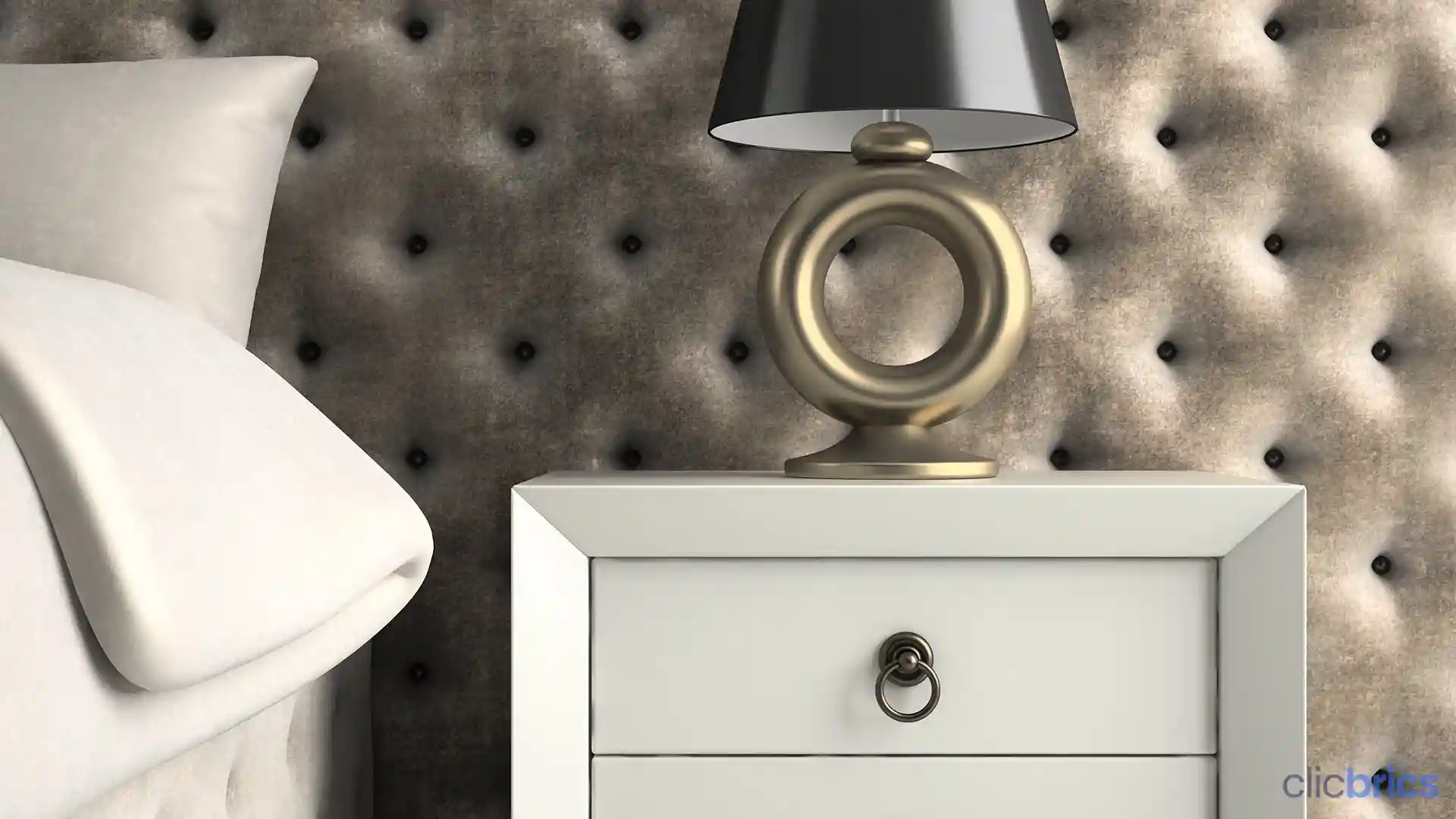 The color white is everlasting and helps make a remarkable statement. This cherished bedroom side table design will be perfect for minimalist lovers. Not only will your sleeping space look aesthetically pleasing, but it will also provide enough space so that you can keep your important stuff close to you. 
5. Wooden-Textured Bedroom Side Table Designs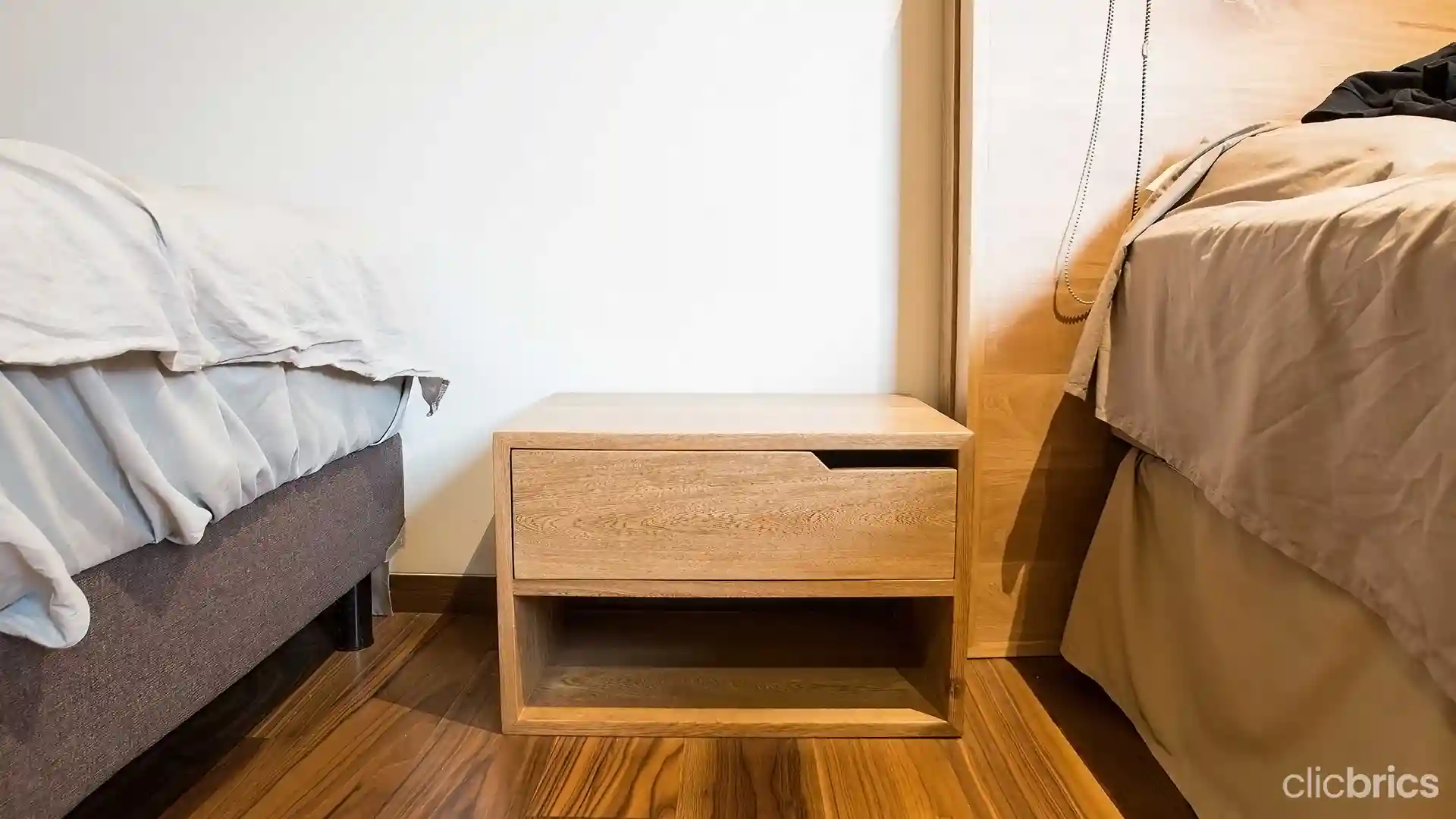 You can create a rectangular nightstand with rounded edges for your guests' or kids' bedrooms where they can keep their necessities. It will be a helpful addition to your storage unit and will perfectly blend with any room's decor. 
And not to forget, the wooden-textured bedroom side table design can quickly become the spotlight of the bedroom. 
Suggested Read: A Curated List Of Modern Bedroom Designs
Stylish Bedroom Side Table Decor Ideas
No matter which bedroom side table design you opt for, its unique quality will always add charm to your sleeping space. We've gathered some bedroom-side table decor ideas below. Have a look! 
1. Add a Beautiful Lamp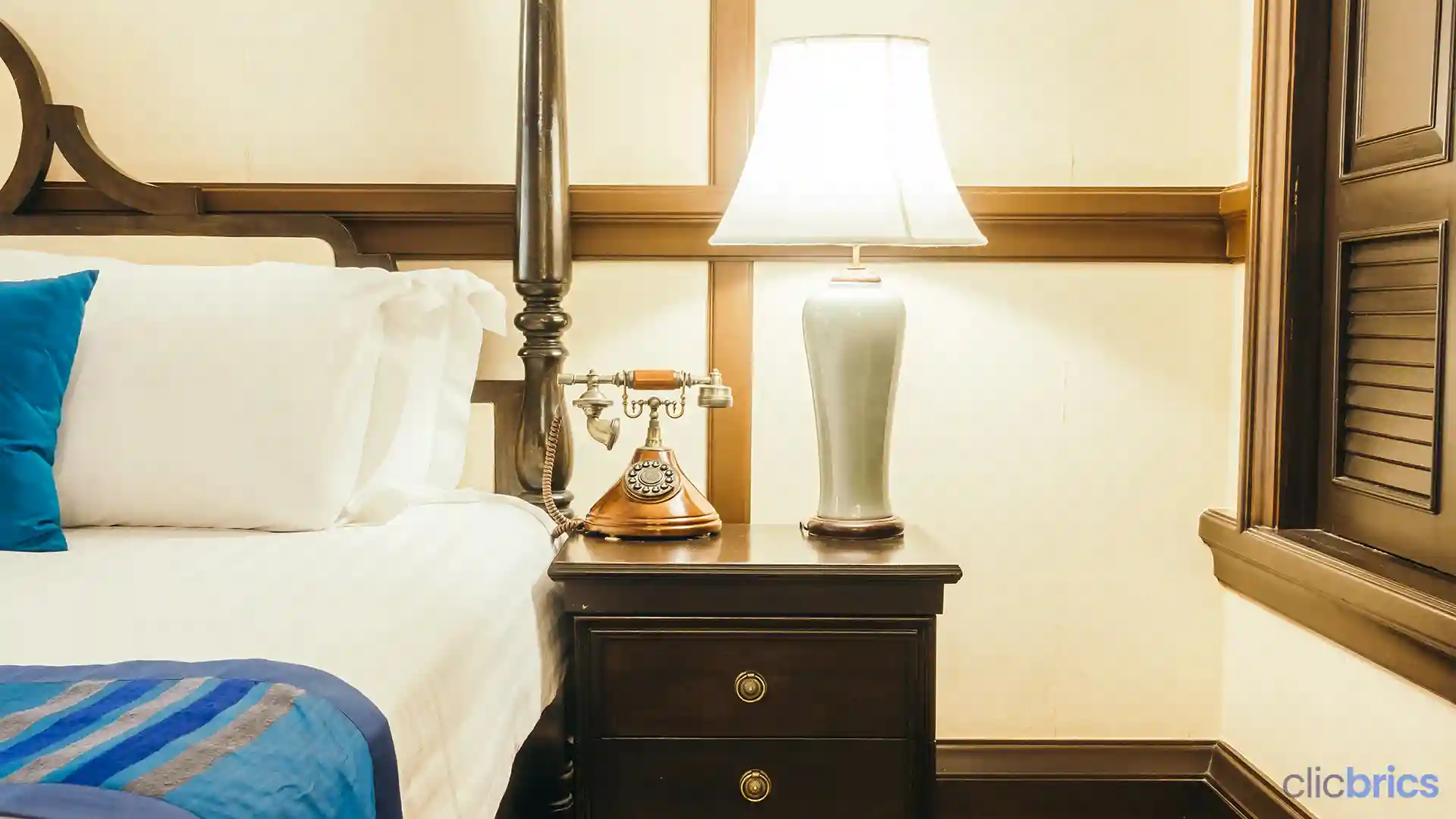 You'll need light because you'll be storing all your must-haves on the side table. Placing a simple yet beautiful lamp in this area will make your room look sophisticated. You can choose a lamp or accent lighting that will add color to your bedroom . 
2. Embrace Your Current Reads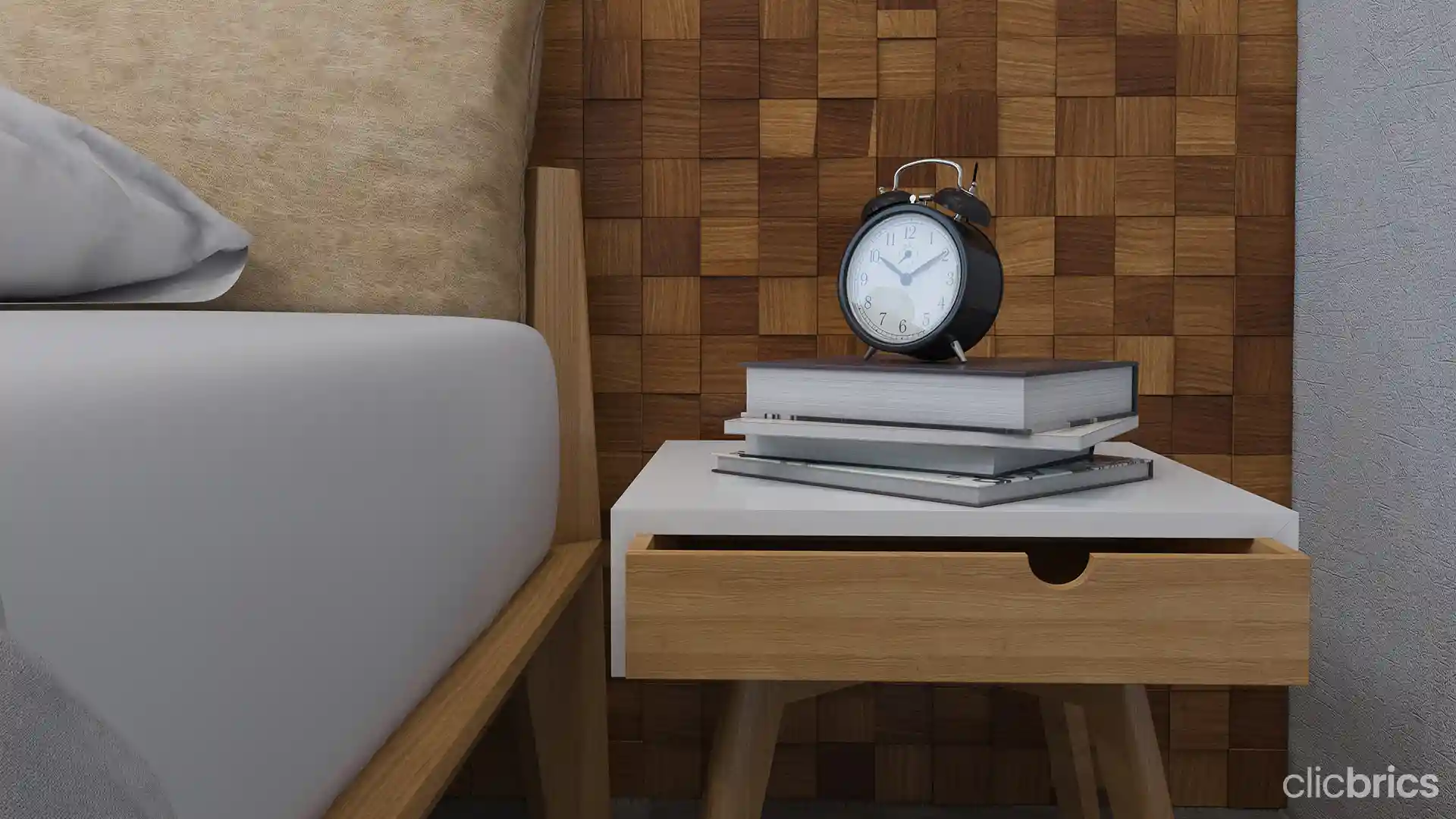 If you can't have a good night's sleep without a good read, then we have this option for you. No need to leave the comfy blanket and sit on the study table to read; instead, keep your current readings beside you. You can place your book on the side table, and it will give your decor a dash of color. 
3. Display Your Favorite Belonging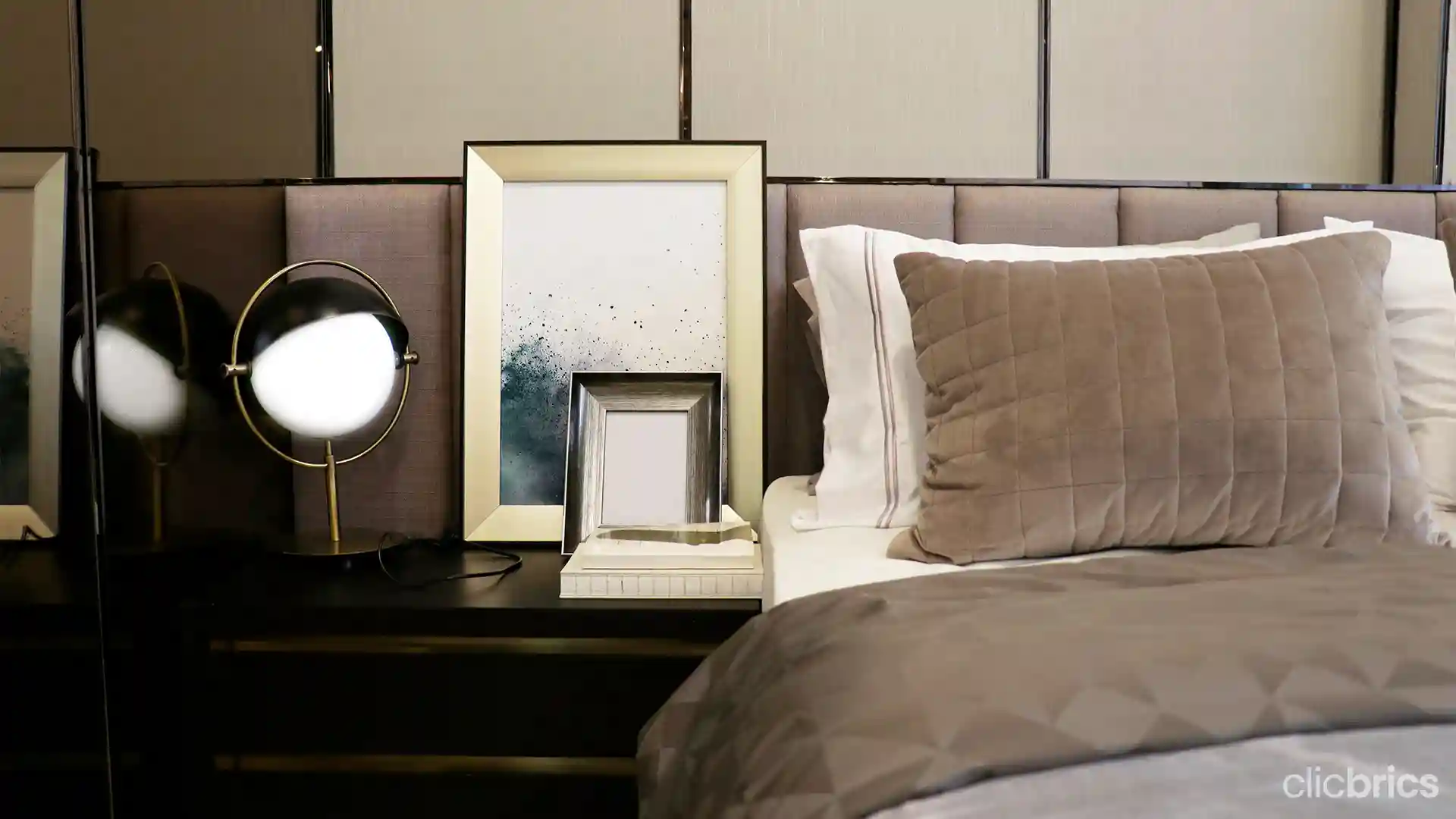 Most of us possess something—a stone, tray, frame, etc.—close to our hearts. So you want it to be close to you at all times, and the best way to do so is to put it on the table. This way, the bedside table accessories will remain close to you while working as a perfect home decor item for your bedroom's interior.  
4. Add a Romantic Vibe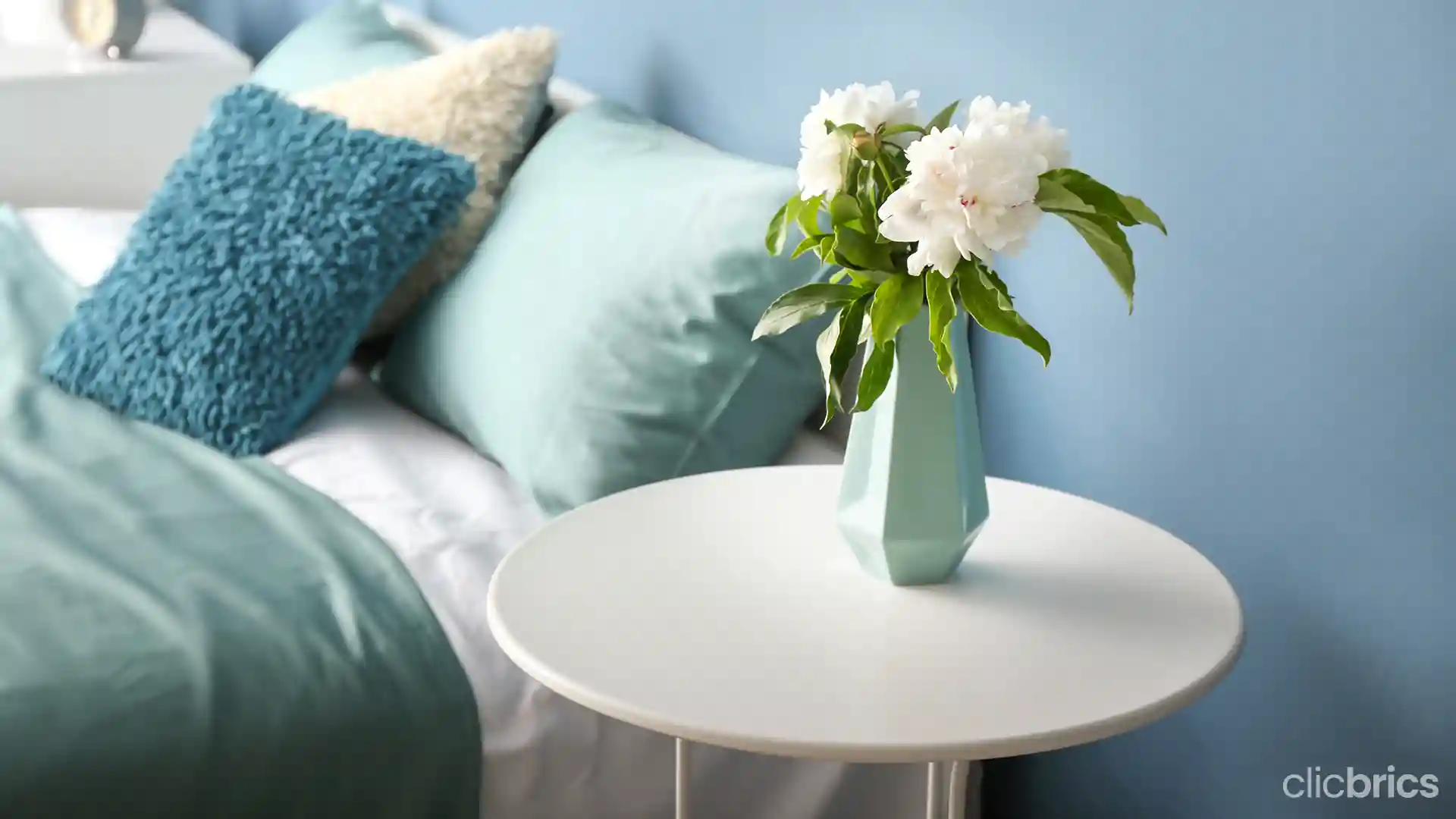 To beautify the romantic ambiance of your bedroom, add a bowl of flowers and scented candles on the side table and see how the room changes its look. 
5. Add Basket To Have Clutter-free Space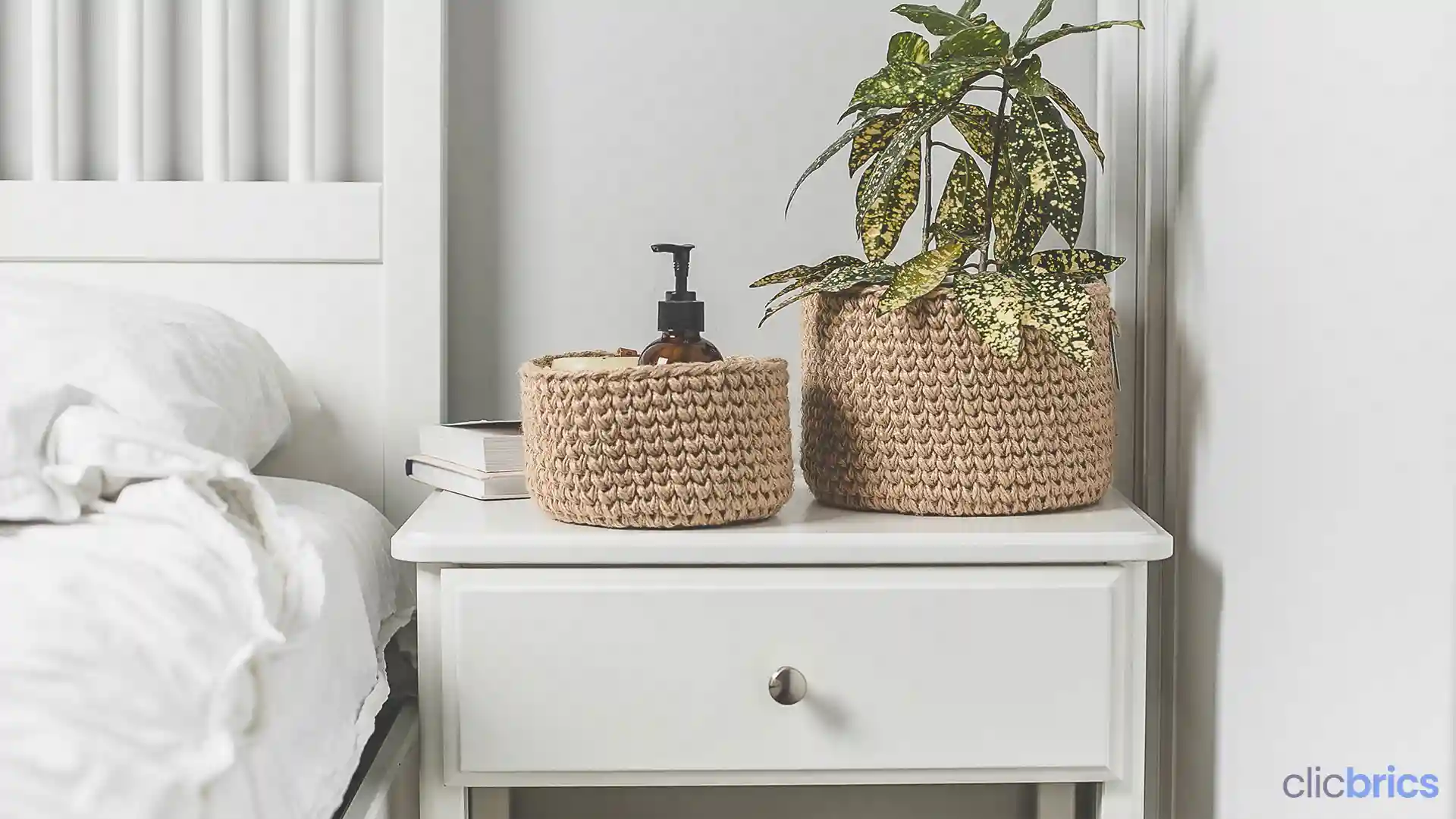 Are you someone who wants things like glasses, the remote, chargers, etc., handy without making the room look untidy? Here is a bedroom sidetable design tip for you! Add an attractive basket to your side table, which will help you organize your stuff stylishly and make the space look clutter-free. 
Suggested Read: Bedroom Cupboard Designs You Need To Check Right Away!
Conclusion
Bedroom side table designs are a fabulous addition to make your space extra beautiful. So, grab the ideas from above and shop and decorate your side table today!