Table of Content:
The kitchen is an integral part of the house because it provides food and nourishment for you and your family. But have we ever repaid it for its efforts? We certainly should! You can give your kitchen a new colour to make it look more exciting and fresh. A good modular kitchen colour combination can create a happy, relaxed, and conducive environment. 
Don't worry; even if your home has a big or small kitchen, our today's guide to modular kitchen colour combinations will definitely help you make it happen. 
Upbeat Modular Kitchen Colour Combination Ideas
It's not just that colours will make the place look pretty; opting for the best colour combination for a modular kitchen will make a compact space look bigger. Now let's explore the different colour combinations. 
1. Red White Kitchen Colour Combination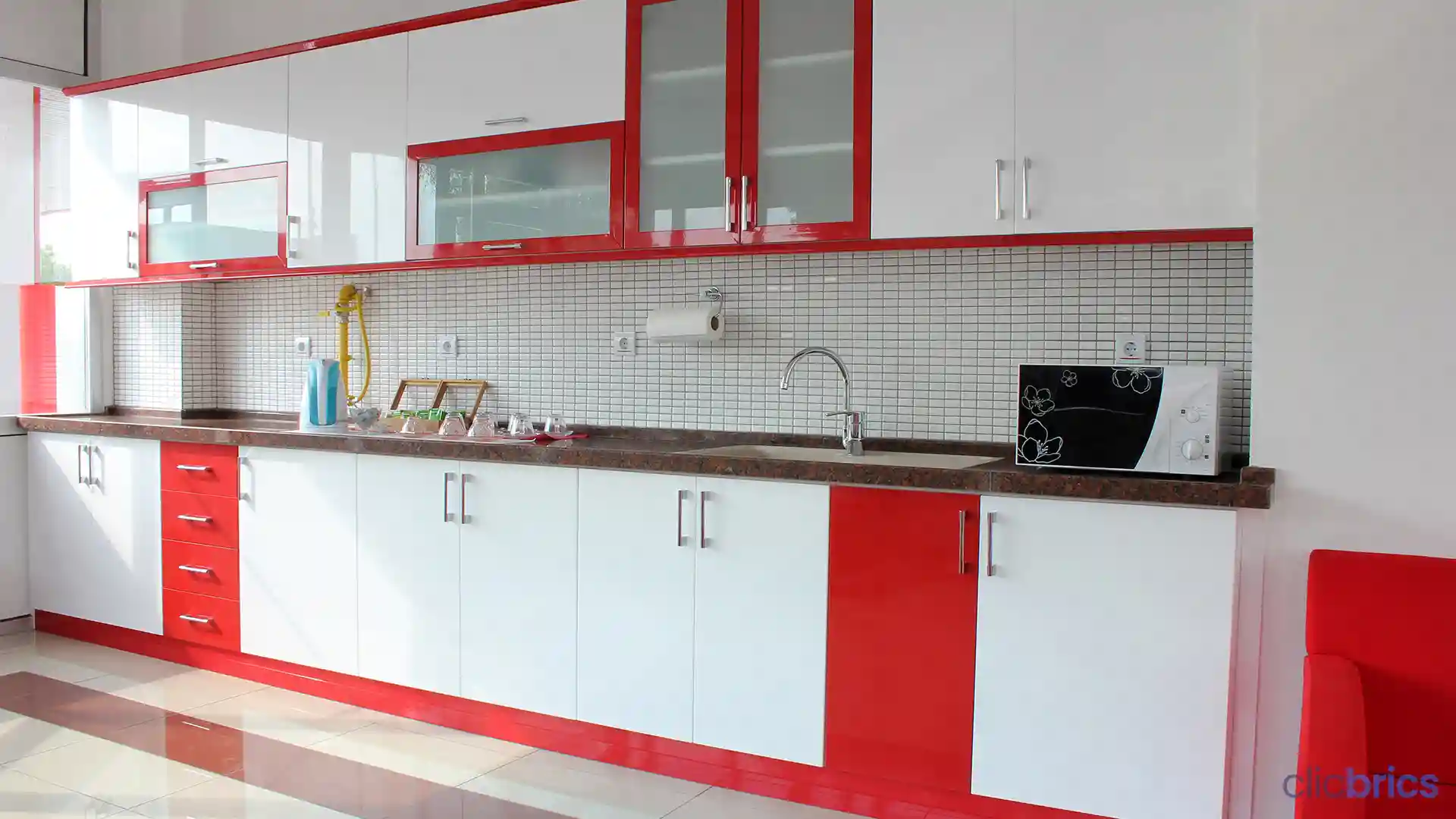 Red is the most powerful colour and represents fire. The shade is recommended chiefly for kitchens facing south or southeast. But when painting your walls red, remember that too much of this shade can be dangerous. Opt for a kitchen modular colour combination that matches red in the correct ratio. And what better way than to opt for a soothing colour like white? The modular kitchen design colour combination will provide a very classy and cheerful look to your kitchen. 
 Also Read: 10 Open Kitchen design ideas for Indian homes 
2. Black White Kitchen Colour Combination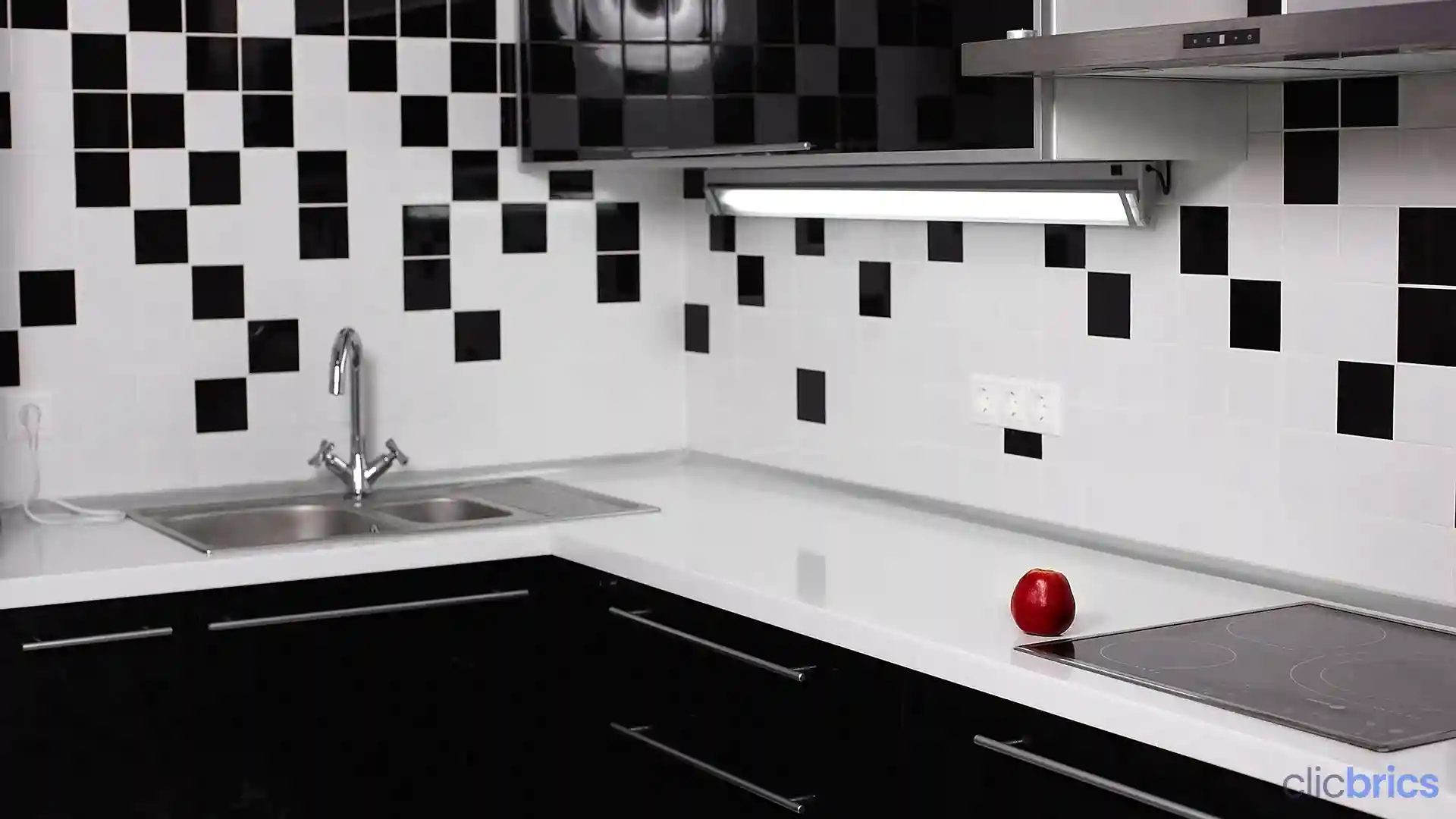 Installing the forever-preferred colour combination, i.e., black and white, will make your kitchen stand out. Incorporate patterned tiles to create a backsplash complemented by frosted glass cabinets. 
The best colours for a modular kitchen work well for a young couple and are often chosen by people with small kitchens. The beauty of these colours will make your kitchen look bigger and brighter. 
3. Blue, Gold & Copper Kitchen Colour Combination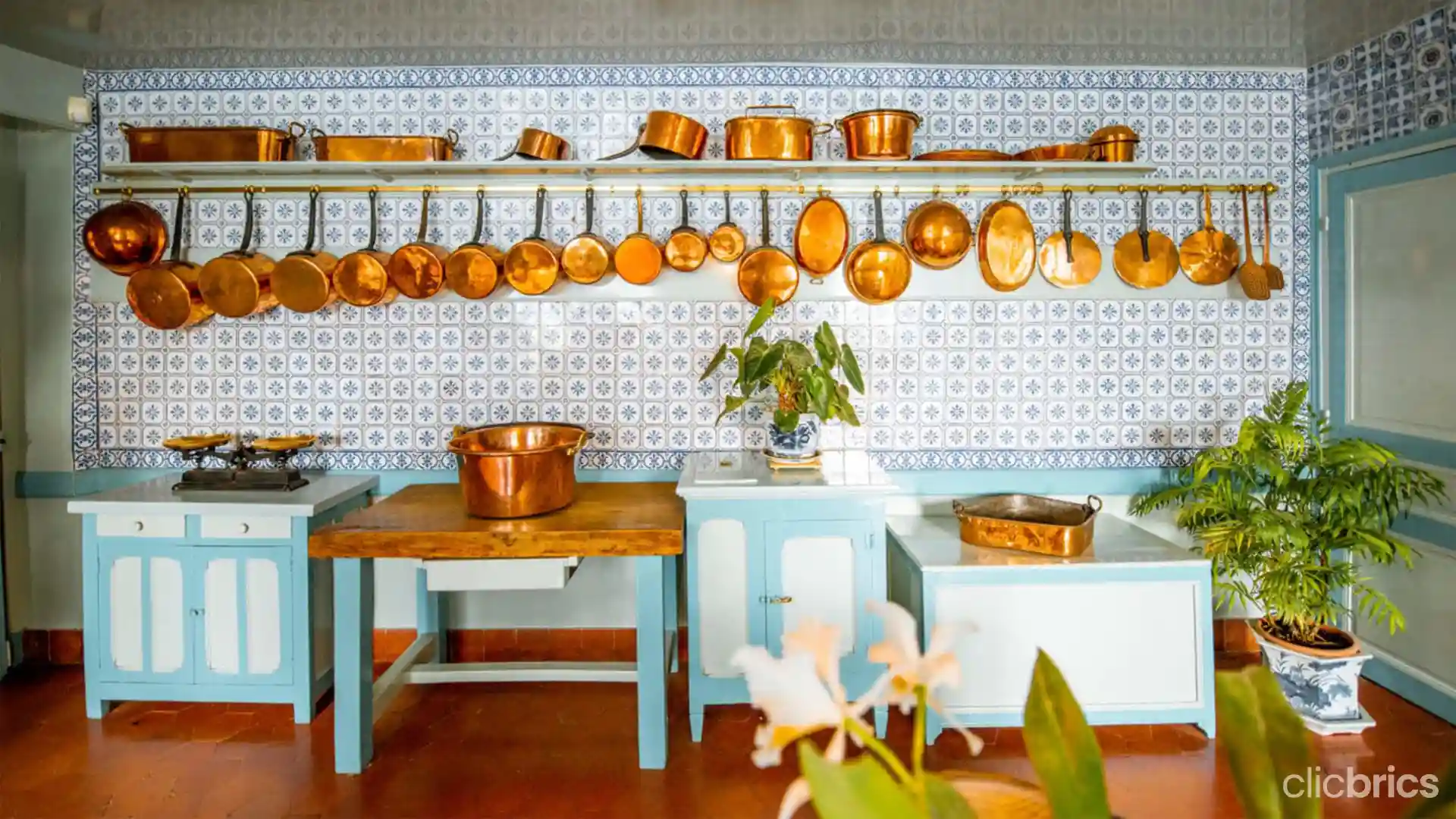 Source: inside-europe
Add shimmer to your kitchen by choosing the latest modular kitchen colour combination - a blue and metallic mixture. You can paint the walls of your kitchen a blue colour and place knobs, a sink, and shelves in a copper shade to create a contrasting, shiny look. 
4. Brown & Cream Kitchen Colour Combination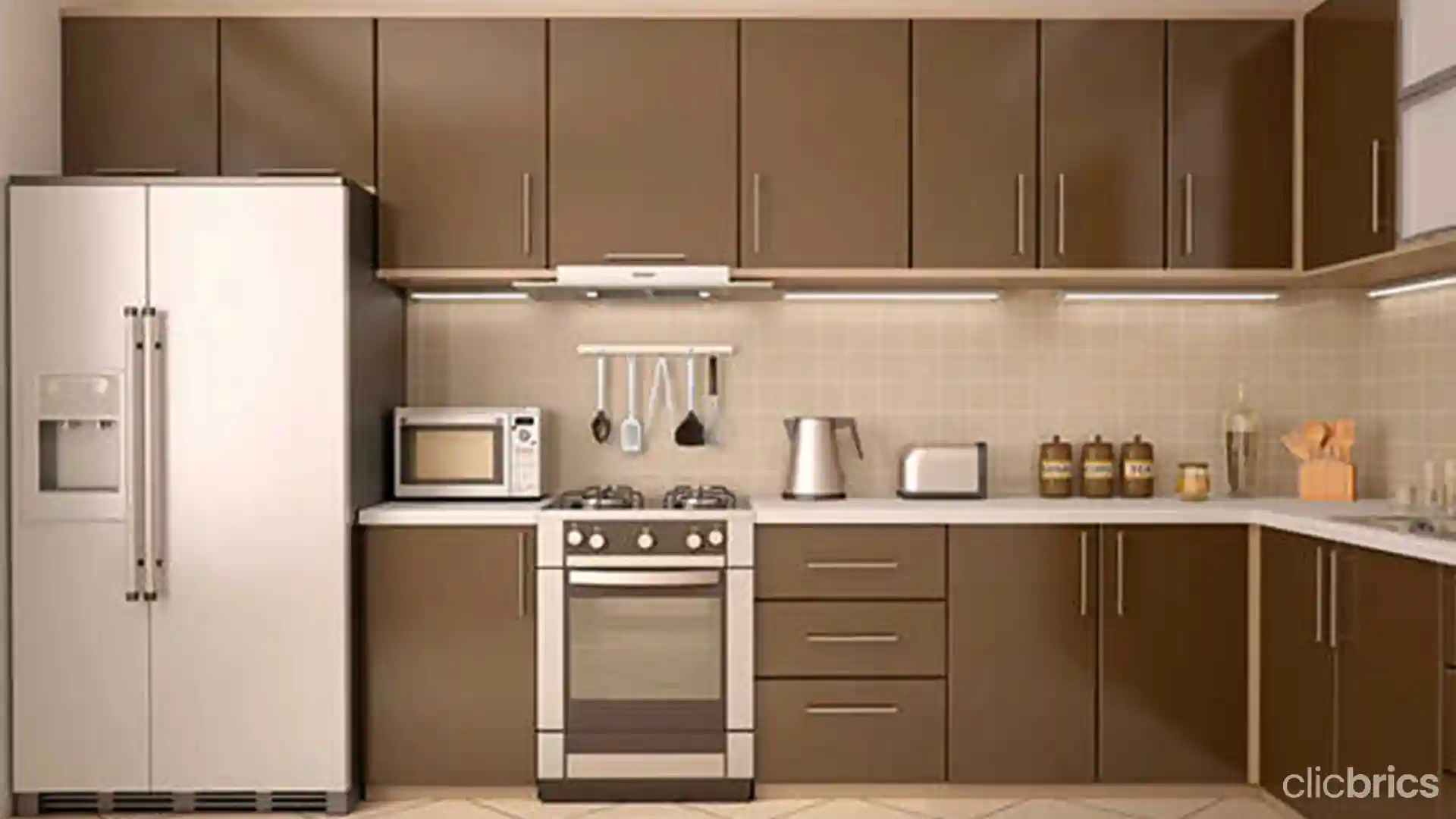 Source: ahs
According to kitchen's Vastu, warm colours like brown are the best modular kitchen colour combinations. You can use the warm colour with cream trim for kitchen cabinets to create a distinguished effect. This modular kitchen colour combination idea will add warmth and charm to your cooking space. 
5. Pastel Green & Grey Kitchen Colour Combination​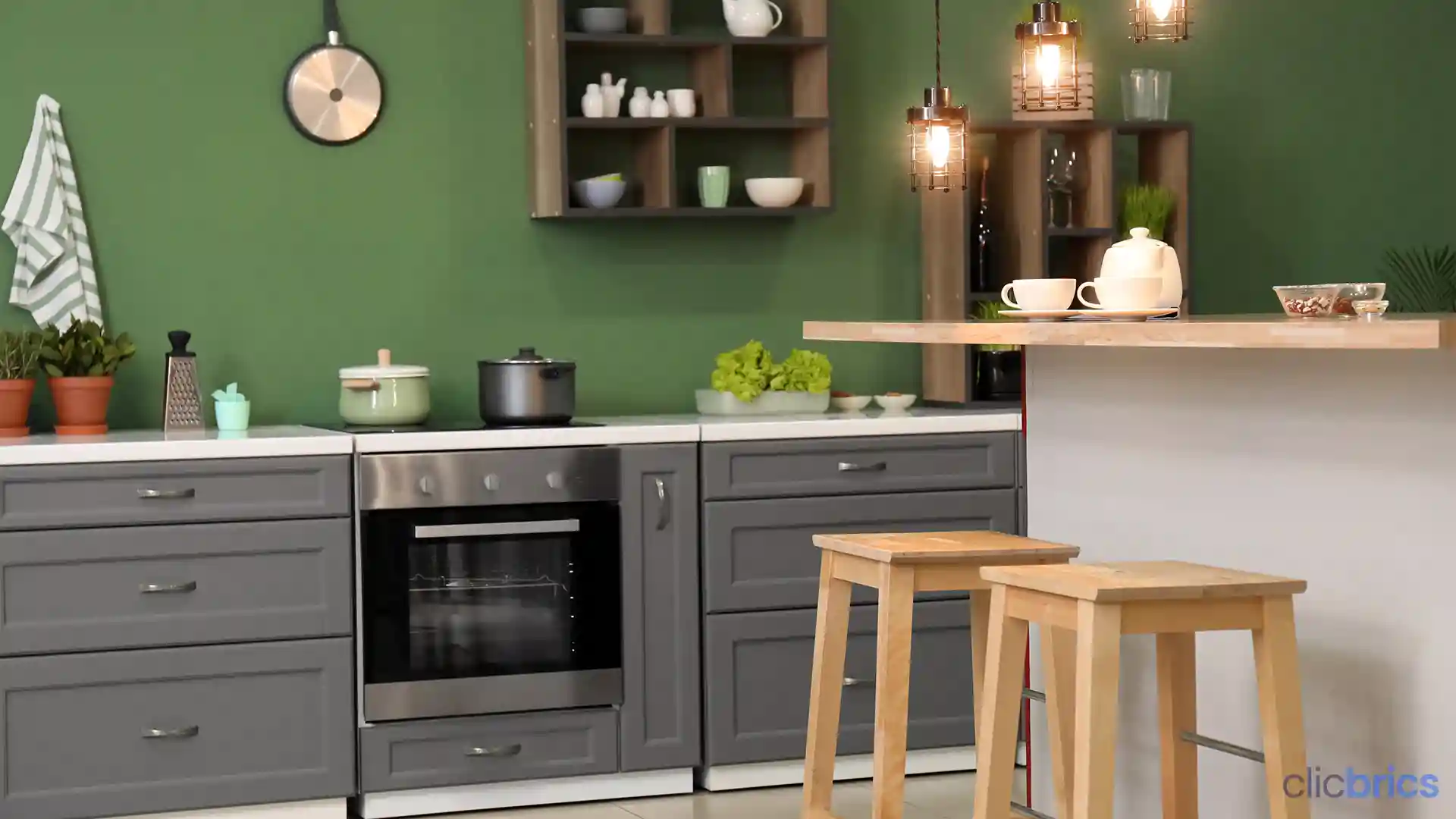 Pastel colours look good in Indian kitchens, and what better kitchen colour to incorporate into your decor than nature? Don't overdo it when incorporating green, as it will look loud. A slight green pastel colour on one side of the walls with grey shelves will make your kitchen look pleasant and improve your cooking experience. 
6. Dark Pink & Light Pink Kitchen Colour Combination​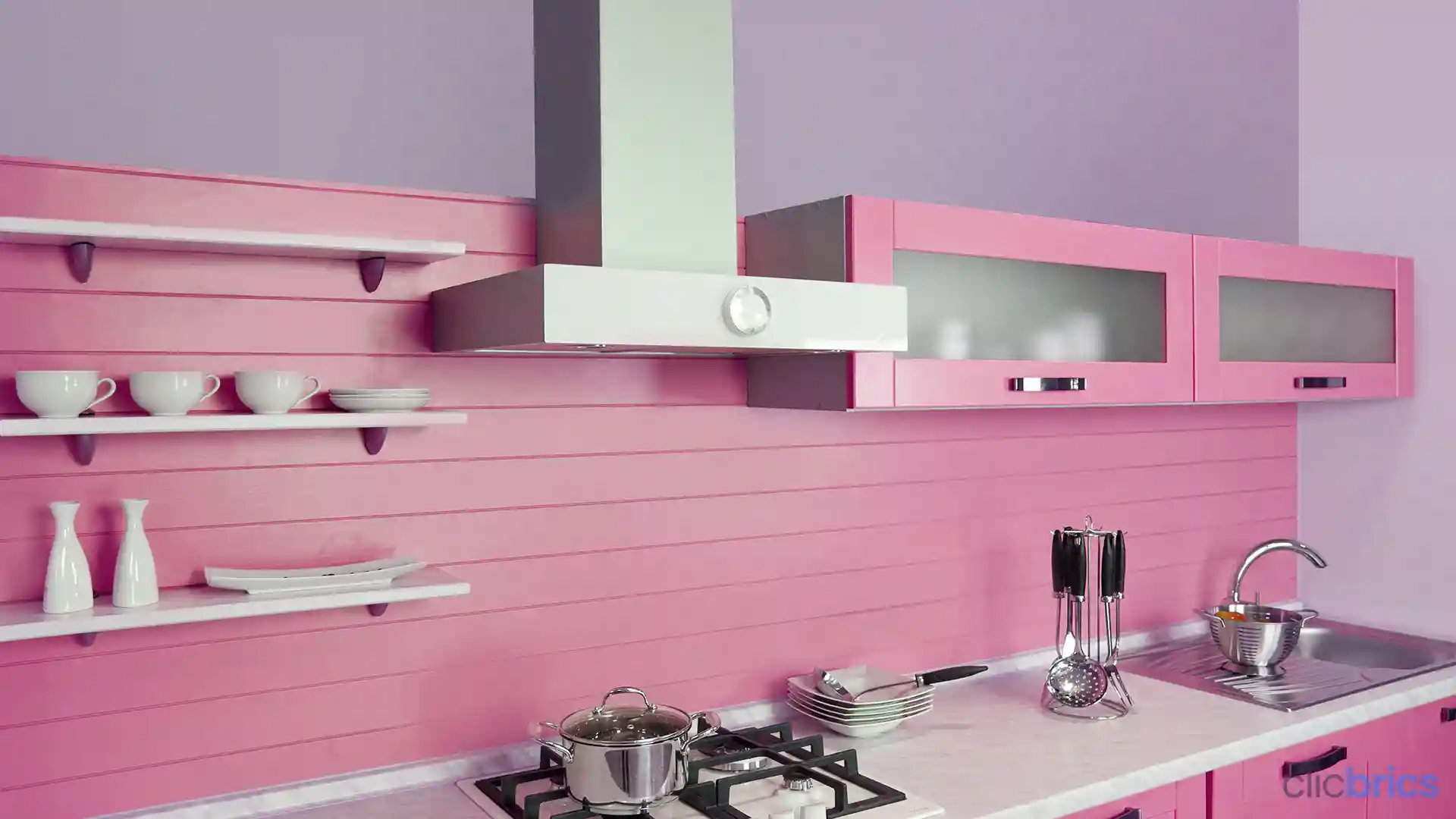 The benefit of installing pink in your kitchen is that the colour calms and reassures emotional energies, reduces aggression and resentment, and boosts the cooking experience. If you enjoy cooking and believe it soothes you, install the shades of this calming colour in your kitchen. 
 Also Read: 8 Simple Kitchen Trolley Designs With Images
7. Lavender & Grey Kitchen Colour Combination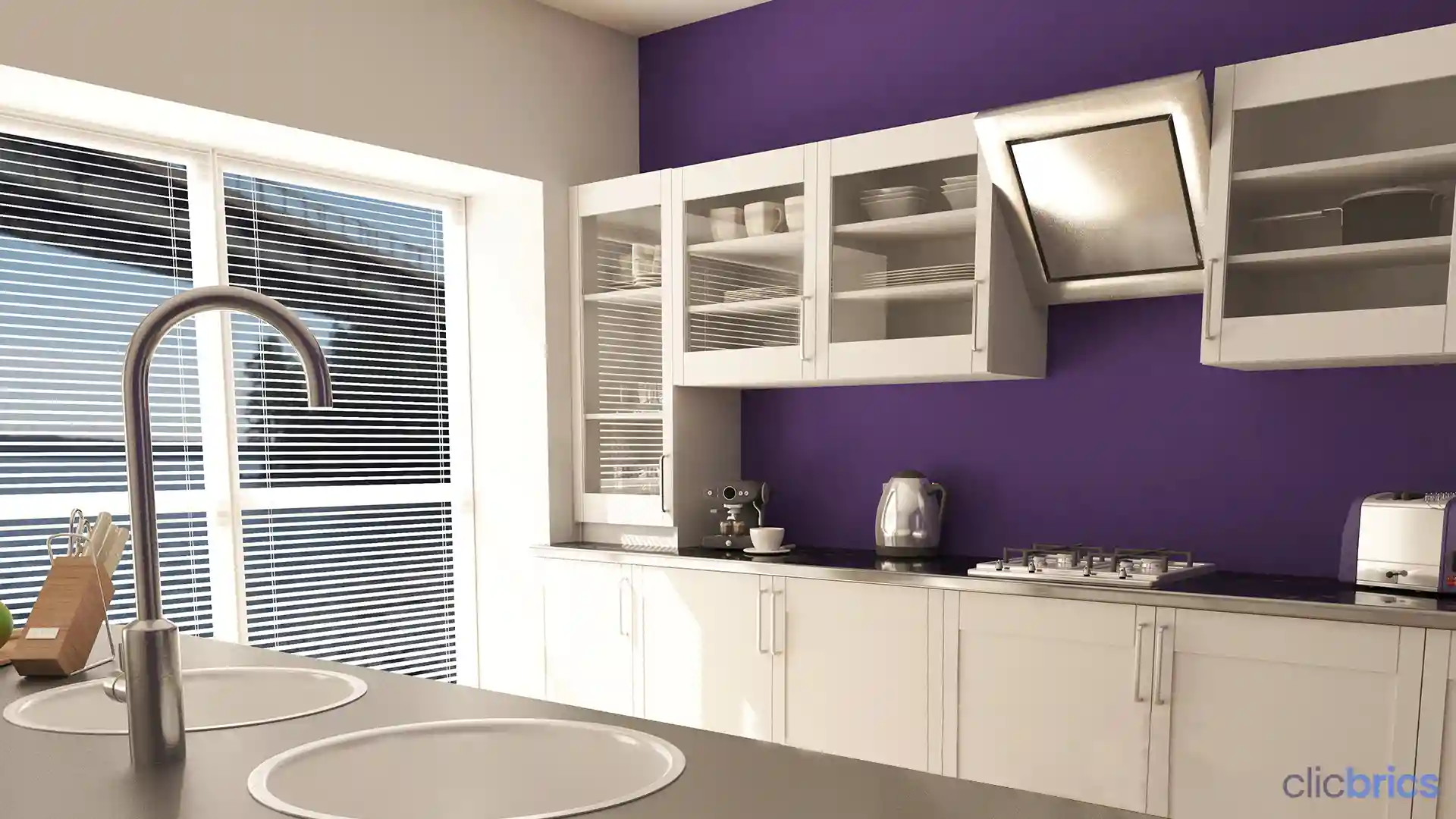 Lavender is the colour used by most Indian homeowners when building a gorgeous kitchen. It is a subtle shade of purple, symbolising purity and grace. The colour reflects royalty and calmness. You can mix this shade with light grey to create a space that adds stunning charm. To decorate your kitchen further, you can find fun tiles that reflect your personality. 
8. Yellow & Teal Kitchen Colour Combination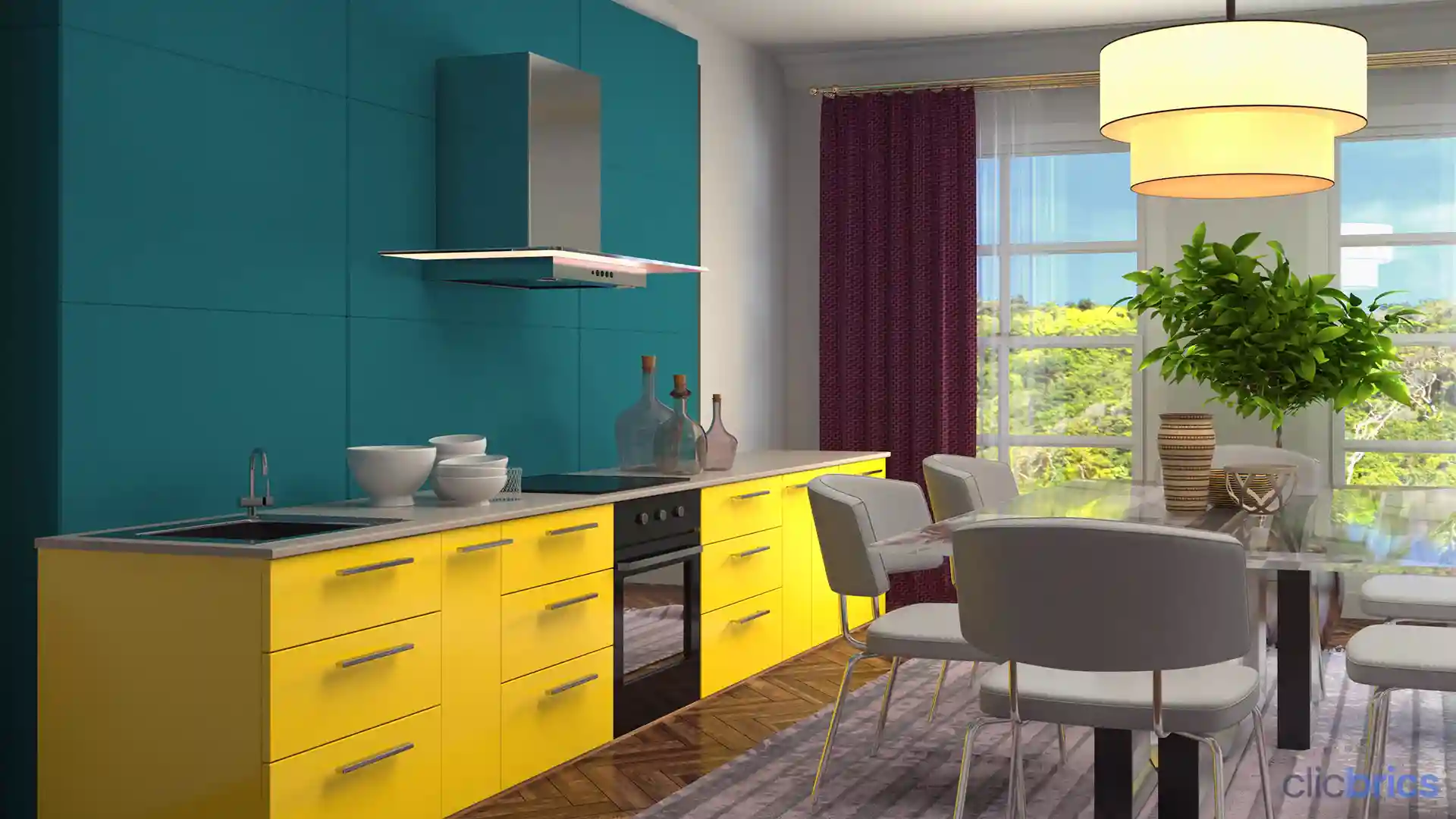 The colour yellow exudes energy, happiness, and freshness and is an ideal shade for a modular kitchen. Moreover, as per feng shui, it is considered suitable for the kitchen. You can mix it with a chic teal colour and create an elegant and unique kitchen. Install designer tiles on the floors instead of leaving them plain, and set up some plants near the windows, and your modular kitchen design is good to go! 
Also Read:A Complete Guide To Choosing The Right Kitchen Sink  
9. Orange & Black Kitchen Colour Combination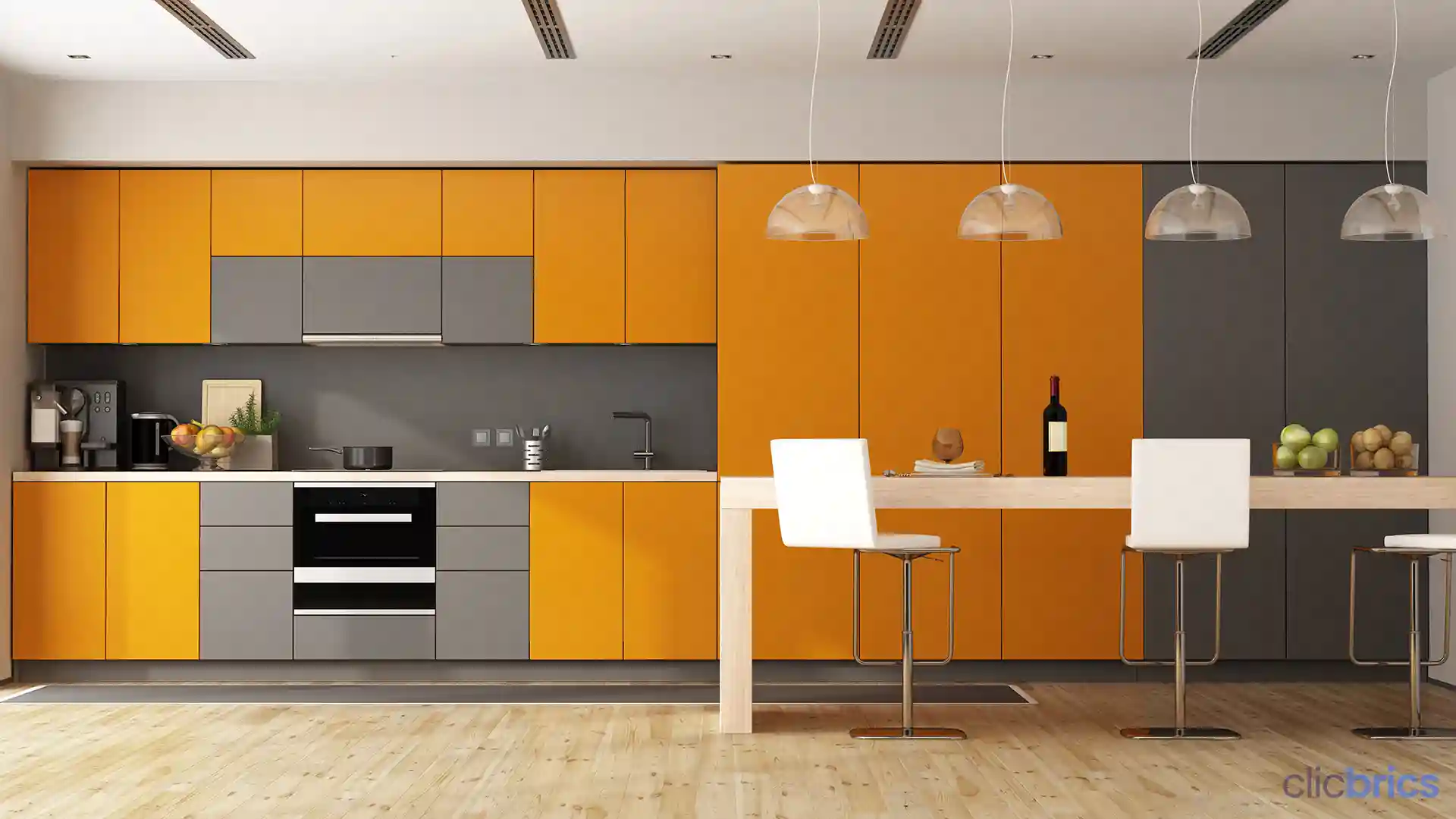 If you wish to add an eccentric look to your kitchen, opt for the colour combination, i.e., black and orange. The orange colour will complement the fire energy of the kitchen, while black defines power and strength. You can create a black accent wall and install orange furnishings to make a modern modular kitchen. 
If you think these two shades are too much for you, you can add aesthetic appeal by adding colourful kitchen gadgets. 
10. Orange, White & Brown Kitchen Colour Combination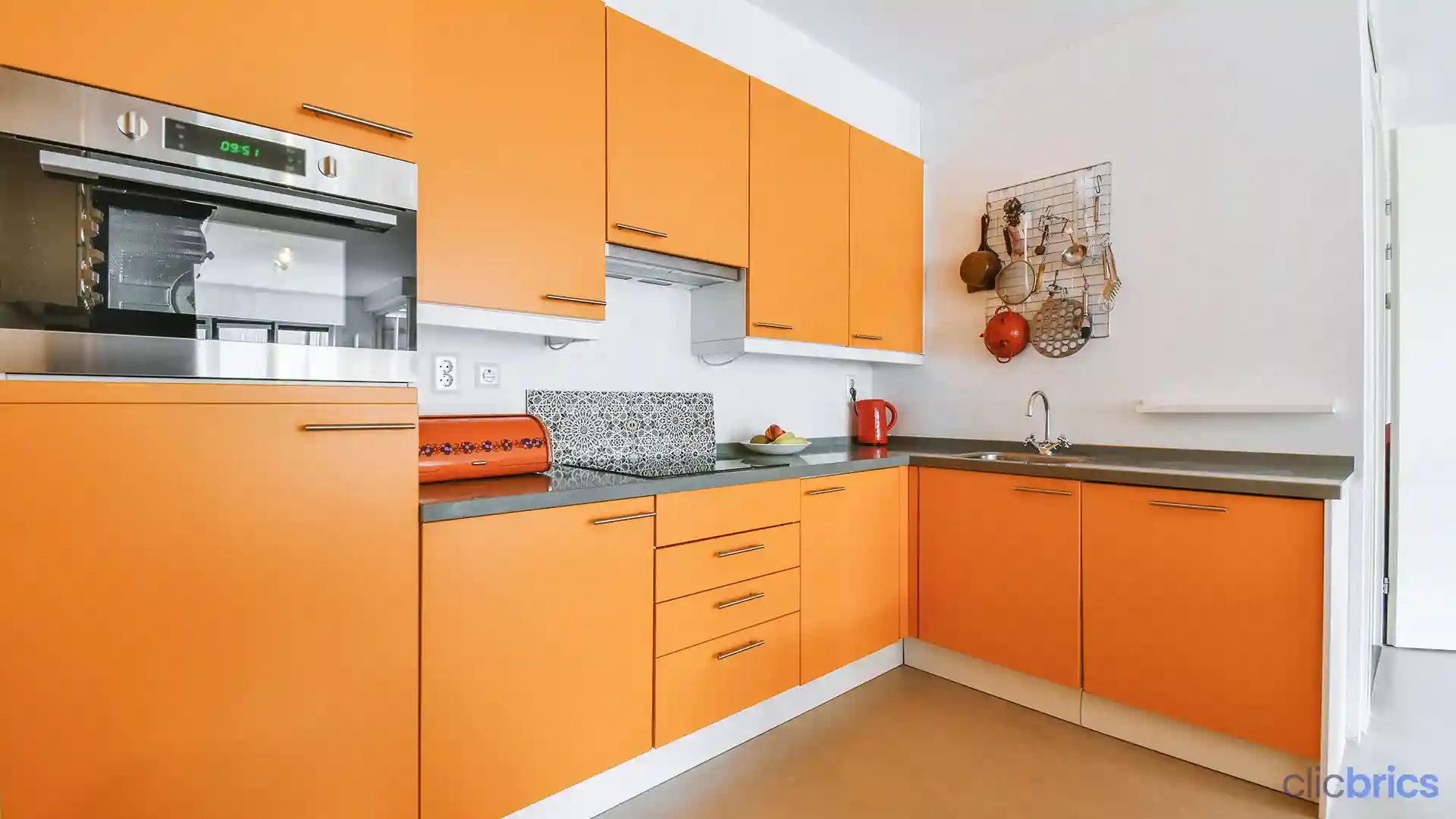 The modular kitchen design colour combination that you can give a try is orange, white, and brown. The coral shade is friendly and warm, but sometimes it can be very intense. Due to this, it would be best to mix it up with a shade of white. To spruce up the kitchen space a little more, you can put brown tiles on the floor and at the back of the stove. 
 Also Read: Top 10 Cost Effective Simple Kitchen Design Ideas
Conclusion
A kitchen is where you create many memories with your kids, especially during some festivals. So, install a
modular kitchen colour combination
for a comfortable and relaxing atmosphere. Comment below on your favourite
modular kitchen colour combination
that you are going to do next in your cooking space.