Table of Content:
Nagpur is a major commercial hub in Maharashtra. The second greenest city in the country, Nagpur's transportation infrastructure has been experiencing strain since years due to intense development in residential and commercial real estate. The Nagpur Metro, a public subway system serving Nagpur, came as an air of relief for the city. Nagpur metro is India's thirteenth operational Metro system and is promoted as India's "greenest metro rail."
On 8 March 2019, Prime Minister Narendra Modi, along with the ex-Chief Minister of Maharashtra Devendra Fadnavis and Union Cabinet Minister Nitin Gadkari, inaugurated operations of the 1st phase of the Nagpur Metro via video conferencing. The foundation stone for Phase 2 has been laid and construction is currently underway.
Nagpur Metro Phase I consists of a 39-km elevated section, with 38 stations and two depots, while Phase II is 43.8 km long, with 1.25 km at-grade and 30 stations.
Notably, Maharashtra's Nagpur Metro has been inducted into the Guinness Book of World Records for having the world's longest double-decker viaduct. On Wardha Road, this 3.14 km long viaduct has three metro stations built in collaboration by Maharashtra Metro and the National Highways Authority of India (NHAI). It is already listed in both the India Book of Records and the Asia Book of Records as the longest structure in Asia.
Additionally, the Nagpur Metro is the country's first four-level transportation corridor, with the first level consisting of an existing vehicular and pedestrian underpass, 2nd being the railway track, the national highway being the third level, and the Nagpur Metro line is the fourth level.
Foundation Of Nagpur Metro: Project Lookback
The idea for the metro project in Nagpur was conceived in 2012. Then-Union minister for urban development Kamal Nath proposed a metro rail in Nagpur and requested a comprehensive project report from the state government. The Nagpur Improvement Trust (NIT) and the Delhi Metro Rail Corporation (DMRC) agreed to work together on the Detailed Project Report (DPR) for the Nagpur metro rail. In order to complete the DPR, the state government was given 2.4 crores (equivalent to 3.8 crores or US$480,000 in 2020) by the Central Ministry.
The Government of Maharashtra approved the city's metro project in February 2014, following "In Principle" approval from the Ministry of Urban Development of the Government of India. On August 20, 2014, the Union Cabinet approved the project's development, and on August 21, 2014, Prime Minister Narendra Modi visited the city and laid the project's foundation stone. 
Maharashtra's then-chief minister, Uddhav Thackeray, opened a 1.6-kilometre (0.99-mile) extension between Sitabuldi and Kasturchand Park on August 21, 2021. The second phase of the Nagpur Metro was officially launched on 11 December 2022, following the full inauguration of the first phase by Prime Minister Narendra Modi.
Also Read: Why Panvel in Maharashtra Is One Of The Growing Real Estate Hubs?
Nagpur Metro Rail Route
Nagpur Metro rail currently operates
The Orange Line Metro or Line 1 connects Sitabuldi and Khapri.

The Aqua Line Metro or Line 2 connects Sitabuldi and Lokmanya Nagar.
Nagpur Metro Route: Map Phase 1 of the Nagpur Metro Plan
On February 12, 2013, DMRC delivered the report to the nodal agency Nagpur Improvement Trust. There were two different routes included in the project: one from Automotive square in Kamptee to the MIHAN Metro depot, and another from Prajapati Nagar in East Wardhaman Nagar to Lokmanya Nagar in Hingna. 
It was proposed that the two routes meet at Munje Square, creating a cross major station where passengers could switch between them. The Metro was expected to serve 12.21 percent of Nagpur's estimated population of 29 lakh in 2021, or approximately 3,63,000 commuters.
The project included feeder services such as shuttle buses, battery-powered vehicles, pedestrian facilities, and bicycle sharing schemes to provide first and last mile connectivity. There would be 19 feeder routes connecting all stations, covering a total distance of about 160 kilometres (99 miles). Feeder services would improve Metro accessibility for all commuters, both to and from their homes and offices.
Phase 1 Routes
Orange Line: The first Orange Line Which Runs North to South
Partially connecting Sitabuldi and Khapri, this line began service on March 8, 2019. The entire length of this corridor is proposed to be elevated (22.293 km; 13.852 mi), with the exception of 4.6 km; 2.9 mi at grade after Airport Station and in the MIHAN area near Khapri Railway Station. 
This corridor has 20 stations, 15 of which are elevated and 5 of which are at Grade. You can change trains at Sitaburdi Station. The typical distance between stations is 1.20 kilometres (0.75 miles), but this can range from 0.54 kilometres (0.34 miles) to 2.40 kilometres (1.49 miles) according to factors such as location, operations, and traffic.
The Aqua Line: Also known as the East-West Corridor
The entire corridor is located at a higher level. The length of the corridor, from end to end, is a total of 19.407 kilometres (12.059 miles). 
Along this corridor, there are a total of 20 stations. The typical distance between stations is 1.02 kilometres (0.62 miles), but it can range anywhere from 0.65 kilometres (0.40 miles) to 1.29 kilometres (0.80 miles) depending on the site, the operations, and the volume of traffic.
Phase 2 of the Nagpur Metro System
The Phase 2 of the Nagpur Metro system was inaugurated in December 2022 by the Prime Minister.
The Phase 2 is aimed at connecting two lines of the Phase 1 project to Kanhan (north), Butibori MIDC (south), Transport Nagar (Kapsi) in the east and Hingna in the west. This Phase would 1.2 km long system at-grade section with 2 stations and about 42.6 km long at the elevated sections with 30 stations
Nagpur Metro Phase 2 Routes
Line-1 (Orange Line)
Reach 1A: MIHAN to Butibori MIDC ESR
Stations on the line: 10

Areas to be covered: Jamtha, Dongargaon, Mohgaon, Butibori, MHADA colony, Indorama Colony.
Reach 2A: Automotive Square to Kanhan
Stations on the line: 12

Areas to be covered: Khasara, Lekha Nagar, Kamptee, and Dragon Palace
Line-2 (Aqua Line)  
Reach 3A: Lokmanya Nagar to Hingna
Stations on the line: 7

Areas to be covered: Nildoh, Gajanan Nagar, Rajiv Nagar, Lakshmi Nagar, Raipur, and Hingna Village including surrounding MIDC areas
Reach 4A: Prajapati Square to Transport Nagar
Stations on the line: 3

Areas to be covered: Ambe Nagar, Kapsi, and Transport Nagar
Reach 5: Vasudev Nagar – Wadi
Stations on the line: 3

Areas to be covered: MIDC Hinda, Pardsinga, and Wadi
Nagpur Metro Stations: List Orange Line Metro Stations
The stations along the Nagpur Orange Line metro rail are as follows:
Khapri

New Airport

 Airport

Ujwal Nagar

Jayprakash Nagar

Chhatrapati Square

Ajni Square

Rahate Colony

Congress Nagar

Sitabuldi

Zero Mile

Kasturchand Park

Gaddigodam Square

Kadvi Square

Indora Square

Nari Road

Automotive Square
Aqua Line Metro Stations
Prajapati Nagar

Vaishno Devi Square

Ambedkar Square

Telephone Exchange

ChittarOli Square

Agrasen Square

Dosar Vaisya Square

Nagpur Railway Station

Sitabuldi

Jhansi Rani Square

Institute of Engineers

Shankar Nagar Square

LAD Square

Dharampeth College

Subhash Nagar

Rachana Ring Road Junction

Vasudev Nagar

Bansi Nagar

Lokmanya Nagar
Nagpur Metro Fare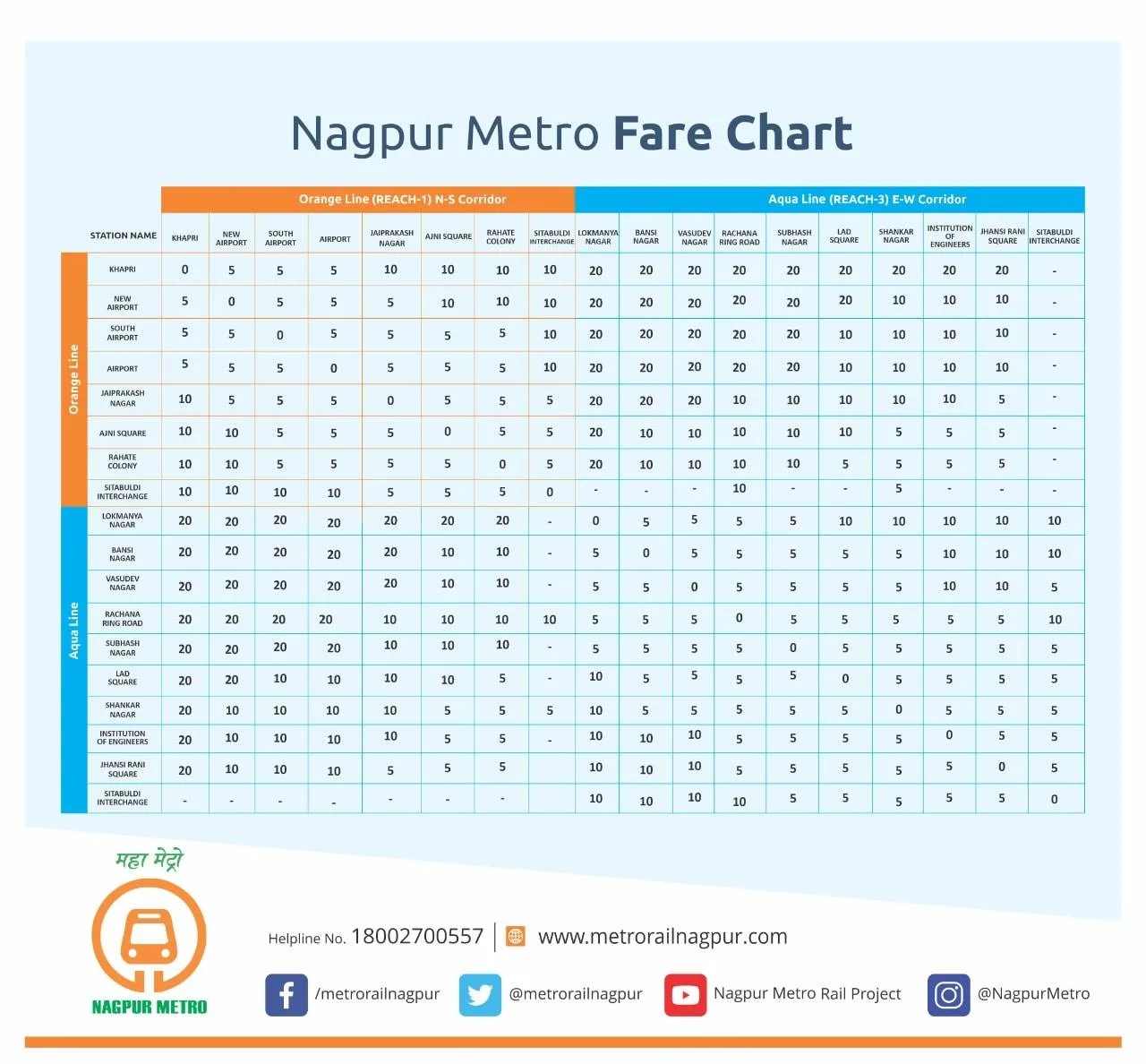 If you're looking to save money and the environment, taking the metro is the way to go. Nagpur's Metro is the most cost-effective public transportation option. Using a metrocard to buy tickets eliminates the need to carry around cash. To further incentivize regular use of their cards, Maha Metro also provides fare discounts.
The Orange Line has a low starting fare of 5 INR

Aqua Line fares start at 5 INR 

Beginning your trip in Khapri, you can take the Orange Line metro for 5 INR to reach New Airport Metro Station, 25 INR to reach Jaiprakash Nagar Metro Station, and 55 INR to reach Sitabuldi Interchange Metro Station.

It will cost you INR 10 to get to Vasudev Nagar Metro Station from Lokmanya Nagar on the Aqua Line, INR 25 to get to LAD Square Metro Station, and INR 55 to get to Sitabuldi Interchange Metro Station.
Nagpur Metro MAHA Card
With the help of the State Bank of India and the Maharashtra Metro Rail Corporation Limited (MMRCL), the people of Maharashtra now have access to the Metro MAHA Card Service. Passengers can avoid the hassle of standing in line for tickets by using this metro card service. Typically, the amount loaded onto an EVM chip-based card can be anywhere from Rs.100 to Rs.2000, with increments of Rs.100. If riders of the Metro pay with a credit card, they will receive a discount of 10% on their fare.
As per the latest update on Nagpur metro's MAHA Card, Maha Metro will now provide students up to the 12th standard with a 30% discount on chapter travel. The discount would only apply to cash transactions or travel using the Maha Card. These beneficial changes for children went into effect on Tuesday, February 7th.
To receive the discount, school or junior college students will need to show their identity cards issued by the college or school authority at the ticket counter.
Nagpur Metro: Mobile App for Purchasing Metro Tickets
Purchasing Metro tickets in Nagpur is a breeze with the official mobile app. You can use it to plan your trip while accessing the complete Nagpur Metro map, routes and purchase tickets. You can also learn about the times that trains depart and arrive, and the places of interest in the area.  In addition, you can share your thoughts on the Metro's offerings by contacting the station directly. The app provides Metro riders with all the information they need, such as how to purchase a ticket. The app is helpful for visitors because it shows them the way to the closest subway stop, as well as other transit-related information.
Nagpur Metro Timings
The Nagpur Metro consistently transports commuters.  The authority also uses social media to keep travellers apprised of schedule changes. 
At 8 a.m., the Orange Line begins service with its first train of the day. Meanwhile, the final subway stop is reached at 8:55 p.m. after the final train has left the station at 8 p.m.

The first Aqua Line train departs at 8 a.m. The last train leaves at 8 PM and arrives at the last metro station at 8:52 PM.

Orange and Aqua Line trains run every 15 minutes.

On the Orange Line, Khapri to Sitabuldi Interchange Metro Station takes 25 minutes.

The travel time on the Aqua Line from Lokmanya Nagar to Sitabuldi is approximately 22 minutes.

The travel time for the Orange Line from Khapri to New Airport is about 4 minutes, Jaiprakash Nagar is about 14 minutes, and Sitabuldi is about 25 minutes.

Taking the Aqua Line from Lokmanya Nagar, you will arrive in Vasudev Nagar in about 5 minutes, LAD Square in about 14 minutes, and Sitabuldi in about 22 minutes.
Conclusion
Through its connectivity and reduction of distances between different parts of the city, Nagpur Metro is significantly expanding the potential of the city's real estate. It has not only become easier to travel around the city, but also, the development of Nagpur Metro has led to a rise in the price of residential properties near these metro stations.
Also Read: Factors To Keep In Mind When Investing In Real Estate