Table of content:
What did your almirah look like when you opened it this morning? Were all your clothes piled high on one shelf? Did you face difficulty while finding that one outfit you know you have somewhere?
Situation sound familiar?
Well, if you feel there is a lack of enough storage for all your items– then you're in need of a good storage option where everything will be collected in one place! Having a cupboard for your bedroom will make the most of the space and will give you a quicker way to find all of your clothes, shoes, jewelry and accessories you need there and then!
This blog takes you through 7 of the latest bedroom cupboard designs that will help keep your bedroom organized.

Best Bedroom Cupboard Designs For Home
1. Wooden Cupboard Design For Bedroom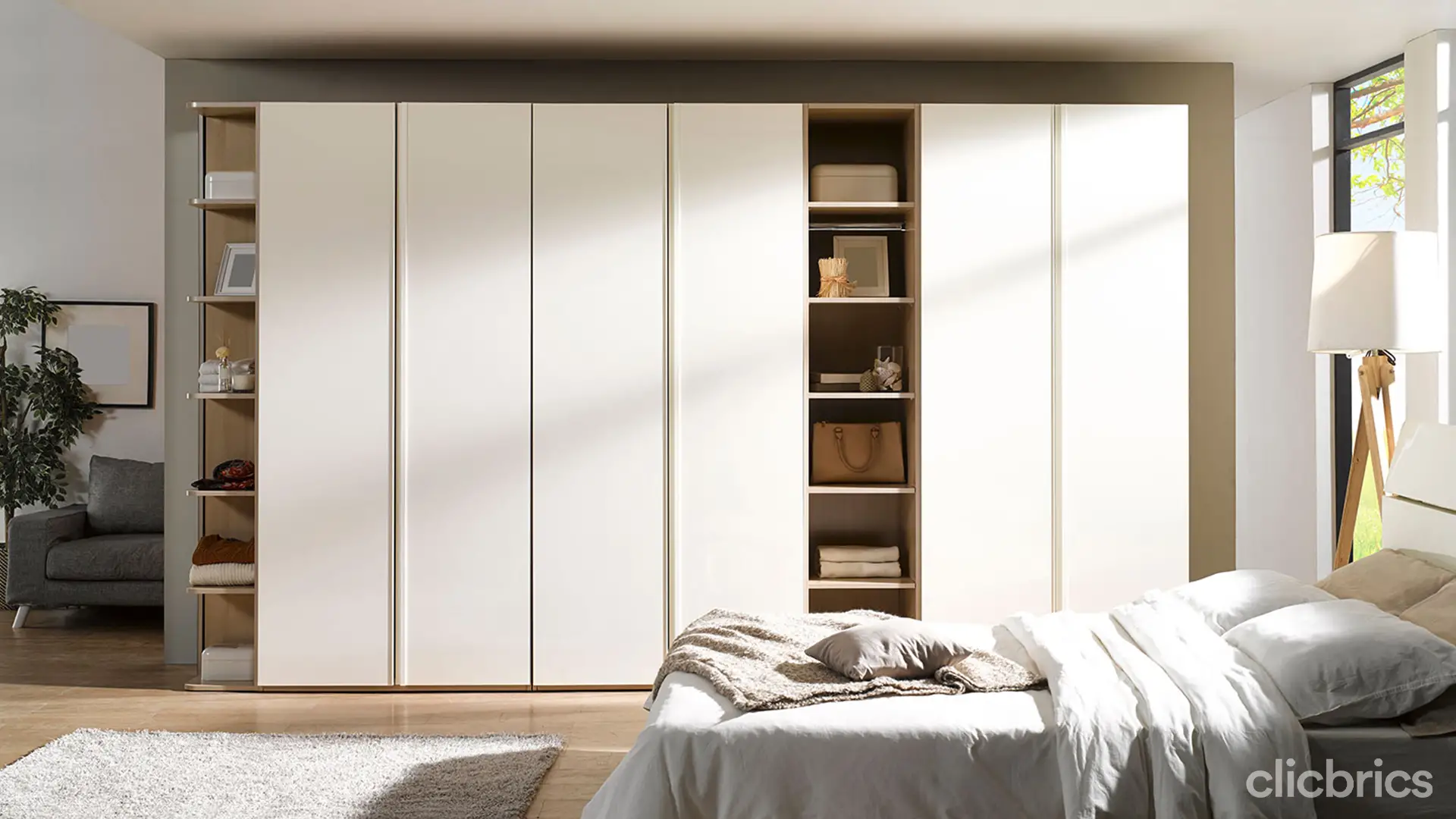 If you want something that will never go out of style and can be passed down from one generation to another, then a wooden cupboard is an ideal option for you. Oak, maple, cherry, and pine are some of the most common pieces of wood for making furniture in Indian households. With a variety of modern bedroom cupboard designs available in the market, you can now choose a cupboard that fits perfectly on your wall and is no longer an obstruction in the room. 
Although wood is more expensive than other materials, they are long-lasting and strong and also, they offer a rustic and charming look.
2. A Bedroom Cupboard with Sliding Doors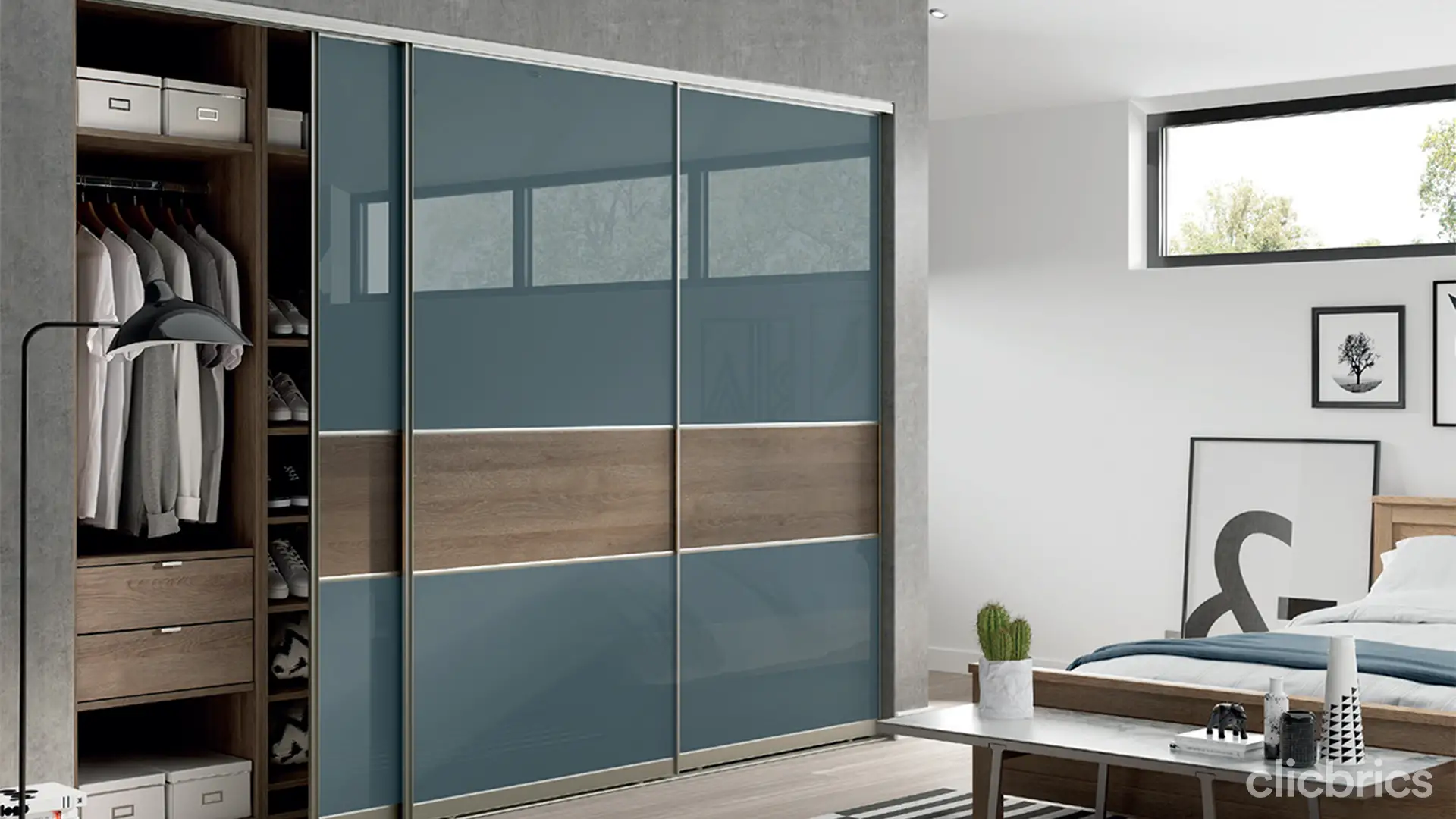 There is no better way to maximize the space than a bedroom cupboard with sliding doors. They look sleek, give a better appearance to the bedroom and save the floor area, which in turn, makes movement within the room easy. When you have conventional cupboards which have openable shutters, they absorb the extra space on which they are built, the area covered by the doors and they also obstruct your circulation within the area. With a sliding cupboard design option, you could even choose a slightly bold colour as it will look more stylish, modern and luxurious.
Also Read: 7 bedroom wardrobe design ideas  
3. Open Door Cupboard Design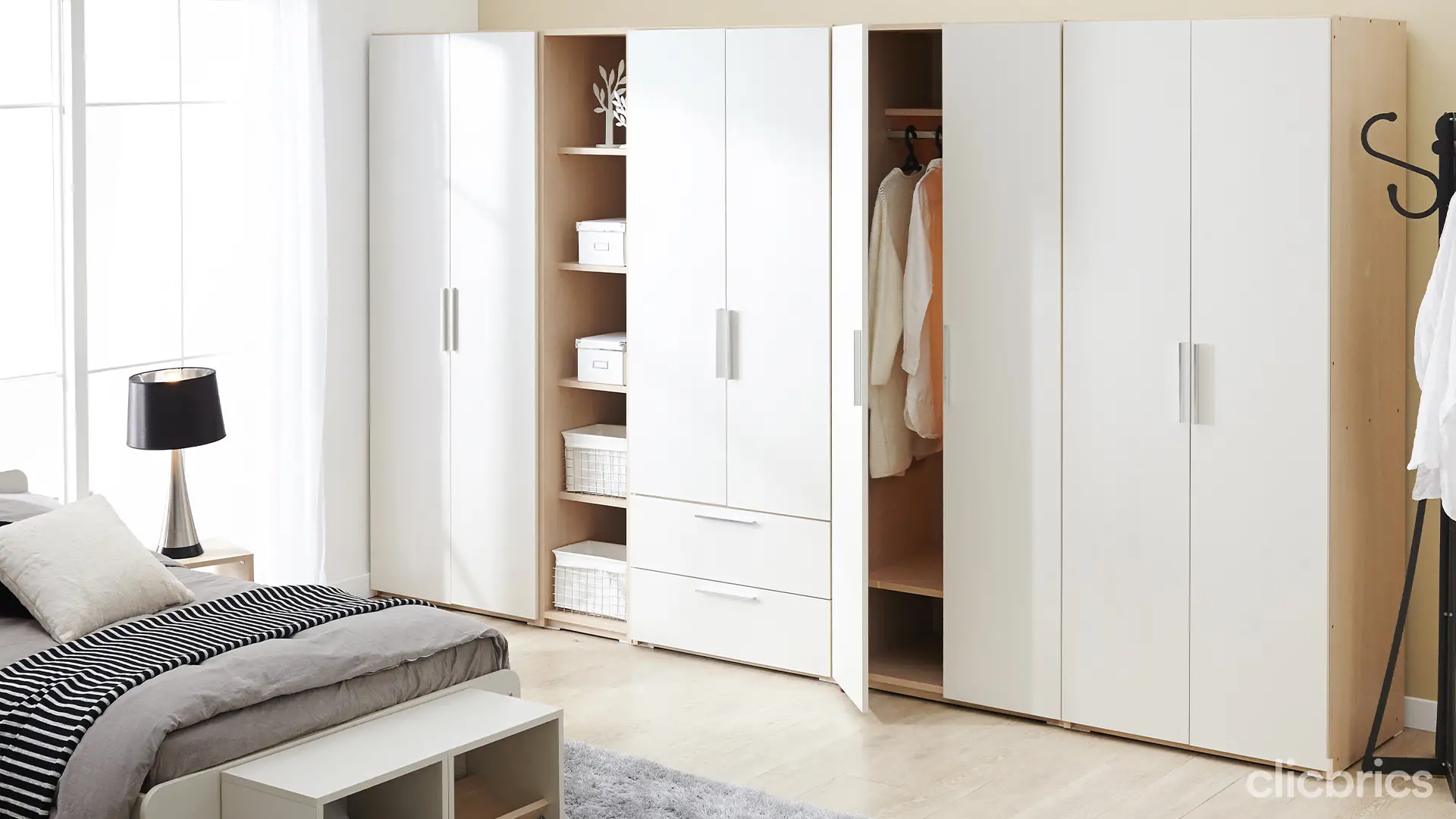 Having an open cupboard for your bedroom is an excellent option for several reasons. In this type of setting, you can install hangers for your clothes, allowing you to see the outfit you would like to wear and pick it out when needed. And, secondly, this will instantly clear up the heavy look, making a small bedroom look bigger. In children's bedrooms, you can also add some drapes and curtains to conceal the mess. Make sure that your child is able to pull the curtains back easily, without pulling them down. Also, if you are keeping this design for your bedroom, you must have some drawers and extra storage space for other items you do not use regularly. 
4. Small Bedroom Cupboard Designs with Glass Door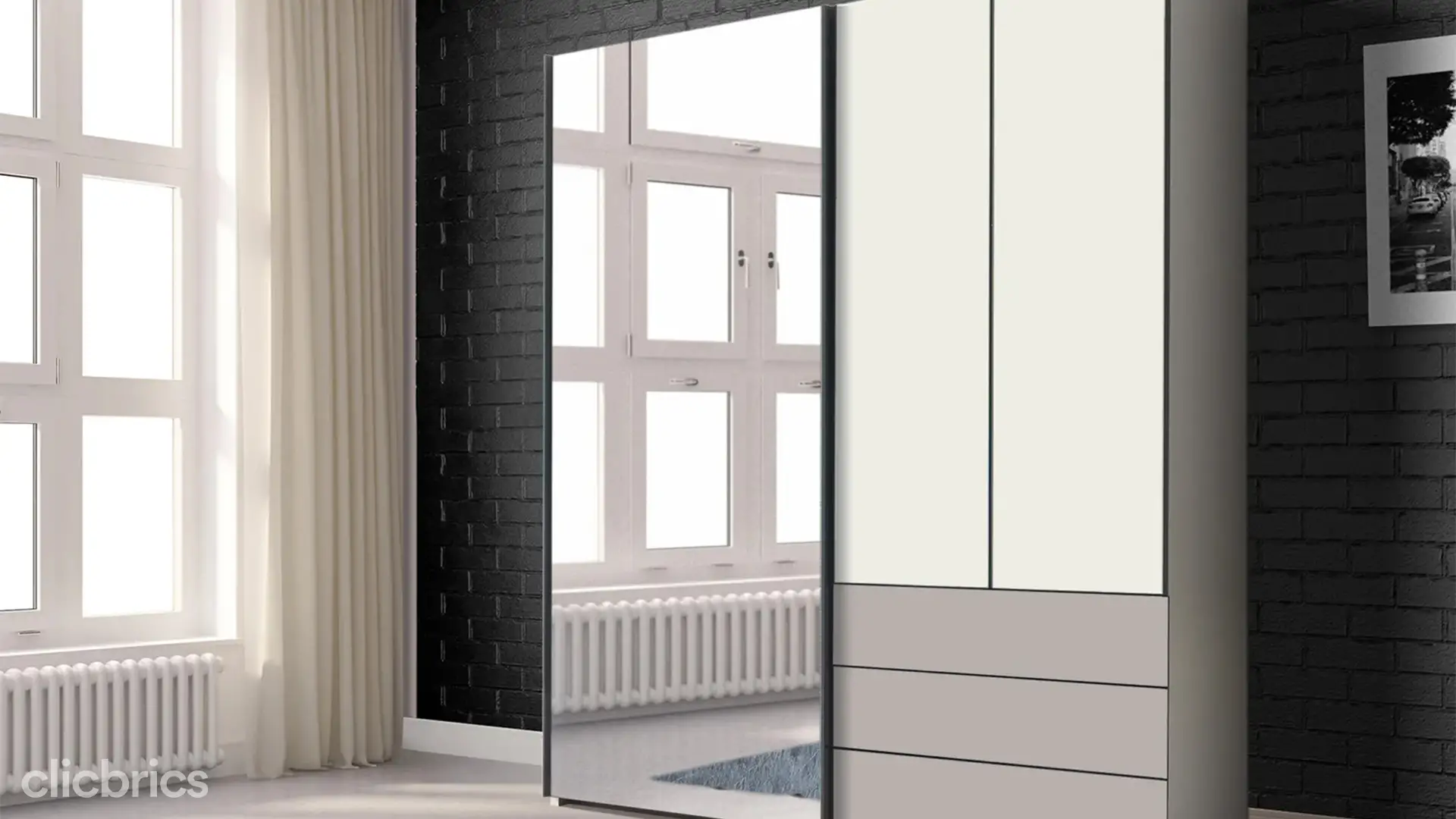 If you have a small bedroom and you want to make your bedroom look spacious and airy, then using reflective mirrors on bedroom cupboard panels is suitable for you. These mirrors help reflect light and increase the perception of space and make the room appear larger than it is. Furthermore, you get the dressing-up mirror built-in, which means it will save more space. This way, you don't need to pay extra bucks on the separate dressing table. You can add corner table shutters and other small furniture in your bedroom to instantly glam up your space.
5. Cupboard With Attached Study Table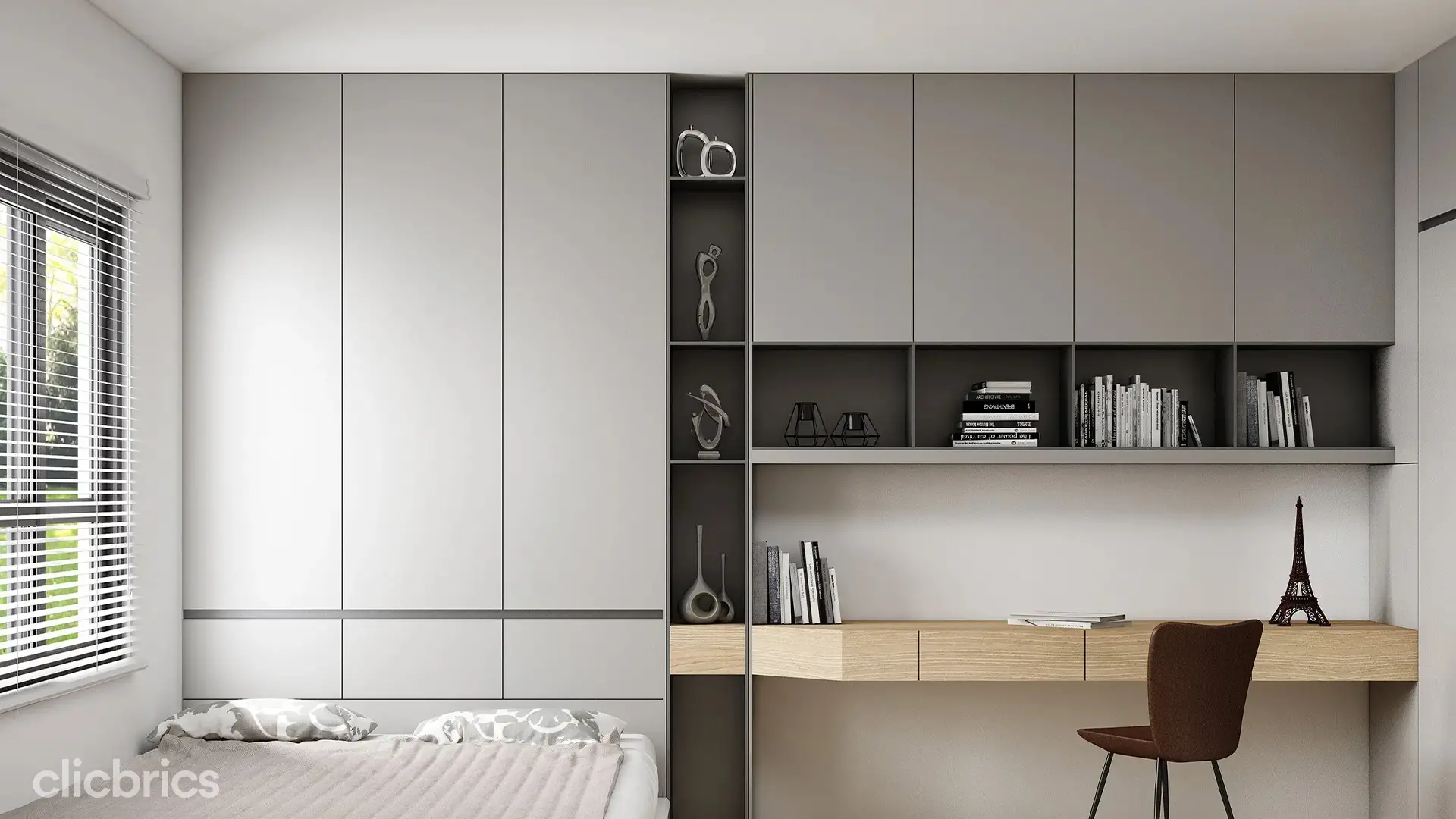 If you are living in a home with limited space, the next best option is to design a built-in cupboard with a study table in your bedroom. Not only will it provide you ample storage space for your belongings, but it will also give you a place for reading, writing and assignments. Instead of creating a study nook from the side of the cupboard, you can also carve out a space for your study or workstation. This study room cupboard design is perfect for those who live in a small apartment. Furthermore, it is a good solution for those who do not want to compromise on their wall and floor space.
6. Headboard Wall Cupboard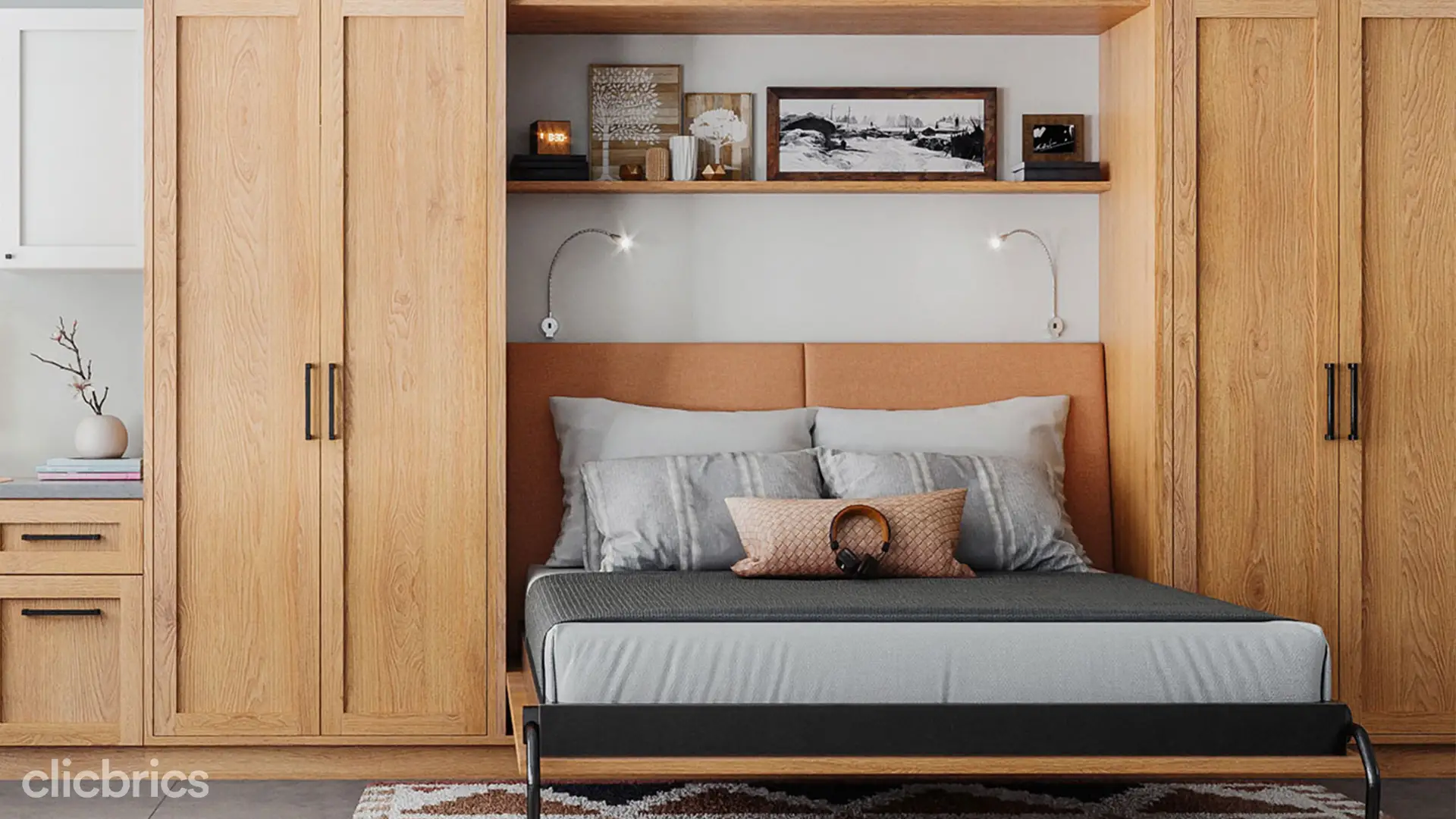 Do you want to create storage space and optimize your bedroom? If yes is your answer, then go for headboard wall cupboard design for a bedroom. But you don't want to feel like you're sleeping in your cupboard either. Don't worry, this cupboard design is built and fitted into the bedroom wall and covers the entire wall from the ceiling to the floor. Headboard wall cupboards may also provide additional storage space for displaying decor items such as planters or books. This type of designs also come with a variety of options like cupboards with mirrors, sliding doors, TV cabinets, and much more.
Also Read: Latest cupboard design for your home
7. Wall Cupboard for Puja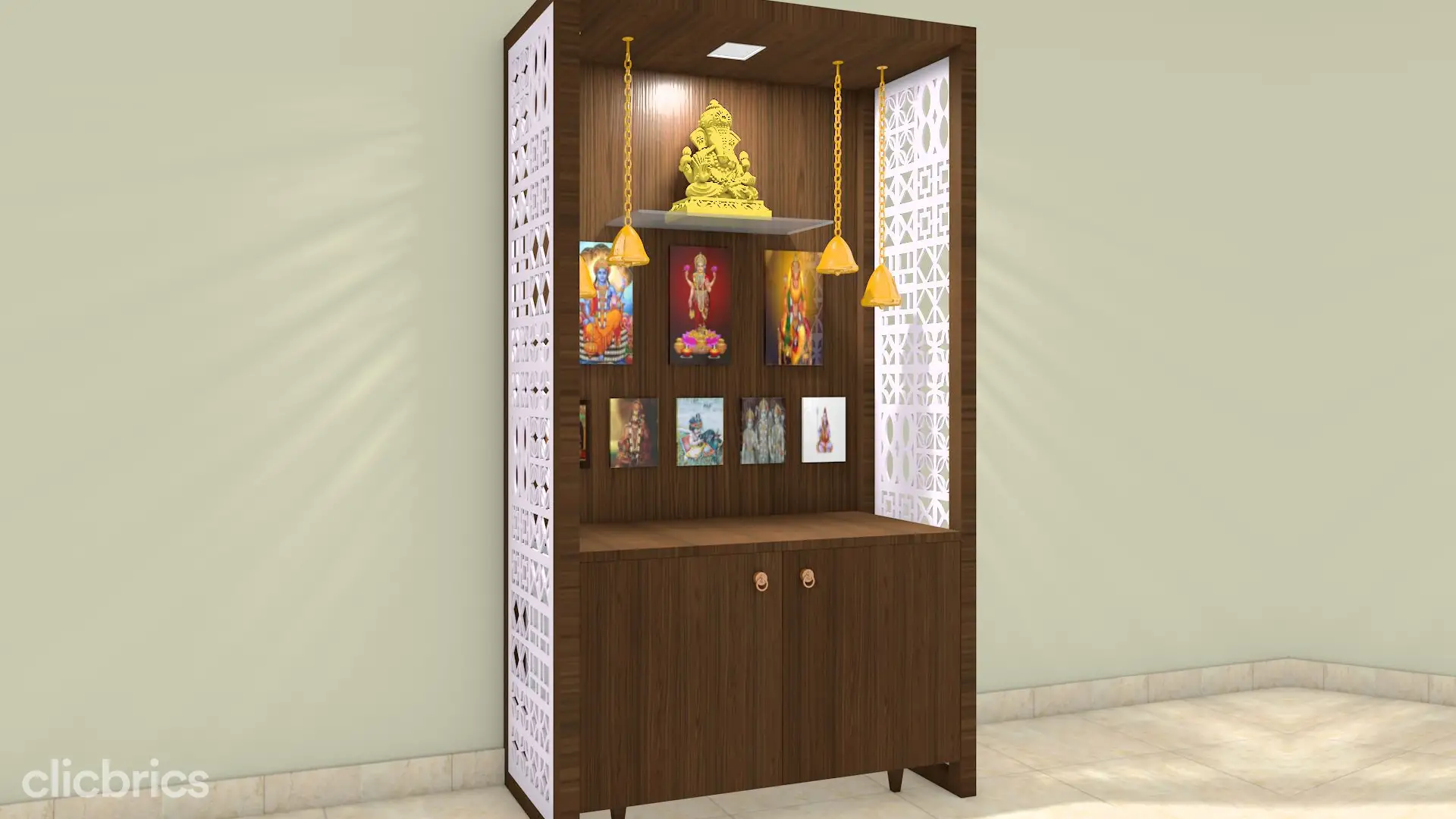 Most Indian homes have a specific space allocated to offer prayers to the deities. In Indian households, this space is often referred to as a puja room. However, some people may not have a large enough house to have a separate pooja room. This is exactly where a wall cupboard design for puja becomes an ideal choice. The wall cupboards come with a puja unit so that you can keep your idols and puja items easily. This will create a serene and tranquil environment that is much needed for an ideal space of worship.
Things To Consider When Buying a Cupboard for Bedroom
If you are planning to buy a new cupboard for bedroom, then follow these pointers that would help you get the best cupboard for your room:
1. Take The Measurements of The Available Floor Space
Having an idea about which wall would be used for the cupboard and also the designated space for the cupboard should be known beforehand. This involves taking the accurate measurement of the area to decide the depth of your cupboard, along with the height of your ceiling.
2. Understanding of Storage Requirements
While choosing a wall cupboard design, you must calculate the number of drawers you would require to stuff your clothes and other belongings in it. For this, you must take a look at all those particular belongings like clothes, shoes, cosmetics, and other valuables that need to be stored inside the cupboard. Before finalizing the product, always check whether it has enough sections to keep your belongings properly without any clutter.
3. The External Appearance
The appearance of your bedroom cupboard must be taken into consideration because it is one of the main pieces of furniture that draws attention to the bedroom design. It should match and complement your home décor and wall colours and should also serve its purpose.
4. The Material of The Cupboard
The material of the cupboard defines its durability. Therefore, keep the pros and cons of particular build material in mind while finalizing the cupboard for your bedroom.
5. Check Your Budget
Besides the appearance, storage capacity and material, there is one more crucial element to consider – the price of the cupboard. In the market, you will find various designs in bedroom cupboards.  The prices of cupboards vary a lot, so you have to choose the best cupboard for your bedroom without compromising your budget. You should always go for the one that fits your bedroom vision in – aesthetics, utility, and budget.
Conclusion
Whatever be your type of cupboard, it has to be the right size and dimension for your room and should complement your bedroom's interior. Having a cupboard that suits the above-mentioned bedroom cupboard designs will not only enhance the look but will also provide you with plenty of storage for all of your shoes, clothes, accessories and other valuables. Now, getting dressed each day is much easier, quicker, and more enjoyable.