Table of Contents
Do you know why pop design for the roof plays a significant role in interior design? It is because installing a quality pop-up design for the roof catches everyone's attention. 

2023 is just around the corner and now is the time to modernise your living area by adding a roof-ceiling pop design. So, if your ceiling is still plain white, consider this article a wake-up call rather than an inspiration.
We have taken the liberty to present you with ideas based on the latest pop design for roofs that will enhance the overall aesthetics of your home. You will have the luxury of choosing from various designs and mixing and matching them with different kinds of materials to get a POP design that best suits your abode.  
POP Roof Design for Bedroom with Two Layers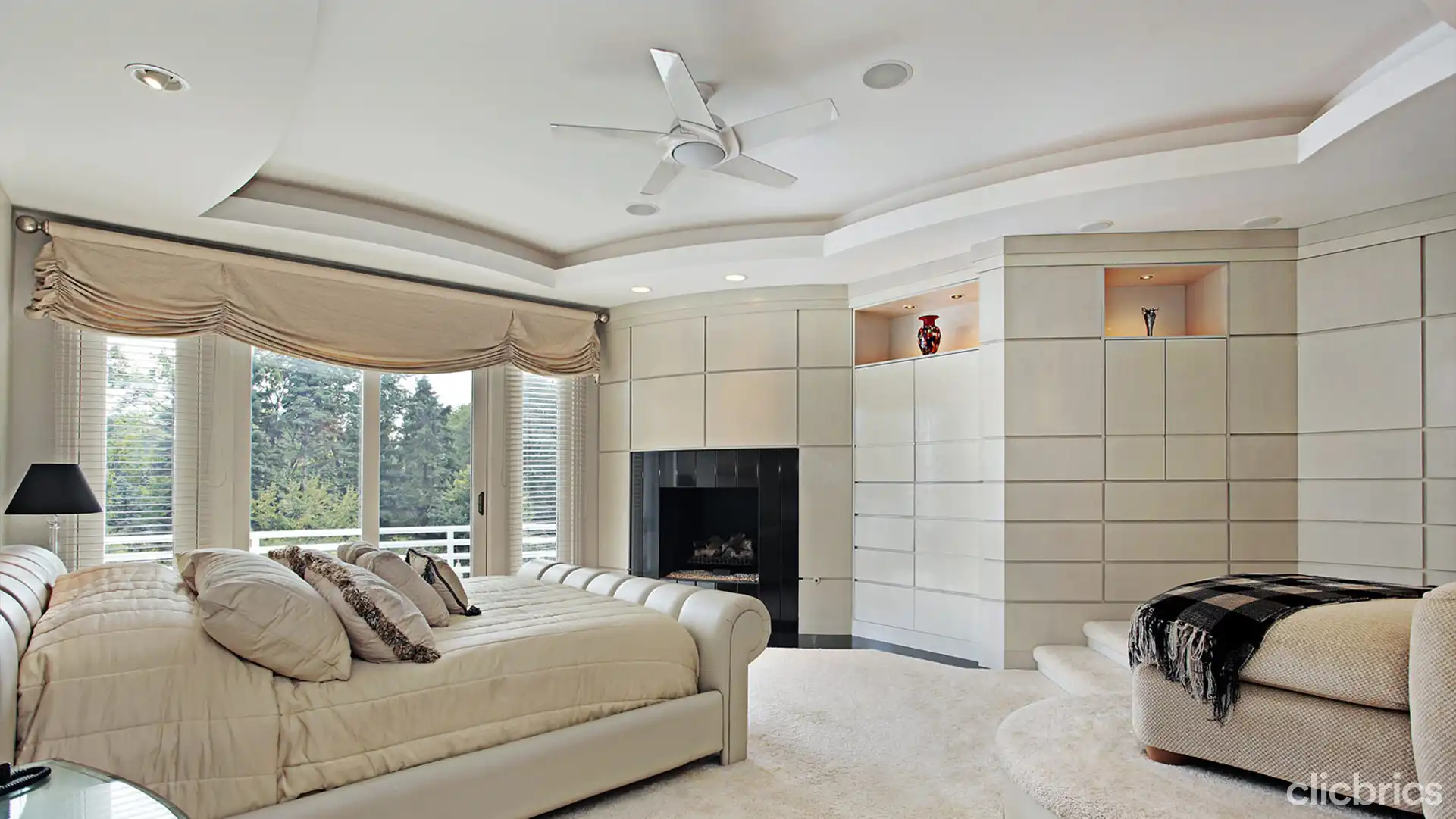 If you have a big master bedroom and are planning on remodelling it, then one stunning pop design for the roof is coming your way. This double-layered roof false ceiling design will add aesthetic value to your home. 
The best part of using two layers is that you get plenty of opportunity to experiment with patterns, materials, and colours. You can create a pleasing contrast with the muted shades of neutral colours. 
Also Read: These Irresistible Colour Combinations for Your Bedroom Walls
Ornamented Simple POP Design for Roof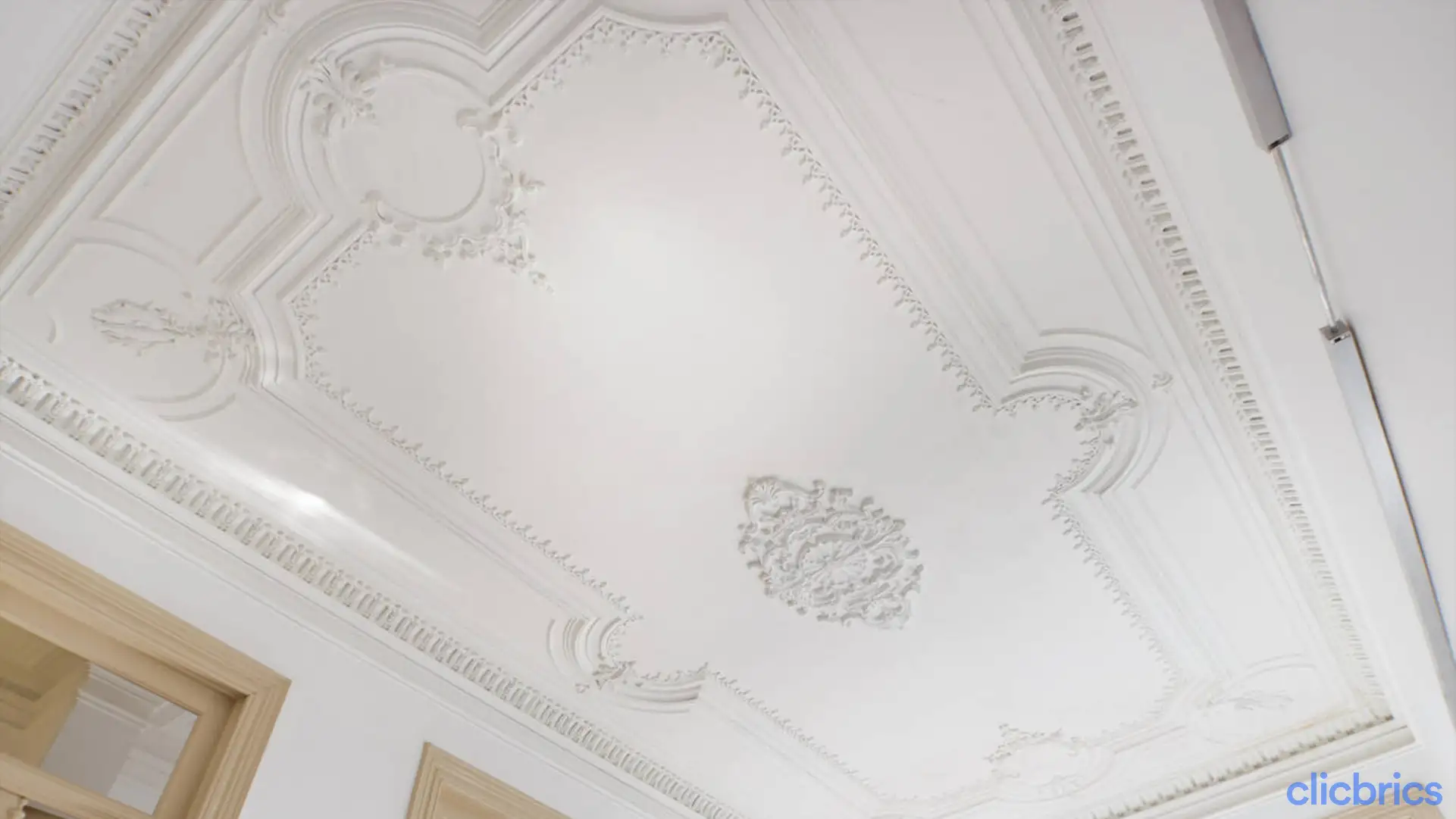 In India, homes are incomplete without the presence of a "pooja ghar." And why shouldn't it be? Having a pooja ghar at home provides positive energy and offers a sense of sacredness. Hence, more than depending on diya and flowers to enhance the look of such a sacred place in your home, it would be best if you decorated your pooja ghar in a way that breathes politeness and beauty. You can make a cornice wall and place a chandelier design as a centrepiece. 
It is a simple pop design for the roof, yet it will offer a soothing effect to your pooja space. 
Also Read: 10 Budget Friendly Indian Style Pooja Room Designs For Your Home
Geometric POP Design for Roof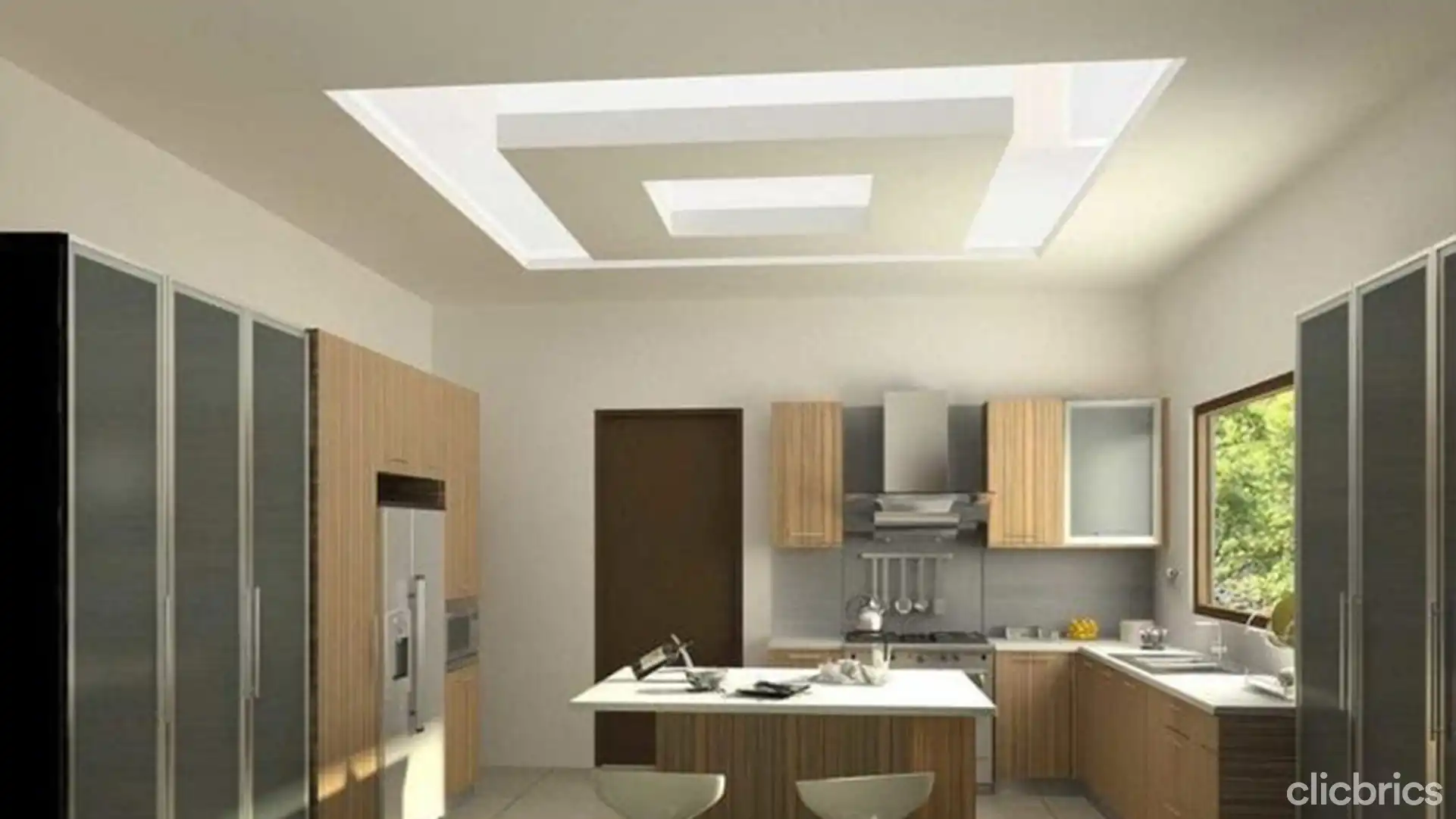 The kitchen is where one spends most of their time, yet they ignore working on the aesthetic part. If you, too, follow this drill, then you're on the wrong track. 
Creating geometric shapes by having a blend of geometric patterns on the ceiling of your kitchen is the best way to enhance the look. You can create a magnificent appearance and an excellent cooking experience by installing a geometric pop pattern for the ceiling plus minus print; that can be in any shape, like circles, triangles, squares, and hexagons. You can even use geometric shapes to create intriguing borders in your kitchen. 
The ultimate goal is to achieve an alluring pop design for the roof, which can be easily attained by installing geometric patterns. 
Also Read: 8 Simple Kitchen Trolley Designs With Images
Curved Plus Minus POP Design for Lobby Roof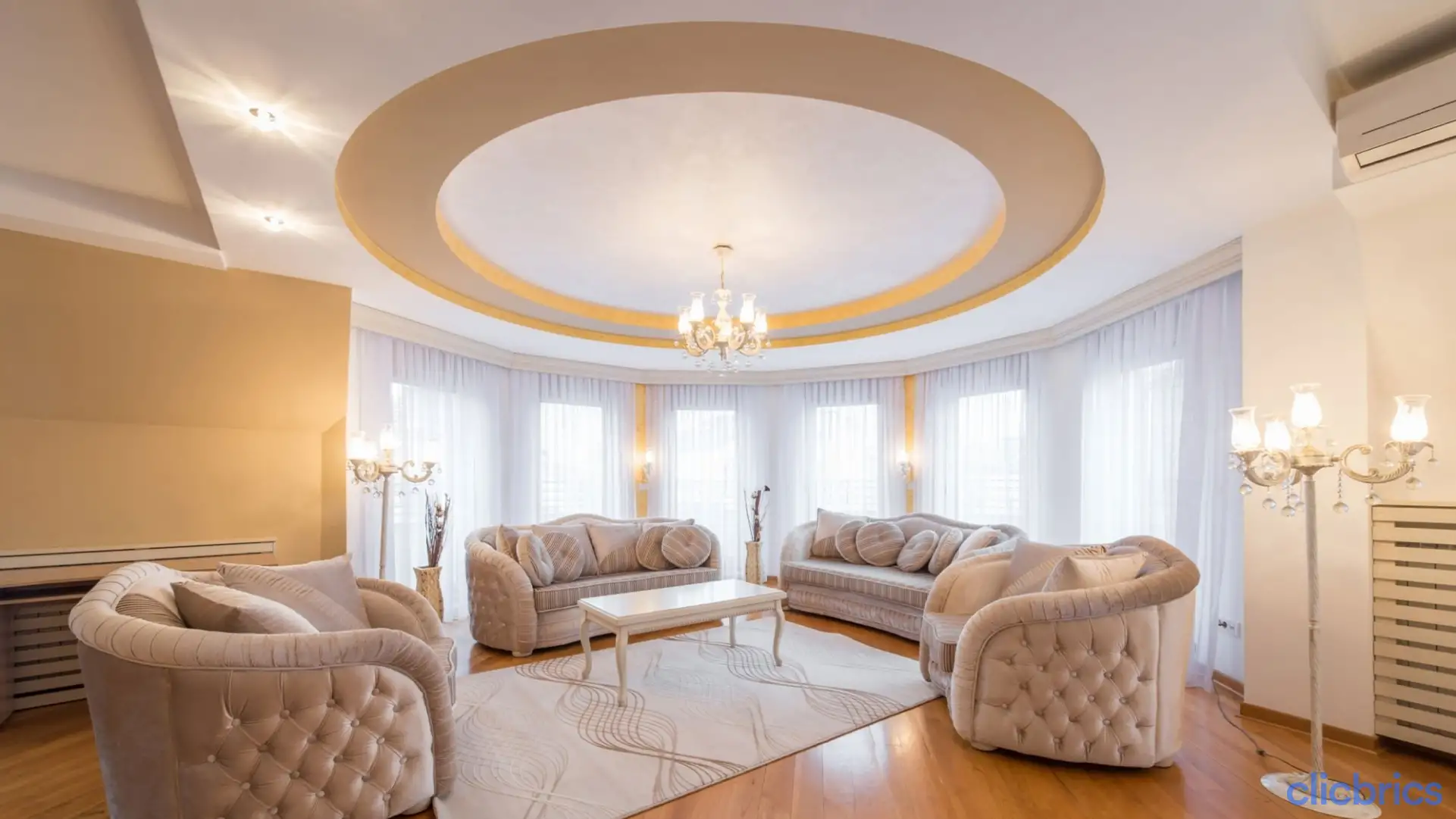 A pop roof design that is simple yet alluring and is curved adds aesthetic appeal to your lobby. You can design a simple S- or U-shaped curve, barrel cone, or wave, for that matter, and create an attractive ceiling. If you don't have to spend your energy and time designing the entire top, you can add a swirling curved POP design for the roof, and you'll get a compact and neat look.
Also Read: 12 Creative Main Hall Fall Ceiling Design Ideas
Wooden POP Design for Roof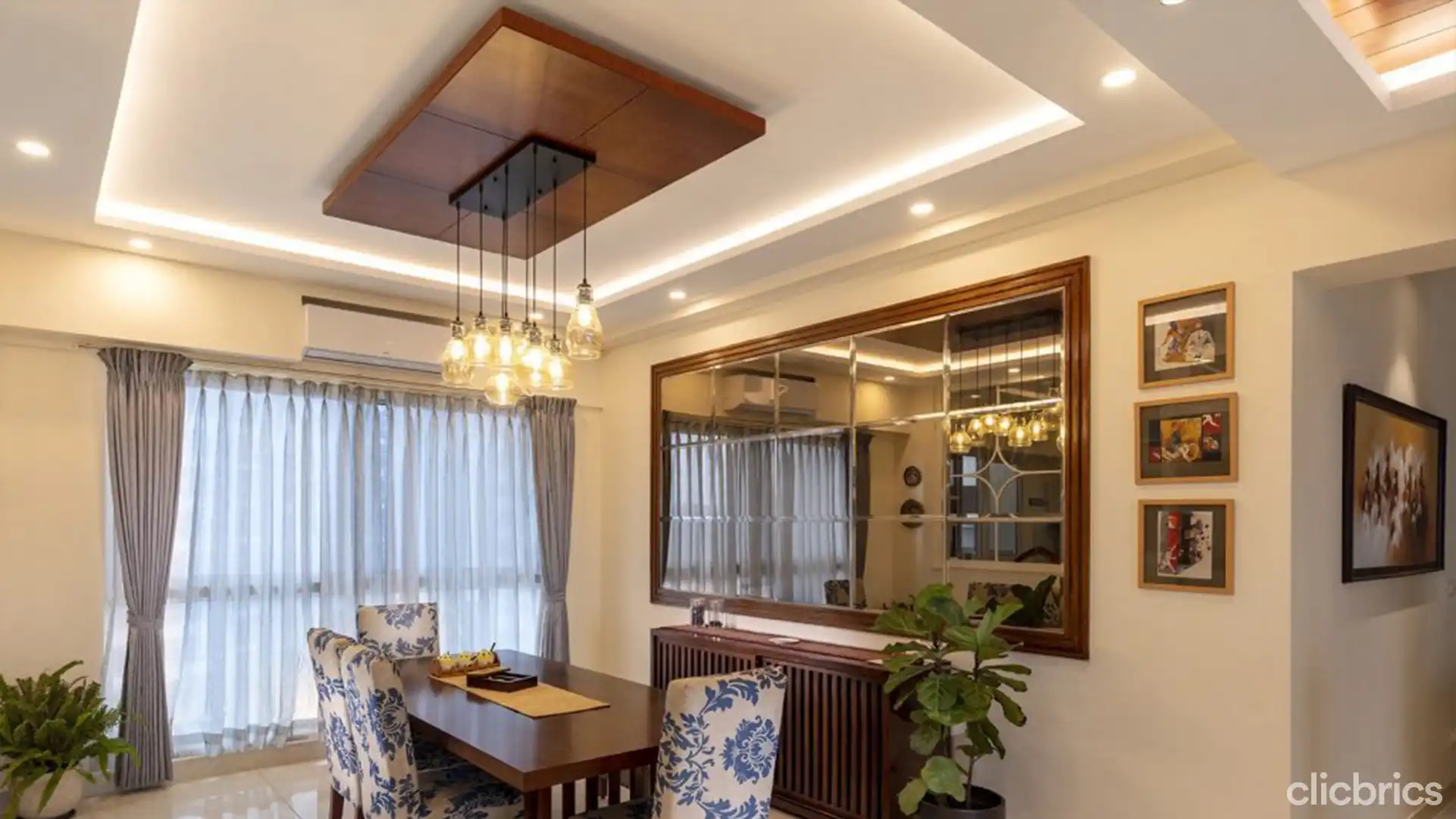 Wood is a powerful element that brings warmth to a place. POP complements glossy hardwood ceiling coverings. Hence, consider lining the two ceiling trimmings with POP moulding and covering the space in between with a wooden panel. You can also try a POP ceiling with sleek wooden rafters as a focal point in your dining room.
Furthermore, you can also opt for latticework wooden ceiling panels combined with concealed lighting to get a fascinating look for your dining space. 
Also Read: 5 Kitchen Gadgets to make your kitchen smarter than before
Wrapping it Up 
These above-mentioned POP designs for the roof are not just specific to one room. You can always swap things up for other rooms in your home based on your preferences. Just remember to create a pleasing and relaxing space by applying good lighting. But whatever you choose, ensure you and your loved ones get a cosy and warm environment in your loving home.