Table of Content
The kitchen has always been the most integral part of any home. We all spend a lot of time in the kitchen when cooking. The kitchen is the heart of every home, and the sink is the most indispensable accessory in the kitchen. Yes, just think about it once. Was there ever a day when you didn't use your small kitchen sink? From cleaning utensils and rinsing vegetables to washing your own hands after a wild cooking session, the sink area is one of the most used spaces in your kitchen. 

You might not have given it much thought, but the kitchen sink can be styled too. Whether you're planning to redesign your kitchen or have found a new love for cooking, there are plenty of reasons to update your sink.
Ideally, a kitchen sink should be convenient, and it should enhance the overall look of your cooking area. However, with so many models and kitchen sink sizes available in India these days, it is quite normal to get confused about how to choose the best sink design. In this blog, we will have a look at some of the best sink options for your kitchen, ranging between:
Materials

Size

Number of bowls

Also Read: Top 10 Cost-Effective Simple Kitchen Design Ideas
The Kitchen Sink Materials
No one wants the kitchen sink area to look like an eyesore in your beautifully designed kitchen. While durability is one key factor to look for, at the same time, it is also important that the material you choose for the new model kitchen sink fits aesthetically well into the theme of the cooking area. Let's understand this one by one.
1. Stainless Steel – Kitchen Sink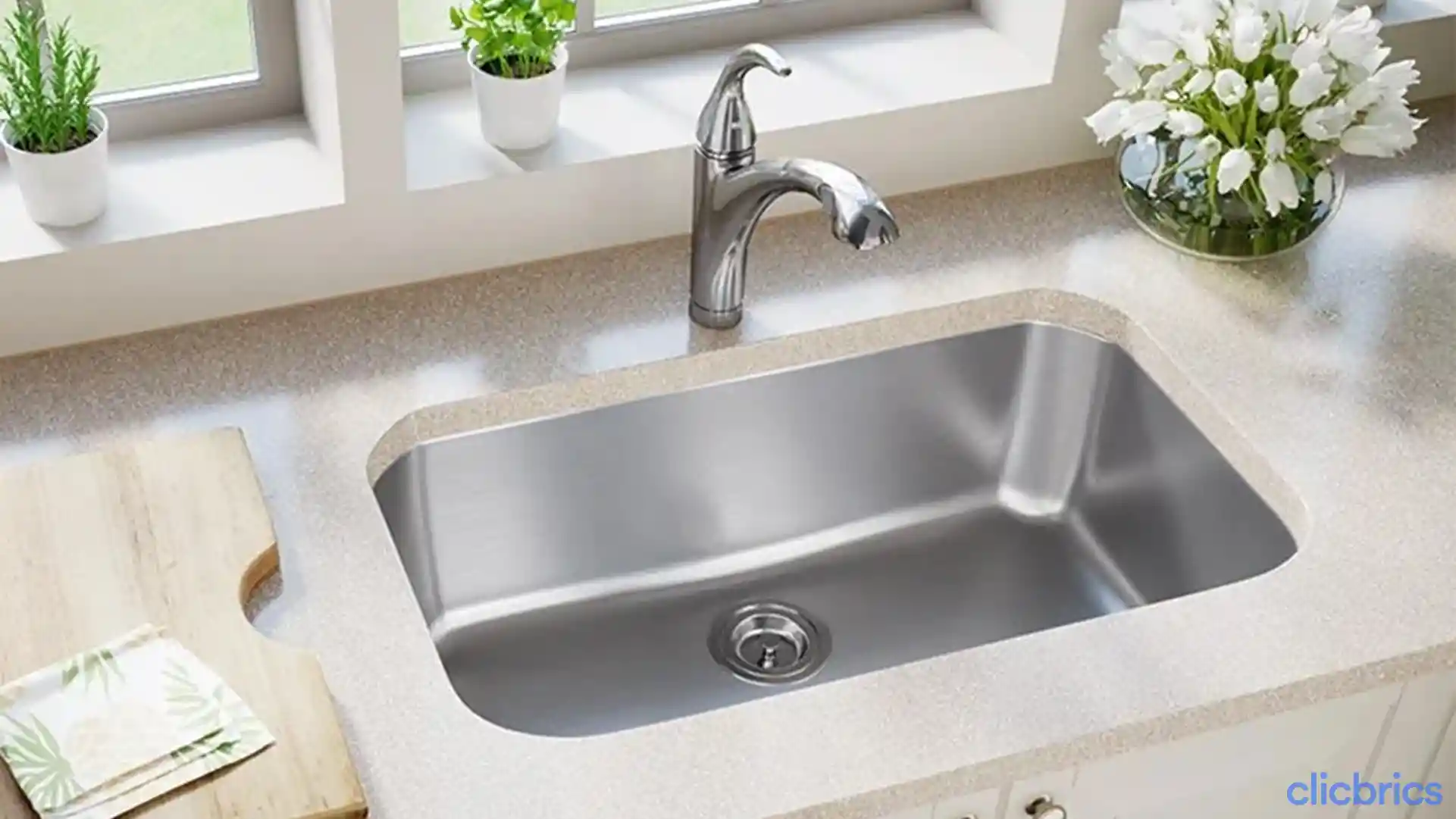 This is one of the most popular kitchen sink designs used in almost every home. They are easy to install, durable, and easy to clean, making them a functional and popular option. A steel sink is also affordable, low maintenance and fits well with all countertop surfaces. They are also available in various styles, such as farmhouse, under-mount, and over-mount. 
2. Granite – Kitchen Sink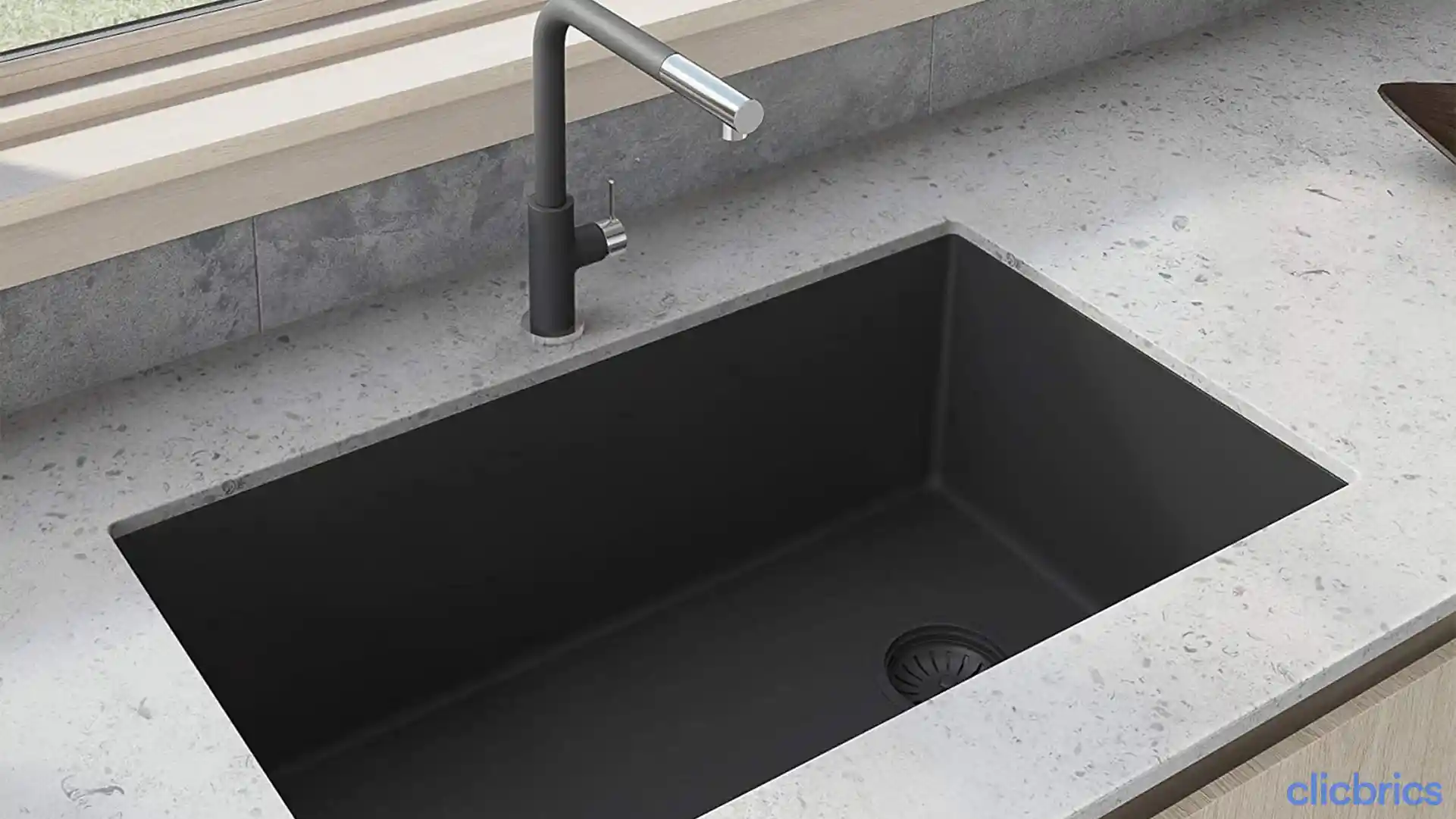 Granite composite sinks are perhaps the trendiest sinks around. This type of sink is incredibly durable, scratch resistant, and stain-resistant, and offers a cutting-edge modern aesthetic to any kitchen. They are made of crushed stone, and they often come in a number of colours or patterns, creating a unique type of designer kitchen sink that will suit every kitchen décor. 
3. Cast Iron – Kitchen Sink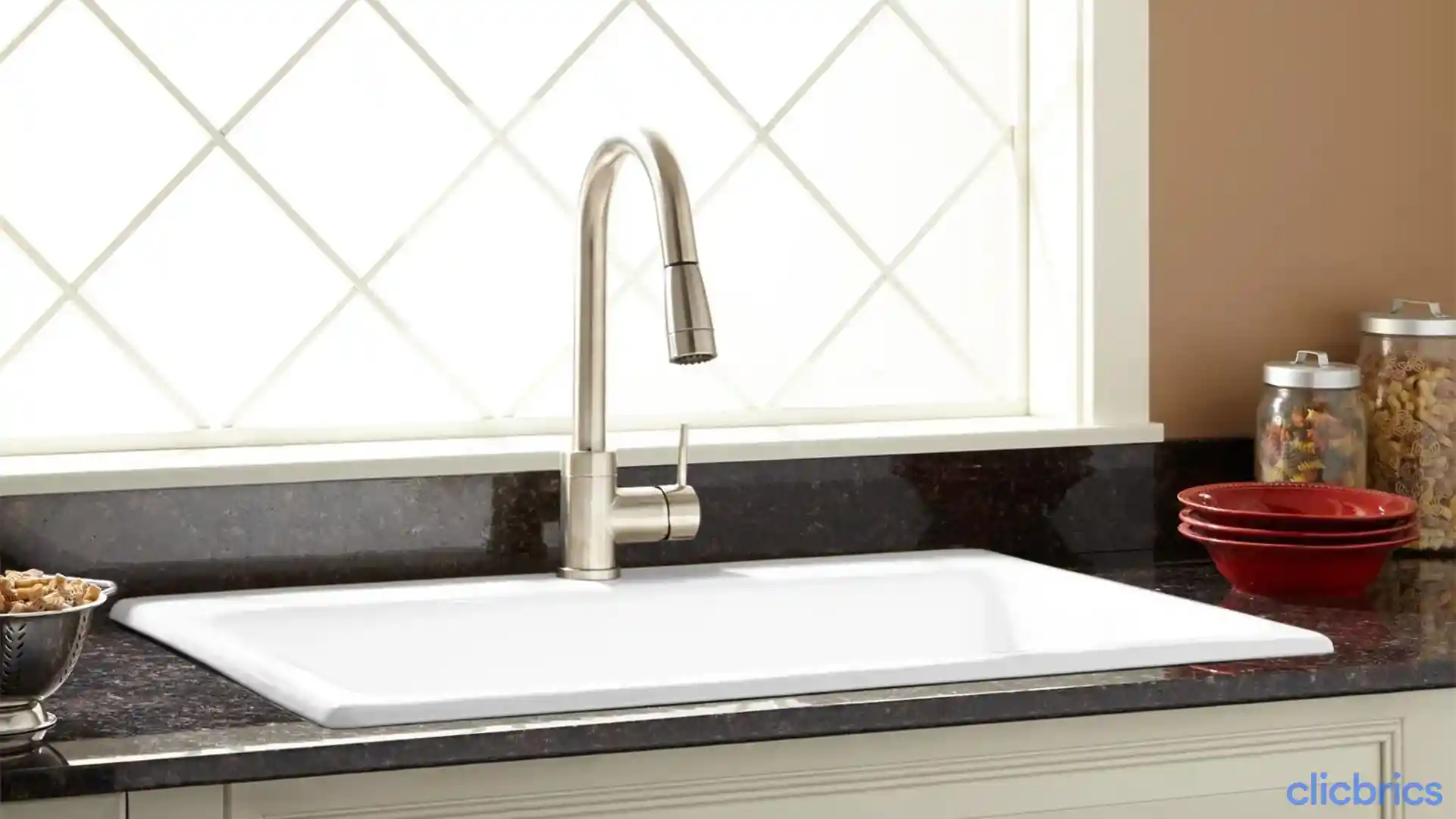 Cast iron sinks come with a thick enamel-top porcelain coating that gives them a glossy finish, which adds an element of visual appeal to them. This layer is primarily in white colour but can come in other colours to match your kitchen tiles. It is heavier and more durable than other sink types, which means it can last a very long time when cared for properly.
4. Fireclay – Kitchen Sink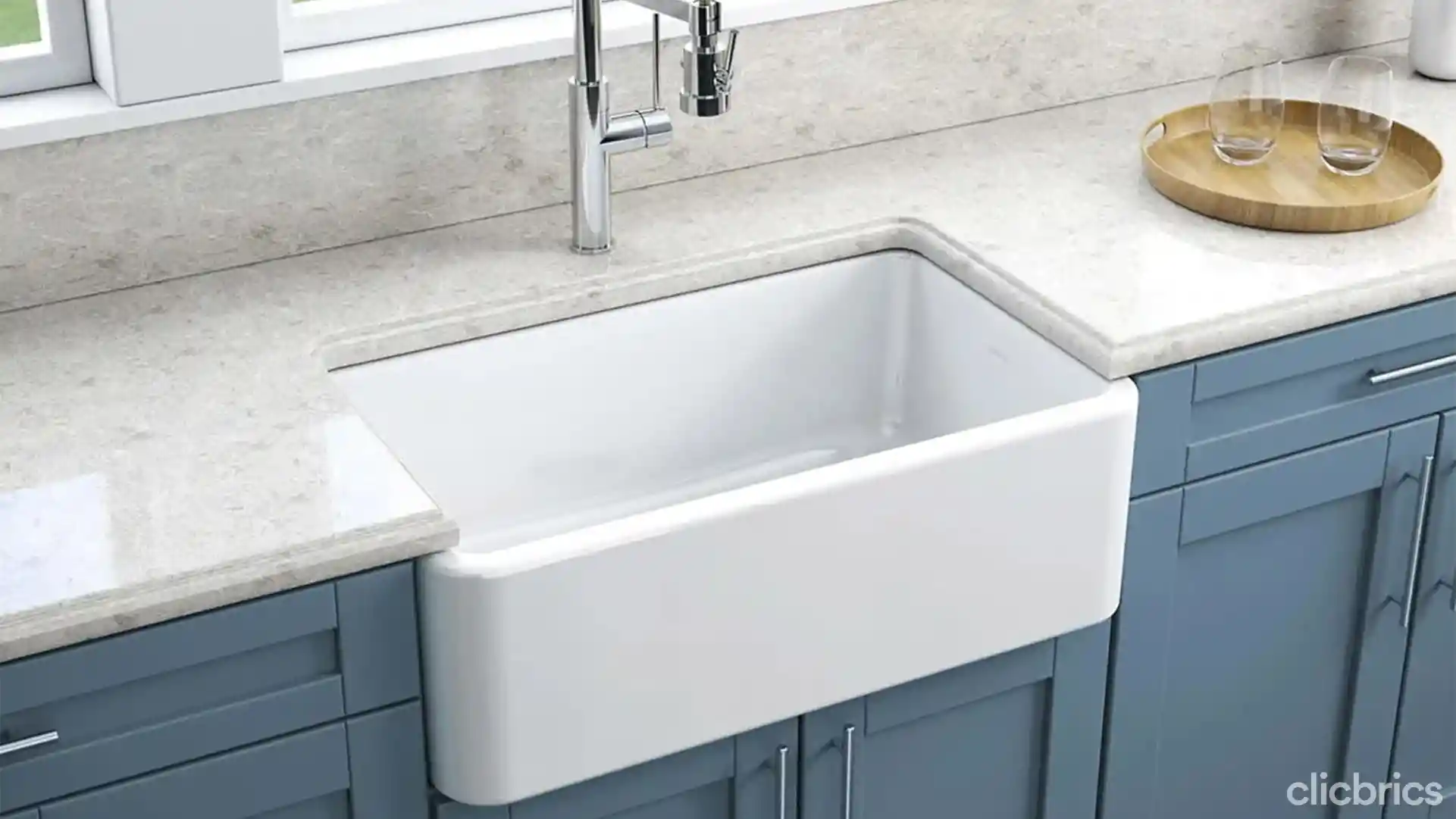 Fireclay is a mixture of clay and glaze fused together after being fired at a very high temperature, upwards of 850 °C. Fireclay kitchen sinks are almost similar to cast iron sinks but tend to be slightly more durable. This material is often used for traditional-style kitchen designs. Unlike cast iron sinks, this type of sink is less likely to scratch or chip away, and that's why it can look just as good as it was on the day you bought it.
5. Copper– Kitchen Sink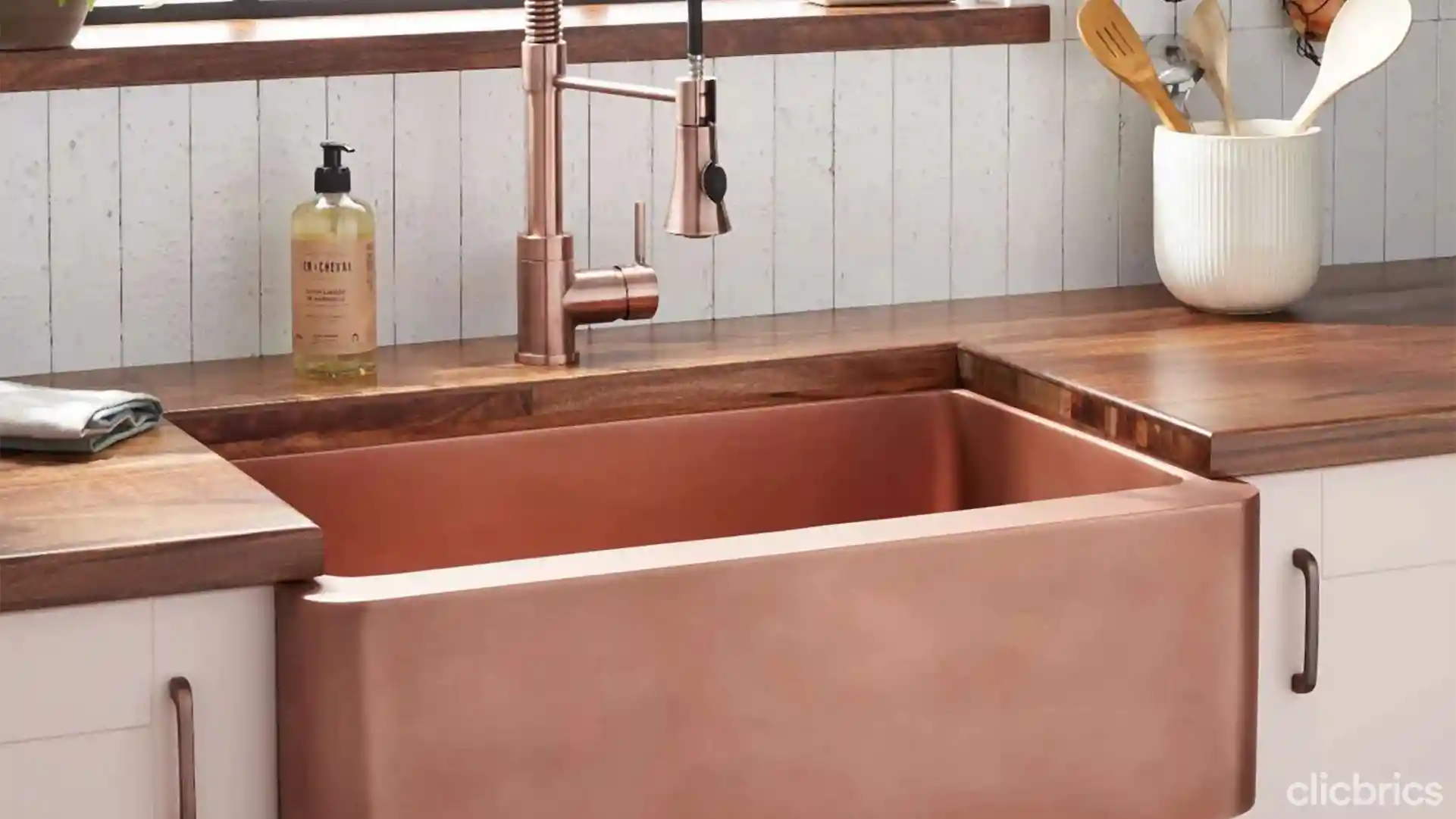 The copper sink is made with 99.9% pure copper. Its natural antimicrobial properties can kill harmful bacteria that cause infection, a reason why many health-conscious people choose copper kitchen sinks. This type of sink comes in a wide variety of sizes and styles. They can be a stunning addition to any kitchen, from a rustic kitchen design to a modern kitchen sink design. They can also be installed in similar ways as other types of sinks, whether you want an overmount or an under-mount kitchen sink.
Also Read: 10 Small Simple Kitchen Design Ideas To Get You Inspired
Unique Styles of Kitchen Sink
The material of the sink is not the only thing to be considered when choosing a kitchen sink. With a variety of kitchen sink models available these days, it is natural to get confused about how to choose the latest kitchen sink design. After all, it's not something that you can replace every year. Let's look at the different styles of kitchen sinks available, which can help you make an informed decision on choosing the best kitchen sink style:
1. Top-Mount Kitchen Sink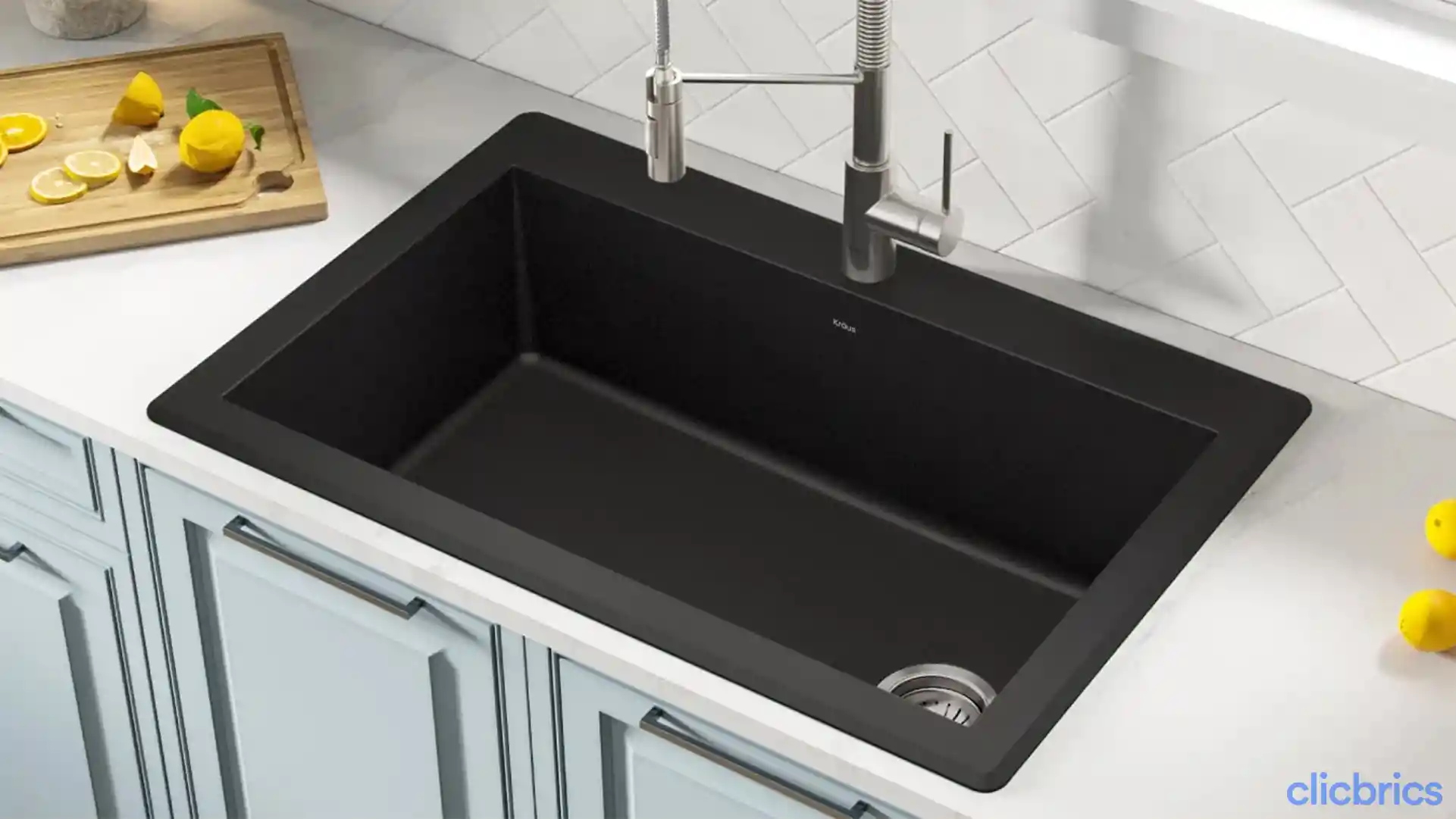 If you like to keep things simple, then top-mount kitchen sinks are ideal for you. These types of sinks are the most economical and commonly seen sink types in Indian kitchens. They are easy to install and can work well with any type of material. It has a rim or lip that holds the sink in place and creates a perfect look.
2. Undermount the Kitchen Sink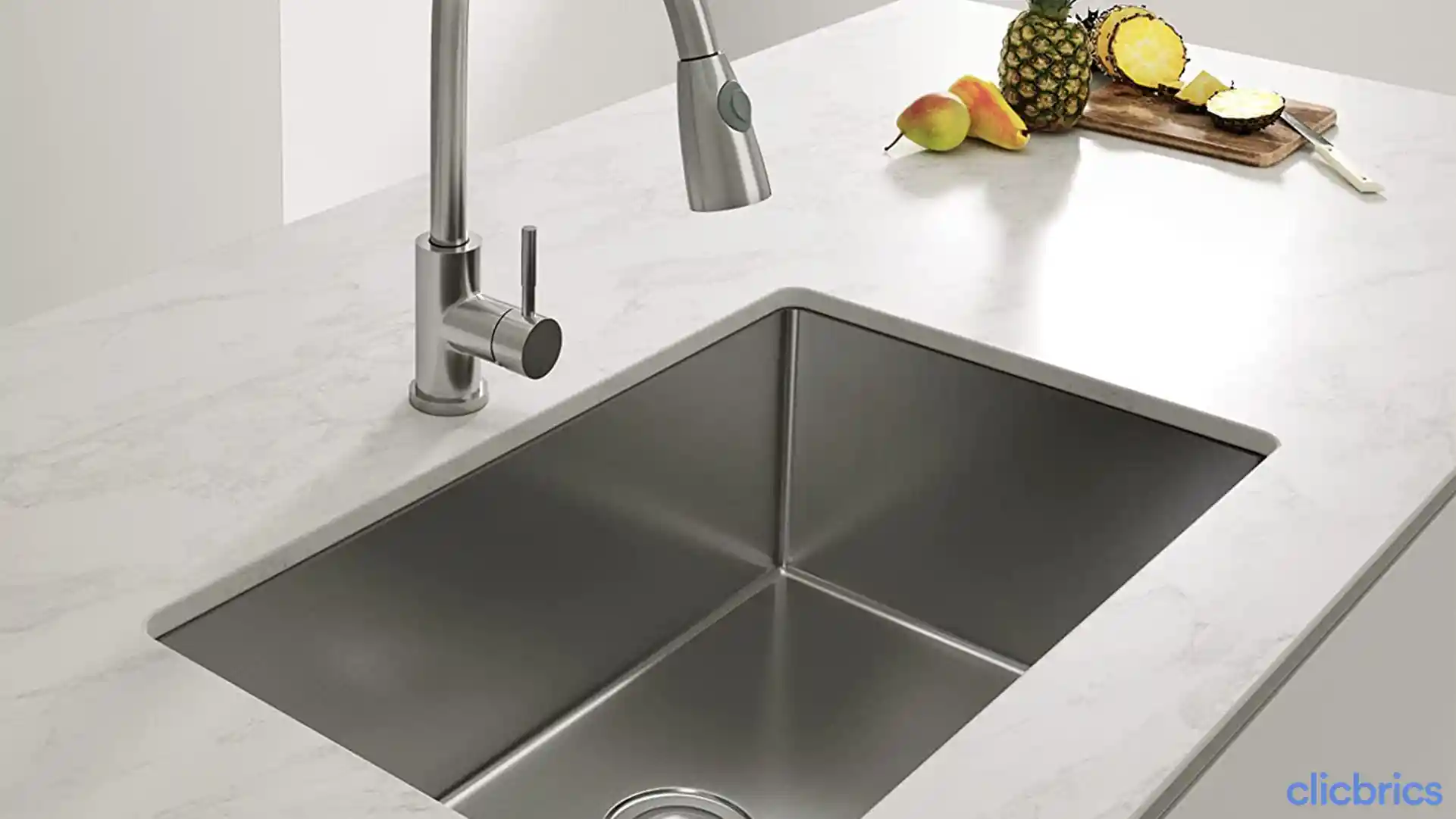 These days, undermount kitchen sinks are in demand because of their durability and low maintenance. As their name indicates, they are the opposite of the top mount and are installed under the countertop. The rim of the sink is installed below the counter, which makes it easy to clean. If you are obsessed with cleanliness, then the under-mount sink is the right choice. 
3. The Farmhouse Sink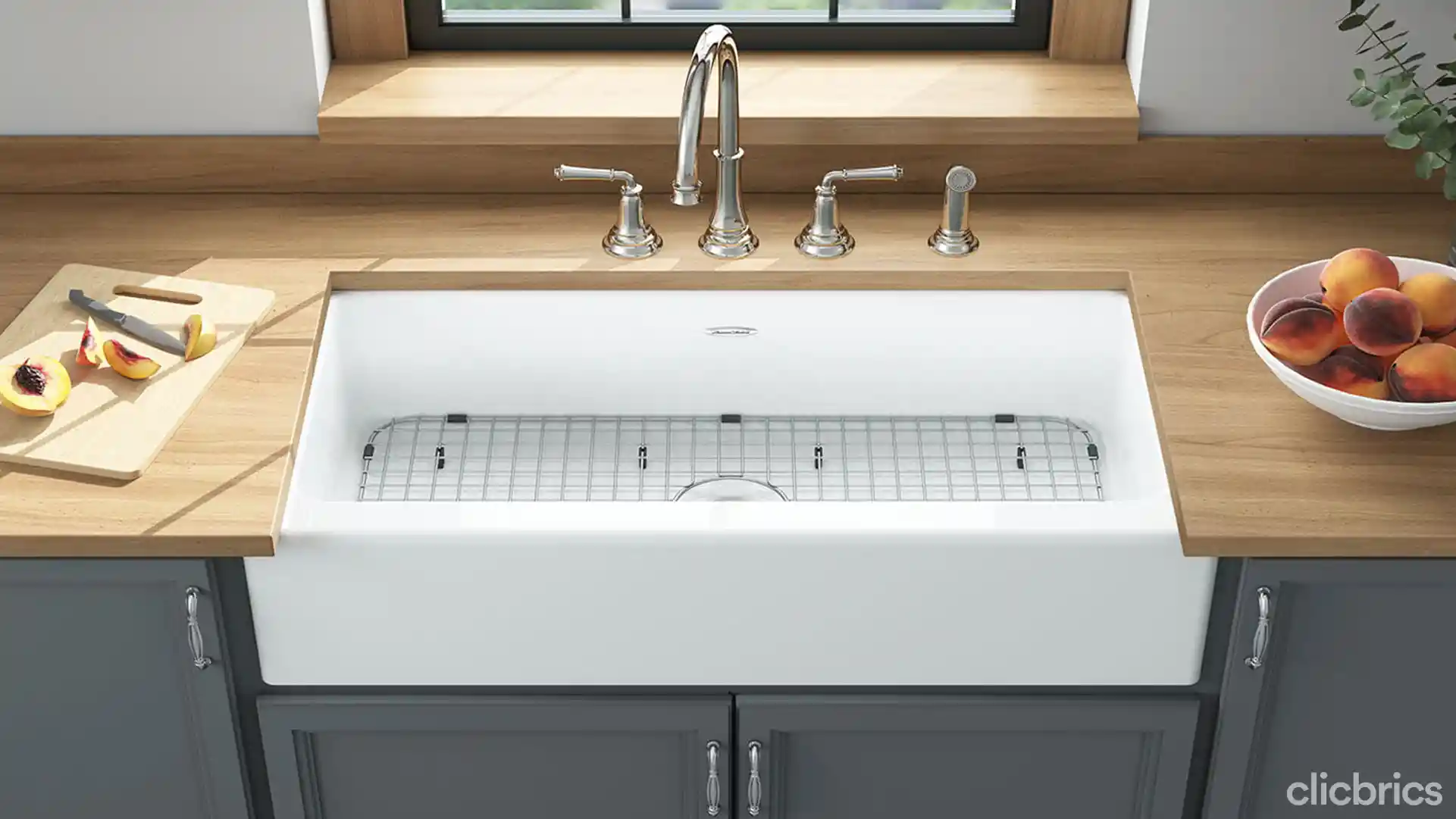 A farmhouse-style sink, also known as an "apron sink," is quite large as it extends over the edge of the kitchen counter.  You can easily wash large pots and pans in this large kitchen sink. For a rustic or country-style décor, these sink models are popular in traditional or rustic farmhouse-style kitchens because of their old-world charm. 
4. Corner Kitchen Sink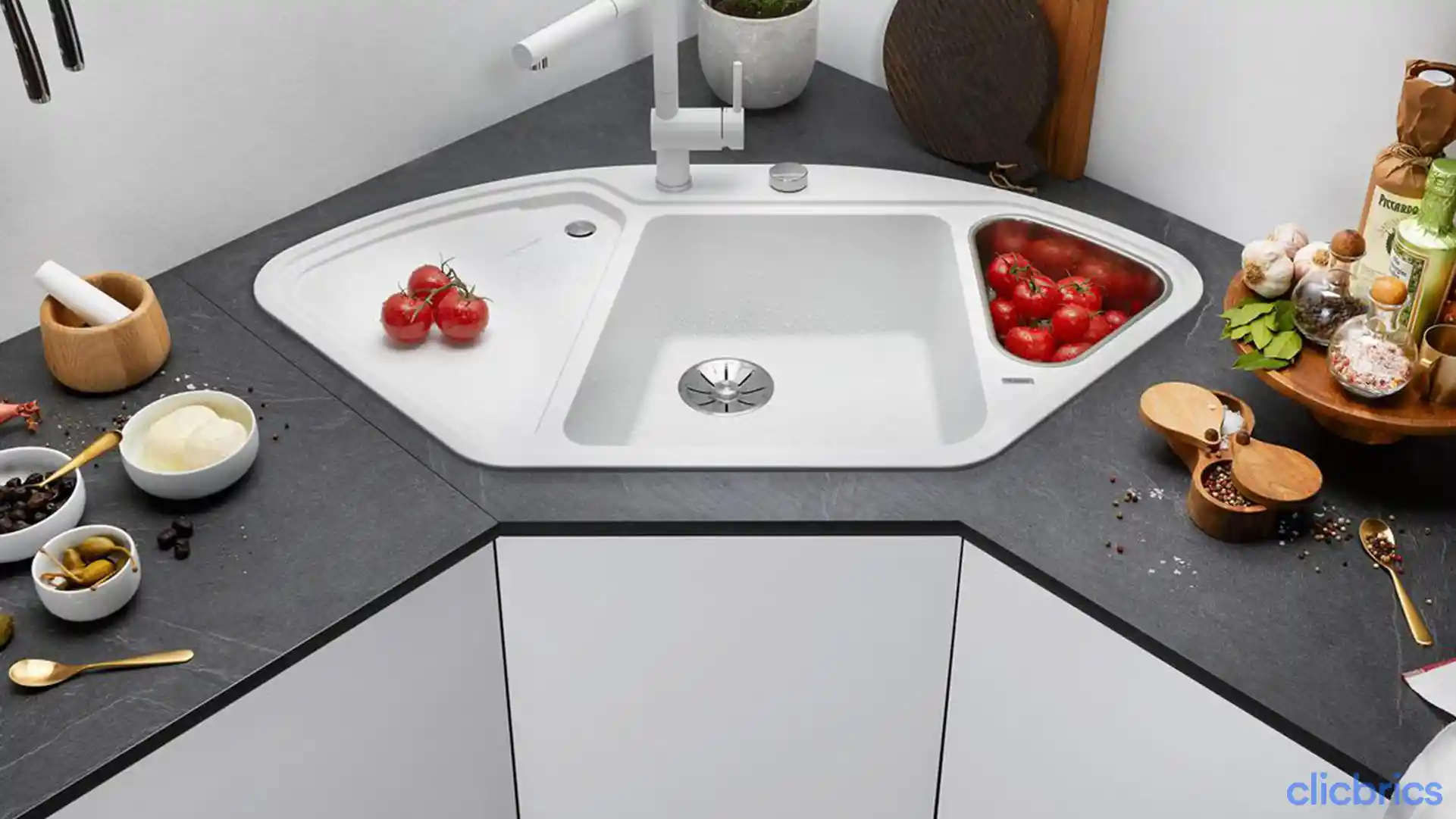 If you have an "L" or "U" shaped kitchen, corner kitchen sinks are the best and look flawless in your kitchen. As the name suggests, this style of sink is installed in the corner of your kitchen with a double bowl sink. It can be an ideal option for smaller kitchen spaces because it can utilize the unused space in the corner. This way, you can get a lot of room for preparing a meal and cooking food.
5. Hidden Modern Kitchen Sink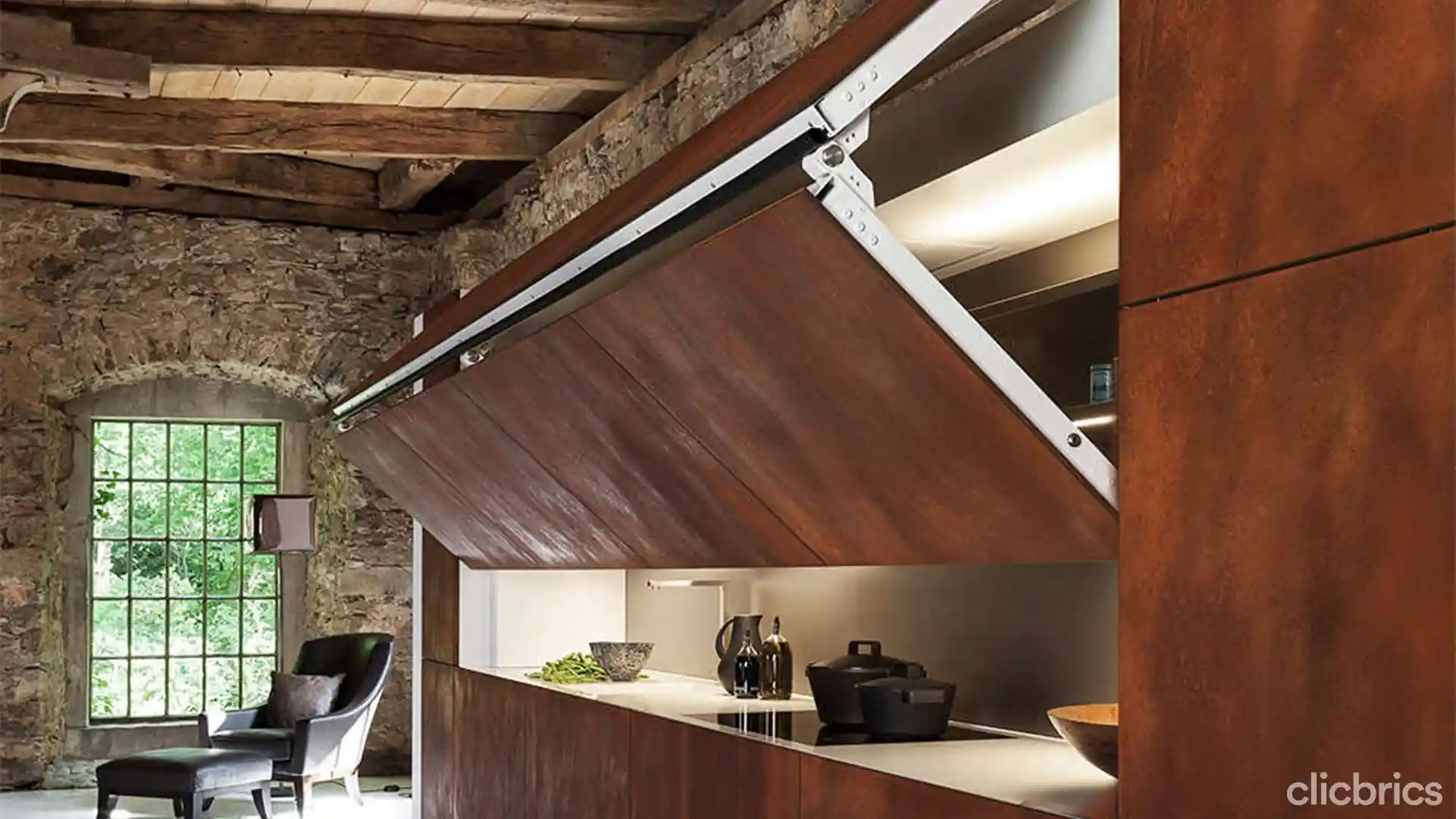 This sink design is extremely popular for small apartments. The best thing about this type of sink is that when it is not in use, you can turn the sink into a counter. It will have a cover to place over the sink, which gives a clutter-free look to any kitchen. 
Also Read: 5 Kitchen Gadgets to make your kitchen  smarter than before
Number of Bowls in Kitchen Sink
Before making any decision on the kitchen sink, it is important to know the number of bowls in the kitchen sink. No matter what style you choose, you need to determine the number of bowls for your kitchen sink. Let's know about it:
1. Single Bowl Kitchen Sink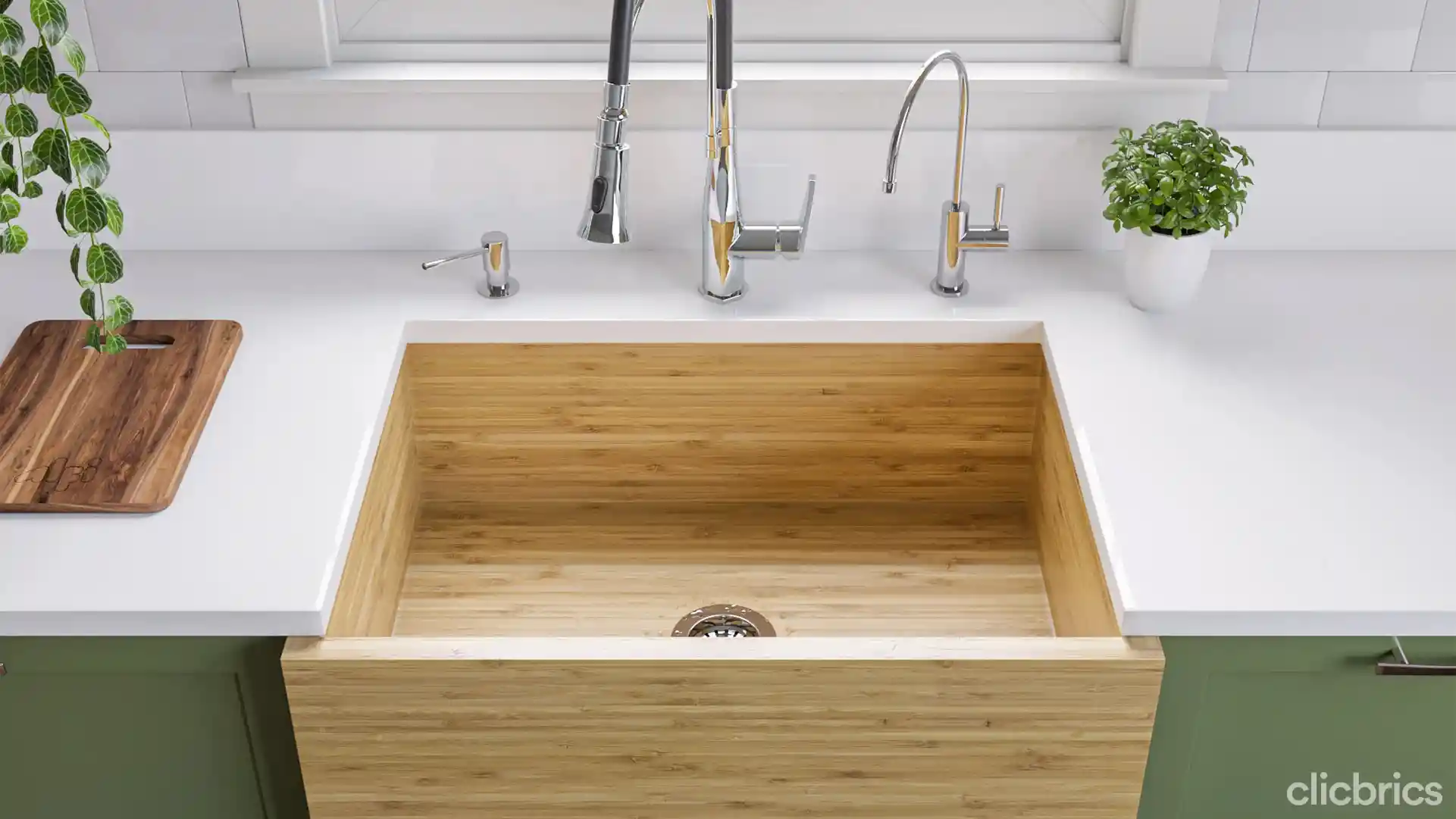 A single bowl sink comes with one large sink. It is ideal for those who have a small kitchen. Available in a variety of kitchen sink sizes, the single bowl is quite big to accommodate big pots and pans, making them the most preferred and common type of sink used in almost every kitchen.  
2. Double Bowl Sink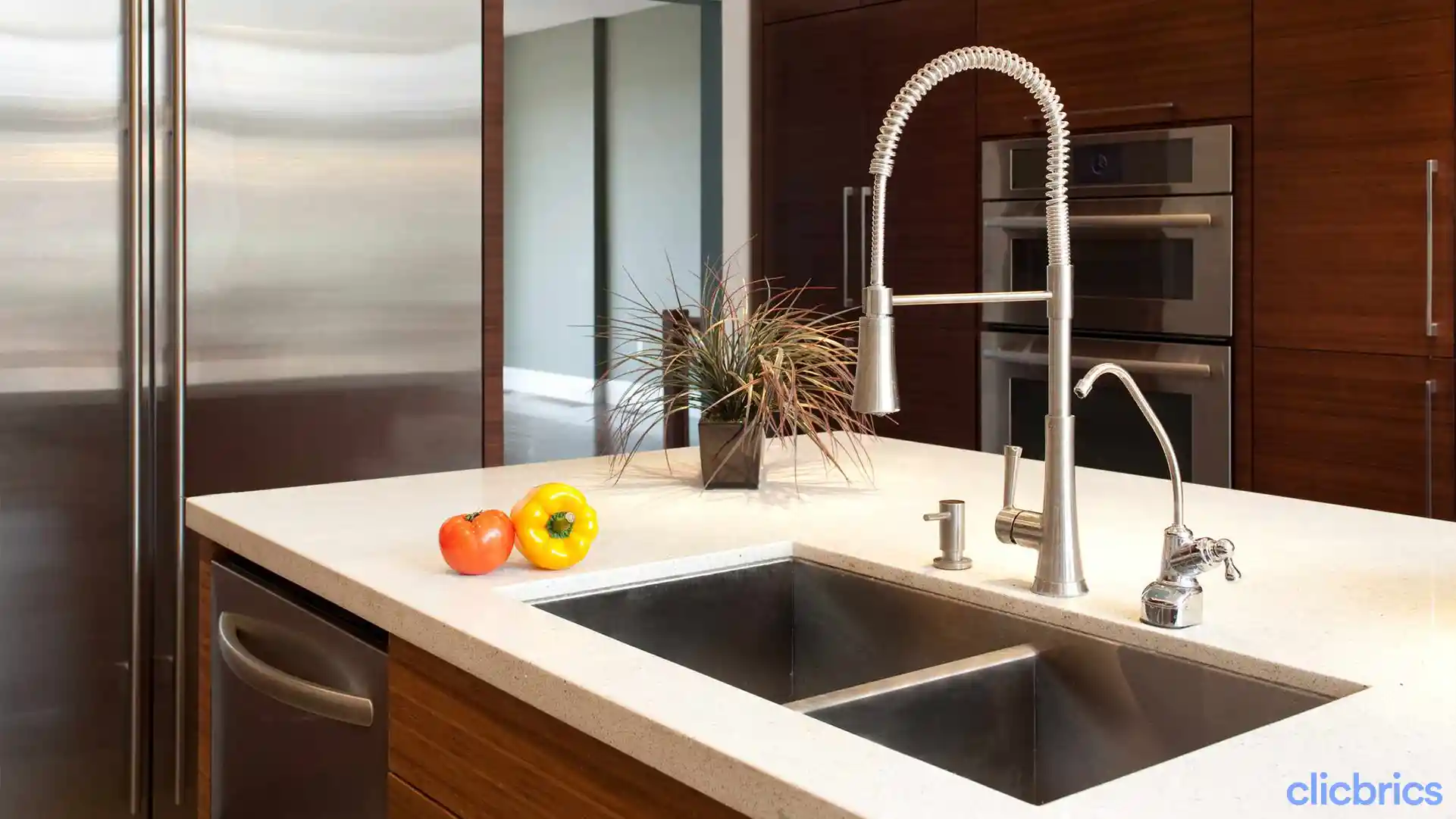 A double bowl sink is an ideal choice for the multi-tasker. Such sinks have two bowls, one that can be used for washing dirty pots and pans and the other for rinsing fruits and veggies. It comes in different configurations – two equal-size bowls or two unequal-size bowls. Due to their utility, they are a popular choice in Indian kitchens, especially where dishwashers are not installed. 
3. Kitchen Sink with Drainboard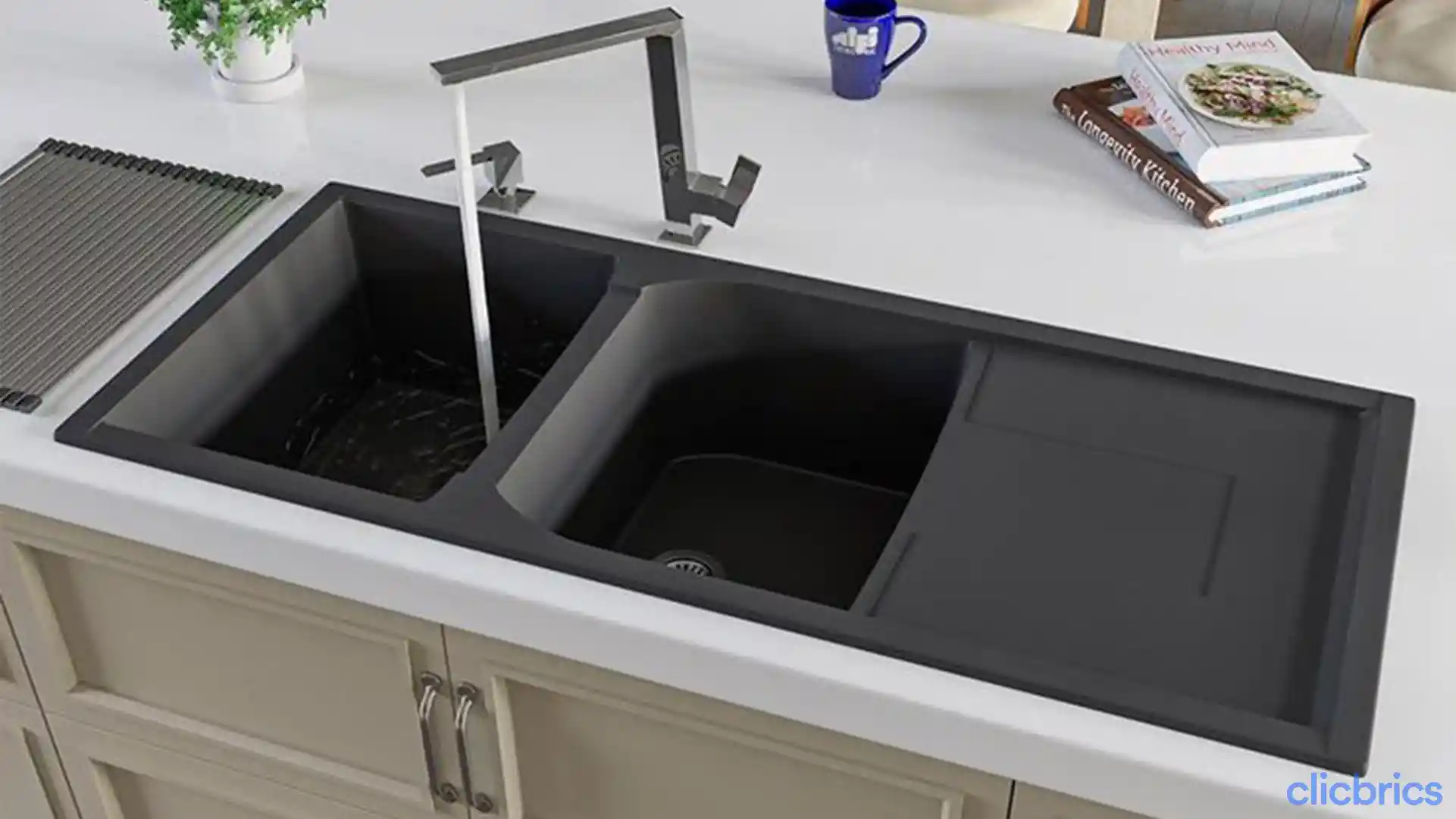 The kitchen sink with a drainboard is extremely popular in Indian kitchens nowadays. It has a tray attached to one side of the sink, which gives space to dry utensils as well as to drain extra water from the washed vegetables and fruits, and keeps the counter clean and dry. No doubt, this type of sink is compatible with any Indian kitchen style.
Also Read: Ideas to make an ultimate outdoor kitchen
Conclusion
Undoubtedly, no kitchen can survive without a sink. And if it is both practical and stylish, there is nothing like it. So, if you are planning to buy a kitchen sink, keep this guide handy and the above information in mind. Your kitchen will easily become a fun space, bringing joy to cooking, cleaning, and prepping meals.  
Also Read: 15 Effective False Ceiling Design Ideas That Will Transform Your Home Aesthetically