Table of Content:
Traditionally, in Indian culture,  it was widely held that you are what you eat. To feed a healthy home-cooked meal to the family, the first step was to ensure the ease of the cook while they prepared the food with love and joy. Thus, the kitchen was a big room with various stations fashioned out of clay, ensuring that everything had its designated place. But today, there is a lack of space in big cities and the homes have become smaller. Resultantly, kitchens are reduced to single small room or to open kitchens. Hence, a small modular kitchen is the best answer to the question of fitting a functional kitchen in a small space. 
But, due to the large number of utensils, dinner sets, spices, and pickle jars, Indian kitchens need lots of storage space. So how to mould the space needed into a modular kitchen?  
Well, this article offers ways in which a simple small kitchen design can be storage-efficient while being easy on the eyes. Even with a limited budget or space, you can create a beautiful small modular kitchen. 
Defining A Small Modular Kitchen
Before we move on, let us understand what a small modular kitchen is. Modular construction uses modules to build kitchen cabinets. Each module is a self-contained unit that simplifies customization and functionality. This is much like the olden times, minus the large space; it is a tough fight between space and the need to add all components of Indian cooking within a tiny space. 
Without digressing anymore, let us jump into simple, small modular kitchen designs to make your kitchen functionality top-notch and earn you applause from your guests.
1. Install Drawers Instead of Kitchen Cabinets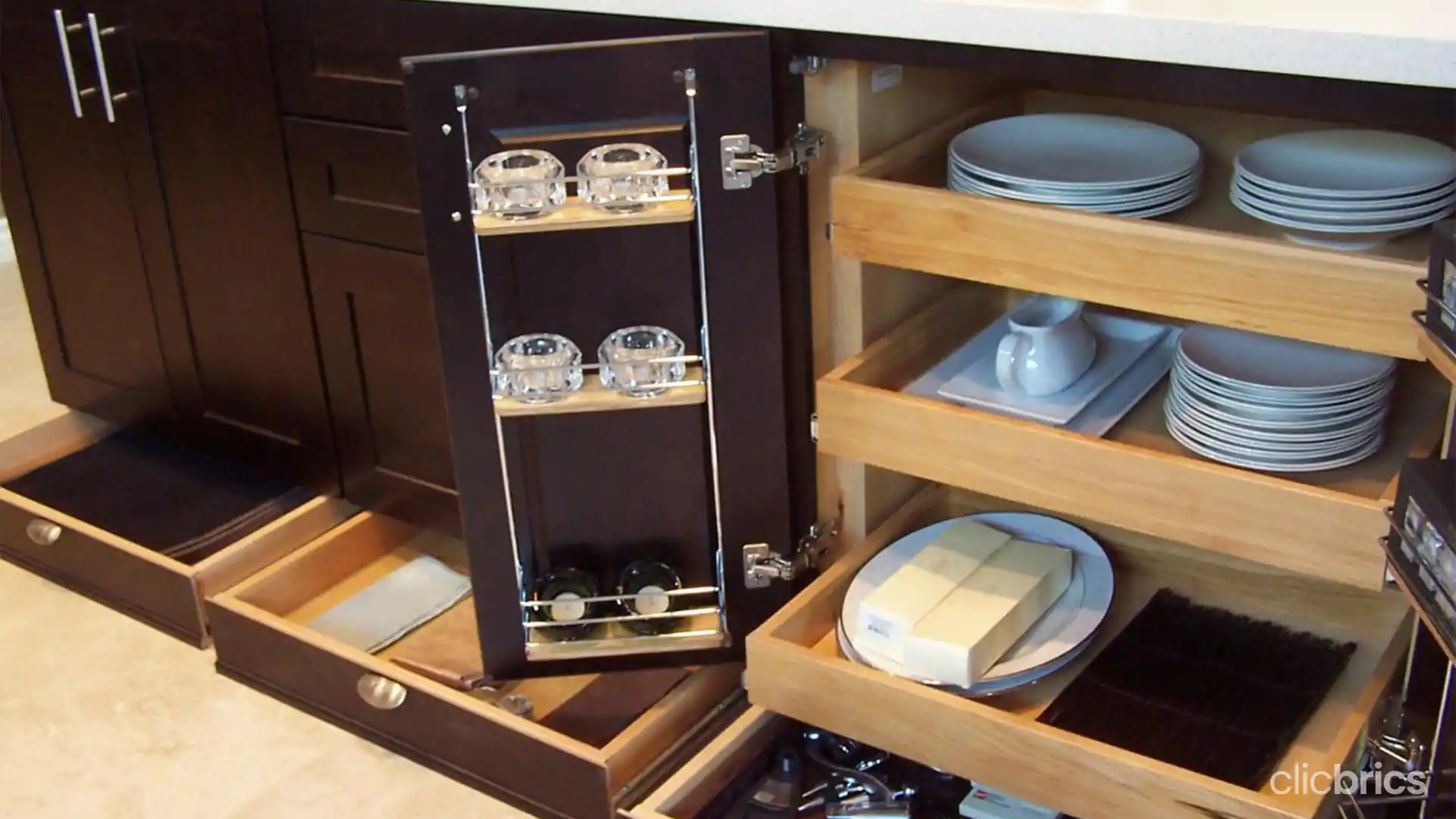 With a variety of designer cabinets on the market, you can now organise all of your jars and spatulas. There are racks that can be pulled up from the drawers, making space for putting things underneath them, and there are foldable racks that have different compartments to divide different condiments. This is a crucial element of modular kitchen designs for small kitchens ; it makes your kitchen more organised and your life easier.
2. Make Sure the Cabinets are Sleek and Contemporary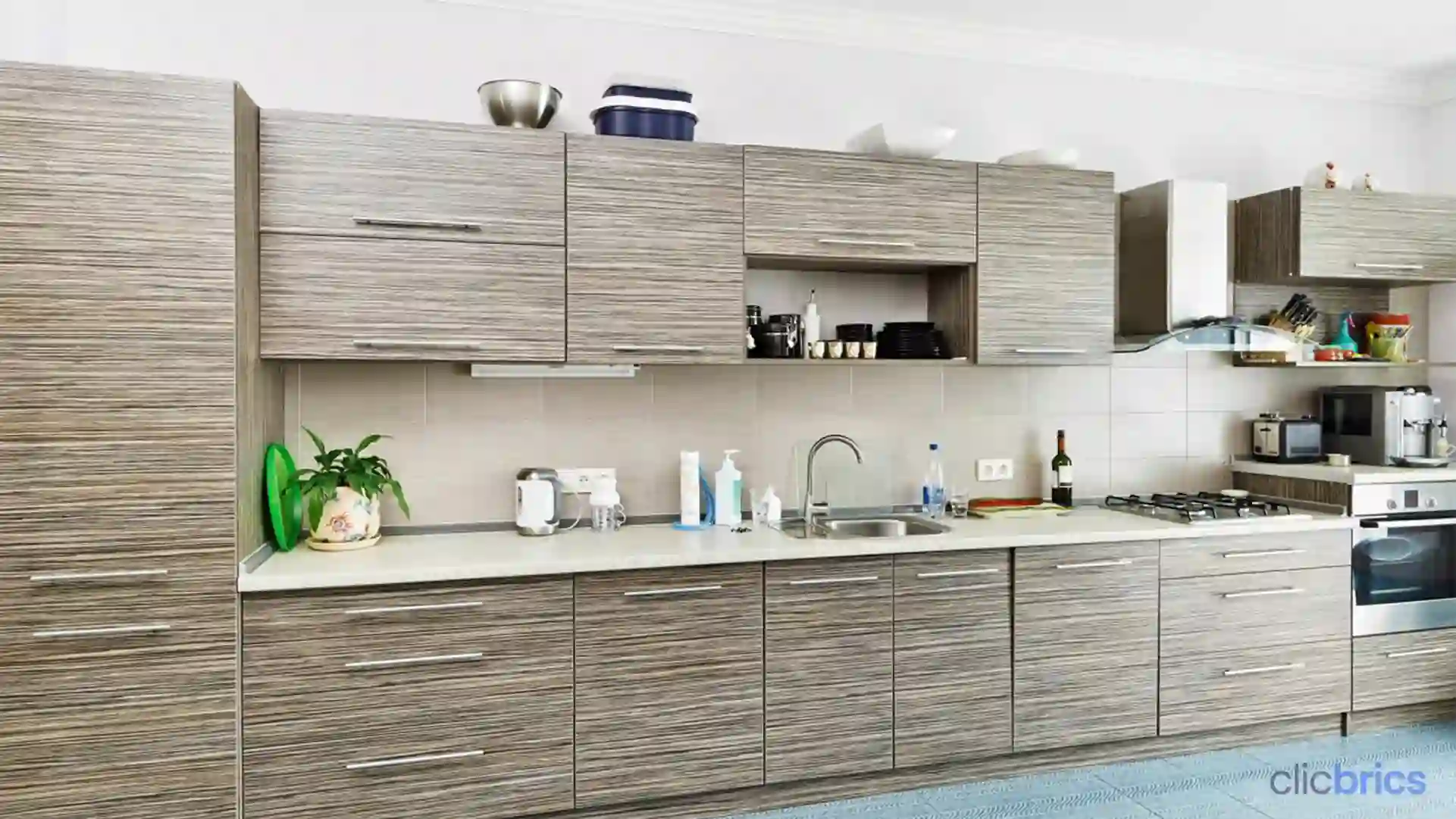 Keep in mind that cabinet designs for small kitchens are one of the most important and distinguishing features. The use of finger pulls, slim handles, tiny knobs, and magnetic strips gives your kitchen cabinets a modern, minimalist appearance while also making the room appear larger. This makes even a very small modular kitchen appear spacious and classy.
3. Reach the Ceiling with Cupboards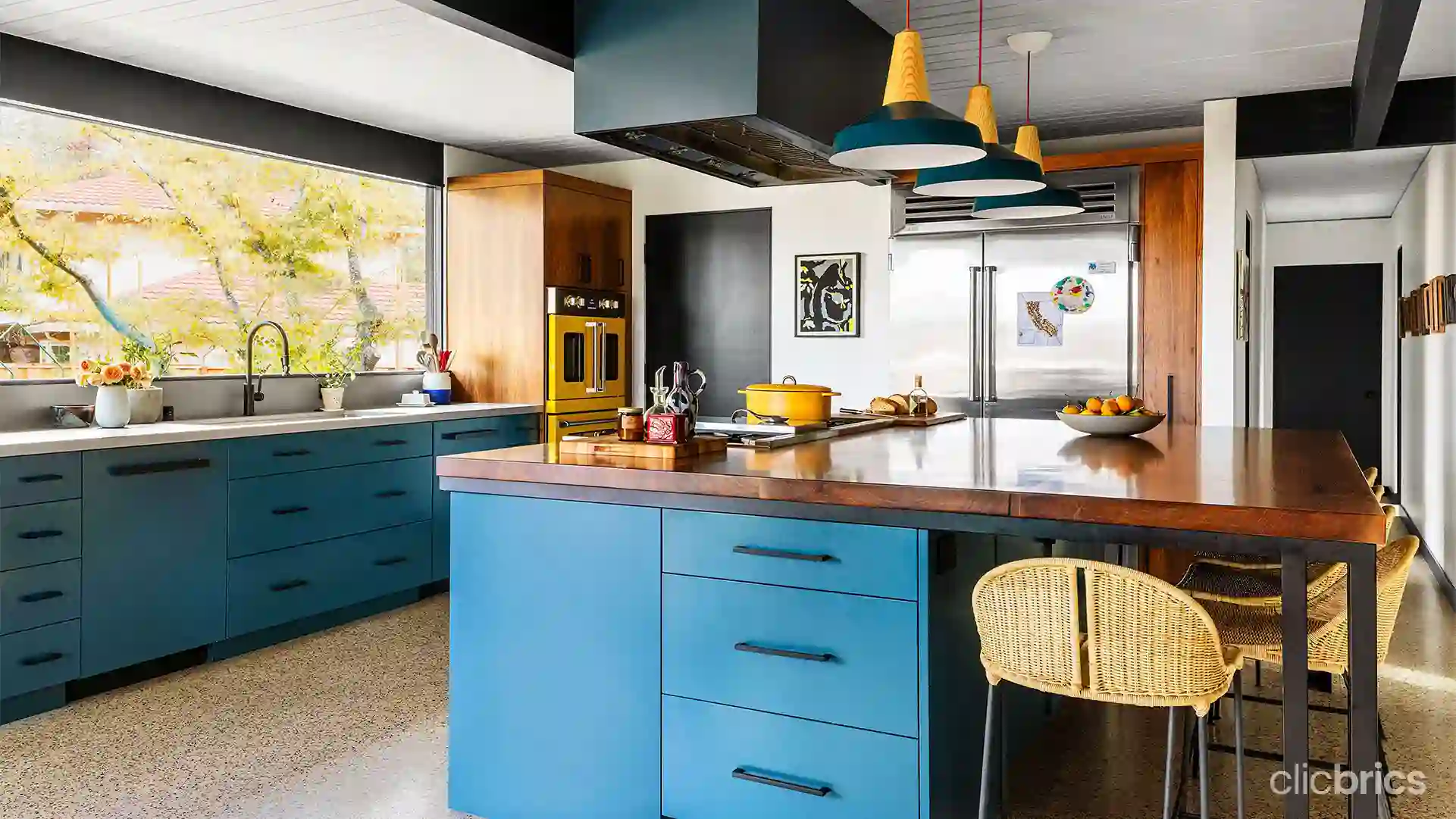 Don't leave space above your cabinets—dust settled there will haunt you in your dreams! 
Install modern kitchen cabinets that maximise space. For more storage, extend the cabinets to the ceiling or add new ones. This will draw your attention upwards, giving your otherwise tiny kitchen some height. 
4. Add Many Open Shelves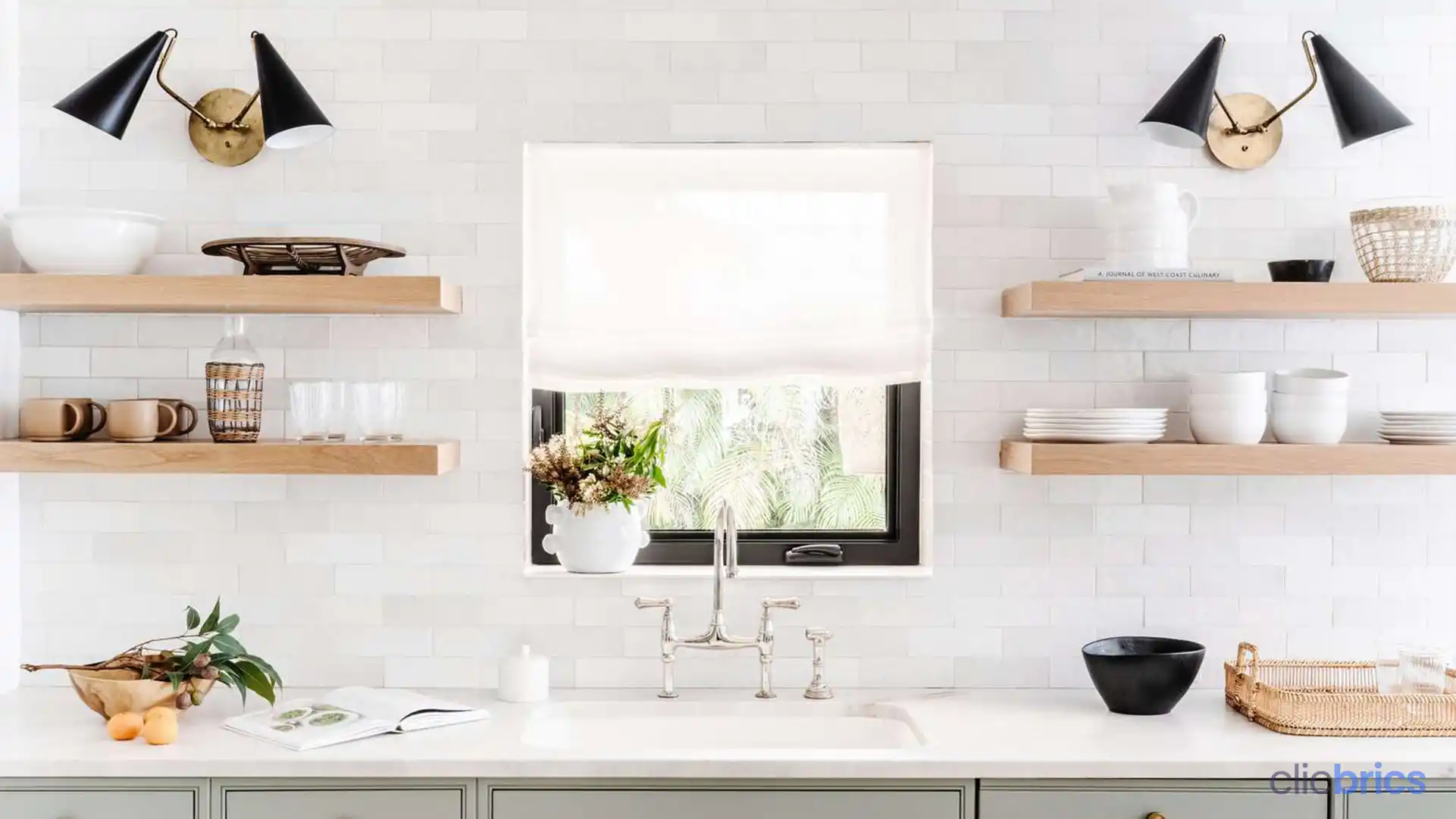 Open shelves not only add more space for organising your utensils, mugs, and jars but also add an element of height and space to your kitchen. Make sure that the shelves installed are made of durable material and that heavy utensils or appliances do not bring them down with them. 
Don't Miss Reading: Kitchen Trolley Design for Modular Kitchen
5. Reflective and Shiny Surfaces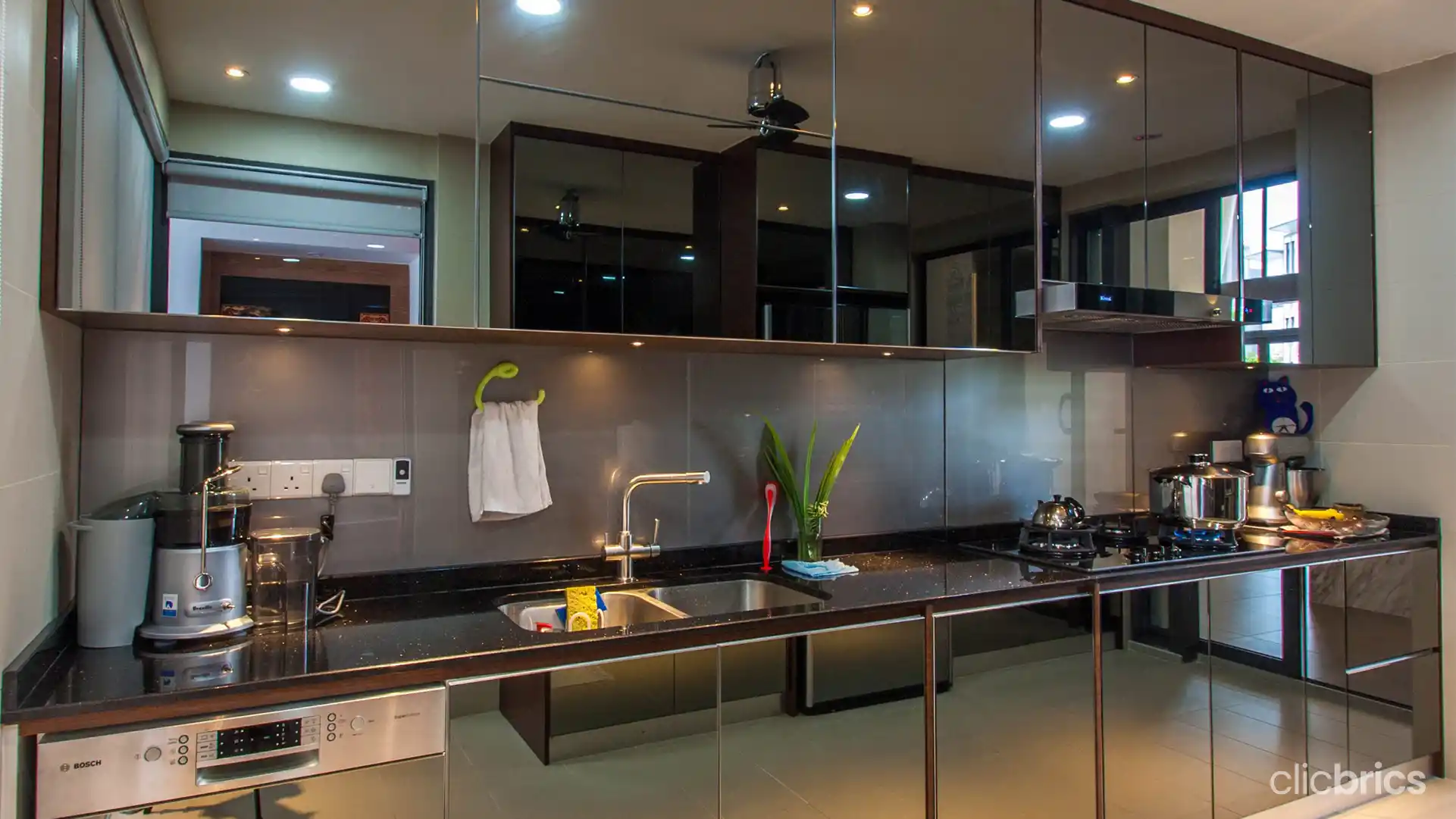 Glossy finishes on cabinets and countertops create the illusion of space, making even small modular kitchens appear larger. Finish with acrylic and laminate. They add shine to the kitchen and are scratch-resistant. Due to its durability, laminate is the best option for small modular kitchen designs.
6. Use the Small Kitchen Design to its Fullest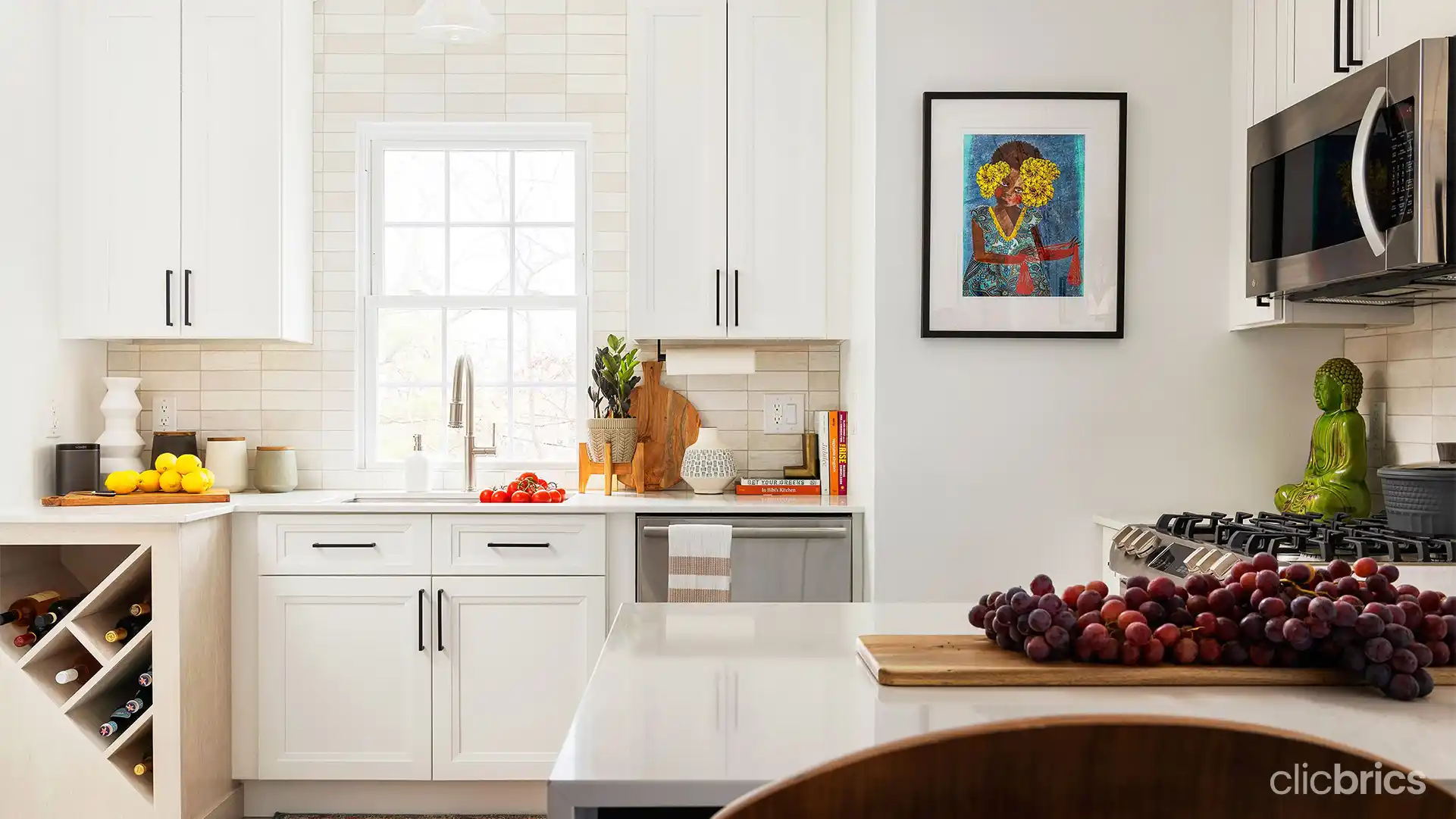 You can add kitchen plants, laminated paintings, and large vases to decorate your kitchen. Open kitchen designs can also be paired with tall wooden structures to add a finishing touch to the space's flow. Use modern appliances that fit into the structure of your kitchen, keeping the space to a minimum. Customise the kitchen in such a way that it defines the essence of your home. 
7. Stick to One Palette or Similar Colours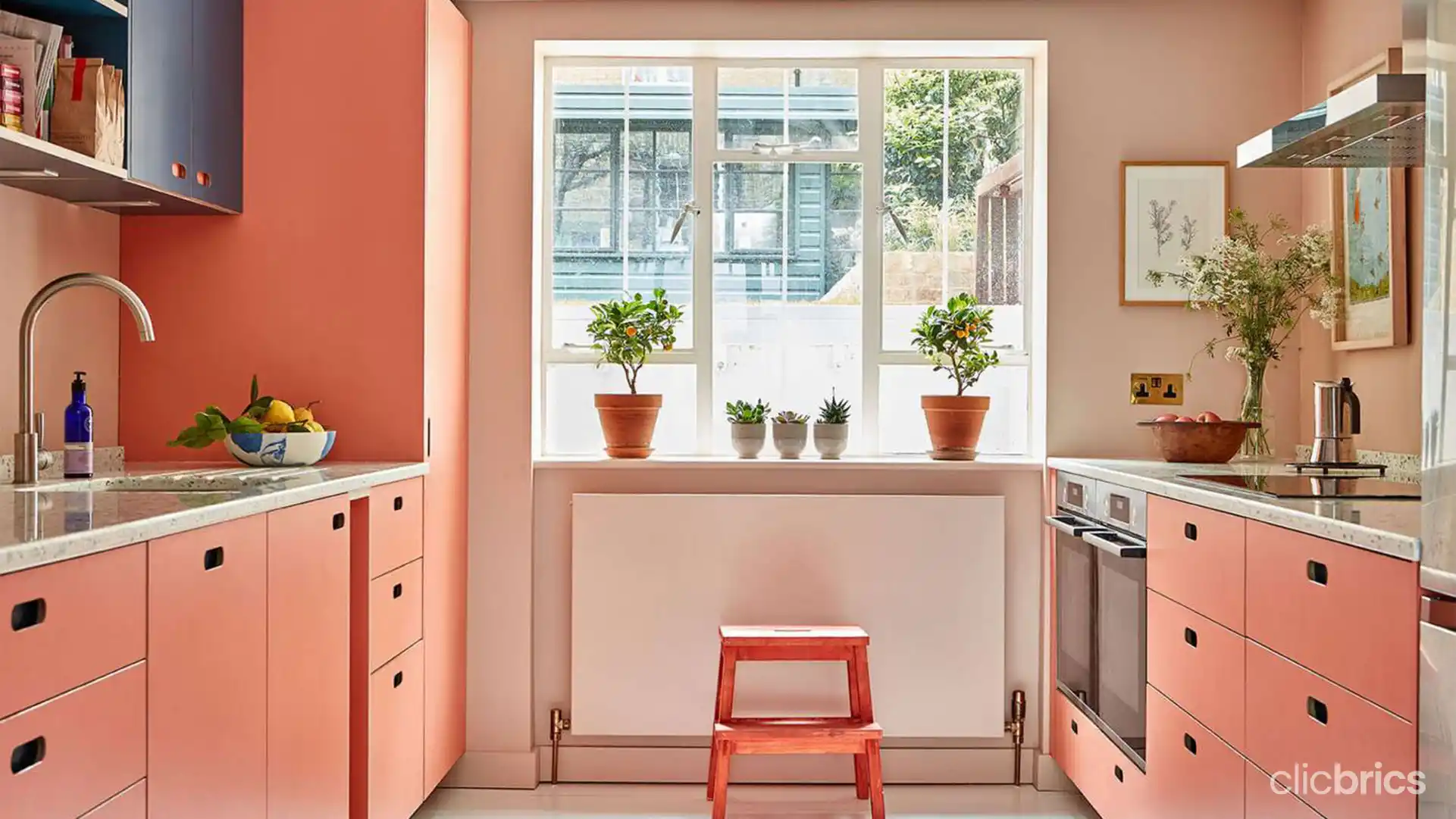 Most people ignore this aspect of the kitchen and use bright colours to paint the walls. Bright colours are appealing, but only when combined with a lighter colour. 
Another common blunder is painting the entire kitchen in a single colour. One single colour can make it appear boxy and compact. Use monochrome colours or understated colour palettes, as they make your kitchen appear classy. 
8. Go Open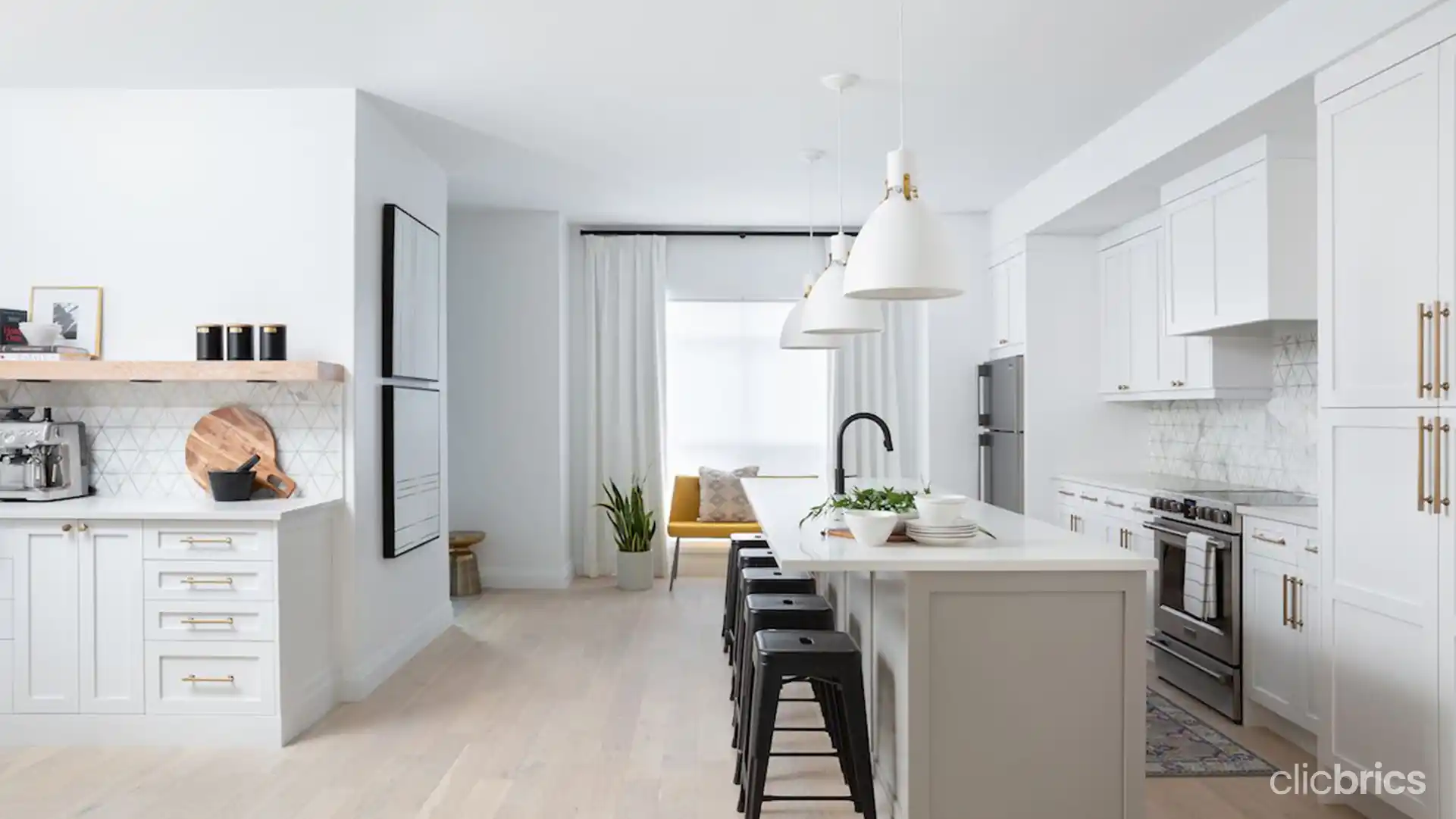 Choose an open design or layout for your kitchen rather than trying to stuff everything into a small room. Trying to cook in a small, enclosed space easily stains your kitchen walls and makes cleaning look like an extremely tough task. The use of sliding doors for cabinets or movable partitions can also help to maximise space utilisation. 
9. Include Dining Area and Bar in the Kitchen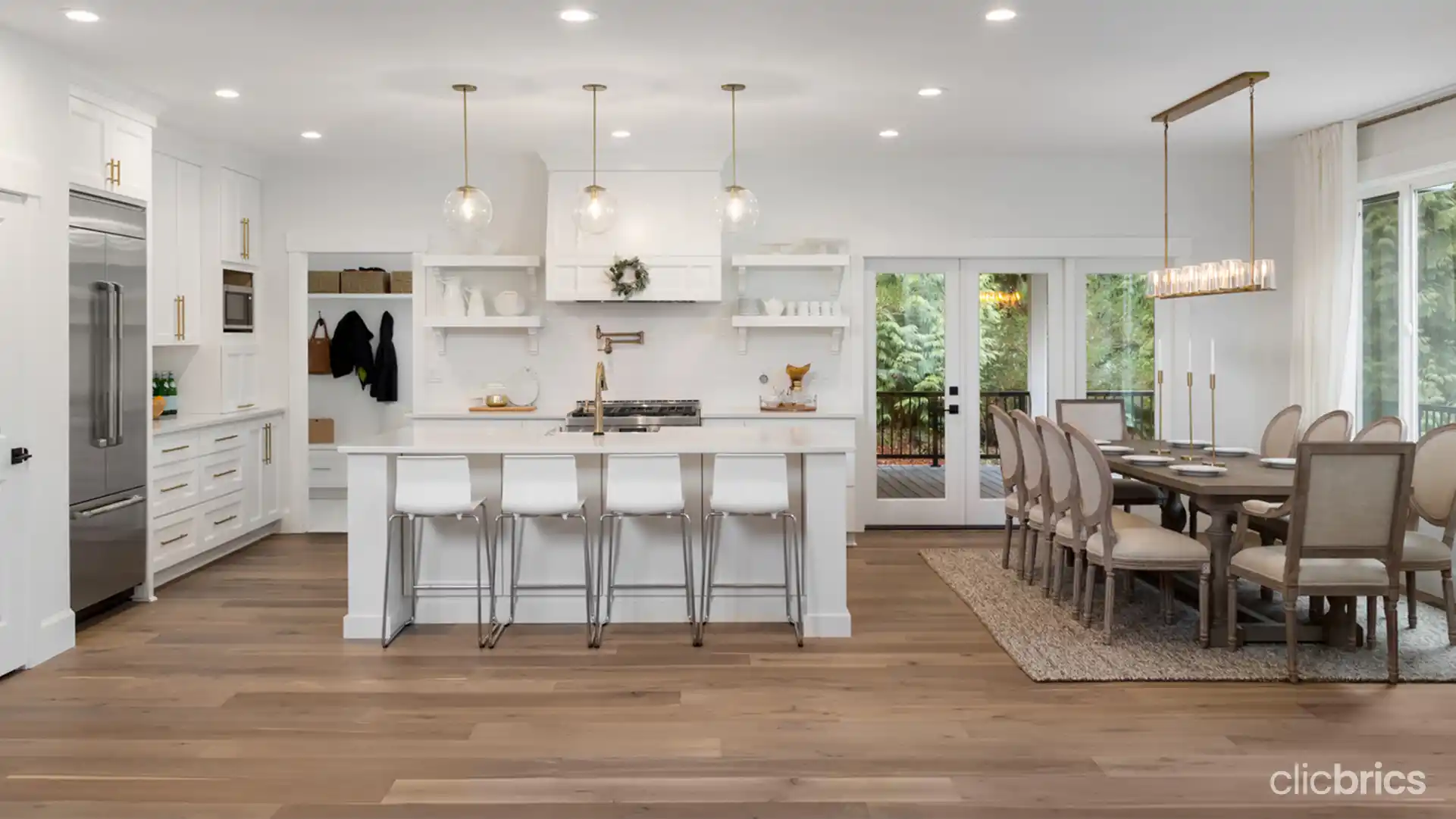 If your entire house is small, you can eliminate a dining room and replace it with one in the kitchen. You can have a dining island in the open kitchen, or you can bring the bar cabinet into your kitchen. In the case of the former, movement with food will be more fluid, and in the case of the latter, it might serve as a reason to let your guests catch a glimpse of your beautiful kitchen.   
Let us recap what we discussed in the article quickly:
Use pull-out drawers instead of free-standing kitchen cabinets for more storage space and less furniture space.

For maximum storage, extend your cupboards all the way to the ceiling.

Furniture with shiny, reflective finishes makes the room appear larger.

Mount open shelves on the wall.

Decorate your kitchen with houseplants and potted herbs to keep it from looking boring.

Use light colours for furniture and walls in your kitchen. 

Smaller appliances will help you save a lot of unnecessary space.

Use movable room partitions to divide cooking, storage, and seating.

For ease of seeking cooking aids, use sliding doors.

Use folding chairs and breakfast tables to create more space
Also read: 10 Small simple Kitchen designs to get inspired from 
The kitchen layout determines which furniture will fit into an extremely functional modular kitchen in a small space to increase the movement fluidity and ease in cooking. False ceilings, flooring, plumbing, lighting, and glossy cabinet finishes all contribute to the appearance of a well-lit, spacious kitchen. A lot of attention is paid to how well certain materials and kitchen appliances work in Indian homes. 
It's not an overstatement to say that the kitchen is one of the most important rooms in the Indian home. A modern take on the traditional Indian kitchen is in the form of a small modular kitchen design that combines both form and function. Further, regardless of the size of the kitchen, every urban Indian home should have the convenience and beauty of a modular kitchen.