Table Of Contents
If you remember, in the 1990s, we had kitchens that served as private spaces to prepare meals within the confines of their own four walls. But now that we have entered 2023, we would want to embrace the idea of installing an open kitchen design to have seamless movement and interaction from room to room. 

The open concept of the kitchen came into existence to eliminate the barrier between the kitchen and social spaces and to open up more floor space. 
Think about the advantages you will enjoy when installing an open kitchen design. You can prepare meals while watching your favorite series, keep tabs on your kid's homework, or wine and dine with your loved ones. 
If you're toying with the idea of installing an open kitchen design but don't know where to begin, don't worry—we are here to your rescue! 
We have combined some gorgeous open kitchen ideas that will surely inspire you. 
10 Spacious and Functional Open Plan Kitchen Ideas
1. Open Concept Kitchen With a Living Room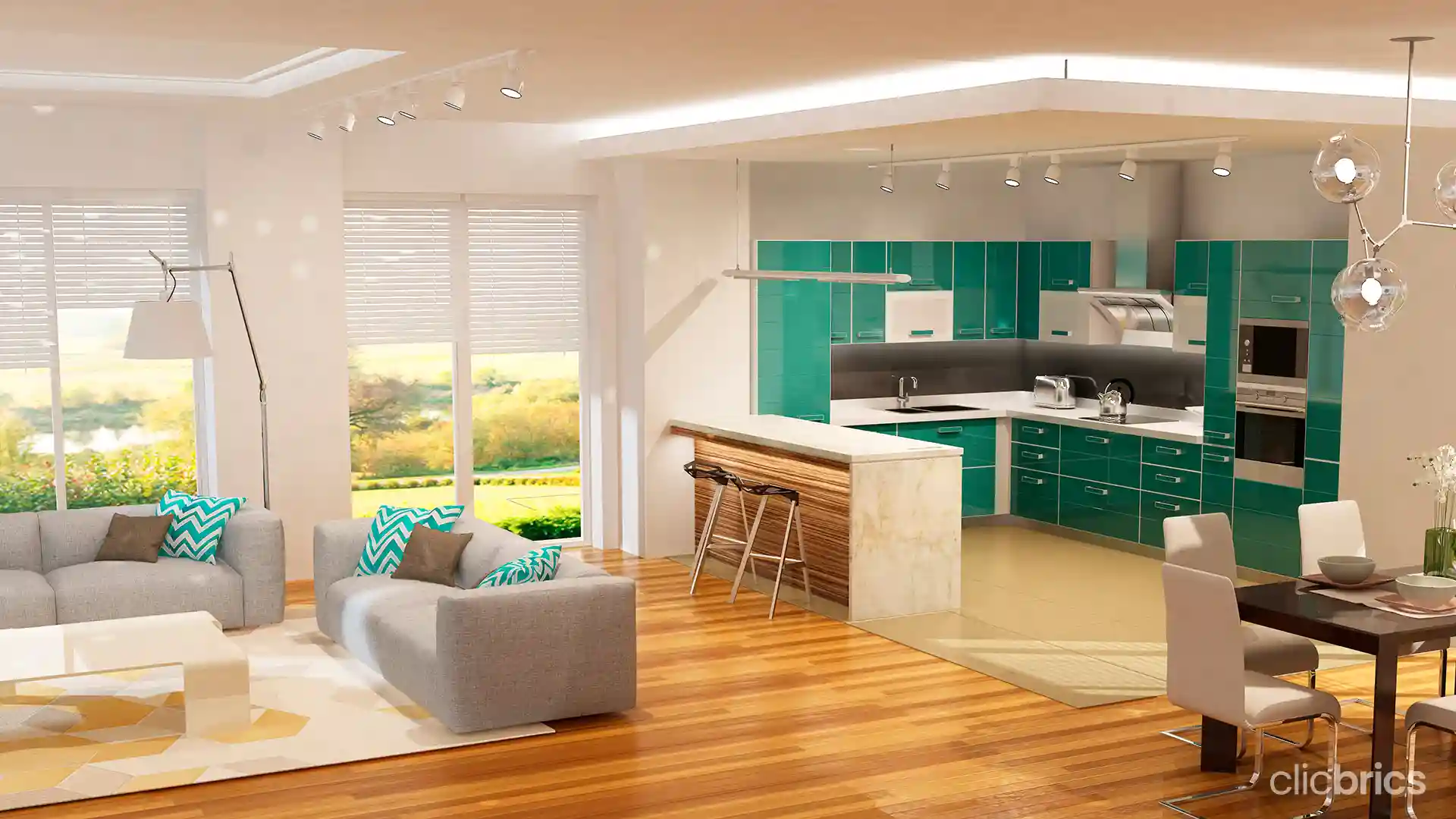 The open-concept kitchen with living room is the most popular design in India. The reason is that it surrounds a natural flow and extends to the living room, making the home feel more spacious. Even the builders love an open-concept kitchen and living room as it saves space.
Also Read: Top 10 Cost Effective Simple Kitchen Design Ideas
2. French-Inspired Open Kitchen Design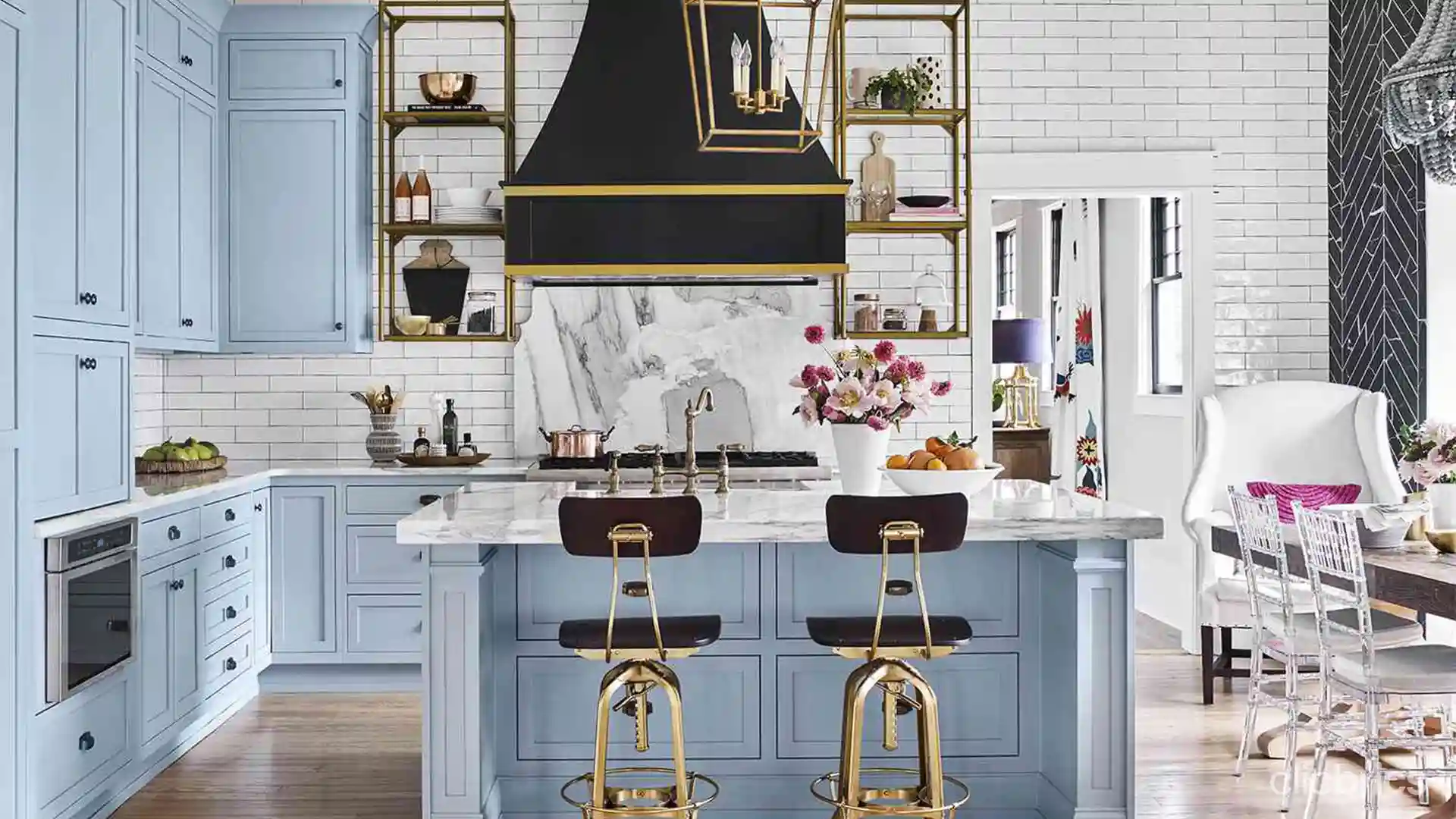 The French are well-known in architecture and design. So, if you wish to add a French touch to your small open kitchen design, you can start by placing leather bar stools, apron sinks, ambient light fixtures, gleaming white subway tiles, and floral wallpaper. 
These small open kitchen ideas will lend a classic French look that will change the cooking experience. 
3. White Open Kitchen Design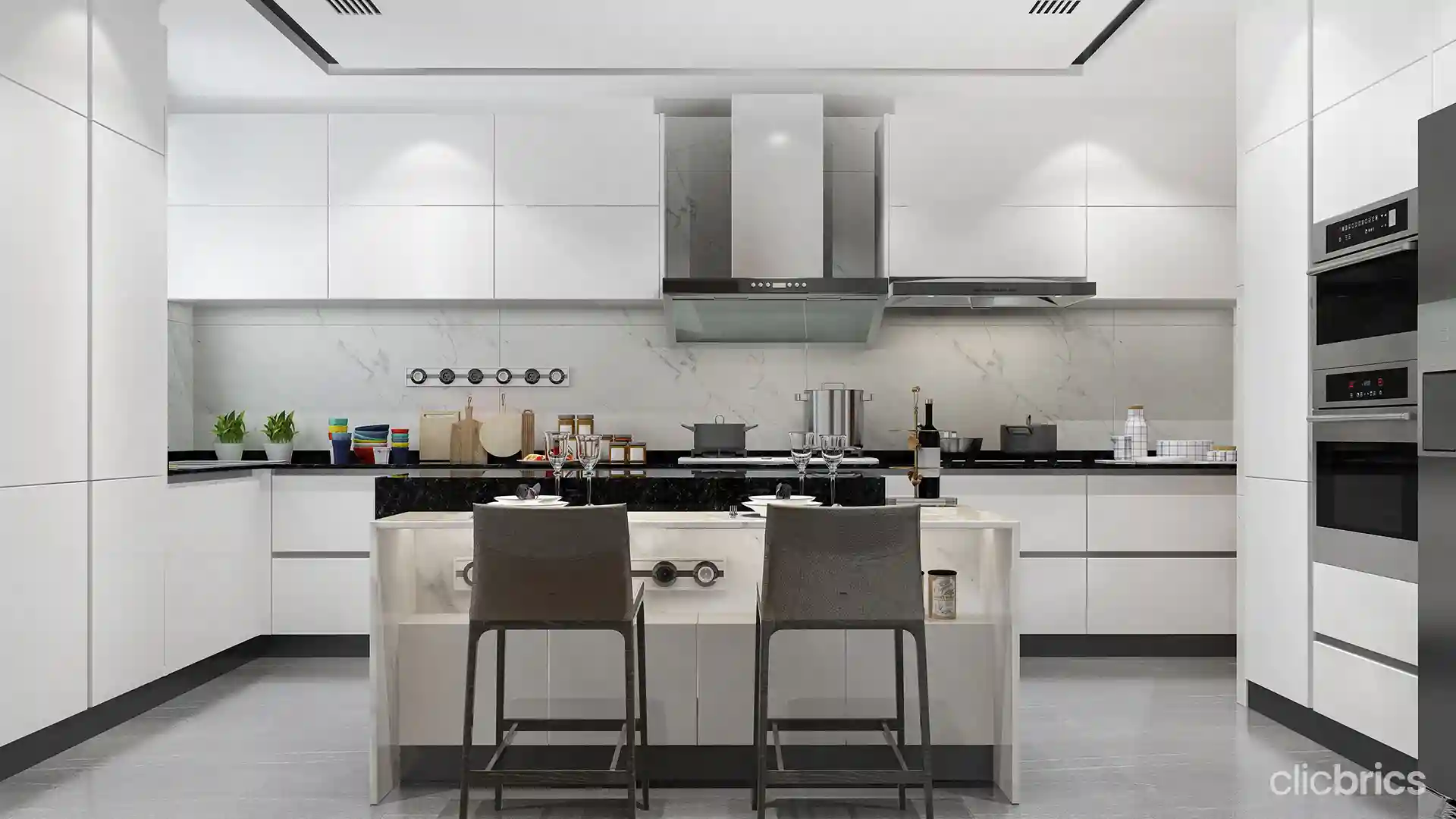 White is the most reliable color for a small, open kitchen design. Even mutant colors like cream, off-white, and peach look good. White often has the effect of making objects appear larger than they are. Therefore, a white shade will give your small, open kitchen design a light, airy appearance. If you want to improve its appearance, install a contrasting panel or piece of furniture with deeper tones.
4. Modern Open Kitchen Design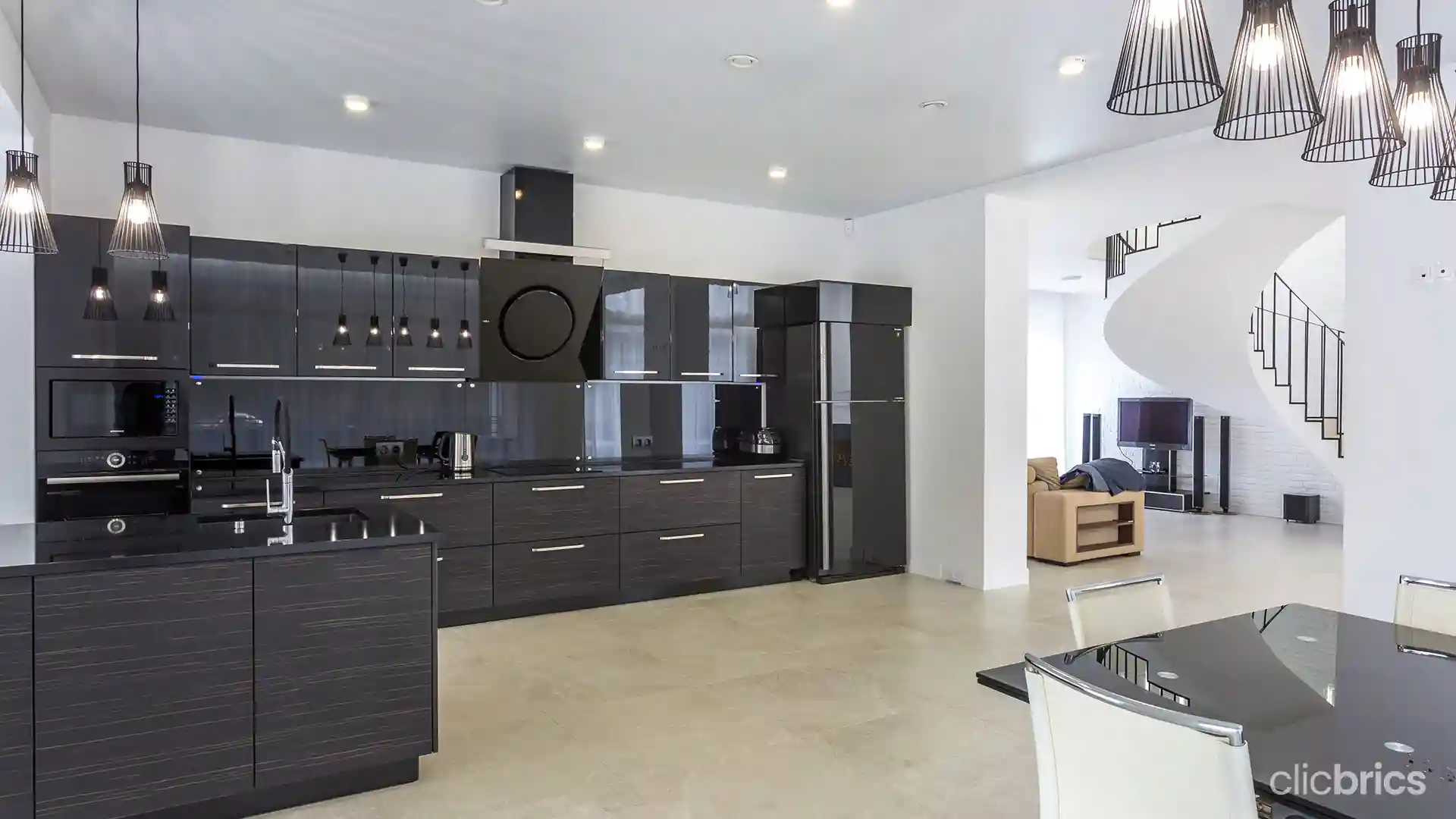 An open kitchen design with common spaces offers increased functionality. So get ready to modernize your kitchen with a marble or granite countertop. You can accessorize it further with kitchen gadgets. 
The specialty of having a countertop kitchen is that it can be used for meal preparation or even a spot for relaxed conversation over some tea and snacks. 
5. 
Semi-Open, Simple kitchen design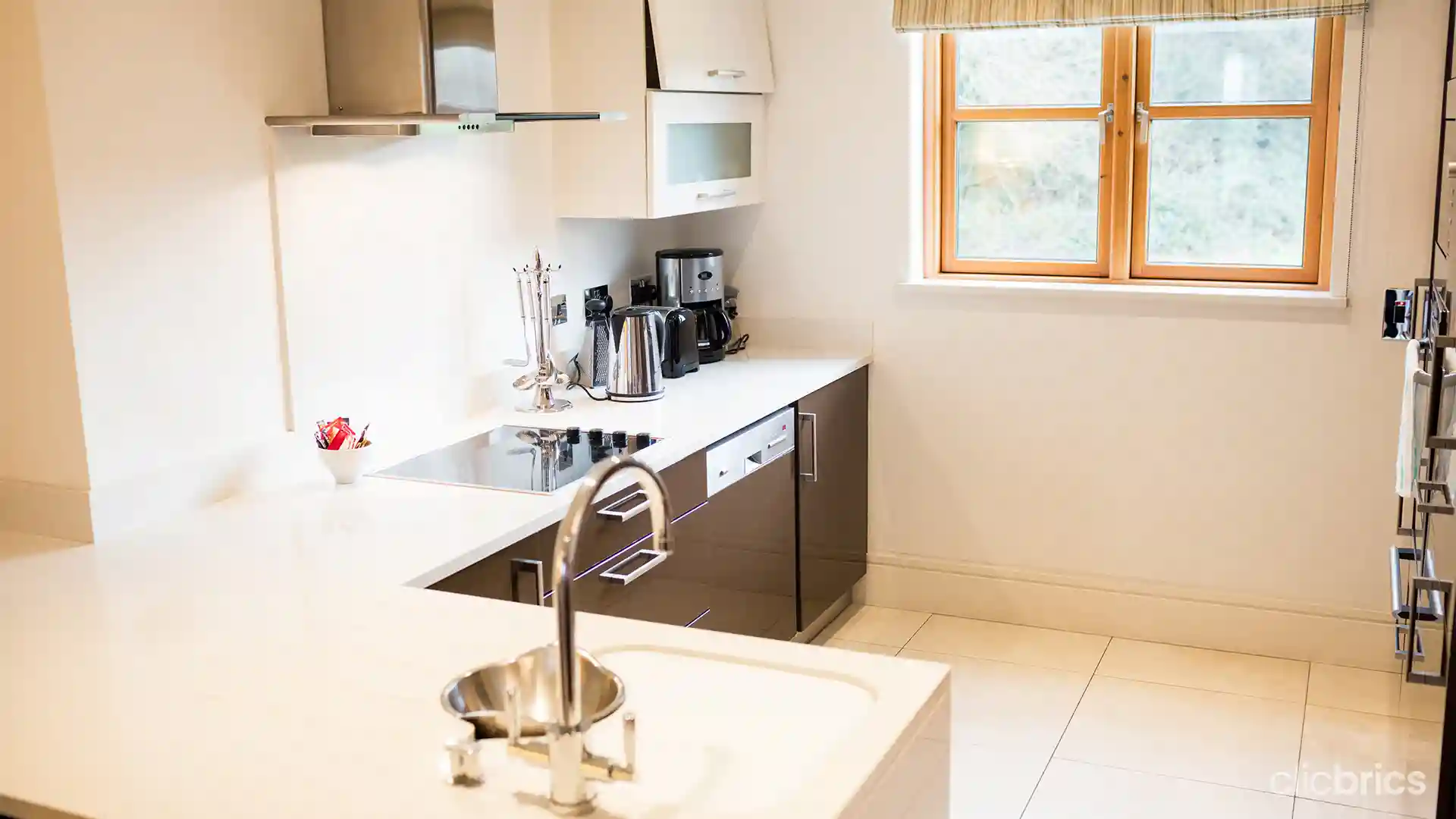 People often think a small house requires an open-concept kitchen with a living room to make it look attractive. But what if the person values some privacy? If you are that person who likes maintaining some privacy and wants a boundary between your living room and kitchen, then installing a semi-open kitchen design is the right choice. 
The partition between the two rooms will provide little privacy without making it look odd. So, if you value privacy and dislike cleaning dishes at night, this partition will keep those dirty dishes out of sight of your guests.
6. Indian Style Open Kitchen Design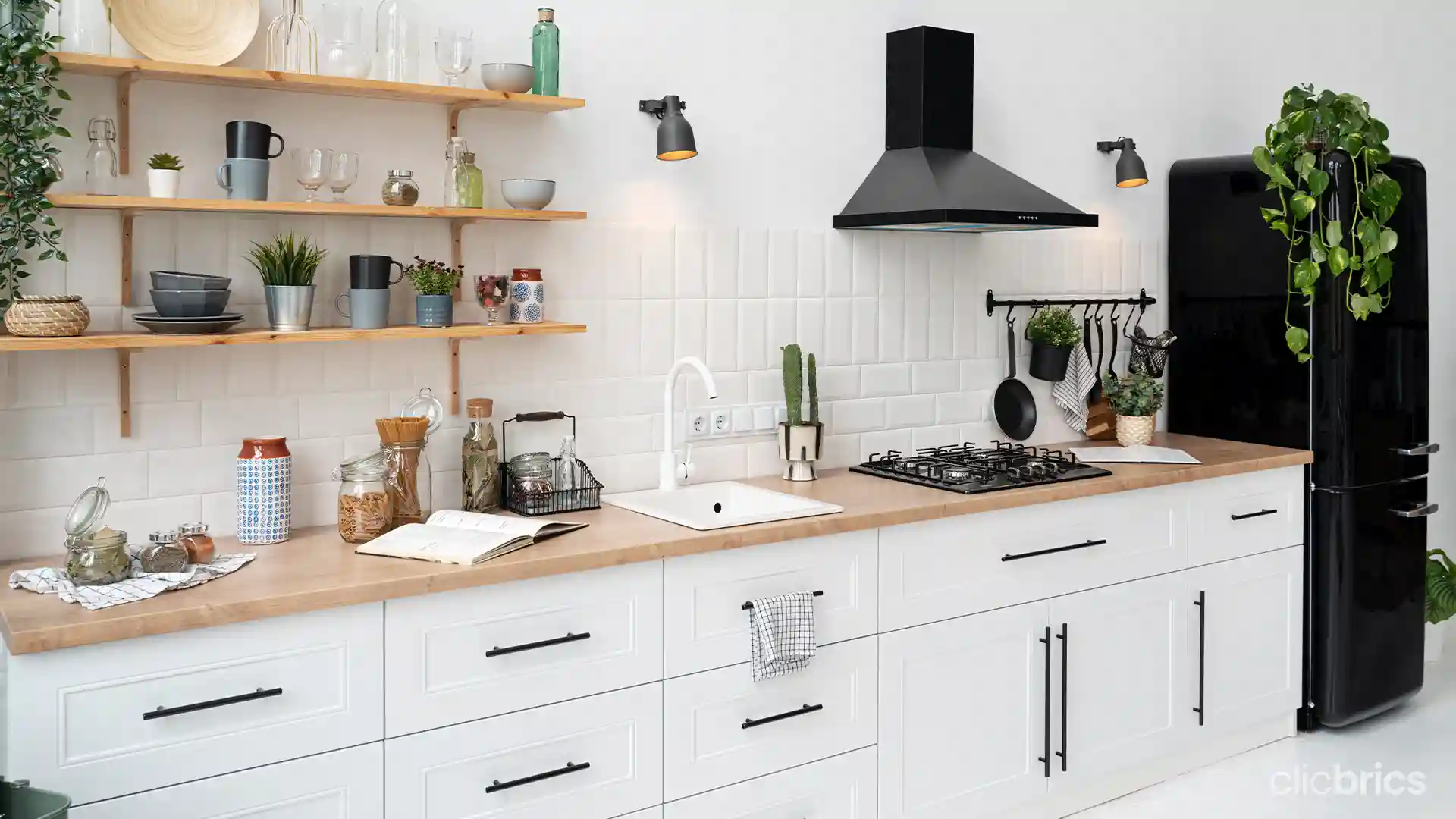 Indian cuisines are full of masala and tadka, which makes an inbuilt chimney over the stove mandatory. It will keep your small house's open-concept kitchen and living room smoke-free. To maximize the natural light in your kitchen, use glossy laminate or lacquered glass. It will also make the kitchen look more spacious and airy. This open concept kitchen works well for small families who want their space to be modern and minimalistic. 
Also Read: Small Modular Kitchen: A Conjunction of Space and Aesthetics
7. Well-lit Open Kitchen Design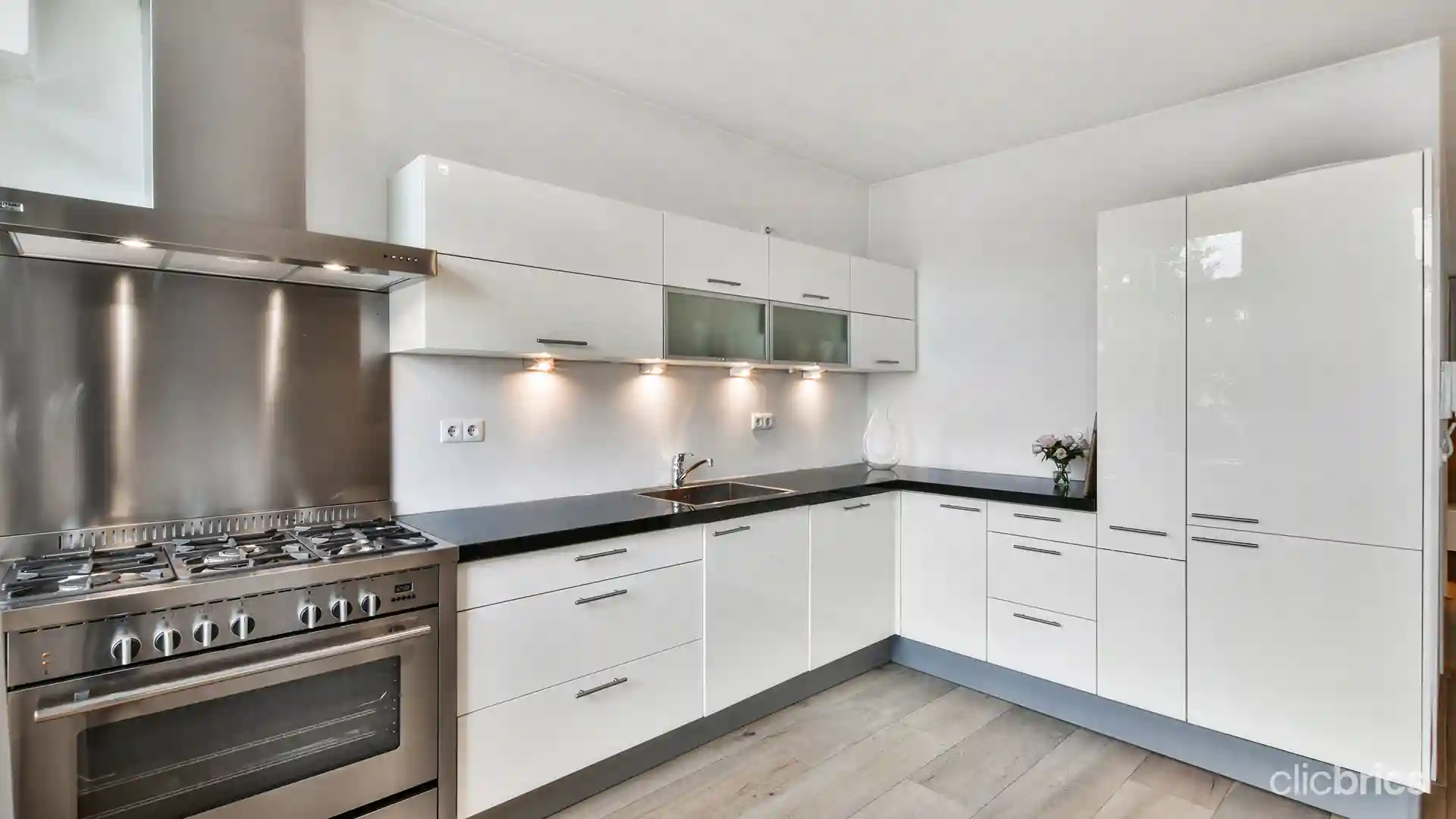 The most important aspect of making your kitchen beautiful is lighting. Add pendant lights, cabinets with backlights, and strip-LED lights in the small open kitchen design. These smooth lights will add drama to your kitchen. Good lighting will also bring life to your living room, and you can host good parties there. 
8. Open Kitchen Design With Storage Units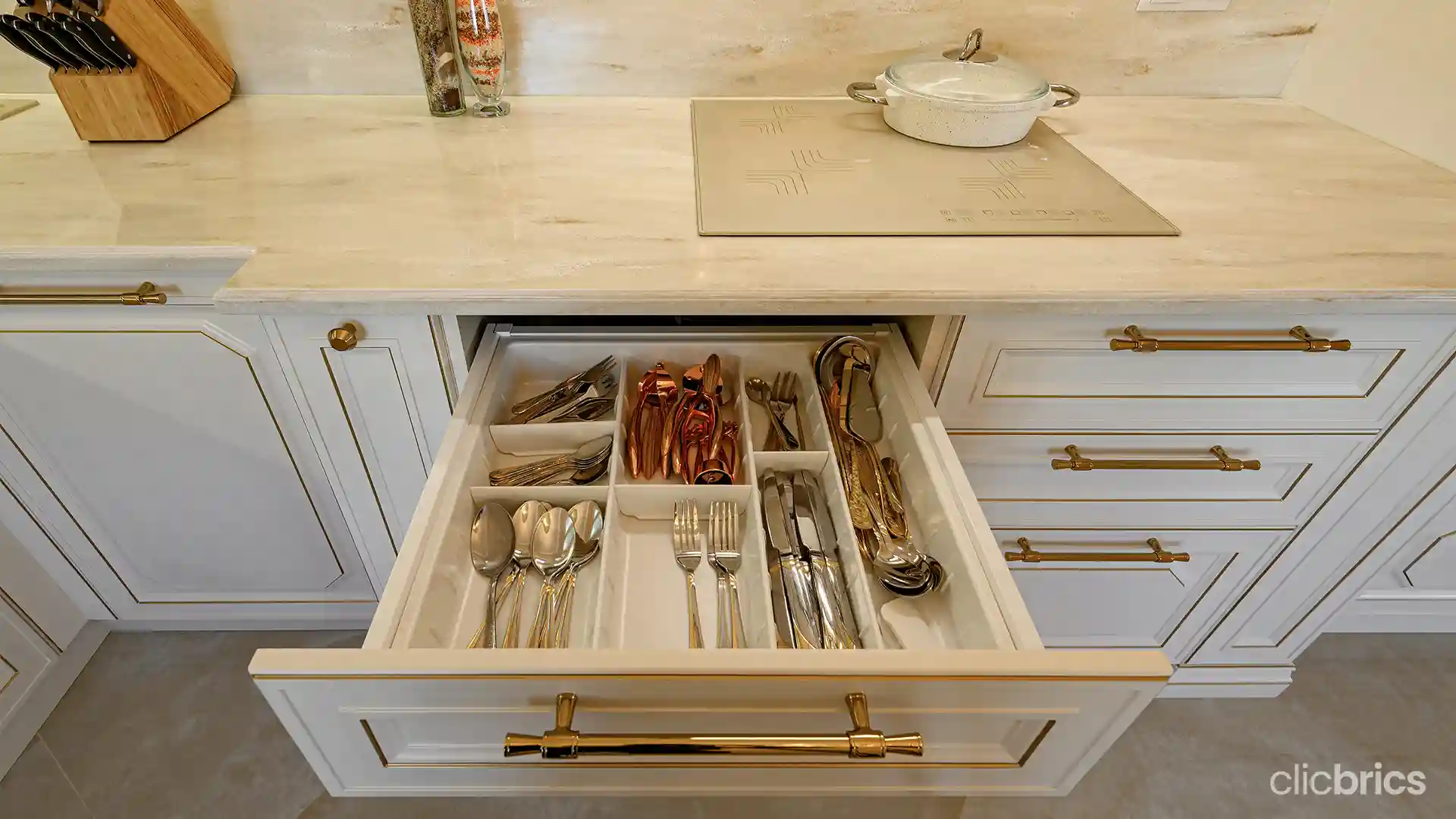 Having clutter-free storage and display space in the kitchen is every Indian's dream. You can install modern storage units to utilize every corner of your kitchen in the best possible manner. 
Also Read: 10 Small Simple Kitchen Design Ideas To Get You Inspired
9. Open Kitchen Ideas to Bring the Outside In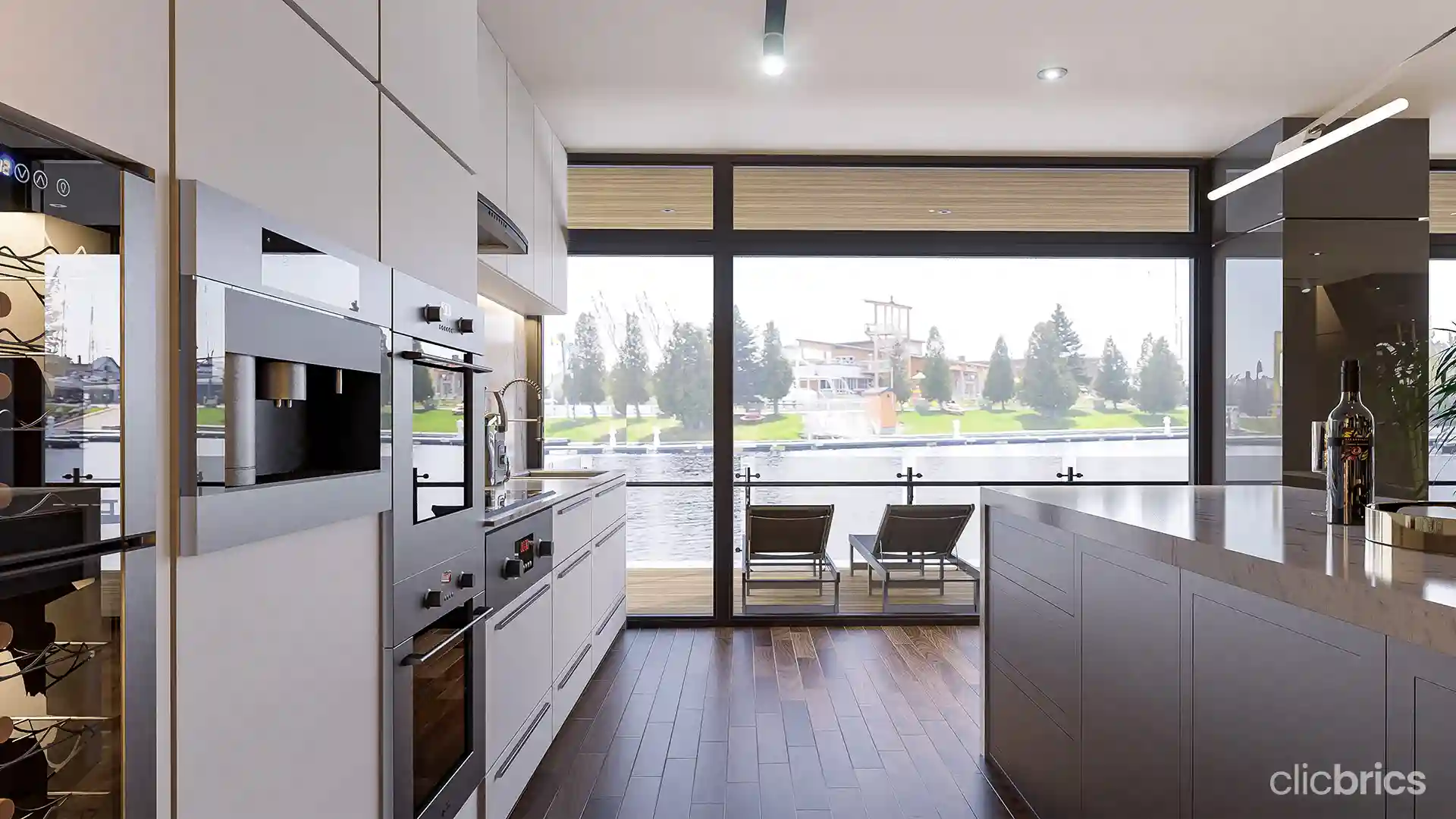 If you're starting from scratch, consider creating an open kitchen design that connects to your backyard. The benefit of building this type of kitchen is that it allows natural sunlight and air to flow inside the house because of the large windows. If you're someone who enjoys evening coffee in the open or often hosts get-togethers, then this open kitchen design is perfect for you. 
10. Choose Good Color To Highlight your Space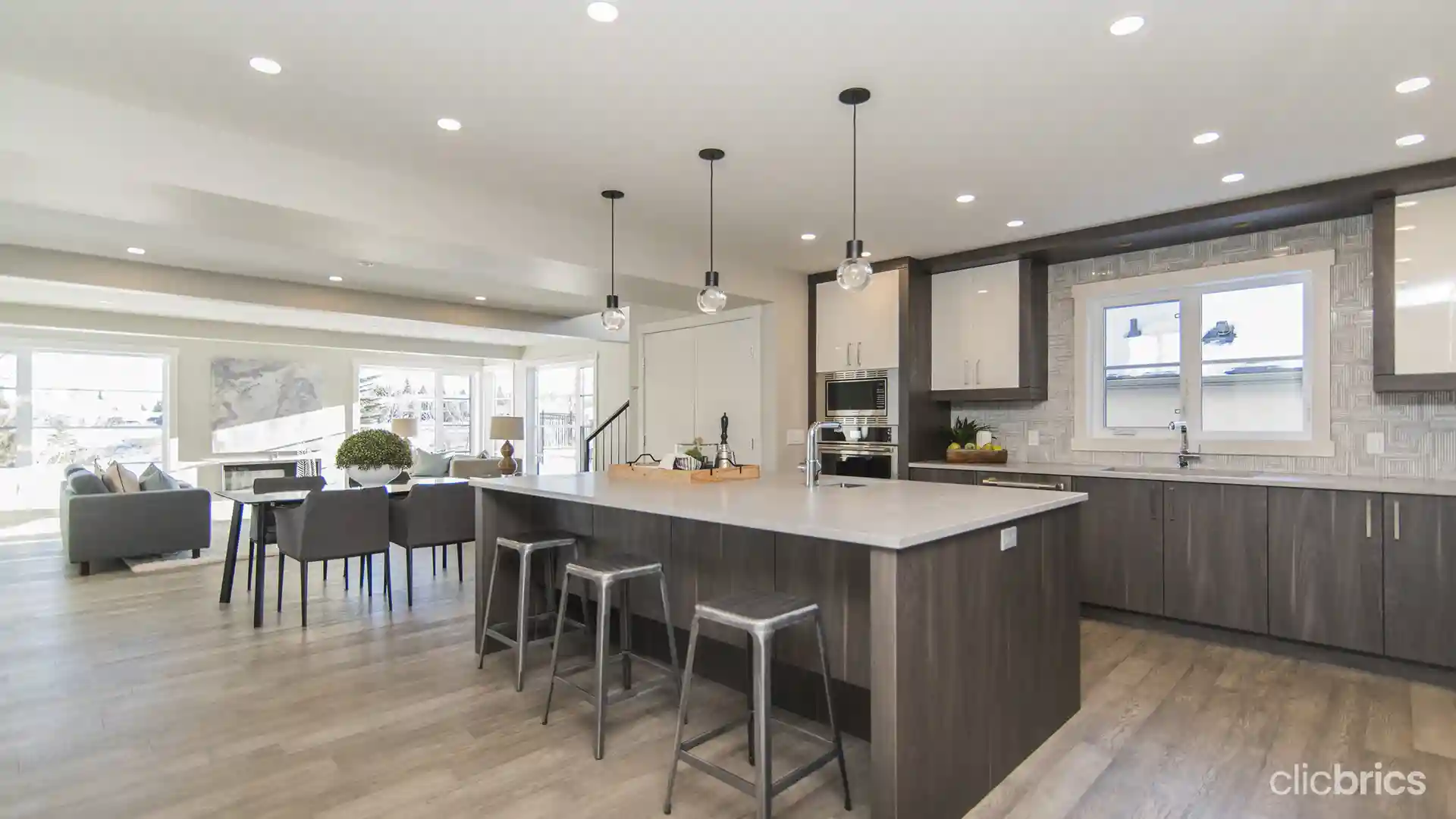 An open kitchen design with little to no color throughout will feel stark unless you're into that look! To work on the open kitchen design, you can add a pop of color to keep all the spaces from running together. The best thing you can do is go two-toned in kitchens. It will add dimension to your open space. So, use a dark color on the bottom and a lighter color on top, and you'll get a unique open kitchen design. 
Consider an open kitchen design if you want to improve your home's value and functionality. It helps improve the airflow and natural light in your space. And remember that you will save money, time, and energy. 
So, tell us in the comments which of the open kitchen ideas you liked the best.