Table of Content:
These days, everyone seems to be installing modular kitchens in their homes -  convenience and improved quality being the two major selling points. And as kitchens have evolved, so has the scope of kitchen decor and designing. One such place in the kitchen that can be easily customised to your taste is its entryway. In this article, we'll discuss several approaches to a kitchen entrance design.
The primary decision to make when planning the layout of a kitchen's entrance is whether or not you prefer a public or closed cooking space. Glass and wood partitions in an open kitchen entrance design can easily help you separate from the rest of the house. However, there are a plethora of kitchen entry gate design alternatives if you want to socialise with guests while you whip up a culinary storm. 
Modern Kitchen Entrance Design Ideas
Structural Designs For Kitchen Entrance
In order to choose the right design for your kitchen's entrance, the area close to the door is crucial. If your kitchen is on the narrow side, you'll want to stick to more straightforward designs, but if it's on the wider side, you might want to experiment with a variety of decorative kitchen front door styles. Here are some potential kitchen entrance layouts for you to consider.
1. Kitchen Entrance Design with an Open Concept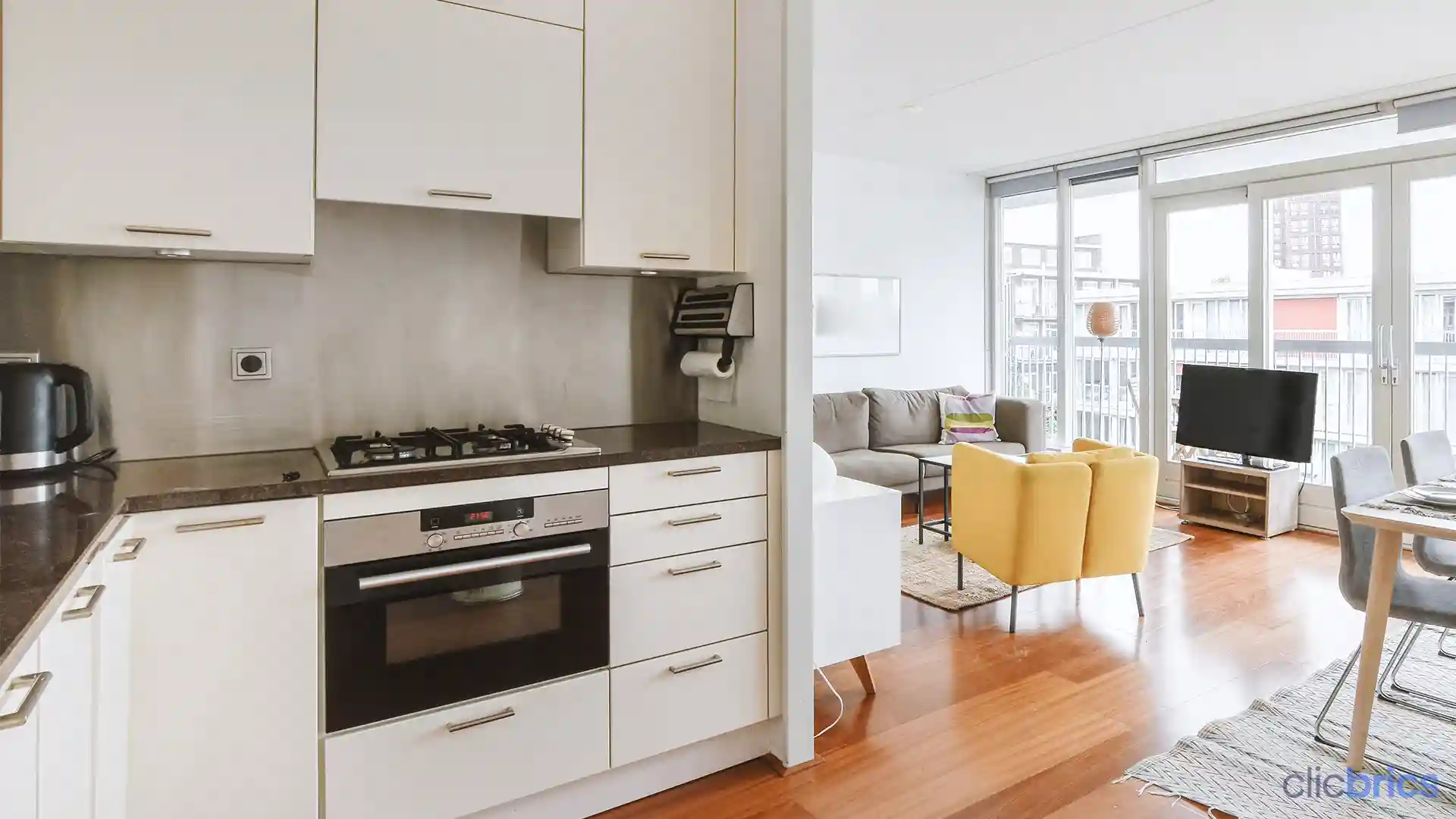 An open kitchen entrance design is open to the living area and creates a seamless transition between the two. Enhance the functionality of your kitchen by installing breakfast counters or serving counters. You now have yourself a welcoming hangout zone if you add a few stylish stools in the space.
Also Read: Open Kitchen Design Ideas For Smart Home Buyers Like You
2. Parallel Kitchen Entrance Design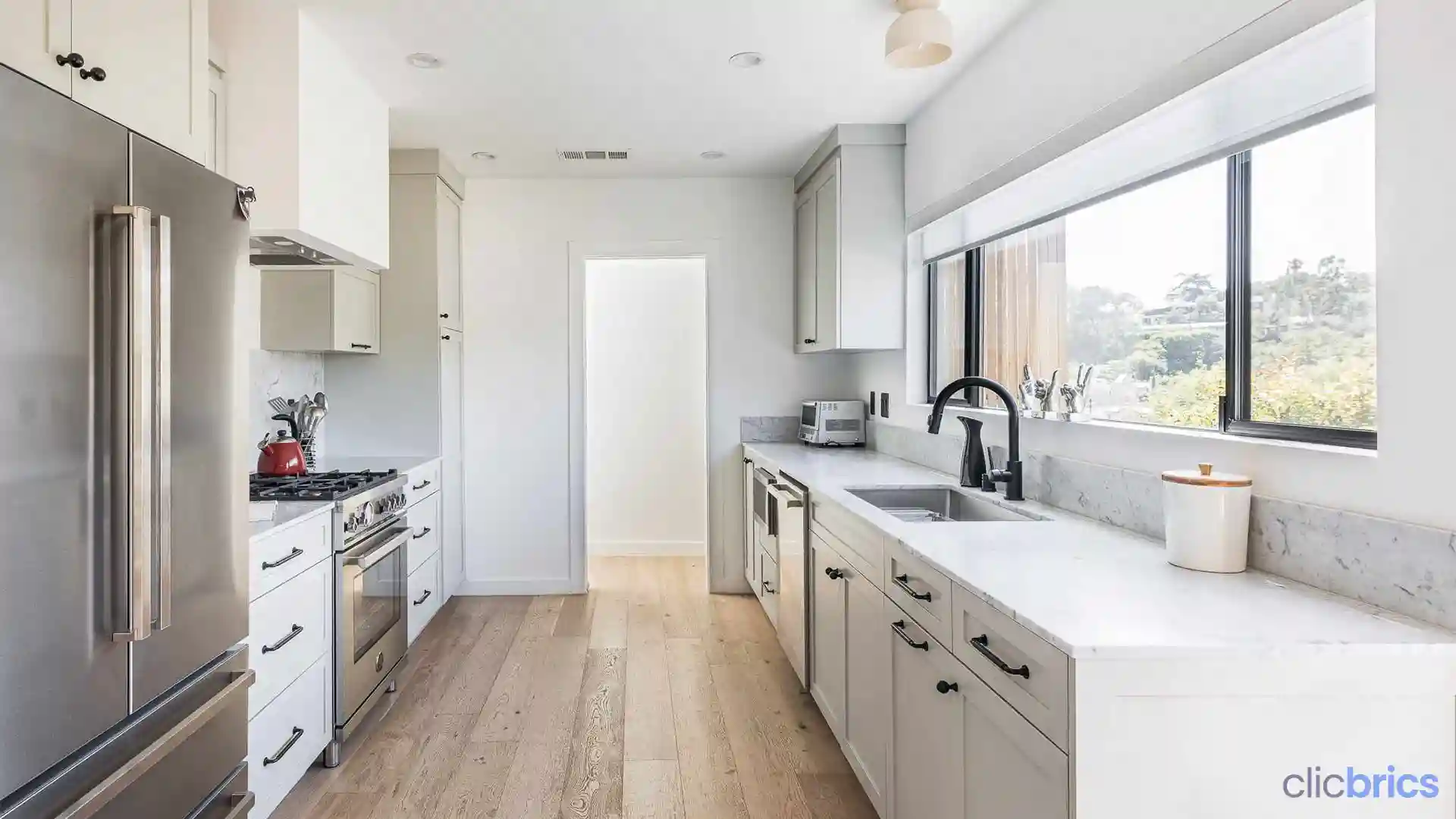 Source: thespruce.

Those on a tight budget will find this upgrade to be very beneficial and affordable. In addition, this straightforward layout has the potential to be made more attractive by the addition of an alluring entrance door that runs parallel to the kitchen. 
You could put some additional kitchen cabinets in line with a parallel kitchen entrance. Now isn't that a great idea to add some extra storage?
3. Kitchen Entrance Design With Large Windows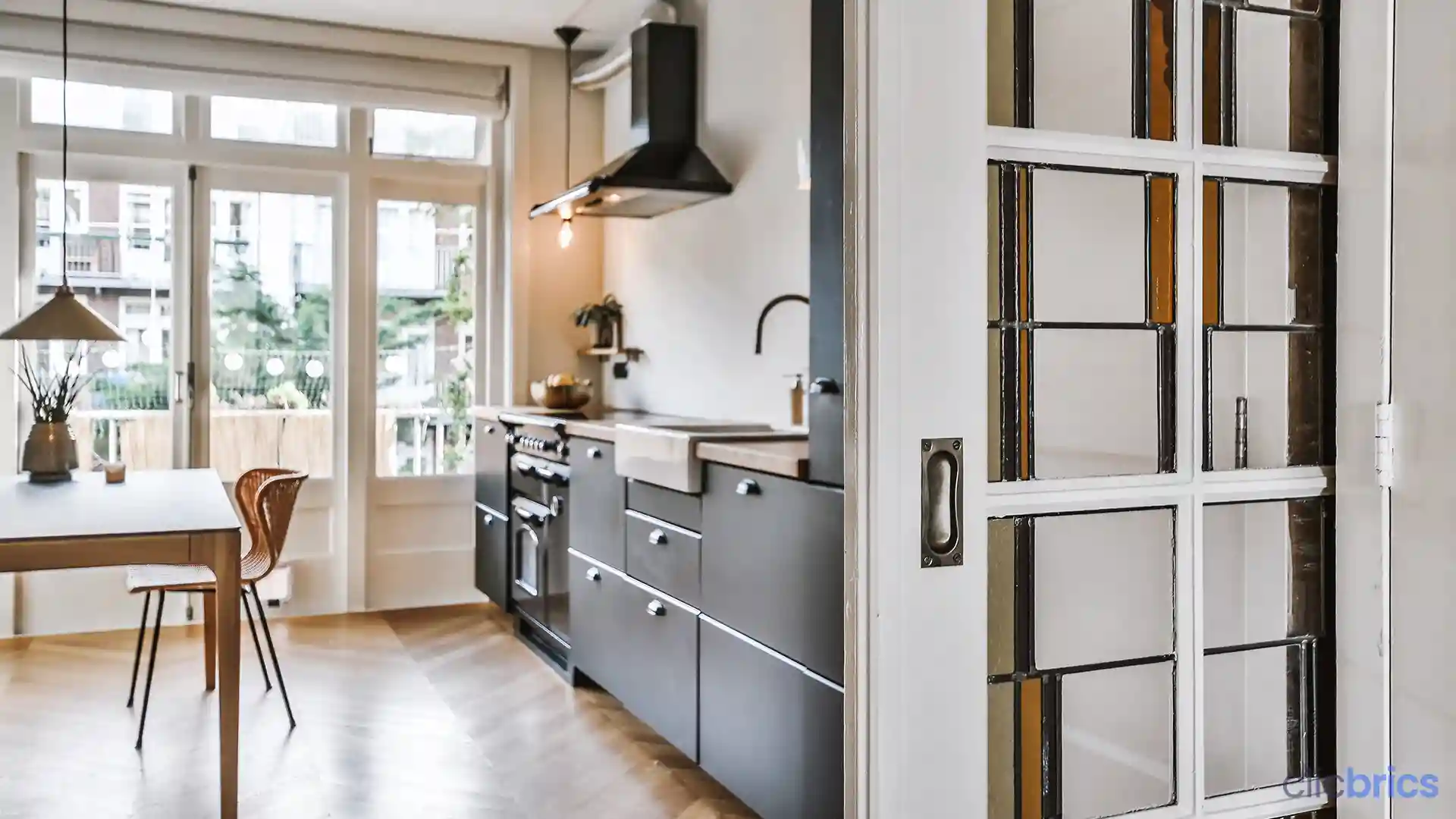 Having a large kitchen entrance will allow more light in, making it a more positive and joyful space. Additionally, having a large, open kitchen entrance design will make your guests feel more at home. You get bonus points if the kitchen has big windows to keep the space ventilated.
Fashionable Patterns For Kitchen Entrance
The feel of your kitchen and the rest of your home should be carried over into the design of your modular kitchen's entrance design. Get inspired by some of these:
1. Stylish Door for a Contemporary Kitchen Entrance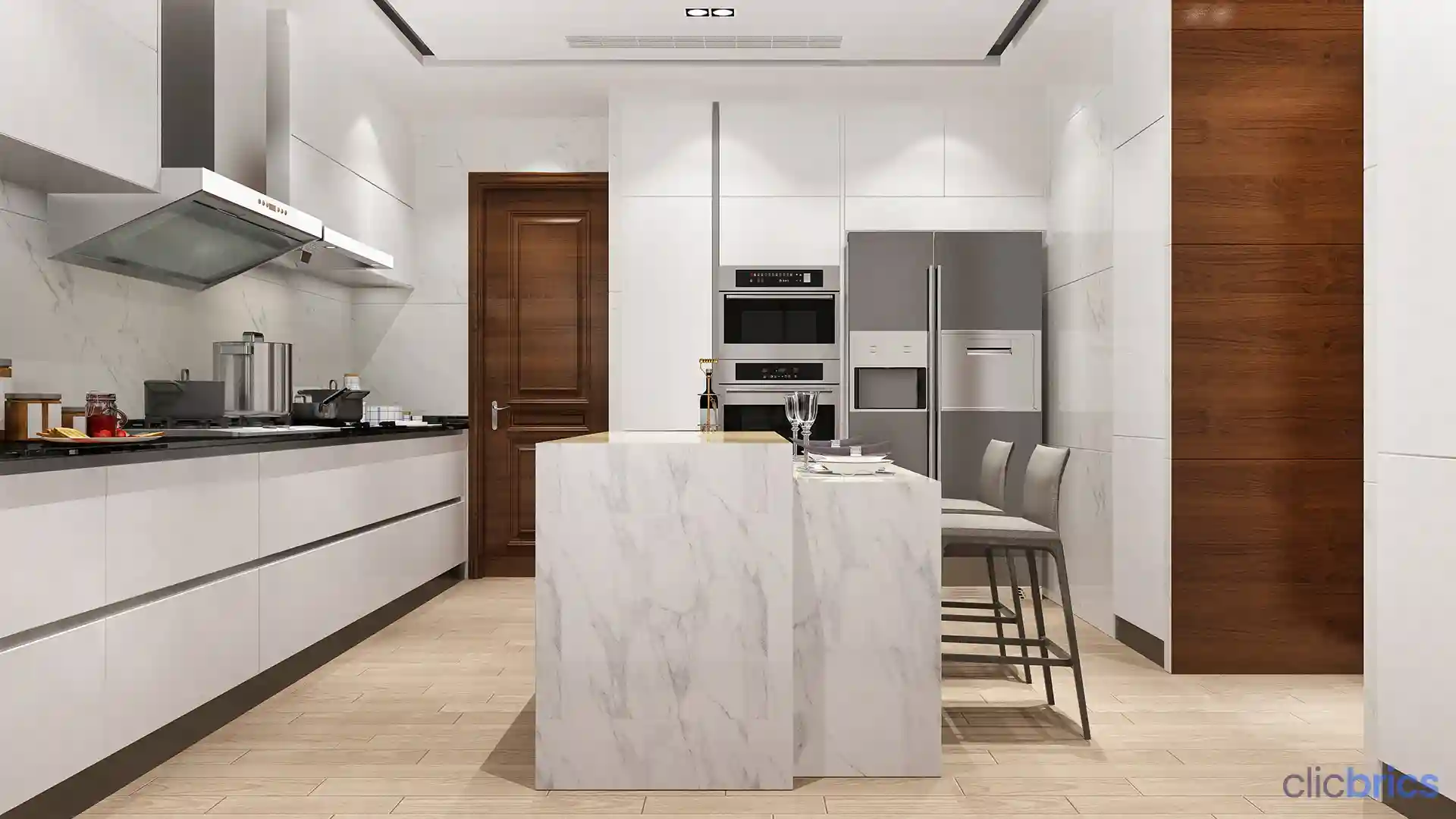 You can create a separation between the kitchen and the rest of the house by positioning it along a hallway and adding a sink and counter space for eating. The sink makes it easy to carry on a conversation while washing dishes.
You can include wooden elegance in a modern kitchen entrance design and see how it makes a huge difference in the atmosphere of the kitchen. 
Suggested Read: Simple Kitchen Designs That'll Easily Fit Your Budget
2. A Classic Approach to the Kitchen Entrance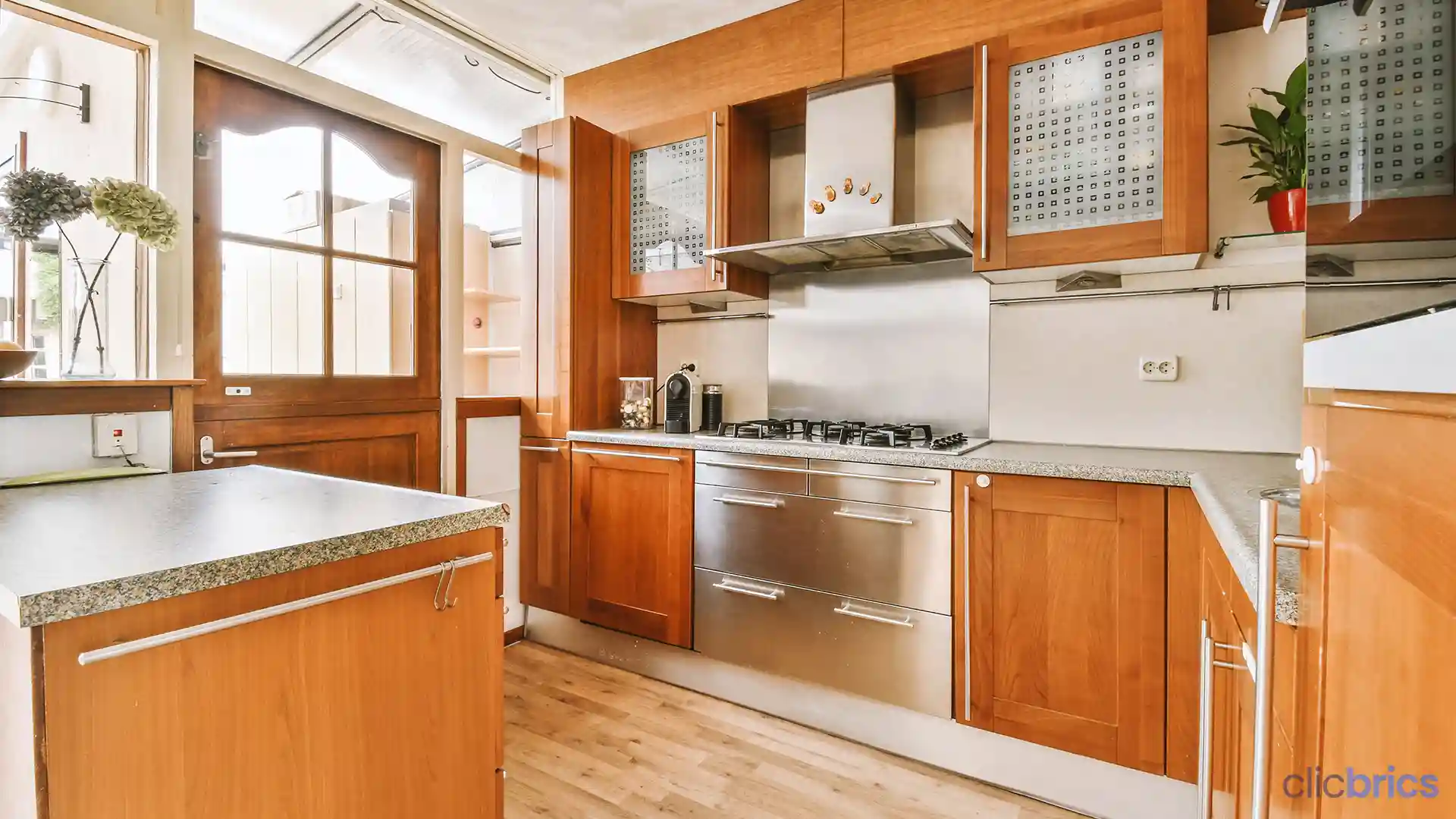 An open kitchen may not be the best choice if you find peace and quiet in your baking as a means of relieving stress. The freedom to let your inner chef soar can be found in a kitchen with nothing more than a private and simple kitchen entrance design. 
Think of it like this: you have a set of stairs that directly leads to the kitchen. The rustic feel of this kitchen is emphasised by the luxurious wooden cabinets. Alternatively, you can use something more up-to-date in place of the wood, such as plywood or stainless steel.
3. Small Kitchen Entrance Design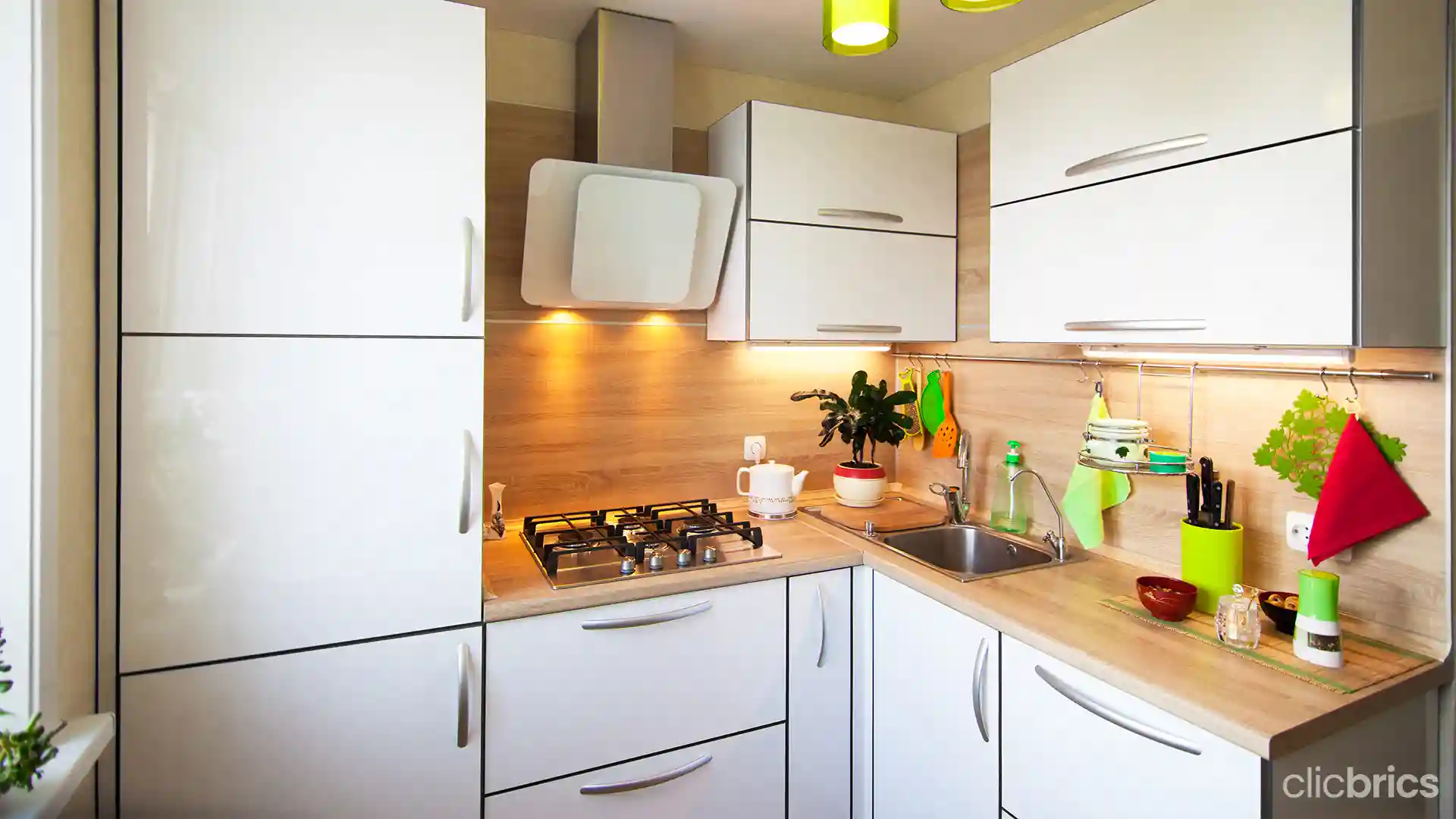 This is great for small homes. This low-cost and space-saving kitchen entrance design layout is both stylish and practical.
It is simple and inexpensive to just get double wooden doors and paint them to match your kitchen's colour scheme. If you prefer minimalistic aesthetics, this kitchen layout is perfect for you. Implementing a kitchen entrance wall design, you can install cabinets built into the walls of a kitchen. 
A comfy bench beneath a white sink countertop serves as the perfect complement to the minimalist dining space. While that may be the case, glass windows in the kitchen keep it light and airy. When combined, glass and wood make a beautiful and practical pair. All your favourite dishes and wine bottles can be proudly displayed in a separate section of the kitchen - thanks to a handy column. 
Arch Designs For Kitchen Entrance
Using arches is a fantastic strategy for bringing back the enchantment and mystery of the past. Kitchen entrance arch designs are also adaptable in a contemporary kitchen design. Take a look at these options:
1. Easy-to-Build Kitchen Door Arch Design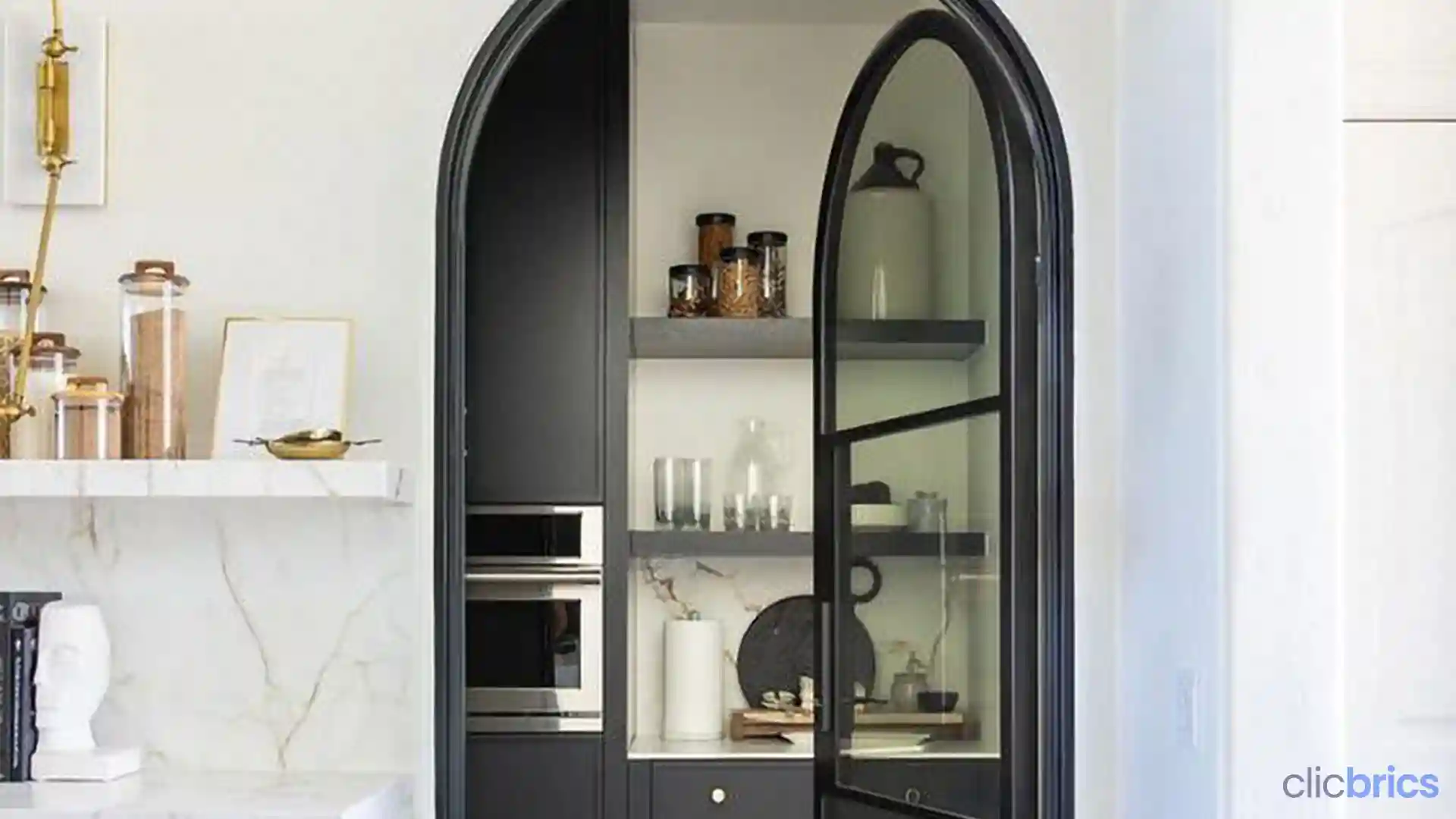 Source: decornuts

One elegant touch that can be added to the kitchen is a clean, simple arch over the doorway. Achieve a tasteful minimalism by painting the kitchen entrance walls with a solid neutral colour.
2. Arch-Style French Double Doors For Kitchen Entrance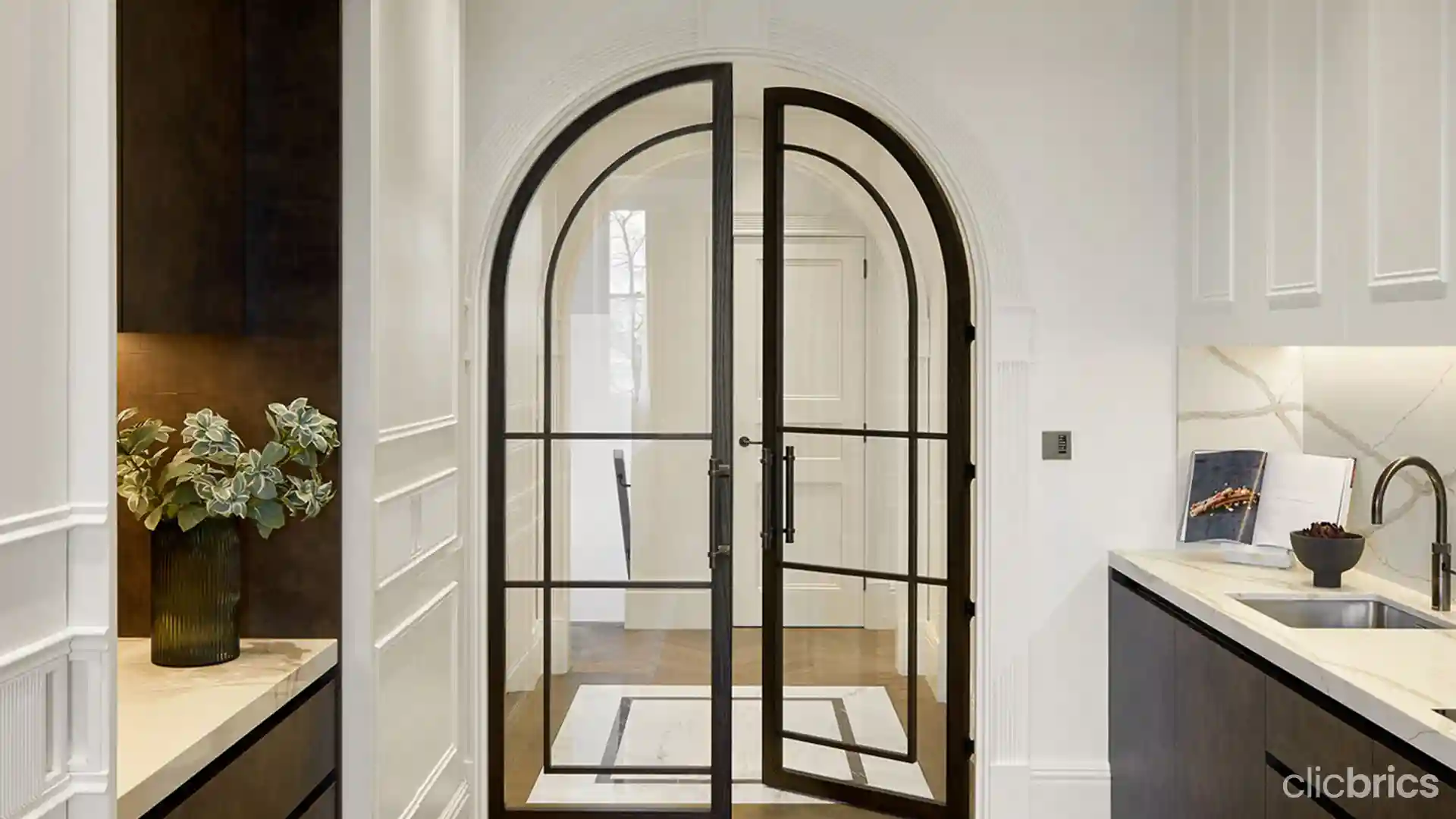 Source: laurahammett

The double doors, reminiscent of French design, impart an air of instant elegance to your kitchen. Kitchen doors can have either clear glass, frosted or translucent glass to increase privacy.
3. Kitchen Archway Idea for a Narrow Space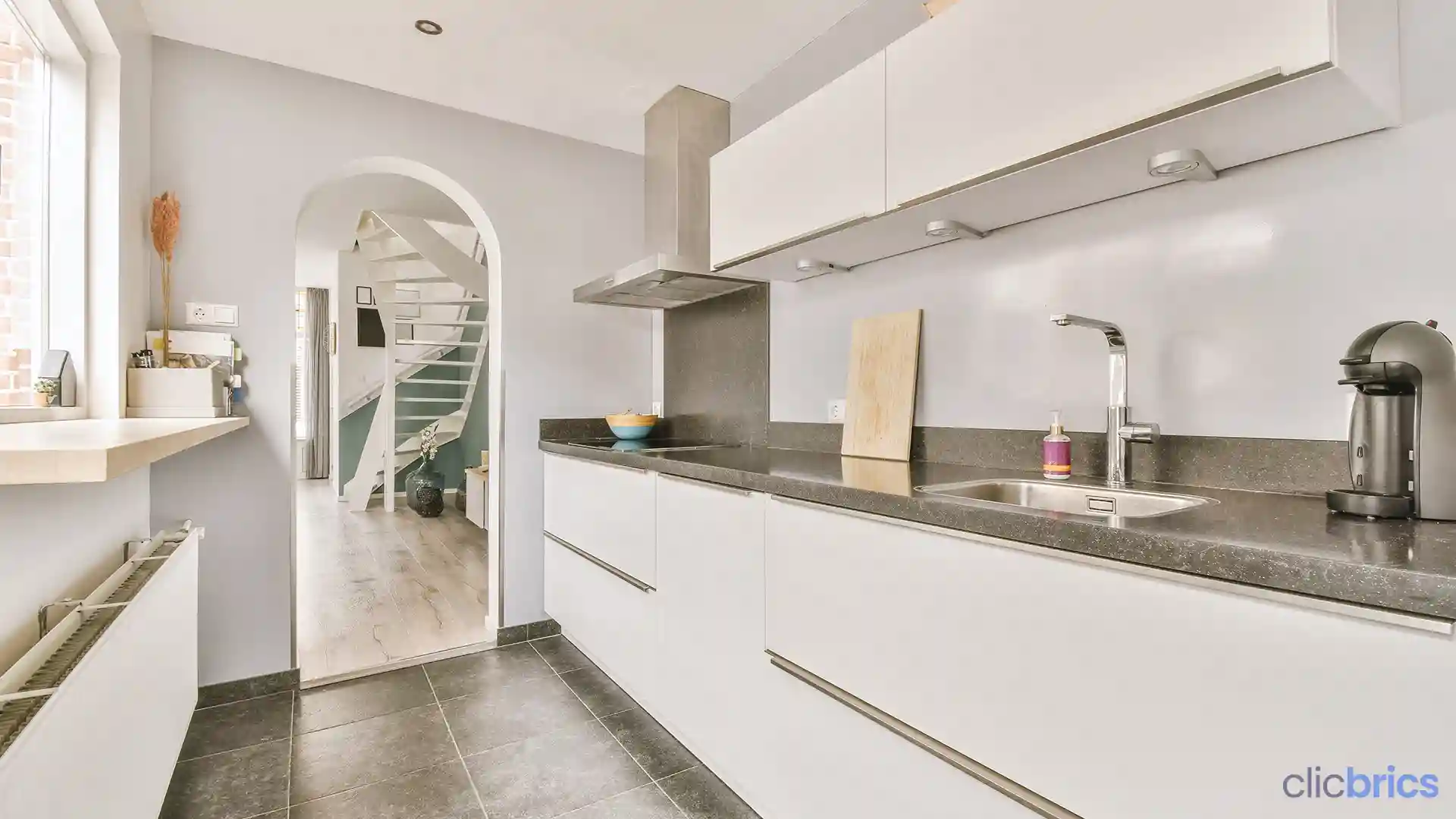 No need to go to the trouble of building ornate arches over small kitchen entrance designs if they are only going to be used occasionally. An arch in the wall is all that's needed to give your kitchen personality. 
When decorating a smaller kitchen, a slim wooden arch can add a lot of charm to the kitchen's entrance. Likewise, they can also serve as a seamless transition between the kitchen and the living room.
Also Read: Top 3 Kitchen Vastu Tips To Infuse Positivity In Your Cooking Space
Decorating Concepts for the Kitchen's Front Wall
To add a unique feel to your kitchen, try out different wall textures and wallpaper.For an even more weathered look, a brick wall can also be incorporated. A well-built kitchen entrance wall design can be utilised ingeniously to construct supplementary storage space.
1. Uncemented Brick Walls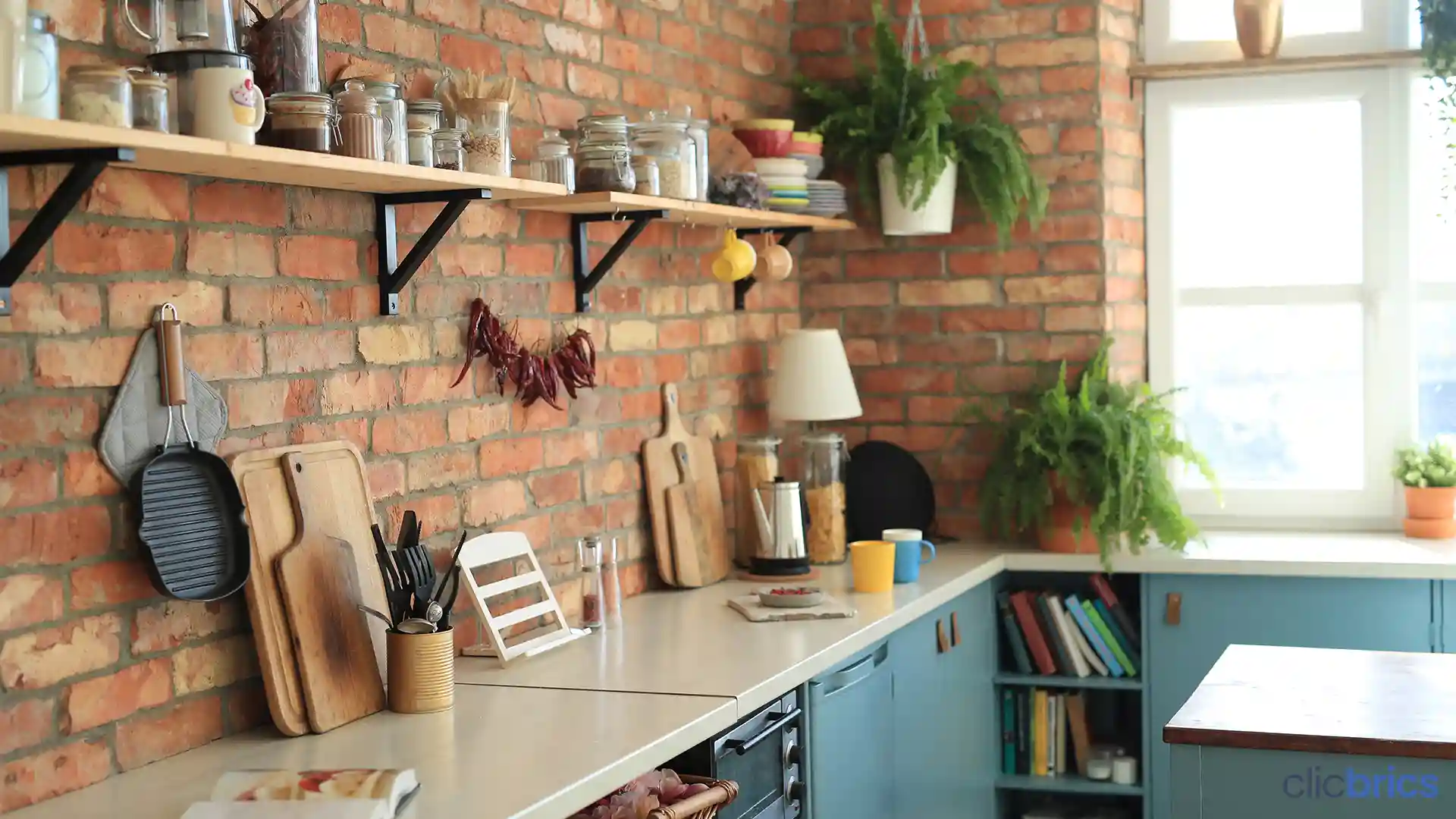 A brick wall is the epitome of earthiness and rustic charm. If you prefer a more understated aesthetic for your kitchen, a brick wall design for kitchen entrance could be the perfect touch.
2. Showcases Made of Wood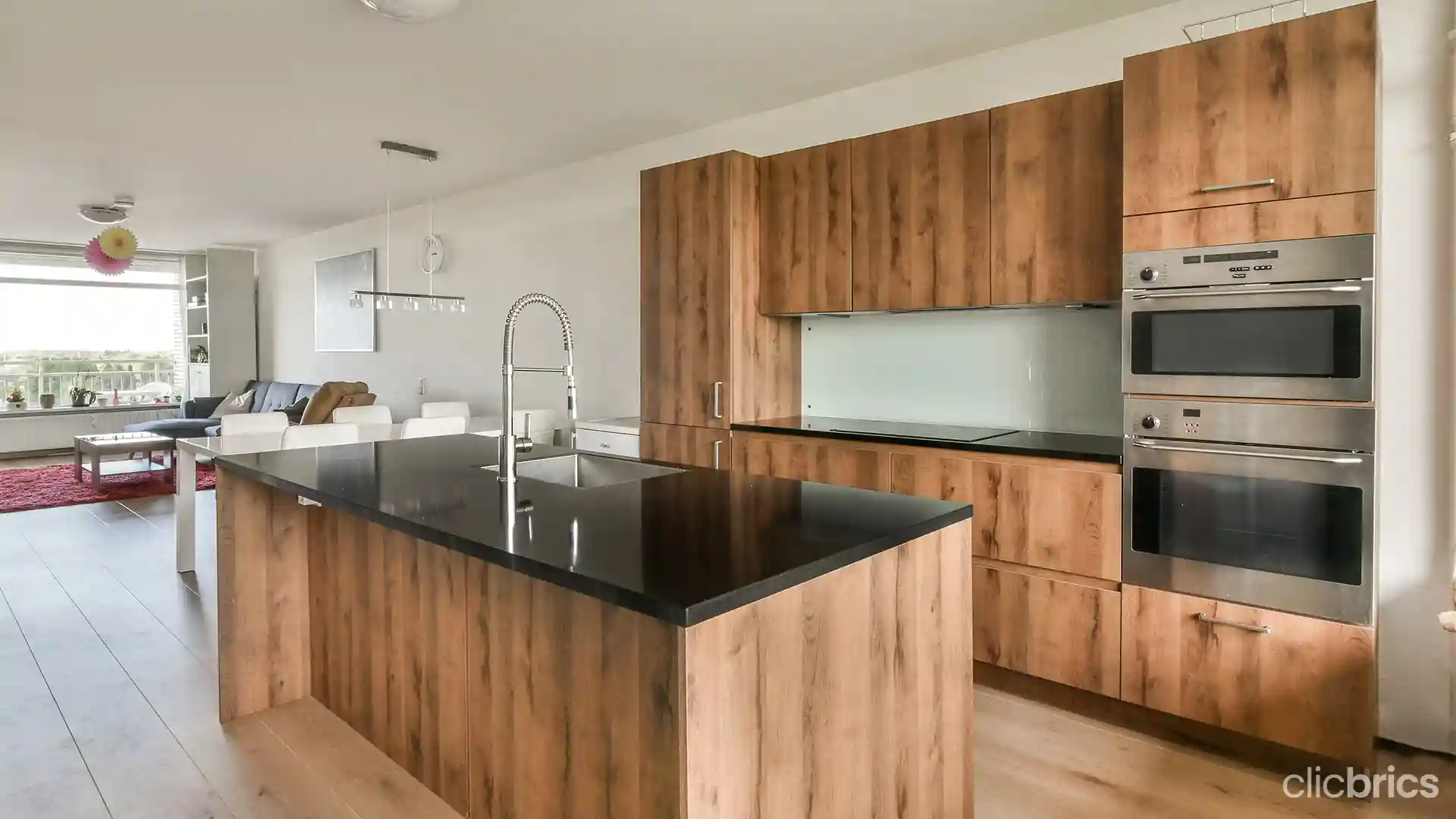 Kitchens with wooden display areas are more attractive and tasteful. They look great and serve your storage needs in the kitchen. 
Last but not least, though open kitchens are popular right now, you might still value some privacy in this space. Here are a few modern kitchen entrance door designs for concealing your kitchen from guests as they enter your home:
1. Use of Glass Walls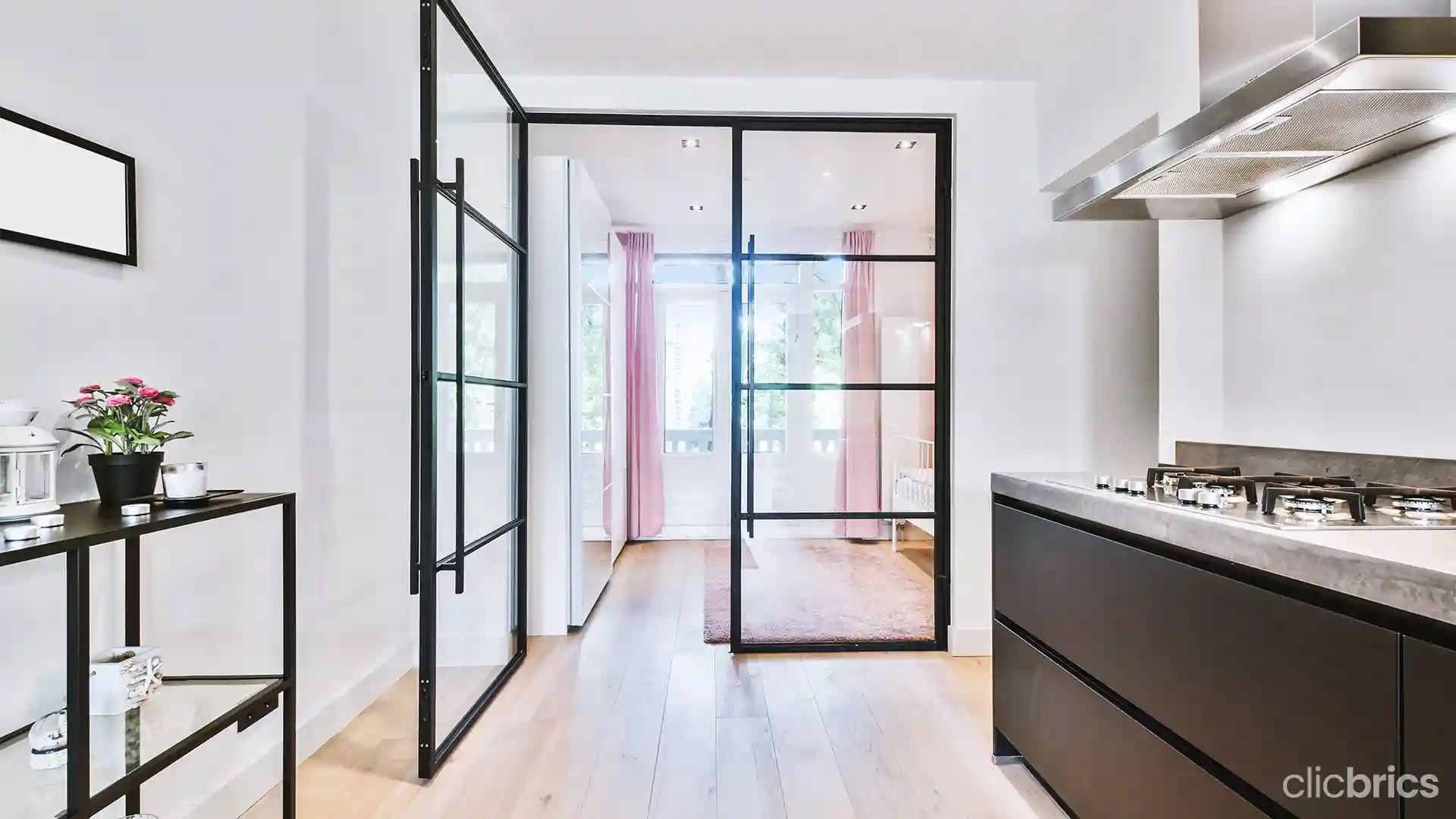 Glass's ability to enhance any setting is timeless. In a similar vein, kitchen entrance designs should be kept clean. Kitchen entrance double doors with glass will help define the space from the rest of the house.
2. Doors That Slide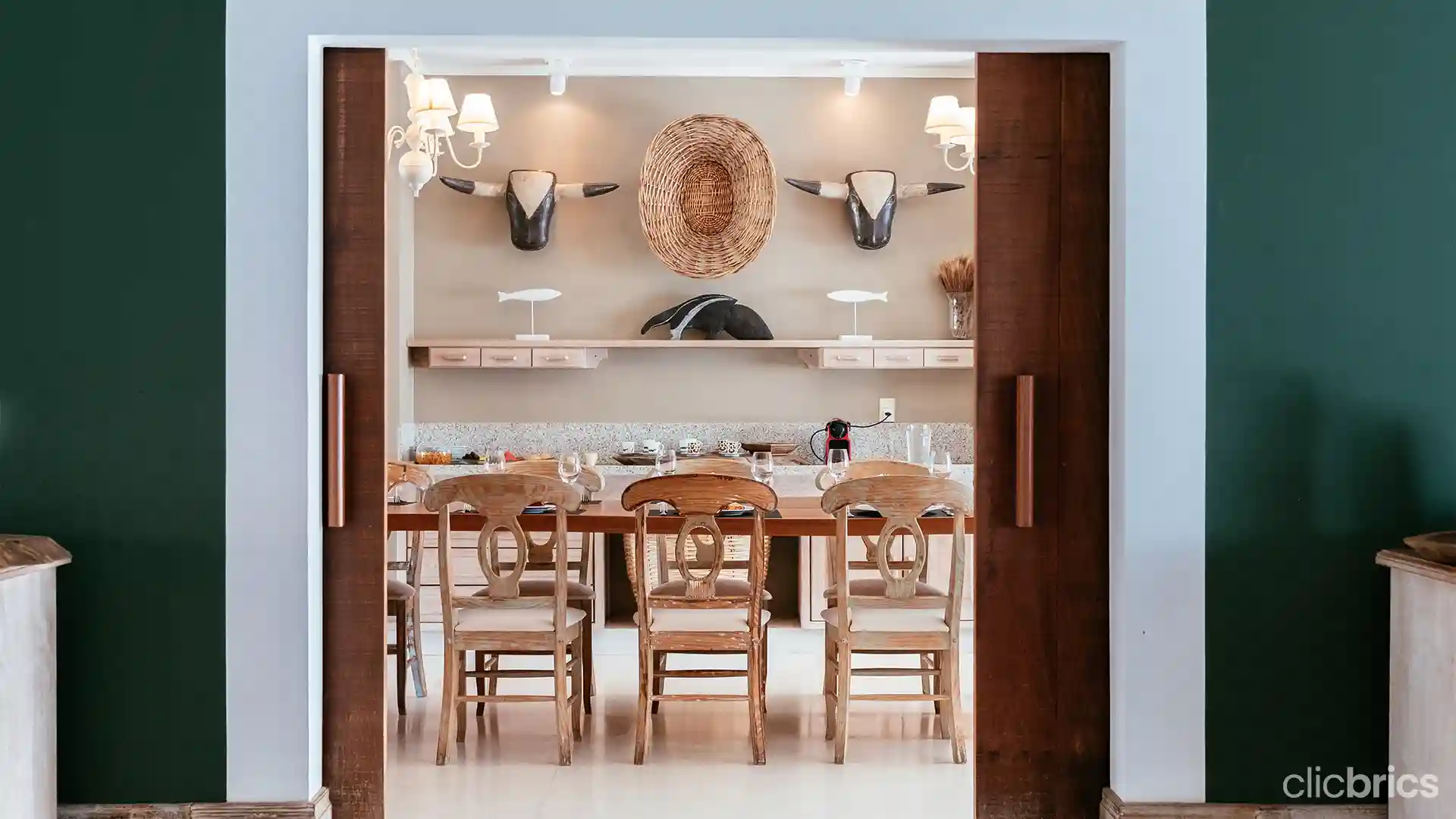 Sliding kitchen entrance door designs are practical because you can open them all the way to make more room in the kitchen. You can have instant seclusion by simply pulling them close to you and voila! you've got a beautiful door design for your kitchen.
3. Cloth Roller Blinds/Roman Shades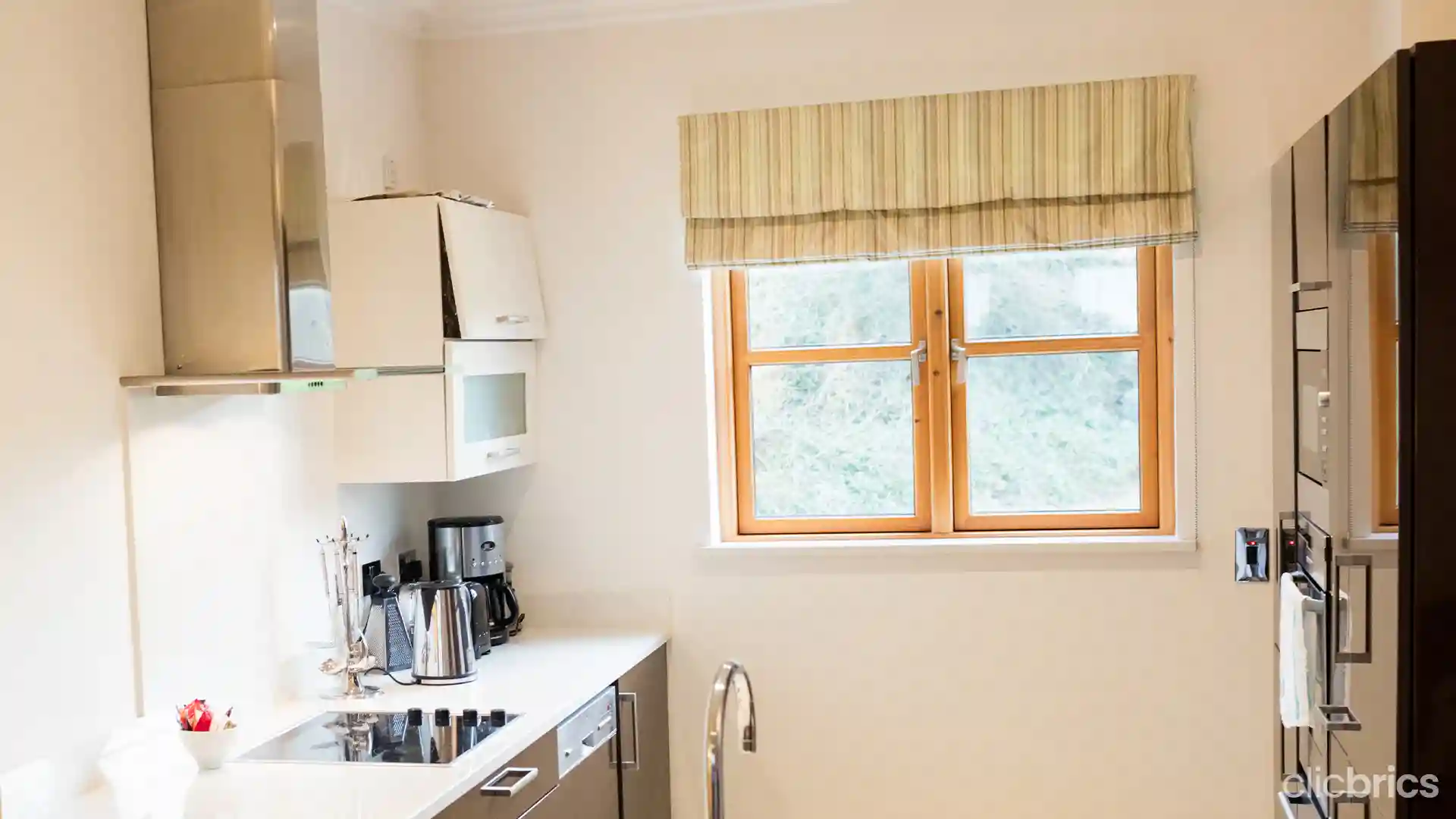 Roman Shades, also known as Romans, are commonly used to block sunlight, but they can also be used to add privacy and style to the kitchen. Even though Roman shades are beautiful, they are not a good choice for a damp kitchen. 
With these designs, we hope that you have a firm grasp of the various ways in which kitchen entrance designs can be fashioned to meet a wide range of requirements and preferences.
Keep Reading: Kitchen Chimney Designs Trending In 2023