Table of Content:
No doubt, a kitchen, regardless of its size, is the heart of the home. A kitchen is a space in a home where a family likes to spend some quality time together. Being the nourishment hub of your home, a kitchen's design should bring ease to your cooking sessions, while also complementing the style of the rest of your home. A well-thought-out kitchen simple design can make sure that you have the best cooking experience. 

As families get nuclear and apartments become compact, so does the dedicated cooking space in the house. It is possible to create the illusion of a bigger space in a small kitchen. This blog, which consists of kitchen design images, is going to teach you how to transform your small kitchen into a beautiful and functional space through smart kitchen simple design ideas. 
Here are 15 simple kitchen design ideas that are effective, practical, and worth checking out!
15 Simple Kitchen Designs
1. Add Charm with Wooden Kitchen Shelves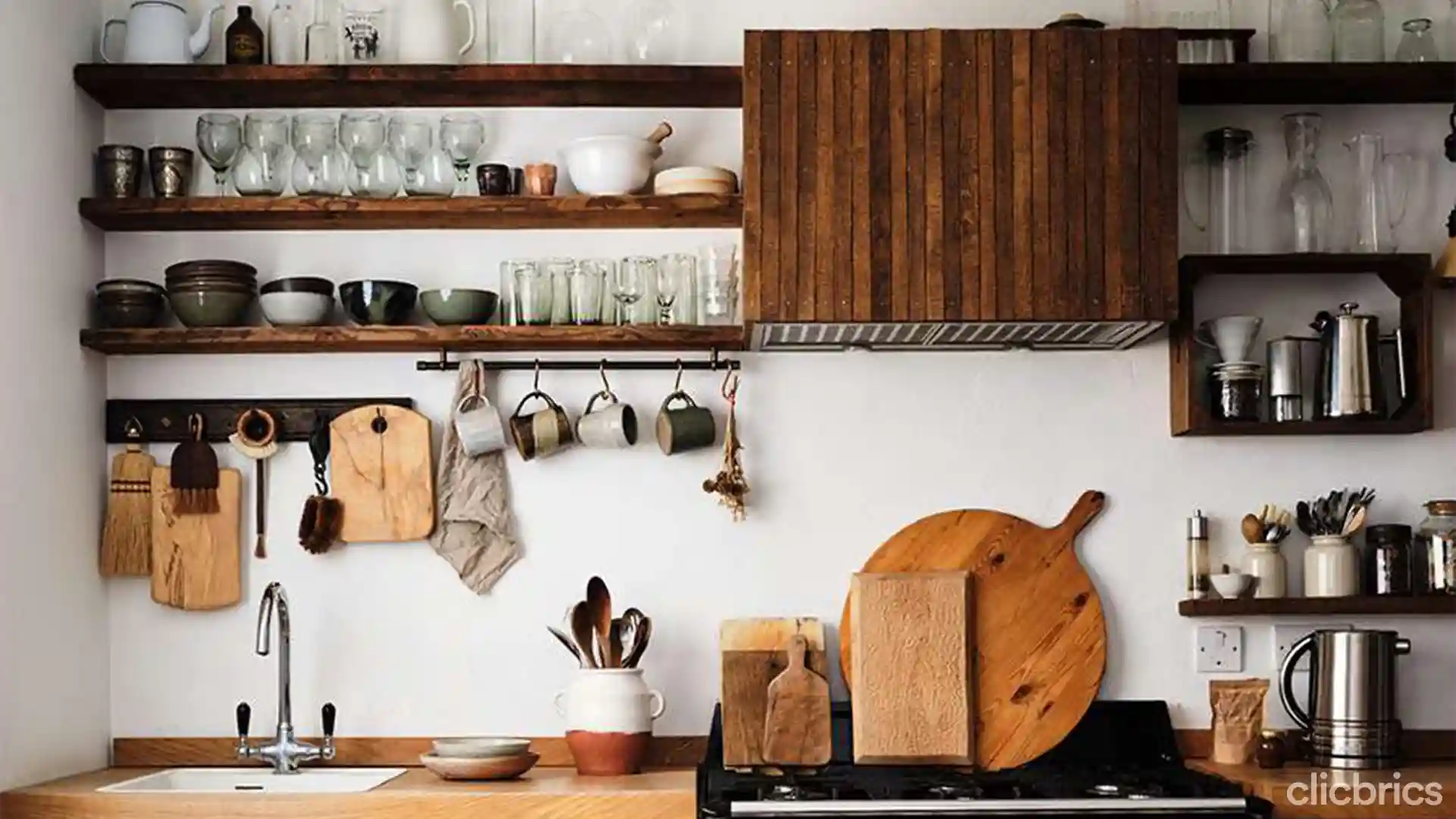 Unquestionably, one of the most important aspects of any kitchen is storage, but a small kitchen's lack of spacing makes it extremely important. Wooden kitchen shelves are one of the best simple kitchen design ideas that are ideal for people looking for something useful and visually beautiful while having significant storage space.  
Also Read: 15 Balcony Design Ideas To Revamp Your Outdoor
2. Kitchen Drawers Instead of Cabinets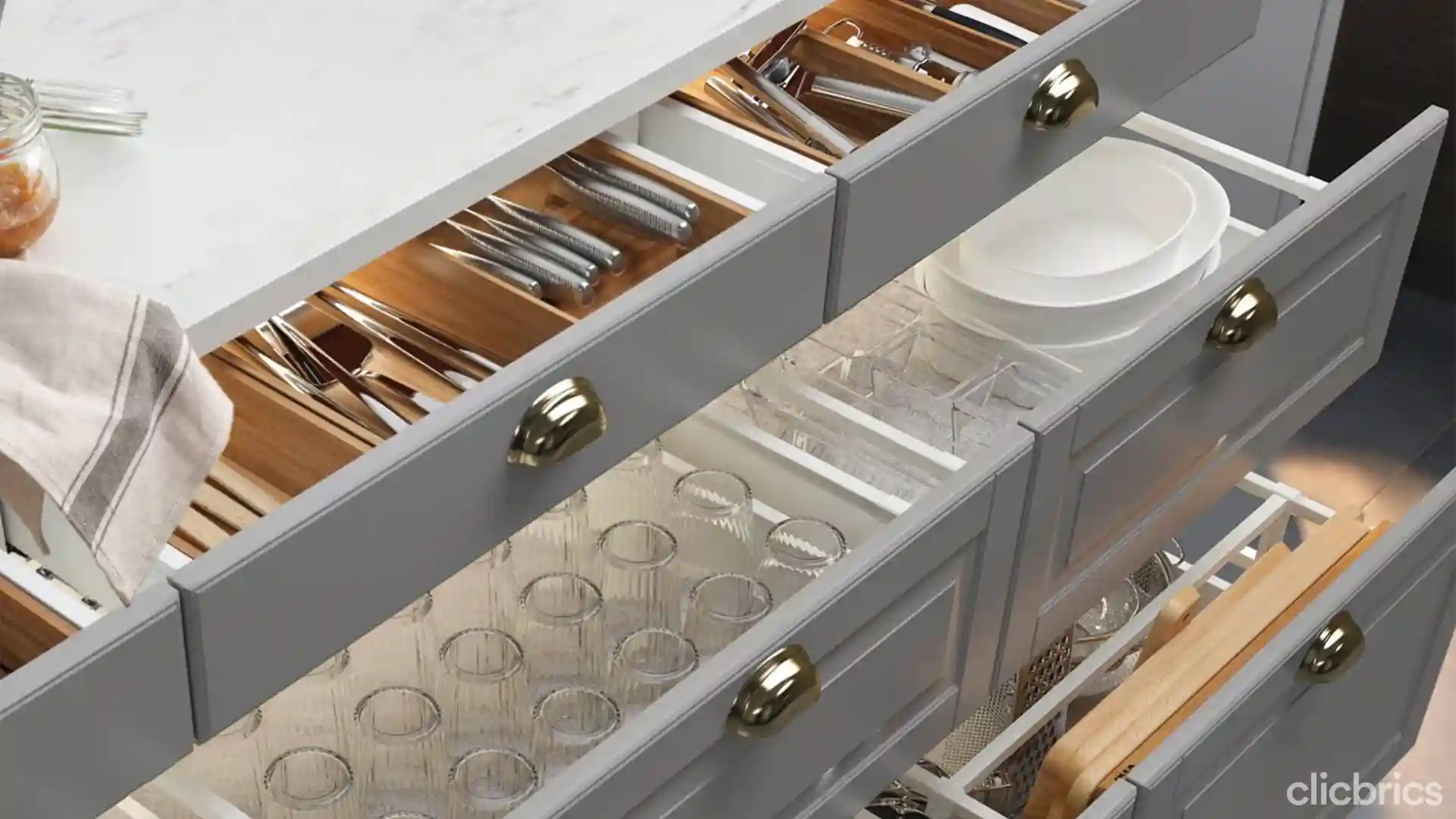 If you cook a lot, the kitchen can become cluttered and overwhelming, especially if you have a small cooking space. Being able to easily find and reach desired items makes cooking a comfortable experience. These types of simple kitchen design ideas that consist of drawers make your precious kitchen items a lot more accessible than cabinets do. It allows you to keep all your most often used items at your fingertips. Kitchen drawers are very smooth and easy to use. Simultaneously gives your simple modern kitchen design a classy and stunning look.
Also Read: 5 Kitchen Gadgets to make your kitchen  smarter than before
3. Add a Kitchen Island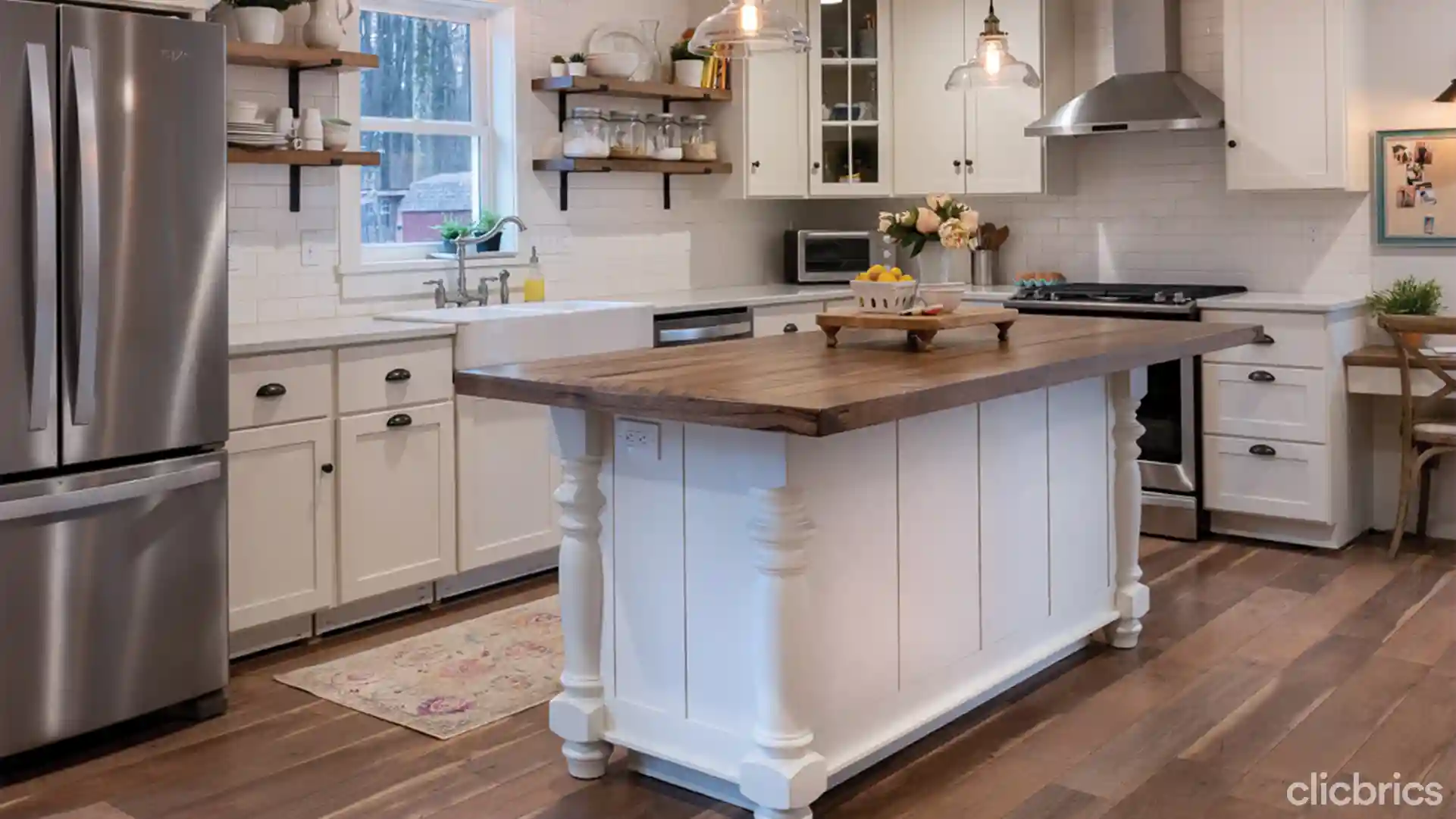 A kitchen island has become a must-have gathering spot for family and friends, before and after meals. It boosts the functionality of your simple modular kitchen by offering extra storage, extra countertop surface and room for seating. By incorporating a small-scale kitchen island, you are utilizing the kitchen space better with the addition of a handy spot to eat and drink. And it takes up less room than any other easy simple kitchen design.
Also Read: Start Your Home Design Journey: Quick and Easy Tips |Exterior & Interior|
4. Open the Space with Glass Doors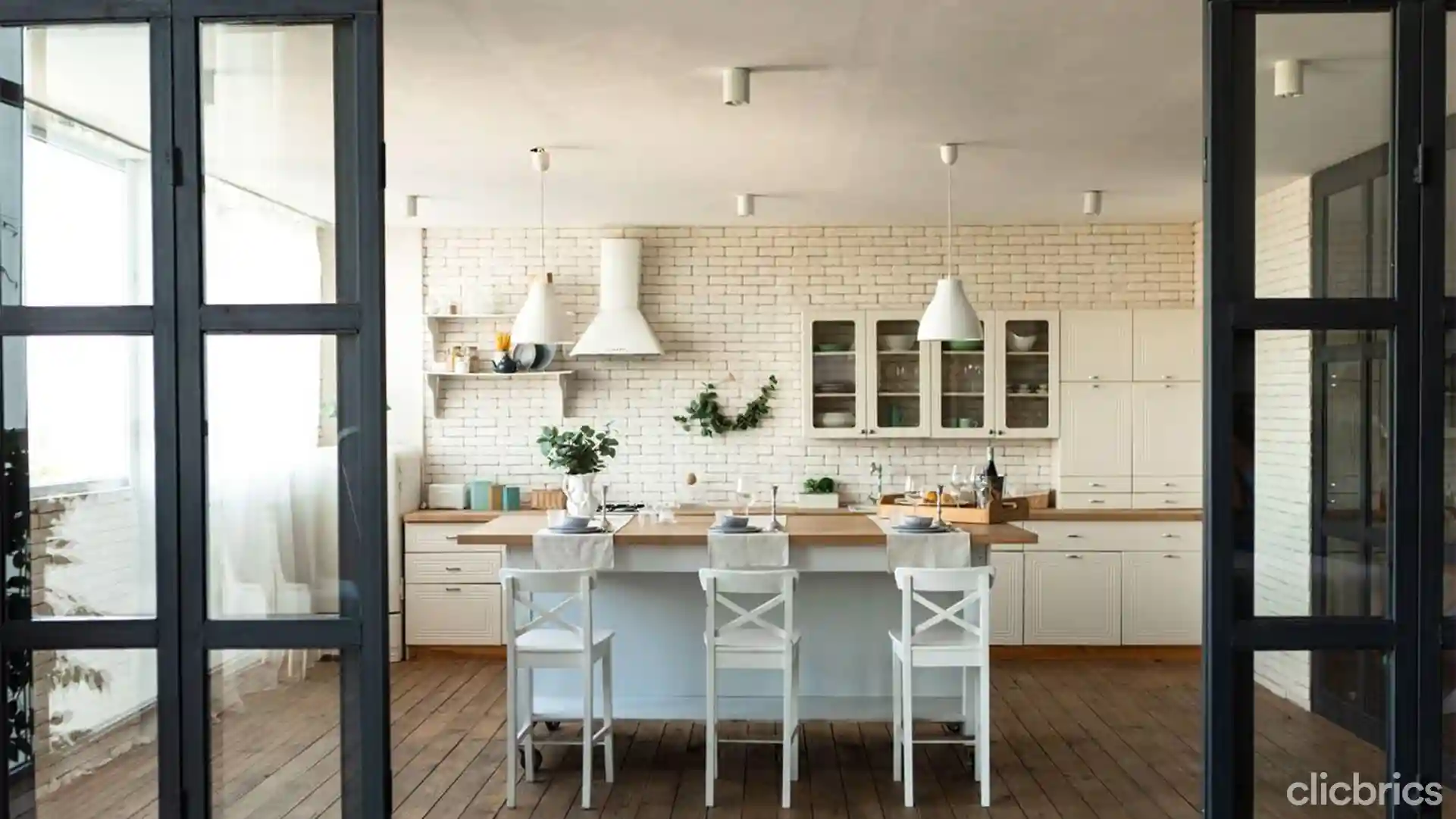 Lend your simple kitchen design low cost an open and spacious feel with the inclusion of a sliding glass door. It opens sideways rather than outwards or inwards. It enhances the glitz and refinement of your kitchen. ​​Additionally, it gives the idea that the kitchen's cooking space extends into the dining or living room. 
Also Read: Sliding Glass Door Alternatives
5. Choose a Bold Backsplash for a Simple Kitchen Design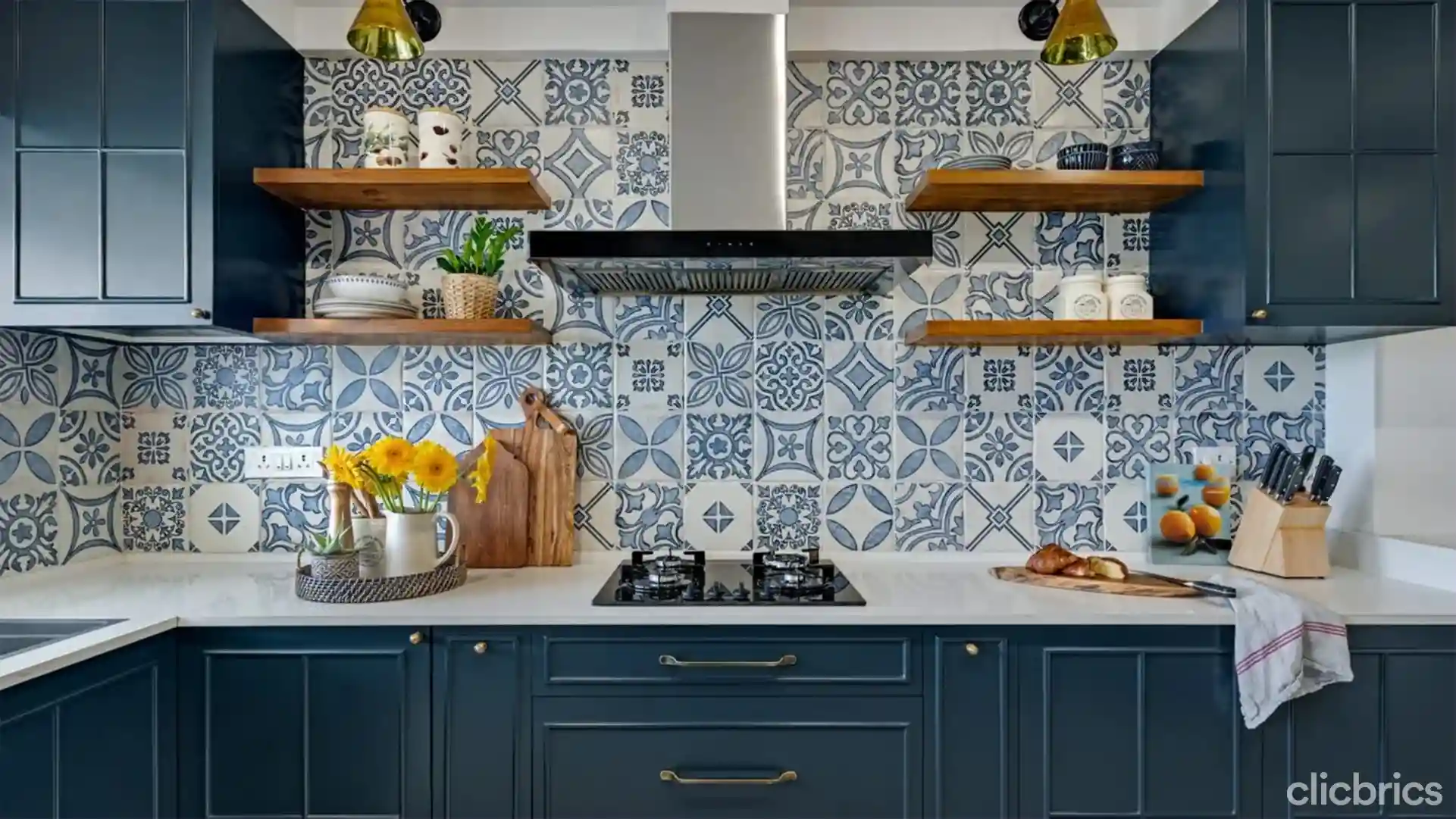 Distract the eye by going with a bold backsplash. You can play with patterns on the backsplashes in a small kitchen to achieve a luxurious look. You can choose metallic tiles or wallpaper to design your backsplash, which can transform a small kitchen interior design into a drool-worthy cooking space.
Also Read: Fantastic 11 Indian Home Mandir Design Ideas With Images
6. Brighten Up Your Cooking Space with Houseplants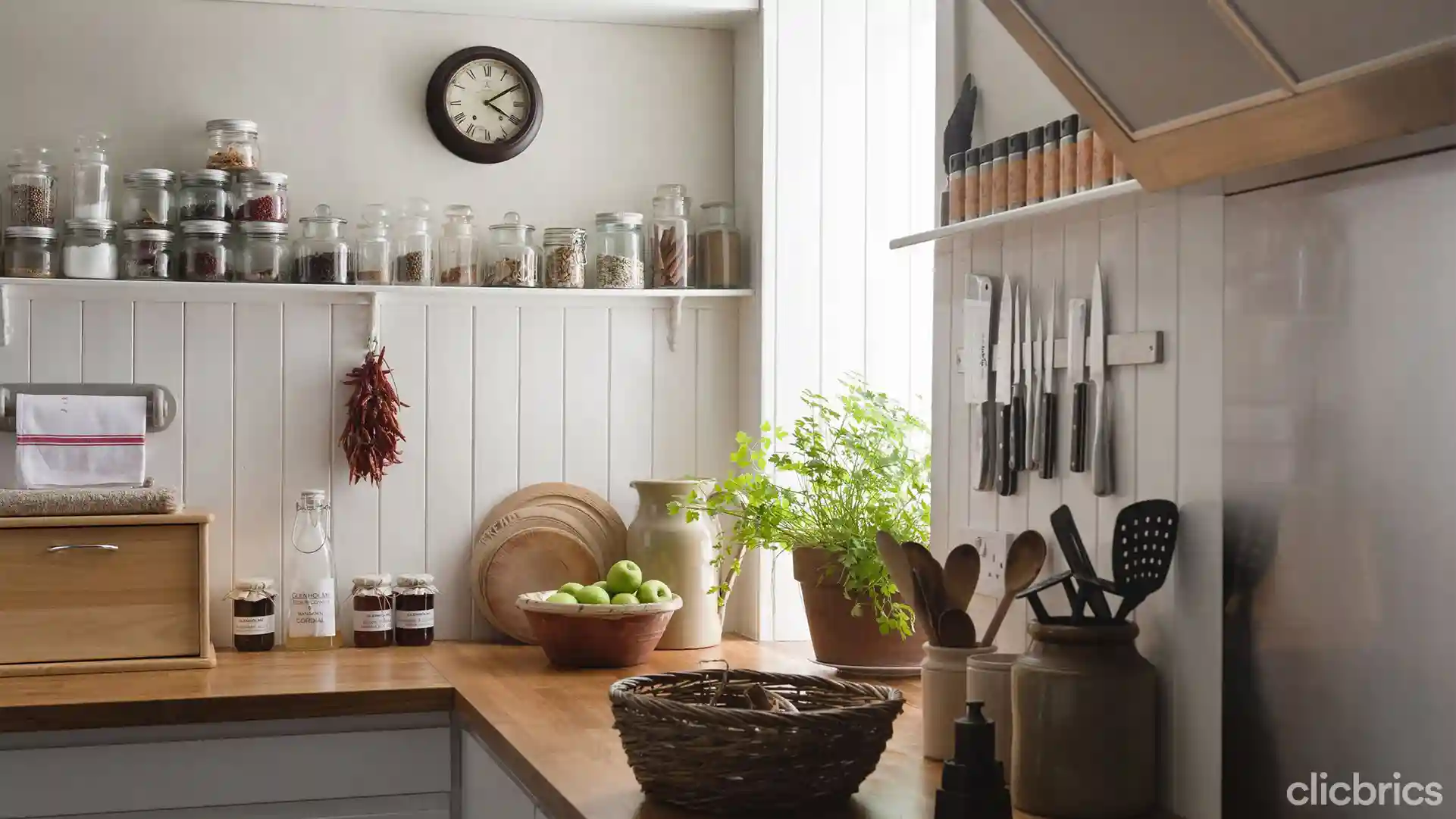 One of the simplest ways to liven up any space is by adding plants. They can make everything feel refreshing and boost your mood. As you spend a significant amount of time in your simple kitchen interior design, then why not surround yourself with the calming effects of nature with houseplants and potted herbs? Decorate it with small and large pots wherever possible; over the refrigerator, on the kitchen shelves or countertop.

7. Go for a Rug with Natural Fibres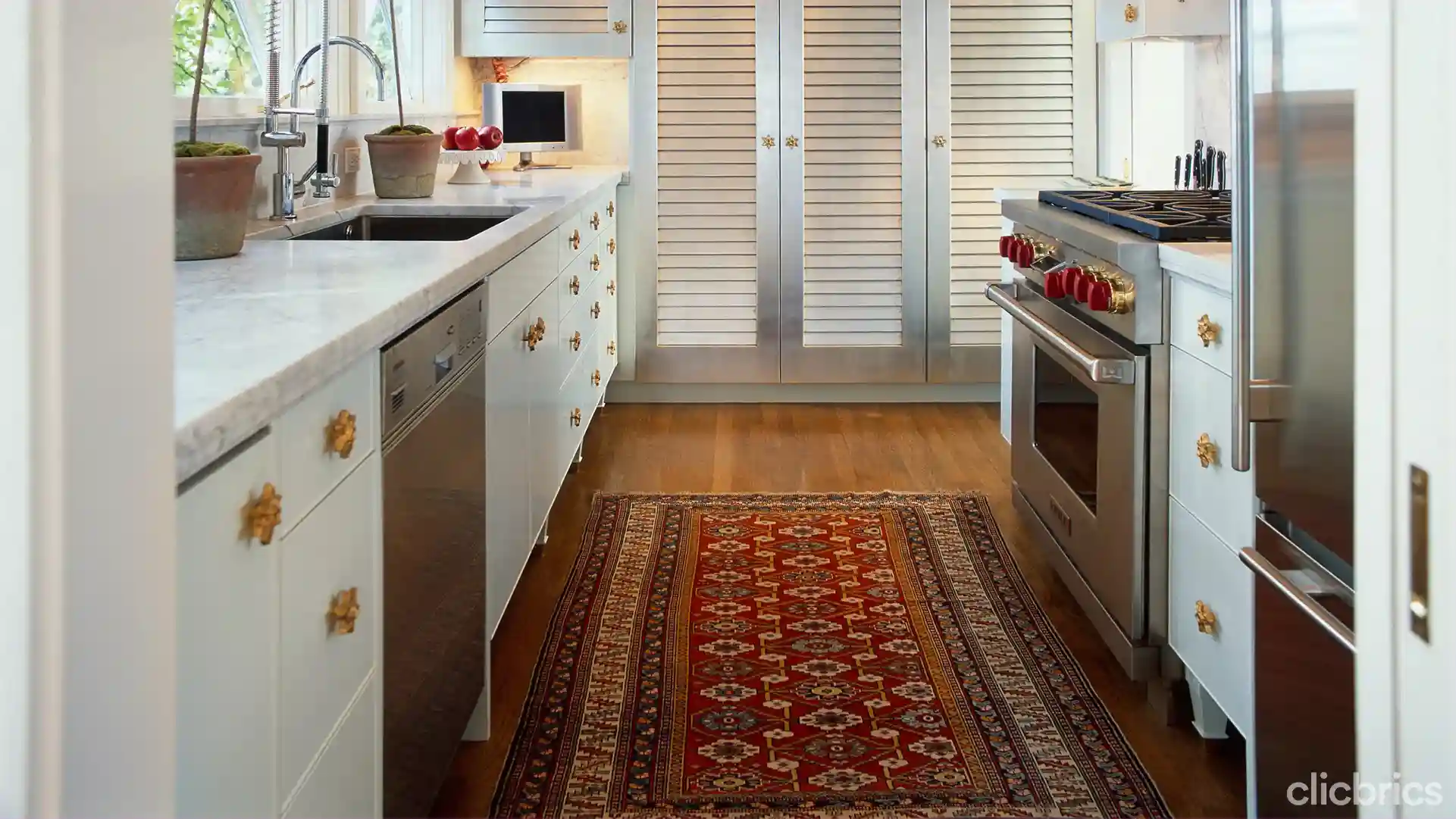 Being the heart of a home, kitchen floors are in constant use. To warm up the look, you can add a patterned rug on the floors like seagrass or sisal rugs. Kitchen rugs are an excellent way to bring warmth and softness underfoot and add personality into practical spaces. Doubt us? Look for yourself, below is the kitchen design photo, where you'll see how beautifully the rug has elevated the look.  
Also Read: 15 Modern Simple POP Design Ideas For Your Home- With Images 
8. Turn Every Corner into a Storage Space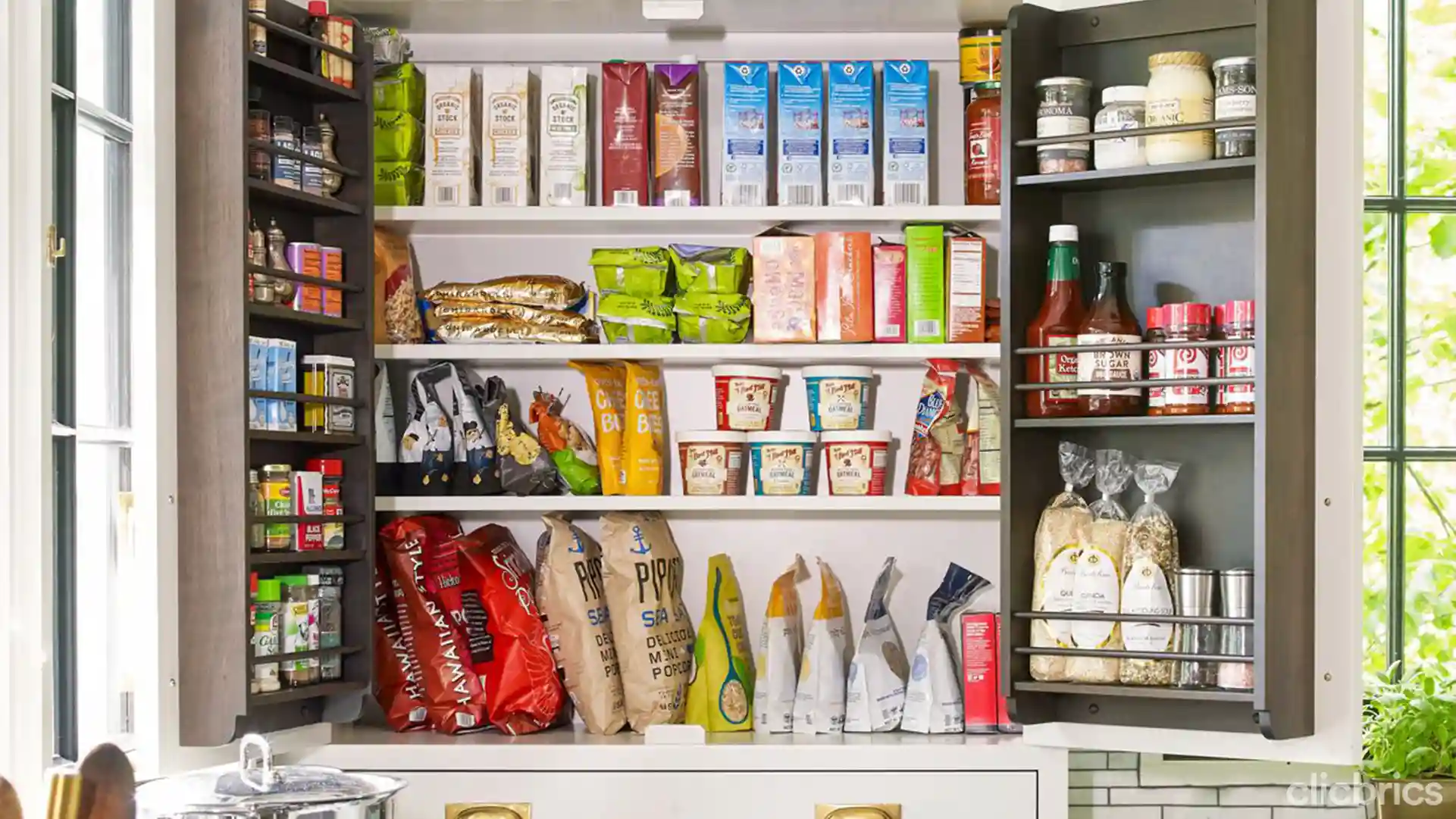 ​If you don't have enough money for a kitchen extension, you can optimize the space by seeking inspiration from our low cost simple kitchen designs. Identify the places where there is wasted space, such as the gaps between shelves, unused corners, and windowsills. You may include a utensil rack, a magnetic knife board, hooks on the sides of your cabinets, or even more shelves in the corner. Place those items that are infrequently used but won't be thrown out any time soon.
9. Install Hidden Light Sources for a Kitchen Simple Design
Line your shelves and wall cabinets with strip lights. It will not only help bounce natural daylight around your space but also create the illusion of more room in a low-cost simple kitchen design. Let there be light! 
Also Read: Top 10 Cost Effective Simple Kitchen Design Ideas
10. Windows for Natural Lighting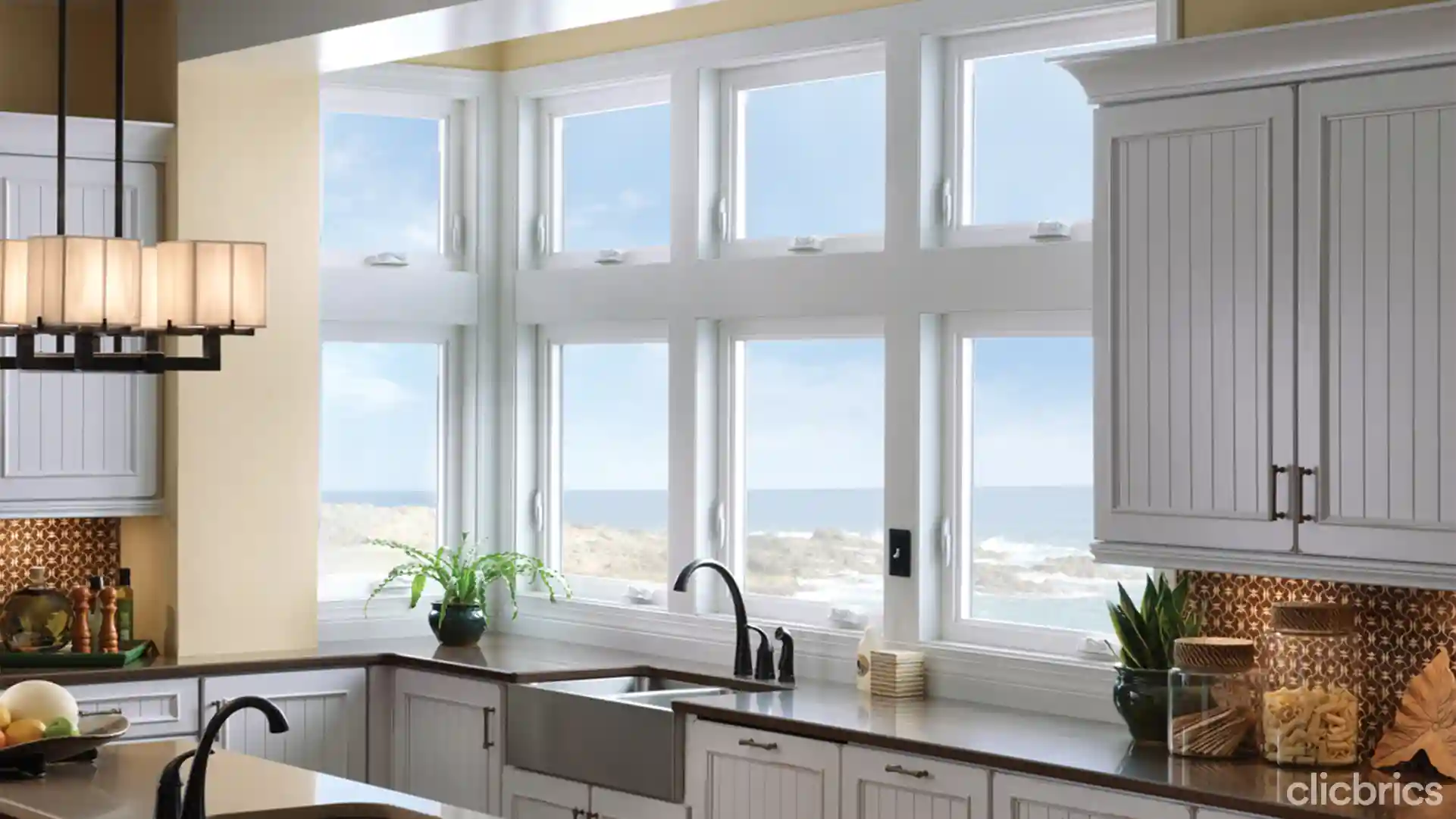 If you have windows in your kitchen, your work has become much simpler. There is nothing more delightful than cooking in a spacious, light-filled kitchen with lots of windows. It's possible that you won't even need a chimney if there is adequate airflow.
11. Easy-to-Clean Surfaces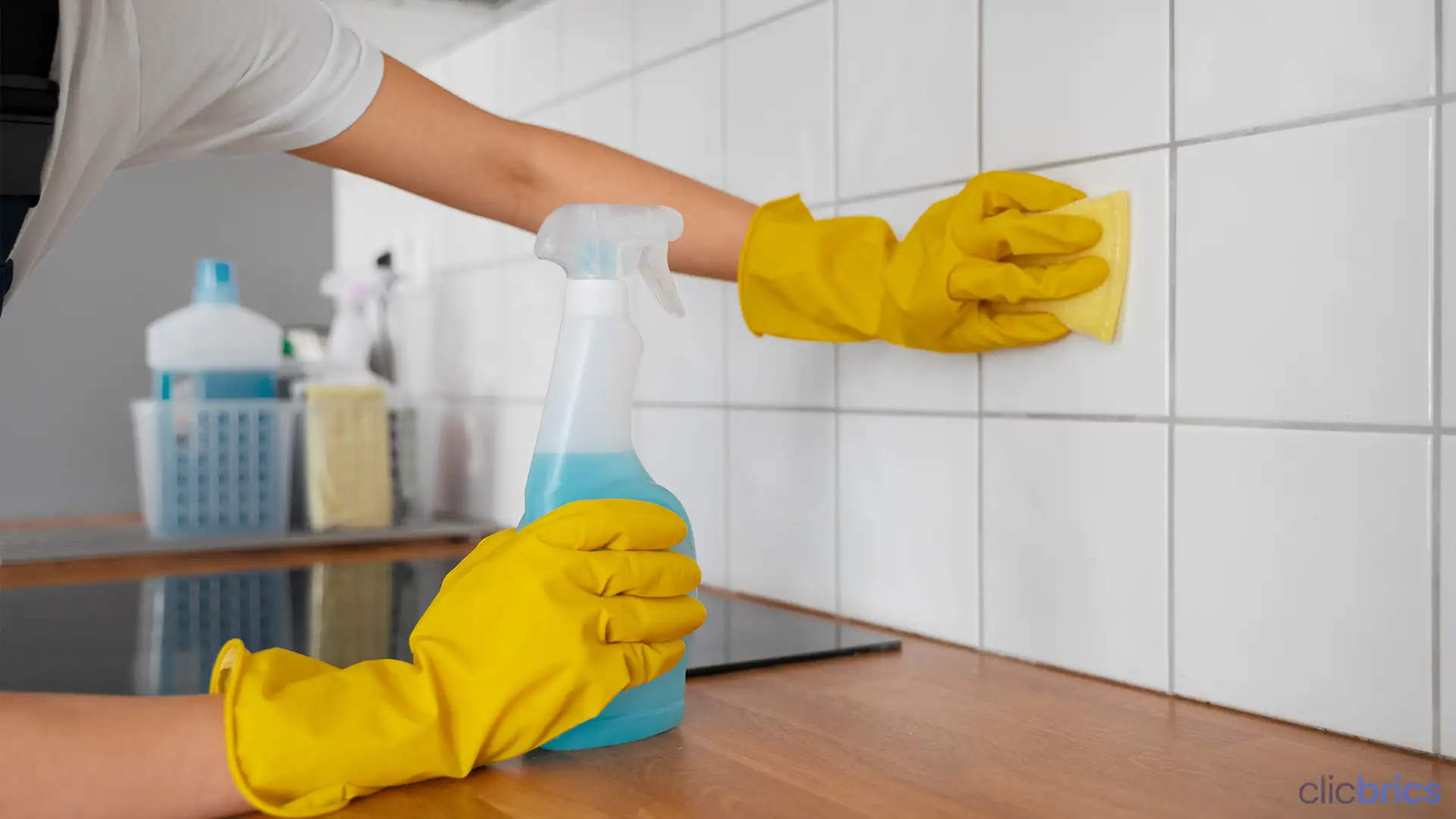 Opt for materials that are easy to clean and maintain, such as quartz countertops and tiles for the backsplash. Materials like quartz countertops are non-porous and resistant to stains, making them easy to clean with just a damp cloth. Similarly, tile backsplashes can be wiped clean effortlessly, reducing the hassle of maintaining your kitchen's surfaces. This makes your kitchen more practical and functional.
12. Opt for Unique Color Palette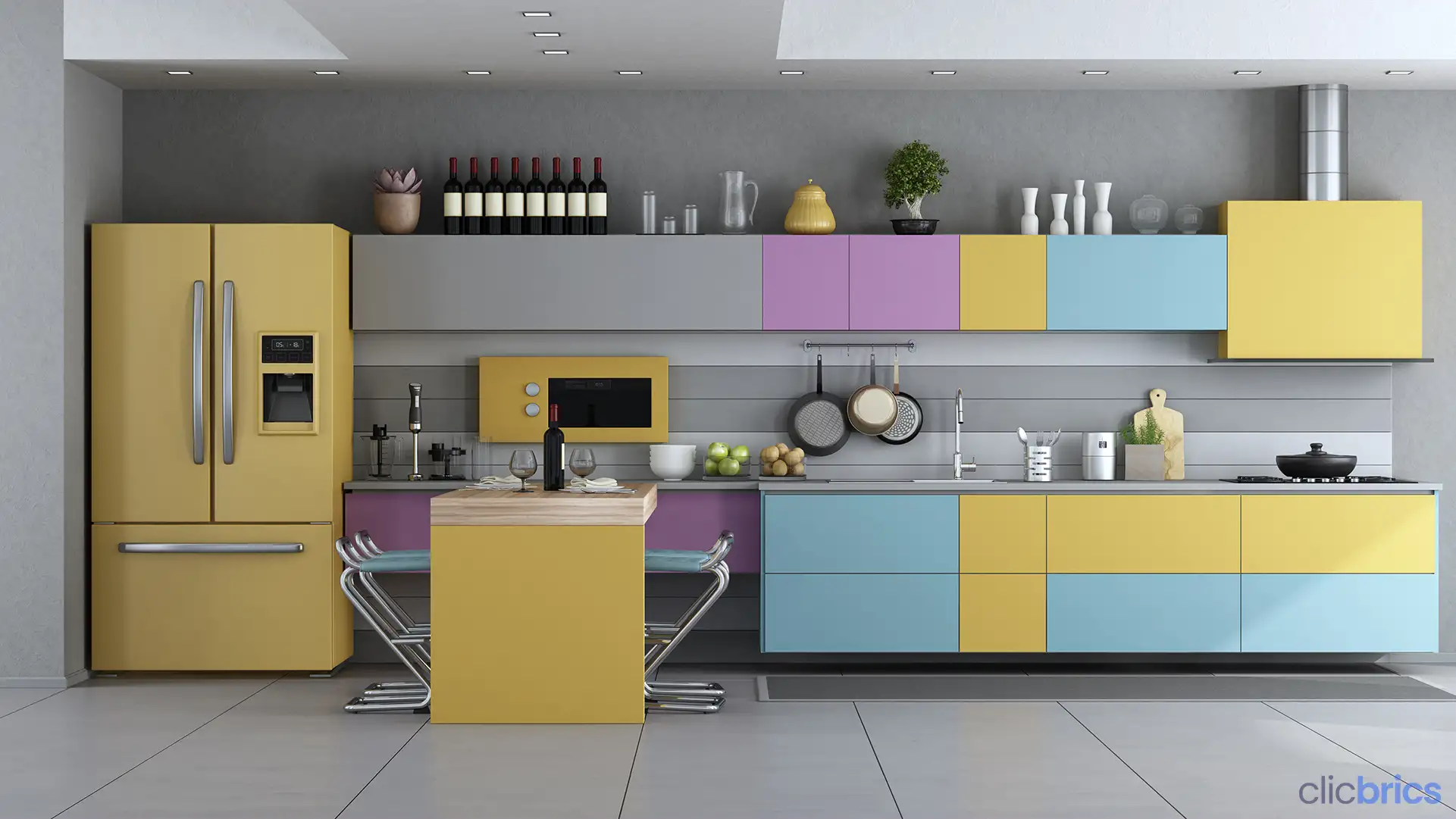 Stick to a neutral color palette for the main elements of your kitchen, like cabinets and countertops. You can then add pops of color through smaller items like rugs, dishware, and decorations. 
13. Wall-Mounted Racks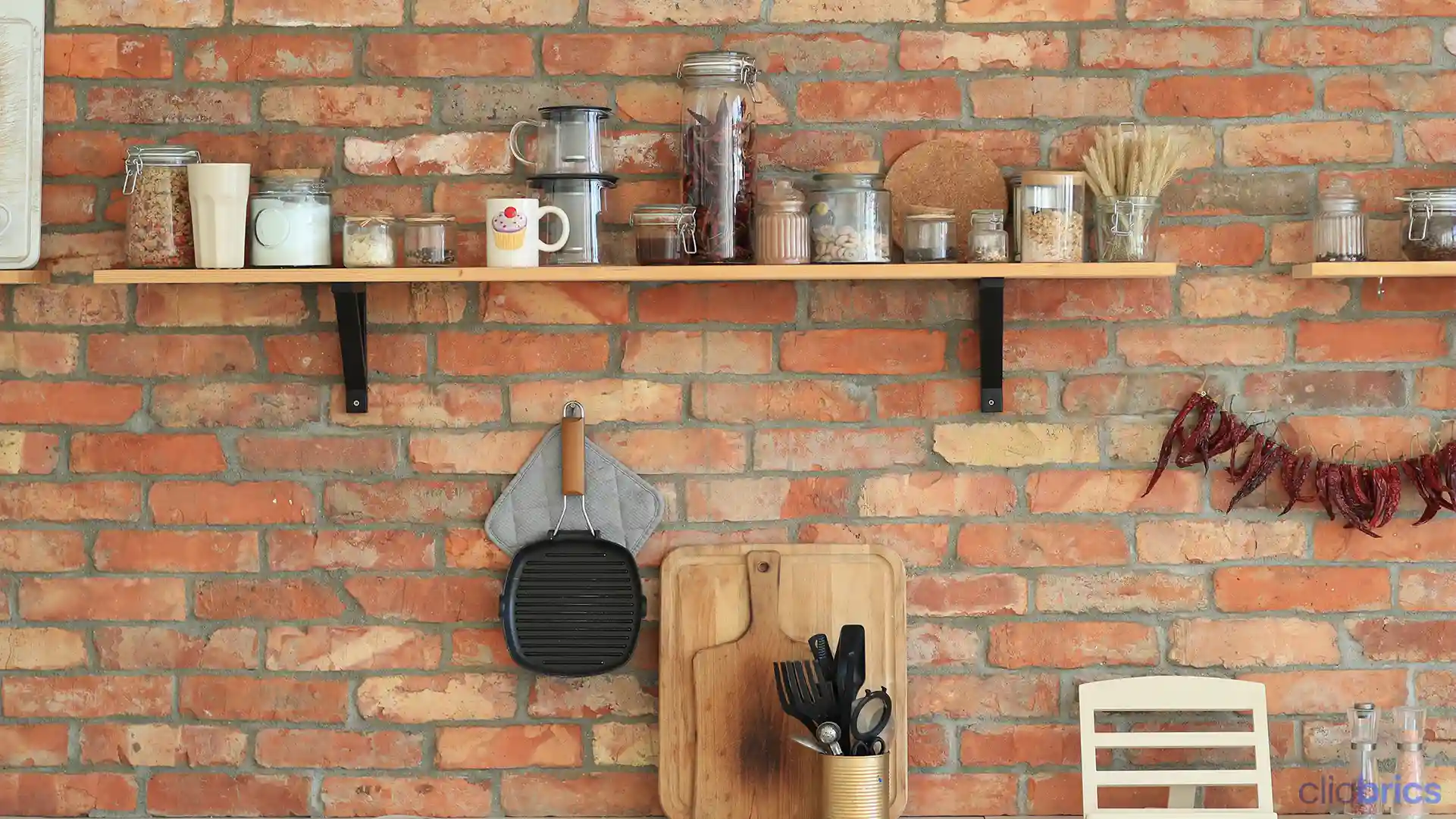 Wall-mounted racks or hooks offer a practical way to store frequently used kitchen tools. You can hang pots, pans, spatulas, ladles, and even small colanders. This kitchen simple design not only saves space in your cabinets but also adds an industrial-chic element to your kitchen's decor.
14. Vertical Space Utilization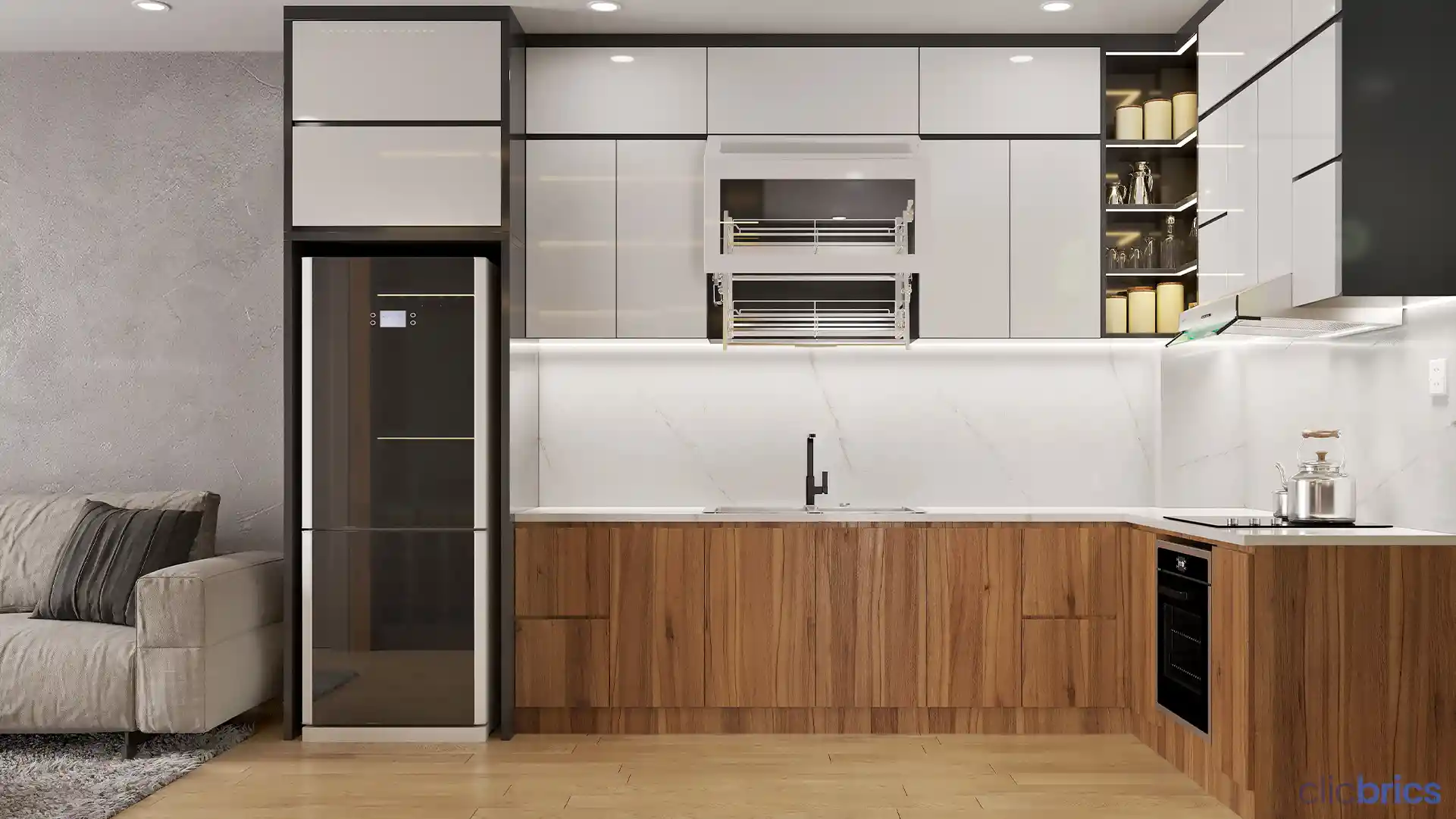 Utilizing vertical space involves installing hooks, pegboards, or magnetic strips on your kitchen walls. These can hold items like pots, pans, ladles, and cutting boards. This creative storage solution ensures that your most-used items are within arm's reach and frees up valuable counter and cabinet space.
15. Foldable Countertops for a Kitchen Simple Design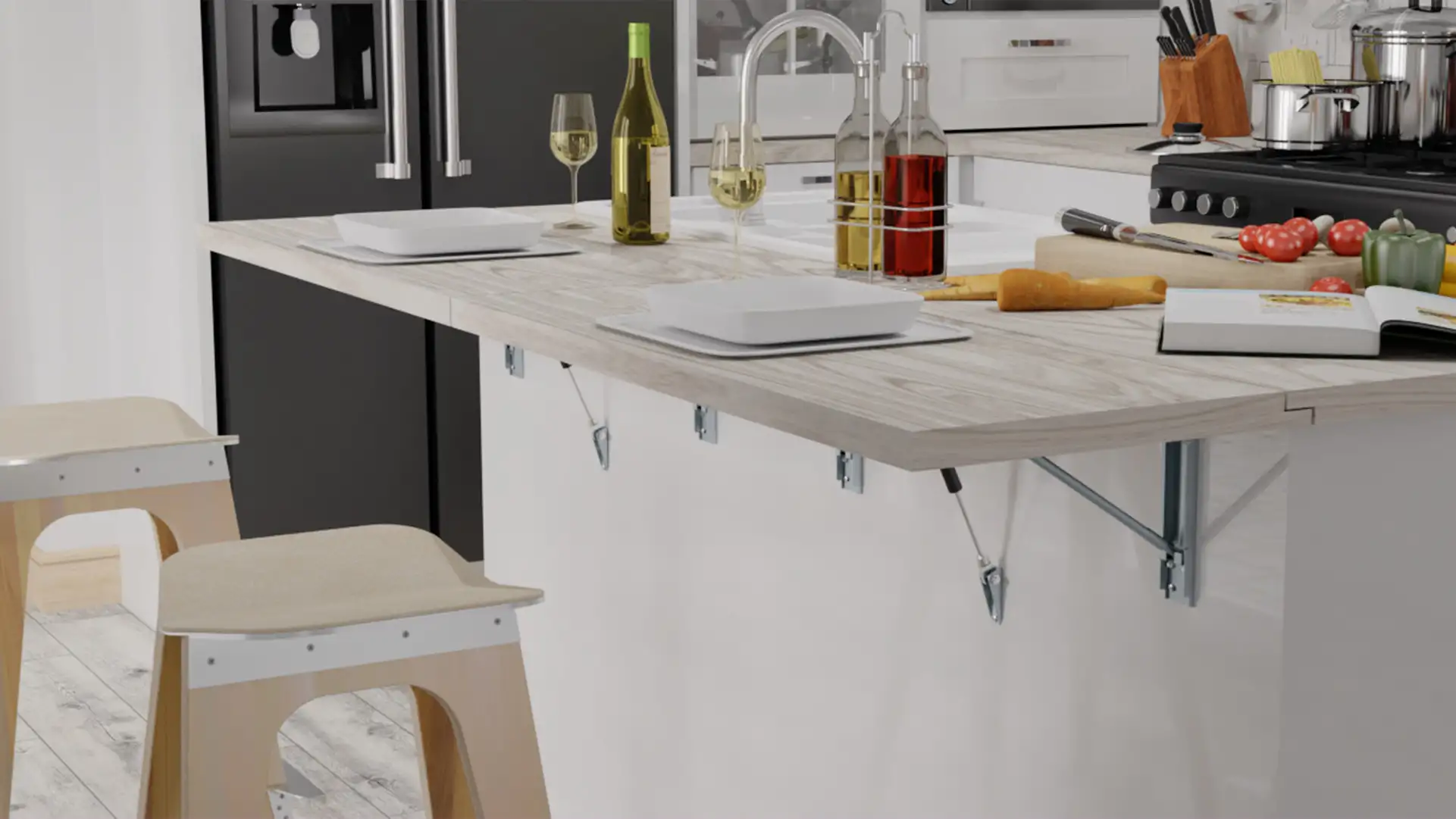 If you often find yourself needing extra space for meal prep, consider installing foldable countertops. These can be attached to the sides of cabinets or your kitchen island and folded down when not in use. When you require additional workspace, simply unfold or extend them to create more room.
Conclusion
These kitchen simple design ideas ultimately come down to your personal preferences and budget. Whether it is a complete renovation from scratch or a minor renovation with noticeable changes to an existing design, one can add a touch of professionalism, luxury, freshness, and functionality to their kitchen. Remember, the heart of a great kitchen design is its ability to enhance your culinary experiences, simplify your daily routines, and bring joy to your home. By incorporating these low cost simple kitchen designs, you can embark on a journey to create a kitchen that is both visually captivating and exceptionally practical.