Table of Content:
In spite of the fact that chimneys have been around since Roman industrial bakeries and European homes from the 12th century, kitchen chimney designs, also known as "smoke hoods," have only recently become an essential component in the process of keeping kitchens in working order. In this article, you'll learn about a variety of kitchen chimney designs that are environmentally friendly, energy-efficient, functional, and won't let you compromise your kitchen's design. 
10 Best Chimney Design Ideas For Your Kitchen
There are a variety of kitchen chimney designs In the market today, ranging from ductless conventional to duct-based, angular, chimney in a box, electric, wall-mounted, and more. Some of these kitchen chimney designs are ductless, while others are duct-based. Therefore, make it a point to keep an eye on them so that you can let the appropriate design inspiration for the kitchen find you. 
Shall we get this show on the road?
1. Wall Mounted Kitchen Chimney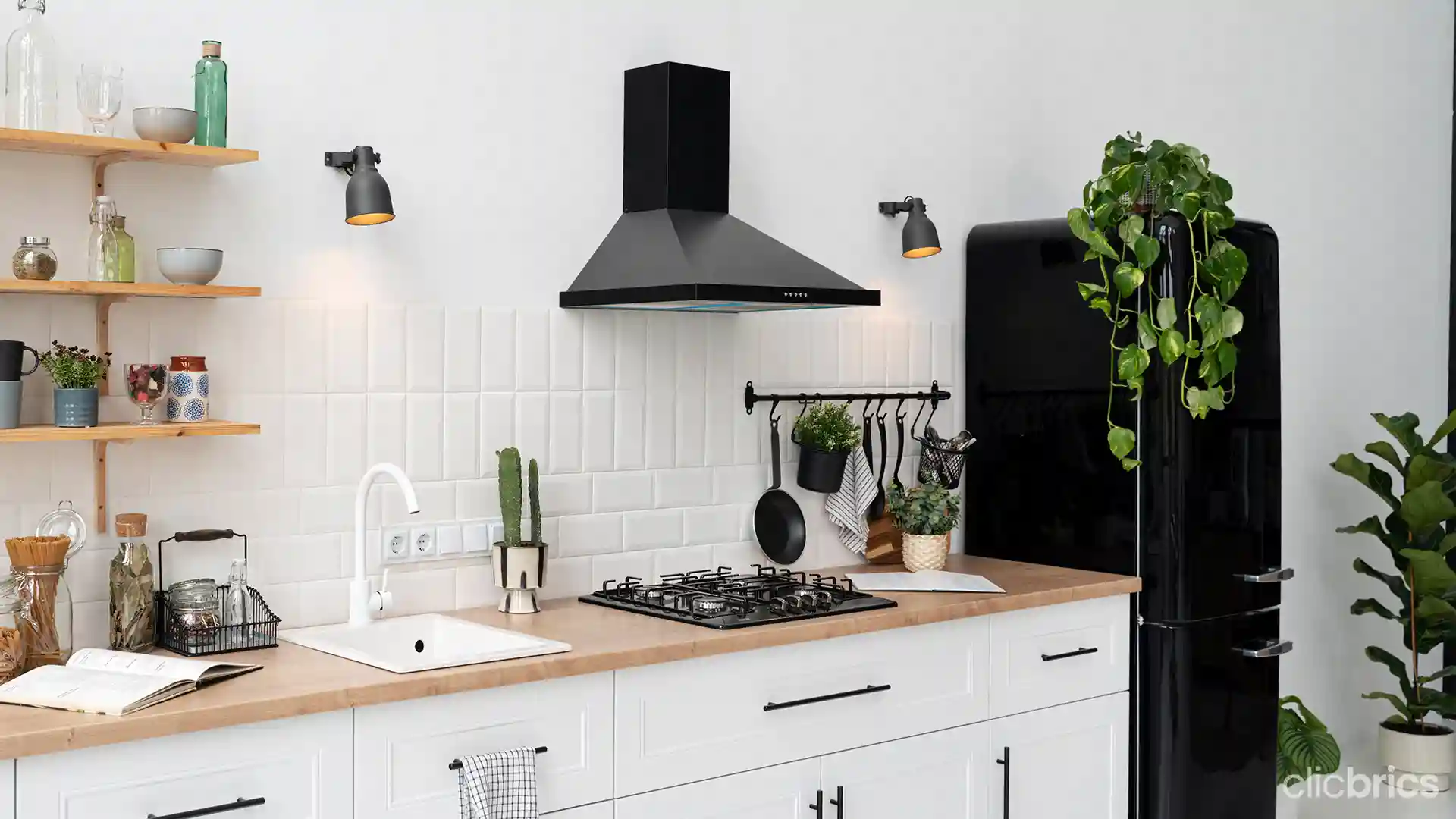 It is referred to as a wall-mounted modular kitchen chimney design when the flue of the chimney is placed against the wall and is situated above the kitchen range. This is the perfect setting for Indian homes, which typically have the stove in the kitchen pushed up against a wall, causing smoke and fumes to accumulate on the wall. 
2. Simple Kitchen Chimney Design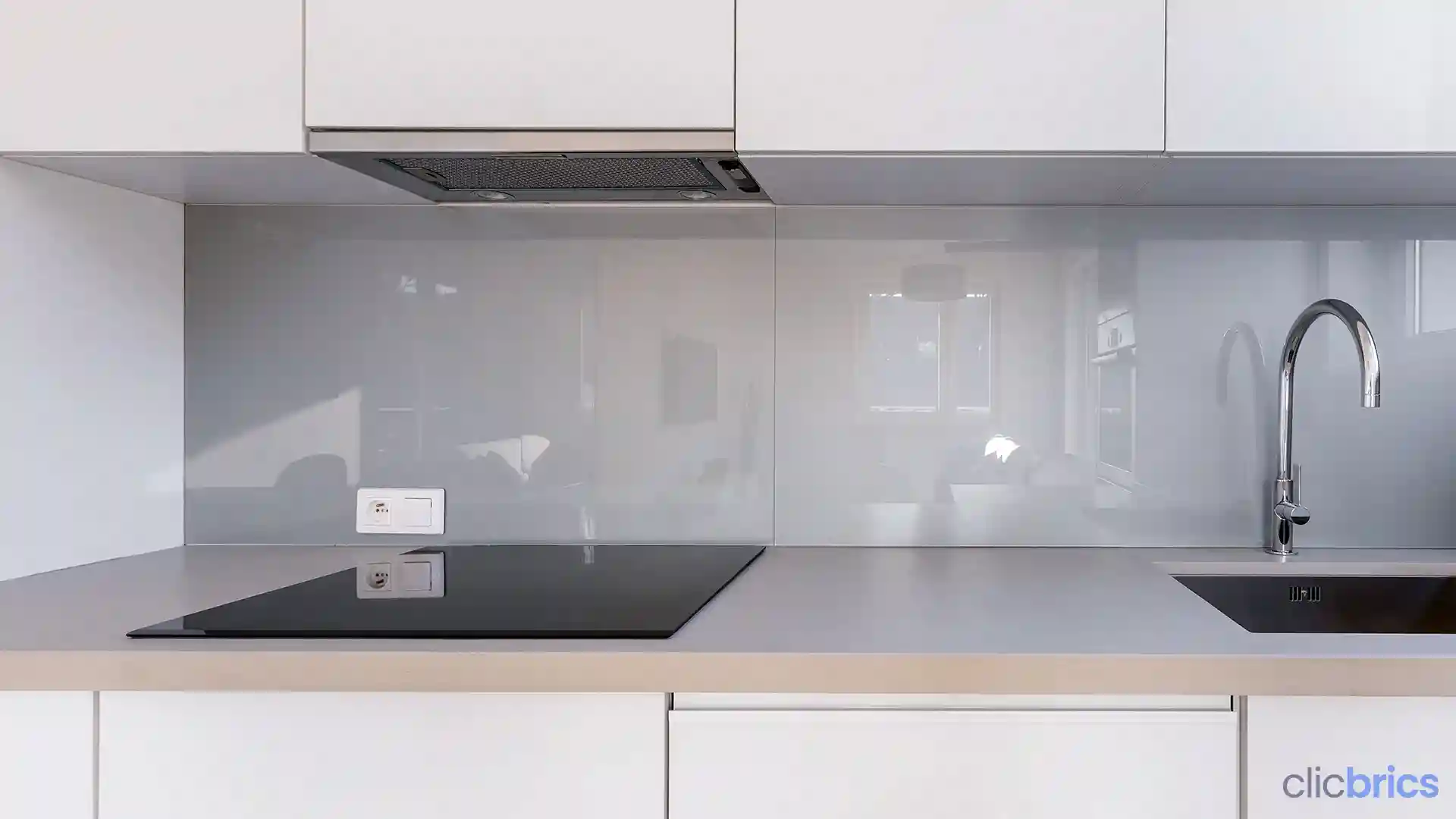 Who says you can't make the most of a small space? A simple kitchen chimney design installed in an alcove can be both aesthetically pleasing and highly practical. The smaller your design is, the less of an impact it will have on the environment. 
Suggested Read: Small & Simple Kitchen Ideas You Must Take Inspiration From
3. Island Kitchen Chimney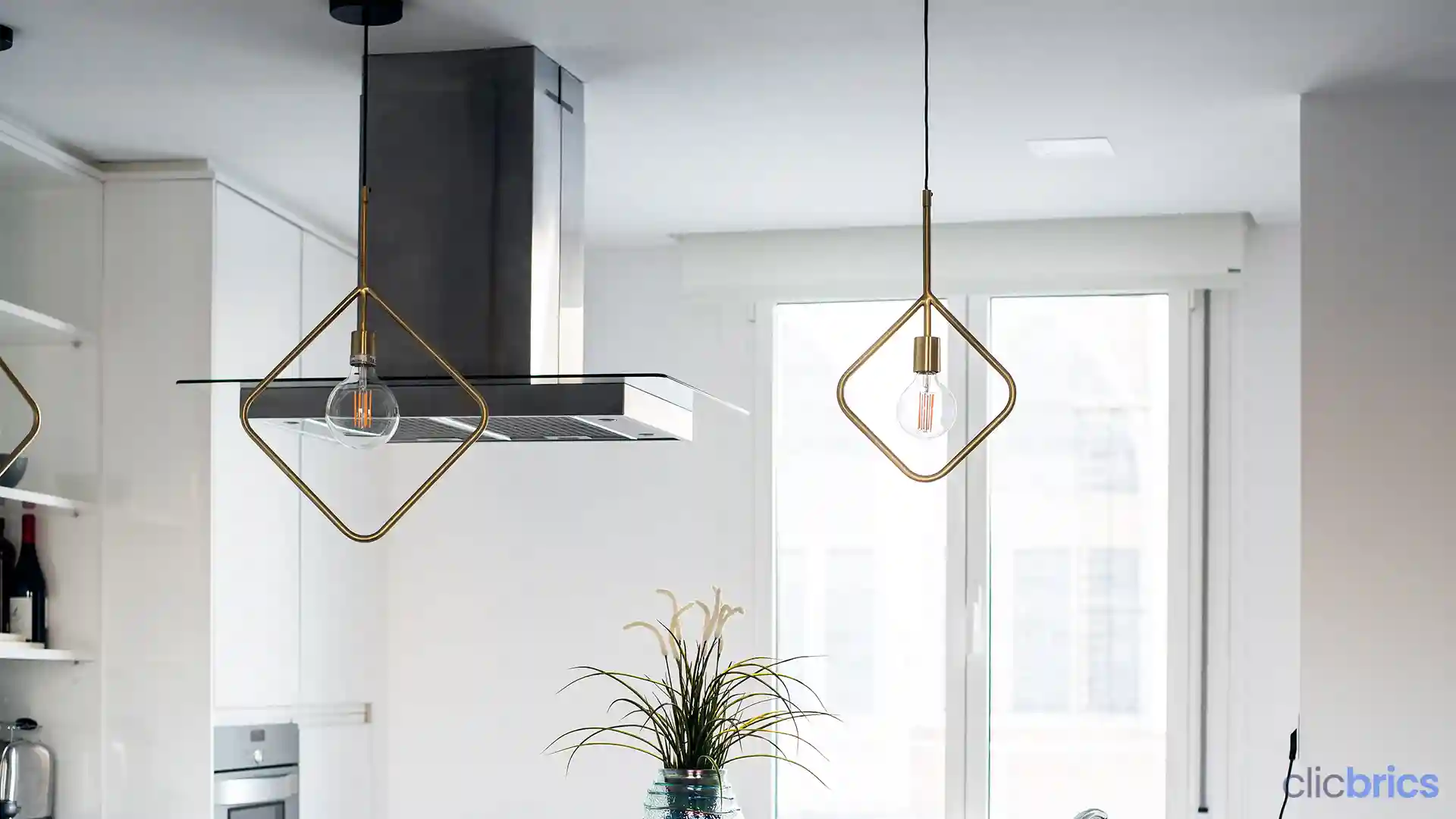 In recent years, the inclusion of a kitchen island has become a desirable upgrade for homes with adequate space. An island kitchen chimney is an excellent addition to any kitchen that features a central work island. 
If you want to cook like a professional chef in a kitchen with a stovetop island, you should look into a modern kitchen chimney design that can be hung neatly above the range.  
4. Kitchen Chimney Cabinet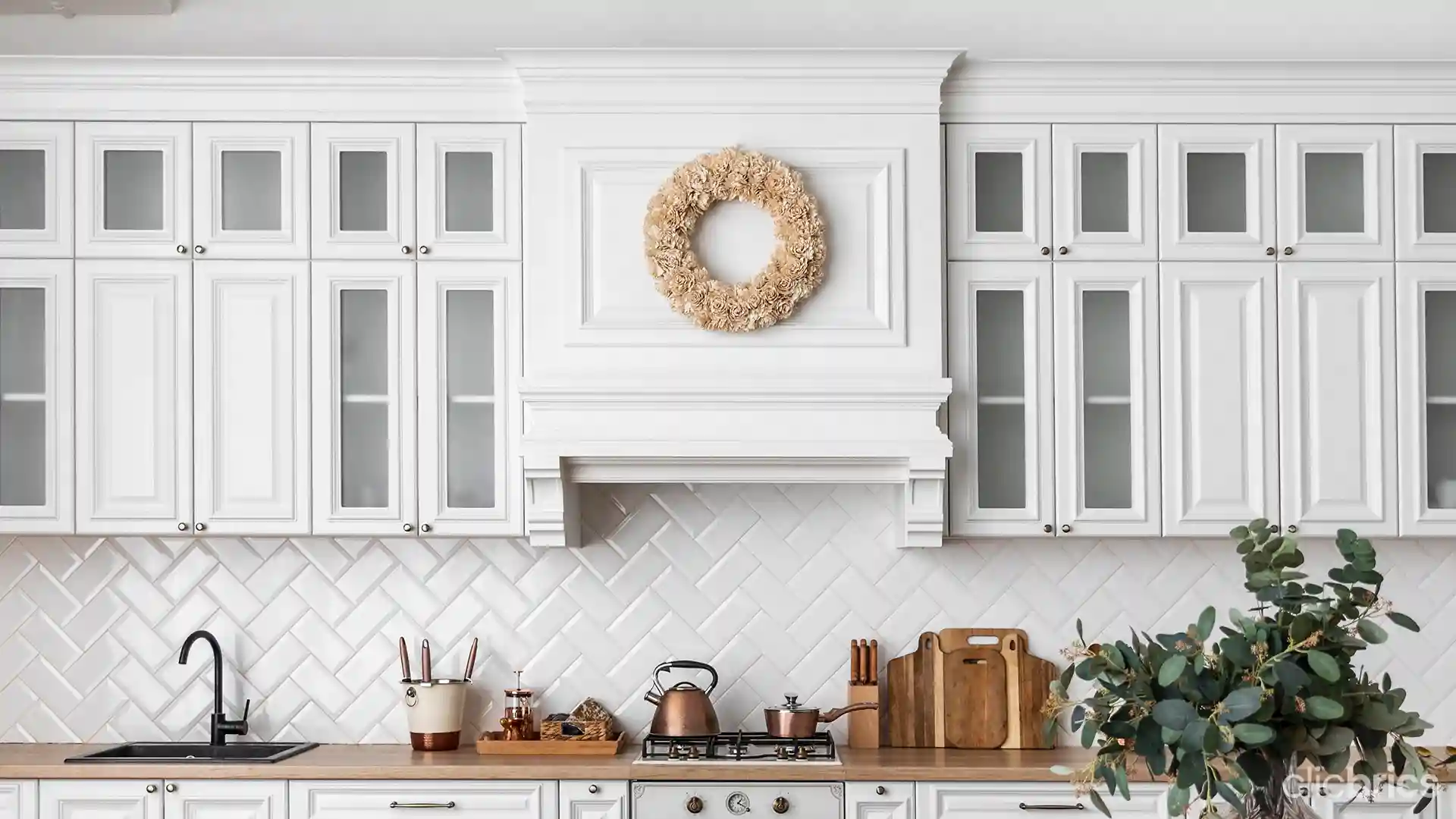 Another space-saving option is to construct a chimney into a wall of the kitchen, with additional wooden pieces serving as drawers and cabinets. You can improve the look of your home's interior decor by incorporating kitchen chimney cabinets into either a small or large room. 
5. Modular Kitchen Chimney Design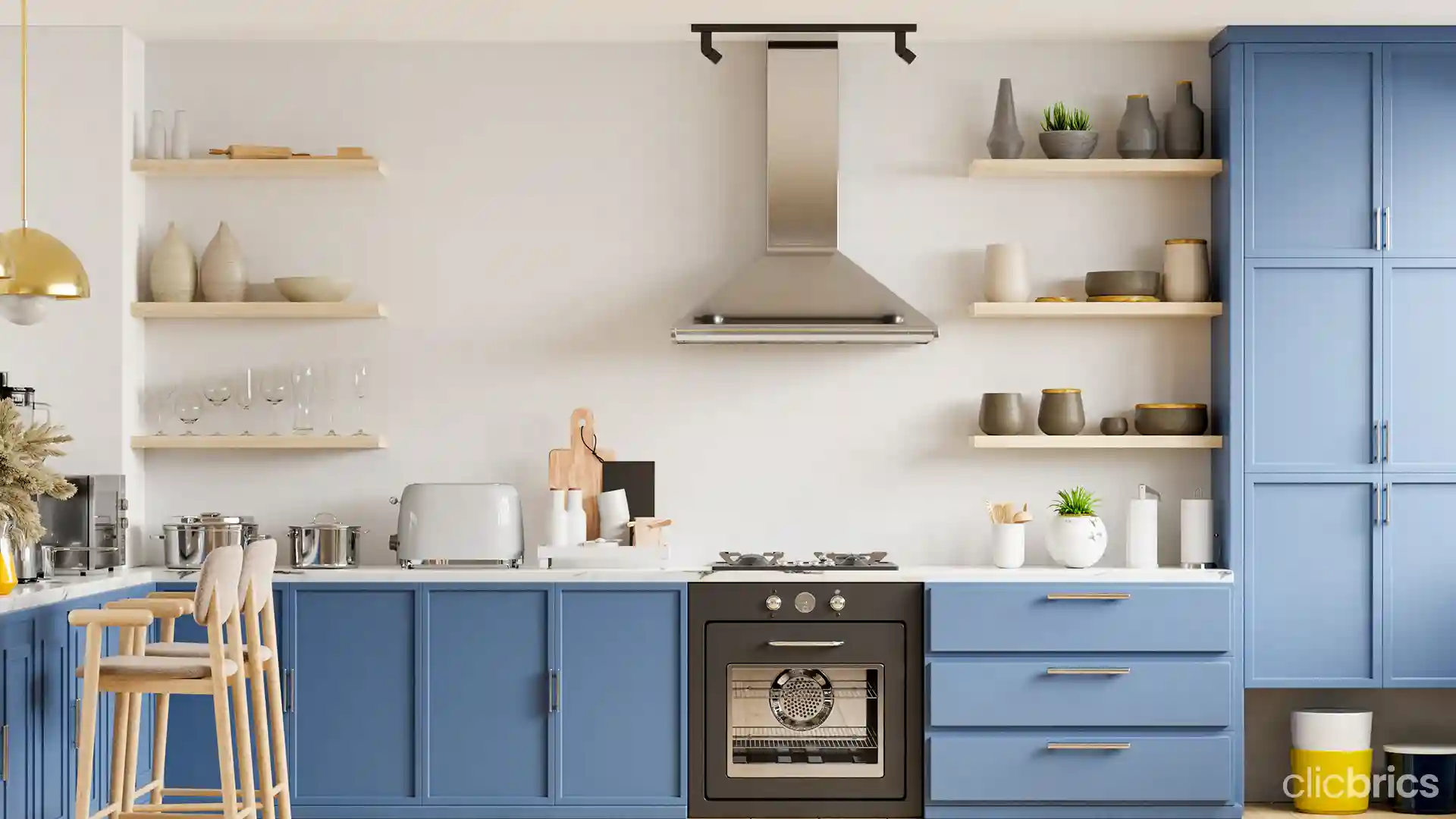 It makes sense to dedicate an entire room to the cooking process if you have the available square footage. A modular kitchen chimney design allows you to contain the smoke and fumes produced by your stove, grill, and oven in a single area. An archway can help elevate the overall aesthetic of a room. 
6. Modern Kitchen Chimney Design With Countertops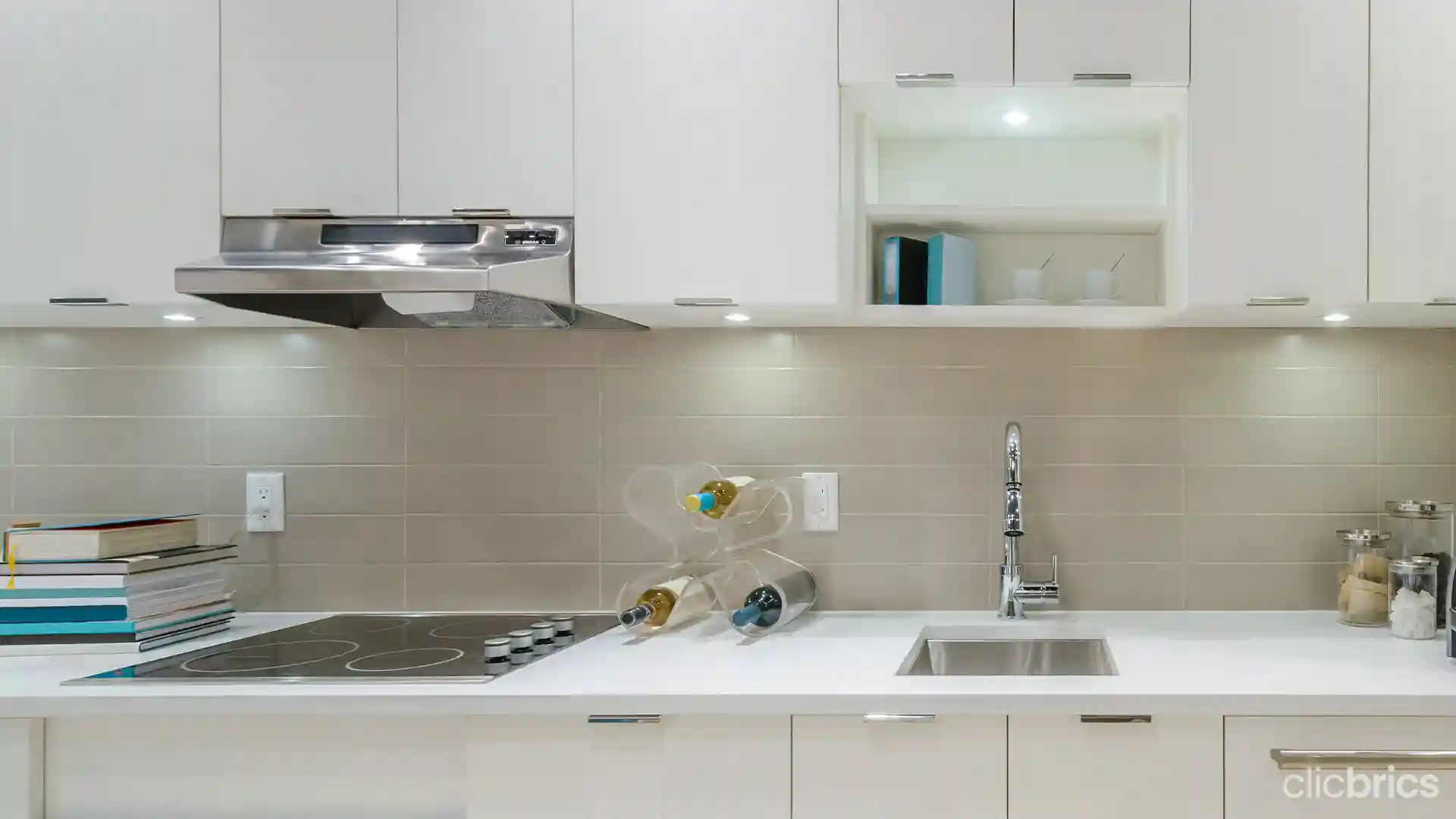 Kitchens are notorious for quickly amassing clutter, so it's a good idea to incorporate some minimalist design elements. The top shelves in your kitchen will be out of sight and out of mind if you can work them into the design of your chimney, but they will be doing double duty by keeping your cooking area free of smoke, stains, and odours. This works best for a small kitchen design with a chimney.
Suggested Read: Best Kitchen Colour Combinations To Take Inspiration From
7. Angular Kitchen Chimney Design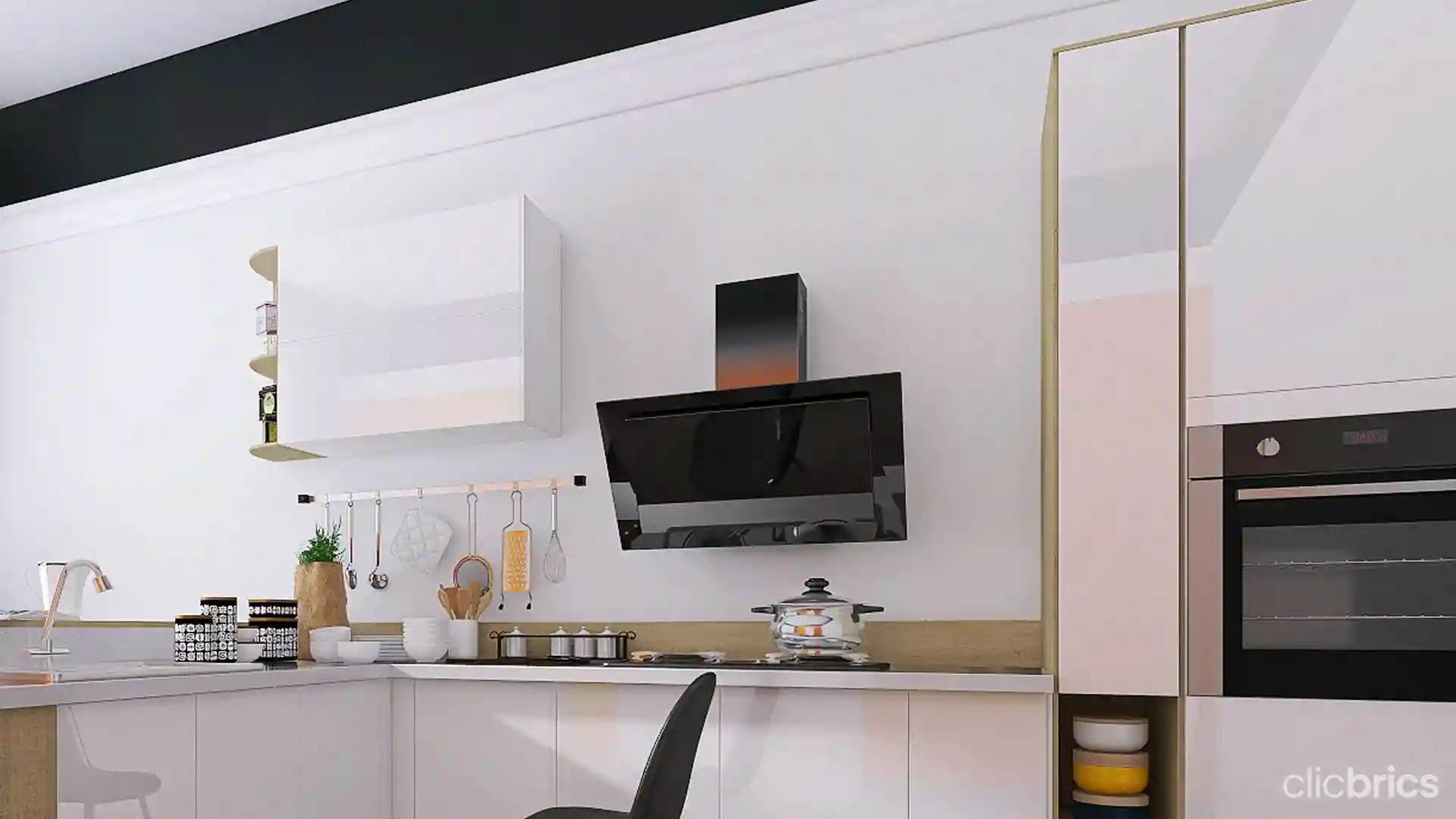 An angular kitchen chimney design is not only modern and sleek looking - thanks to its sharp angles, but it also has better suction than a round chimney. In addition, angular kitchen chimney design's advantage is that it makes cleaning the chimney in the kitchen a breeze.  
8. Wooden Kitchen Chimney Design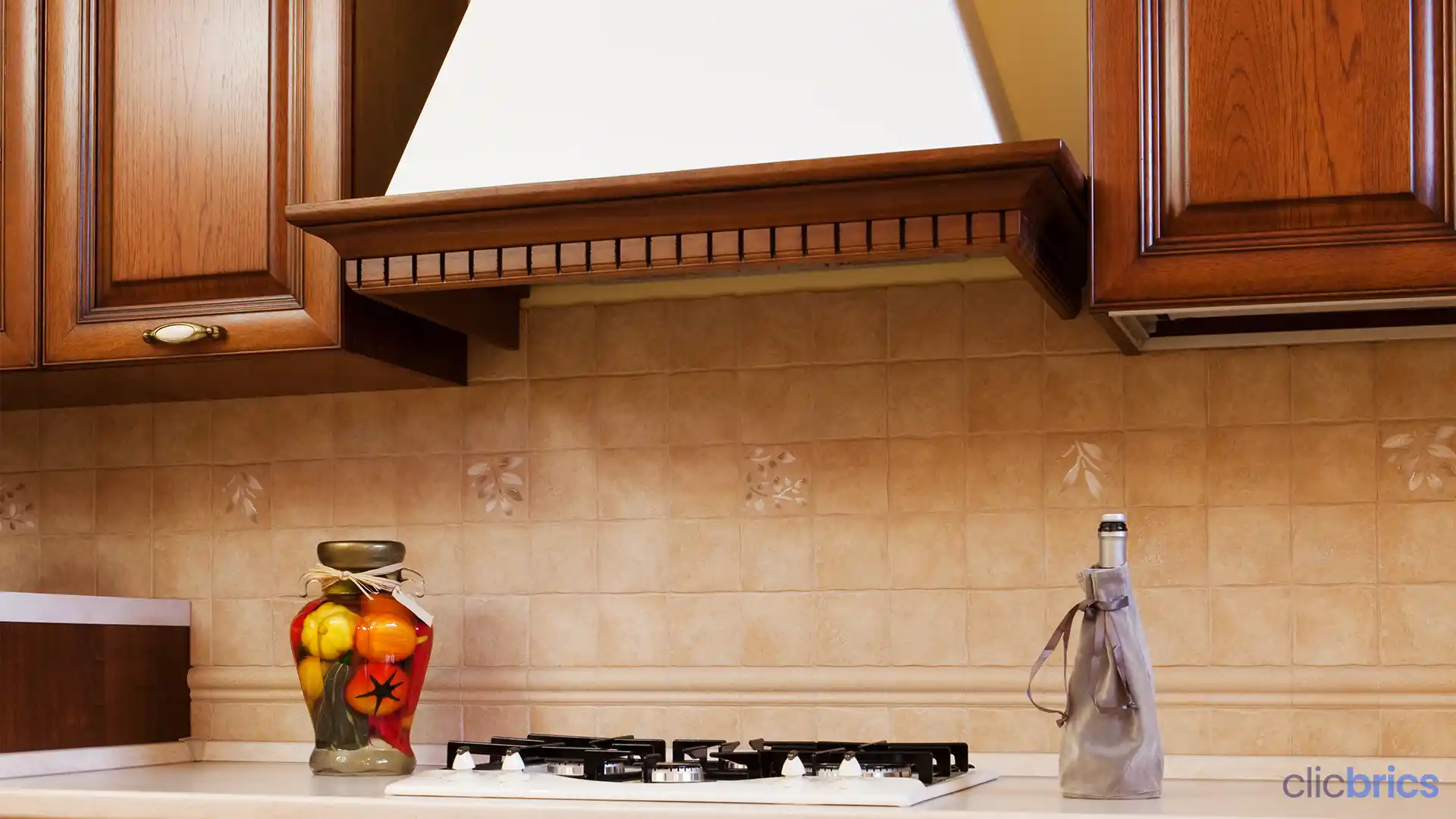 A wooden kitchen chimney can be functional, attractive, and aesthetically pleasing. The colonial theme can be carried throughout the kitchen, from the cabinets and shelves to the window bays. Kitchen wooden cabinets design with chimney is a true classic and will always be in vogue. 
9. Hanging Kitchen Chimney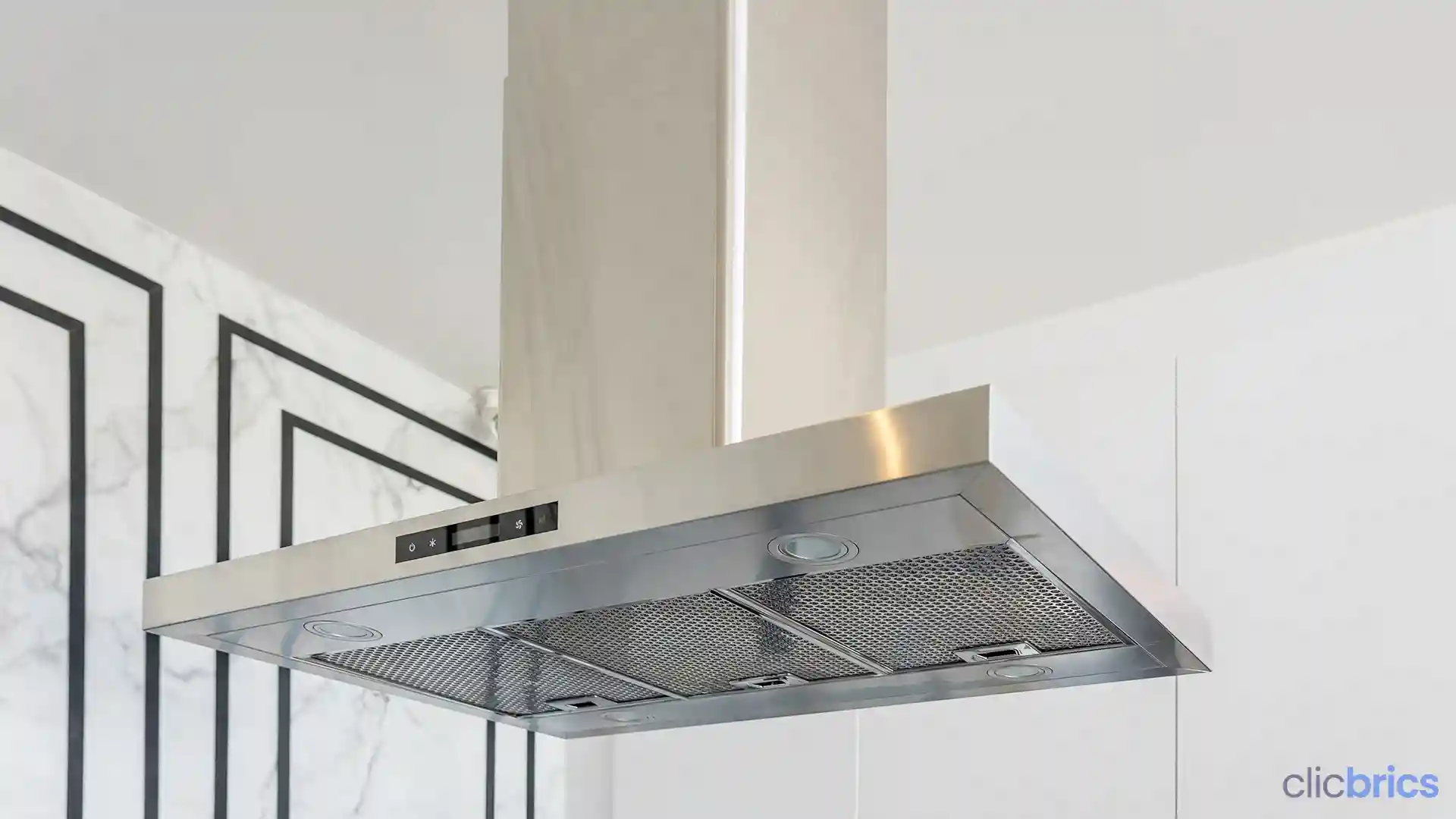 Kitchens that can feed a family or a large number of customers are standard amenities in both homes and businesses. Suspended designs are necessary to meet these massive needs because of the suction power necessary to remove the massive amounts of smoke produced in the relatively small area. 
10. Open Kitchen Chimney Design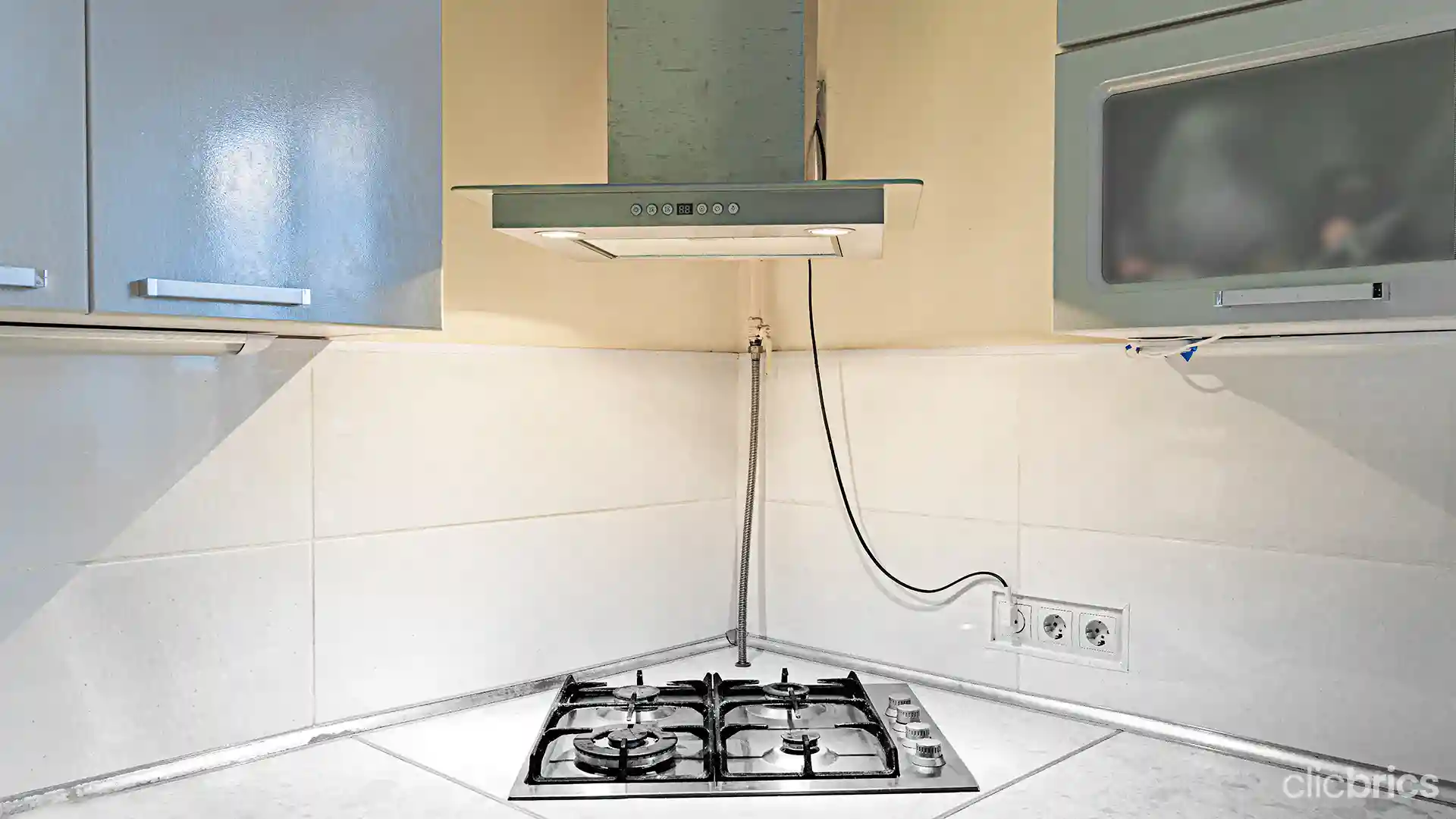 Open floor plans, which include the kitchen, have grown in popularity in smaller homes and apartments in an effort to create the illusion of more space. That's why it's ideal to use a modern kitchen chimney design that incorporates small-scale elements like shelves, hangers, lighting, and more to showcase your modern taste and maximise your space. 
Suggested Read: Open Kitchen Ideas For Next Kitchen Makeover
A Good Kitchen Chimney Design: Standards
Here are just a few of the benefits that justify putting a chimney in your kitchen can improve the heart of your home. 
Surfaces free of oil and grease
More aesthetically pleasing illumination
How To Choose The Right Kitchen Chimney Design?
The kitchen chimney interior design you pick will have a significant impact on the atmosphere of your home. Before committing to any kitchen chimney design, here are some factors to think about:
Family composition: a household's heat consumption and the type of upgrade it requires are both affected by the number of people living there.

If you use a lot of oil in your cooking on a regular basis, a powerful exhaust chimney is a must to keep your kitchen peaceful even when you're cranking out the meals. 

The chimney design for kitchen should be appropriate for the size of your kitchen. For example, an open kitchen with lots of counter space can accommodate a compact chimney for kitchen.

Knowing exactly how much room your kitchen takes up will help you choose the best chimney configuration.
Despite the fact that we no longer have to rely on fossil fuels to cook our food, the increasing number of households around the world, the food we cook, and the waste created in the cooking process, all pose serious environmental risks.
The kitchen chimney installation process is complex and should be taken into account. In the case of a modular kitchen design that includes a chimney, for instance, the kitchen chimney cost will rise as the scope of the work and the materials required increase. Thus giving ample time to your kitchen chimney design would be a good idea.