Table of Content: 
A gorgeous flush door design is all you need to make your home look neat and uncluttered. Doubt it? Well, imagine coming back from work after a hectic day or prepping yourself to go through the hectic day; don't you deserve a beautiful door to walk through? The advantage of a flush door design is that it keeps the inside and outside of the door smooth and unadorned. In addition, flush doors are super affordable and a fantastic investment for any homeowner. 
Read the blog post on flush door designs to discover its benefits and trending styles in 2023.  
Advantages of Flush Door Design
A solid flush door design has a professional exterior and performs its primary role of safeguarding the residents. So if your designer suggests installing a flush door design in 2023, you should do it without hesitation. The doors are lightweight, heat tolerant, water resistant, and have a long lifespan. And the best part is that cleaning and maintaining a flush door design is quite easy for Indian homeowners. 
Flush doors are extremely durable. The stiffness of their frames makes them quite challenging to go through. 

Because of the rigidity of their frames, the doors have a tremendous strength-to-weight ratio.  

Flush doors are less expensive because of the lower cost of materials than other panel doors.

They are weather-resistant, easy to install, and super lightweight. 

The surface of the flush door is smooth and shiny and is resistant to scratches. 
Suggested Read: Safety Grill Door Designs That Promise Safety & Security
Chic Flush Door Designs For 2023
We have clubbed together some of the best modern flush door design ideas for you to borrow. Moreover, we are certain you will find your home's ideal flush door design from the list below. 
1. White Flush Door Design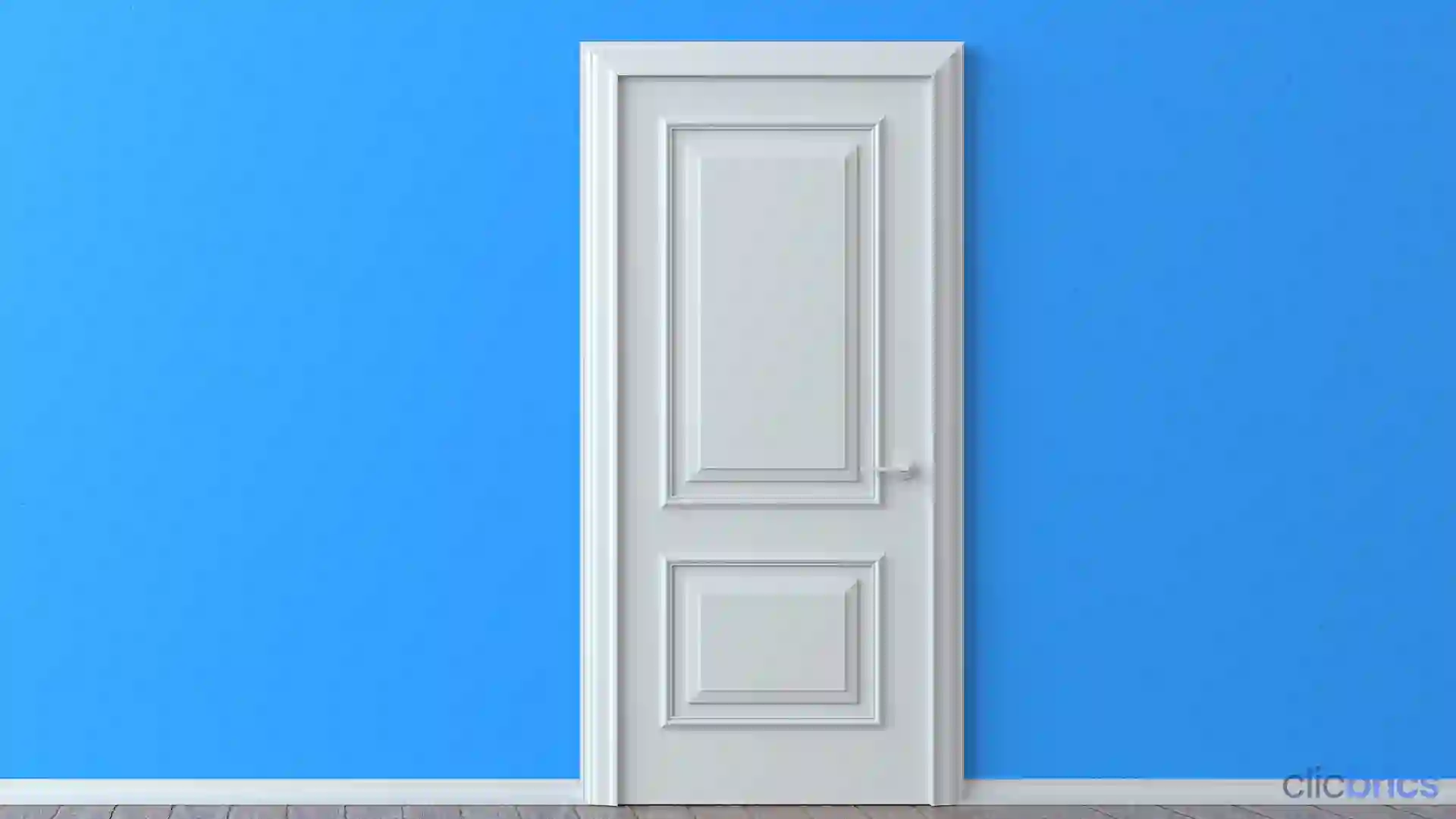 Nothing can go wrong with the classic color white! However, a shade of white for your flush door design will give your interior a stunning look. If you prefer a simple and sophisticated look, use a white flush door design. Or you can modernize a bit by adding patterns or introducing a simple rectangular box pattern in the center of the door. Such flush door designs for Indian homes also look stunning on the exterior. 
Don't Miss Reading: Ideas for a single modern main door in Indian homes
2. Horizontal-Striped Latest Flush Door Design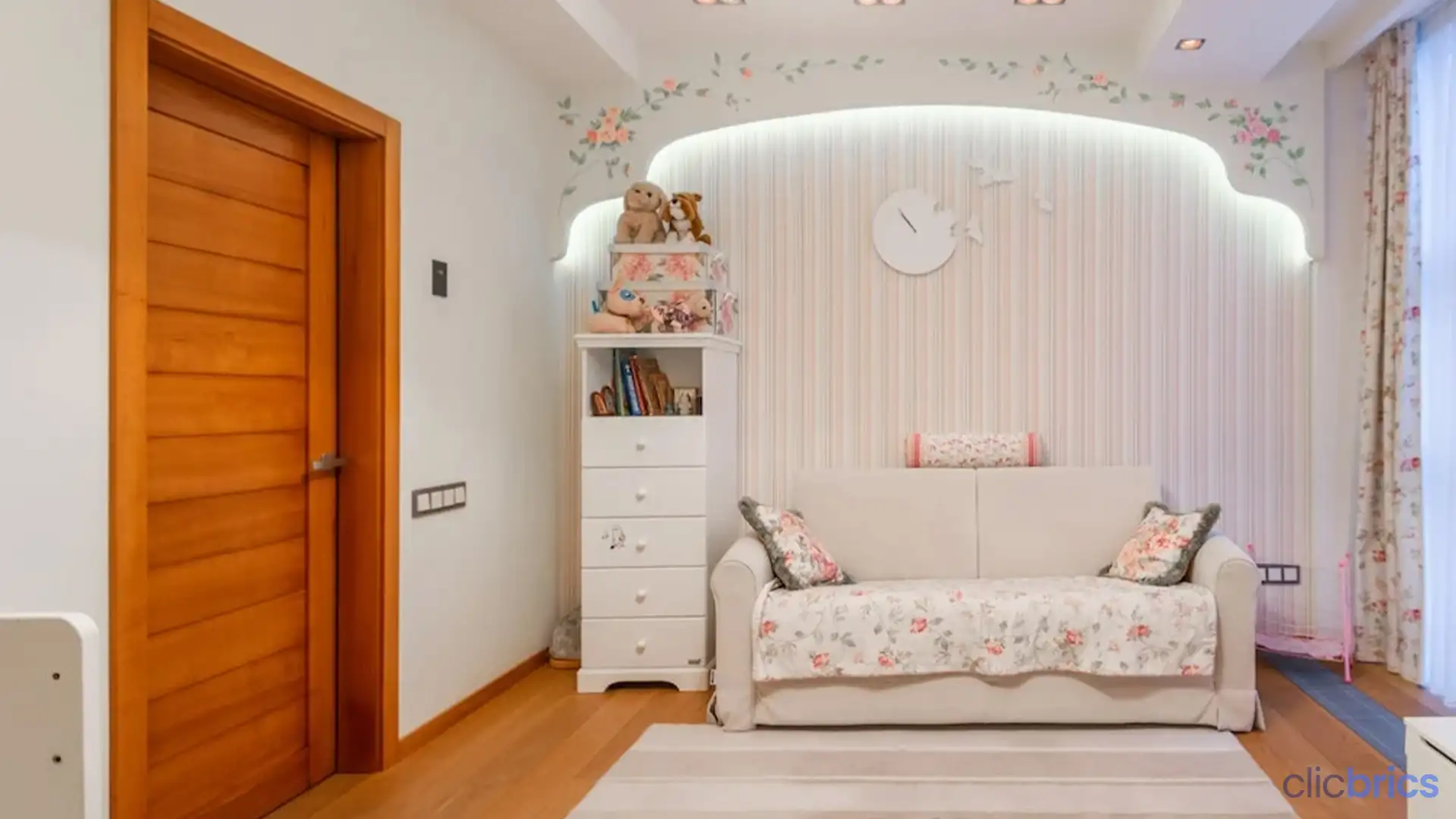 Source: homeland
"Small things make a big difference," as they say. Similarly, installing a horizontal stripe pattern on a flush door will create a beautiful welcome. A stave or a hollow-core flush door works well with this style. You can use wood, metal, or glass to create these horizontal stripes. You can use this patterned flush door design in your home, office, or other business areas.
3. Orange Flush Door Design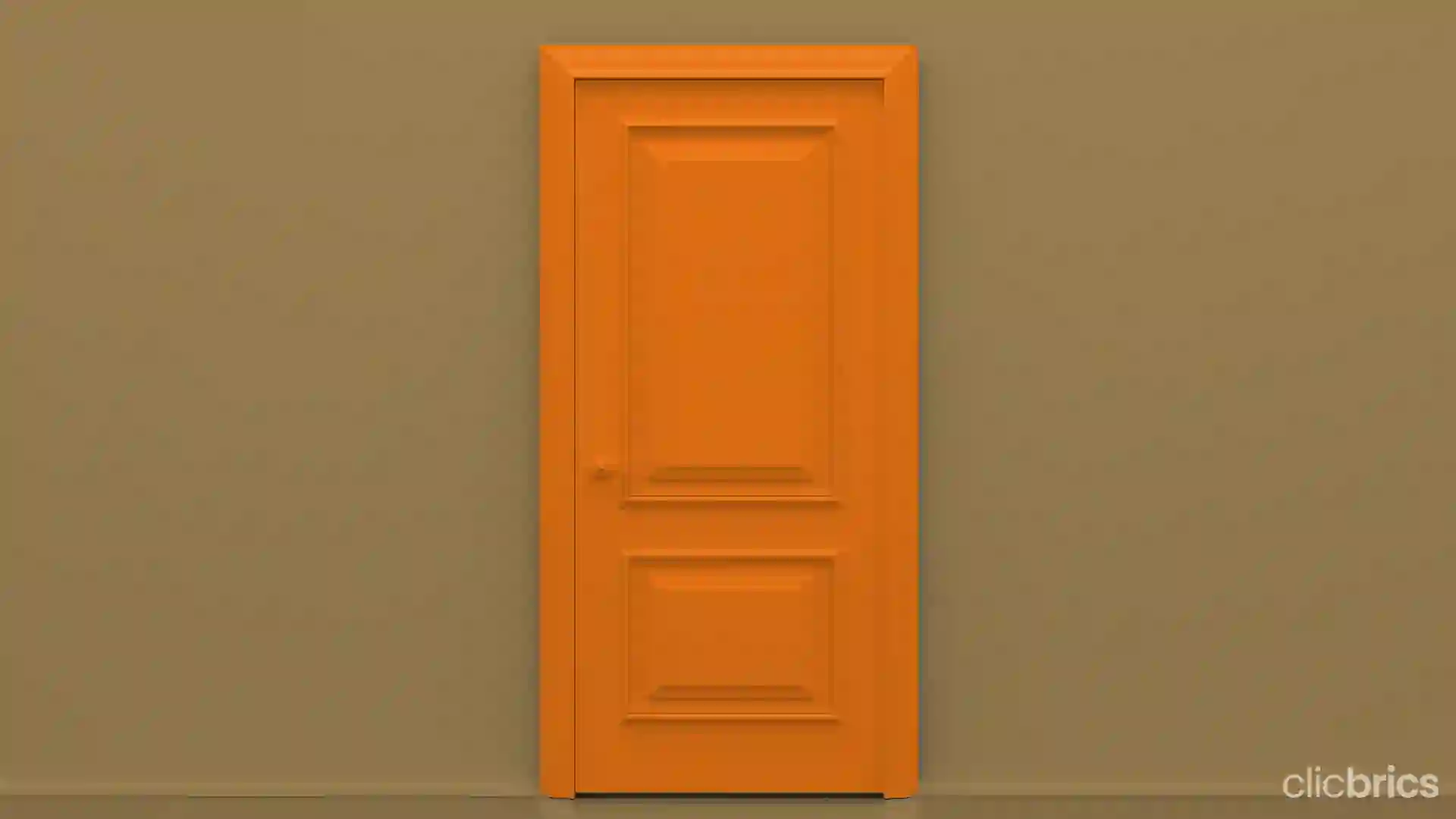 Orange is the color chosen by homeowners who wish to add a splash of color to their home decor. However, if you want the same thing but keep the door's minimalistic look, add just the right amount of oomph to the setup. This way, the color will be just right for you and make your interior and exterior flush doors look just right. 
Don't Miss Reading: Vastu Shastra Compliant Tips for the Home Entrance Door
4. Wooden Flush Door Design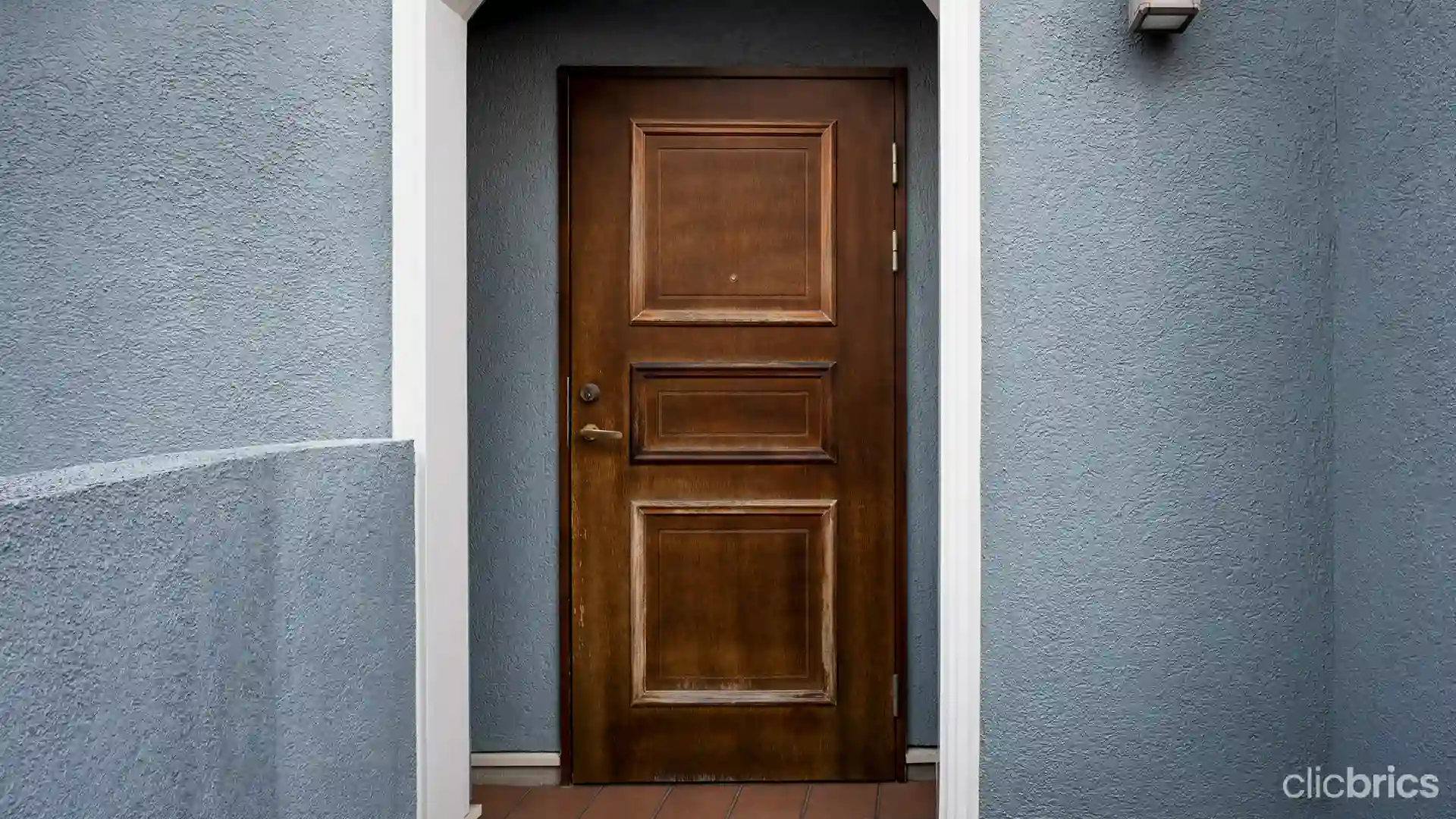 A wooden-finished door enhances the appearance of a home. This is because flush door designs are based on the principle of clean, simple surfaces that provide a solid glow.
5. Gleaming Gray Flush Door Design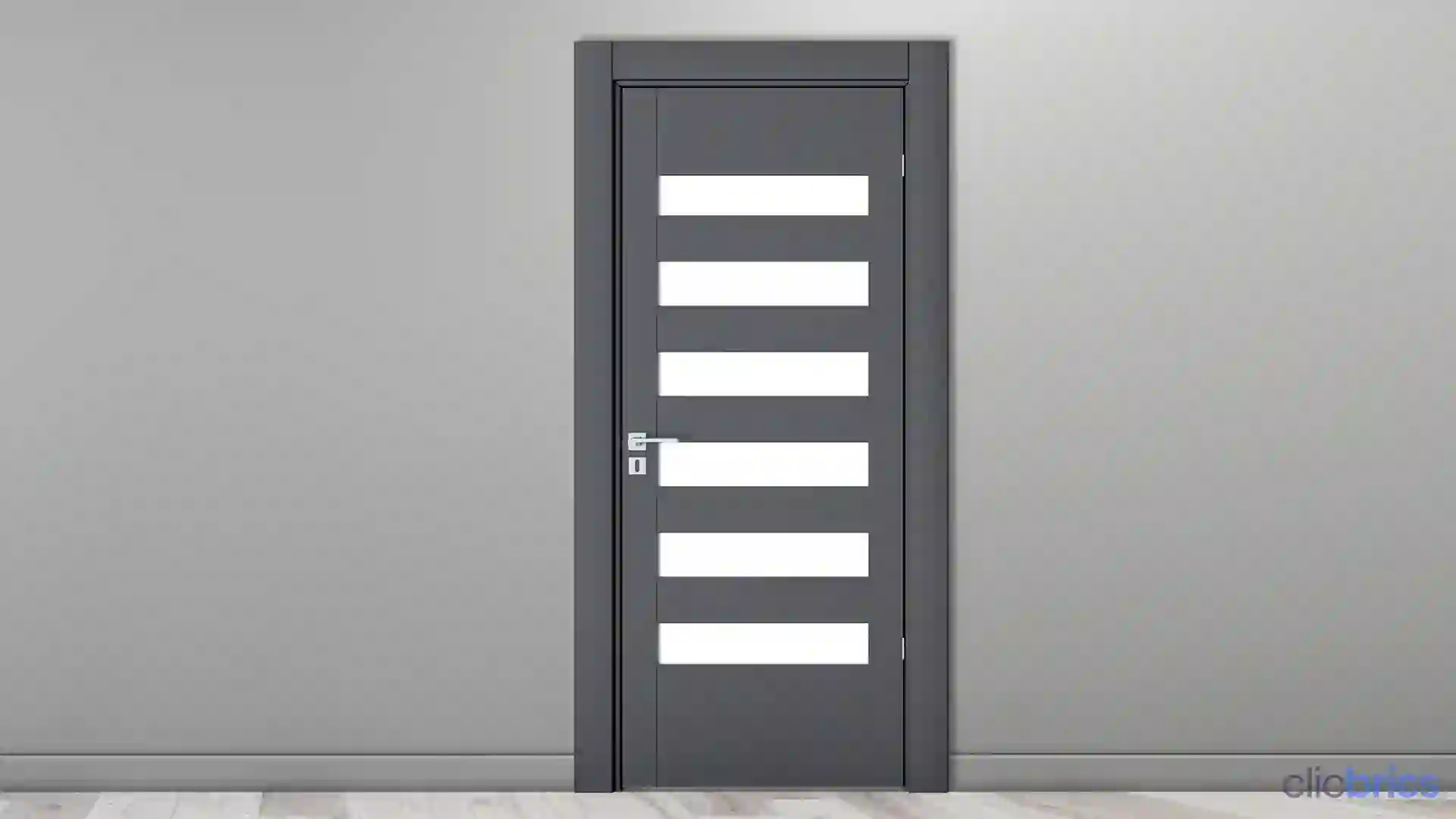 The evergreen color gray is a fabulous flush door design idea that will complement any space. This shade can be applied to a plain or polished surface. But if you plan to install a gray flush door design, you should do it for the inside doors only to get a cozy feel. 
Don't Miss Reading:  7 teak wood door designs to add style to your home's exterior 
6. Paneled Flush Door Design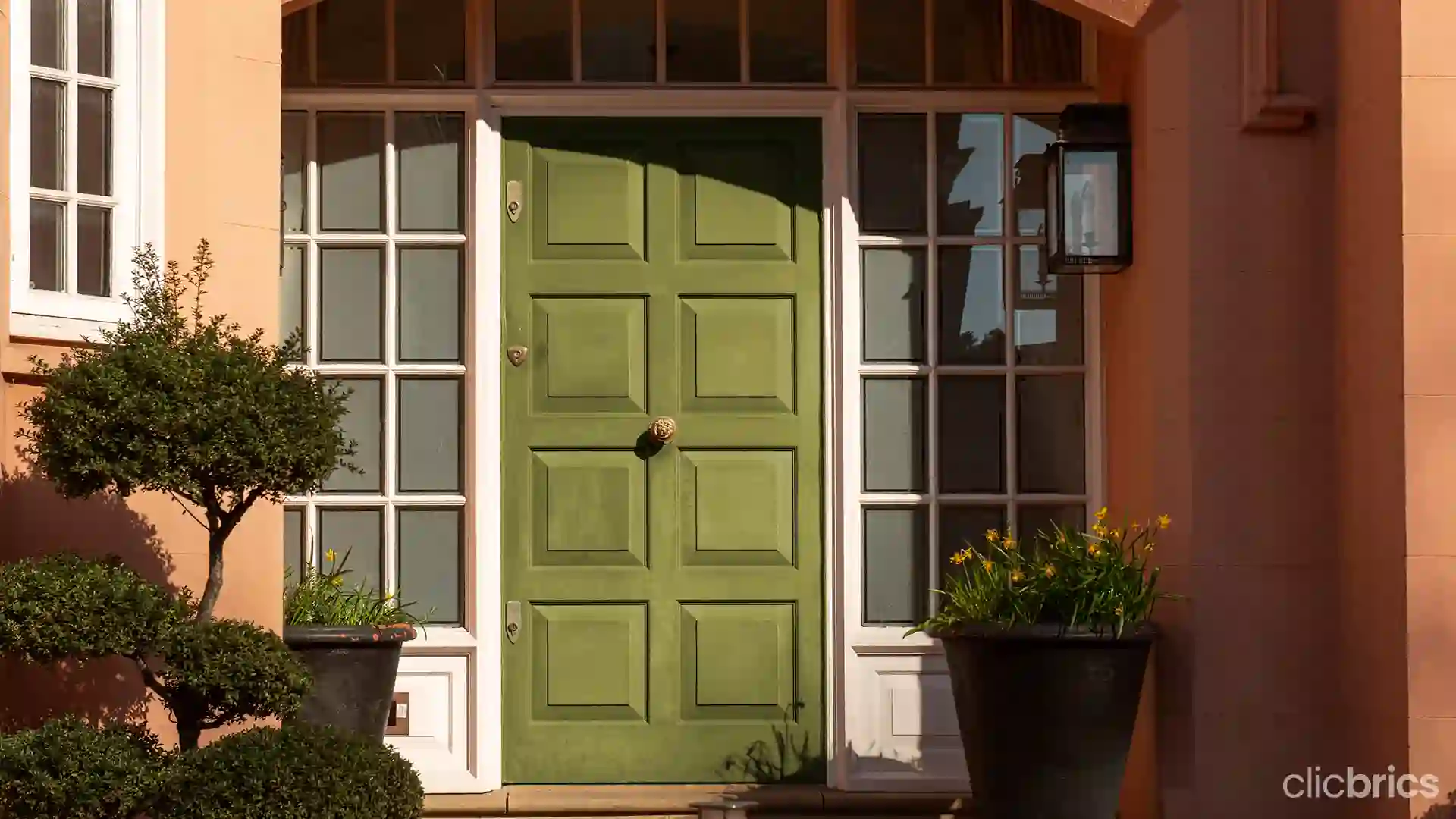 You use simple panels for a simple, cute look for a flush door design. But remember not to overdo the number of wooden square or rectangular structures. A simple paneled flush door design is the most basic way to achieve a minimalist appearance. 
Don't Miss Reading: Top 5 Aluminium Door Designs for Your Home 
7. Blue Color Flush Door Design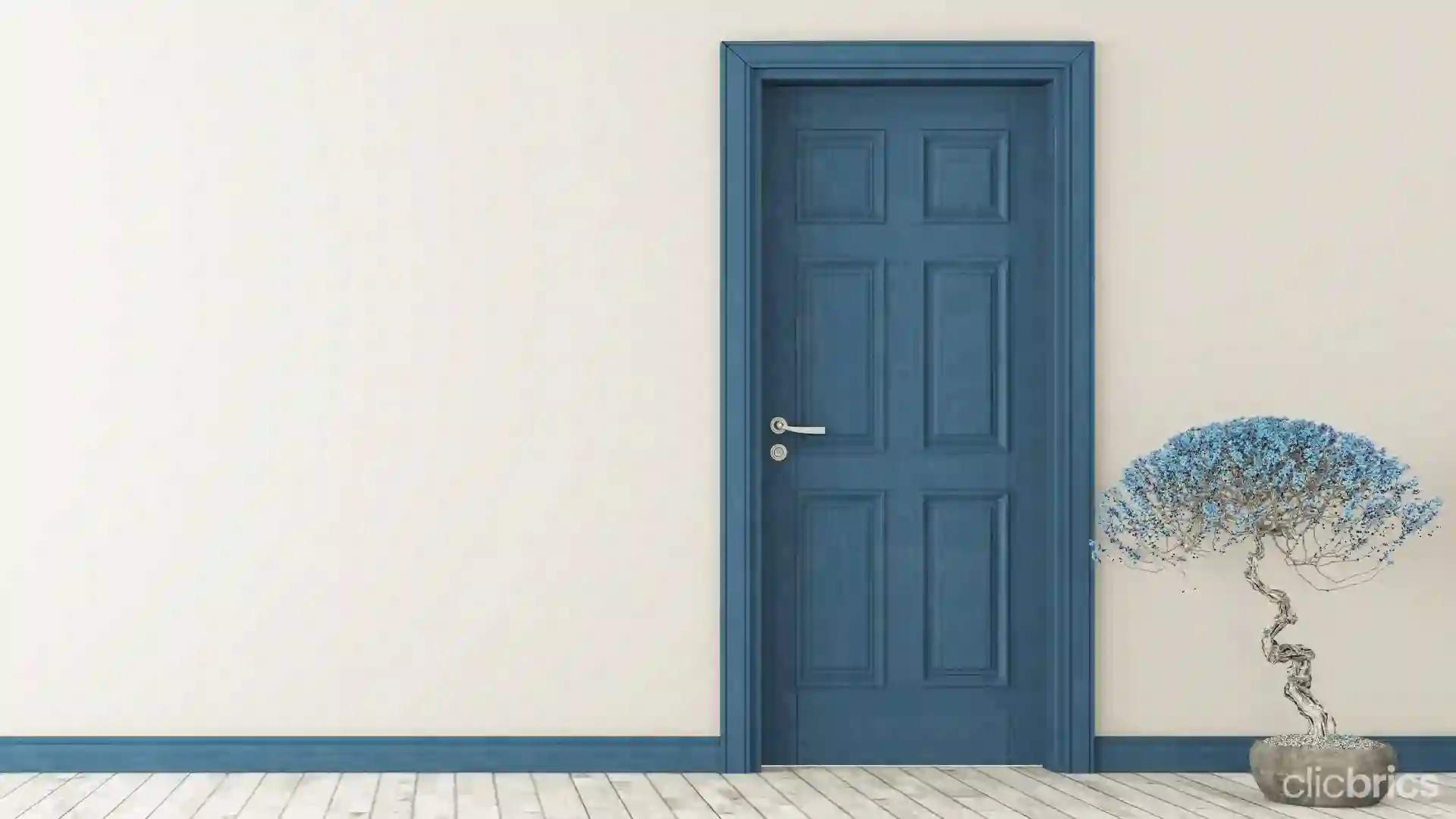 You can use the color blue to create a beautiful flush door design for your home. The benefit of using such an attractive color is that it blends perfectly well with the rest of the home. In addition, you can choose any basic, uncluttered flush door design and paint it in a shade of blue. 
You can choose this blue flush door design if your entire room is white. So, the contrasting look creates a bold statement. 
8. Veneer Flush Door Design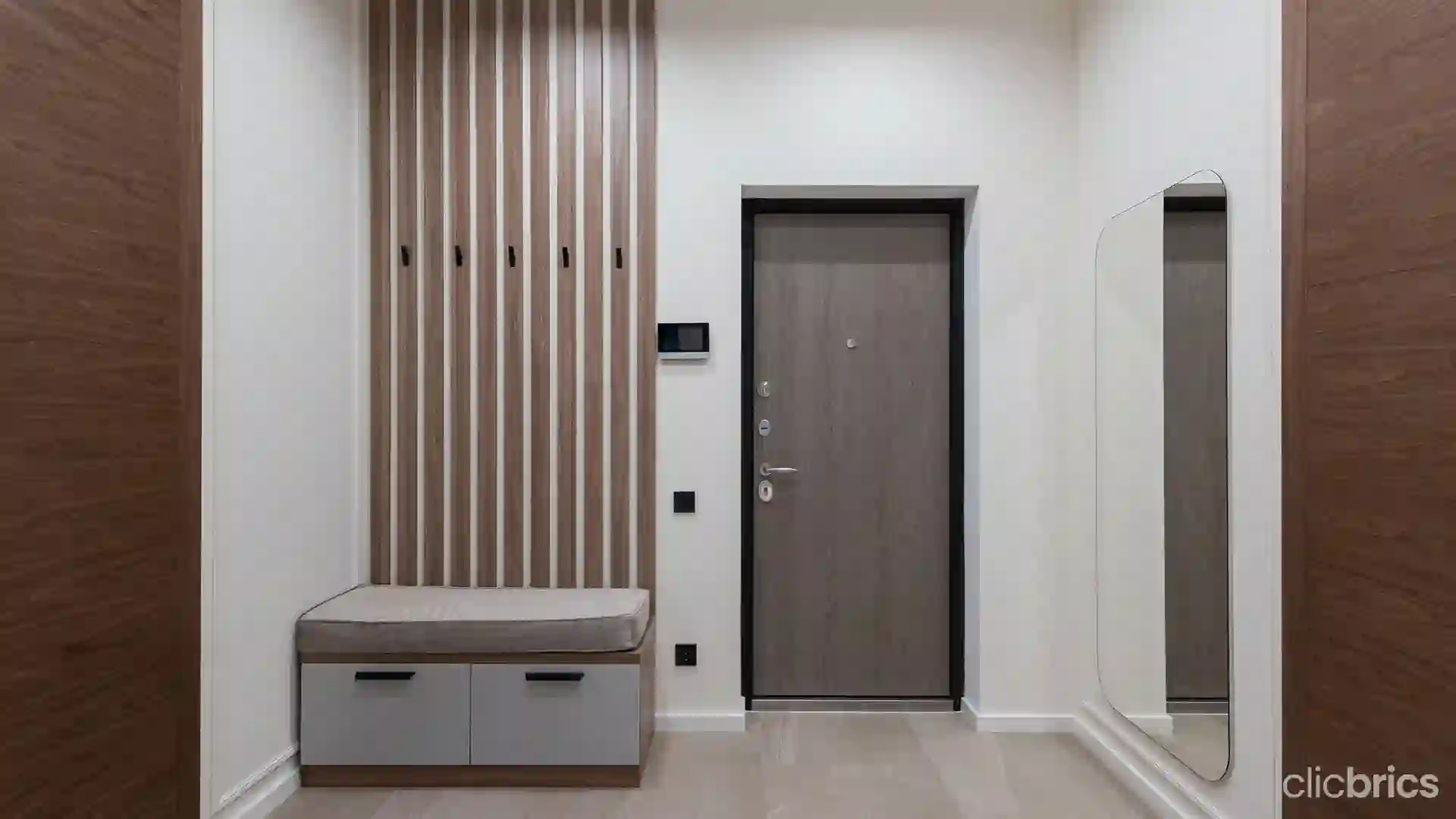 All-cohesive veneer flush door design, the latest in India, provides a sophisticated outlook that enhances the look of the place. Undoubtedly, the latest veneer flush door design comes in a darker shade, but you will love its thick wooden border, making it worth its investment. Moreover, if you live in a studio-style apartment, you can install a flush double door design to give it an appealing appearance.  
9. Carved Flush Door Design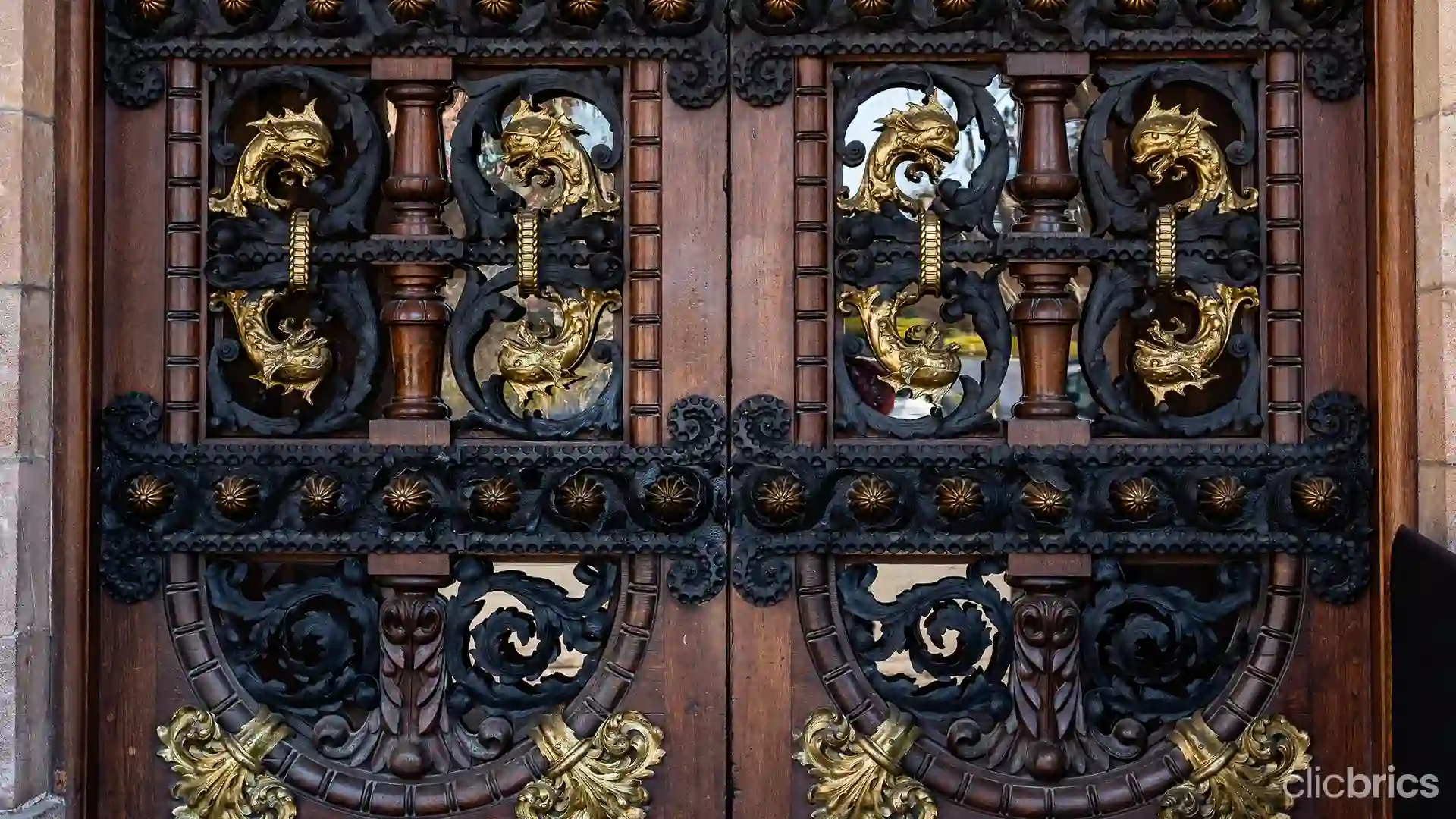 A carved modern flush door design provides the same outlook as a panel door. The only difference is that a flush door design for a home doesn't come with a hefty price tag. Moreover, the front side of the solid-core flush door has essentially geometric wood decoration, making it perfect for the house's front entrance door. 
10. Flush Door Design With Stunning Glasswork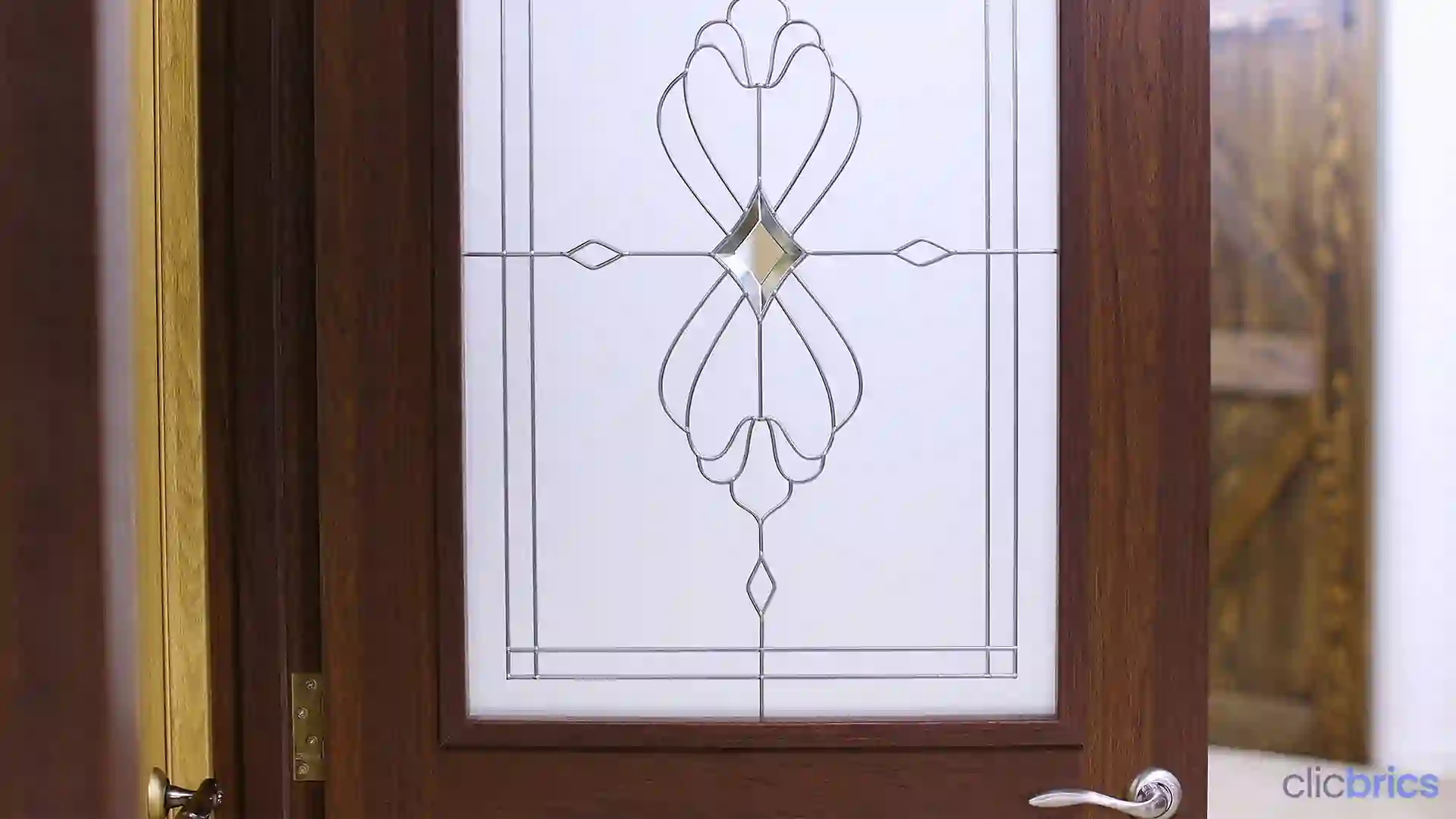 To give your home an elegant appearance, you should add glass elements to a flush door design. A glass pattern on a door will give it a designer feel and transform the vibe of your space. 
Conclusion
We hope you have a good idea about the
flush door design
and its advantages. So, you can definitely try it next time you're planning to redo your interiors. Investing in such designs will be a wise investment, as they are a cost-effective solution to uplift the look of your interiors.