Table of Contents​
As per Vastu Shastra, the main door to your house is not just an entrance, but a source for all good and positive energies into your home. It functions as a transition area between the indoors and outdoors. This blog includes some main door vastu shastra compliant tips to ensure the correct direction of your home entrance.
Defining a Perfect Main Door Vastu Direction
According to Vastu, the most auspicious directions for the main door are north-east, north, east, or west. 

One should avoid the main entrance gate in south-west, south, north-west (north side), or south-east directions. 

A door located in the south or southwest can be fixed by using a lead helix and lead metal pyramid. 

A brass pyramid and brass helix can be used to fix a door in the northwest, while a copper helix can be used to fix a door in the southeast.
Also Read: 10 Best Main Door Design Ideas 
Colourful Entrance Doors Are a Thing in Vastu
You could try painting the door with soft colours such as earthy wooden shades, light yellow, or any yellowish shades. It leads to instant positivity. 
Do not paint the door with bright orange or shades of red. Moreover, never paint your main entrance door with black. Colouring your entrance door with dark shades usually provokes gloominess and arrogance. 
In fact, bright or pastel shades for the door can lift up your mood instantly. However, you can avoid sliding, slanting, or circular opening entrances.
Size of the Main Entrance Door as per Vastu
The main door vastu suggests that your house should be large in size. It is believed that good luck, health, and fortune enters your life into a family when it's designed based on the principles of Vastu Shastra. Also, a door with two parts is considered ideal instead of one large panel. 
Ensure that the door is wooden, has enough space and is away from the corner.
Wooden Main Door Ideas for a Perfect Vastu Compliant House Entrance 
As per Vastu principles, a wooden door is considered auspicious for the main door, as it is an archway to bring progress and happiness. The main door should also be the biggest door in your home. The wood should be of high quality like classic teak wood to keep an attractive appearance and ensure the safety of the house members. Main door vastu states that you must avoid having the main door that is facing directly into another house's main entrance.
1. Doors with Wooden Engravings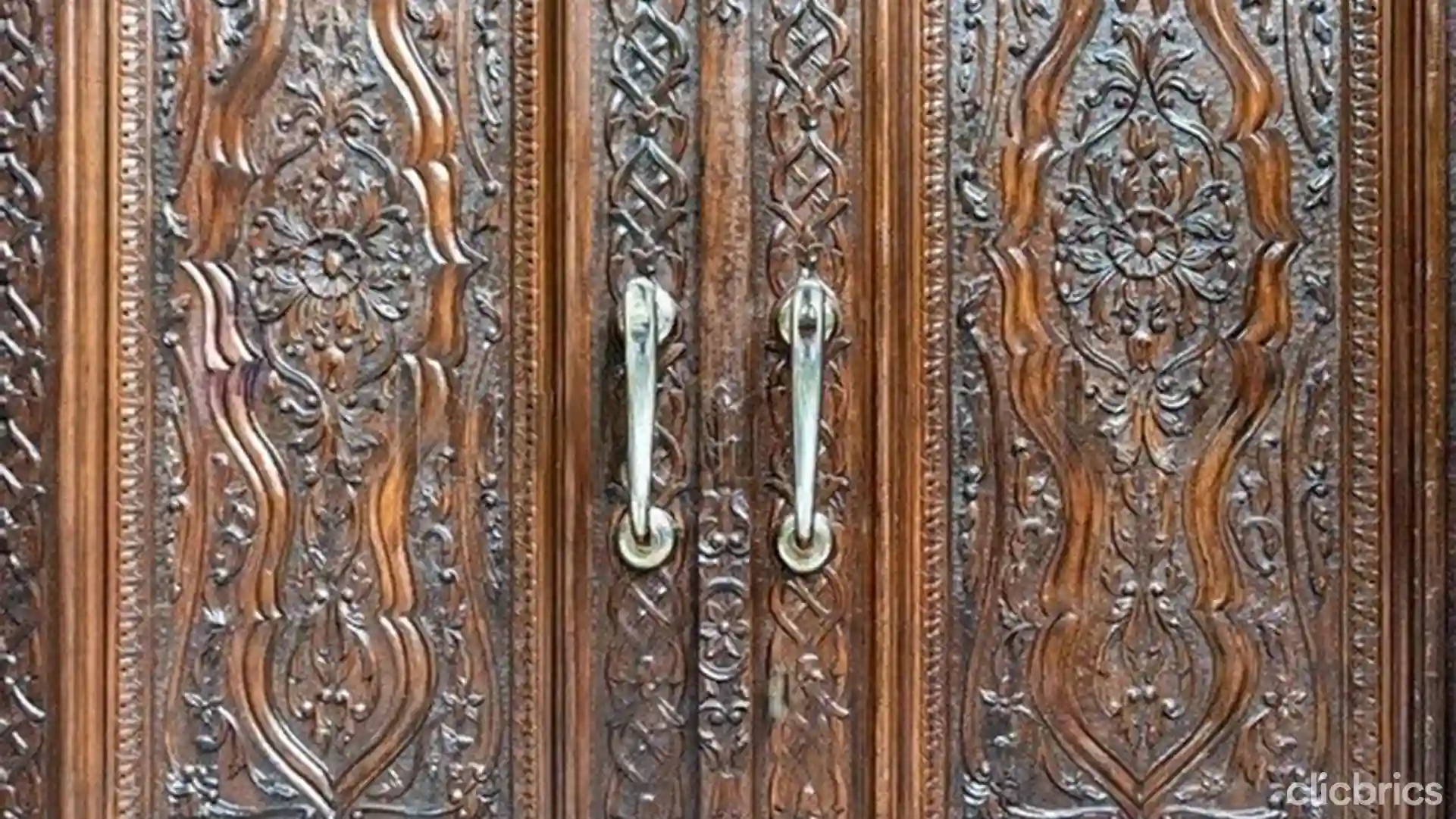 To bring prosperity to your home, decorate your main entrance door with wooden engravings of the divine god and goddesses. You may also want to opt for symbols like Swastika, Om, Cross, etc. It is believed that the main door absorbs negative vibes and only allows positive energy to pass through. Avoid keeping broken chairs, dustbins, or stools near the main door.
2. 
Wooden Arched Doors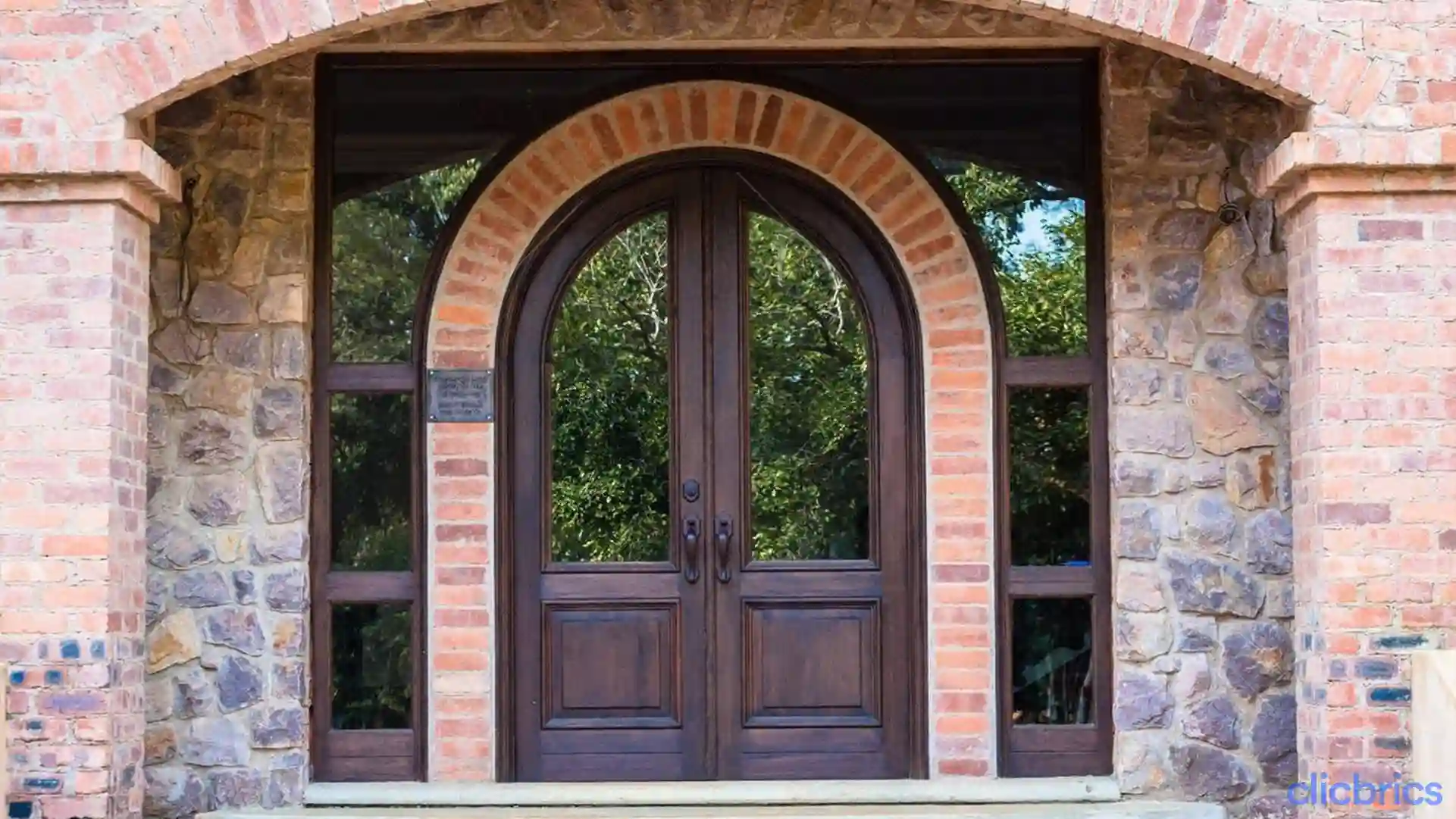 According to Vastu, it's important to keep the area around your main door clean to stay healthy – this invites positive energy into your home. You can further jazz up your doorway by adding a wooden arched door and decorating it with flowering pots. If there's extra space, add some more plant pots to give your house an alluring and natural look.
3. 
Brass handle on Wooden Doors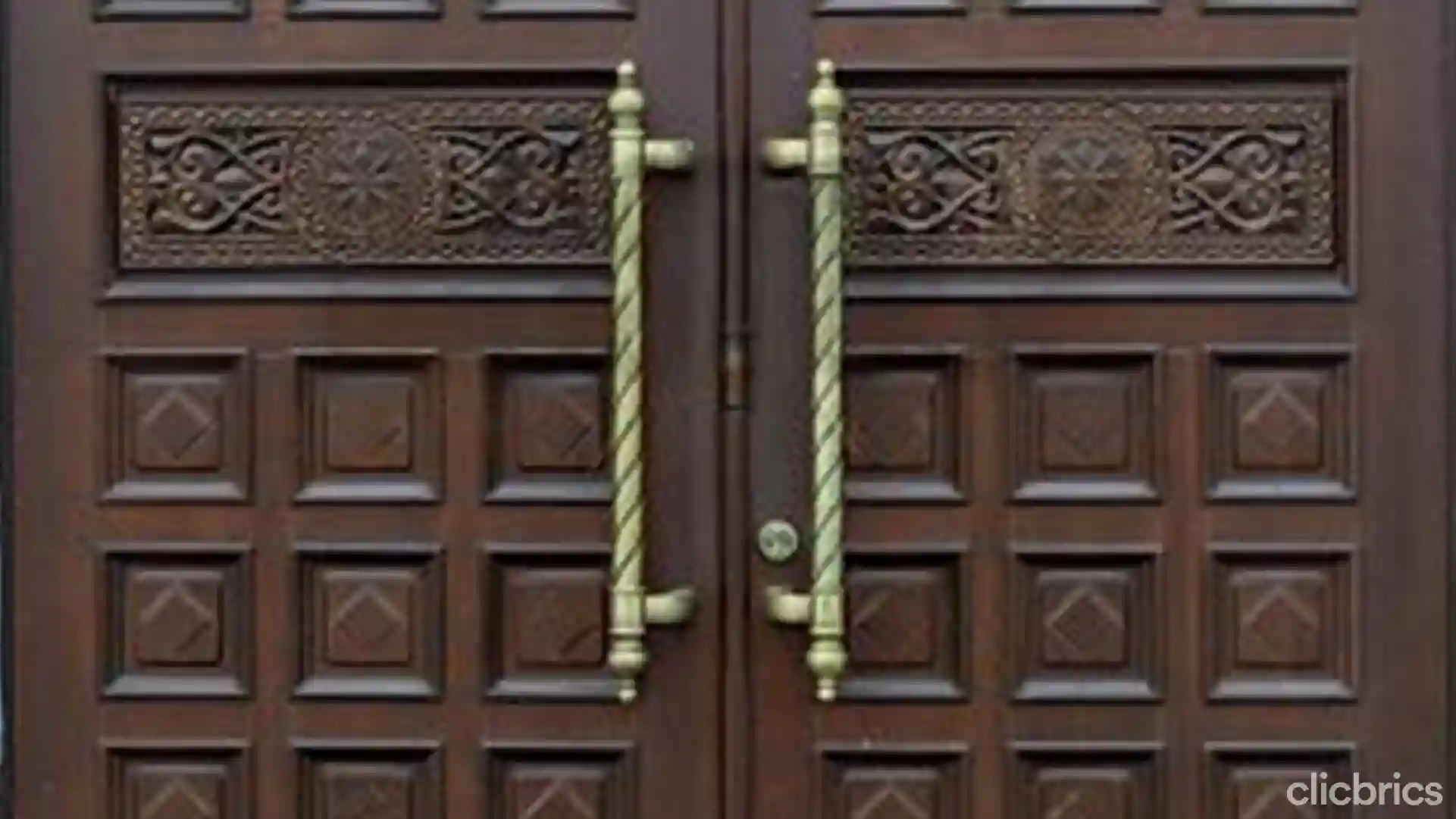 A wooden door with brass handles is an excellent choice for the main door of a house. The combination of brass and wood is ideal for the main door facing south. For a main door on the west side, there should be some metal work on it. 
On the other hand, the main door on the north side should have a more silver hue, while the main door on the east side should be made of wood and equipped with small metal furnishings. 
Main Door Vastu Decor Tips
1.Traditionally Decorated Door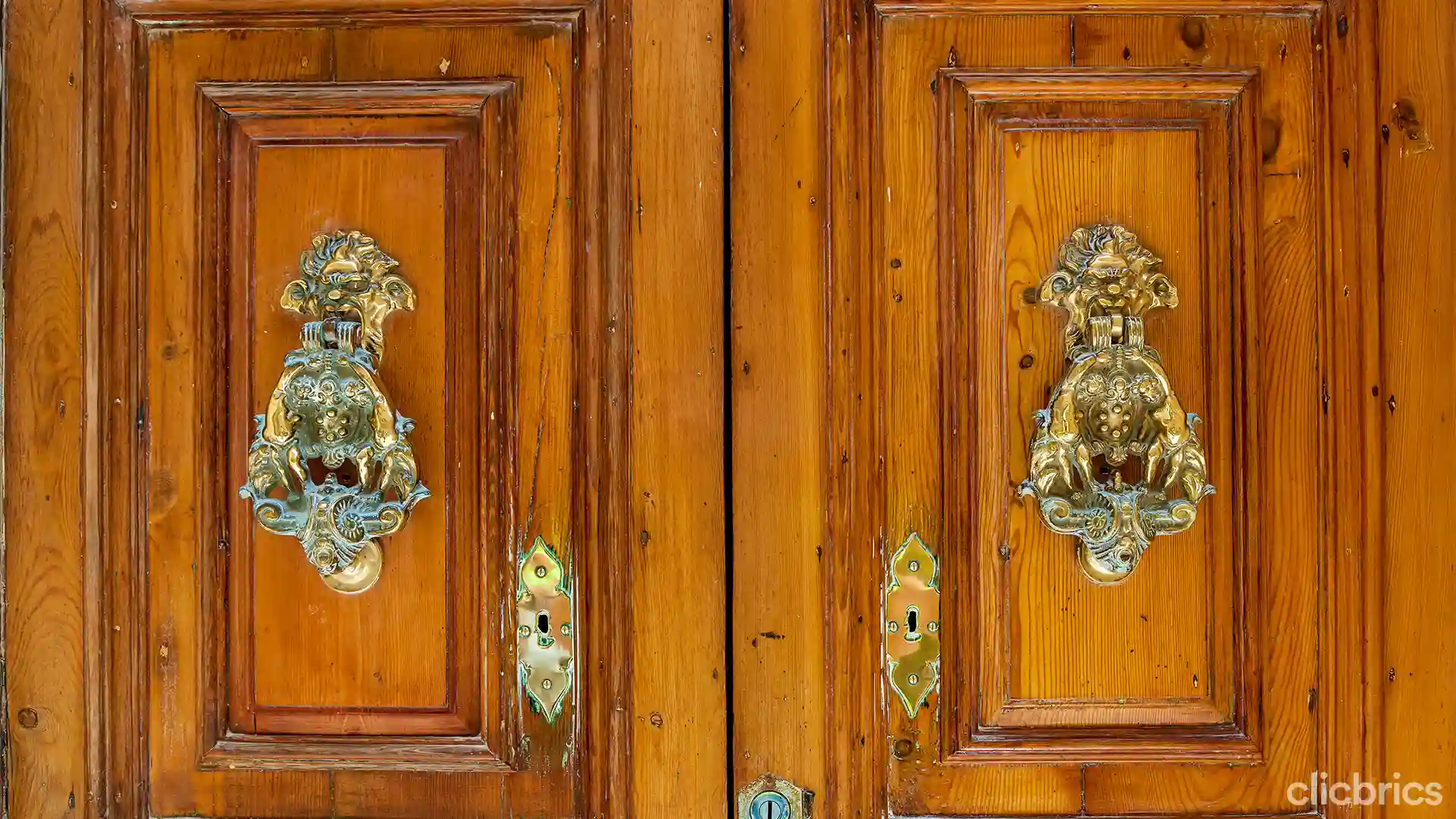 Nothing can beat a traditionally decorated main entrance door. This gives a feeling of a positive and good atmosphere in your place. However, one should ensure that the main door is noiseless during opening or closing it. Main door vastu suggests that the front entrance door should be well lit. Never make any other door in the house larger than the front door. Main entrance door with two shutters inside and clockwise is considered very prosperous. The front door should always have beautiful designs and paint.
2. Floral Decoration with Beads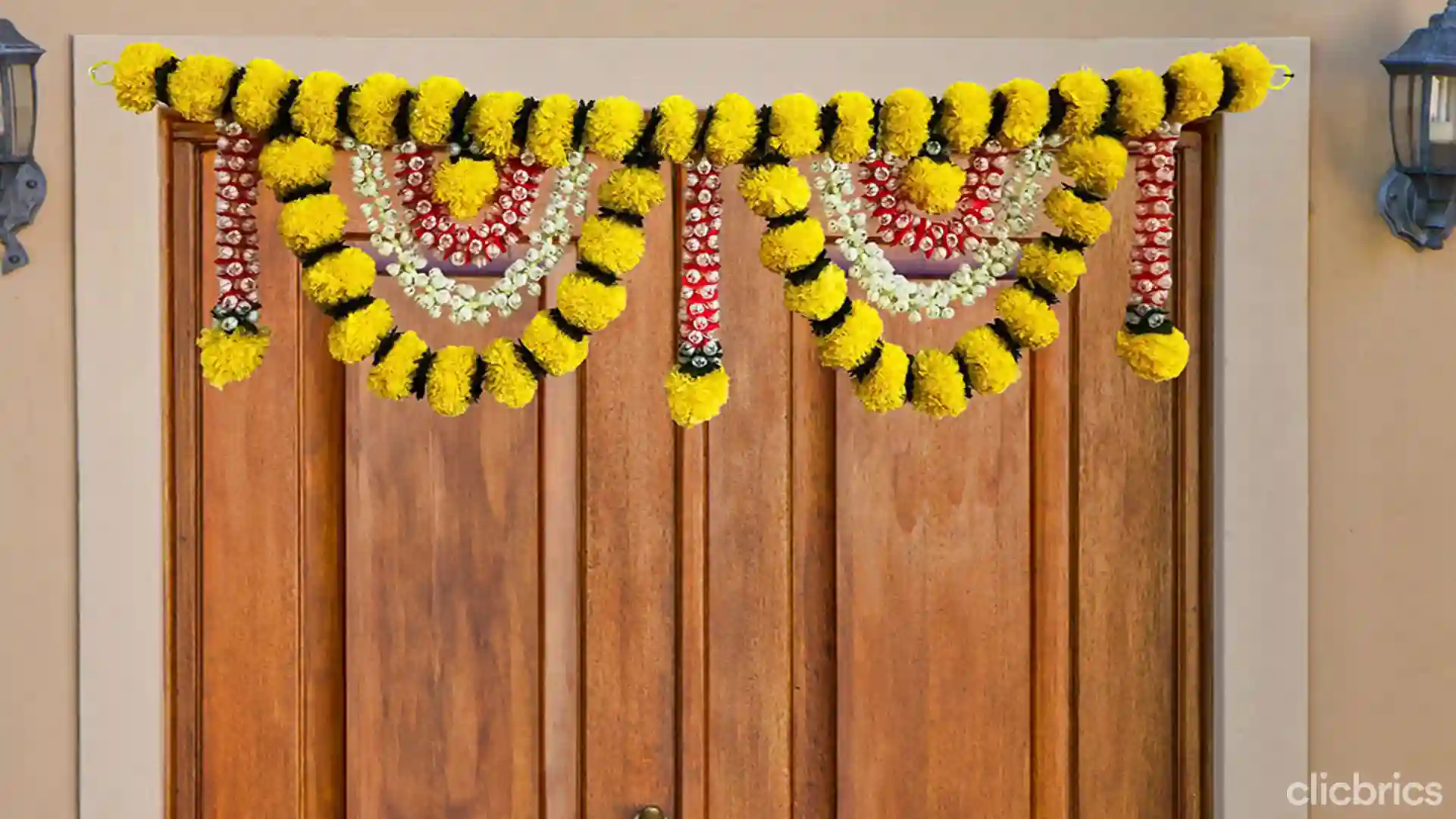 By adorning your main door with a beautiful toran made of flowers, you'll ensure positivism inside your home. Keep the main door slightly higher than ground level, and try to have an odd number of steps leading up to it. The entrance should be at least one foot away from any corner. If any doors are aged or cracked, replace them immediately.  Be sure that the total number of windows and doors in the house is even (i.e., 2, 4, 6, 8 etc.) and doesn't end with 0 (i.e. 10, 20, 40 etc).
Let's Also Explore a Few Vastu Inspired Tips on Wooden Door for Bedroom
1. Simple Wooden Door For Bedroom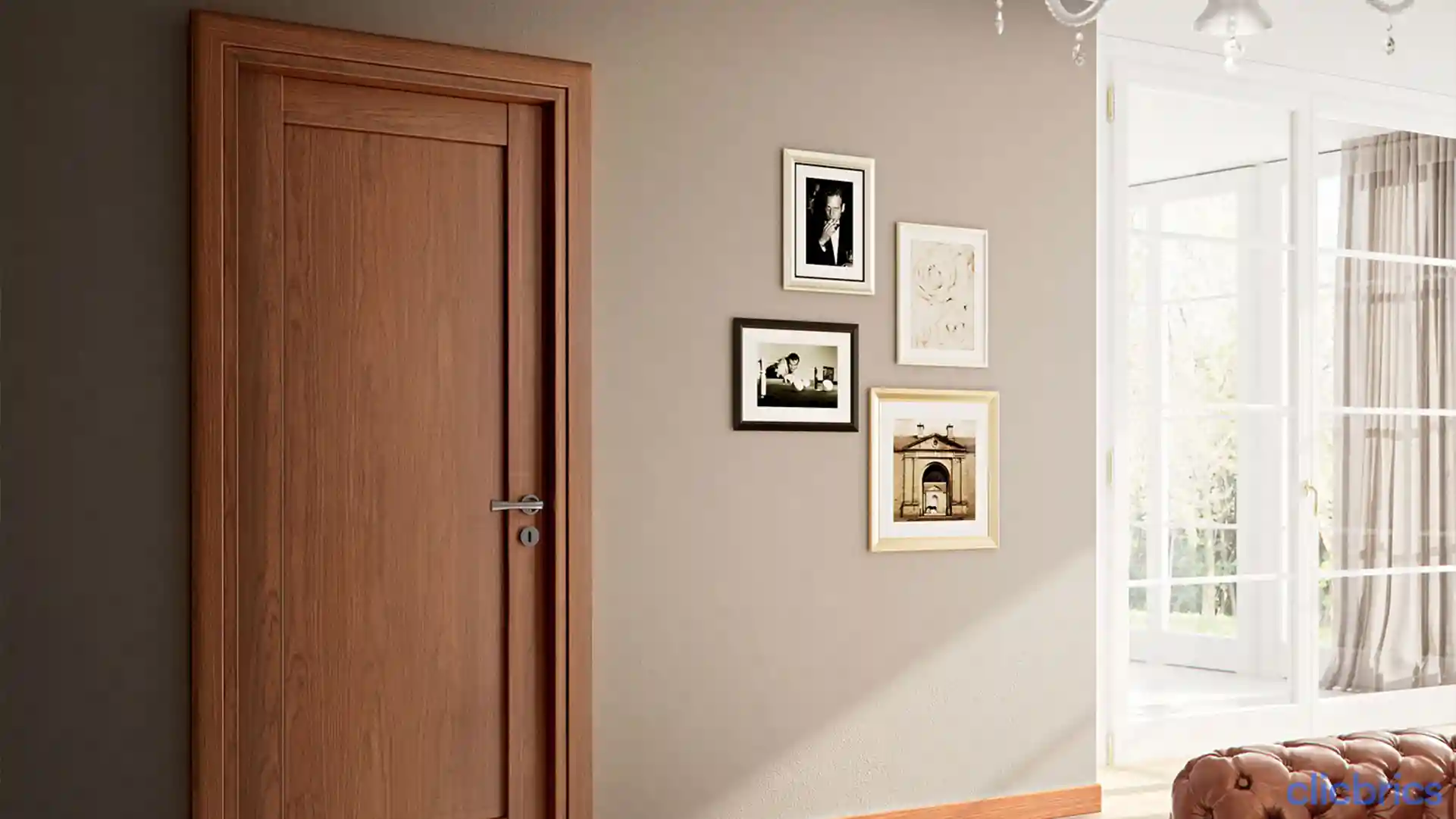 Besides the vastu for main door, there are certain beliefs (to do and not-to-do's) for the bedroom door as well. For people who love austerity, it would be best to keep your bedroom door as simple as possible. A good option would be a wooden door. Even though the bedroom door should be simpler than the other doors in the house, it should still be sturdier. The door should open clockwise. Also, avoid having three doors in a line parallel to the main door because that is considered a Vastu defect that could affect the happiness of the home. Furthermore, avoid keeping shoes in front of the bedroom door.
2. 
White Coloured Bedroom Door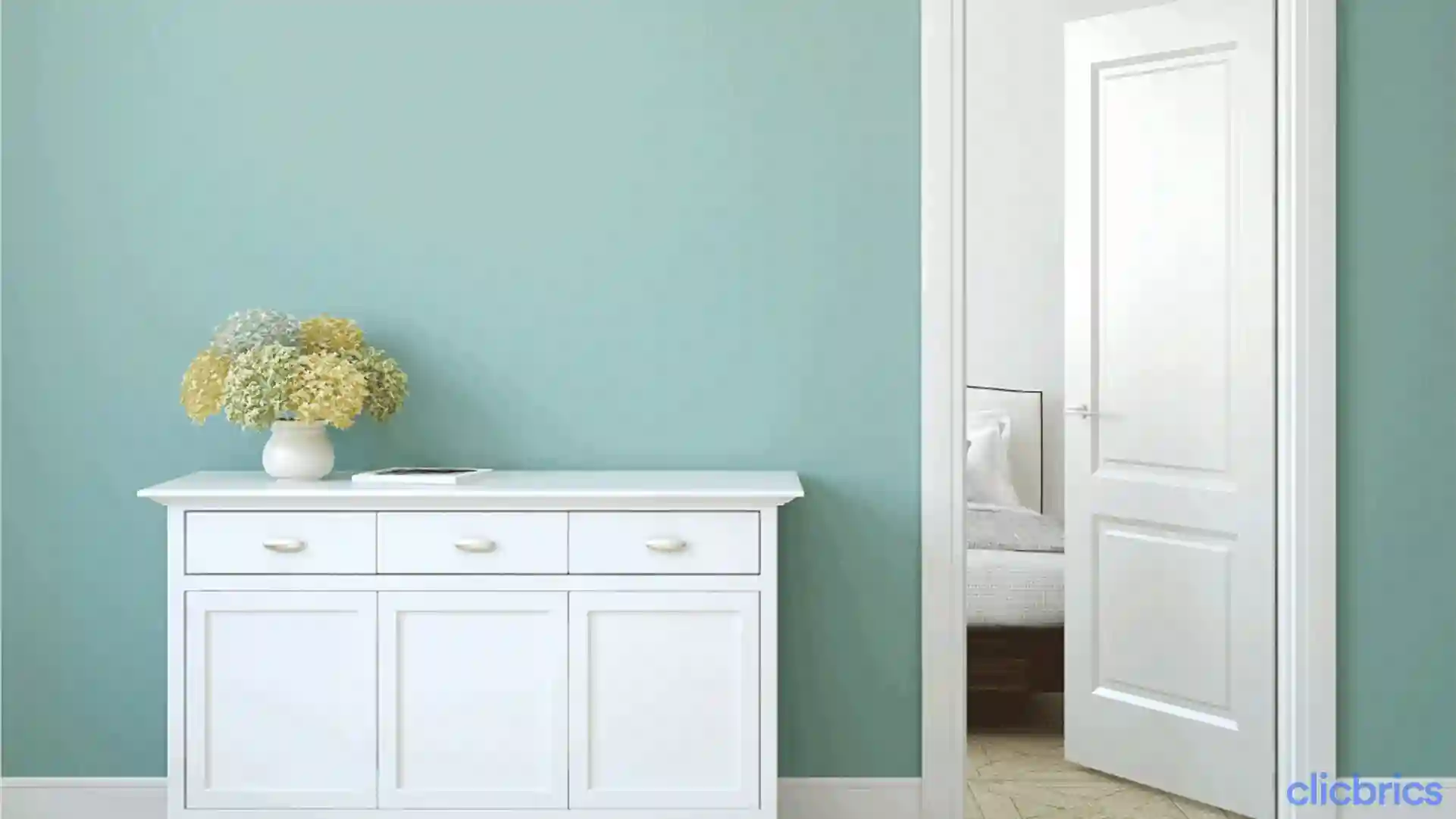 Vastu Shastra believes that a bedroom door painted white creates a serene and blissful atmosphere in your home. It is advised to avoid having a bedroom door located in the south. If you are considering building an attached bathroom, the north or west direction is more suitable. Furthermore, your bed should never be positioned under a roof beam. The bedroom door should be made using high quality wood.
 Also Read: A Curated List of Double Door Designs

Vastu Tips for 

Good Vibes



 Keep the rooms clean and well illuminated.

 Placement of the plants keeps the aura soothing and fresh, and invites positive vibes.

 Rooms should be designed in a rectangular or square shape.

 Lamps and candles should be placed to create soft lighting and a soothing atmosphere.

Happy pictures of the family should be placed on the wall in the north east direction of the home.

A Fish aquarium should be kept in the north east of the living room to bring in an aura of auspiciousness.
Vastu Approved Decor for Bringing Positivity in the Home
Wind Chimes: It welcomes wealth and good luck. It can be hung anywhere – at the entrance, in the bedroom or in the living room area to invite positive vibes.

Buddha Statue: Vastu for main door suggests that the statue should be kept at the entrance of the home to invite happiness, fortune and prosperity. One can place a picture, a statue, or flower vase at the entrance door.

Water with Flowers: Water & flowers bring purity and help in creating a connection with spirituality. To welcome peaceful vibes, one can place a bowl or glass filled with water and add a few flower petals to it at the entrance.

Paintings: Beautiful scenery, flowers, sunrise or waterfall creates a positive home atmosphere. One can display them at the entrance, bedroom or in the living room.
Summing it Up
The above tips give a good understanding of the main door vastu shastra compliant tips for your home. You can follow these to get benefits of positive energy and auspicious fortune.