Table of Content:
Planning on giving your home a little makeover? Then how about you start from the very front entrance door? The house's main door is considered a functional element that offers safety, security, and privacy. Not only this, but having a stunning main door design also reflects the homeowner's taste and lifestyle. So, to cast a lasting impression on your guests, start by installing a teak wood door design. 
But why are we fixated on choosing a teak wood design and not others? It is because teak wood, also known as 'sagwan' in Hindi, reflects luxury and elegance. A Sagwan door design is naturally robust as it contains natural oil content.  
But out of so many new teak wood main door designs, how do you know which one is right for you? Don't fret! Clicbrics is here to take you out of this pickle. We have compiled the best teak wood door designs for you, making it easy to choose the ideal one for your home. 
Pick the Best Teak Wood Door Design For Your Home
1. Simple Teak Wood Door Design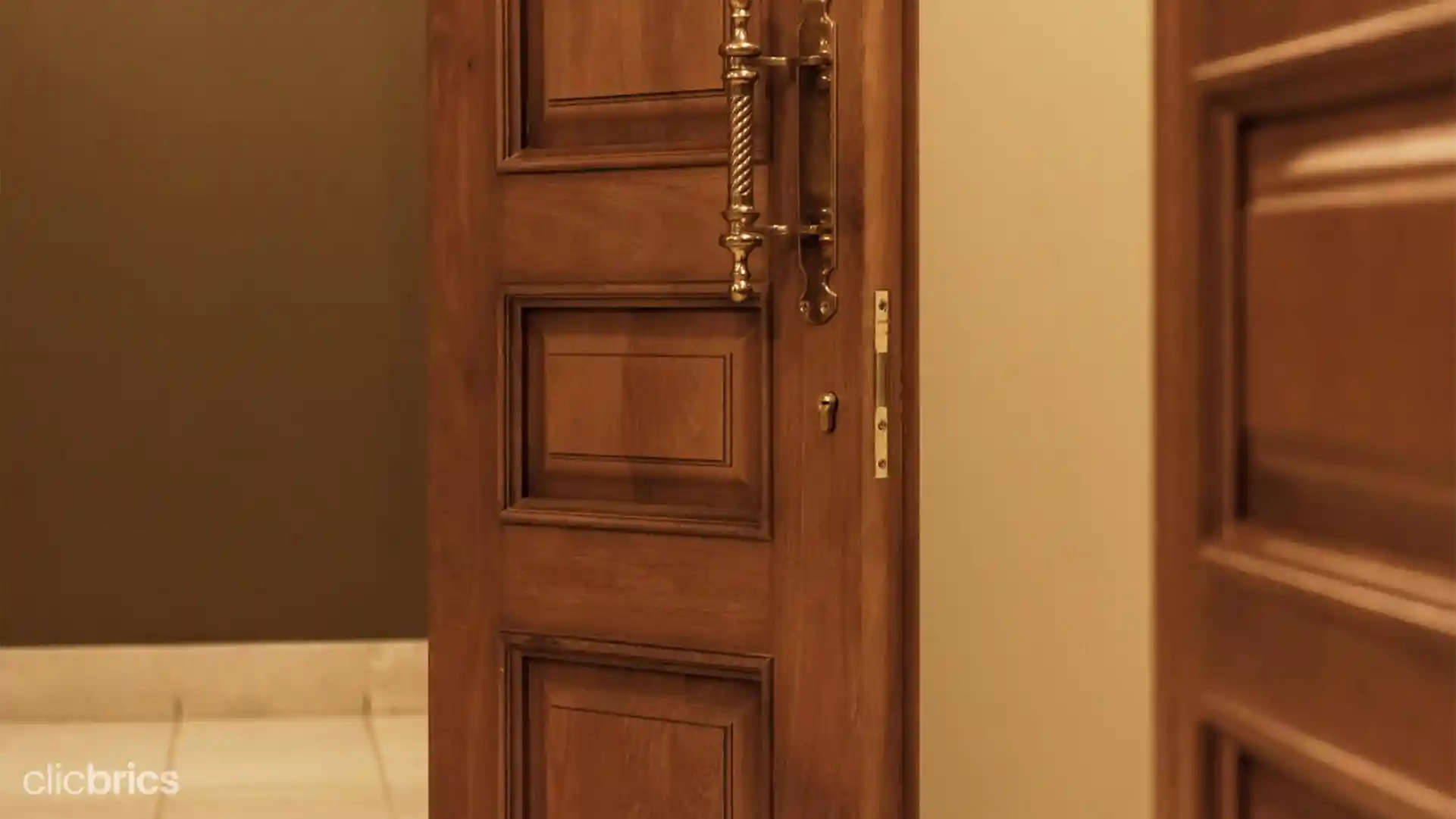 A simple, good-looking entryway never fails to charm the space. That's right! Therefore, incorporating a simple teak door design can never go wrong, as they have a metallic knob and a keyhole unit, which everyone needs on the main door.
2. Teak Wood Double Door Design With Intricate Carvings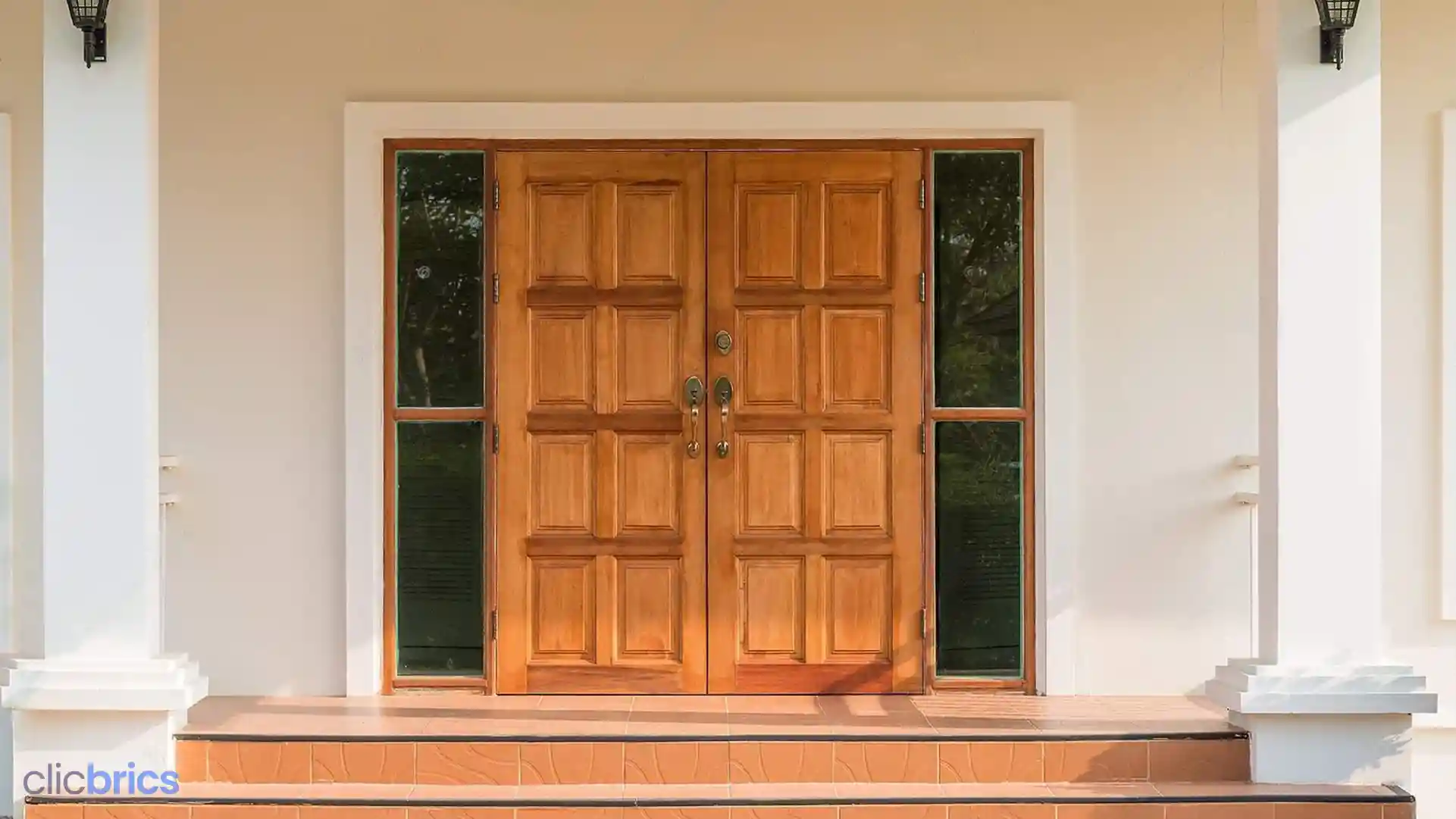 Intricately-carved doors depict the home's personality. Even the decorative components implemented on a door makes it quite attractive to look at. It is the reason why, nowadays, teak wood double door designs are in demand, as they help garner the attention of the guests. 
So, if you want a safe, secure, and elegant entrance, incorporating a beautifully carved Sagwan double door design will be an ideal option. 
Don't Miss Reading: 10 Double Door Designs To Create An Excellent First Impression
3. Striped Teak Wood Main Door Design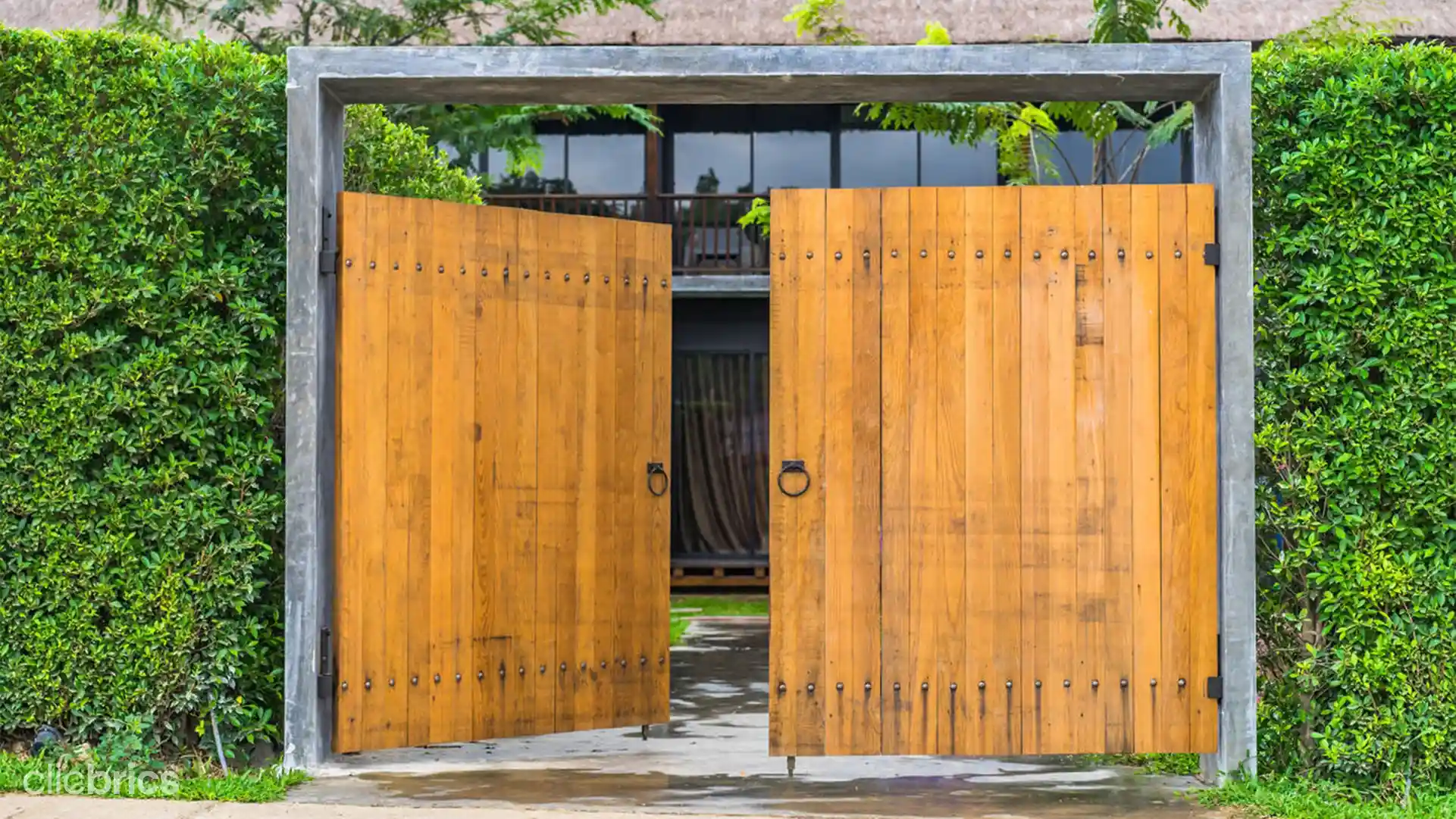 We have all seen teak doors made from large-sized blocks of wood, so there is nothing special about them anymore. But what we can do is choose a different style, i.e., opt for a teak wood door that has striped wood blocks with small-sized door handles. It will not only give an elegant, neat look but will also offer a modernised version of the main door. 
4. Glass-Panelled Teak Wood Door Design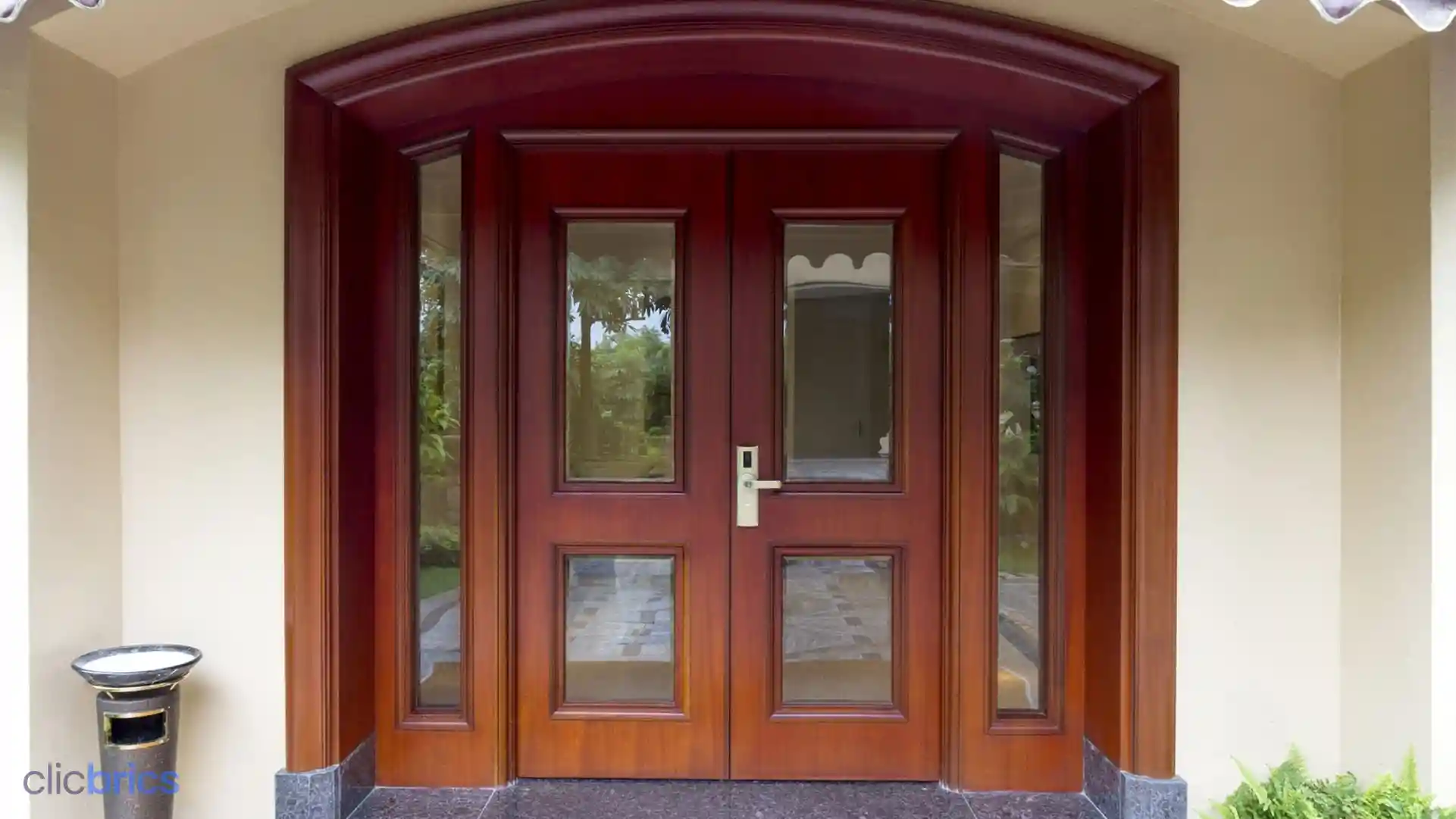 Installing a glass-panelled new Sagwan (teak wood) door design is an excellent way to give your home a chic, symmetrical look. The side and top panels have wooden rectangles at the bottom and a top half with a chequered glass pattern, giving them a modern appearance.
Don't Miss Reading: Top 5 Aluminium Door Designs for Your Home
5. Arabian-Inspired Latest Sagwan Door Design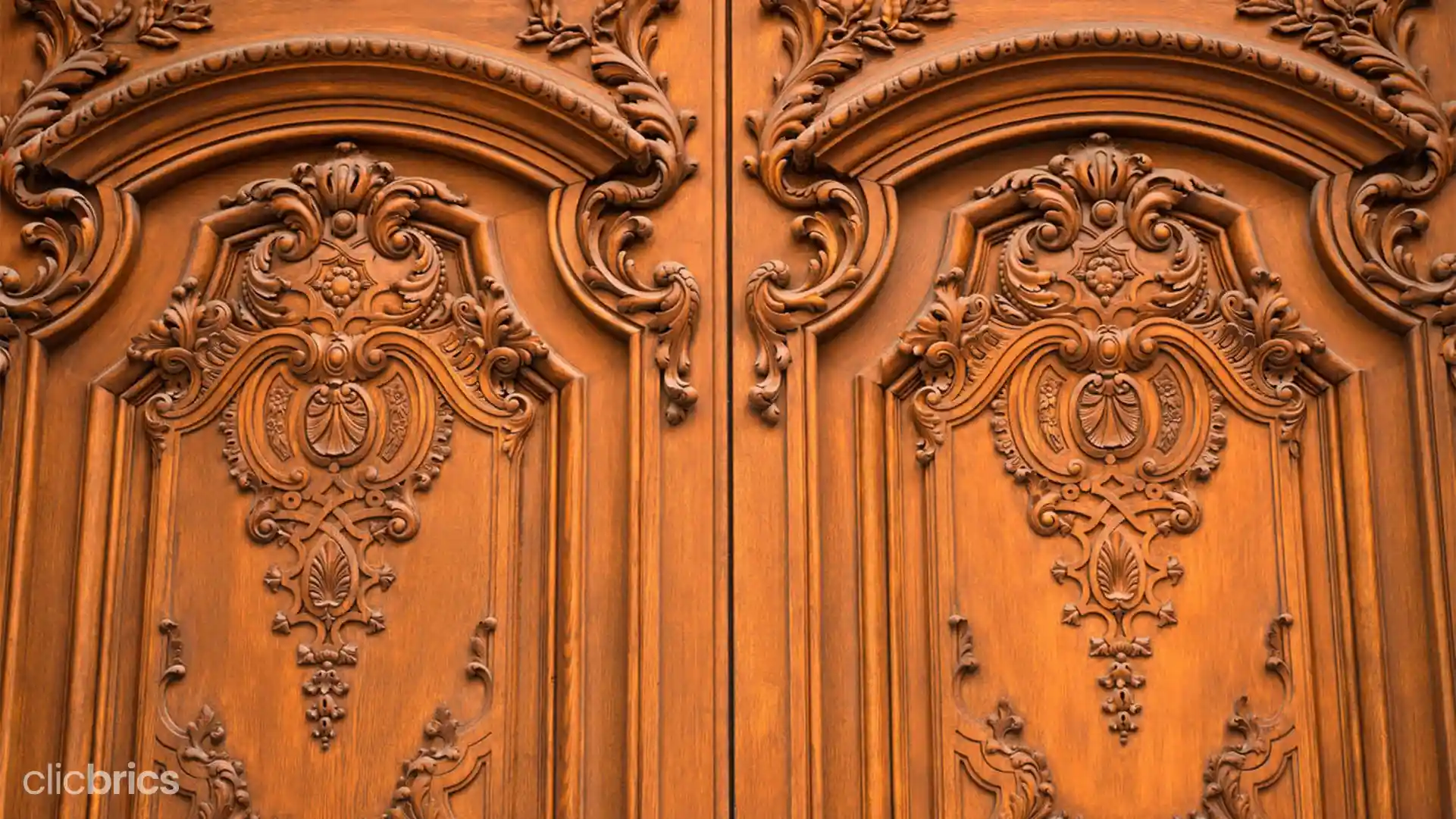 A lovely Arabian style curbed with an ogee four-centred arch teak door design is a sophisticated way to achieve a vintage look for the main door. You can create a golden border at the bottom that adds a royal appeal to the main door at home. 
6. Traditional Teak Wood Door Design with Mosaic Glass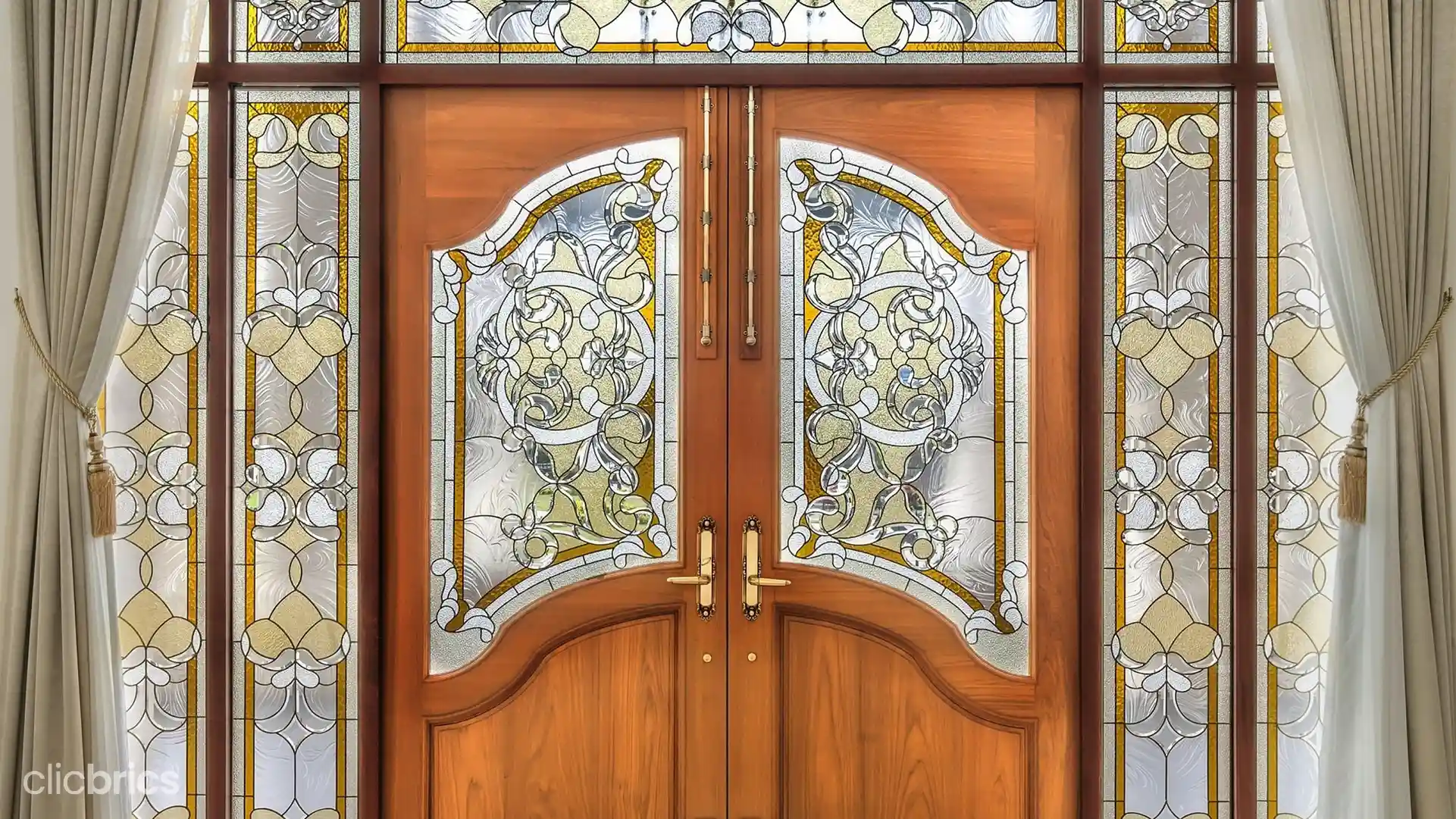 One traditional way of stealing the attention of your guests right from the entrance is to choose a conventional teak wood door design with mosaic glass. Installing this design for your main door will also complement the glass furniture items in your home. 
Don't Miss Reading: Home Door Designs For Interior Doors
7. Fancy Teak Wood Door Design Fringed by Lights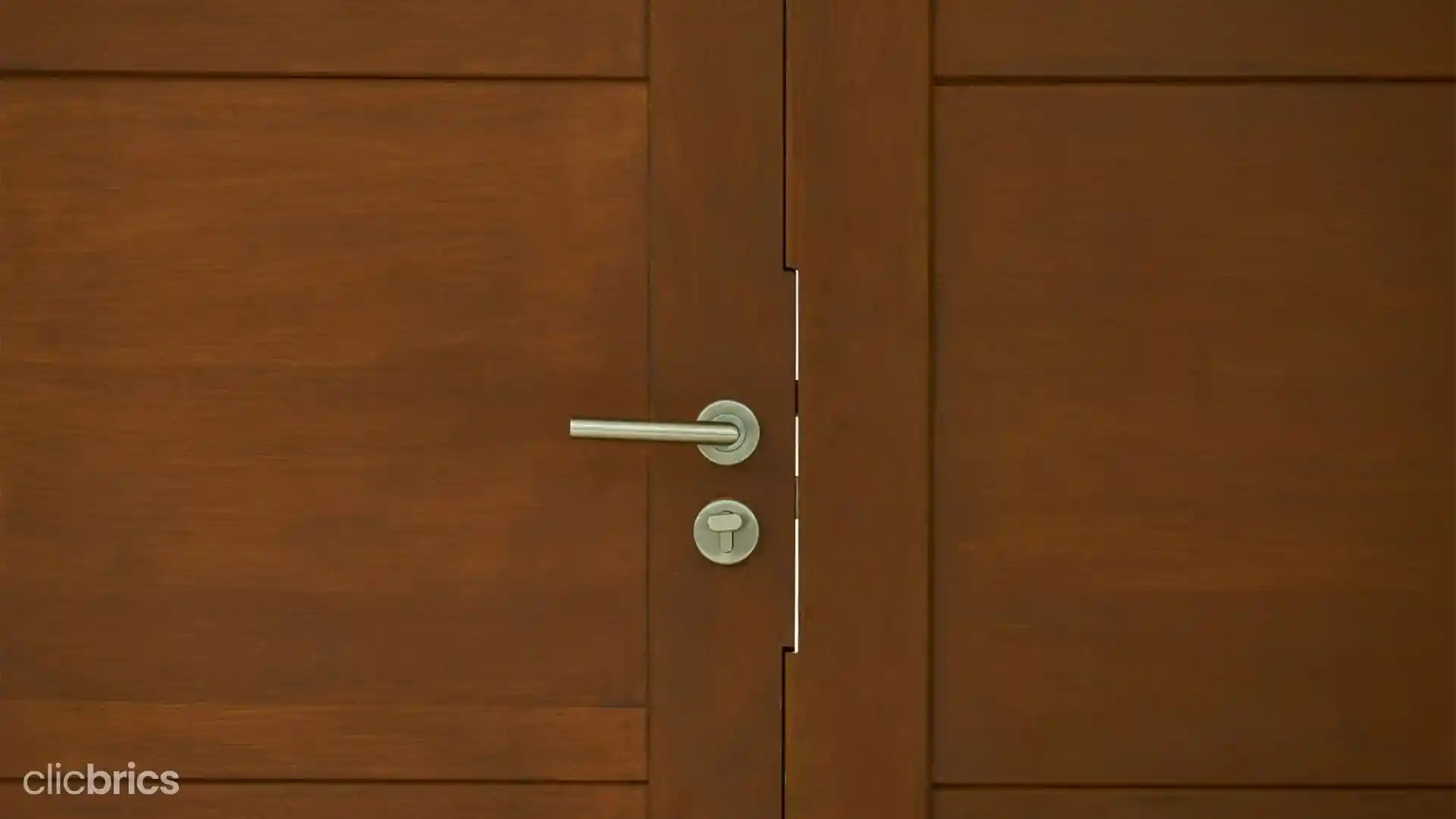 If you already have a teak wood main door design at your home and are looking for a way to enhance the look without having to spend a lot of money, here's what you can do: flank the door by incorporating suitable lighting units on both sides of the door. It is the easiest way to boost the charm without replacing it from scratch. 
Perks of Installing a Teak Wood Door Design 
With unique grain and colour patterns, teak wood has a tendency to create a long-lasting aesthetic appeal. The sturdiness of teak enables designers to create a variety of designs. 
Teak doors have water-resistant properties, thus preventing doors from splintering and permanently providing a smooth look. 
The teak wood main door design is high in oil content, making it immune to rotting and safe from fungal attacks.
They also retain their dimensions and do not shrink when exposed to moisture. 
You don't have to work on maintaining the aesthetics of a teak wood door design. Just simply wipe it down with a cotton cloth, and it's done. 
Don't Miss Reading: Vastu Shastra Compliant Tips for the Home Entrance Door
Wrapping It Up
The best quality of teak wood is that it is highly durable and has a pleasant aesthetic appeal. So, choosing the teak wood main door design will be good in terms of safety, security, and aesthetics. We also hope that the above information and teak wood designs have made it easy for you to choose the ideal one for your home. But remember one thing that when shopping for a teak wood door design for your home, make sure that it complements the exterior of your home.