Table of Content:
Our very own main door is the focal point of the exterior of our house. It is the first thing our guests see when they arrive and the last thing they think about as they prepare to depart. Everyone, including your neighbours, delivery people, postmen, etc., will first notice your main door design. So, it is essential to make an excellent, long-lasting impression on your main door design. Although many Indian homes simply apply a coat of paint, why do what everyone else does? Try these spectacular Indian main door designs for your house instead, which will reveal a lot about your sense of style and personality.
Spectacular Design Ideas For Your Home
1. Wooden Panelled Main Door Design 
If you want a simple house main door design that fits your budget correctly, you can make your entry look more traditional by adding wooden panelling. Consider hanging an extravagant light fixture over the room to add a little flair. Also CLICK HERE, to know how in 5 simple ways, bamboo furniture will boost the charm of your place.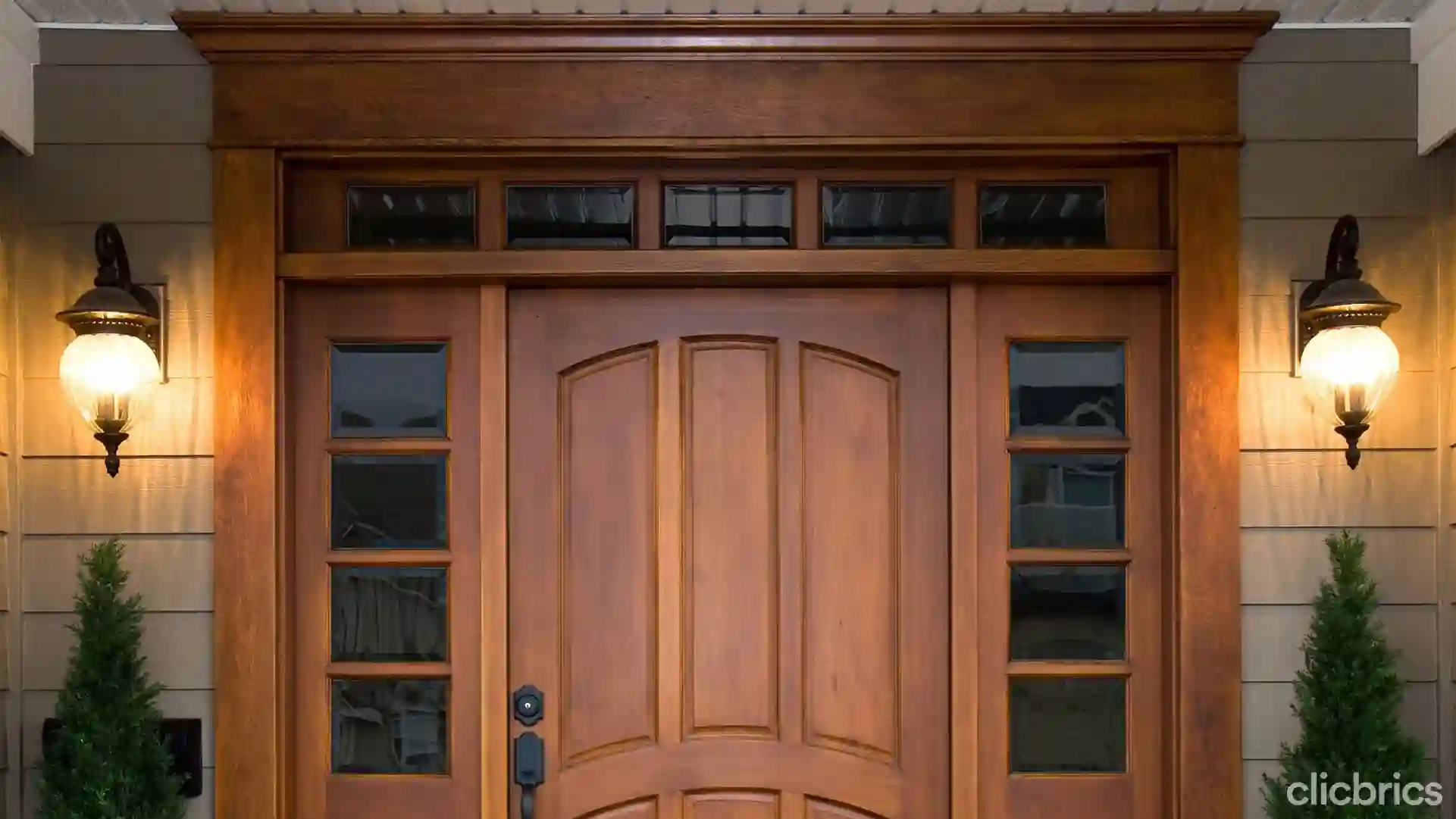 2.
Wooden Double Door Design
The main door design with a double door is perfect for the entrance of a great house or a villa. This type of double door design with wooden grains for the main door aids in producing an aesthetically pleasing appearance.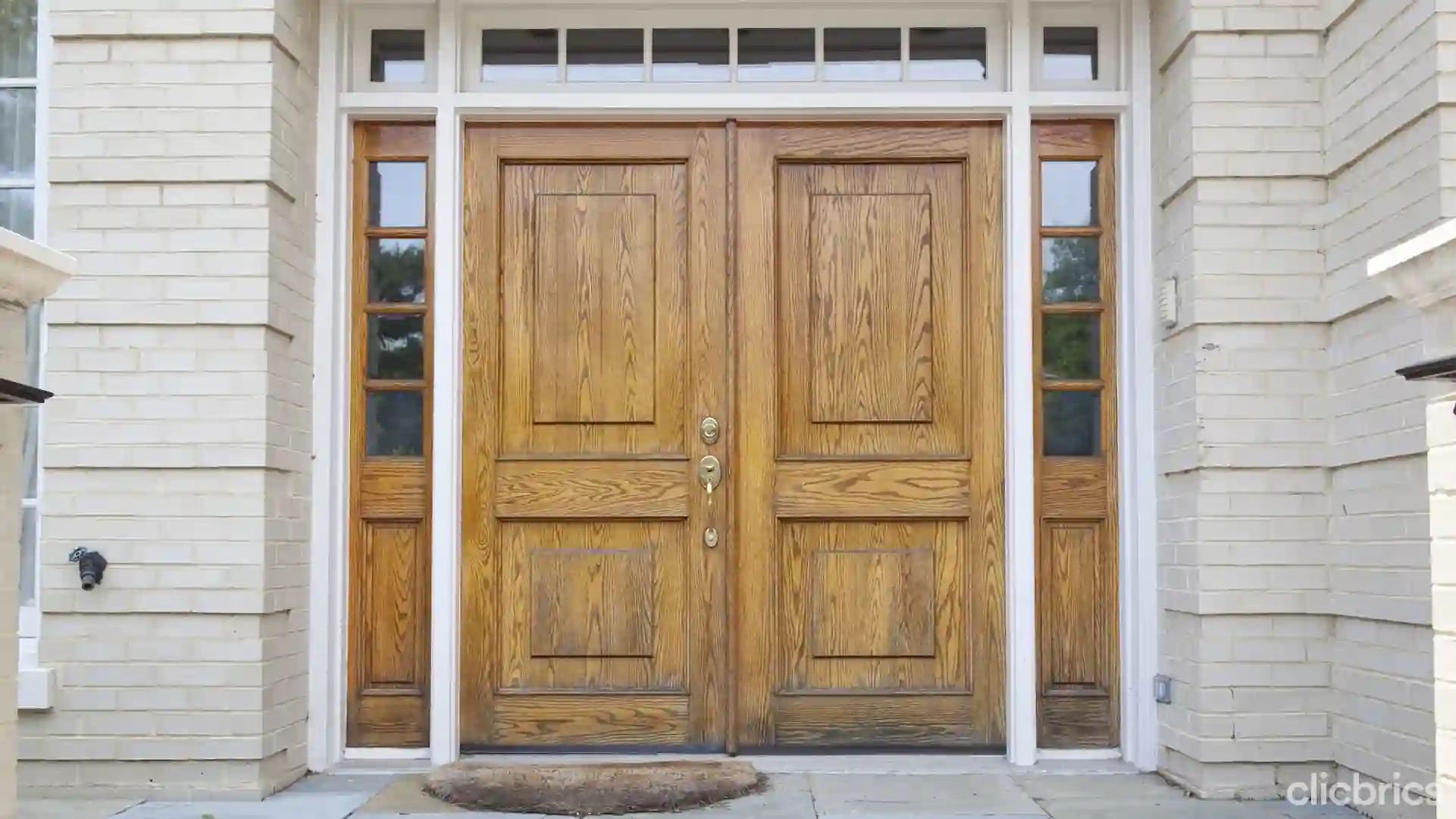 Also Read: Home Door Designs For Interior Doors
3. Brass Main Door Design 
A brass main door design is a good option if you're seeking modern main door design ideas for independent floor or bungalow-style homes. It is completely fireproof and rust-resistant; brass is known to be a good and reliable metal for the main entrance design. You also don't need to spend time on maintenance. You can select the perfect brass main door design that perfectly complements your interiors and exteriors; distinguishes your home door design from the competition. Check out sliding glass door alternatives here!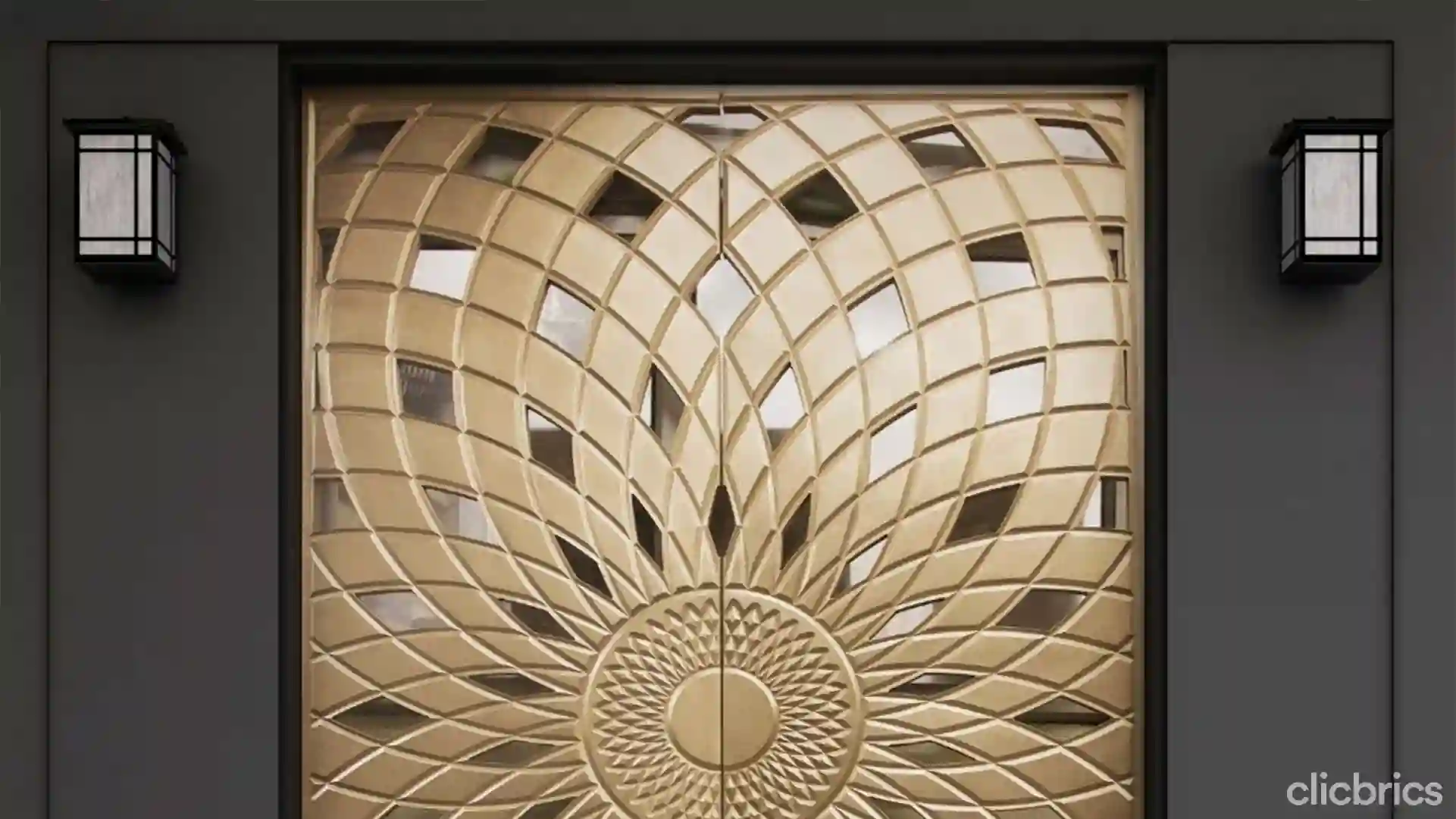 4. Glass Panelled Main Entrance Door Design
Are you trying to find the latest main door design in the market? Stop your search right away! Use glass in your main door design if you want it to look stylish. You will undoubtedly get compliments on it as it looks sleek and dynamic. Another reason why a glass-panelled main entrance door design is an excellent option for an Indian home is; it lets light from the outside come inside without invading your privacy. If you are sure to select this type of main door design for your home, you should be aware that other options are available, like asymmetrical reed glass, sleek engineered wood with narrow panels, and others.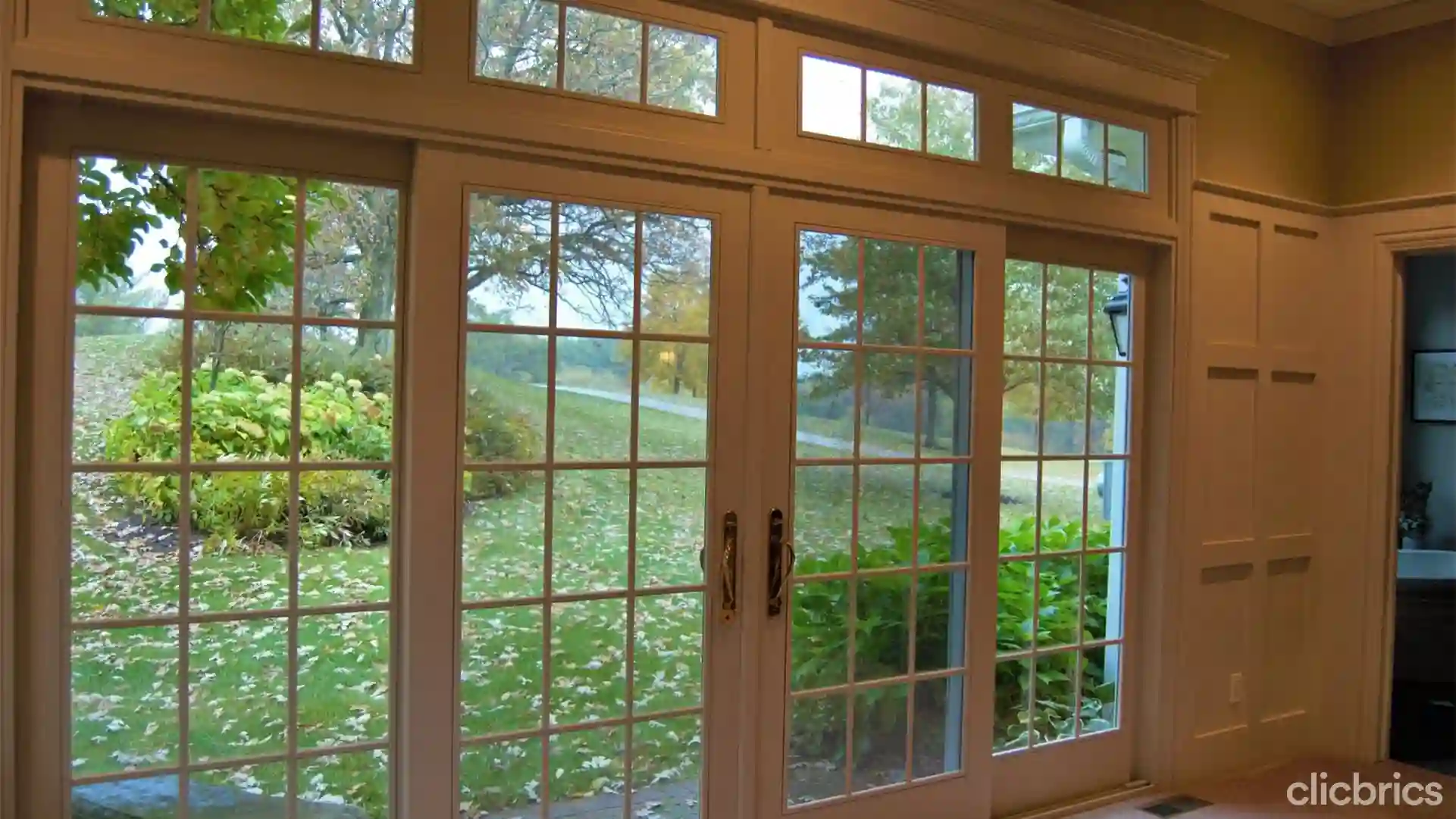 Also Read: Facing Stone: Use, Advantages and Disadvantages
5. Traditional Rajasthani Inspired Door Design
If you are thinking to go for a traditional main door design for your home, Rajasthani-inspired designs should be taken into account. It's because the wooden door designs for the main door are so distinctive and exude an air of old-world elegance. Even though people nowadays may not use Rajasthani-inspired main door designs for flats, you can still use them for your farmhouse to add an antique touch.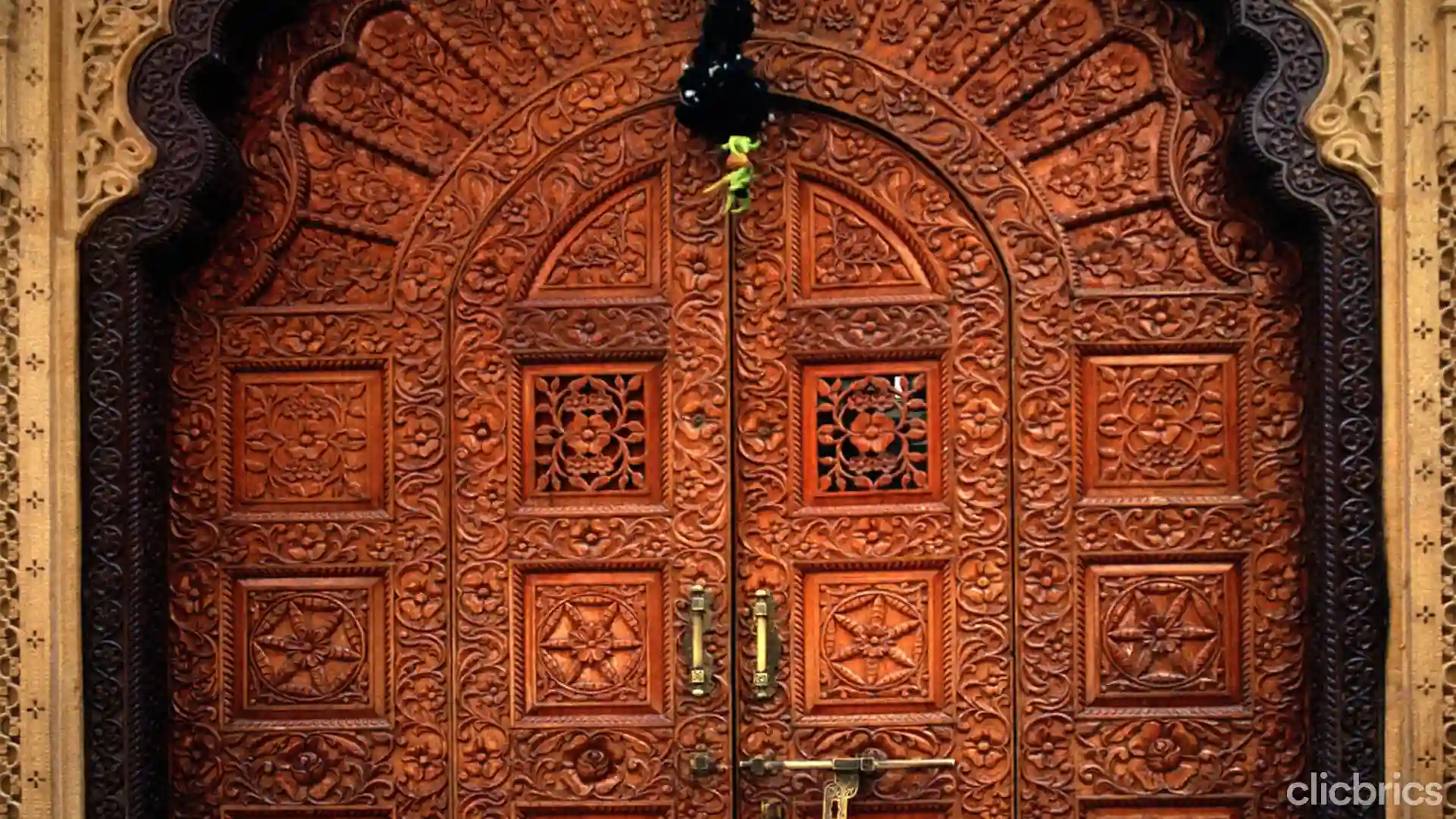 Also Read: Exterior Paint Colour Ideas for An Appealing Home Look
6. Hand-Carved Main Entrance Modern Door Design
The attraction of a sturdy main entrance modern door design is unique, and it will look much better with some hand carving. You can utilise brass work on your main door design to make it look like a classic Rajasthani theme. Or you can customise it in the best possible way that matches the interior of your home.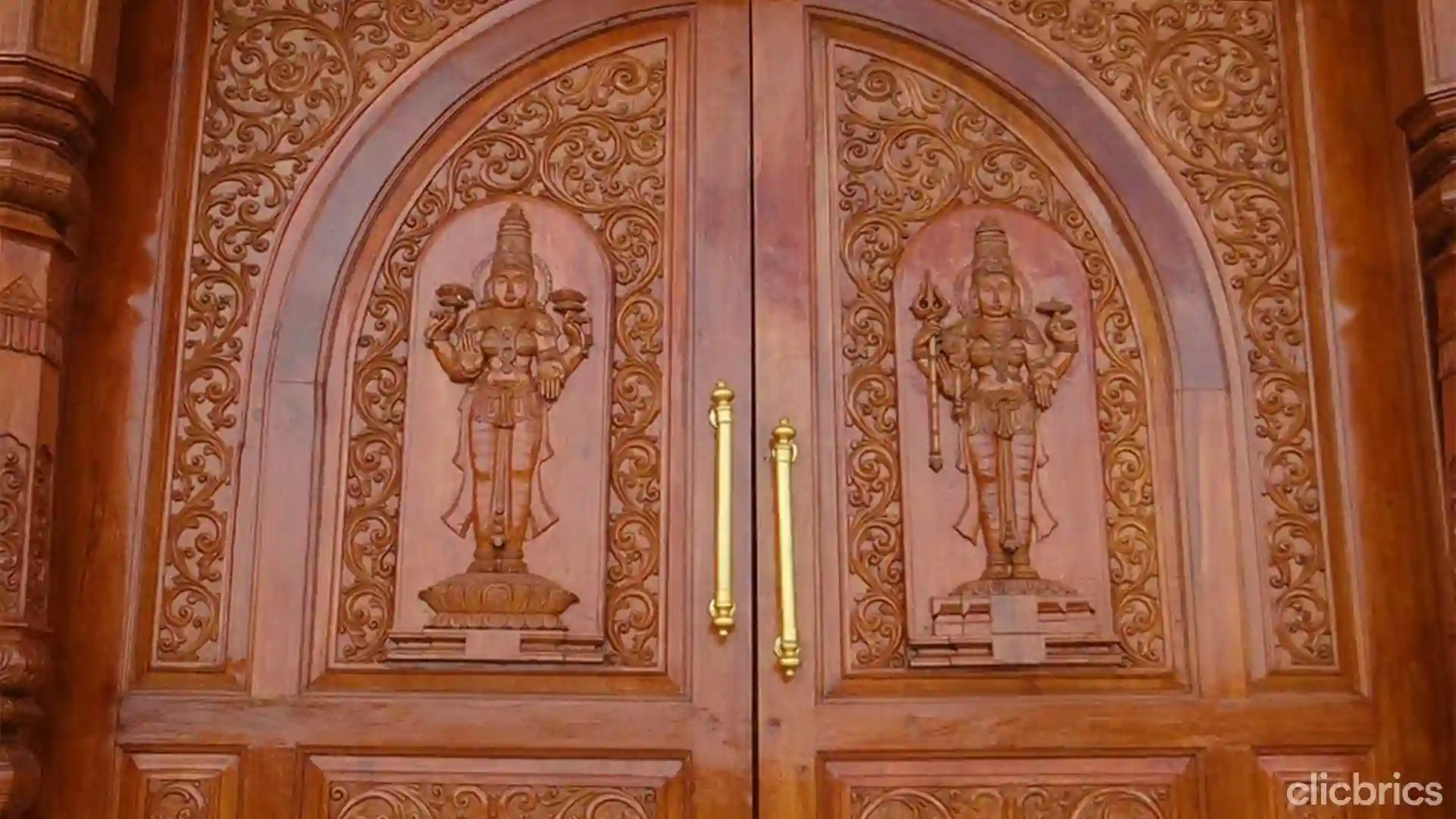 Also Read: 5 Trending Main Door Grill Designs for Flats
7. Copper Indian Main Door Design
The main door design made of copper will tell volumes about your taste, luxury, and richness, much like brass elements. The majority of main door designs have hand-embossed stardust patterns. Some people prefer having copper main door designs because it requires the least amount of maintenance and does not crack easily.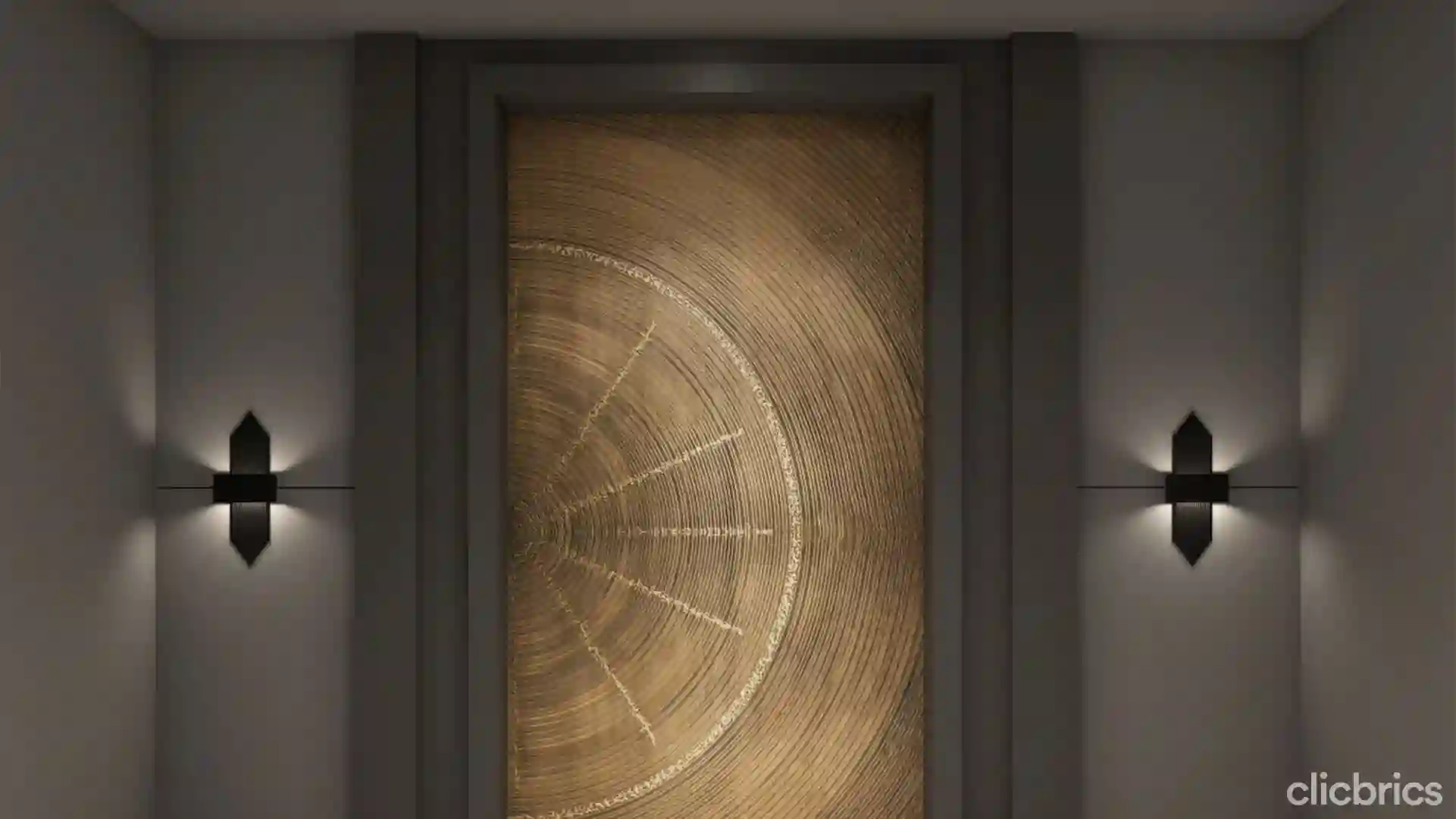 Also Read: Indoor plants to add extra greenery to your home
8. The Arched Main Door Design 
If you want to stand out and make a statement, you should go with the arched main door design. Choosing the main door design that complements your preferences and the inside of your house will lend a certain level of standardisation to it. You can establish that benchmark if you choose a solid-panelled, arched door made of dark solid wood.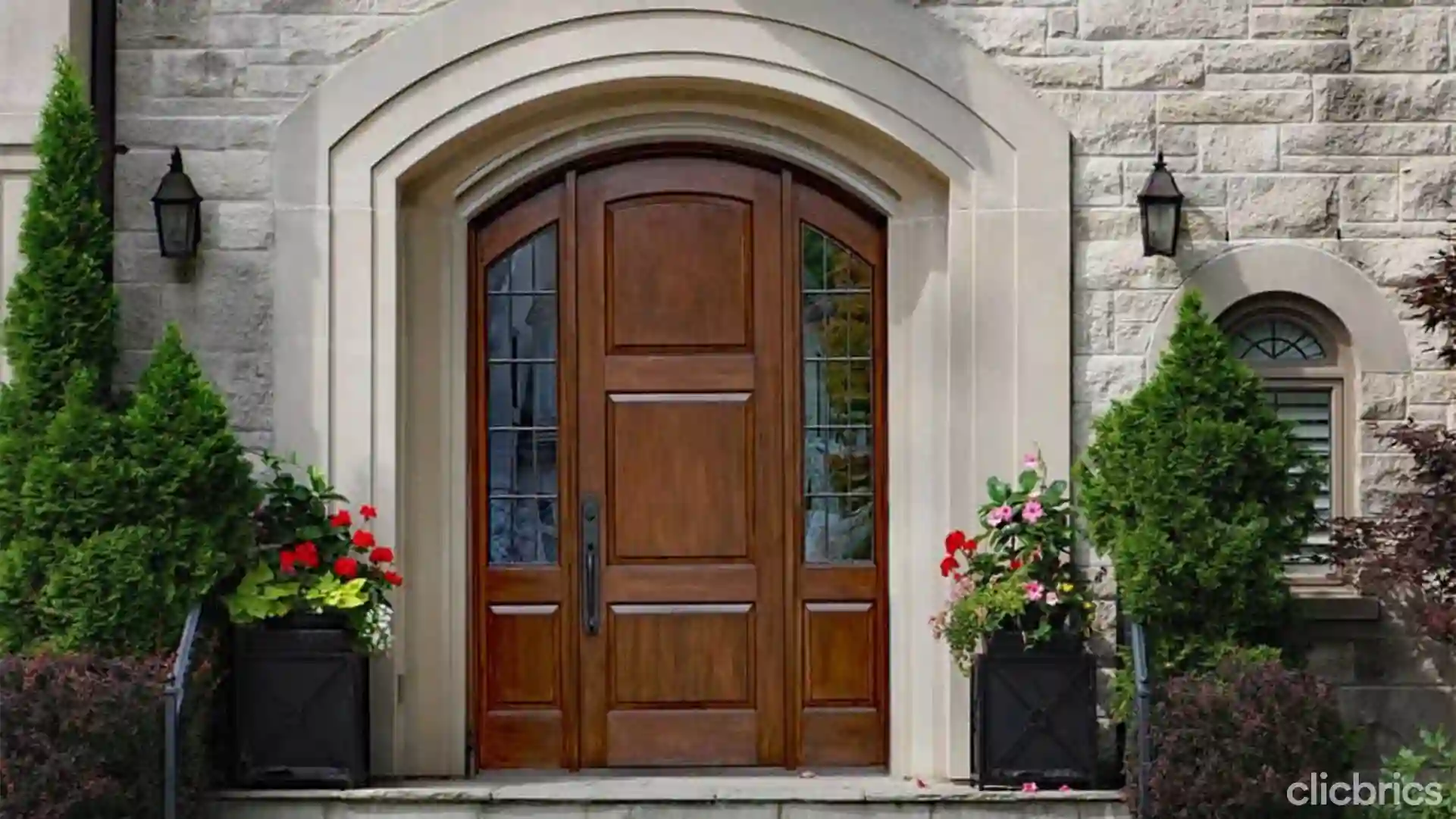 Also Read: Ideas to make an ultimate outdoor kitchen
9. Lattice Wooden Main Door Design
Anyone who sees a modern door design with an oak foundation lattice arrangement is always stunned. Having a lattice main door design will look phenomenal, especially in apartments.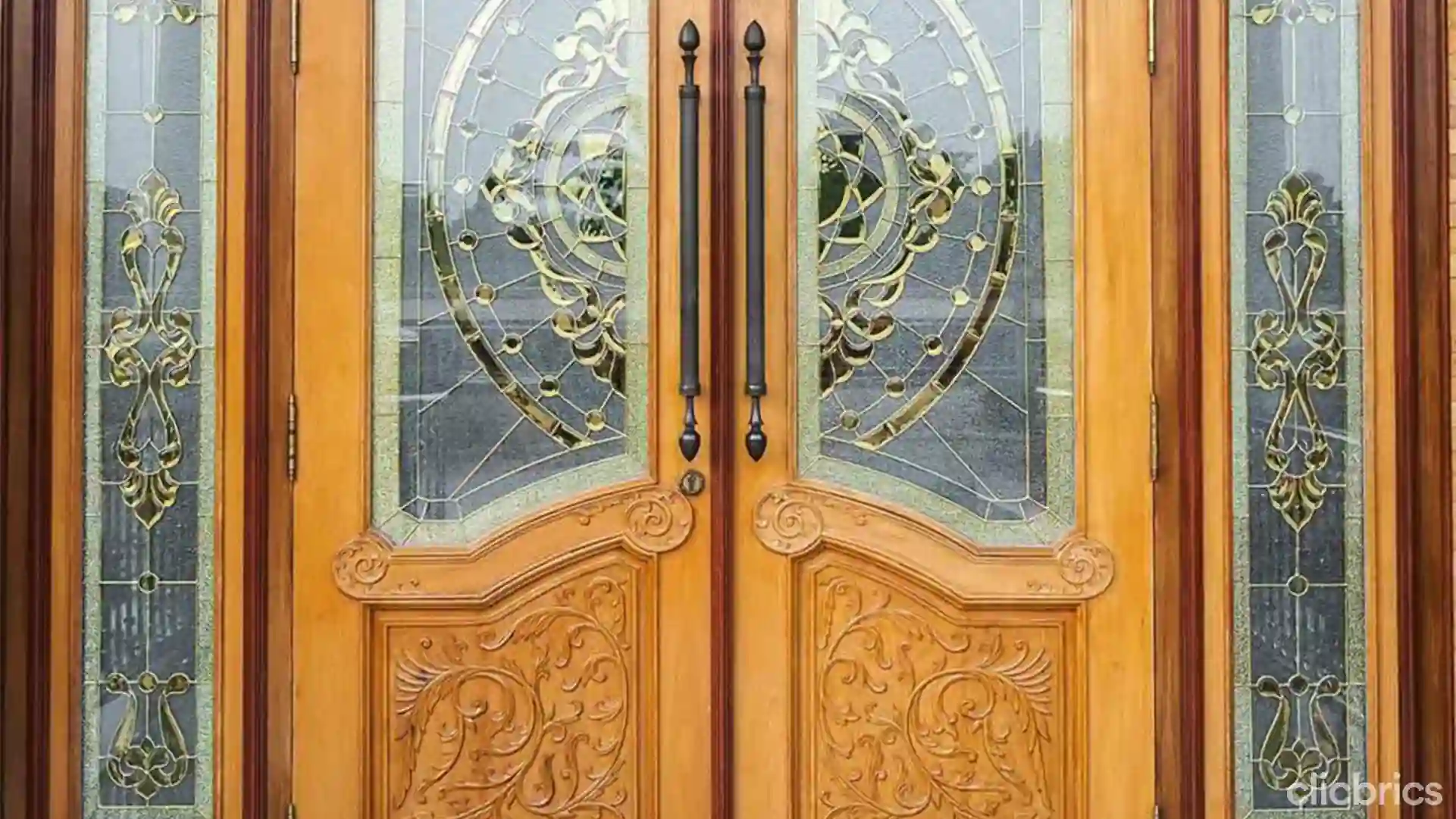 Also Read: These are a few irresistible colour combinations for your Bedroom Walls
10.
Colourful Main Door Design
Today, many individuals are focusing on having colourful main door designs rather than ordinary plain ones. If you fall into this category, you can choose a hue of blue for your entrance door. Not just any blue, but various shades, from cobalt to berry blue.
In addition, a lot of people believe that red is a powerful colour choice for the main door design. According to traditions, homes with red main doors are protected from negative energy. Additionally, homes with southern facing frequently include colourful main entrance.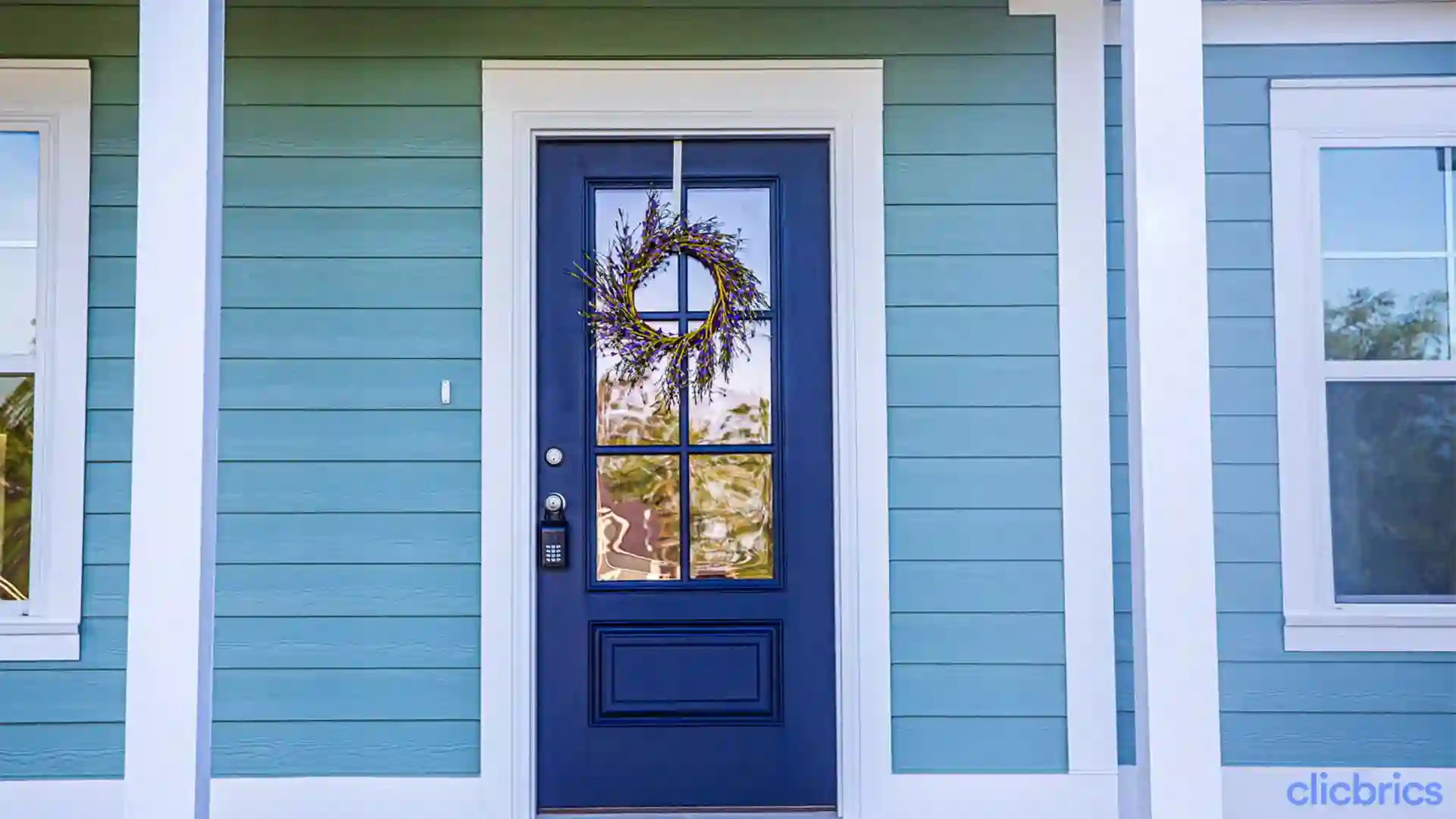 Also Read: Is north west-facing house good according to Vastu?
Mandatory Vastu Tips to Follow for Your Main Door Design
Build your main door design in the north direction if you're seeking wealth. 

You've probably noticed yellow lights hanging on many Indian main door designs because doing so is thought to be lucky.

Never place a trash can near or at your main door.

Never put a mirror in front of the main entrance since it can bounce back positive energies.

Blue, red, yellow, beige, or other earthy colours like wood can be used in your main entrance designs.

It is considered lucky and will bring success to your home if there are an odd number of steps close to your front door.

You can include a wooden nameplate with embossed or etched details on your main door design.
Your main door design is the first thing guests notice when they arrive. And, as they say, the first impression is the last impression! You should create a strong main door design that serves both security and aesthetic purposes. And we hope the main door designs that we described above were sufficient for you to choose the ideal one for your home.
Also Read:
Bhumi Poojan Muhurat 2022