Table of Content:
If you want to know the key to a bedroom's attractiveness, look no further than installing modern wardrobe designs, which give bedrooms the ideal aesthetic. Modern wardrobe designs are becoming increasingly popular because they offer enormous storage capacity and space for tiny goods like clothing, bedsheets, etc. We have researched and listed some of the most magnificent modern wardrobe designs to find your ideal wardrobe. So, without waiting any further, let's dive into the article and find a stylish modern wardrobe design for your home.


1. Waxwing Modern Sliding Wardrobe Design
The modern sliding wardrobe with two doors has sliding doors on both sides and is called a two-door waxwing. These modern wardrobe designs give us a lot of storage space for hangers, clothing, and other necessary items in the shape of shelves and drawers. This is a great option if you want something special that elevates the aesthetic of your room. You need these 6 gadgets to convert your home into a smart home.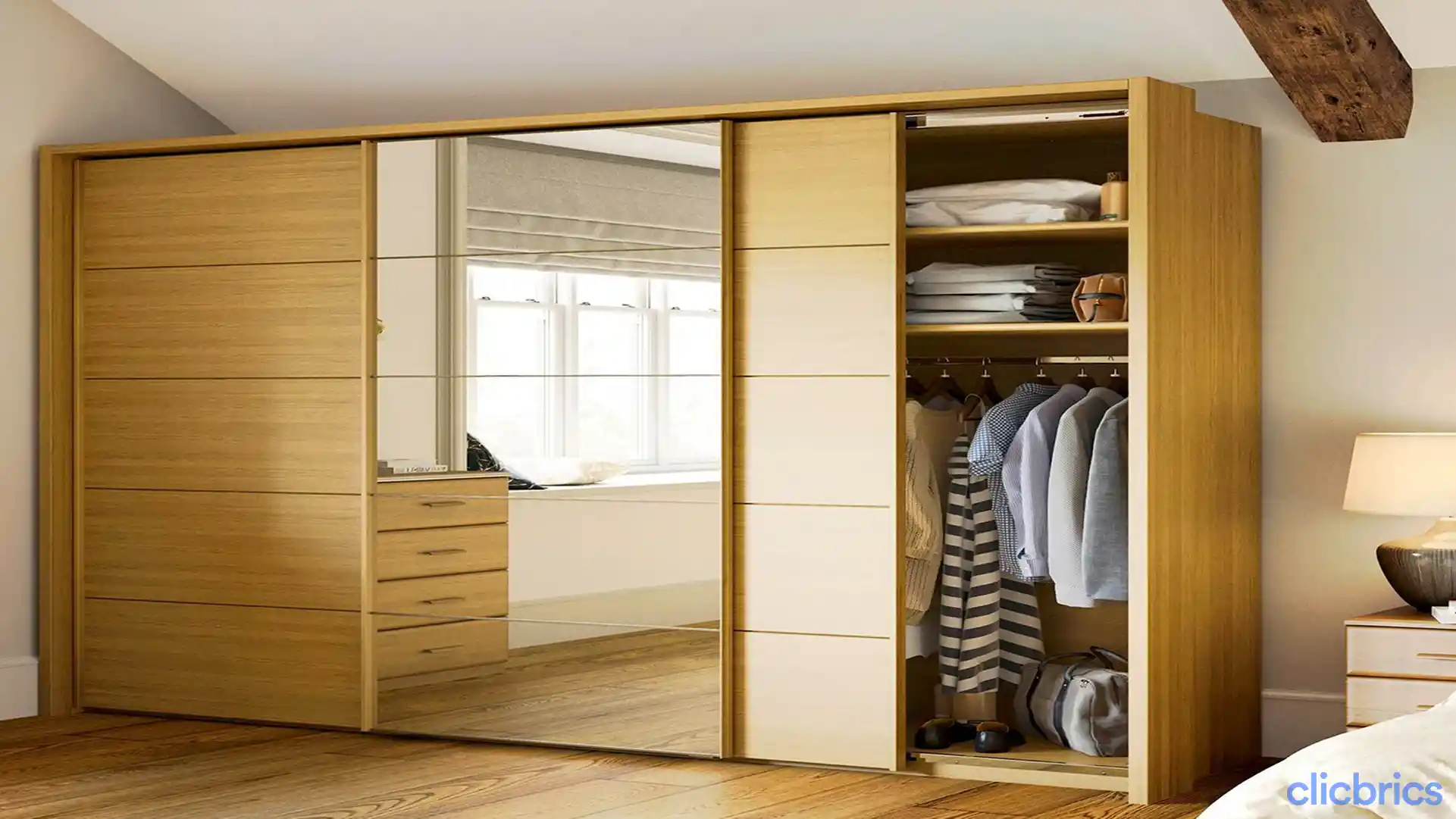 2. Monal Modern Wardrobe Designs for Bedroom
Another option in the modern wardrobe design is the monal wardrobe. Although it is commonly believed that modern wardrobe designs accessible in India are generally pricey, that is not the case in this instance. Monal wardrobes are reasonably priced and readily available. It is a six-door wardrobe with long, square-shaped handles. The pull-out drawers are placed after the series of shelves in the monal wardrobe. This modern wardrobe design inside has a lot of space available for hangers. Overall, it is the ideal piece of art furniture to enhance the look of your bedroom.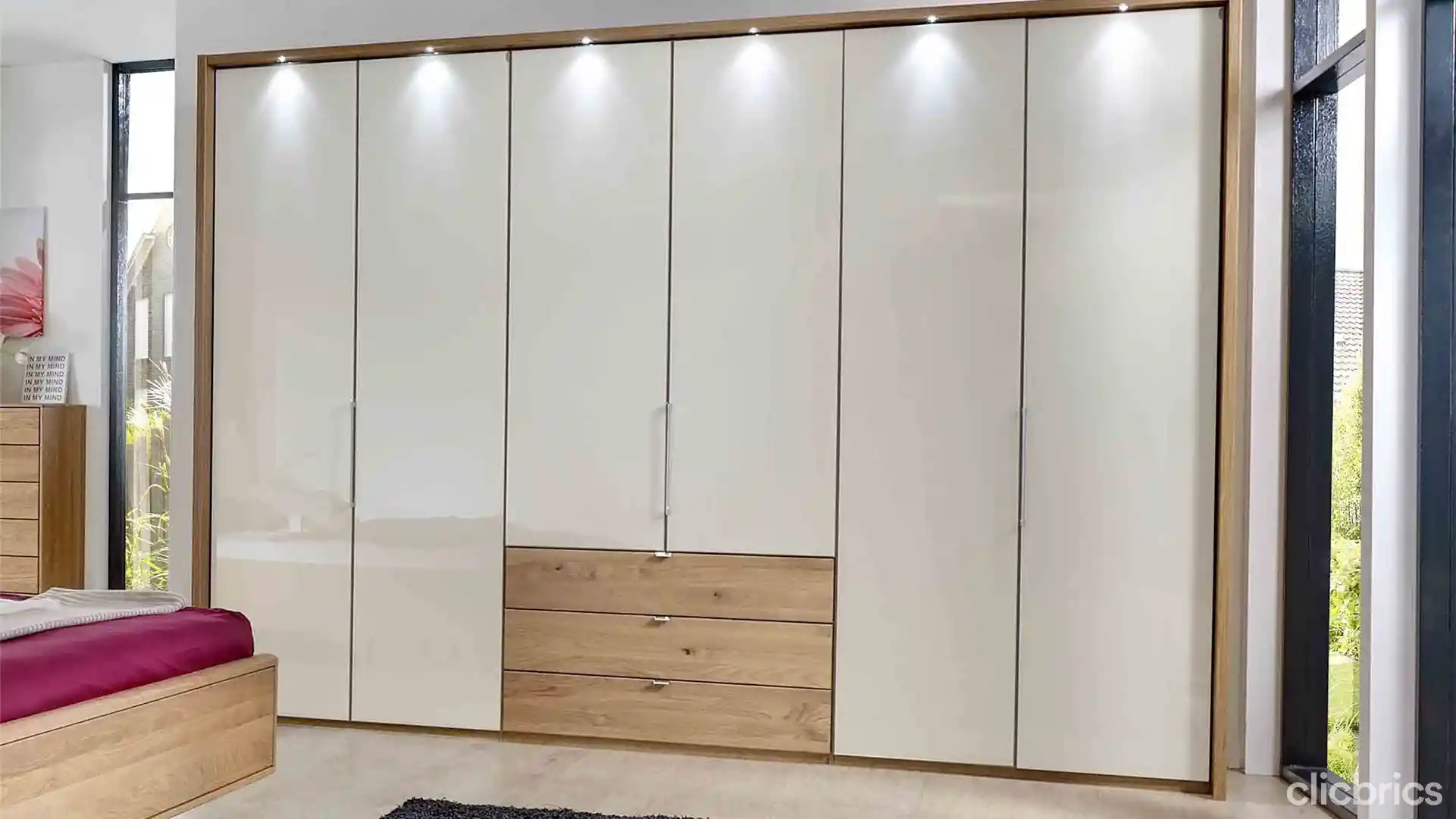 3. Open Concept, Modern Wardrobe Design
To be honest, open-concept modern wardrobe designs are not for messy people. The open concept wardrobe is ideal for you if you don't fall into this category and prefer to keep things organised. Although the open storage makes it possible to see your belongings plainly, these modern wardrobe designs are quite aesthetically beautiful.
Also Read: Simple Decluttering Tips to Maximise Your Home Value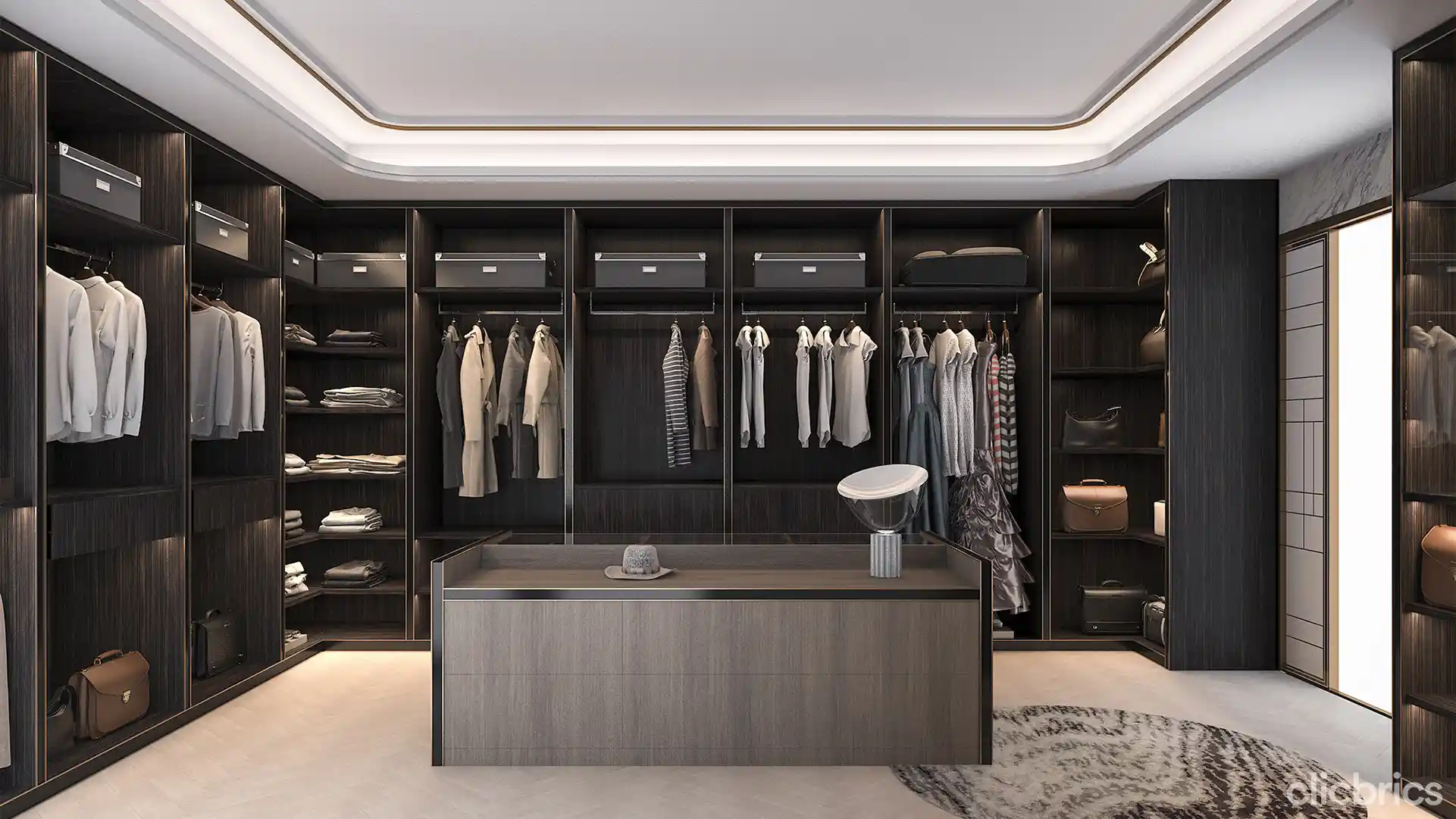 4. Modern Wardrobe Designs with Laminated Doors
If you are surfing the web for modern wardrobe designs online, you have undoubtedly encountered laminated door cupboards. You can acquire laminated door cabinets and paint them in your style. To have a perfectly polished appearance, you can alternatively choose a laminated wardrobe with plywood or wood. These small adjustments won't cost much and can be made quickly and affordably in the market.
Also Read: 5 Common Room Layout Mistakes to Avoid in 2022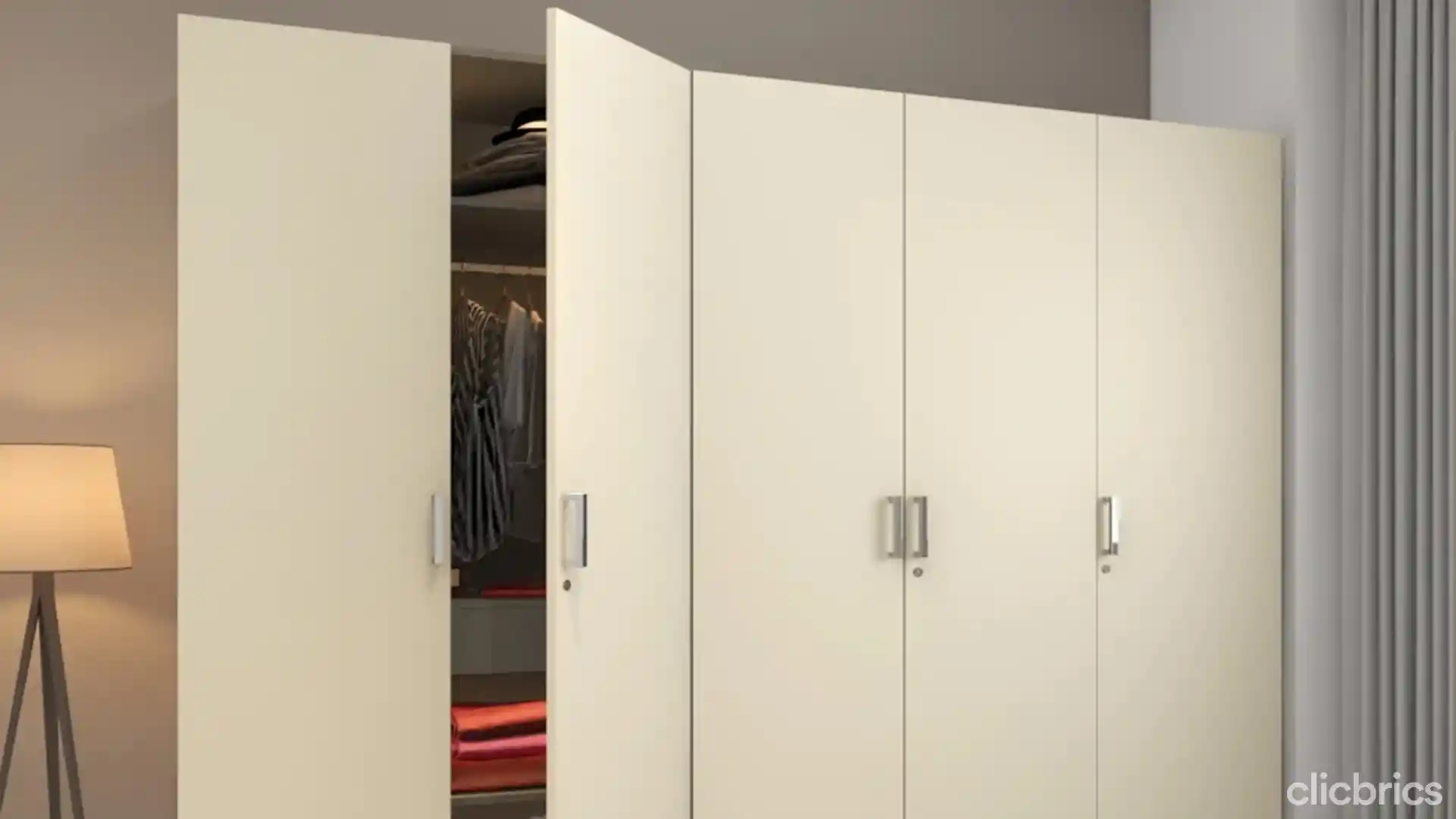 5. Modern Wardrobe Design with Panelled Interior
The new age, ultra-mod, and fashionable panelled modern wardrobe design should be your top choice if you want to improve the look of your bedroom. People specifically purchase them when they wish for modern two-colour sunmica designs for their wardrobe. Depending on how your room looks, you may choose a vibrant colour and add a neutral one.
Also Read: Functional Children's Rooms: Set Up Your Child's Dream Room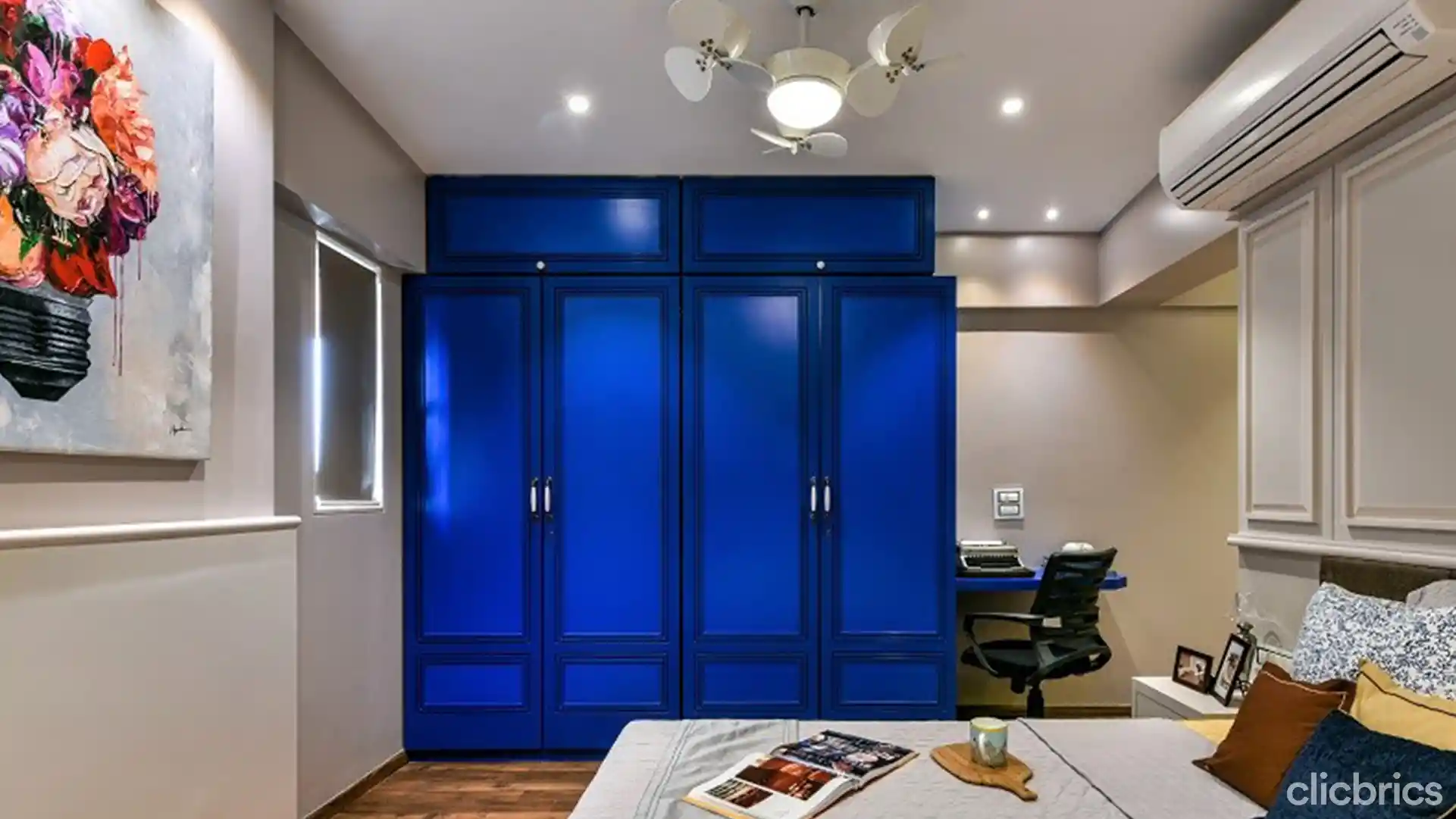 6. Glass-Door Modern Wardrobe Design with Dressing Table
If you're tempted to display your expensive designer clothes, you can build a glass-only wardrobe. Although it is safe to say that these kinds of modern wardrobe designs are pricey and demand a lot of upkeep, nevertheless, they are surprisingly durable and give off a gracious appearance. You can also install a wardrobe that is fitted against the wall. It will create a space for a drawer, and you can place an alluring mirror that can go up to the wall. All you need now is a small, cute stool so that you can sit and get ready.
Also Read: 5 Magnificent Wardrobe With Dressing Table Design Ideas for 2022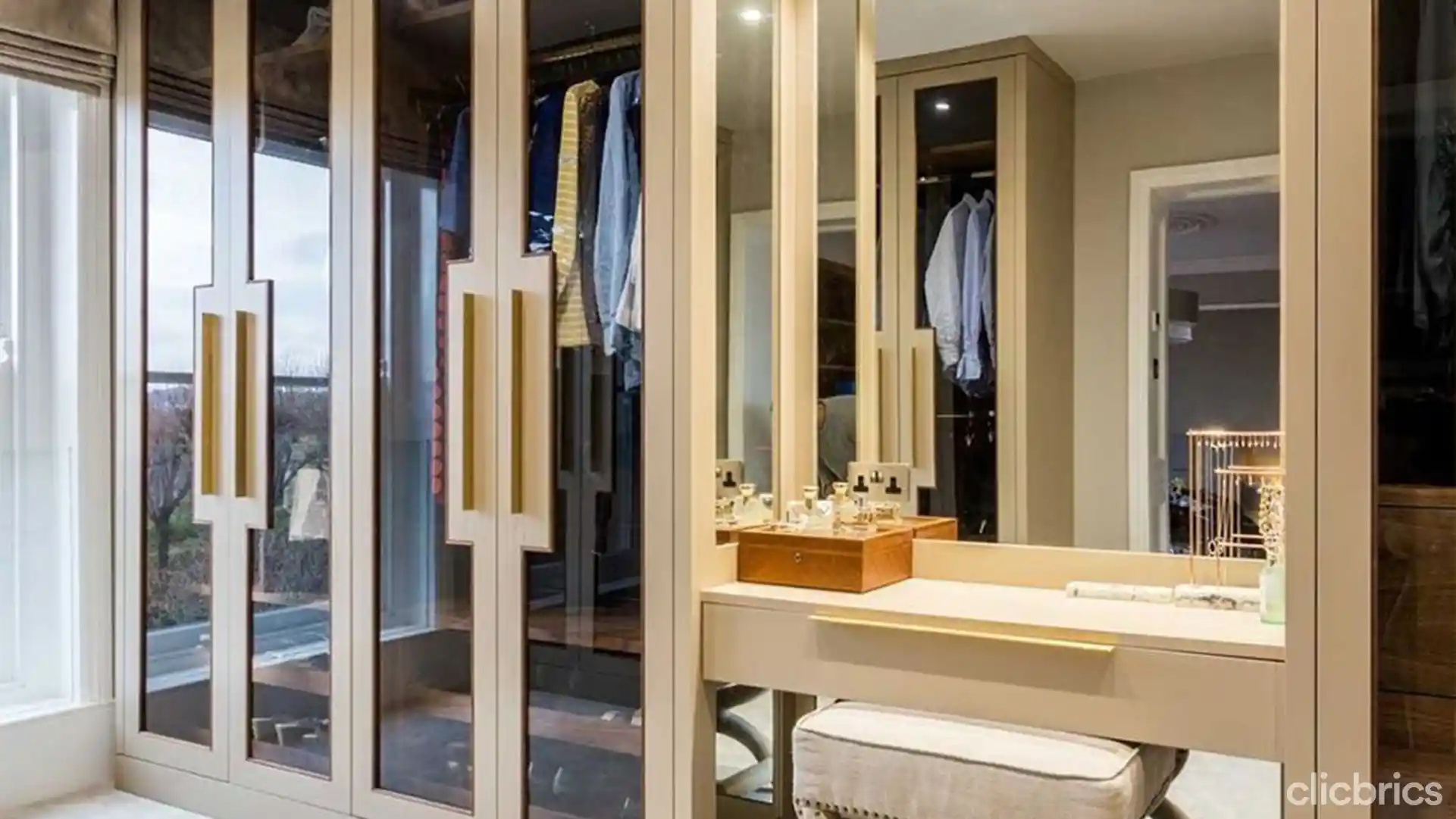 7. Modern Two-Colour Combination of Wardrobe Design With Wicker Work
Wickerwork has a unique place in the design process of furniture. Wickerwork appeared in sofa designs, moved on to room dividers, and has successfully flourished in wardrobe designs since it is trendy and still relevant. Pick a neutral colour for the weave patterns and match the base's white wood to the doorknobs. You will receive the modern wardrobe you have always wanted in this shape.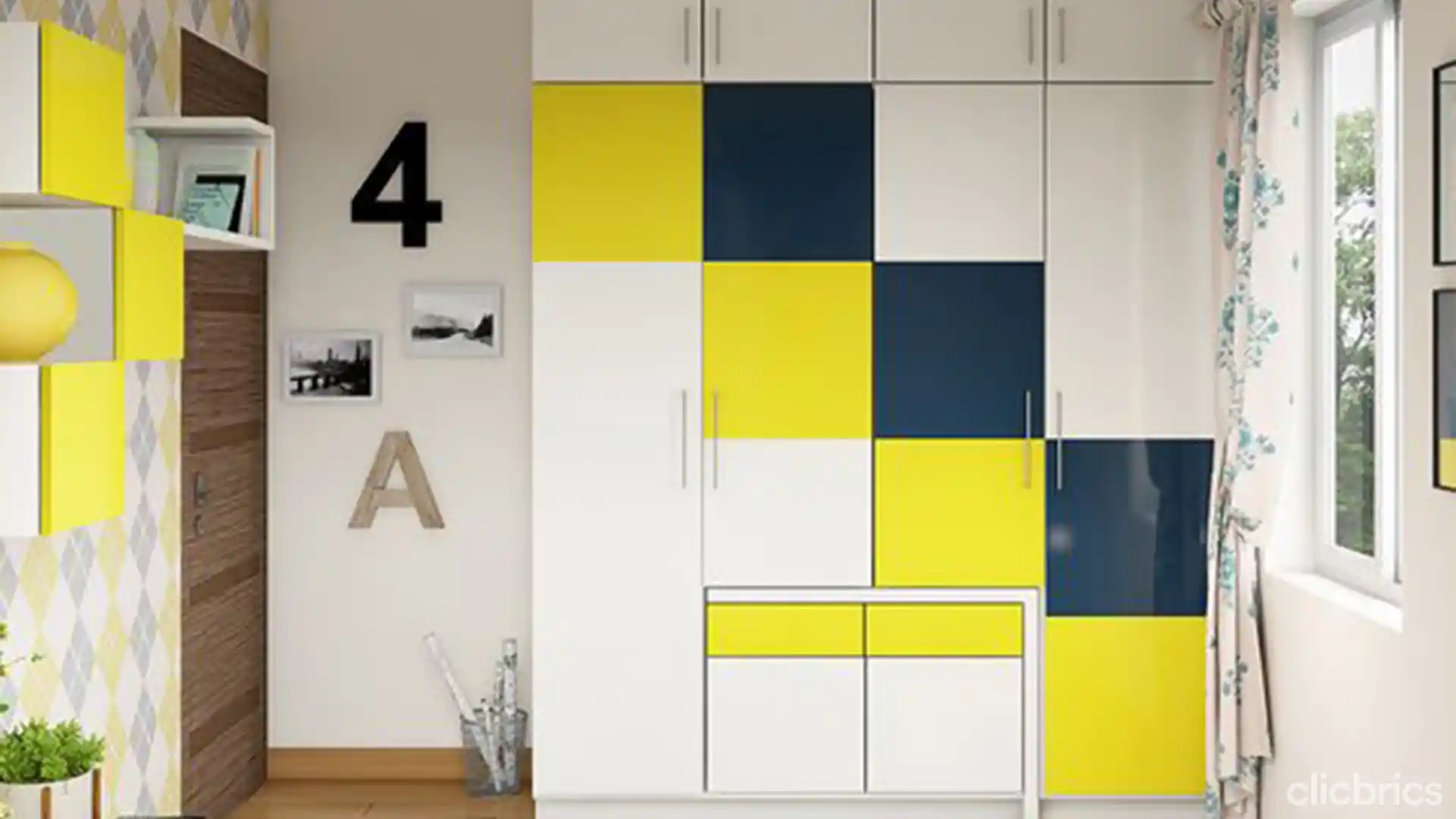 8. L-Shaped Modern Wardrobe Designs
It is a popular modern wardrobe style in both modern and traditional homes. Numerous types of door handles fit in this wardrobe. In addition, safety lockers and drawers are included with these types of wardrobe furniture.
Also Read: 5 Trending Main Door Grill Designs for Flats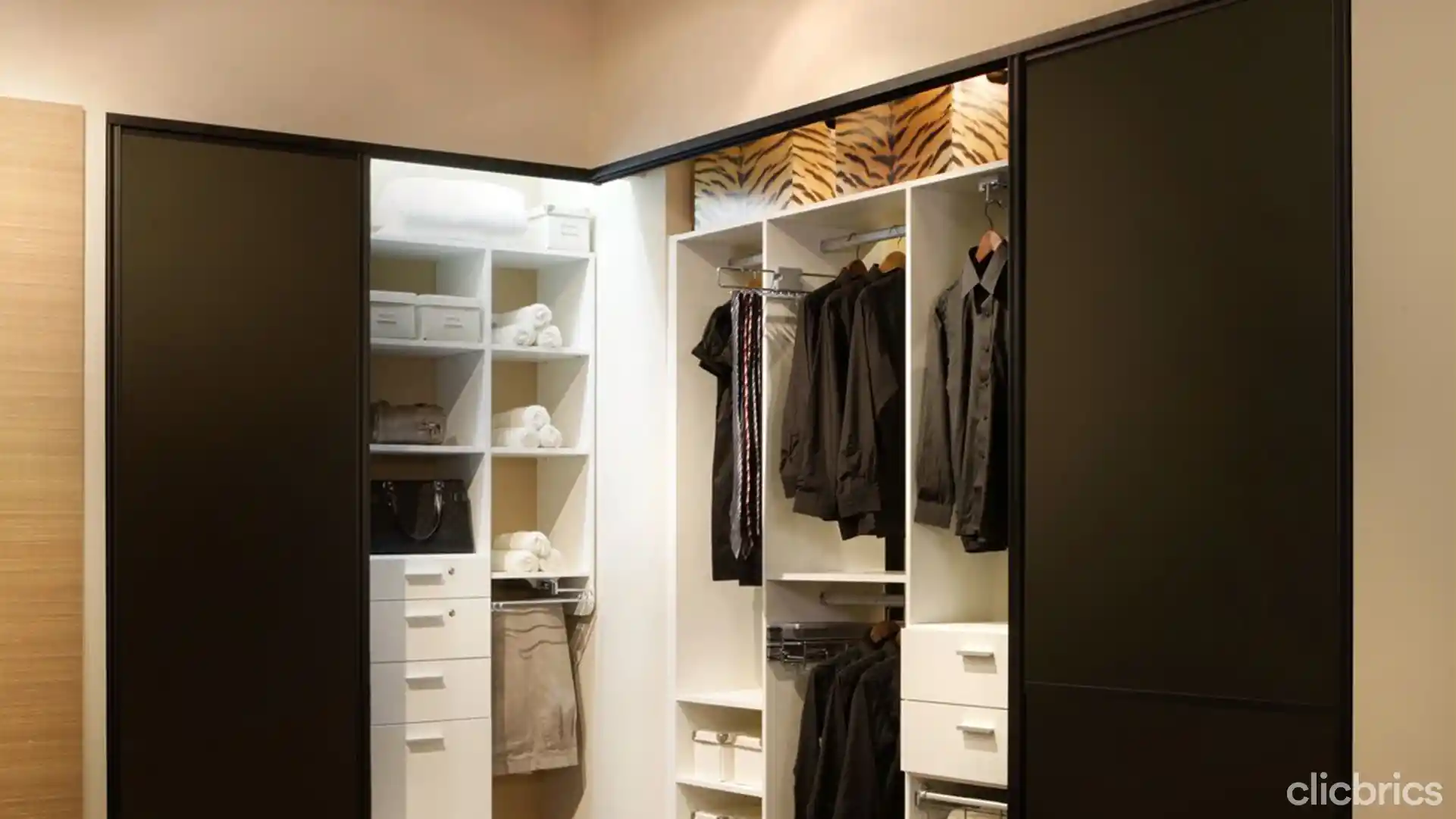 9. Modern Walk-In Wardrobe Design
Like Carrie Bradshaw, we are huge fans of walk-in modern wardrobe designs! The extravagant walk-in modern wardrobe designs are gaudy overall and gloriously roomy. People living in large apartments or villas prefer a walk-in closet. There will also be space in the wardrobe for shoes, so you won't need to worry about making a different shoe rack.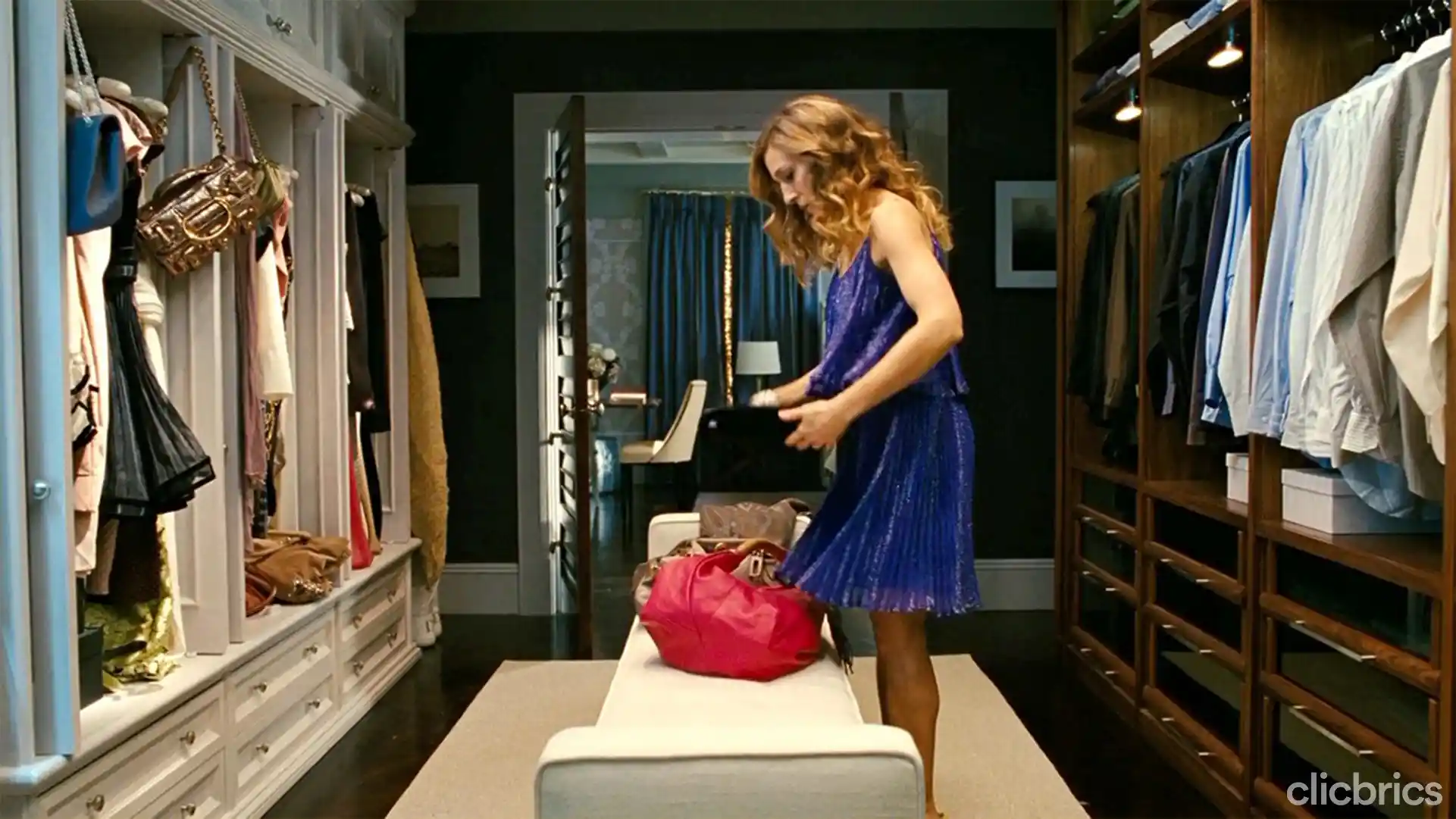 10. Modern Wardrobe Designs For Children's Room
You can give it your all when it comes to modern wardrobe designs for kids' rooms to make it the greatest! Installing a contemporary wardrobe gives you the option to personalise it with your child's favourite stickers, such as princesses, space-related stickers, etc.
Also Read: 5+ Anime Themed Room Ideas To Get A Stunning Manga Room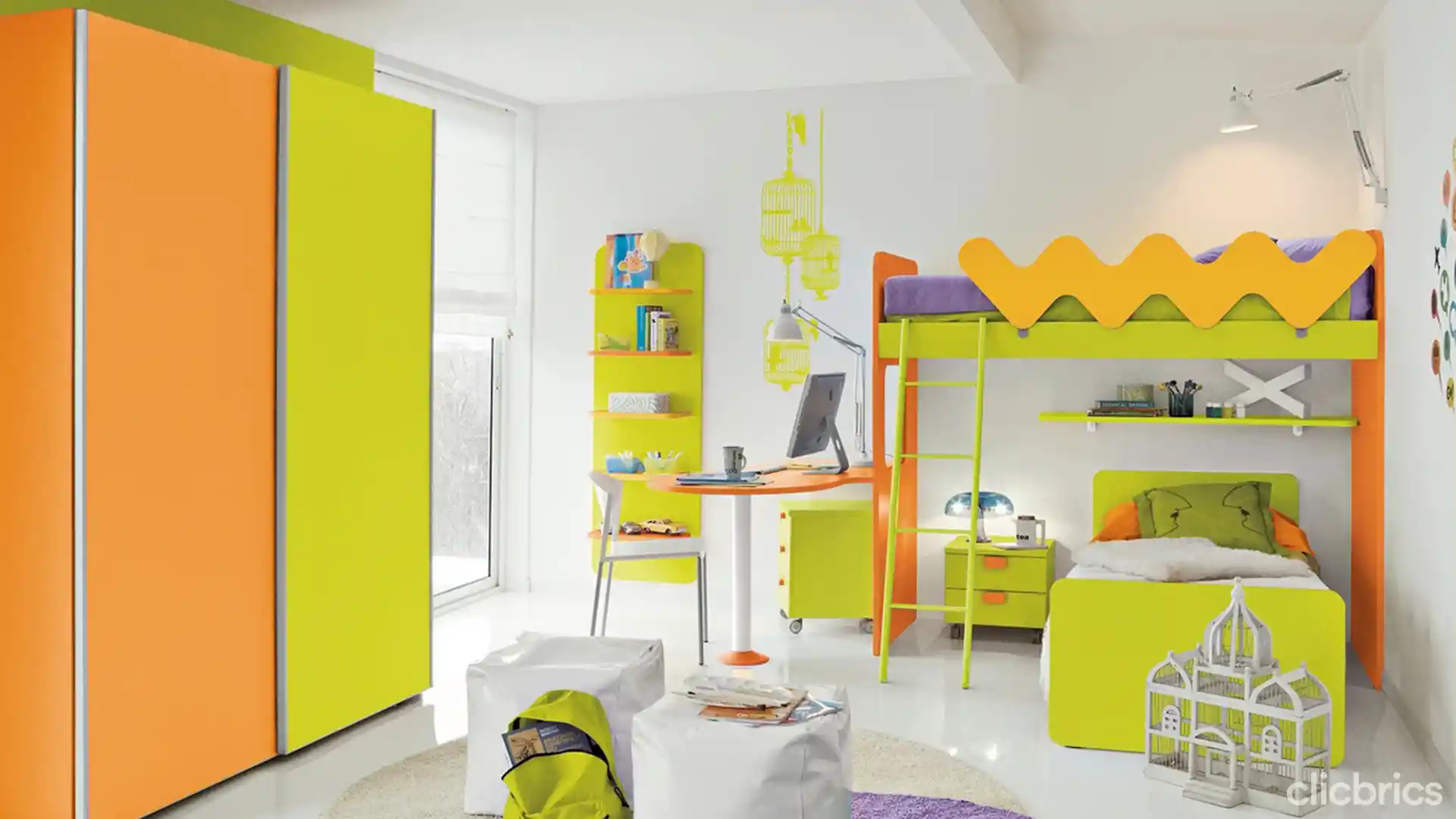 11. Black Modern Wardrobe Design
Many people choose to have white or wooden-textured wardrobe designs, but trying something different will make you stand out. Choose a black-coloured modern wardrobe since it represents richness, strength, and power. In addition, black dramatically alters the atmosphere of your home. If your room is white, going with a black wardrobe will look stunning and give your space a monochrome feel.Click here to see who will win wallpaper vs paint.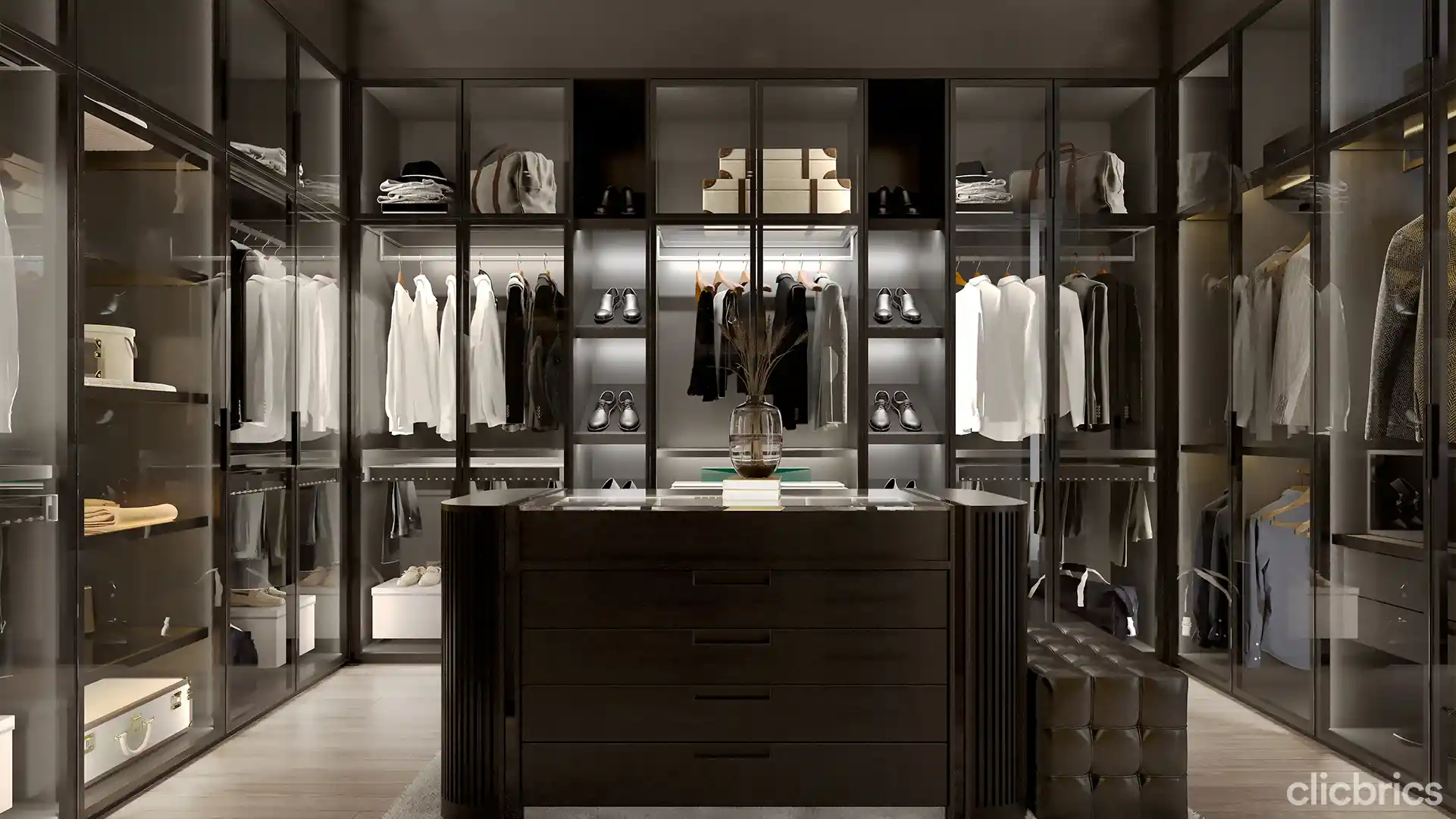 12. A Modern Wardrobe With a Study Table Design
People with children frequently require a modern wardrobe with a study table design. It is so because a closet that doubles as a study table is both useful and gorgeous. In addition, a wall in your child's room can be finished, so you can put cabinets on half of it and save the other half for a table. Finally, you may add a few shelves where children can put books or other stationary goods along with the vacant area.
Also Read: 8 Best Stone Tiles for Wall to Smarten-Up Your Home Exterior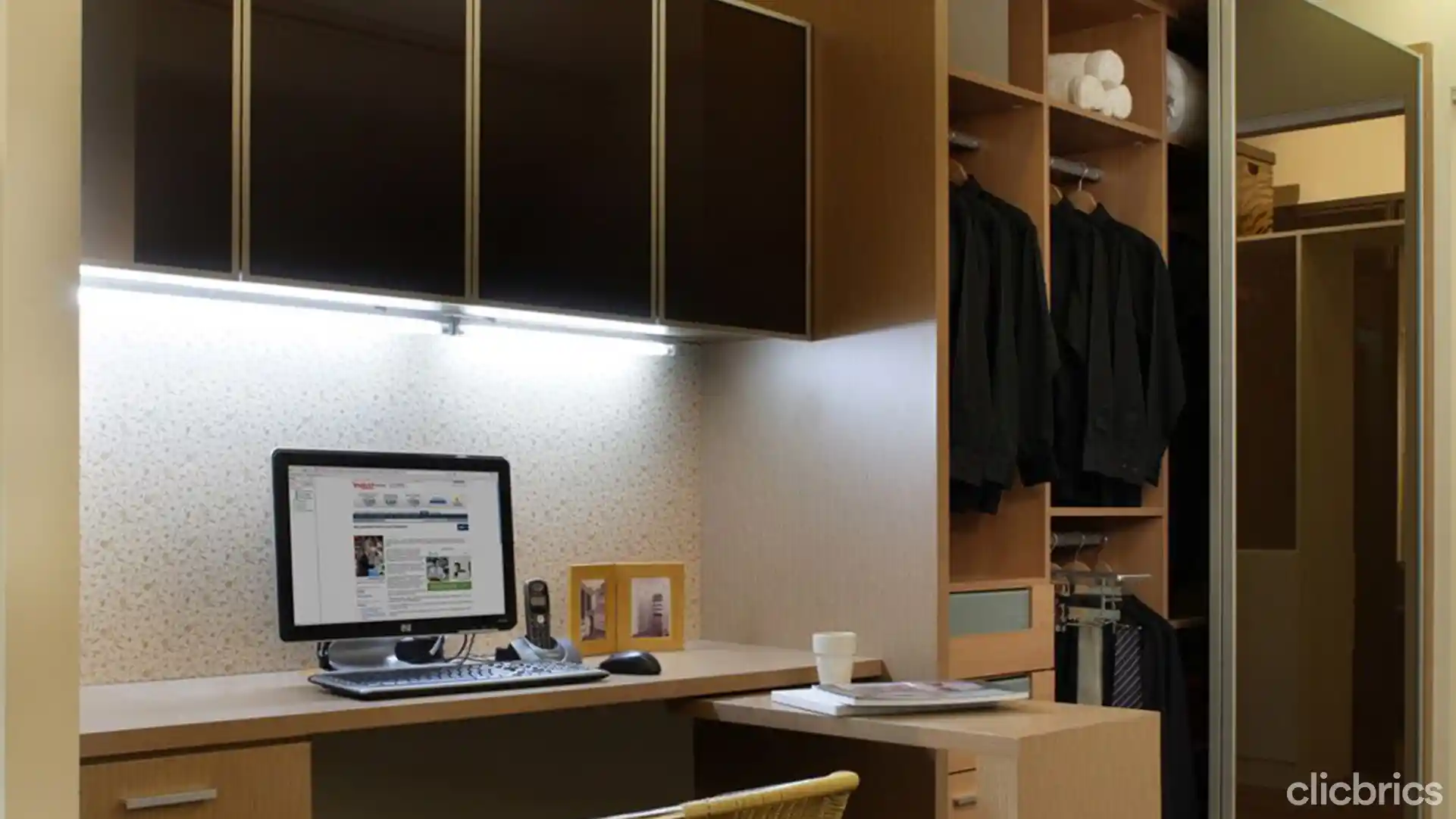 13. Master Bedroom Modern Wardrobe Design
You can absolutely choose vinyl doors for your closet, which are in high demand. They feature aluminium frames and are mounted on tracks. They come in lightweight and robust varieties. Wardrobes made of vinyl are a great option for a master bedroom. Click here to see a few irresistible colour combinations for your bedroom walls.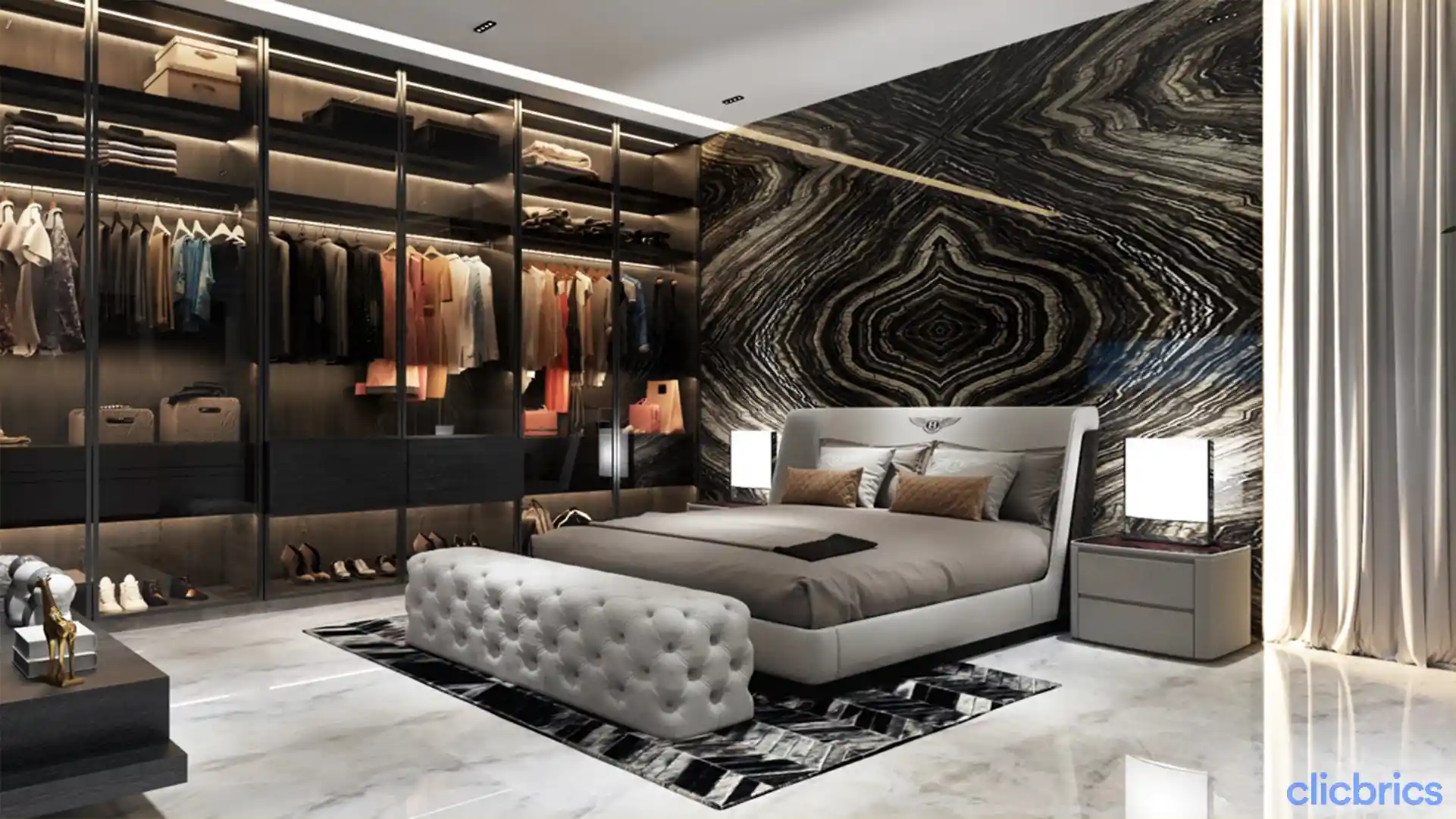 14. Design for Vintage Wardrobes
Are you one of those people who just adore having a classy look in their bedroom? If so, then you're in for a real treat! You can choose a vintage wardrobe design with a hanging rail and drawers. These wardrobes look beautiful and offer the perfect space.
Also Read:15 Effective False Ceiling Design Ideas That Will Transform Your Home Aesthetically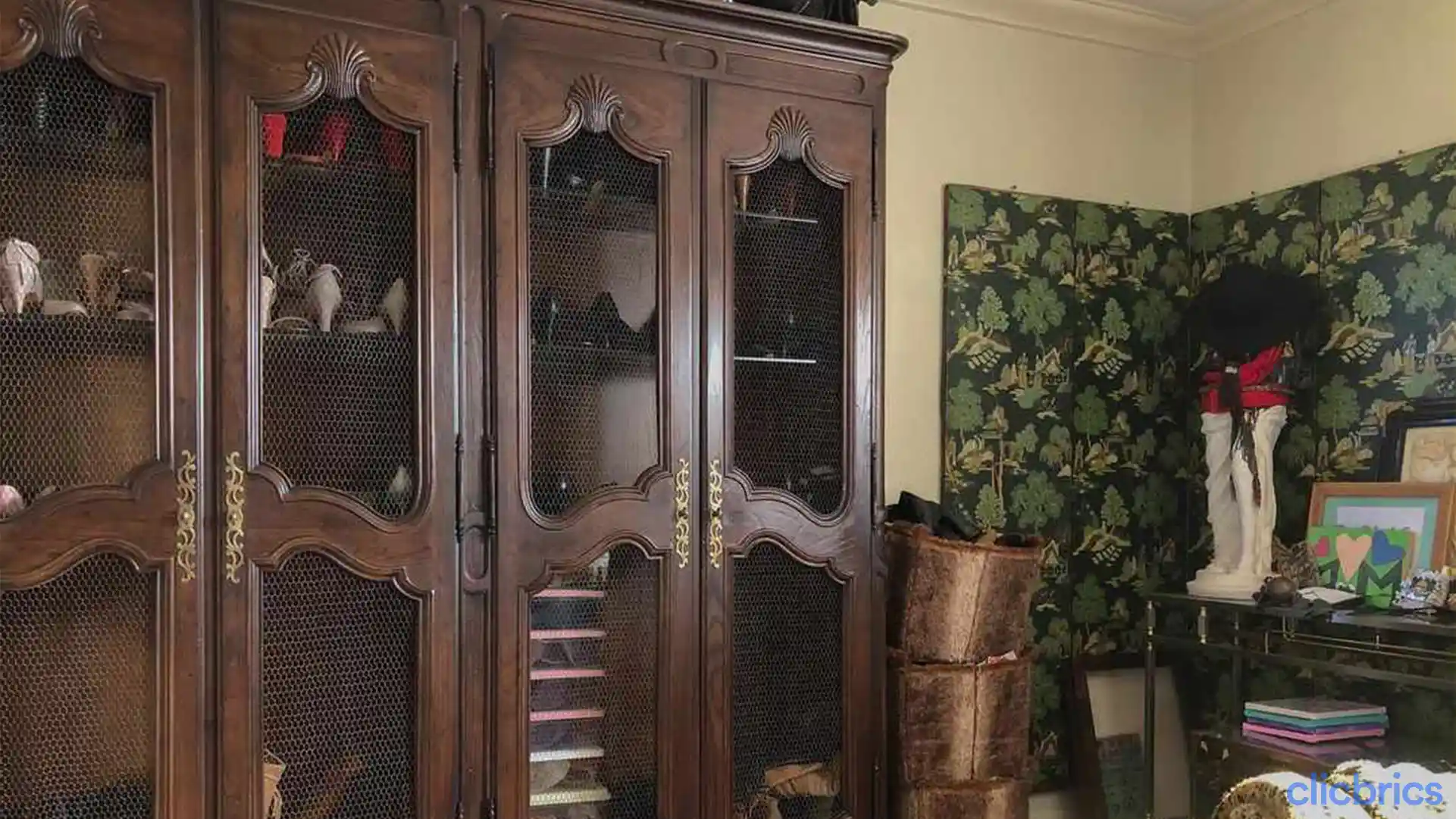 15. Wooden Modern Wardrobe Design
The best option if you want to add charm to your master bedroom is to choose a solid wood wardrobe design. Ensure the cabinet blends in with the other furniture and the bedroom's decor. You can choose a wardrobe with a single door or a double door solid hardwood style, and you will see how well the charm of your bedroom gets boosted. Click here to find out how, in five simple ways, bamboo furniture will boost the charm of your place.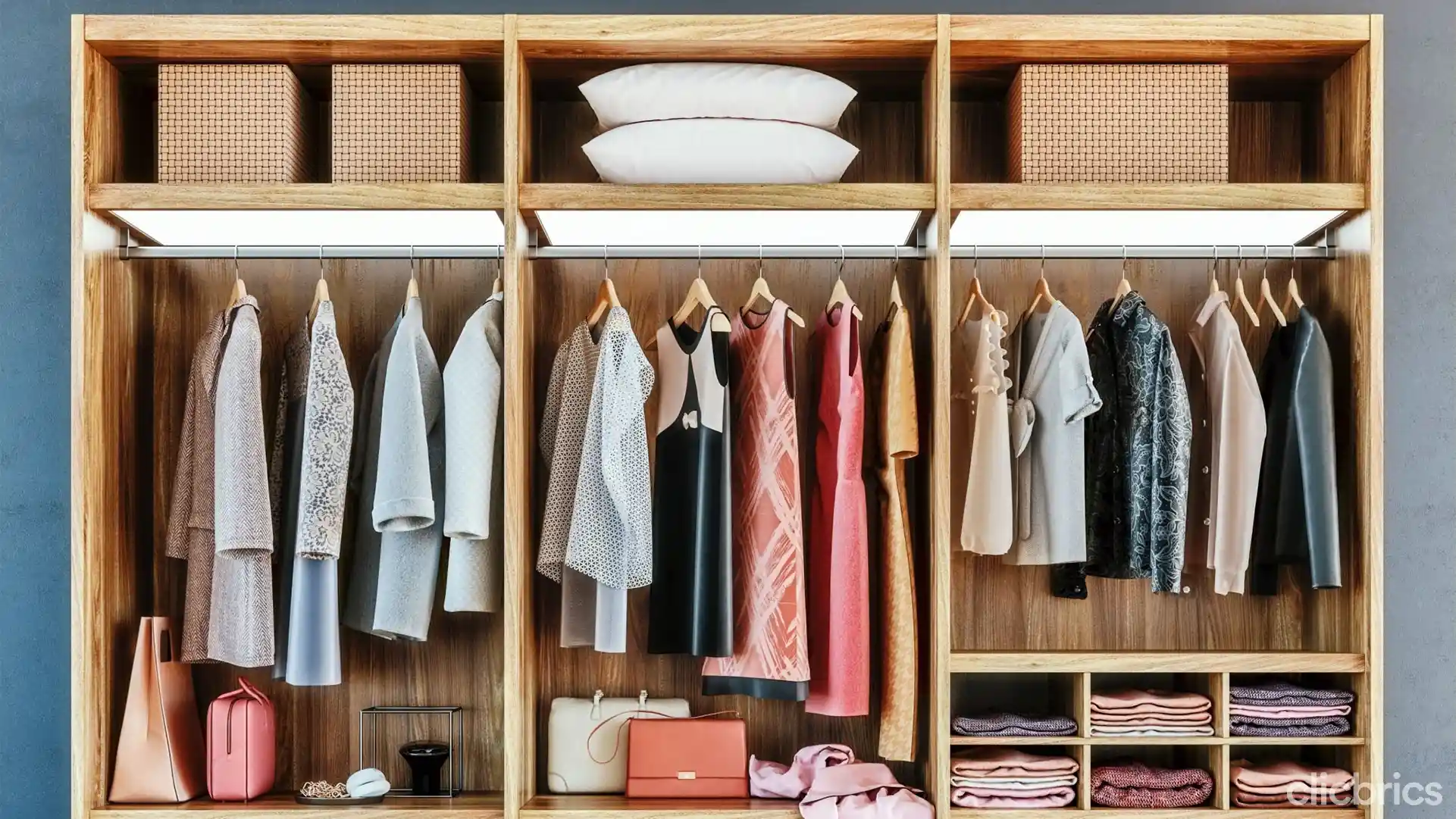 To sum up, you may find a wide variety of modern wardrobe designs both online and offline. However, be sure to pick a wardrobe that complements your room and is functional. We sincerely hope that the wardrobe designs shown above will assist you in locating the best closet for your space.