Table of Content:
Bohemian interiors are making a comeback, so if you don't feel at home in your current house, it may be the time to embrace your inner hippie.  By putting aside your adherence to strict geometric forms, neutral colour schemes, and pastels, you can unleash your creativity and fully express your design personality with boho decor. Living room is a great place to begin making changes as it is a stimulating space where you spend time with loved ones, relax after a long day, be inspired by a new book, or engage in a favourite hobby.
Still, it's easy for a bohemian room to look beautiful if you rely on the same stores and design formulas. Luckily, it won't take much to make your room a one-of-a-kind space after hunting for one-of-a-kind furniture, discovering art that speaks to you, and finding decorative accents from travels—or from places you've always dreamed of travelling to. The following boho decor-based ideas for home are sure to inspire your inner designer while also providing useful pointers as you set about creating a space that is truly your own. 
Trending Boho Decor Ideas For Home
1. Let Nature In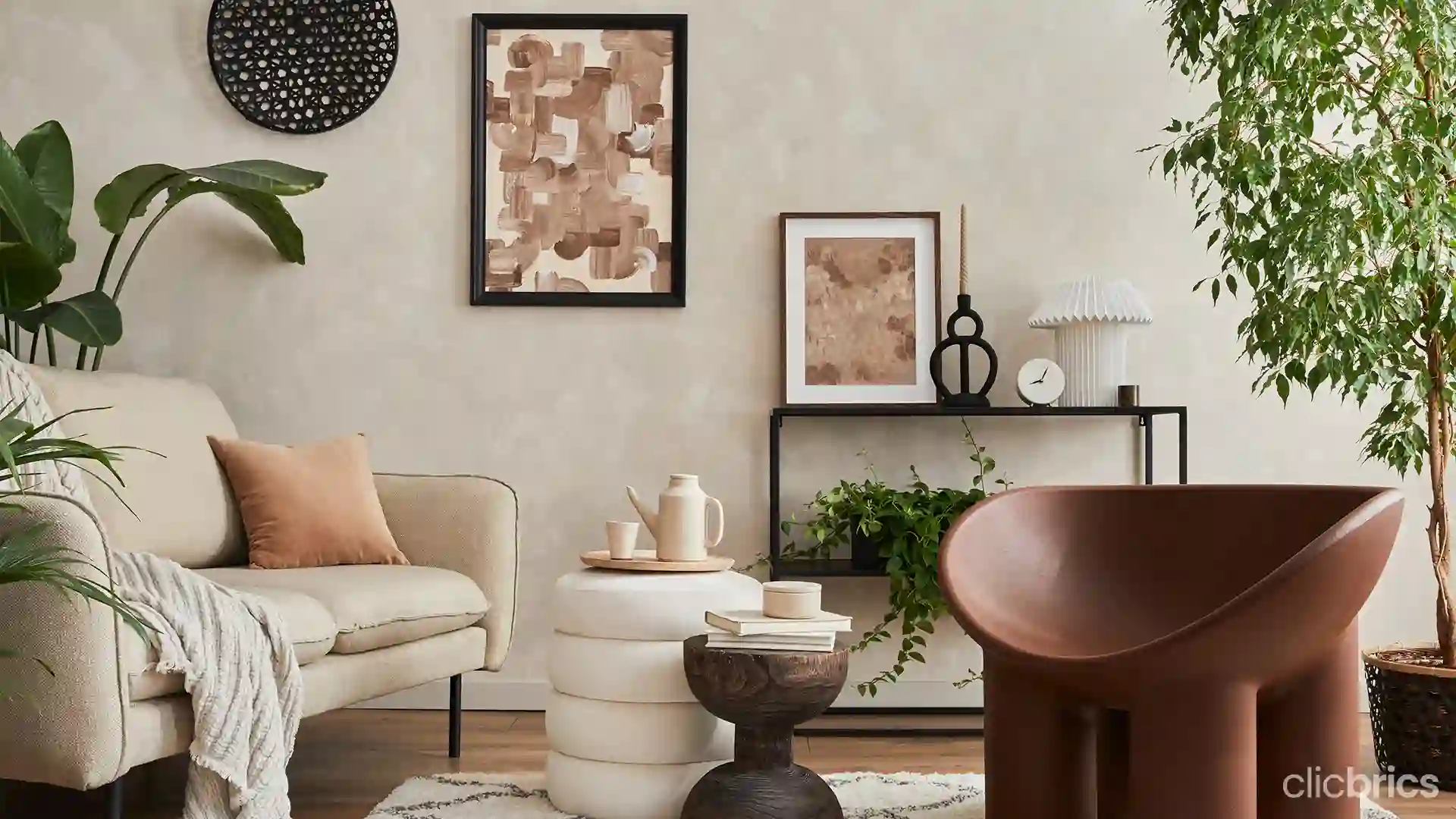 Part of achieving a boho aesthetic is drawing motivation from nature, whether you're a proud plant parent or have a brown thumb.  A palm print wallpaper is a visual treat without the need for any gardening expertise on your part. 
2. Use Patterned Rugs As A Layer For Boho Decor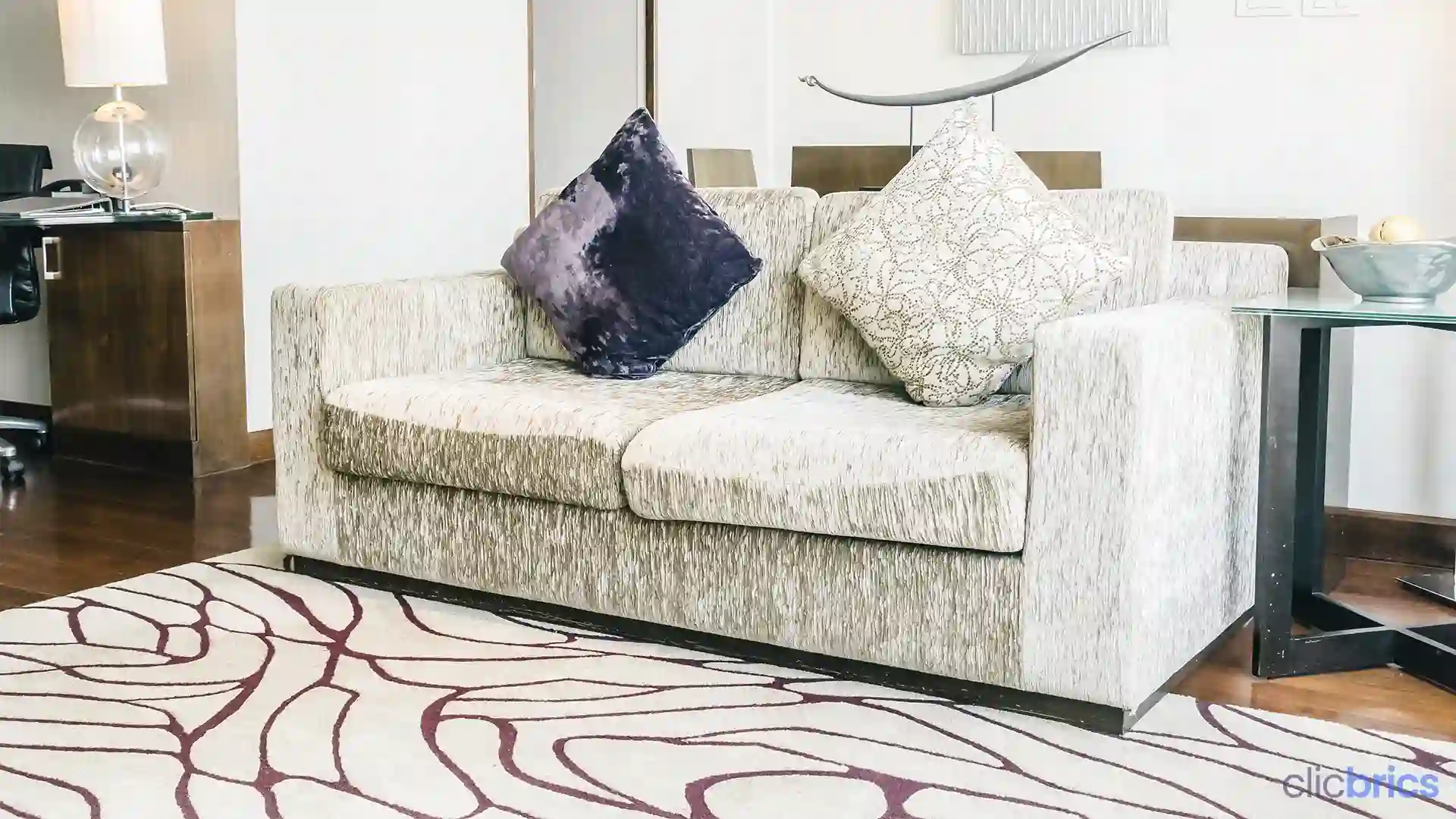 You don't have to limit yourself to the walls if you want to add some colour to your space. Get down on the floor, and dress it up with a beautiful patterned rug. This rug is not only aesthetically pleasing, but also serves to create a warmer atmosphere in the living room.  
Also Read: Contemporary Home Design Guide For You
3. Borrow Hues And Finishes From An Existing Collection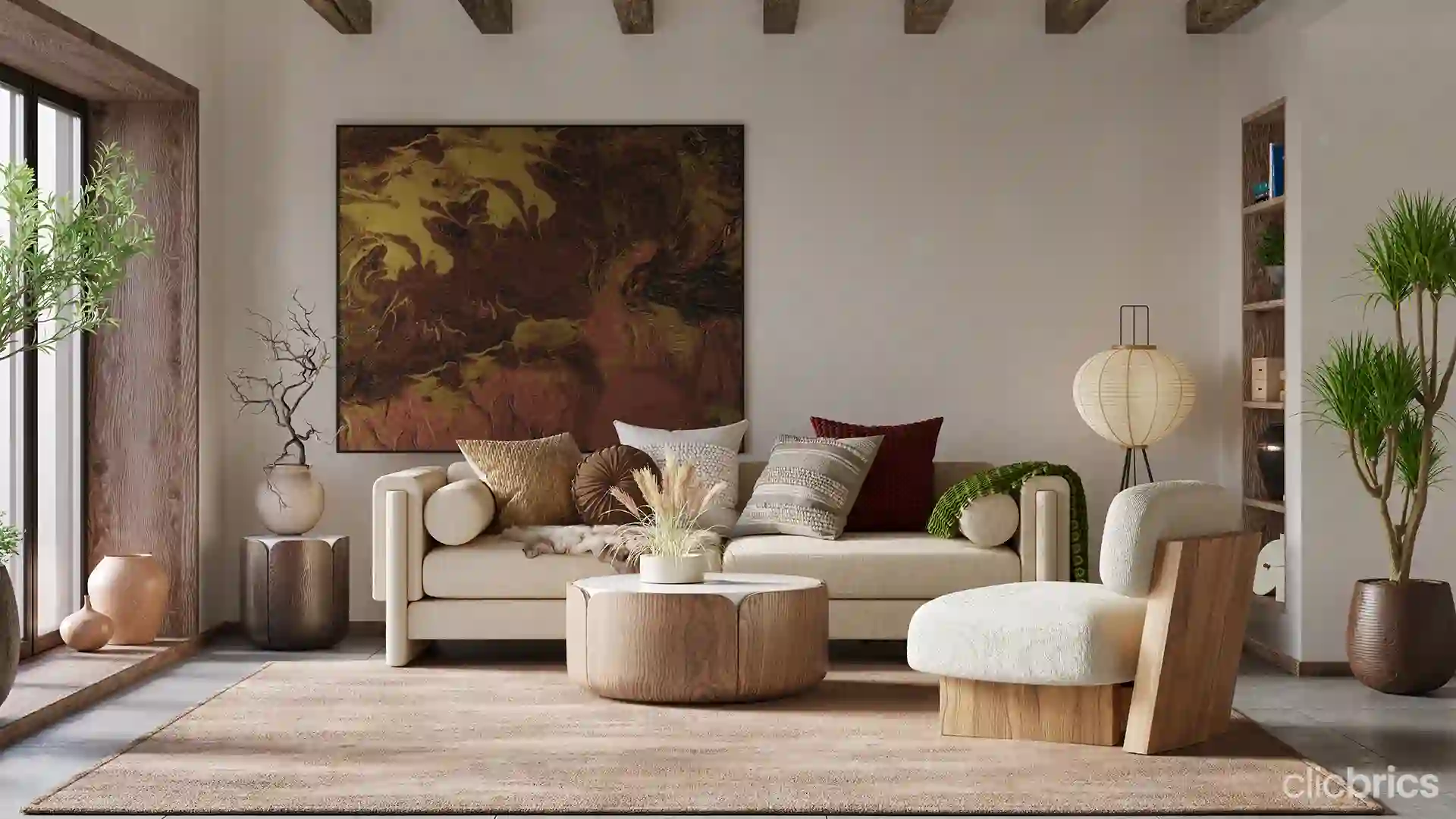 You could be called a minimalist. There are still many options for incorporating the boho decor in the living room in a way that feels natural to you. A brilliant boho wall decor in the library features tasteful splashes of colour (and plants!) while maintaining a pristine and airy appearance.  
4. Boho Wall Decor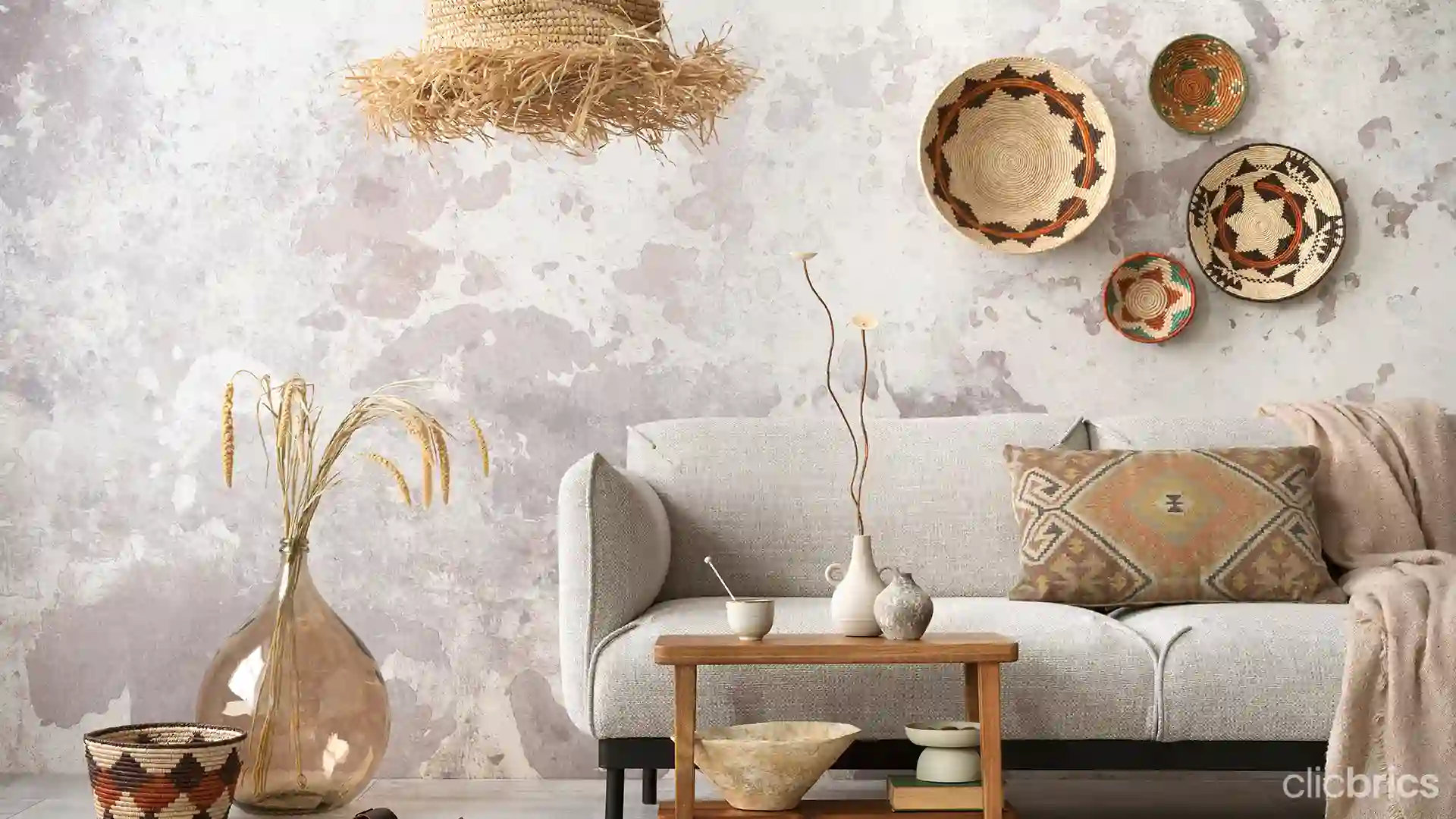 This one's for the culture vultures out there.  The living room is the ideal location to display your design sensibilities, so frame your favourite artwork and hang it on the walls. If you want to stand out without trying, use wainscoting as a shelf to show off your collection. This will give a beautiful boho wall decor to your living room.
5. Create A Retro Vibe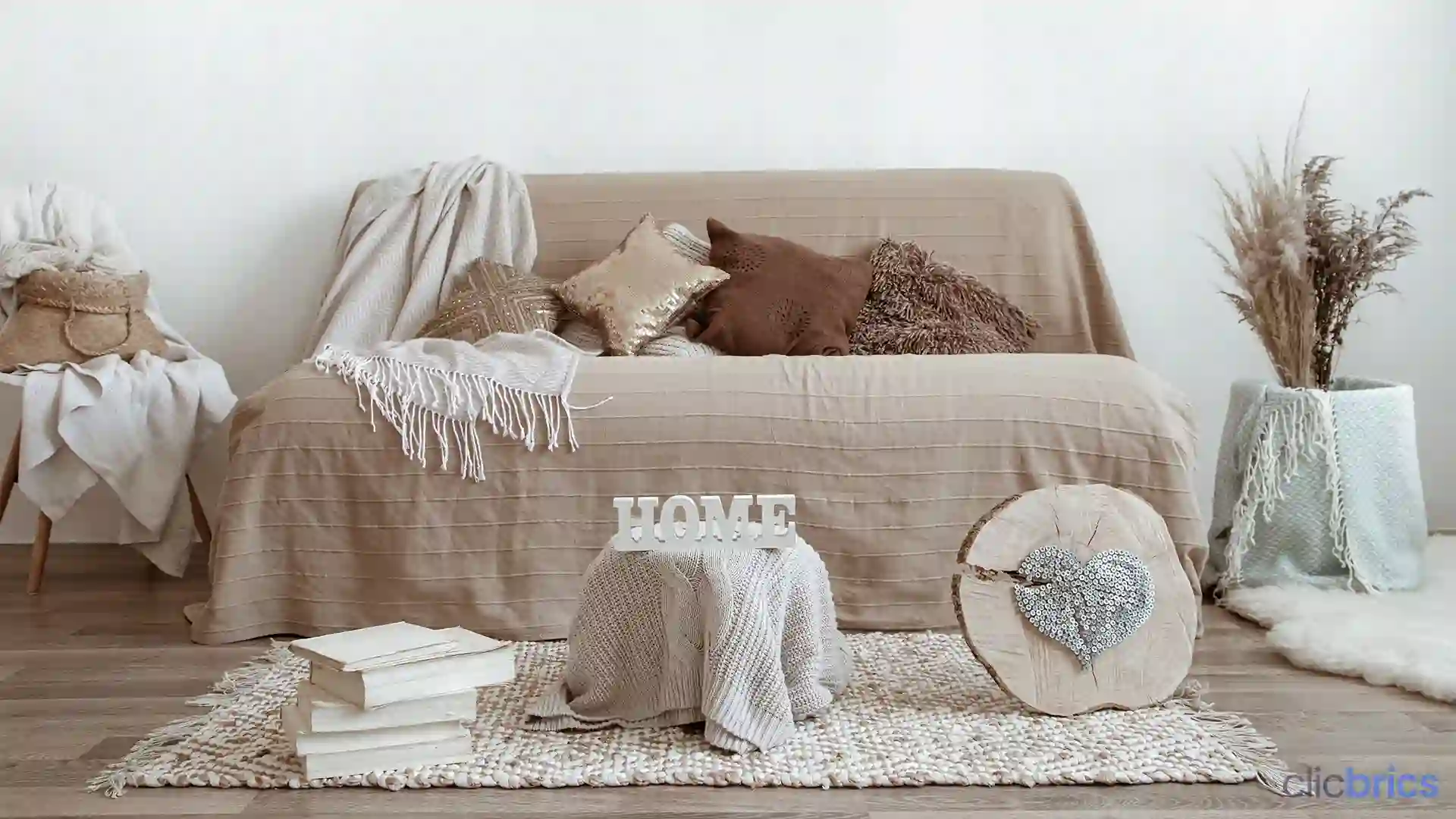 Nothing says "bohemian" like a sofa piled high with colourful, patterned pillows in a mix of vintage and modern home designs. A polished ensemble that will make your warm living room shine!
6. Pink Boho Decor For Living Room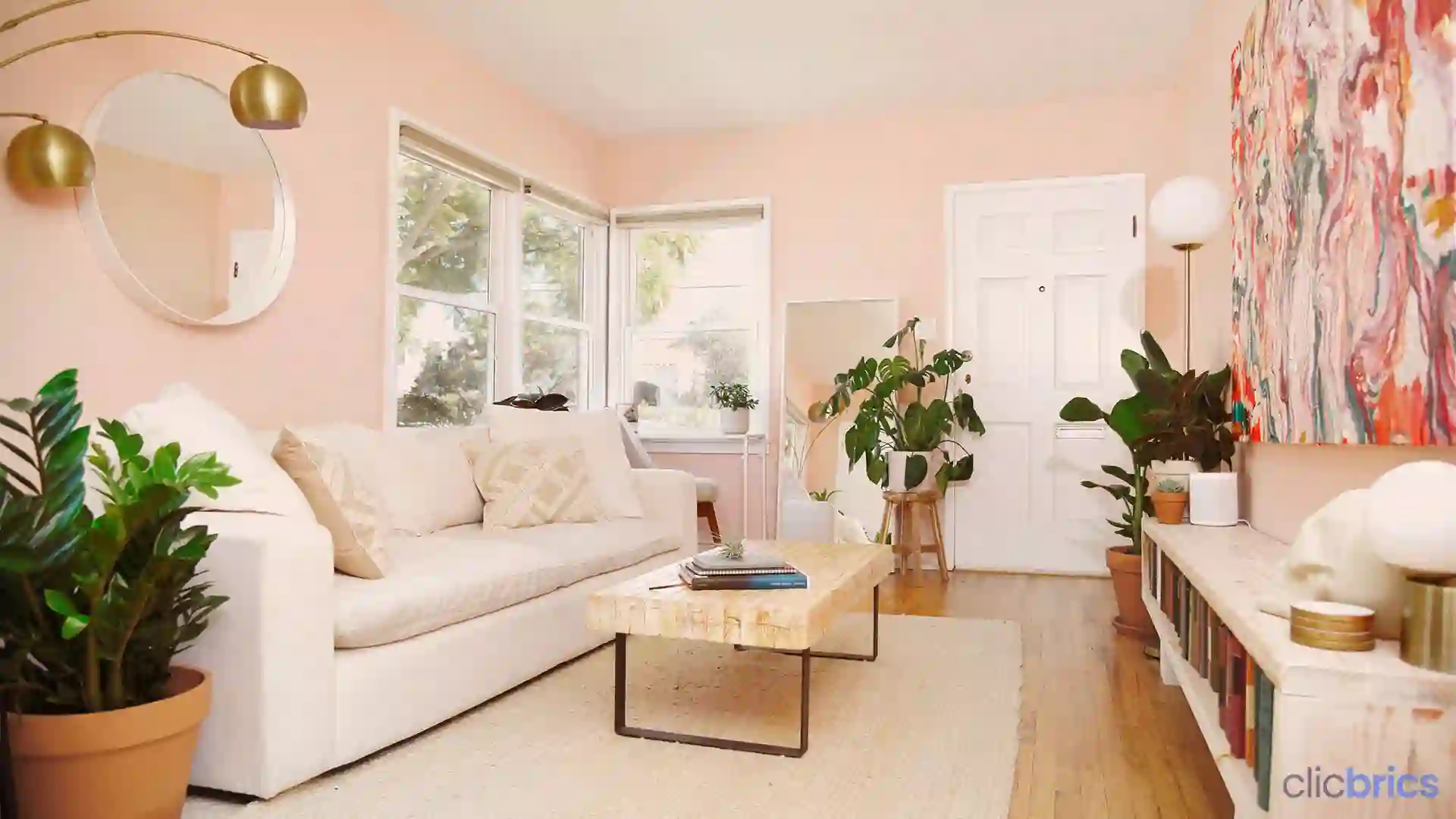 Source: peerspace
The bohemians are a passionate bunch, and there aren't many colours more expressive of that passion and vitality than bright pink.  A British sitting room that looks like it could host lively debates and lively girls' nights just might be the modern boho living room look you would want!
7. Match With Black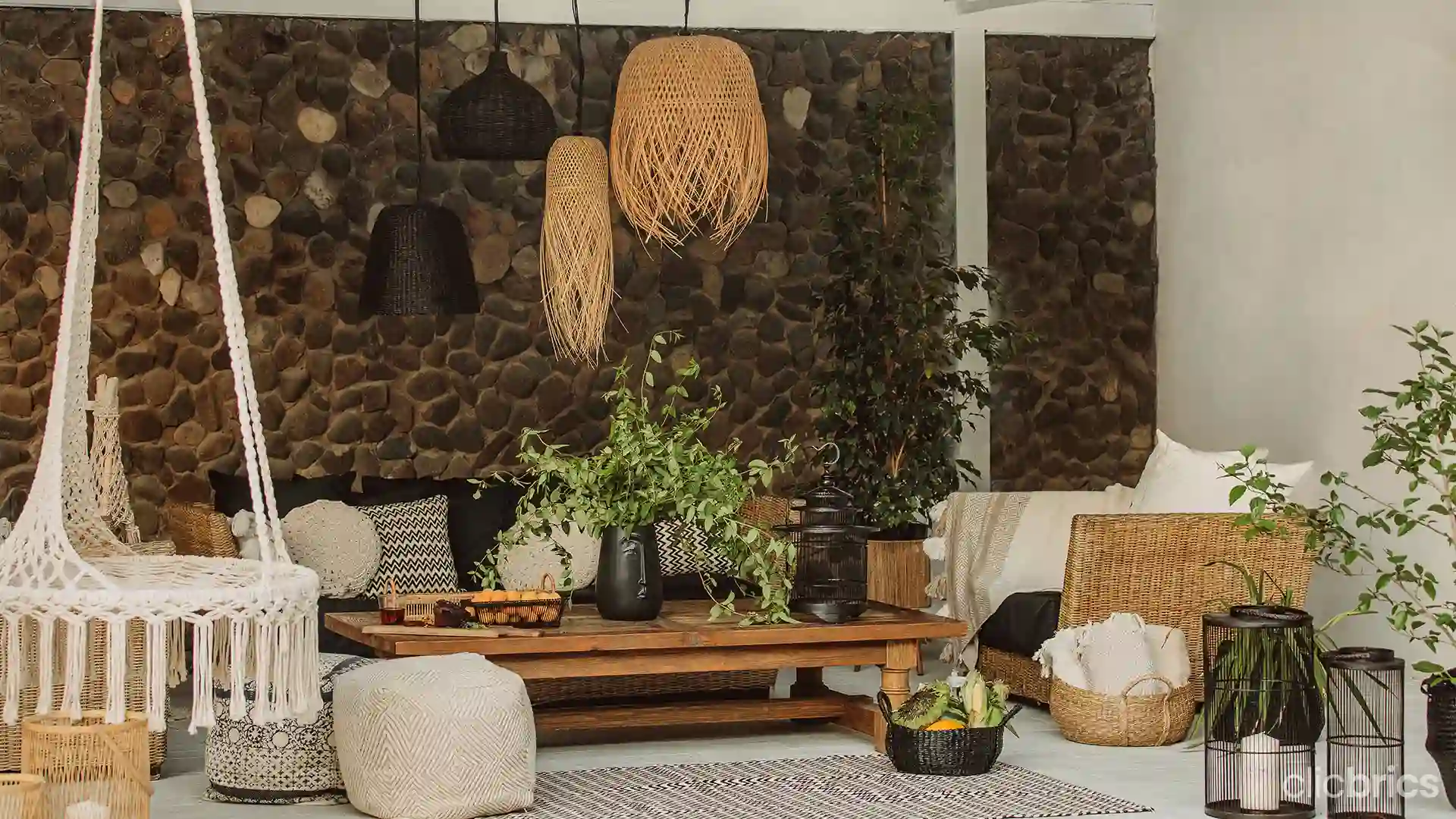 Pattern, texture, and layering combined make a beautiful bohemian decor, but the addition of black paint gives the space a newfound modern edge and serves as a distinctive focal point. You can update the boho look of your living room by painting the walls a bright colour and adding strokes of black here and there.
8. Don't Worry Too Much About Compatibility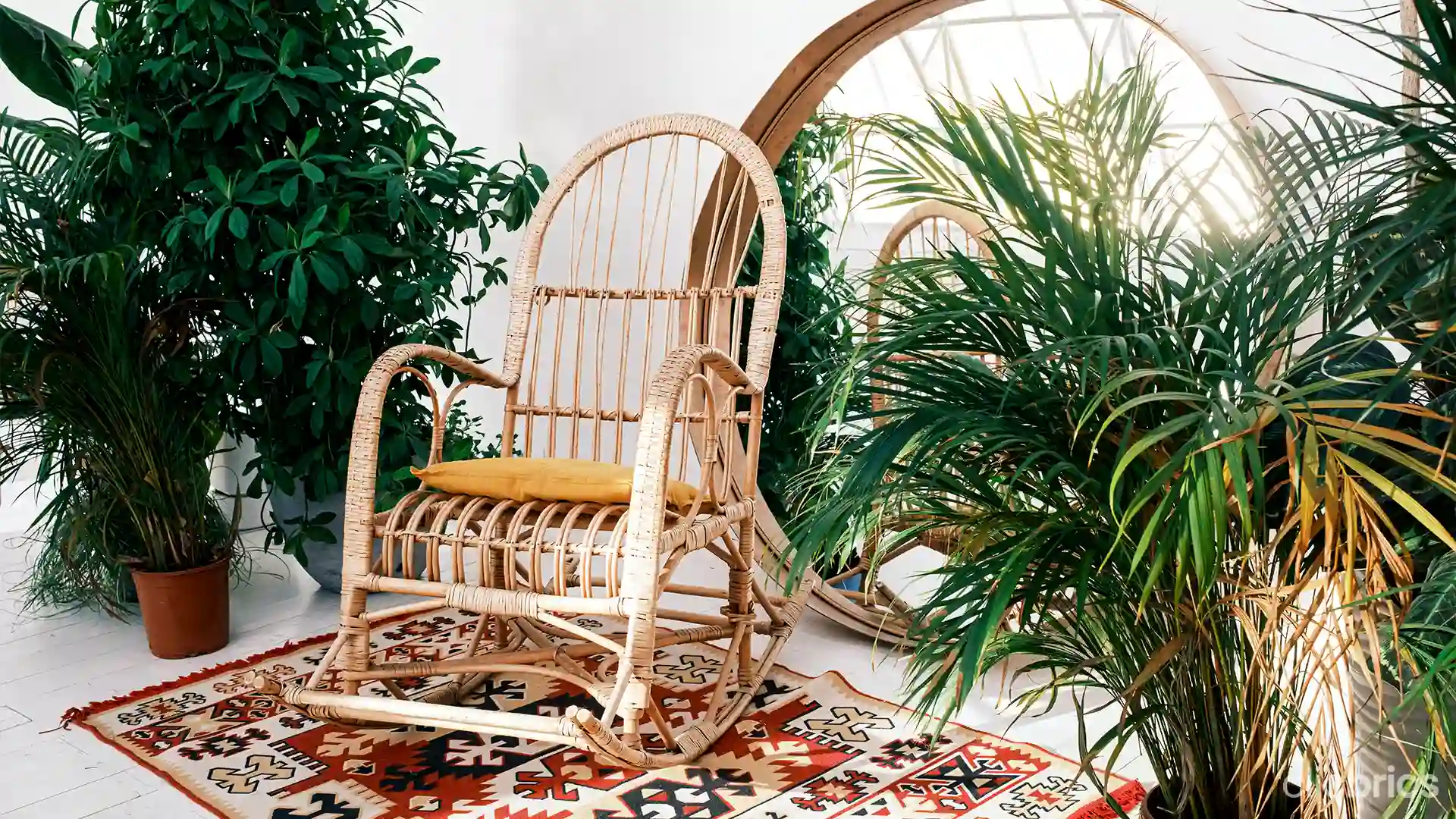 Although macramé and a lush mini indoor garden are classic examples of boho decor for home, these are hardly the only ways in which this aesthetic can be realised. Even though it can be a little different from the boho you see on Instagram all the time; including baskets, bright colours, and caramel leather couches will still give off a boho vibe in your home. 
9. Incorporate Unusual Textures For Boho Decor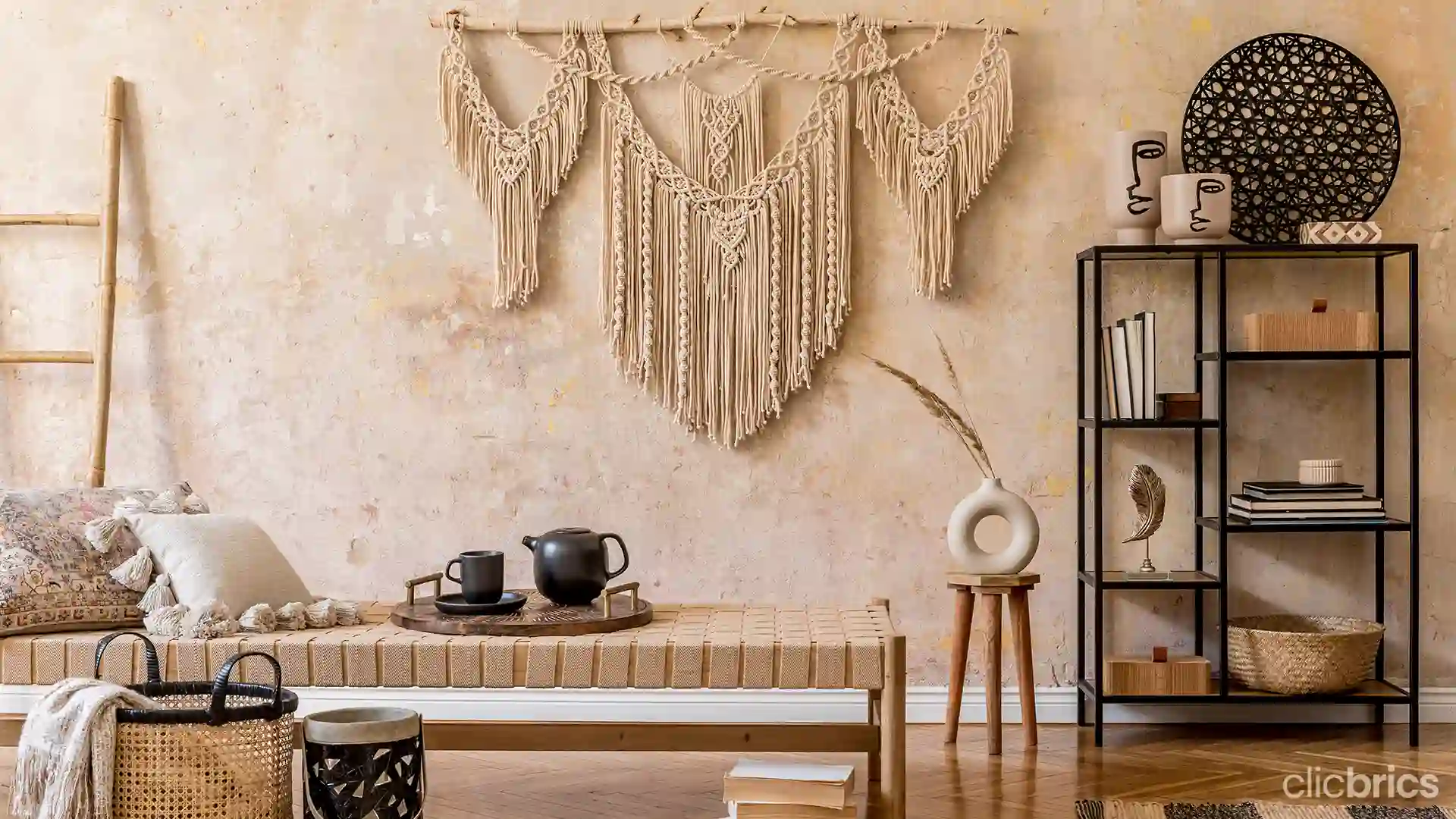 A great example of bohemian style is a space with vibrant colours, mismatched textures, and global touches with handicrafts. You can make a space feel more like your own by decorating it with souvenirs, interesting antiques, and antique figurines from your travels around the world.
10. Switch To Fibres Found In Nature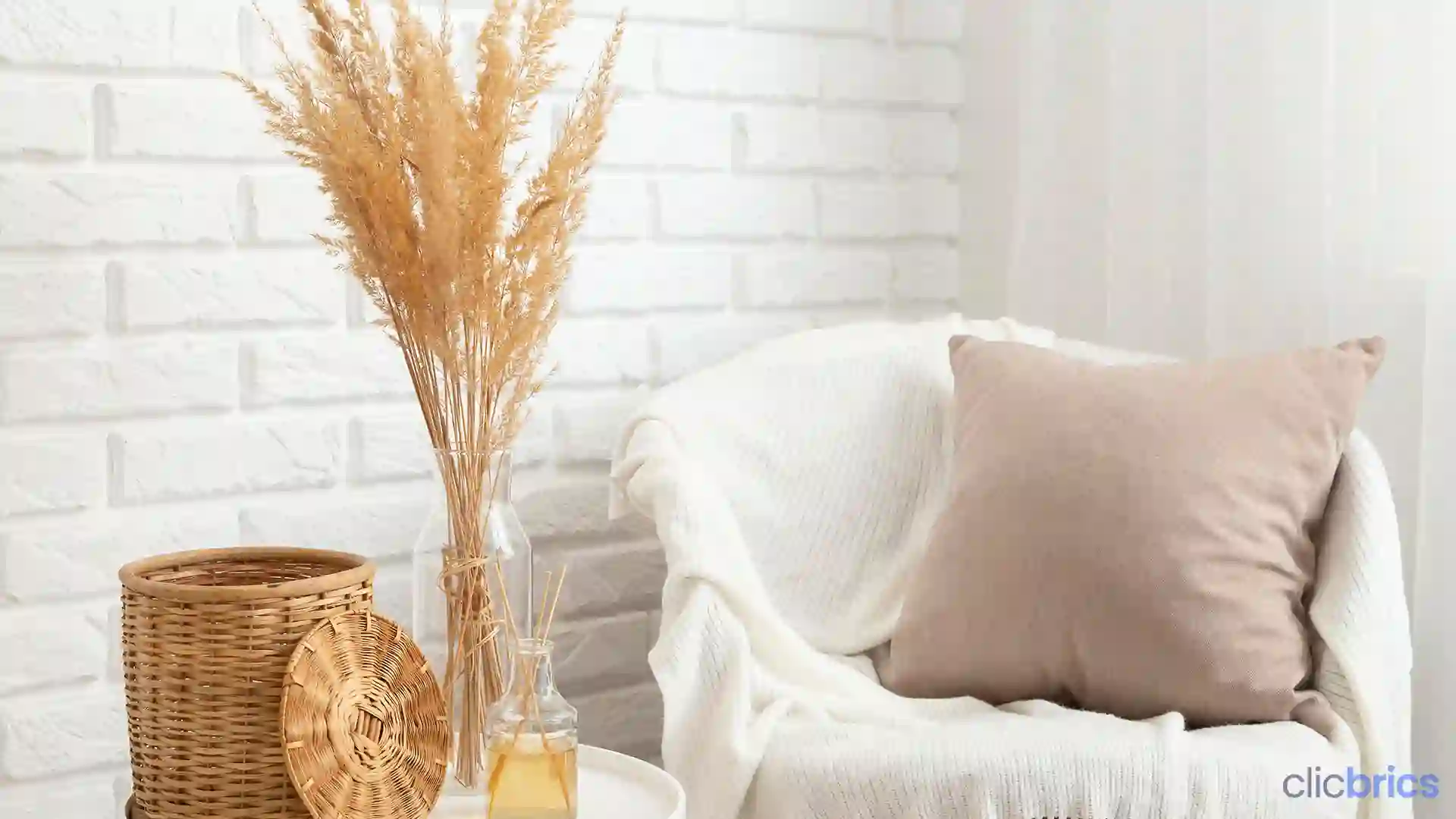 Natural fibres such as jute, bamboo, and rattan are prominent in boho style, and the oversized mirrors are hard to beat. Chairs, picture frames, baskets, and mirrors made from natural fibres are essential for a boho home decor. 
11. Make Use Of A Wide Range Of Vibrant Hues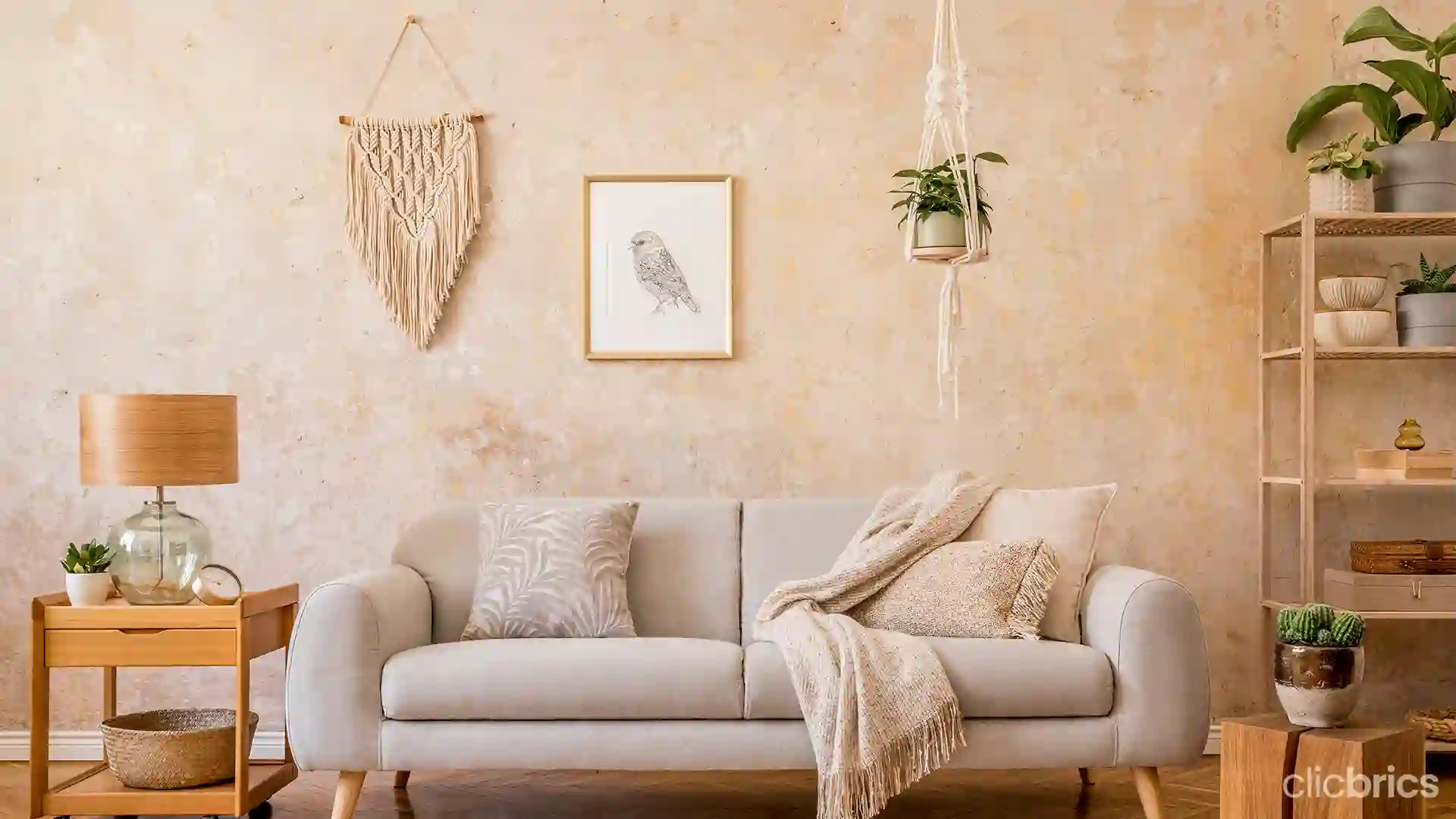 The boho decor can be made more playful and carefree with the help of a candy-colored palette. You can make any colour scheme you like and then complement it with accessories. The term "clashing" does not apply to this style.
12. Add Some Macramé To The Mix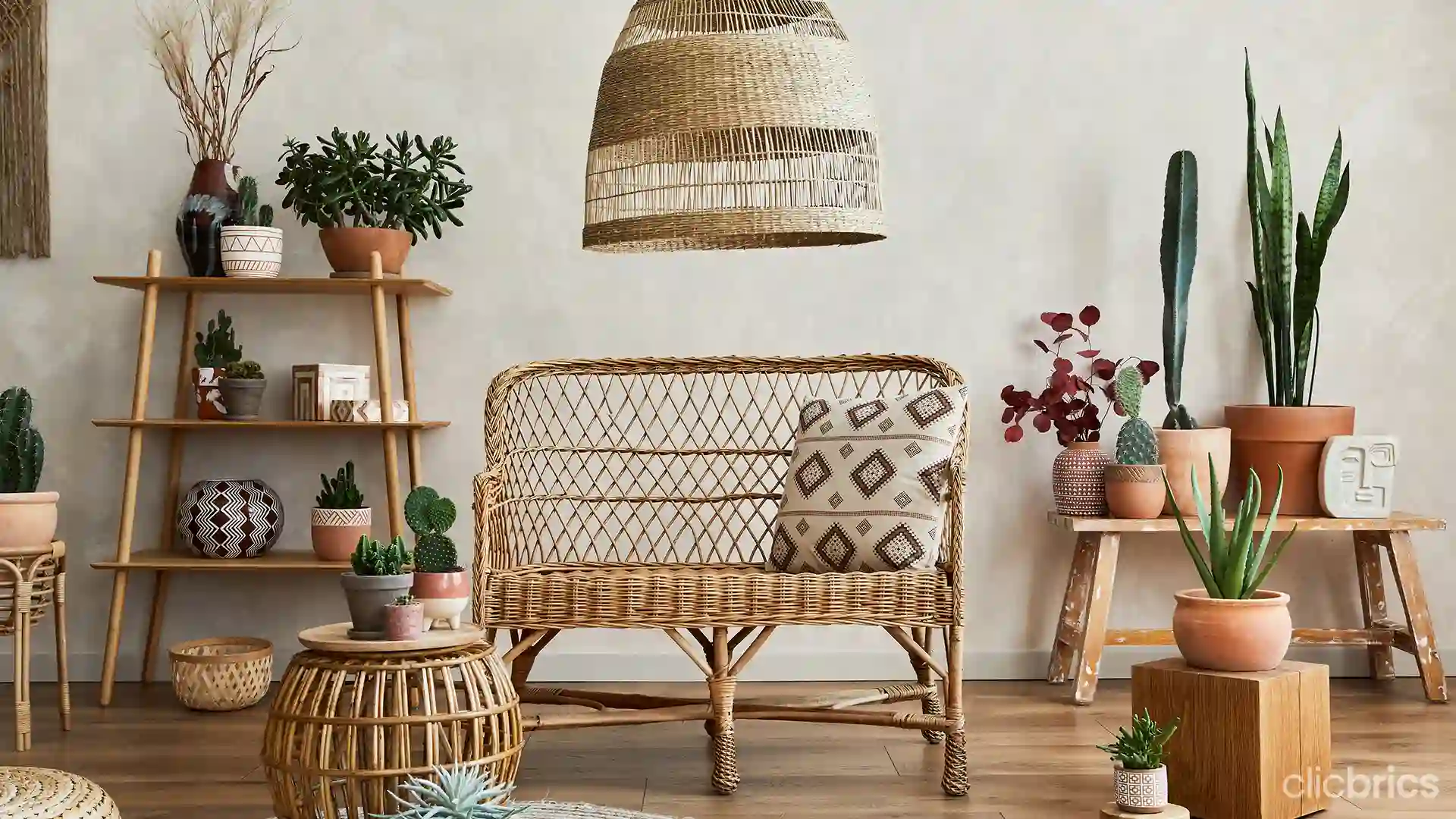 Add a macramé wall hanging, a few pillows, a blanket, and even some coffee table decor to get that right boho room decor. Although there can be some mid-century modern touches in the room (like the metal finishes and geometric shapes of the furniture), the atmosphere would decidedly turn out to be bohemian.
13. Embrace Eclecticism For Modern Boho Decor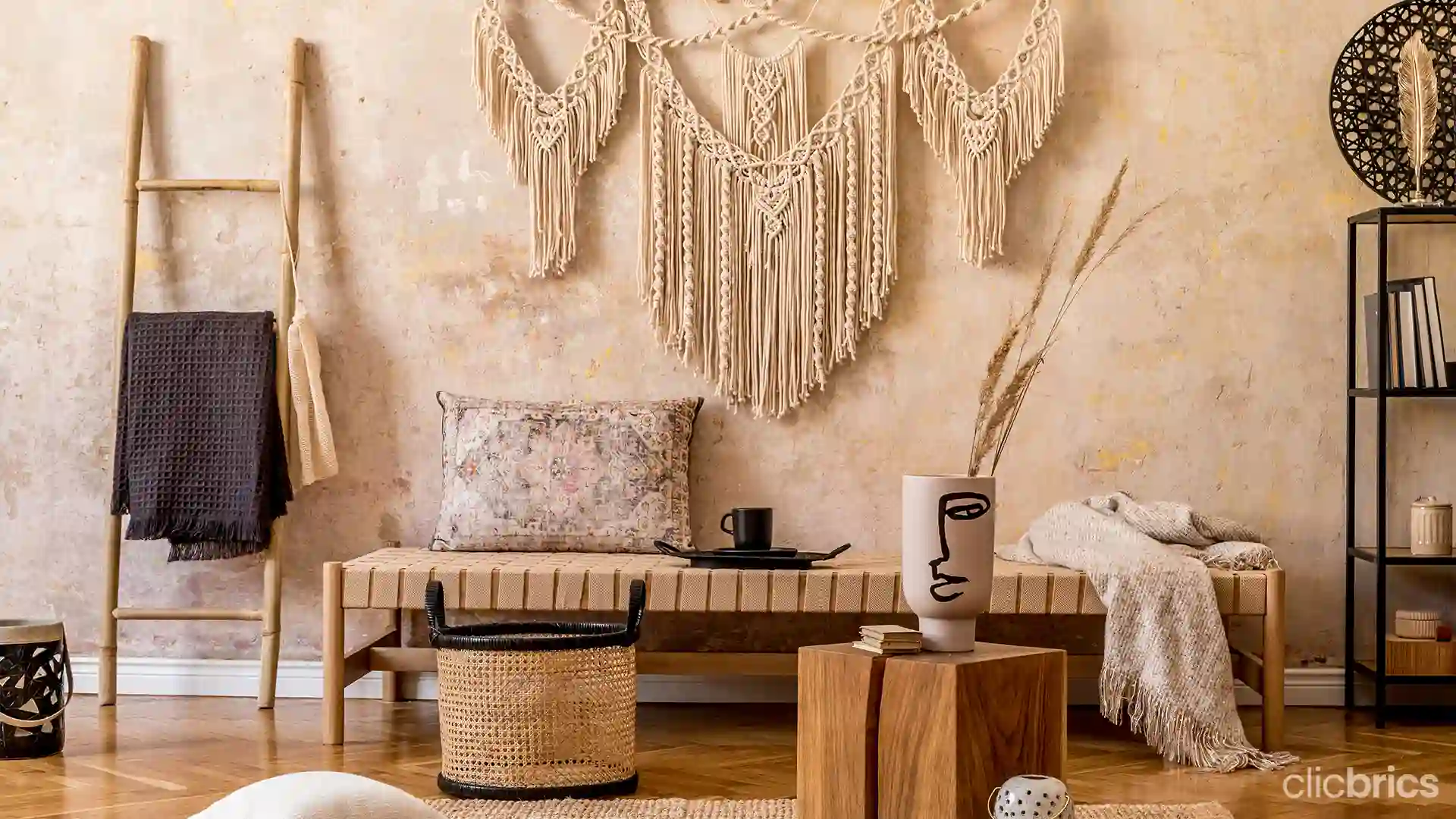 You can't go wrong with the boho decor no matter how many different patterns and colours you use in your decor. It's easy to see how a wide variety of colours, patterns, and textures can work together in a single space.
14. Color And Atmosphere Can Coexist In The Same Space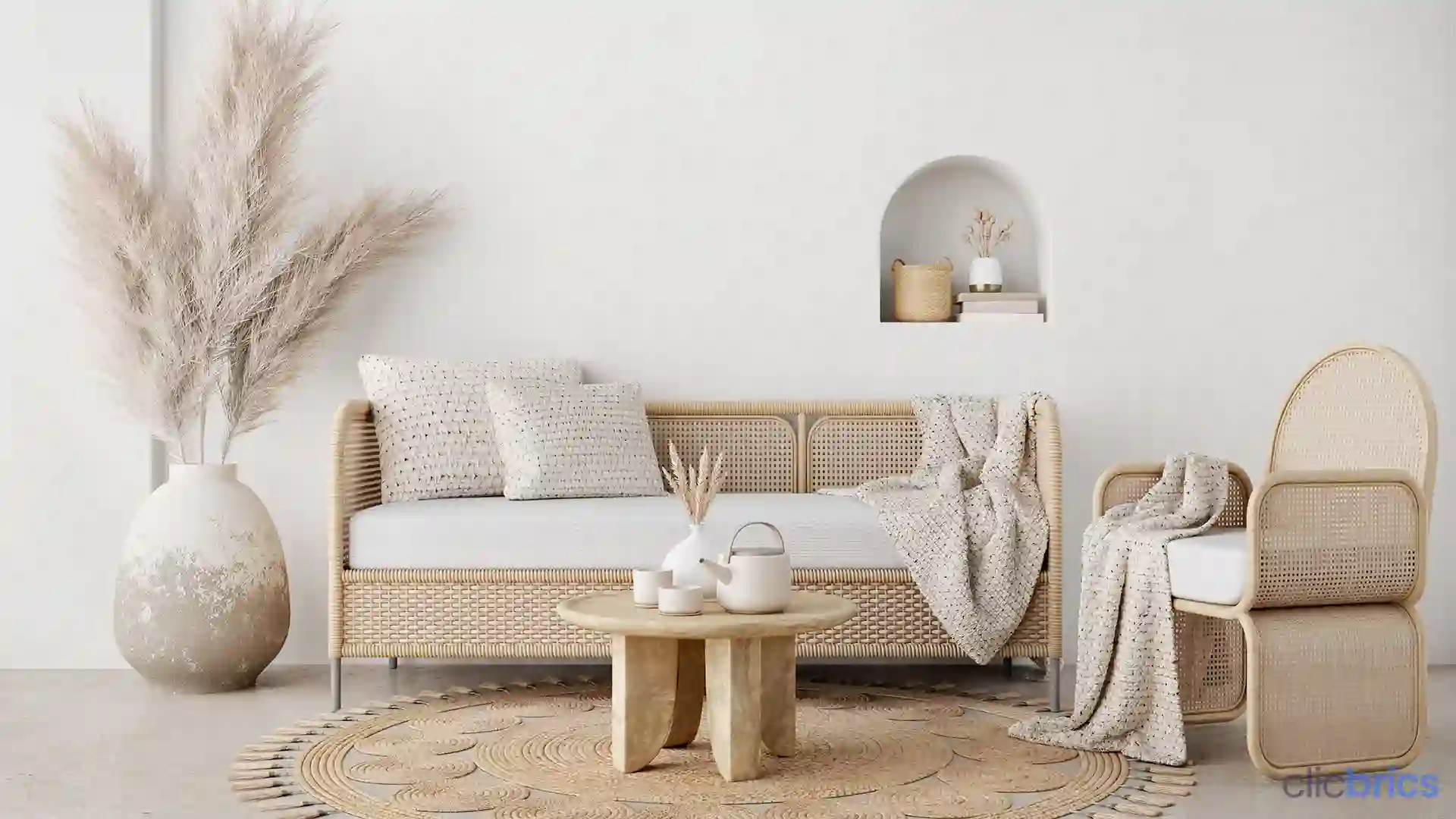 Depending on the individual, a space decorated in the bohemian style can take on a variety of personas. Rather than being an upbeat gathering place, the living room boho decor can be more subdued and relaxing by including a moody blend of jewel tones.
Also Read: 5 DIY Home Decor Ideas You Must Know
15. A Palette Cool And Collected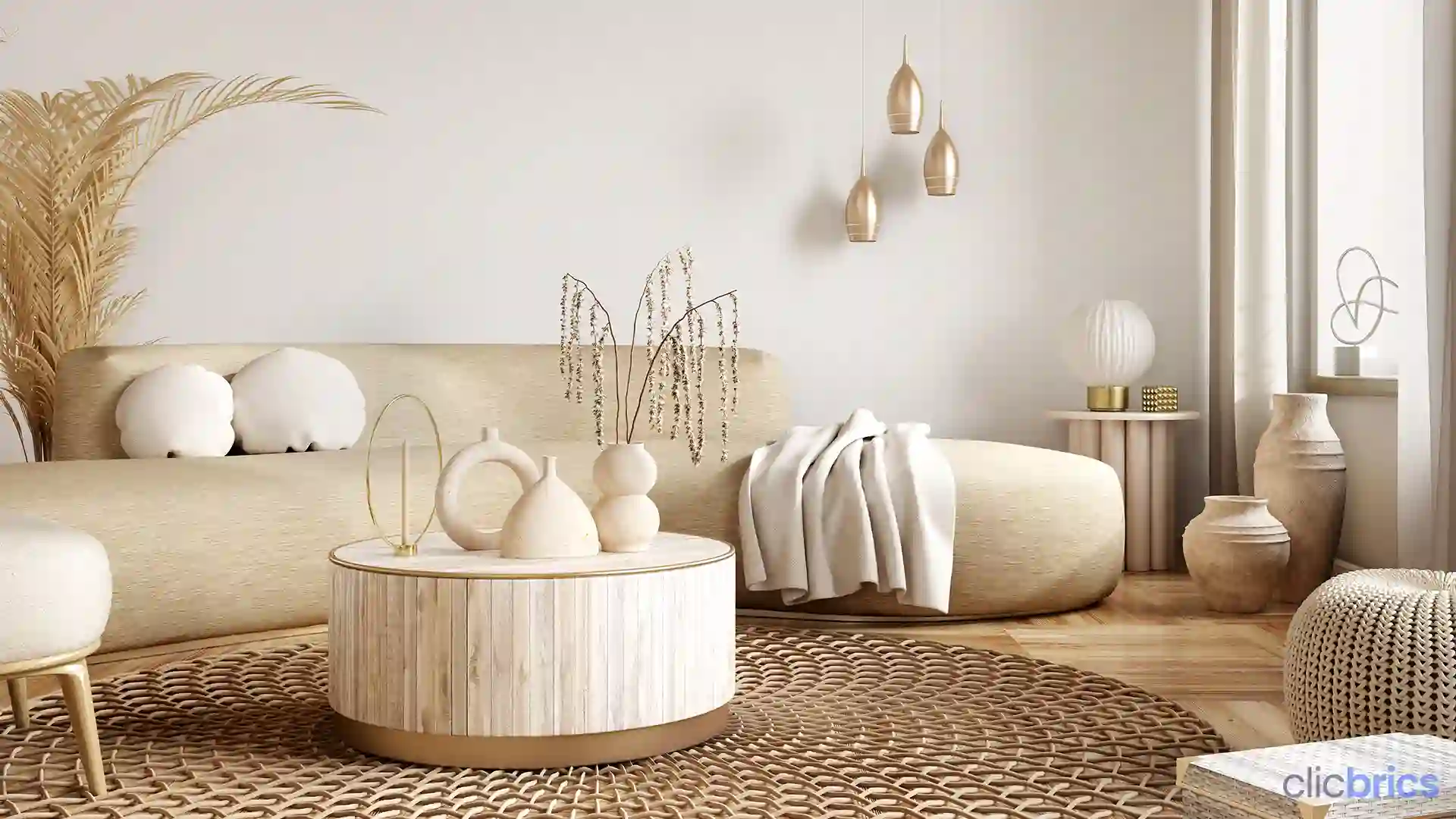 While colourful accessories are often associated with bohemian decor, a monochromatic colour scheme can still convey the desired feel. The boho vibe of the room is established by the incorporation of a variety of plant-based elements, floral patterns, and a rug made from a natural fibre. The primary structural components of boho home decor are typically unremarkable. The wall hanging, carpets, and tiles add jolts of colour, but it's the small details like these that really make the room come to life.
16. Shaggy Fabrics For Boho Decor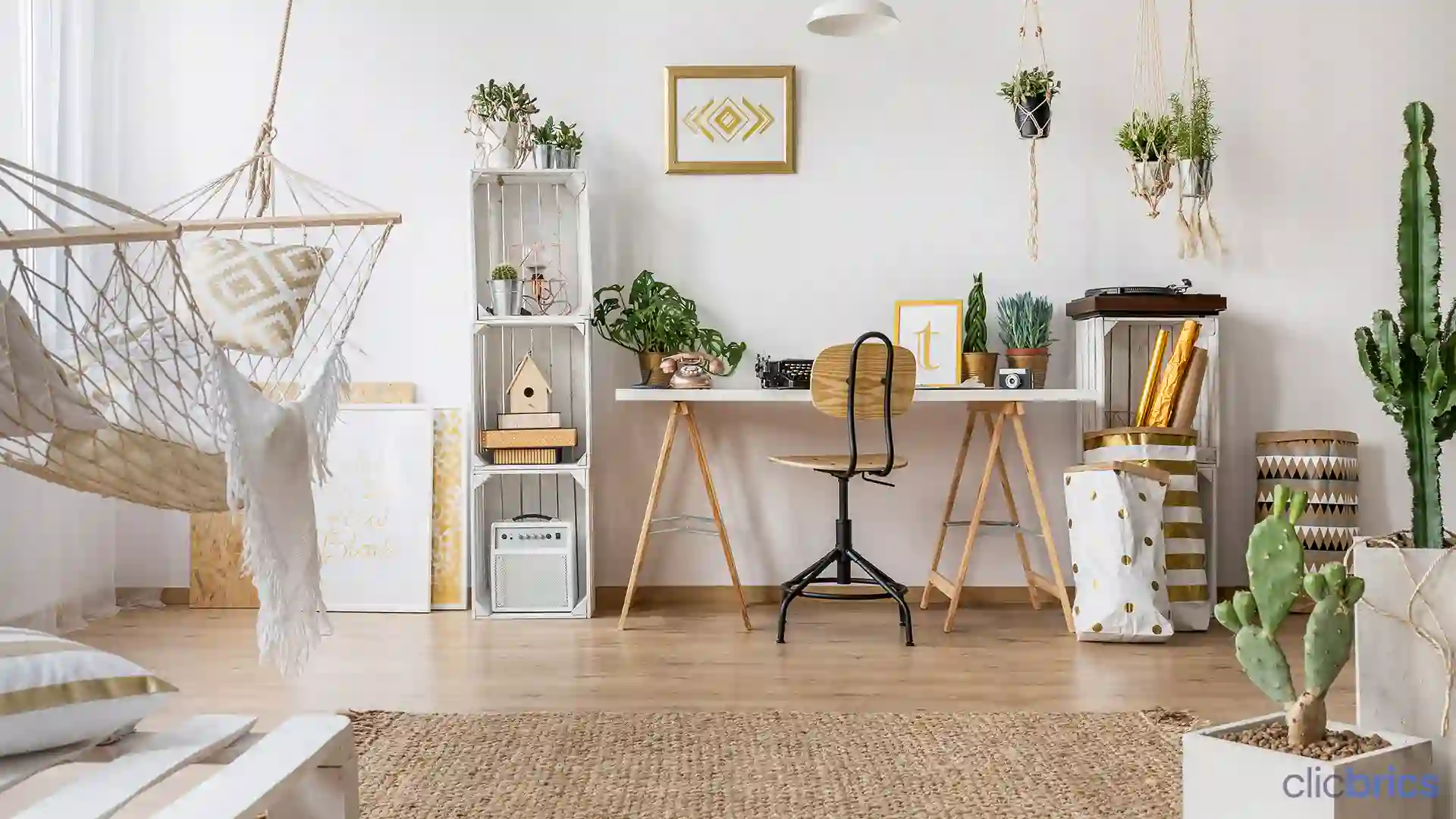 You can easily increase the level of boho in any room by incorporating voluminous, soft textures like a faux sheepskin carpet or a shag pillow. The selection of fabrics is significant and often serves as a defining characteristic of a given interior design.
17. A Splash Of Sunshine Yellow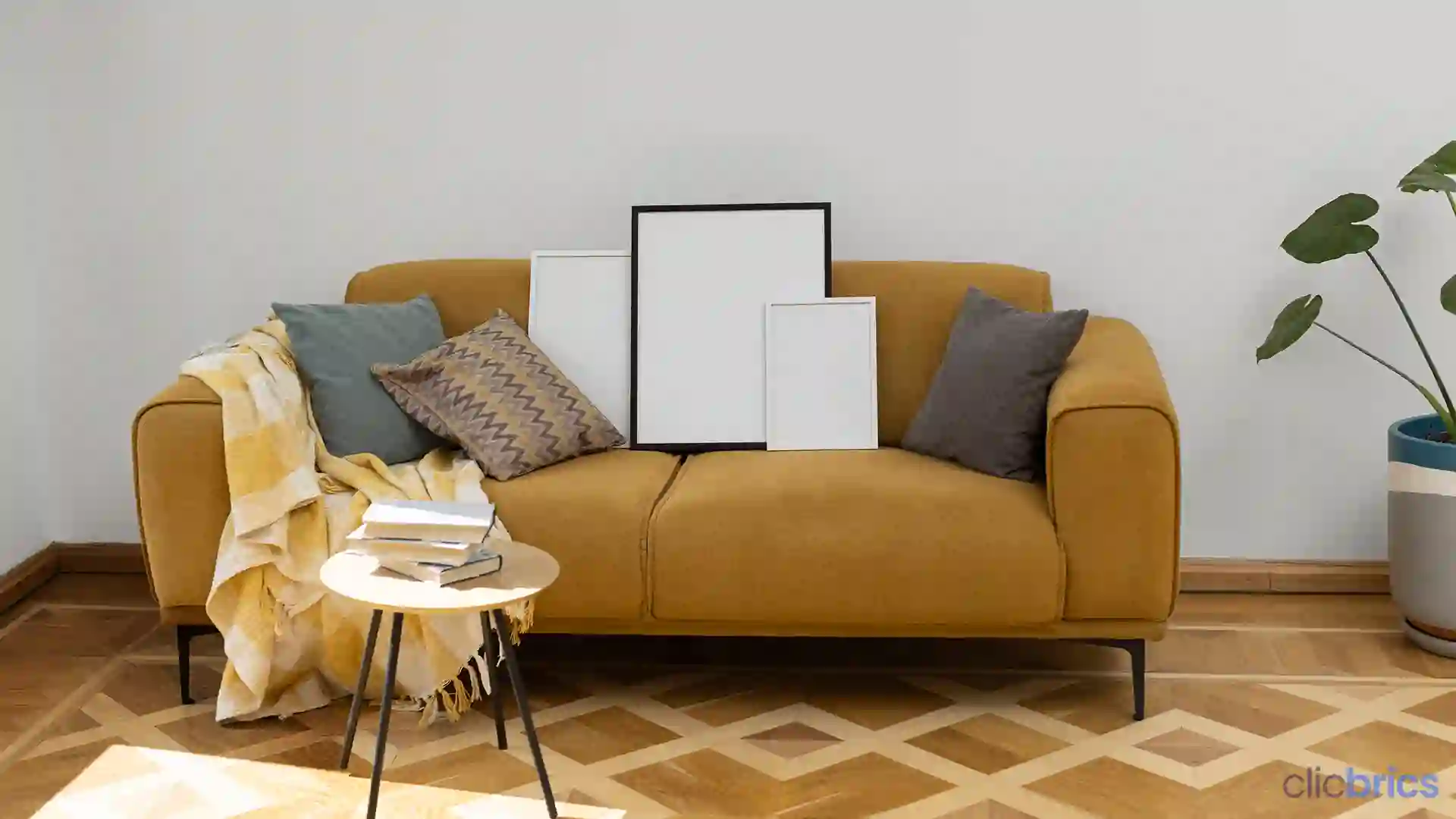 When going for a boho room decor, it's best to pick a focal point item and build the rest of the room around it. A bright yellow sofa can serve as the focal point of a living room's design, and even if other colours are used, they will all complement the sofa.
18. Show Your Creative Side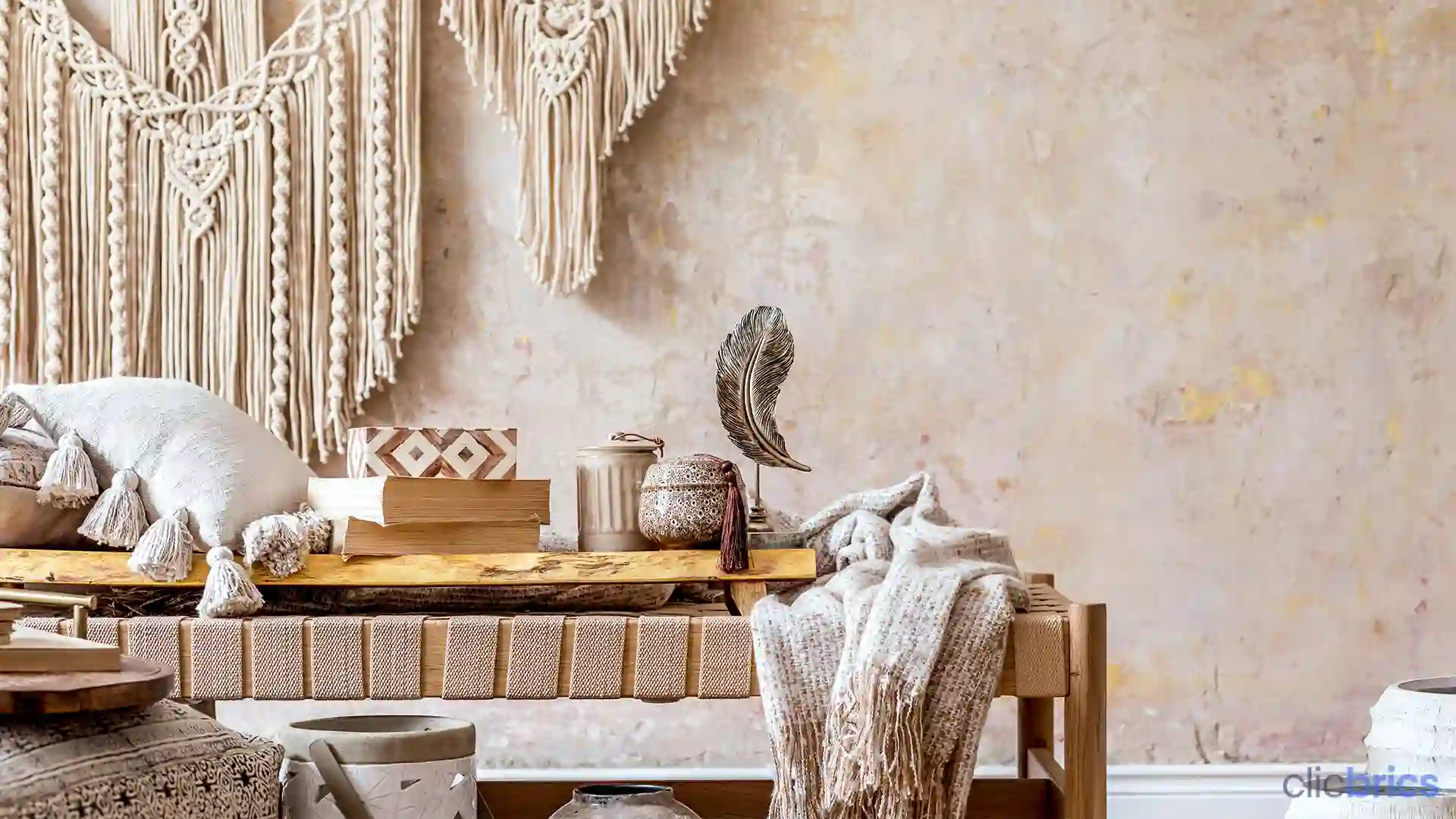 If you want the epitome of boho chic vibe at home, try some ramshackle furniture and an eclectic assortment of paintings and sculptures. Showing off a variety of paintings, whether they are your own creations or pieces you've collected over the years, can give off a very bohemian vibe.
19. Wooden Details For Boho Decor At Home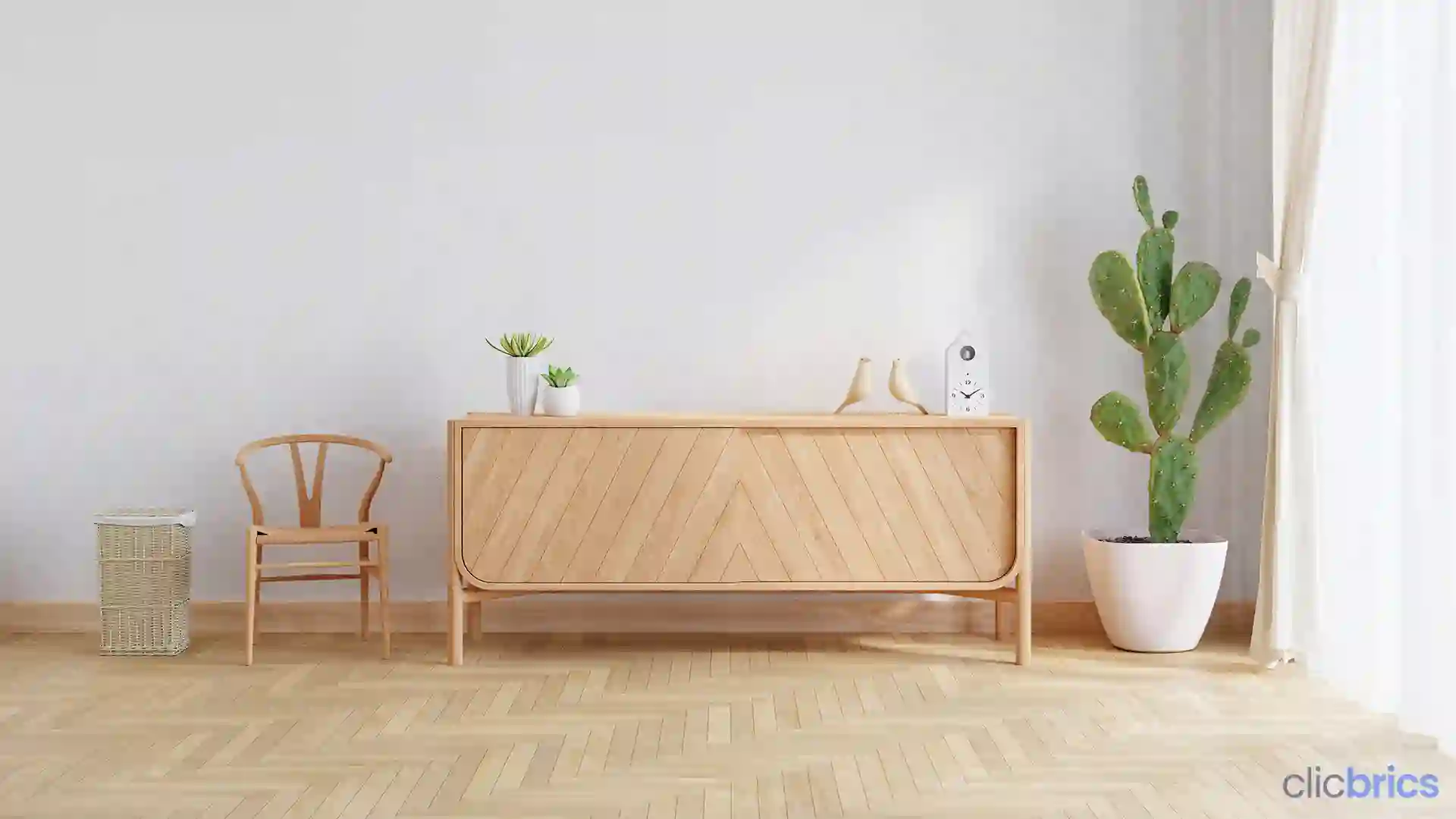 A number of bohemian design elements such as an eclectic mix of colours and wood finishes make the room look timeless. If your floor is made of wood, the colour of the floor should be your jumping-off point. Look for warm and cool tones that go well together, as well as a variety of wood finishes and pieces with contrasting grain patterns.
20. Boho Decor Inspired By Plants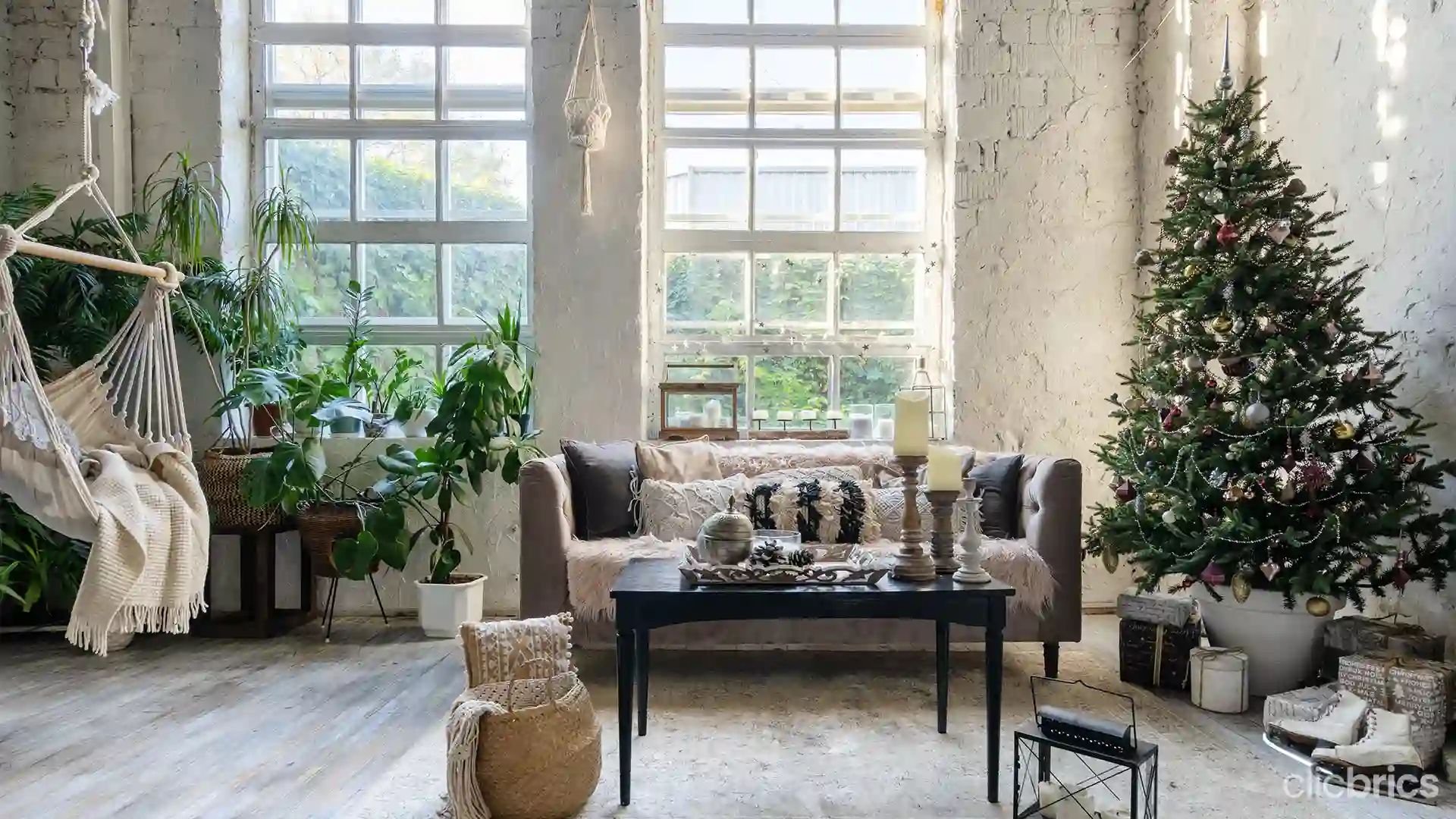 The plants are the perfect way to add a boho vibe without going all out with rattan and macramé. One easy and foolproof way to achieve this carefree look is to amp up the jungle feel.
Also Read: Beautiful Balcony Garden Ideas For Inspiration
Conclusion
Now that we have explored some of the best ideas of decorating your living room, what are you waiting for? Try these boho decor ideas out and share your feedback with us in the comment section below. Do let us know if we could add something more to our list. 
Happy Decorating!