Table of Content:
The world has started contributing to a sustainable and better environment. In fact, India's Union Budget 2023 also highlighted our government's focus on energy transition which is expected to fuel "green growth" in our country in the coming years. This clearly depicts how India is ushering toward green industrial and economic growth, environmentally friendly agriculture, and sustainable energy. Keeping in tune with the same today, let's explore some of the already well-established green buildings in India.
Inspiring Green Buildings in India
1. Suzlon One Earth, Pune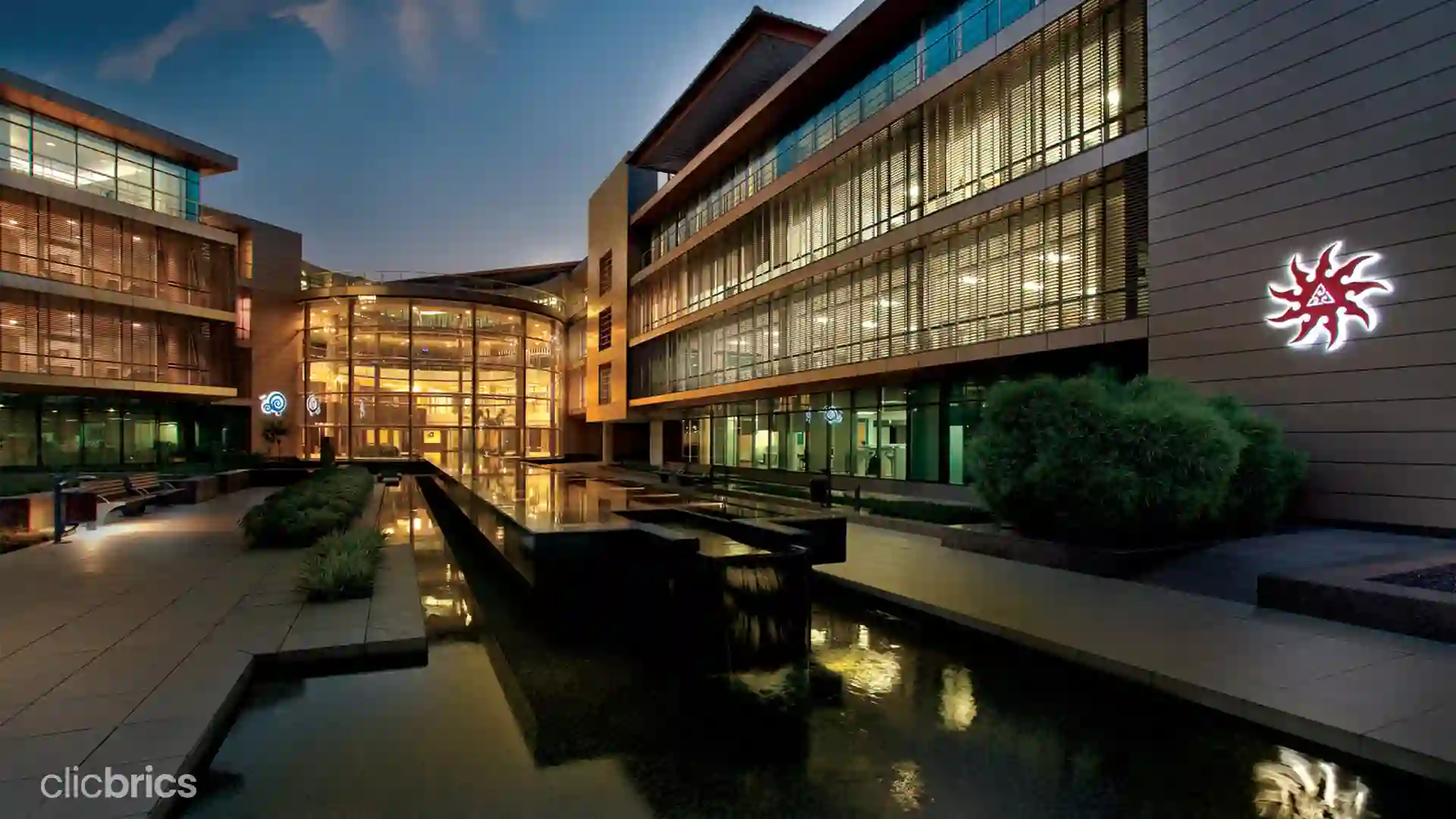 Source: Archdaily
Christopher Charles created a sustainable office architecture in India for which he received a LEED Platinum Rating in 2010. 
To create a sustainable architecture in India, he and his partner had an idea in mind: "office in the garden." This office in the garden has the capacity to accommodate 2300 people and is known to be one of the largest green buildings in India. Moreover, the project is touted as India's first building to be certified as Leadership in Energy and Environmental Design. 
Suzlon's campus has 18 hybrid wind turbines that fulfill 7% of the energy consumed, whereas the rest of the energy demand is supplied from offsite wind turbines. The campus is built to ensure maximum daylight exposure while diminishing the consumption of artificial lighting. 
2. Rajiv Gandhi International Airport, Hyderabad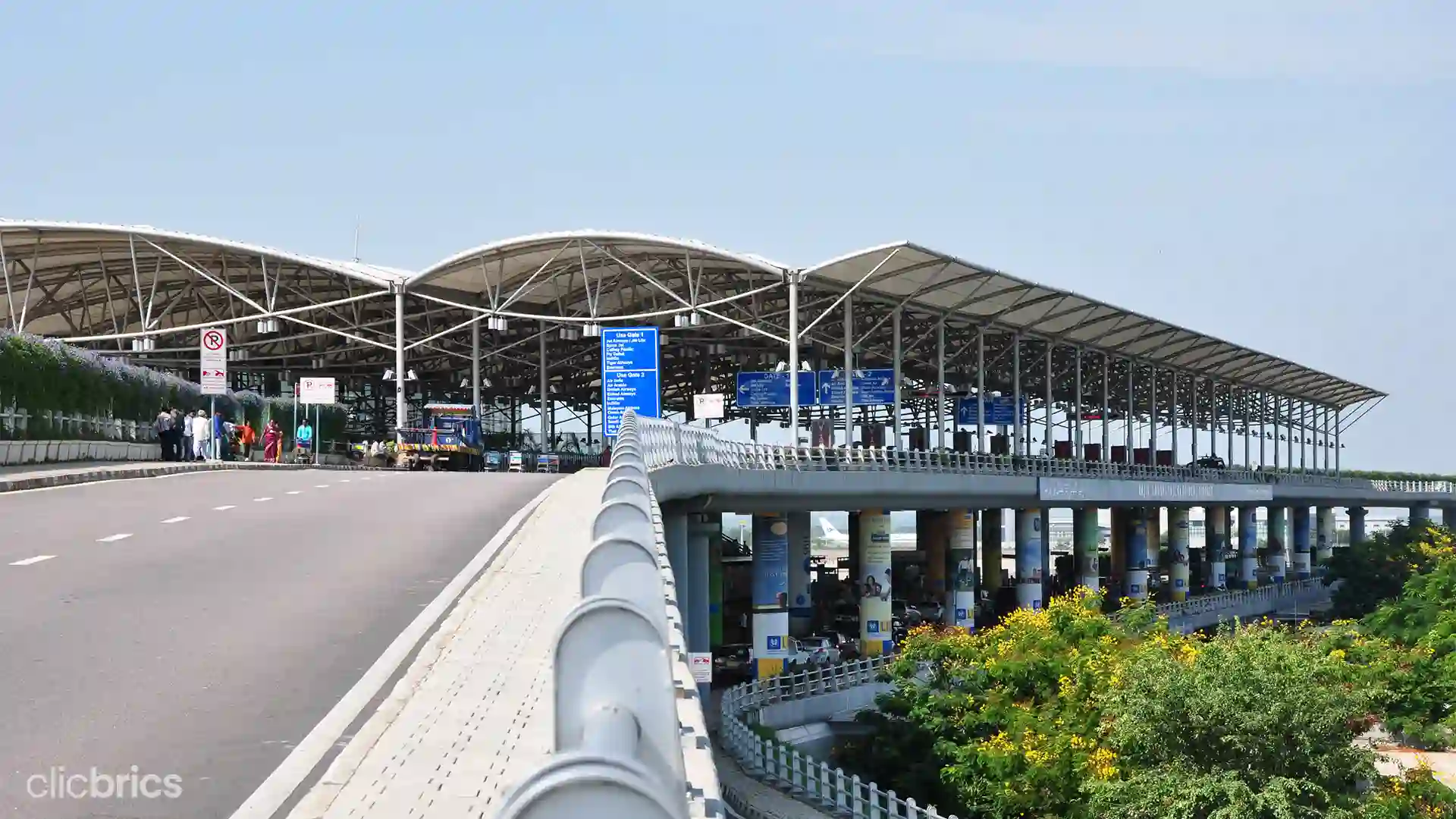 Despite being one of the busiest, the airport has still managed to set a benchmark and is one of the finest green buildings in India. The airport was designed keeping in mind the aim to consume less water and electricity and conserve natural resources. The following environmental aspects have been taken into consideration:
Greenhouse gas emission management,

Carbon footprint reduction

Material and energy intensity

Greenhouse supply chain

Clean energy use

Waste and water consumption reduction and management. 
The airport has a green belt of 273 hectares filled with green plants. Furthermore, the airport has been saving energy for nearly 3.97 million kWh and has diminished its footprint by 3331 tons. 
Also Read: Why are green buildings the need and not an option anymore?  
3. Infinity Benchmark, Kolkata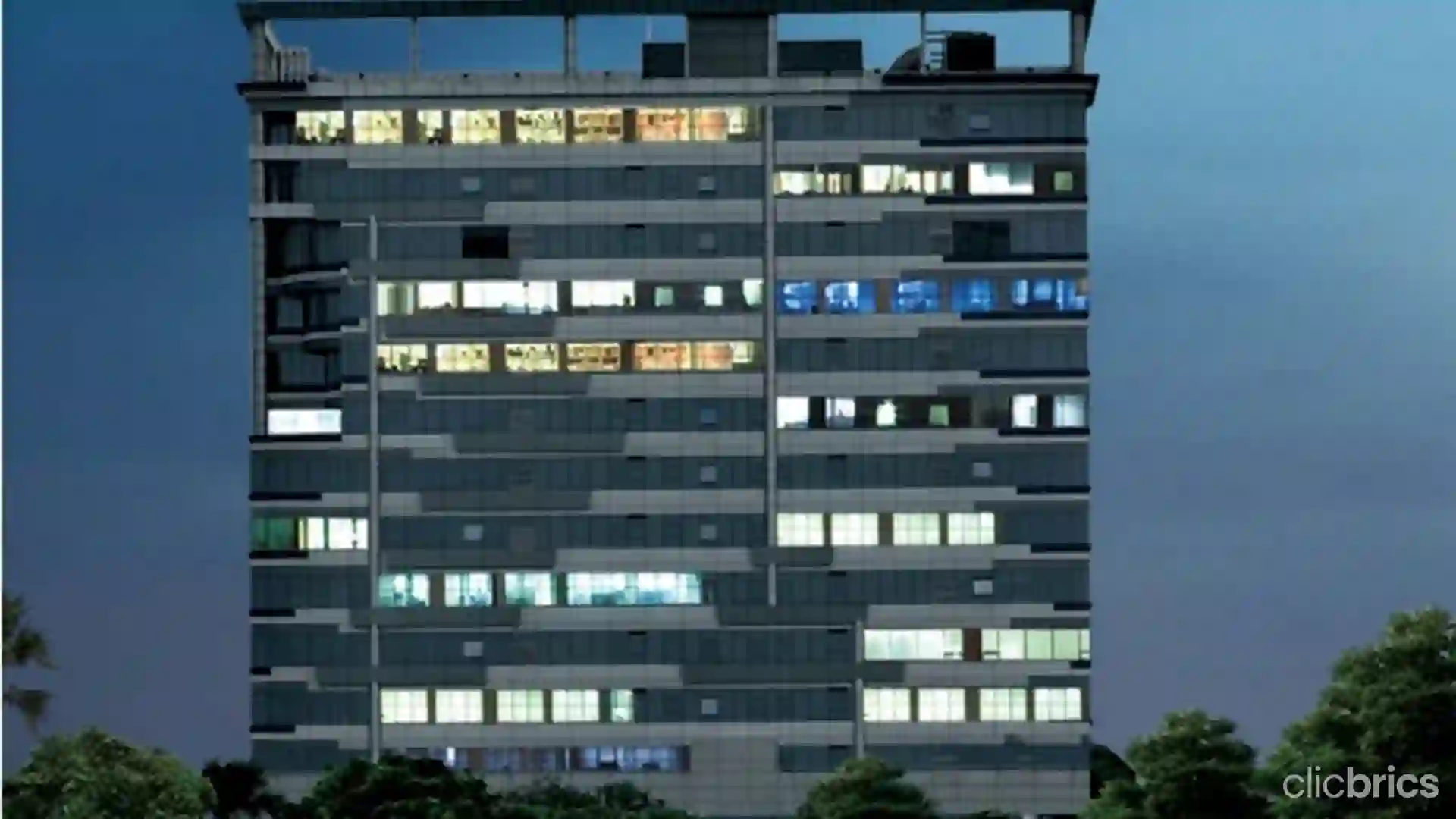 Source: re-Thinkingthefuture
Kolkata's this greenest building is located in Salt Lake City. The 20-story company building is Kolkata's first LEED Platinum-rated structure and is built with a floor plan area of 5,60,000 sqft. The green features of Infinity Benchmark consist of:
Rooftop terrace garden

Insulation layers in walls and ceilings 

Zero-discharge rainwater harvesting system

Smart indoor air quality monitoring system

Effective glazing for natural lighting

Low carbon footprint in the construction
From a conceptual point of view, the design of green buildings in India stands for innovative sources of green energy and protection of the environment. 
4. CII- Sohrabji Godrej Business Centre, Hyderabad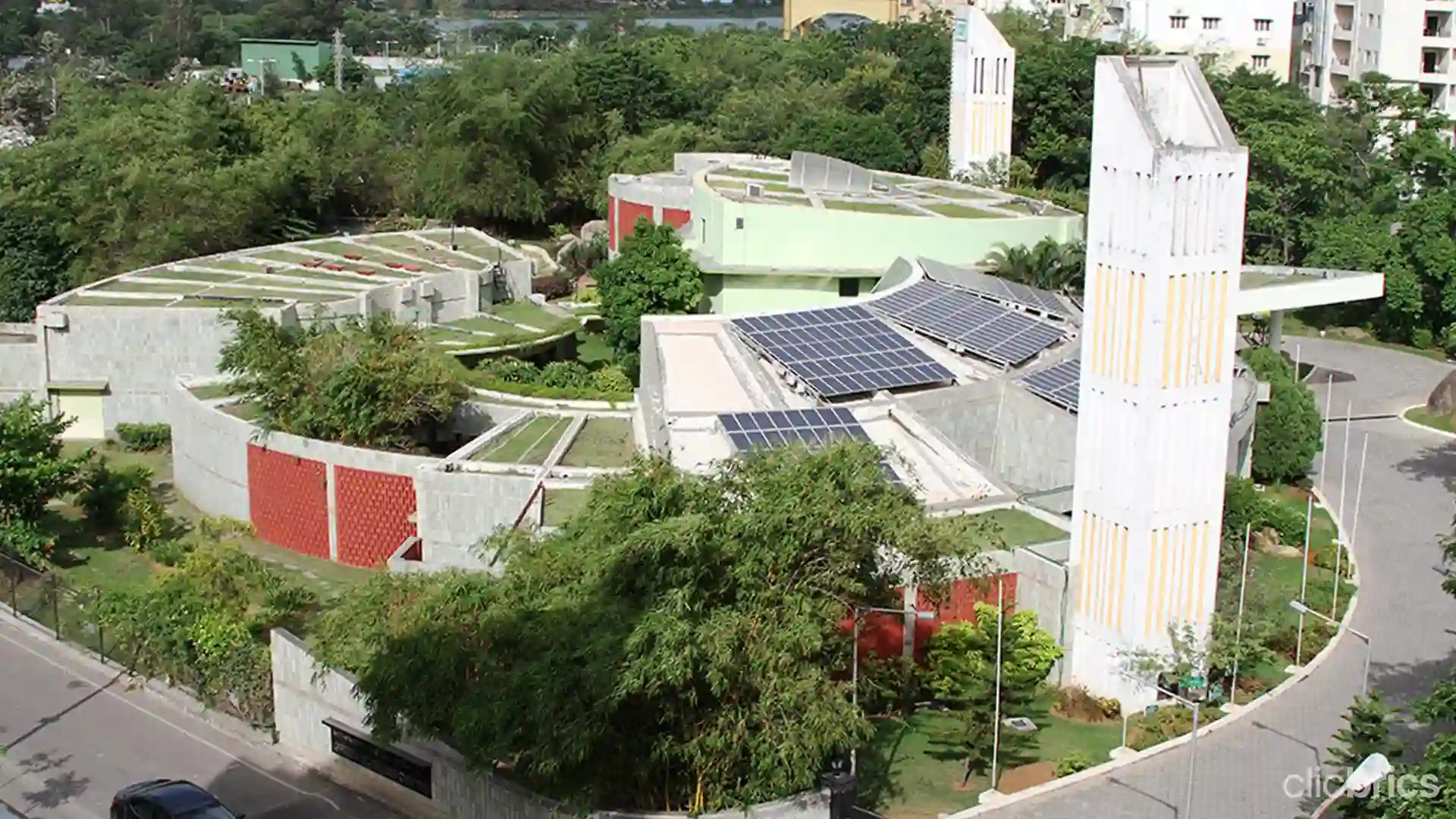 Source: re-Thinkingthefuture
Another green building certification in India is given to the CII-Sohrabji Godrej Green Business Centre in Hyderabad. It was one of the first buildings in India to receive a LEED Platinum rating at the time of its inauguration. The GBC strives to eliminate waste and recycle everything within its walls. 
Also Read: What is a Greenfield Project in real estate?  
5. Infosys, Mysore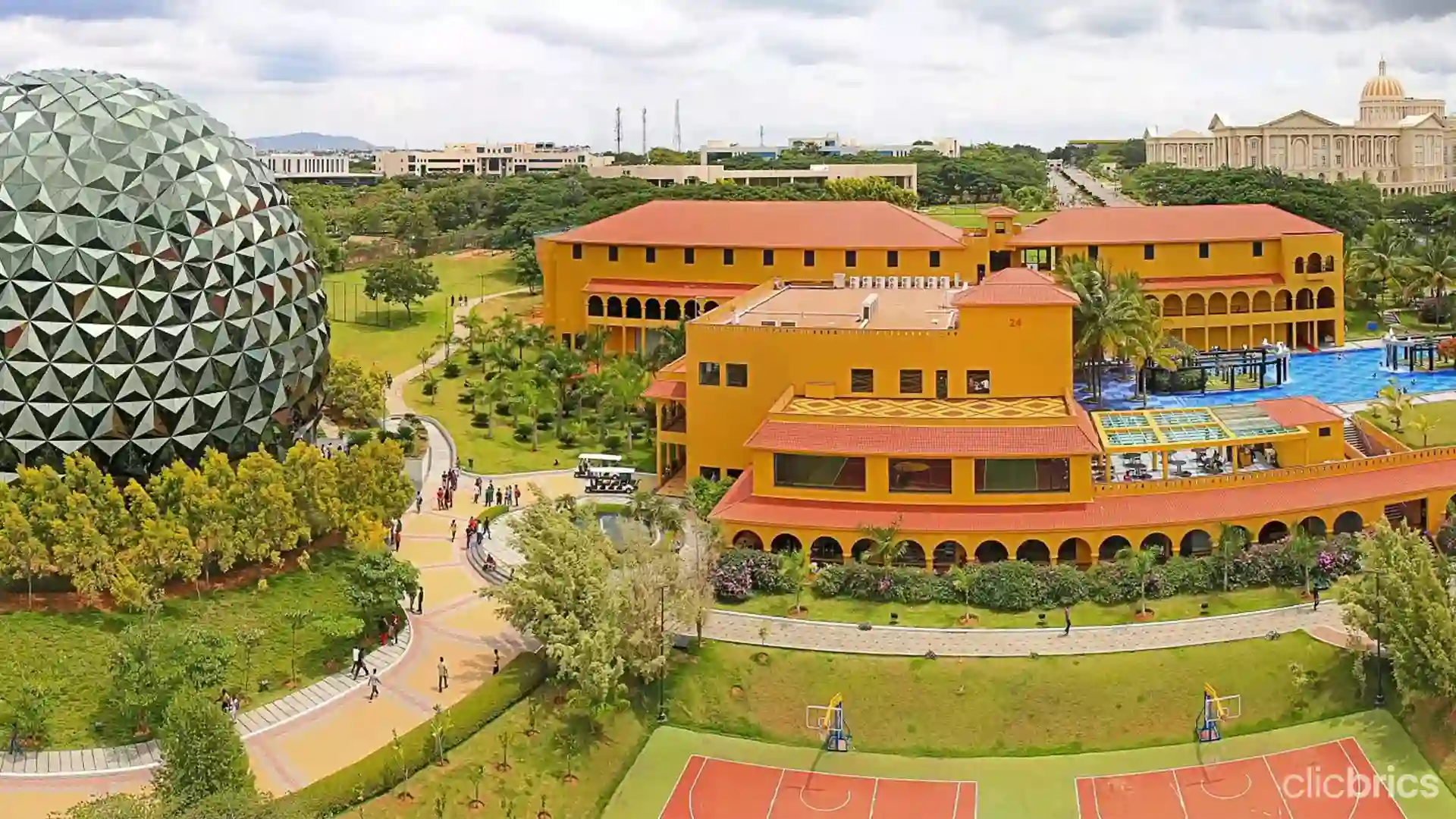 Source: Businessinsider
Of many sustainable buildings in India, Infosys, Mysore holds the third position to win the Platinum rating. The five key areas were kept in mind when preparing the five storeys of this office:
Sustainable site development

Water savings

Energy efficiency

Materials selection

Indoor environment quality 
The innovative mechanism and efficient equipment have led to a 40% reduction in energy consumption. 
6. ITC Maurya Hotel, New Delhi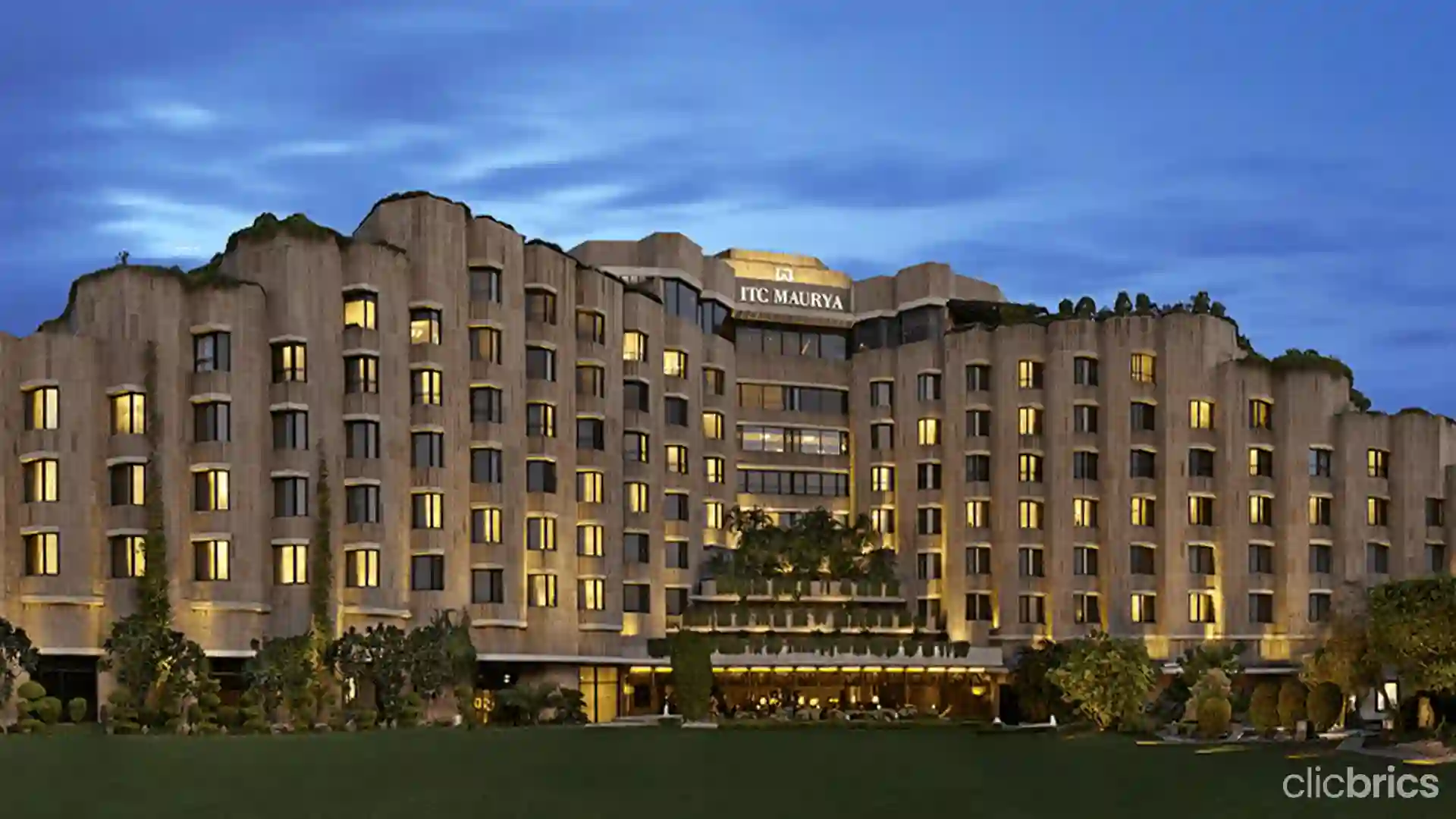 Source: Itchotels
The ITC Maurya, located in New Delhi, is one of the first LEED Platinum-rated hotels in the world. The hotel recycles over 90% of its waste, making it stand out from the rest. Over 30% of food and beverages that are locally sourced are harvested and processed within a radius of 160 km. Moreover, the hotel building uses extremely low volatile organic compound paint, making it one of the finest green buildings in India. 
7. Cisco Building, Bangalore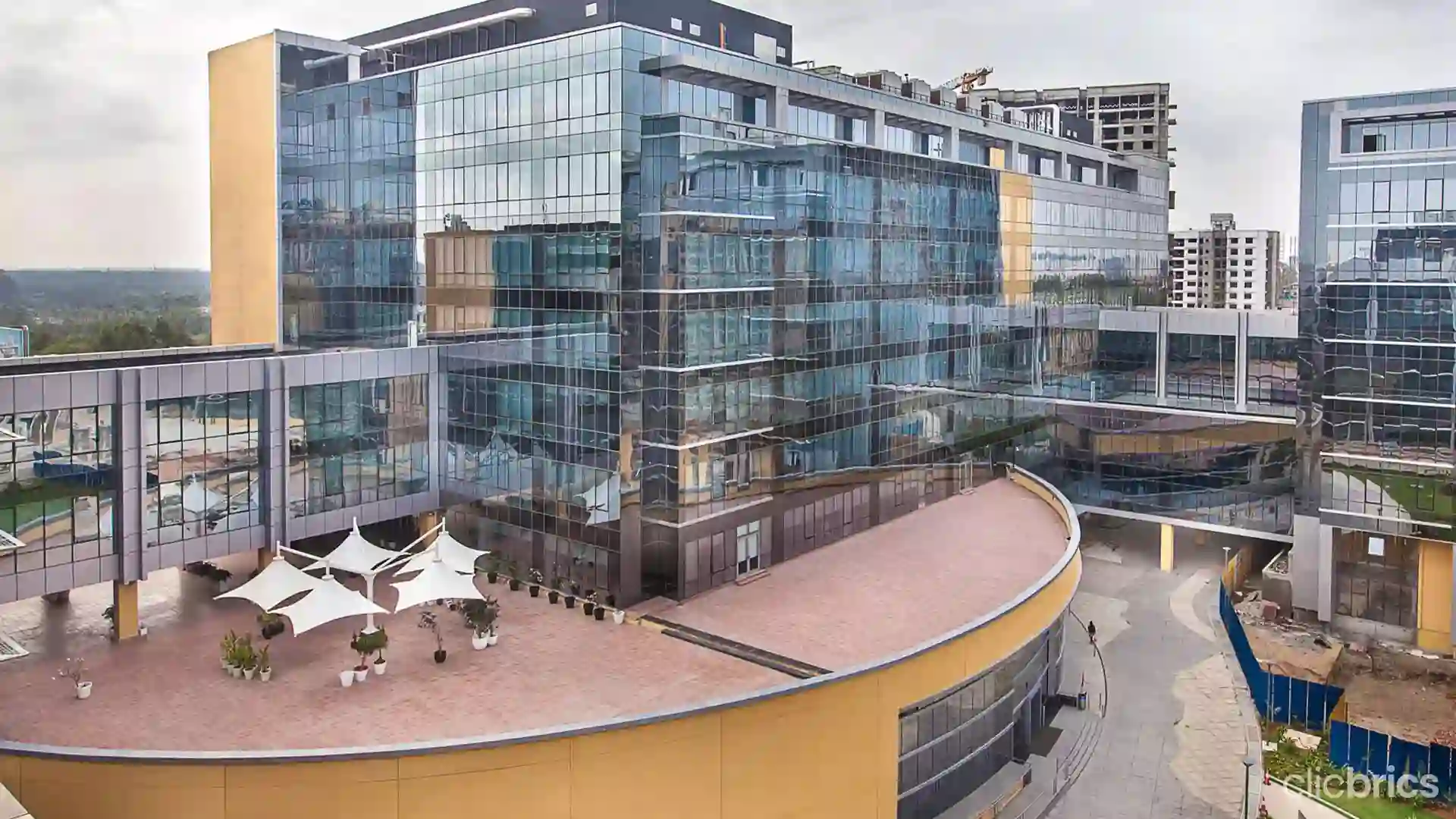 Source: Timesofindia
The campus is spread across 2.18 million sq. ft of built-up area. The Cisco Smart Building has received five LEED-Platinum certificates. The building's energy consumption is offset by green power investment sources above 70,00,000 kWh annually. It uses recycled and renewable construction materials and has an energy-efficient HVAC design. 
8. The ITC Green Centre, Gurgaon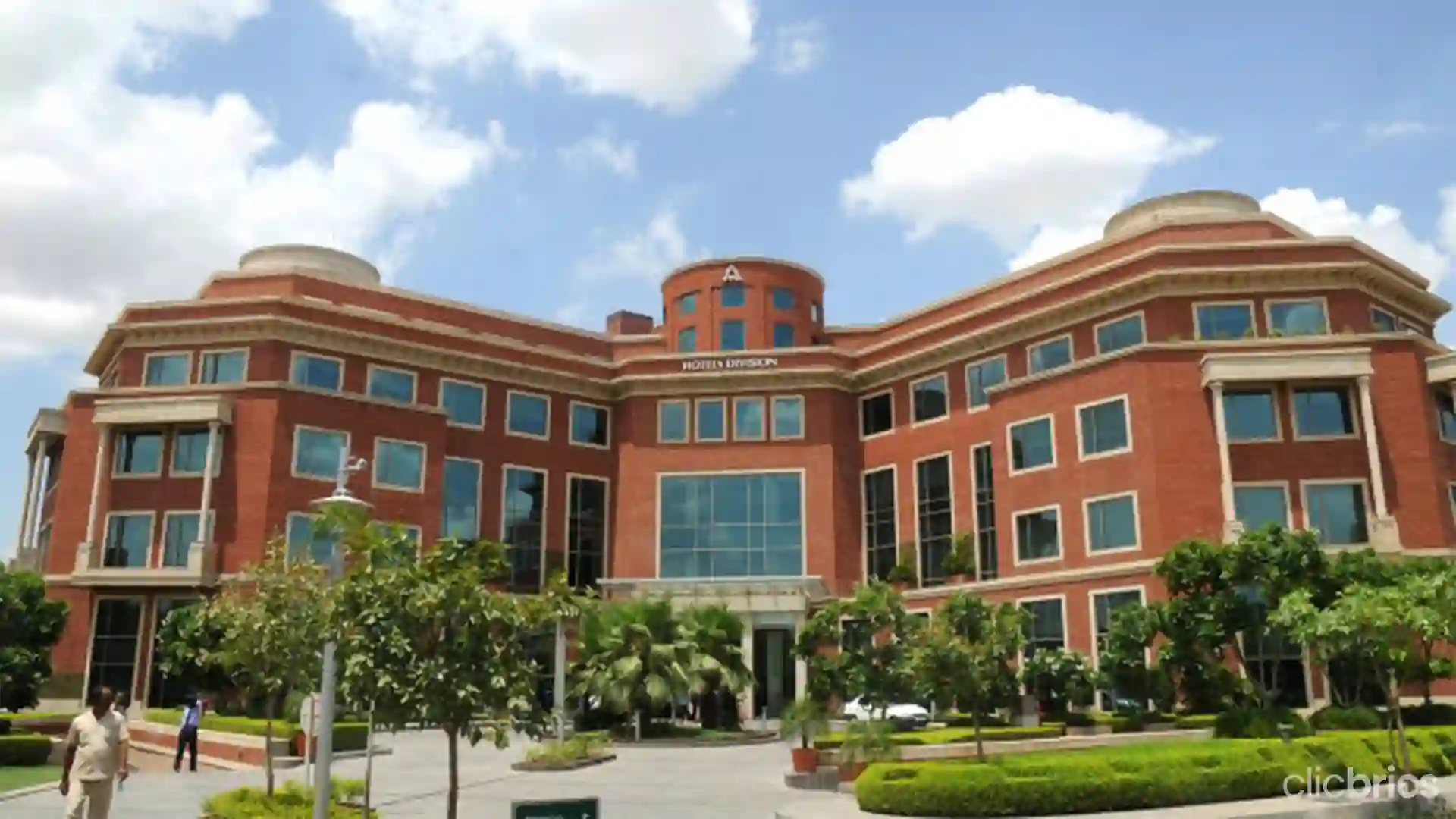 Source: Thehindu
Among the list of green buildings in India, the ITC Green Centre was the first corporate building in India to get LEED Platinum 2004 certification. During the construction phase, the building used sustainable building techniques, which significantly reduced its energy consumption. The windows of the ITC Green Centre are double-glazed, which does not allow heat to enter, while insulation regulates the temperature of the building.  
9. Homebelaku, Bangalore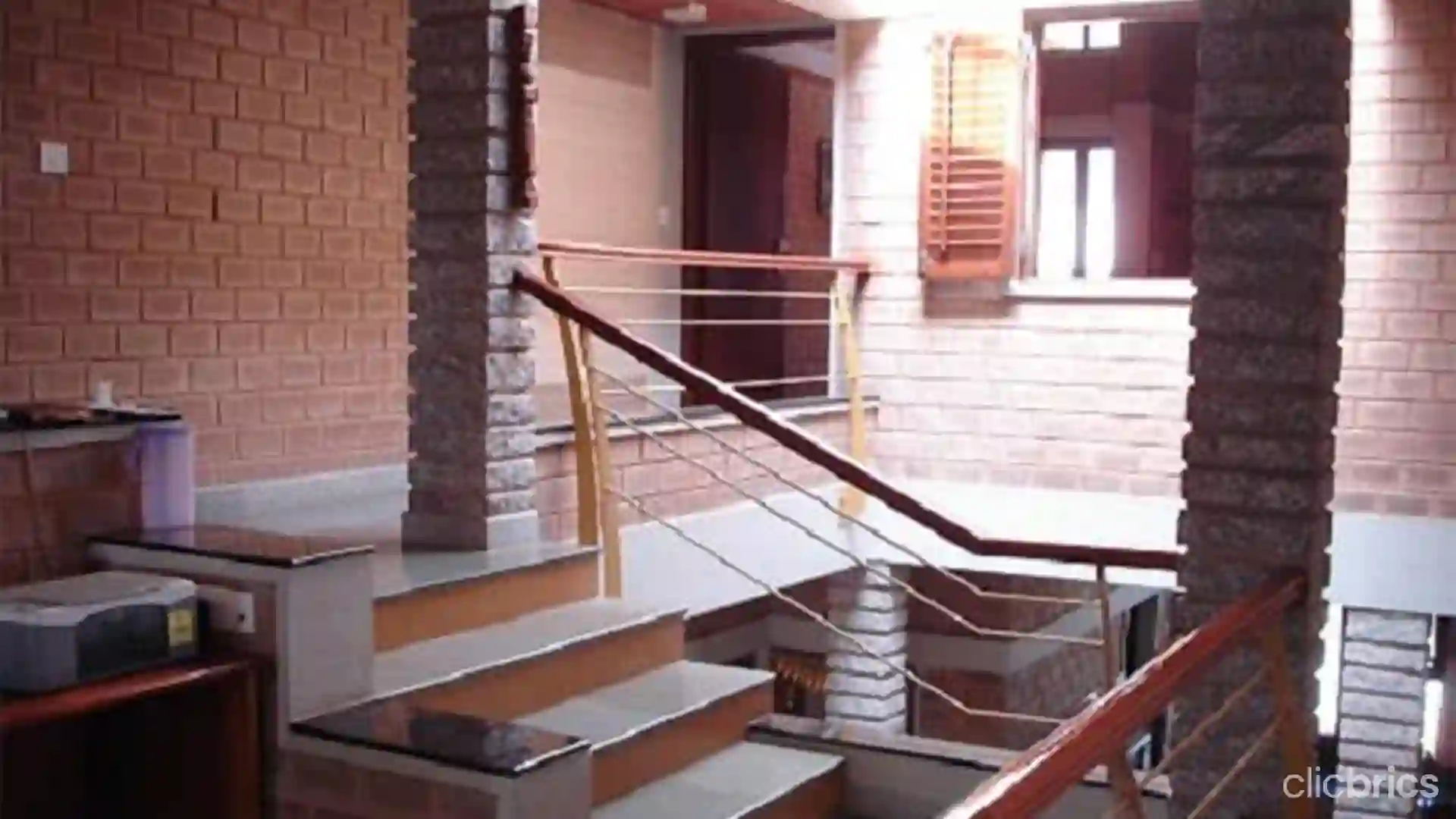 Source: Tfod
How many of our readers are aware of the fact that, apart from commercial buildings, there are eco-friendly houses in India too? Well, this house built in Bangalore is a well known example for having an eco-friendly concept. 
The home's walls have never been plastered or painted, which reduced lead exposure.

For flooring, the house has used kota tiles and clay.  

Solar water heaters and solar lamps are used to reduce electricity.

The waste gets separated into different piles, and compost is produced, which is used in the garden.

The family uses rainwater to fulfill their water needs. 
Also Read: Top 6 Points Why Green Home Will Benefit You Greatly! 
10. I-Gate Knowledge Centre, Noida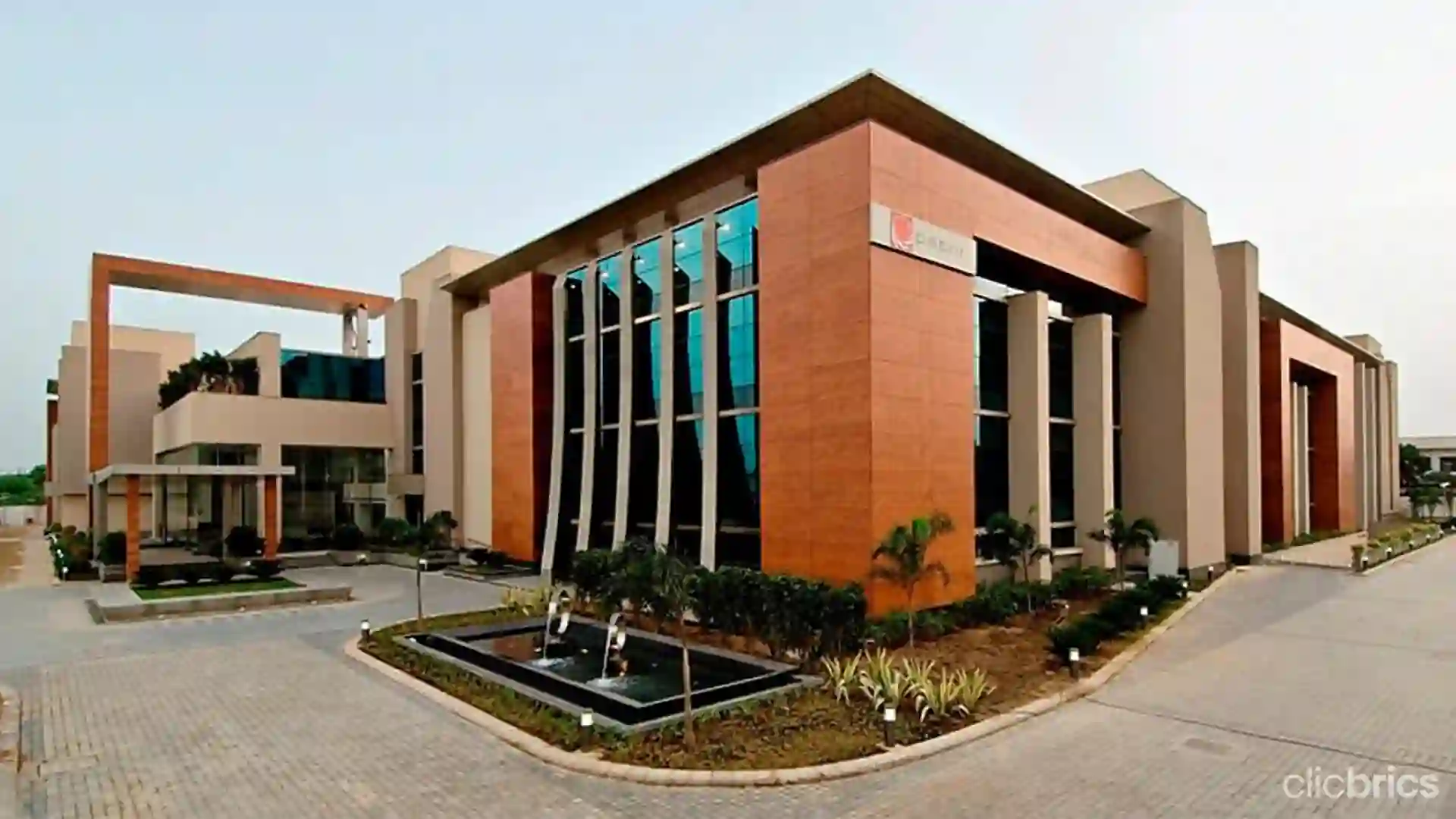 Source: re-Thinkingthefuture
Next on the list of green buildings in India is Noida's Knowledge Centre. It holds a prestigious Platinum LEED rating and is built over 4,60,000 sq ft. This sustainable architecture in India was designed to capture at least 73% of the daylight within the office. 50% of the land is covered with greenery, preventing waste and sewage water from going out. 
Conclusion
These are the famous green buildings in India, but surely there is still a long way to go. India understands the benefits of green buildings for overall green growth and is constantly striving for sustainability with many more green initiatives in the country.