Table of Content:
On a daily basis, we go up and down several times on our terrace. Yet we never see our functional staircase as a thing of beauty. It is, without a doubt, the wrong approach, as a beautiful staircase design plays a pivotal role in our homes. It is considered a showstopper piece that creates a stunning architectural statement. But if you have a terrible staircase design, it will ruin the look of your home rather than play the role of beautifying it. And we, on the other hand, definitely don't want to ruin the look of our home just because of a lousy staircase design.

So the solution is simple, and that is to follow the tips on how to transform your boring staircase design into something more valuable, beautiful and convert it into a modern staircase design.
First, let's understand the primary materials used to construct stairs.
Primary Construction Material Used In Staircase Design
Concrete is one of the sturdiest materials for stairs and can be moulded into a straight, spiral, or curved shape. But there is one thing about concrete: it is unattractive. So ideally, concrete should be augmented with slabs of stone or marble tiles.

Glass and acrylic are the most popular choices for creating ultra-modern and lavish homes. 

Also, for staircase design, you can use laminated and tempered glass, which will reflect the affluent lifestyle of the homeowner. The quality of the glass staircase is that it is not affected by moisture and does not dampen. Acrylic is also a strong material, but it often gets scratched. So maintenance is something that one needs to keep in mind.

Wood is one of the most common materials used for stair design as it is durable and evergreen. If you wish to give your stairs a rustic, traditional, or modern look, wooden design stairs will be a good option.

Stone  like marble, granite, quartz, and onyx, that can be used for stairs. They provide different styles for stairs, like classical, gothic, baroque, neoclassical, and other styles.
Unique Ideas To Enhance Your Existing Stairs Design
1. Prepare a Mini Garden To Utilise Space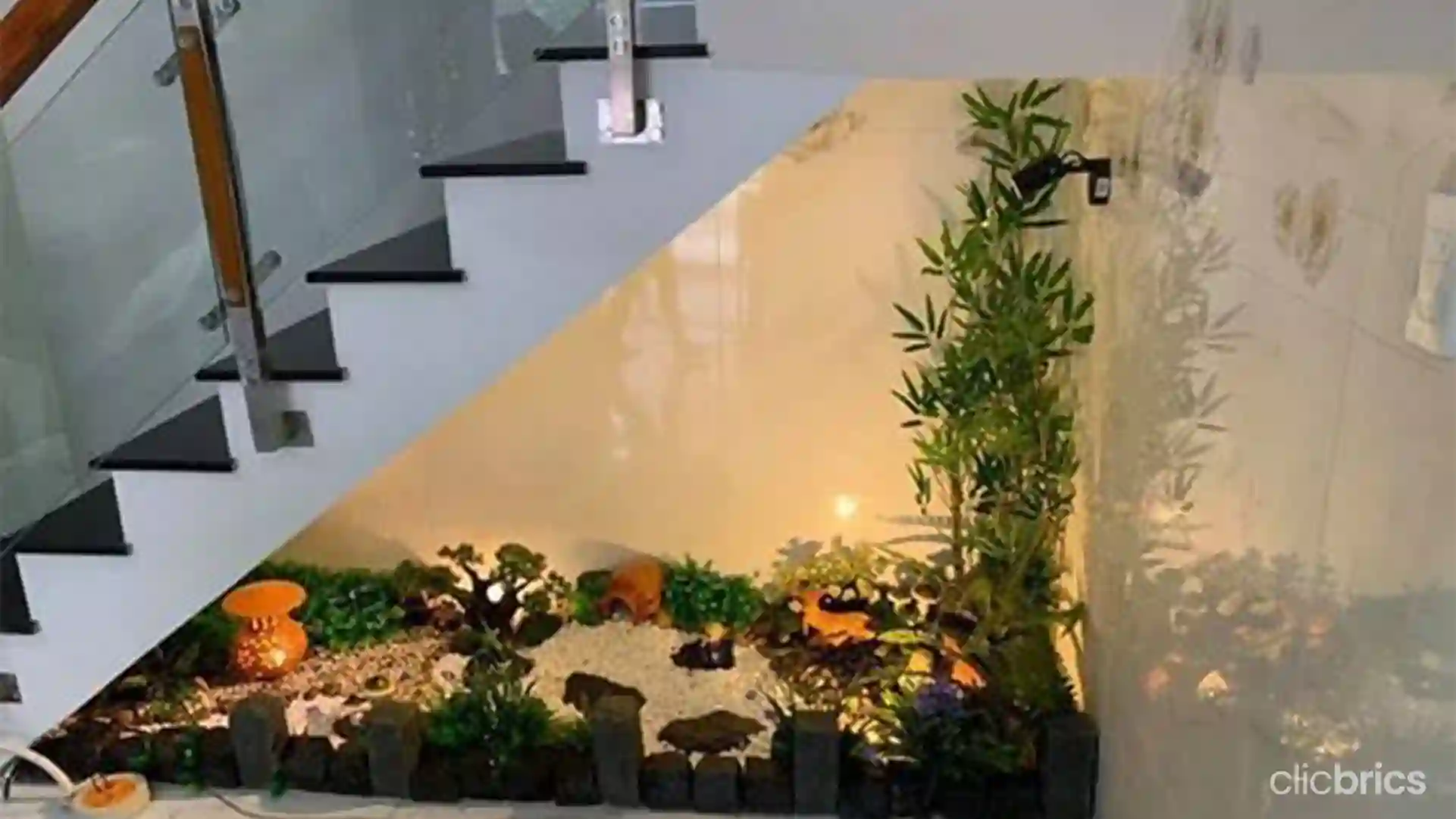 What better way to beautify the space for a simple house stair design than by adding some greenery?
Beautiful, right? If you have a staircase design with a small space available below, utilise it to build a mini garden under it. It can also be used by people looking to incorporate more greenery but lacking space. So gather some indoor plants and place them beneath your small-space stair design.
To beautify it further with the help of nature, you can hang some vines leading up to the first floor. And in this form, you will have a green carpet ready in no time!
Don't Miss Reading: Tech Tools to start smart gardening at home
2. Spiral Staircase Design To Save Space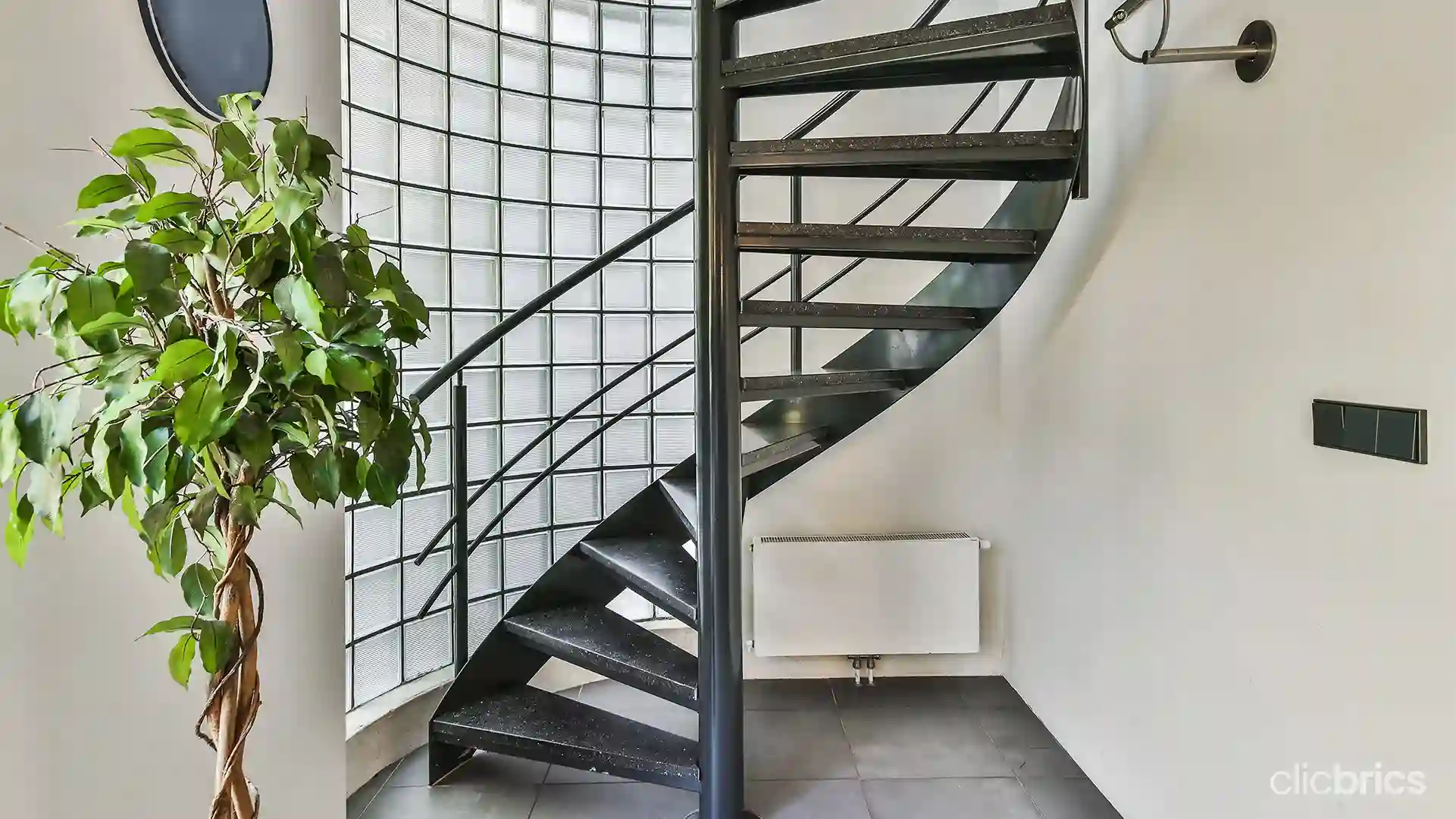 If you have a restricted space at home but still want an effective solution for a staircase design, the key is to install a spiral staircase. These kinds of simple stairs create an enhanced focal point within your home. Furthermore, the spiral staircase design will positively appeal to your home's decor once it is installed. Thus, a spiral is the best solution for building an alluring yet functional staircase design.
3. Get a Vintage Vibe With a Thin Wire
Staircase Design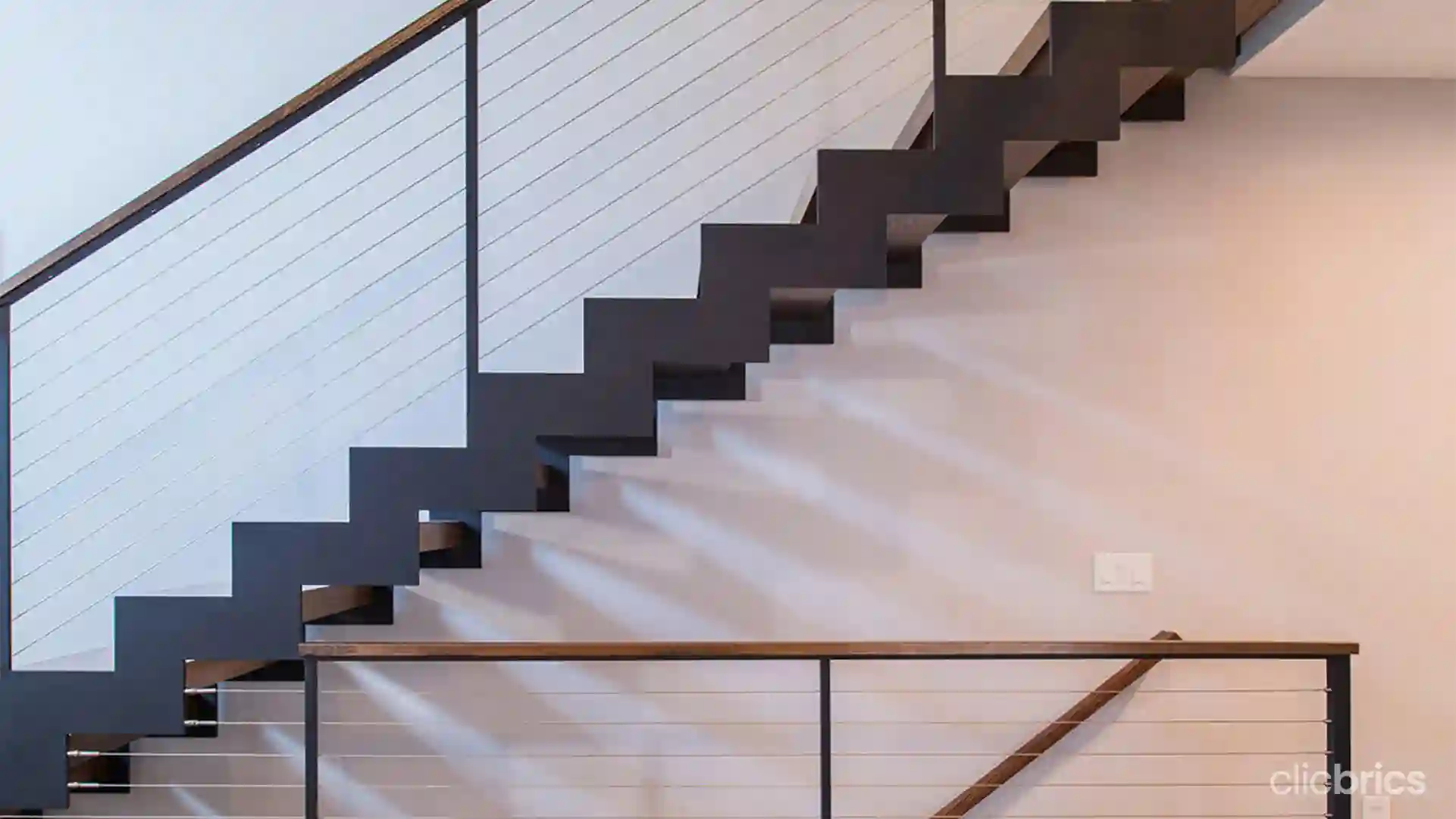 If you enjoy creating old-world charm and want to replicate it in your home, you can get it by installing a thin wire staircase design. The best benefit of these round stair designs is that they are visually light and space-saving. When designed with thin wire, you will find under-space stairs, which can be used to make cabinets or bookshelves. And, guess what - you will get a vintage vibe from this beautiful staircase design.
4. Elderly-Friendly Low Footprint
Staircase Design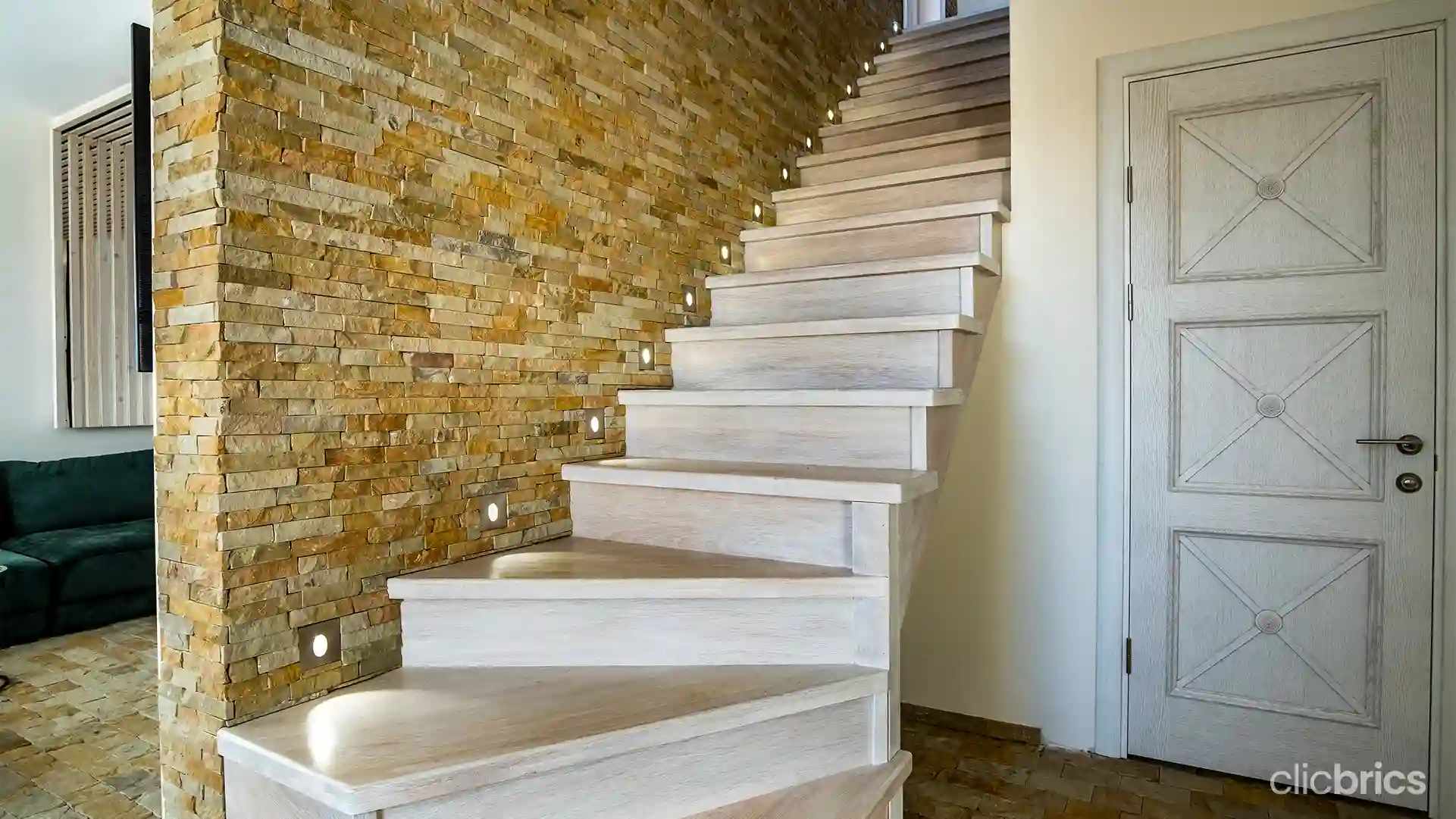 If you have less space at home with older people and feel like the crowded space can become dangerous for them, don't worry; we have a solid solution for that. Install a slim width paired with a high riser to create a low staircase design that is both space-saving and elderly-friendly. This design is super comfortable and convenient within a narrow, confined space. Installing a low-footprint staircase design will protect the health of the elderly while maintaining aesthetics.
5. Floating
Staircase Design
For Contemporary Aesthetic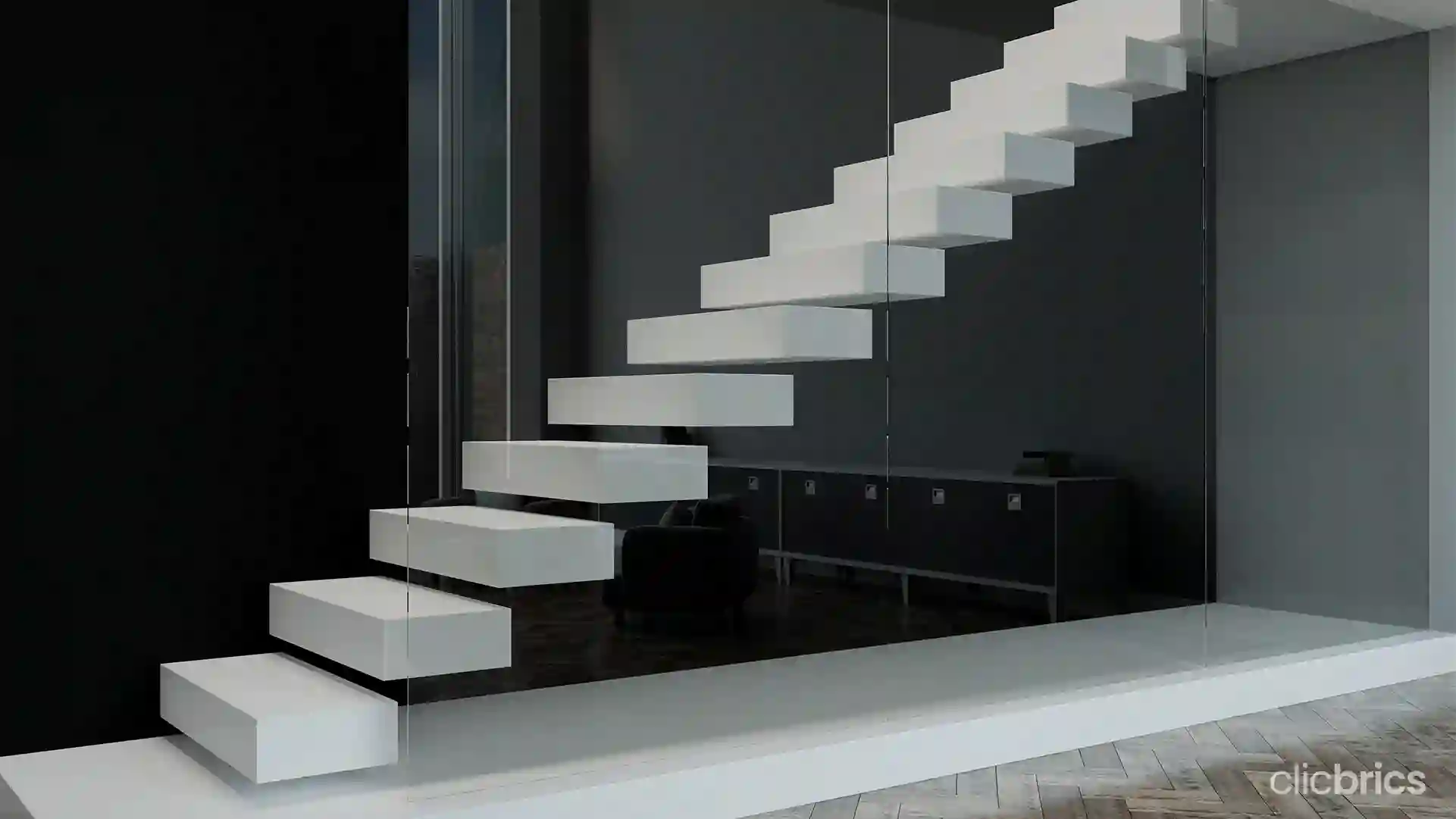 Because it is fixed at only one end, a cantilevered floating staircase appears to float. People looking to completely modernise their homes often opt for such a staircase design. It's unique and modern, so installing it at home will be a good choice.
Don't Miss Reading: Steel Grills for Statement Staircases
6. Use Glass To Create a Modern Staircase Design
.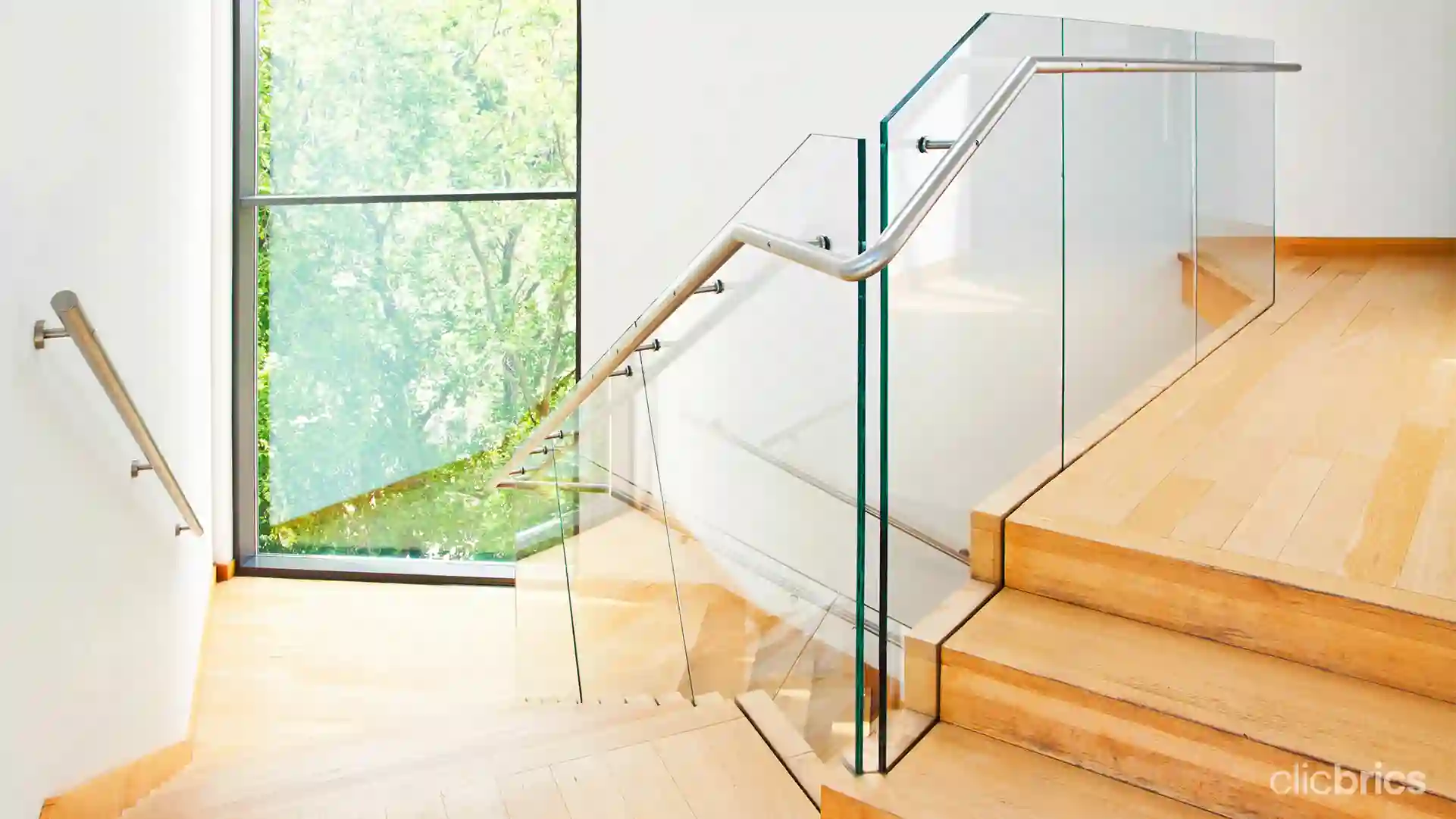 Who doesn't love to have a contemporary vibe in their home? The answer is everyone! In order to create a modern staircase design, you need to find suitable materials that will add a touch of elegance. So, make a staircase design at home with the help of glass and marble to achieve that luxurious, elegant look!
Moreover, you can add a glass-and-steel railing that will enhance the modern staircase design more efficiently.
7. Magical Lights To Dazzle Up Your Staircase Design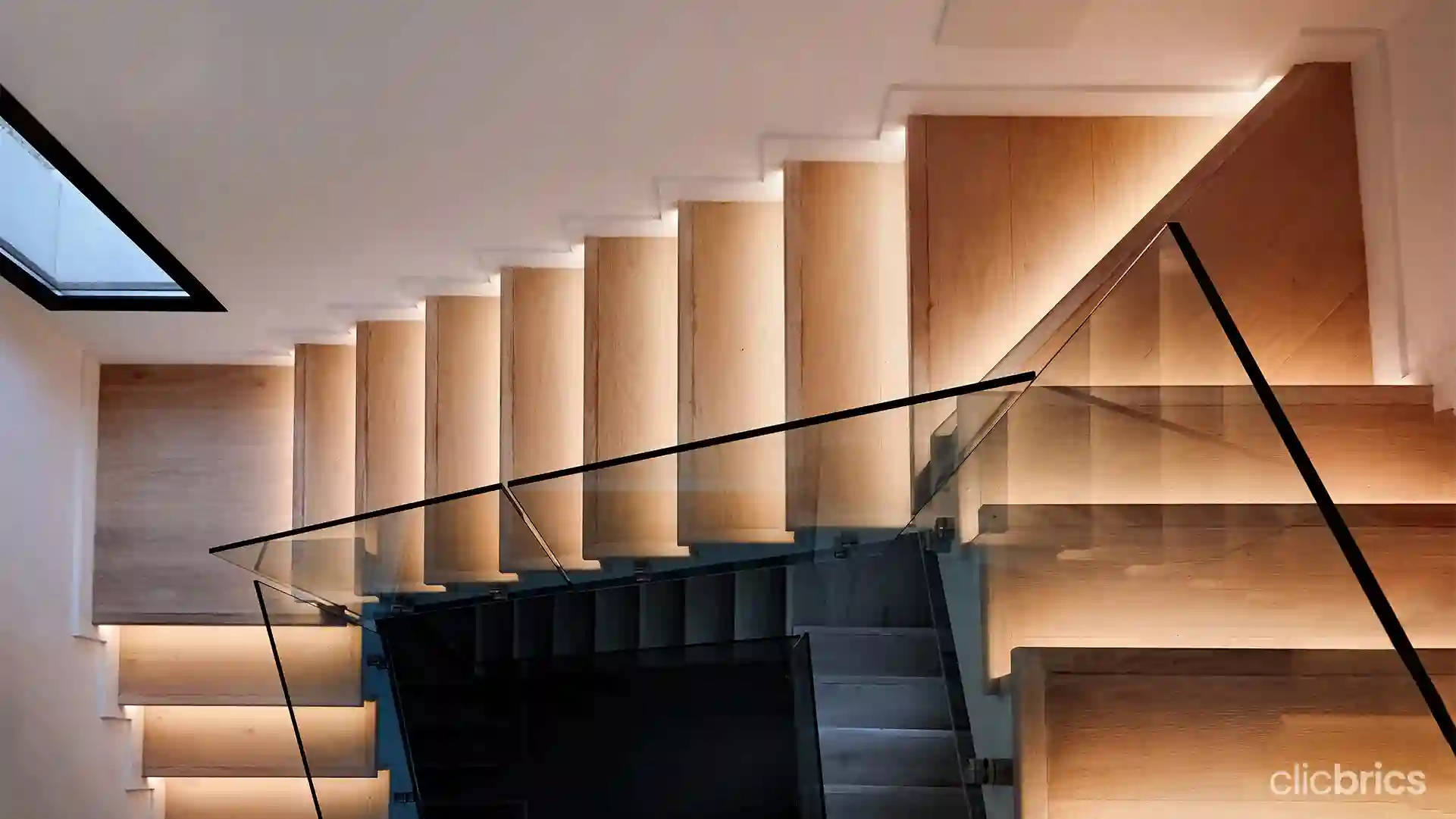 If you have the perfect staircase design but believe it needs to be more beautiful to match your home's decor! Don't worry. We've got you covered! First, install statement lights to revamp the look of your staircase design. You can also enhance the look with recessed lights, but if you have a reasonable budget and want to go further, add step lights. It will illuminate the area and make it safer to traverse the steps at night.
Don't Miss Reading: 4 Expert Tips to Utilise Your Floor Space
Wrapping It Up 
Take Inspiration From These Beautiful Staircase Designs You might not give much thought to a staircase design. But it plays a significant role in your home's overall look and feels. A well-designed staircase can make a big impression on guests and add to the resale value of your home. Some stunning staircase designs mentioned above can modernize the look of your home, and you can also utilize the space in the best possible manner. So try today and tell us in the comment section your favorite option, 
Don't Miss Reading: Home improvement projects for best rates of return