Table of Content:
The decoration for the sangeet needs to be breathtakingly gorgeous. This is due to the fact that it is one of those wedding events that the bride and groom can make very personal for themselves. Sangeet is the part of a wedding that everyone looks forward to the most - from the bhaiyas and bhabhi shaking a leg to the bridesmaids and groomsmen practicing choreographed performances for this day. So, today let us look at some of the gorgeous sangeet decoration ideas: 
1. Welcome Sign Boards: Simple Decorations For Sangeet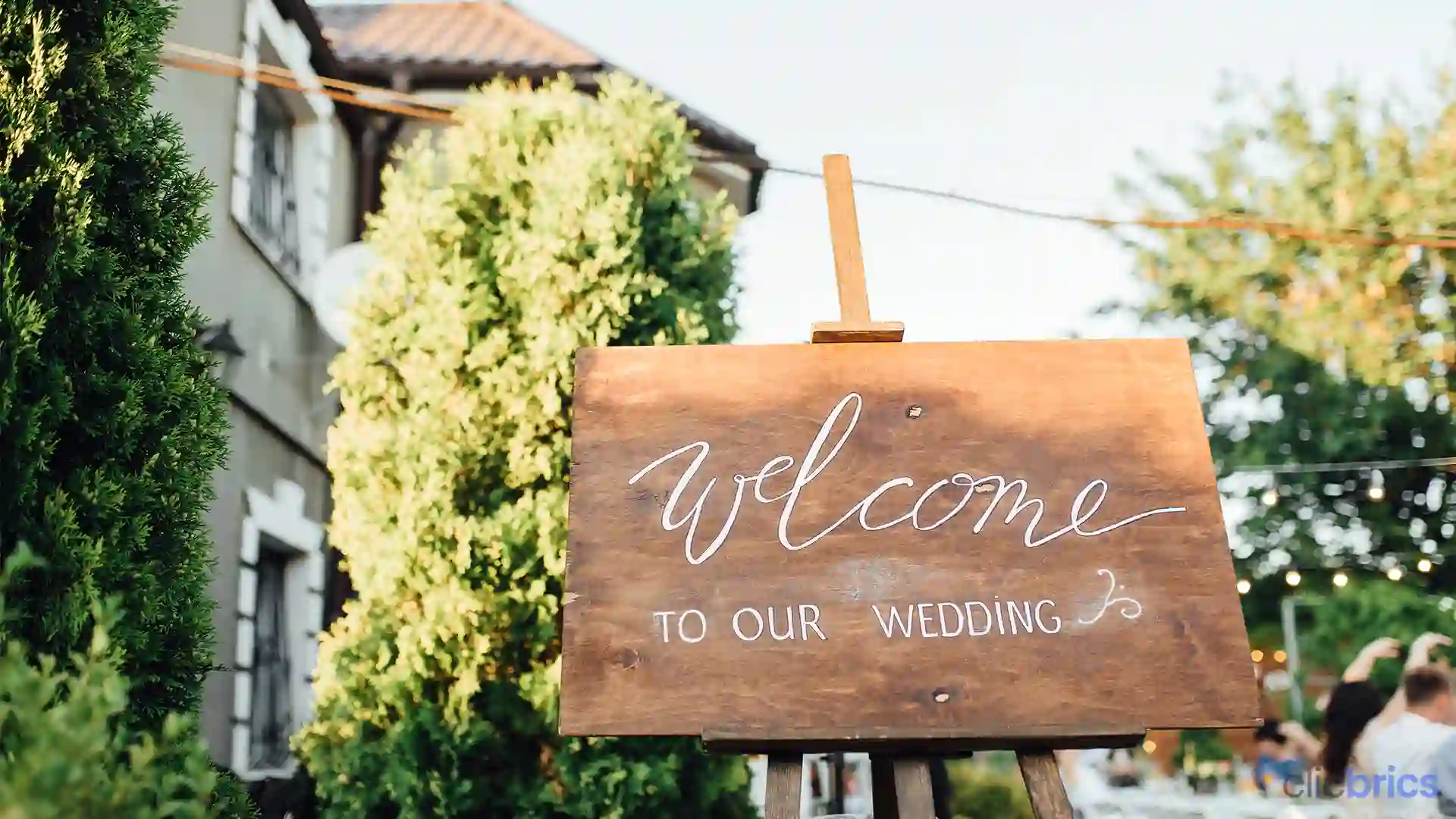 They say that the first impression is the last impression, so it is imperative that you acquire a welcome board that has an attractive design.  You can utilize bright colors like the fuchsia hues and traditional mehndi designs. You can also select a nice font for the text that will appear on your welcome boards.
2. Sangeet Ceremony's Decoration With Flowers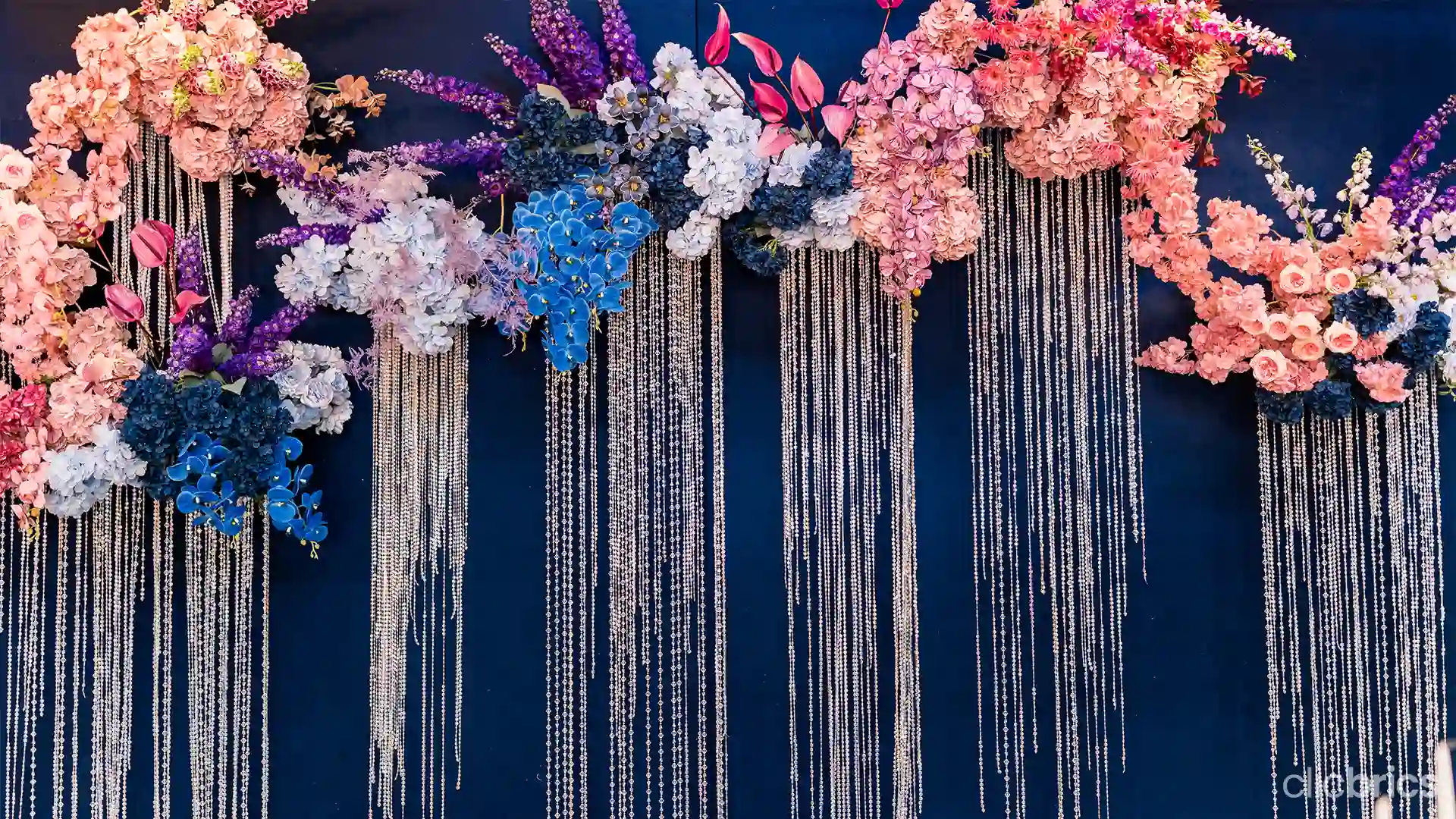 Why bother with real flowers when you can make a much more significant statement with large paper flowers? And you can add a vintage-style scooter painted in matching hues. Consider this a beautiful floral ornamentation suggestion. And spread a spirit of lighthearted fun among your visitors. Consequently, you employ this modern sangeet decoration idea throughout the venue.
Suggested Read: Flower Decorations You Can Easily Make A Part Of Your Home
3. Dhol Embellishing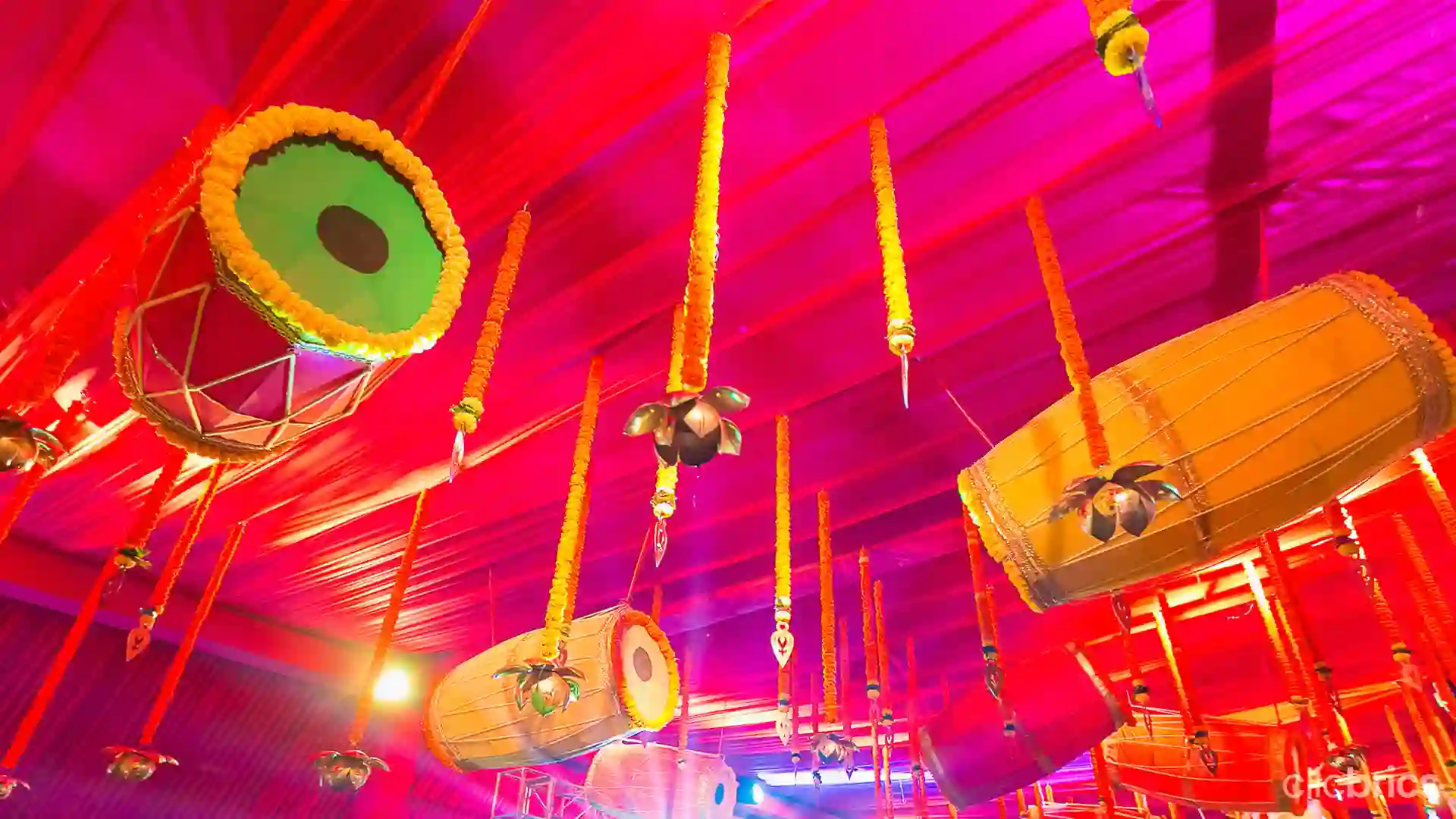 source: weddingbazaar

Theme consistency can be achieved with this hanging dhol - a stylish sangeet decoration idea at home. The evening is meant to be a social event, so music and dancing take center stage. Moreover, one is immersed in the solemn atmosphere of the event immediately. 
4. Light Up The Evening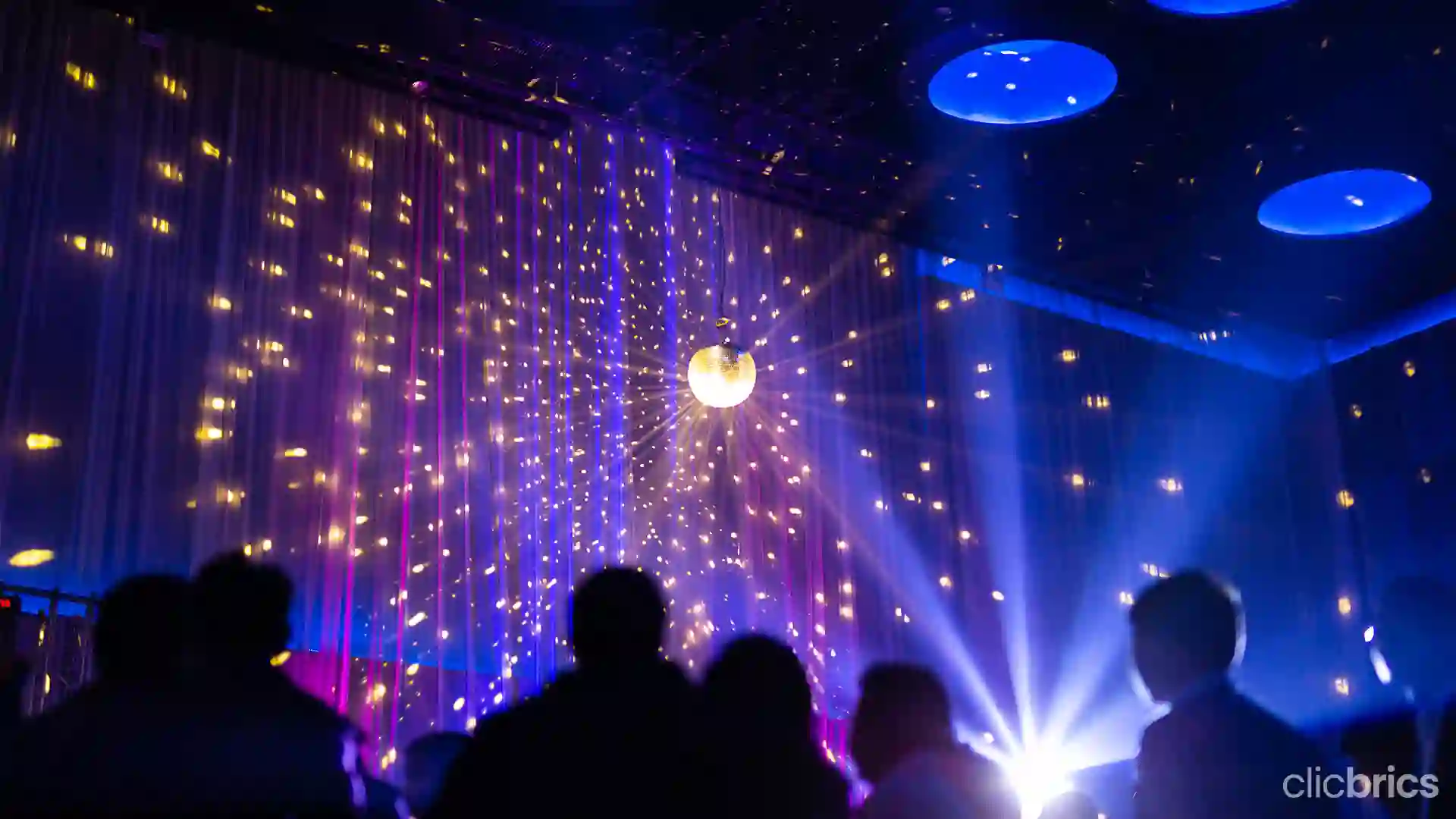 With environment-friendly LED lighting, it is now possible to install a number of lights into a single room to make mehndi sangeet decorations look like a Bollywood set. 
So, make sure your light decoration ideas aren't exhaustive. In addition to that, you and your decorator can discuss a wide range of options. If you haven't already done so, this is the point at which you should select a decorator. You can also use these sangeet decoration ideas at home and DIY epic home decorations with your family.
5. Tempting Indian Furnishings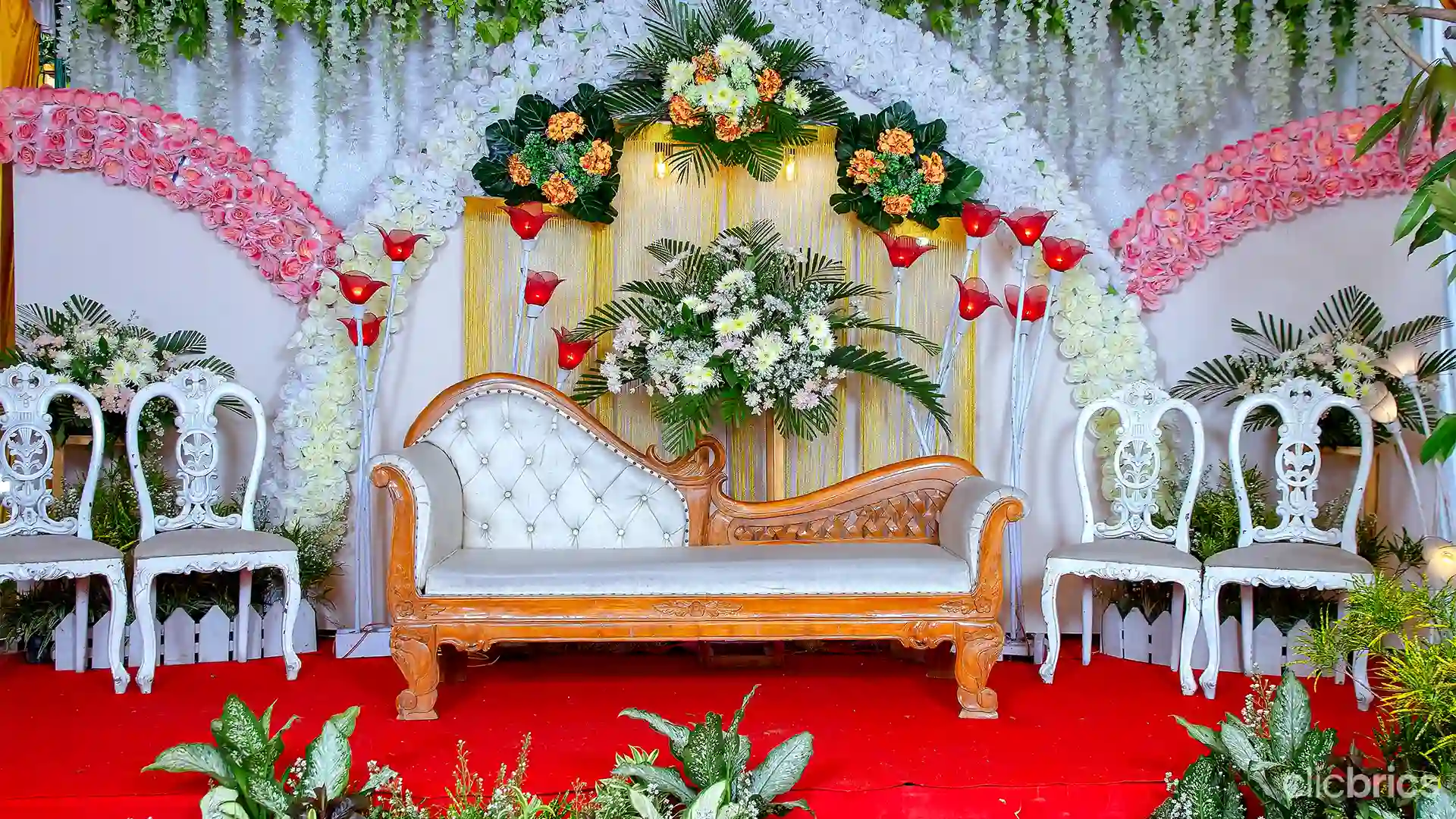 Our country is a mosaic of cultures, and this is reflected in the richness of traditional Indian Décor. If you're going for a kitschy aesthetic, feel free to combine elements of design from various cultures. Alternatively, you can focus on one cultural inspiration, such as the Arabic-inspired designs, and run with it.
6. Gate Decoration For Sangeet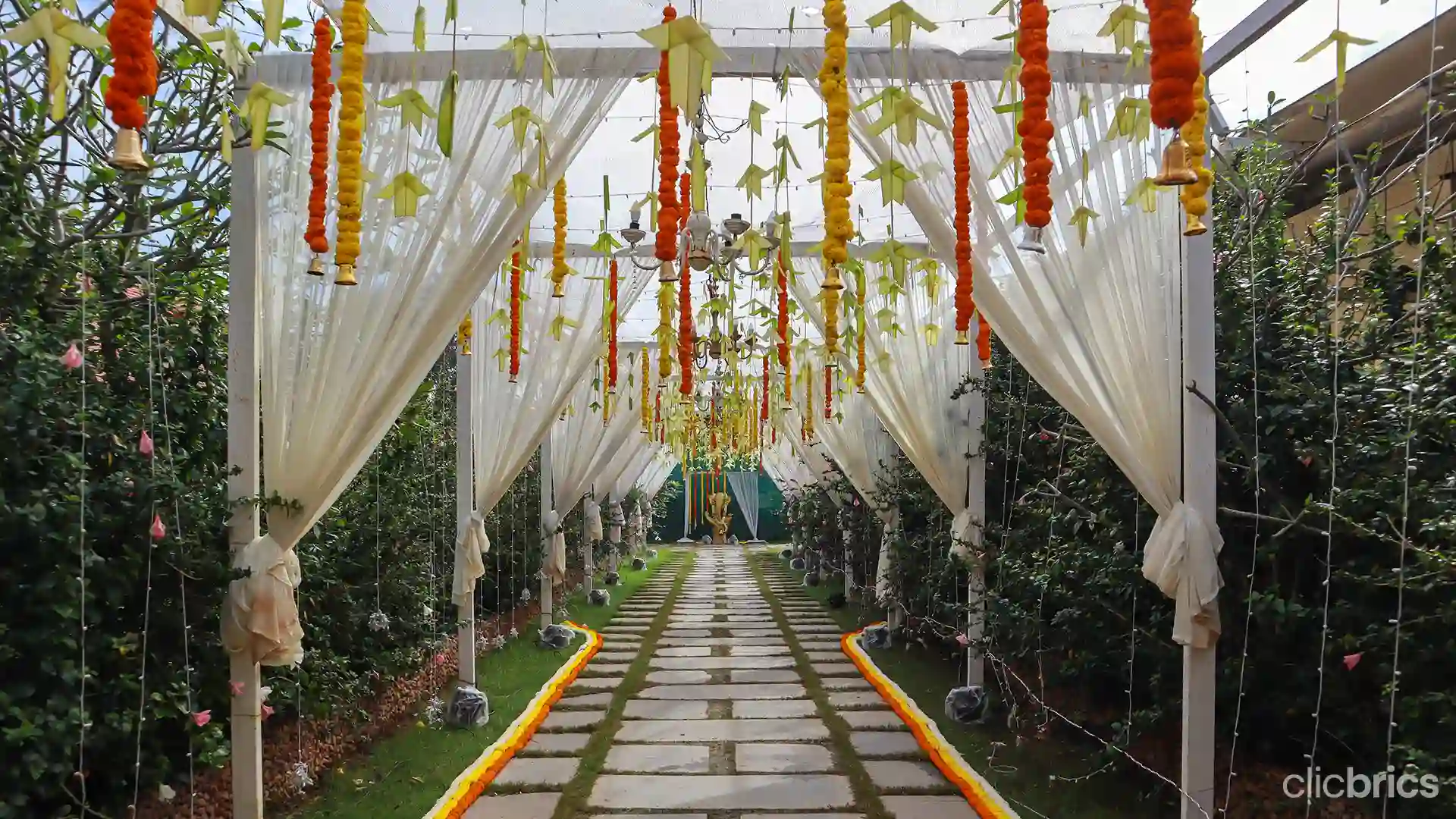 The most up-to-date approach to decorating entrance gates for sangeets is to lavishly decorate the ceiling with floral arrangements. And one can work their magic with marigold and saffron-colored flower balls. Therefore, discreet LED lights placed within the flowers can give the room a beautiful, ambient glow.
7. Use Unique Candle Holders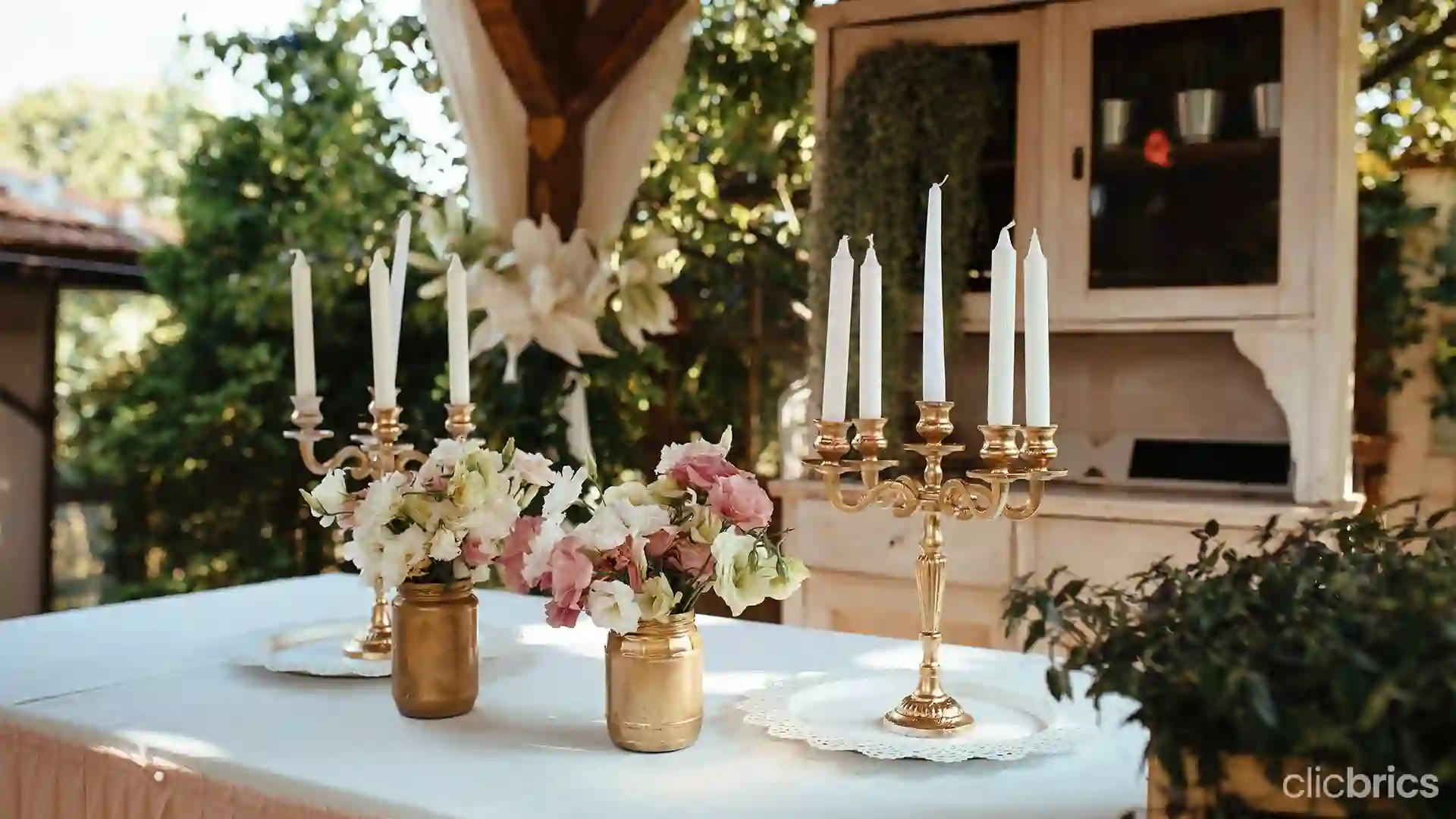 To illuminate the more intimate spaces where the seating is set up, small candles are a great choice. Plus, your guests will be pleasantly surprised by the creative touch added to your decor by these candle stands.  Materials like metal, wood, and fibre are used to make these. Also, remember to relay this information to your decorator.
Keep Reading: Tips To Use Mirrors As A Part Of Beautiful Home Decor
8. A Photo Booth For Funky Moments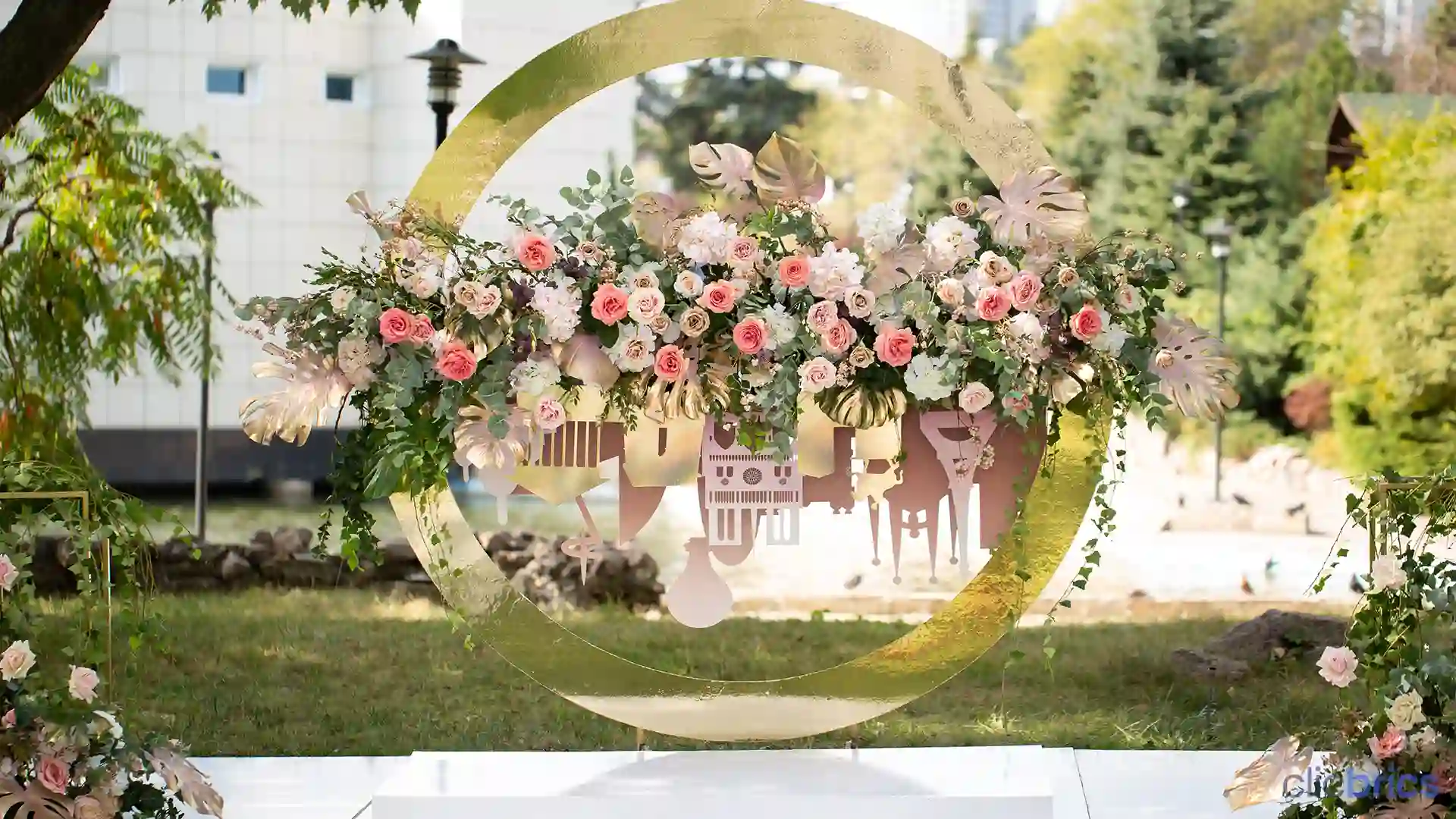 One of the most effective ways to give the impression that the event is a sangeet is to set the mood with a glimmering photo booth. The purpose of the sangeet ceremony will be better conveyed with this glimmering effect. Why? Because a sangeet celebration at home is supposed to be a dazzling display of color, sound, and movement. 
9. Bollywood Themed Decoration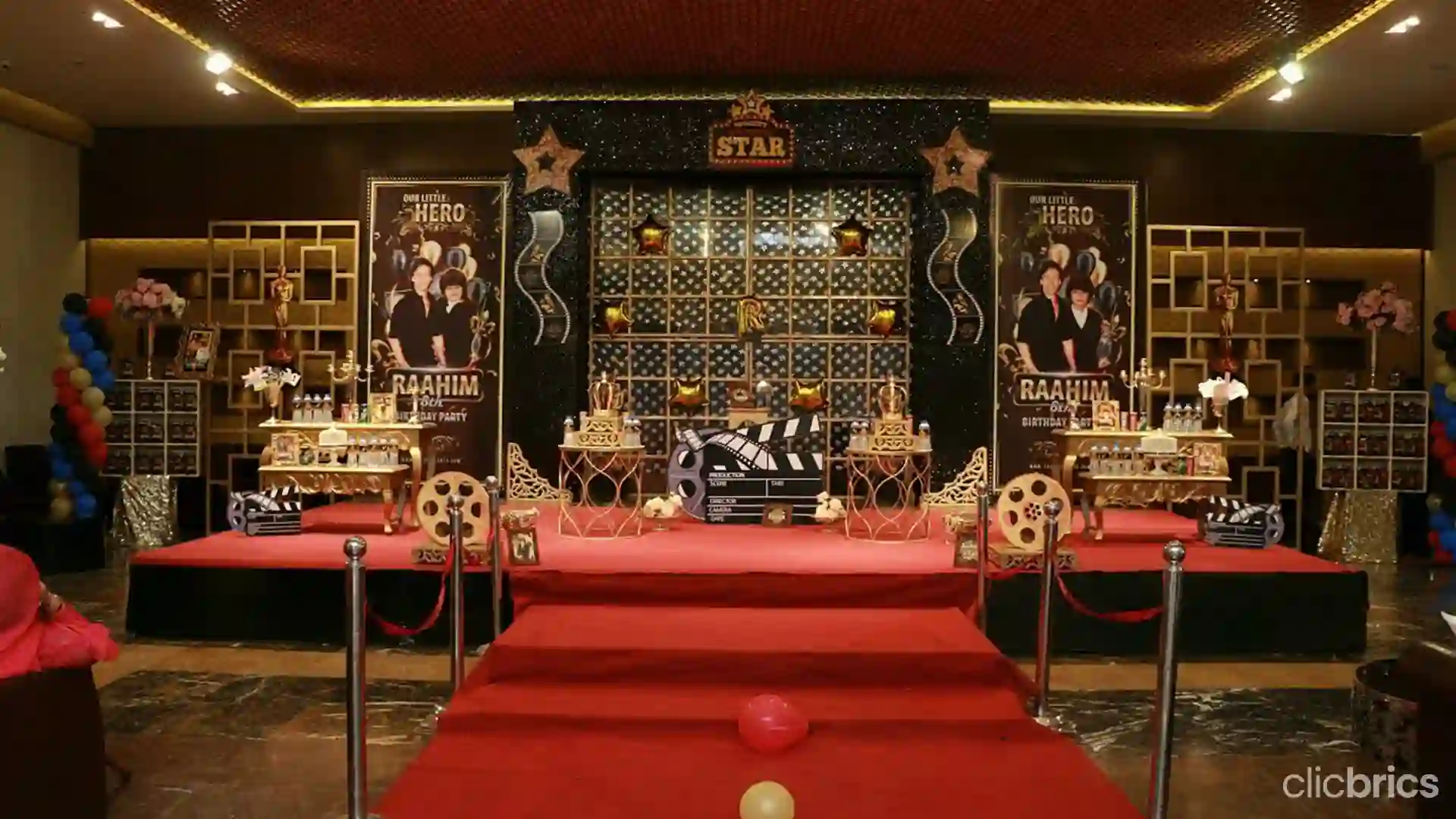 Sangeet ceremonies have frequently appeared in Bollywood films. Because of this, adding some Bollywood touches will really amp up the drama. In addition, you can accessorize it in a fashionable way to make it look like a Bollywood bash. This can be a great idea for sangeet decoration at home.
10. Hang A Chandelier/Jhumar At Home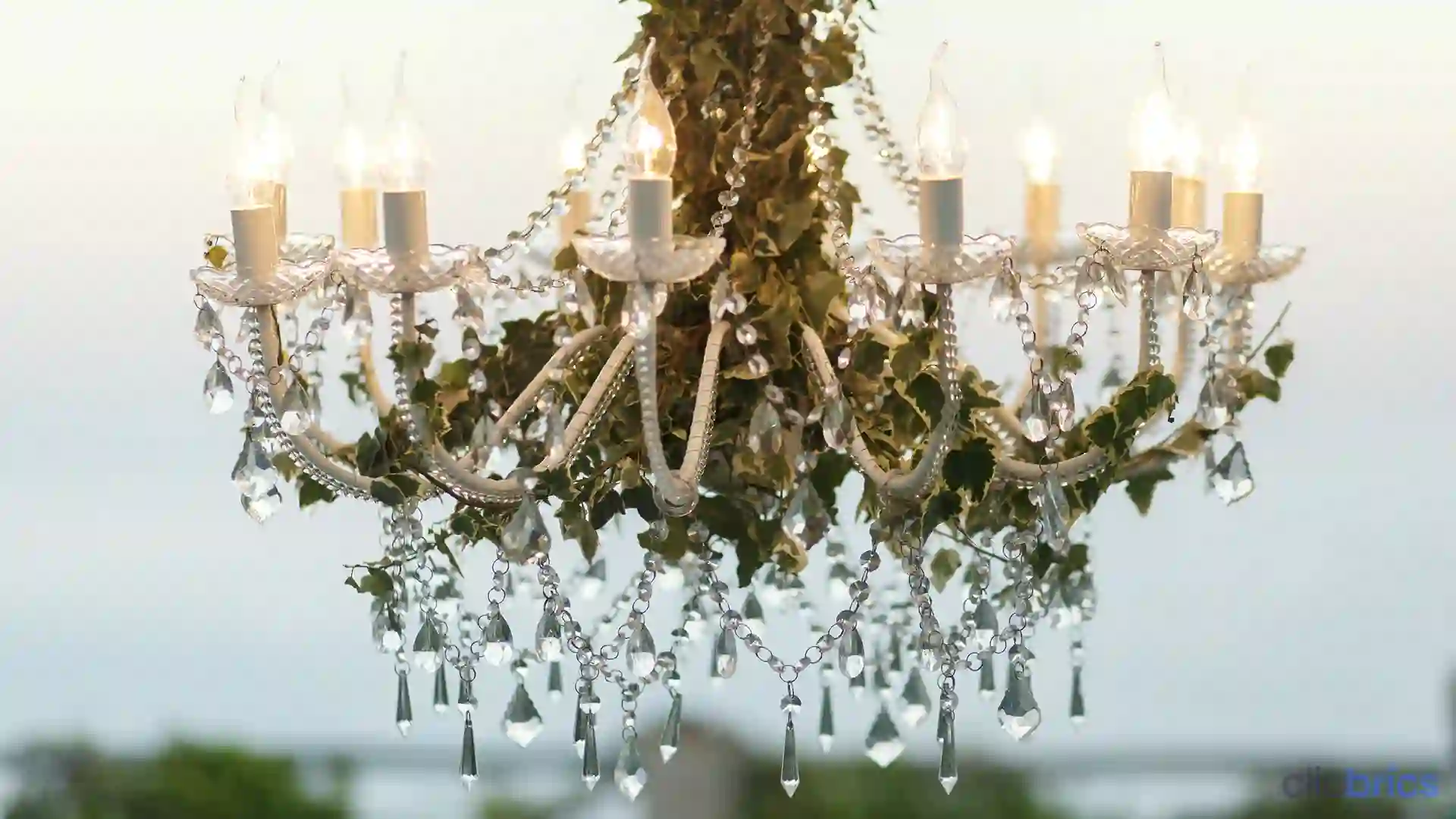 Sophisticated lighting fixtures, like chandeliers, are a great way to add a touch of elegance to a stage decoration for a sangeet celebration. In addition, it adds a luxurious touch to the traditional Indian wedding. So, a beautiful and elegant addition to the sangeet's stage decoration would be a chandelier placed in the stage's center.
Suggested Read: Beautiful Jhumar Lights For Home To Choose From
Conclusion
Your ceremony will be the talk of the town when you use these cutting-edge sangeet decoration ideas, but you may want to look into more ways to make the wedding night spectacular as well. 
So, keep reading this blog for epic wedding decorations you can implement at home for a beautiful, dream wedding affair.