Table of Content:
From inviting guests to the wedding to doing dance practice for performances and getting ready for rituals, we want a wedding affair to be just perfect. In the case of planning an intimate home wedding, we often find it difficult to implement picture-perfect wedding decorations at home and convert your place of comfort into a "Shaadi Wala Ghar." 
You might have put your best foot forward in planning a lavish wedding in some fantastic location, but don't some of us want our dream wedding to take place at our most sacred abode - our home?  
If the answer is yes, then the time has come to gather some fantastic ideas to doll up your space with some striking wedding decorations at home to bring style, fun, and grandeur to the D-day! 
And you know what the best part is, using our iconic wedding decoration ideas at home will not cost you an arm and a leg! 
Let The Wedding Decorations At Home
Begin In 3...2...1!!
1. Prepare The Dreamiest Entryway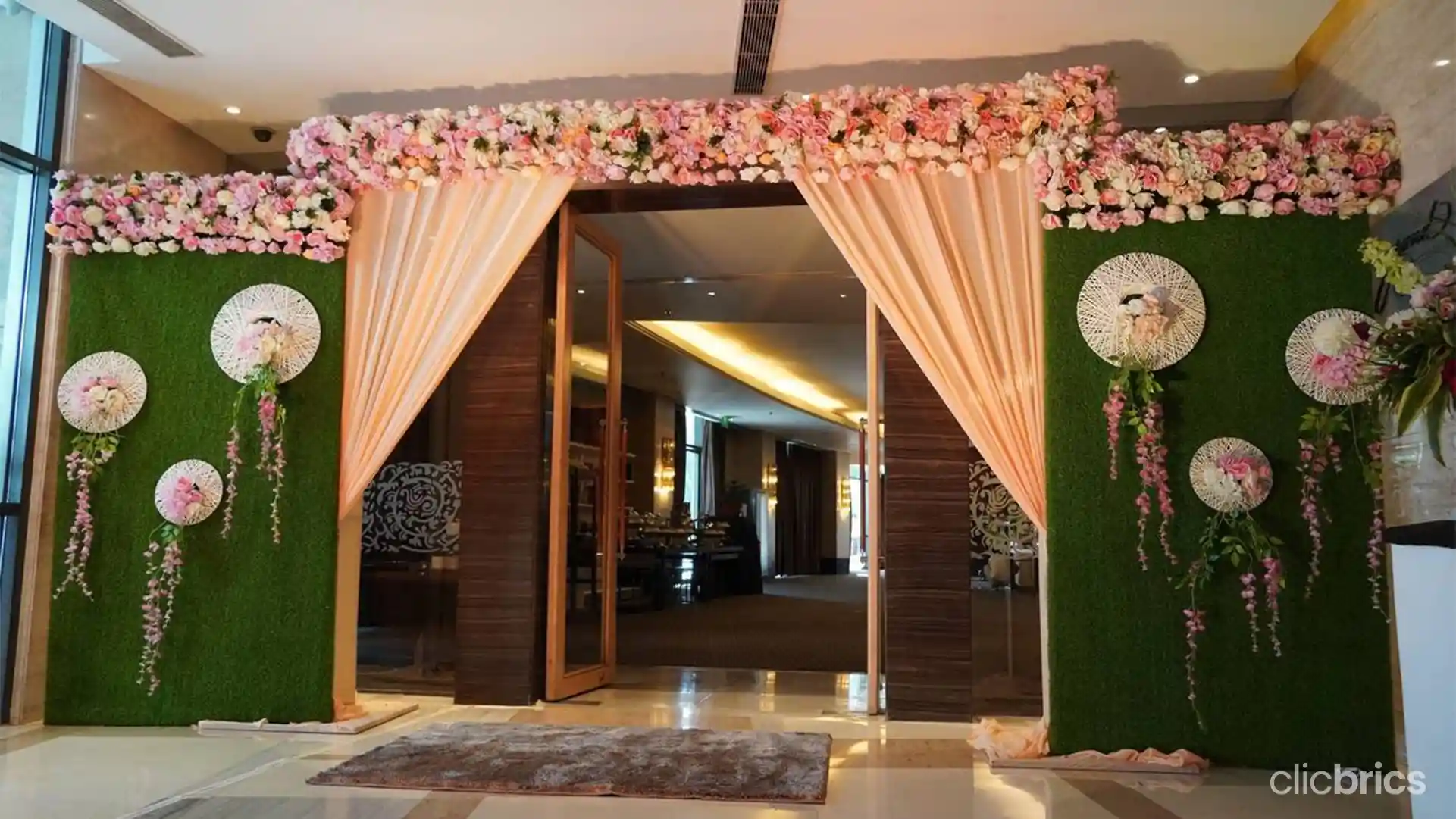 Just like a wedding's entrance decoration, your home's entry requires attention too! And what other way to welcome your guests than with traditional marigold flowers? 
You can decorate your entryway by hanging big marigold flowers. 

You can add more glitz and glamour to your entry by adding traditional sparkling elements like carved bells. 

You can make rangoli with jasmine, rose, and marigold flowers.  
2. Hang Eco-friendly Wedding Decor Elements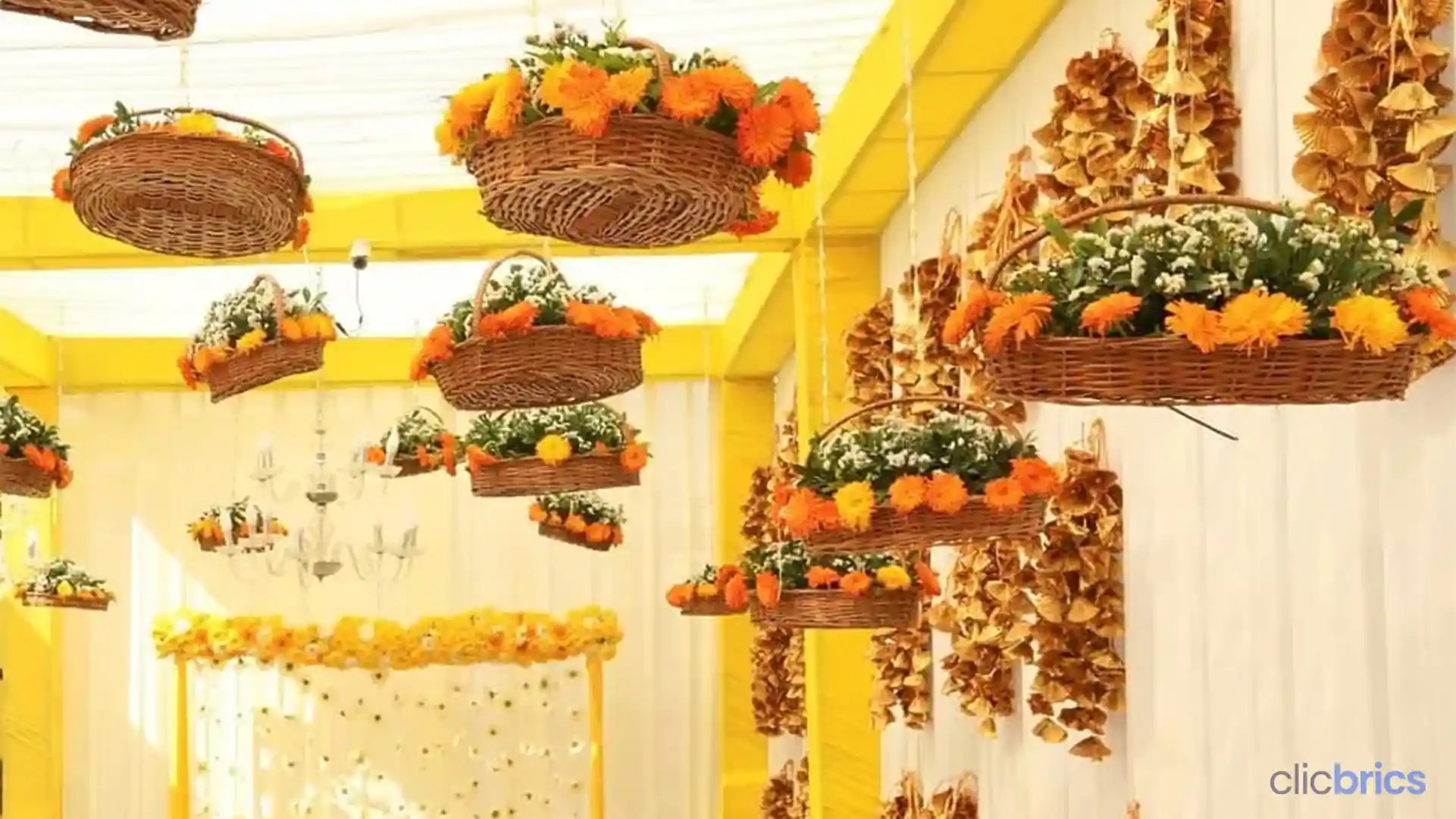 Rather than wasting money on plastic elements that harm the earth, it's time to use paper and make your wedding decorations as environmentally-friendly as possible. You can add origami that will make for beautiful hangings. 
You can create colourful paper wheels or paper flowers to do wall decoration for weddings. 

Nowadays, paper lanterns are also in fashion. So to illuminate your space, you can hang colourful LED lighting lanterns in your home. 
Also Read: 8 Birthday Decoration Ideas That Will Make Your Party- Just WOW!

3. Deck Up The Ceiling For Rituals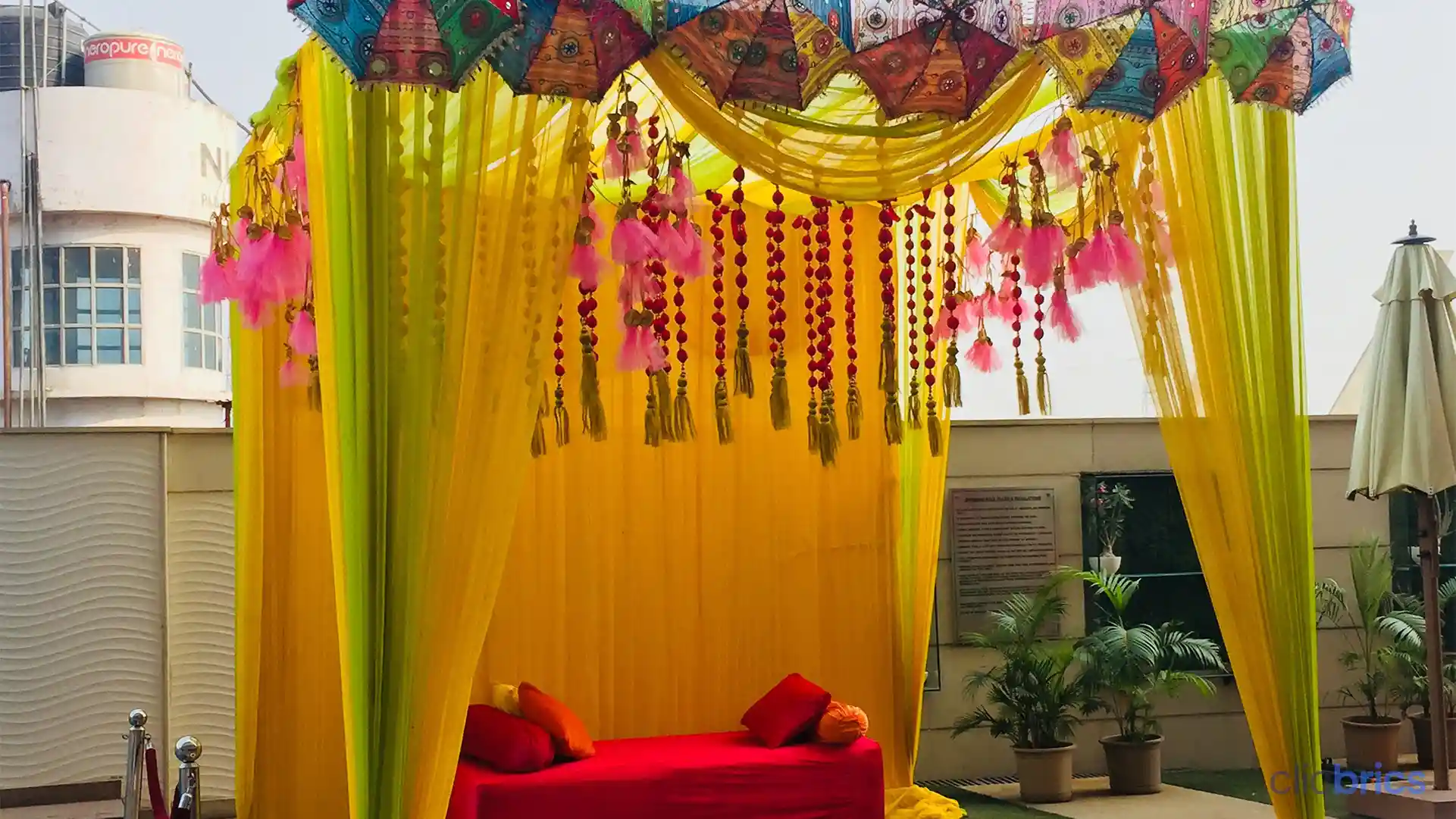 Don't overlook the ceiling when it comes to wedding decorations at home. You can seek inspiration from the below-mentioned tips-
Use old cloth pieces, like old sarees, dupattas, or anything, and decorate the ceiling with them.

If you are planning on celebrating Haldi in your backyard and are looking for some easy Haldi decor ideas at home, you can hang Jaipuri-printed umbrellas on the ceiling. They will add a pops of vibrancy to your haldi ritual. 

You can also go theme-based for rituals, like making everyone wear green to match the Mehandi decorations at home. You can place different shades of green coloured pillows.
Also Read: 10 Ideas for Home Haldi Decoration at Home That Will Take the Internet By Storm
4. Kalire: A Magical Indian Touch For Decor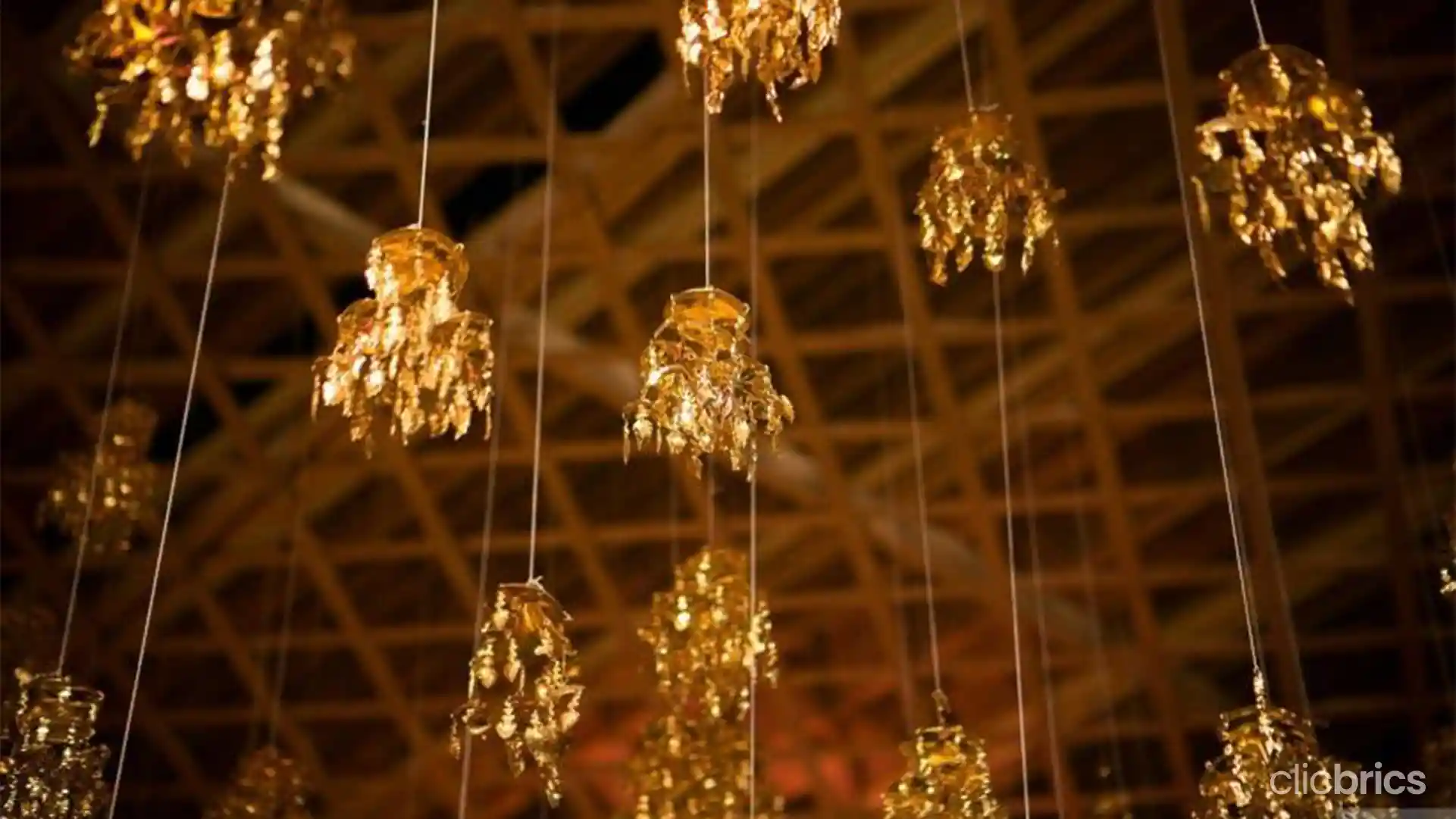 Kalire is not a perfect example of a home decor item but rather a piece of north Indian jewellery worn exclusively by brides. 
But today, people love to experiment and want to create the best decor for theirwedding festivities. Consider these functions a key to using your creative side. You can hang kalire on the ceiling, curtains, or plants at home. They will triple the charm of wedding, make your home stand out, and might help you get featured on the internet too!
5. Go Green and Make Plants A Part of Your Decorations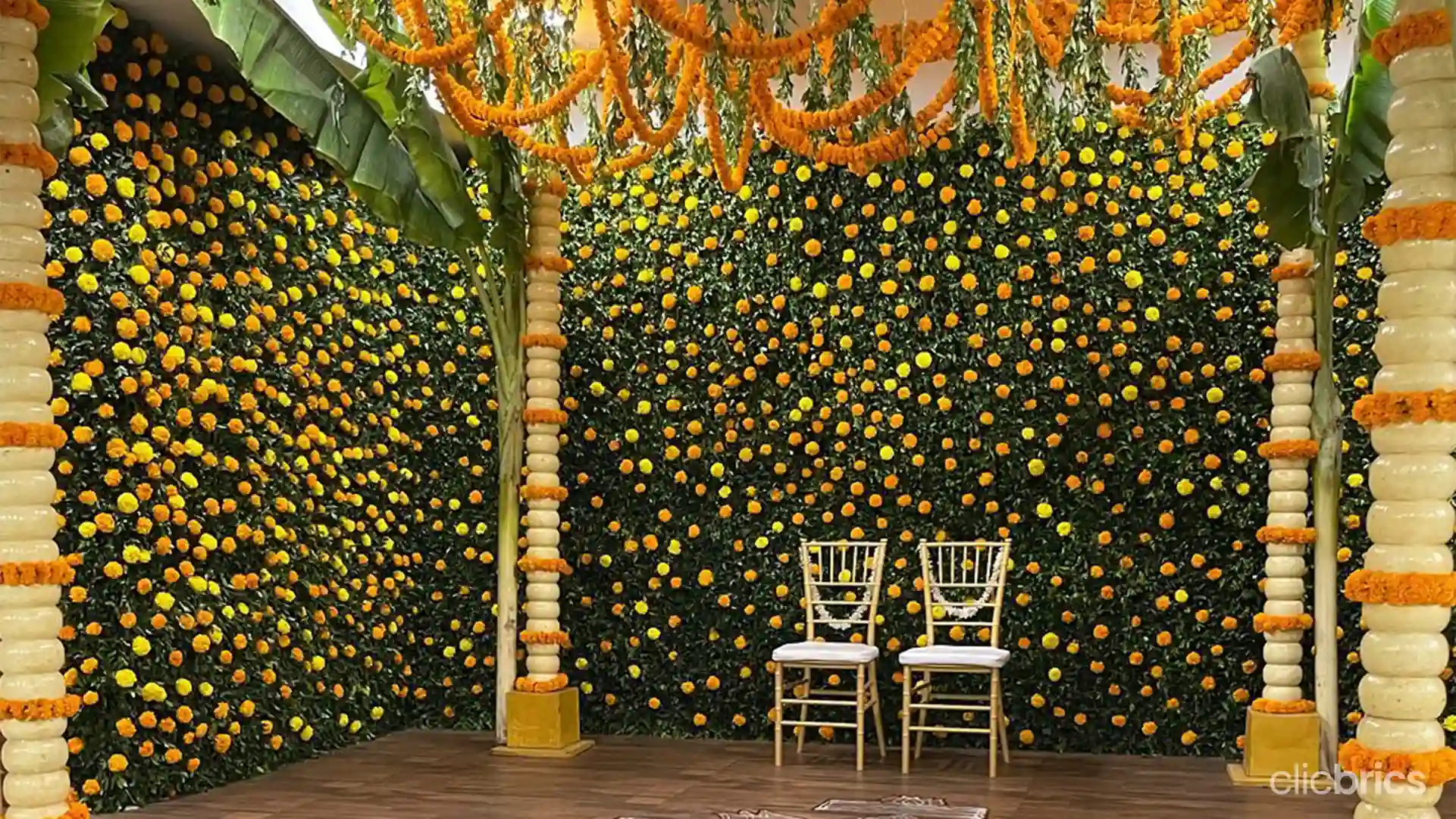 It is considered reasonable to include plants when doing house decoration for weddings. They provide an antique, and charming look and can work as a room divider. All you have to do is add some cushions and plants, give it a lovely backdrop, and your wedding decorations at home would be complete. 
Also Read: Give Your Bedroom Wall A Festive Makeover With 15 Best Two Pink Colour Combinations

6. Got Tyres At Home? It's Time To Make Them Roll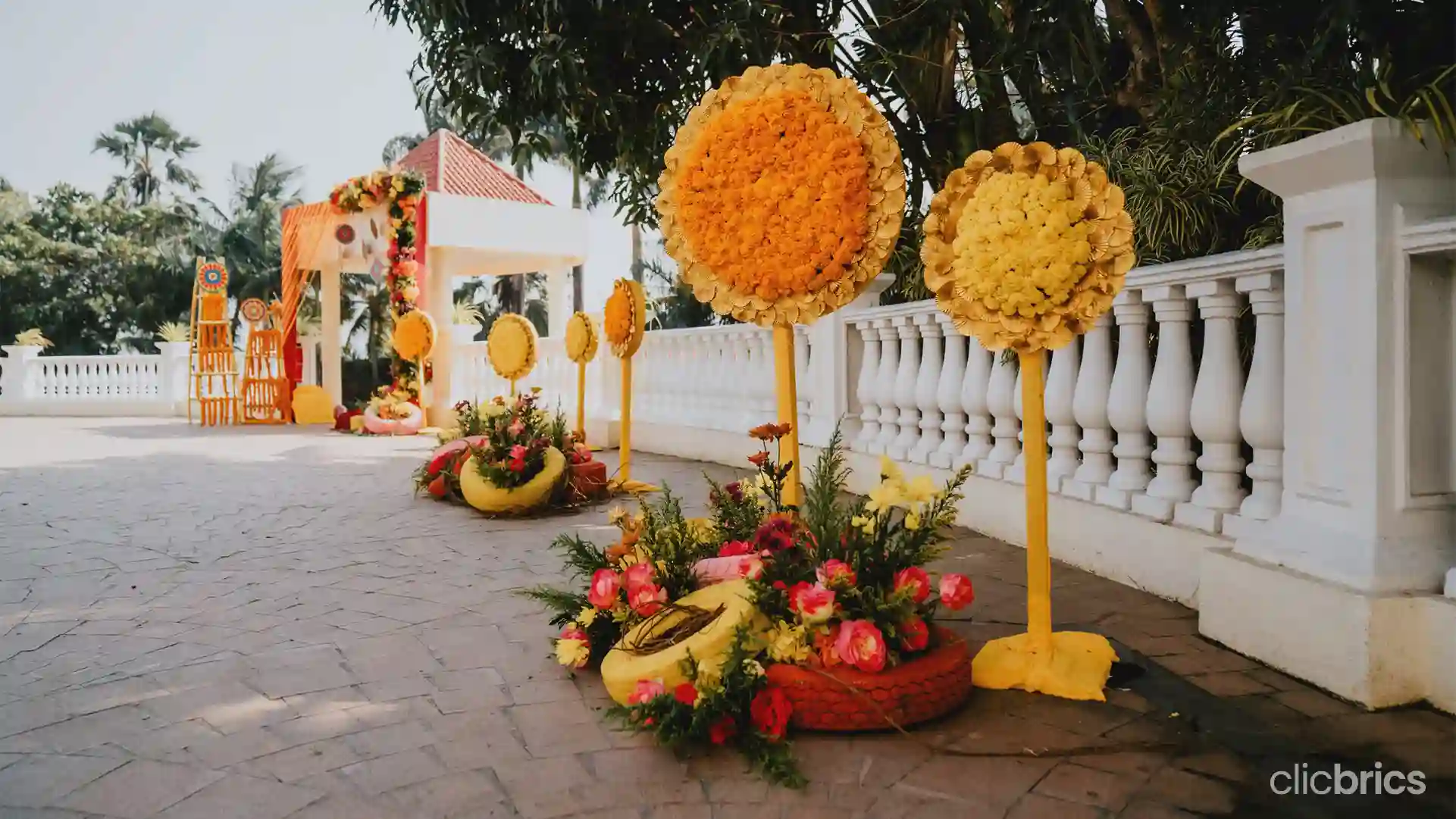 Do you have old, useless tyres in your garage? Well, it's time to put them to use. These colourful tyres as home decor will give a quirky touch to the wedding shenanigans and will brighten up your space. 
7. Kites To Have A Colourful Night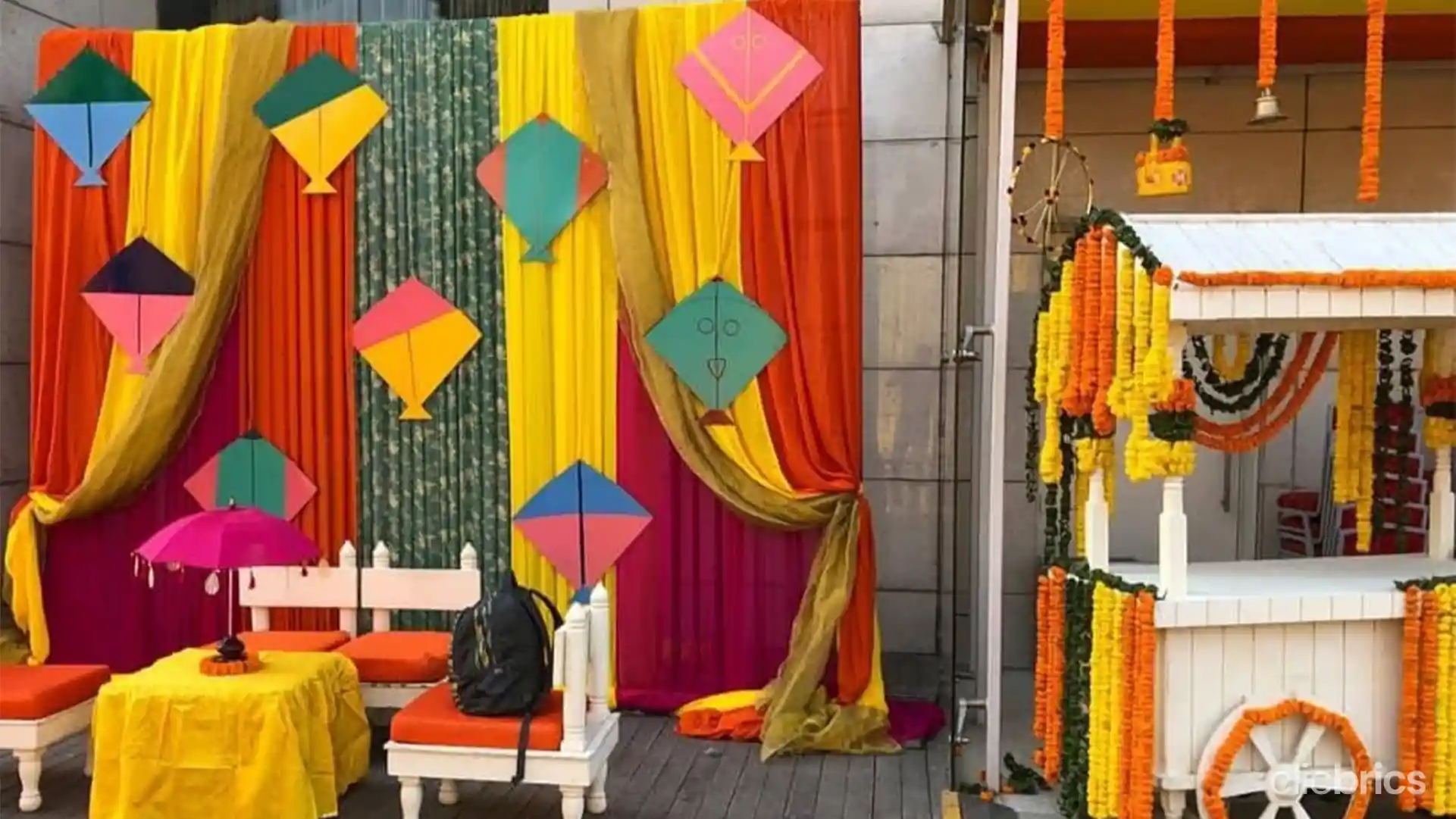 Beautifully hand-made kites can be framed and displayed on a wall for wedding decorations at home. They are super affordable and a beautiful way to enhance the look of the space. Add some sequins and mirrors to the kites, which will help you attain the perfect decor at home. 
8. Let Lights Do The Talking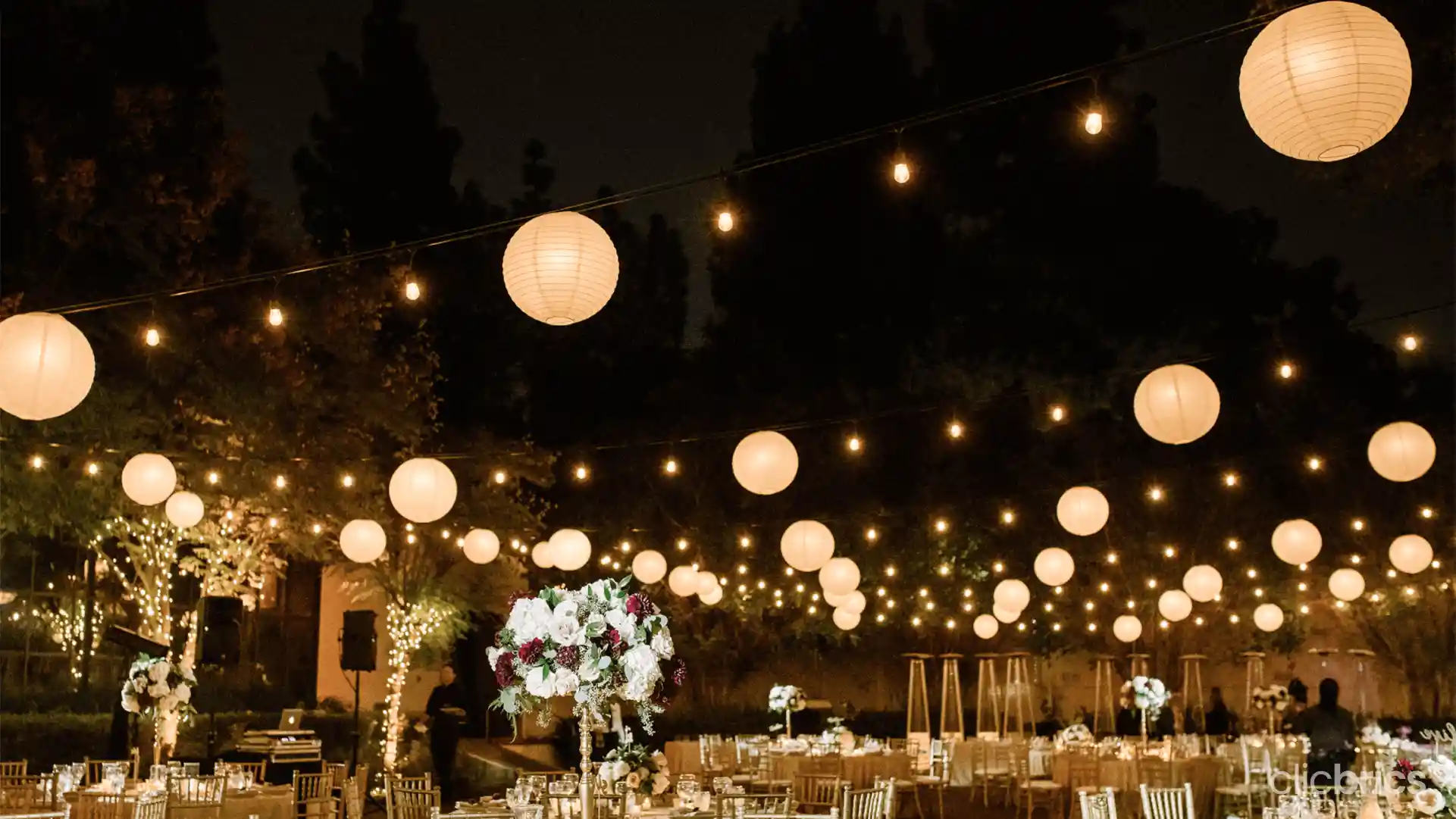 Lights are the most common ornamental item used to make for the best wedding decorations at home. 
You can adorn the wall with good LED light strings.

You can create a message for the couple with lights. 

Place lamps and hang lights in your garden.

Install suitable lighting to convert your terrace into a dance floor or a bar. 
9. Dream Catchers For Dreamy Home Decor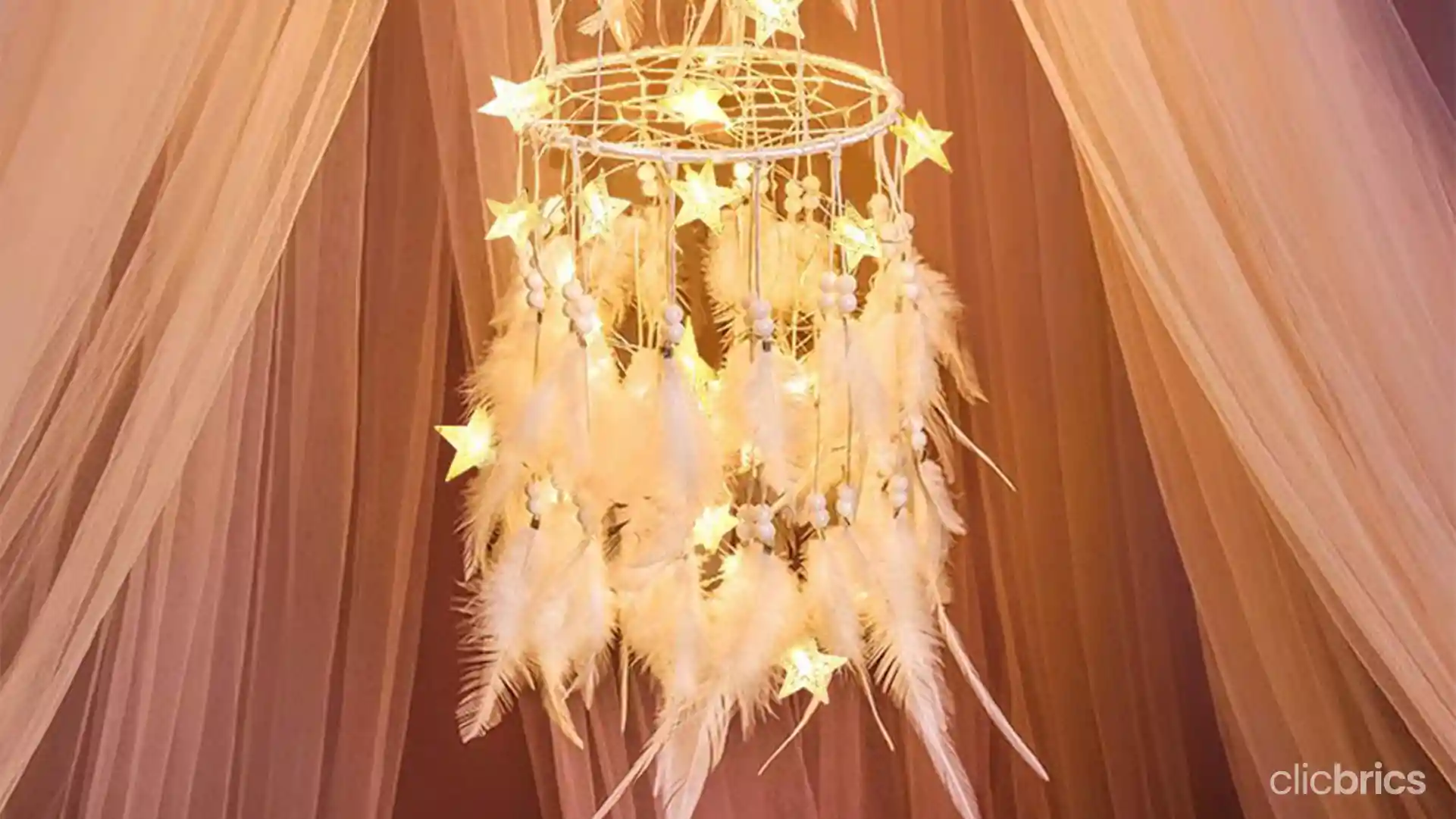 People use dream catchers to bring in good vibes. If you want something that could add to the cheerful mood of the home, you can add dream catchers and use them as a part of the wedding decorations at home. 
10. Bollywood-Style Photobooth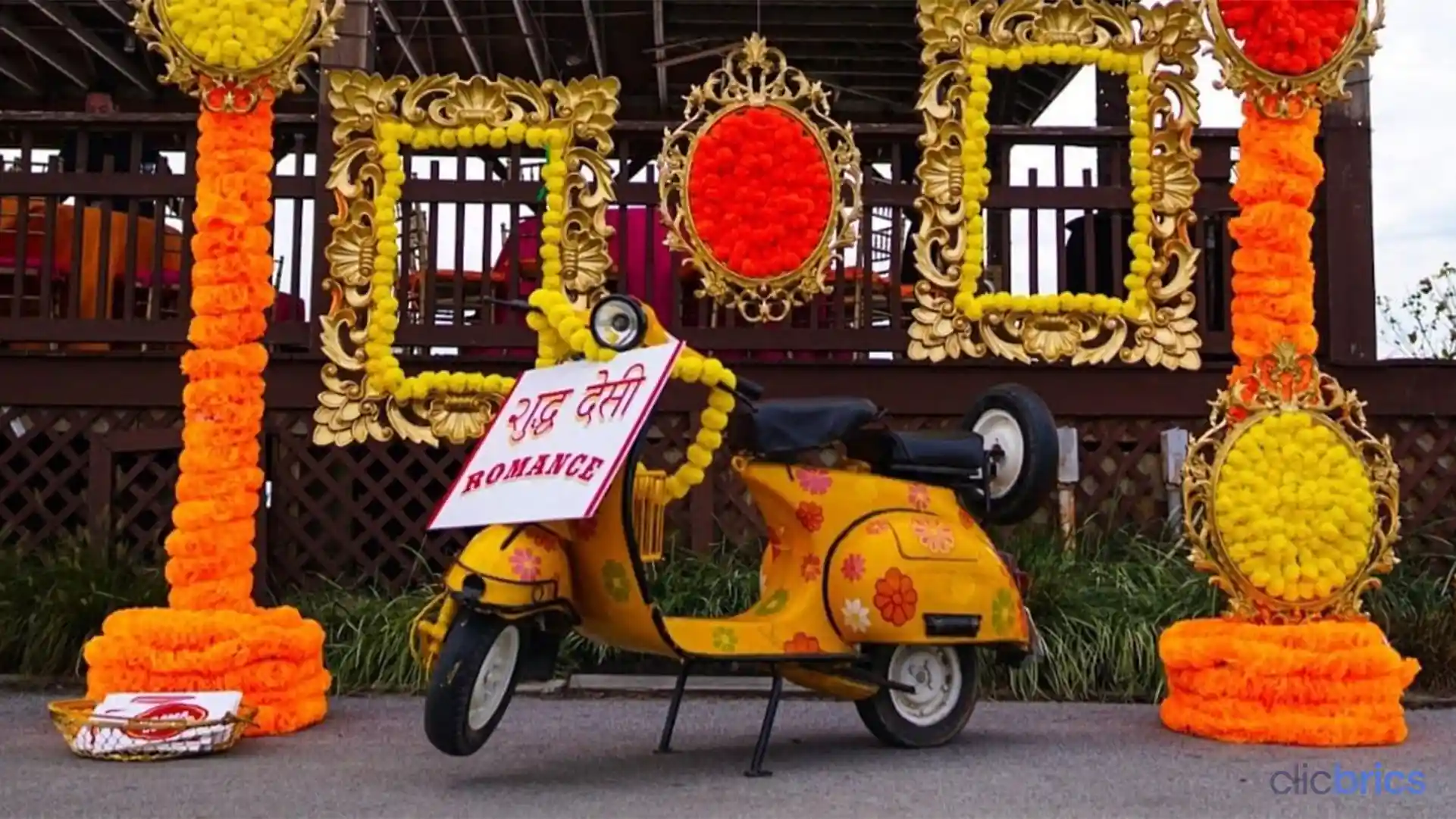 Want to bring onboard the Bollywood fever to this wedding season? How about you not find another creative way, like a photo booth? Gather some quirky dialogues inspired by movie dialogues and placards like "Main toh apni favourite hun," Syaapa pae gaya," etc., and see how they will multiply the fun. 
To Sum Up
Shaadi Wala Ghar is full of fun, love, and laughter. And you don't need an interior designer or a wedding planner to make wedding decorations at home, just some creativity with full desi emotions would be enough to create a mesmerising wedding vibe. We are sure that the above mentioned cost-effective and stunning ideas would make your wedding pinterest-ready and will add an intimate, warm touch to this most special occasion!