Table of Content:
Did you know India is the second-largest producer of cement worldwide? Yes! It is over 7% of the global installed capacity. Cement is used in diverse construction trade items like reinforced cement concrete, plain cement concrete, plaster, mortar, paints grouts, and precast elements. It is a binding substance used during building construction that sets, solidifies, and attaches to other materials. Cement quality plays a crucial role in the structural strength of the buildings - be it commercial or residential. Construction requires various types of cement that depend on
Soil 

Climatic conditions

Type of concrete structure
Concrete, a durable building material, uses cement as one of its primary components. The less water is added to a concrete mixture, the stronger the mixture gets - hence ensuring more strength and durable material to be used in the house's construction.The water used in any type of concrete activates the cement, which acts as the ultimate binding agent. 
Before we understand the different types of cement and their uses, let us understand a bit about the uses of cement and its benefits first. 
Uses of Cement
Some uses of cement are: 
Cement is used in construction 

Cement is used in plastering and as mortar in masonry work

Cement is used in dam construction

Cement is used in brick work

Cement is used for canal lining

Cement is used in railway sleepers
Besides these main uses of cement, it is also utilised in:
Construction of water tanks, wells, roads, tennis courts, lamp posts

Construction of footpaths, watertight floors, culverts, bridges, tunnels, dams, lighthouses

Manufacturing precast pipes, piles, and fencing posts

An important component of concrete for floors and roofs
Benefits of Using Cement
It is versatile as it can be used in residential or commercial projects

It is readily available in local markets

It makes a great binding material 

It has water-resisting properties and is fire resistant

It is budget-friendly
Keep Reading: Constructing Vs Buying A House - Which Is Better?
Cement: Types, Grades & Classification
Cement can be classified into six types. They are:
| | |
| --- | --- |
| Type of Cement | Cement Type & Its Uses |
| Type I cement (Ordinary Portland Cement) | It is used for general purposes and does not have any special properties. It creates heat during the hydration process. |
| Type IP cement (Blended Cement (Pozzolan)) | It is a general-purpose cement used for concreting and plastering. There are numerous benefits, like increased long-term strength, slump retention, a reduced risk of cracking due to lower hydration heat, and reduced greenhouse gases. |
| Type II cement | It is used when mild sulphate resistance or/and moderate hydration heat is needed. It is useful in areas that have moderate Sulphate levels in groundwater. |
| Type III cement | It is a rapid hardening cement. It is finer than Type I cement and gains the strength of 28 days in seven days. |
| Type V (SR cement) | It is high sulphate resisting cement that has low hydration heat and is used in areas where the soil has high sulphate/alkali levels. |
| Class "G" Oil Well cement | It is a cement used in the Oil and Gas industry. It can sustain high-temperature and pressure applications. It is highly sulphate resistant as well. |
Scroll further to read about the different types of cement!
Types of Cement In India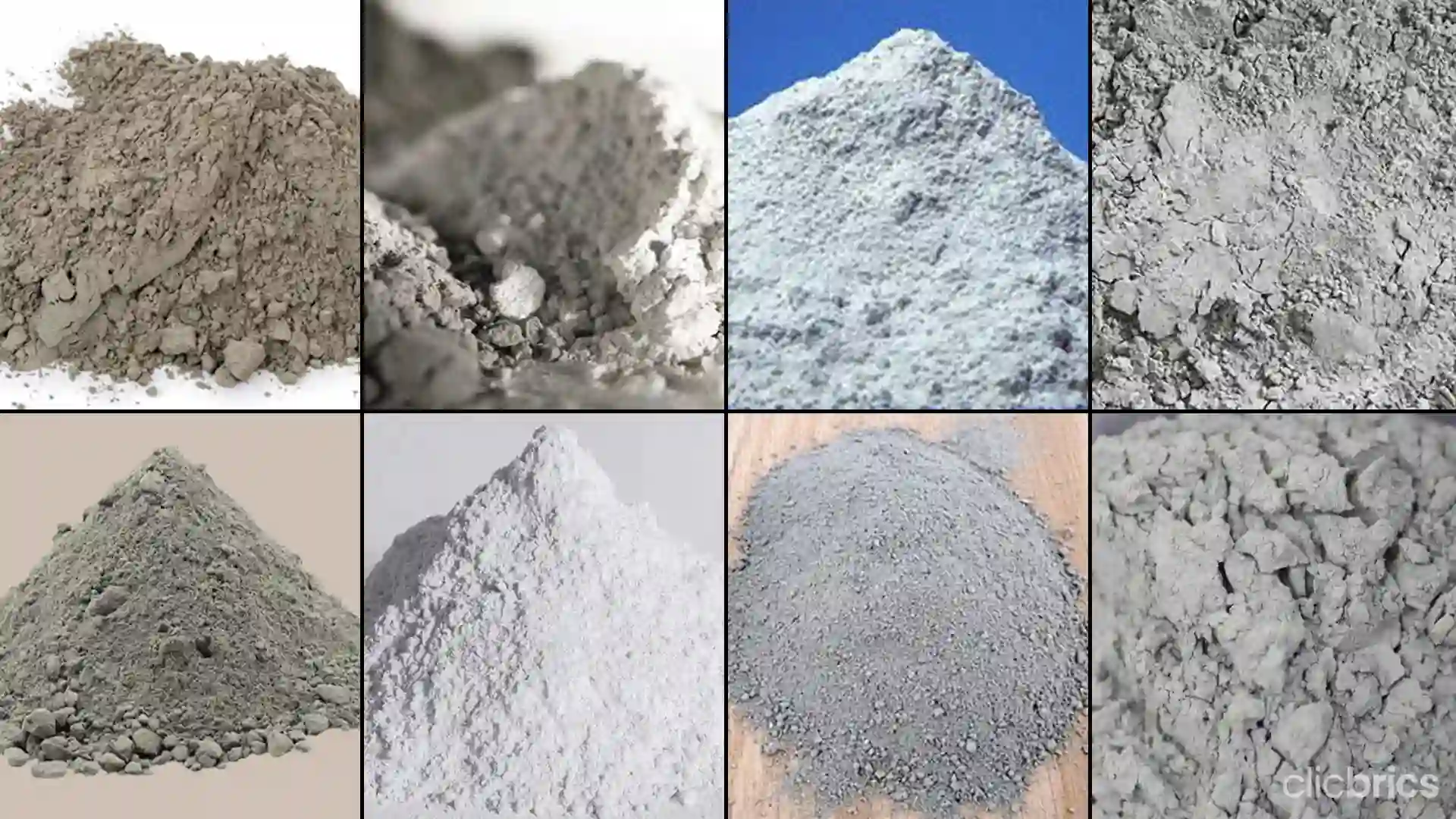 There are predominantly eight types of cement used in India. Read further to know about them. 
1. Ordinary Portland Cement (OPC)
It is one of the most used types of cement in India. The raw materials used to manufacture OPC are silicates of alumina and calcium carbonate. It is used for masonry work and construction purposes. It is one of the most widely produced and used types of cement worldwide with global production of approximately 3.8 million cubic meters per year. 
The three types of cement grades available are:
| | | | |
| --- | --- | --- | --- |
| Grade | Reference Indian Standard | Grades of concrete | Use |
| Grade 33 | IS:269 | M20 | Plastering |
| Grade 43 | IS:8112 | M30 | Plastering, precast, and flooring |
| Grade 53 | IS:12269/td> | High concrete grade | Bridges, building roads,and multi-storeyed buildings, among others |
2. Portland Pozzolana Cement (PPC)
It is one of the blended types of cement consisting of Gypsum, OPC clinker, and Pozzolanic Materials. It is prepared by crushing pozzolanic clinker with portland cement. It is highly resistant to chemical attacks. It is most suitable for constructing marine structures and underwater concrete structures like bridges, oilers, dams, and sewage works. PPC is more impermeable and denser. 
The Indian Standard for PPC is IS:1489 P-2. It is eco-friendly as it is manufactured using a by-product from thermal power plants, fly ash. Portland Pozzolana Cement has a high resistance to chemical attacks. It is compatible with different kinds of mixtures and is used in mass construction due to its low heat of hydration. 
Also Read: ACP Sheets Design Types & Their Uses
3. Rapid Hardening Cement
It is a type of Portland cement that is used in concrete construction and attains high strength in the early days. It is similar to OPC and contains higher c3s content. 
As far as the properties of rapid hardening cement, the strength of this cement at three days is similar to the strength of OPC at seven days. Hence, this is one of the types of cement that can be removed earlier. It increases the speed of construction and reduces the cost of construction. Hence, it is used to make any repairs during the construction process. 
The Indian Standard for rapid hardening cement is IS:8041. It is also used to manufacture posts, precast slabs, and electric poles. 
4. Quick Setting Cement
This type of cement sets sooner than rapid-hardening cement. Its rate of gain of strength is similar to OPC. It is used where the work needs to be completed on time. It is used for concreting in running or static water. It is one of the different types of cement that can be used for underwater construction as well.  
5. Low Heat Portland Cement
It is produced by maintaining tricalcium aluminate below 6% by increasing the C2S's proportion. Small quantity tricalcium aluminate leads to produce less heat of hydration. It is one of the types of cement substance that is used for the construction of structures like gravity dams and prevents concrete from cracking due to heat. This type of cement is less reactive and has a greater initial setting time than OPC. 
Low heat portland cement is suitable for the construction of structures that retain water like retaining walls, bridge abutments, slabs, and piers. The cement does not shrink or crack. The Indian Standard for low-heat Portland cement is IS:12600.
White Cement
It is a type of OPC that is free from iron oxide and white. It is costlier than the rest of the different types of cement. 
White cement is used to construct paths of gardens, floorings, facing slabs, swimming pools, ornamental concrete products, and external renderings of buildings. It can also be used for architectural purposes facing panels, precast curtain walls, and terrazzo surfaces. 
This type of cement is also used with inorganic pigments to produce bright coloured concrete and mortars. The Indian Standard for white cement is IS:8042.
Keep Reading: AAC Blocks As An Alternate To Traditional Clay Bricks For Home
7. Sulphate Resisting Cement
It reduces the sulphate attack on the concrete. Hence, it is essentially used in foundations where the soil has a high sulphate content. It has less C3A and C4AF content. The sulphate resisting cement is one among the types of cement used in construction areas like retaining walls, canals, linings, syphons, culverts, and exposed sulphate's action by soil and water. 
Among more uses of sulphate resisting cement, is that its construction remains in contact with soil, seacoast, groundwater, and seawater. 
The Indian Standard for sulphate-resisting cement is IS:12330.
8. Portland Slag Cement (PSC)
It is a blended cement that is produced by mixing gypsum, Portland cement clinker, and granulated Blast Furnace slag. It provides flexural strength to concrete. It increases the structural stiffness of concrete and reduces load deflections. 
Portland slag cement is suitable for mass construction as it has low hydration heat. Portland slag cement is compatible with chemical admixtures similar to OPC. 
The Indian Standard for Portland Slag Cement is IS:455.
Conclusion
We hope this blog helps you understand more about types of cement and their uses. It will ensure you are aware as your builder and whether the cement quality used in your property's construction aligns with your requirements.