Table of Contents
A beautiful flower decoration at home can easily beautify your place. Flowers have this tendency to bring in special energy. In fact, even at the time of Indian festivals and rituals, a traditional simple flower decoration at home completely transforms the look and vibe.
Take for example, the elegant at Ranbir and Alia's wedding reception. The aesthetics of the wedding was completely fabulous, all because of the beautiful flower decoration theme! 
So, we can state without a shadow of a doubt that a simple flower decoration at home can spruce up the energy of your home in no seconds. If you, too, wish to add a touch of beauty by doing flower decorations for a house, continue reading this blog. Incorporating the ideas will result in an elegant transformation. 
1. Flowers In a String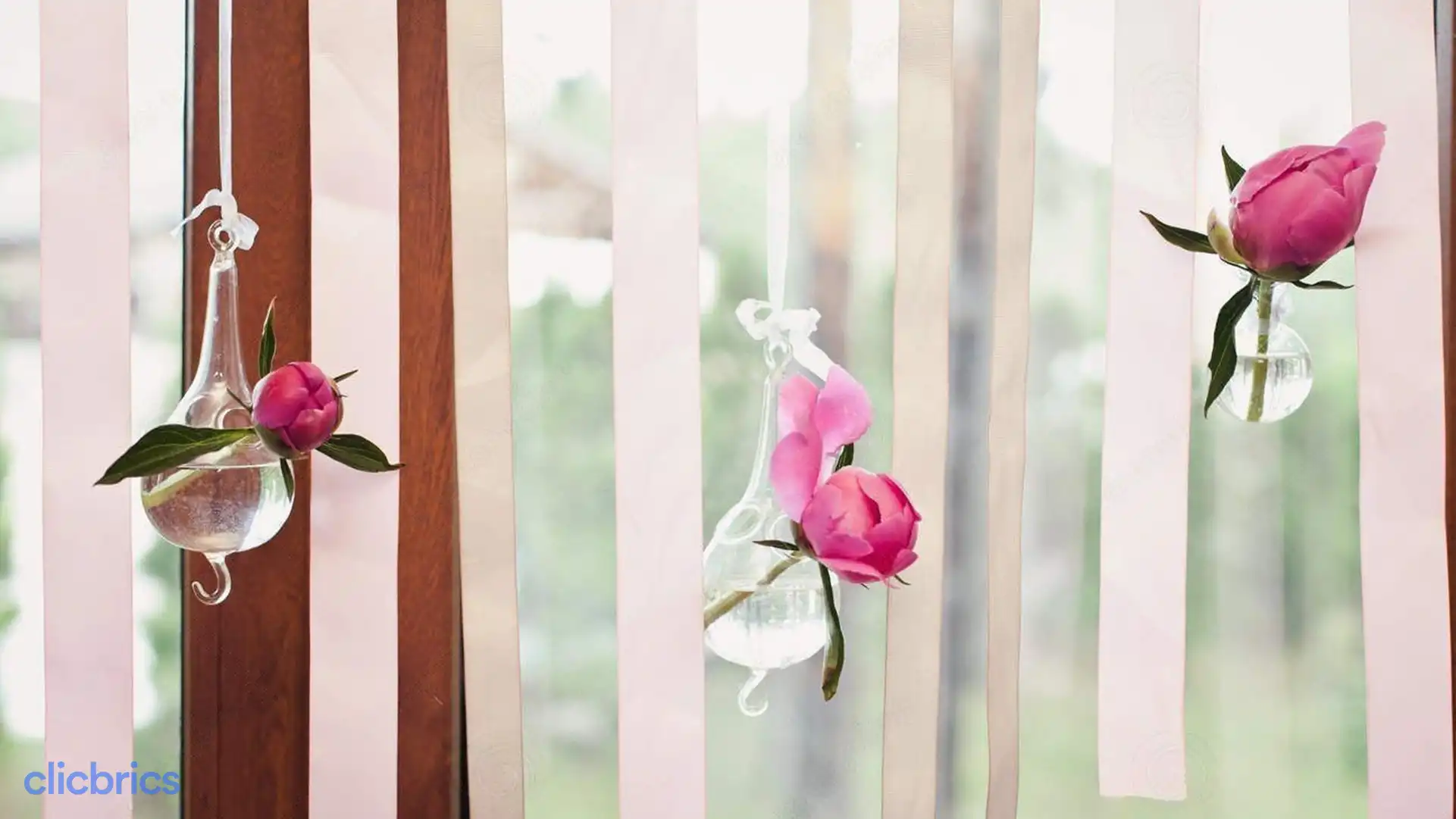 Imagine how magnificent your living room would look if pretty flowers were hung at the window. You can tie little bottles of the same size together and fill it with flowers. You can use this beautiful floral string near your window to create an adorable look. 
Also Read: Indoor plants to add extra greenery to your home
2. Flowers In a Jute Basket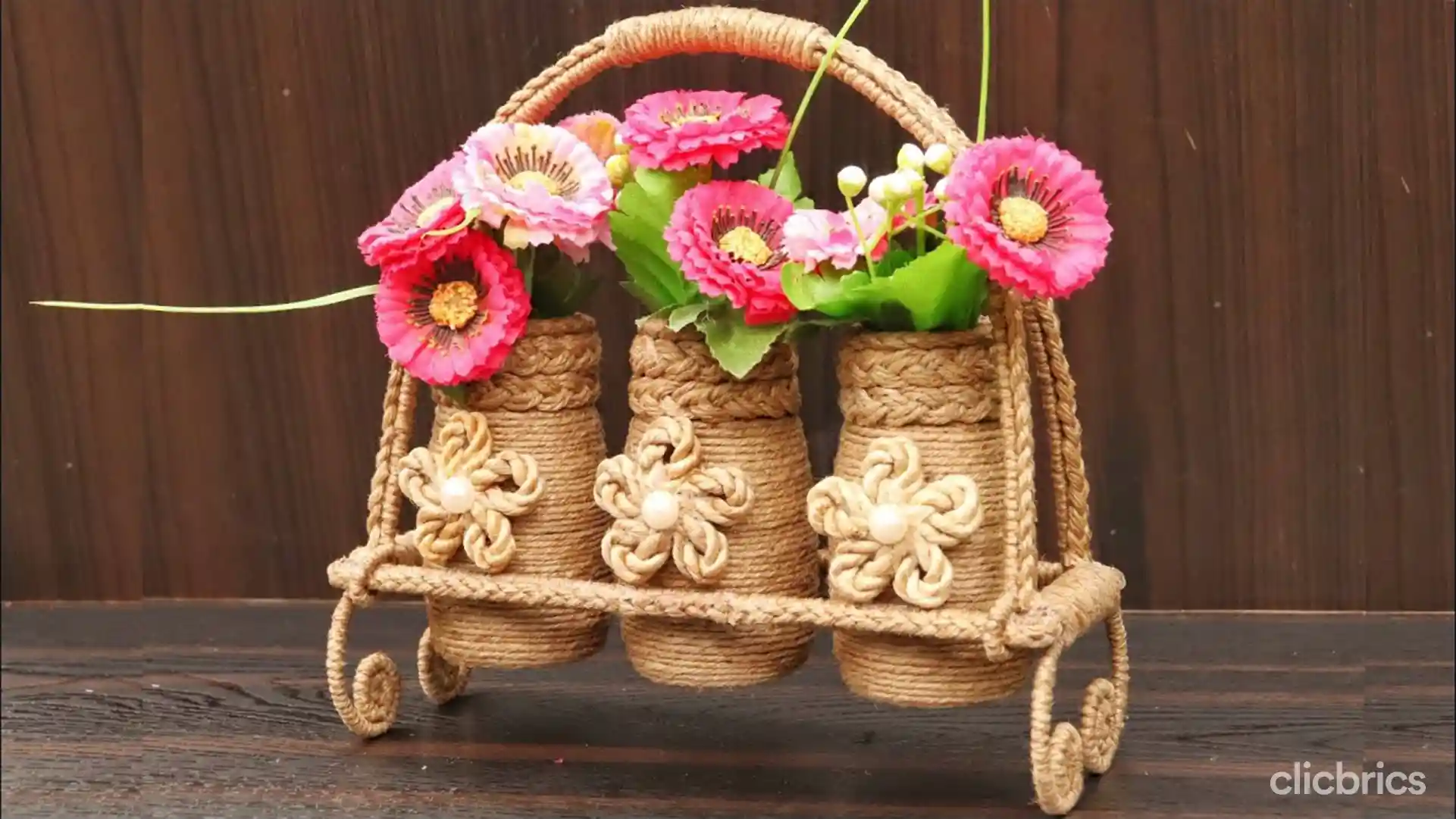 Are you looking for a way to revitalise your place? Well, how about installing different colourful flowers in your bedroom? By doing so, you will bring a perfect bloom to your day every time you wake up. All you have to do is place flowers in a jute basket and keep it on your side table. This simple flower decoration at home will brighten up your space.
3. Glass-framed pressed flowers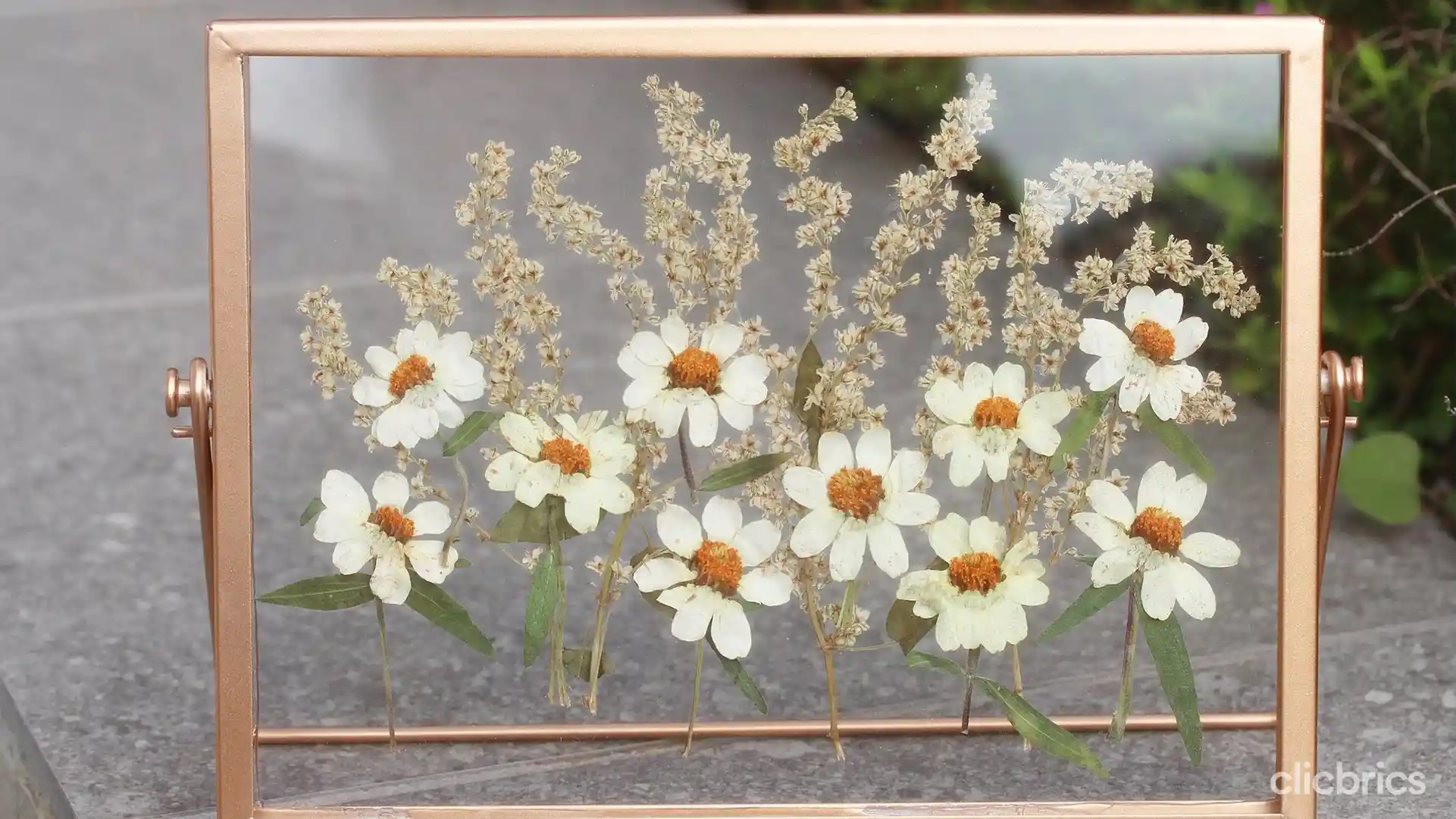 As we know, frames provide aesthetic decor. Now you have two options here: buy or make a frame with pressed flowers inside and keep it in your cupboard. This kind of artificial flower decoration with vibrant colours at home will double your home decor's value. 
Also Read: 7 best plants for home as per Vastu
4. Flowers in a Glass Fish Bowl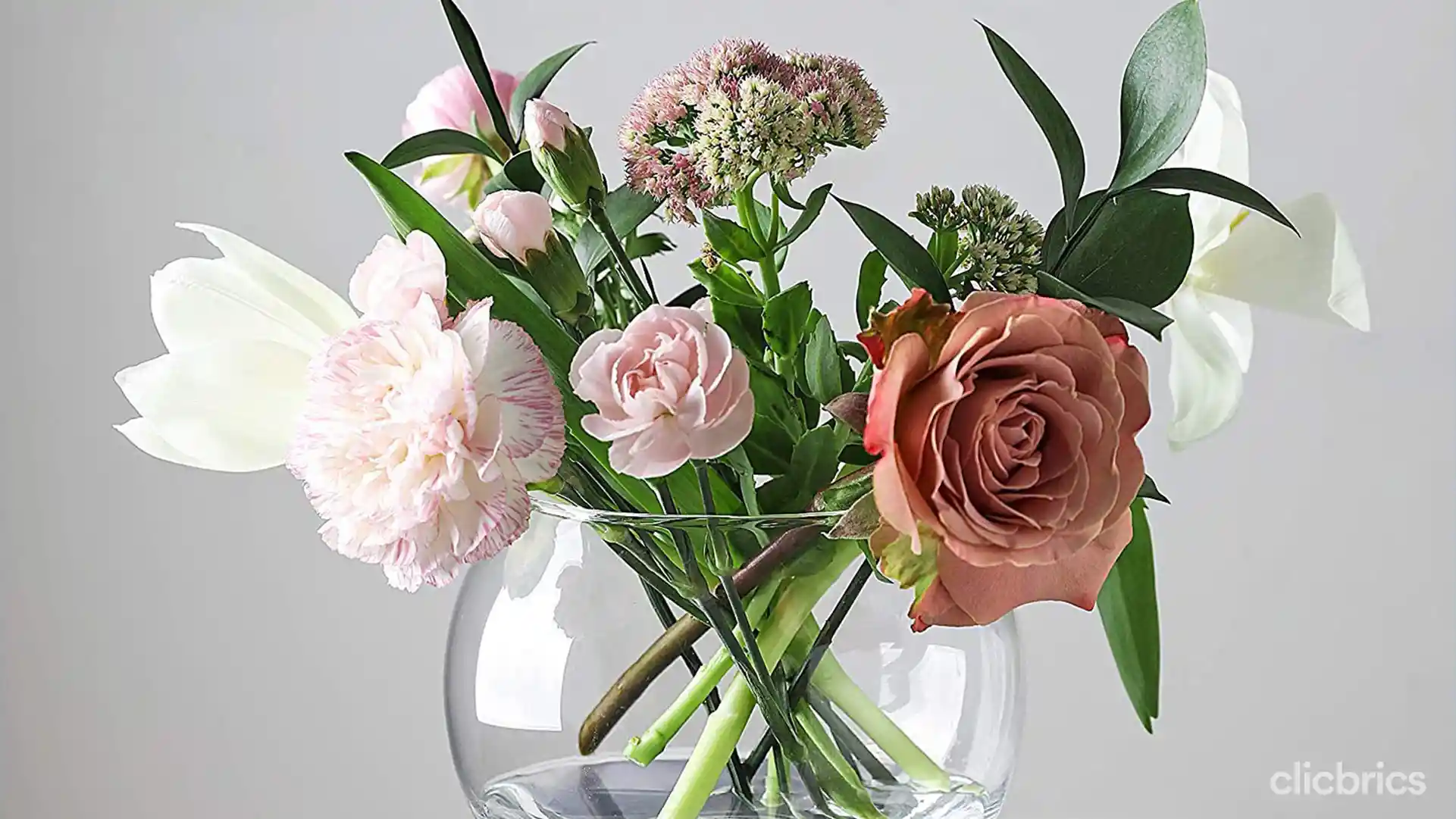 If you are looking for an easy floral decoration at home, place some white lilies in a small glass fish bowl and add a string of fairy lights. Once done, place this arrangement below a warm light so that it doubles the charm of your place. You can place this on a side table in the guest's room or in the centre of your living room, and we assure you that it won't fail to impress you. 
5. Flower Decoration at Home With Colourful Balls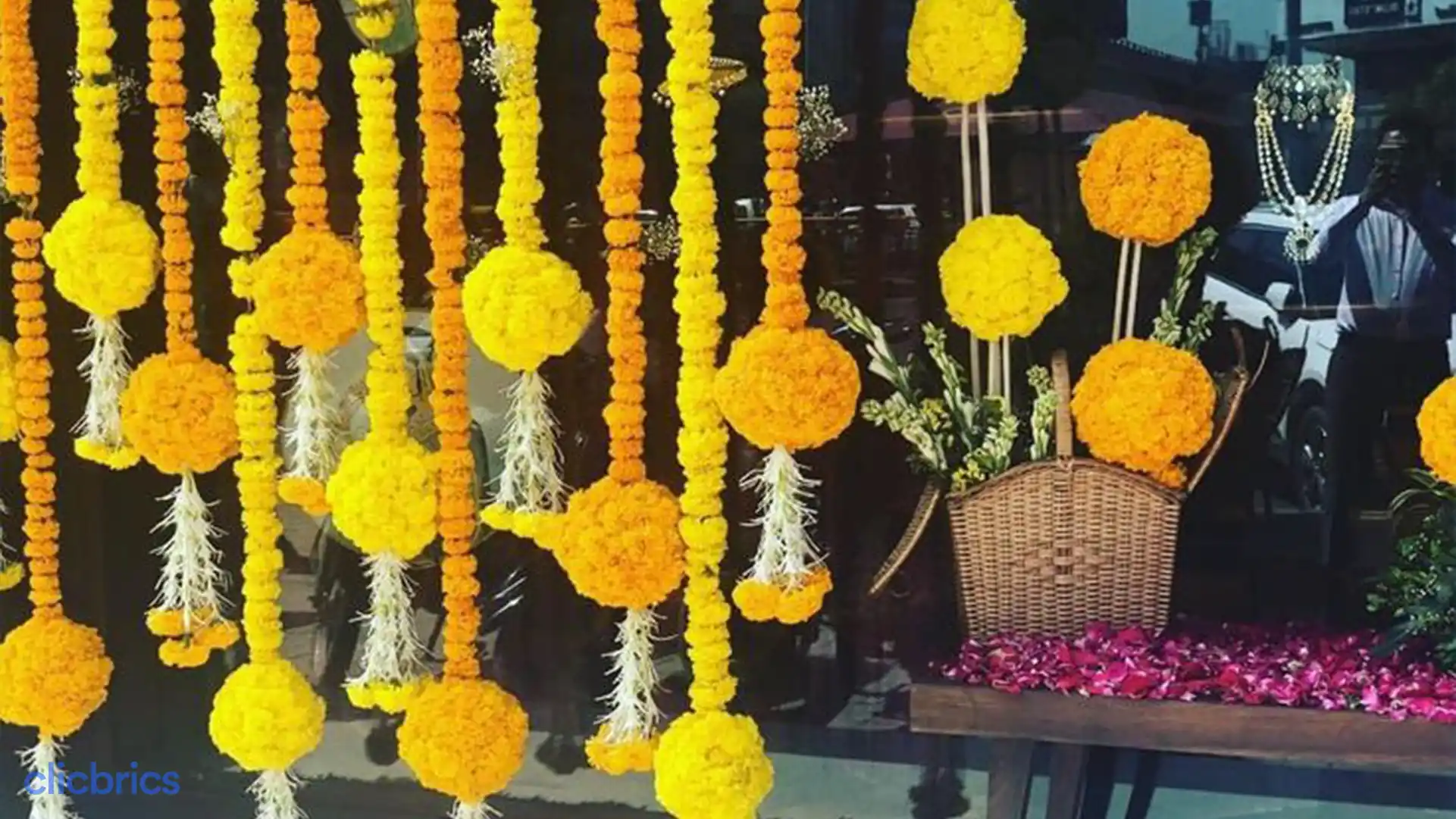 Flower balls add a cute yet subtle touch to any room. 
Making a flower ball is an easy task. Collect various flowers and use their combinations to form a circular ball. Once completed, hang the flower balls in the corridors of your house and enjoy the beauty every time you see them. 
6. A Terrarium Jar Filled With Dried Flowers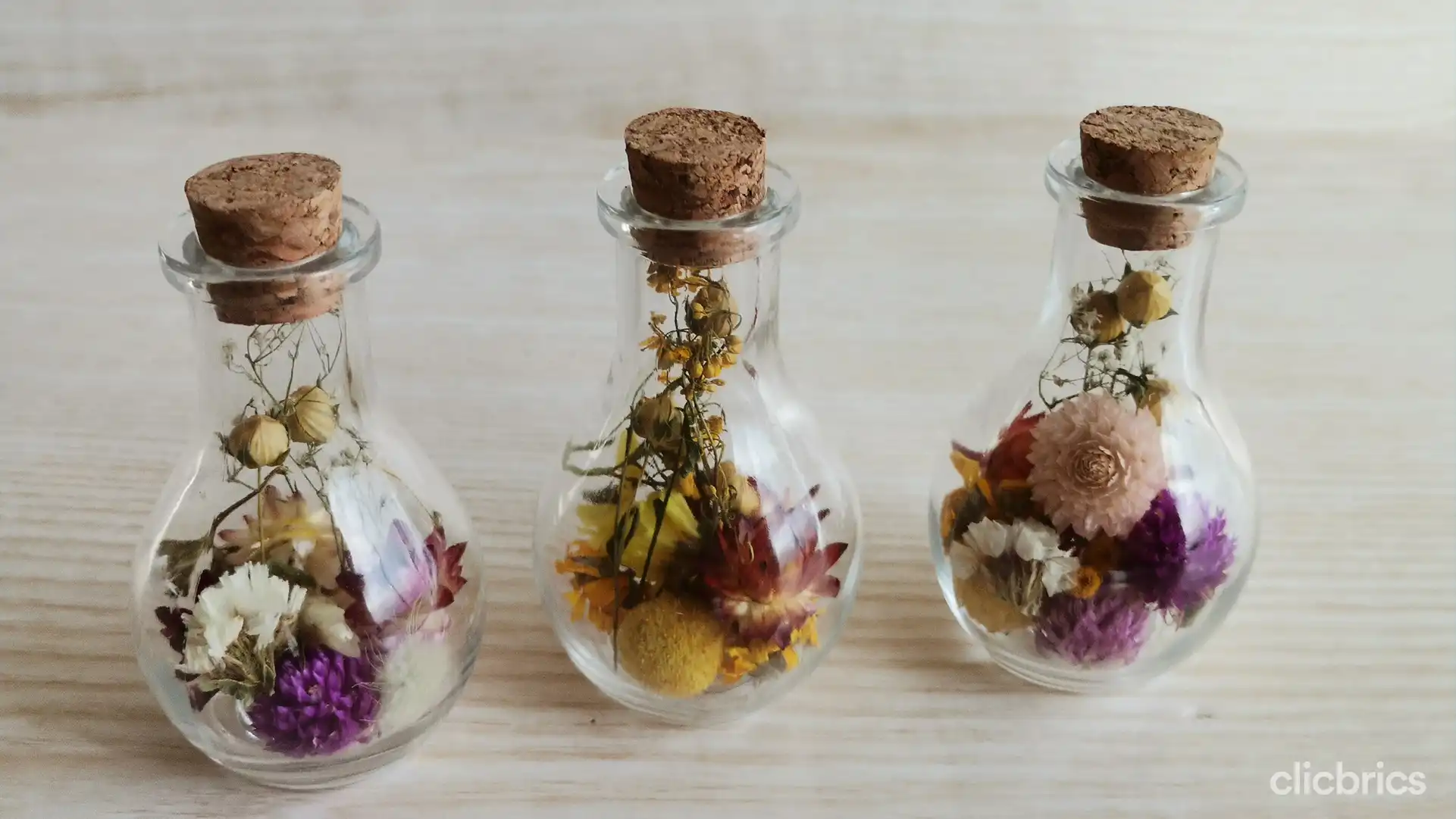 Are you planning on doing a simple flower decoration at home? It can easily be achieved with a terrarium jar, coloured sand, and an assortment of air-dried flowers. 
So, first, make a base out of coloured sand and arrange dried flowers above it. This decoration can easily be a part of the centrepiece.
7. A Brass Bowl Filled With Lotus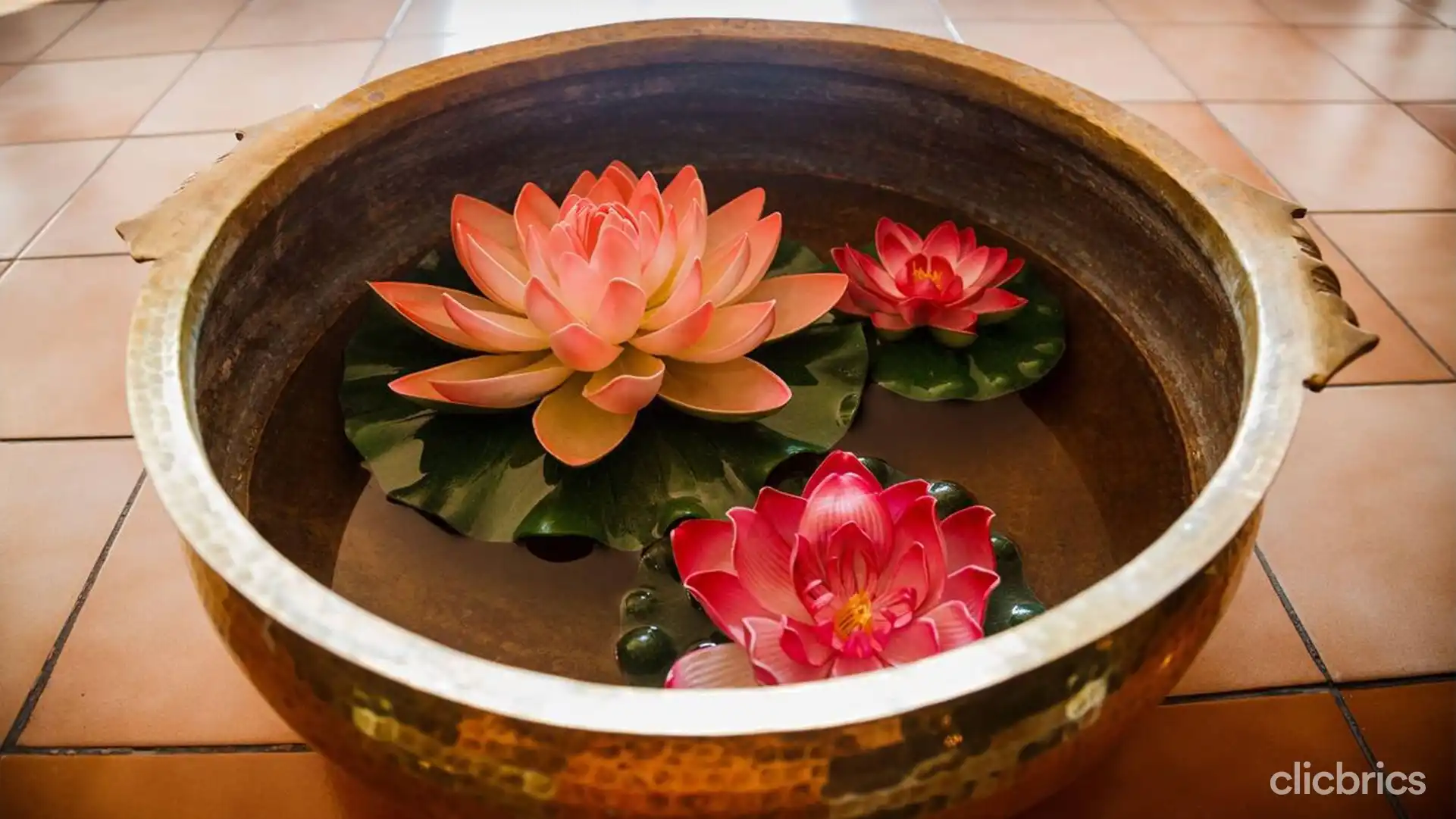 If you say that you have seen this flower decoration at the homes of others, we will trust you! It is because a brass bowl-filled Lotus provides a classy look that everyone craves for in their home. If you also want the same look, grab a round brass bowl, fill it with water, and place a few beautiful lotuses. 
8. Chandelier Flower Decoration At Home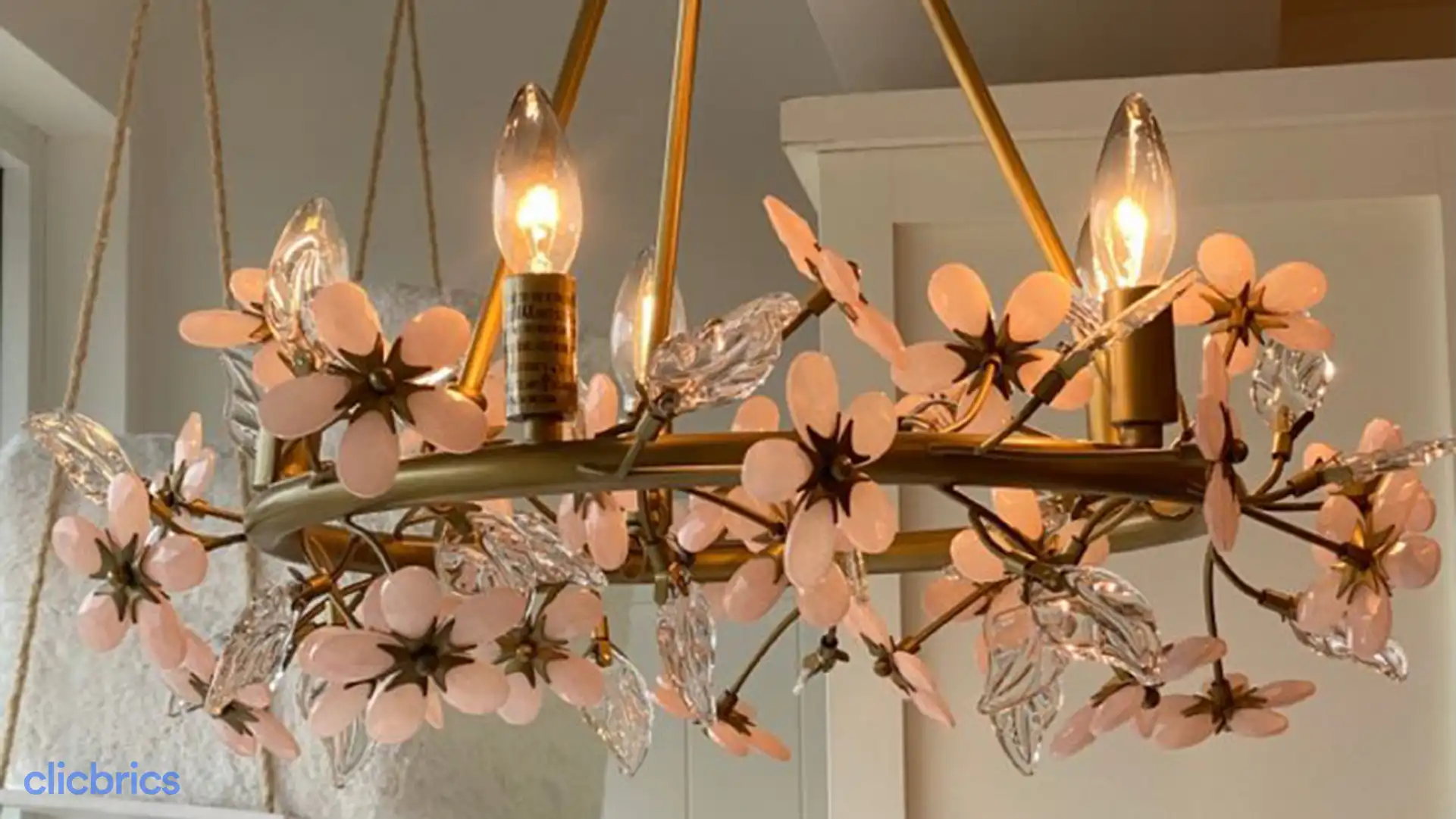 None of the flower decoration ideas for the home can match the simplicity that a floral chandelier can offer. Imagine you're having a little celebration at home, and your guests are coming over. Of course, you'd want to include something that exudes royalty. And what better way than to have a floral chandelier at home? A chandelier is that home decor  which reflects royalty. So you can place a chandelier on the hall ceiling to create a lavish look. With beauty and fragrance, your occasion will be worth remembering. 
9. Flowers On An Acrylic Wall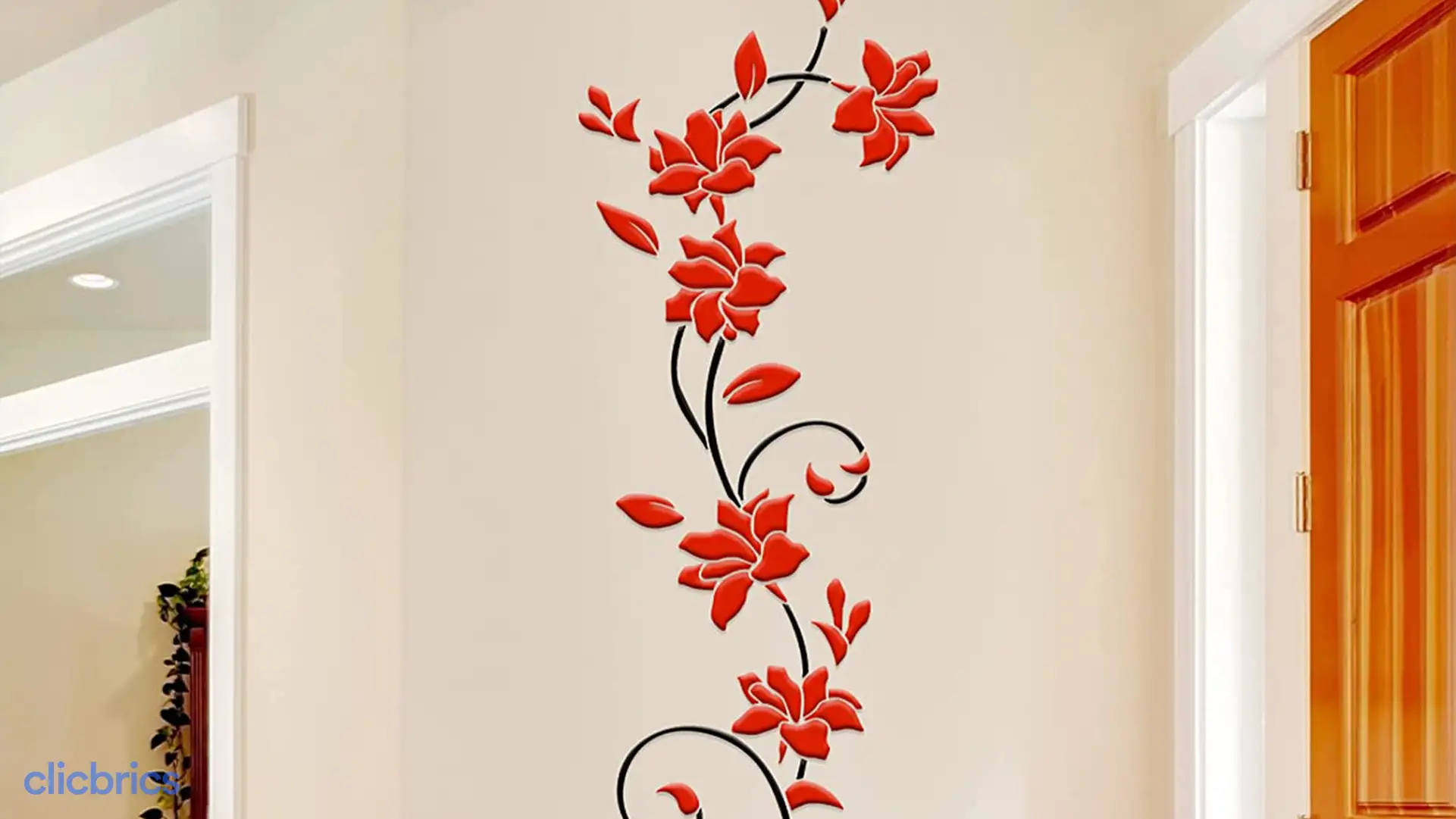 If you are looking for an interesting and unique flower decoration at home, you can create a wall hanging to give a stunning look. You can start by mounting it on a wall, by adding a climber like a money plant. Or you can add the roots of the flowers you wish to grow and hide the roots with colourful stones. Give it some time, once flowers have grown, it will become an incredible asset to your home decor. 
10. Pooja Room Floral Decoration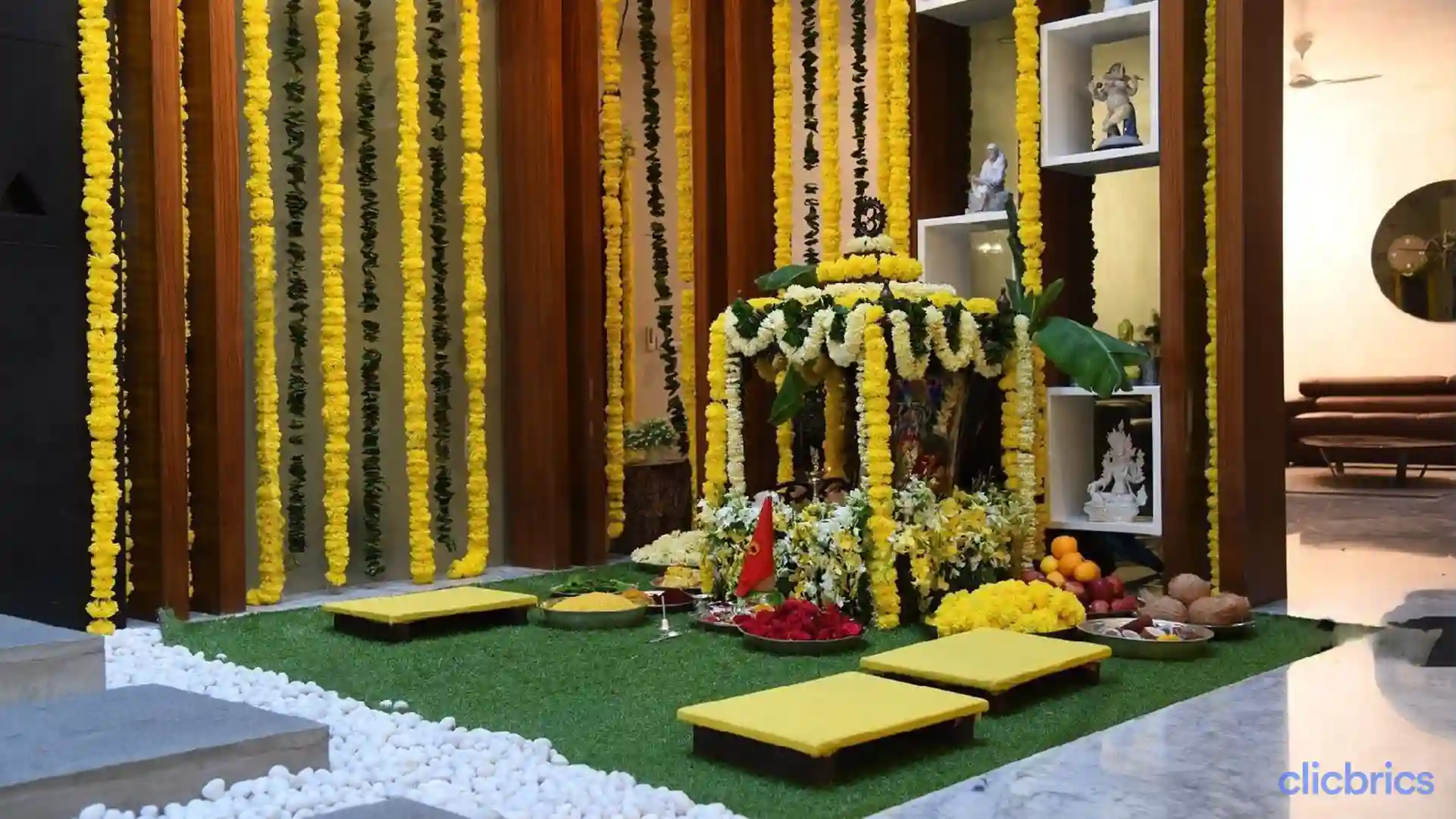 Do you know the essence of pooja thali is not just the light of diya but the floral decoration? For that you can make rose garlands to beautify the thali. After this, you can fill the centre of the thali with white and pink petals and place a big chrysanthemum (flower) in the middle of your pooja thali. This kind of simple flower decoration helps in creating divine ambience.
Also Read: 10 Budget Friendly Indian Style Pooja Room Designs For Your Home 
When planning on doing flower decoration at home, keep in mind that you need to focus on choosing the right kind of flowers. Also, ensure that the floral decoration matches the theme of your home decor. So, get ready to transform the look of your home this season with these stunning floral decor ideas!