Table of Content: 
If cooking in a small kitchen is becoming a time-consuming task for you, then consider it an indication that the time to remodel your kitchen has arrived. To be very specific, one of the space-saving yet effective solutions is to install an L-shaped modular kitchen design so that you can enjoy an efficient open cooking space. 
You must be wondering if incorporating a whole new modular kitchen design can be an expensive affair. Allow us to break it to you here— It's not! When focusing on remodelling a kitchen, you just need the right blend of accessories, some exotic decor pieces, and sometimes a little guidance, and you're done. 
We have created some functional L-shaped modular kitchen design ideas that will suit small and medium-sized kitchens. So, buckle up, read on and find the right design for your home today! 
10 L-Shaped Modular Modular Kitchen Designs(With Images)
1. Small L-Shape Modular Kitchen Design With Scratch-Resistant Finish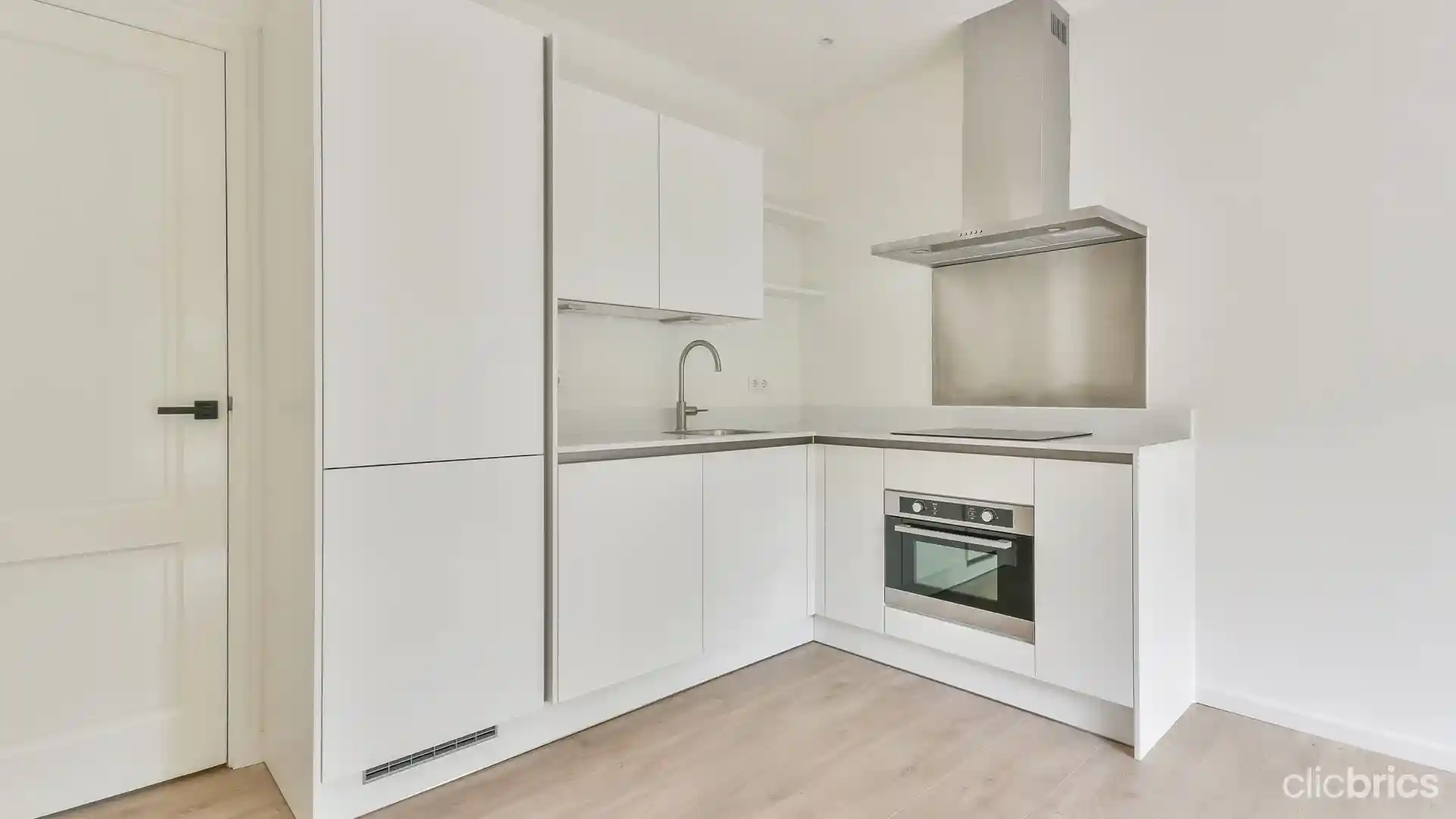 As we know, shades of black and grey hold the magic within to add panache; similarly, in your kitchen design, you can use these shades to make your space look more attractive. The glossy acrylic finish on the cabinets is reflective and makes the space look bigger than its actual size. You can store your kitchen gadgets under the cabinets and install some lights to brighten up the workstation. 
2. Geometric L Shaped Modular Kitchen Design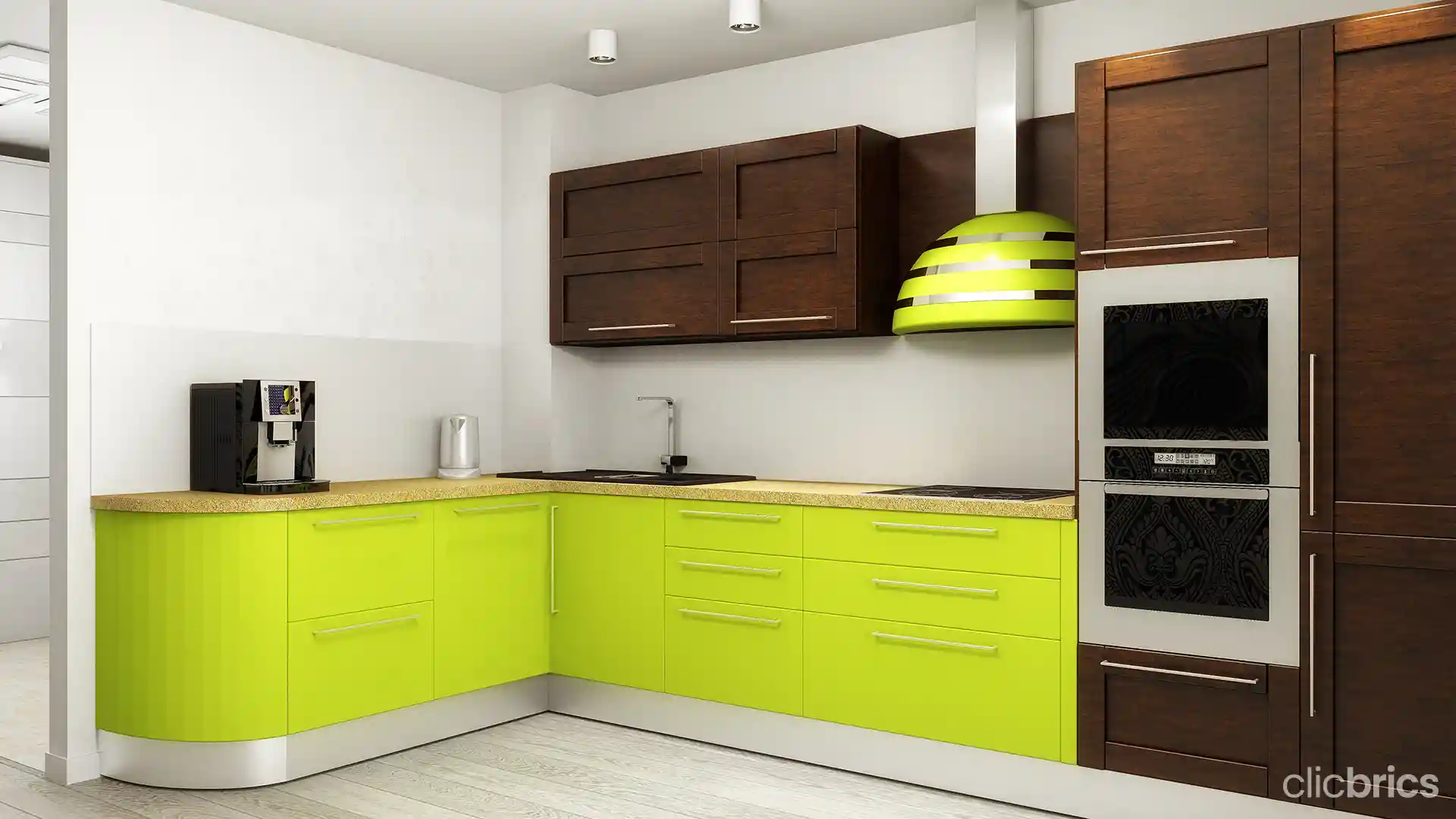 An L-shaped, geometric modular kitchen comes with modern technology. The specialty of the geometric pattern is that it provides an artistic notch. The design includes wall cabinets with handleless shutters, soft-close hinges, and glass windows. Moreover, the base cabinets available in modular kitchens come with Italian handles and stainless steel accessories. 
3. Black Kite L Shaped Modular Kitchen Design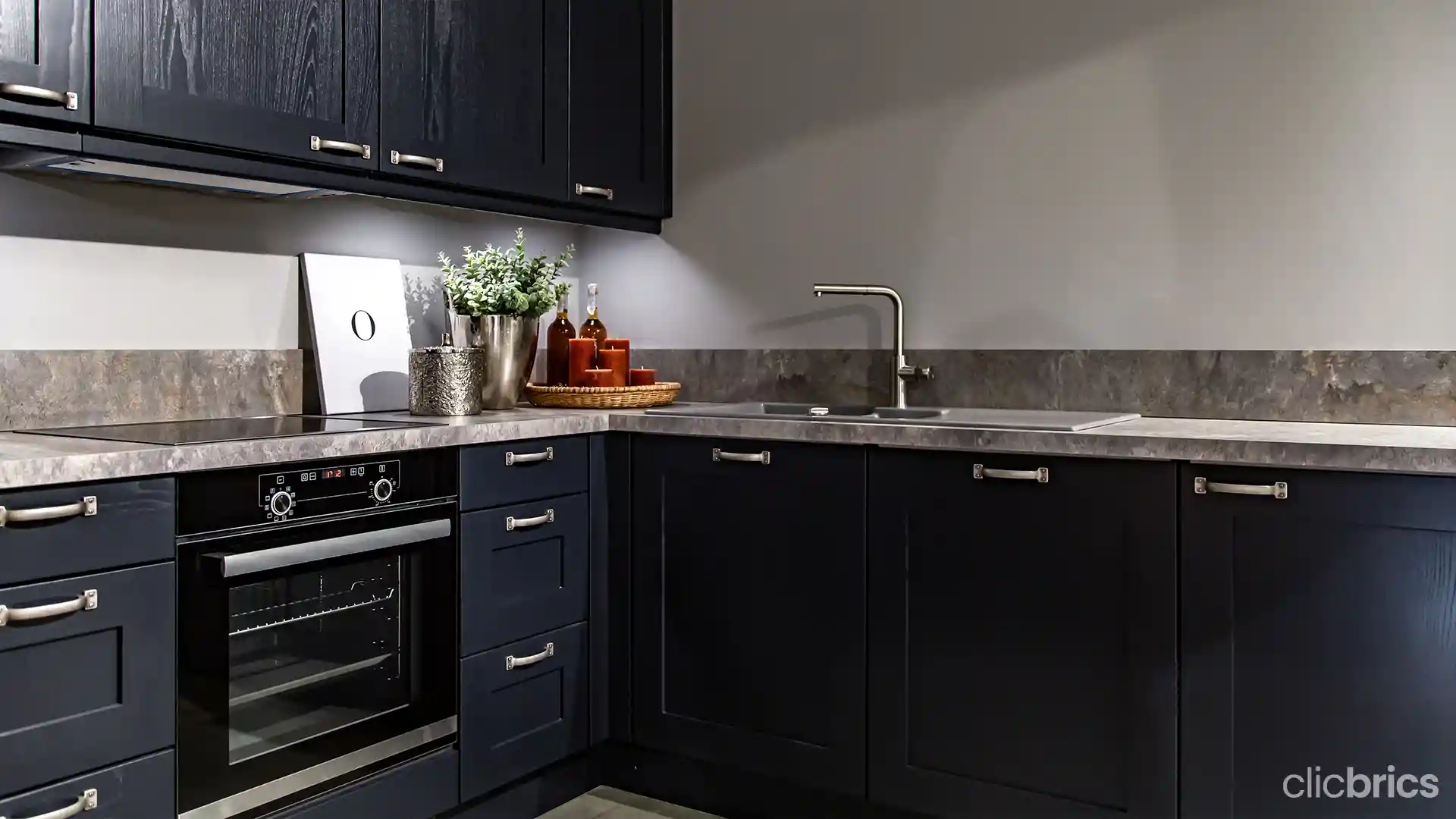 A black-coloured small L-shaped modular kitchen design is the perfect option to separate your living room and kitchen. Moreover, with this L shaped modular kitchen design, you will enjoy ample storage space where you can fit cutlery items, home appliances, etc.  
Also Read: 10 Trendiest Modular Kitchen Colour Combination Ideas
4. L Shaped Small Modular Kitchen With Wooden Cabinets & Marble Countertop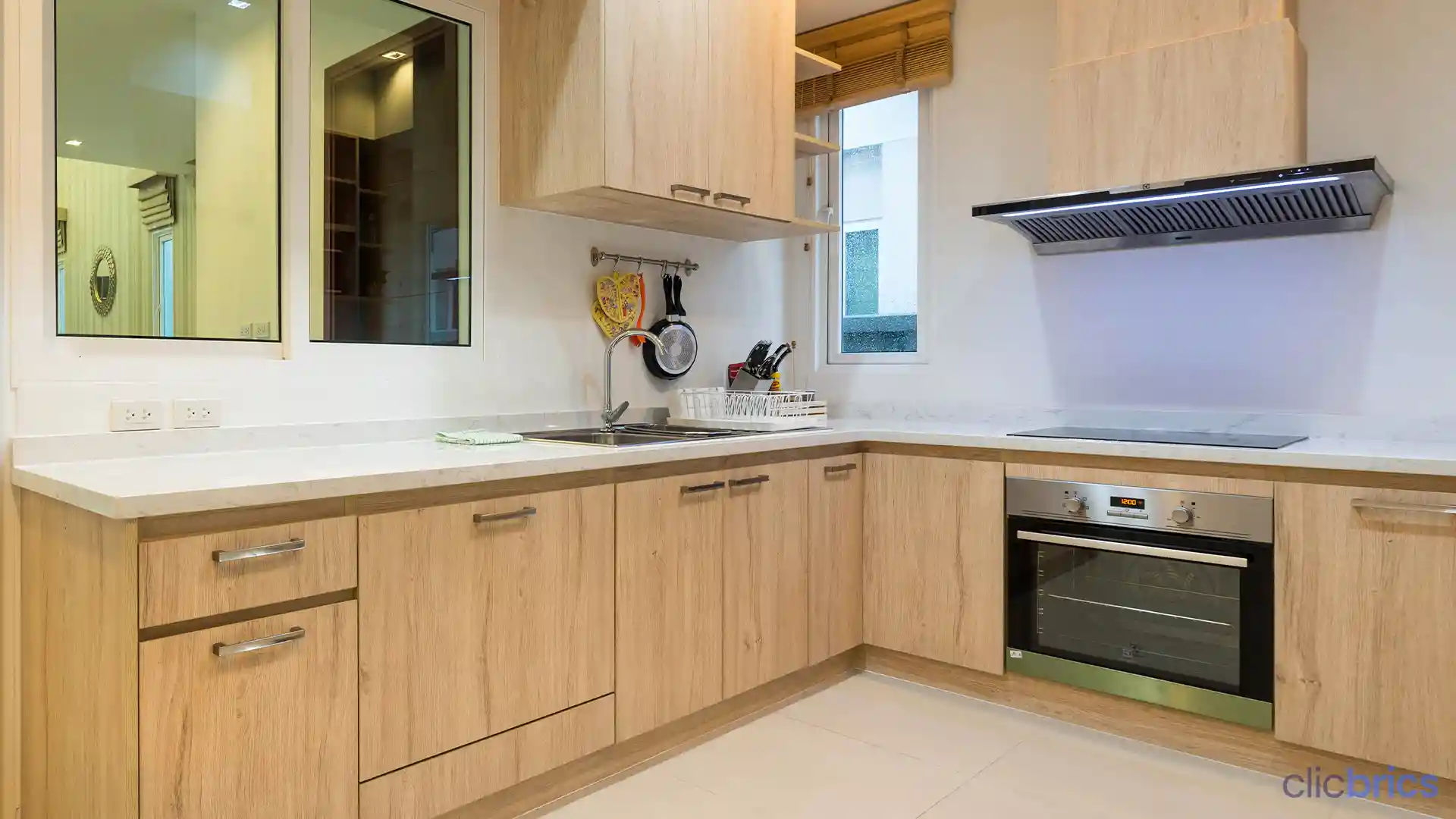 We have the ultimate solution if you wish to incorporate a classy theme in your kitchen! You need wooden cabinets with marble countertops to provide a high-class feel to your small kitchen. Not only this, but the beauty of wooden cabinets will add a rustic, old-world charm to your cooking space. Ultimately, all that's left for you to do is add a kitchen island, and your elegant L shaped modular kitchen design is ready.  
5. Yellow-Coloured L Shaped Modular Kitchen Design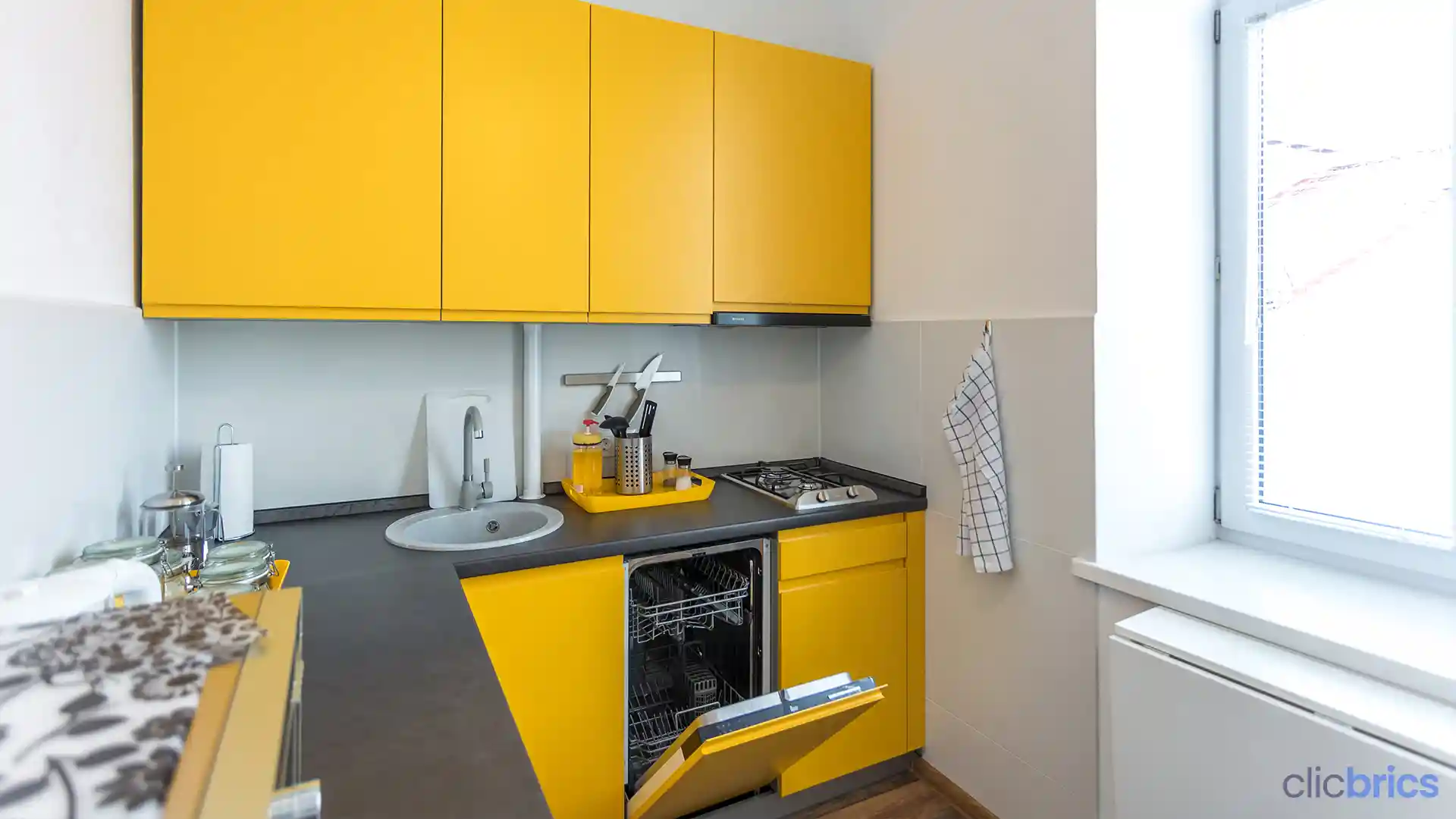 Since the kitchen is one of the busiest rooms in a home, you need to add something special to your kitchen that exudes vibrancy. And what better way than to add the yellow colour that can easily grab anyone's attention? Adding yellow to your modular kitchen design will make the space look much bigger and brighter. 
6. Chirpy-Themed L Shaped Modular Kitchen Design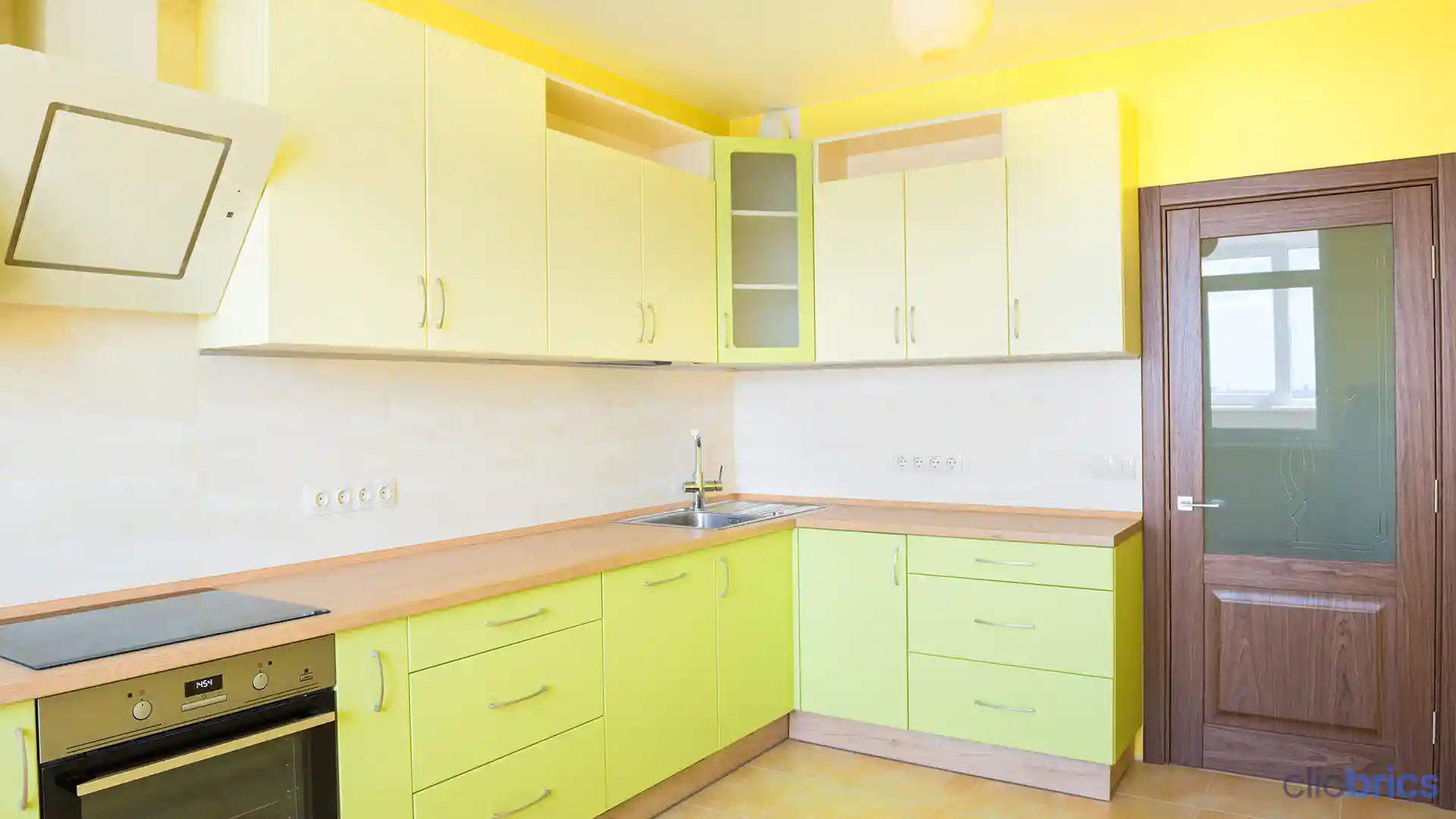 This design, without a shadow of a doubt, will make you hooked! The installed cabinet design mainly comes in two colour tunings with a selective touch to make the cooking space look splendid and unique. Even so, you will find wall-mounted shelves in two colours - adding a cheerful, chirpy look to your kitchen. 
Also Read: Top 14 Kitchen Entrance Designs & Ideas For All Homes Size
7. White L Shaped Modular Kitchen Design With A Pop Of Blue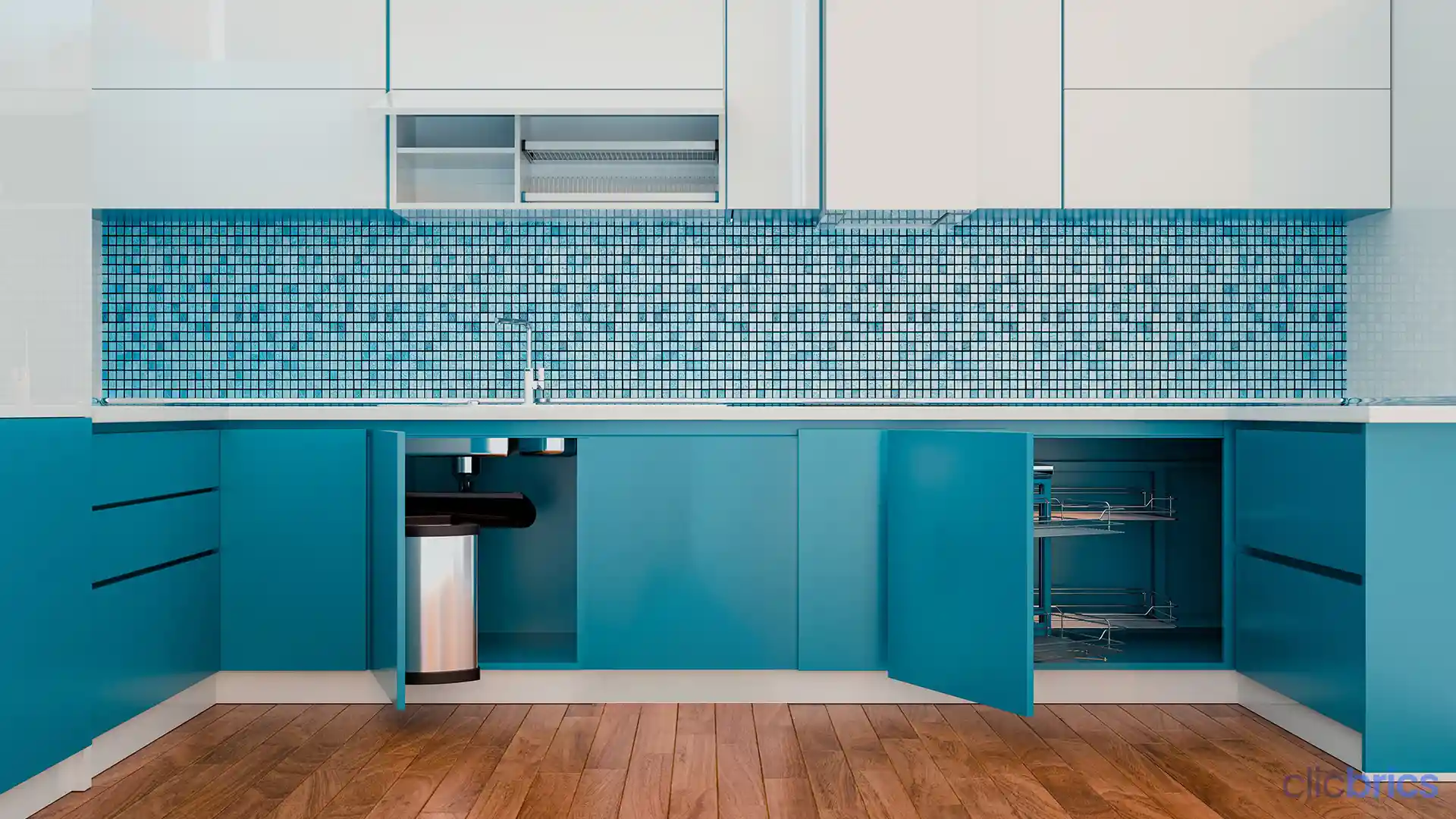 To make your small kitchen stand out, adding glossy white paint with a pop of blue colour can make your kitchen appear bigger than its actual size. The cyan subway tiles will add a pop of colour to your white kitchen. 
8. L-Shaped Kitchen With a Glass Partition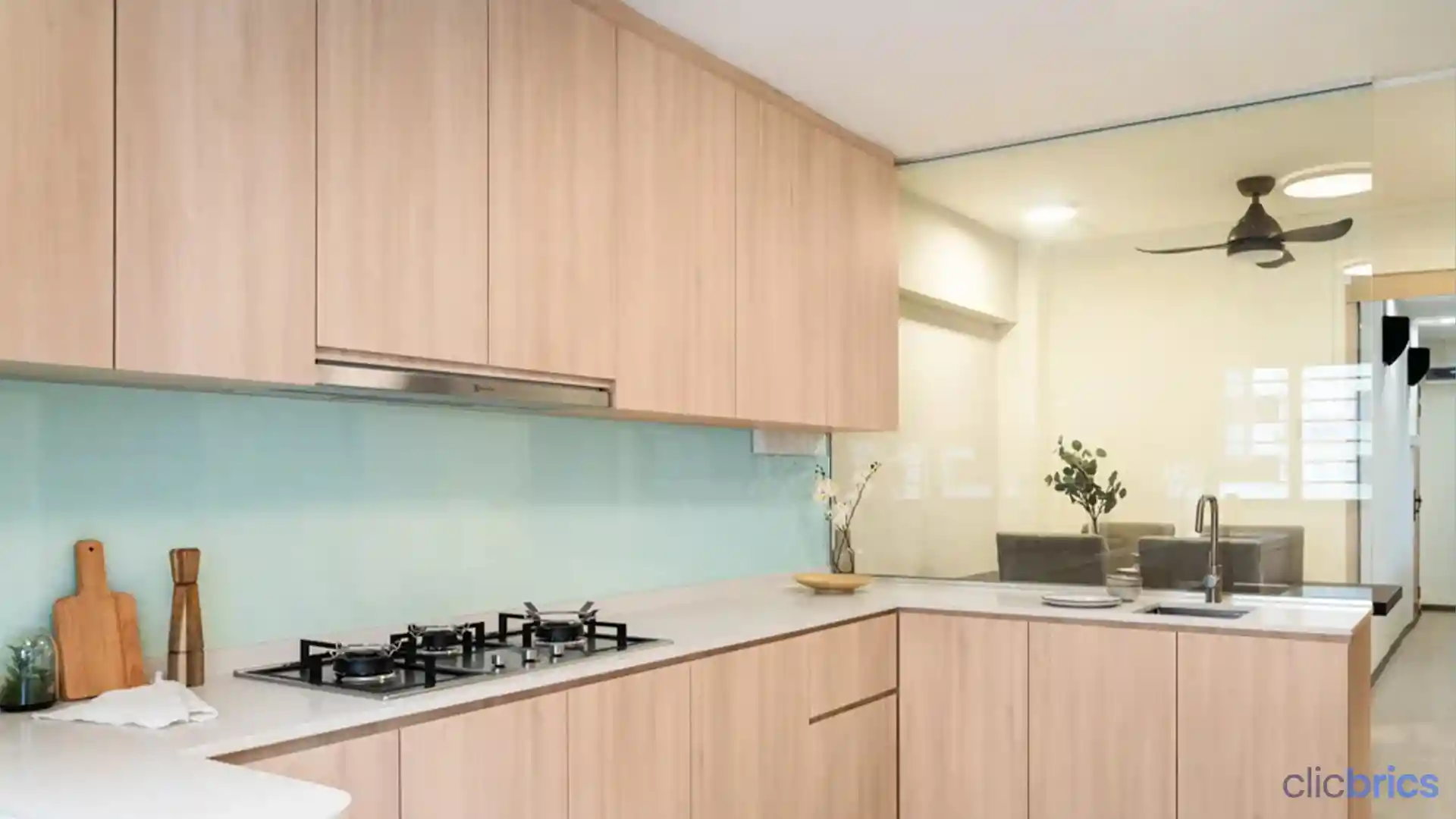 Source: livspace
For the neat freaks, this is definitely gold! 
The wooden cabinets and a contemporary lacquered light-green glass backsplash provide a classy look. This type of l-shaped small modular kitchen can also work as a partition from the dining space. And the best part is that this glass-partitioned L shaped modular kitchen design is low maintenance and makes the place look more lively. 
By incorporating this design, you will enjoy warm meals without having to encounter smoke or smells coming out of the kitchen. 
Also Read: Kitchen Vastu- Inject some Positivity into your kitchen
9. Modern L-Shaped Kitchen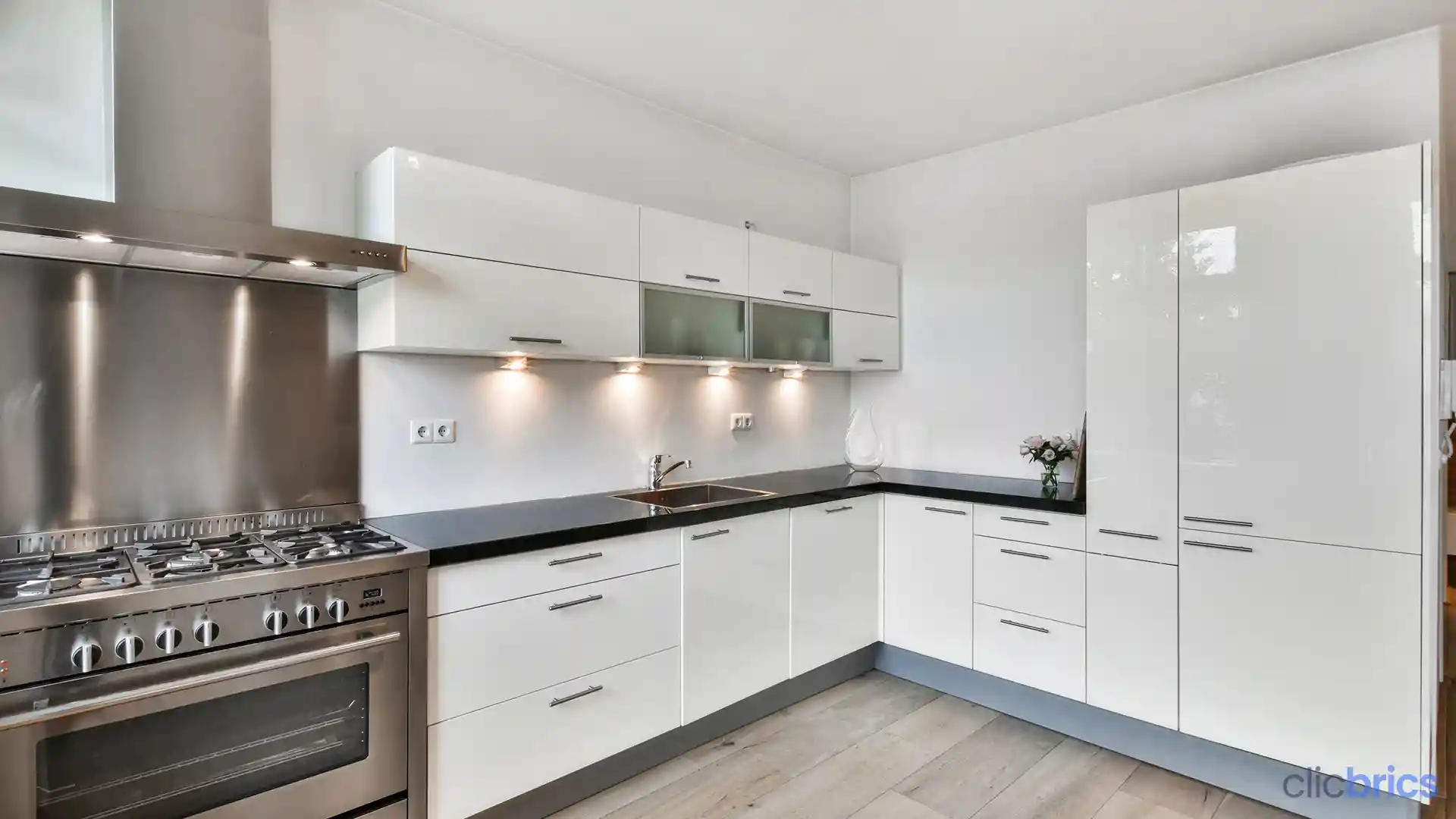 In order to make your kitchen look modern, luxurious, and attractive, you can use this L shaped modular kitchen design. Apart from enhancing the look, the l-shaped kitchen provides ample storage space. You can choose different colour variants for cabinetry and countertops, making them more attractive.  
10. L-Shaped Kitchen With a Breakfast View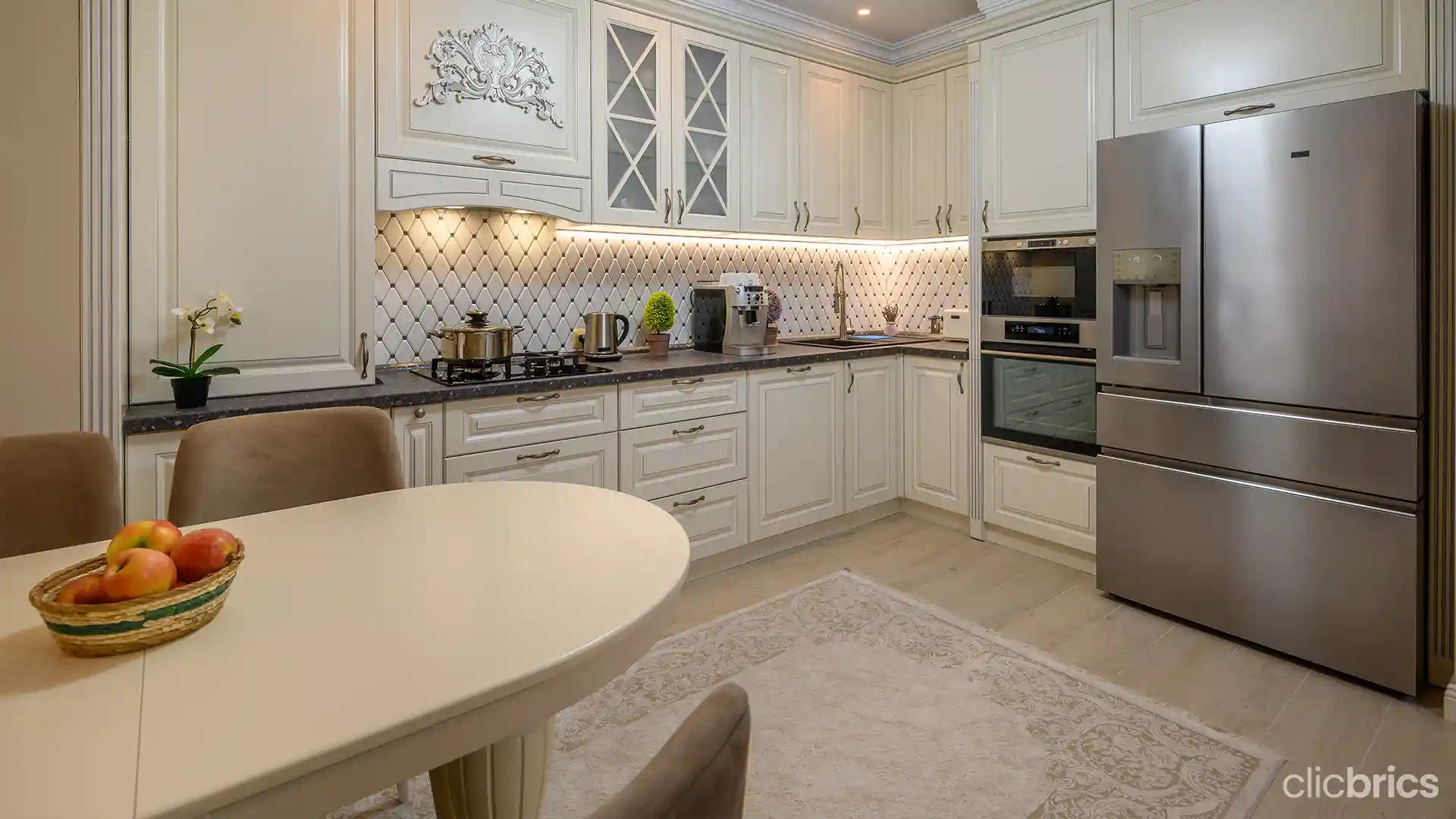 In India, most kids have a habit of eating on their beds. And it's not their fault, as the limited space available at home makes it difficult for everyone to install a separate dining room. If you are sailing in the same boat, you can install this contemporary L-shaped modular kitchen design. 
The cabinets can be grey-coloured, making all the kitchen appliances stand out. You can also incorporate a wooden countertop/breakfast area into the design of your kitchen barstools. It will allow your kids to have breakfast, lunch, and dinner there and break the habit of being lazy and having food in bed. 
A kitchen is where you and your family bond over lip-smacking food. And if you leave your kitchen behind for remodelling, it might steal away its essence. It doesn't matter if you have less space; you can still reinvent your kitchen by installing an L shaped modular kitchen design. It will give your kitchen an ultra-modern look by utilising every inch of the space.