Table of Content:
Kota stone is a naturally occurring, fine-grained variety of limestone that hails from the city of Kota in the Indian state of Rajasthan. Because of its alluring natural appearance, durability, and low cost, kota stone flooring is used the most extensively in both the interiors and exteriors of homes as well as in commercial areas. Kota is renowned for its lustrous appearance as well as its charming colours, and it also gracefully ages over time. It comes in a variety of shapes and sizes, and it's adaptable enough to work with any kind of interior design. Due to the fact that it possesses its own set of distinctive qualities, Kota stone flooring is quite frequently requested by customers in home construction.
What Makes Kota Stone Tiles So Great For Flooring?
Kota stone tiles have many potential applications thanks to being tough, non-porous, and homogeneous material.

It is the ideal and hygienic flooring for damp areas because it does not absorb water and is non-slip.

It's sturdy and built to last a long time.

In order to give the stone a more recent look, it is possible to polish kota stone once more.

Kota stone floor tiles can adapt to dry, humid, or cold environments with ease.

It's commonly used as a foundation for kitchen counters, with heavier materials like granite or marble slabs fastened on top.

Kota stone is the most affordable, accessible, and long-lasting natural stone on the market.

It is a high heat reflector, making kota stone tiles a pleasant surface  to walk.

They are inexpensive compared to other stones and come in slab and tile form.
Also Read: Best Tips To Check The Construction Quality Of Your Home
Limitations of Kota Stone Tiles
Unlike marble and granite, it can't be purchased in massive slabs. Due to its fragility, Kota limestone typically comes in smaller slabs.

Kota stone is easily stained and is not resistant to acids or alkalis.

Over time, Kota stone flooring that is frequently polished may begin to flake. However, flaking of the floor's stone may be avoided through routine maintenance and polishing.

It lacks the sheen of more expensive materials like marble and granite.

Even though the stone must be cared for routinely, kota stone is still delicate and should not be dragged under heavy loads.
Kota Stone Flooring: Types & Varieties
Kota stones tiles for floor come in a wide variety of shapes and colours, including blue and brown paving stones, covings, bricks, and cobbles.
1. Green Kota stone flooring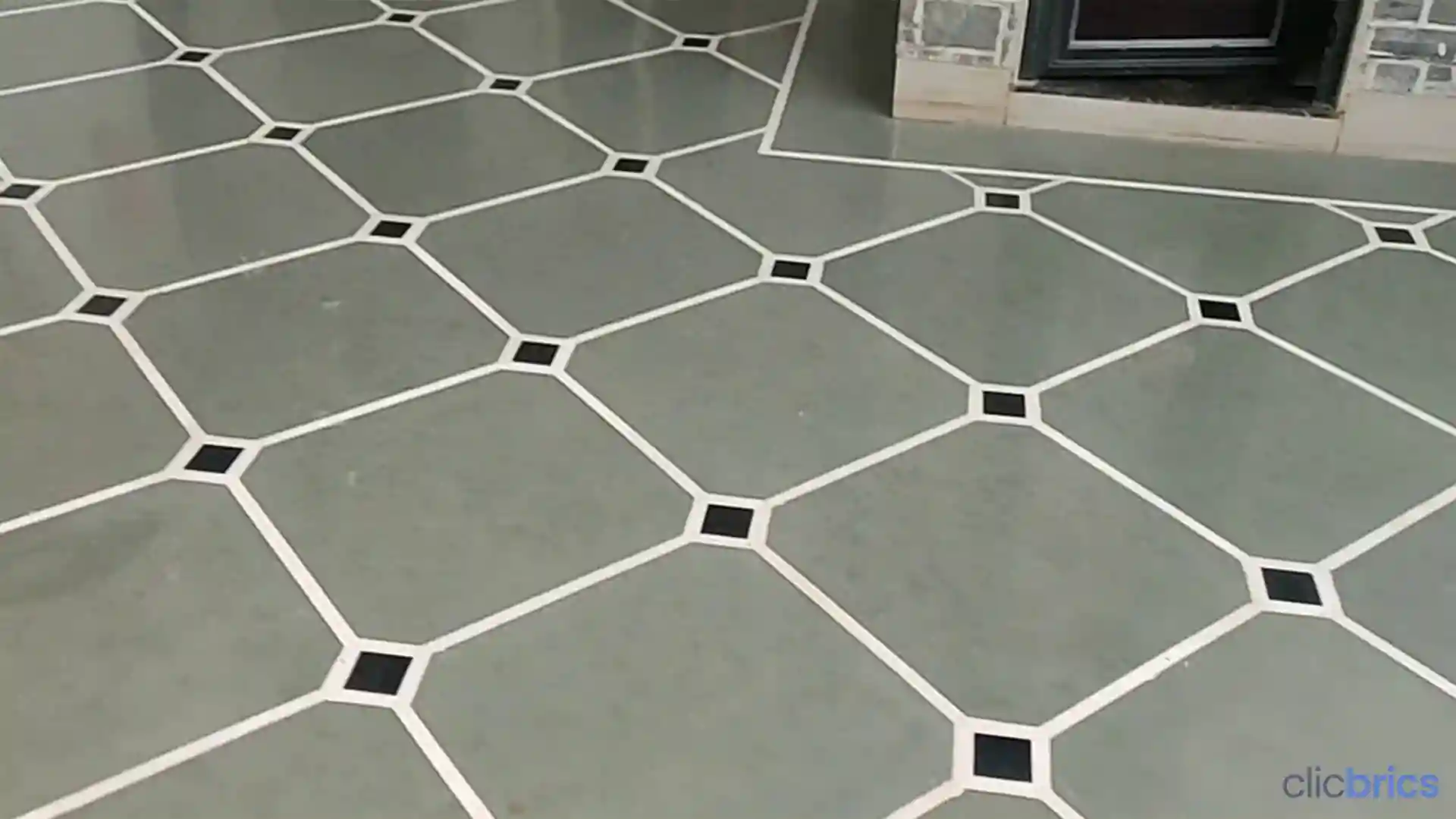 ​Source: kotastonesupplier
is constructed with the Kota Bluestone which is available in many finishes, including polished tiles, tumbled tiles, natural bricks, cobblestones, and covings. Green kota stone tiles come in a calming bluish-green colour that works well with a variety of other design elements. 
2. Brown Kota stone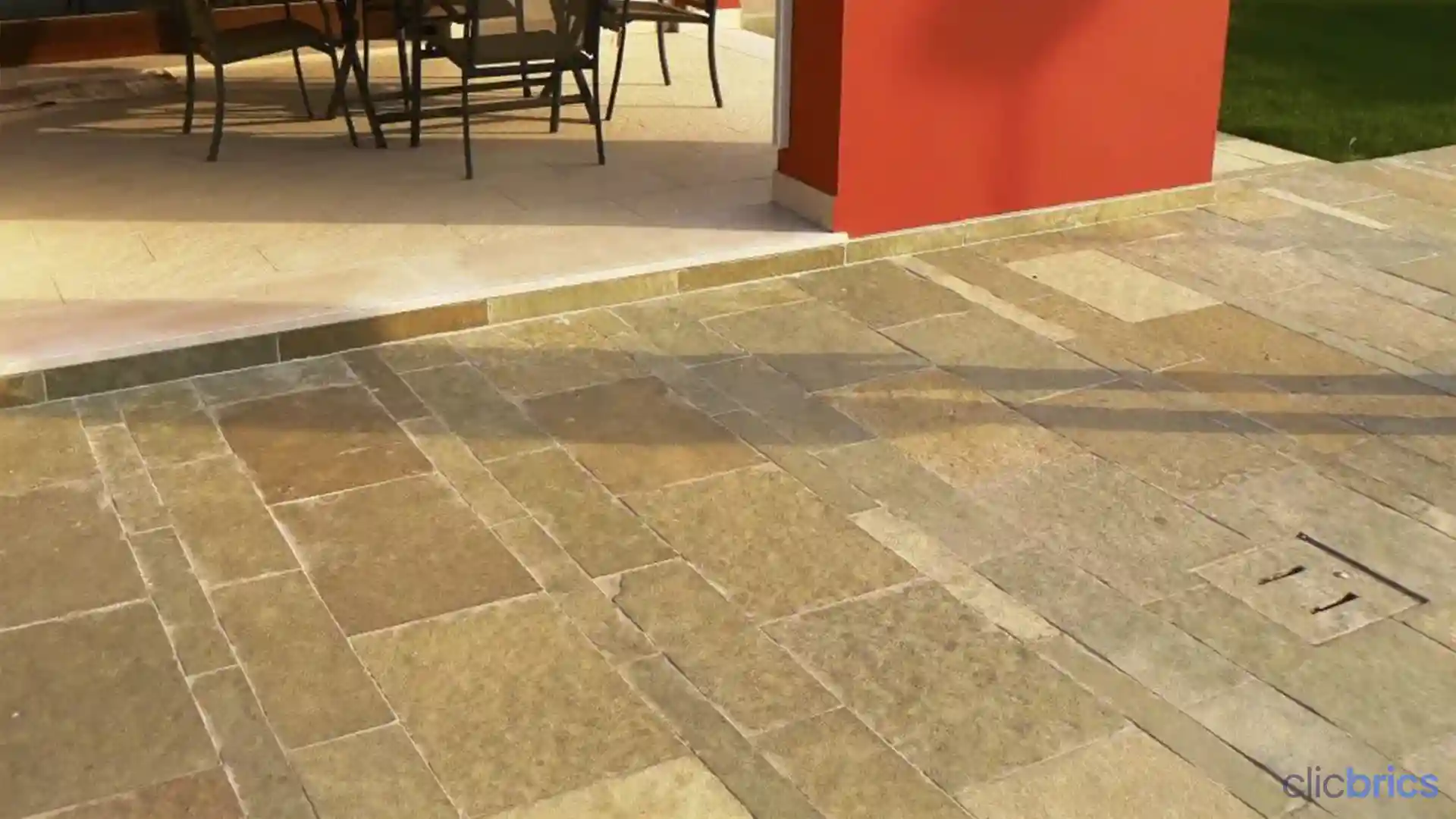 Source: archiexpo
comes in three colors—yellow, green, and brown—and can be used indoors or outdoors. In places like the dairy, pharmaceutical, and food industries, where cleanliness is of the utmost importance, Kota Stone covings can be found in the tight corners of these establishments. Dust tends to accumulate in the forgotten nooks and crannies of these spaces. Brown kota stone tiles come in a 22-inch-long, 62-millimeter-wide, and 62-millimeter-high format.
Comparison Between Kota Stone And Marble Stone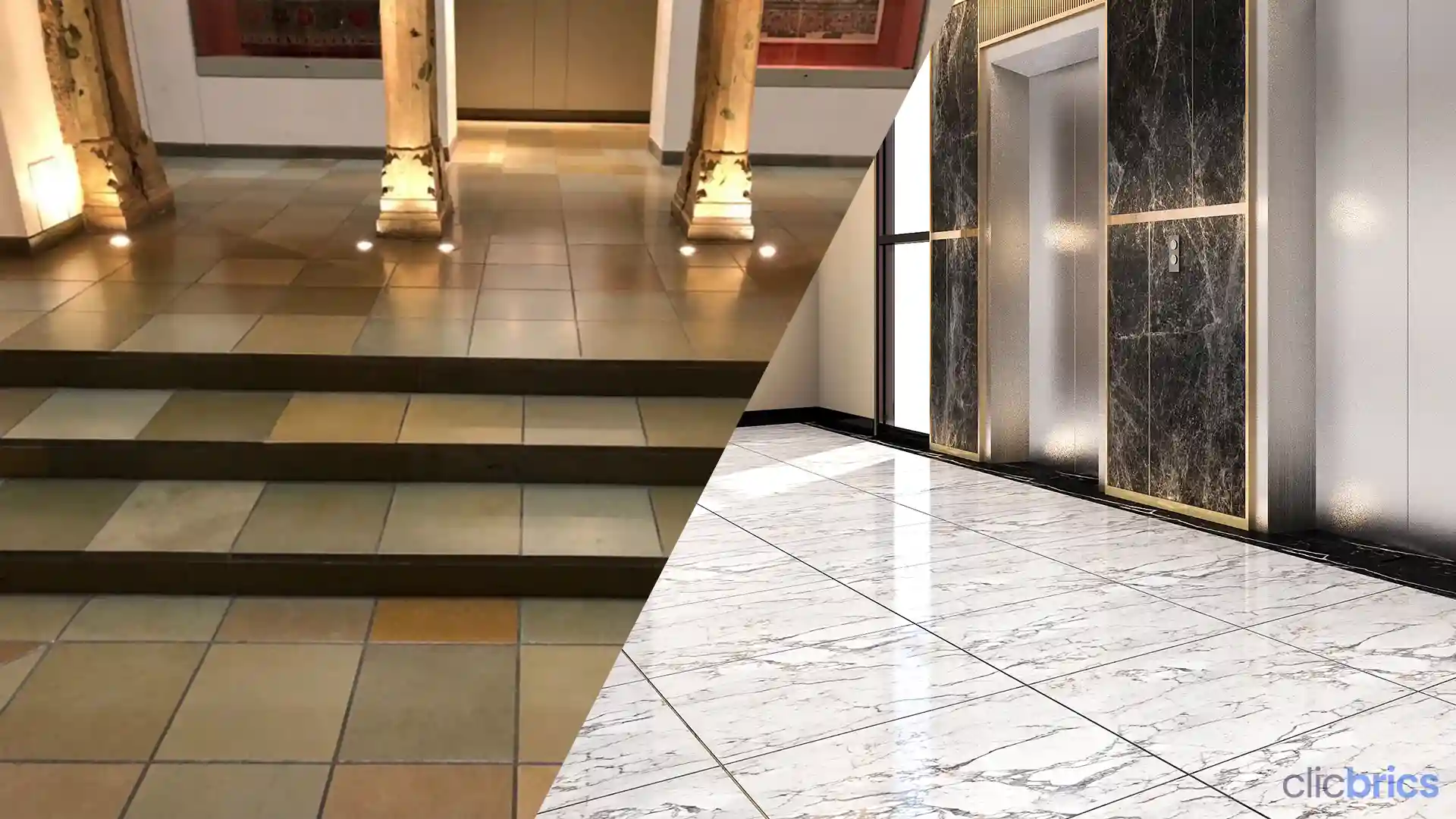 Source: sskotastone

| | |
| --- | --- |
| Kota Stone | Marble stone |
| It does not allow moisture to pass through | It's easily stained due to its porous surface |
| Comparatively inexpensive (Kota stone's price begins from $10/sq ft) | Expensive (Marble tiles price begins from $90 per square foot) |
| Robust and Reliable | Delicate |
| In comparison to marble, kota stone is not as gleaming. | After polishing, marble has a lustrous appearance |
| Less maintenance is required | Preventive upkeep is essential |
Cost of Kota Stone Flooring Tiles
Kota Stone is the most popular building material, and one of the main reasons for its popularity is the relatively low cost of kota stone flooring. Unlike natural stones like marble and granite, this one isn't prohibitively expensive despite its many desirable qualities. The size and thickness of the kota stone, however, determine the stone's final selling price. The price also varies depending on the specific stone.
Kota stone tiles price ranges from as little as Rs.10 per square foot to as much as Rs.50 per square foot. Buying directly from the quarry is the most cost-effective option when making large purchases. A reputable local dealer is the best choice if the quantity is low.
Kota Stone Flooring: Design & Usage Ideas
Due to the fact that Kota stone can have either a rough or polished finish, it can be used in any design application imaginable. 

Because of its high level of hardness and durability, the kota stone flooring is favoured for use in areas that experience a high volume of foot traffic.

 In order to maximise the beauty of the interior, polished kota stone is widely used. They are used as wall cladding, as well as in kitchen and bathroom flooring, and in wall tiling.

This rough stone is frequently used for architectural elements that are exposed to the elements, such as stairs, garden patios, corridors, pavement, driveways, etc. - thus making kota stone flooring a popular choice.
Suggested Read: 10 Compound Wall Design Ideas For Your Home's Stunning Look