Table of Content: 
If you plan to decorate your bathroom, a little change in the tiles can go a long way. The interesting point is that bathroom tile designs are not just for decorative purposes; they also protect the walls from getting damaged by water and toothpaste smudges. In addition, installing some stunning bathroom tile designs can help create the illusion of a larger bathroom.
Timeless and Trendy Bathroom Tiles Design In 2023
When it comes to bathroom tiles design, there is no "one size fits all" concept. As small and big bathrooms require different tiles, it can become difficult to choose the best ones.
So, today we bring to you a list of trendy bathroom tile designs listed below that will bring you out of this misery and add a modern twist to your boring bathroom.
1. White Modern Bathroom Tiling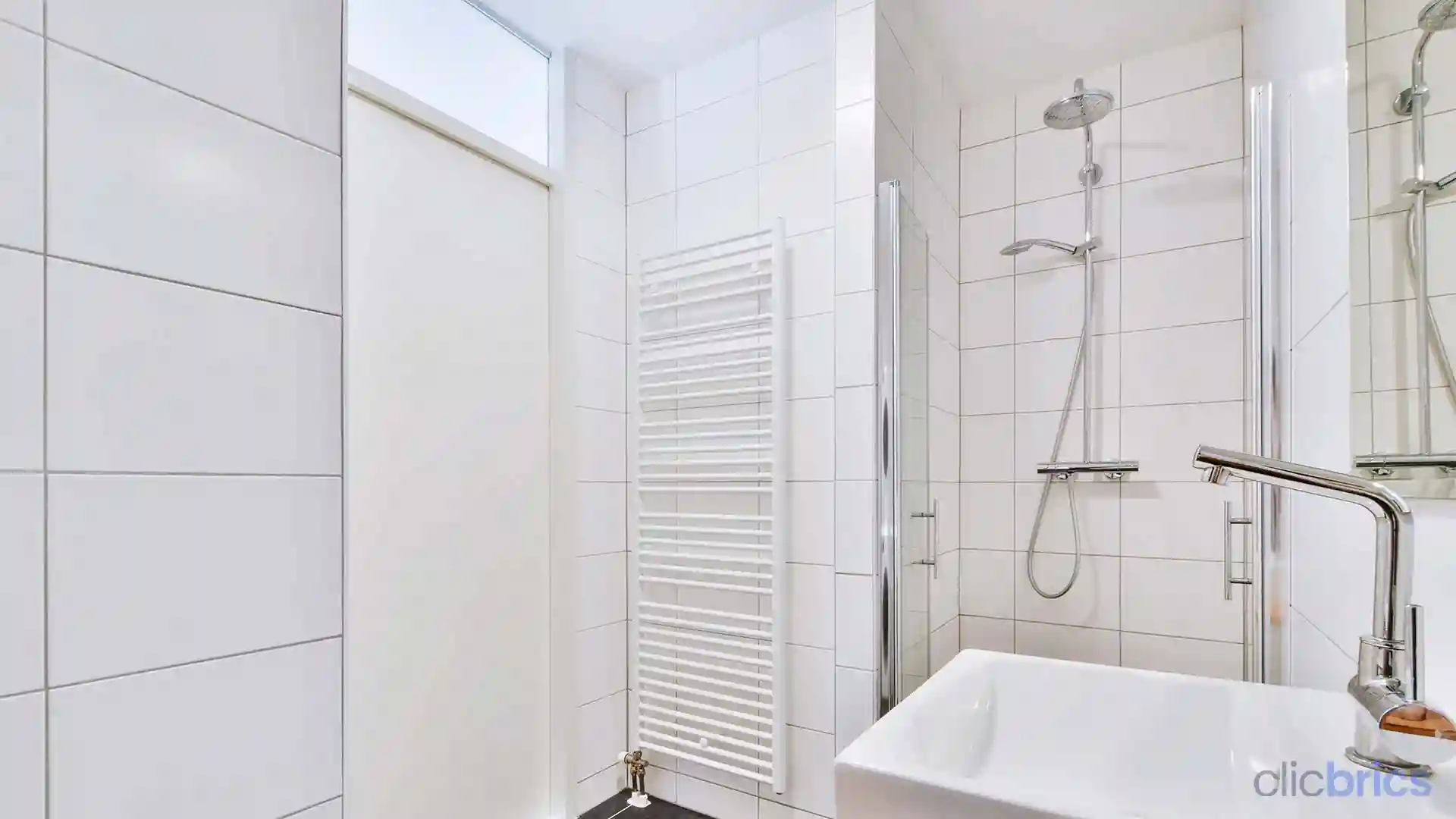 Are you looking for that simple bathroom tile design that offers airy, open space? Well, then, the solution couldn't be more simple! Opt for white bathroom tile designs to make your bathroom feel more spacious. These white tiles with tiny black insets will effectively ground the floor space while keeping it distinct from white walls. 
2. Stretch-Bond Bathroom Tiles Design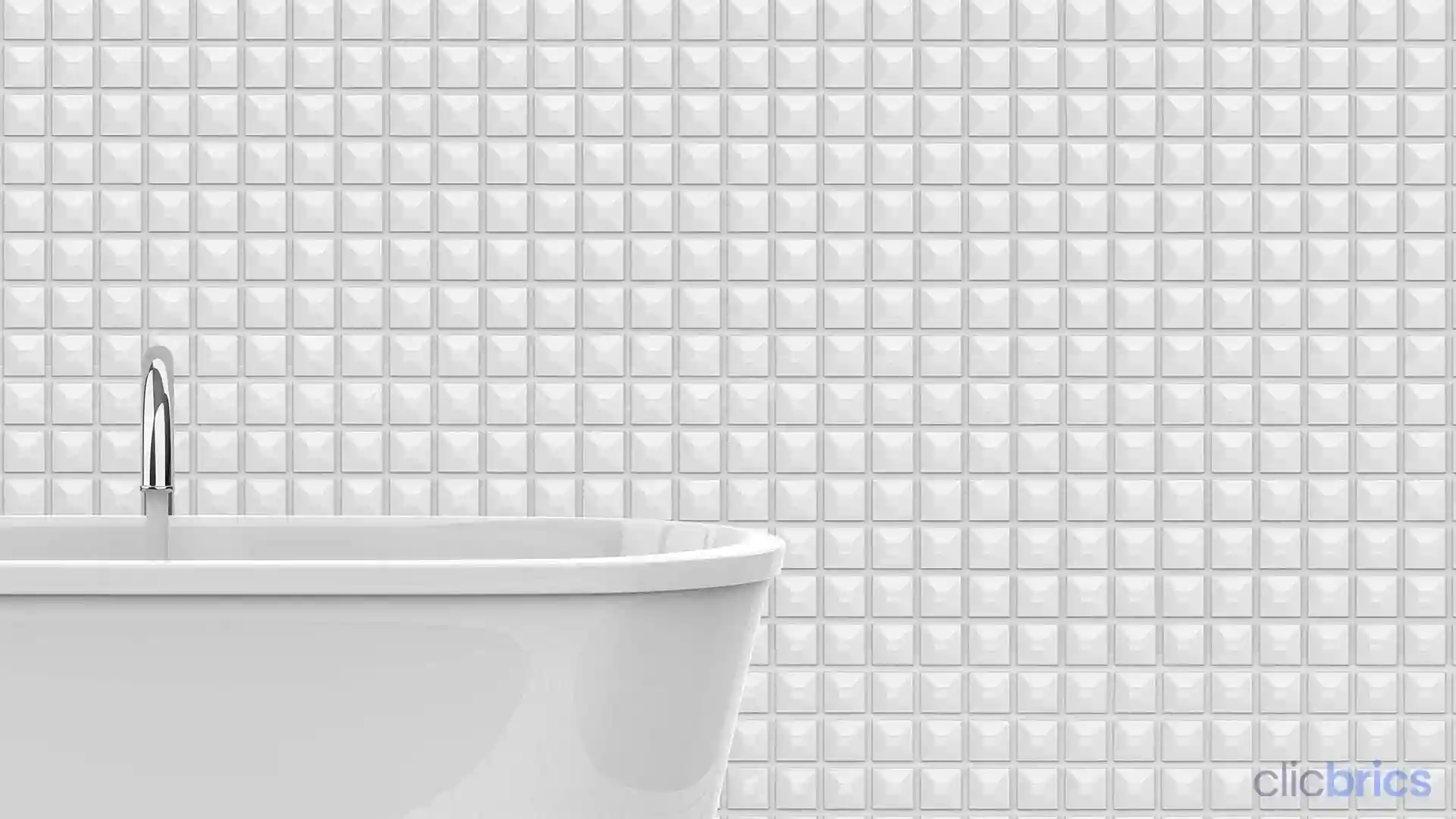 One of the best small bathroom tile designs is the stretch-bond design. You should install this type of tile design in a grid pattern. It will look like the bathroom has more visually ample wall space, and you will be able to manage your small bathroom space more efficiently.
3. Starburst Bathroom Tile Design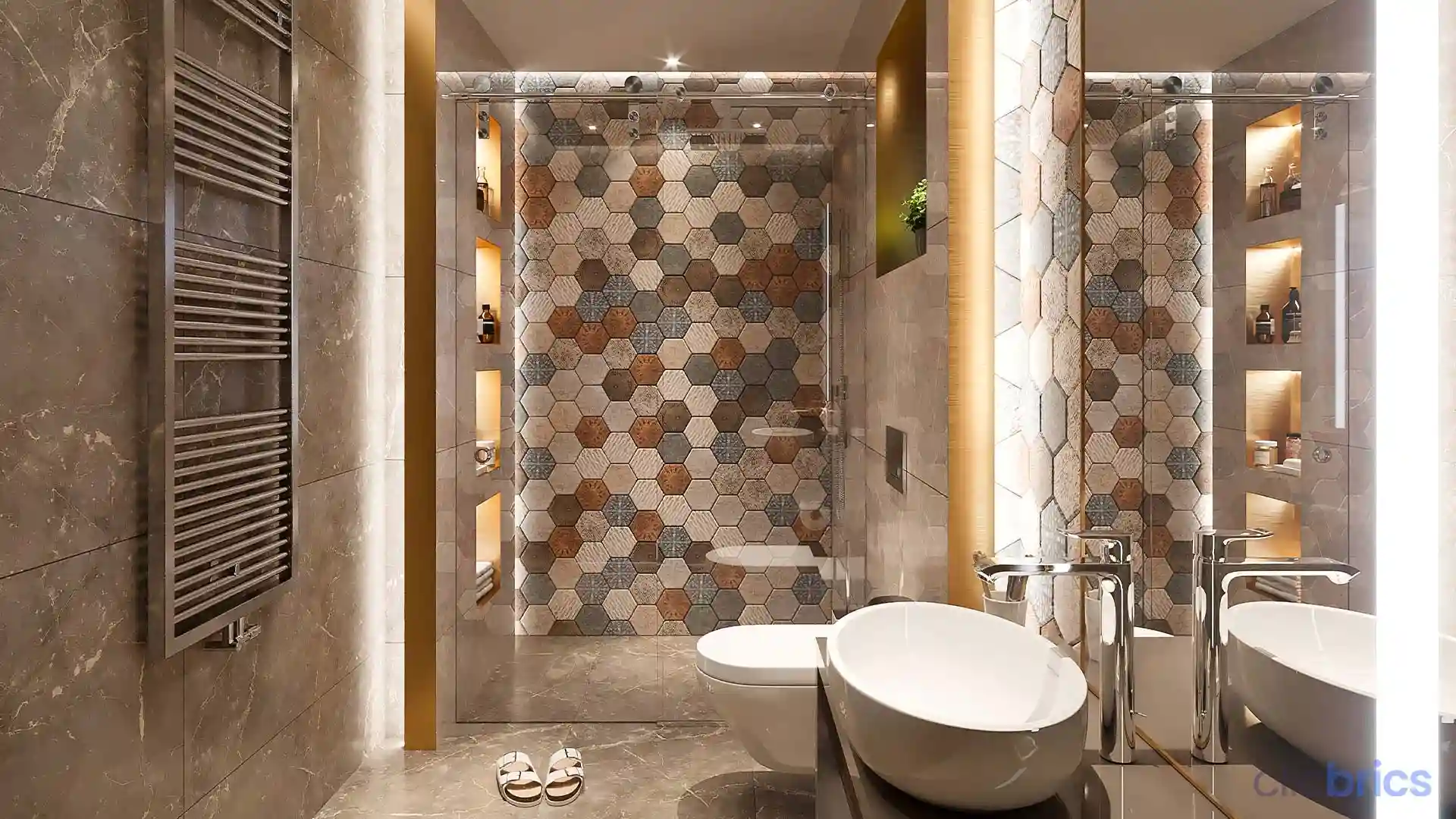 One of the wonderful modern bathroom tiling solutions is to install this type of design. The beauty of starburst bathroom tiles in Indian design is that they are the perfect blend of modern and trendy. You can install this modern pattern in shower spaces and on floors to create visual interest. The benefit of installing this tile in the bathroom is that the space will feel more open. 
Also, when installing this type of luxury bathroom tile design, ensure that you paint the walls and the vanity in a simple neutral color.
4. Pebble Style - Latest Bathroom Tile Design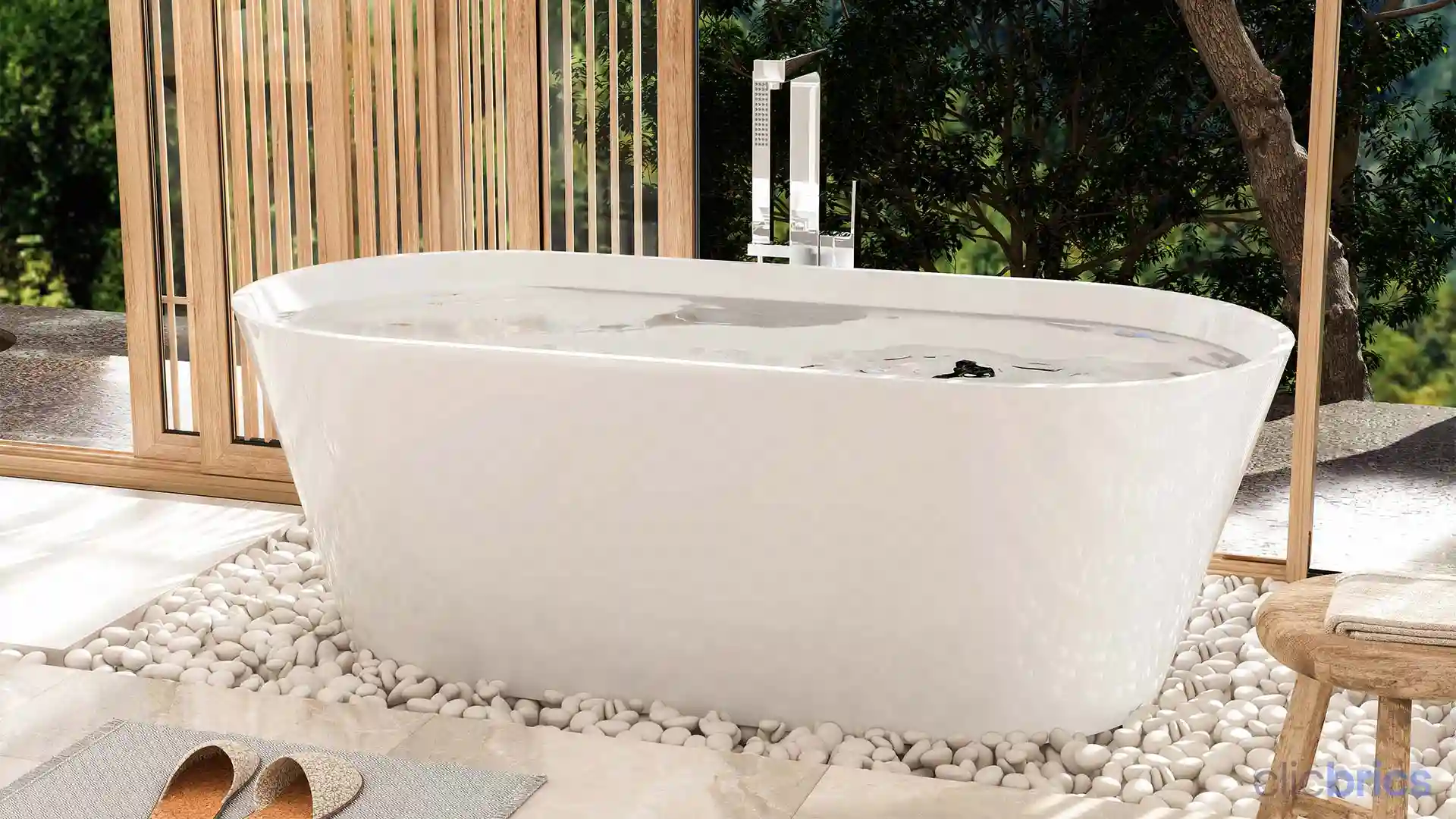 If you wish to experience a spa-like feel and give your feet a mini massage every time you enter the shower, this pebble-style bathroom tiles design is the best choice. Installing this design is a way of adding texture while giving your space a classy look. 
Keep Reading: 8 Best Stone Tiles for Wall to Smarten-Up Your Home Exterior
5. Floor-to-Ceiling Bathroom Tiles Design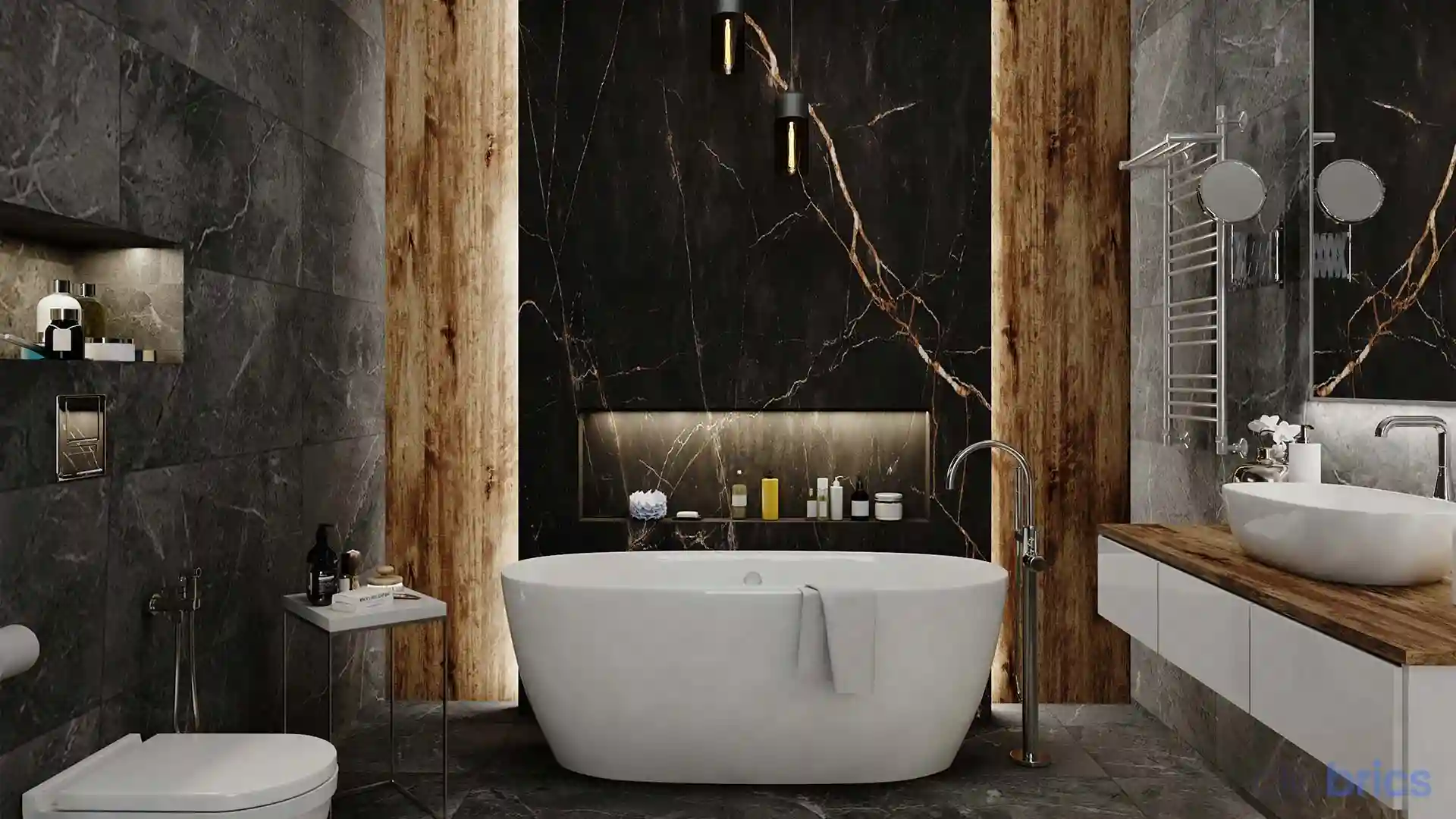 When installing bathroom wall tiles, use the same design on the floor. It works best in larger bathrooms. No doubt it will cost you a little more than expected, but it will provide an elevated look. To create a dramatic effect, you can use black grout on the walls, and for a contrasting look, place black tiles on the floors. 
6. Dark Color Bathroom Tile Idea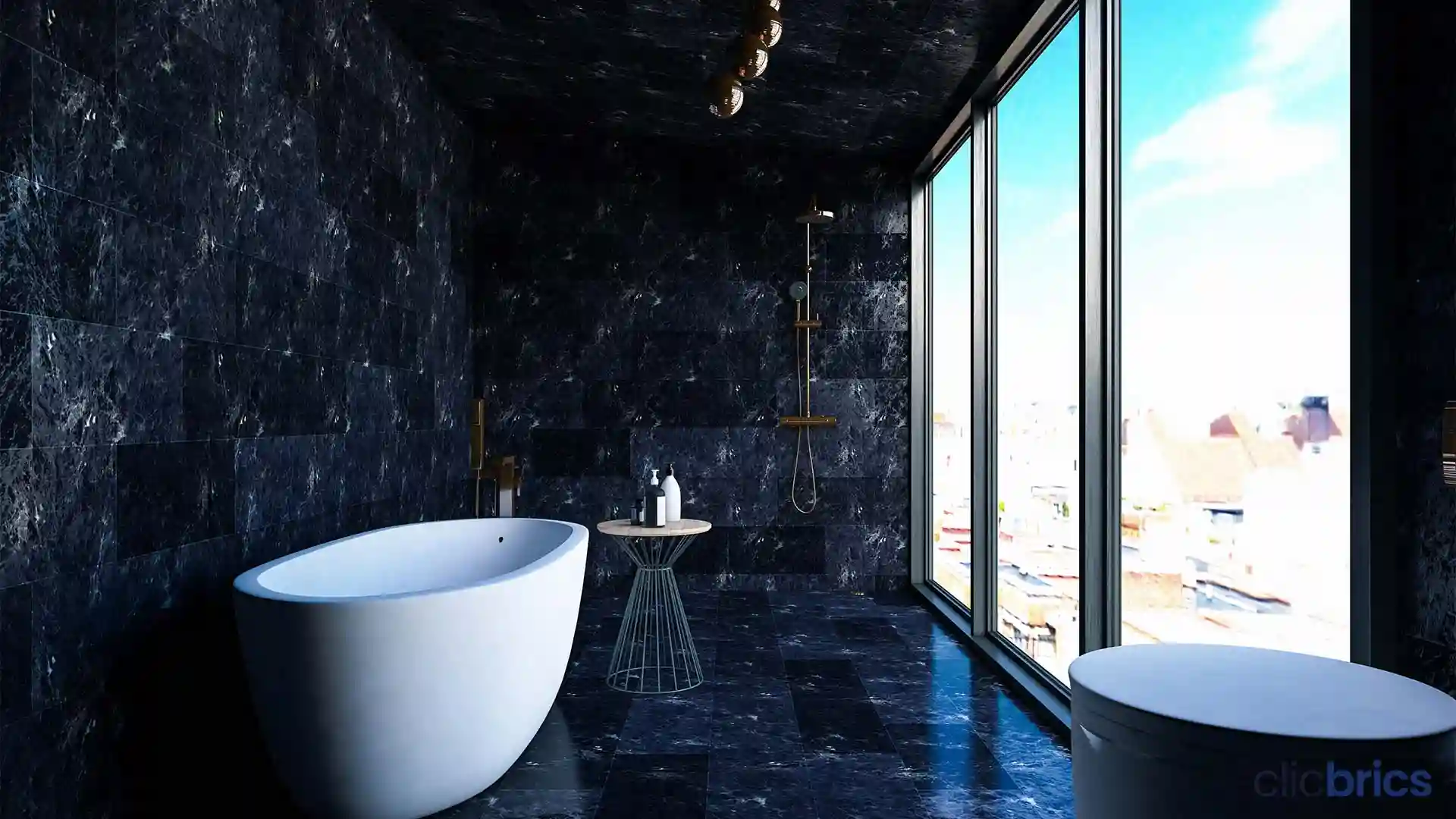 Installing dark-colored tiles like black, gray, or blue will be the perfect option to add a luxurious, dramatic look. The benefit of using dark-colored bathroom tiles design is that it will create the illusion of more space in the bathroom.
But while choosing this simple bathroom tile design, pick a contrasting color for the rest of the bathroom space.This way your bathroom will not feel too dark or drab. 
7. Traditional Marble Bathroom Tiles Design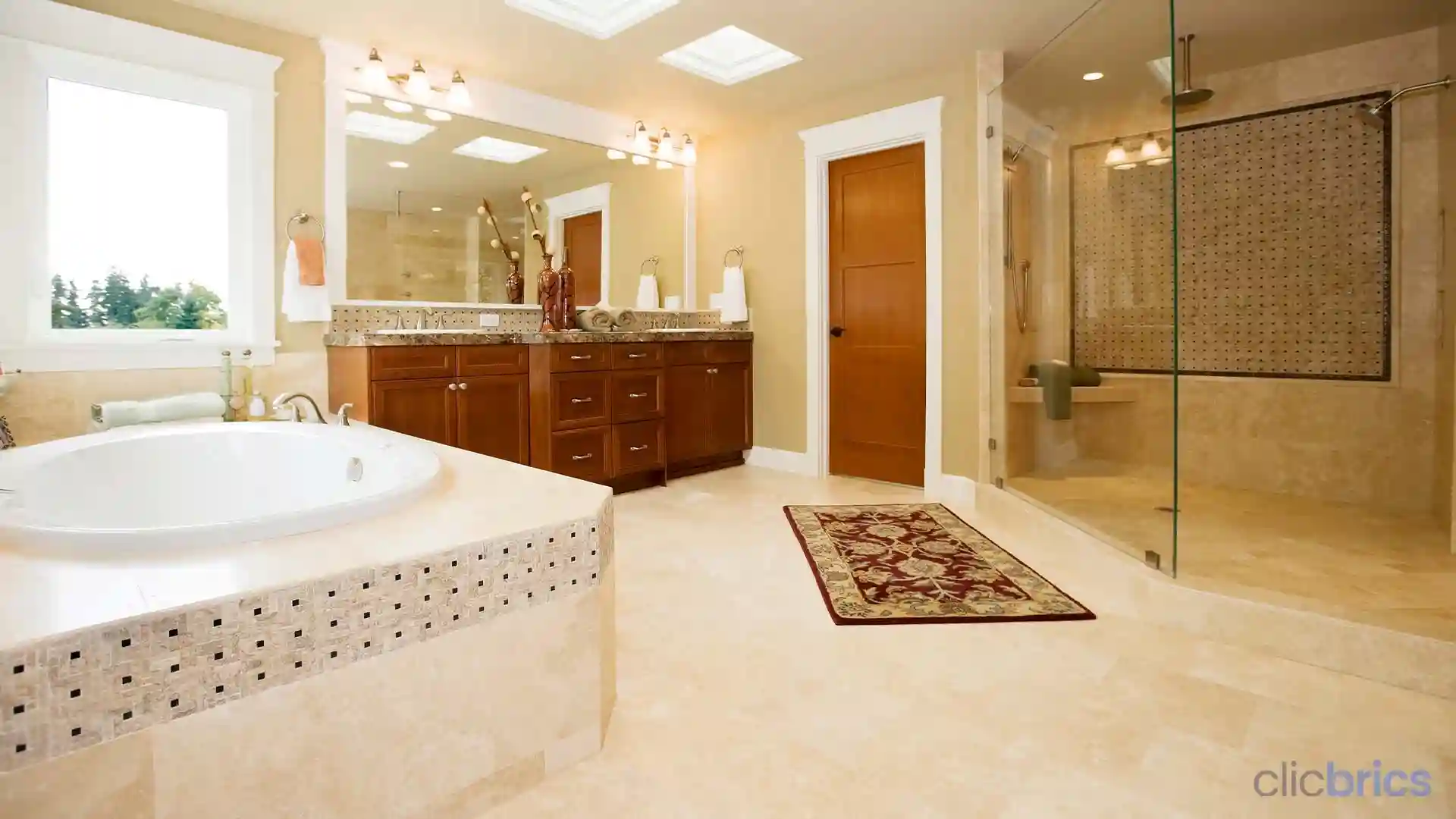 This design is for people who like to keep their bathrooms simple and sophisticated with a touch of old-world charm. If you, too, belong in the same category and want a classy, elegant look, then you must choose marble tiles. The benefit of marble bathroom tile designs is that they are made out of a strong material, so you will not have to worry about them getting damaged soon. 
8. Large Bathroom Tiles Design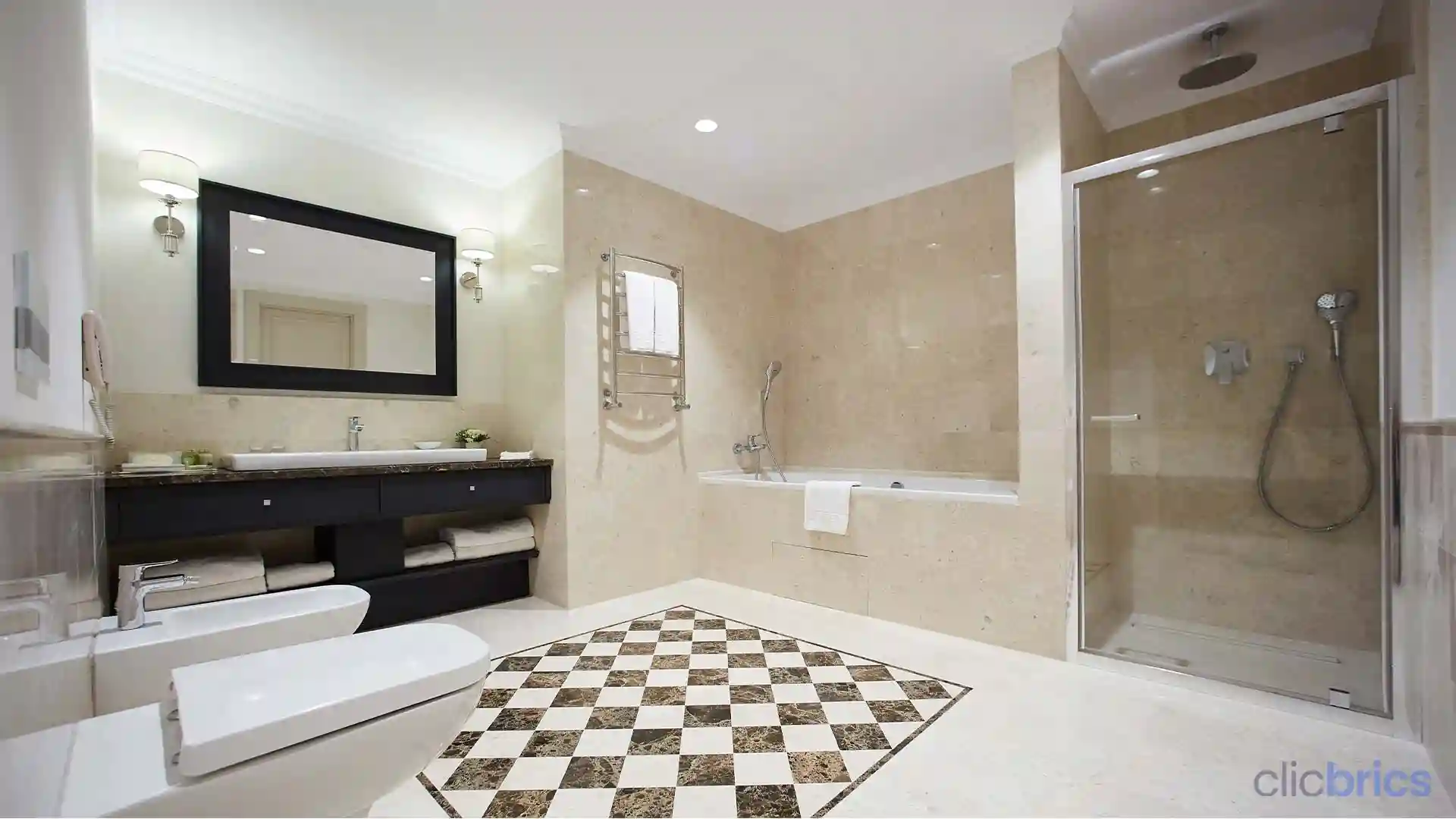 Although people use small bathroom tiles designed for small bathrooms, this is nothing but a misconception! 
Even large-sized bathroom tile designs look spectacular in small bathrooms and are a great way to trick the brain into thinking the space is larger. So, installing a large and hexagonal luxury bathroom tiles design can anchor the room, making it seem roomier and luxurious. 
9. Bring Retro Vibes With Bathroom Tiles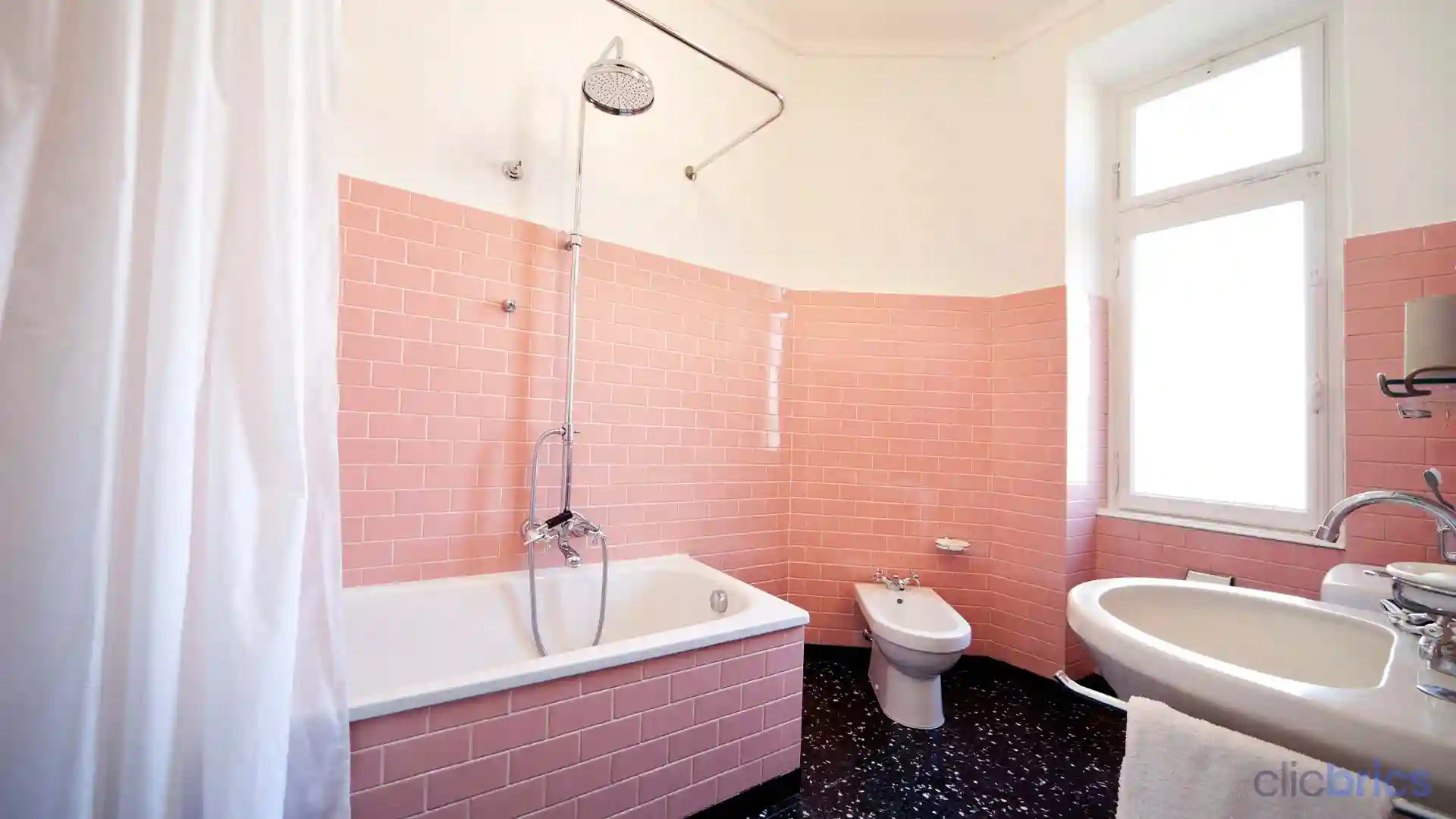 Pink has always been a popular choice for bedrooms, but now the time and demand are changing. So you will now see pink in the bathroom, especially for people who like vintage things. 
The color pink will help you bring a retro feel to your bathroom. The colored bathroom tiles design is a focal point and can lengthen the space. The best way to install pink-colored tiles is by keeping the rest of the bathroom's tile design white to make it appear more spacious despite its small size. 
10. Mosaic Bathroom Tiles Design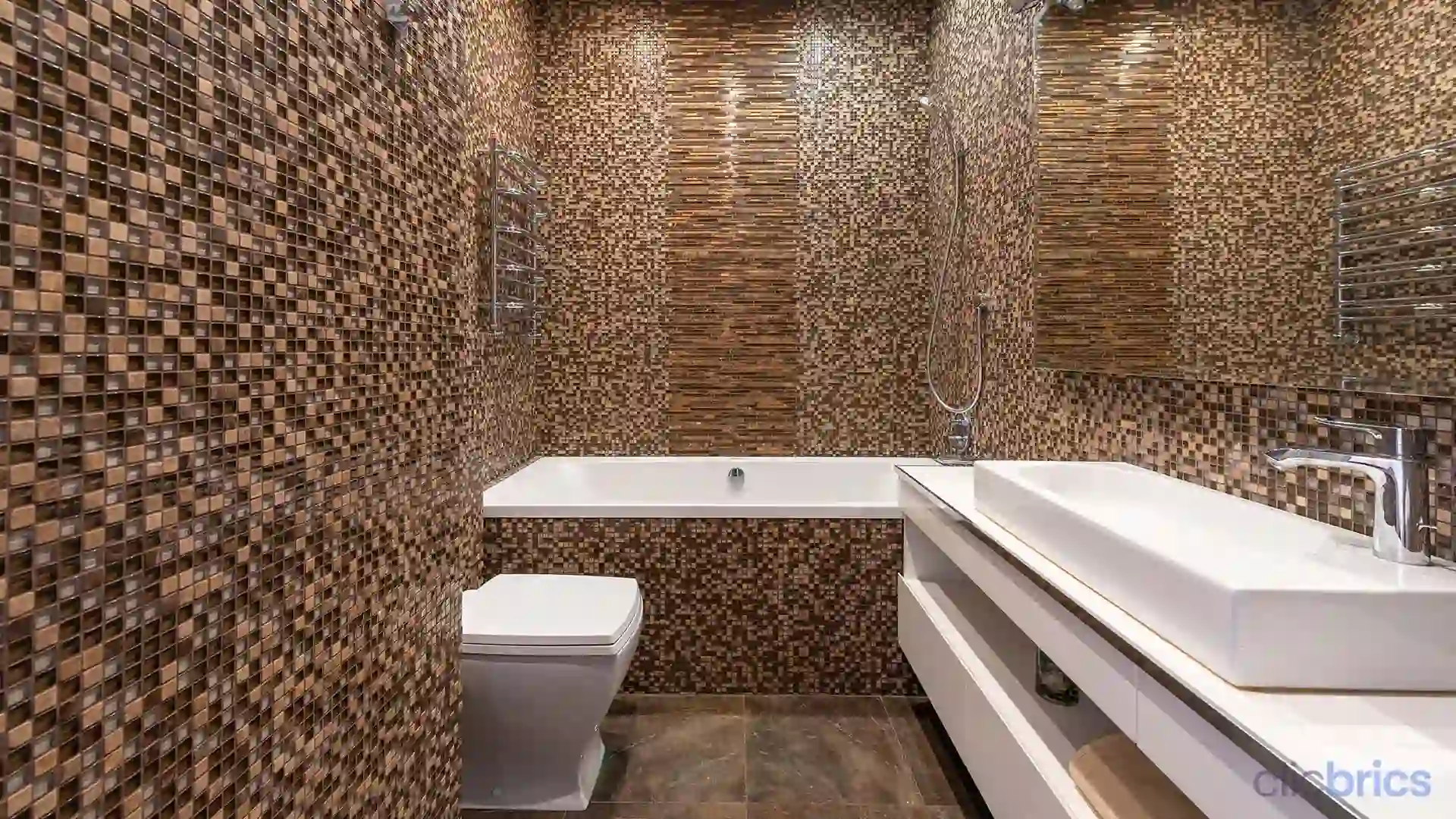 No doubt, using a large bathroom tile design will give the illusion of more space, but that doesn't mean smaller mosaic tiles won't work. When looking for bathroom wall tiles, shop for small hexagonal tiles. The benefit will be that your bathroom will draw the eye toward the ceiling, resulting in more open space. If you wish to install a floating vanity, small mosaic tiles will be the best option, as they require less square footage, thus reducing even more visual clutter. 
Keep Reading: Bedroom Paint Colour Ideas To Choose From
Conclusion
A quality bathroom tile design is durable, waterproof, and resistant to mold, germs, and bacteria - apart from being beautiful in its look. The above-mentioned savvy bathroom tiles designs are best for making your bathroom appear brighter and bigger. 
Make a wise choice!