Table of Content:
Boundaries are the extension of a home and leaving it with plain walls is not the right move. Considering a stylish compound wall design will give viewers a great first impression and will make your home look lovely. 
The role of a well-structured compound wall design is that it solves two purposes, i.e., safety and the look of the house. And this is why a compound wall design requires a lot of planning to shield your home from mishaps while maintaining its look and feel.
Let's roll on with this blog to discover boundary wall design ideas you can borrow for your home. 
Stylish Unique Boundary Wall Designs
A unique boundary wall design does not mean building a wall different from others. The concept of building a unique boundary wall design fits well with a house's overall architectural scheme while providing safety and security to you and your family.  
Our list will provide you with fantastic ideas to help you find the perfect compound wall design for your home. 
1. Stone Compound Wall Design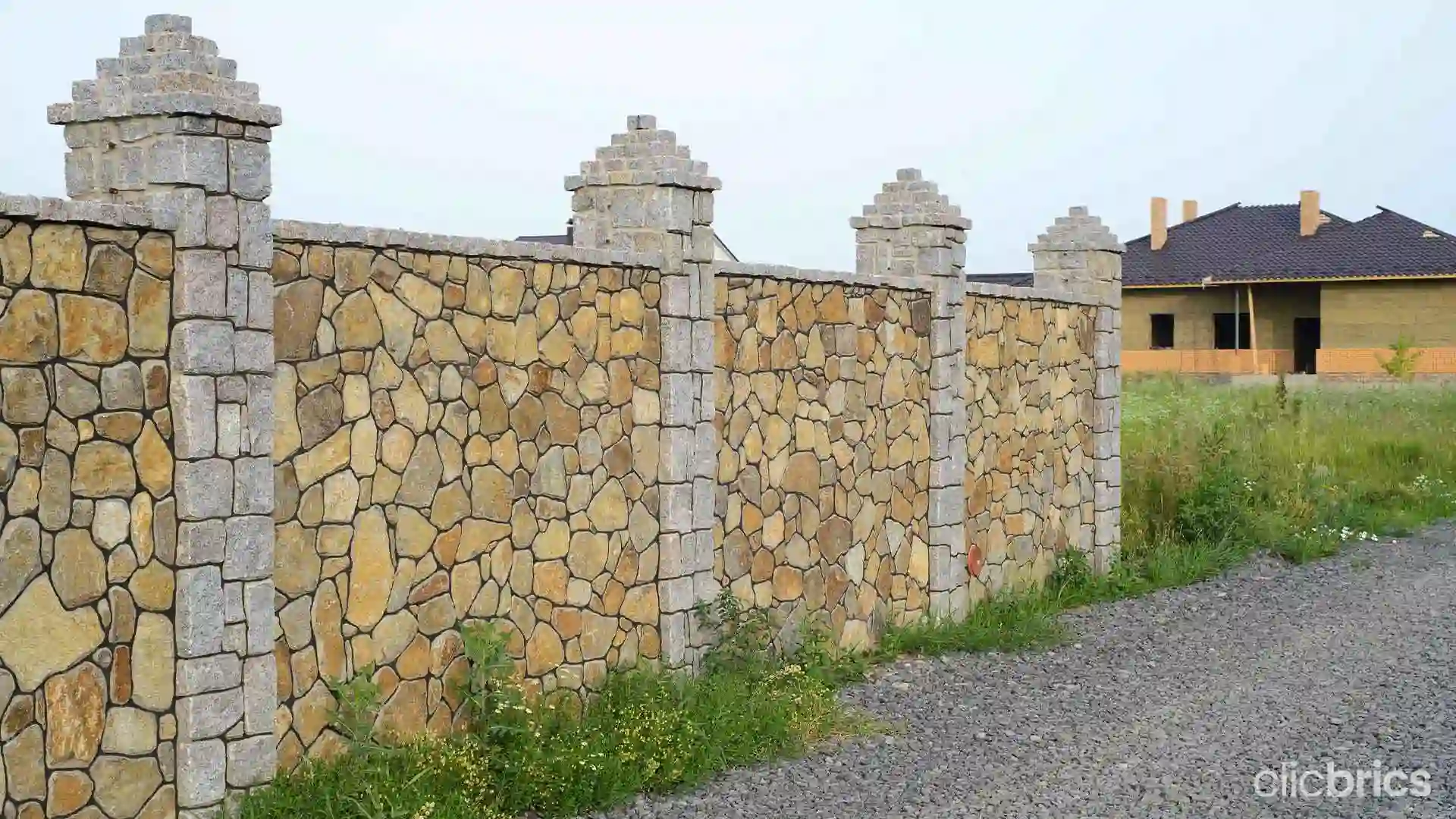 The stunning stone boundary wall design will secure your home and add a rustic charm. The stones are unique because they fill the space between the two iron nets and iron grill frames, diminishing the chances of having a see-through wall. 
This modern boundary wall design will make your place look adorable with no privacy concerns. 
2. Stucco and Concrete Boundary Wall Design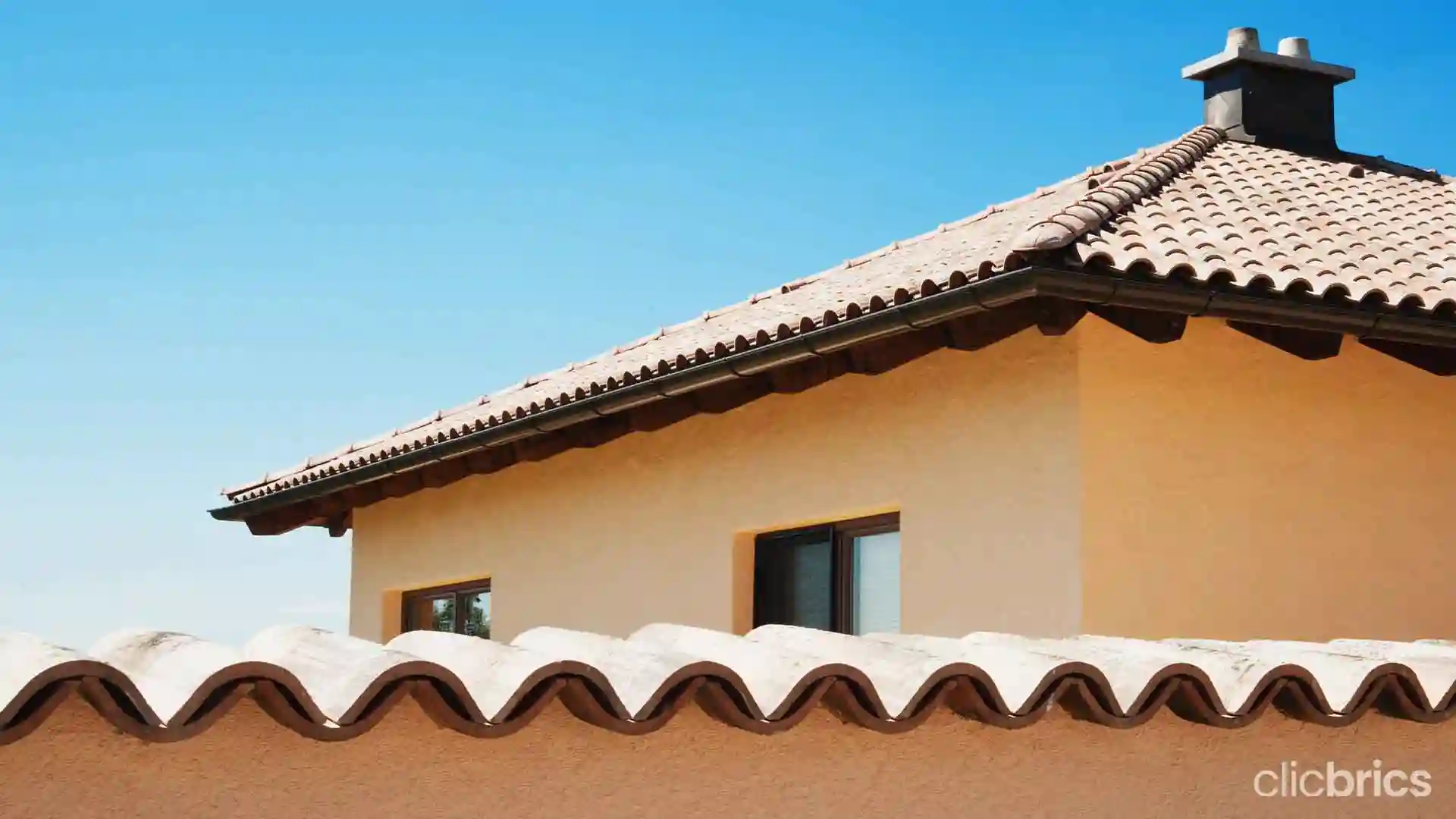 If we compare stucco concrete walls to brick walls, stucco concrete walls offer more durability and a more modern outlook. Cement, sand, and water are the key ingredients in stucco. So, when stucco is applied to the surfaces, it quickly absorbs water and forms a thick coating. 
If you are someone who enjoys an artistically pleasing effect without compromising security, then this modern boundary wall design is an ideal choice for you. 
Keep Reading: 2023 Home Design Tips You Can't Afford To Miss! 
3. Iron Grills Compound Wall Design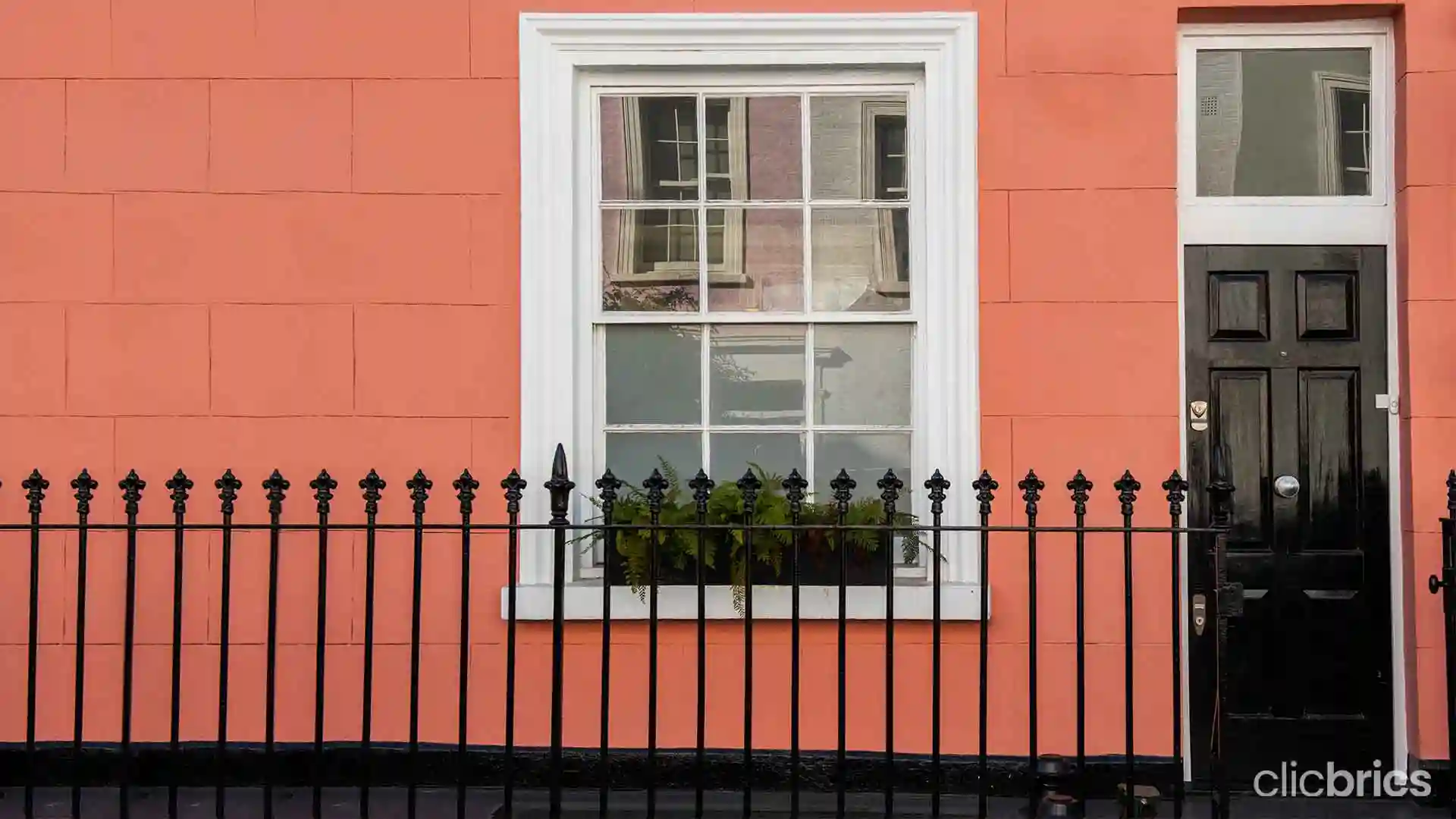 A boundary wall design that uses iron as a material is highly preferred by most. It can be molten and forged into whatever boundary wall design you wish to create. If you prefer security over anything, then installing this house boundary wall design is ideal. 
4. Geometric Patterned Boundary Wall Design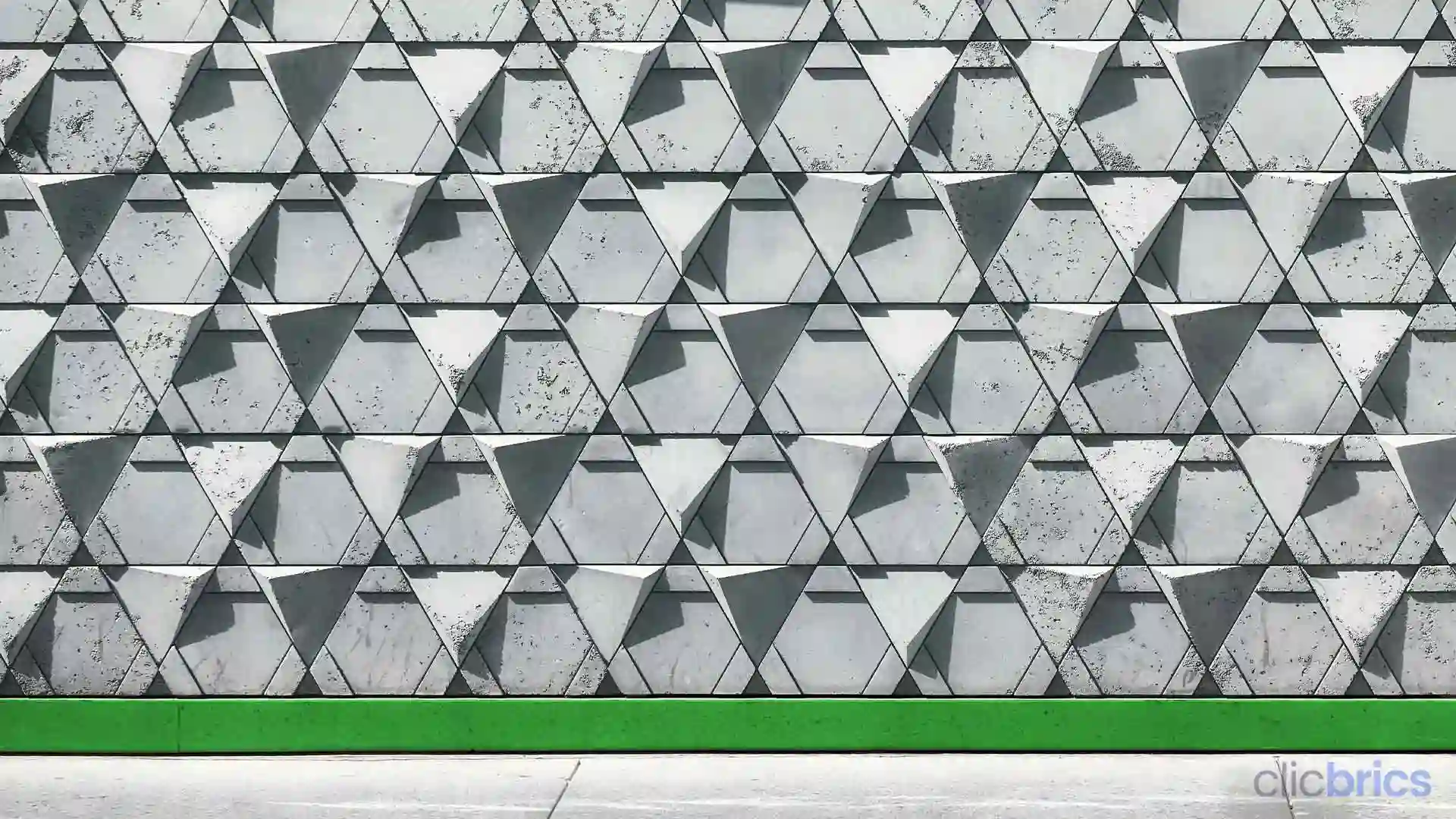 Seeking inspiration from modern homes, use random geometric patterns in the home's front boundary wall design for a lavish outlook. Apart from providing complete security and safety, the compound wall design keeps the space neat, clean, and functional. 
5. Simple Boundary Wall Design With Grill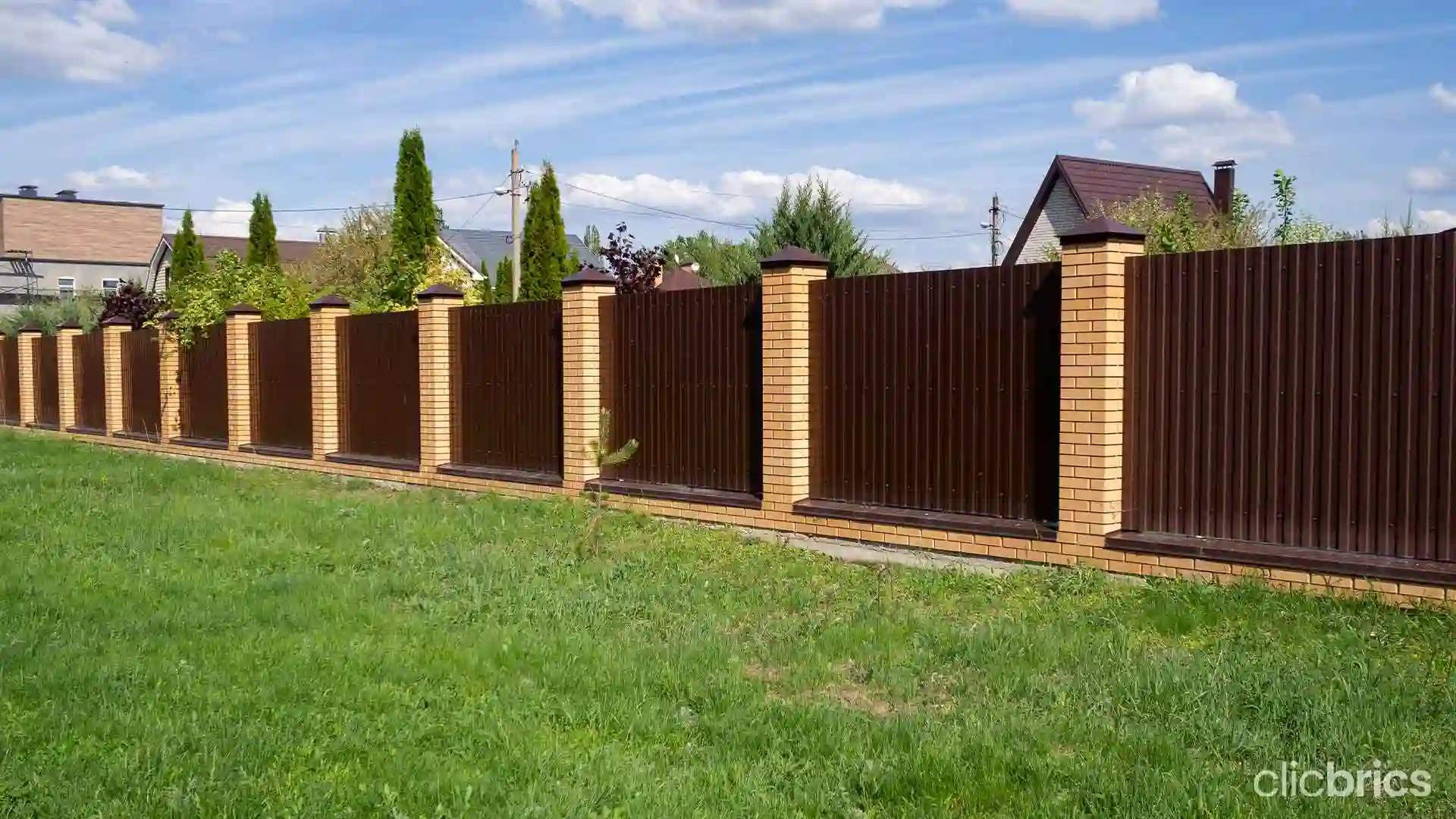 We all have a tendency to get creative in order to give our homes the best possible appearance. And why not? We all want to make the space as stunning as possible within our budget. If this describes you, building an outer boundary wall design for your home made of a basic grill will solve the problem. The iron grills painted in the color black will create a sophisticated look and will be inexpensive. 
6. Masonry Unique Boundary Wall Design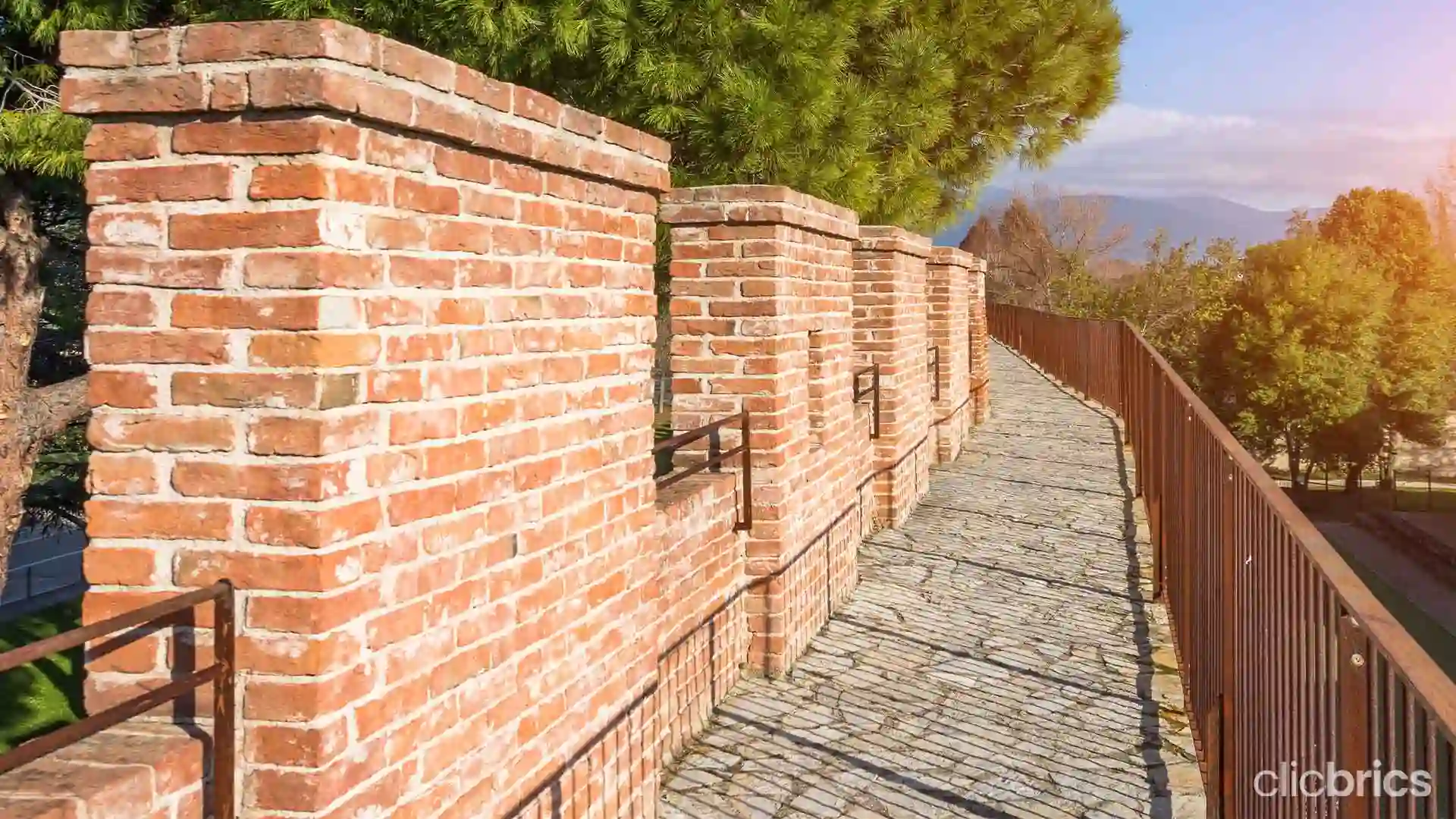 The most common type of compound wall design is the masonry one. It is built using bricks and cement mortar. Because the average height of a wall is at least five feet and its average thickness is about six inches, walls are built on a two-foot foundation. 
After the compound wall design process is complete, the walls are plastered with cement. Later, you can color the compound wall design based on your color preferences. 
7. Picket Fence Compound Wall Design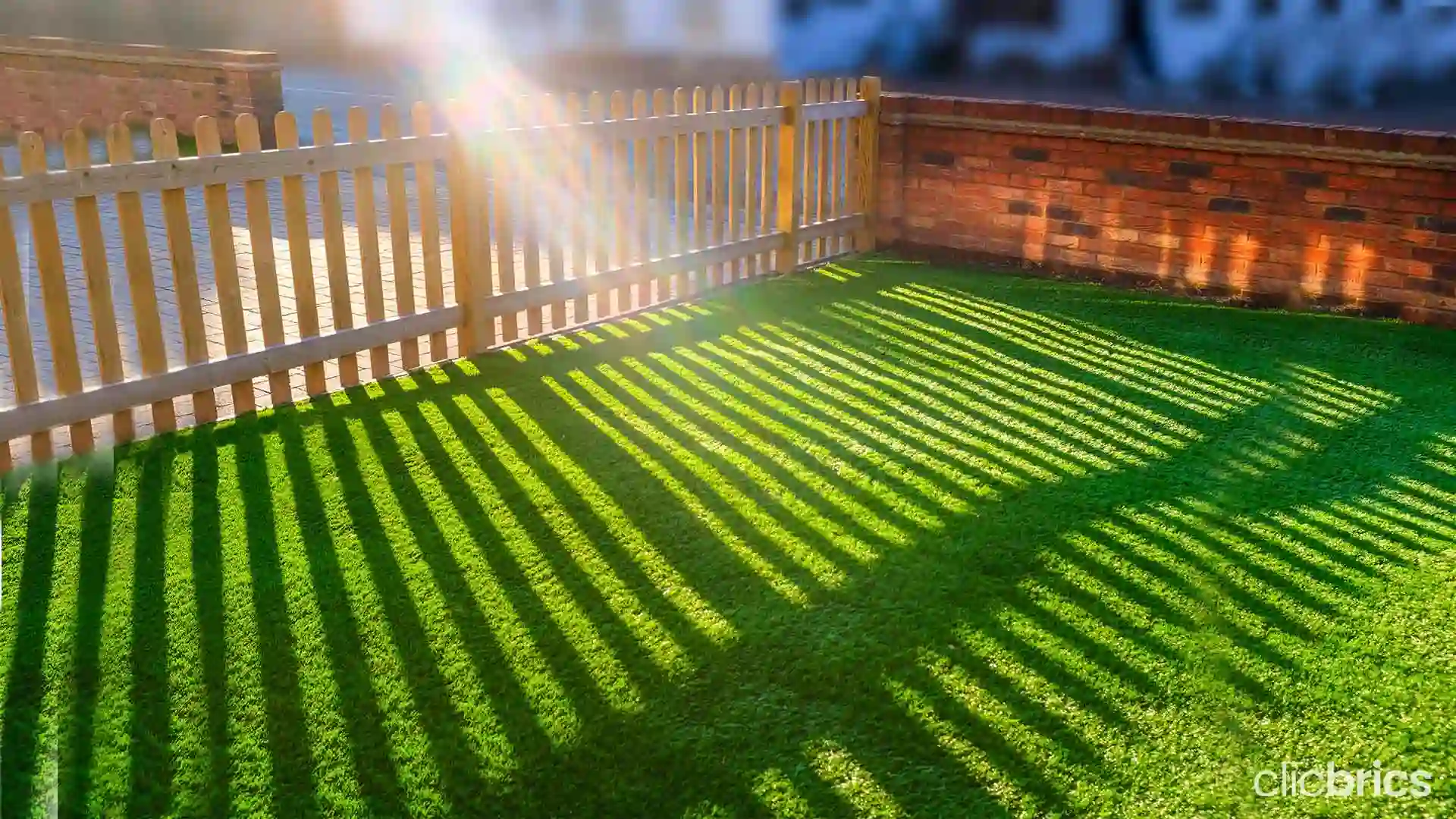 The picket fence is a kind of barrier. The open-squared structure is made from wire, metal, or wood. The role of the fence is to separate the two properties while offering the utmost safety to both. You can also use this type of unique boundary wall design as more of a decorative fence. 
Also Read: The Best Plastering Types You Need For Your Home 
8. Nook-Inspired Boundary Wall Design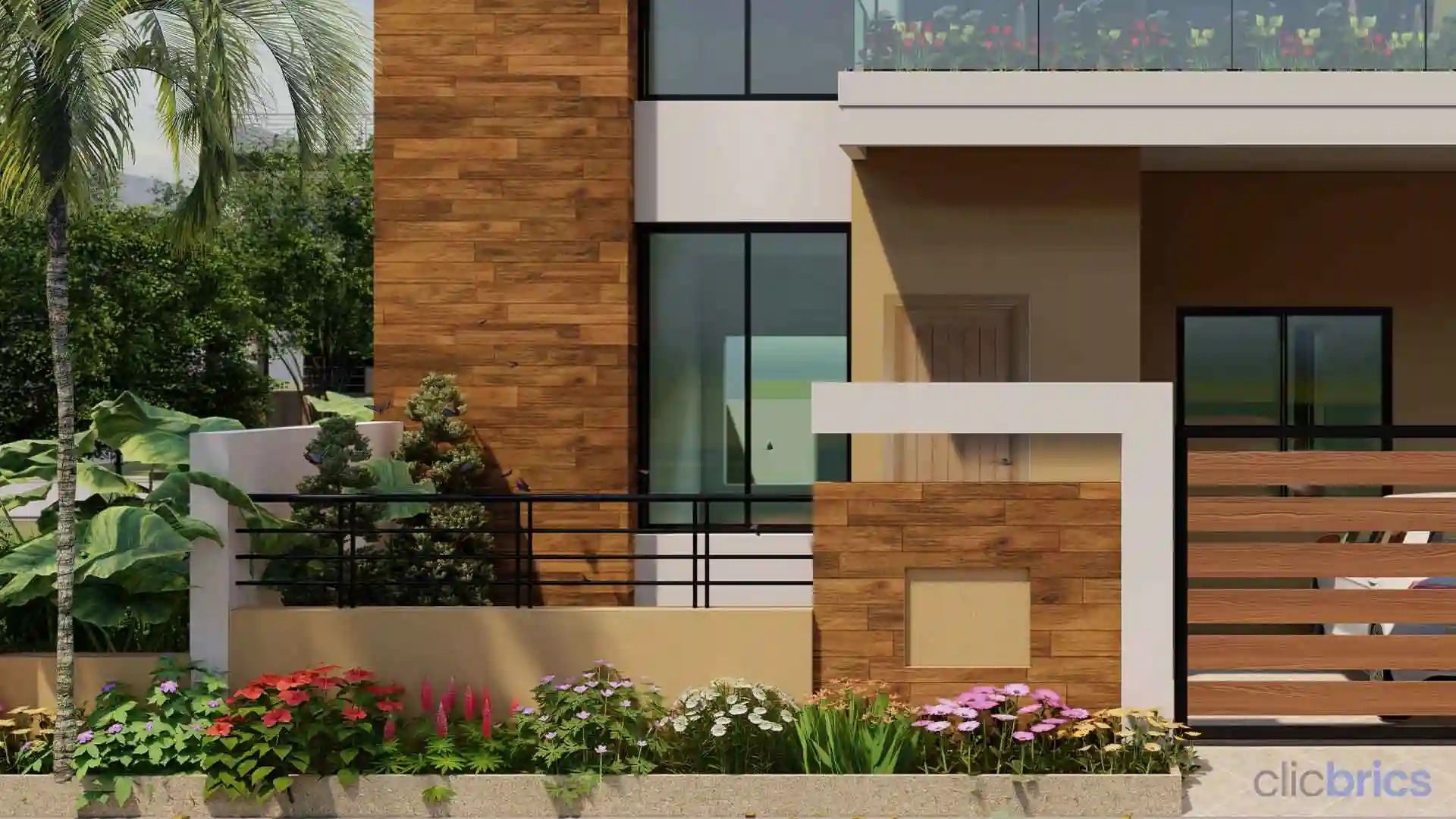 If you wish to make a glorious patch in the perimeter of your boundary wall, then try this compound wall design. For example, you can create a double wall to add a circular niche embellished with 3D patterned cement art. 
The compound wall design will serve as a lovely backdrop, breaking up the monotony of the dull gray colored walls. Later, if you like, you can create an exterior wall made of tiles or special effect paints to make it stand out from the rest.  
9. Metal Compound Wall Design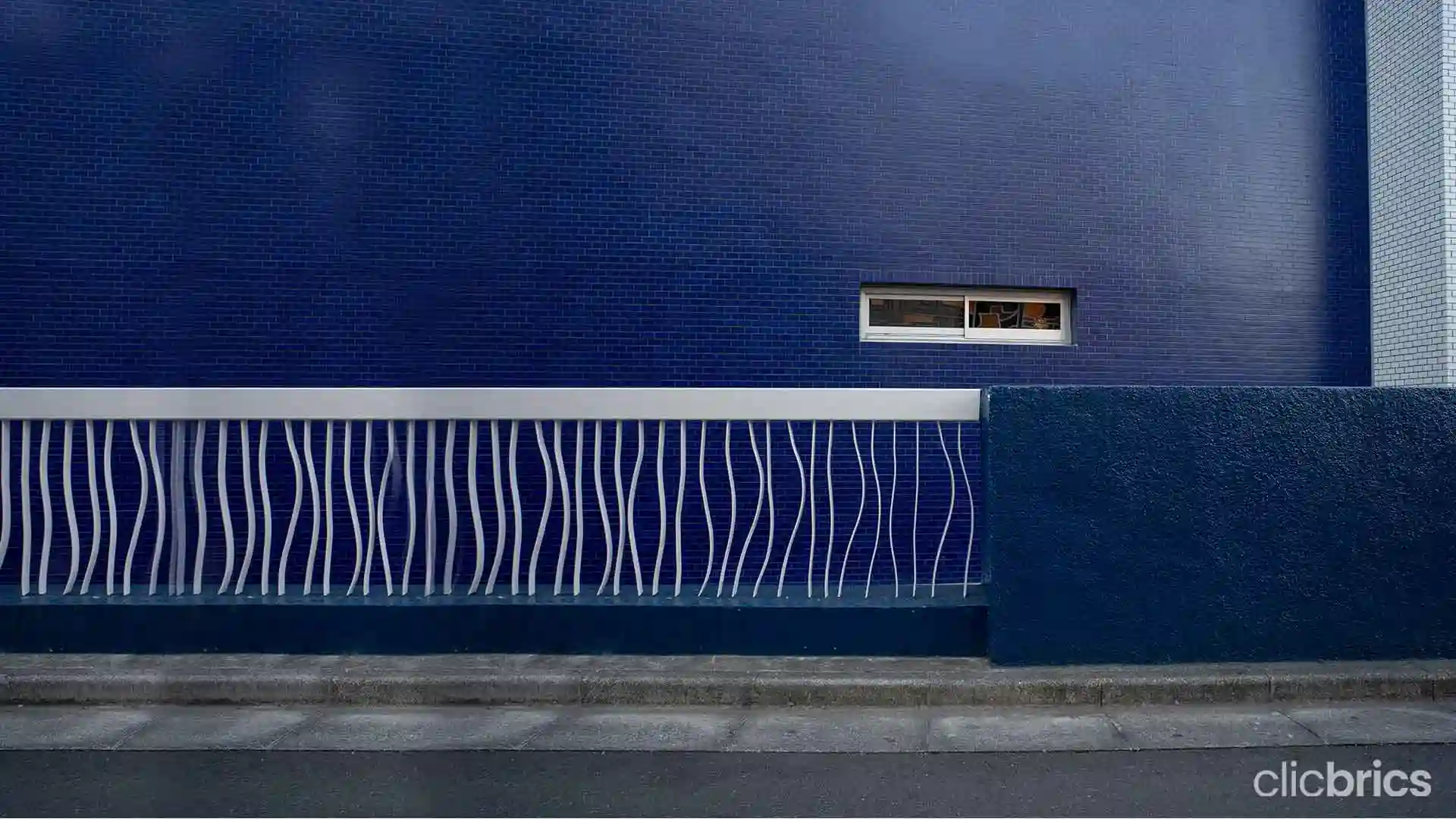 The latest boundary wall design on our list is made of metal. The beauty of heavy, intricate compound wall design is that it has its charm and does simple, muted work.
If you want ideas for compound wall designs for commercial, retail, or office spaces, installing this boundary wall design is the ideal solution. 
10. Vinyl Polymer Fenced Boundary Wall Design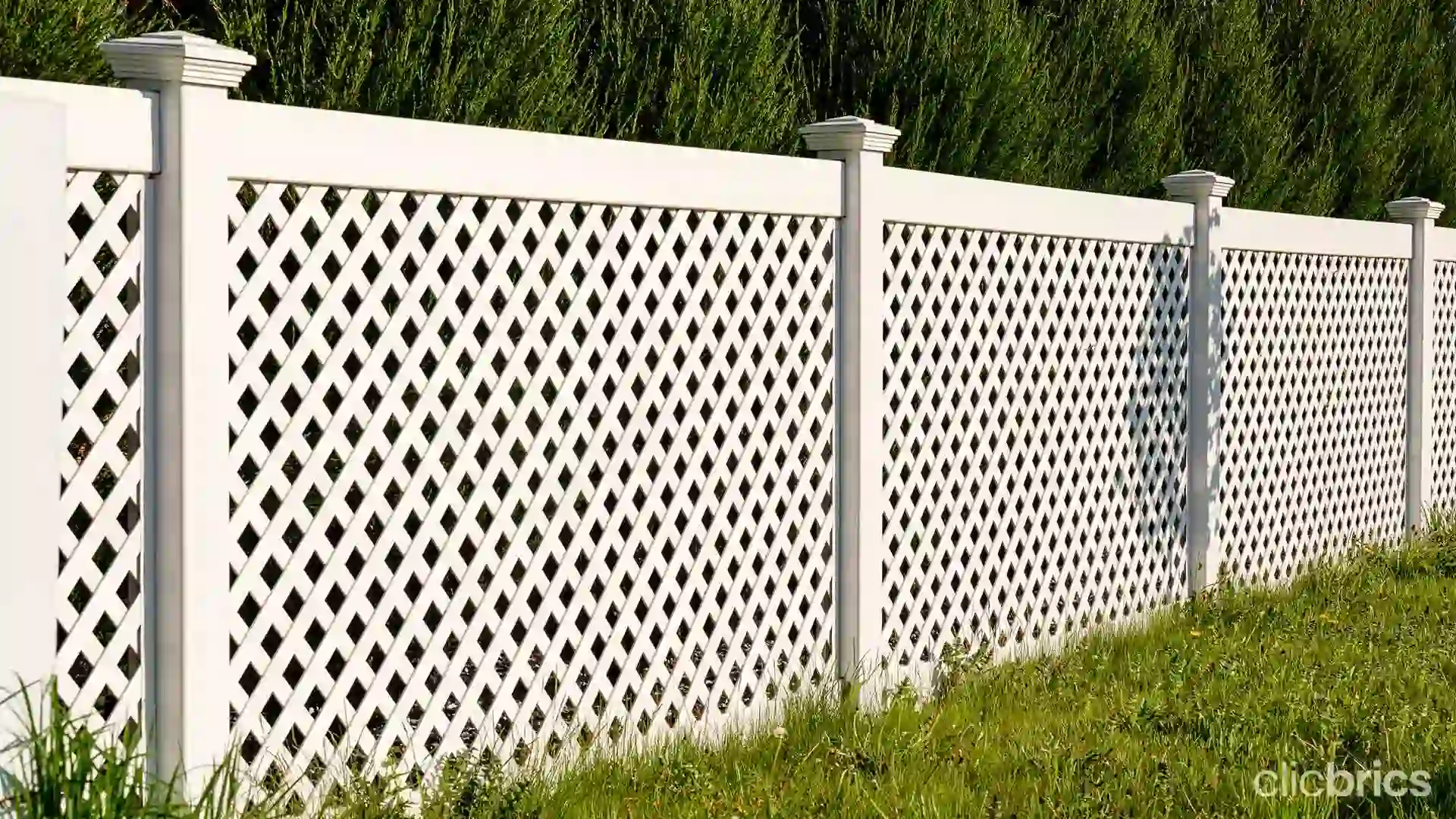 In India, PVC fences are one of the most common materials used in creating boundary walls. The vinyl-polymer fencing is discrete and easy to build. The benefit of installing this compound wall design is that it doesn't rust easily and is easy to maintain. 
You can install this compound wall design to divide shared gardens or children's play areas into separate zones.
Wrapping Up
The boundary wall serves the important purpose of keeping people and animals out of your space. If you are in the market for a new home, you need to consider what type of compound wall design works best for you. The ideas for compound wall designs presented above are sufficient to create an aesthetically pleasing space while maintaining security, privacy, and safety.