Table of Contents
Diwali, or Deepavali, is that delightful time of the year when people celebrate by lighting lamps and bursting crackers. The festival is indeed that occasion that calls for not just getting well dressed up but also sprucing up the space, and for that, we came up with this article for Diwali decoration ideas that will help you achieve your perfect festive decor quickly. 
It doesn't matter if the home is self-owned or rented, you can use these Diwali decoration ideas that are not only easy to comprehend but also easy to implement, and you will be able to welcome the festival with a bang! So without waiting any further, let's dive into these bright Diwali home decoration tips that will add a touch of magic to your home.
Diwali Decoration Ideas 
Despite the ease with which Diwali decoration ideas can be found online, you could find yourself unsure of which to implement. As we know, in India, people begin cleaning their homes months in advance so that they can start with Diwali house decorations at home.
But year after year, maintaining a home based on trendy Diwali decorations can be daunting. Nonetheless, there is no need to fret! These latest Diwali decoration ideas are here for the rescue. 
Also Read: Simple Decluttering Tips to Maximise Your Home Value
1. Diwali flower decoration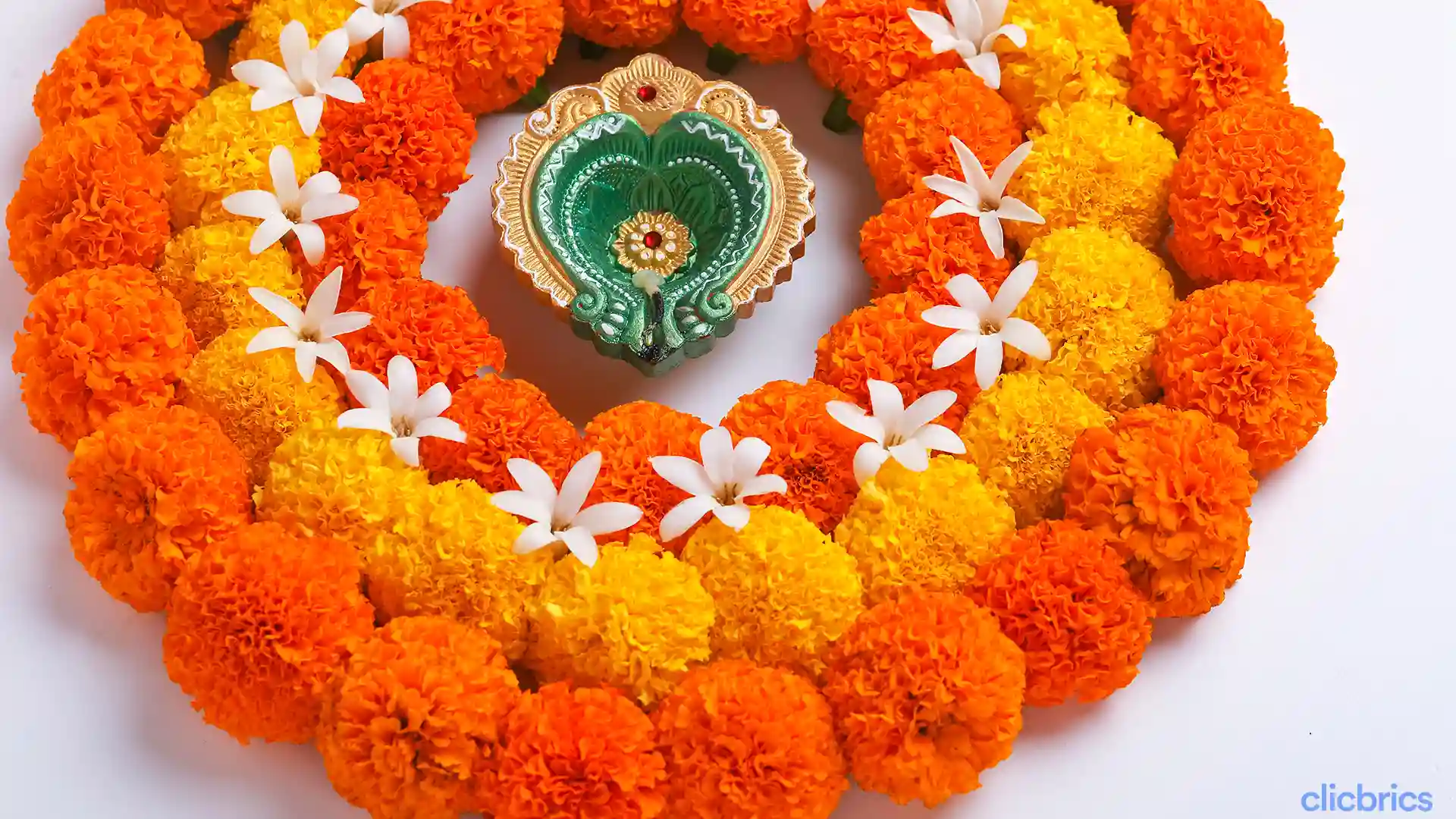 The one ornamental item which is used for every event is flowers. You may undoubtedly use flowers for simple Diwali decoration in your home. In actuality, flowers are the best option among Diwali room decoration ideas. Flowers can be employed as a secure fixture for a room as opposed to burning candles or diyas. You can choose from a wide variety of flowers that will give you a divine atmosphere.
Also Read: Wallpaper Ideas For A Modern Bedroom 
2. Traditional Diwali decorations with diyas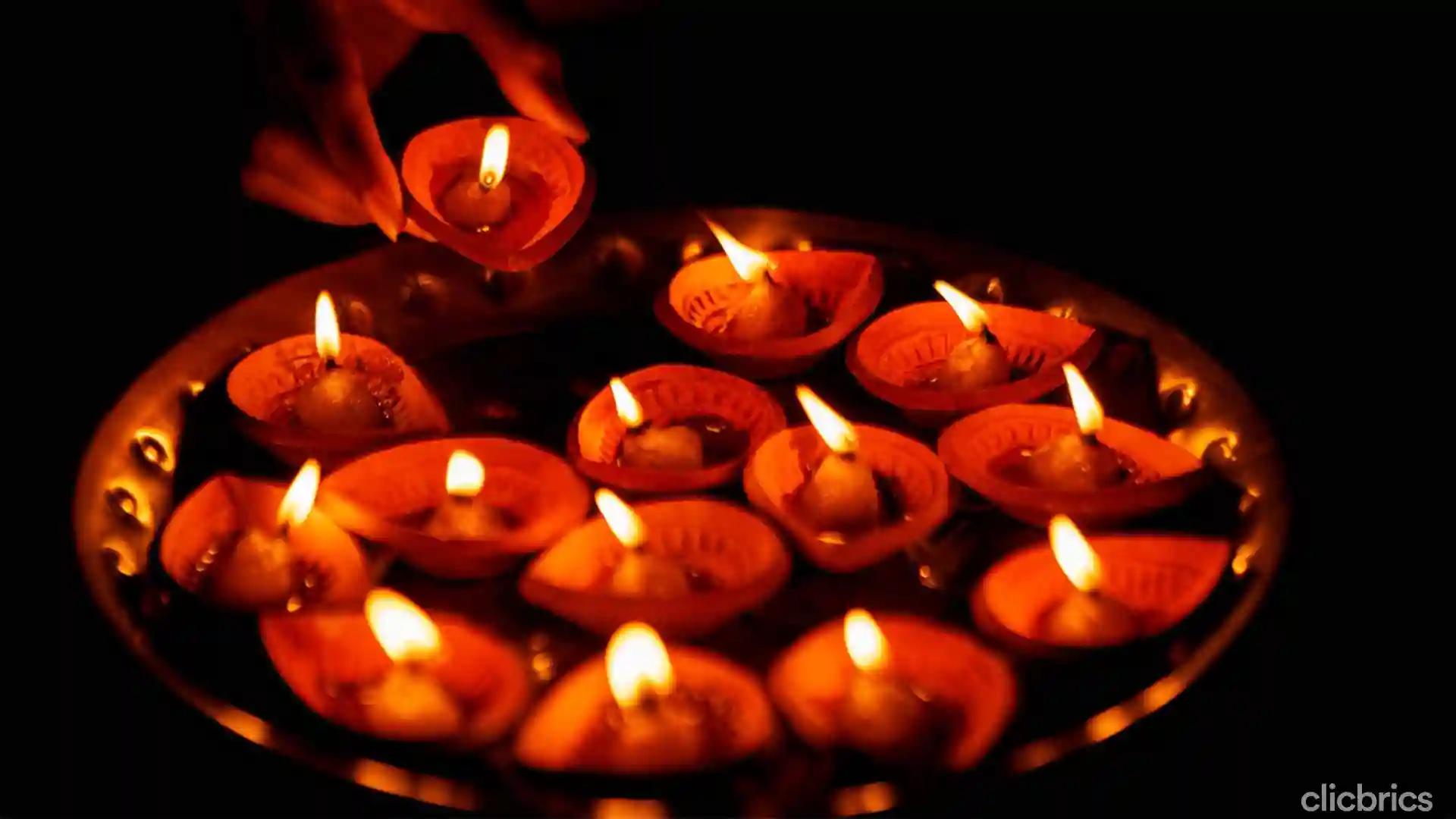 Diyas are absolutely necessary during the festival of lights, so when it comes to Diwali decoration ideas to be carried out at home, easy and beautiful diya decoration is something that plays a significant role. And the most intriguing part is, diyas play a magical role in Diwali office decoration. You should use diyas as it is the most traditional way to decorate your office. You may paint the diyas from the inside out to make them look more lovely, which will up your Diwali decoration ideas game.
Also Read: Vastu Shastra tips for pillars in house
3. Use paper lampshades for
Diwali decoration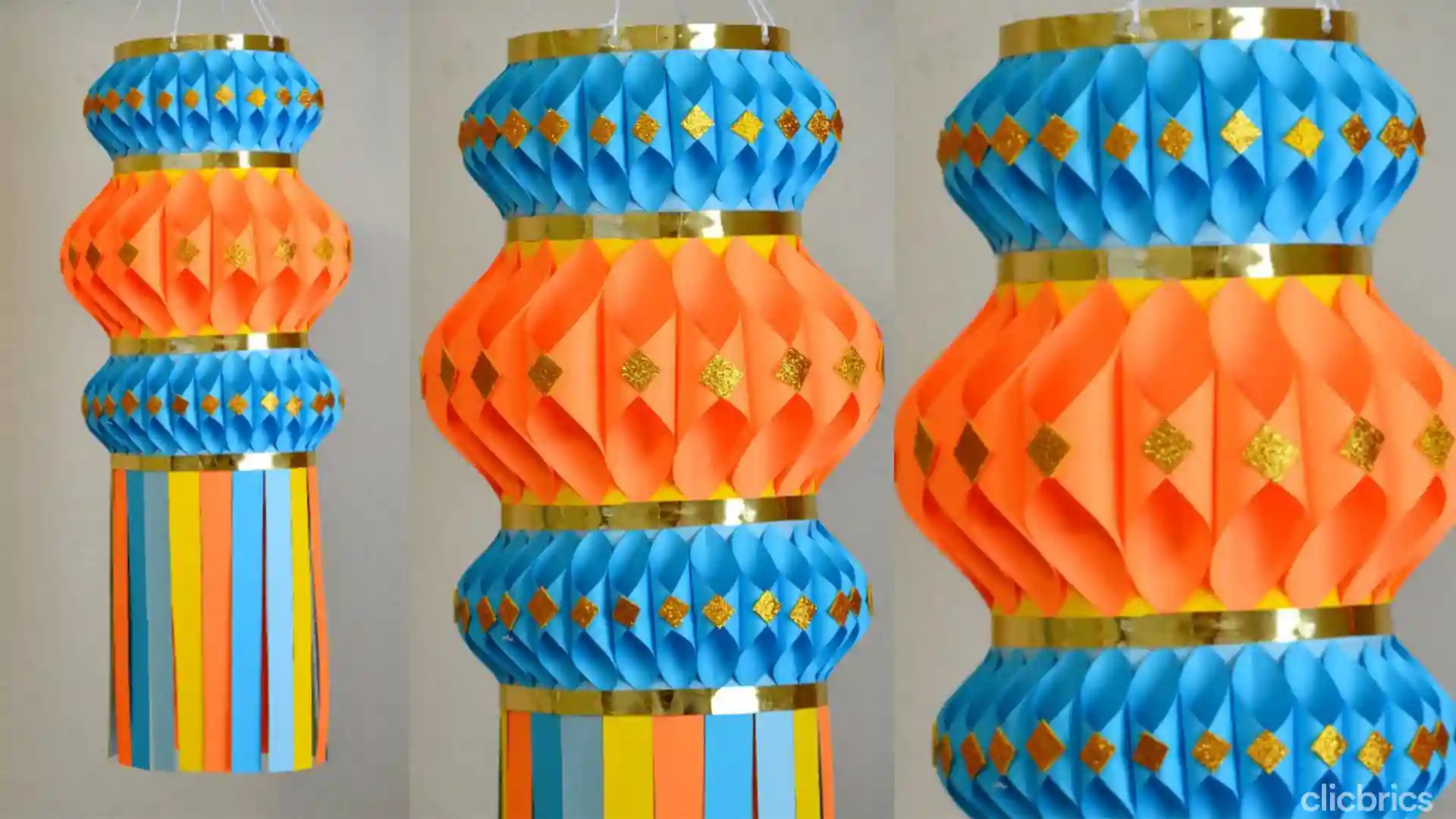 When you can't decide on which is the best Diwali home decoration idea, you can always rely on paper lamp shades. It's because the oriental-inspired lampshades are a distinctive decoration for Diwali in 2022. The paper lampshades come in pretty beautiful patterns and colours and are conveniently available in the market.
Also Read: 3 Surprising Vastu Hacks for West Facing House 
4. Use of candles for
Diwali decoration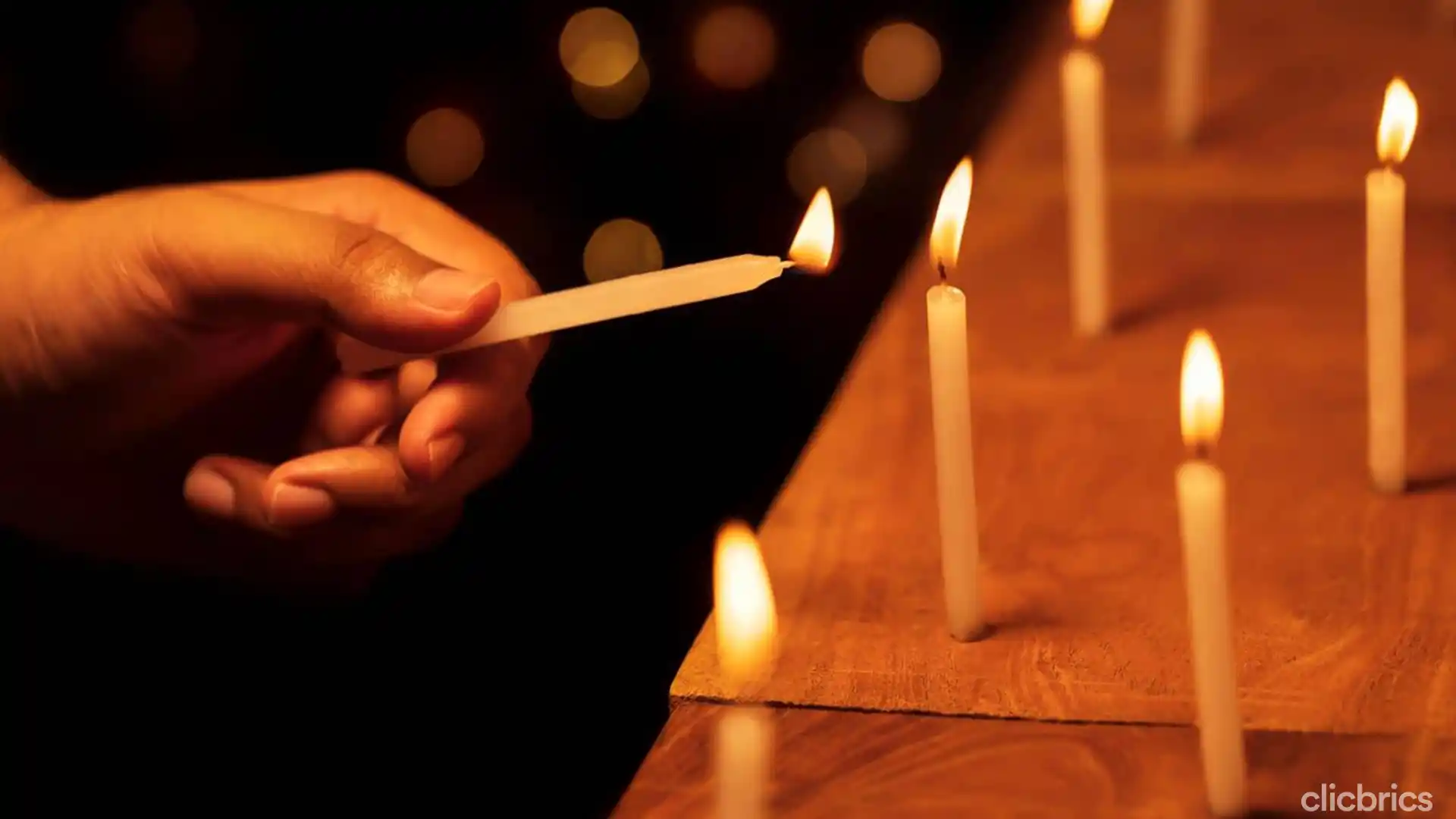 Candles are an indispensable part of Diwali decoration at home. Floating candles are one of the most used Diwali decoration items. These candles tend to create a picturesque setting that makes the house warm and inviting. For some Indian families, the use of floating candles isn't just a Diwali decoration idea but is also used at the time of performing rituals. If you are looking for some Diwali decoration ideas for the living room, you can also use engraved candles to have stunning visual bliss. 
5. Use stunning candle stands for Diwali decorations at home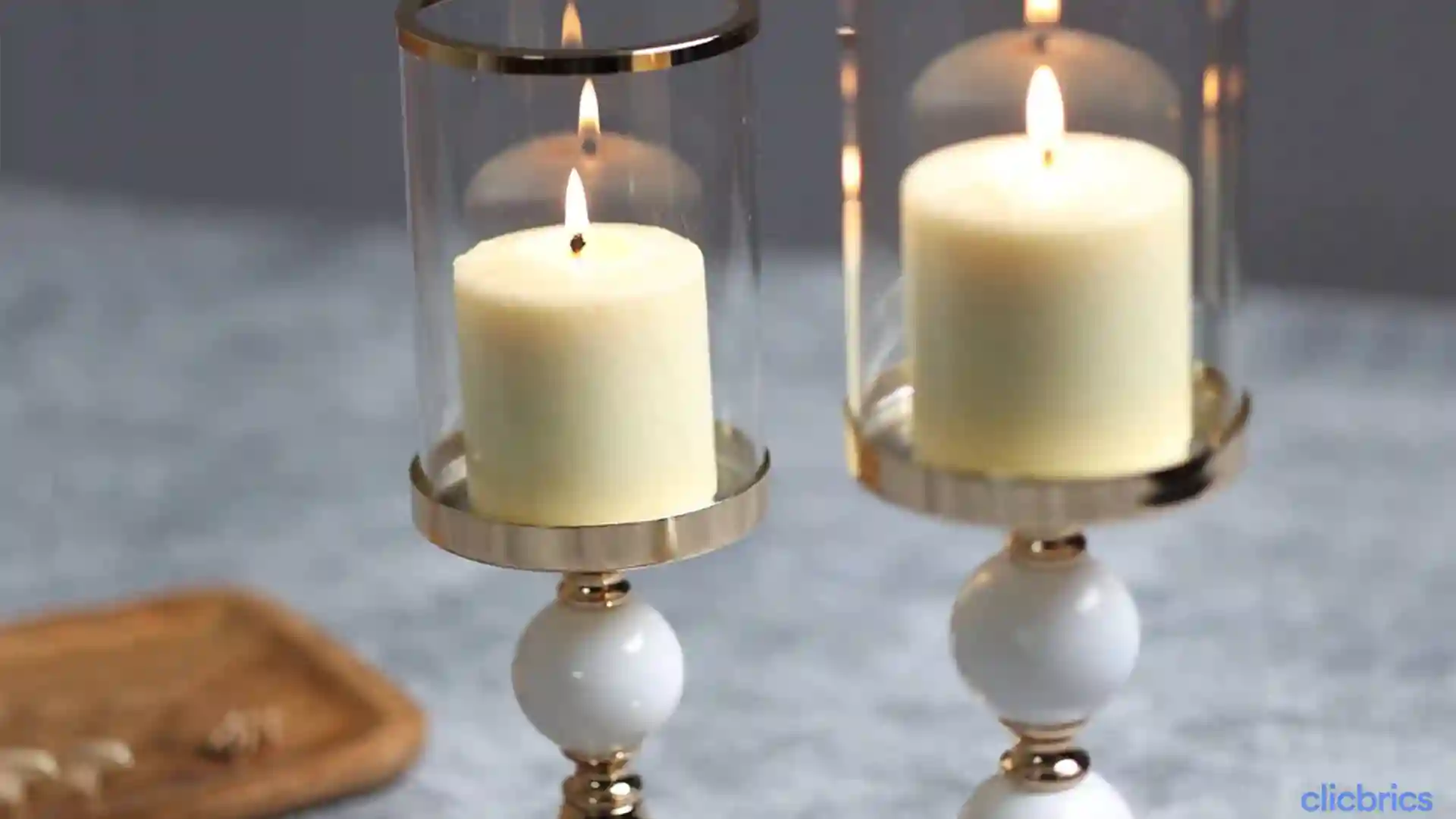 You will undoubtedly need candle stands if you are using candles for Diwali home decoration in order to enhance their aesthetic appeal. During Diwali, decorative, colourful candle stands are used. At the time of performing arti, you can use brass-made candle stands similar to those found in temples. Candle stands are not just for Diwali decoration ideas; they can also be used as decor in temples.
Also Read: 8 Vastu Dosh Remedies to Welcome Peace, Wealth and Health
6. Use paper cup lights for Diwali decoration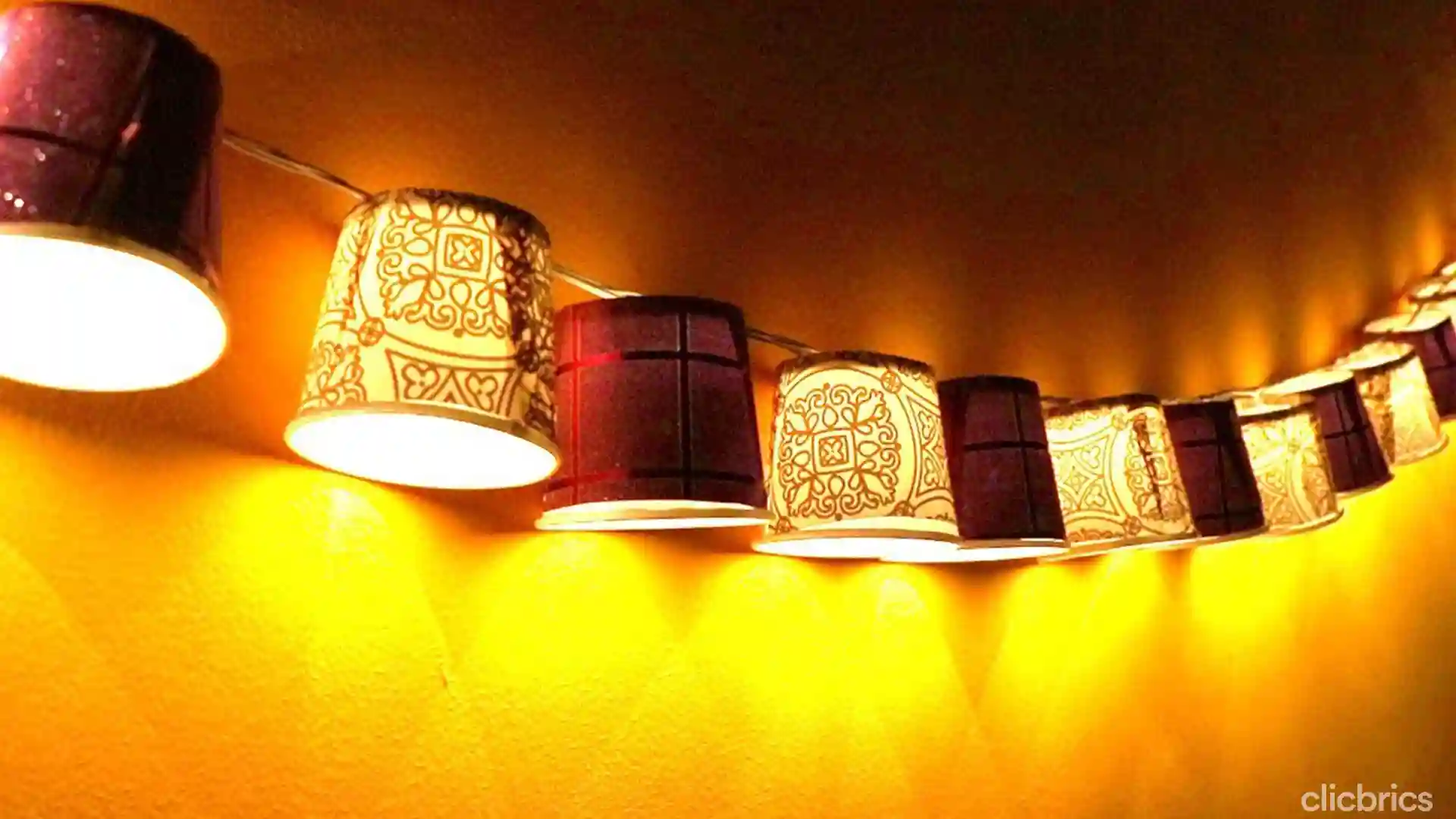 Yes! You read it correctly! One of the most straightforward Diwali decoration ideas you might find is using paper cups. Paper cup lights can be used to illuminate the mundane areas of your room. Even if you're looking for Diwali decorating ideas for the living room, you can make these at home by giving them floral forms and inserting tiny light bulbs, also hanging them in your kids' bedrooms like a chain. If you have a small balcony, you might be worried as to how you can raise the space during Diwali. Well, for that, check out these 9 Unique Ways to Elevate Your Small Balcony. 
7. Glass jar lanterns for Diwali decoration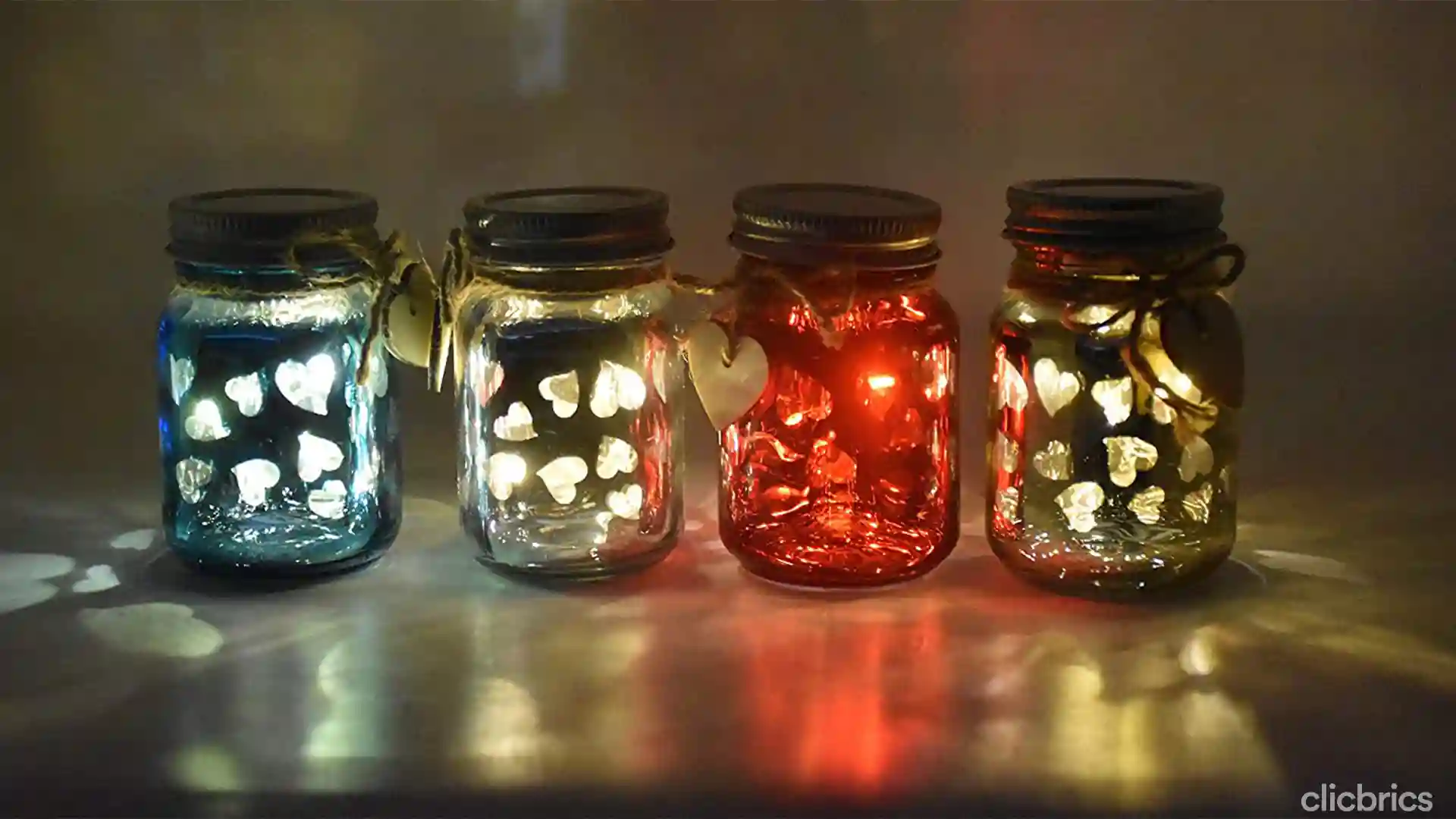 Got some glass jars at home? Well, it's time to put them to use. Adding LEDs to the glass jars may give your Diwali home decoration a modern twist. Additionally, you might paint the glass jars in various colours and set them up in your pooja room.
Also Read: Exterior Paint Colour Ideas for An Appealing Home Look
8. Make creative rangolis for Diwali decoration at home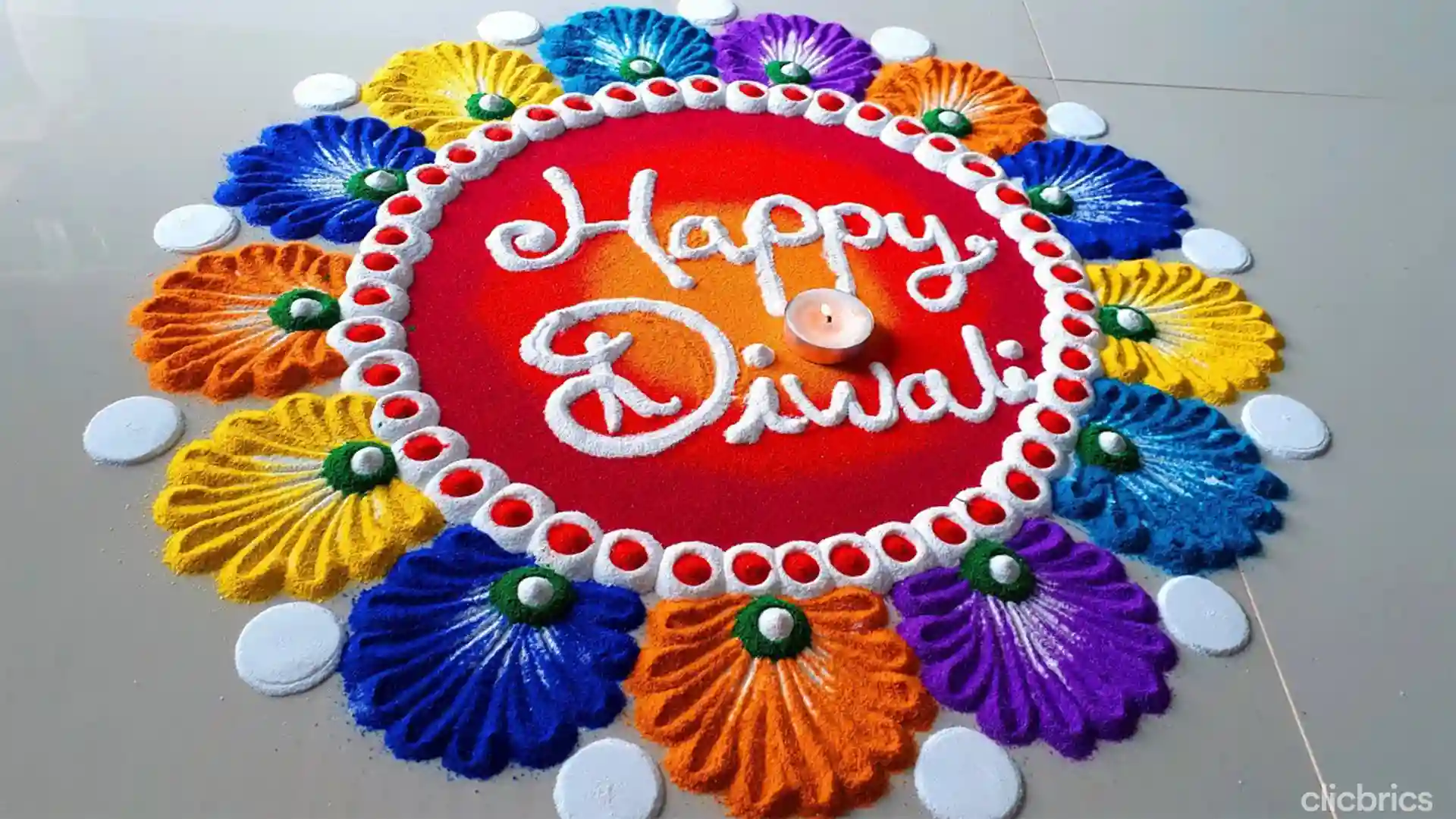 You must be wondering how to do Laxmi puja decoration at home. Well, in that case, you can create a colourful rangoli in your pooja area. Designer diyas and other lovely handicrafts can be added to rangolis to boost the appeal of the traditional Diwali decorations.
Also Read: 7 Surprisingly Effective Feng Shui Tips to Boost Luck and Wealth at Home.
9. Use Diwali-Themed Coasters for Diwali Decoration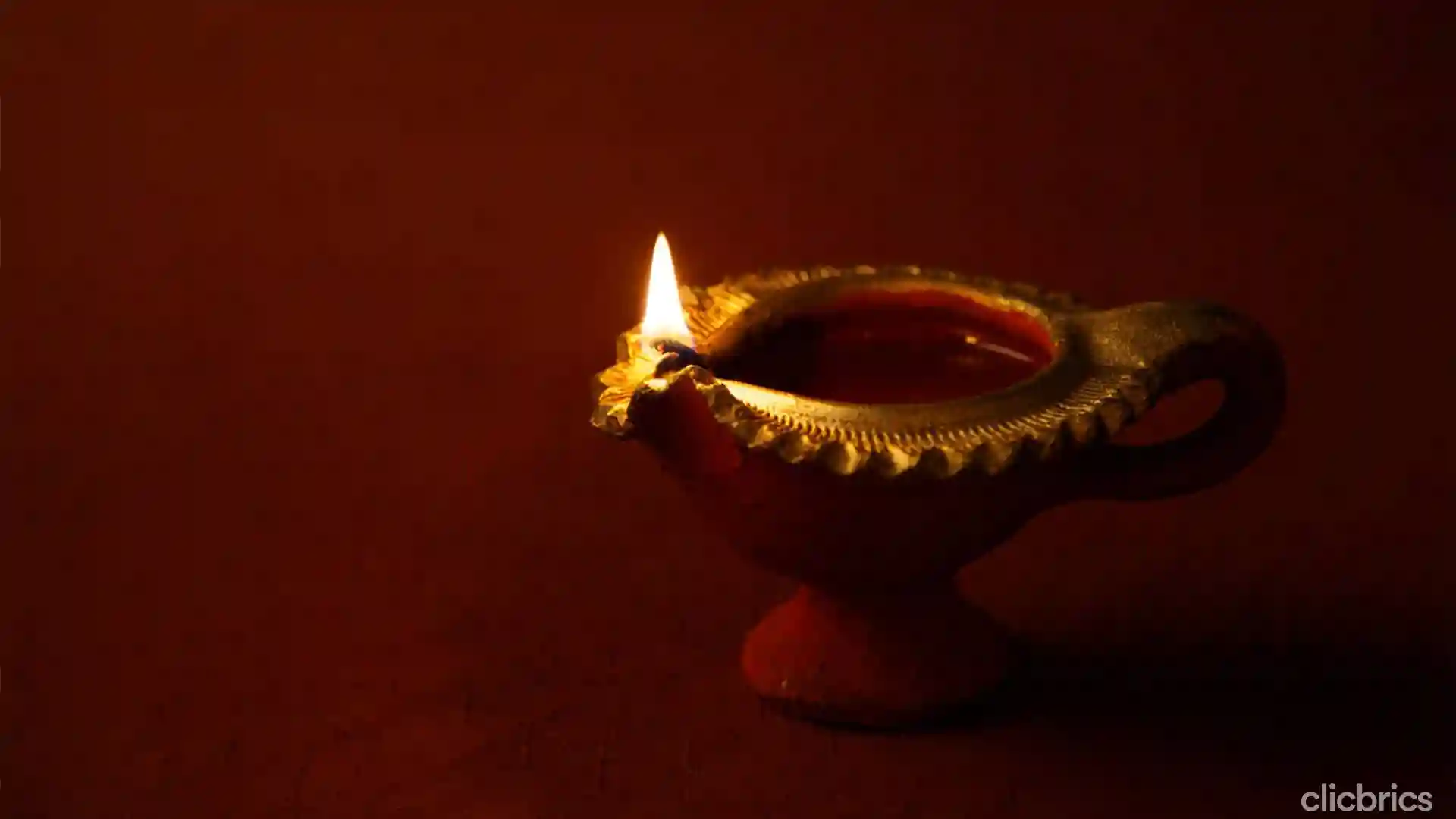 You might use something dreamlike and eye-catching if you're looking for Diwali home decoration ideas. You may decorate the Diwali-themed coasters with paint or artificial mirrors to give them a more festive appearance. 
Also Read: Top Home Decor Trends To Make Your home look appealing in 2022
10. Use Diwali Torans for Diwali Decoration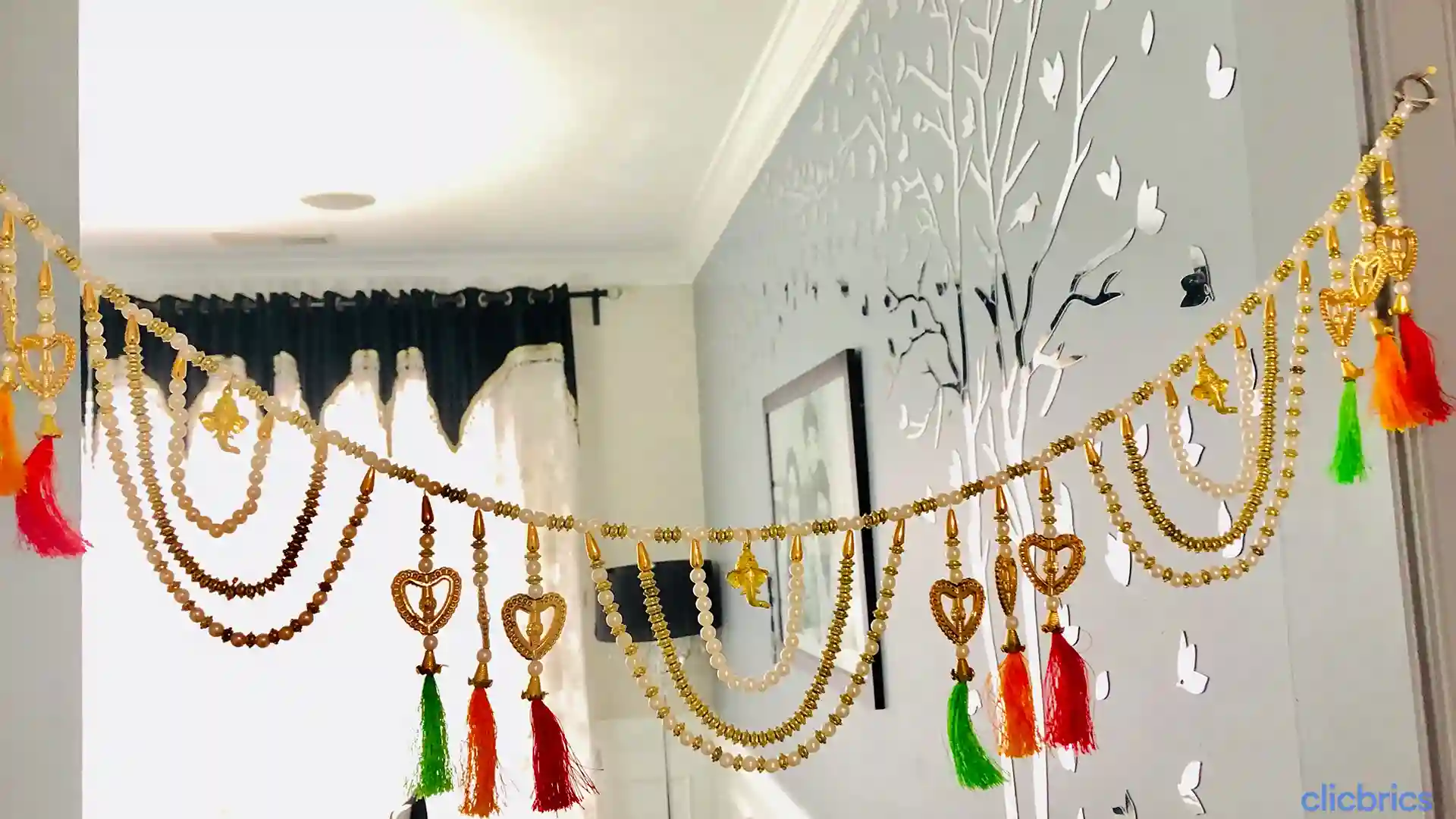 Diwali torans are the auspicious elements that people usually hang at the front gate of their homes at the time of Diwali. People hang torans as wall decor and even use them for their Diwali office decorations. Diwali torans are consistently a popular option. It is because, on the occasion of Diwali, people worship Lord Ganesh and Laxmiji and look out for ideas for Laxmi puja decoration at home. So, if you, too, are in search of such ideas, you can incorporate Torans to hang on your home's or office's walls to make your space more alluring. If you are looking for some simple home decor ideas that can work not just on Diwali but every day, then you might find  these top 5 DIY home decor ideas homeowners will love interesting. 
Diwali Decoration Ideas- Wrapping Up
Diwali is an occasion where you will see a lot of Diwali decoration ideas online. So, now the time has come when you have the opportunity to display your interior design talents during Diwali. Your first task is to decide which one is the most appropriate Diwali decoration idea based on your home space and budget. And always remember to keep your home well-lit both inside and out. You can utilise string LED lights, an easy and affordable Diwali decoration method that fits in perfectly with the festival's theme.
 Also Read Ideas for Ganpati Decoration at Home in 2022-|With Images|
 दीपावली का दीया जलता रहे आपको ढ़ेरो खुशियाँ मिलती रहे। हैप्पी दिवाली /2022।