Table of Content:
A home bar is a great space-saving solution for a kitchen with limited seating that also serves as a convenient area to prepare and present drinks and meals for guests. There are countless potential locations for a home bar, so it's important to think about how it will fit into your home's design before deciding where to put it. We've got you covered when it comes to home bars and bar carts with our carefully curated collection of the best home bar designs from around the web:
Colourful Home Bar Design(Ideas & Images)
1. Install An Island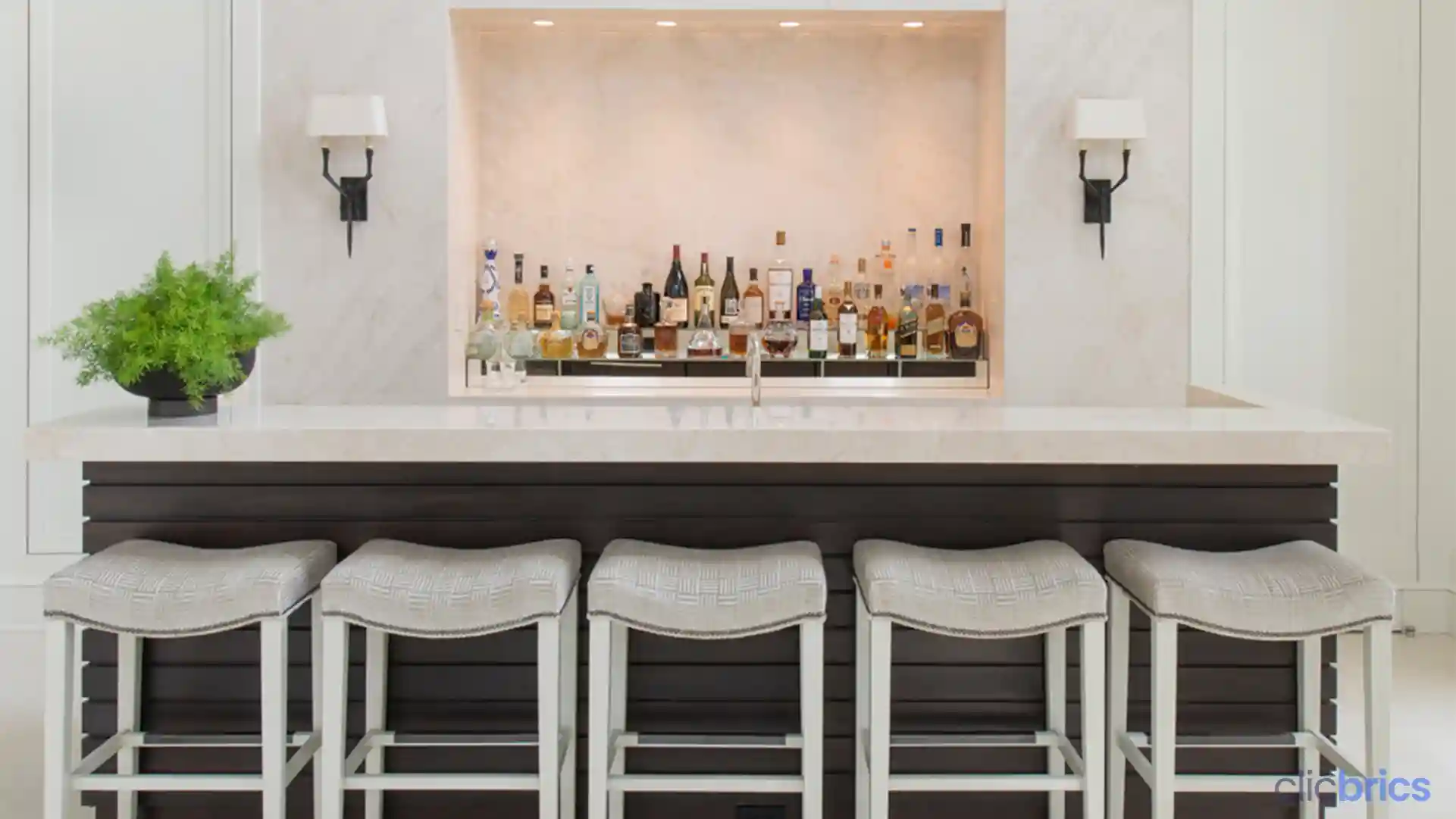 An island in the style of a cocktail bar is the crowning glory of any well-appointed bar. Under this  home bar design idea, this island, especially if it is curved, serves as a gathering place for guests and as a stage for the host to serve cocktails while leaving the rest of the bar free for other necessities. Under the bar top of an island provides a great place to store beverage refrigeration and an ice maker out of sight.
2. Home Bar Design For Small Spaces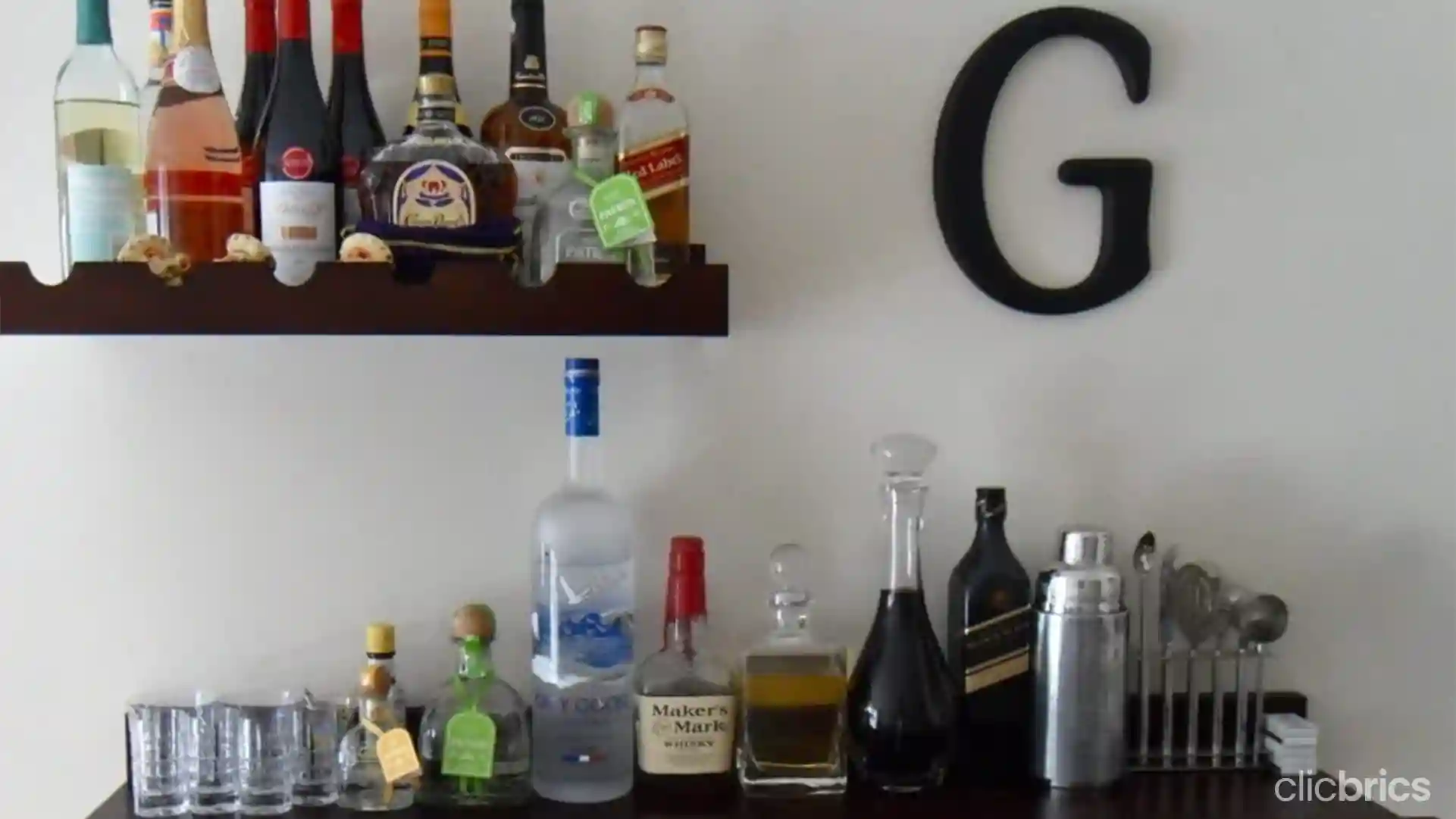 Bookshelves in front of a fireplace are boring, but a small home bar design with interesting details would be much more interesting. And remember, No matter how restricted your quarters, no matter how small your budget, you can make the most of every inch. Creating a home bar idea on a budget can be a lot of fun, and the results can be whimsical, luxurious, and eye-catching. 
So let your home bar ideas be free and explore your creative side. 
3. Home Bar Cabinet - Under The Stairs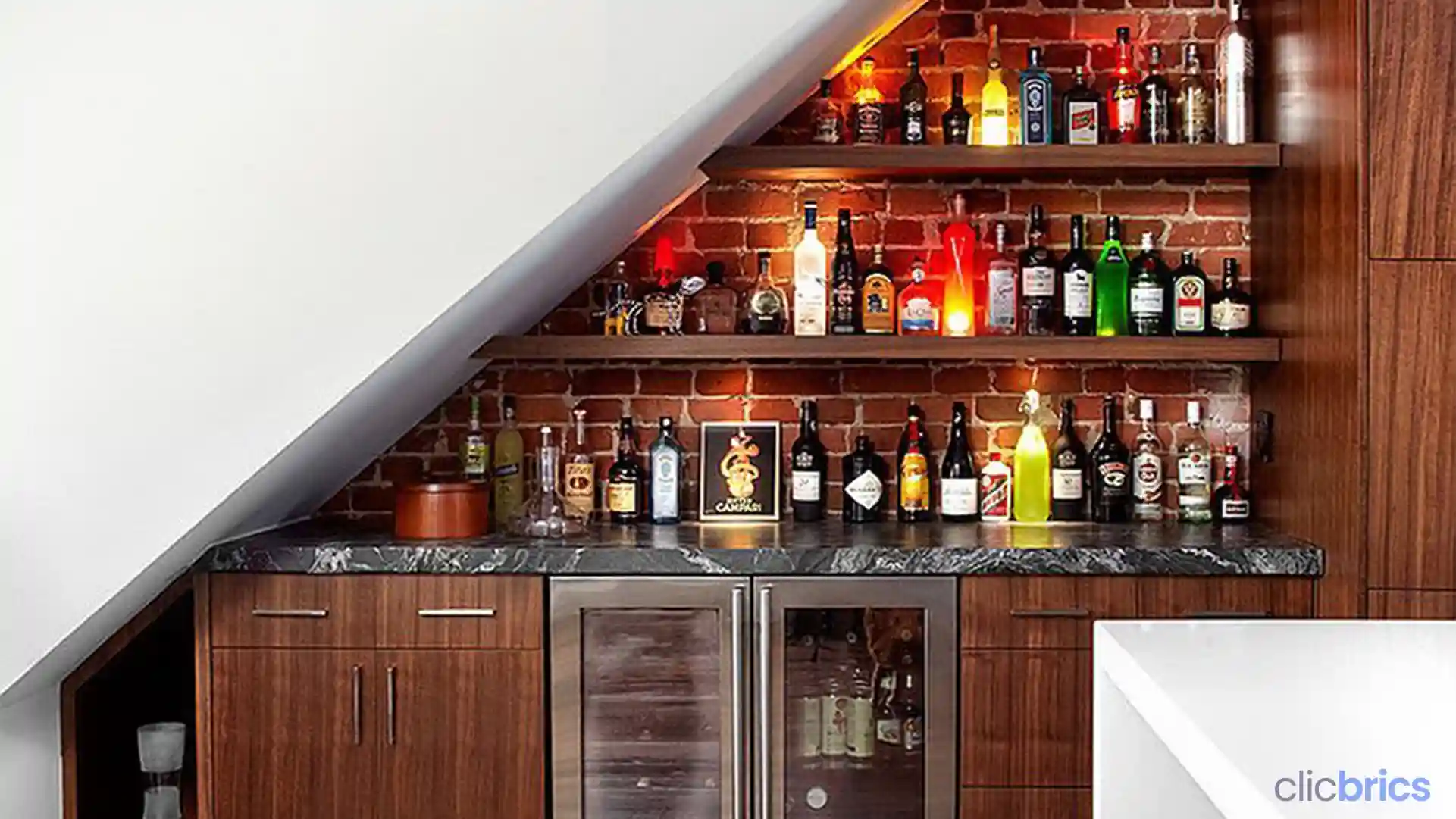 Instead of storing coats and shoes under the stairs, why not turn it into a chic bar that guests will love to visit during the party season? To get the best use out of the available area under the stairs and guarantee a snug fit, a custom home bar design idea is all set to take the space. 
Maintain the stair's incline to maximise height, and think about using a different kind of wood or paint to set it apart. Adding a glitzy finishing touch, like brass or reflective material, can transform an uninviting room into a luxurious bar retreat. 
4. Make Use of The Room With A Home Bar Counter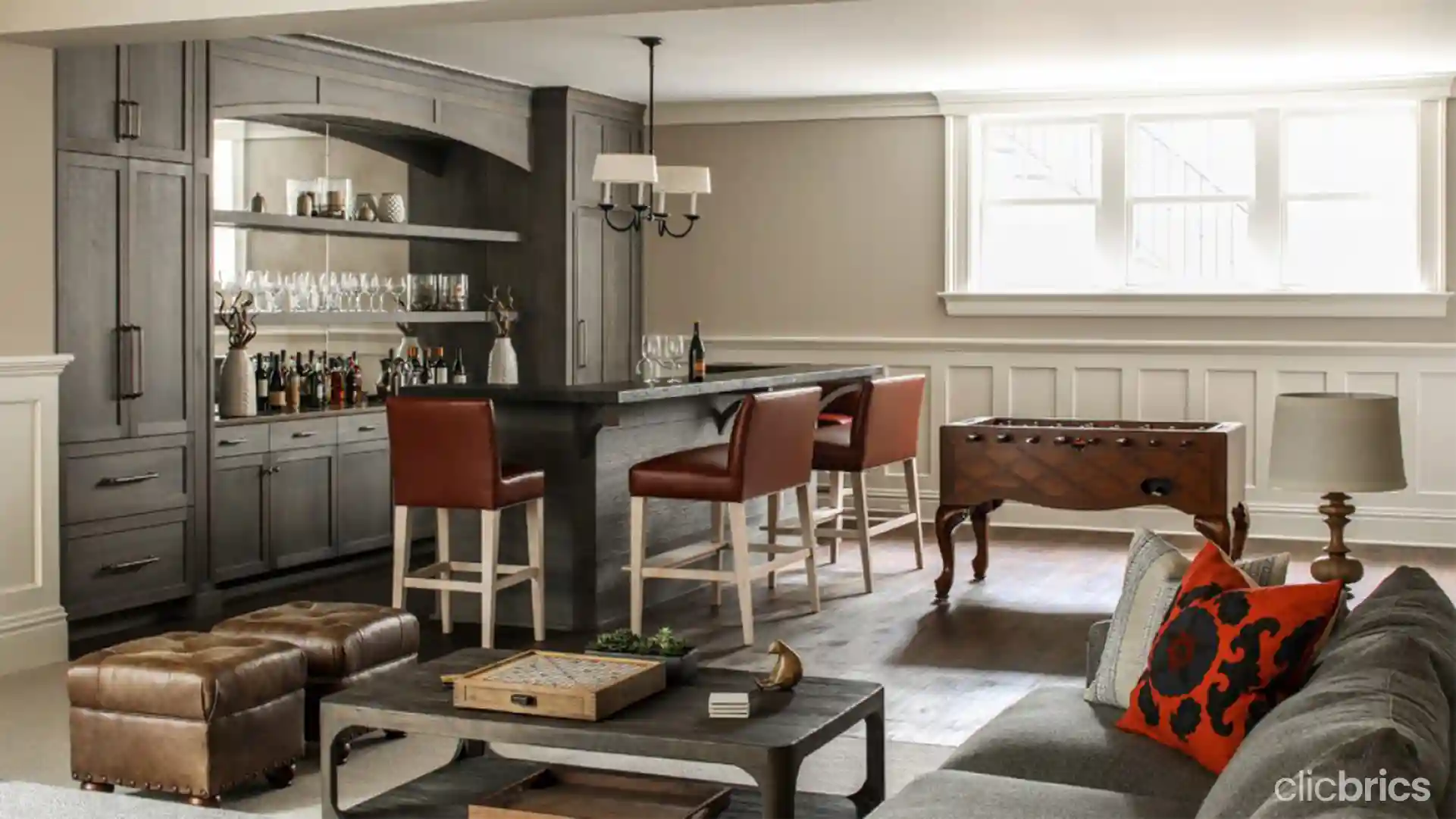 Adding a sleek built-in bar in the space between the kitchen and the living room is a great way to increase the social potential of an open floor plan kitchen. The peninsula or island home bar unit can house a well-stocked bar that will both keep guests from the chaos of the kitchen and keep the conversation going. Mirrored glass adds a touch of glitz; in this case, the full-length mirrors on either side of the bar serve to centre attention on it.
5. Home Bar Designs That Makes You Think Differently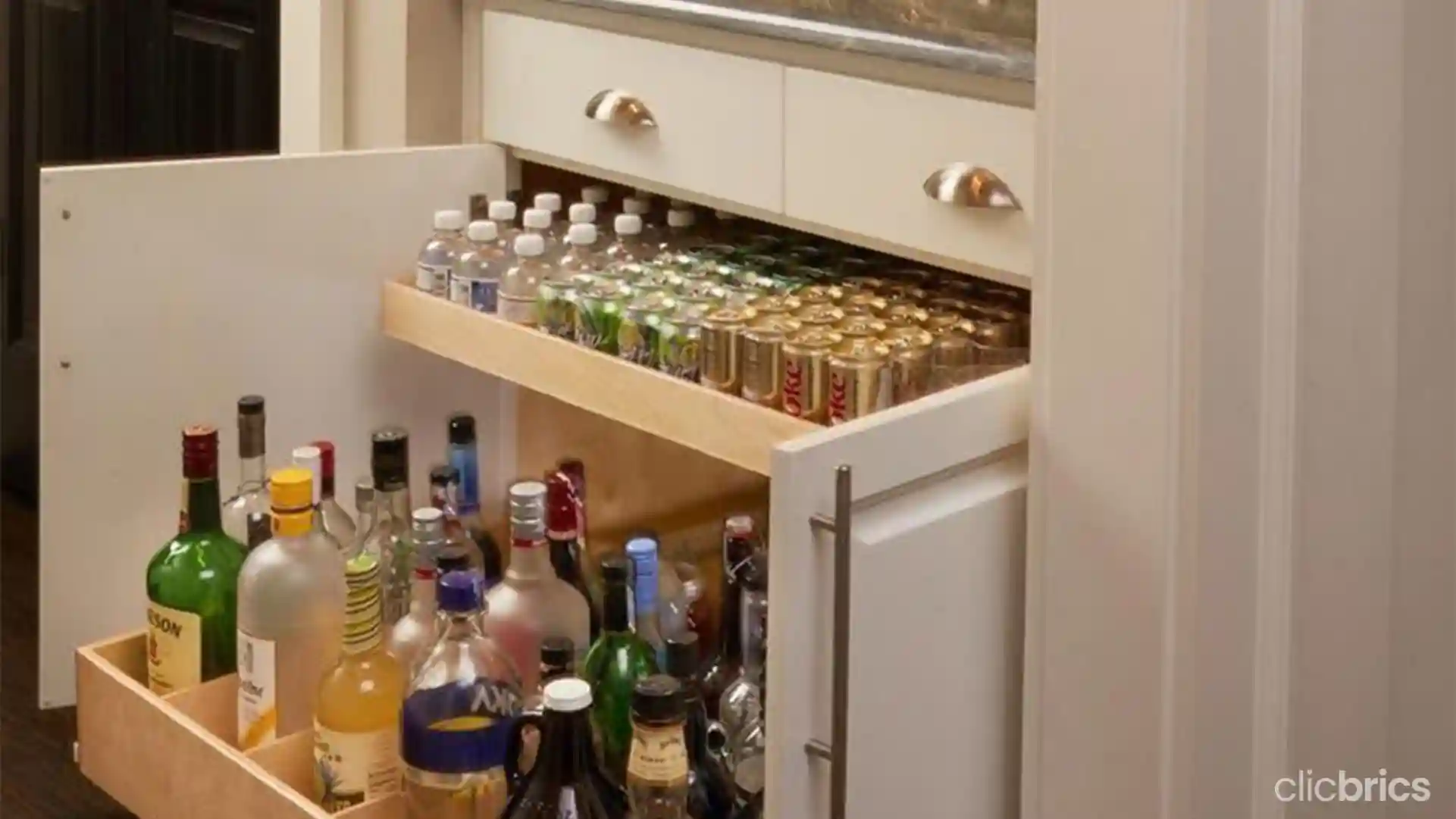 A well-executed home bar can turn even the tiniest space into a welcoming gathering place.  Ingenious, out-of-sight storage solutions like the pull-out 'table' are frequently cited as customer favourites. A leather-topped pull-out transforms it from a simple bottle rack into a handy serving surface.  Small home bar counters can quickly look cluttered with all of the barware and home bar accessories, but that's what the cabinet below is for.
6. Have Mixers As A Part of Your Home Bar Design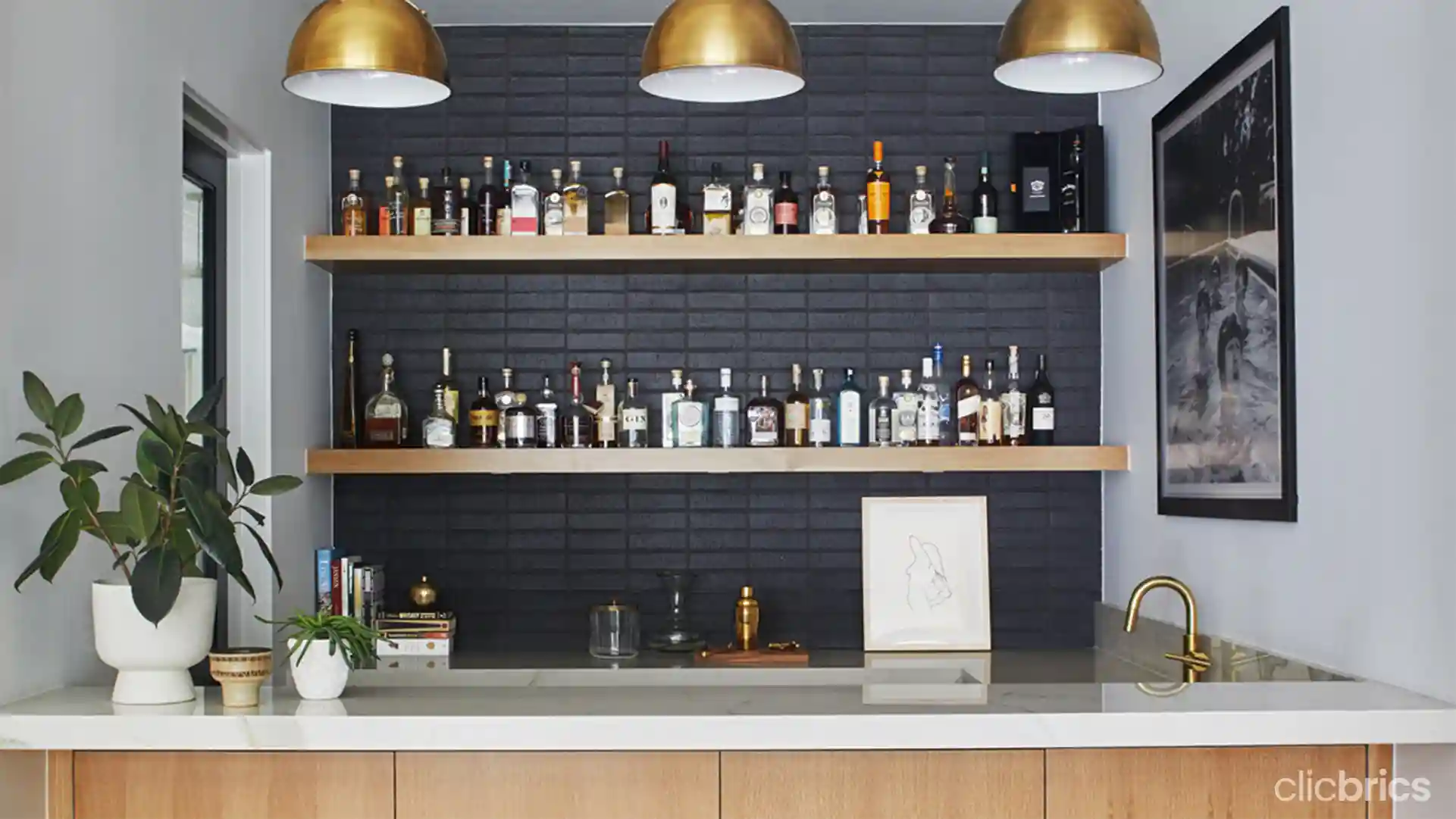 Add a boiling water tap to your home bar design layout if it's not conveniently located near the kitchen sink. Boiling water taps are convenient because they heat water quickly, use less energy, and make short work of preparing and serving steaming beverages. In addition to relieving strain on the refrigerator, this tap provides chilled sparkling water, ideal for use in the preparation of cocktails and long drinks. Even though a large sink isn't necessary for a boiling tap, having a smaller sink nearby for pre-rinsing glasses and discarding spent ingredients is a must.
7. Incorporate Appliances In A Home Bar Design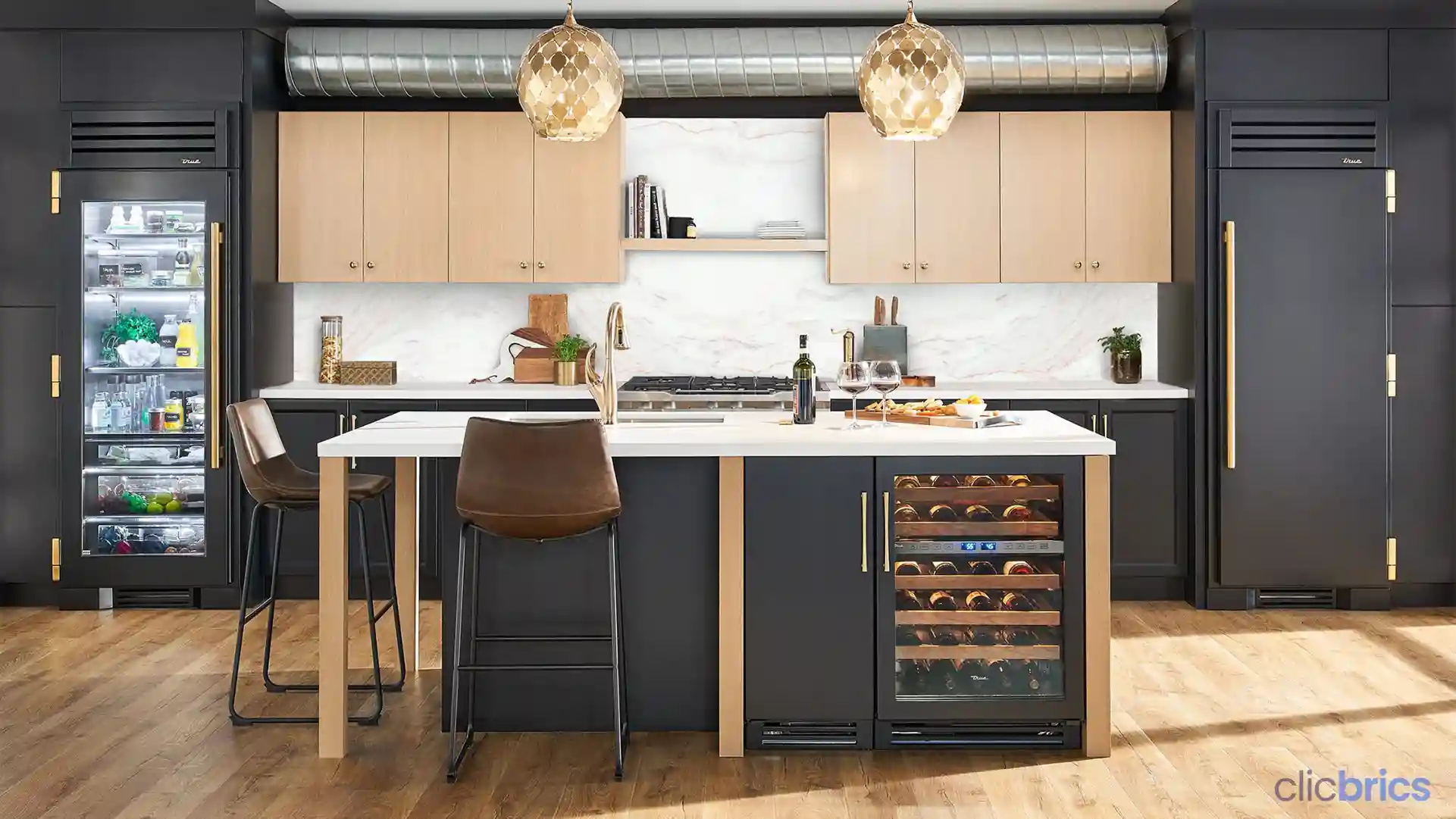 You shouldn't skimp on the practical details if you're going to make room for a home bar. Consider including a wine cabinet to maintain the ideal temperature for your wine collection. 
Free up space in your primary refrigerator by installing a second home bar cabinet to store juices and other soft drinks. You could also install a dishwasher if there's room in the kitchen so that dirty dishes don't have to be hand-carried back and forth. 
8. A Home Bar-Cum-Dining Room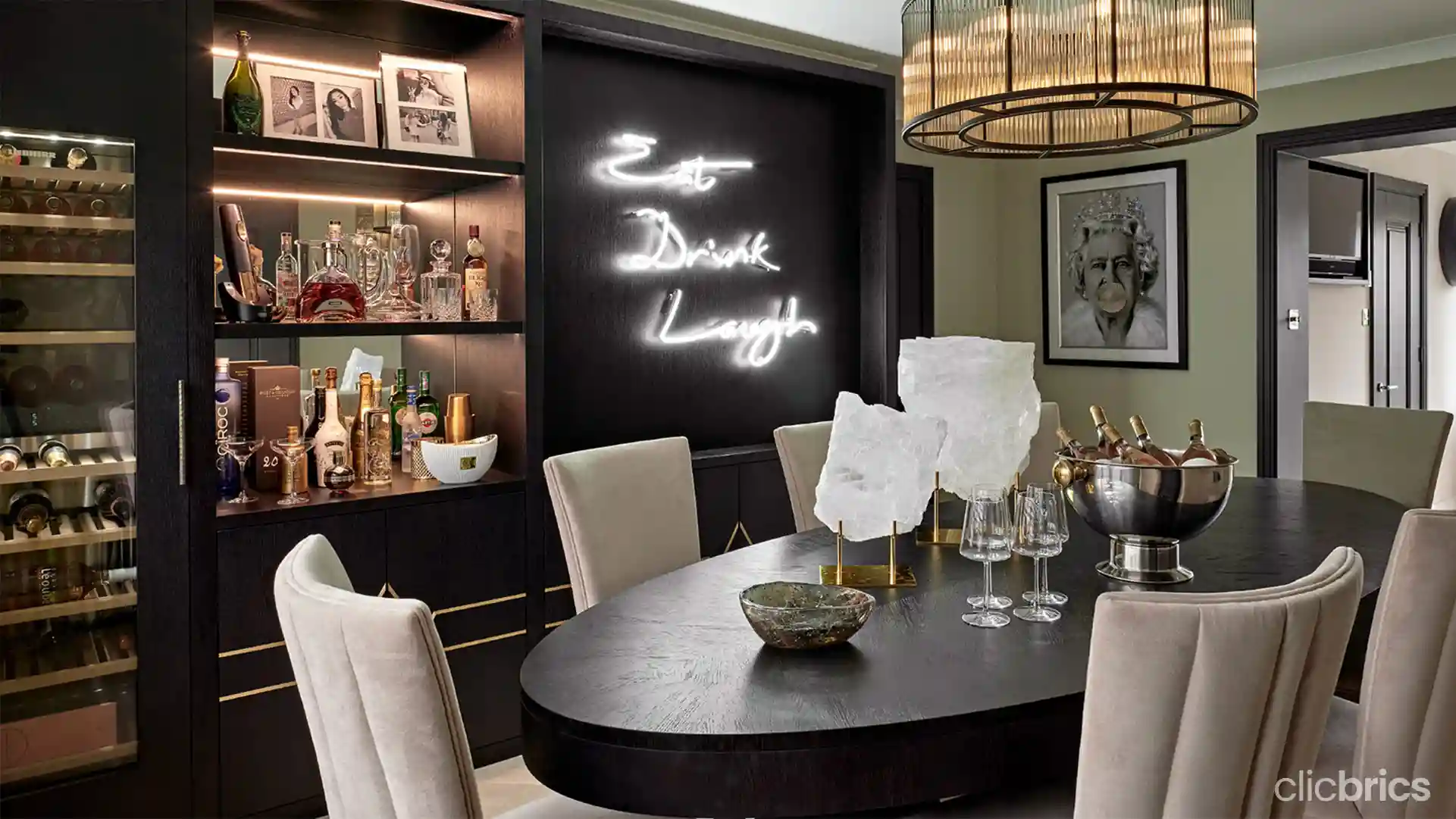 Incorporating a home bar area into your dining room ideas not only creates the perfect opportunity for after-dinner drinks but also adds useful storage to conceal the less decorative and more routinely used tableware and practical accessories. 
A modern and uncluttered home bar design can be achieved by painting the joinery the same colour as the walls. This keeps the focus on the overall layout of the room rather than being drawn to individual design elements. When selecting a backdrop for a favourite set of glassware, serve ware, or a collection of home bar furniture, opting for a colour that is dark and gloomy, such as the shade of rich blue, produces a striking and contrasting effect.
Keep Reading: Best Tips To Incorporate While Decorating A Small Apartment
9. Bring Out Your Show-Stopping Home Bar Design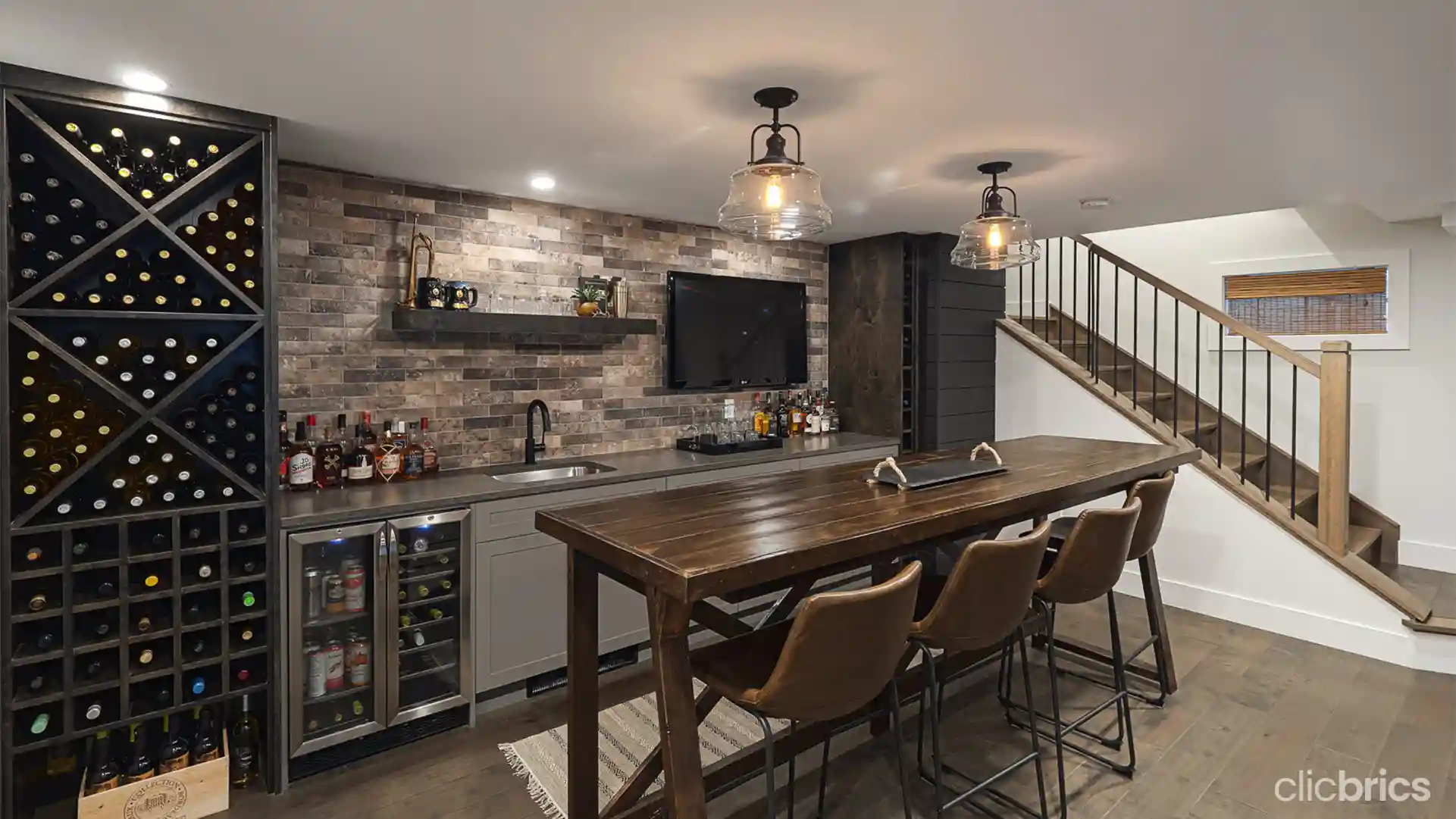 One of the most popular things to do in brand-new homes is to renovate the kitchen or expand the basement ideas to include a dedicated home bar. This is due to the fact that in modern homes, a well-stocked bar is often the focal point of socialising, entertaining, and other activities. Creating a large home bar or diner in the converted basement that opens out onto the backyard is a great way to increase your living space without increasing the size of your home.
10. Take A Tropical Approach For A Garden Home Bar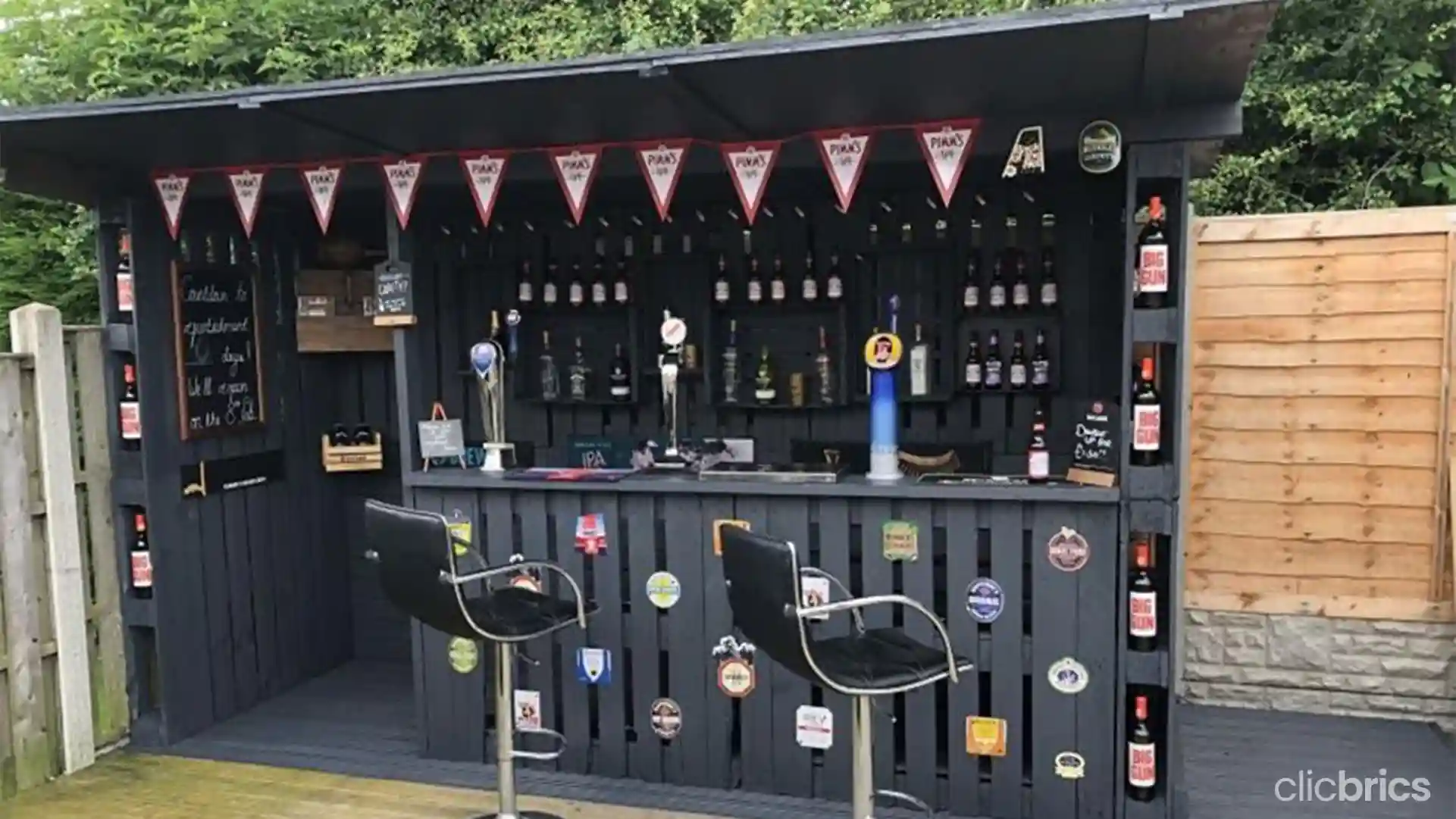 As people see their backyards as an extension of their living space, the concept of a garden bar has gained in popularity. One of the most important goals of modern garden planning is to increase the number of hours spent outside and the level of comfort experienced there. The ultimate entertainment station, a home bar designed creatively in the garden will become an enjoyable al fresco hub for your family and guests to come together and appreciate all year round.
Also Read: 7 Creative Balcony Garden Ideas For Your Home's Safe Space
The following are the primary advantages of designing a home bar:  
You can expect your environment to become friendlier.  

Secondly, you can make entertainment more pleasurable by enhancing the lighting, traffic flow, and general comfort. 

And thirdly, if everything is done properly, the increase in value of your property should more than cover the costs of the renovation.  
Ultimately, if you want to create a space that will excite and entertain you and your family for years to come, you need to find the right home bar designs. The first step in designing your dream home bar layout is deciding on a theme. In the case of an open floor plan, you should consider how it will affect the flow of traffic between the kitchen, living room, and dining room, but you should also consider how it will fit into the larger scheme of your home. 
Happy Entertaining!