Table of Content:
The Guru Nanak Jayanti, often known as the Gurupurb or the Guru Nanak's Prakash Utsav, is a Sikh festival that is celebrated as the birth of the first Sikh guru, Guru Nanak Dev Ji. As the founder of Sikhism, Guru Nanak Dev Ji had the most important role in shaping and strengthening the Sikh community, which is why Gurunanak Jayanti is celebrated worldwide to honor and thank him. 
As per the Sikh literature, Guru Nanak Dev Ji's birthday is celebrated on the full moon day of the Indian lunar month. This year, Guru Nanak Jayanti 2022 will be celebrated on the 8th of November (Tuesday).  
Notably, Gurupurab will mark the 553rd birth anniversary celebration of Guru Nanak Devji this year.

Guru Nanak Jayanti Celebrations in India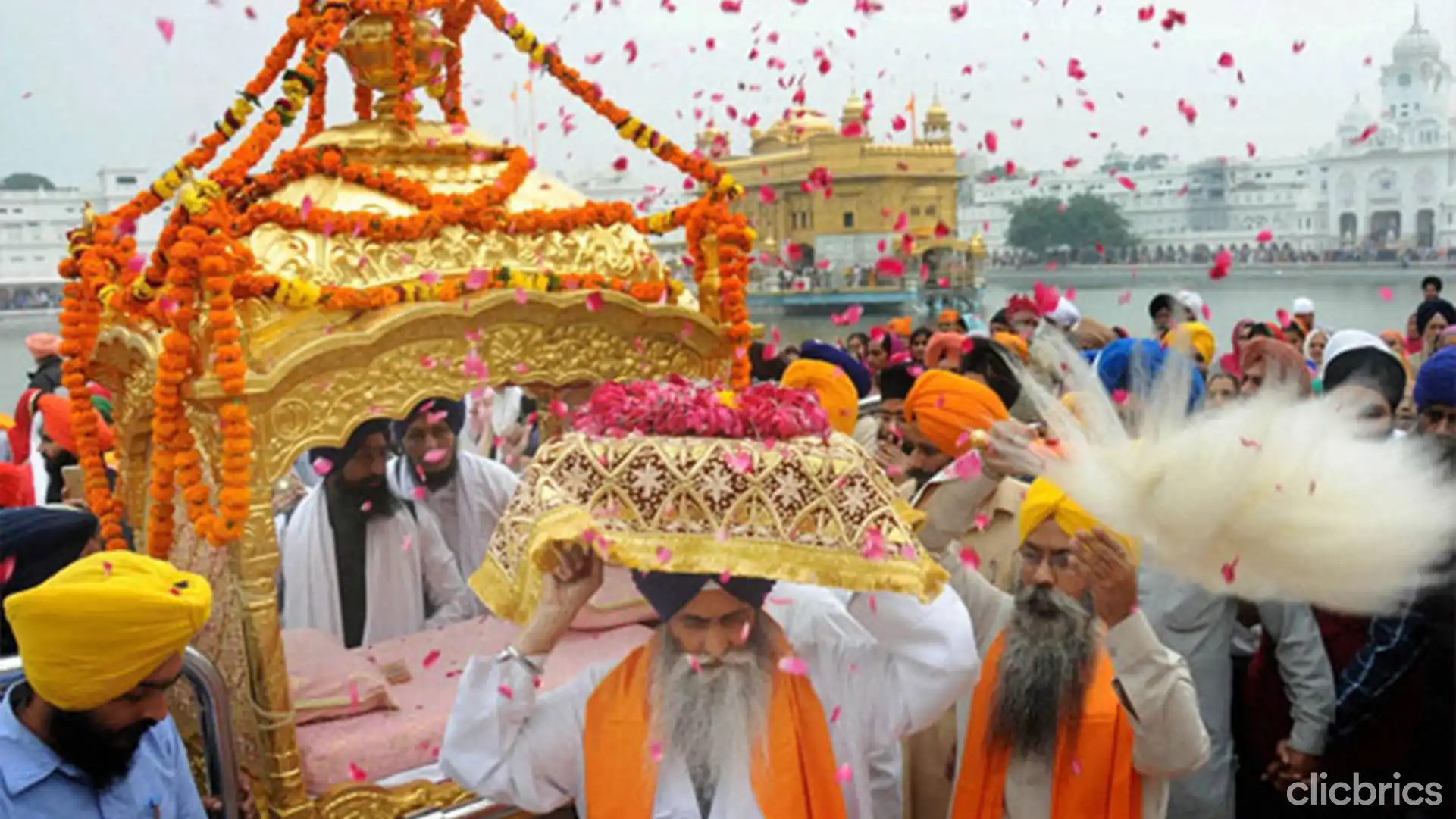 Gurunanak Jayanti is a gazetted holiday for the Sikh community. The Sikh community considers Guru Nanak Devji's teachings their main source of religious instruction. Let us take you through some important aspects of the celebrations that take place during the festival.
The Guru Nanak Ji Jayanti festivities begin with the Prabhat Pheris, a morning procession that leaves from gurudwaras and moves across the neighborhood while reciting hymns. It has been observed that generally, two days before the Gurupurb, Akhand Path, which is the forty-eight-hour non-stop reading of Guru Granth Sahib Ji, is held in the Gurudwaras.

And a day before Guru Nanak Dev Ji's birthday, a procession called Nagar kirtan is organized, led by five men holding the Sikh flag. Some people also display their martial arts skills by performing for the public. 

The celebrations for Gurunanak Jayanti start in the early morning hours, between 4 and 5 a.m. Asia-ki-Vaar is sung to start the day, followed by the combination of Katha and kirtan.

Following this, a langar is organized. The volunteers of the Gurudwaras organize this community lunch. Regardless of caste, religion, gender, status, or gender identity, people are offered food (langar) in the spirit of Seva (service) and bhakti (devotion). Welcoming everyone to Guru's Darbar is the guiding principle of this communal kitchen. Notably, the Sikh community is well known for providing food and shelter at the gurudwaras to those in need. 

Kada Prasad is the traditional sweet distributed in large quantities at this festival. 

Some gurdwaras hold night prayer sessions that start with the recitation of Rehras just before sunset and continue with kirtan till far into the night. The Gurunanak Jayanti festivities culminate at around 2 a.m. 
Also Read: Welcome 2023 With a Bang: Try 9 New Year Decoration Ideas

3 Ways to Decorate Your Home for Guru Nanak Jayanti 2022
If you are in search of Gurpurab decoration ideas, the below-mentioned tips will benefit you.
Gurpurab Decoration with Lanterns and LED Lights
For Guru Nanak Jayanti, the simplest thing you can do is to incorporate good lighting at home. You can wrap up lights around the showpieces for potted plants in your home or hang LED lights on your balcony. 

You can also light up your space by placing tea light candles in the terracotta pot. The speciality of such lamps is that they provide traditional lighting and an ethnic touch to the overall  Guru Nanak Jayanti decoration. 

You can rely on burnished lanterns with filigree work or take intricate metal work and place tea lights in them. 

 Try to add some scented candles to your home to create a fresh aroma in your home. This way, you will receive many compliments and blessings from every visitor
Also Read: You're Going To Love These 9 Navratri Decor Ideas!

Gurpurab
Decoration with Flowers
We have always believed that the house's entrance should  be well maintained as it is the first thing your guests notice. Decorate the entrance of your home with some good fresh flowers that you can hang against the door frames. 

You can also hang artificial garlands on the door knobs that are easily available in the market.

You can also try some DIY ideas for  Gurpurab decoration. The simplest DIY would be taking a silver platter or a beautiful glass bowl and adding some alluring rose petals to it. You can place this in your living space or pooja room during the Guru Nanak Ji Jayanti festivities. 

Hanging torans and flower garlands have always been considered the means to keep negativity and evil away, so make sure that on the occasion of Guru Nanak Jayanti 2022, your entrance is filled with such items to infuse positivity. 
Dining Decorations for Gurpurab
No Indian festival is complete without a fine dinner and traditional sweets. Make Guru Nanak Jayanti 2022 a different affair by setting the table with traditional silverware or copper tableware and serving sweets and delicacies to family and friends.
Also Read: 10 Budget Friendly Indian Style Pooja Room Designs For Your Home

Conclusion
Many people decorate their homes on the occasion of Guru Nanak Jayanti, and so should you! Gurupurab 2022 is just around the corner, so ensure you are not leaving anything to the last minute when decorating your home. By incorporating these decoration ideas at home, you will experience a positive, earthy, festive vibe.