Table of Content:
The bedroom is one of the coziest places in a home. It is a space where one can isolate themselves from the rest of the world and create their own world. Henceforth,one should focus on designing a bedroom that brings maximum relaxation and calmness. Irrespective of whether one lives in a studio apartment, penthouse or skyscraper with an enchanting panoramic view of nature, the glass wall design would add a new dimension to the bedroom and make it look comforting and stylish. Read below for more information on bedroom designs with glass walls:  
1. Glass Wall Design for Master Bedroom with an Astonishing View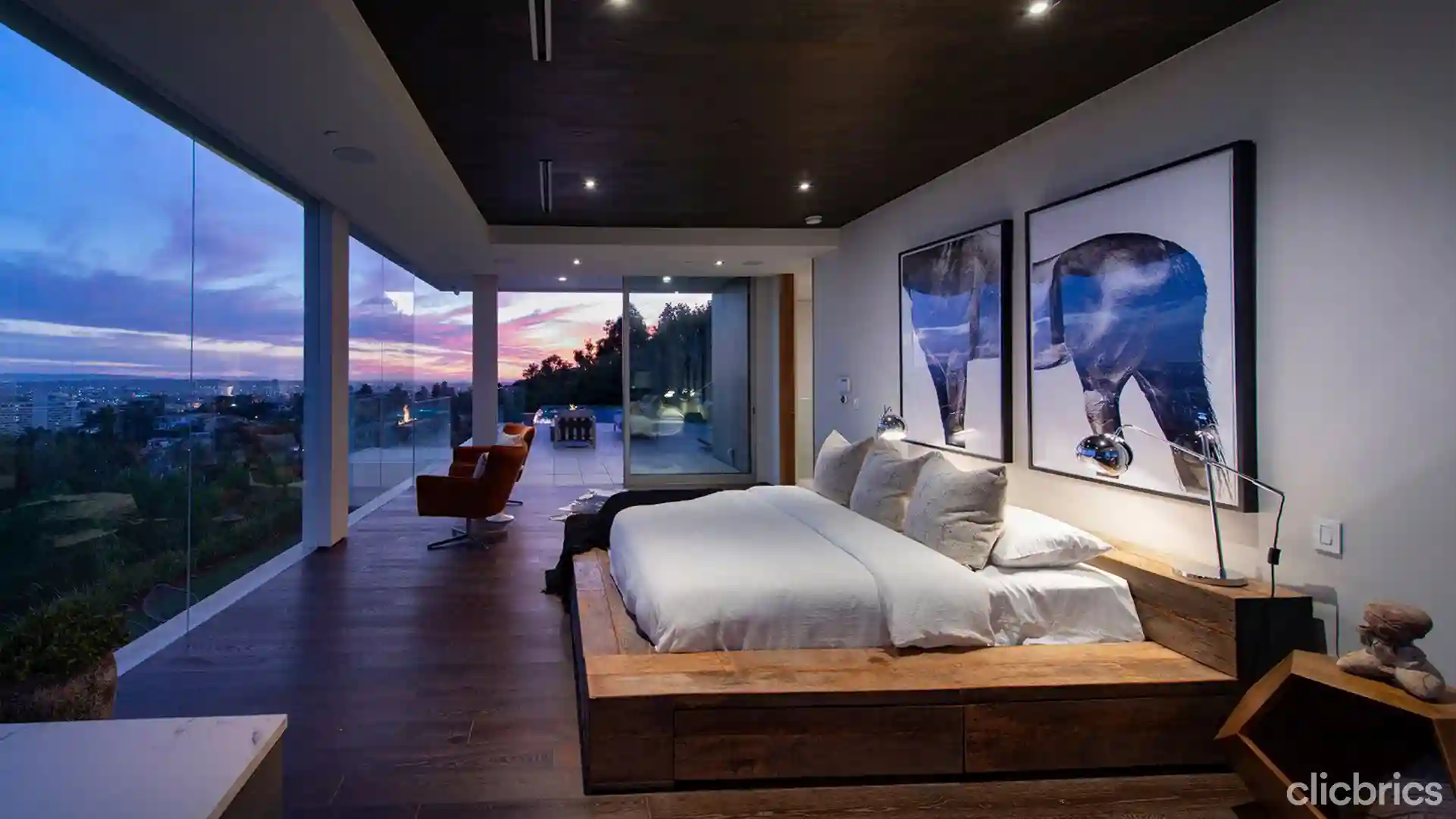 If one is lucky enough to have a mesmerizing view from their bedroom, there's no reason to hide it behind a concrete wall. One can opt for a fancy mirror glass design and enjoy a beautiful view of nature from the comfort of their bed. Folding glass doors can also be used in case the bedroom opens onto a balcony. Sticking to a minimalist decor and letting the natural view through the glass doors enables it in taking the center stage in the bedroom. One can also achieve the desired effect by adding textured wallpaper to accent walls, pendant lights, and solid wood furniture. 
Also Read: Wall-Cladding Ideas For Your Bedroom
2. Glass Wall Design for Partition Between Bedroom And Bathroom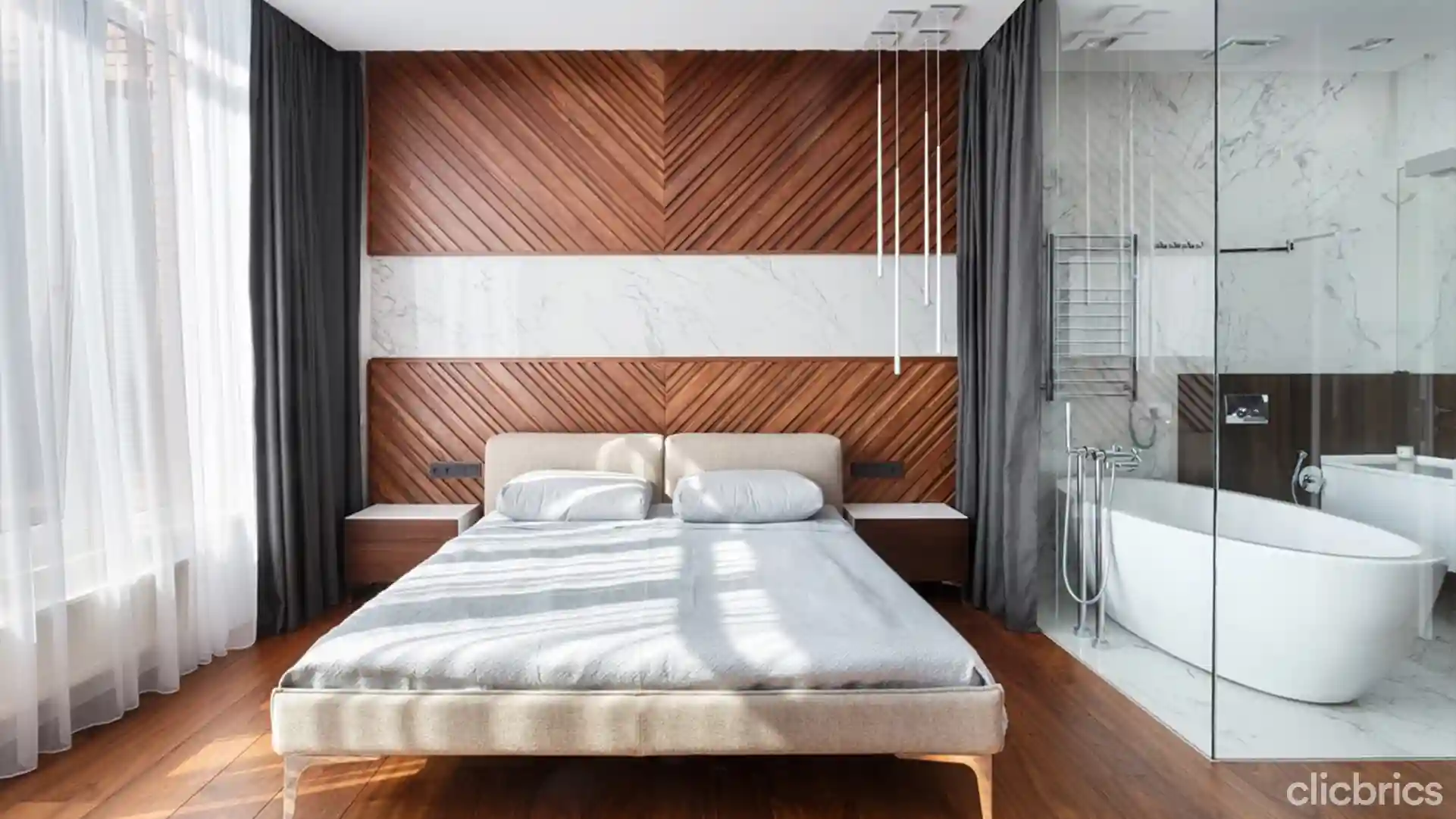 A glass wall that separates the bathroom from the bedroom is a clever way to create a partition, while making the modern home feel spacious and airy. If this seems to be too bold a design, one can opt for coloured glass, etched glass walls, or style the glass walls with shower curtains and blinds. Such curtains can be pulled down when taking a shower and enjoy the liveliness of the glass walls in the bedroom all day. Marble flooring or vitrified tiles can be chosen, while the walls can be kept muted or white, with spotlights being used on the ceiling. The glass reflects the light beautifully and makes the room feel bright and spacious. One can also add some pops of colour through bedsheets and pillows to offset the monotonous white.
3. Intelligently-Designed Glass Wall Design Separating the Kitchen From The Bedroom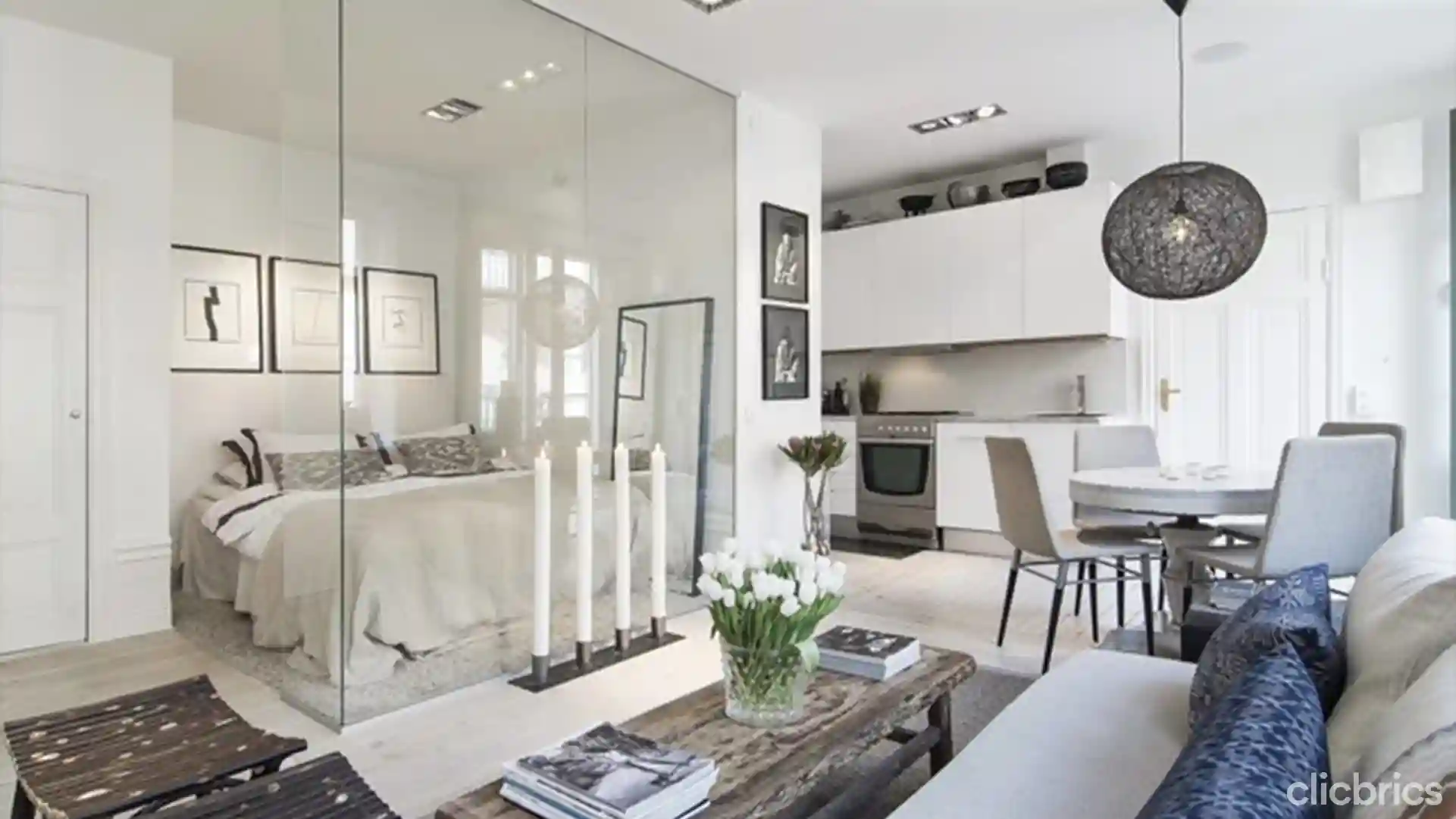 Despite being very functional, studio apartments with kitchens can feel a bit cramped. If one is looking for innovative ideas that can create a subtle boundary without straining their eyes, one can opt for a hall kitchen glass partition design that separates the kitchen from the bedroom. A modular kitchen like this helps prevent kitchen fumes from entering the bedroom.
4. Sliding Glass Wall Design For Walk-In Closet in the Bedroom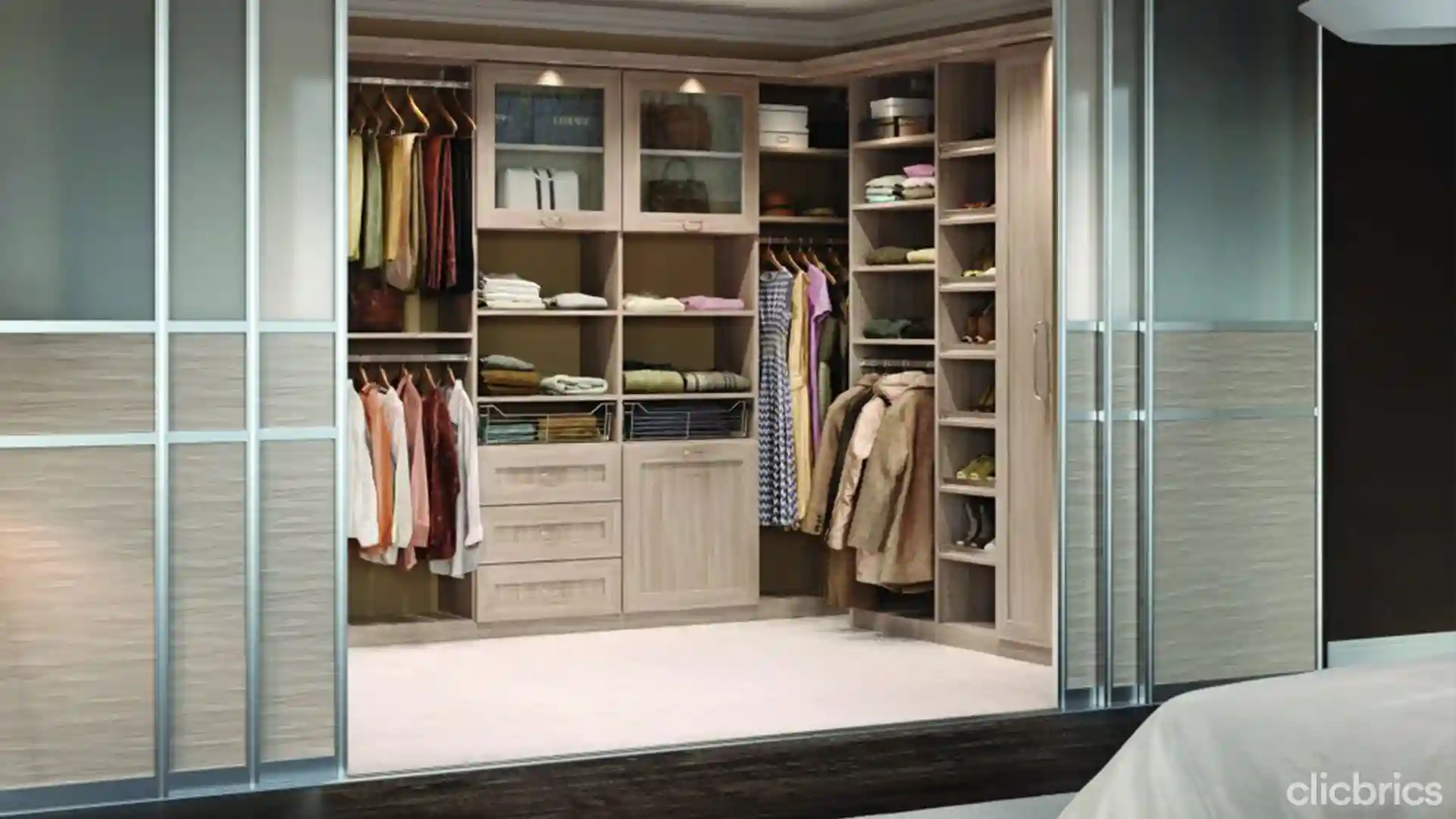 Most of us love having our very own walk-in closet where we can keep all our shoes, expensive clothes, and makeup essentials organized. However, having a walk-in closet in the smallest of spaces can be nothing short of a distant dream. 
An alternative could be that a walk-in closet can be designed in the bedroom, which is separated by a glass wall, thus increasing the usable space by 20%. Mirror glass design for walls allows one to fulfill their dreams without cramping the bedroom. Depending on the requirements, one can have sliding doors or glass walls as a partition.
You can add a little pep to this design with intricate cove and pendant lights.  
Also Read: Need Main Door Ideas for a Modern Bedroom? 
5. Japanese Glass Partition for the Living Room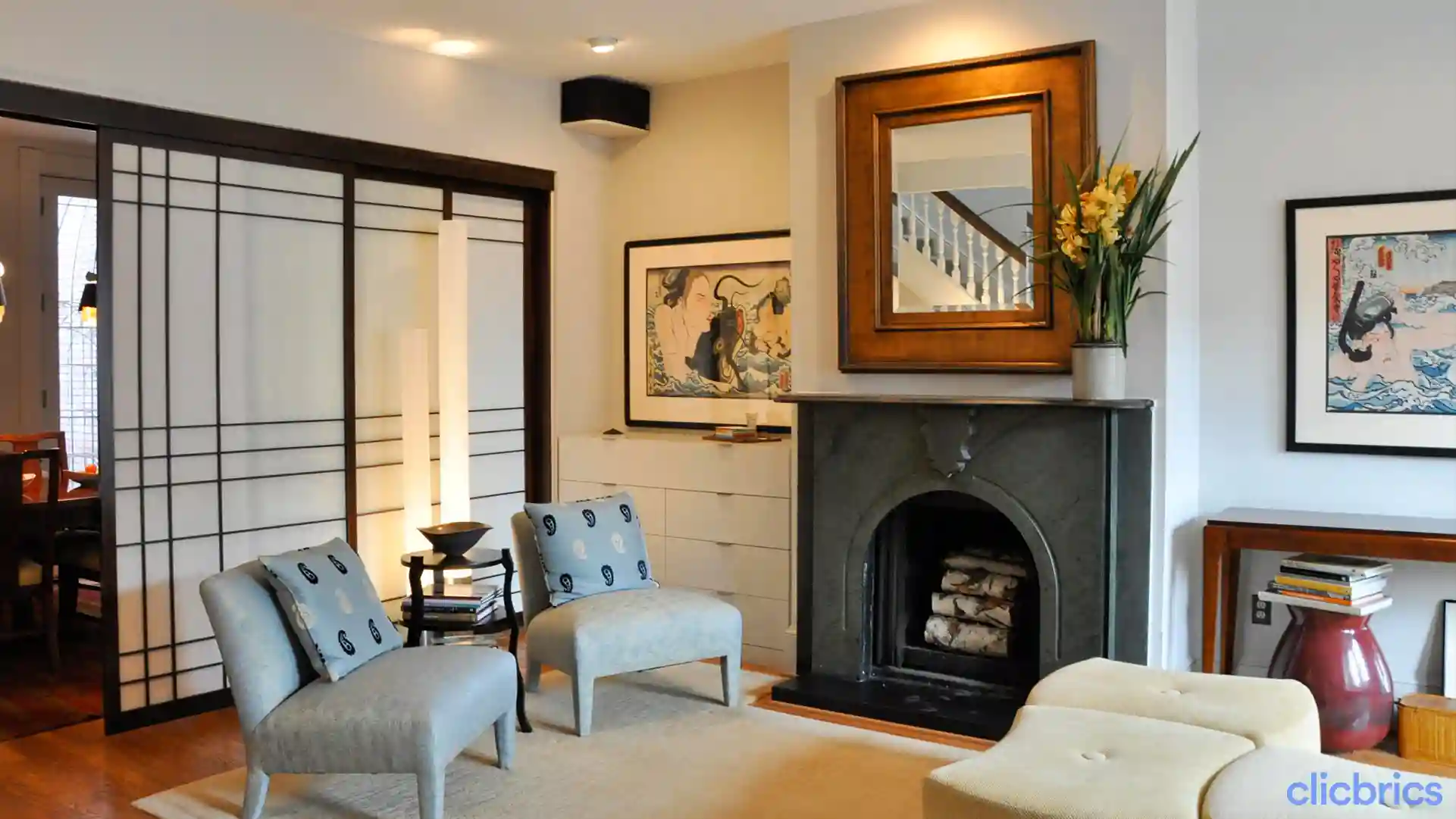 The modern bedroom can be separated from the living room with Japanese-style glass wall partitions. Glass partition for the living room is ideal if one wants to bring in a lot of natural light to the living room while maintaining a subtle privacy in their bedroom. The hard wooden floor enhances the Japanese style glass wall beautifully, while the tall indoor plants and pendant lights add layers to this chic home interior. This glass partition design for the living room imbibes a high degree of positivity and gives a cozy vibe to the entire space. 
6. Glass Partition Wall Design for the Home Office In Bedroom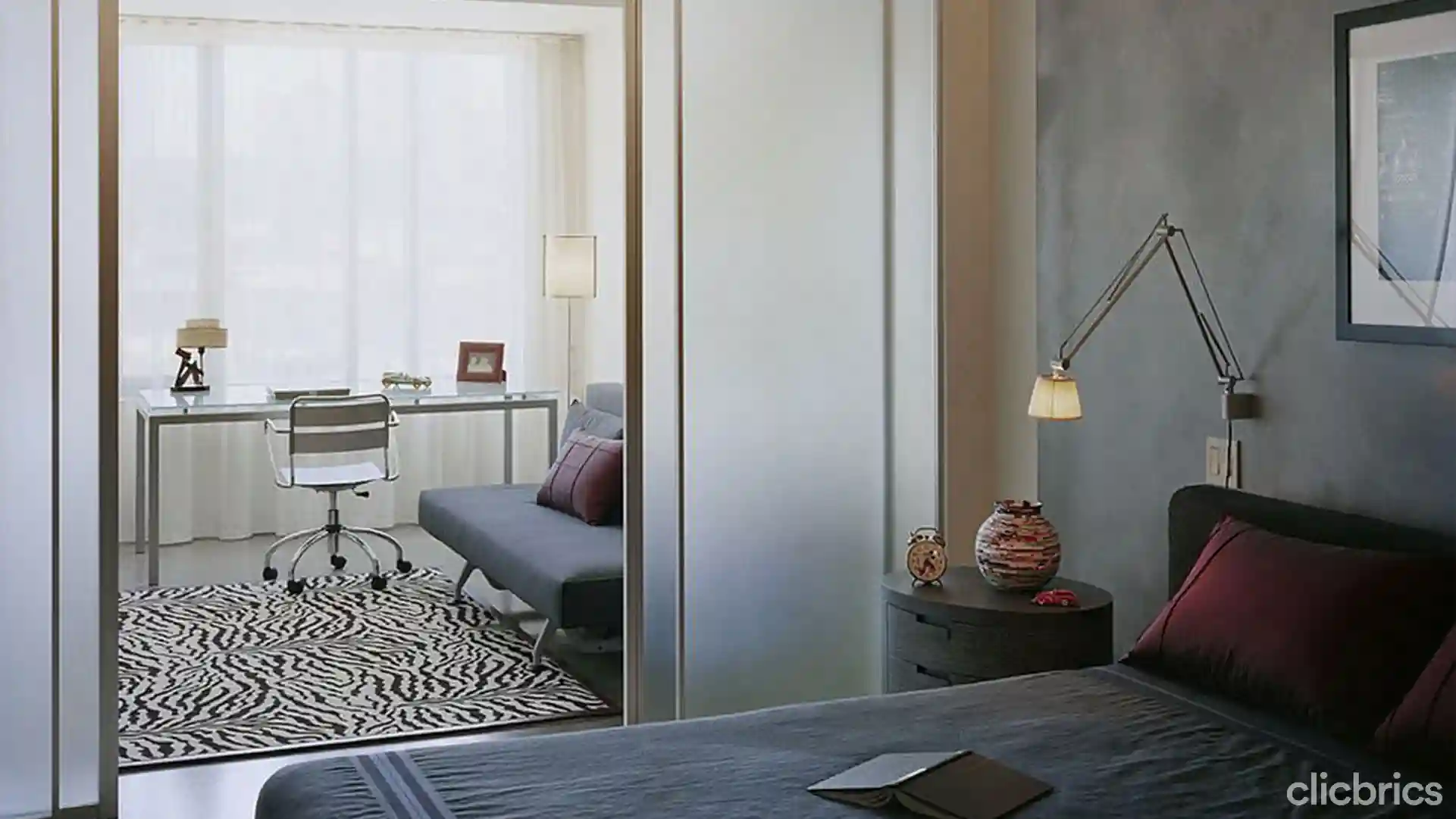 In the post pandemic world, having a work from home set up has become a necessity rather than a luxury since working from the bed can impact physical health and productivity. It can be a bit tricky to set up a home office in a small apartment space. Nevertheless, there are a few creative ways to create a cozy office in the bedroom, which are ergonomically efficient and houses all the essential office supplies. For example, glass partitions create a subtle office feel in the bedroom without cluttering the interiors. 
Conclusion
If you are looking for aesthetic bedroom designs using glass walls, the above ideas can help meet your requirements, with adherence to your preferences and with your budgetary constraints. Believe us, these elegant glass wall designs for the bedroom will enable you to enjoy a natural panoramic view from the comfort of your bed.