Making something best out of waste into something unique and useful is the best thing you can do instead of tossing it away. Of course, when you browse the internet, you will find tons of best out of waste ideas, but not all of them are easy to implement.The time has come to bring out the hidden artist in you into action for new year 2023 celebrations. This is why this blog is based on the best out of waste easy ideas that you can implement at home. These best out of waste ideas will help you make some alluring ornamental home decor items that will boost the charm of your place.
1. Create Lamps from Discarded CDS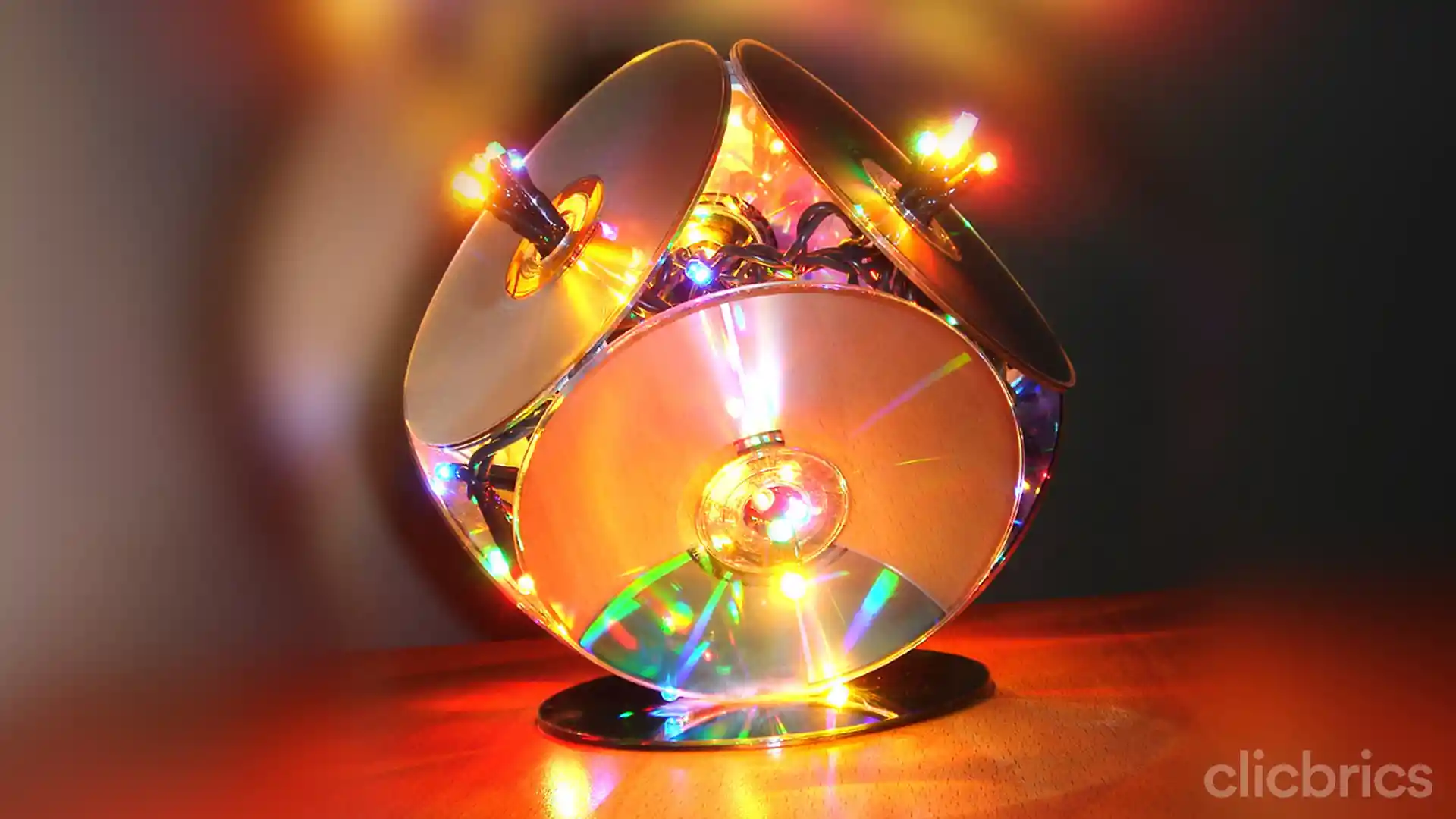 Each day, India produces more than 2 million tonnes of e-waste a year. This is why performing DIY best out of waste activities is increasing at a fast pace. New year is also the right time to help make a difference. You can upscale those CDs that you have at home and create a beautiful lamp out of them. Once done, you can place them on the new year's dining table and have the best last meal of 2022. All you have to do is club all the unused CDs together and add a bulb in the centre, and you will have yourself the best recycled New Year CD lamp.
Read more: 8 Birthday Decoration Ideas That Will Make Your Party- Just WOW!
2. Light Up Your Terrace Party With Candle Holders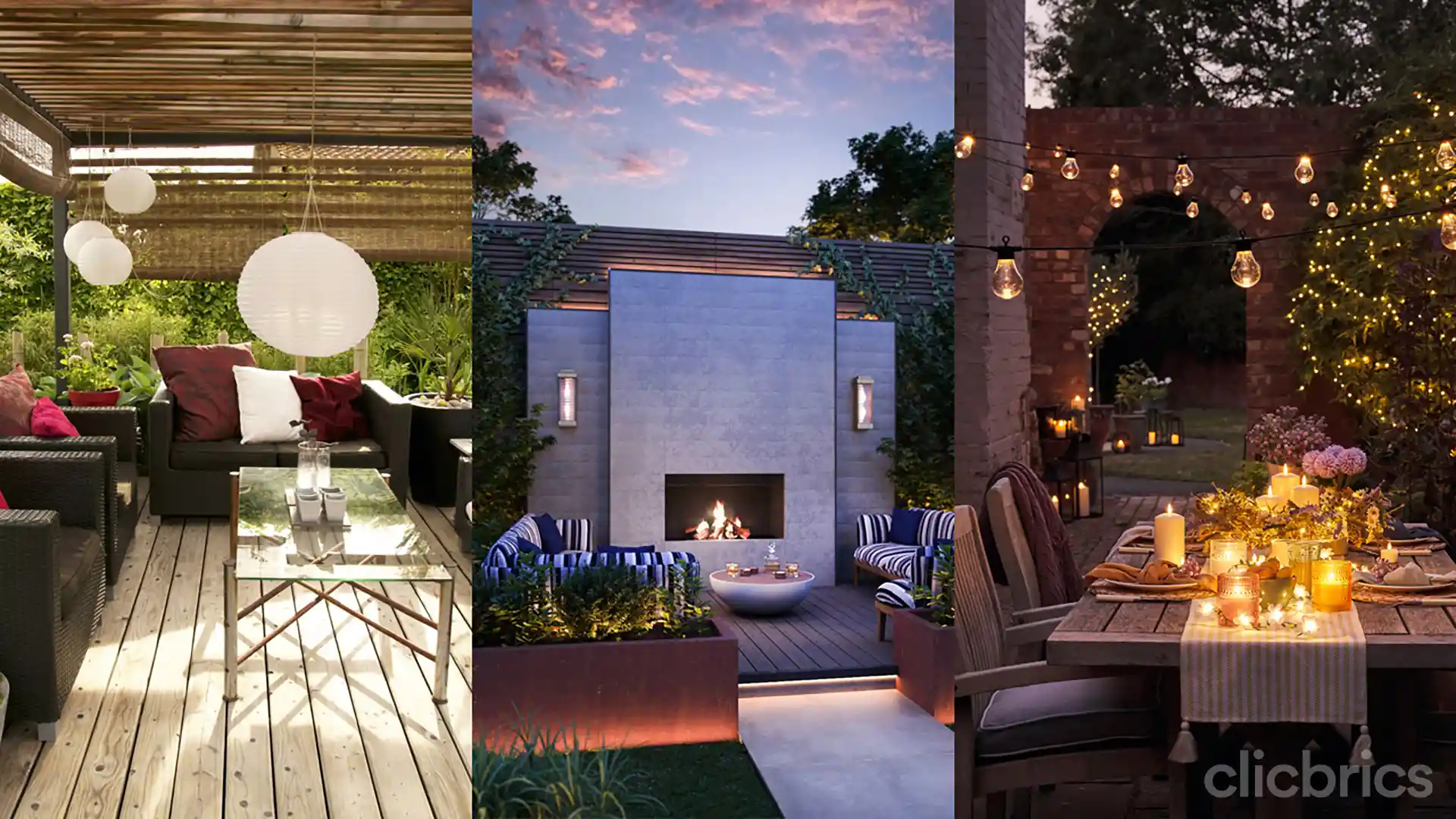 If you've got some old coffee containers, jam bottles, pickle jars, etc., you can bring them to use at this new year's celebration. In order to bring the best out of waste ideas into action, you can place battery-operated fairy lights of different colours inside these bottles. You can keep them in your living room and utilise them as a home decor item. 
Moreover, if you wish to decorate those jars, you can use some ribbons, seashells, and glitter on the outside of the jars.  
3. 

Make Tea Coasters Using Old Newspaper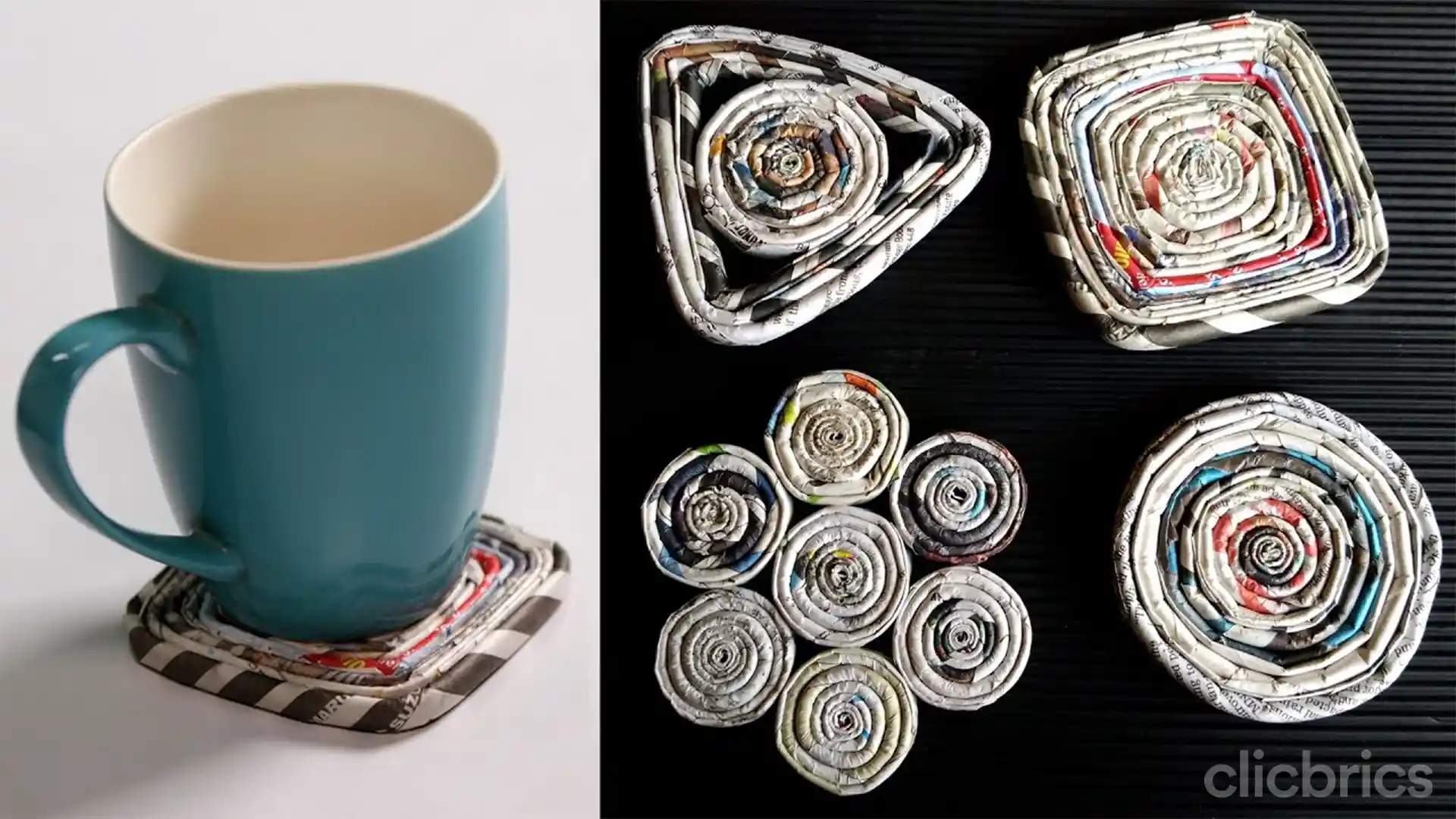 This innovative best out of waste idea will help make your place more attractive. You can make tea or coffee coasters from the recycled newspapers, and it will add a good aesthetic vibe to your place. All you have to do is cut the newspaper into different shapes and paint it in good colours. Once done, leave them to dry, and you will have some gorgeous coasters to serve tea or coffee to the guests. 
4. New Table Mats Using Old Sarees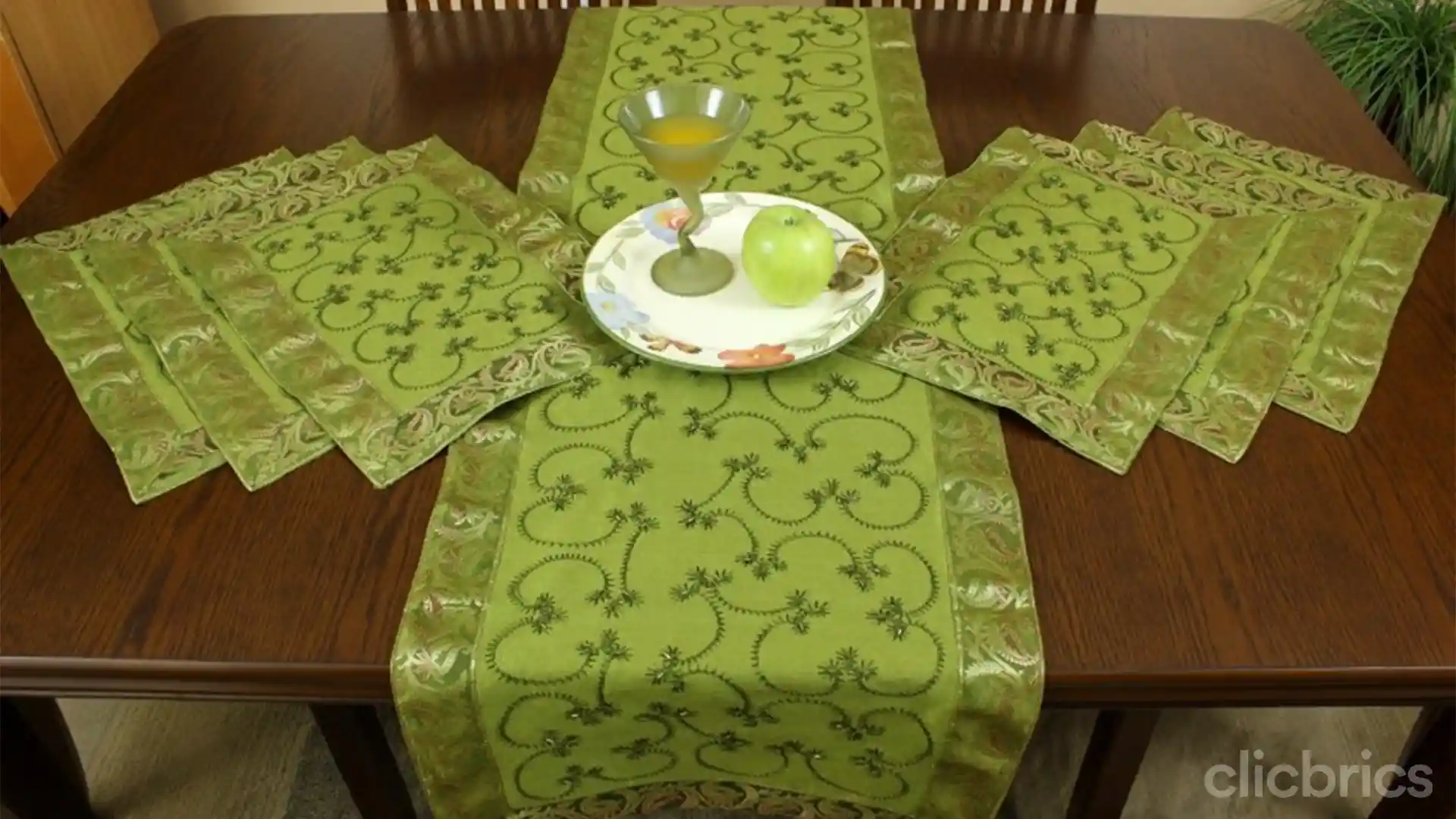 Do you have some old sarees from your mother or grandmother? These sarees must have some beautiful embroidery designs that are too delicate to be discarded. Cut an old saree according to the length you want your table mats to have, and give it some finishing touches. Moreover, add extra zari around the border to glam up the table mats.
Also Read: 10 Open Kitchen Design Ideas Every Smart Home Buyer Will Choose
5. Enhance the Charm of Your Place With Newspaper Hangings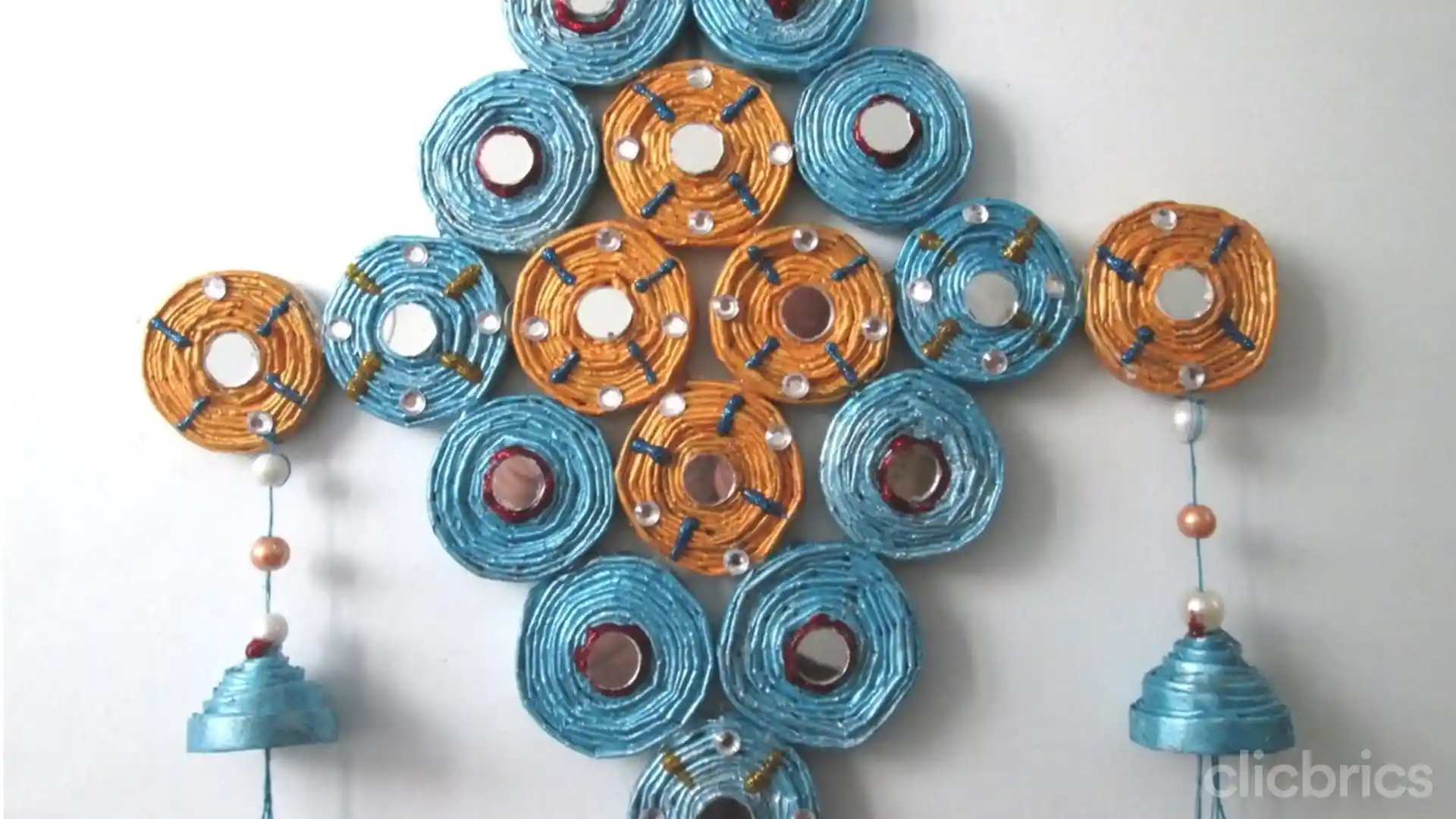 It's an unhidden fact that recycling paper is quite easy, but in India, more than 30% of landfill space is filled with paper waste. So, we have a trick you can do to save the environment. Think of a wall-hanging design you want for your home. Grab some cardboard, newspaper, glue, and water paint. Now, cut the cardboard into a good shape, followed by cutting a bunch of newspaper together. Roll up the stack of newspapers and start pasting them on the cardboard. Once you're done, start painting. With the help of a thread, feel free to hang this gorgeous DIY best out of waste decor in your home. 
6. Create a Home Decor Piece from Old Glass Bottles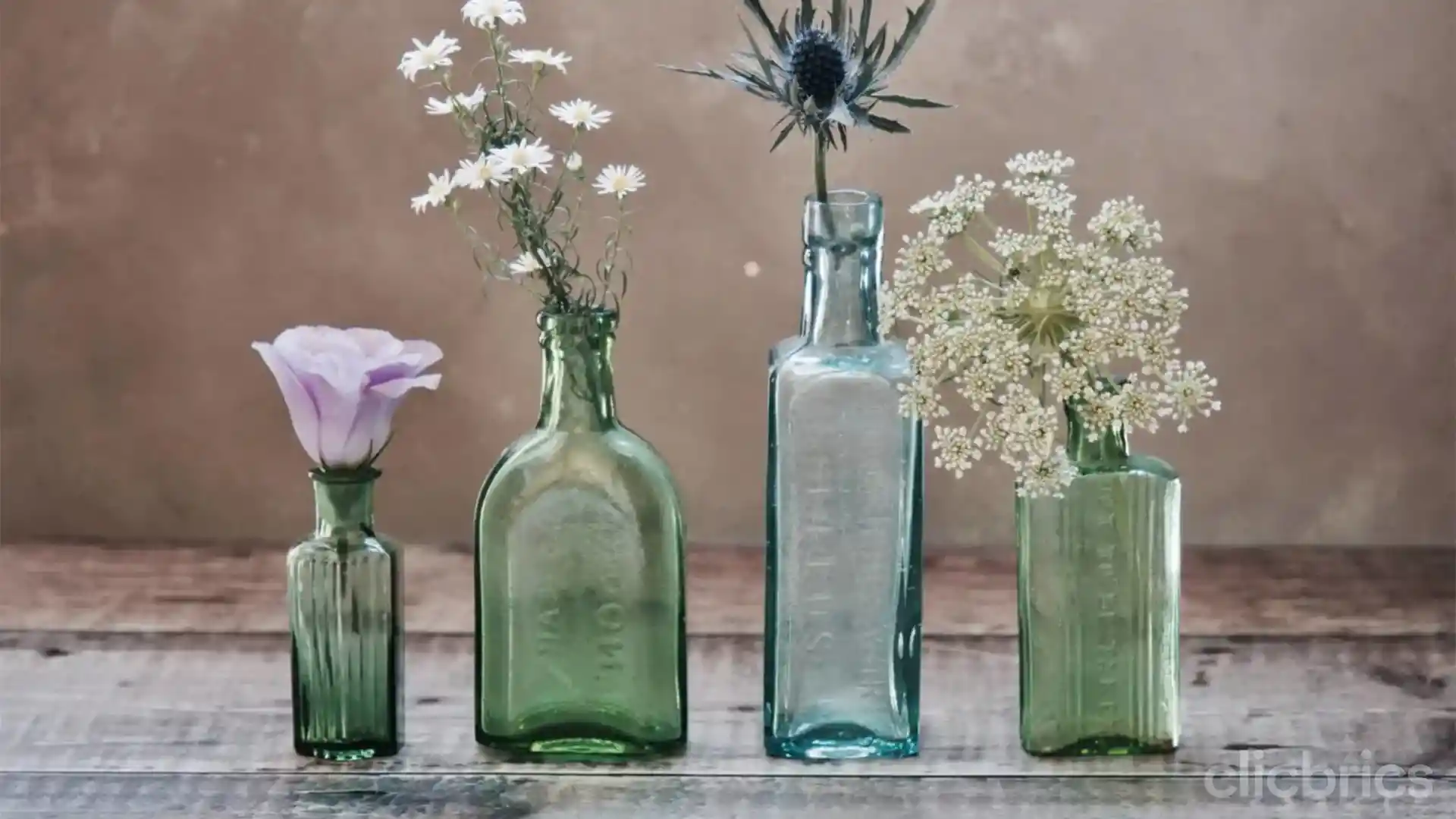 This 2023, bring new colours into your life by painting glass bottles. No matter how old those bottles are and how many you have, grab them all and start dropping the paint from the top of the bottles. This is one of such waste material craft ideas that will change the look of your home.
7. Use Orange Peels To Light Up Your Space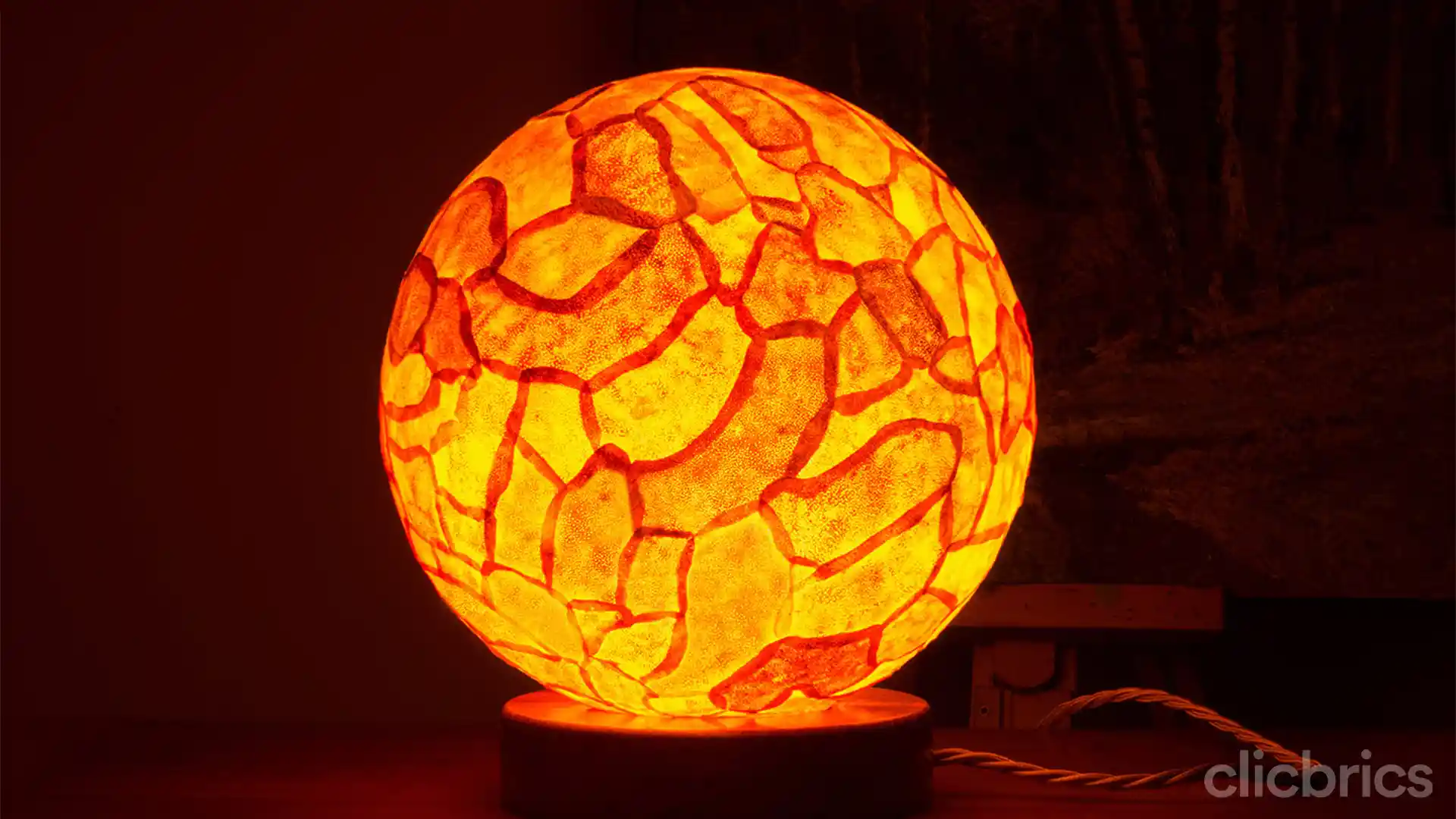 Out of the many waste material craft ideas, nothing beats the creative orange peels that not only create a fresh aroma but also light up your place. For a new year's party, you can use oranges and make lamps out of them. First, sit down and peel oranges. Then to make this best-out-of-waste idea come to life, add oil to the orange peel and a wick. Let it set for the time being, and voila—your eco-friendly lamp is ready. 
Also Read: 10 L - Shape Modular Kitchen Design Ideas That Are Stylish & Space Saving
Make The Best Out of Your Old Stuff
The new year is upon us, and so is the time to bring out your creative side and throw a party to remember. Use these best out-of-waste ideas for your home decor and give it a new vibe. If you have kids at home, you can ask them to accompany you to share their version of the best out of waste ideas. In this way, they will also understand the importance of recycling and reusing.