Table of Content:
Let's face it…
Whether you are living in a flat or in a villa, the foyer of your house makes the first impression on your guests as soon as they enter your home. Therefore, the foyer design ideas play a special role here because they make your entrance appear stylish. But first, let's understand the purpose of a foyer.
What is a Foyer?
A foyer is an area at the front of the home that leads up to the front door. This is usually a little space which connects a home's entrance with the rest of the interior. In some cases, the term foyer may be used interchangeably with "hallway", "mudroom" or "entryways."
The Purpose of a Foyer
The primary goal of a foyer is to offer a space to remove your shoes, store your coats, hang your keys, umbrellas and other essentials. It's also an introduction to what the rest of your home looks like, and what visitors can expect as they enter your house.
Surprise Your Guests with a Striking Foyer Design Ideas:
Looking for the right foyer design ideas that are visually appealing can feel exciting and daunting at the same time because there are so many options to choose from. But fortunately, you don't have to worry. In this blog, we'll be giving you some of the best entrance foyer designs ideas today. So, without further ado, let's start!
Also read: 7 creative ways to make your house entrance more welcoming
1. Add A Personal Touch to Your Foyer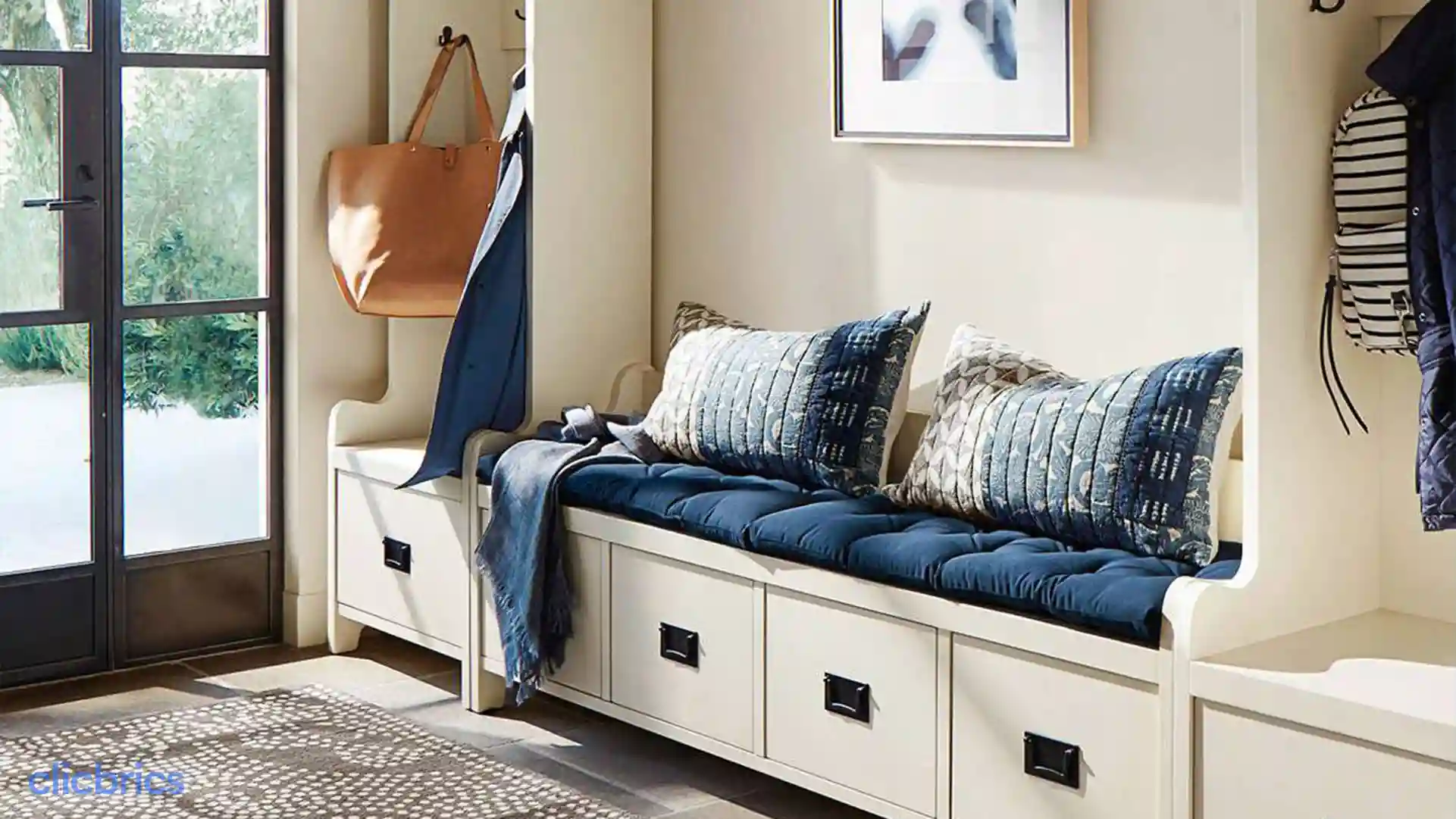 It is always a nice feeling when the entrance of your house makes you most comfortable. To personalize your foyer, you can display a curated collection of favourite quotes, paintings and portraits by your favourite artists and a gallery wall with family photos. Creating a family photo wall allows you to feel the love that always surrounds you. Adding soft cushions on the bench and some colourful flowers in a glass vase can transform its look instantly.

2. Add An Accent Mirror to Make the Foyer Look Bigger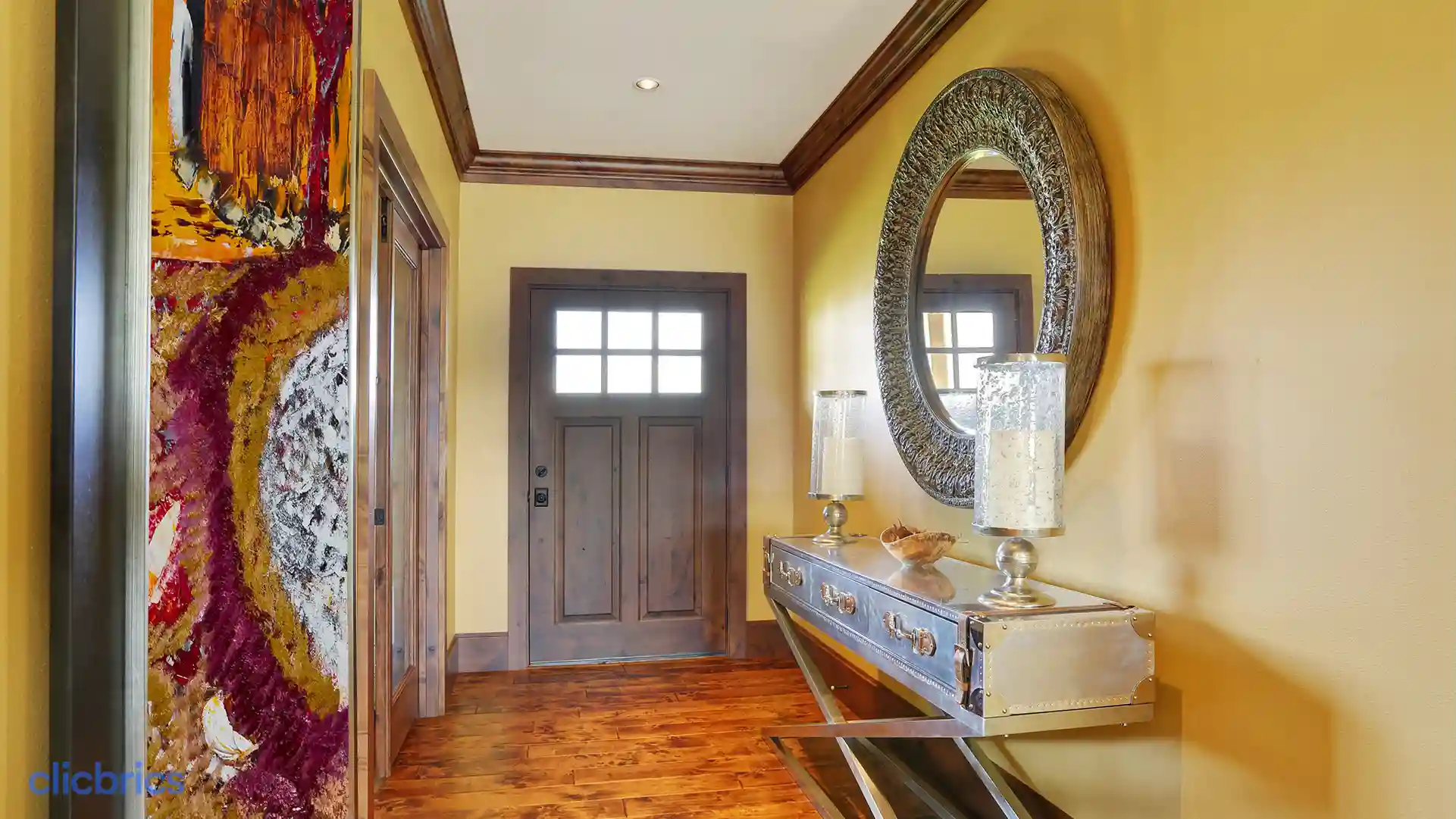 One of the easiest ways to enlarge a small foyer design is by placing a mirror with an accented frame on a wall. Whether you want to go with a full-length mirror or a small mirror, it truly adds a level of elegance. It allows you to take another look at your outfit before leaving the house. Not only this, but it also makes your foyer look bigger when you enter your home.
3. Get A Runner Rug for Your Foyer Floor Surface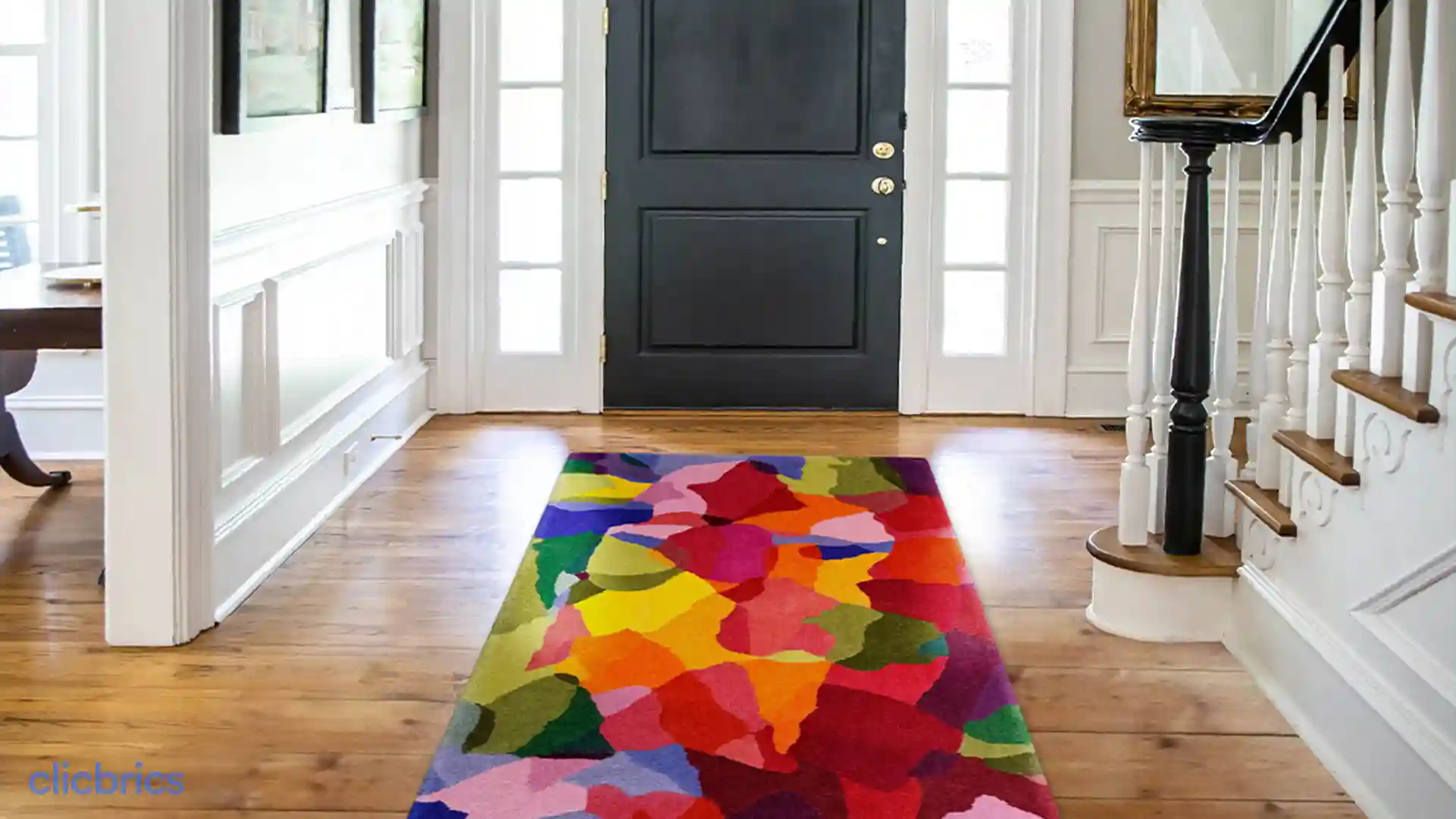 The foyer is often the most neglected part of the home when it comes to decorating. Rugs are a brilliant way to instantly add interest in this high-traffic area. Play with your imagination and choose a pattern, colour and texture that can add charm to your decor.
A rug with multiple colours and interesting patterns is great for entrance foyer design because it helps in hiding the dirt until you get a chance to clean the rug. If you have a large but narrow foyer, you can choose a runner rug. If your space is wide, you can choose a rectangular or square rug. Whatever shape you choose, it will always help you to warm up your floor surface and make it more welcoming.
4. Lighten Up Your Foyer Area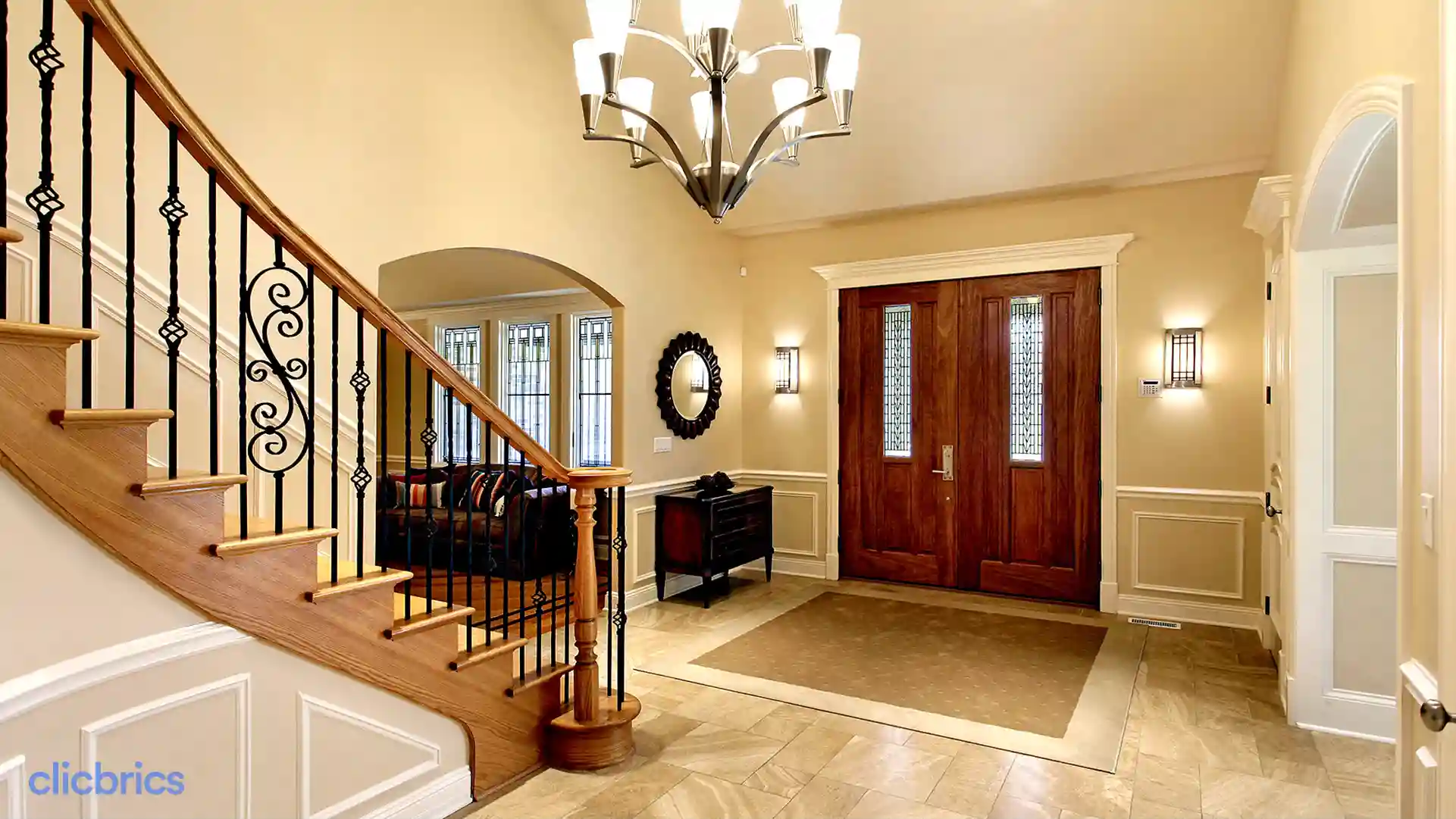 Installing pendant lighting and lamps is not only a great way to add extra lighting to your foyer but also to create a mood. With that being said, there are plenty of lighting options that can help you decorate your foyer. Putting candles on the mantle or surrounding the foyer with a stunning chandelier can always be the best lighting option when you want to impress without much hassle. If you are coming from the dark, it is always nice to have the soft lights first because it won't cause eye strain on entry.
5. Add An Artistic Touch by Placing Sculptures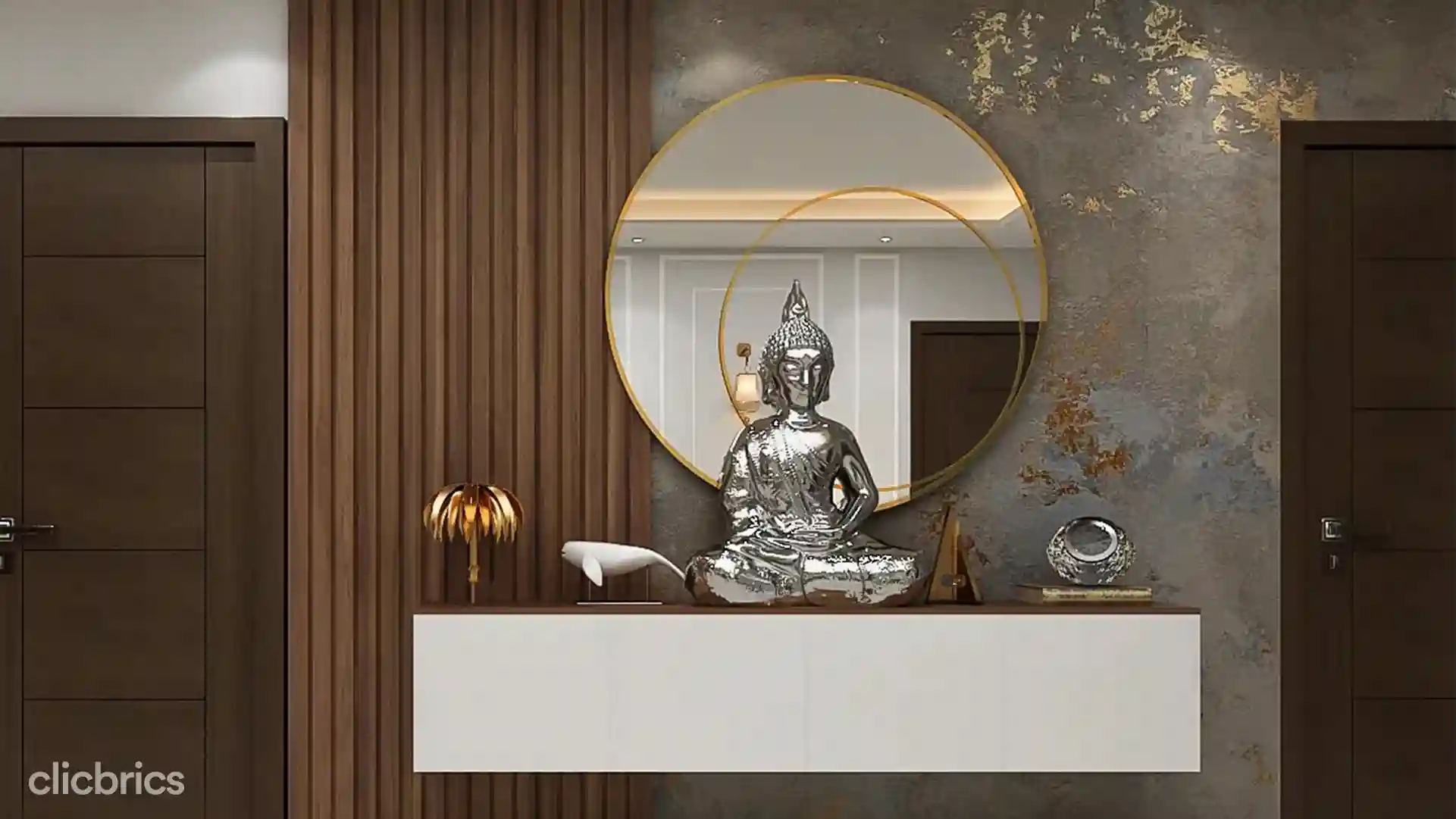 There are many different ways to give an artistic touch to your foyer. Depending on your entrance foyer design, you can incorporate sculptors. Placing a sculpture will create an interesting focal point for your guests.  For example, placing a Buddha statue in the middle of the foyer would draw your guest's attention as soon as they enter your home. It will give them a feeling of peace and serenity as they enter your abode.
Also Read: Main Door House Entrance Vastu

6. Bring Freshness with Indoor Plants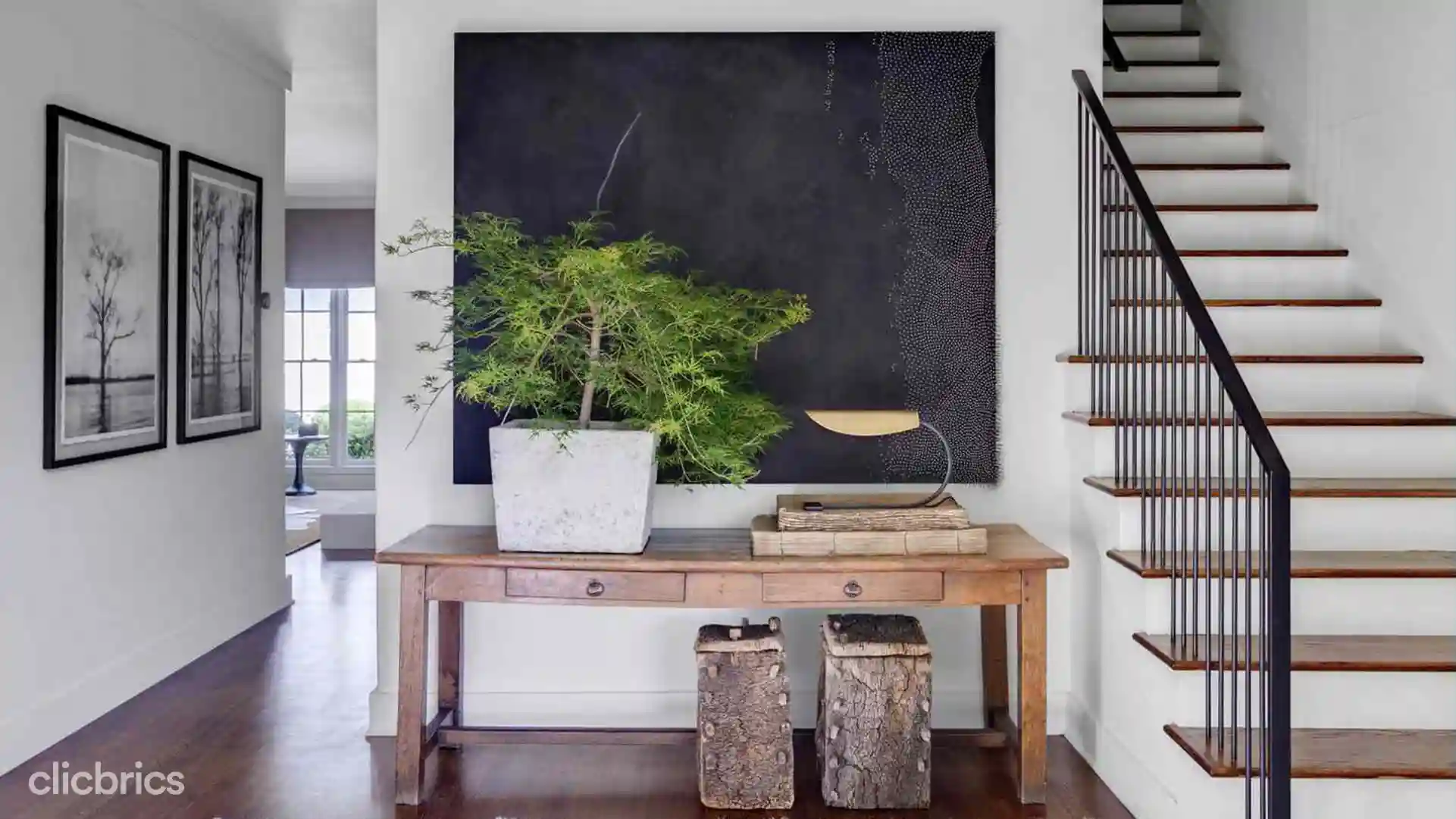 Adding greens is a good way to bring the refreshment of nature to monotonous foyer design ideas. There are many advantages to adding greens. Having a few indoor plants can offer many advantages like air purification, a calm mind, and better concentration and adds beauty to the empty nooks of the rooms. You can add a tinyindoor plant, or keep a blooming bouquet in your foyer. You'll be amazed at how fresh you'll feel as soon as you enter the door. A flash of greens at your entrance will create a welcoming vibe.

Conclusion
The next time you plan to decorate your house, start with your foyer. We tend to forget that this small space has the potential to add a magical eye that lets one know what is to come. All you need to do is be a bit creative and pick up a style that suits your design aesthetic. We hope this blog helps you to spice up the look of the home's foyer. Do let us know your thoughts on our foyer design ideas in the comments below.