Table of Content:
Be honest! Haven't you always been fixated on renovating the living room while hanging all the other rooms high and dry, even the bedroom? Well, of course! When we have a specific budget in mind, we tend to focus on the first room of the home, which is a bad practice that we regret later. So, the easy and intelligent solution is to do one thing at a time! Wonder how? Instead of leaving your bedroom untouched and dull, work on the bed back design in your private haven to uplift its look! 
As unbelievable as it may sound, adding a gorgeous bed back design will give your private haven an effortlessly lovely appearance.
If you find the preceding information intriguing, you will discover the most recent bed back design ideas that will add character to your bedroom without breaking the bank. 
1. Black Bed Back Design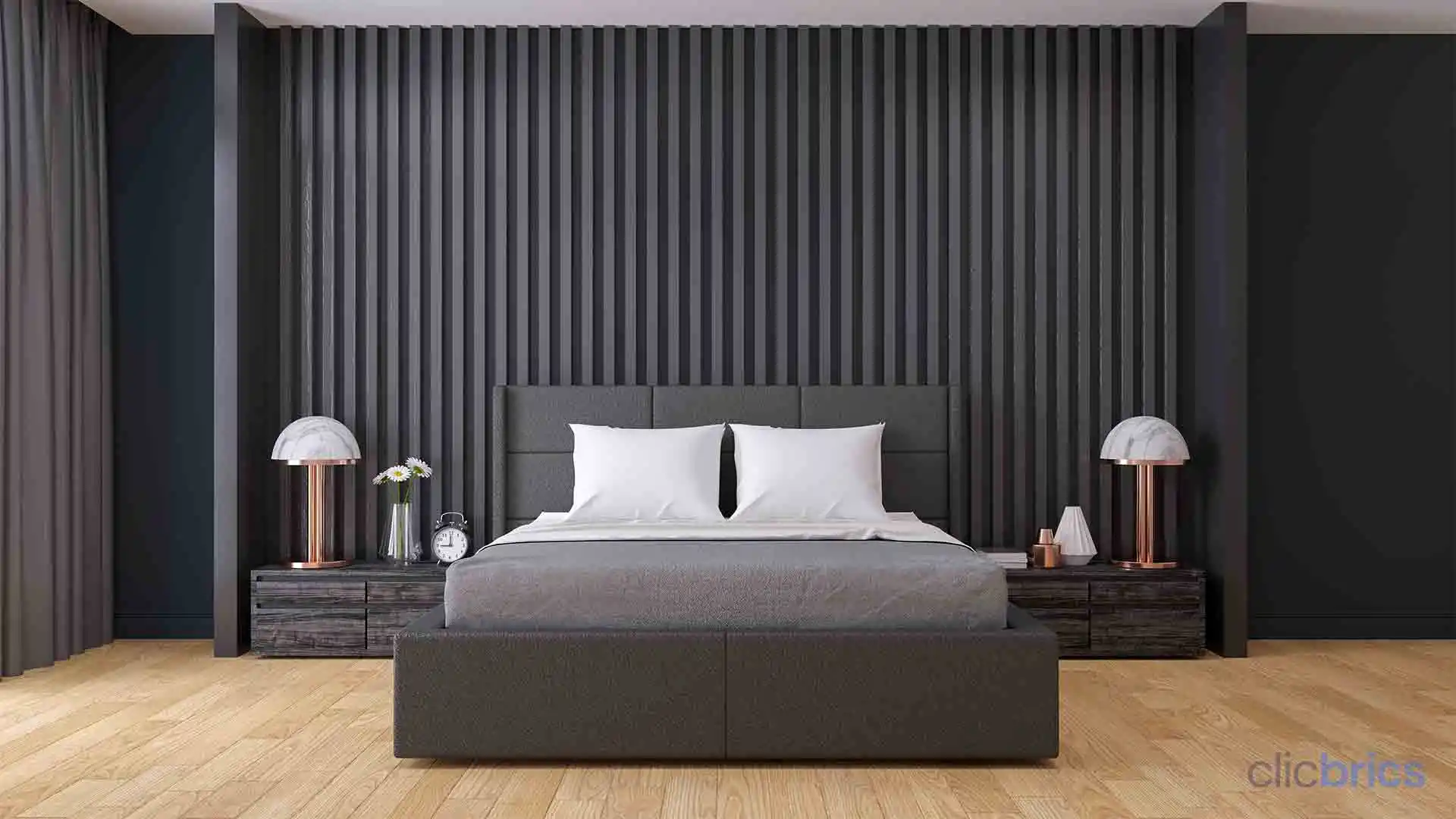 As they say, "elegance is a beauty that never fades," and so is the magic of the evergreen colour "black." Incorporating a bed back design is best if you want something elegant for your bedroom! 
The benefit of installing a black bed back design is that it will contrast genuinely well and make the space look bigger and brighter. All that's left is to add an accent piece, like pillows or some colourful blankets, and you're done.  
2. Instagrammable Bed Back Panel Design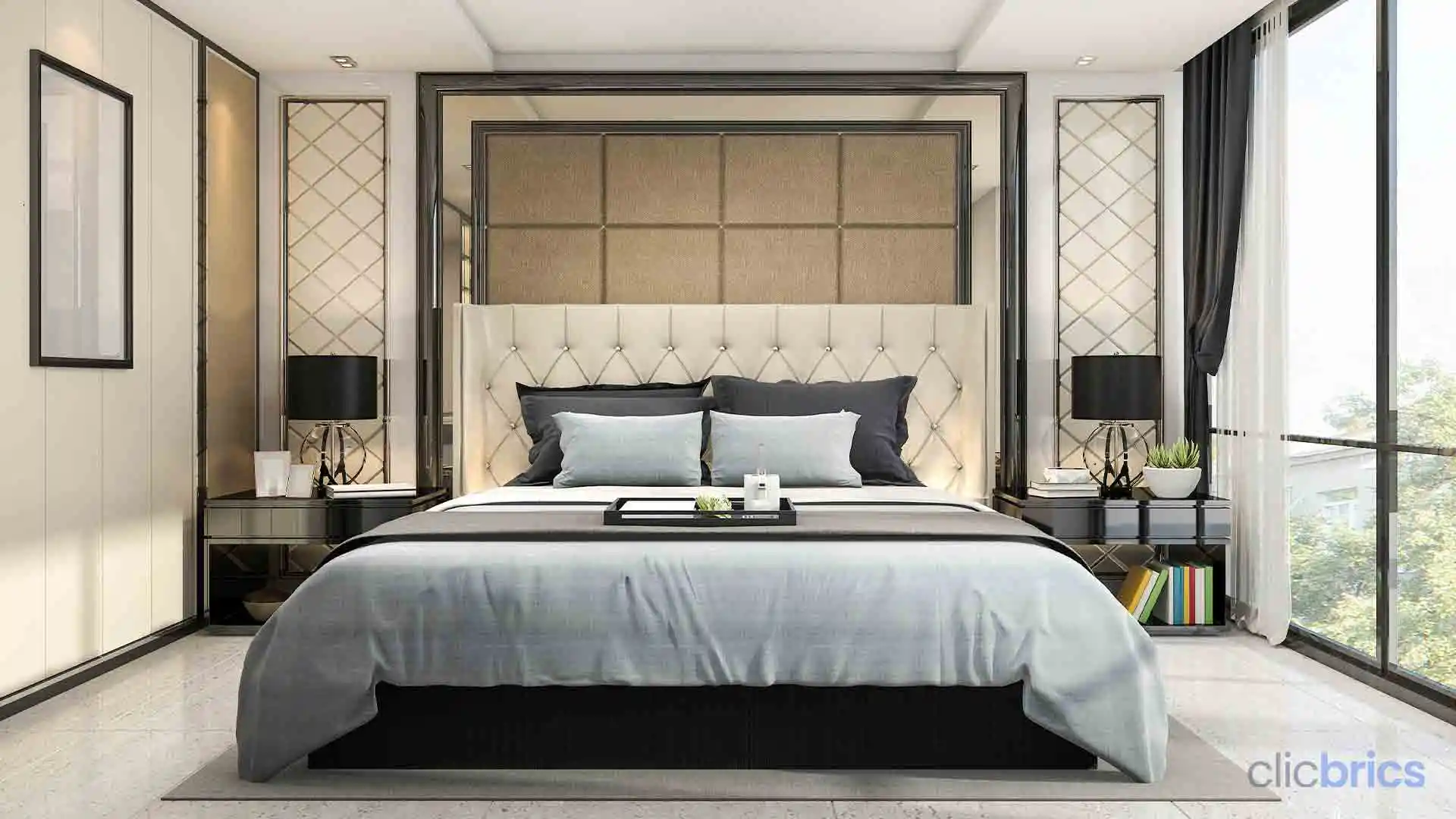 Are you planning on adding a touch of modernism to your bedroom? So we will help you achieve that look! A modern wall panel can be used to decorate the back of your bed. As an accent piece, the latest bed back design will help brighten the room without making it appear smaller. You can customise your current bed panels and add cutting-edge materials like ornate concrete slabs, and your Instagram-style bed back design is ready.  
Also Read: These 10 Bedroom Decorating Ideas Will Upscale The Look Of Your Sleeping Space! 
3. Metal Bed Back Design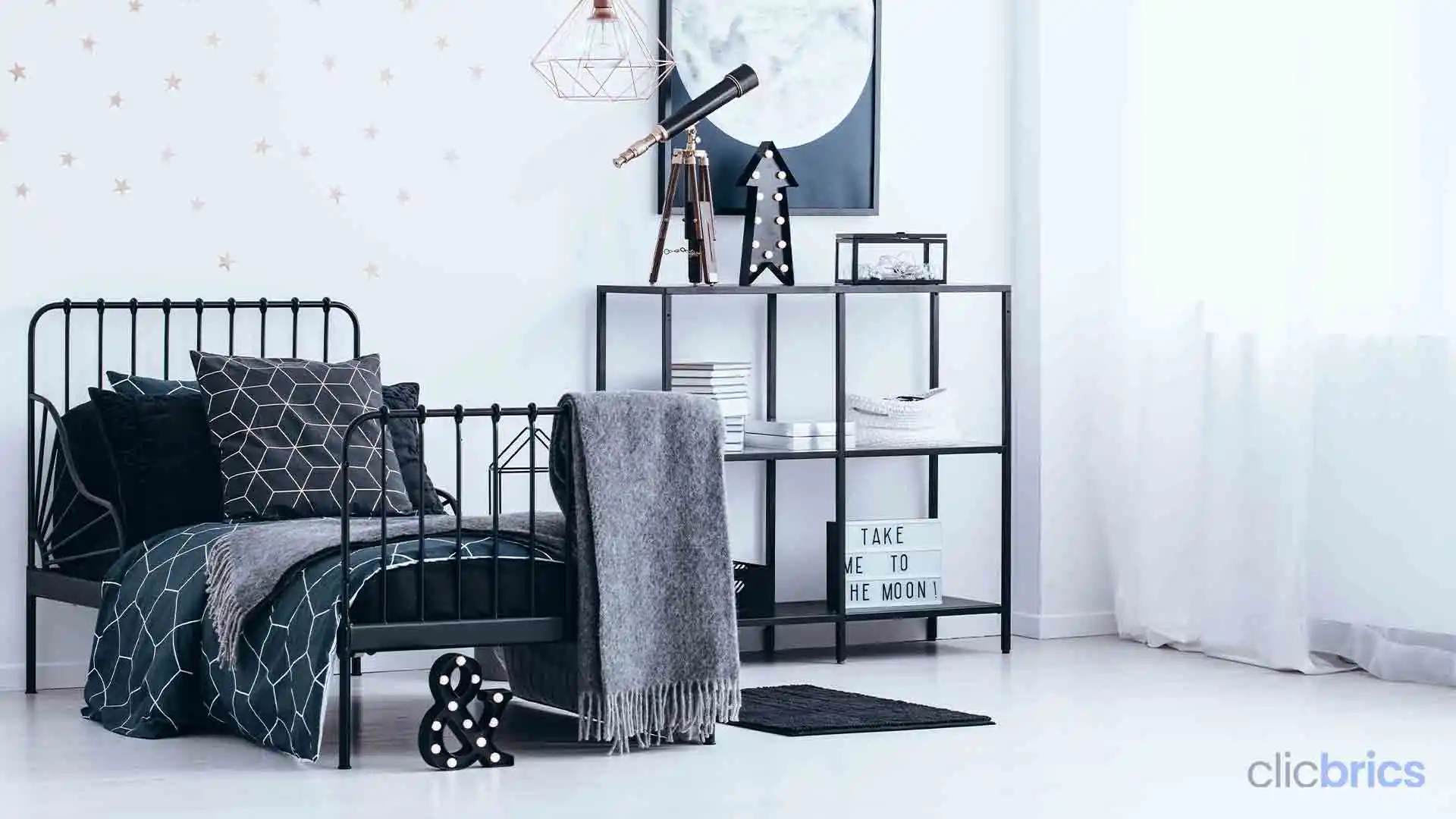 Metal backs are at the top of the list regarding trendy modern bed back designs. The advantage of installing a metal bed back design is that it is lightweight, durable, and easy to maintain. It is a simple bed back design that adds more comfort to your mattress, helping you sleep like a baby at night. This design is available in different shapes, which makes it adaptable to match any style or theme of your bedroom. 
If you want only some of the headboard made of metal, you can simply put metal panels on the sides of the bed frames. This will be enough to give an aesthetic appearance to your space haven. 
4. Grey Bed Back Design For A Vintage Touch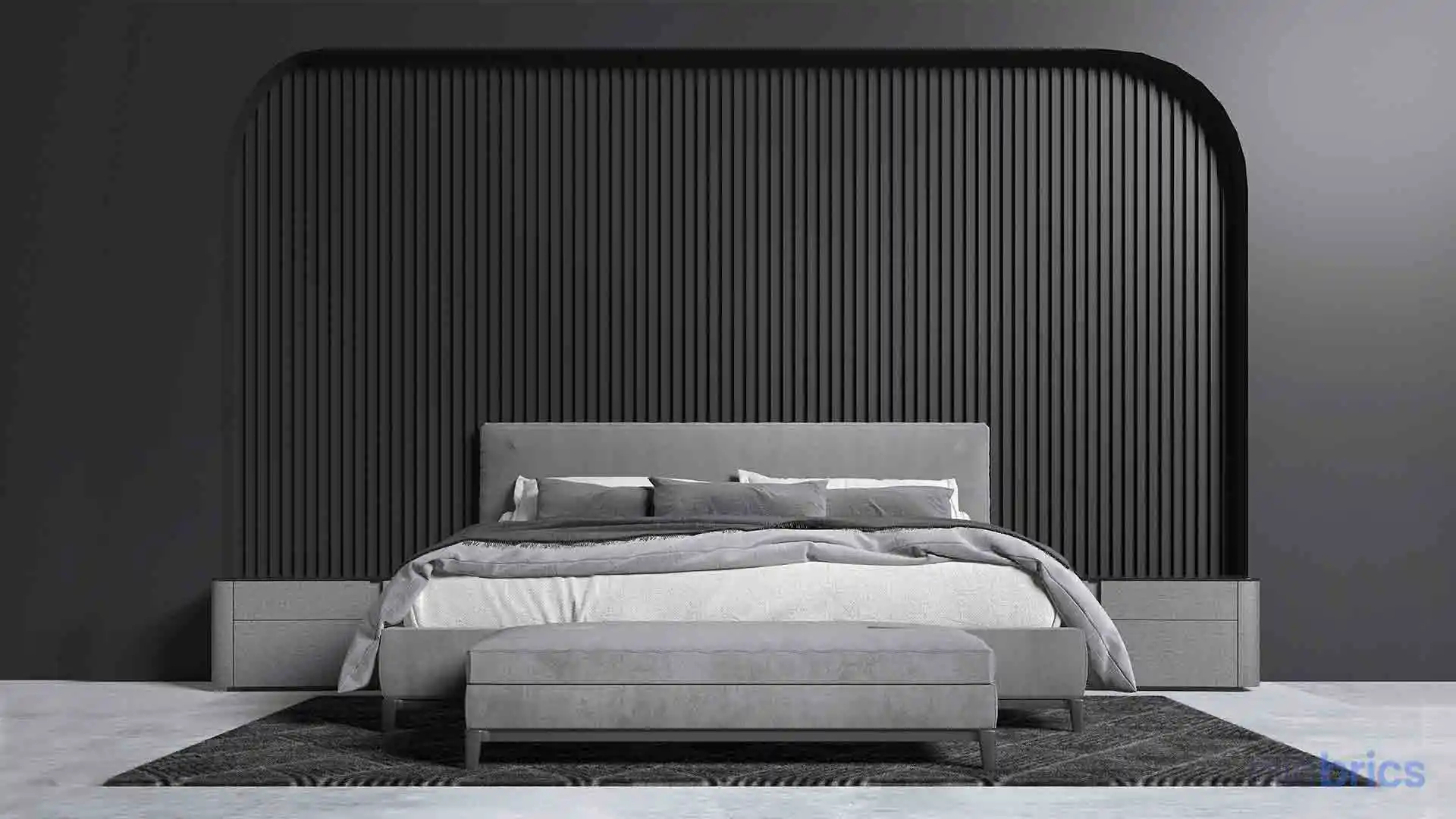 Do you worry that remodelling your bedroom will ruin its old-world charm? Fret not; we've covered that as well. The colour grey is timeless, and installing this coloured bed back design will assure comfort and not let you lose a vintage touch in your bedroom. 
Also Read: 10 Grey Bedroom Ideas That'll Add Character To Your Space
5. Wooden Bed Back Design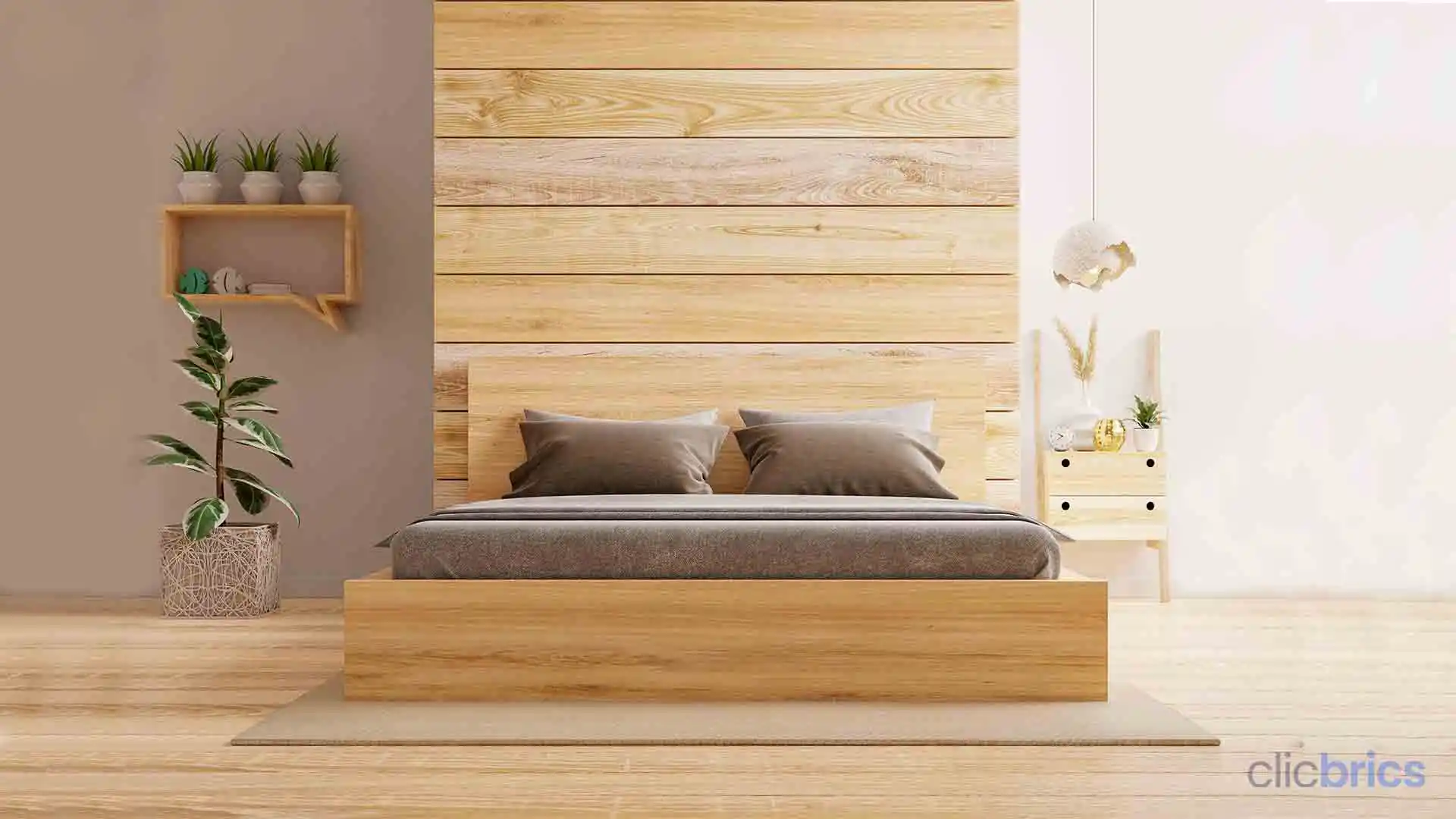 The wooden double bed back panel design is probably the oldest in India. And because of their durability, people still use them in their homes. Or, if you want a touch of rustic charm, adding wooden bed frames like pine, walnut, or mahogany will be perfect.  
So, if you want to maintain durability and comfort, installing a classy wooden bed back design is ideal. 
6. Boho Style Double Bed Back Design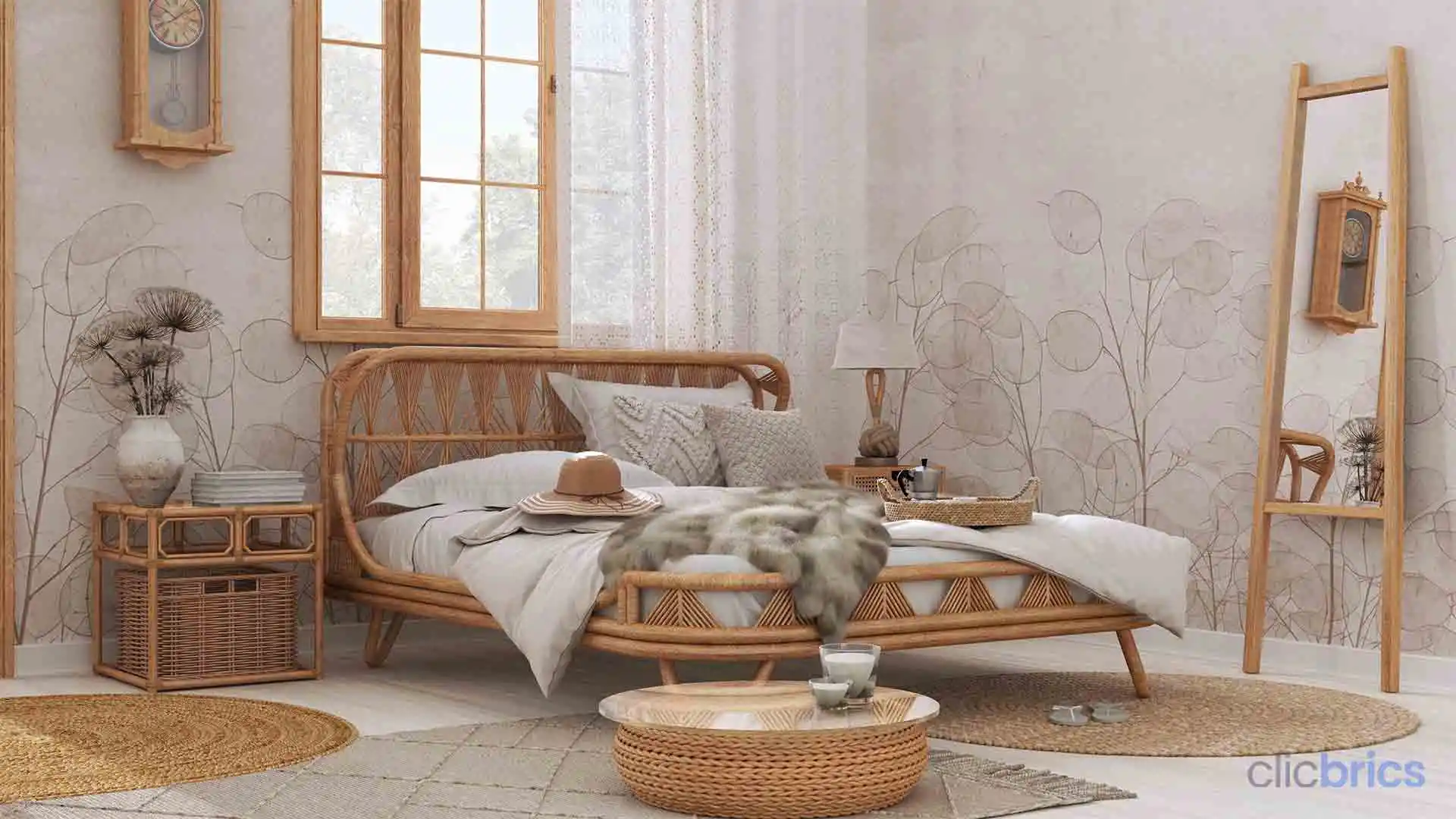 You can quickly bring your boho love into your bedroom by installing a bed against a backdrop of colourful textured panels. Place some patterned home furnishings, cushions, and boho lighting to complete this look. 
7. Luxurious Bed Back Design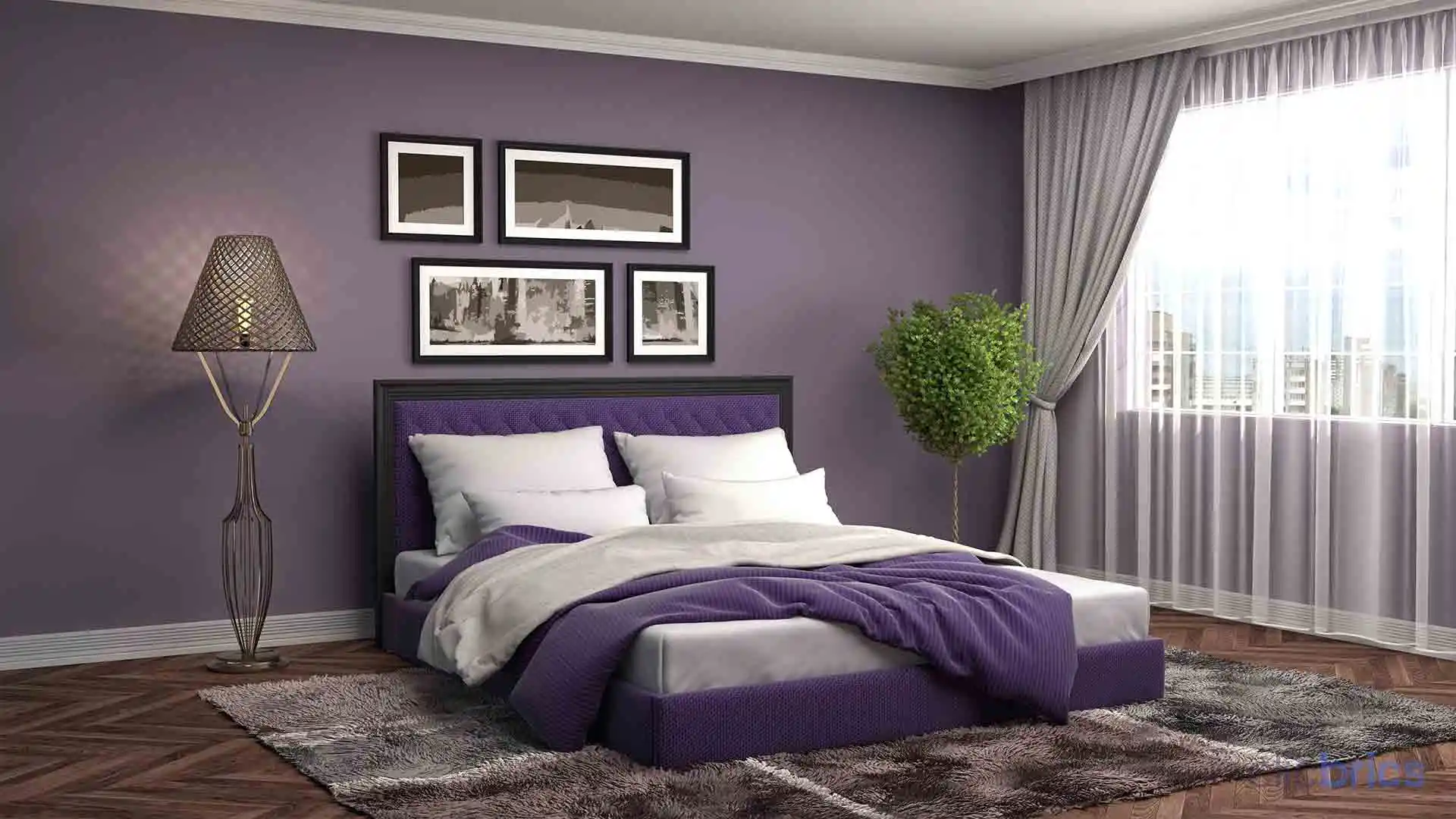 The colour choice matters the most when adding a regal touch to your bedroom. So the best colour choice for a regal look in your bedroom will be purple. The quilted bed design with purple cushions and some other shade elements will highlight the look, making it more luxurious than ever. 
Also Read: Purple Two-Colour Combination for Bedroom Walls- Take Inspiration from These 8 Designs
8. Padded Bed Back Design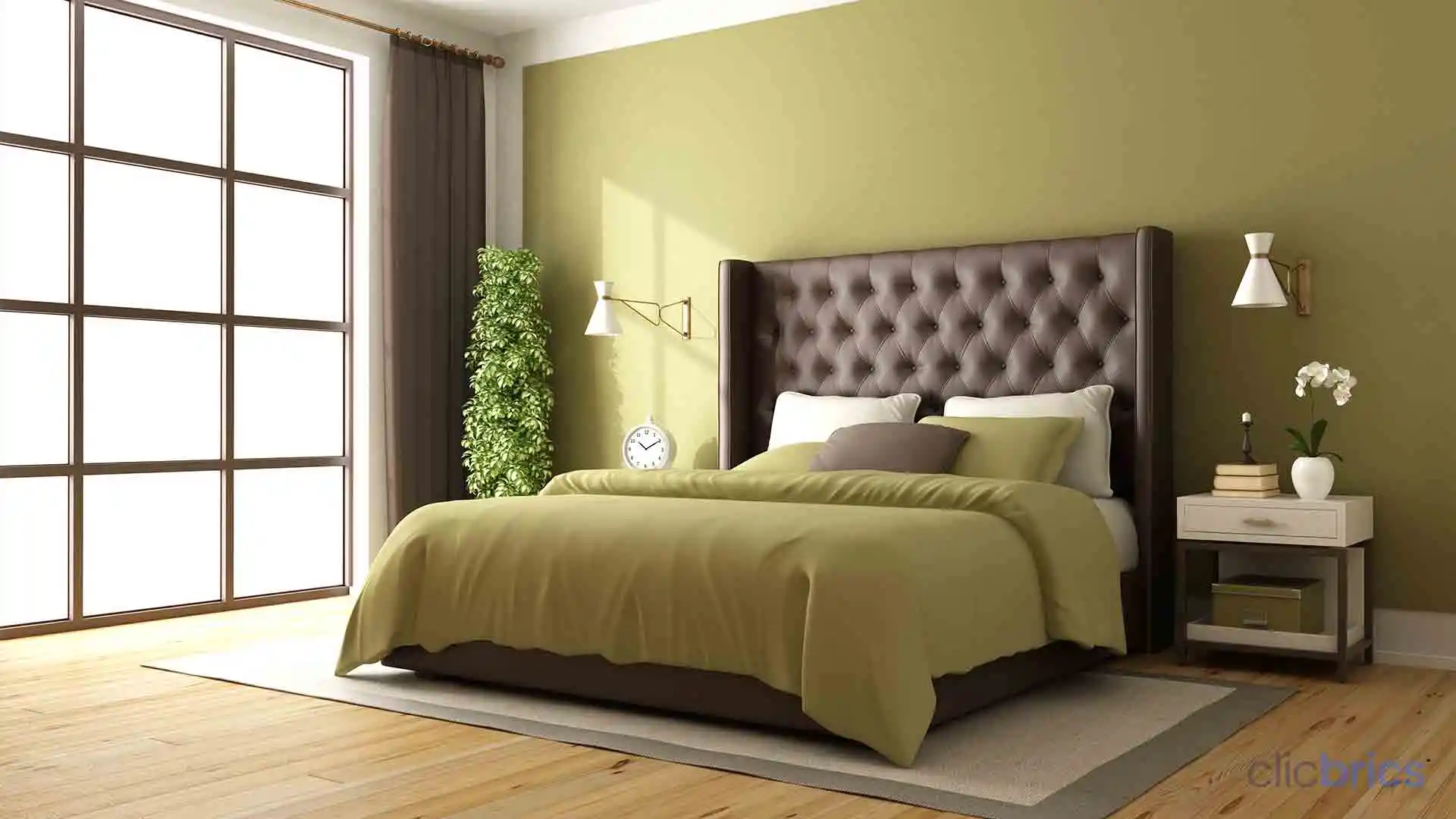 The padded modern bed back design is nowadays trendy among the masses. Not only does this bedroom bed back design offer a luxurious and comfortable look, but it also has a fantastic combination of fabric or leather with a wooden frame and metal fittings. That will make you want to jump right into bed as soon as you leave work. Another quality of this bed is that it is a good fit for a small bedroom and can be adjusted based on the size of the room. 
9. Lace-Up Bed Back Design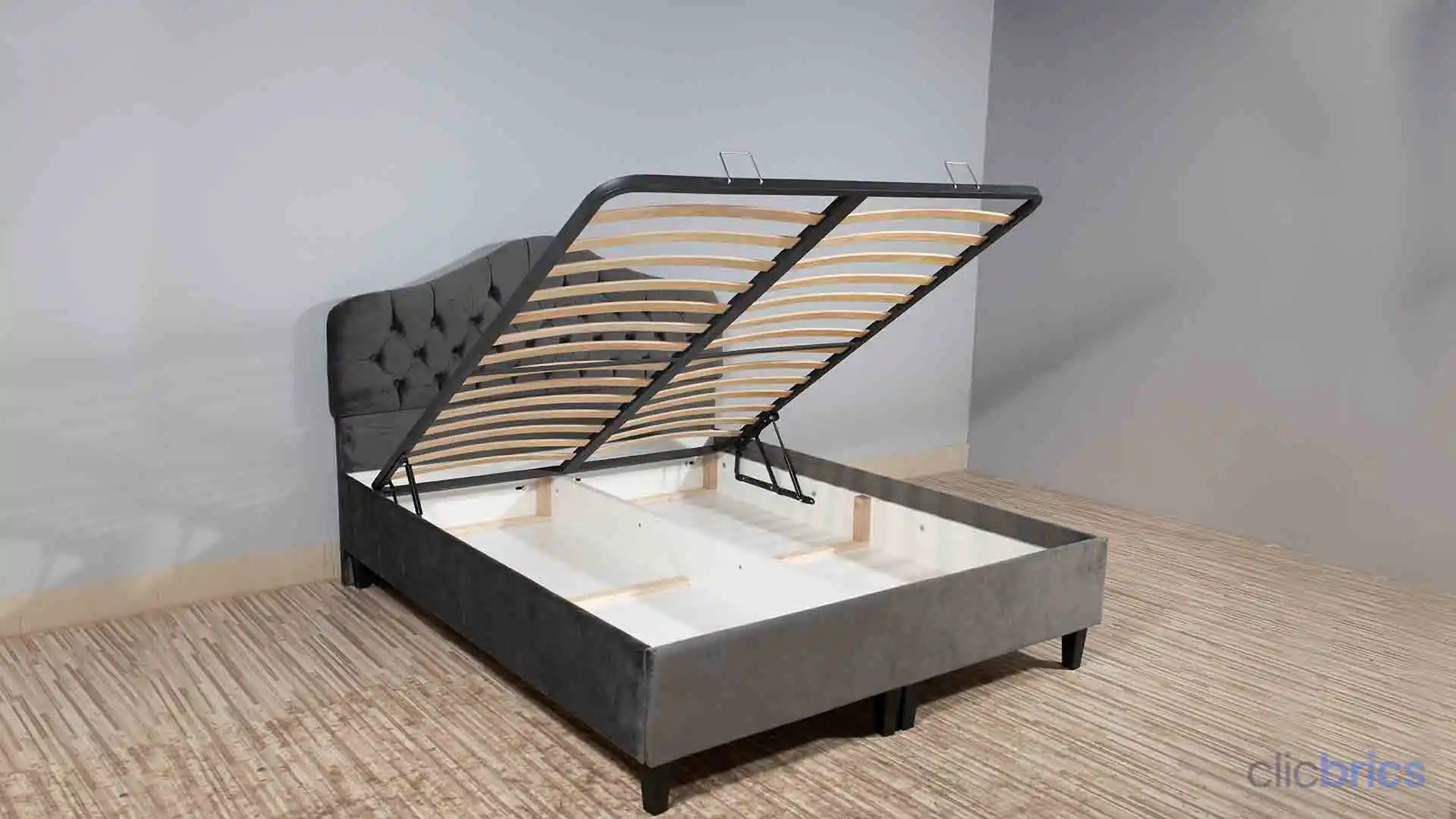 The magic of lace is that it helps make it look more ballroom-style. This type of latest bed back design is made of metal with a wooden frame and rows of holes along with the top edge frame. After this, a lace curtain gets threaded through these holes and tied up at the bottom using a metal hook. Make sure you're choosing your favourite colour curtain.  
Also Read: 13 Trendy False Ceiling Designs for Your Bedroom
10. Single Bed Back Design In Leather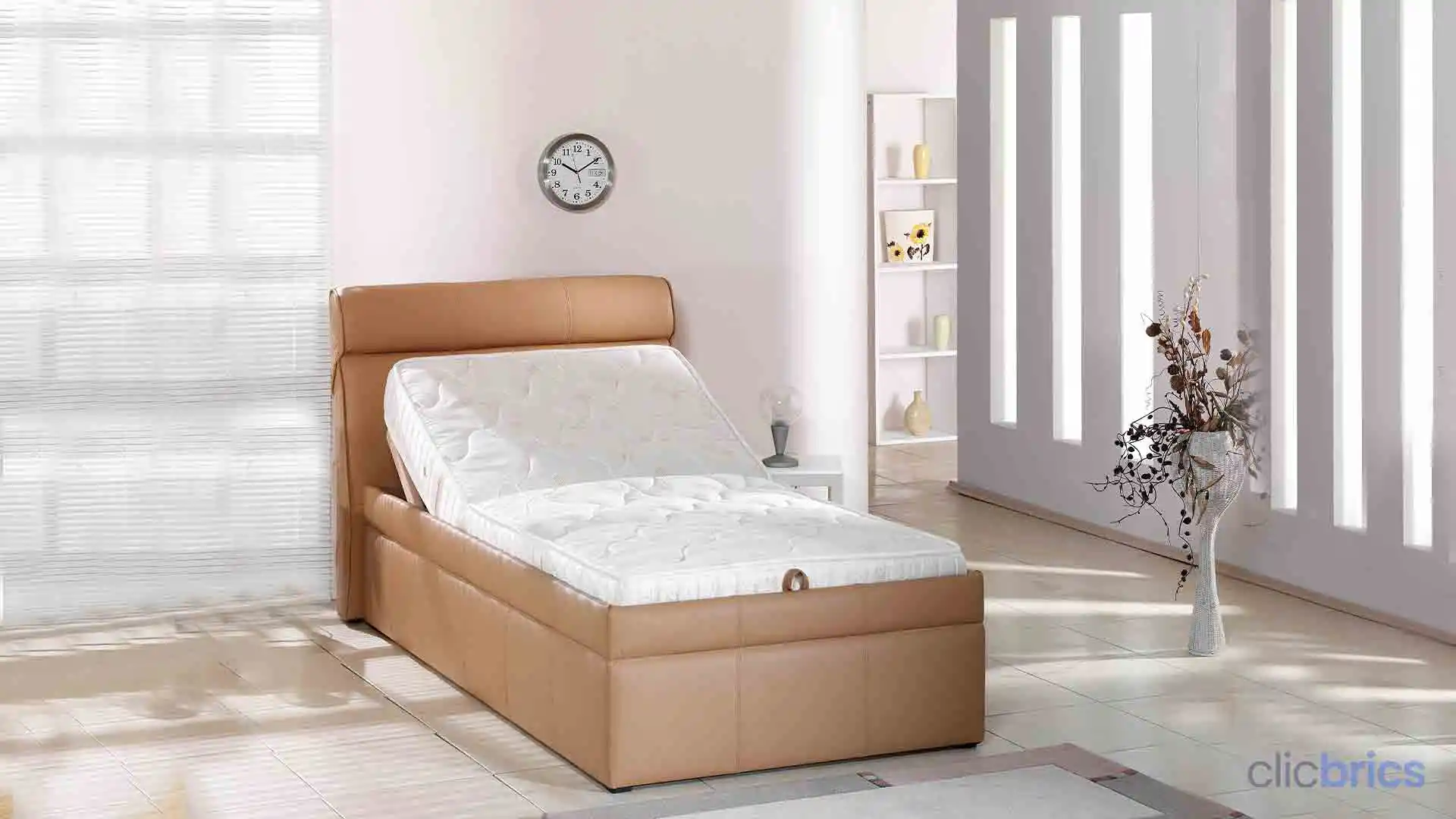 Keeping the room neat and clean will ensure a stunning look. If it is a small bedroom with a single bed, you need something beautiful that will help grab the visitors' attention. And for that, leather is the perfect material for a single-bedroom bed. To create an area for the bed and nightstands, you should cover the wall portion with good upholstery. It will help in achieving a stunning look without having to spend a significant amount. 
Also Read: Lustrous Glass Wall Bedroom Design Ideas for Making Your Home Stylish
Conclusion
Now that you have a good idea about the bed back designs that will bring a range of aesthetics, you can redesign your bedroom without breaking the bank. But while styling, remember to add a personal touch, be it a decorative bed skirt or matching panels.
Now comment down your favourite bed back design you will install in your bedroom.